Promote mindfulness among the kids by making these DIY glitter jars, quite something easy to whip up. Incredible reuse of Mason jars to help kids be more attentive, aware, and present for an event. How to make glitter jars? Find these 15 simple DIY glitter jar ideas to make your own calming jar at home. Looking at the sparkly glittered appeals will make everyone calm down, so these jars can also be the best choice to de-stress yourself. These glitter jars are a smart alternative to snow globes, will be loved dearly by all due to their ethereal effect. By being much visually attractive, they can be made a part of your home decor too.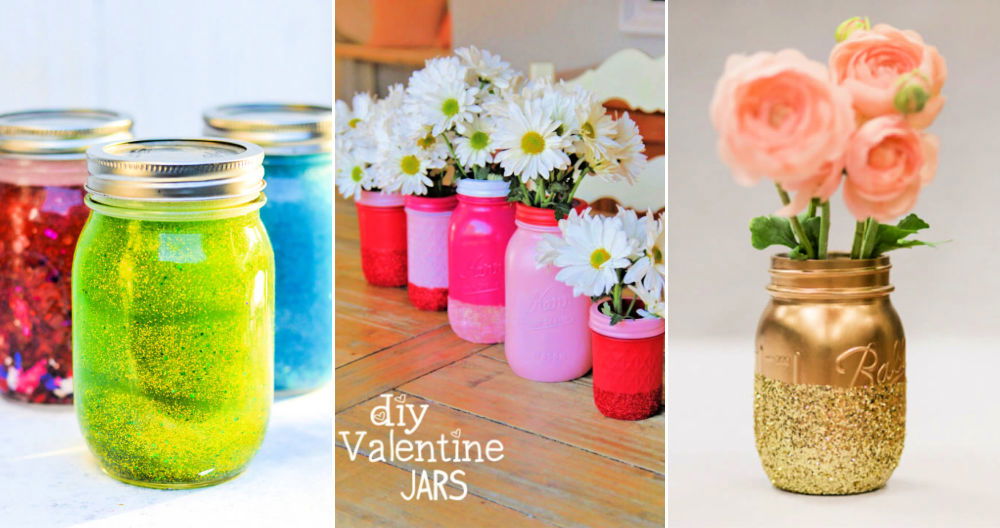 Along with getting the kids calm and focused, they can be used in numerous different ways. Explore this list of 25 DIY glitter jar projects sharing all new and innovative concepts to use the sparkly jars in styling up your home decor and also to make a calming jar. They can be a more mesmerizing replacement for all normal Mason jar vases, accessory holders, and gifts in a jar.
Giving a glitter treatment to your jars is not merely a restyling of jars. It creates a fantastic iridescent sensory experience that soothes and causes mindfulness. The glitter jars crafts go to the sections of DIY 5 Minute Mason jar Crafts and will be big fun to do even when your kids are involved. The making involves laying an adhesive like mod-podge all around the jar and then sprinkling glitter over.
Consider using these calming DIY Glitter Jars as incredible luminaries, galaxy jars, vases, and posh looking tumblers.
1. How to Make a Glitter Jar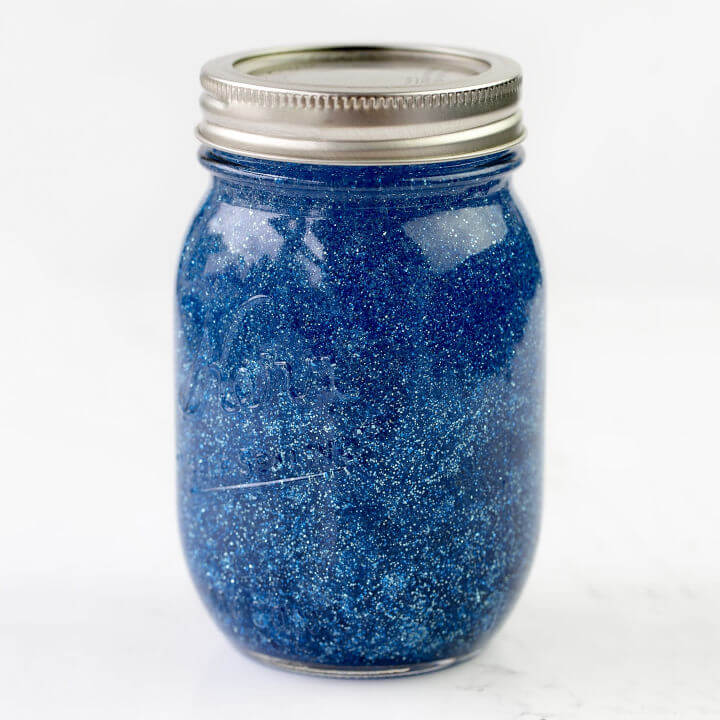 Help kids develop a significant focus by crafting this glittered jar. Fill a glass jar with a glue cup, add two tablespoons of glitter, and then fill with distilled water creating a fantastic visual effect in the pot. Something sweet to gift to kids. firefliesandmud
2. Calming Glitter Jars for Kids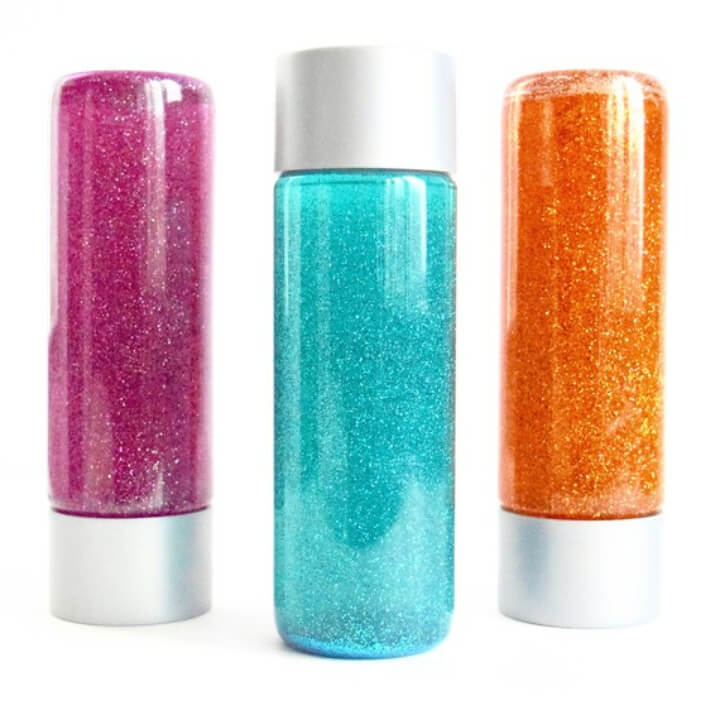 Choose different types and sizes of jars to produce the calming glitter jars. You will feel great looking at the long vertical shapes of these glitter jars. Use the plastic bottles to make the calming jar, and you need the same ingredient as a food color, water, super glue, and glitter. marthastewart
3. DIY Glitter Calming Jar
De-stress yourself by staring at this magical jar, the calming glitter jar, made to rock and inspire. Mix the ingredients in a bowl-like glitter, glue, and water, and then fill them up in a jar for getting awesome calming jar. Involve kids to turn, making glitter jars into big fun. Instructables
4. Fun DIY Glitter Jar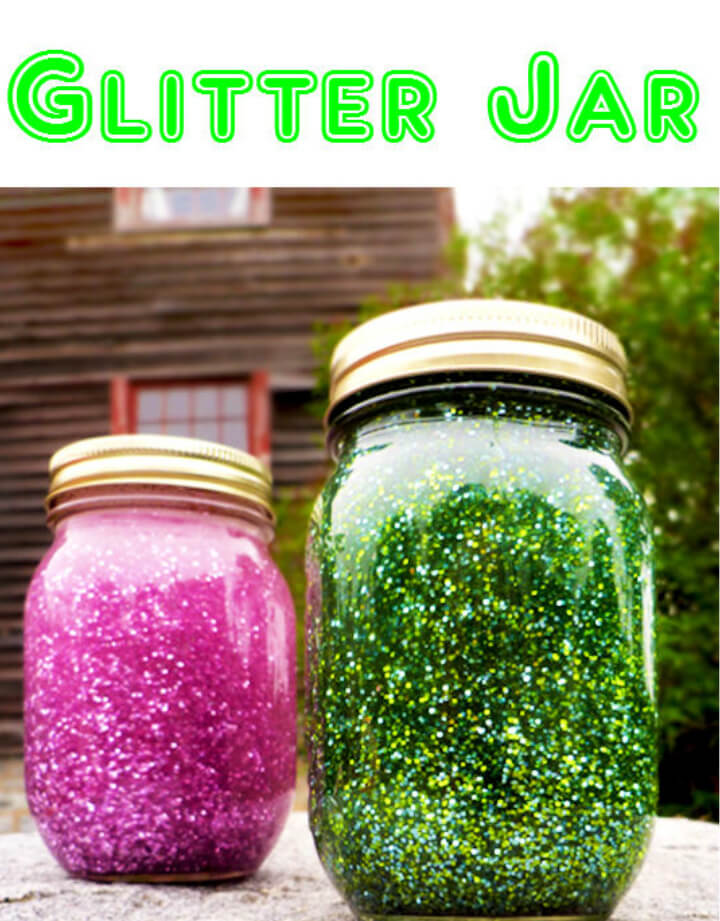 Varying shades of glitter and food colors, you can easily give some fantastic variations to your glitter jars. Impress the home audience by making these cool fun and glitter jars appearing in gold and sparkly pink appeals. Along with their calming effect, they will be a beautiful part of home decor. thebudgetdiet
5. Calming Glitter Jar for Kids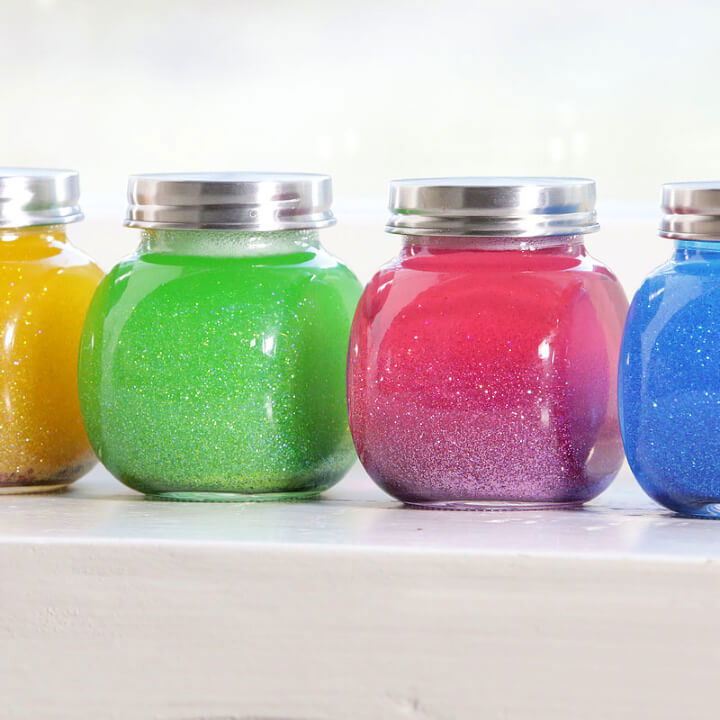 Create a set of glitter jars in a rainbow color palette and place it on a shelf or tabletop for a fantastic kids' sensory experience. Look at the cool collection will make the kids a fan in no time. Choose a set of Mason jars of the same sizes to make them. blissfulkids
6. Mindfulness Glitter Jar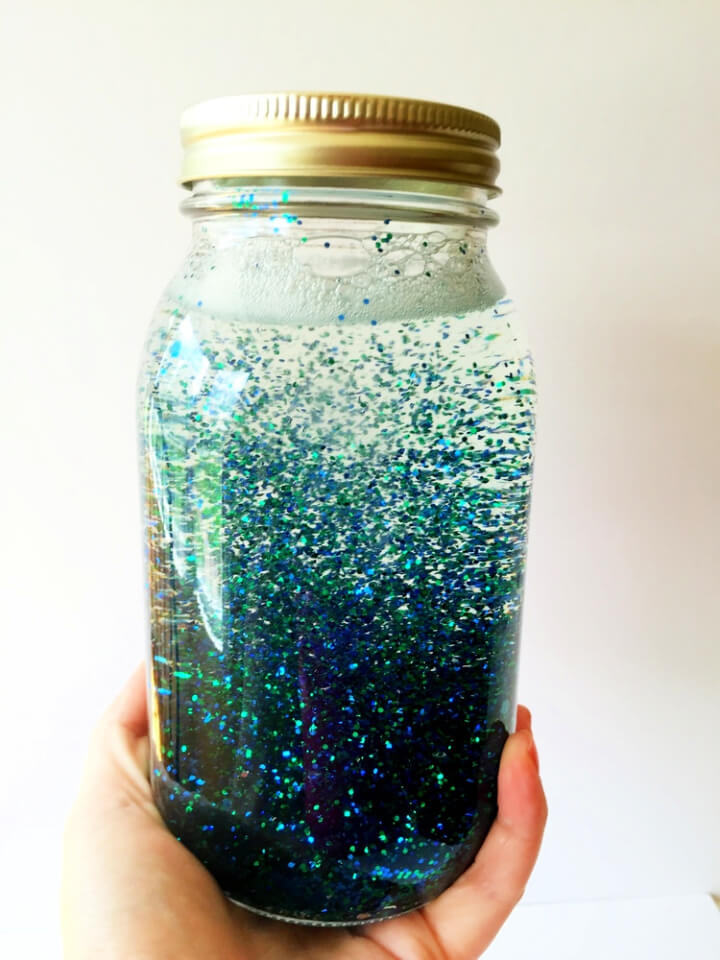 The next most gorgeous boredom buster you can whip up quickly will be a significant source of quick mindfulness. Using the varied amounts of glitter, glue, and water, you can also give cool variations to glitter jars. The most straightforward craft project that even a kid can do with great ease. joyfullyjenna
7. Falling Stars Glitter Jar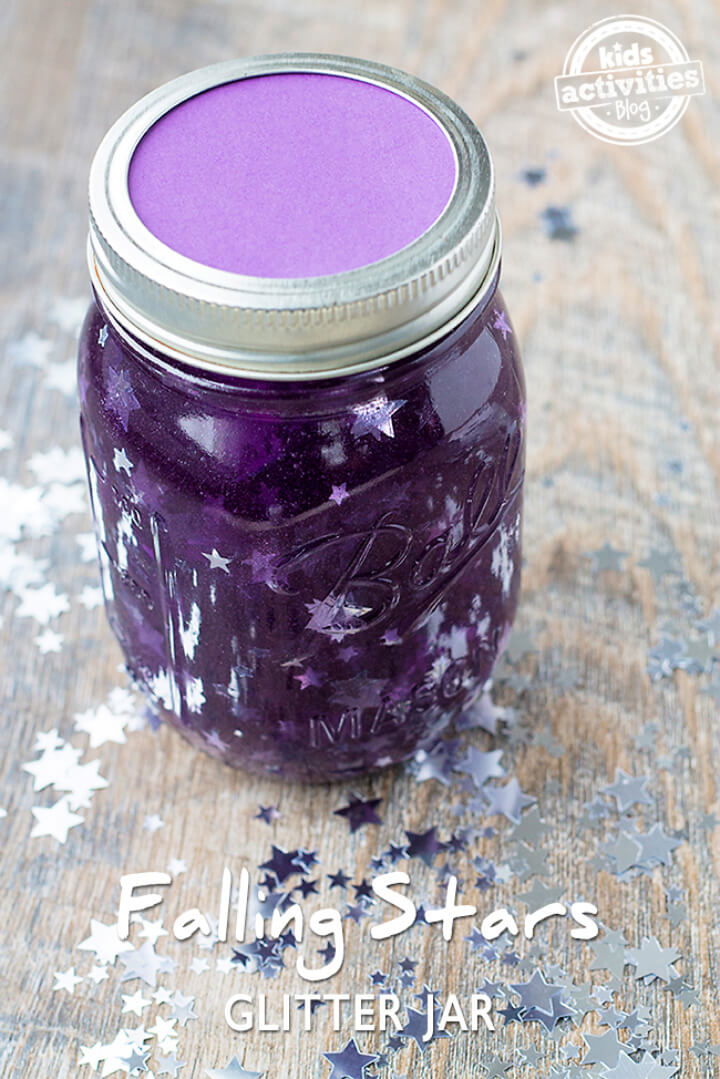 Using recycled Mason jars smartly may also help you bring the galaxies in your home affordably. A smart idea to pick in this case, the falling stars glitter jars. They will promote mindfulness, attentiveness, and awareness. The best to make out of Mason jars when need to boost kids' sensory skills. kidsactivities
8. Glitter Mason Jars for Pencils Organizer

Get the glitter jars doubled in their functional roles. Let them serve as a cool organizer and a calming jar at the same time. Treat the white-painted passing jar with a colorful glitter-glue mixture for a getting a glittery dripping down pattern. Next, organize your pencil collections in them. colormadehappy
9. Quick to Make Glitter Mason Jar

Treating Mason jars with glitter can give you several different benefits more. Please treat them with glitter for a half-dipped glittered appeal, add an ordinary paper straw and make cool tumbler gifts for friends and kids. crownedspar
10. Glittered Mason Jar Lanterns

Make every type of decor interesting by making the glitter jars a part of it. Add up the lights in your glitter jars for making cool lanterns, next surround them with a little greenery and pinecones for amazing fall lantern centerpieces. Check out the sample arrangements. hgtv
11. Beautiful Mason Glitter Jars

Looking at the glitter jars promotes alertness undoubtedly. But getting the pots glittered can also spice up your home decor if you are going to use them in a home. Glitter up the Mason jars, add them up with cut flowers, and gain good looking Mason jar glitter vases will be of centerpiece worth. myuncommon
12. Make Your Own Galaxy Jar

Do you love the galaxies, and does it provide great pleasure to you to look at the galaxies? Then pack your galaxies in a jar you can see all the time. You need here cotton balls, silver glitter, chunky glitter, holographic stars, and acrylic paint to make it. bitzngiggles
13. DIY Glitter Mason Jars

Looking at the glitter jars can also help treat autism. So, do bring glittered jars in your home in any way or any style. Look at these uniquely glittered mason jars, have a double color glitter appeal. Grab Mod-podge, glitter in colors of choice, forge tape, and a foam brush to make it. Details here rainonatinroof
14. Eye Catching DIY Calm Down Jars

Upcycle the Mason jars also to produce the best treatments for anxiety and stress. Fill the Mason jars up with the soapy water, red food coloring, red glitter glue, confetti glitter, fine glitter, and super glue to whip up these calming down beauties in no time. Details here aurorasatler
15. Glitter Mason Jar Luminary

The best fall light decor or centerpiece to craft with a Mason jar. A charming iridescent light to produce quickly at home. Give a red chalky paint finish to a Mason jar, and then use iridescent glitter and decoupage glut for a faux snowy appeal. Put it in the center of gold glitter candy balls for maximum decorative impact. apumpkinand
16. Glitter Dipped Mason Jars

Another creative method to produce awesome dipped Mason jars. This hack involves giving a mod-podge glossy finish first, and then you can create a gold glittered dipped appeal of it. Adding lovely cut flowers can make you get with a cute glitter dipped Mason jar vase. Details here thegirlcreative
17. Fabulous Glitter Mason Jar Vase

Bring an alluring sparkle to your home decor by adding these glitter Mason jar vases, cool decor to make inexpensively. Again give a spray paint finish to Mason jars, and then you can use masking tape, glitter, and mod-podge to get glitter dipped Mason jars. It can be the next coolest vases in your home. hairspray
18. Mason Jar Glitter Lava Lamps

Looking at the sparkly glitter enclosed in the clear Mason jars can be an amazingly satisfying experience. Also, making these cool glitter lava lamps out of recycled Mason jars will be the best gift to give kids for amazing visual development. Use food coloring, vegetable oil, antacid tablets, and glitter for the lava effect in the jar. hellowonderful
19. Glitter Snow Globes from Mason Jars

Looking for creative fun ways to decorate your home? Then why not make these glitter snow globes out of Mason jars. The whole project is all to glue the mini figurines to the inside of the jar lid. For a cool snowy effect, fill the jar with glycerin, glue, water, and glitter. diynetwork
20. Cute DIY Glitter Mason Jar

Are you updating the desktop or study table decor, these fancy pencil holders will be a big must-have. Use a vinyl letter stencil for glitter letters. Paint the rest for a glittered dipped look using masking tape, glue, and glitter of choice. Use paintbrushes to spread glitter over glued areas evenly. bestoflifemag
21. Glitter Mason Jar Centerpieces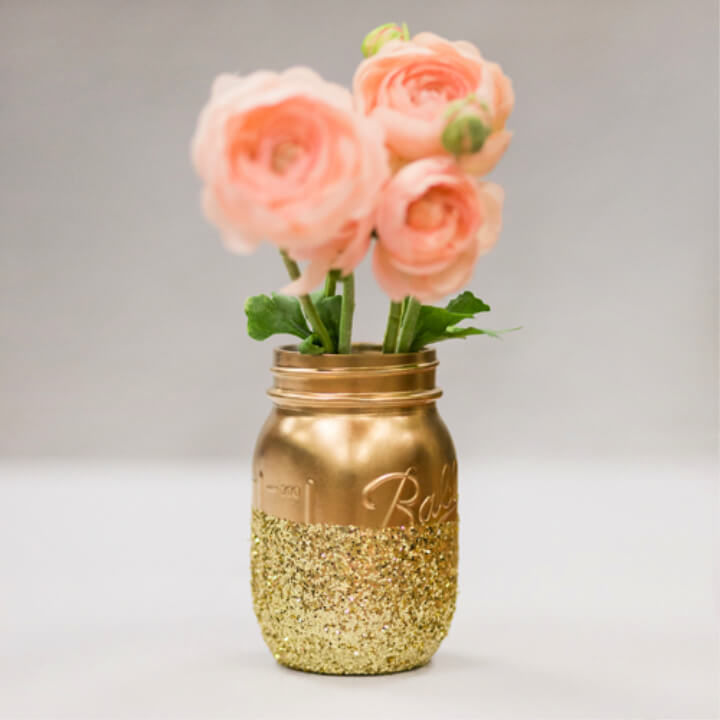 The best inexpensive decor to make inexpensively, a gold glittered Mason jar centerpiece. Give a gold spray paint base coat to Mason jar and then create a glitter dipped appeal using gold glitter. Complete instructions here annsbridal
22. How to Make Glitter Mason Jar

Get also the glittered jars to organize your makeup tool in style. Glitter up the Mason jar using a durable adhesive and glitter of choice, pole in the top list to organize makeup brushes, etc… A brilliant makeup room organizer to make in a couple of minutes. Details here kastyles
23. Handmade Pink Glitter Jar

Staring at this pink glitter jar will instantly soothe your nerves. So, do get it for mindfulness and also to prettify your home decor. Pour the glue in the jar, add water, and then pink glitter. The best girlish glitter jar to get for an amazingly calming effect. Details here firefliesandmud
24. Glitter Mason Jar Vases

Jazz up your spaces by bringing a big flash of colors, the adorable solutions are these glitter Mason jar vases, quite easy to make. Pain your Mason jar collection in your favorite colors and then create a dipped looking using glitter matching colors. Finish by adding cut flowers. littlemissmom
25. Glitter Mason Jar Centerpiece

In your mission of crafting exciting decor for your home, you must add this expensive-looking glitter mason jar centerpiece. A smart choice to give a gold glitter touch to your decor, darn simple to whip up. Enliven your spaces with this gold glitter Mason jar centerpiece. Pink and gold look great together. masonjarbreak
26. How to Make Glittered Glass Jars

Jazzing up your jars with glitter involves so many different options and styles. Use masking tape to glitter up the jars for a mesmerizing striped appeal. The glittered striped jars will make cool lanterns and vases to incorporate into your impactful home decor projects. somethingtur