DIY projects are a great way to personalize your home while also saving money. Find these 100+ fun and easy DIY projects, including step by step instructions, a material list, pictures and video guides. Whether you're looking for a new weekend DIY project or want to give your home a makeover, here are a lot easy DIY projects to get you started.
One of the easiest ways to add personality to your home is with wall art. You can either create your own artwork or purchase prints from your favorite artist. If you want to get really creative, try using stencils to create an abstract design. Another easy way to spruce up your walls is by hanging tapestries or fabric banners. All of these diy home projects are inexpensive and can be completed in just a few hours.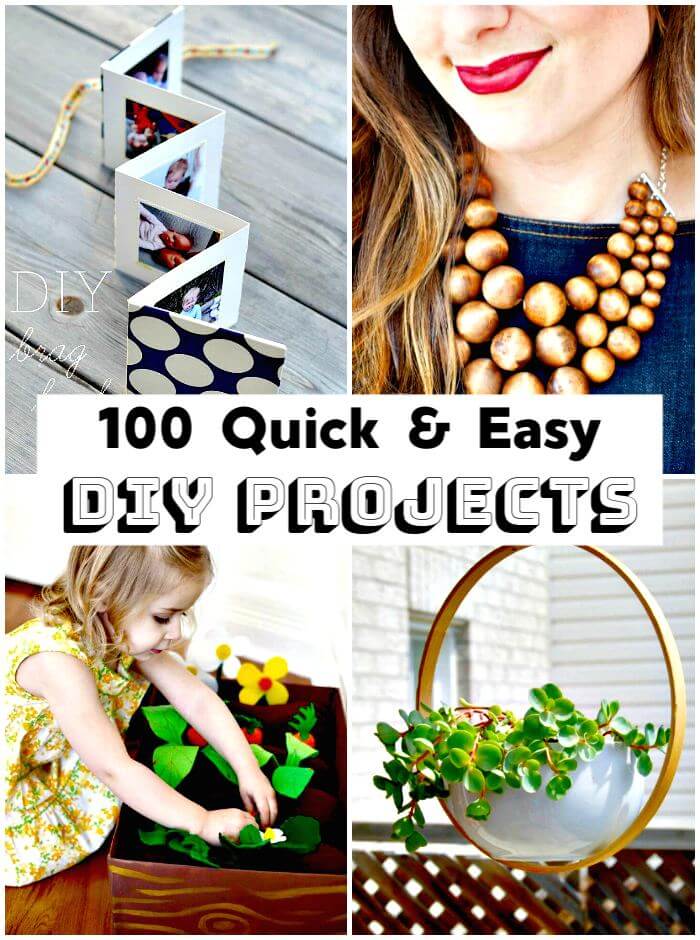 DIY Home Makeover Projects
If you're looking for a bigger project, try adding built-in shelving or cabinet units. These DIY projects can be customized to fit any space, and they're perfect for storing books, knick-knacks, or extra towels and linens. You can even add doors to the shelving units for a more polished look. And if you're feeling really ambitious, try tackling a kitchen or bathroom renovation. These types of diy home projects can be time-consuming, but the results are definitely worth it. With some careful planning and a little try, you can easily transform your kitchen or bathroom into a stylish and functional space.
DIY Wall Projects for Home
There are plenty of simple, yet effective DIY projects you can do yourself, without spending a lot of money. One idea is to create your own wall art. This could involve painting a design directly onto the wall, or hanging up framed artwork or posters. If you're feeling crafty, you could even create your own canvas painting or sculpture.
DIY Home Decor Projects
For home decor projects, consider creating your own pillows, curtains, or rugs. Sewing is not as difficult as it may seem, and there are plenty of online tutorials to guide you through the process. You can also find pre-made fabric panels that just need to be sewn together. Or if you're not into sewing, there are still plenty of other home decor projects you can tackle, like repainting furniture or hanging up new shelves.
DIY Garden Projects
Finally, one of the most popular DIY trends right now is planting herbs and succulents in creative planters. If you don't have a green thumb, don't worry – there are plenty of low-maintenance plants that are easy to care for. But even if you don't have a lot of plants, adding some greenery to your home can really brighten things up. And there are so many fun and unique planters to choose from – you're sure to find something that fits your style.
DIY Jewelry Making Projects
Another great idea is to make your own jewelry. This could involve beading, wire-wrapping, or working with clay. You can find all the supplies you need at your local craft store. And the best part is, you can make jewelry to match any outfit or style.
So these DIY projects are a great way to add your personal touch to your home, save money, and make lasting memories. However, with so many DIY ideas available, it can be difficult to know where to start. Get started on your next DIY project today with these diy home projects for beginners:
DIY Projects & Crafts:
DIY Brag Book for Photos:
Brag books are so cute and fun to make, and they make an adorable birthday gift for a one-year-old too. You can display the favorite photos of the baby captured at special moments, on the squares of this brag book and cover them with the pretty polka dotted fabric for a more lovely look. nalleshouse
Quick DIY Painted Photo Booth Props:
The photoshoot at a party gets more fun with the beautiful and cute props and now they can easily avail from the market, but you can paint them up in desired hues to get them matched for your party decor and more. The paint coats and the dots on the tops of props make them look super awesome. thecraftedlife
DIY Hostess Gift Mason Jar Of Flowers:
If you are going to attend a party or a dinner this week and you are wondering for a nice and cute hostess gift then here is this lovely idea of carrying the tea towel flower with you and bring a big curved smile on the face of the hostess. A mason jar, a tea towel, and some ribbon are the things you would make this pretty jar and of course the fresh flowers to go in it. settingforfour
Adorable DIY No-sew Apron: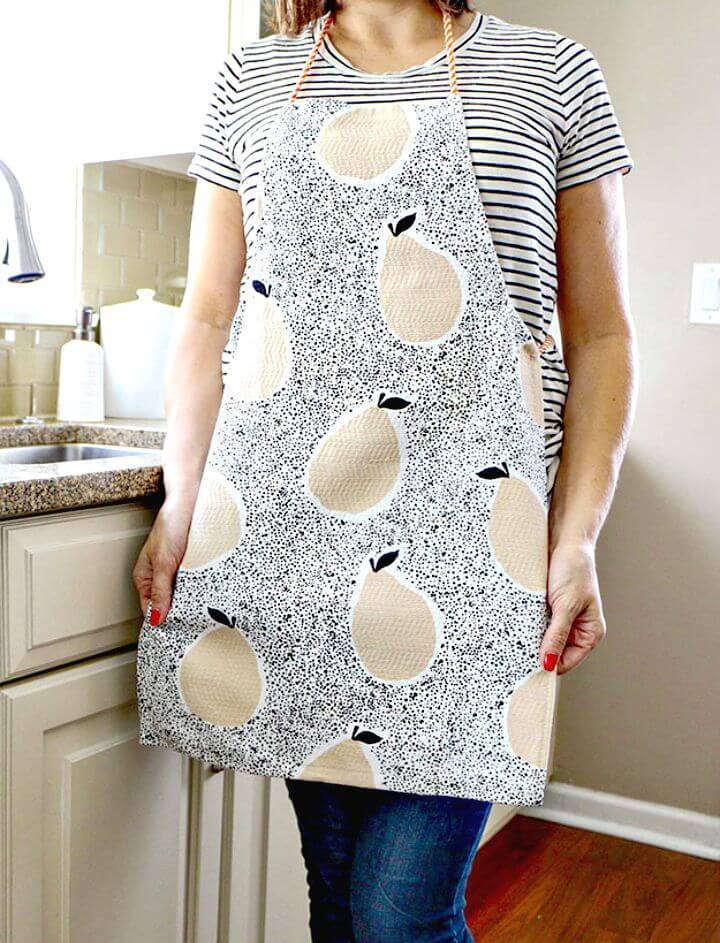 Get your mom a new apron as the cute gift, and you do no have to wait for the Mother's day for that too. This no sew apron super easy, and fun to sew yourself at home using some fabric and the rope and even the boys can get it done. Complete details here happinessiscreating
Easy DIY Plantable Felt Garden Box:
The little ones can learn a lot through the fun playing, and the games and here is how you can make this fun plant able garden for your little girls to not only play with but also learn a lot about the growth of some fruits and vegetables too. Using a shoe box, a set of colorful felt and cotton for stuffing you can create this gorgeous plant able garden for her. abeautifulmess
Quick and Easy DIY Skirt: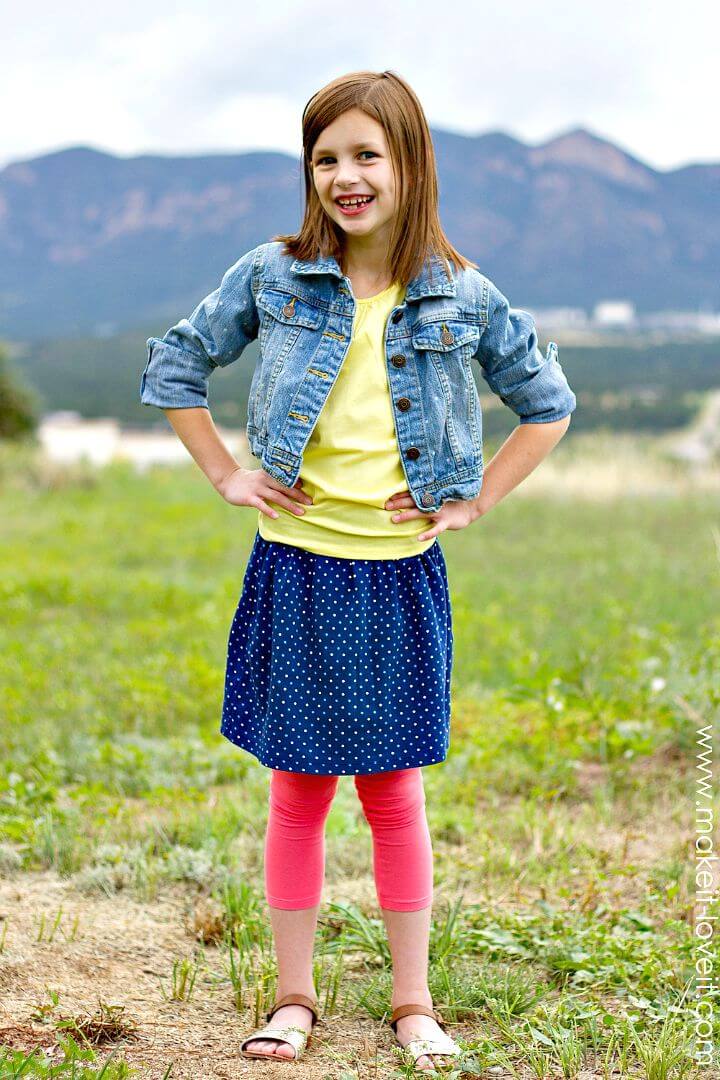 Little girls just love skirts so much and here is how you can make them a bunch of them and that too using your old t shirts or the tops. It would take only a few cutting, a little sewing and ten minutes on the lock to make one skirt so do grab the details of this idea here to try one makeit-loveit
Inexpensive DIY Fabric Art:
Add pretty and cute decor vibes in your living room spaces with this adorable set of fabric frames to be the part of wall art. They are super cute and fun to make on your own at home using four frames and four types of pretty fabric with impressive designs and patterns like the ripples, chevron, dots and the one having some natural scenery on it. iheartnaptime
DIY Keychain Chapstick Holder:
The little pieces of the fabrics lying your fabric stash can be used for, so many other fun and functional projects just like sewing up this cute key chain holder with a cute little chap stick pocket in it too. You can make a lot of them to get rid of your fabric stash and use them as the cute gifts around. crazylittleprojects
DIY No Sew Pocket T-shirt:
We all have some of the shirts in your cupboard that we do not want to toss off so here is the idea of getting them all styled up again so that you can wear them as the new and cute. So this idea suggests to put a pocket to your plain t-shirt, and spice it up a bit and hence get it all charmed up quickly as the pocket is the no sews one. Details here ohthelovelythings
DIY Petal Burlap Pumpkin Wreath:
What can be an excellent theme for the decor of the fall festivals and celebrations than the pumpkins and here is how you can get your wreath made in the cute pumpkin style too. So using some orange, green and brown stained burlap and some faux vine leaves you can easily create this pumpkin shaped wreath to arouse the beauty of your doors with. grillo-designs
Make Your Own Reed Diffuser:
The reed diffusers can make your house smell so good and fun, and it would be icing on the cake if you make these lovely reed diffusers with the washi tape flags and enhance the decor of your tables with it too. So fill your vases with fragrant oils, cute out flags from washi tape, glue them on the skewer sticks and put them in vases and Tada!
DIY Feather Strap Heels:
If you also want to buy those cute and fancy looking feather shoes but there is no money in your pocket then DIY one. Yes, you can add the pretty feathers to your heels and enjoy a really stylish pair of heels to flaunt around that too using embroidery floss, some card stock, and the glue.
DIY Felt and Cork Donuts Coasters:
These quirky and cute bunch of cork and felt coasters would make an adorable gift for the hostess, for your mom or a friend too and they are just super easy and fun to make yourself. Get some cork coasters, and pink felt and colorful embroidery floss to get these coasters made at home. squirrellyminds
Chunky DIY Wooden Bead Statement Necklace: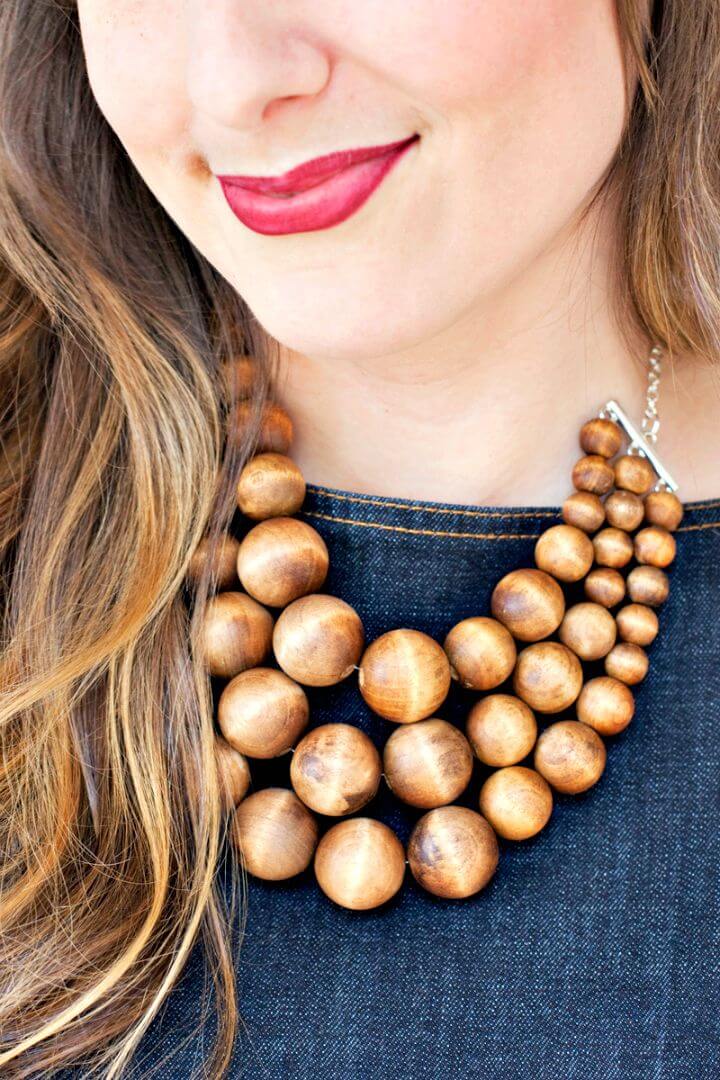 If you are also a boho person and likes to style up yourself with some super cool and cute accessories then here is the idea of creating this wooden statement neck piece and dazzle up any of your jeans and top look for the summer. Get the beads stringed up and add the clasps and the necklace is done. abeautifulmess
DIY Five-minute Art Print Frame:
Here is how you can bring more oodles of charm and style to your spaces by adding this adorable and cute print frame on the wall. Just grab any of your favorite print frame and make it hang with the help of wooden bars, a sequin ribbon and two cutely colorful pom poms and its done. minted
Easy To Make Camera Strap from A Scarf:
Make your photo clicking fun more feasible with this handmade camera strap out of an old scarf and let your camera hung around your neck like the professionals. Adding some scrap leather pieces, split rings and the chain closures you can easily create this camera strap of your desired length. thehousethatlarsbuilt
Cute DIY Felt Lollipops:
Kids love the lollipops so much but we can not ignore the fact that they damage their sensitive teeth too. So here is the idea of making these cute and colorful felt lollipops to satisfy their untimely lollipop cravings with. A felt cut circle, a swirl and a lollipop stick are the things you need to make one on your own. brassyapple
DIY Rainbow Baby Toy:
Kids love two kind of things, one is the colors and the other is the stuffed toys and here is how you can combine the both and create this lovely rainbow stuffed toy for them to play with. Its super easy and fun to make out of cheap supplies lying around just like a piece of white fabric, polyfill and the rick racks in rain bow hues. Woodson says
How To Make Summer Clutch:
A colorful and cute clutch of this kind would surely add some perks of boho style and fashion to your summer dress up and its hell easy and fun to make at home. A colorful place mat here has been turned into this pretty clutch with some added tassels at the front to make it look more enchanting. akailochiclife
Lovely DIY Pom Pom Wreath:
A spring wreath should really be full of exotic colors and bright beauty and this lovely pom pom wreath is the best thing to get your hands this time and make a lovely spring welcome for the door decor. A wreath ring, a bunch of colorful pom poms and some yarn are the things you need to create this super awesome wreath. ohsolovely
Easy DIY Birdseed Wreath: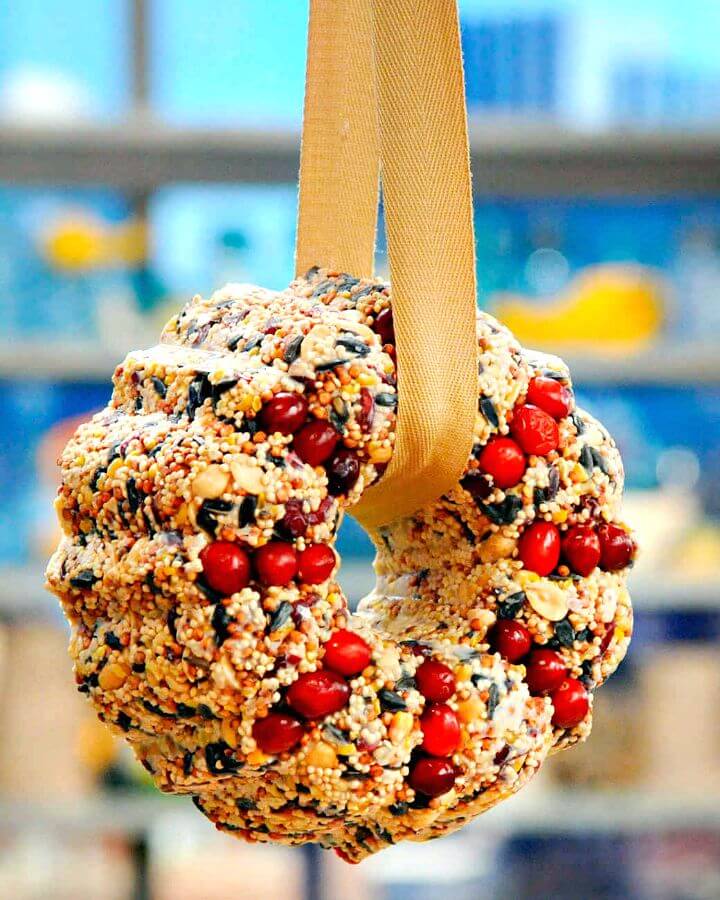 Its more fun to create a craft when you get to mix two ideas together and get something double exciting and cute out of it. So the wreath and the bird feeder crafts have been combined to get this lovely wreath styled bird feeder to be hung around your garden spaces and bring perfect cute touches to your outdoor decor. marthastewart
How To Make a Vase:
A quirky and cute vase on your tables can change the game of your decor, and home styling here is how you can do it yourself this time. Yes, you can easily create this custom piece of an adorable vase by painting the bottom of an empty glass bottle in pink and it's done. thecraftedlife
Adorable DIY Fabric Tissue Box Cover:
Do not let those dull and boring looking tissue boxes to ruin the beauty and style of your living room by sitting on the cute end tables. So to make the tissue boxes match the decor and style statement of your spaces you can sew them a cover and here is the tutorial for it. make it-love it
Pretty DIY Colorful Pompom Sandals:
The cute little pom pom balls can instantly make anything boring and dull look super pretty and exciting, and so is the case with your pair of old sandals. Yes by gluing a bunch of the colorful pom poms to your sandal top you can make it look so chic and boho for your summer fashion. thejoyoffashion
DIY Fabric Covered Spring Vases:
Spring is here, and so you should be working n the crafts of colors and bright hues to bring the spring touches in your homey spaces too and making these lovely fabric covered vases would be just perfect. The drop clothes here have been stripe painted with craft paint of exciting hues and wrapped around the vases and it's all done. iheartnaptime
Adorable DIY Leather Clutch:
Make yourself the kind of chic and custom styled accessories that your personality longs for just like this pretty leather clutch to be made at home on your own. Using the leather and your sewing skills you can easily shape up this clutch with the cutout cross design on it to make it look more unique and fun. newborn
Beautiful DIY Tulle Skirt:
Make the most out of crafty and the sewing skill and DIY this super gorgeous and stylish skirt for yourself to look stunning and gorgeous at any of the parties, dinners and get to gathers. It has been made out of the tool so that you can feel all girly and fun while flaunting it around. You can check out its complete sewing details here everyday-reading
DIY Beaded Tassel Bag:
The boho and chic girl in your house would not like that boring plain pouch or purse so if you have one you can give it a funky and cute makeover so that it matches the style and personality of your stylo girl. So paint up the purse and add cute and colorful beaded tassels to it and its done with a pretty and adorable re styling. runningwitha
DIY 10 Minute Fringe Infinity T-shirt Scarf:
If you have the old t shirts lying around and you are thinking to toss them off then you might hold up after watching these gorgeous fringe scarves made out of those shirts. Cut out the upper arm sections of the shirt and cute out the fringes at the bottom and you are done with a super fun and purposeful craft. thinkingcloset
DIY An Etched Glass Water Bottle:
You can make your water bottles look super gorgeous and stylish and thus impress your guests whenever you serve them with chilled water. Using some etched supplies from the Martha Stewart you can lend this gorgeous etched look to your water bottles and add so much to their beauty on your own. creativegreenliving
DIY Apron with Fat Quarters:
A new and cute apron can really make the day for a cook in the house and you can easily sew yourself at home and that too the one with the pocket. Using the colorful and cute fabric of contrasting hues you can easily create the apron with pocket to hold the stirrers and the spoons and feel more fun while cooking. creativegreenliving
DIY Chevron Pallet Mounted Hanging Mason Jar Vase:
We all make the lovely Mason jar crafts and Mason jar vases are the best and favorite of them. So if you have also made a mason jar vase you can create this chevron wooden pallet hanging display of your Mason jar vase to create a delightful visual in your home décor. So grab a wooden pallet plank and the white paint to create this lovely mounted planter with mason jars. unoriginalmom
DIY Hanging Wood Slice Plant Stand:
It's out of the trend to display your vases and planter pots on the table tops as they are made to hang in the homey spaces and create a totally jaw dropping look. Using a wooden slice and the leather straps this gorgeous and rustically appealing hanging planter holder is super easy, fun and cheap to get your hands on. brepurposed.porch
DIY Mason Jar Table Number For Weddings:
There are so many tasks to perform for the wedding preparations and here we are with the help with the creation of these DIY wedding table numbers so cheap and nicely. With mason jars, wooden numbers and the spray paint you can easily create the gorgeous yet cost efficient table numbers. thecountrychiccottage
Make Metallic Painted Picnic Basket: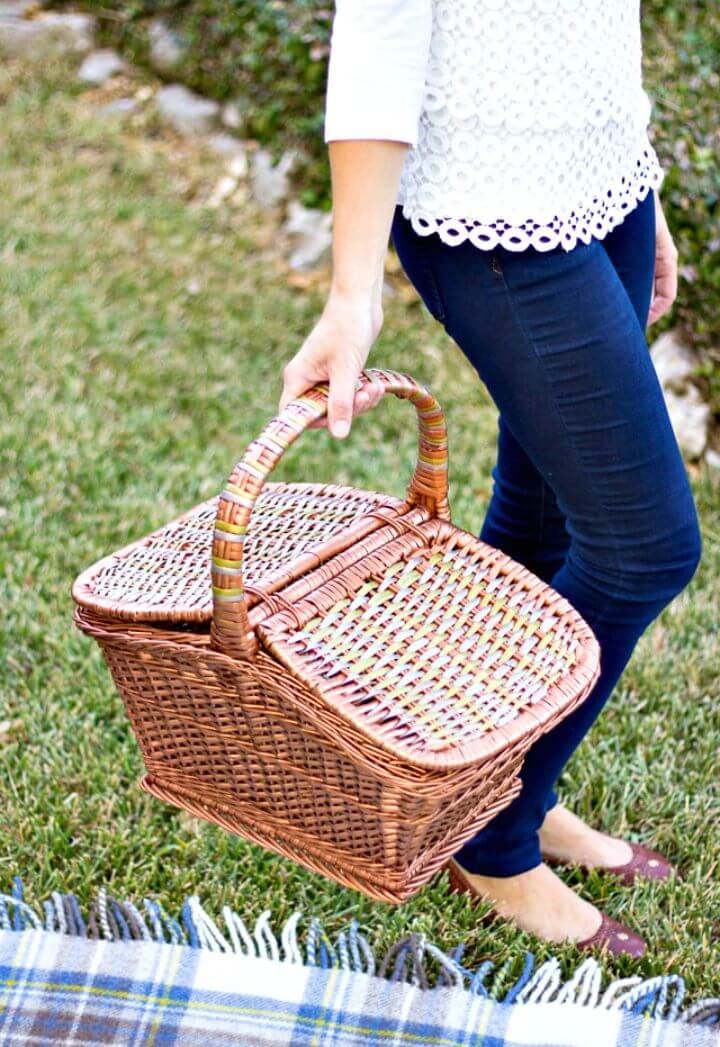 Anything super common in your house can be made to look super gorgeous and exciting by waving your crafty wand on it. For example your picnic basket cane made to look so much pretty and fun with a few coats of copper and silver spray paint all over it. Get to know to know more of this idea right on the link here designimprovised
DIY No Sew Swimsuit Cover Up:
A fun beach trip is super fun when you have everything fully prepared for the beach trip and here is the idea of sewing this gorgeous and stylish swim suit cover on your own. The best thing about this swim cover up is that everybody can make it as it is a no sew project and with few cuts, folds and twists you can easily get it done. watchoutforthewoestmans
DIY Painting Stripes On A Tee Shirt:
We all have the white t shirts and at some point they seem to be totally dull and boring to us but here is the fun idea to spice them up and add some custom appeal to your fashion and clothes. You can add these colorful paint strips to your t shirts and make them look all funky and fun and here are the details of it. cottonandcurls
DIY Pompom Diaper Cover Tutorial:
Pom poms are so cute, adorable and colorful and they really look great on the baby stuff of all type so why do not you add some of it to the baby diaper cover and make it look funky and fun. You can grab the matching colored pom pom lace and add layers of it to the diaper cover and you are done with a super cute craft. feathersflights
How to Make Sharpie Dot Flower Pot: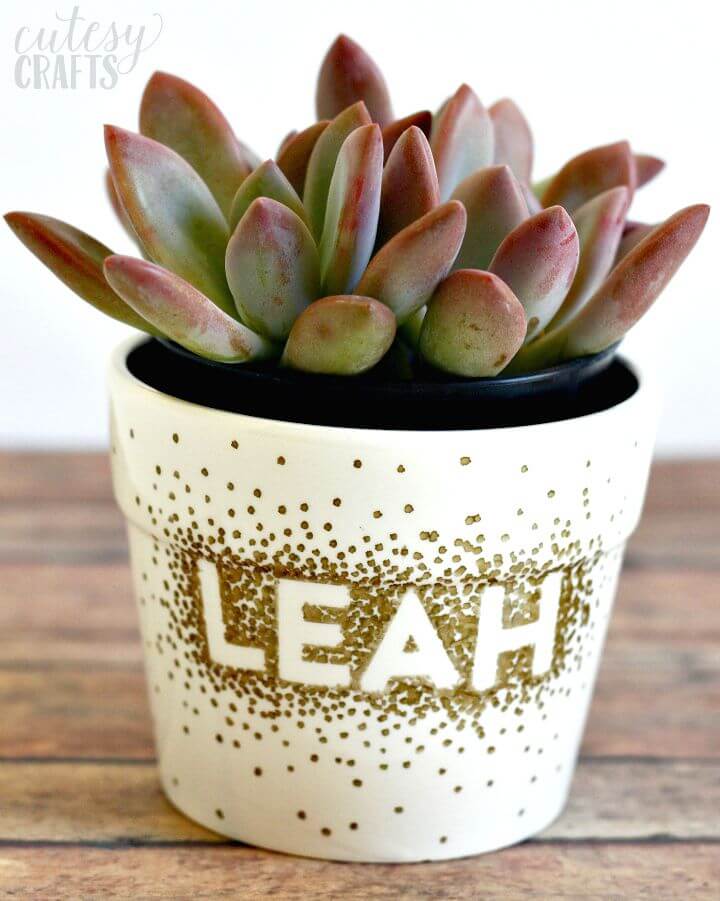 A cute handmade pot with your name on it is the right thing to spice up your home décor with. Get a ceramic pot to hold the cute succulent and to embellish it in a super custom way you need a sharpie maker in gold tne letter stickers of your name and Tada. Follow the details of the idea right here diycandy
DIY Superhero Comic Book Magnets:
Those old comic magazines lying in your magazine basket would be fun to use for the making of these super cute, colorful and fun looking magnets for your fridge. The magazines have so much fun images, texts and shapes and they would look great on the magnets and here are complete details of doing it on your own. craftsbyamanda
Easy and Quick DIY Wreath:
Here is how you can add some extra touch of charm and beauty to your spaces and that too with a cheaply made yet totally gorgeous and unique wreath. The wreath has been simply made by putting those quirky purple flowers to a simple vine wreath ring. Doors, windows and the tables this pretty wreath would look great at everywhere. makeit-loveit
How to Build Allet Plaques:
The small and pretty possessions can really bring huge décor impacts in your spaces and this wooden pallet plaque is totally that kind of possession. Made out of five wooden pallet pieces stained in grey this little cute lip board would nicely hang one or two of yours and add oodles of charm and fun to your space. ohmy-creative
DIY Chalkboard Wrapped Drink Jars:
Summer parties focus more on the drinks and the beverages and with them come the drink glass or the jars and you can easily make the quirky and fun ones on your own. The milk bottles can be used as the fun drinks with chalkboard tape and you can write the names of the guests on them and thus make them look super custom and fun. lemonthistle
Easy DIY Drawstring Bag: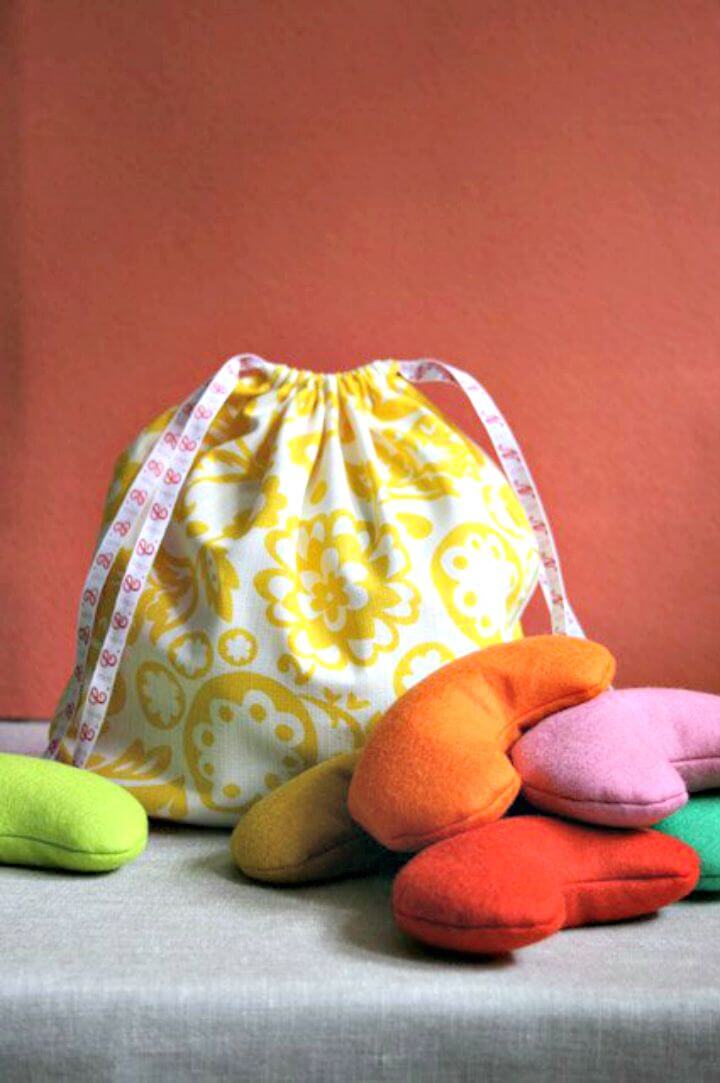 If you are good at sewing then here is how you can use it for the making of a cute gift for your little ones around. This time you can sew them up this lovely and cute drawstring bag in any of the colorful fabric lying around and they would just love it as they can put so many of your things in the bag and enjoy it so much.s purlsoho
DIY Finger Knit Rope Trivet:
Knitting is so much fun especially when you can do it easy and fast with the fingers involved and this trivet can be the thing to make this knitting time of the weekend. You can easily knit it up and use it as the pot holder in your kitchen and also jazzing up the décor of your kitchen with it too. Complete details here flaxandtwine
DIY Gold Snake Serpent T-strap Sandals:
Here is the fun idea to add more awesome touches in your Halloween dress up by creating this exquisite and unique pair of snake sandals. So grab your golden heels sand the plastic snakes and paint them gold and attach and you are done. with an honestly Halloween kind of footwear.diy-shoes-gold
How To Make Washi Tape Clocks:
Those cute little IKEA clocks can be made to look so much fancy and fun to match the quirky and fun details of your decor when covering them up in the washi tapes of multiple colors and designs. Here are the natural and fun features of the idea tellloveandparty
DIY Mason Jar Soap Dispensers:
The mason jar crafts are so much fun and you can not only use it for the home décor but also for the home betterment and making this soap dispenser would be a great idea for the weekend. You would need a fewer supplies to make this and you can place it in your kid's bathroom and they would love it so much. lovegrowswild
How to Make Parson Chair Slipcovers:
A little change can really bring the freshness and uniqueness in your boring home décor and getting your chairs the pretty slip covers would be really a good idea. You can grab any of the fun and cute looking fabric and easily sew up these parson slip covers for your chairs and you can easily sew them up and here is the tutorial ana-white
Easy DIY Seashell Mirror: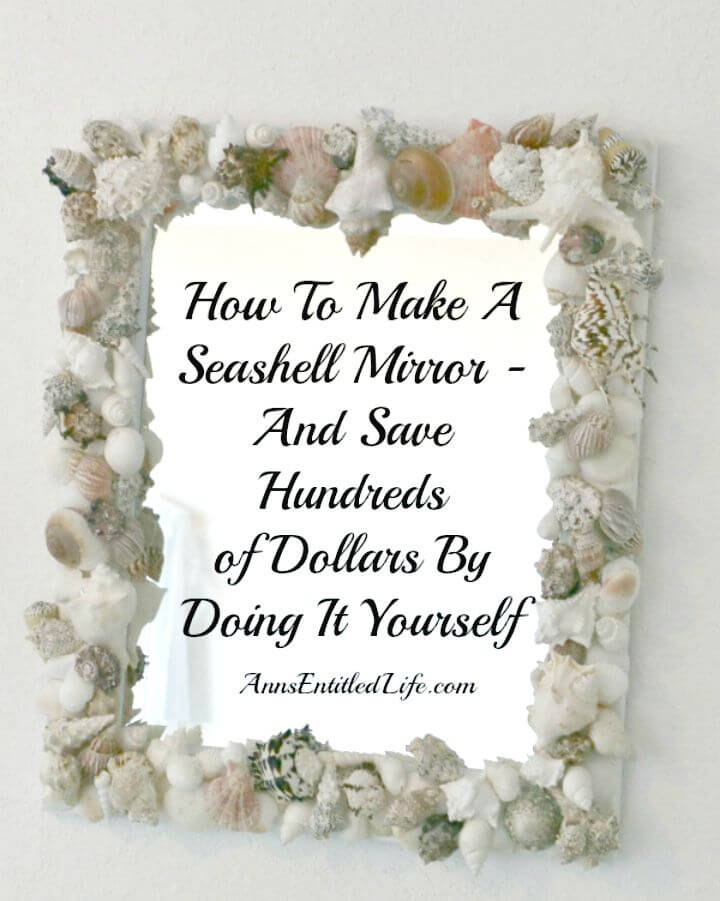 A gorgeous mirror on your walls can really bring some fresh air of décor and style to your spaces and now you can embellish a mirror yourself and here is the idea. Yes you can glue a load of cute sea shells around the boundary of your mirror and it would turn out to be super exquisite and fun for summer décor of your spaces. annsentitledlife
How To Make Frame for Polaroids: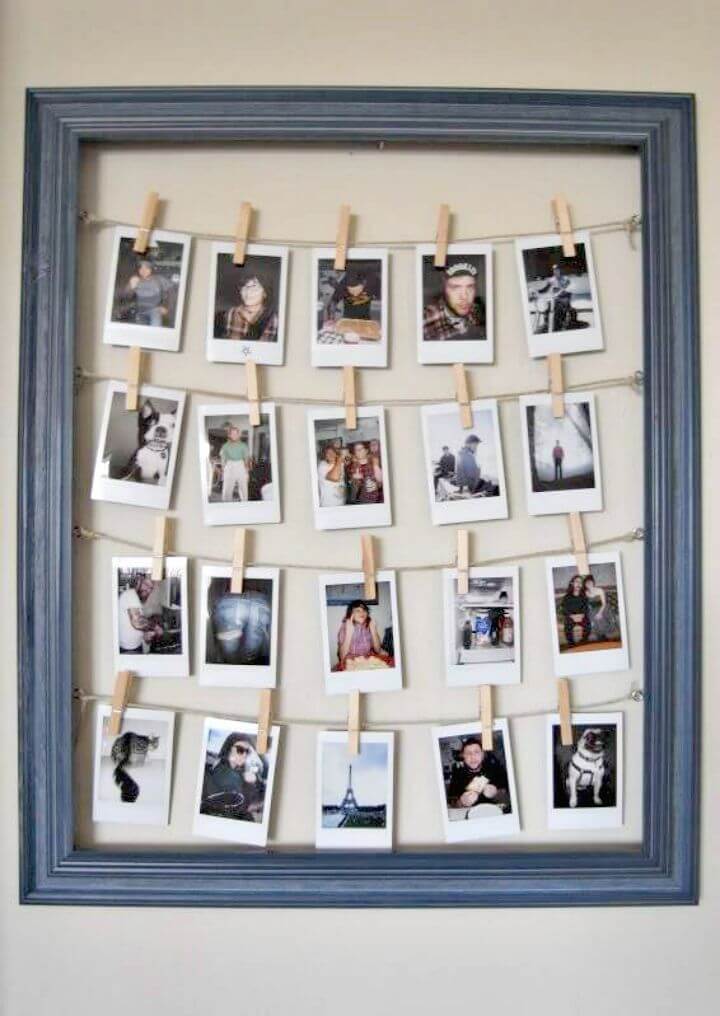 If there is a birthday coming up in your family then here is the idea of creating a fun gift idea for the birthday girl or the boy. You can create this lovely photo Polaroid for yourself with their memorable and fun photos and that too just using a wooden frame, some string pieces and the cloth pins. mylittleartichoke
Awesome DIY Marbled Clay Ring Dish: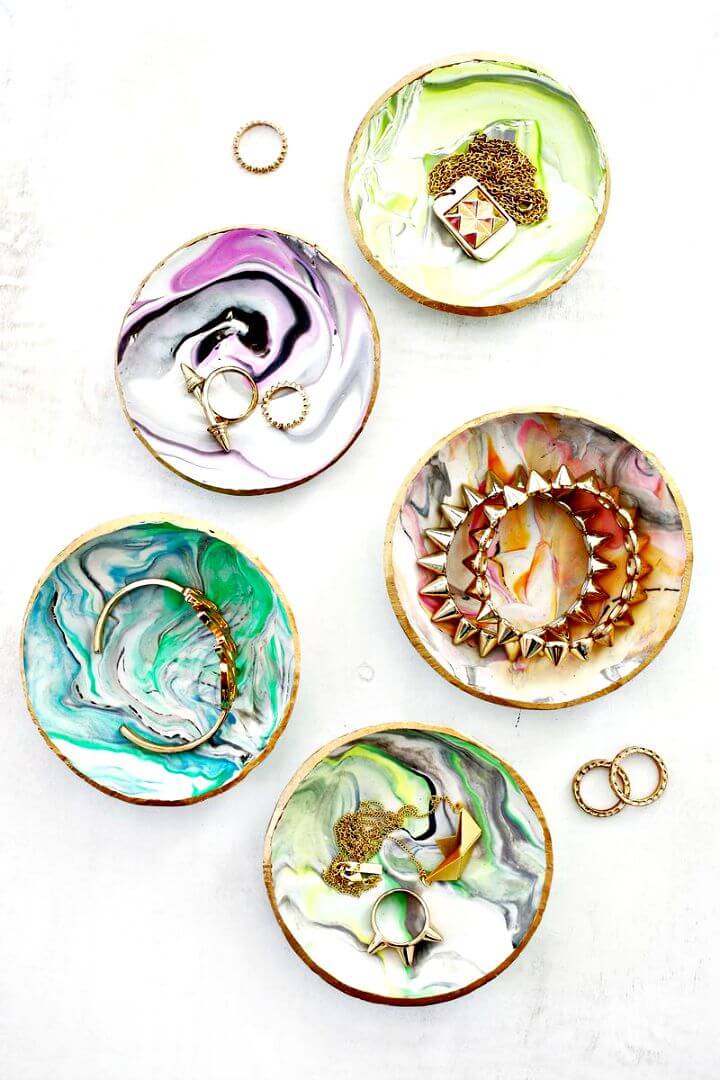 The ring dishes look so much cute and fun over your dresser top giving you complete jewelry organization and décor too. So using the colorful clay, rolling them and cutting out round shapes out of them you can easily create these fun and funky looking dishes. You can check the complete tutorial here abeautifulmess
DIY Marbled Mugs with Nail Polish: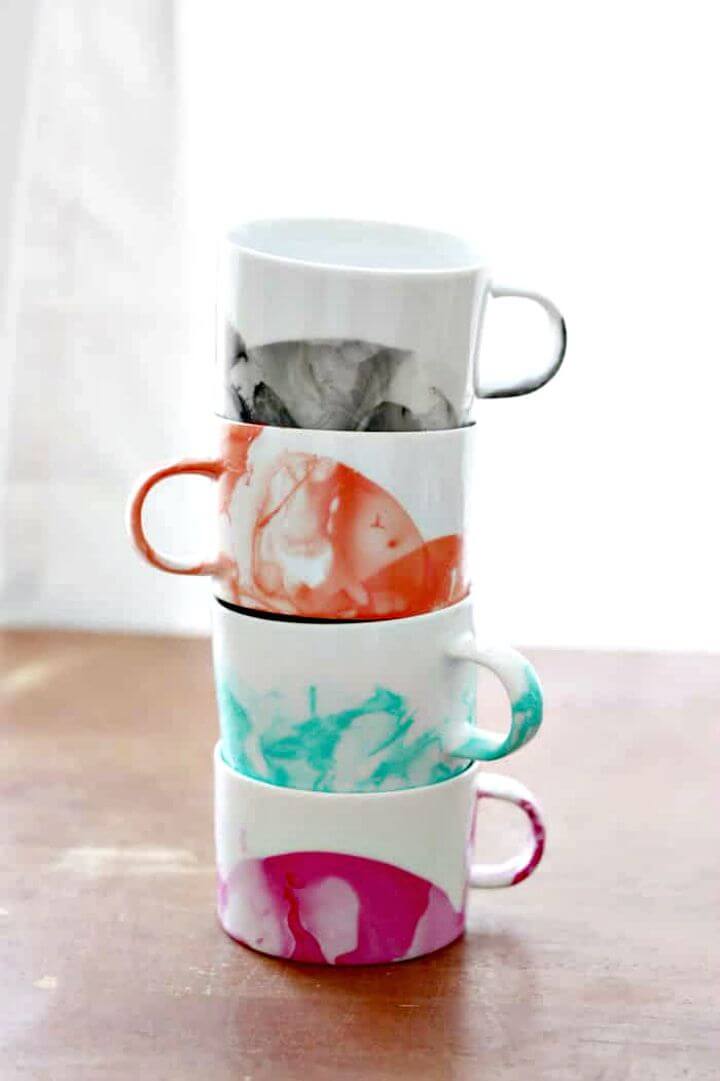 Those plain white cups or the mugs in your kitchen can really be made to look fancy and fun. Yes you can lend your cups the colorful marble effect and that too using the nail polishes from your dresser. The idea is too easy and fun to work on and here are the details of doing it on your own at home. diycandy
Easy To Make Rope Bracelets:
Here is the cheapest yet the coolest kind of set of bracelets that you can easily make for yourself and also use as cute gifts too. . Just dye the rope in colorful pieces and get them cut into the size of your bracelet and you are done and with this easy and fun technique you can make as many as you want. breakfastatfaymes
Cute DIY Tassel Earrings:
The plain ear rings are the must haves of every woman's jewelry box and now you can spruce up them up more to get them look more stylish and fun on you. Yes you can add these handmade yarn tassels to the ear rings and get them all fashioned up. They would really make a cute gift too so do make them. styleandforks
DIY Watermelon Shorts:
Girls love shorts as they are not only stylish but utterly comfy and relaxing for the summer dress up. To make the old shorts look super cuter and fun you can dye them with the water melon theme and get them look all excited fun and cute. Here are complete details of the tutorial to grab and try this weekend thescienceofhappy
How To Make Wood Coasters:
You can easily get a round set of the wooden coasters from the make and then embellish them in any of the desired way to look perfect for your home style and décor. These ones have been stained in a rustic way and made to look more exquisite with the white polka dots on it. You can check out the details of the idea her the36thavenue
How To Sew Lined Tote Bag:
Tote bags are the neediest of the things for the ladies and you can make one yourself at home using this perfectly cute lining fabric. It is super easy and fun sew yourself at home and here are the details of it so that you can also make one yourself at home. hgtv
Fancy DIY Balloon Arch:
Balloons are the integral part of the décor and you can arrange them in so many ways to create a decorative and fun look of your part tables and the backdrops. Here a bunch of the pink balloons have been styled up in an arched style to look super cute and fun and here are the complete details of it

How To Build Easiest Stools Ever:
The bars for the outdoors are fun as you can use them for so much fun uses for the bars and drink sessions. The bar stools are super easy and fun to make out of the wooden bars and plank and that green stain hues make it so fresh and summery and pretty for the outdoor décor and more. Details here rogueengineer
DIY Dip Dye Ombre Skirt:
If you are familiar with the art of dying the fabric then you can enjoy so much fun being added to your wardrobe and home décor. This fun omber dyed skirt would look super cute and chic on you during a hot summer day either you are wearing it at home or you are going out with friends. Check out the dying tutorial here asideofsweet
How To Make Hammock Chair: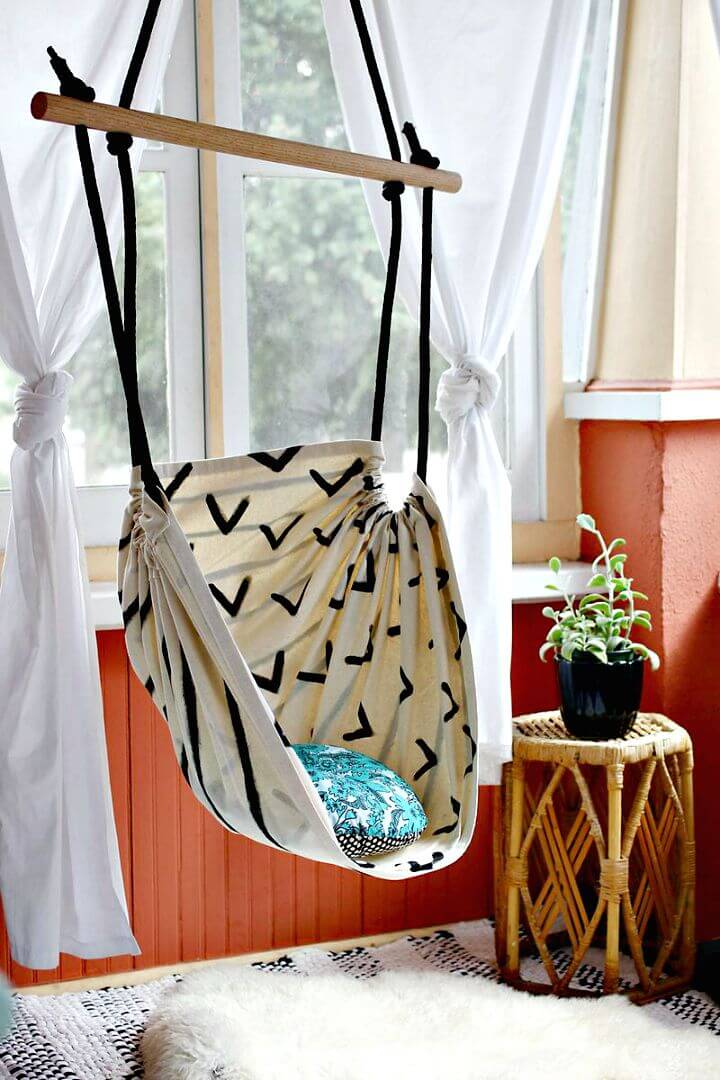 Having a hammock chair in their room is the desire of every kid and teenager and you can easily fulfill this innocent and fun desire of them by making them one. Using some rope, wooden dowel and a quirky patterned fabric you can easily create them a hammock chair to read, relax and have fun in. Tutorial here abeautifulmess
Quick DIY Hula Tassels: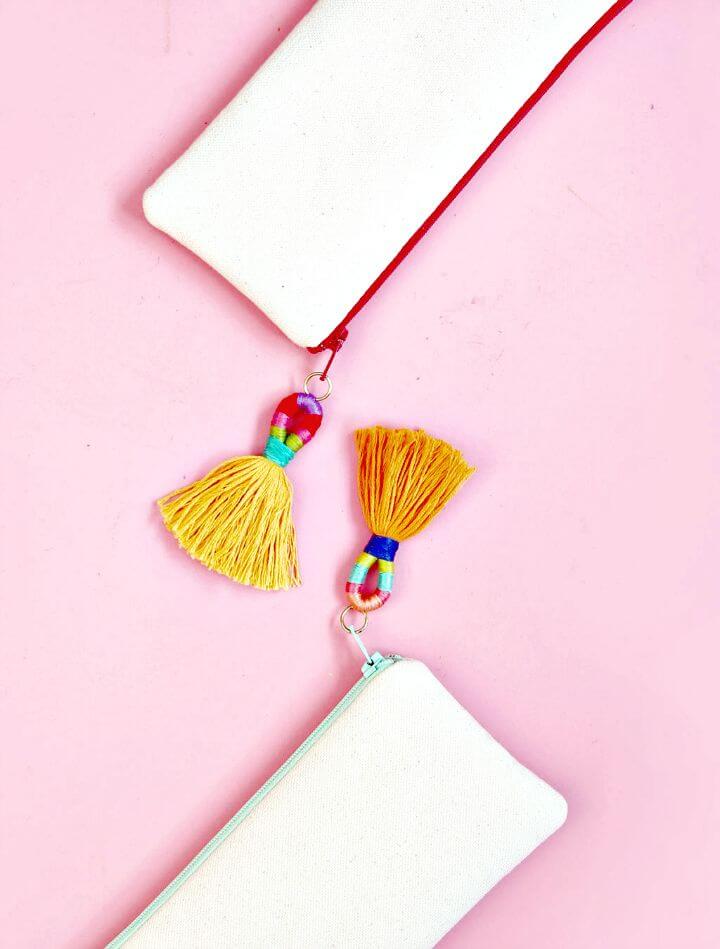 The cute and colorful tassels can add a extra touch of delight to any of your boring and dull possessions just like the plain pouches that you have made or bought. These hula tassels are fun to make from the colorful embroidery floss and thus charm up so many of your things around. Details here damasklove
Adorable DIY No-sew Footstool:
You can also make this cute looking traditional in design stool for your living to add more to your body relaxing and also the style of your living spaces with its lovely look. Short wooden legs, soft padding and the chic pattern fabric are the things you would need to create this fun and functional stool for your feet comfort. build-basic
Make Ombre Seed Bead Necklace:
Making your own jewelry at home would be the best way to nourish your boho style and personality and this summer you can get craft with this lovely omber blue seed bead necklace. The gorgeous and girly necklace in all blue shades would look great on your tops and shirts and add an extra spark to your summer fashion howewelive
Build Your Own Platform Bed:
It's the big furniture things that cost the big holes in your pocket just like a bed and now you can build one yourself. Here is this gorgeous and functional wooden pallet platform bed to be made easily at home and bring the complete rustic and natural décor vibes in your bedroom. Tutorial of the bed here shanty-2-chic
How To Make Triangle Pouch:
Making pouches is one of the fun crafts the craft ladies enjoy at home and this time they can get their hands on this unique in shape triangle pouch and amuse their summer style with it. Using the color ordinate pieces of the fabric this pretty and utterly cute pouch has been easily with a zipper and tutorial has been shared here aspoonfulofsugardesigns
DIY Twig Letters:
Adding the cute initials and the lovely letters in your home décor bring the most custom vibes in your home style. The wooden letters from the market can be turned into your personalized décor avatar in many of the ways just like this one getting covered with the wooden twigs and look super rustic and enchanting. thehappyhousie.porch
How To Sew Curtains:
There is a lot of fun kind of fabric in the market that you can choose per your demands and décor needs. And if you are in need of some curtains for your library, home decks or other such space then these text printed now sew curtains are the best things to get your hands on.Details here heyletsmakestuff
Inexpensive DIY Pillow Covers:
Working on the makeover of your outdoors would surely ask you to change the throw pillows too and here is how you can make the most pretty and cue pillows. Using the American flag inspired them the pillows have been made in red, white and blue fabric to look great around the 4th July. Details here thehappierhomemaker
DIY Doily Pendant Lighting:
The set of doilies that you mom have saved in her old trunk can be super fun to boost up your home décor in many ways and creating this intimidating pendant light would be a great idea. Gluing up the doilies over a balloon this perfectly round and cute light has been made and the details have been shared here instructables
Make Felt Bow – Free Pattern:
The cute and colorful bows work in so many ways to style up the little girls of yours be them at their dresses, hair bands, clips and shoes. So now you can make a bunch of the bows on your own using felt and that too in all the pretty and fun shades and here are the details craftinessisnotoptional
Homemade Pizza Sauce Recipe: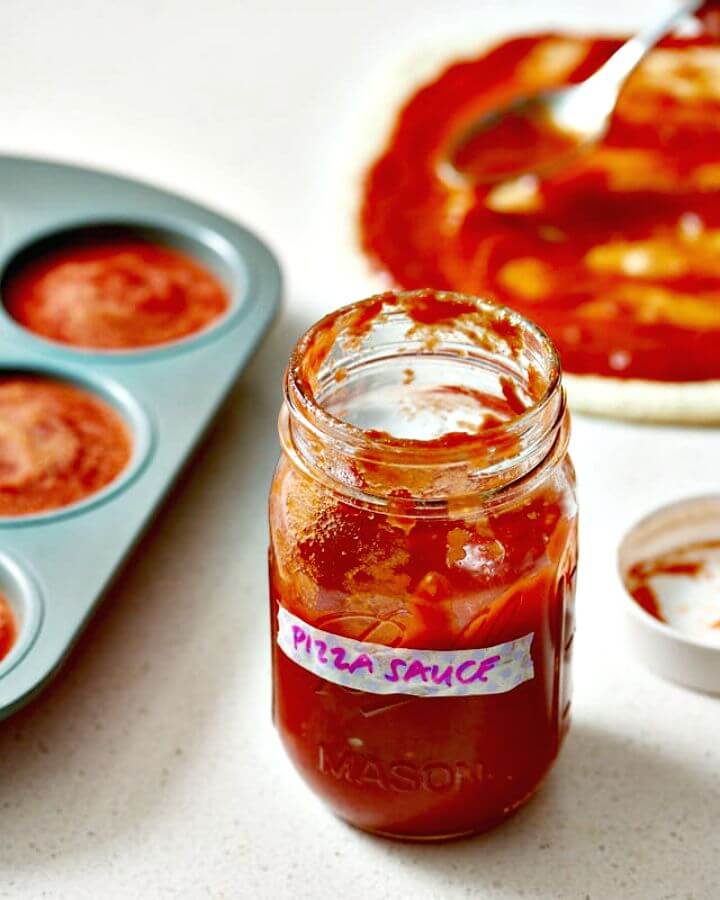 You can easily make the yummiest pizzas at home when you have this amazingly good and tasty pizza sauce to bring the real pizza taste in your home baked pizzas and let the kids get crazy after them. You can learn the complete recipe of this easy and yummy pizza sauce right here thekitchn
DIY Kate Spade Inspired Metallic Polka Dot Phone Case:
Get your mobile this urban sexy look on your own and enjoy some glam being added to your personality. The cover of the phone has been painted in black and then added with golden polka dots for that utter chic and cute look. Get complete details of the idea right here cafecraftea
Make Sun Printing T-shirt:
Love to wear the t-shirt as the stylish seasonal outfit? If yes, then just make your own fabulous looking t-shirt at home using the sun printing! Just paint your t-shirts with 2 or more acrylic paints and then let them dry in the blazing sun! Sun-drying will give and amazing print to the t-shirt! Step-by-step Instructions here kcedventures
Adorable DIY Upcycled Vintage Tin Lamp: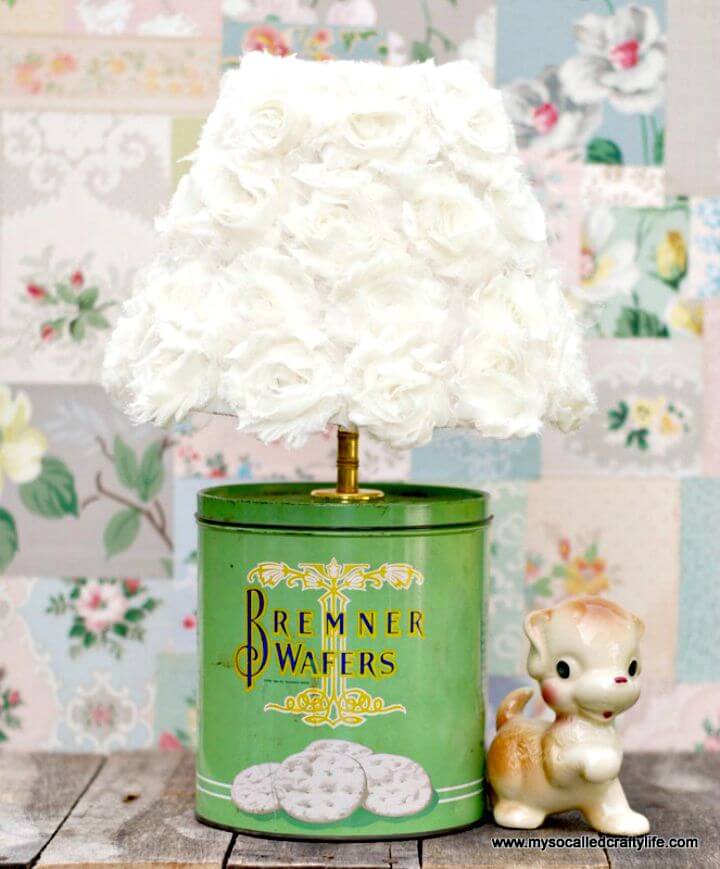 Willing to get some antique lights for your home? Then also repurpose the vintage tins to make some fab ones just like this given rustic lamp that comes with a vintage tin base! Just grab a lamp kit and a vintage tin to duplicate this lamp! Full how-to tutorial here mysocalledcraftylife
DIY Washi Tape Ribbon Wands:
Magic wands are often to see in the hands of angels and if your little girl is going to wear a angel dress on her birthday or on any special occasion then also perfect her angel outfit style by making a cool want for her! Just wrap a wooden dowel in the textured washi tape and then add a bundle of colorful ribbon lengths to top side of it! Full project instructions here washitapecrafts
DIY Wrap Gifts Using Embroidery Floss:
Wrapping gifts in a style matters as it is the wrapping that impresses the receivers first! So, you can also make smart use of yarn to wrap your gifts like a pro! Just wrap the colorful yarn loops around the gifts making colorful lines and textures and that's it! Full project details here tellloveandparty
Make Your Own Teepee:
If you are interesting in tenting in camping then you should definitely learn to install some tents and teepees first! If you really want to learn then checkout here this lovely homemade teepee that comes with frame made of poplar dowels, tied together using sisal rope and finally the whole frame has been covered with canvas fabric! Full instructions here julieblanner
Modern DIY Dreamcatcher:
Filter your bad dreams with this fetching modern dreamcatcher that is purely handcrafted and you only need some wooden beads, white yarn and a macramé metal ring to make this dream catcher! Make the wooden beaded strands and then hang them over the metal ring! Full project tutorial here almostmakesperfect
DIY Kimono In Less than 30 Minutes:
Boost your style also by making lovely kimono at home, just fold and cut the selected fabric smartly and make lovely kimonos even in last 30 minutes! Checkout here this sample kimono that will make a great gift for a style and fashion loving lady! Full step-by-step instructions and free plans are here abble
DIY Father's Day Nuts Photo Frame – Gift Idea:
Willing to make some fab gifts for the Father's Day? Then just make stunning photo frames at home, get inspired of this sample quoted photo frame that has been adorned with the lovely metallic nuts mounted all around the photo frame, bring a great metallic touch and accent to frame! Full project details here happinessishomemade
DIY Recover Your Outdoor Cushions:
Is your outdoor sofa is looking less attractive due to ugly and boring cushions? If yes, then just do give some instant decorative treatments to your outdoor sofa cushions and bring back the lost charm and grace of your outdoor sofa, checkout here the sample recovered outdoor cushions looking amazingly beautiful! Full instruction and project details are here jennifermaker
Quick DIY Porch Pillows:
Want to bring some great visual details to your porch area? Then you can also do so by throwing beautiful pillows to your porch sofa! Checkout here the sample porch pillow that come with stunning line texture, here these pillows are self-sewn and the line texture is self-painted, don't forget to finish your pillows with lovely colorful tassels and that's it! Full sewing tutorial and instructions here abeautifulmess
DIY Stacking Beaded Bangle Bracelet:
Just grab the metal wire, cut it to bangle length and then twist in round shape! Thread the seed beads onto it and prepare a custom number of beaded bangles which can be stacked on writ to make a lovely bracelet as you can see! Another great quick and easy DIY jewelry project to do in your spare time! Full tutorial here happyhourprojects
Simple DIY Circle Skirt:
If you are looking for some new and cuter outfits for your little girl then you should definitely make some lovely one at home! A great and interesting sample here is this homemade circle skirt that comes with fabulous waistline! This skirt would be super quick and easy to make! Full instructions here crazylittleprojects
DIY Dinner Napkins with Mitered Corners:
Willing to bring some extra grace and amazing visual details to your dining table? Then you can also do so by placing some decorative napkins on your dining table! Just create your own beautiful mitered cornered dinner napkins out of normal cloth napkins just by giving a few creative folds! Full picture tutorial here craftsy
Simple DIY Laced Sandals:
Give an instant and easy decorative treatment to your sandals and bring extra grace and charm to them! Just treat your old sandals with the lace patches and create a stunning appeal of them! Have a look at the given below sample laced sandals! Full project guides and instructions here kollabora
Unique DIY Mid Century Planter:
Looking for some rustic yet modern home decors? If yes, then his given planter would make an ideal choice, a perfect rustic yet modern home décor centerpiece that you can quickly make at home without spending even a penny from your pocket! Just glue together to different sized bowls in bottom-to-bottom arrangements and then fill the rocks, soil and finish with your favorite plants! Full tutorial here sugarandcloth
Build a Back Yard Fire Pit:
Want to enjoy the chilly evening by sitting around the fire pit? Then also make your own beautiful fire pits using the stone pavers, bricks or cinderblocks! Just dig and level up the space, spread the gravel or sand on the selected area and then stack the paver stones up to two rounds! Full step-by-step instructions here thegardenglove
DIY Felt Garland Necklace:
Make the colorful felt circles and then fold them onto a piece of string in a scalloped manner and make lovely looking felt garland necklaces that will definitely boost your fashion and style and will be super quick to make also! Willing to duplicate this given felt garland necklace? Full instructions here helloglow
How to Make Hanging Planter:
Just grab a wooden embroidery hoop that should have rim having enough width to hold a planter! Just glue the planter to base of the embroidery hoop and then plant your herb or succulents in it and make a loving hanging planter that can be hanged to bring instant garden décor vibes! Full project details and instructions here northstory
DIY No-sew Tutu Baby Shower:
Are you looking for a perfect dress for a baby to wear on the baby shower? If yes, then make a lovely one by going smartly no-sew with the tulle! Just checkout here the sample pink tutu that comes with a ribbon waist tie and is super easy to make at home, it will also make a great baby shower gift! Full tutorial here olderandwisor
Awesome DIY Slate Coffee Sleeve:
If you are having some scrap fabric or felt then also make lovely coffee mug sleeves that will make it easy to hold the hot coffee mugs without getting your fingers burnt and this will also make your coffee cup look beautiful! Checkout here a sample black one that has been adorned with brass ball chain and pyramid gold studs! Full instructions here forthemakers
DIY Teacup Pin Cushion:

Willing to please a crafting loving mom? If yes, then do make a pin cushion for her and you can also make a cool one by repurposing an old teacup! Just stuff the fabric covered batting in the cup and then push down your pins to gain a lovely pin cushion! Here is how to make it at home creativegreenliving
DIY Bracelet from Braided Beads:

Another precious and cool bracelet is here to jazz up your forearm, this is here a single colored red braided bracelet that you can make easily using the red bead strands! Just string up some red beads and then braid them together to make this lovely bracelet! Full project instructions here simplyallis
DIY Real Flower Headband:

Are you a big jewelry wearer? Then just make fabulous bracelets at home without getting expensive! Just thread some crimp beads, seed beads, accent beads and focal beads on a tiger tail beading wire and make brilliant looking bracelet, get inspired of the given sample! Here is how to make it bridalmusings
Easy To Make Beaded Bracelet:
Full Tutorial: gretasday
Related DIY Projects:
Looking for a fun weekend project? Check out these easy DIY crafts that you and your friends can do together! From jewelry making to painting, you'll find DIY project for sure. So get creative and have some fun!
Conclusion:
Whether you're looking for easy DIY projects to keep you busy on a rainy day or some new and exciting home improvement ideas, we've got you covered. With over 100 tried-and-true diy projects and ideas, there's something here for everyone. So get your creative juices flowing and start working on transforming your home into the space you've always dreamed of. We love nothing more than helping people bring their DIY dreams to life! What are you waiting for? Start browsing our list of easy diy projects now!