The handmade gifts just rock when we just want to win the heart of a beloved one! The time you have consumed to make that gift and the love emotions you have put in will definitely make the targeted person fall in love more with you! So, if you are just digging the web for some innovative gift idea for a boyfriend that would be easy to cook also then you have just reached the right spot to get a complete help! We have shared here 30 most innovative DIY gifts for boyfriend that will be loved dearly by all your sweeties and lovers! Here all these DIY Gifts for Boyfriend gives have so been crafted that each unique gift conveys a love message that will definitely raise you in the eyes of your boyfriend! Time to develop stronger love bonds between you and your boyfriend with the help of these boyfriend gift projects that require no higher crafting skill levels and experience!

Please your boyfriend by giving the mini heart piñatas that are easy to make using the cardboard heart boxes that can be covered with fringed paper folds! Craft the date arrows using wooden dowels and red felt that will come with a message label and would be a decent way to ask your boyfriend for a date! Please, also your boyfriend by presenting him the domino wall clock that can easily be made at home using a round wood cutting board and some dominos! Fill a mason jar with colored paper messages and make date jars that will be another beautiful gift for your lover and also craft the leather keychains at home that can also be given as a sweet mini gift to your boyfriend!
Express your love by crafting a heart pillow for your boyfriend and also win the heart of your fashion-loving boyfriend by giving him the woven watch bracelets! Sew also the handsome laptop sleeves using felt and leather sheets that would make a great gift for boyfriend who is a great laptop user, please also your boyfriend by making sweet message-in-a-bottle valentines! Please, a tea-loving friend by making a hand-printed mug that you can also fill with custom treats like candies and also craft the distressed photo blocks for your boyfriend to earn more of his love!
DIY Gifts You May Like:
Make the heart shaped tea bags for a coffee loving boyfriend, create also the quoted mugs for him just by writing some love saying on the coffee mugs using the sharpie markers and also gift the explosions box gifts for your boyfriend that will definitely hold the attention! Make also custom treats for your lovers to please him and also create the gifts-in-a-jar that will definitely go eye-catching to your lover!
There are tons of boyfriend gift ideas and projects more given in collection which you can Check out and duplicate at this upcoming Valentine's Day! Visit also the attached links for getting complete tutorials and instructions!
Awesome DIY Conversation Heart Piñatas: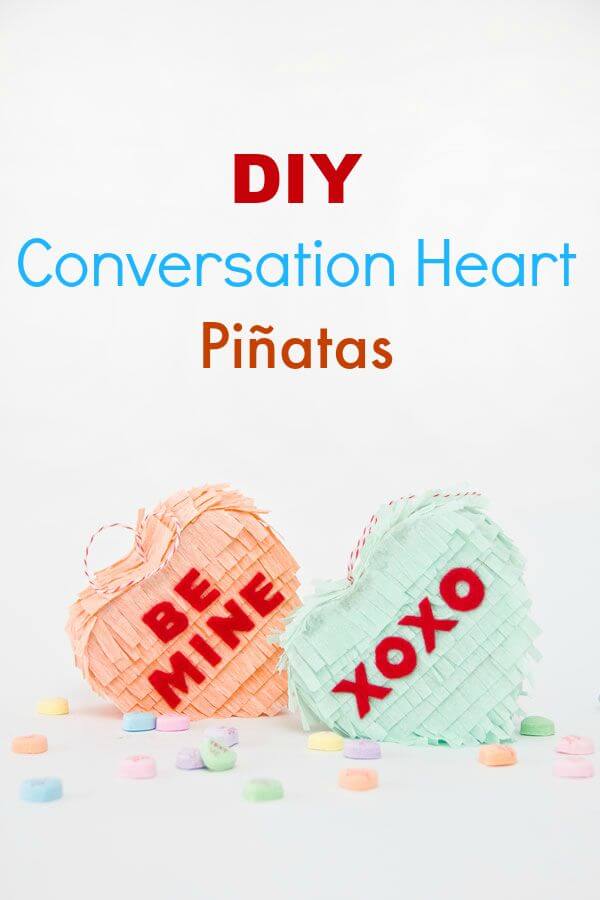 Show your love to your boyfriend by making these beautiful heart piñatas that are lovely to look at and will please your boyfriend also with an inside surprise! For making these piñatas, just grab the cardboard heart boxes, cover them with fringed paper crepe paper fold which can be glued in place and next just spruce your finally finished heart piñatas with red felt letters! Add some twine loop and fill the inside cardboard heart with candies and make a lovely gift for the Valentine's Day! Complete tutorial and instructions here studiodiy
How To Create Date Arrows: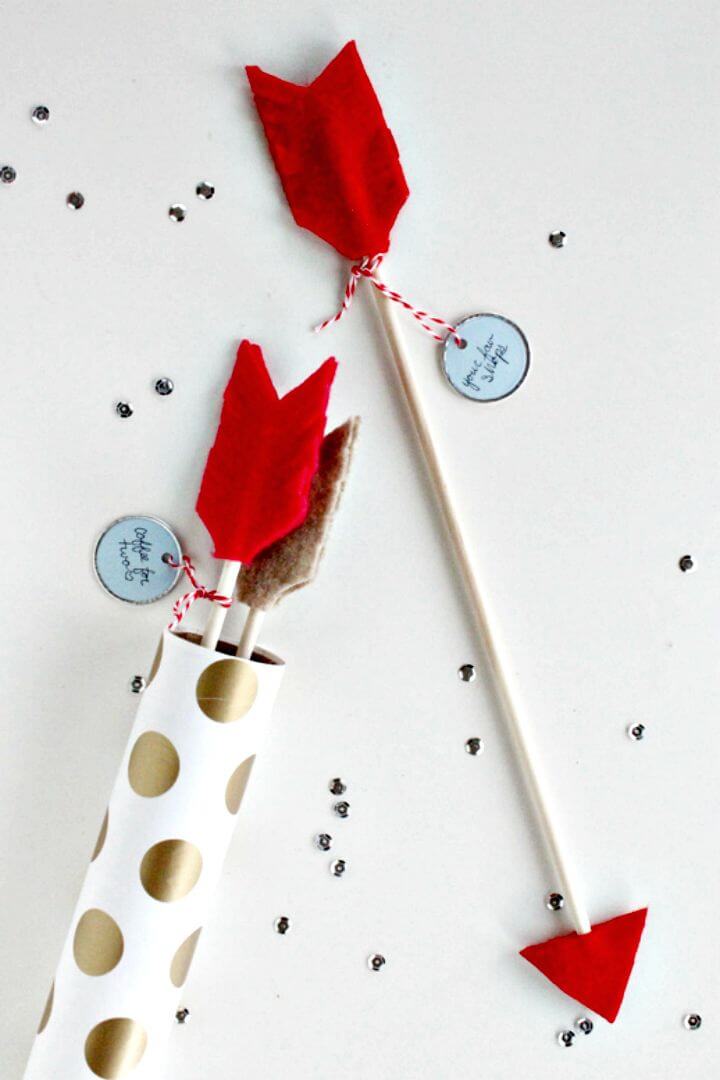 Handmade gifts always go more enticing to eyes and here is another beautiful inspiration for that! Just make the great looking date arrows with a dominant red color, the color of love and make your boyfriend feel special! Check out here the sample date arrows that are self-made using the felt and wooden dowel sticks! Here the custom round paper labels have also been strung up and hanged on the arrows where you can write the custom messages and love sayings! Finally the handmade arrows have been put inside a mailing tube that comes with gold polka dots! Complete visual tutorial here sugarandcloth
Adorable DIY Domino Clock:
If you are on a mission to win the heart of your boyfriend by giving some handmade gifts then here is another cool project inspiration for you! Just make the special round clocks for your boyfriends that will definitely help earn more love of him! Check out here the domino clock that is looking awesome and is made of a round wood cutting board which comes with domino clock numerals! Finally the clock kit along with clock hands, has been installed to get a perfect looking round clock at almost zero-cost price! Grab the full free tutorial and instructions from here sadieseasongoods
How to Make Date Jar Gift: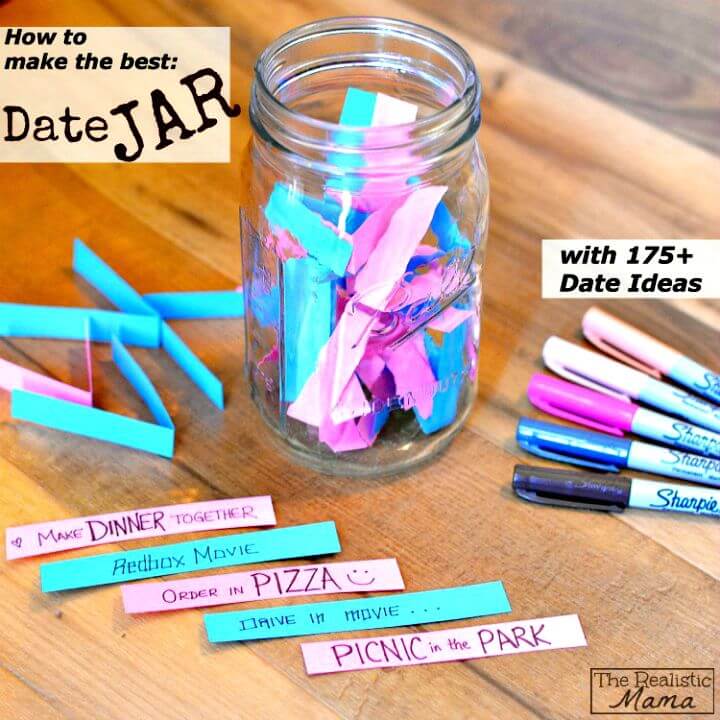 Here is another smart gift idea to make your boyfriend fall in love with you more! Just go handmade with some color paper stripes and with a Mason jar and create the adorable looking date jars that would make a great gift to your boyfriend! Check out there this sample date jar that comes filled with different colorful paper strips that have been folded and come with custom overwritten messages, love quotes and dating plans! A low cost but super smart boyfriend gift idea! Get the full free tutorial and instructions from here therealisticmama
DIY Leather Keychain – Gift For Men: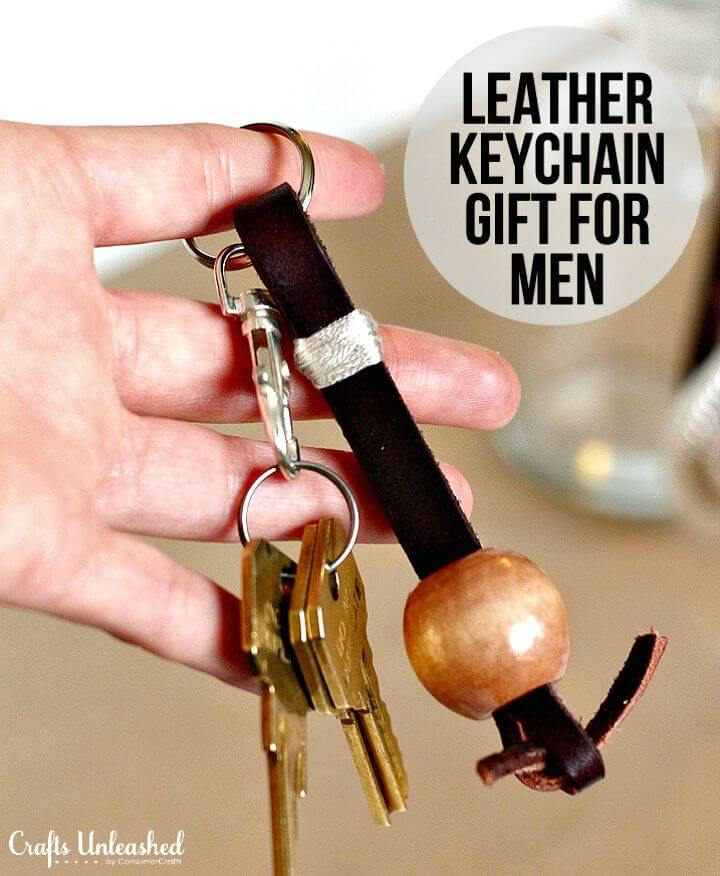 If you are intending to make a sweet little gift for your boyfriend then you can also try making some handsome key chains at home using the custom materials from home! Make also smart use of leather strips to craft cool looking key chains in just no time! Check out there the sample leather keychain that is made with a leather bracelet and also with a large wooden bead! Grab the full project details from here consumercrafts
DIY Secret Love Notes Envelope Pillow Cover: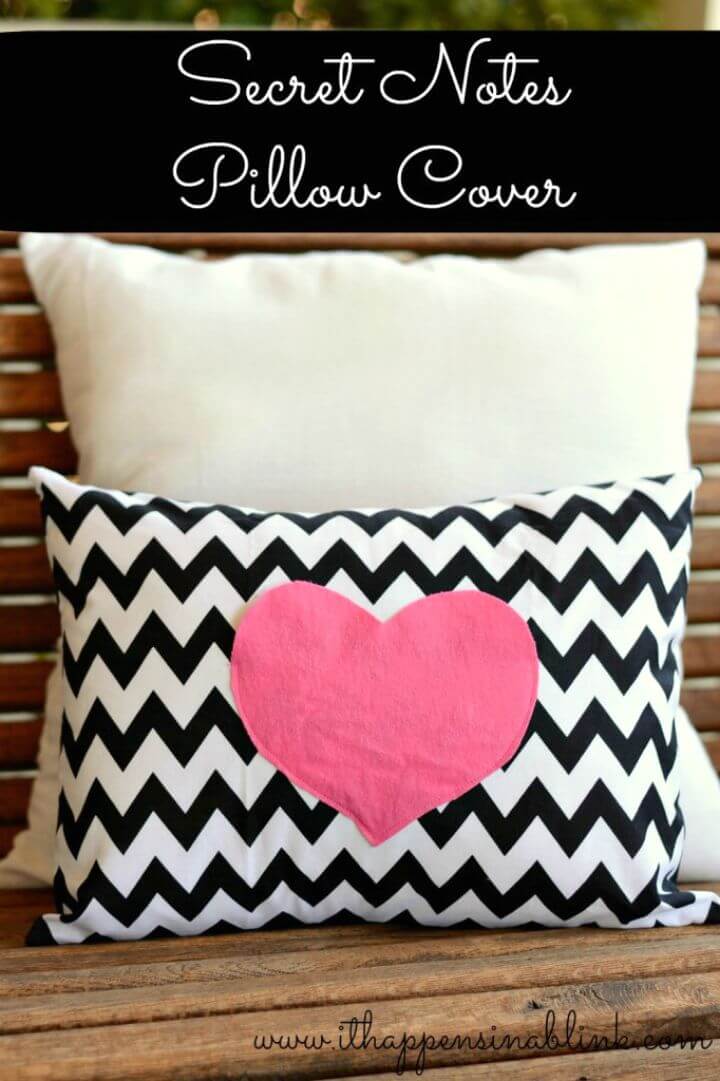 Here is how to express your love for your boyfriend through some handmade gifts! Just make the lovely pillows at home using the lovely heart symbols and embellishments that will speak for you love! Take a look at this sample pillow cover that has been sewn at home using the black and white chevron fabric and next a pink fleece heart monogram has been pasted on the pillow cover to make a beautiful and special pillow cover! Willing to duplicate this pillow cover? Grab the full free guides and visual tutorial from here ithappensinablink
How To Make Watch Weave Bracelet: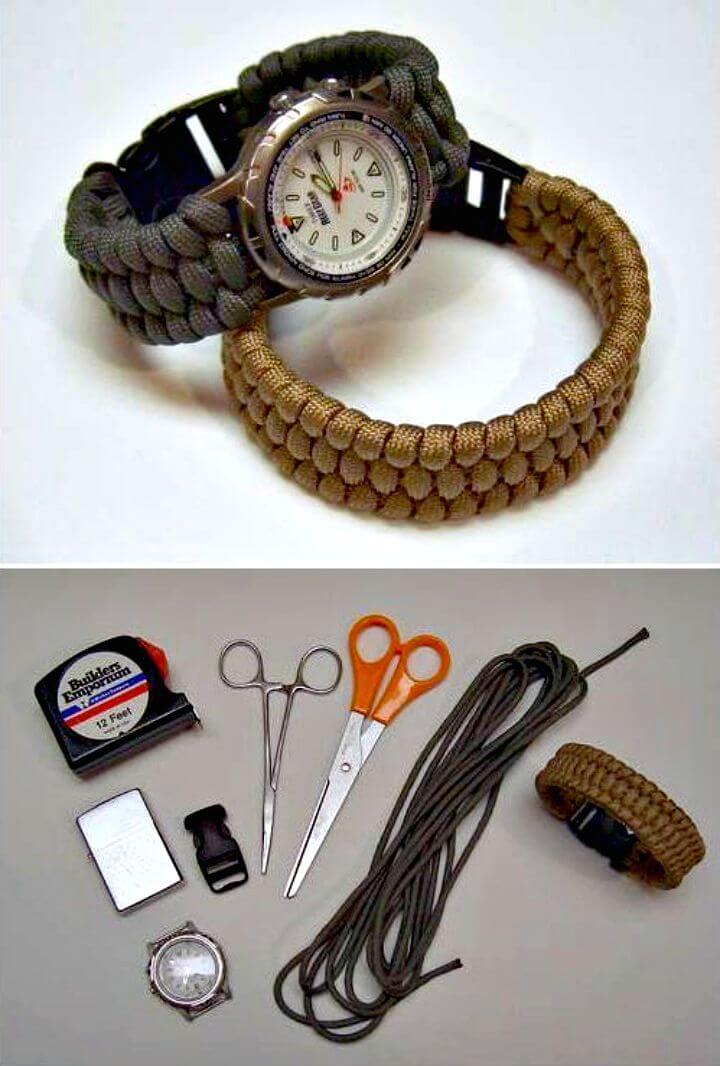 If your boyfriend likes it too much wearing the bracelets then you must make some stylish watches at home like these watch weave bracelets that will make a watch and a charm bracelet at the same time! Here all you need to weave the watch straps using the paracord which would only take a few minutes and just Check out there the sample woven watch bracelets that have been done to amaze and inspire! Intending to duplicate these watch weave bracelets? Another great handmade gift idea for a boyfriend! Grab the full project tutorial and instructions from here fabdiy
Awesome DIY Laptop Sleeve: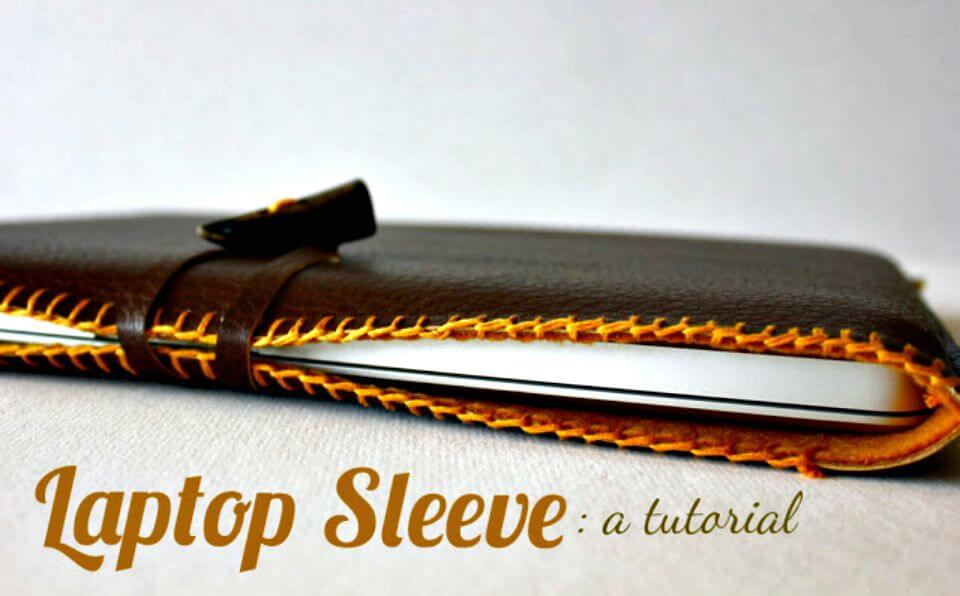 Just know well first about the interests of your boyfriend and then it would be damn easy to make a pleasing gift for him! If you boyfriend is always to see working on a laptop then here is what that can please him amazingly along with showing your love to him! Just make the fantastic looking laptop sleeves at home and gift them to your laptop loving boyfriends! Check out here the sample laptop sleeve that has been done to amaze and inspire! This laptop sleeve has been made with leather and felt sheets which have been sewn together and finally some needle work has been done using embroidery floss for the accent top edging! Grab the full free sewing tutorial and instructional guides from here sweet-verbena
DIY Handmade Message in a Bottle Valentines: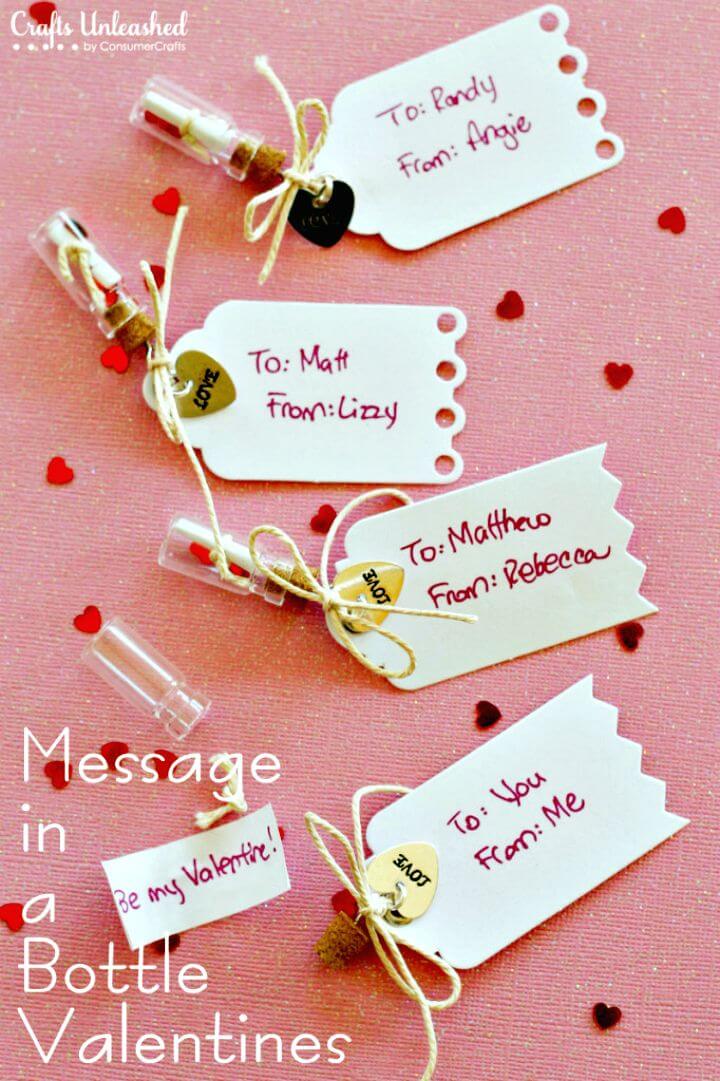 Check out here the pretty cute mini gifts that can be given to your boyfriend on the Valentine's Day just to earn more of his love! Just express your love to your boyfriend by crafting these message in a bottle valentines that are lovely, eye-catching and sweet! Here all you need some mini bottles and custom paper messages which can be put inside the bottles! Next you can give a gift wrap to your finally finished message in a bottle valentines, just tie twine around the bottles, add some labels and love charms and that's it! Here the gold hearts with custom overwritten letters have been used as gift charms! Complete tutorial and instructions here consumercrafts
Easy DIY Thumbprint Valentine Mug: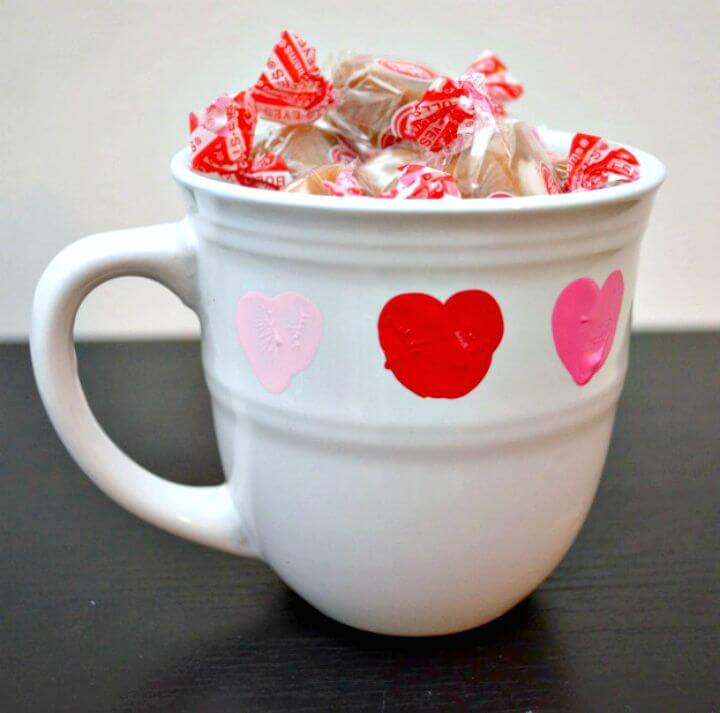 May be your boyfriend is a big tea or coffee lover, if really he is then here is what that make a perfect heart-winning gift for him, a lovely thumbprint valentine mug, crafted to inspire all the lovers! Here all you need to grab a mug which can be spruced up with thumbprints made using your favorite colors! Next fill the mugs with sweet candles and present the mug to your boyfriend on the Valentine's Day! It would remind him your love with every sip of coffee! Complete tutorial and instructions here oneartsymama
Simple DIY Distressed Photo Block: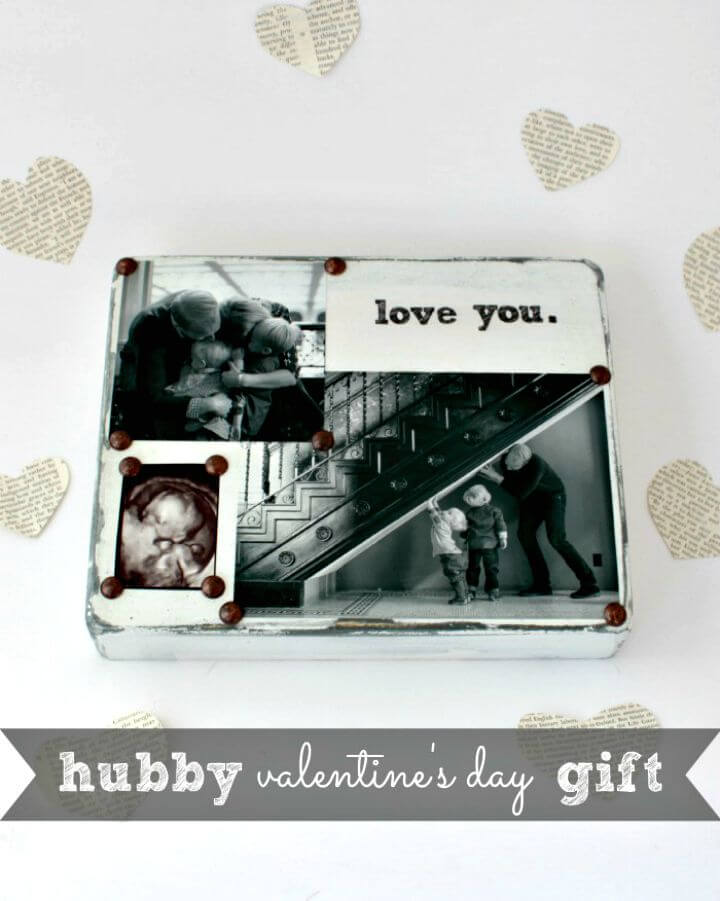 Another romantic gift is here to make for your boyfriend! Here all you need to use the home supplies to craft this heartwinning gift for your boyfriend in just no time! This is here the distressed photo block that is looking lovely and fantastic! Grab a wooden block and paint it in custom colors and then distress for a rustic appeal, next just glue your favorite photos on the block or just use the metallic thumb tacks to secure them in place! This is here another cool boyfriend gift idea that is super easy to make! Grab the full free tutorial from here viewfromthefridge
DIY Valentine's Day Heart Shaped Tea Bags: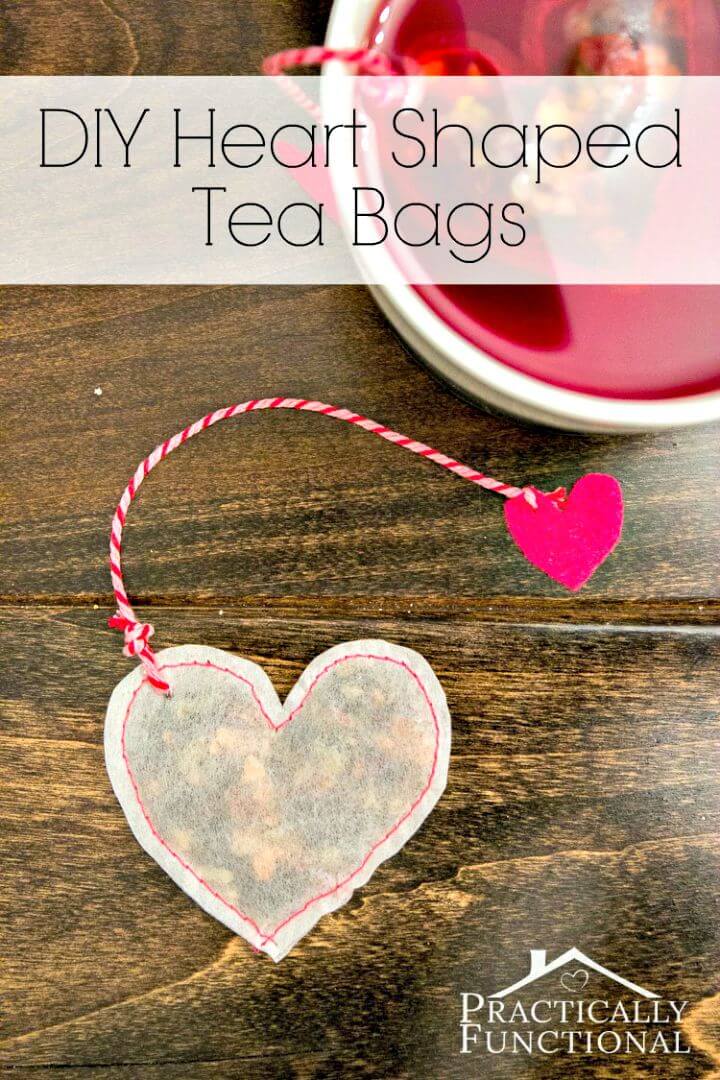 Here is another handsome gift idea to please a boyfriend who is a big tea or coffee lover! Just make the heart shaped tea bags that will make the awesome romantic gifts for the Valentine's Day that will definitely please your boyfriend! Here this is a little sewing project and you need some fillable teabags, thread, loose tea, red or pink felt and a sewing machine to duplicate this very interesting boyfriend gift project! Complete sewing tutorial and visual instructions here practicallyfunctional
DIY His + Her Sharpie Mug: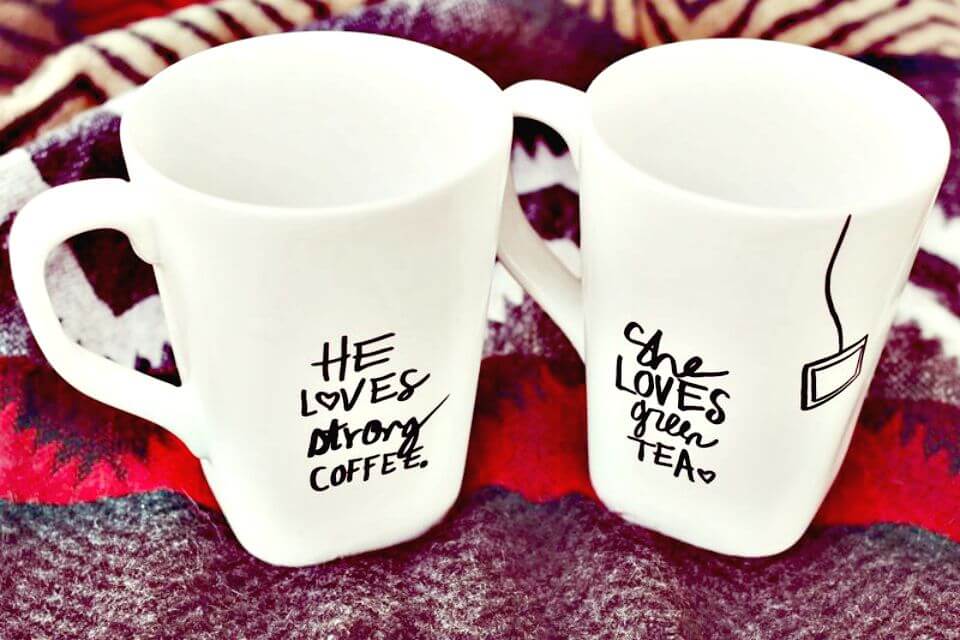 If you are willing to make some heart-touching boyfriend gifts in just a last few minutes then here is beautiful DIY gift idea for it! Just write custom messages, quotes and love sayings on your selected coffee mugs and then just bake them in the oven to get your letters durably stick there to outside of the mugs! This is here another great and lovely project that you can duplicate to please your boyfriend in just no time! Willing to duplicate these sharpie mugs? Complete tutorial and instructions here abeautifulmess
DIY Explosion Box – Boy Gift Idea: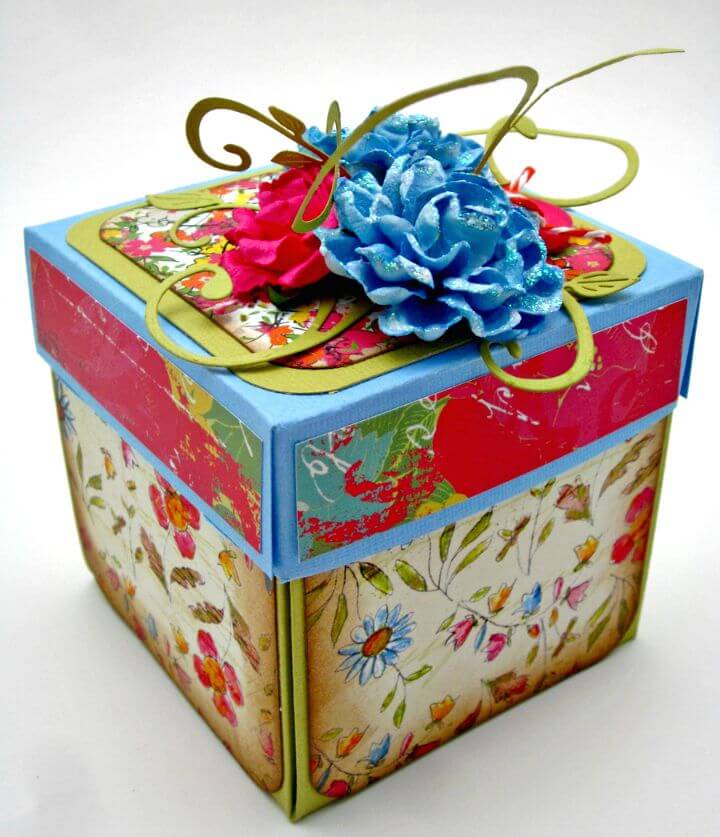 Here is another great and outstanding gift idea to bring a smile on your boyfriend's face! Just make the special explosion boxes for him that may come with interesting gifts inside and will also go eye-catching to your boyfriend's eyes! Here the custom colored cardstocks have been put together in amazingly smart folding arrangements and then have been decorated with custom flower accents and embellishments to make a charming and enticing looking explosion box! Willing to duplicate this explosion box? Step-by-step tutorial and instructions here scor-pal
Make a Little Book – Valentine Gift Idea: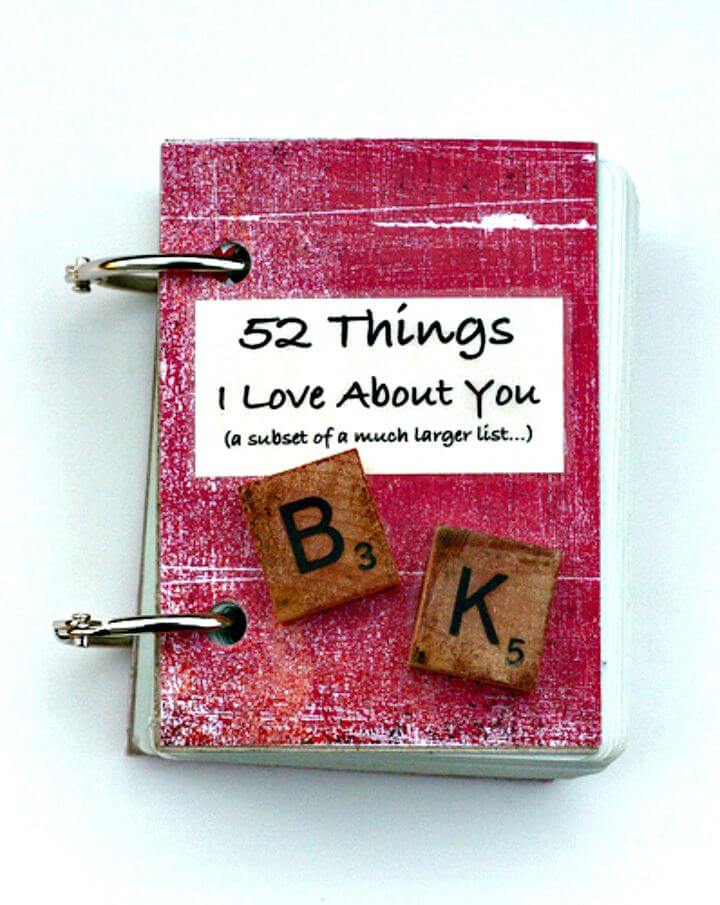 If you are sorting out a perfect gift to give to your boyfriend on a Valentine's Day then here is another amazing gift idea, just make a little love book that will really make a sweet present for the love day! Here this book is made of 52 playing cards and you can write the things you like about your boyfriend on each card and then you can add the book covers and next the holes have been punched to add the book binding rings! Have you got inspired of this interesting boyfriend gift idea and want to duplicate this book? Then grab the full free guides and visual instructions from here transcraftinental
DIY Decoupage Picture Frames Using Comics: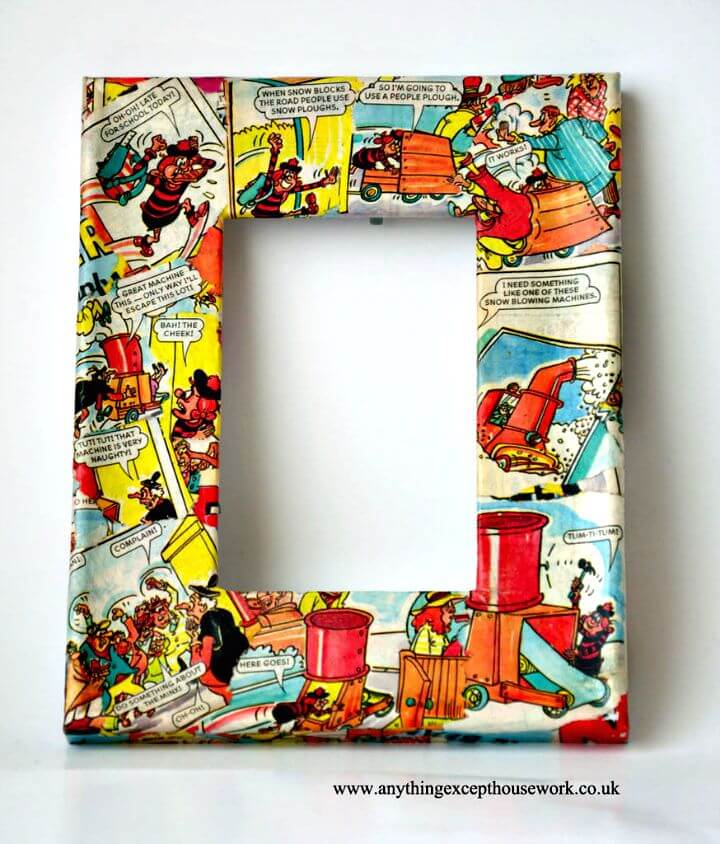 Are you intending to win the more love of your boyfriend by giving him some sweet gifts? Then this decoupage picture frame will make a great choice, it is easy to make and will be ready in just no time! Here all you need a picture or mirror frame which can be decoupaged with old comics and finally you will get a lovely looking picture frame that will make a thanksgiving gift! Willing to duplicate this amusing looking photo frame? Step-by-step instructions here instructables
Quick & Easy DIY Baked Cake Mix Donuts Recipe: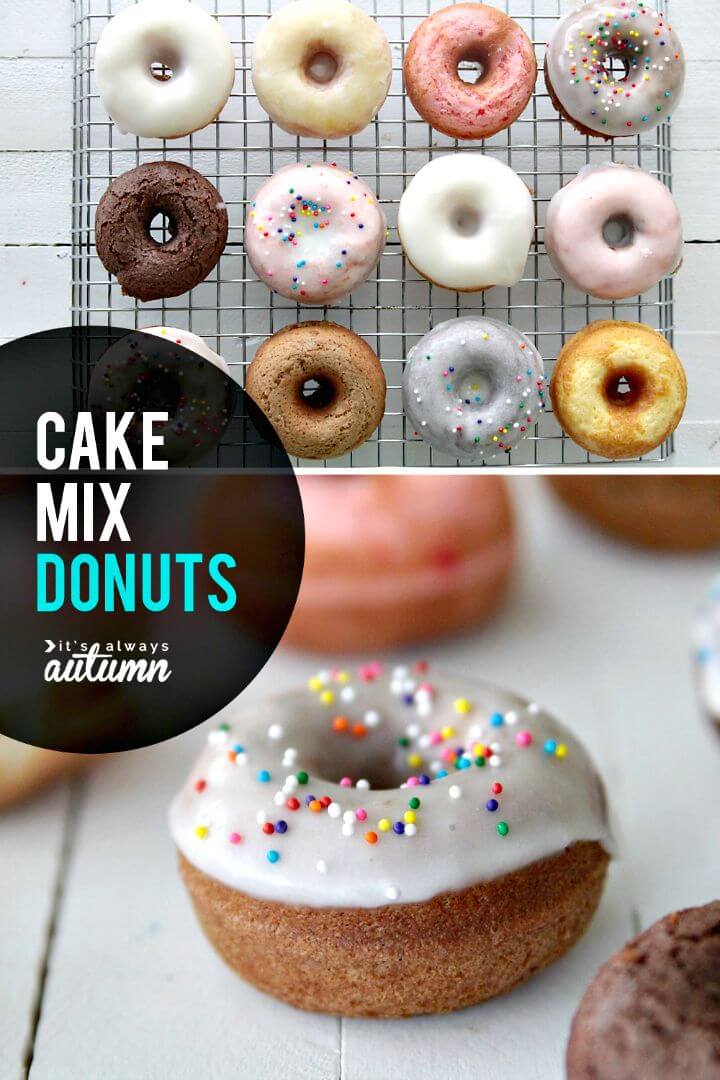 if you are majorly concerned about the food gifts that will win your boyfriend's heart for you then here is what you can cook to please him! Just make the baked cake mix donuts that can be packed to make a perfect treat gift for your boyfriend! These baked cake mix donuts will be super easy to cook and make and everyone can just cook them at home! Get inspired of these sample donuts which are truly mouth-watering! Complete cooking tutorial and easy free recipe is here itsalwaysautumn
DIY Ticket Stub Memory Box Tutorial: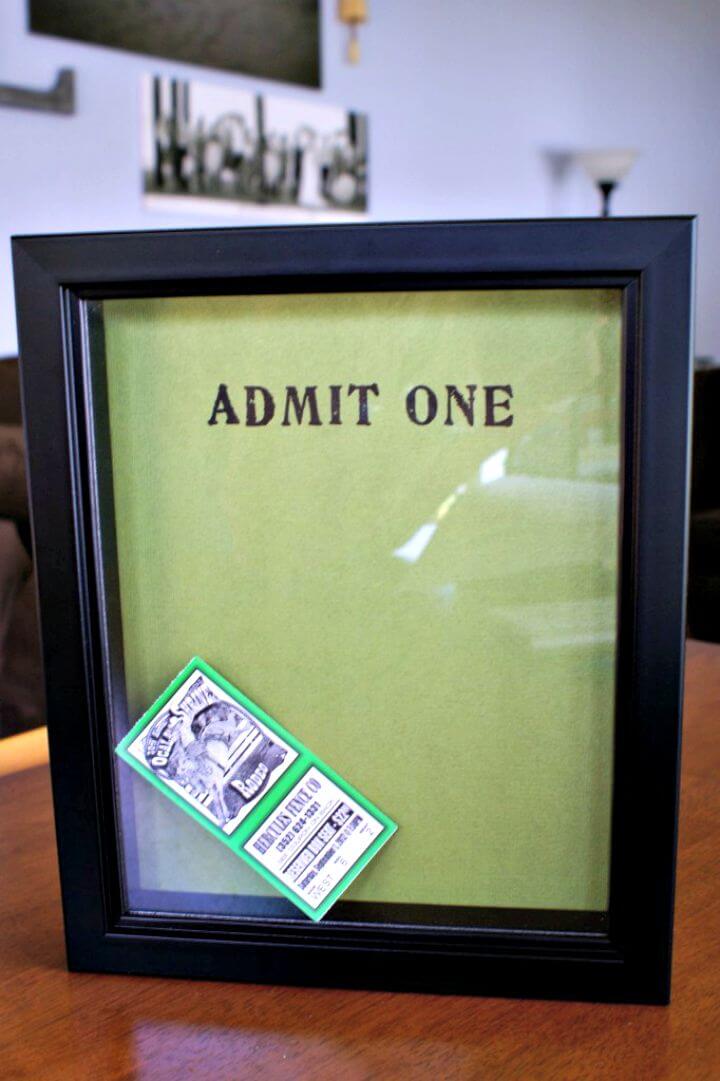 if you and your boyfriend are just willing to secure the major life events and also intending to store some mementos of special time then you can consider making a fab looking memory box for your boyfriend! Check out here the sample ticket stub memory box that has been done to inspire and is really looking eye-catching! Here this memory box has been made out of a black shadow box which comes with a custom colored paper backing and custom fun fonts have also been pasted on the inside paper backing! Another smart and innovative boyfriend gift idea! Complete tutorial and instructions here thinkingcloset
Awesome DIY Mason Jar with Free Printable: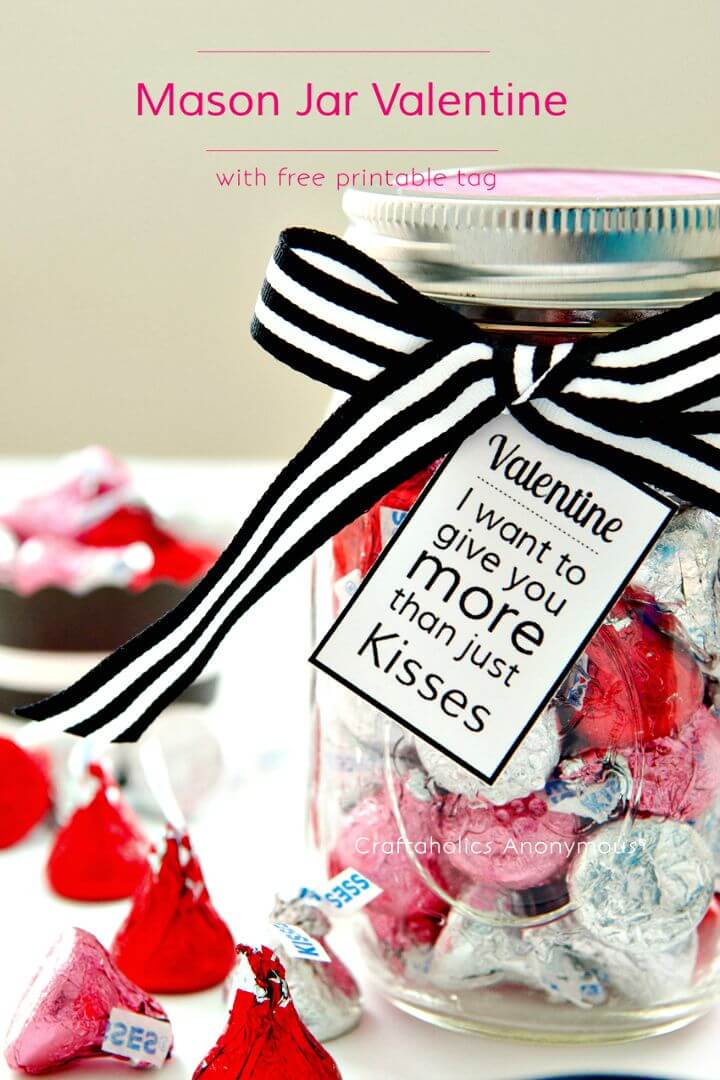 Please your boyfriend also by giving him some adorable treat gifts! You can also prefer the gift-in-jar in this case that will definitely put a smile on your boyfriend's face! Check out here brilliant looking mason jars that has been filled with custom treats and then has been given a handsome gift wrap to make a fantastic looking gift! Here this Mason jar gift has been given adorned with a ribbon wrap and also comes with a custom label that make it look just fantastic! This is here another boyfriend gift idea to clone! Grab the full free guides from here craftaholicsanonymous
Cute DIY Homemade Hand Warmers: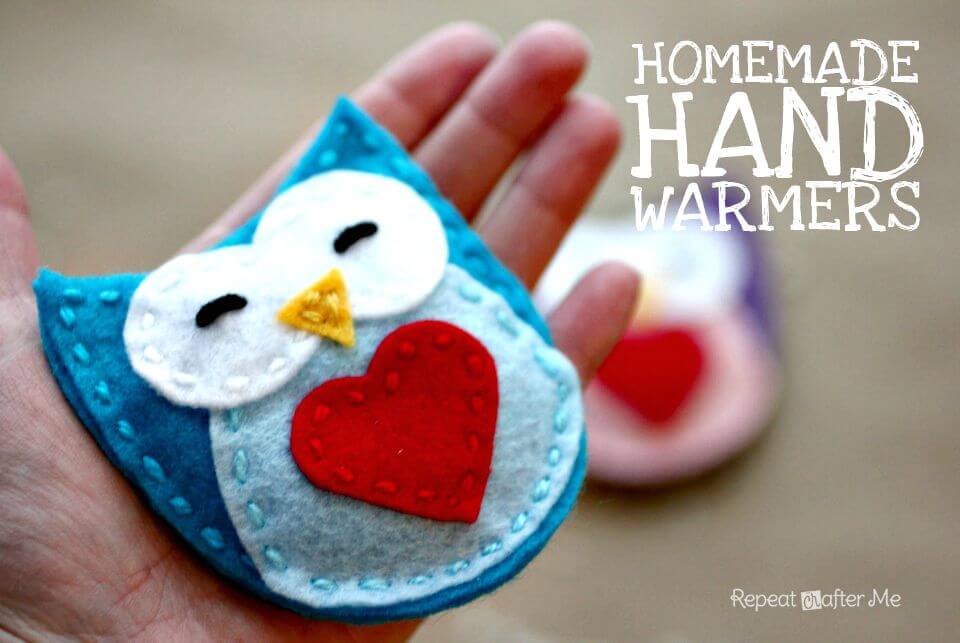 You boyfriend will really take great pleasure in holding these hand warmers in hands that are easy to make and are inspired of owls! Here the colorful felt and the yarn has been used to craft these mini owls that are fillable and finally they have been filled with the uncooked rice to make the perfect handwarmers! Here the eyes, tummy and the overall body of the owl has been made with different colored felt pieces and finally a little red heart has been pasted on the owl tummy that will speak for your love! Complete tutorial here repeatcrafterme
DIY Homemade Suckers: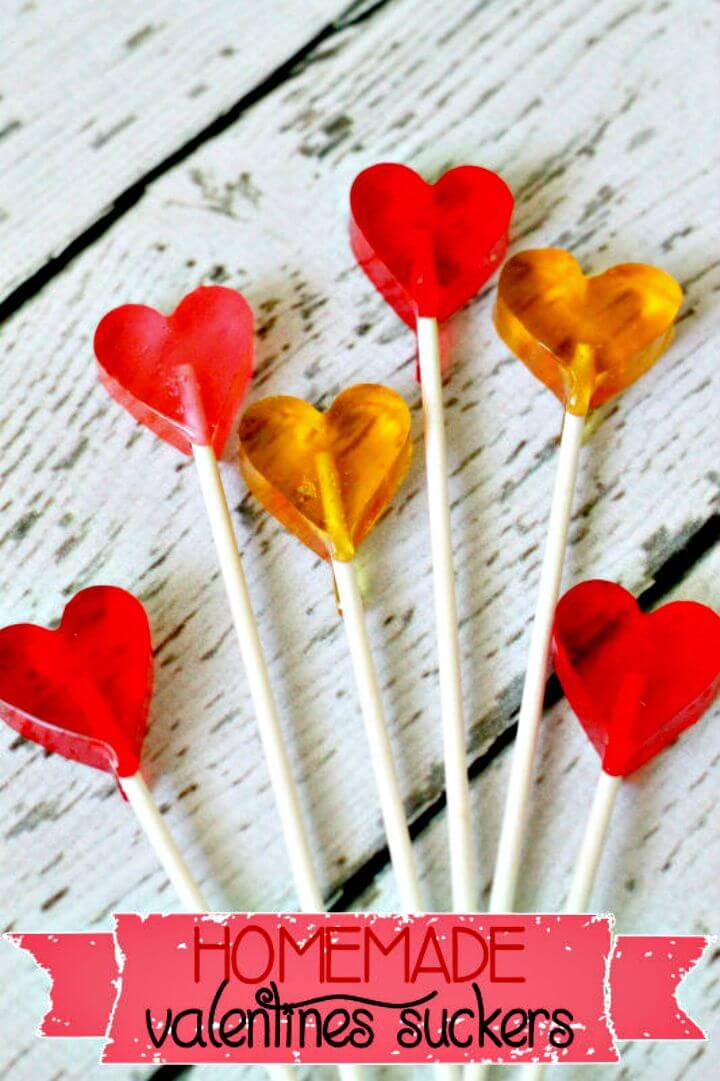 Let your boyfriend taste your love with these suckers that are super easy to make at home! Here all you need the heart shape mold and a sucker mix and also some wooden dowel sticks to duplicate these suckers that come in heart shape that is a symbol of love! Complete suckers recipe and tutorial here lilluna
How To Make Rose Cake Pops: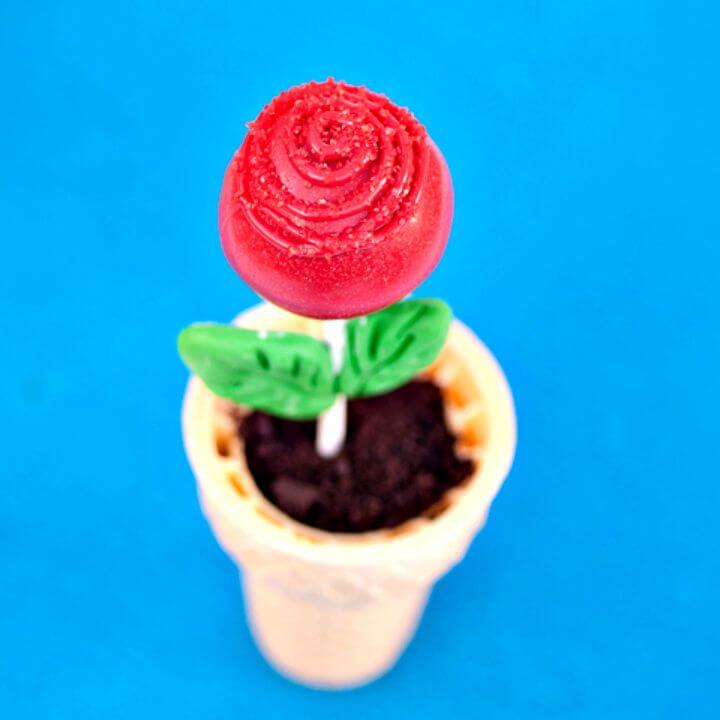 Please your boyfriend also with some edible gifts that you can easily cook at home! Here is an amazing sample to Check out, just make the rose cake pops that will make both the lovely decors or art piece and also a perfect gift for your lover! Here all you need to mix the different food ingredients to make the rose cakes, green petals and the pots! Here the cones are filled with the cookie crumb soil and then the rose cakes have been fixed inside the cones for an enchanting look and appeal! Grab the full free tutorial and instructions from here flourarrangements
Beautiful DIY Birthday Cake Cake Pops:
Check out here another great and enticing treat gift that you can make to win the heart of your lover! Just make the birthday cake pops at home by mixing custom food ingredients and just add them with candles and next fix vertically in a birthday cake that you have made for your lover's birthday! This is here another great and smart project that you can do for your lover! Intending to duplicate these handsome looking cake pops? Grab the full free guides and visual tutorial from here makebakecelebrate
DIY Mason Jar Matchbox: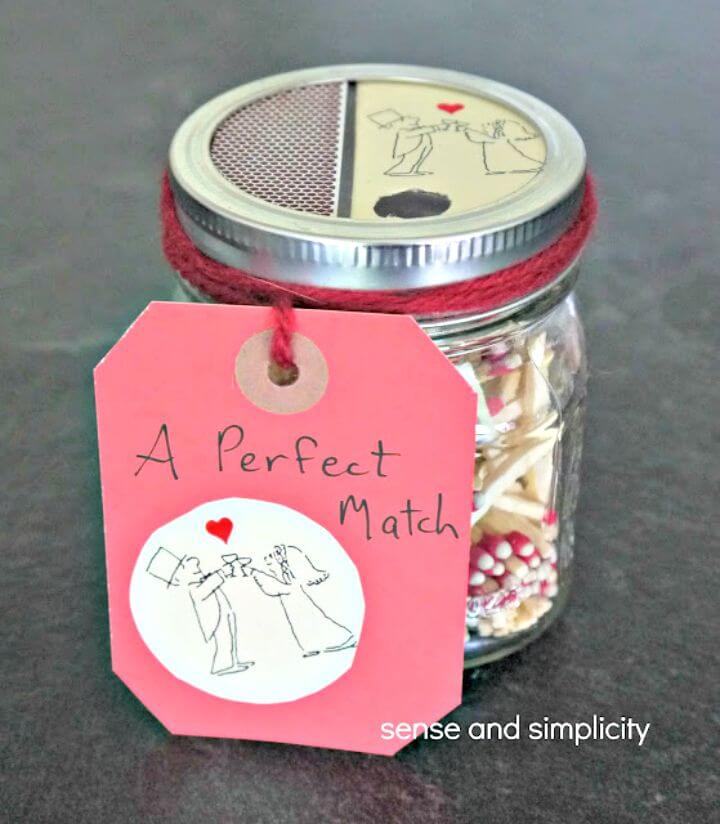 Another super simple but romantic type of gift to make at home for the Valentine's Day! Here you will make this gift without spending too much fortune, here all you need a match box, some cardboard labels, a mason jar and some twine to duplicate this interesting looking gift! Here the glass jar or container has been filled with the matchbox sticks and next this matchbox jar has been finished with a custom red twine wrap and label and hence it makes a perfect gift for the love day! Complete project details here senseandsimplicity
Awesome DIY Pop-Up Photo Box: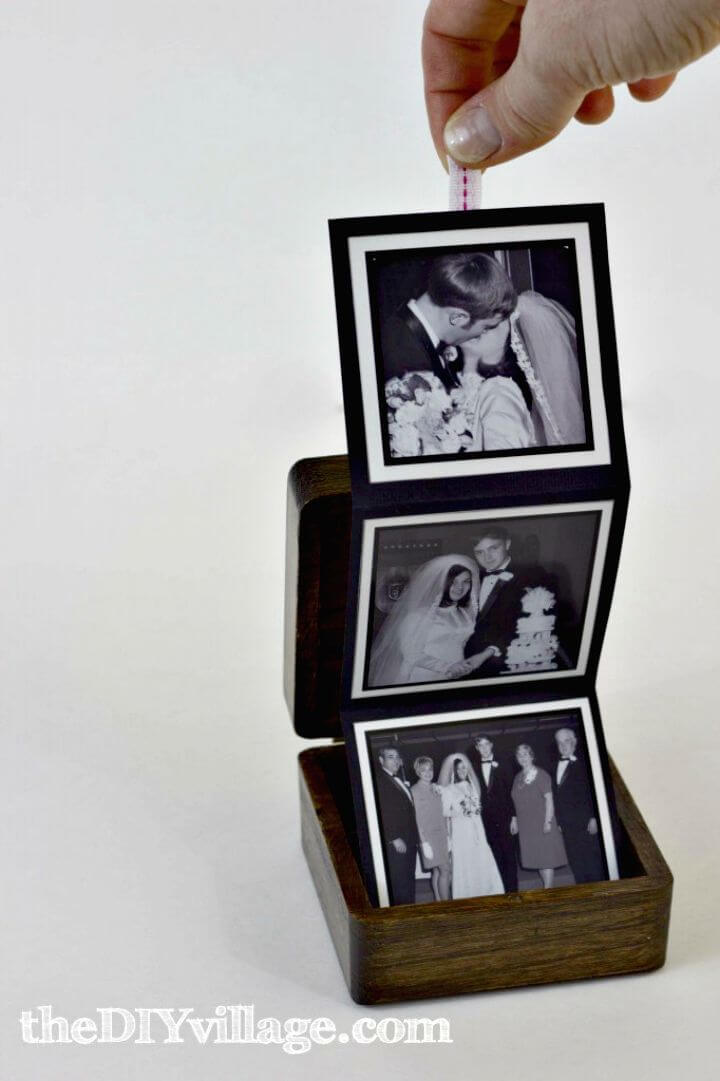 If you are all sorting out some special handmade gifts that will remind your lover your priceless love everytime then here is what you can make, a lovely pop-up photo box, is something here insanely cute and praise-worthy! Here all you need a awooden box which may come with a stencild top lid for a graceful look and next you can fill it up with folding photos that may come with a ribbon top! Here idea is just to square up your photos in photoshop and next you can print them out making a long vertical row which can be folded to fit the the box! Complete tutorial here thediyvillage
Make a Candle Carved With Initials: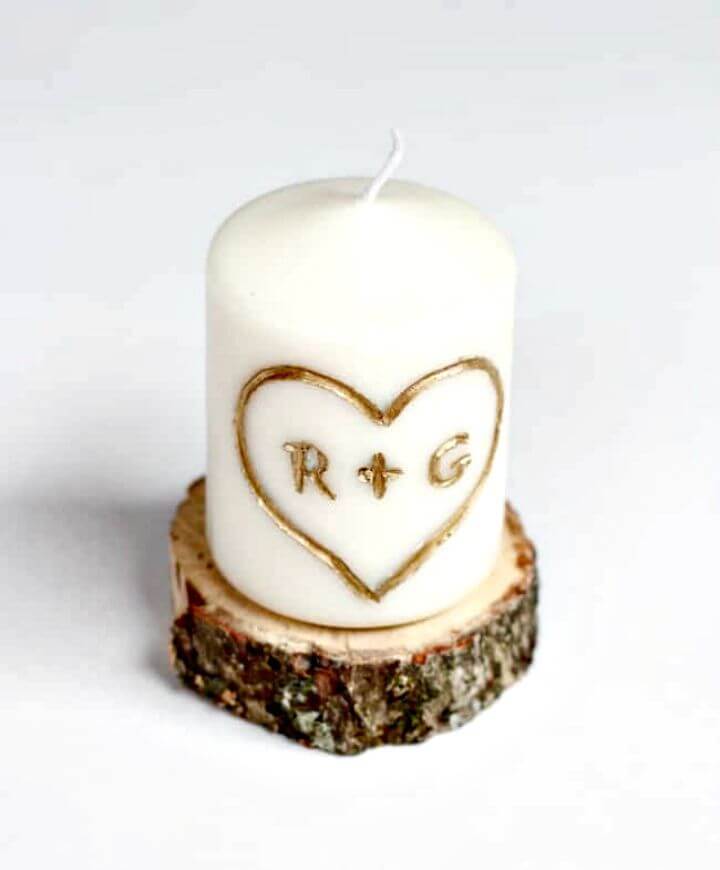 You can also duplicate this you and me love candle that will definitely help creating stronger bonds between you and your boy friend! This is one of the sweetest and most romantic type of gift that you can easily make at home without getting a bit expensive! Here all you need a candle and a rustic wood log slice as a base to duplicate this romantic candle gift! Just carve the candle for a beautiful gold heart and also for letters initials of you and your lover and next just install the wood slice base! Another great and outstanding looking gift to give to your boyfriend! Get the complete instructions from here helloglow
DIY Unraveling A Letter: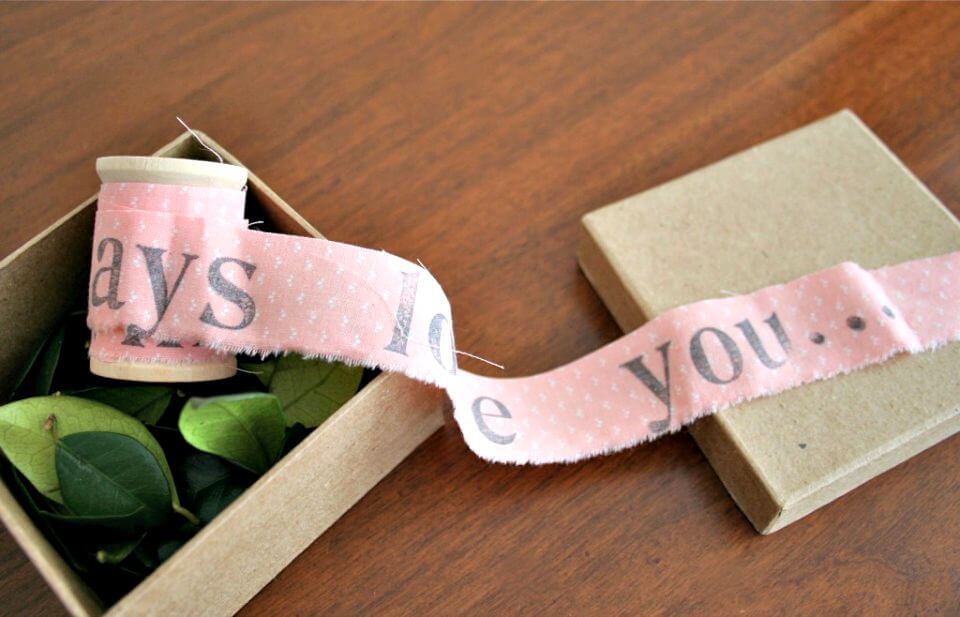 Here is the mind-blowing way to say your love words to your lover! If you going to say "I LOVE YOU" face to face then here is how you can do it in a cute and adorable way! Just present your boyfriend this unraveling a letter gift that will definitely deliver the message and will also win your lover's heart in revenge! Here all you need a fabric or ribbon strip that can be stamped for custom love letters or sayings using the rubber letter stamps and next you can wrap it around a wooden spool and let your boyfriend unravel it! Grab the full free tutorial and instruction from here papernstitchblog
DIY Valentine Popcorn Invitation: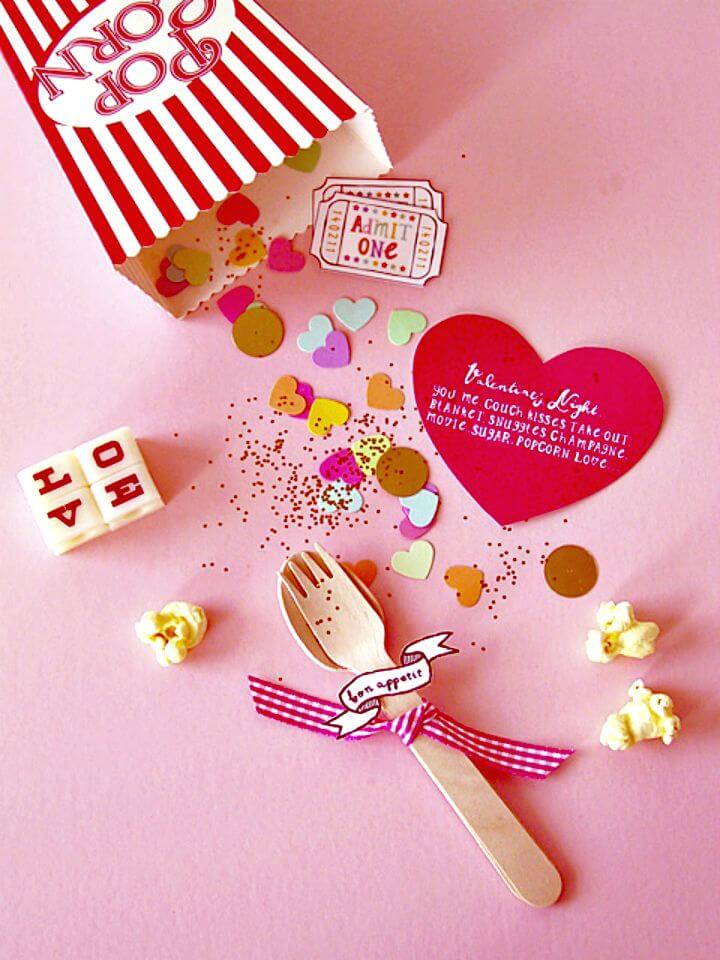 Check out here another instant gift that you can make for your boyfriend just to invite him on the love day the Valentine's Day! Just make a valentine popcorn invitation at home! You can put custom love items in your popcorn bag like the movie tickets, a candy bag, a message in a bottle, the plans for the evening and some love gifts and accents! Have a look at this sample popcorn invitation that has been done to inspire! Grab the full free guides and visual instructions from here eatdrinkchic
How to DIY Hammock Chair for $37: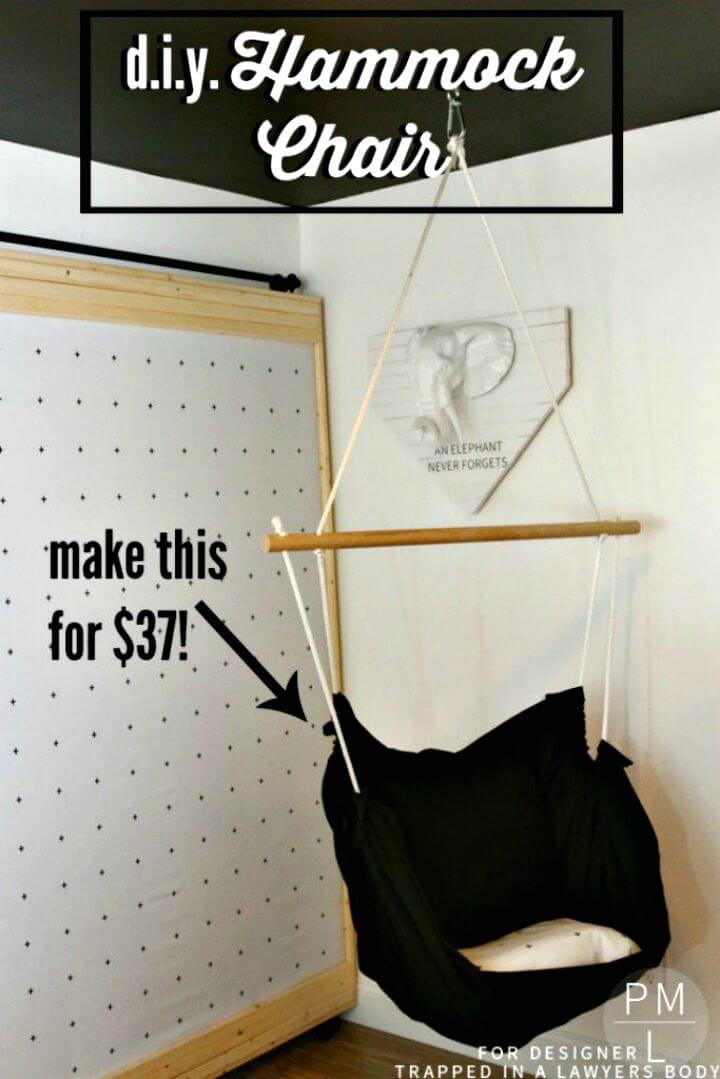 If you are willing to owning a reading nook in your home then you will definitely love to gai this hammock chair that is purely self-made and handcrafted and will only cost you under $40! Here all you need the duck canvas, braided nylon and an oak dowel to make this fantastic looking hammock chair that has been done to amaze and inspire! Grab the full free tutorial and instructions from here designertrapped
DIY Hand Stamped Handkerchief: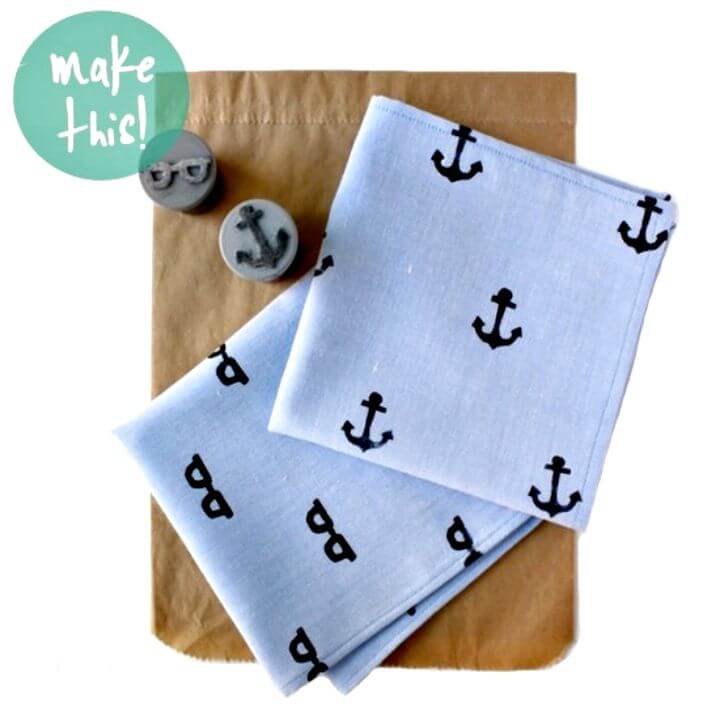 Here is another fantastic gift to give to your boyfriend just to put a smile on his face, this is here the lovely looking handkerchief that is hand stamped and is just a matter of seconds to make! Here all you need a handkerchief, some rubber linger stamps and stamp pad to duplicate this lovely gift! Just use custom stamps and also select the handkerchief in custom colors that your lover likes very much! Complete project instructions and tutorial here papernstitchblog