There are tons of crafts to do with the Mason jars, and the excellent news is that you don't need to acquire higher crafting skills to get crafty with the mason jars while making some fantastic Mason jar crafts, gifts, home decors, and centerpieces! Mason jars are easy to find and are super inexpensive materials, and hence they are considered the most suitable kind of item to do some brilliant craft projects! Have you have tried your hands on Mason jar crafting? It is big fun, and here we are with another great episode of the Mason jars crafts that only amaze you but will also be ready super quickly!
Just have a look at these DIY Mason Jar Crafts that you can make in under an hour. All these mason jar crafts are insanely smart and cool and will help to you while intending to make some instant gifts, DIY home decor, and amazing mason jar light ideas! The creativity involved will help some drop your jaws with amazement, and you will also appreciate the coolest crafting hacks that you have never seen or thought before! Make the seashell Mason jars with the twine wrapped around the opening that can be filled with cut flowers or with the candle lights to make both flower vases and the cool lanterns in no time!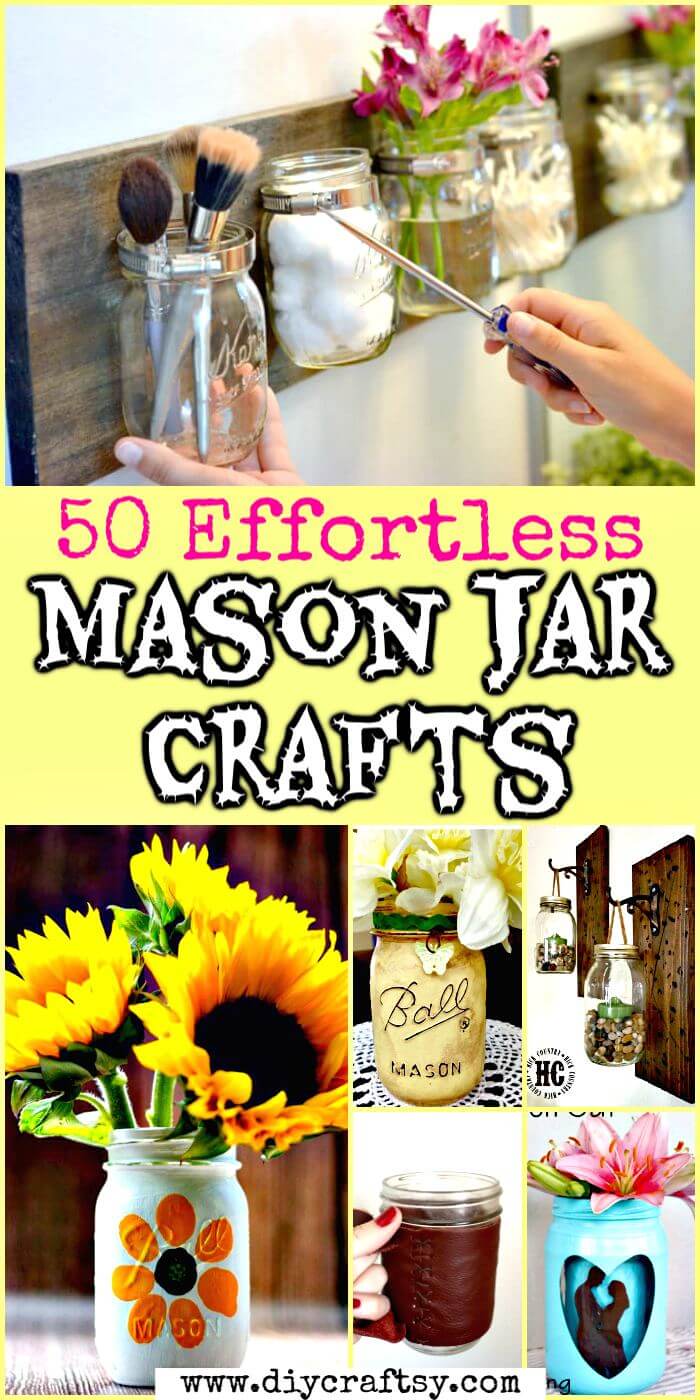 Make the solar-powered Mason jar lanterns that will be ready under one hour but will make perfect night light decors for indoor and also for any outdoor! Install pumps to the lids of the Mason jars and turn them into fabulous looking soap dispensers, also fill the Mason jars with custom treats to make great gifts for the kids, just get inspired of some interesting samples given below that will hold one's attention! Paint the Mason jars and then distress a little to make rustic, shabby chic and vintage type of decors in no time, an interesting sample here is the distressed Mason jar vase!
Marbleize the Mason jars to look cool and then use them for making anything from a vase to lantern to candle holder! Need some smart organizers on your dining table? Just make some cool cutlery holders out of painted Mason jars! Need some hanging vintage light decors? Then just give a pebble fill to your Mason jars and add the candles and next just hang the Mason jars on wall hooks to make fantastic vintage light decors!
DIY and Crafts Using Mason Jars:
Make the picture or silhouette art Mason jar vases that will rock as a wedding gift and also clean well the Mason jars and then add straws into them to get fantastic tumblers out of them! Make the Mason jar terrariums, aquariums, coastal décor centerpieces and also make beautiful looking bird feeders out of mason that will hang like a charm in your garden! Check out some more one hour Mason jars crafts and project in the given below list and see what amazes you the most! Do duplicate your favorite projects via free tutorials that are provided in the form of attached links!
DIY Leather Mason Jar Mug:
You can make a gorgeous coffee mug holder for your use to keep your coffee warm and hot for a long time and using leather for the purpose would be so much useful. You can take a mason jar and create a leather cover for it with a handle and thus instantly get yourself a fun coffee mug and we got you the complete details of the idea here melissavoigt
Adorable DIY Mason Jar Organizer:
You can make this functional wall organizer for your bathroom walls, bedroom and any other area of the house where you need one. Just attach your mason jars to the wooden board and mount it up over the walls to hold cotton sticks, cotton balls, glasses and so much more and thus make your routines so much easy to run. thediyplaybook
Easy To Make Mason Jar Unicorn Craft:
Here is the idea of creating a gorgeous unicorn mason jar vase for your little girl's room and she would just love it. All you need to do is paint your mason jar, add face features, glitter and a colorfully sparkly unicorn on the top and its ready to create a magical look in your little girl's room. We got you the complete details of the idea here thismamaloves
DIY Nautical Soap Dispenser:
You do not need to buy a dispenser for your bathrooms to make it easy and fun for the kids to wash their hands with. Not only a useful addition to your bathroom but also the bathroom decor too and you need to create a jute twine cover with a sea shell attached to bring some fun nautical vibes in the bathroom decor. oneartsymama
Make Box Tops Mason Jar:
We all love collecting the box tops and here is the idea of doing it with so much fun and feasibility by using this super cool and fun looking mason jar made box top. The lid of the mason jar has been slotted and the mason jar has been painted and written with the name using glitter and it has turned out to be super gorgeous and fun. apumpkinanda
Pretty DIY Casual Elegance Mason Jar Vase:
Either you need a center for an idea for your wedding or you simply want to spruce up the beauty and decor of your spaces this shabby chic styled mason jar vase is the perfect idea to get your hands on. The jar has been decorated with the lace and the burlap made flowers and jazzed up more with the addition of the buttons. oneartsymama
Make Mason Jar Burlap and Doily Luminary:
Here is how you can bring the perfect charm to your spaces with these handmade doily wrapped mason jar luminaries to be a part of your table and mantel decor. They are super easy and fun to make with the doilies, mason jars and some candles but bring massive romance and fun to your indoor decor and more. craftsbyamanda
Pretty DIY Glitter Monogram Mason Jars:
You can make the perfect and fun looking drink galsses for the summer parties and that too with the letters on them and thus adding more charm to them. Yes, the mason jar drinks have been customized with the glitter lettered being added to them and thus make them look so cute and adorable. Tutorial here addicted2diy
DIY Magical Hanging Mason Jar Lights:
Summers offer so much outdoor fun and that is why the outdoors become more focused for all fun activities and so for the decor. So to add some fun decor touches to your garden you can create these super gorgeous and whimsy mason jar candle holders for your trees to bring the perfect charm and romance to your spaces. apieceofrainbow
Quick DIY Mason Jar Tiki Torches:
Summers are great for the outdoor fun when the mosquito do not disturb you and here is how you can keep them away in a really gorgeous style by creating these scented citronella tiki torches for your patio or the porch. Just grab the mason jars, add torch fuel, wicks and the citronella and you are ready to rock your decor with a huge touch of functionality. thefrugalhomemaker
Create Mason Jar Monogram with Image Transfer:
One of the best ways to customize the decor of the rooms of your family members by using the letter and the initials of the names and here is the perfect sample. You can take mason jars and turn them into the pretty vases for their rooms with added monograms to them and thus bringing the perfect personalized effect to the decor. dosmallthings
DIY Drip Painting Mason Jars:
You can try out all the techniques of the painting to enjoy so much paint fun being added to your home decor and here is the idea of doing it with the dripping paint at this time. You can take multiple shades of the paint and drop them over the bottom of a jar and let them drip to the opening and get dry and you got a gorgeous vase piece. momdot
DIY Solar Powered Mason Jar Lantern:
Make the most out of the sun during the summer with these super cute and useful mason jar lights to be a part of your outdoors. Yes paint the mason jar with frost paint and install the solar powered batteries to the mason jar and they are ready to light up your summer fun nights in an adorable and cute way. Complete details can be found here herecomesthesun
DIY Canning Jar Soap Dispenser:
You can make a handmade soap dispenser for your bathroom or basins to make it really and fun for the kids to wash their hands and thus promote so much hygiene. You would need a few number of the supplies like a mason jar to make this really useful bathroom item that too at least of the cost. Here are the details fairviewfarmlife
DIY Distressed Mason Jar Vase:
Bring some rustic charm to your spaces with this adorable and cute mason jar to be a part of your decor as the distressed piece for your display. Just paint your mason jar in a creamy shade and then make it look rustic with by distressing it with a brown paint color and paper towels. Complete tutorial here petscribbles
DIY Marbelizing A Mason Jar for Mothers Day:
Mason jars can be worked up in so many fun ways to make the gorgeous and fun looking decor possessions for your spaces and this one of the cutest and the most fun to work on. The mason jar has been painted in blue and then sparked up more with the gold glitter work to create the gorgeous marble effect. momdot
DIY Mason Jar Picture Frame Vase:
It would be so much fun to see this really super cute and fun looking mason jar to be part of your table decor. Just paint your mason jar and then add the picture and you are done with the gorgeous mason jar craft to spruce up the beauty and decor of your spaces be it living, bedroom or even the foyer. Details here homestoriesatoz
DIY Mason Jar Silverware Caddy:
Here is how the mason jars can help you immensely to organize a fun party with so much fun and savings too. Yes you can paint up the mason jars in the desired hues and use them as the fun holders for your party items like the straws for drinks, spoons and forks for the dinner and so much more. Complete details of the idea here onekriegerchick
Beautiful DIY Mondrian Mason Jars:
If you need some pretty ideas to boost up the decor of your outdoors for the fun in a patio or the garden then doing these glass painted mason jars would be an awesome idea. Using the glass paint in bright hues and the glass peel you can easily create these colorful and gorgeous mason jars to be a part of your decor as lanterns or the vases. masonjarcraftslove
How to Make Mosaic Mason Jar:
There are so many options to award a pretty makeover to an empty mason jar and make it a part of your lovely home decor. Here the mason jar has been glued with the gorgeous mosaic piece and made to look super exciting and fun for the home decor to be used both as the lanterns and the vases. masonjarcraftslove
DIY Rustic Mason Jar Wall Lanterns:
Summers are here and there are so many ways to bring the cool summer vibes in your home decor and that too in a really adorable and whimsy way. using the wall mounted wooden boards with hooks and the river stones filled mason jar hanging to them you can create the most awesome kind of lanterns ever to jazz up your spaces with. asouthernfairytale
DIY Silhouette Mason Jar Wedding Vase Centerpiece:
Here is the cutest wedding center piece that you would just love to do for the decor of your wedding or the anniversary too and its super easy, fun and cheap to do also. You would need two mason jars being painted in blue and one would have a heart on it and other a kissing couple template and would go inside the heart one. thecountrychiccottage
DIY Spray Paint Jars:
There is something really special about the gold colored things and they are always attractive and super catchy and so would be these adorable glittered mason jars. Just take the golden spray paint cans and get your mason jars coated with the gold spray paint and they are done to rock your decor by holding the cute flowers in them. masonjarcraftslove
DY Thumbprint Flower Mason Jar:
The mason jars serve you a limitless purposes for the betterment of your house in so many different and fun ways and here is another fun craft to win your hearts. Yes, the cute sun flower vase holder has been made with so much fun using the thumb paint technique and thus add so much oodles of cuteness and charm to your spaces. masonjarcraftslove
DIY Boho Chic Mason Jar Candle Holders:
Here is how you can create this super gorgeous and fun looking mason jar to add the perfect boho vibes in your home decor display by using it as a vase or a pretty luminary for the outdoors. Using the pink mode podge and the peel and stick stencil this lovely gold glittered design with blue stones have been easily created on the jar surface and make it look so tempting. modpodgerocks
Easy DIY Mason Jar Cups:
As summers are so much about the tasty and fun drinks so here we brought the idea of creating these fun mason jar cups to get your sip on your favorite summer drinks in a fun and tasty way. Just drill the holes in the mason jar lids to put the straws and you are done with the custom mason jar cups to have so much fun with. myfrugaladventures
DIY Mason Jar Herb Garden:
Here is how you can enjoy the most amazing and cute idea of planting the herbs in your spaces and that too at the cost of few pennies. You can use the cheap mason jars as the fun herb planters and a vintage jar holder would let four herb planters rest in it and thus make a really cute and nice display for your garden or kitchen spaces. consumercrafts
Cute DIY Mason Jar Night Light:
Here is another amazing idea to add the cute and colorful lights to your home decor and that too costing a single penny. Just coat your cute little mason jar with the glue and add the multi colored glitter to the mason jar and then add a tea light to it and you got the perfect romantic lights added in your spaces. modpodgerocks
DIY Mason Jar Terrariums:
Terrariums are great to be a part and add so much fantasy touches to your home decor with their adorable and fun themes. You can use a mason jar to use as the fun terrariums by loading it with the river stones, pebbles, some moss and any of your kid;s tiny toys like a mini cycle and more and its ready to create a whimsy display. ohmy-creative
How To Make Mason Jar Terrarium:
Imagine this lovely and totally natural terrarium to be a part of your home decor by making it stand over your windows and jazz up the spaces so much gorgeously. All you need to do is just add some potting soil and the succulent planters to your mason jar and your pretty and magical terrarium is ready to rock your decor. newhousene
DIY Poured Mason Jar Candle:
If you are looking for some fun and cute but totally cost efficient favors for your party or the dinner then making these handmade candles is a really great idea. Using the mason jars and the candle wax you can easily create this pretty candle and that too with the color of your choice to totally come them out as the custom pieces. somethingturquoise
DIY Beachy Mason Jar Terrarium:
You can not resist the beauty and charm of this beach inspired terrarium to be a part of your summer home decor and they are super easy and fun to make also. Just grab an empty mason jar and a burlap pieces and some lace to the outer surface of the mason jar and then fill up the mason jar with the seas shells and you are done. makinghomebase
How To Make Distress Mason Jars:
Add some shabby chic to your spaces with the cute bunch of these distressed mason jars to be a part of your home decor especially being nicely displayed over the window, shelves or the mantels. You can paint up the mason jars fresh with some light paint hues and the taking any rough thing you can make them look distressed with a bit rubbing. itallstartedwithpaint
Simple DIY Fall Jar Luminary:
The fall is here and the gorgeous fall decor ideas would be all around and here is the easiest and the cutest one to try easily at home with a mason jar. Yes, you can paint up a jar in metallic gold and then use the vinyl shapes of fall leaves to create the gorgeous masking with the pretty fall shades and your gorgeous fall luminary is ready. thecountrychic
How To Make Mason Jar Bird Feeder:
Your garden is undone with all the decor and beauty when you do not have a cute and functional birdseed feeder there and here is the idea of making a cute and pretty one on your own at home. Yes by using a mason jar and a chicken feed plate you can create this totally unique and useful birdseed feeder to be hung over your trees with a rope. littlehouseliving
DIY Mason Jar Piggy Bank:
Once the kids start receiving the money in the form of the coins, the next thing they want is a piggy bank to drop their coins in and collect them to buy a new toy out of it. So save your money too as you can make this perfectly cute and custom made the piggy box for you kid using a mason jar, paint and the lettering art to make it totally personalized for your little one. dukesandduchesses
Make Mason Jar Planter Box Centerpiece:
Your dinner decor is going to rock when you have this super gorgeous and pretty looking mason jar center piece there and its super easy and cheap to make on your own at home. Just grab the mason jars, paint them up and add your favorite plants to them and using a wooden caddy you can easily put them together to form this adorable center piece. howtonestforless
How To Make Mercury Glass:
With summers we are so much excited for the 4th of July to celebrate the independence day with full patriotic zealous. to add some patriotic vibes in your home decor, you can make these mercury mason jars which have been further embellished with the red dyed burlap cut star and a blue twine around the lid circle and has turned out to be utterly cute and pretty. landeeseelandeedo
DIY Snowy Mason Jars:
If you are looking for some super interesting and easy Christmas decor ideas for your tale, mantel or the shelf display then these snowy mason jars are the perfect things to get your hands on. The mason jars have been turned into snowy white and then added with the faux cherry and grass and they have turned out to be super exquisite and whimsy. apumpkinanda
DIY Fishnet Wrapped Mason Jar Craft:
Show your summer love for your home decor by creating these super gorgeous and fun looking beach and sea inspired beauty pieces for the perfect indoor or the outdoor display. Here a blue stained mason jar has been covered with a fish net made out of the burlap twine and embellished with the seas shells and thus add oodles of beach vibes to your decor. itallstartedwithpaint
Make Mason Jar Lights:
Make your patios look more fun and full of fun exciting summer vibes with these gorgeous and fun looking mason jar light to be a art of your outdoor decor and add so much to the decor and beauty of the fun atmosphere there. All you need to do is just fill up the jars with string lights and add a burlap bow to each jar and make them hang around. allthingsheartand
DIY Mason Jar Twine Holders:
If you often work with the twine, then you would really like this idea a twine holding mason jar with which you can easily use the twine and that too without being tangling. Just add a bolt, nut and washer to your mason jar through the lid hole and you are done with an easy yet useful twine organizer for your feasible use. acasarella
DIY Mason Jars with A Blue Patina:
The mason jars are providing you lots of opportunities to boot up the home decor and the style statement of your spaces. Here is the idea of adding the perfect modern charm and boho appeal to your spaces with these adorable and gorgeous looking mason jar vases made out of the metal paint and the blue patina work. suburble
DIY Painted Baseball Mason Jars:
Baseball is the fun game and the boys are just crazy after it and when there is a special day for the boys and you want to throw a party, their baseball mania can be the inspiration and theme behind the decor. Here is the idea of creating these adorable baseball mason jar that you can use as the holders, lanterns or the vases. twopurplecouches
Make Summer Mason Jar Luminaries:
As the evening approaches we all head to the outdoors in the summers to enjoy the beauty of the weather and to lit up your outdoors in a really pretty and aromatic ways you can create these handmade mason jar luminaries. Some herbs and lemon has been added to these mason jar luminaries to make them look and smell stunning. Catch complete details here alittleclaireification
DIY Wood Mason Jar Holder:
We all love to use the simple ye elegant and cue looking mason jars to be part of your decor and you can enhance the charm and beauty of them more with this rustic wooden board. Yes, you can add this wooden board to your walls and then hold your mason jar vases to this board using the clip hinges and you are done with an awesome wall display. christinasadventures
Pretty DIY Pumpkin Mason Jars:
When the fall decor is concerned the pumpkins are the cutest part of the fall crafts and here is the pretty and the adorable version of the pumpkin crafts to do at home with the mason jars of all sizes. Just paint all your jars in orange and then add the wooden knobs with the paper leaves your pretty pumpkins are ready to rock your fall decor. the36thavenue
DIY Beach Inspired Mason Jar:
The seas and the beach are the beauty themes for the home decor in the summers and you can enjoy it in so many fun and cheap ways like making this lovely sea shell mason jar. Adding the broken pieces of the sea shells being glued to the mason jar you can make the perfect piece for your tables be it a vase or the lantern. apumpkinanda
DIY Caramel Apple In A Jar:
For the little kids there is like plenty of the gift ideas and here is the yummiest one that the kids would really love for sure. Fill a cute mini mason jar with the colorful candies and the caramel and add a apple to the top of it being tied up with a thread and the perfect kids gift is just ready to make them smile so big. thegunnysack
Easy DIY Painted Mason Jar Vases:
One of the best way to fill up the empty space over your mantel, shelves and the tables it brings some cute and colorful vases there and you are done with a pretty boost up to the home decor. Just pick up the empty mason jars and paint them up in any of the desired hues and you got the perfect vases for the display. littlemissmomma