We all live busy routines of life and sometimes when we receive a sudden invitation for a party, birthday or for ceremony or for a Memorial Day celebrations we are often to forget about the gifts or presents that we wish to give on that particular event! We all suffer through such bad situations but we just need to get puzzled at it, just get a little creative with your imaginations and you can also invent some cool gifts even in last minutes! Running out of time? Not have time to buy a gift for a close friend? Then just have a look at these last minute gift ideas that all amazing and outstanding and the only purpose of these DIY gift ideas is not to let your feel ashamed as you may feel while going to a party without a gift!
What will amaze you more in this list of 40 Very last minute DIY gift ideas and most of these gift ideas are based on recycling, upcycling, reclaiming and repurposing of common and old materials and hence all these ideas are super budget-friendly also try out! Here these ideas will show you that how you can use any of your skill to make an instant gift for a friend or for a beloved one and you will be highly amazed also by seeing different other roles of the common home materials while they will be used in making gifts!
Please your photographer friend by making leather straps for his/her camera! Wish your friend a happy book reading by making a cool on the go reading pillow for him/her that may also come with a pocket to hold well the books and journals! Earn more love of your fashion-loving friend by making cool watch stand gifts and also adorn the normal bangles with the sequin trim to make cool looking last minute gift that will rock for all style loving ladies and girls in the family!
Grab custom polyester weave covers and add the pillow insert them to make cool throw pillows gifts and also jazz up the normal candles with accent stones and gems and turn them into brilliant last minute gifts! Win the heart of the drink loving friend by making burned wooden beverage bottle stoppers and also make the abstract wall art frames using canvas and wooden frames and they will also be ready in last minute and would make a great gift!
DIY Gifts That You May Love more:
Sew the brilliant felt coffee mug sleeves that would be super gift-worthy and also make the confetti mugs that would be ready in seconds if you paint some dots only on the glass mugs and hence will also make a great gift! Another great last minute gift idea would be to make the photo jar lanterns and also make the fabulous looking Mason jar photo frames vases that will be ready just at a drop of hat and will make brilliant gifts! Each list DIY last minute gift project comes with an attached link that can be clicked to reach to full free tutorial guide and tutorial!
Easy To Make Leather Camera Strap:
If you are just looking for big surprises for friends that you can make even in the last minute then here is beautiful last minute gift idea! Just please your photography loving friend by making a camera strap for him/her! Just cut the leather strap to size, make loops at each end of the strap to add D-rings and then finish the strap with swivel hooks! Full project tutorial here almostmakesperfect
DIY On The Go Reading Pillow Tutorial:
Make also the reading pillows for your friends that would be another great last-minute gift idea! This type of pillows will come with a pocket where you can store your reading books! Check out here the sample on the go reading pillows that is self-sewn and looks great with the polka dot appeal and red ribbon accent trimming! It also comes quoted with custom letters! Here is how to sew this pillow polkadotchair
How To Make Watch Stand:
If you are intending to please a watch loving friend then here is what you can make for him even in the last minute, a handsome watch stand would really make a great gift for a friend or family member! Just let two metal pipes hold a wooden watch holder in a horizontal way and then finish it up with a ceramic tile base so that it can stand alone! Full project instructions here themerrythought
Awesome DIY Jewelry Sequin Bracelets:
Please all the big jewelry wearers in the home or in surroundings by making cool jewelry items! An interesting sample here these sequin bracelets that will make your friend's wrist dance with joy for sure! This is here another last minute gift idea that you can duplicate! All you need the custom wooden bangles, glue and sequin trim to make these sequin bracelets! Full project instructions here abubblylife
Simple DIY Throw Pillow Covers:
The gift that will raise the comfort of your friend or family members would definitely go heart-winning and here is one that you can also make it last minute! Just make the beautiful throw pillows for your friends by using the custom pillow inserts and polyester weave fabric covers that you can easily make at home by going sew or no-sew! Check out here the sample throw pillow covers and do duplicate them at home! Full project instructions and tutorial here sarahhearts
Unique DIY Stone Candle Holders: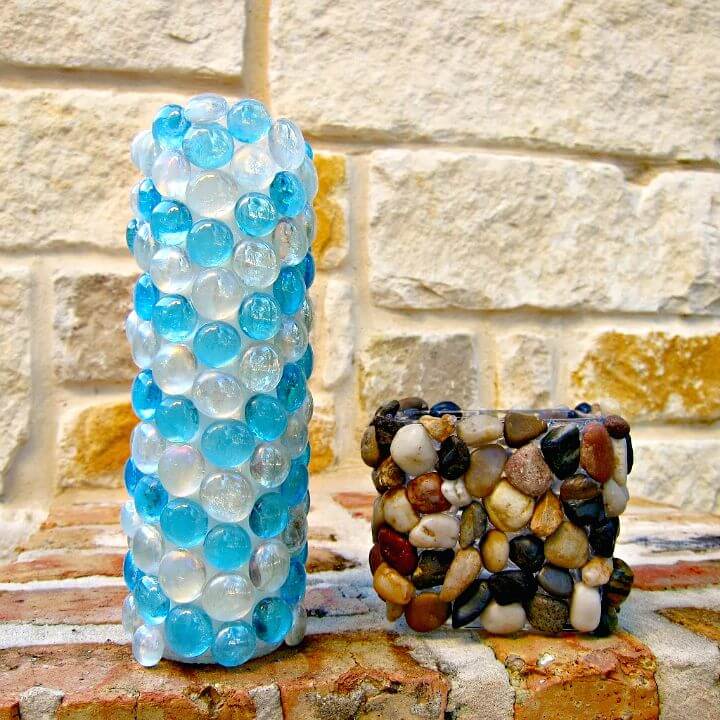 Let your friend or family member praise your love that you are having for him or her by making some cool last minutes gifts at home! You can take a start by making these unique stone candle holders that would definitely captivate the eyes of the gift receiver! Here all you need the tea lights, custom glassware and accent stones that can be glued all around the glassware in a minute to make gorgeous accent stone candles! Full project instructions here morenascorner
Easy To Make Wood Burned Bottle Stoppers:
Just keep in mind the needs of your friends and beloved and think of the gifts that you can make to fulfill their needs! Here is another sweet gift idea for a drink loving friend, just make cute looking wooden bottle stoppers that will safely cover the leftover drink bottles and then can be placed in the fridge! Here these wooden bottle stoppers have been made by burning the wood and are really cute! Full project instructions here abeautifulmess
How To Make Abstract Heart Art and Rustic Frame:
Please your art loving friends by making cool wall art frames just like this given one that will be ready in a minute! This is here a handsome looking abstract heart art that is super easy to make! Here a white canvas has been framed up with custom wooden planks and next to the custom abstract heart has been painted over! Another great last minute gift idea! Full project instructions here livelaughrowe
DIY Hand-stitched Felt Fox Coffee Sleeves:

Win the heart of your coffee loving friends by making cool coffee mug sleeves for them that will whip up super quickly even in last minute! Just give this felt fox coffee sleeve a try that is made of yellow felt which has been cut out in shape using a felt fox template and next  tothe eyes and mouth has been stitched in place! Full step-by-step tutorial here liagriffith
Cute DIY Confetti Cups:
One more epic last minute present idea here to hold your attention! Just make decorative mugs at home doing one minute makeovers and make adorable looking cups that will make a great gift! Here the plastic cups have been spruced up with colorful polka dots that have been painted using the acrylic paints in different colors and using an eraser backed pencil as paint brush! Full project instructions here smartyhadaparty
DIY Coloring Book Fabrics for Last Minute Gift: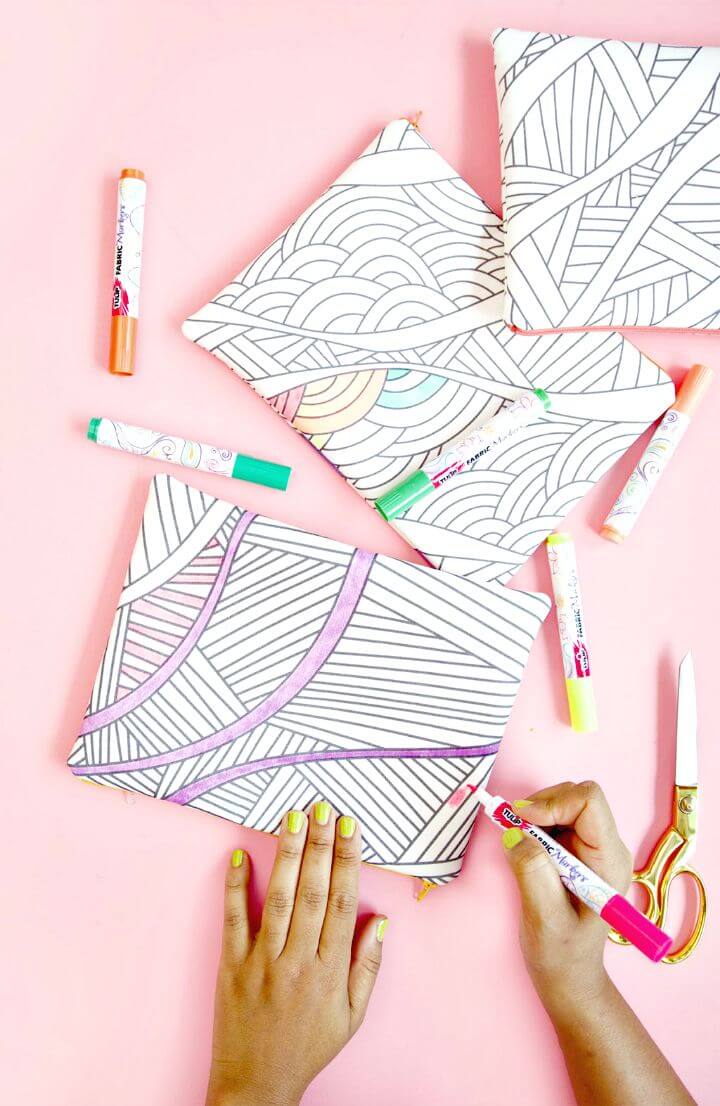 Sky is the limit for the gift ideas that you can make in last minute, Check out here another genius one that will definitely hold your attention! Just make the coloring book fabric for your friends and painting loving beloved ones and let them have fun by filling the color in the fabric patterns! Just Check out here the sample coloring book fabric that are a matter of minute to make! Here is how to make these coloring book fabrics damasklove
DIY Feeling Fruity Purses for Last Minute Gift:
Sewing adorable pouches or purses for friends would also be a great last minute gift idea! Just get inspired of these fruity purses that you can make even in last minute by using the sewing machine and some stamps! Just grab the white cotton fabric and colorful lining fabric and sew custom purses and then stamp them for different fruit slice shapes and that's it! Full project tutorial here thelovelydrawer
DIY Glowing Photo Luminaries:
Check out here another great last minute gift that will definitely amaze all the beloved ones and the friends! Light gifts are always great but if they come with your favorite photos printed on then they would be double cute and praise-worthy! Same you will feel for these glowing photo luminaries that are made of glass jars that come with precious family photos! Just make use of double sided tape to adhere the photos all around the jars and then finish the jars by placing custom lights or candles inside! Full project instructions here ourbestbites
DIY Mason Jar Picture Frame Vase: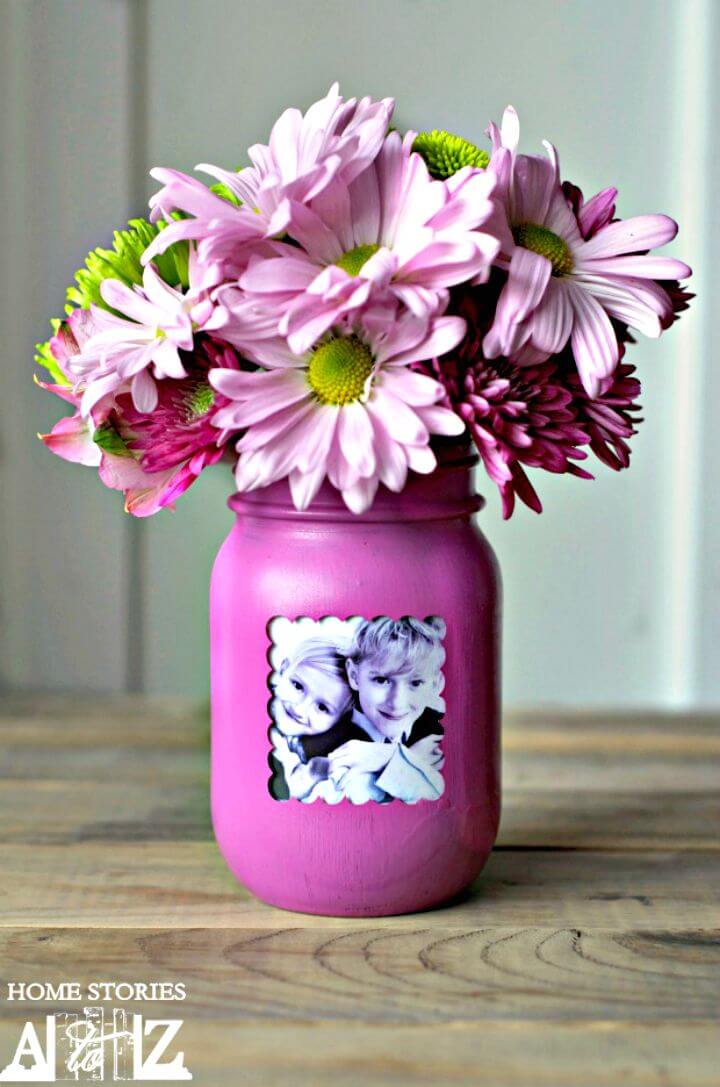 Just like the photo luminaries, you can also make photo frame vases for your friends and beloved ones as cool last minutes! Just peek into details of this handmade Mason jar picture frame vase that will be ready in just no time! Just grab a Mason jar and adhere a vinyl picture frame sticker to front side of it and then spray paint it! Remove the sticker and then display a photo through the unpainted frame from inside the Mason jar, finish by adding cut flowers! Full instructions here homestoriesatoz
Adorable DIY No Sew Appliqued Pillow:
You can also make outstanding last minute gifts at home using the cricut machine! You can really make some great fabric appliqués that can be adhered on custom fabric items for a personal touch and they can also be used in gift giving! Here an interesting sample is this no-sew appliquéd pillow that will be ready in no time and you can easily design the appliqué with cricut machine! Full how to tutorial here dukesandduchesses
DIY Paint Dipped Milk Bottles – Last Minute Gift:
Go also handmade with the recycled and retired home materials and make outstanding last minute gifts out of them! Repurpose also the milk cans or bottles to make gorgeous looking home décor centerpieces just like these paint dipped milk bottles that make great vases and have been added with custom cut flowers! Another great last minute project to do at home! Full project tutorial here createcraftlove
DIY Personalized Enamel Mug Gifts:
There are countless different ideas and projects for making adorable gifts at home in last minute! Just personalize the ceramic coffee mugs by writing custom quotes and letters on them and use your mugs as a great gift! Here the enamel mugs have been transformed into adorable Memorial Day gifts just by writing custom quotes with the permanent black markers! Full project instructions and tutorial here crafts.tutsplus
DIY Pom Pom Necklace:
If you are willing to please a jewelry loving friend or a fashion loving girl or lady in your home then you can also make adorable jewelry items at home that will make great gifts and will be ready at just a drop of hat! Have a look at this stunning pom-pom necklace that is super easy to make! Just thread some colorful pom-poms on a necklace chain and duplicate this necklace! Full instructions here whitehousecrafts
How to Make Striped Wood Block Display:
Make also cool looking displays for your home loving friends and they will just make great housewarming gifts! Stare a little at this sample wood block display that is super easy to make! Just adhere a striped painted or unfinished wooden block on a wooden candlestick and then mount a wooden clothespin on the wooden board that can hold and display anything from custom flowers to paper art to photos! Full project tutorial reasonstoskipthehousework
Easy DIY Flower Push Pins:
Push pins are often to use in a home for hanging custom photos on a memo board and also custom art and photos there! So, you can also make some cool looking push pins for a homey person and they will make a great last-minute gift for sure! Just Check out here these flower push pins that are looking fab and super cool! Just grab your faux silk flowers and then finish them with custom push pin bases and that's it! Grab the full project instructions from here popsugar
DIY Grid Planter for Last Minute Gift:
If you are looking for a last minute housewarming gift then these grid planters would make an ideal choice and they will be ready in just no time! Just grab your custom succulent planters and do a little makeover of them using tape and paint and you are done! Here black tape has been used to create a grid appeal of the planters! Full project instructions here homeyohmy
DIY Rocky Picture Frame:
Earn also more love and respect of your beloved ones by giving them the cool handmade picture frames! Check out here a great looking picture frame that will be ready in no time and would make a great gift! Just grab an old wooden frame, paint or stain it and next glue the rock all around it! Next add your favorite photo in the frame or art and you are done! Complete project instructions here morenascorner
DIY Sensory Play Dough:
If you intending to give a great boost to senses of a young child then here is a sweet gift to make for him/her in last minute! Just make the sensory play dough for your kid and it will be ready even in last minute! Just Check out here the colorful sensory play dough that are super quick to make! Here is how to make these sensory play dough homegrownandhealthy
Easy Homemade Toffee Crunch Candy Recipe:

Also make cool gifts-in-a-jar that will be matter of seconds to make and will also please your friends amazingly! Just grab the empty Mason jars from home and then just fill them up with the custom treats and give them a cute gift wrap and make amusing gifts out of them! Here the Mason jar has been filled with toffee crunch candy that is made at home! Full free recipe and project instructions here faithfilledfoodformoms
How To Make Crushed Glass Coasters:

You can even get busy with the recycled glass to produce some interesting gifts for the friends, neighbors and family members! Here we are with a glass gift that will be ready in a minute for sure, just make the crushed glass coasters at home and give them as great housewarming gifts! Just grab the cork coasters, fill them with the crushed glass and then make use of decorative filler to make a lovely crushed glass coaster! Full project instructions and tutorial here tellloveandparty
Quick DIY Gold Mouse Pad:

Look at this another great handmade gift that will make a great surprise for a computer operator that may be your friend! Just grab a normal wooden mouse pad and just tape your pattern on it and then spray paint it in your favorite color! Next remove the tape to reveal your pattern and that's it! full project tutorial here homeyohmy
How To Make Gold Dipped Magnets:

Here is another interesting gift to make at home in last few minutes! Just make the gold dipped magnets that will rock to hang your photos, announcements and other items on a magnetic board and they would also rock as fridge magnets! Just Check out here the sample magnets that are made of jasper nuggets which have been painted half with metallic gold and then have been finished with a round magnet glued to bottom side! Full project tutorial here gina-michele
DIY Metallic Thumb Tack Art:

Make also adorable looking wall art signs and frames at home that will make a great gift for a home loving person! Just have a look at this metallic thumb tack monogram art that is looking damn beautiful and interesting! Here all you need a canvas on which you can trace out your design using a design template and markers and final step would be to fill your traced out with gold or silver thumb tacks! Full project instructions here thediyplaybook
DIY Neck Candy – Last Minute Gift:

Another fantastic handmade necklace is here that would be ready in a minute and would make a great gift for a friend! This is here the beautiful looking neck candy that is made of a fimo effects block cut into candy length and then have been painted half in gold using masking tape! Drill a hole in it using a cocktail stick and then add it up to a necklace chain as a necklace pendant! Full tutorial here thelovelydrawer
How To Make Necktie Zip Pouch:

One more exceptional last minute gift ideas is here to hold your attention, just make also the precious looking zipper bags for your friends and beloved ones using the old ties! The idea is just to resew the ties using fabric interfacing and fleece and next you can finish the pouches with metallic zippers and that's it! Full project instructions and tutorial here polkadotchair
Make Grill Set Holder:

Here is how to make a big surprise for a BBQ loving friend using the recycled wood and knobs and a little paint! Just make the fab looking grill set holders at home by putting the wooden lengths together and next just add the wooden board up with the hooks or knobs to hang the grill set! Here this wooden grill set holder has also been stenciled using letter stickers that you can easily make with cricut! Full project tutorial here lilluna
DIY Imprinted Clay Bowls: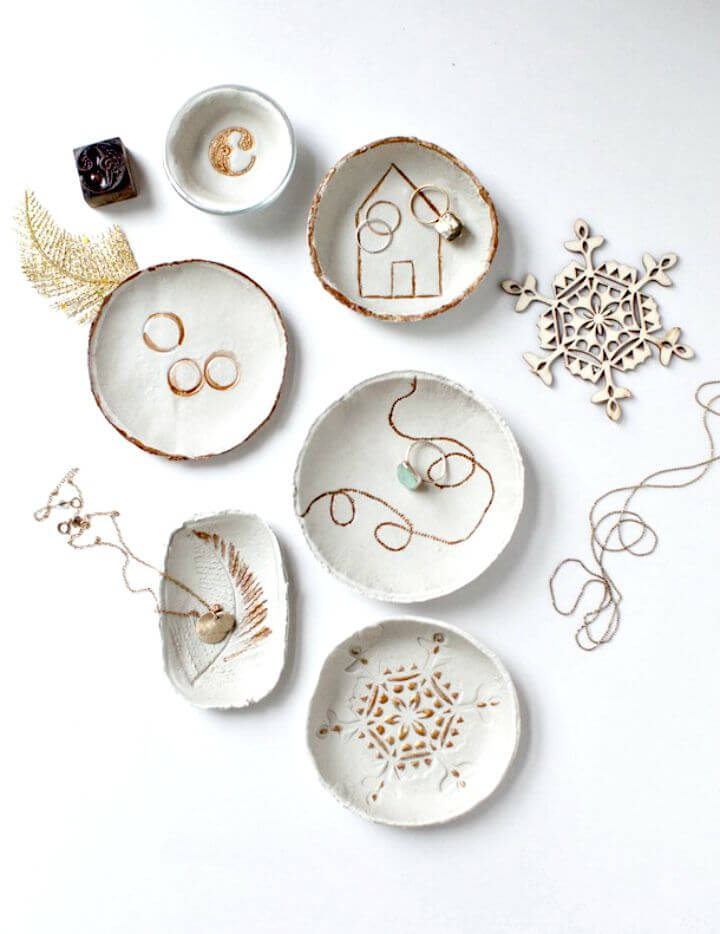 Make also fab looking jewelry dishes or bowls for the big jewelry wearers in the home using the air dry clay and that will also make the fab last minute gifts! Just grab the air dry clay, flatten it with the help of a rolling pin and then cut a round shape out of it, next stencil or stamp the round flattened clay and then put in a bowl that would be as a bowl! Fill the stamped area with paint and that's it! Check out the sample imprinted clay bowls that are super beautiful to make at home! Full project tutorial here camillestyles
DIY Miniature Printable Notebooks:

Last minute gift ideas are just endless and there are many that will inspire your creativity! Just here is another great gift idea, just make also the miniature notebooks that will rock to note the to-do list of tasks and will make great gifts for friends who love to be regular! Just grab some papers, print out custom notebook bindings and then just punch the holes and bind them with string that can be threaded into the holes! Full project tutorial and instructions here designsbymissmandee
Beautiful DIY Ombre Kitchen Towels:

If your whole intention is to please a kitchen loving lady then you can also give her the ombre homemade kitchen towels that will also make great gifts! Just Check out here these ombre kitchen towels that are super easy to make and will be ready in a few minutes! Just grab the flour sack towels and then just dip dye them for an ombre appeal! Just grab a rubber tub, pour the salt and fabric paint in it and that's it! Full project instructions and tutorial here lilluna
Make Your Own Domino Clock Gift:

You can make anything that is in your imaginations to give as a last minute gift to a friend! If you need some inspirations to think like a genius then here is a great one! Just make the domino wall clocks that will bring a great impact to any interior wall and would be super easy to make! Just Check out here a brilliant sample that is super beautiful, just mount the domino clock numerals and then install a cloth with clock hands only in the center! Full project tutorial here thehomesteady
Pretty DIY Floral Spoons:

Just tweak your hands on the ordinary items and objects and turn them into enticing last minute gifts! Just get yourself inspired of these floral spoons that come with handles covered in scrapbook paper! Just grab some mod-podge, apply it on the spoon handle and then wrap the scrapbook paper around the spoon handle! Full project instructions and tutorial here smartschoolhouse
How to DIY Gold Wine Glasses: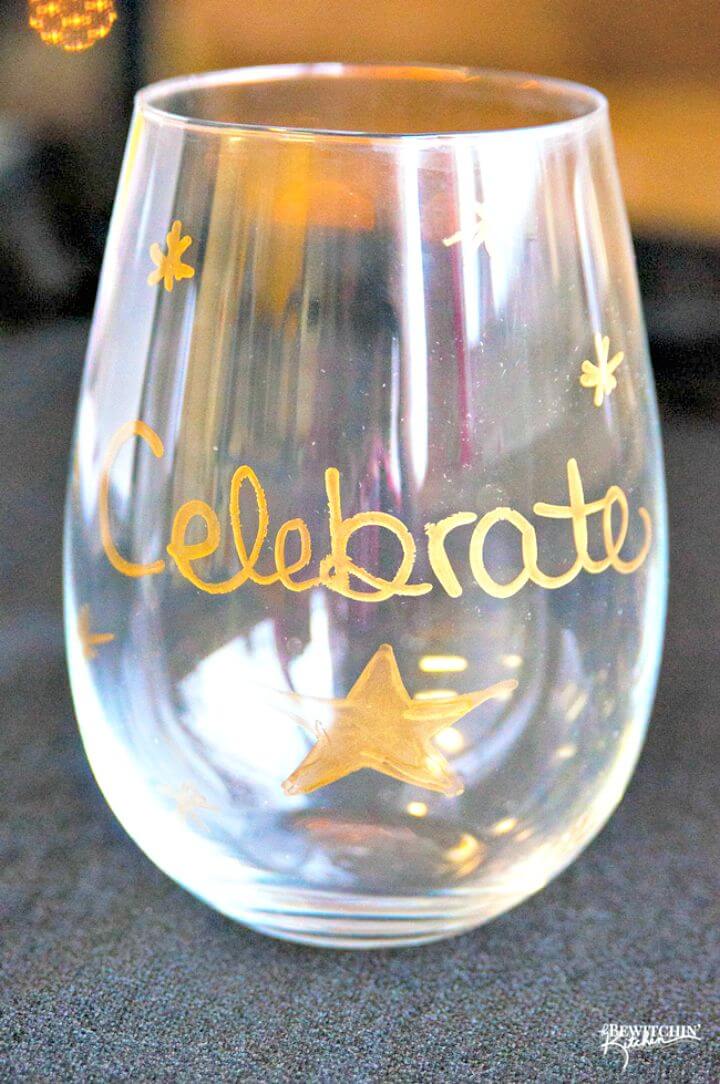 Make also fab looking glasses at home that will rock as last minute gifts for the drink lovers! Give extra wings to your creativity by staring at the given sample gold glasses that come quoted with gold! Just grab the golden sharpie and then just write custom quotes or letters on the gold drink glasses! Full project tutorial and instructions here thebewitchinkitchen
DIY Yet Coaster Made from Cotton Rope:

You can even go handmade smartly with the rope to generate some awesome last minute gifts that will make a big surprise! Just have a look at these cotton rope coasters that will be lovely to look at on a dining or breakfast table and are super easy to make at home! just coil the cotton rope until you get the perfect round coasters and use the glue to adhere the loops in place! Full project tutorial and instructions here sweetpaulmag
Best Homemade Salted Caramel Sauce: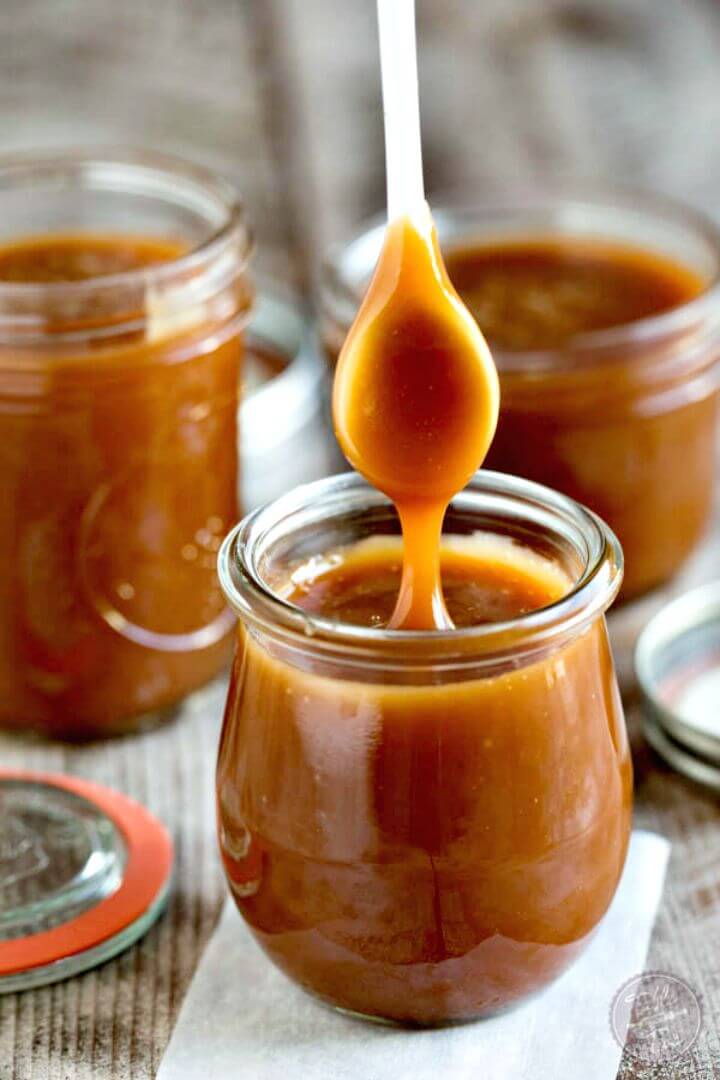 You can also make some delicious eatables or food items that will definitely make great last minute gifts for food loving friend and family members! An interesting example here is this homemade salted caramel sauce that is filled in a recycled jar! Here this sauce is made of granulated sugar, unsalted butter, heavy cream and with kosher salt! Full free recipe and instructions here tablefortwo
Adorable DIY Pearl Statement Necklace:
If you love making jewelry at home then you can also make some instant jewelry items at home to give as last minute gift! Just Check out here this stunning statement pearl necklace that will be ready in no time and will definitely make a great gift for a jewelry wearer or for any style loving lady! Here all you need to pearl necklaces, two rings and a piece of metal wire to make this statement necklace! Full project tutorial here matterofstyle