The Mason jars are mostly to see in every kitchen. But they are good for various other purposes outside the kitchen. Yes, they are highly versatile crafting material, and these 21 best DIY Mason Jar Centerpieces are here to make you aware of the amazing crafting potential of them. Just do little modifications and additions and turn the Mason jars into the fabulous home, part, and wedding decorations. These empty glass containers or mason jars are available in lots of different sizes and colors. They can also be painted easily in the way you like; this confirms them as the perfect material for endless DIY home decor. Moreover, they are easy-to-style also and can be wrapped in decorative fabric, ribbons and can also be added with lots of materials to make instant beautiful home decor.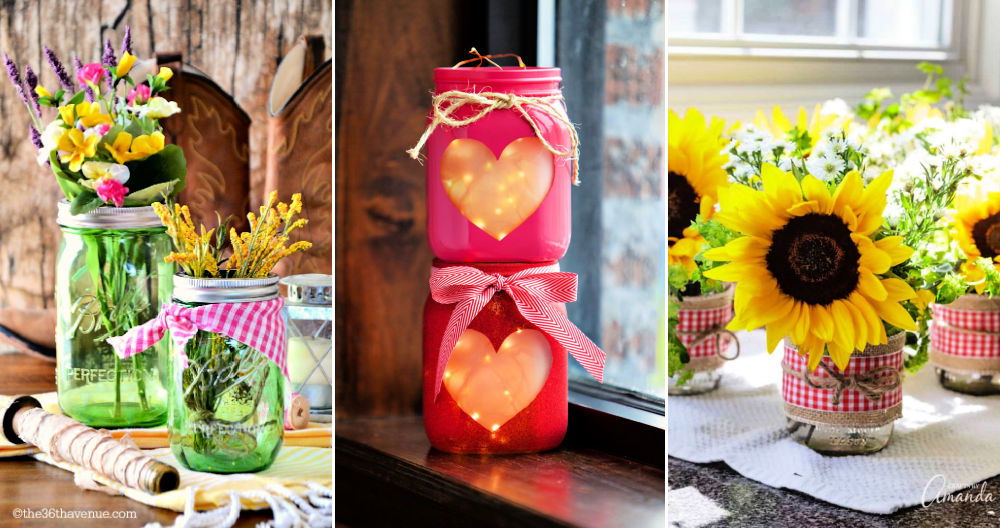 Browse these 21 easy DIY Mason Jar Centerpieces ideas and designs to see dazzling samples of Mason jar eyepieces, lanterns, and candles that will impress. The collection includes Mason jar wedding centerpieces, party table decor, outdoor lanterns, fall flower centerpieces, and amazing Memorial Day decorations. There is nothing major to do in these Mason jar crafts, just tweak your hands onto Mason jar, and a beautiful decoration is ready to add to your home or party knickknacks.
You will get here complete tutorials, photo instructions, and written directions for any of the listed projects, and they will surely enhance your crafting experience. Most of these DIY Mason Jar Centerpieces projects involve fun gluing, painting, and wrapping and will complete at just a drop of a hat. All projects are eco-friendly, budget-friendly, and beginner-friendly.
1. Mason Jar Candle Centerpieces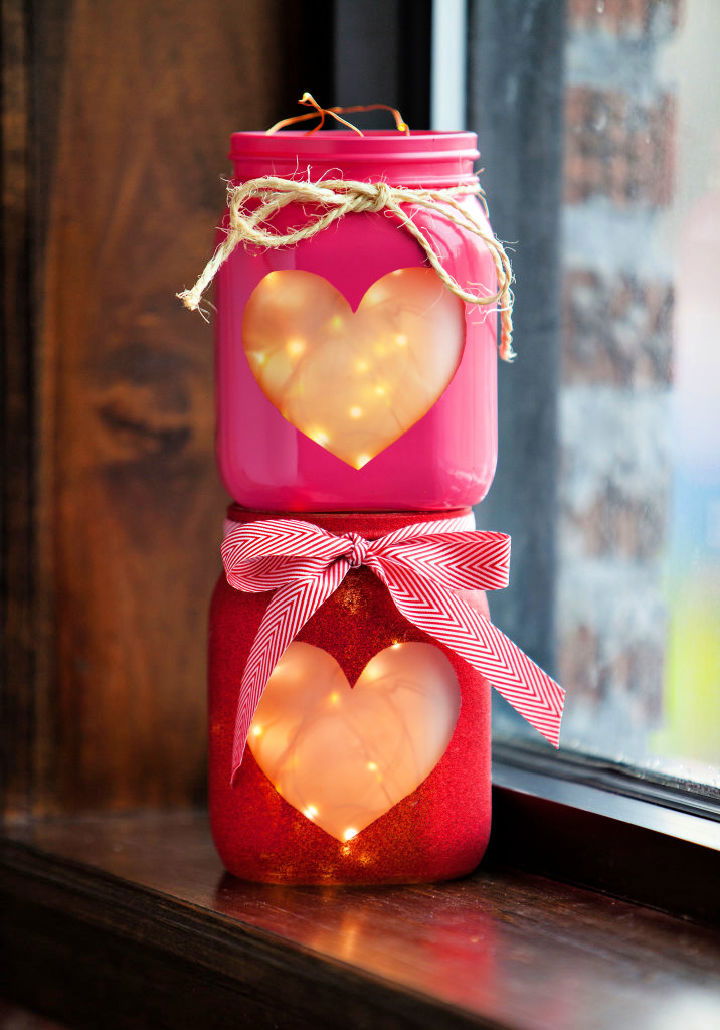 Looking for the best wedding and Valentine's day gift and decor? Make the Mason jar candle centerpieces. They will be good for both purposes. These are here the best Mason jar love lanterns that look extra beautiful with decorative ribbon and painted look. You need spray paint in pink and red, ribbon or yarn, a Mason jar, box cutter knife, LED string lights, painter's tape, and marker to make these precious Mason jar centerpieces. The wedding light decor ever made at home. rusticbabychic
2. Mason Jar Table Decor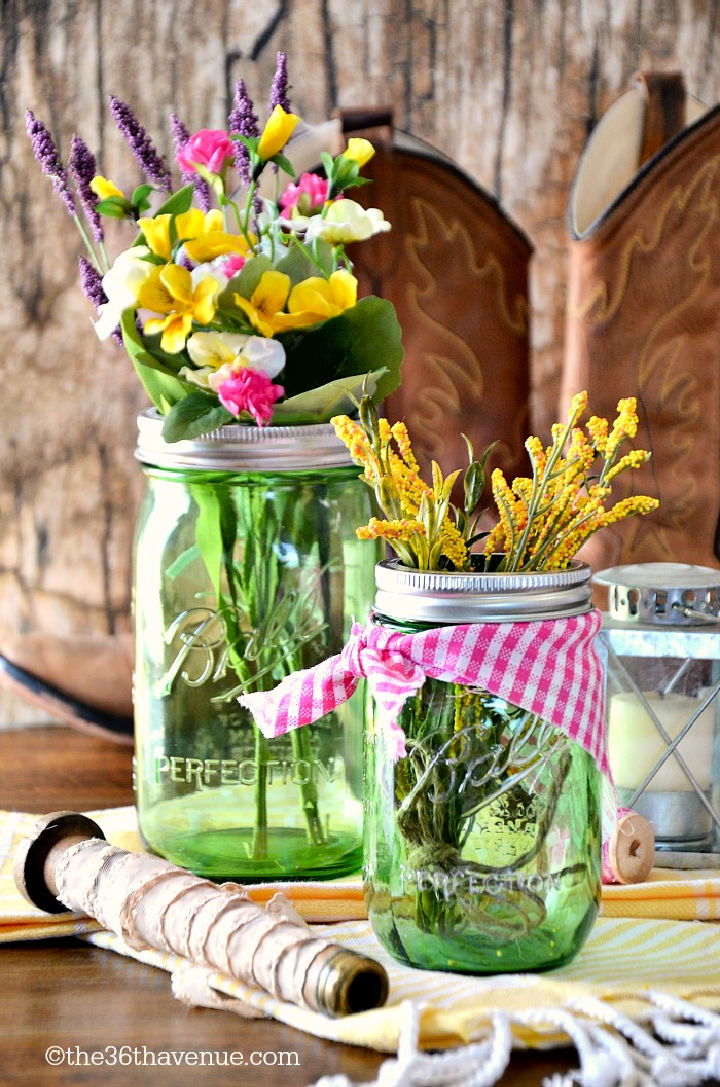 Look at this amazing Mason jar centerpiece that is country decor specific. One of the best DIY centerpieces to make at home in no time and in an affordable way. The whole project will complete in minutes, and there is nothing major or complicated to do in the whole project. You need pint-size Mason jars, decorative fabric, and colorful cut flowers of choice to make these precious Mason jar floral centerpieces. the36thavenue
3. Fall Mason Jar Centerpiece
The Mason jar crafts are a hot potato in the fall decor trends. Yes, craft epic Mason jar decor and centerpieces for fall also using the Mason jars. The idea is to paint the Mason jars with special fall colors, and you can use the acrylic paint in the orange, yellow, and dark brown color to make these Mason jar centerpieces. Further, add the custom fall cut flowers and enjoy a lovely trio of all decor centerpieces. masonjarbreak
4. Wedding Mason Jar
Plan also the Mason jars for dazzling wedding decor, and you can start with these mason jar wedding centerpieces that can hold the table numbers too. The construction is pretty simple, just fill the Mason jars with the decorative filler such as river rocks, glass gems, and sea glass and then top with your favorite colorful cut flowers. You can also set the complete decorative jars on the glass pedestals for focal stimulation. alittleclaireif
5. Marbelized Mason Jar Centerpiece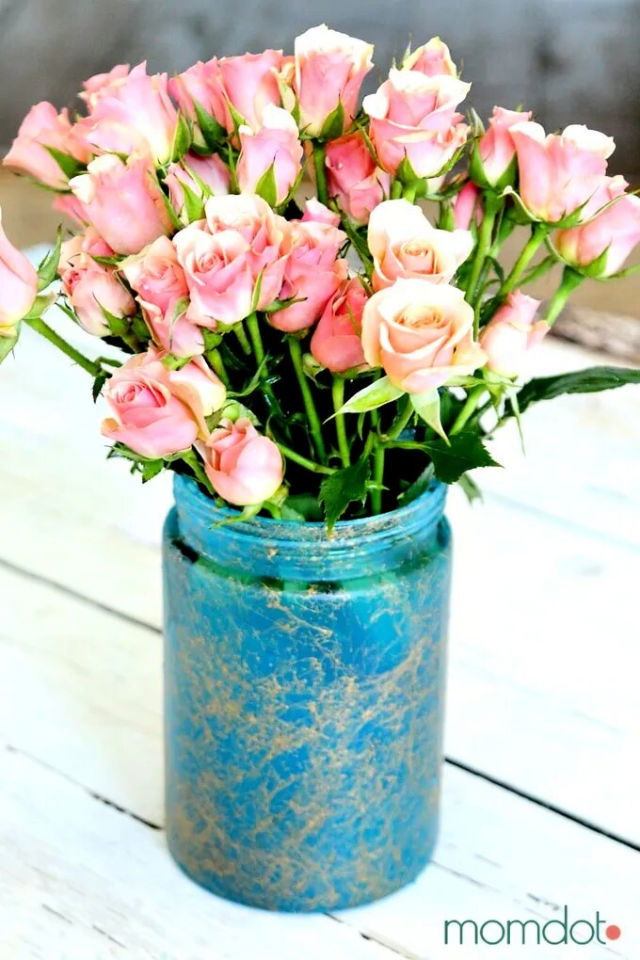 Feel free to work up another gorgeous Mason jar centerpiece filled with pink rose cut flowers. This is here the marbleized Mason jar centerpiece that looks extra cute and stunning. Just paint the Mason jar first in the Aqua Blue using Seaglass spray paint and then marbleize it with the marbleizing spray. The final step would be to fill it up with your favorite cut flowers. The completed centerpiece will go rocking on a decorative mantel and shelf and be used as wedding table decor also. momdot
6. Picture Frame Mason Jar
Here the perfect Mason jar trick to gain an adorable wedding centerpiece displaying the bride and groom's photo. These wedding centerpiece ideas with mason jars are here the picture frame mason jar centerpieces that are looking fabulously cute with the cut flowers displaying at the top. The best photo flower bouquet to make for home and party decor. It will be a great idea for the Memorial Day gift, and you will love making it also. You need a Mason jar, chalky finish paint, decorative adhesive label, paintbrush, and scotch tape to make it. alittlecraftday
7. Glitter Mason Jar For Wedding
Fancy up your spaces with the outstanding glittery elegance that will come from these glitter Mason jar centerpieces that are super quick and easy to make also. Fill the finally completed glitter jar with the cut flowers or with lights and gain an adorable party and wedding decor centerpiece. The project is super quick and is beginner-friendly. You need a Mason jar, metallic spray paint, mod-podge, paintbrush, glitter, paper plate, and some creativity to make it. annsbridalbar
8. How To Glitter Mason Jars Centerpieces
Jazz up your spaces with the amazing sparkly that will come from these glitter Mason jar centerpiece, the easy craft project that all beginners can do with ease. This will be the best one in the Mason jar centerpiece ideas, and you can create a trio of glitter jars to get your creativity inspired. Here you need Mason jars, glitter in colors of choice, mod-podge, foam brush, and frog tape to do this project. Finish also the completed glittered jars with cut flowers. rainonatinroof
9. Red White and Blue Mason Jars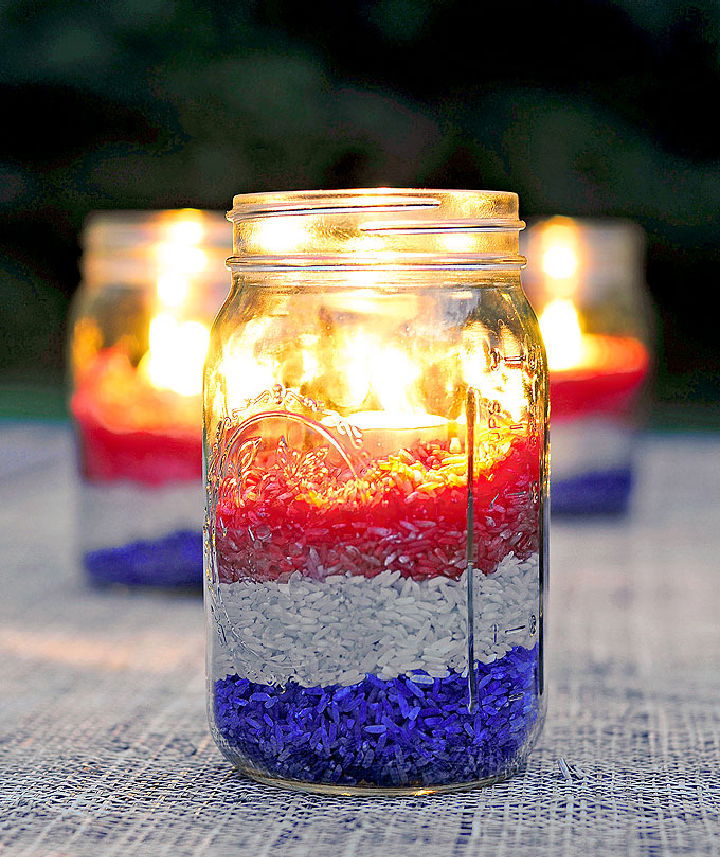 Celebrate the 4th July, Independence Day by making these red, white, and blue Mason jar decorations which will rock your 4th July party decor also. They can be used to spice up your deck and outdoor patios and can also be hanged aloft to bring Independence Day happiness in the air. You need white rice, red and blue food coloring, Mason jars, and some votive candles to build these Memorial Day Mason jar decorations. shewearsmany
10. Mason Jar Firefly Lanterns
The Mason jars are highly versatile crafting material that is to find in everyone's home also. They can be painted in endless different ways and can also be filled with custom items to make particular decorations and centerpieces. Feel free to work up these Mason jar Lanterns that are crazily beautiful and will make epic handmade fall table decor. Fill the Mason jars with rustic twig balls, LED string lights, and then put them on a Barn wood tray with some acorns around to gain a fall decor centerpiece. lilblueboo
11. Glass Jar Centerpiece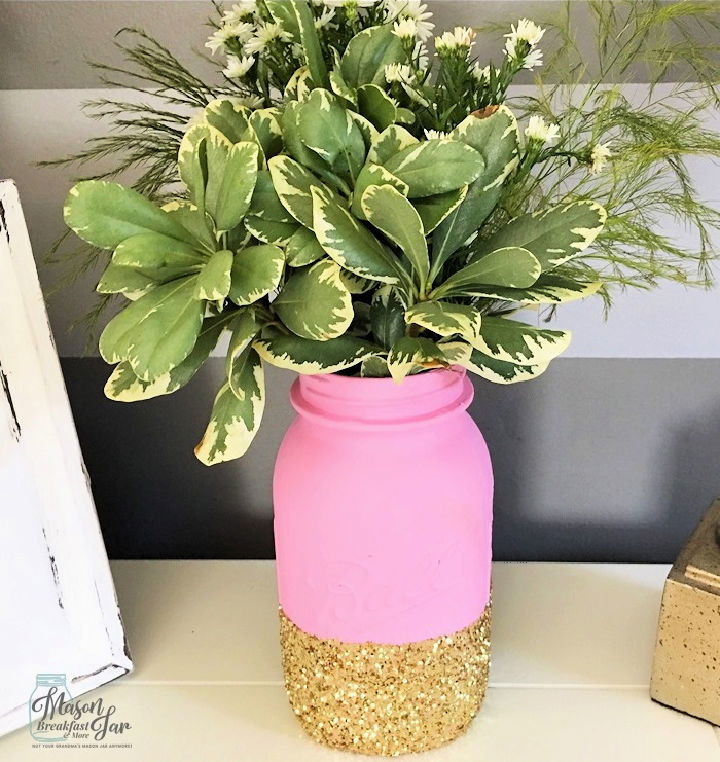 It is amazing to get the glittered Mason jars, so they become more prominent and eye-catching. This generates tons of possibilities more to use them as centerpieces in your home decor. Learn here to make the best glitter Mason jar centerpiece that you can opt for so many different occasions and events. Paint the Mason jar using multi-surface craft paint, layer mod-podge around the bottom half, and then sprinkle glitter to adhere to the mod-podge area. Fill cut flowers or plant stem in the jar, and that's it. masonjarbreak
12. Sunflower Mason Jar Centerpieces
Sorting out the best centerpieces for a country decor theme? Make them also out of Mason jars without going through complicated constructions and processes. Just wrap first the burlap ribbon around the Mason jar center and next to the checkered board ribbon and hold them in place through a twine. Finish by adding the sunflower cut flowers and gain an adorable country decor centerpiece. A one of the best centerpiece ever made out of Mason jars. craftsbyamanda
13. Polka Dot Mason Jar Vase Centerpiece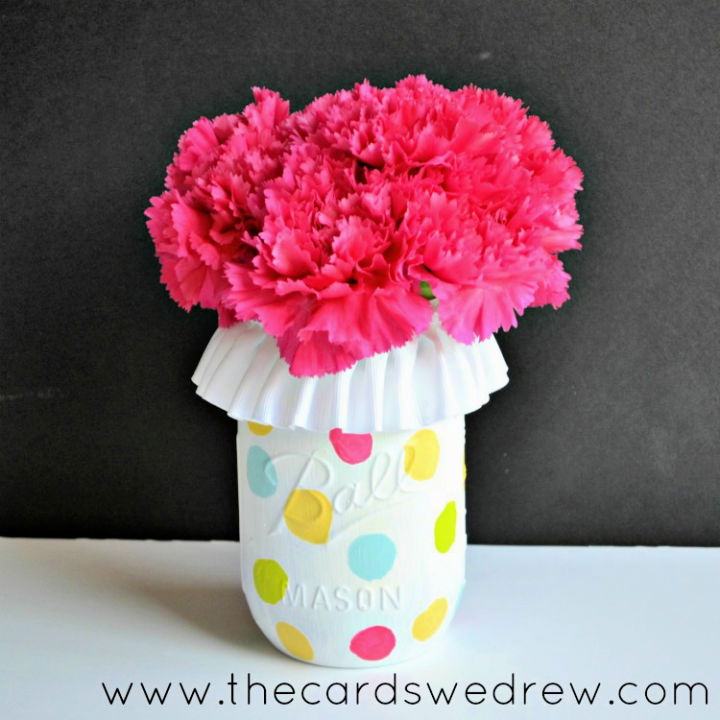 Bring amazing colors to space and boost the feminine appeal of the space with this outstanding polka dot Mason jar vase. It will not take that too long to paint the brilliant polka dots on the Mason jars appearing in assorted paint colors. Here you need a Mason jar, white paint, assorted color paints, paintbrushes, and flowers to make this super cute Mason jar centerpiece. Give it as a great housewarming gift also. thecardswedrew
14. Katie's Glass-Jar Moroccan Lanterns
Are you highly inspired by the Moroccan decor and want to feature them right in your home interiors. Then look no further and duplicate these Moroccan lanterns, the crazy Mason jar creation. Here you need old glass jars, gold dimensional puff paint, glass paint, paintbrush, and wire to make these epic handmade Mason jar Moroccan centerpieces. The project is super easy and timeless. designsponge
15. Painted Daisy Mason Jars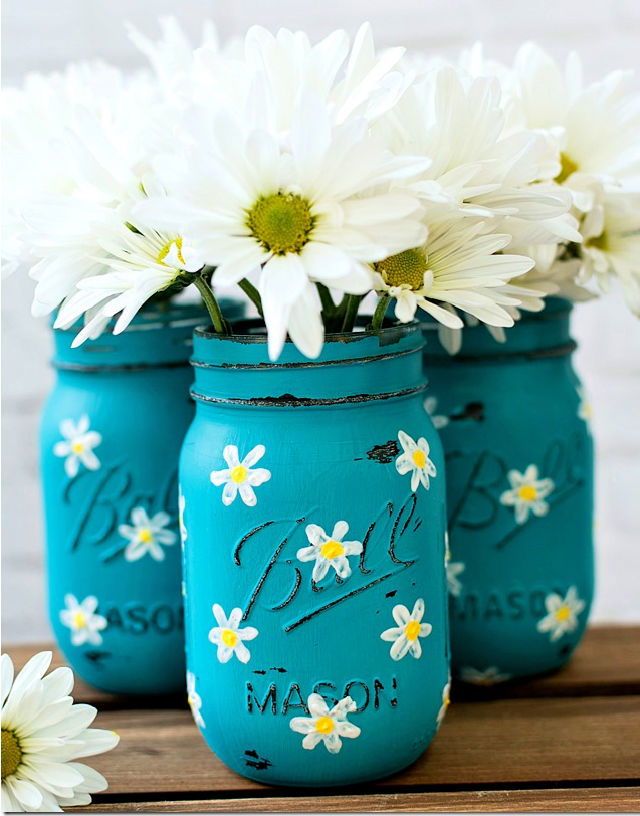 The DIY Mason jar centerpiece ideas and projects are never-ending. Check out here another one to get your creativity inspired. These are here the painted daisy Mason jars looking amazing cute with the lovely mini painted flower decorations. Paint the jars with the teal acrylic paint in a matte finish, three coats will be enough. Next, distress with sandpaper and start painting the mini flowers with a brush. Finish with daisy cut flowers. masonjarcrafts
16. DIY Mason Jar Wedding Centerpieces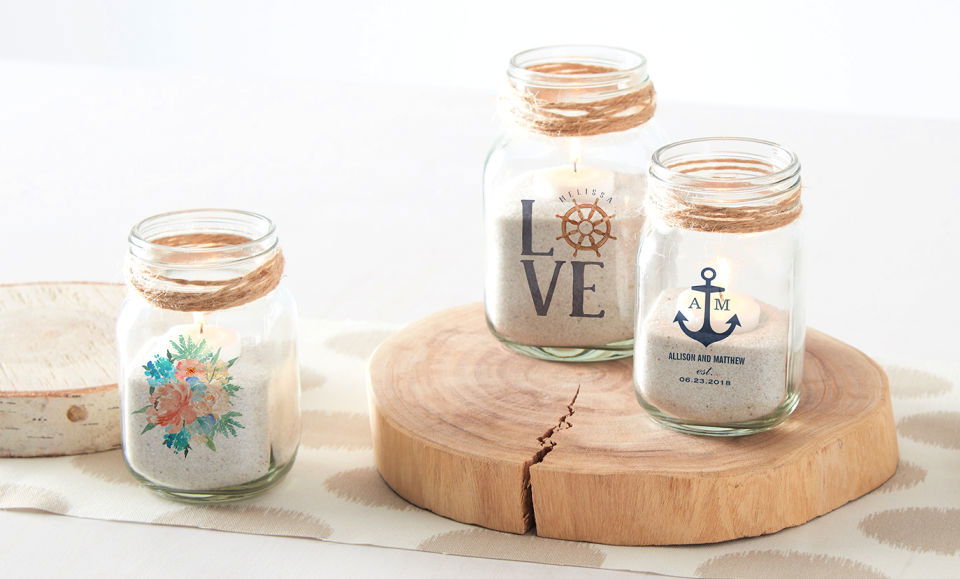 Go also handmade with recycled Mason jars to craft epic handmade wedding decor. Rock your weddings with the amazing nautical decor touch that will come from these nautical Mason jar light centerpieces. Just wrap the rustic twine around the Zazzle Mason jar openings for a rustic appeal and fill them half with sand. Next, just place the light tea candles on the sand, and here you go. It will only take 20 minutes to whip up these light-up Mason jar wedding centerpieces. zazzle
17. Fall Jars With Dollar Store Flowers!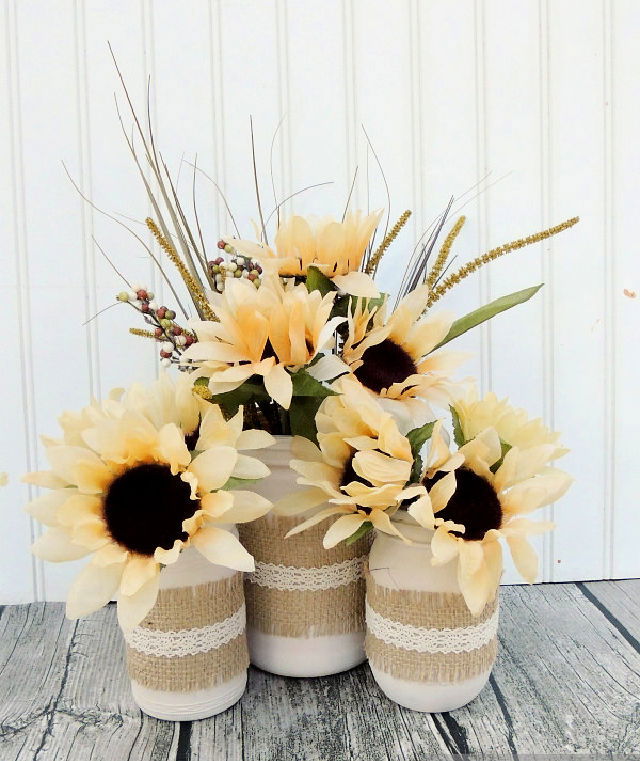 Welcome the fall with these hottest homemade Mason jar centerpieces that will work up fast. Paint the repurposed clean Mason jars with creamy chalk paint, and then decorated by wrapping the burlap and lace trim around. Fill the Mason jar with dollar store sunflowers and grass and get the lovely fall decor centerpieces. Use the hot glue to adhere the burlap and lace around the Mason jar. The whole project will complete super fast and will tons of visual grace to your home decors. craftinginther
18. Autumn Leaf Mason Jar Candle Holder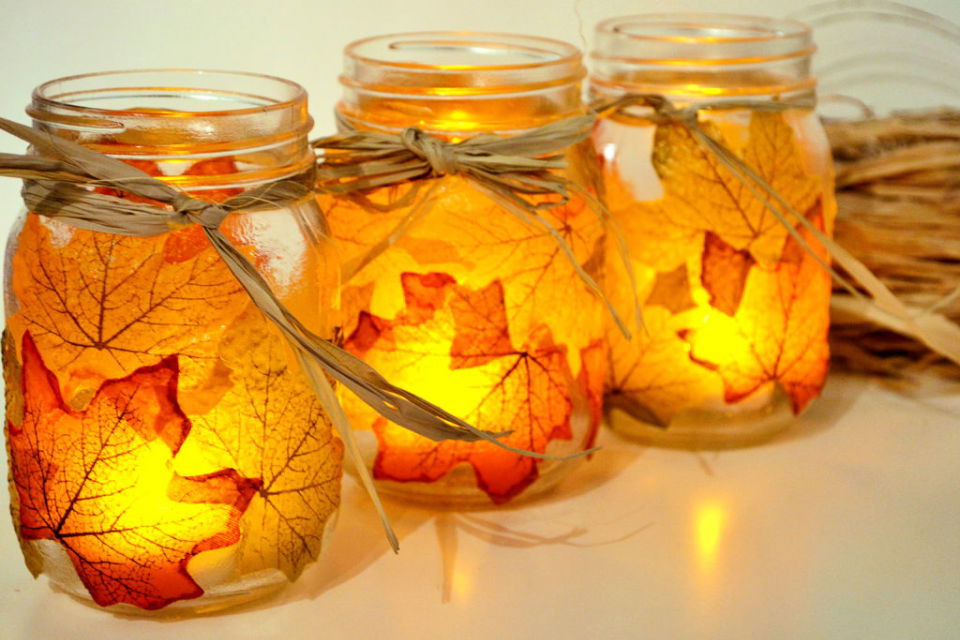 Yes, you can create all-season decor and centerpieces with the Mason jars without getting a bit expensive. Make also the best autumn decor centerpieces out of Mason jars without getting a bit expensive. All you need real for fake autumn leaves that you have to adhere to the whole inside of the Mason jar using mod podge. Next, add the tea lights or cut flowers inside to make an instant beautiful leaf Mason jar holder. It will make a sweet handmade gift also. sparkandchem
19. Glass Jar Centerpieces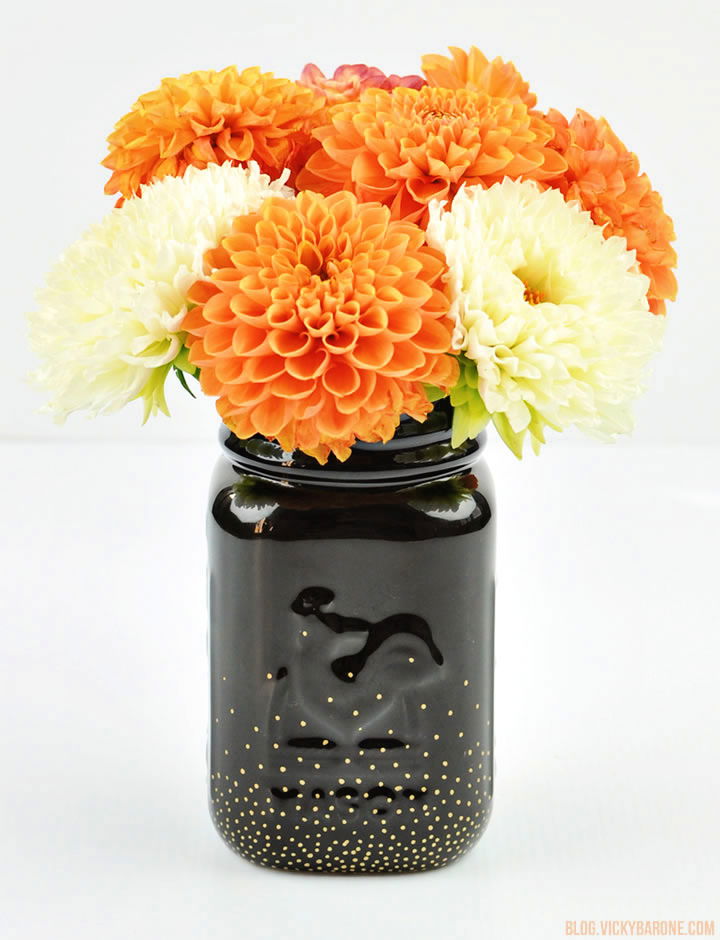 Feel free to duplicate this gorgeous Mason jar vase, which qualifies all the visual properties as the best centerpiece for all your decor. What brings the royal grace is the gold and black color appeal, and you can choose your beautiful flowers to fill inside the Mason jar. The whole project is easier to do, and it will be on your party and wedding table in no time to dazzle the audience. You need black Mason jars, a metallic gold paint pen, and custom-cut flowers. It will make the best wedding and Halloween centerpiece too. vickybarone
20. Scented Mason Jar Party Centerpieces
Are you sorting out the best photo gifts for your beloved ones? Make this Mason jar scented photo holder that is one of the easiest DIY Mason jar centerpiece projects. You need printed photos 5″ x 7″, peanut butter and cocoa pebbles cereal, wide-mouth Mason jars with lied, pencils, and baker's twine to make these cute scented photo Mason jar holders. The whole project is both beginner-friendly and budget-friendly. smartfundiy
21. DIY Candle Making – Mason Jar Candles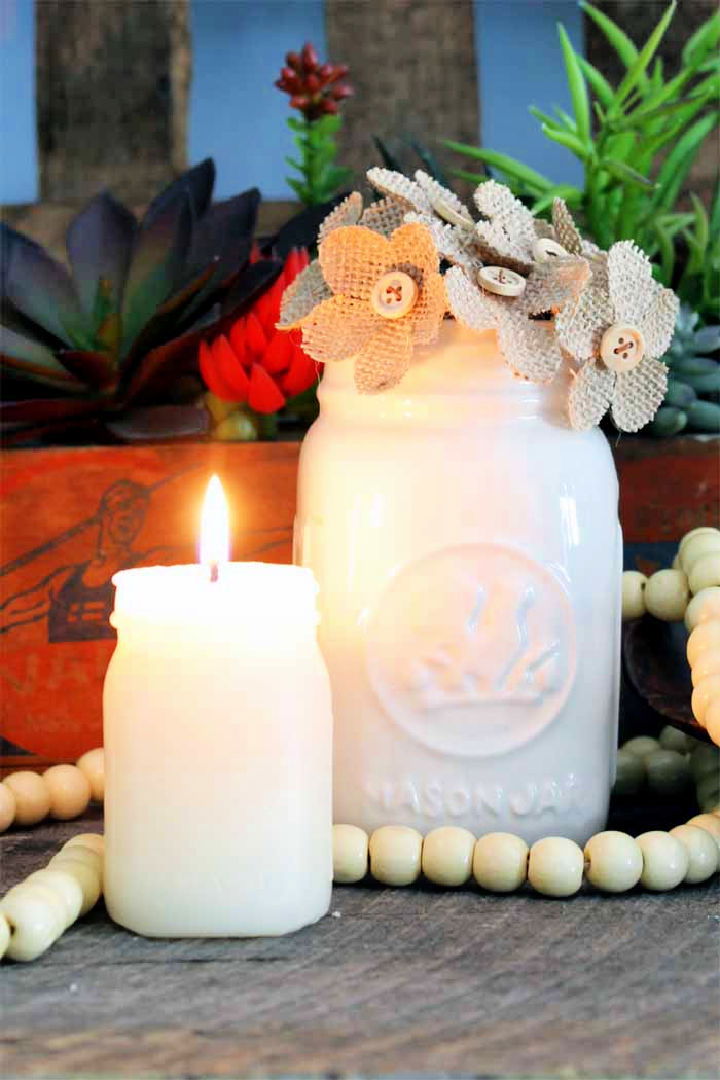 Do you lack some beautiful candles for your party and celebration decor? Consider making the best Mason jar candles at home. They will be extra visually pleasing and can also be made scented. Learn here how to make a Mason jar candle. It will make a lovely light centerpiece. You need a Mason jar, silicone rubber, tin can, Mason jar ring, 100% beeswax block, candle waxed wick with wick tab, plastic mold sealer, and wick clips to make these candles. First, make Mason jar mold and the Mason jar candle. resincrafts
Conclusion:
Going through a hard time deciding the custom decor for the selected party, wedding, or celebration theme? Have you got your decor in the store but can't afford them? Time to save a lot of your money and time with these unique DIY Mason jar centerpieces ideas, the easiest Mason jar crafts that help get outstanding decor out of Mason jars or every season, festival, party, or wedding theme. Paint a Mason jar in any color of choice and then add tea lights or cut flowers inside to get a beautiful home decor centerpiece. So, you can paint them in accordance with the party or wedding decor theme and can also select the respective type of light or cut flowers to get an exact Mason jar centerpiece. These mason jar centerpieces ideas will share all the smart hacks, tips, and tricks to do so.