Get ready for the cooler season with these cozy and warm 20 DIY ways to decoupage mason jars using mod podge. These DIY decoupage mason jar crafts can be displayed pretty much anywhere in your home! From kitchen windows to entryway vases, they can be a delight anywhere. Decoupage is a great and quick way to revamp your decor by just working on a few textured details! We have rounded up some of the easiest and fun faux stain ways to brighten up your decor!
These DIY ways to decoupage mason jars are all budget-friendly, and the most important and key suppliers in all of them are the mod podge! Most of these crafts are even made working around an old newspaper, music sheets, tissue papers. Some charming paper patchwork and other great and exciting ideas!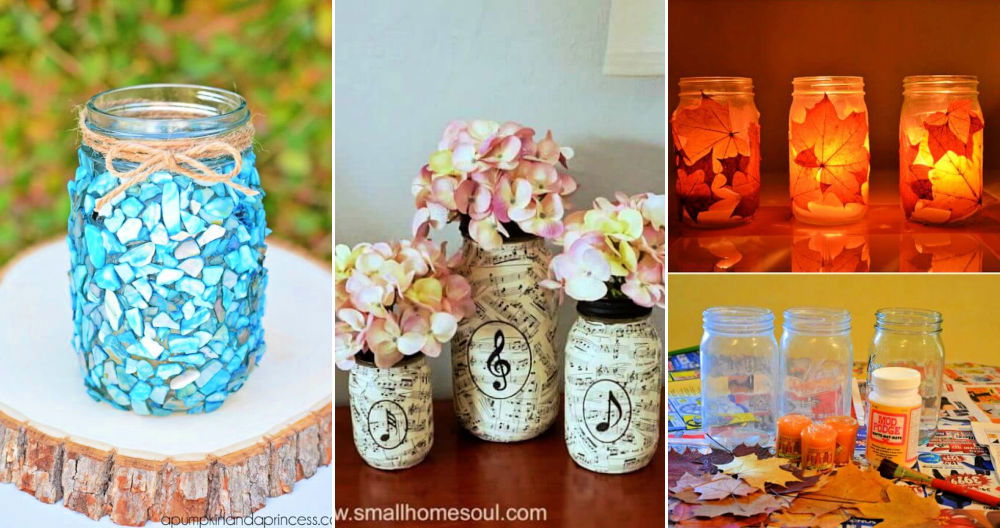 You will love the character these decoupage mason jars will add to your decor. We have also added some darling autumn leaves candle holders! They can be these mason jar lights or candles that you can light up at night and make your home even cozier. There is also some breezy beach inspired DIY decoupage mason jars below that can make a perfect beachy decor set up! Let's dive right in and bring the most sensational little changes to your decor.
1. How to Make Decoupage Mason Jars
These little updates can refresh the entire vibe around your desk! You will need a mason jar, graph paper, scissors, mod podge, and paintbrush. Start by cleaning the mason jar first and then apply a mod podge. momtastic
2. Speckled Egg Textured Decoupage Mason Jars
Speckled egg texture bliss alert! With Stow and tell, you can make this cute mason jar speckled egg texture and sprue up your decor game! Gather some craft paints, including Americana DecoArt in blue Spa, Indian Turquoise, buttermilk, white, medium, and grey burnt umber. stowandtellu
3. Faux Stained Decoupage Mason Jars
Get your hands on mason jars, mod podge, paintbrush, tissue paper, scissors, and candles. Give your mason jars this perfectly artistic faux stain looks by using pieces of tissue paper. Just carefully work around the amount of mod podge. momspark
4. Decoupage Galaxy Candle Jars
Who wouldn't love setting up these charming DIY galaxy candle jars in their home and spruce up the entire vibe of the room? This look can be easily made on an 8oz quilted crystal mason jar! With decoupage glue, gel food coloring, assorted glitter, stirring sticks, disposable cup, and battery-operated tea lights! buzzfeed
5. DIY Decoupage Glass Jar
Add some simple floral appeal to the DIY decoupage mason jar ideas! This will look super pretty on a plain background. A cutting board and a small knife can do justice to the floral theme. Put these on the mason jar by using mod podge with a sponge brush. adorable home
6. DIY Sheet Music Mason Jar Vases
Aren't these sheet music mason jars absolutely stunning? They give this sensational vintage feel! And we love the vibes and character they can add to any room. Just get your hands on an old sheet of music and get started. girljustdiy
7. Decoupage a Mason Jar With Mod Podge
Bring the textbook charm and liveliness to your decor shelves using this perfect DIY way to a decoupage mason jar! If you have any pretty scrapbook papers, time to flaunt them off by putting them on these mason jars. runningwithsis
8. Easy DIY Autumn Lanterns
We totally love the serenity of these autumn lanterns! They can bring so much cozy and comfy character to any room. Just get your hands on some colorful fall leaves and put them on the mason jars using mod podge! Put inside some beautiful candles and light up the room. nowoodenspo
9. How to Make Patchwork Paper Covered Jar
The beauty of patchwork is done right! Check out these patchwork paper-covered mason jars. Pick up one mason jar, next thing, and the life of this project is mod podge. Get some paper scraps like papers, old mail, newspaper, pretty much anything! Hit the tutorial for steps. thecreativeplace
10. Make Your Own Mason Jar Lantern
Make beautiful lanterns out of mason jars using a map! Get your hands on a map, mason jar with lids, mod podge, scissors, brush, twine, or string with LED tea lights! Pro-tip; after you have pasted the map on the mason jar, press it gently across to remove any bubbles. diycandy
11. Chalk Paint Mason Jars With Succulents
These chalk paint mason jars, decoupage with chalk paint can add so much character to any room! It can make a perfect seasonal mantel or could be a cute kitchen or entryway centerpiece. Welcome spring to your house! modpodgerocks
12. Pink Vintage-look Mason Jars
Give your mason jars this pink vintage appeal and liven up the decor! Gather supplies first, including mod podge and food coloring in electric pink. Mix the ingredients and then paint up the mason jars. masonjarcrafts
13. Mason Jar Luminary
Check out this cutest faux stain glass DIY mason jar luminary! By using just a few materials, you can easily make these at home! You will need a mason jar, tissue paper, scissors, glue stick, mod podge, LED candle, and quatrefoil printable pattern. consumercrafts
14. How to Make Mason Jar Night Light
Instead of buying any expensive or costly night light, make your own night light with this glittery and glamorous mason jar night light! It can be nailed in just three main steps. You'll need mod podge, sheer aqua mod podge, glitter, mason jar, paintbrush, and battery-operated tea light candle. modpodgerocks
15. Travel Themed Mason Jar Bank
Are you a travel freak? Or if you love traveling. You can make these catchy and unique map mason jar banks. These could even make a cute gift for a friend who loves traveling. Put up the map of the country they want to travel to. pillarboxblue
16. Autumn Leaf Mason Jar Candle Holder
Here is another beautiful and sensational autumn leaf mason jar candle holder idea! Even if you have a little idea for the decoupage, you can perfectly make this whimsical fall decor. Use original or fake leaves! sparkandchemis
17. Decoupage Leaves on a Mason Jar
All seasons have this another charming autumn candle holder idea! Get your hands on a votive candle with a votive candle holder, heat resistant glue, jute or ribbon, recycled jar, paintbrush, decoupage medium, heavy books, newspaper, and collection of fallen leaves. all seasons
18. Glitter Monogram Mason Jars
Looking for a personalized and sensational gift for your loved ones? Make these charming glitter monogram mason jars. You can make these by using some scrap pieces of vinyl, glitter, Martha Stewart decoupage, and a paintbrush! addicted2diy
19. Beach Inspired Mason Jar
We love the beachy vibes this DIY decoupage mason jar will bring! It looks quite a catchy vision itself and can be made using just a few supplies, including a mason jar, Americana Decou-page, Faux rock vase filler or broken shells, Brush, twine, and flameless tea light candles. apumpkinandap
20. Faux Beach Glass Mason Jar Lanterns
Bring the beachy vibes back home! Check out these super subtle and charming decoupage mason jars lanterns inspired by the beach theme! It is mainly the magic of acrylic paint in coordinating colors, with wood circles, sponsors, and doilies or other embellishments. modpodgerocks
You must also have some sensational and whimsical ideas for making personalized gifts for your beloved friends and family members! Especially with winters around the corner, you can perfectly set up these charming autumn candles, and they can brighten up and cozy up to anyone's home! Are you all ready to make these lovely decor additions to your place? Get started with us and make the most out of your decor.