Making DIY suncatchers is a simple and fun craft you can do at home. Learn how to make suncatchers with these 25 creative and easy DIY suncatcher crafts that are perfect for adding some fun and color to your windows. Each DIY suncatcher project has step-by-step instructions and detailed illustrations, so even beginners can make beautiful suncatchers. From homemade hot air balloon and fused bead rainbow suncatchers to simple sun-catchers crafted from coffee filters or glass beads, our list of DIY suncatchers offers a variety of ideas to spark your creativity.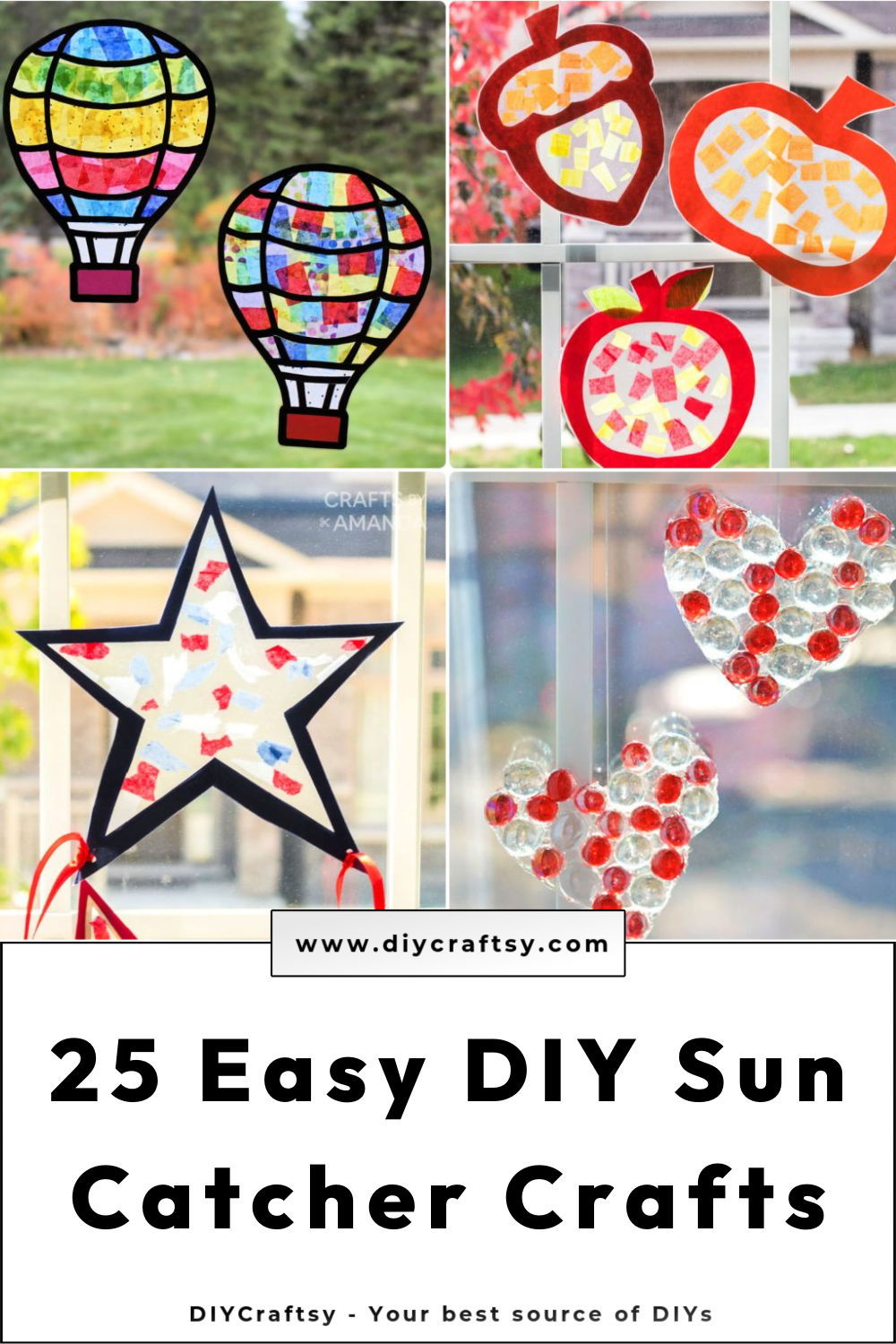 Making a suncatcher allows you to play with colors, textures, and forms. It's also a great project to do with kids, teaching them about the interaction of light and color. Once finished, these sun catchers provide a beautiful, light-dancing decoration for your windows. So, gather your crafting supplies and get ready to make your own DIY suncatchers today! Let your creativity shine with this enjoyable crafting activity and enhance your home aesthetics with your unique DIY suncatchers!
1. DIY Hot Air Balloon Suncatchers
These lovely DIY hot air balloon suncatchers introduce a vibrant touch to your windows. Children will enjoy selecting their favorite tissue paper colors to make unique designs. Easily download the printable hot air balloon template provided and let your creativity soar with this fun and engaging craft activity for kids.
Gather materials such as white cardstock, scissors, a black marker, craft glue, colored tissue paper, and colored cardstock for the basket.
The finished hot air balloon suncatchers make beautiful decorations for birthday parties, playrooms, or school rooms. Let your imagination take flight and make stunning hot air balloon suncatchers. createplaytravel
2. Making a Fused Bead Rainbow Suncatcher
Brighten your home and celebrate spring with these DIY, vibrant fused bead rainbow suncatchers! This fine-motor craft is perfect for teaching preschoolers colors while engaging their creativity. You can make a stunning rainbow suncatcher using rainbow chenille stems, faceted plastic beads, and simple tools like scissors and fishing lines.
String the beads onto the chenille stems, bend them into an arc, and arrange them on a parchment paper-lined cookie sheet. The beads melt and fuse after baking in the oven, making a beautiful rainbow. Hang the suncatcher in a window and enjoy the colorful display. This delightful craft is a wonderful way to add a touch of cheerfulness to your home decor. firefliesandmud
3. Homemade Apple, Acorn, and Pumpkin Fall Suncatchers
Get charming DIY fall suncatchers using tissue, construction, and contact paper! This fun craft project is perfect for kids, especially with Halloween and Thanksgiving just around the corner. With the changing colors of the leaves and the cooler air, fall is a season full of transformation.
Following the step-by-step instructions, children can make their own pumpkin, apple, and acorn suncatchers to decorate windows and add a touch of brightness to the shorter days.
The materials needed are easily accessible, and the estimated cost is minimal, making it a budget-friendly activity. Let your kids explore their creativity and learn more about the season by engaging in this enjoyable craft project. craftsbyamanda
4. Free Printable Leaf Suncatchers Template
Get charming DIY fall suncatchers using tissue, construction, and contact paper! This fun craft project is perfect for kids, especially with Halloween and Thanksgiving just around the corner. With the changing colors of the leaves and the cooler air, fall is a season full of transformation.
Following the step-by-step instructions, children can make their own pumpkin, apple, and acorn suncatchers to decorate windows and add a touch of brightness to the shorter days.
The materials needed are easily accessible, and the estimated cost is minimal, making it a budget-friendly activity. Let your kids explore their creativity and learn more about the season by engaging in this enjoyable craft project. funathomewithkids
5. Cool DIY Pressed Flower Suncatcher
Let the beauty of nature grace your window with this unique DIY suncatcher! These suncatchers look beautiful on windows or in classrooms, perfect as a gift or for adding a touch of spring to your home.
Start by collecting and pressing wildflowers or fallen flowers from your garden. Once the flowers are pressed, trace a small plate or bowl onto a self-laminating sheet, then arrange the pressed flowers on the sticky side.
Add another laminating sheet on top and press firmly to seal. Cut out the suncatcher and hang it on your window using double-sided tape or glue dots. Enjoy the enchanting beauty of this suncatcher. bestideasforkids
6. Handmade Springtime Suncatchers
Explore the beauty of nature with your DIY springtime suncatchers! Using materials like a metal hoop, copper wire, bicone crystals, bigger crystals, and jewelry pliers, you can craft a bright and colorful suncatcher that will add an energetic touch to your space.
Begin by designing the hanging point for your large crystal within the hoop. Then, make a tree shape by wrapping wire around the bottom and working your way up, adding branches and layers for texture.
String crystals onto the wire, and for those without holes, securely wrap the wire around them. Take the beauty of spring indoors with this fun and artistic suncatcher project. hallmarkchannel
7. Upcycled Plastic Earth Day Suncatchers
Celebrate Earth Day with a creative and educational craft for kids using recycled plastic! With this easy project, you can repurpose clear plastic berry boxes or takeout box lids to make beautiful DIY suncatchers. Cut out small circles from the plastic, color them with permanent markers, punch holes in each circle, and attach them to a small twig using twine.
Hang up your finished suncatcher and let it remind you to reduce, reuse, and recycle. This Earth Day activity is fun and engaging and teaches children about the importance of environmental sustainability. Explore more upcycling ideas for kids and enhance their creativity while positively impacting the planet!s booksandgiggles
8. Colorful Apple Suncatchers Craft for Toddler
With just a few simple materials, these colorful DIY apple suncatchers are the perfect craft for your toddler to make! This vibrant and engaging toddler apple craft can be doubled as a stunning suncatcher for your window! This easy project is perfect for little ones and helps develop fine motor skills. Using a free Apple printable template, you'll need colorful tissue paper, ConTact (sticky) paper, and red or green paper for printing.
Cut out the apple shapes, remove the center, and cover the negative space with ConTact paper. Then let your toddler explore the sticky surface by pressing on tissue paper squares, making a beautiful mosaic of colors.
Once finished, add another layer of contact paper to secure the design and punch a hole for hanging. Display these cheerful apple suncatchers in your classroom or home, bringing a touch of autumn charm to any space. teaching2and3
9. How to Make a Suncatcher With Glass Beads
Hang up a rainbow of colors in your window with this stunning DIY suncatcher with glass beads! Press the glass beads into patterns using clear glue and a plastic lid, or make a random design. Hang these colorful suncatchers in your window to bring a cheerful ambiance to any room.
This craft is simple and affordable, with materials readily available at the dollar store. Customize your suncatchers for different occasions or as homemade gifts by choosing specific colors or adding additional types of beads. Follow the step-by-step instructions to make your stunning glass bead suncatcher and enjoy the beautiful play of light. onelittleproject
10. Ocean Animal Coffee Filter Suncatcher for Kids
Let your children's imaginations soar with this colorful DIY ocean animal coffee filter suncatcher! You can make this vibrant and engaging craft with your kids using the free template and simple instructions. This fun craft project captures the essence of the ocean and is perfect for adorning your windows.
Using coffee filters and cut-out animal silhouettes such as a dolphin, shark, whale, and fish, you can make colorful suncatchers that will brighten any room. This guide has included a free pattern to make it easy for you to join in the fun. Get creative and explore the wonders of the sea with your little ones! alittlepinchofperfect
11. How to Make Heart Suncatcher
Sparkle up your space with this DIY heart suncatcher – it's sure to capture some sunshine and love! You can make a stunning decoration for your windows using just a few supplies like cardstock, tissue paper, clear contact paper, and scissors. Cut out a heart outline from cardstock and apply contact paper to one side.
Then, stick tissue paper squares to the contact paper and seal it with another piece on the back. This mess-free craft is perfect for kids and requires no preparation. It's an ideal activity for Valentine's Day parties or as a surprise gift for parents. Let your creativity shine with this simple and enjoyable craft project! kidsactivityzone
12. Nature Paper Plate Suncatcher Tutorial
Experience the joy of making beautiful DIY nature suncatchers with your family! With this delightful guide, discover how to make stunning suncatchers using flowers, leaves, and herbs your kids can collect on a nature walk.
You can embark on a creative adventure with just a few materials like a paper plate, contact paper, ribbon, and scissors. Follow the step-by-step instructions to make these multi-sensory suncatchers that add magic to any room.
Adapt the craft to match the seasons and holidays, making it a versatile and engaging activity year-round. With this easy guide, start celebrating and connecting with your family through art and crafts. coffeecups
13. Glass Bead Heart Suncatcher Idea
Bring a beautiful sparkle of love to your home with this DIY glass bead heart suncatcher idea! This fun project is perfect for occasions like Valentine's Day, Mother's Day, or Father's Day, making it an ideal gift to express love and appreciation.
Craft a heart-shaped mold using simple materials like tin foil, clear glue, and flat glass beads. Use a thin layer of glue to the mold and carefully press the glass beads into it, making a pattern or arranging them randomly. After allowing it to dry for a few days:
Remove the suncatcher from the mold.
Trim any excess glue.
Attach a fishing line for hanging.
The finished glass bead heart suncatcher will captivate with its radiant colors when sunlight filters through it. Get creative and brighten up your living space with this affordable and enjoyable craft project. onelittleproject
14. How to Make Your Own Ladybug and Leaves Suncatchers
Craft your way to summer fun with this beautiful DIY ladybug and leaves suncatchers! These suncatchers are perfect for children and add charm to any window. To make them, you'll need contact paper, black and red cardstock, red and green tissue paper, and eyes.
Cut out ladybug and leaf shapes from the black cardstock, then attach them to the contact paper. Next, cover the shapes with tissue paper, ensuring no gaps. Cut out the shapes and stick them to a window using blu tack.
The result is a delightful display of ladybugs that can also serve as a fun number display for kids. Check out more ladybug-themed crafts and activities for further inspiration. Let your creativity shine with these lovely ladybug sun catchers! herecomethegirls
15. Homemade Raindrop Suncatcher
Catch rainbows with a homemade suncatcher; it's the best way to bring sunshine into your home! Make a vibrant and colorful suncatcher with the crayon melting technique! This fun and engaging craft project is perfect for celebrating spring and embracing April showers. Gather your supplies, including Crayola crayons, scissors, duct tape, a wooden dowel, wax paper, a hairdryer, and string.
Start by unwrapping 4-6 crayons and sharpening them to make shavings. Lay a wax paper on a protected surface and sprinkle the shavings evenly. Cover with another wax paper and seal the edges with duct tape. With adult supervision, use a hairdryer to melt the crayon shavings.
Allow it to cool for 15 minutes. Cut raindrop shapes from the melted wax paper and attach them to a string tied to a wooden dowel. Repeat this step until your suncatcher is complete. Hang it up and enjoy the beauty of catching a sun shower with your unique creation! crayola
16. DIY CD Suncatchers for Adults
Bring some extra light and joy into your home with this easy DIY suncatcher craft using recycled CDs. This project is a fun and affordable way to explore your creativity, perfect for adults and kids alike.
Learn how to remove the painted side of CDs and repurpose them into beautiful suncatchers. With just a few supplies like tape, scissors, markers or paint pens, suncatcher paint, and fishing line, you can make unique designs and hang them in your windows to catch the sunlight. Get ready to relax, unwind, and make mini masterpieces with this therapeutic and enjoyable craft project. soapdelinews
17. DIY Black Glue and Sharpies Butterfly Suncatcher
A beautiful way to brighten up your day – crafting a DIY butterfly suncatcher with black glue and Sharpies! Discover the beauty of this easy and affordable project that resembles stained glass. Make black glue by mixing black acrylic paint with white Elmer's glue. Simply pour the excess glue into a container for future use.
Apply the black glue mixture onto clear plastic surfaces and let your creativity flow as you draw butterfly outlines. The slightly raised lines of the black glue make a stunning effect.
After drying overnight, color the butterflies using Sharpie markers for vibrant and consistent results. Finally, cut out the butterflies, leaving some plastic around the edges, and enjoy your personalized suncatchers. Download the butterfly template to get started on this beautiful craft! adventure in a box
18. DIY Stained Glass Style Owl Sun Catcher
Sparkle and shine in the sunlight with this DIY stained glass-style owl suncatcher! This stunning and vibrant owl sun catcher will bring color and light to your home decor. Using black card templates and an array of colorful cellophane, this project is both easy and visually captivating. While a kit from Baker Ross simplifies the process, you can easily replicate the idea with readily available materials.
Cut the cellophane into small pieces and place them over the holes in the owl template, allowing the colors to shine through. To seal the sun catcher, apply glue to one side of a second owl template and press it down on the cellophane-covered template.
Hang it in a sunny window to admire the radiant beauty of your handmade creation. This owl sun catcher is perfect for autumn or any time of year and adds a whimsical and enchanting touch to your living space. intheplayroom
19. Make Your Own Melted Crayon Suncatchers
Make a vibrant and colorful suncatcher to capture the essence of summer with this fun DIY craft project. Using simple materials like waxed paper, crayons, and black cardstock, you can make a stunning stained glass effect that radiates beautiful hues when the sunlight shines through.
Follow the step-by-step instructions to trace and cut the cardstock ring, melt crayon shavings between sheets of waxed paper, and frame the suncatcher with black cardstock.
For added creativity, plan out a picture or use strips of cardstock to form geometric shapes. Hang your finished creation in a sunny window and let it illuminate your space with its vibrant colors. Perfect for all ages, this craft is a fun way to embrace the summer season. supersimple
20. Easy DIY Snowflake Suncatcher
This easy DIY snowflake suncatcher makes your windows sparkle like a winter night sky! Using the free printable templates or drawing your designs, you can easily make these beautiful suncatchers with construction paper and tissue paper. This guide provides step-by-step instructions and a video tutorial to guide you through the process.
All you need are supplies like clear contact paper, tissue paper, white cardstock, scissors, and adhesive dots for hanging. Cut out the snowflake templates, place the tissue paper on sticky laminating paper, and cover it with another sheet to make the suncatchers. Hang them on windows using double-sided tape for a stunning winter display! bestideasforkids
21. Simple DIY Star Suncatcher for the 4th of July
Turn your Fourth of July celebrations into a star-studded affair with this simple DIY star suncatcher! This craft is fantastic for making a festive atmosphere for your 4th of July celebration. Perfect for kids, this patriotic-themed craft is easy to make using simple supplies like construction paper, contact paper, and tissue paper in red, white, and blue.
The step-by-step instructions guide you through the process, and you can even add a ribbon to make a shooting star effect. Hang these suncatchers on your windows to add a festive touch to your holiday decor. Whether for the 4th of July, Memorial Day, or Patriot Day, these star suncatchers are a fun and engaging way to celebrate and keep the kids busy during the summertime. craftsbyamanda
22. How Do You Make a Pumpkin Sun Catcher
Let the light of autumn shine through a beautiful, DIY pumpkin suncatcher! Make a festive and engaging activity for your little ones with this project. Perfect for fall or Halloween, this craft is mess-free and helps children practice their scissor skills.
With just a few materials like orange construction paper, printable pumpkin templates, tissue paper, contact paper, and scissors, you can easily make a durable decoration that can be enjoyed year after year.
Download the free template, cut out the pumpkin outline, and let your child get creative by placing the face parts and sticking tissue paper squares over the contact paper. Hang the complete sun catcher in a window or use a string for a delightful touch. Discover more Halloween kid's crafts to add to your festive collection! thesuburbanmom
23. Make Jellyfish Sun Catcher With Free Template
Add a touch of the ocean to your home with this delightful DIY jellyfish sun catcher craft. Perfect for summertime, this easy and fun project allows kids to make colorful jellyfish to hang in the windows. You only need basic supplies like contact paper, tissue paper squares, white cardstock, and other materials.
Download the jellyfish template, cut out the pieces, and follow the instructions to assemble your sun catcher. It's a great way to keep kids engaged and entertained while unleashing their creativity. Hang these vibrant jellyfish sun catchers in your windows and bring the beauty of the ocean indoors. simpleeverydaymom
24. Making Your Own Flower Mandala Suncatchers
Unlock your inner artist and make beautiful suncatchers with a unique touch – your flower mandala! With this easy and engaging project, you can make a beautiful mandala nature craft with your kids. Take your children outside to explore and collect natural treasures like flowers, petals, and leaves.
Using paper plates and clear contact paper, you can make symmetrical circles and provide a template for your kids to follow. They can then decorate their mandalas, counting and placing nature pieces in each section.
Cover the artwork with a second sheet of contact paper to ensure it sticks well. Hang the finished mandalas in the window and let the sunlight shine through. This fun activity promotes creativity, learning about symmetry, and appreciating nature's beauty. alittlepinchofperfect
25. Make a Bird Shape Suncatcher
Glorify your windows with a sparkly suncatcher shaped like a bird – the perfect addition to any home or garden! Build a magical and colorful atmosphere in your home with this craft. Suncatchers are beautiful decorations that reflect rainbow colors and patterns when sunlight shines through them.
Perfect for crafting with kids, this stained glass effect suncatcher is both easy to make and mesmerizing to watch. You can use various materials, such as stained glass, beads, or crystals, to make your suncatcher.
This craft requires black cardstock, transparent cellophane sheets, ribbon, scissors, a pencil, and a glue stick. Hang your finished suncatcher in a sunlit window and enjoy the beautiful display of colors. Get creative with different shapes, colors, and materials to make unique suncatchers and delightful gifts. nymelrosefamily
Related DIY Crafts to Make
Discover fun and creative DIY craft ideas to make in your spare time. Get inspired and unleash your inner artist with these easy and exciting projects.
Conclusion:
In conclusion, DIY suncatchers offer a creative and colorful way to brighten up your living space. With a wide variety of DIY suncatcher crafts, such as hot air balloons, pressed flowers, and stained glass style designs, there are endless possibilities for making beautiful suncatchers. These suncatcher crafts are not only enjoyable for all ages but also perfect for honing your artistic skills. So don't wait; get inspired, and start crafting your own dazzling DIY suncatchers to bring light and joy into your home.