Find 25 fun nature crafts and art ideas for kids of all ages, including preschoolers and kindergarten to 10 year olds and even for adults! Nature crafts offer an incredible opportunity for both kids and adults to connect with the great outdoors and make something beautiful using natural materials. Whether making a hand-painted owl on rocks, a leaf mosaic dream catcher, or a nature-inspired grass heart, these nature crafts promote creativity and an appreciation for the natural environment.
For kids, nature arts and nature crafts such as a pressed flower mobile, a twig art with sticks, or a colorful flower suncatcher can inspire a newfound love for Mother Nature while having fun. Adults can indulge in nature crafts like crafting a macrame sea glass necklace or making birch bark-covered flowerpots. All of these easy nature crafts provide step-by-step instructions, ensuring that even beginners can participate in the beauty of nature-inspired art.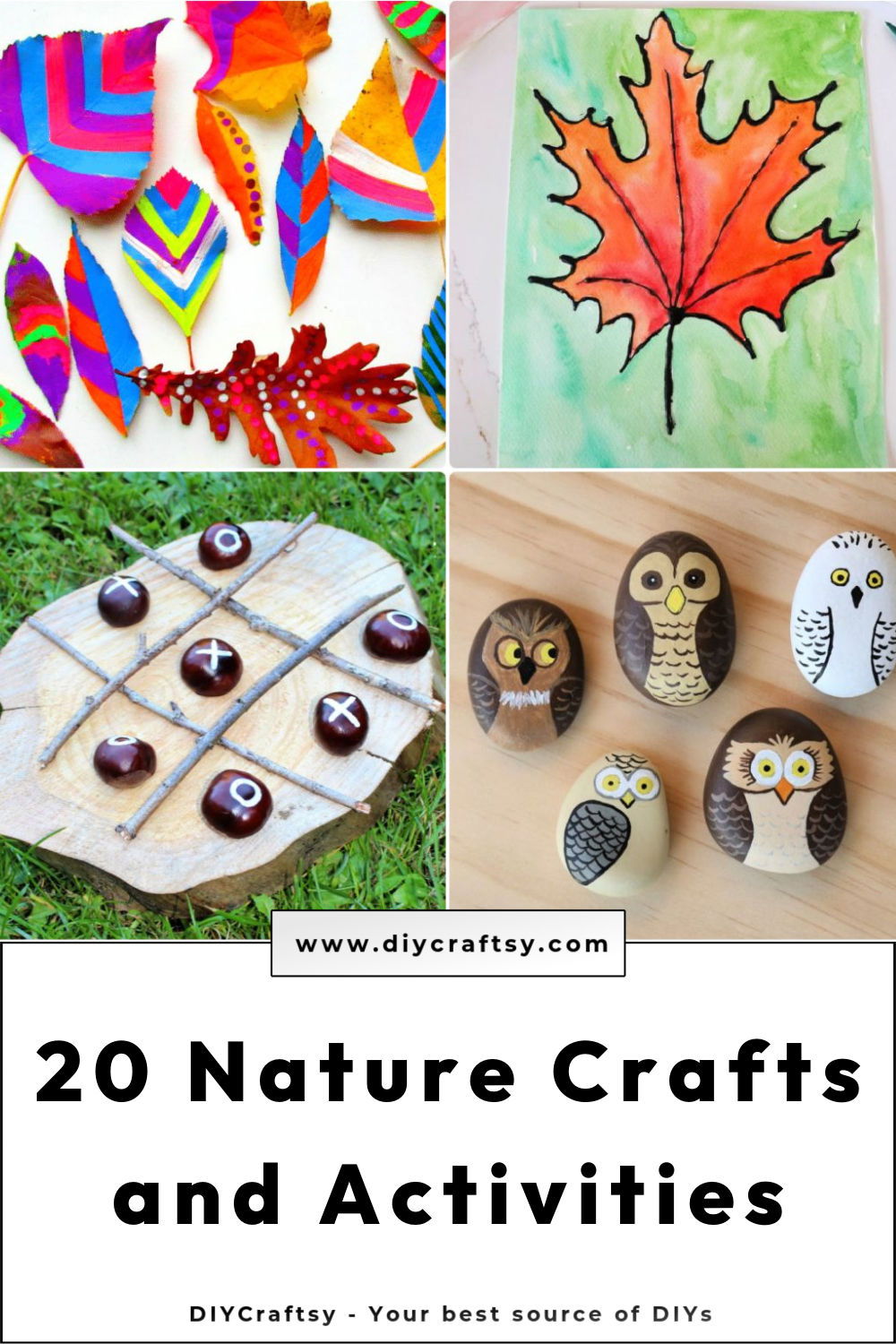 Don't miss this chance to immerse yourself in the creative world of DIY nature crafts, where you can spend quality time with friends and family while contributing to the aesthetics of your surroundings. So, grab your materials and explore the possibilities these amazing nature crafts have to offer. Make your own masterpiece today!
1. Hand-Painted Owl on Rocks
Transform your garden with the whimsical charm of hand-painted Caribbean beach pebbles. This creative DIY project involves painting pebbles with delightful owl patterns, and making unique ornaments that add personality to any outdoor space.
Armed with a bag of beach pebbles, acrylic paints, and a varnish coating, you can let your imagination take flight, capturing the magic of these wonderful creatures.
From the mesmerizing barred owl to the captivating snowy owl, your designs can mirror the beauty of nature or even venture into playful whimsy. Expand your creativity by exploring other owl-themed projects like LEGO or Wood Slice Owls. Enjoy this artistic pursuit that beautifully blends nature and art. frugalfun4boys
2. Leaf Mosaic Dreamcatcher With Plastic Lid
Unleash your inner artist with these fun and eco-friendly nature crafts for kids and adults, perfect for a weekend activity. Make an all-natural DIY dream catcher and embrace the calmness of nature with this easy project. You can craft this delightful piece, a perfect mix of nature and artistry, using everyday materials like gum leaves or any other flat leaves, a round plastic lid, and some Mod Podge. The project involves:
Cutting leaves into small pieces.
Arranging them on the lid to form a mosaic.
Letting them dry.
The result is a handmade, eco-friendly piece of art that can be hung on a window or wall, catching sunlight and dreams alike. Besides its artistic appeal, it encourages kids to appreciate nature, promoting eco-consciousness. Enjoy this perfect fusion of art and nature in your home, all while fostering creativity and environmental awareness. thecrafttrain
3. Making a Nature Weaving Art
Craft a piece of DIY natural art with this nature weaving project that is an excellent way to utilize and appreciate materials from your garden or any outdoor journey. This technique involves intertwining pieces of nature – think flowers, herbs, feathers, unusual bark, twigs, seed pods, and other treasures you might collect during an outdoor exploration.
The beauty of this craft is that it is as changeable as the seasons; each day, it may look different, particularly if you use fresh flowers and herbs, which will dry and potentially shrink over time. Consider using materials that won't fade up for a longer-lasting weave, such as seed pods, feathers, or certain grasses.
For a charming natural appeal, you can also dry flowers and herbs like lavender, salvia, yarrow, rosemary, larkspur, hydrangea, and roses. This craft allows you to engage with nature and brings a unique and personal piece of art into your home. So, let your creativity flow and start weaving nature into art today! hearthandvine
4. Meaningful DIY Nature Mandala for Kids
Discover the joy of crafting with nature's bountiful palette! Introducing a DIY nature mandala craft, a fun, engaging, and creatively stimulating activity for kids. While adventuring outdoors, children can explore their surroundings, collecting leaves, flower petals, and other natural treasures to incorporate into their craft projects.
This craft requires a few common supplies – scrapbook paper, Press'N Seal, two bowls of varying sizes, scissors, a pencil, an X-acto knife, and a small piece of yarn. The crafting process is straightforward. Moreover, the nature mandala project offers a fantastic opportunity to incorporate color identification and pattern creation, making the process as educational as it is fun.
Doing this project isn't just an artsy endeavor; it's a means of fostering an appreciation for the environment, exploring creativity, and spending quality time together as a family. So, why wait? Grab the needed supplies, step outdoors, and start this project today! madeinapinch
5. Watercolor Maple Leaf Craft – Free Template
Relish a vibrant DIY watercolor maple leaf artwork, perfect for adding color to your home or for an interesting school project. Children can experience the joy of making their fall-themed masterpiece using a simple glue and watercolor technique.
With a handful of supplies, including 9 "x12" 140lb watercolor paper, watercolor paints, a paintbrush, Elmer's white glue, and black acrylic paint, your craft table is set to start.
You make a raised leaf outline that beautifully separates the paint colors using glue and black paint. This fun painting craft project is a sure hit for kids! You'll enjoy the process as much as the result, resulting in a stunningly colorful maple leaf painting. So, grab your supplies, print the free template available, and get ready to paint today! homemadeheather
6. DIY Nature Weaving for Children
Get inspired by these simple yet captivating nature crafts to engage your children in a hands-on learning experience about the environment. A fun and cost-effective DIY activity: nature weaving. This simple yet gratifying project uses everyday materials and opens doors to the outdoors, introducing kids to various plants while fueling their creativity. With scraps of cardboard, scissors, string or yarn, and some tape, you can swiftly make a cardboard loom as the main weaving equipment.
This project develops fine motor skills while fostering a love for the natural world. To expand the weaving fun, you can delve into this project. So let your children's fingers dance with nature, weaving their unique and vibrant creations. diythought
7. How to Make a Pressed Flower Mobile
Create charming nature crafts using found materials like leaves, twigs, and stones to bring the beauty of the outdoors inside. Celebrate the beauty of blooming flora with this unique DIY project! Make your flower mobile using everyday materials like clay, mod podge, an embroidery hoop, and your favorite pressed flowers. This straightforward crafting process starts by shaping the clay into circles with a cup or cookie cutter, then baking it until firm.
Once cool, the fun begins as you carefully arrange and secure your flowers onto the clay with mod podge, making charming flower gems. This creation doesn't just serve as a fantastic addition to your indoor or outdoor scenery; it also acts as an excellent method to preserve the splendor of seasonal flowers for years to come.
Additionally, this mobile carries a personal touch, making it a thoughtful and meaningful gift for loved ones as it twirls and tinkles, offering a continuous reminder of shared affection. So, grab your materials, gather your favorite flowers, and get ready to craft an enchanting flower mobile that beautifully captures nature's magic. Happy crafting! twigandtoadstool
8. Make a Driftwood Crab Wall Art
Enhance your lakeside retreat with a DIY driftwood crab wall art piece inspired by a serendipitous crab encounter. Gather driftwood from your local shoreline, and with the step-by-step guide, craft a charming crustacean that blends seamlessly with your beachy décor.
Besides the wall art, the Graystone Beach cottage provides great lakeside decorating inspiration, with relaxing bedrooms, a beachy bathroom, and a cozy kitchen. Embrace the tranquility of lake life with this engaging and creative driftwood project. Make your driftwood crab today for a unique touch to your lakeside home. sustainmycraft
9. Marbled Seashell Art and Crafts for Kids
Brighten your days with an interesting DIY project, making mesmerizing marbled seashell art for kids! This activity sparks creativity, utilizing collected beach treasures like white clam shells, vibrant food coloring, and everyday shaving cream.
This hands-on experience allows you to recycle nature's gifts and introduces a novel painting technique, which is both intriguing and educational. The process is straightforward:
Swirl food coloring into a tray of shaving cream.
Dip your shells.
Unveil the stunning patterns hidden beneath the cream.
Regardless of your choice of hues, you're guaranteed to yield spectacular results. It's a fun-filled, artistic adventure that encourages exploration and promotes creativity. So, why wait? Make a splash with your children and craft your beautiful marbled seashell art today! projectswithkids
10. DIY Sea Glass and Seashell Wind Chime
Exalt your home decor with a charming seashell and sea glass wind chime. This DIY project is an aesthetic and harmonious addition to any space. You can craft this art in the afternoon with just a handful of easily available items – a clear fishing line, seashells, sea glass pieces, a small empty can, a hanging chain, and optional additions like beads or paint.
Layout your shells and sea glass creatively, add the finishing touches with a hot glue gun, and voila! Your wind chime is ready to sway with the breeze, making pleasant sounds and adding an aura of tranquillity. Not only does this project inject a personal touch into your space, but it also offers a great activity to channel your creativity. hearthandvine
11. Craft Your Own Macrame Sea Glass Necklace
Make your seaside discoveries wearable with your own handmade macrame sea glass necklace. A keepsake from the beach, these ocean-hued gems are transformed into beautiful DIY jewelry pieces with just some cording and simple knots.
With sea glass becoming rarer due to increasing plastic use, you can purchase it from craft stores or substitute it with painted rocks. Essential supplies include sea glass pieces and natural-color hemp or black nylon cording.
The easy, step-by-step guide includes knotting instructions to ensure a secure hold for the sea glass and achieve your desired necklace length. A perfect craft for beach-themed parties or a reminder of sun-kissed summers, craft this beautiful accessory today. thedecorated
12. Handmade Birch Bark Covered Flowerpots
Revitalize your indoor greenery with natural elegance using this creative DIY project. You can transform a mundane planter into a delightful, rustic container with birch bark, a plant pot, and adhesive. Birch bark provides a versatile material that seamlessly sticks onto various surfaces, presenting an organic, textured finish.
This DIY initiative helps breathe life into your space, enhancing the aesthetic appeal with its charming, country-inspired feel. You can even get creative and add personalized elements to make it unique. Don't let any fallen birch bark go to waste – instead, use it to craft a plant pot that's as intriguing as the plants it hosts! craftinvaders
13. Tic Tac Toe Game Nature Craft for Kids
Immerse your kids in the joy of outdoor play with this DIY nature-themed tic-tac-toe game! Harnessing the beauty of natural materials such as conkers (or rocks), sticks, and a wood slice, this project is perfect for a fun-filled autumn afternoon. The steps are straightforward:
First, collect your materials during a nature walk.
Draw Xs and O's on your chosen game pieces with acrylic paint pens.
Arrange your 3×3 grid, and you're ready for countless hours of tic-tac-toe.
This game is not just entertaining, but it also promotes creativity and a love for nature. Now, bring your garden or backyard alive with this delightful tic-tac-toe game! messylittlemonster
14. DIY Nature-Inspired Grass Heart
Engage with nature's bounty and unleash your creativity with this charming DIY Grass Heart craft! Drawing inspiration from the diligent ants and the diverse hues of the great outdoors, this project is a beautiful way to appreciate and interact with nature.
You can bring a heartwarming piece of nature into your home using simple supplies like grass, scissors, optional sticks, and trinkets such as feathers, gum nuts, flowers, or pretty leaves. This easy-to-follow process involves selecting grass, tying it into bundles, and carefully crafting it into a heart shape. You can even add a personalized flair with your choice of trinkets threaded through the grass knot.
If you'd like, transform your creation into a whimsical wand by attaching it to a stick. So, the next time you find yourself lounging in the grass, consider crafting this Grass Heart to commemorate the moment and celebrate nature's beauty! mothernatured
15. How to Make a Twig Art With Sticks
This simple yet captivating DIY twig art project will enhance outdoor crafting sessions! Gathering various sticks and twigs allows you and your children to explore your artistic sides while appreciating nature. You'll only need a few supplies – twigs of similar sizes, paints of your choice, brushes, hot glue, and a durable string such as hemp.
Start by painting each stick with a different color, then arrange them on an unpainted stick. Once dried, secure them with hot glue, and wrap them in string. This twig art project promotes fine motor skills through painting and creates a cherished keepsake.
Bright and vibrant, this DIY twig art can be a perfect decorative piece, adding a natural yet artistic touch to any room. It is a unique and fun activity that allows your kids to explore their creativity while engaging with the great outdoors. So why not take your crafting sessions outside and enjoy the warmer weather with this nature-inspired craft? twitchetts
16. Leaf Chalk Art Activity for Kids
Capture your kid's attention in a vibrant, autumn-inspired art project with leaf chalk art. This effortless activity utilizes the vibrant hues of fall leaves to ignite creativity and exploration in young minds. Young artists can spend an entire afternoon making unique patterns, manipulating colors, and incorporating leaves' natural lines and shapes, often subconsciously, into their art pieces.
All that's required to start this art adventure are some collected leaves and chalk markers or paint. It's a straightforward yet immersive endeavor that invites children to experiment and produce original works.
Leaf chalk art is an activity sure to captivate your child's interest, destined to become a recurring favorite in your family's arts and crafts repertoire. Nurture their appreciation for nature and art with this fun, accessible project! artycraftykids
17. Make Your Own Nature Paint Brushes
Discover the therapeutic benefits of crafting with natural elements through these inspiring nature crafts that celebrate Earth's beauty. Inject an element of exploration and creativity into your child's outdoor playtime with a DIY set of nature paint brushes. This project involves a delightful combination of a nature walk, a material collection, and an art session. Kids will not only enjoy assembling their unique paint brushes using sticks, elastic bands, and intriguing pieces of nature.
Still, they will also be fascinated by the different textures and patterns they can produce on paper with these brushes. Not only does this engaging activity encourage kids to interact with nature, but it also helps nurture their artistic flair.
So, gear up for a fun-filled artistic adventure outdoors and make your nature-inspired paintbrushes. Enjoy the splash of colors, textures, and nature's charm on your canvas today! messylittlemonster
18. Beautiful DIY Leaf Printed Rocks
Enliven your space with nature-inspired rock art, an interesting DIY project highlighting the beauty of leaf patterns on stones. Harness the visual power of nature's motifs by painting the leaves and gently pressing them onto rocks, using nothing but acrylic paint and the leaves of your choice.
Remember, less is more – a thin paint layer results in a more detailed imprint. For best results, try painting the back of the leaf. After the paint dries, you can use a sealant to preserve your nature-infused masterpiece. This creative project uniquely combines art with nature, turning simple rocks into the aesthetically pleasing decor. thepinterested
19. How to Make a Painted Nature Leaf Mobile
Uplift your home decor and foster creativity in your children with this engaging DIY Painted nature leaf mobile. This straightforward project can be accomplished by anyone, regardless of age, and is a great way to engage with nature. Collect dry leaves from your backyard or park, along with two equal-sized sticks, string or yarn, paint, a black marker, and a bead.
After painting your leaves and sticks in vibrant hues, outline the patterns for a striking effect. Assemble the mobile by tying your decorated leaves to the painted sticks, then hang it using the bead for a natural, appealing display.
This unique leaf mobile uplifts your home aesthetics and offers an exciting activity for kids, especially during the fall. Remember to choose a less windy spot to hang your mobile to avoid tangling. Let's transform simple natural elements into an artistic masterpiece today! hellowonderful
20. How to Make a Bug Village
Embark on a delightful venture with your kids by making a DIY bug village using natural materials like rocks, sticks, and acorns. This craft project adds an element of nature and creativity to your home decor, and it can also double up as an engaging educational tool for children.
The natural bug village also carries a rustic charm that perfectly fits a boy's room. Whichever version you decide to make, the result is guaranteed to be an adorable miniature bug village that the kids will love!
To conclude, making a bug village is an exciting craft project and an excellent opportunity to involve children in a fun-filled and educational activity. Let's step into the world of creativity and nature today! craftsbyamanda
21. Make Flower Suncatcher With Real Flowers
Delight in a sunny day with a stunning DIY real flower suncatcher. Engaging and fun for toddlers and preschoolers, this craft offers an opportunity to explore nature by picking flowers and using them creatively. Children can immerse in this hands-on project with simple materials such as paper plates, contact paper, and blossoms, honing their fine motor skills. The process includes the following:
Collecting flowers.
Cutting the center of a paper plate.
Applying the contact paper.
Arranging flowers for a captivating design.
Display the flower suncatcher in a window for a vibrant touch of nature indoors. This craft is a joyful way to welcome Spring and Summer while nurturing creativity and appreciation for nature. Enjoy crafting this sunny keepsake today! messylittlemonster
22. Colorful Flower Suncatcher Craft
This fun and beautiful DIY colorful flower suncatcher craft brings sunshine! This is an enjoyable nature-inspired art project – building vibrant paper plate flower suncatchers using Glad Press'n Seal! This handy material, originally designed for preserving food, doubles as a perfect tool for capturing the beauty of your kids' wildflowers, leaves, and foliage collection.
You'll need white paper plates, paint, paintbrushes, flowers, scissors, a hole puncher, and some string or yarn. These delightful flower suncatchers will testify to your kids' creativity, and their sheer beauty will add a touch of summer to any window. Let the sun shine through these personalized art pieces and light up your space. Dive into this exciting activity today! hellowonderful
23. Make a Butterfly Feeder Out of a Ketchup Bottle
Explore the world of nature crafts and learn how to create stunning home decor pieces and gifts using materials from your backyard. Illuminate your yard and attract pollinating butterflies with a DIY butterfly feeder. This craft is created from a repurposed plastic ketchup bottle, using a rubber band, cotton ball, and your choice of real or artificial flowers. The process begins with preparing the bottle, attaching yarn and rubber bands, inserting a "wick" made from a cotton ball, and adding flowers.
The butterflies' treat, a sugar and water mix, is added to the bottle. With about 20 minutes of preparation time, this craft beautifies your outdoor space and contributes to the well-being of our delicate butterfly friends.
Avoid food coloring, which could harm butterflies, and choose full flowers for longer-lasting allure. Enjoy the beauty of nature right at your doorstep with this simple yet ingenious project! babbledabbledo
24. How to Make a Garden Stick Mobile
Revitalize your summer break by making a unique and whimsical DIY garden stick mobile! Engage with nature and entertain the kids by transforming everyday items like sticks, paint, and a wooden box into the lovely outdoor decor.
This project is straightforward – paint the ends of sticks with vibrant colors, attach bells if you wish for a gentle chime in the wind, and assemble it all onto a wooden box with some wood glue.
The result? A delightful garden mobile that will twirl and dance in the breeze, bringing joy to your outdoor space. Explore the art of transforming simple objects into charming crafts and make your outdoor space come alive! makeandtakes
25. Adorable DIY Wooden Key Chain
Delve into the world of DIY and make your wooden key chain. This craft is not only an excellent way to ensure you never misplace your keys, but it's also a fantastic way to express your creativity. All you need are wood blocks, sanding paper, paint, permanent markers, and a tool for drilling a hole, like a Dremel rotary tool.
Start by sanding the edges of the wood, adding a dash of color, and allowing it to dry before drilling a hole. Next, bring your imagination to life by drawing your favorite designs.
Add a gloss varnish for that extra shine, and your personalized wooden key chain is ready! With this engaging project, you're just a few steps away from making a useful yet fun accessory. Craft on and keep your keys in check! easypeasyandfun
Conclusion:
In conclusion, these fun nature crafts for kids offer diverse creative activities for people of all ages. From hand-painted owl rocks to DIY seashell wind chimes, these easy projects not only promote fun and creativity but also help deepen our connection to the natural world. Children and adults can enjoy making nature-inspired art such as dreamcatchers, woven wall hangings, and beautifully crafted flowerpots. So, gather your materials, head outdoors, and let your imagination run wild with these beautiful nature crafts!