Every particular home interior can be brought to prominence by using precious light decors! Same is true for your outdoors too, you can easily spice up your garden and patios by hanging some charming light fixtures there! However, the good quality and stylish lights can be expensive to buy from the market and if you can't withstand the hefty market prices then you simply reach to your favorite lights through DIY Crafts! Just make great and outstanding looking lights at home using recycled material and your genius mind! You can repurpose the empty glass jars and containers also to build amusing light decors for your custom spaces. Here, we've shared DIY mason jar lights!
Just Check out here the 74 DIY Mason jar lights that are too beautiful to win your heart and are too innovative to inspire your creativity! Whether you need to spice up your bathroom, bedroom or a patio or a porch, these handsome Mason jar lights will just be a great and cost-efficient solution! The very good news is that these DIY Mason jar light ideas would be ready in just no time and would also be super simple to make!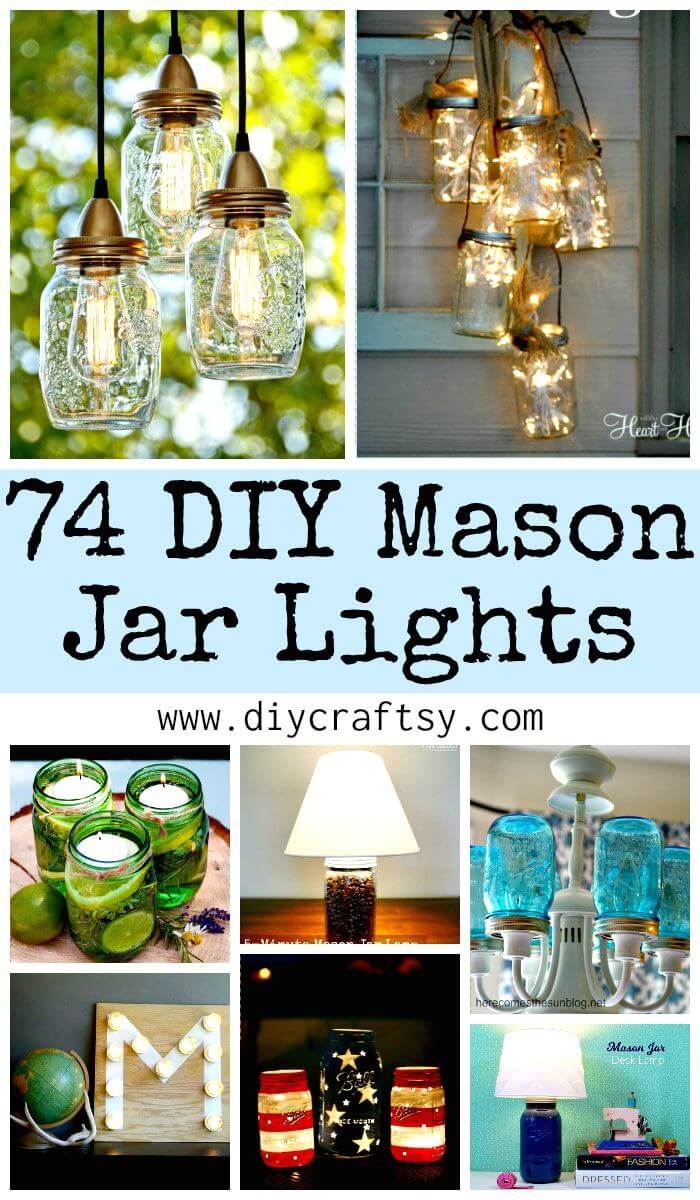 Replace the old vanity light shades with mason jars and build rustic looking vanity lights at just no-cost! Put together and fix the Mason jar on a wooden piece making a cool monogram light for any of your interior walls! Moreover, also go handmade with mason jars and make awesome looking table lamps vary the color of the Mason jar to vary the light color! Also, hang a Mason jar in a pendant position with a light bulb inside and make awesome pendant lights for your spaces! Paint also the Mason jar in country flag colors and put lights inside of them making adorable patriotic light centerpieces!
If you are interested in stargazing then also make the constellation Mason jar lights that easily be made using a mason jar, a disposable cake pan, and a click light! Next, the mason jars will also serve as great bases for the table lamps and you mind-blowing looking table lamps with mason jars also, get inspired by a lovely example given below! Moreover, you can also cover the bulbs and lights of a chandelier with glass mason jars and make outstanding mason jar chandeliers for your spaces!
Give the mason jars a stone fill and then add custom lights in them after you gain a cluster of Mason jar lights, then just put them on a hanging wooden board for a graceful outdoor chandelier, amaze your senses with a given sample! Make also adorable Mason jar scone lights for your bathroom and brighten up your spaces also with nautical Mason jar lights that will come with rope wrapped! Next, you can also put the mini LED lights in the Mason jars and can create a cluster of jars making beautiful chandeliers for your spaces, see an interesting sample given below! Visit the given source links for complete project details and step-by-step instructions!
DIY Home Decor Projects:
DIY Mason Jar Vanity Light – Free Tutorial: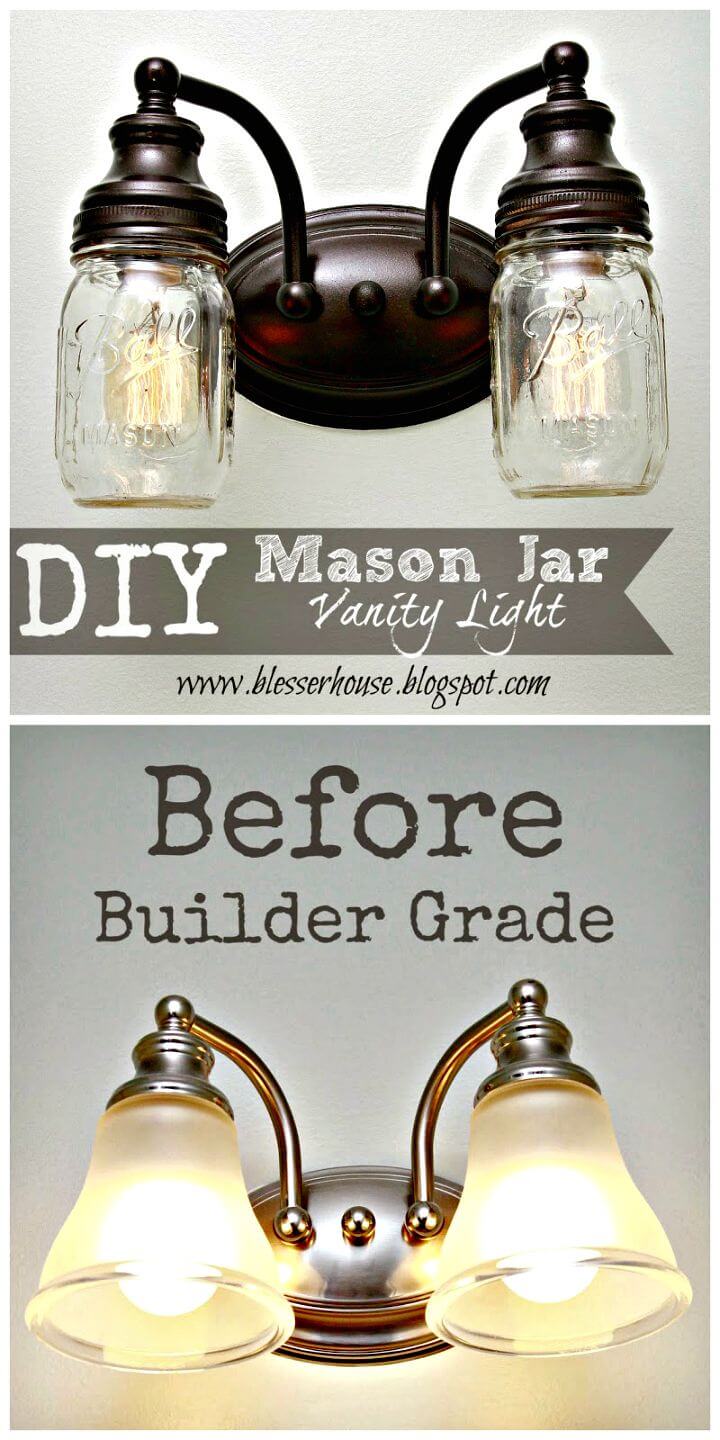 If you need new lights for any any sections of the house you can save your money over the market bought lights as now you can create those classy and functional lights on your own using the mason jars. Hee is the complete idea of the mason jar vanity lights to make your dress up and get ready sessions more fun and easy for you in the bathroom.Details of the clever idea here blesserhouse
DIY Mason Jar Monogram Light – Free Tutorial: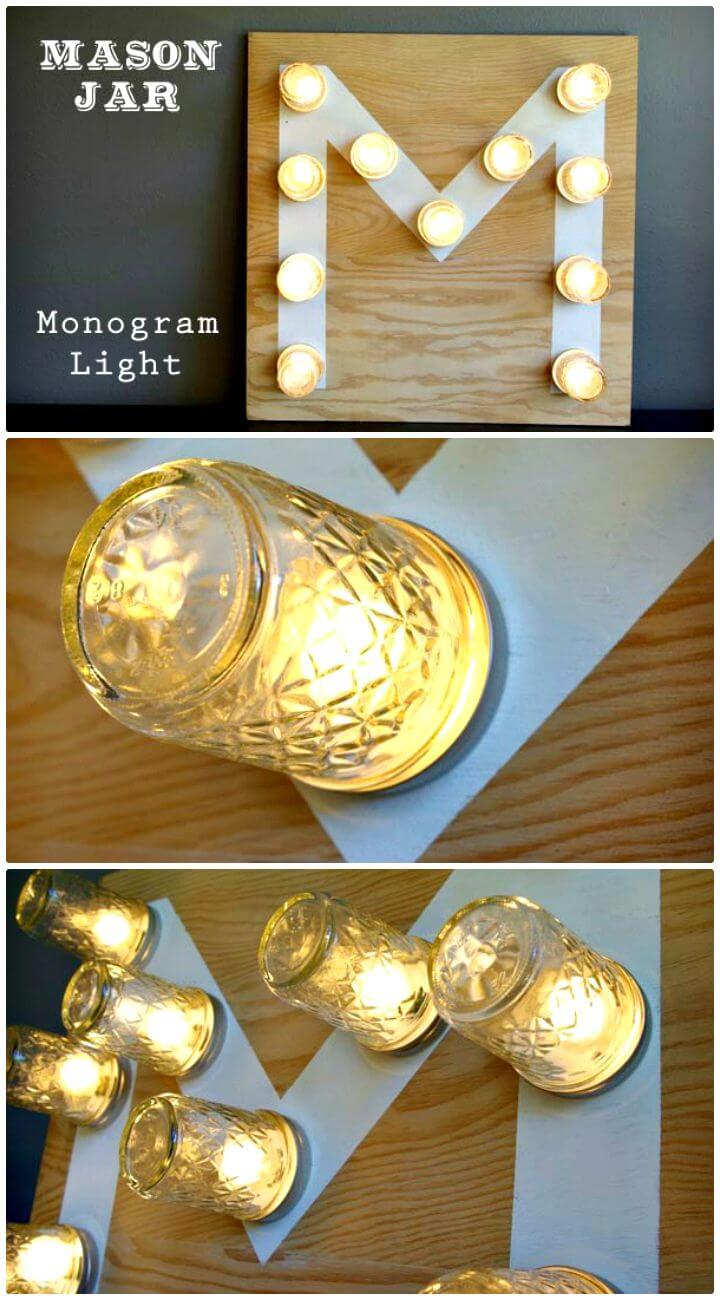 Here is the totally unique and fun avatar of the mason jars you would have ever seen for a home decor project. The cheap mason jar have been turned into the lights and then used on a wooden monogram to make an awesome display on your console table with a complete personalized style effect. Check out the details of the idea here oleanderandpalm
DIY Mason Jar Table Lamp – Free Tutorial: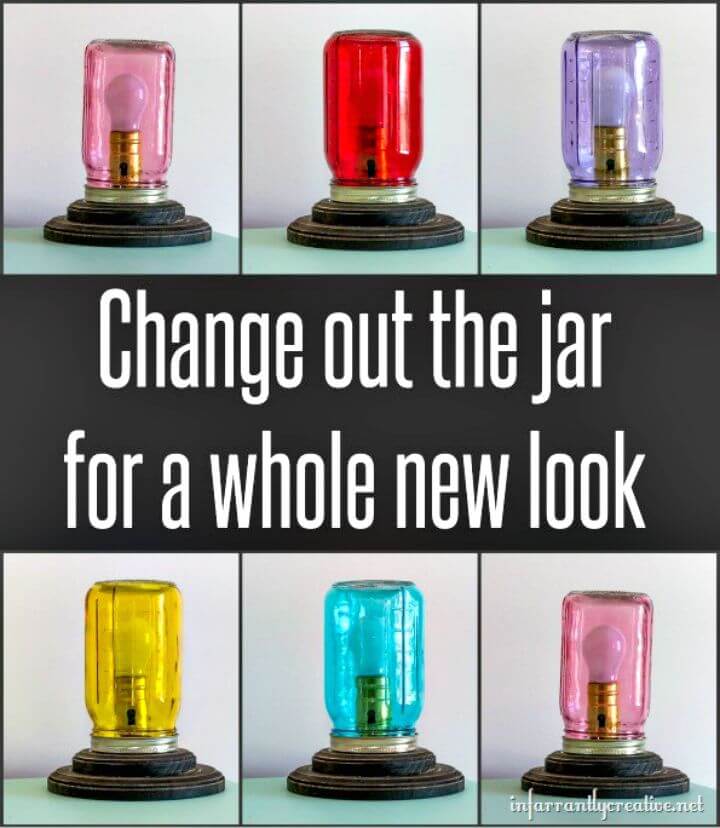 Create the disco light effect in your spaces with the colorful lights that you can create now easily using the empty mason jars. So before putting the lights in them you can paint them in the cute and fun colors of your choice so that when lighted up you enjoy the cute colored lights adding oodles of charm to your decor.Check out the complete idea details here infarrantlycreative
DIY Mason Jar Pendant Light – Free Tutorial: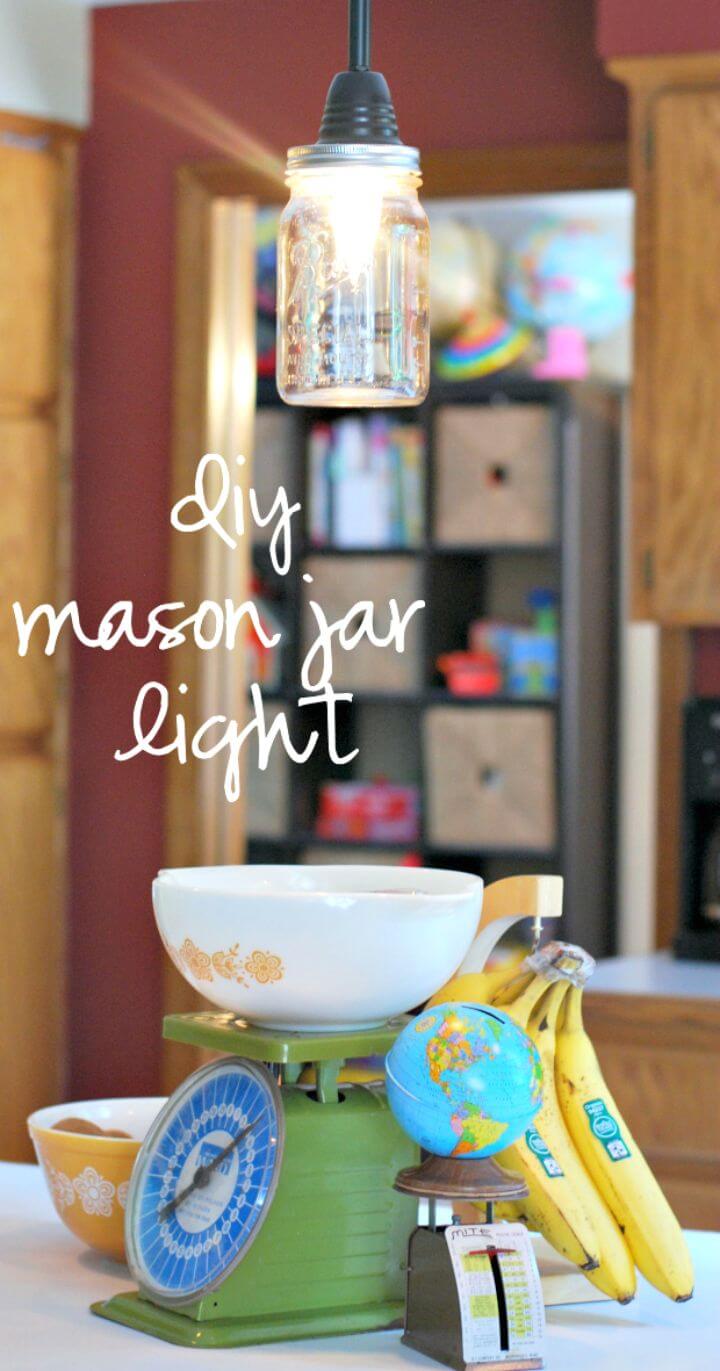 A pendant light over the kitchen counter is necessary so that you can enjoy ample light in the kitchen when you are preparing the dinner for the family. So save your time and money and build this super cute and functional DIY mason jar pendant light and light up your kitchen so simply and feasibly. You can learn the feasible tutorial of this pendant light from mason jar here homeiswhatyoumakeit
DIY Patriotic Mason Jar Lanterns – Free Tutorial: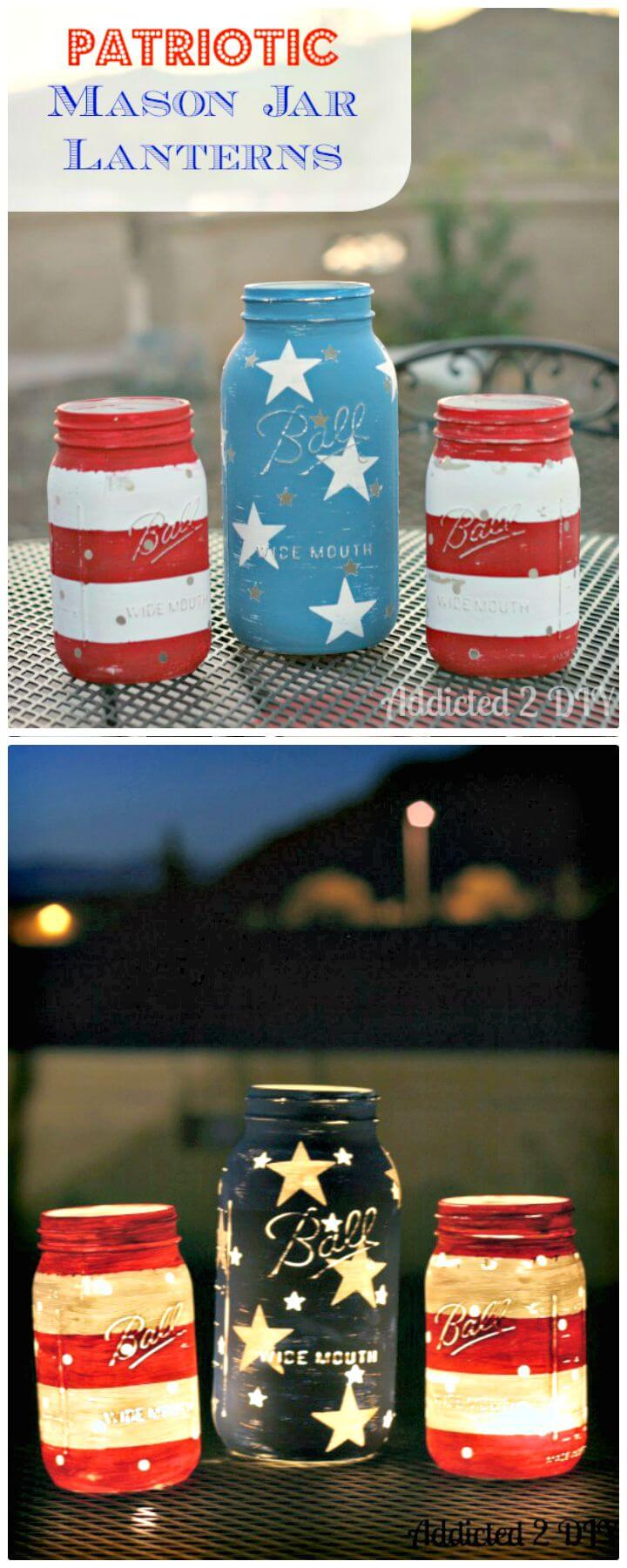 If there are night celebrations plans for the the July then this idea of creating patriotic lights from the mason jars would go perfect for the night decor. Not only they would glow gorgeously at night on your tables but would look too pretty and cute as the table display in the day too. Before the light treatment, the jars have been painted in flag colors and stars to go completely with the theme of the 4th July.Here is the link of the tutorial for these cute patriotic or flag lights addicted2diy
DIY Constellation Mason Jar – Free Tutorial: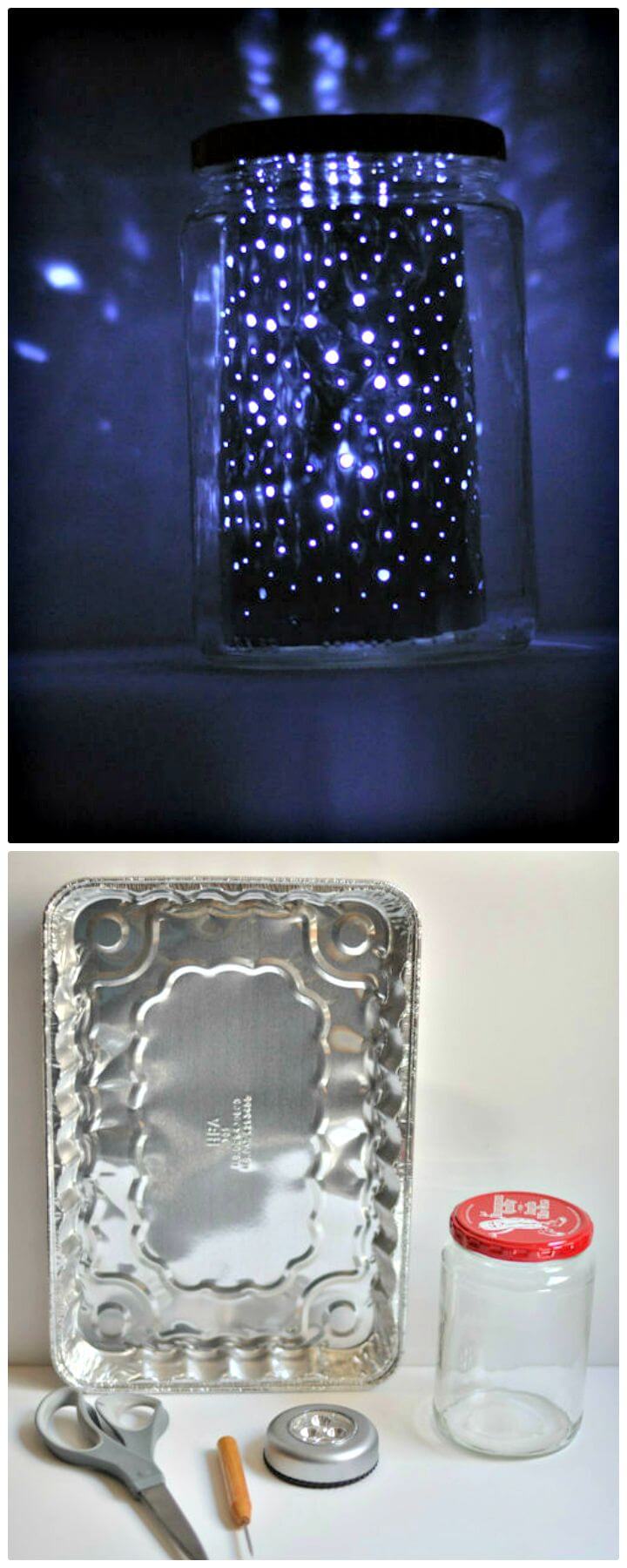 If you have looked at the constellation of the stars then you know how mesmerizing the light effect it does create. Here is how you can enjoy the constellation light in your decor with the help of a mason jar, star light and the cake pan pieced with eh tiny holes to create the constellation effect at night with the soft and subtle glow to charm up the decor of yours.Details here designmom
Easy DIY Mason Jar Lamp With Faux Zinc Shade – Free Tutorial: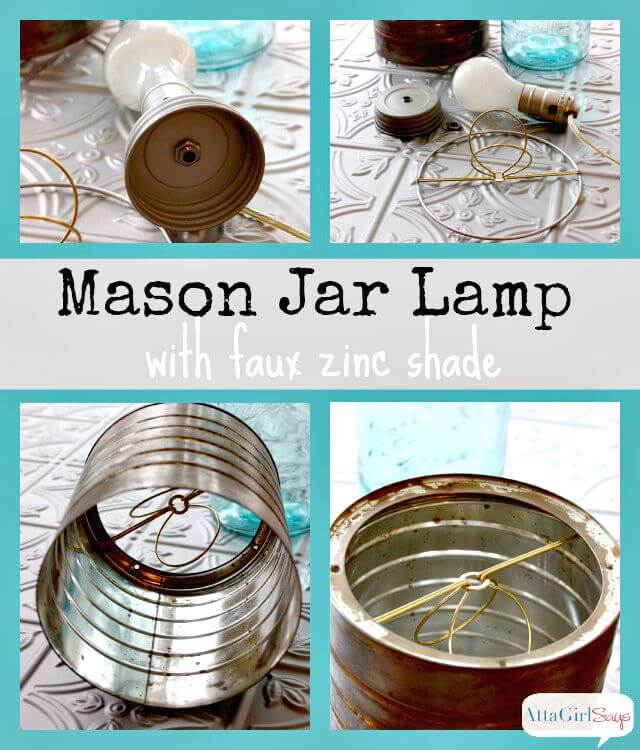 Lamps are the integral parts of the table decor be it a side table, entry table or any of the other console table in the house. SO to make the innovative and affordable lamps on your own you can use the mason jars and here we have this perfect zinc shaded mason jar lamps plan for your to work on and create a pretty display on your tables along with other crafts and decors. Grab the tutorial details of the idea here attagirlsays
DIY Mason Jar Desk Lamp – Free Tutorial: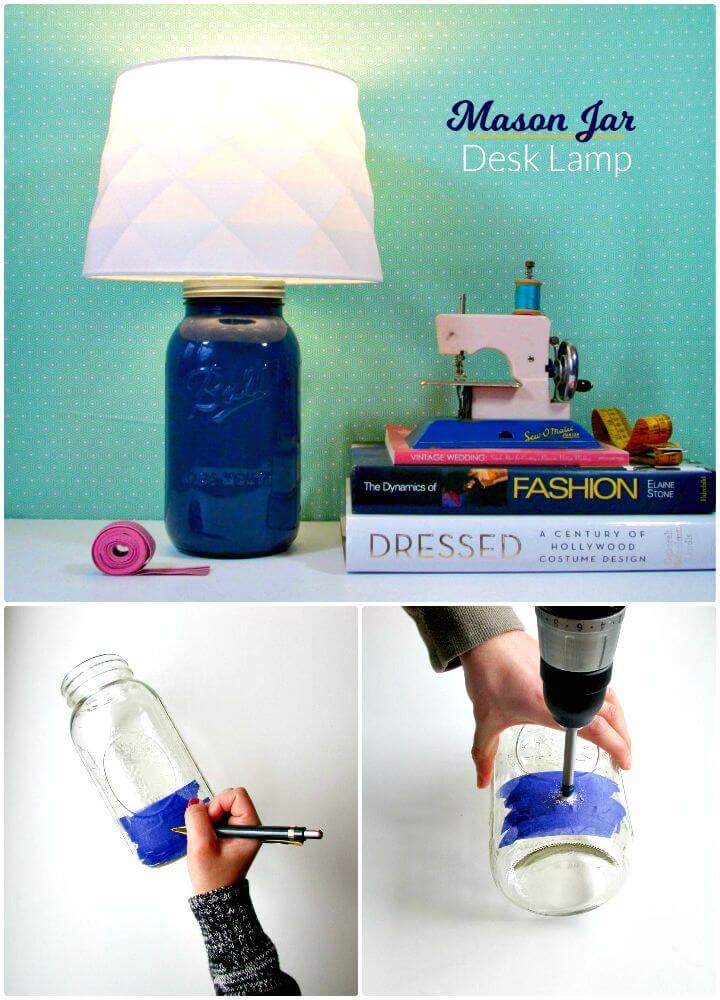 You can easily bring some cool and funky touches to your bedroom decor using the mason jars in so many perky ways. Here is a blue pained mason jar used as the lamp stand for your cute white lamp shade and thus adding oodles of dazzles to your bedroom decor. You can check out the cute and fun details of the mason jar lamp idea here homedit
DIY Mason Jar Lamp In 5-Minute – Free Tutorial: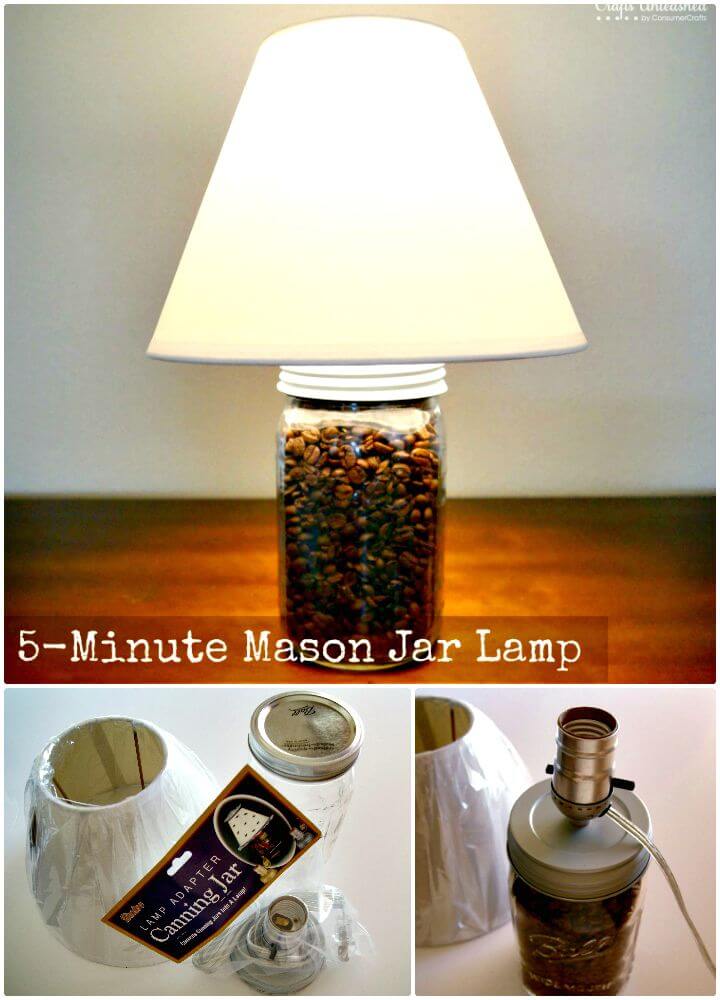 Turning the mason jars into the lights is a fun idea but you can twist it up and thus get the most custom results while working on a mason jar lamp project. Ye you can fill up the jars with any of the stuff or filling like this one has been poured up with the coffee beans and looks really cool and fun to stand on your tables as the quirky lamp. Tutorial of this quick craft here consumercrafts
DIY Mason Jar Chandelier – Free Tutorial: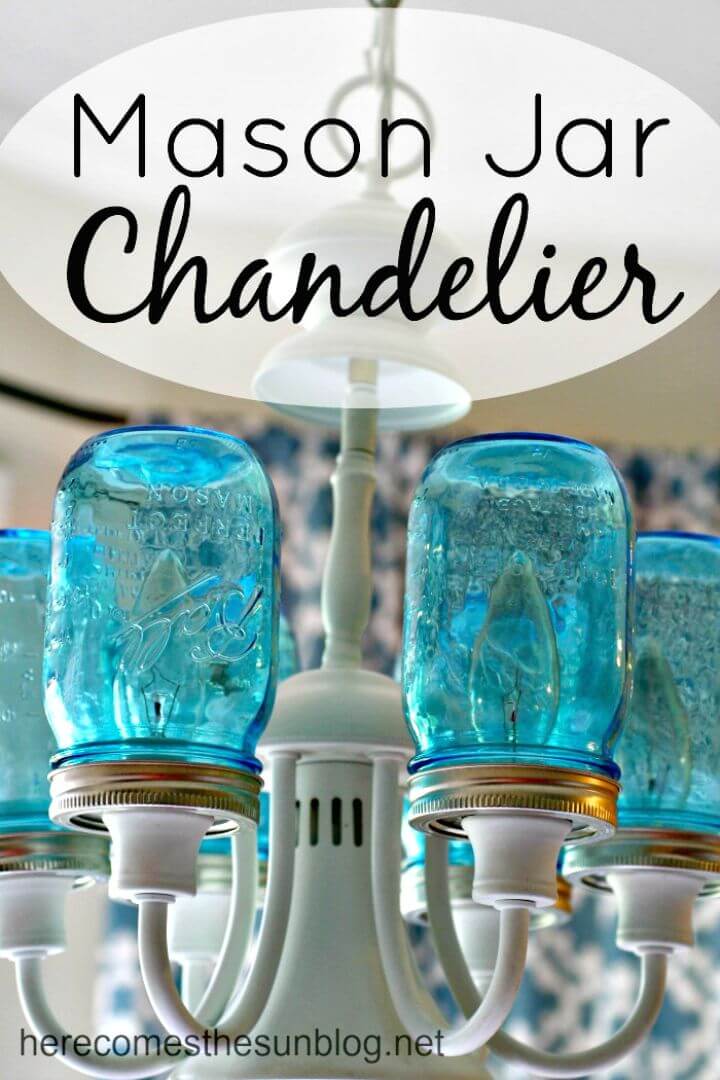 If you go to a thrift store you can surely find an old chandelier there at the cheap rates so bring it home as you can revamp it with the mason jar lights and thus get the stunning for any of your home sections be it outdoor, porch or the dining room too. Complete tutorial details of this mason jar chandelier are lying here herecomesthesunblog
How To Build An Outdoor Mason Jar Chandelier – Free Tutorial: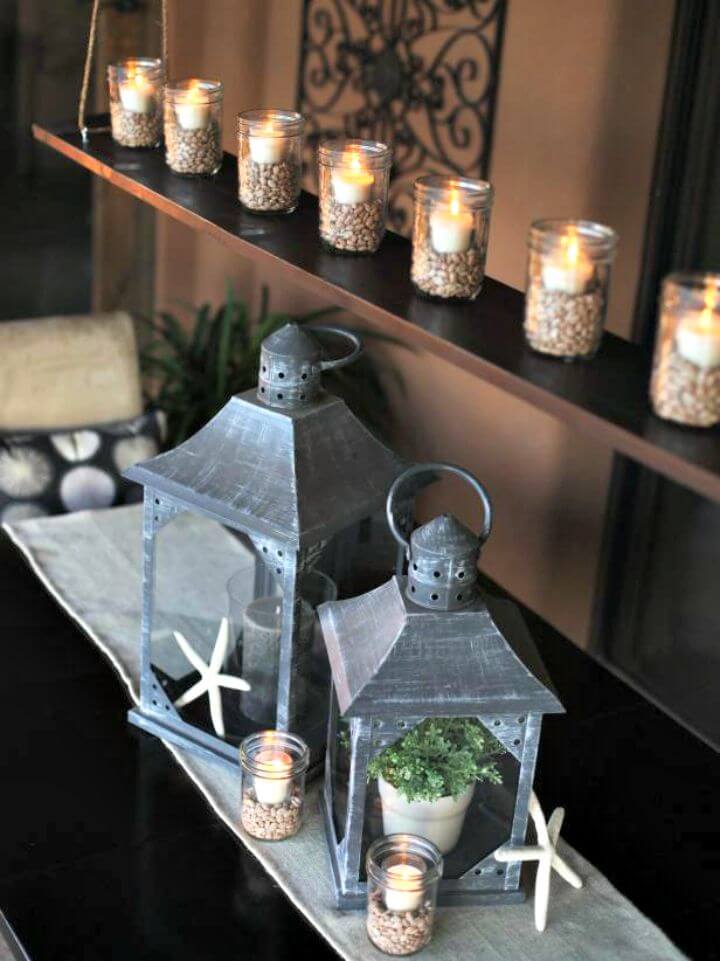 The outdoors look just immense romantic and gorgeous when there are lights with their gentle glow in there. chandeliers are custom to to be installed in the outdoors and using some mason jars, a hanging wooden board and some stones you can aptly create this utterly unique and enchanting chandelier for your garden space and spruce it all up.Tutorial details here hgtv
How To DIY Ball Mason Jar Sconce Light – Free Tutorial: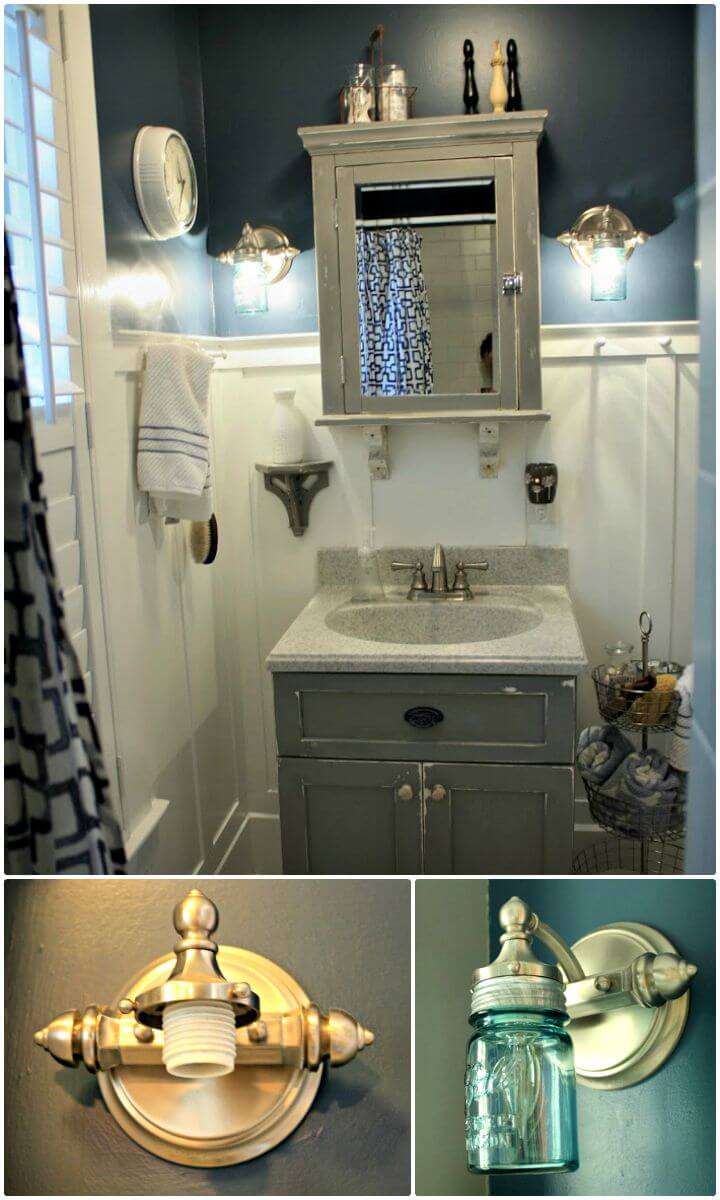 Brighten up your bathroom decor with the cute and fun lights that you can easily create out of he mason jars and some scones stands and add them on your bathroom walls for a perfectly stylish and functional display. Details of this smart idea are given here so click and follow robbrestyle
How To DIY Mason Jar Chandelier – Free Tutorial: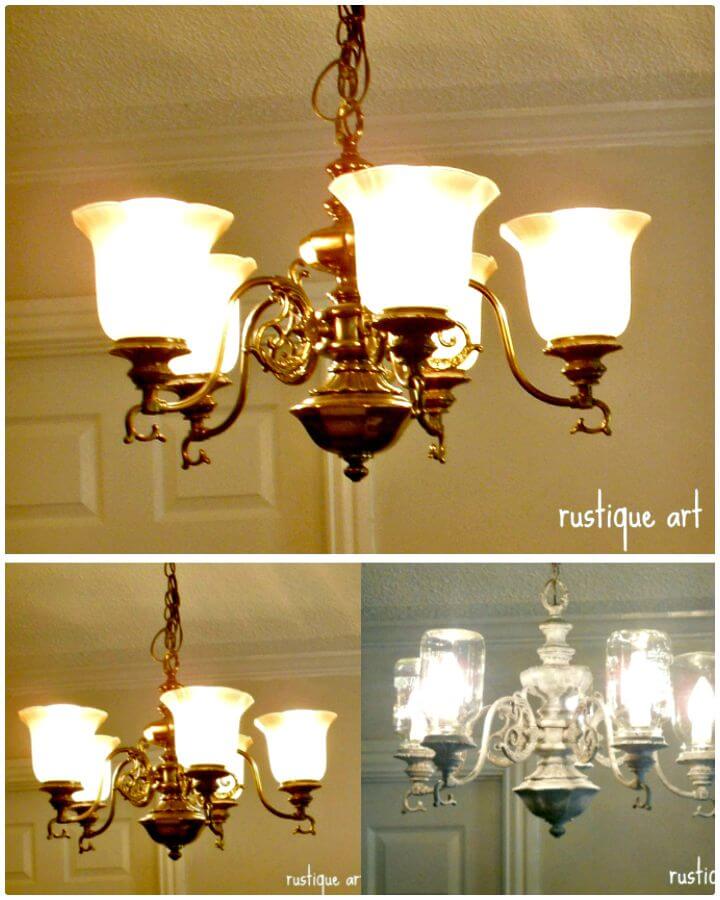 Those traditional light fixtures on the ceilings can revamped per your modern decor demands with really easy and fun DIY tricks. You can replace the light bulbs with the mason jar lights and paint the rest of the chandelier in white or silver and thus get a dazzling light fixture for the ceiling . Enjoy the complete makeover of the chandelier here rustiqueartblog
Easy DIY Mason Jar Chandelier – Free Tutorial: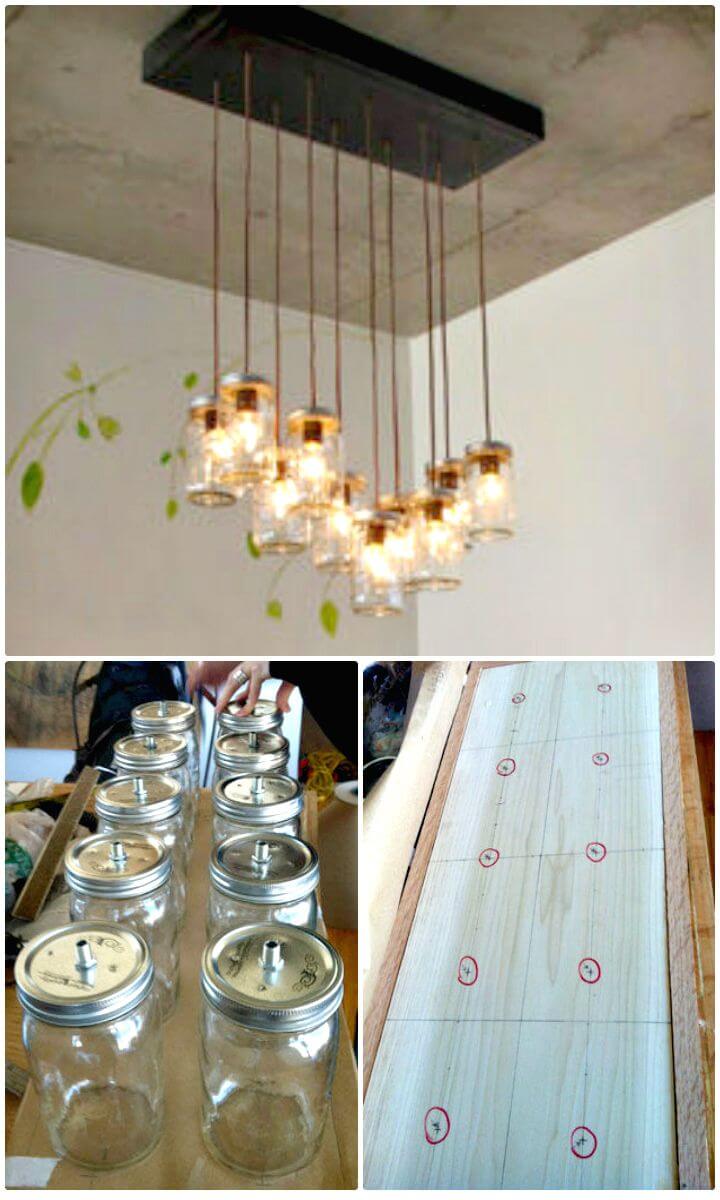 The Chandeliers are the most impressive light fixtures fro the decor and styling of so many homey areas like the garden, porch, kitchen and the dining rooms. So here is how you can create this shabby chic chandelier with a wooden board and the hanging mason jar lights to it with the help and support of the rope. The idea would be really easy and fun to work on so do grab all its details here instructables
DIY Rope Wrapped Mason jar Lights – Free Tutorial: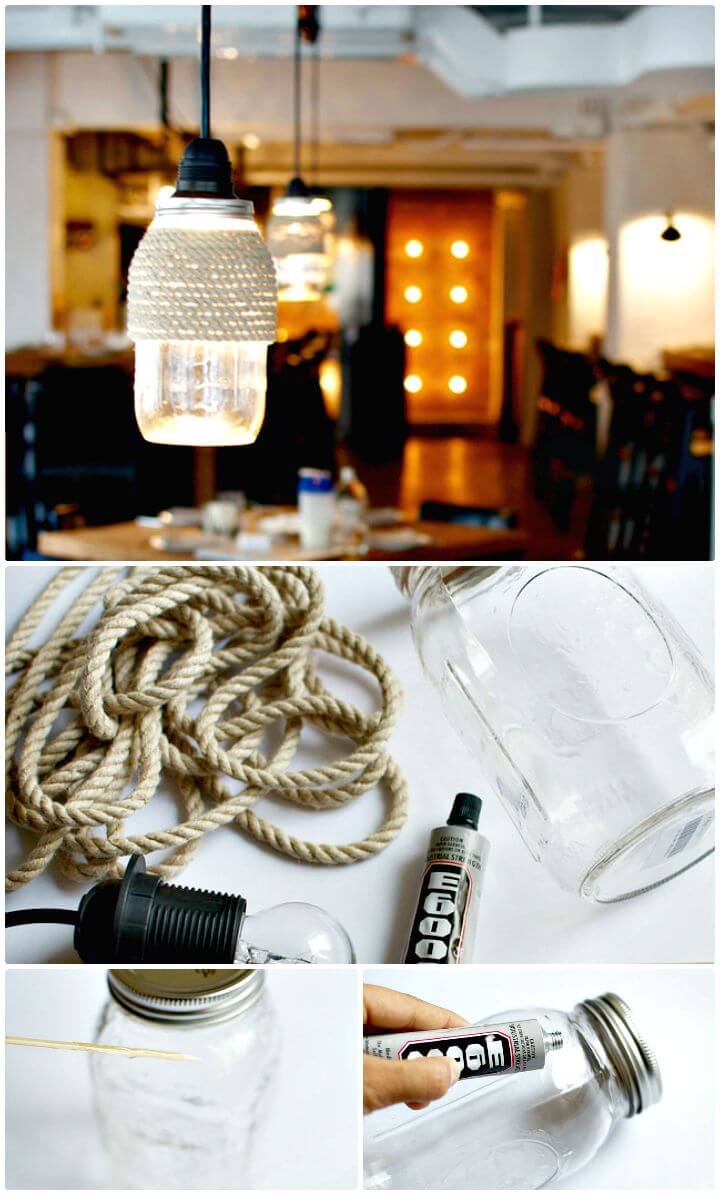 Turning the mason jar into lights is not so unique but how you can embellish or adorn hem more is the real game changer for your decor. You can inspire from this idea of covering the mason jar lights with the ropes and thus twist them up in r really simple and cool manner. Check out the details of this funky idea here apairandasparediy
How To Make A Mason Jar Light – Free Tutorial: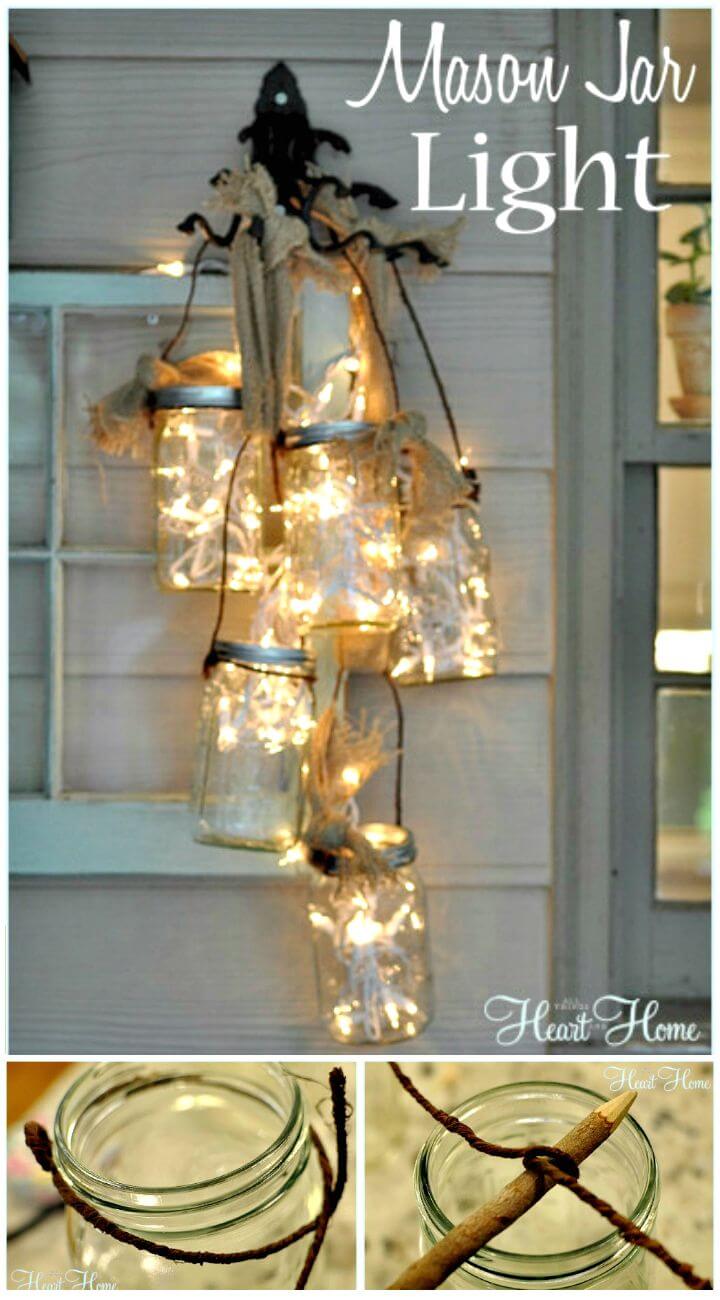 The soft glow in the night is just the perfect thing to adore and get lost in. So here we offer you create this easy and totally gorgeous mason jar lights for the porch and add oodles of romance and charm to the porch decor. Pour your lights in the jars and use the ropes to hang them up in a bunch for ample light source. Here is the link for complete details and more allthingsheartandhome
How To Make Summer Citronella Candles Lights – Free Tutorial:
The aromatic candles are the favorite of the homey ladies as they really create the romantic and fresh ambiance in the whole house. Now you do not need to buy the scented candles from the market as you can create your own with the things lying in your kitchen. Here it this idea of citronella candles to be created in a mason jar with candles and lemons and to romanticize your whole home decor with.Check out the details of the idea here adventures
DIY Mason Jar Bokaallamp – Free Tutorial: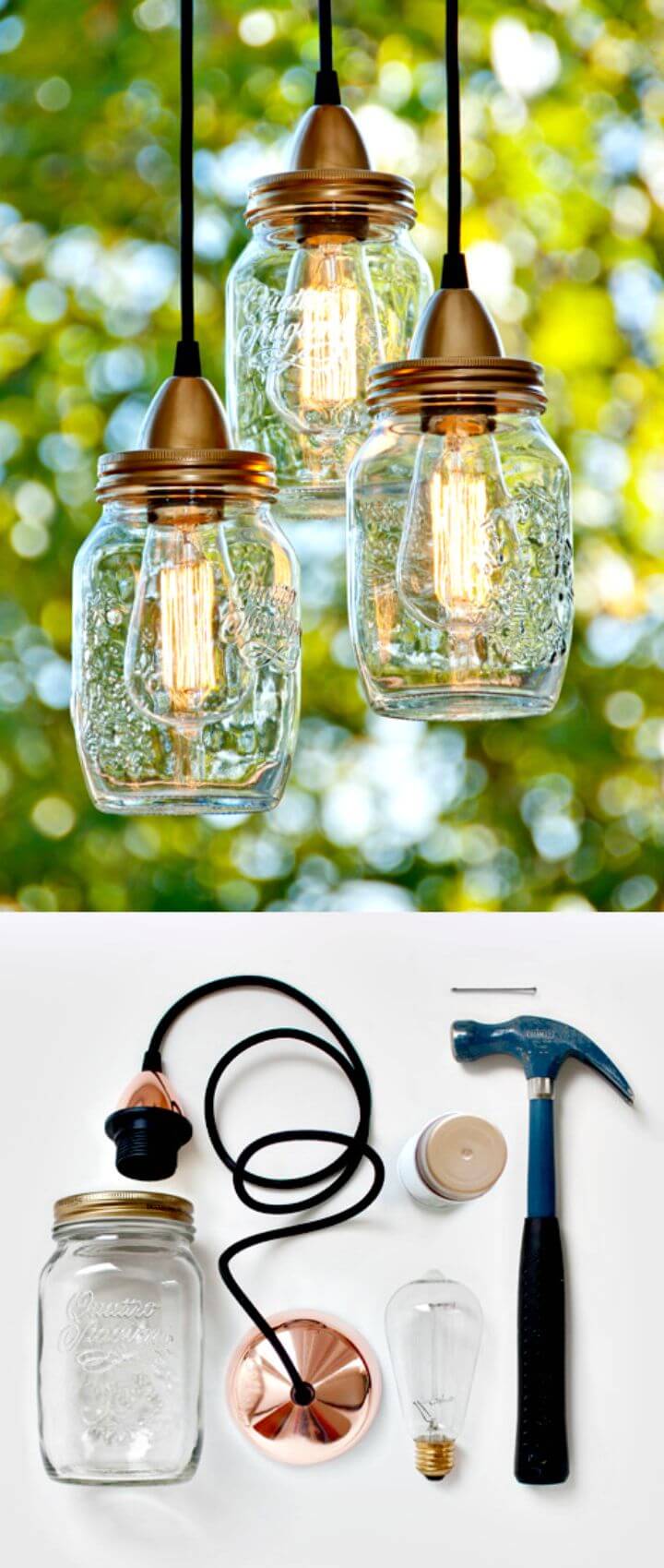 Mason jars are so much fun to craft some of your favorite things in the house with a touch of uniqueness and cuteness at the same time. So here is the idea of creating the modern chic lights out of the mason jar to lighten up your spaces in a really smart and simple way.You can check out the details of this mason jar light making here typepad
How To DIY Mason Jar Pendant Lights – Free Tutorial:
The pendant lights are great to add the lights in your spaces and that too in huge style. And now you do not need to burn a big hole in your pocket to get yourself a fancy and functional pendant light as you can do it yourself with the mason jars. So you would need mason jars, a pan tray and a bunch of the mason jars to turn out this perfectly cute pendant light for your kitchen or dining. Details here hubpages
DIY Glass Mason Jar Pendant Lights – Free Tutorial: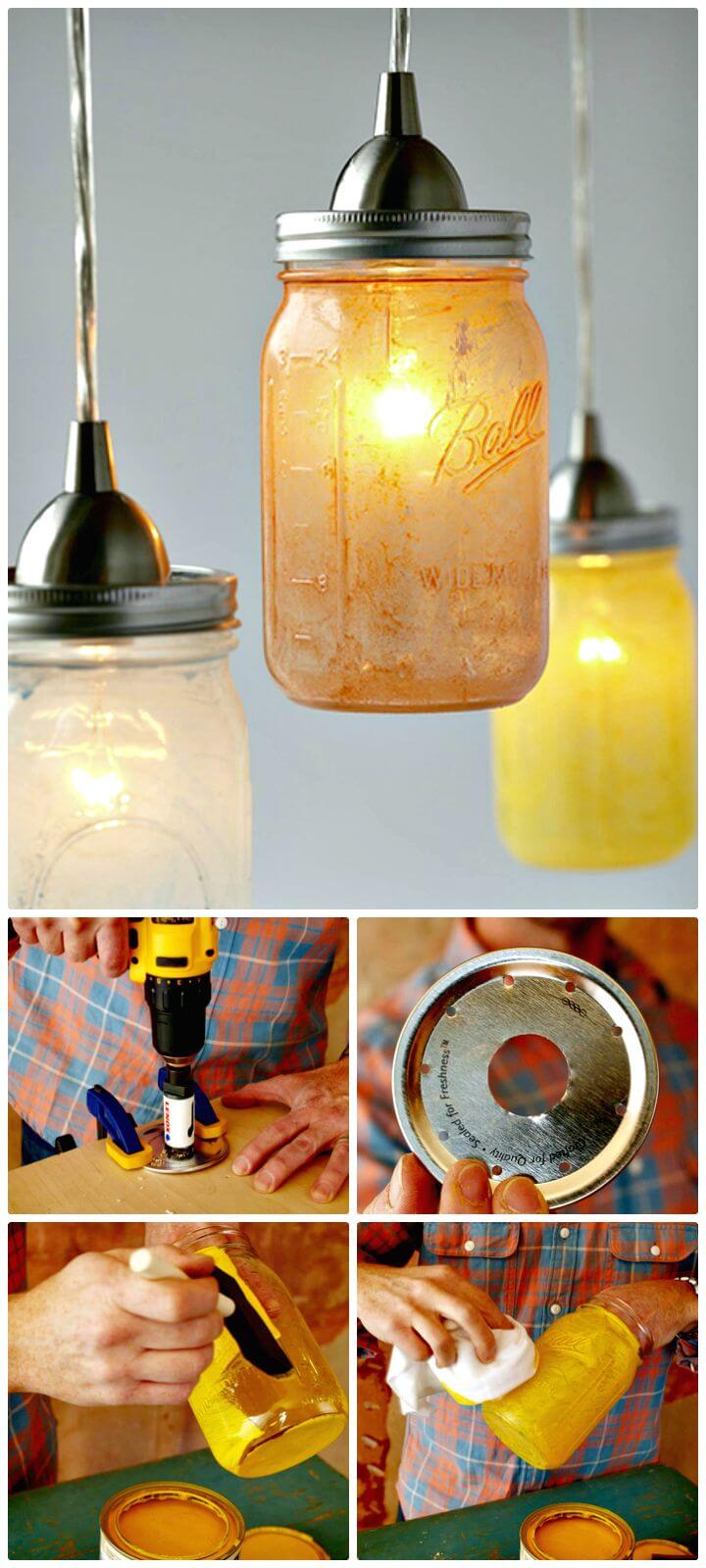 The mason jars turn out to be great as the lights and here is how you can make them look more nice and cute for your decor. OS before getting your lights fixed in the jars you need to paint the jars in any of your favorite colors and flaunt it cutely in your spaces be it in the indoor or the outdoor. Easy and fun tutorial here lowes
DIY Mason Jar Solar Lights – Free Tutorial: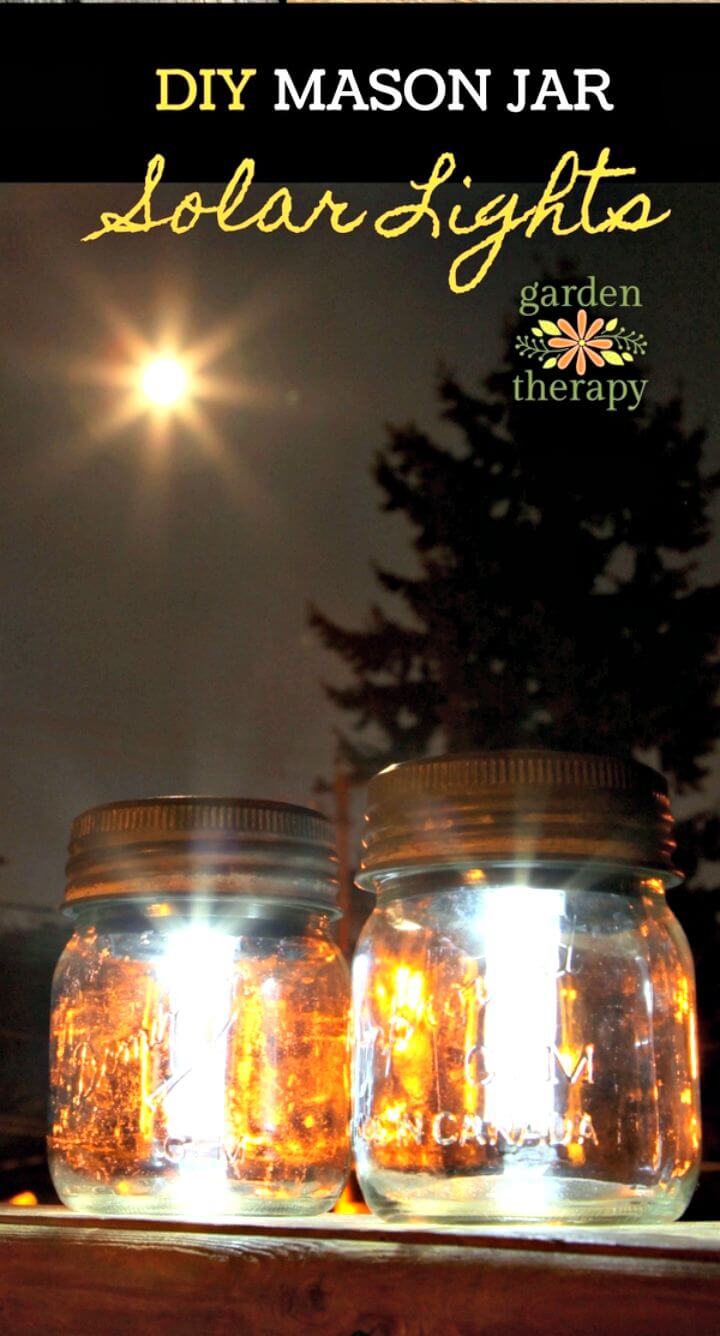 Summers are all fun to enjoy the late nights in the outdoors so you really need to make your spaces go functional on the lights. Using the mason jars you can easily lighten up your spaces be it patio or the garden and thus get yourself a cozily lighted atmosphere in the outdoors to have some summer night fun.Enjoy the tutorial here gardentherapy
DIY Whitney's Mason Jar Lights – Free Tutorial: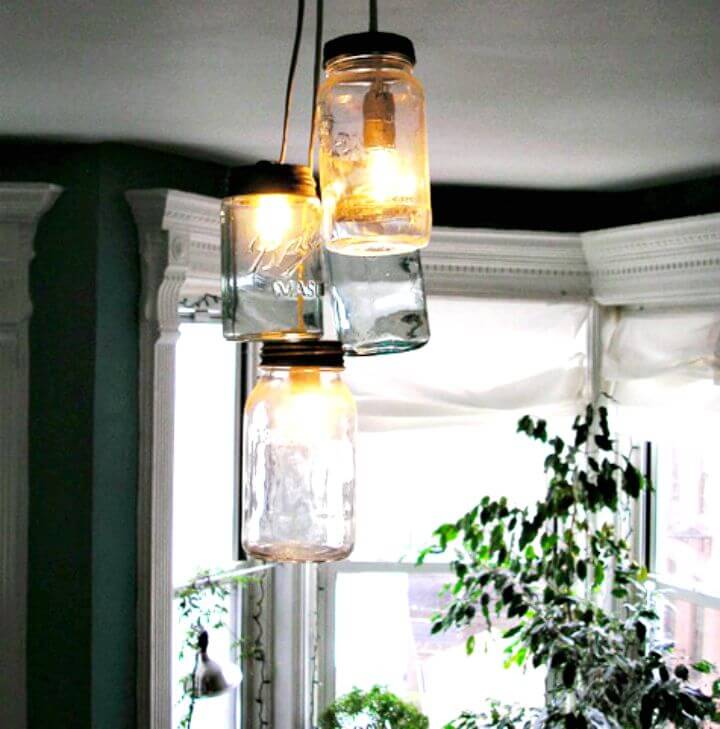 Instructions: designsponge
How To Make Mason Jar Solar Lights – Free Tutorial: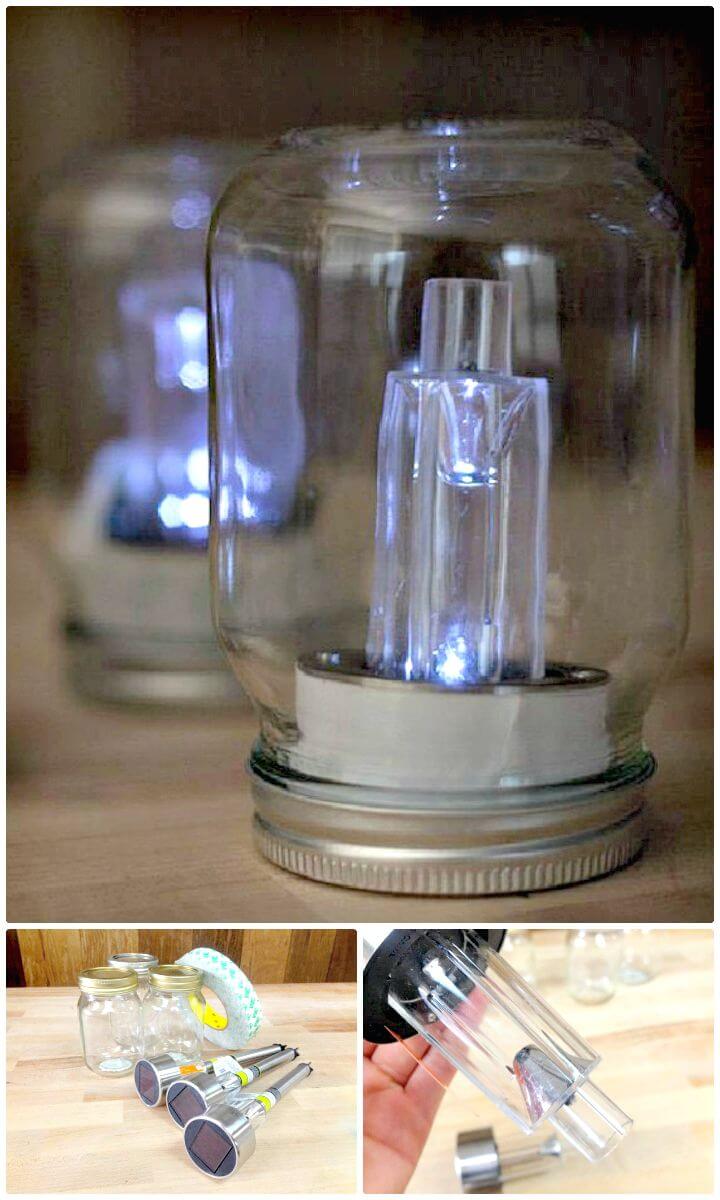 Solar lights are the most functional lights to get your hands on for the lighting up of your outdoor spaces. They would get charged in the day and lit up at night and thus saving you so much power. You can install now your own solar lights at home using the mason jars and here is the link to grab the details of its easy and fun tutorial diyprojects
DIY Prism Mason Jar Candle – Free Tutorial: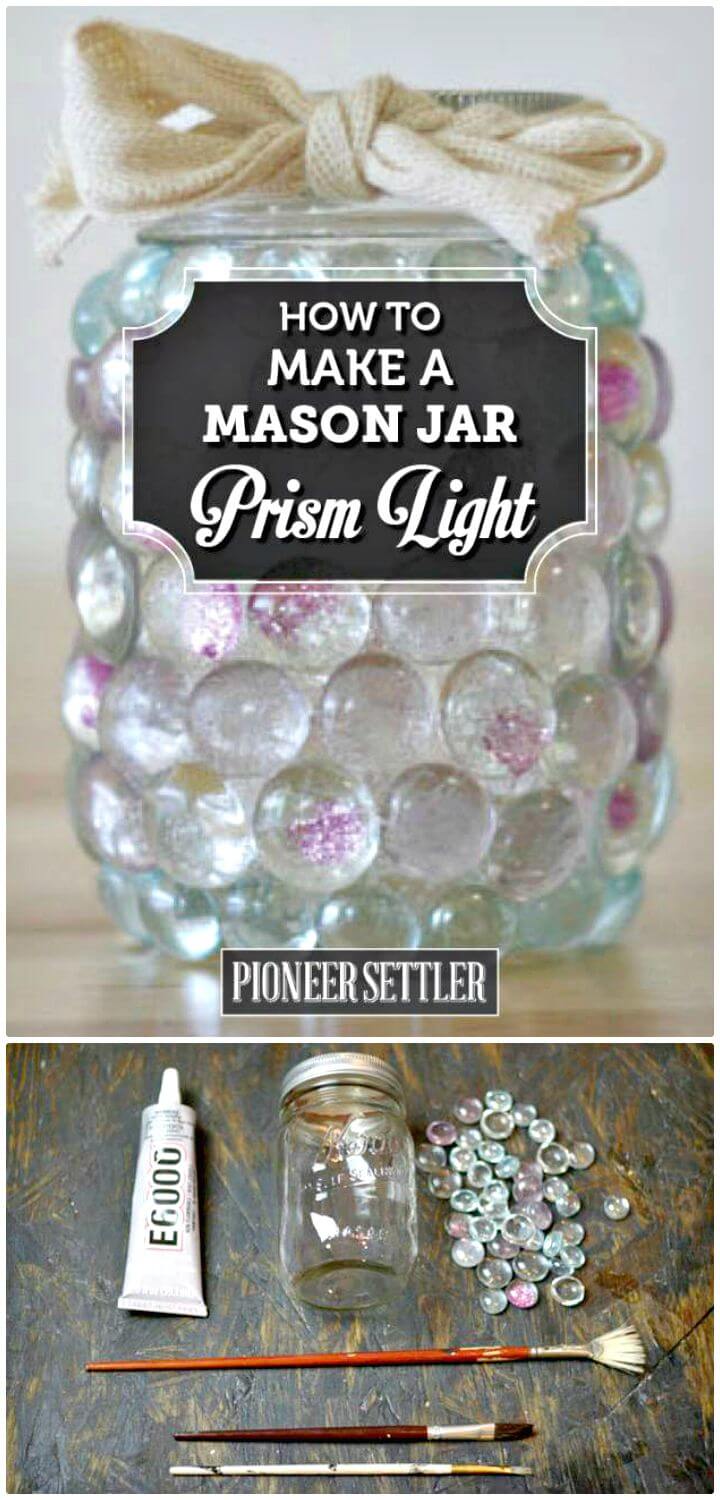 The mason jar lights can be spruced up more with some creative twists and turns. Here is how you can turn your simple mason jar light to be most funky and fun with the round glass decorative elements to create that lovely prism effect in your home when the tea light is lit in the jar, standing on your side tables and end tables. Here is how you can create this pretty light jar on your own homesteading
DIY Mason Jar & Rustic Pallet Light Fixture – Free Tutorial:
When two of your crafting supplies meet the result is just marvelous. Yes here the mason jars and the pallet wood have been combined to create this rustically gorgeous and utterly light fixture for the kitchens and the dining. You would not enjoy the light but a great decorative appeal to be added in your spaces too so do check out the details of its tutorial here twenty8divine
How To Make Solar Powered Mason Jar Nightlight – Free Tutorial: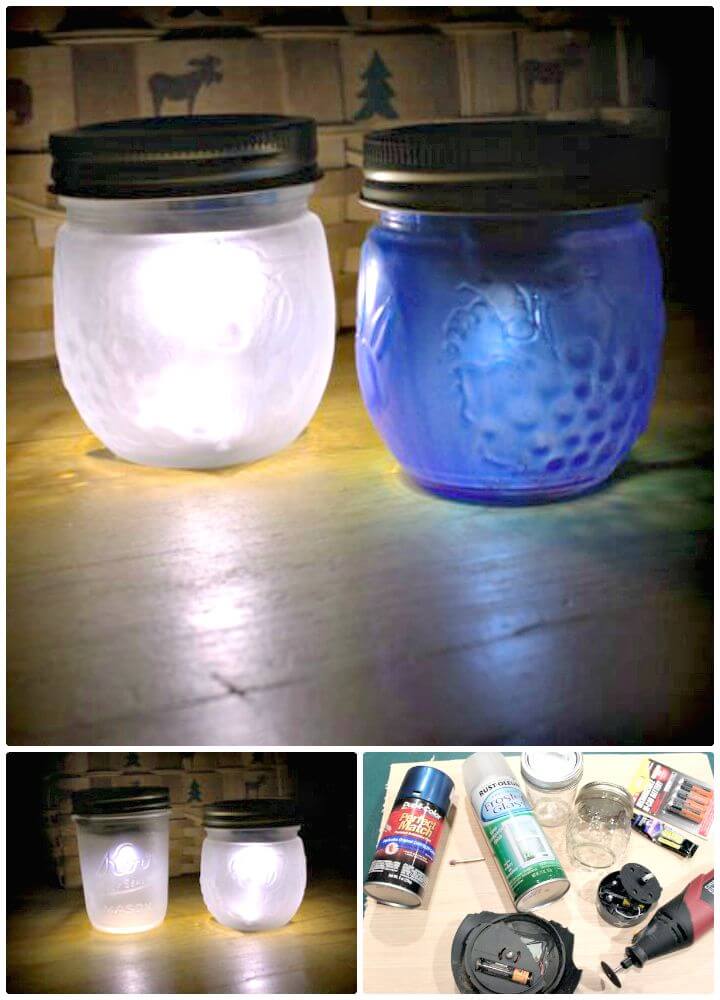 What can be cheaper than the mason jars and they can really award you some great decorative delights for the home decor. So as the 4th July is approaching you can Get these cute patriotic mason jar lights for your outdoors to enjoy some fun time in the night with your family and friends. The jars have been painted in flag colors to look really fun and decorative for the respective day. Details of the idea here instructables
DIY Fence With Mason Jar Lighting – Free Tutorial: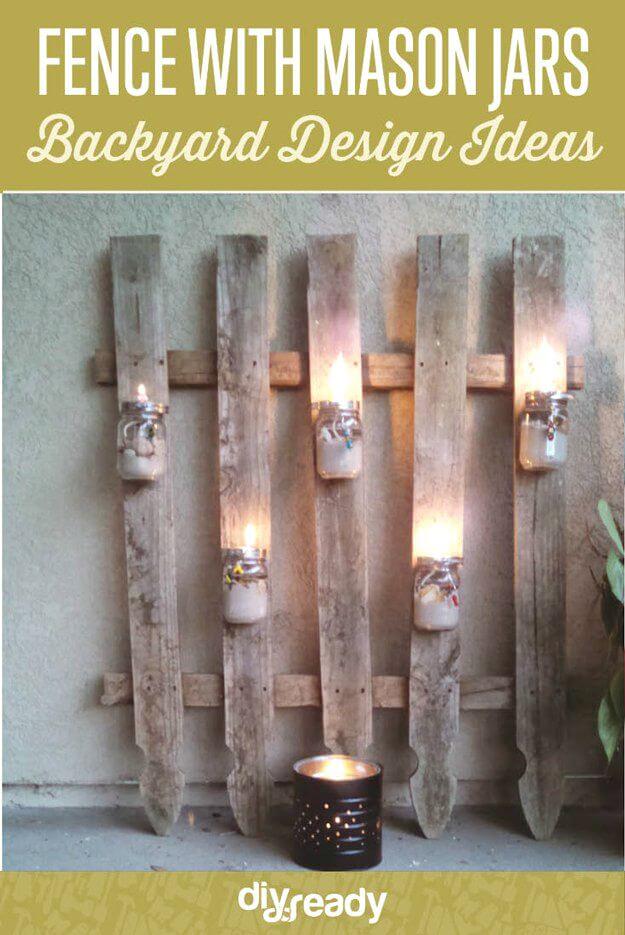 The backyard spaces of your house can made to look super decorative with the things collected out of the junks. So here is this adorable and unique lighting created out of a pallet fence and the mason jar lights. You would not only get some pretty light but also a huge decorative touches to be added in your places.Check out the details of the idea here diyprojects
How To Make Autumn Leaf Mason Jar Candle Holder – Free Tutorial: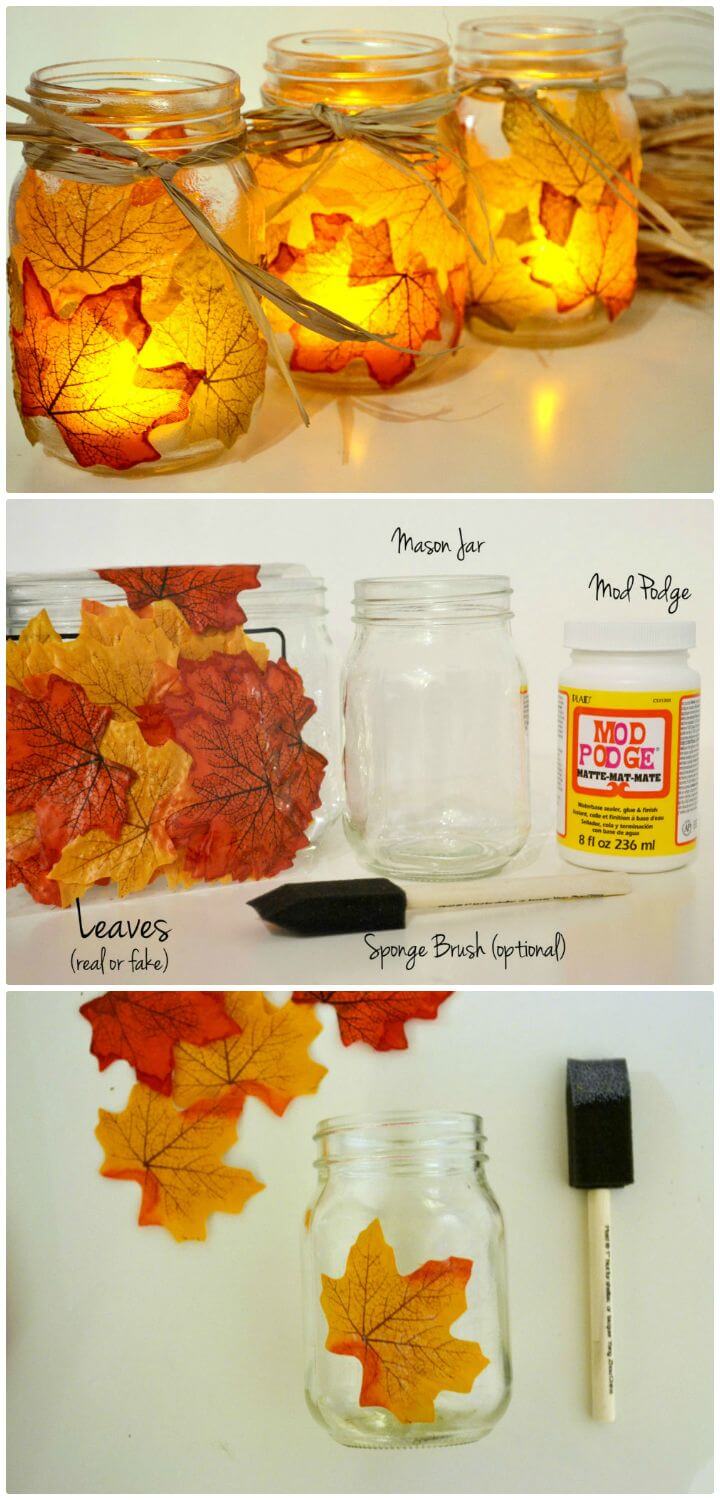 There is something really whimsy and romantic about the autumn leafs and we all know how extensively they are used in the home decor crafts. SO here is another awesome craft with the autumn leafs where they have been glued to the mason jars and turned into the fancy table lights for your home styling. Here is how you can get the perfect tutorial of the plan sparkandchemistry
Easy DIY Lighted Blue Mason Jar – Free Tutorial: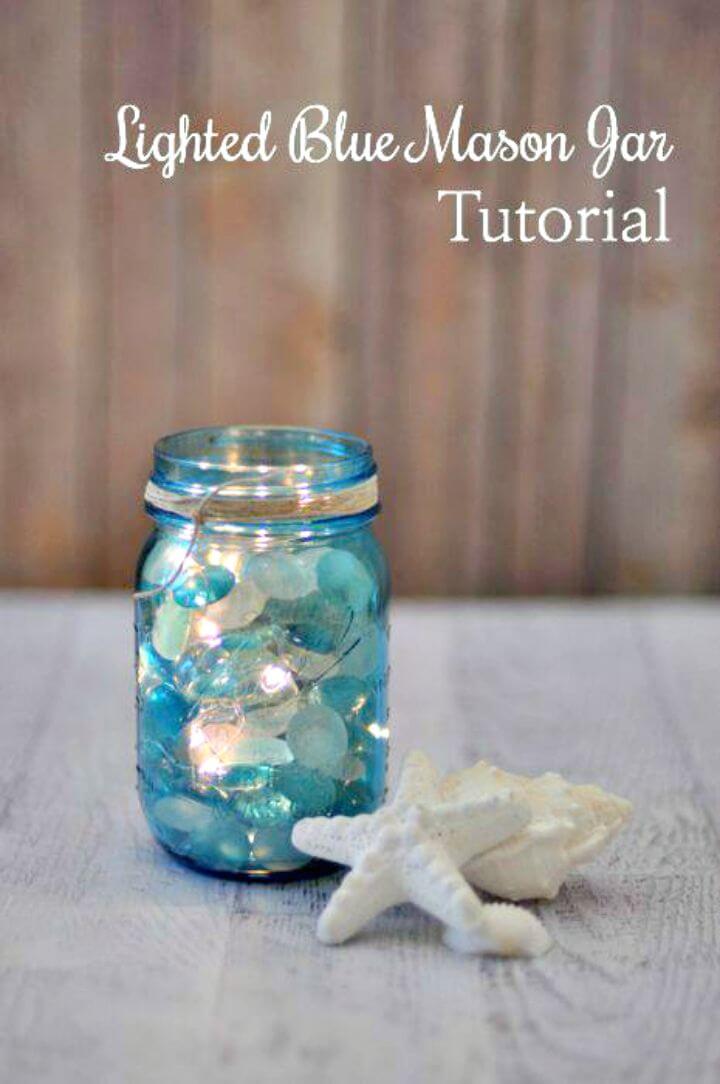 If you are cherishing the coastal decor in your spaces then we got this lovely mason jar craft for your to spice up the decor more. The jar has been painted in the blue shade and loaded with the pebbles and the lights to look so pretty and nautical in appeal. Here is how you can create this jar on your own with the feasible method and the cheap supplies. Check out the details of the plan here momsfavoritestuff
How To Making Glow Mason Jars – Free Tutorial:
Imagine the light goes off and the bunch of the fire flies come inside your window and lighten up your spaces with their cute and gentle glow. But fireflies are not so free to visit us daily so you can use these amazing mason jar lights to bring the colorful light beams in your space. Before adding the lights the jars have been filled with tulle and the glow sticks and the results are just so stunning. Check out the details of the idea here thegoldjellybean
DIY Glow In The Dark Mason Jars – Free Tutorial: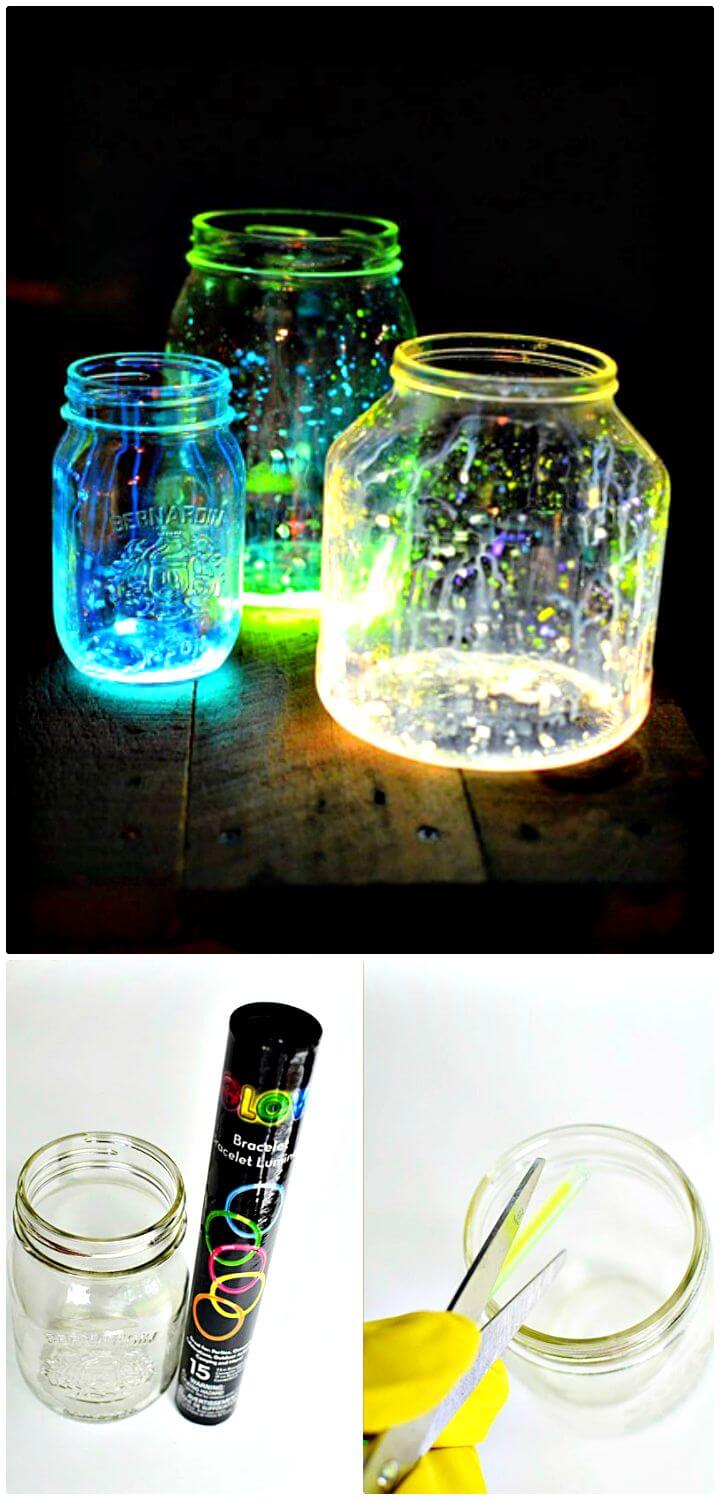 The fancy lights are the first need of the outdoor decor when you have a night of dinner or party planned in the outdoors.The mason jars are the cute lights that you can easily create on your own and for the fun party effect you can add the colorful glow sticks to them and tada! They would look really funky emitting the colorful lights and creating the coll ambience to party in.Check out the details of the idea here foxyfatandfabulous
DIY Mason Jar Pendant Light – Free Tutorial: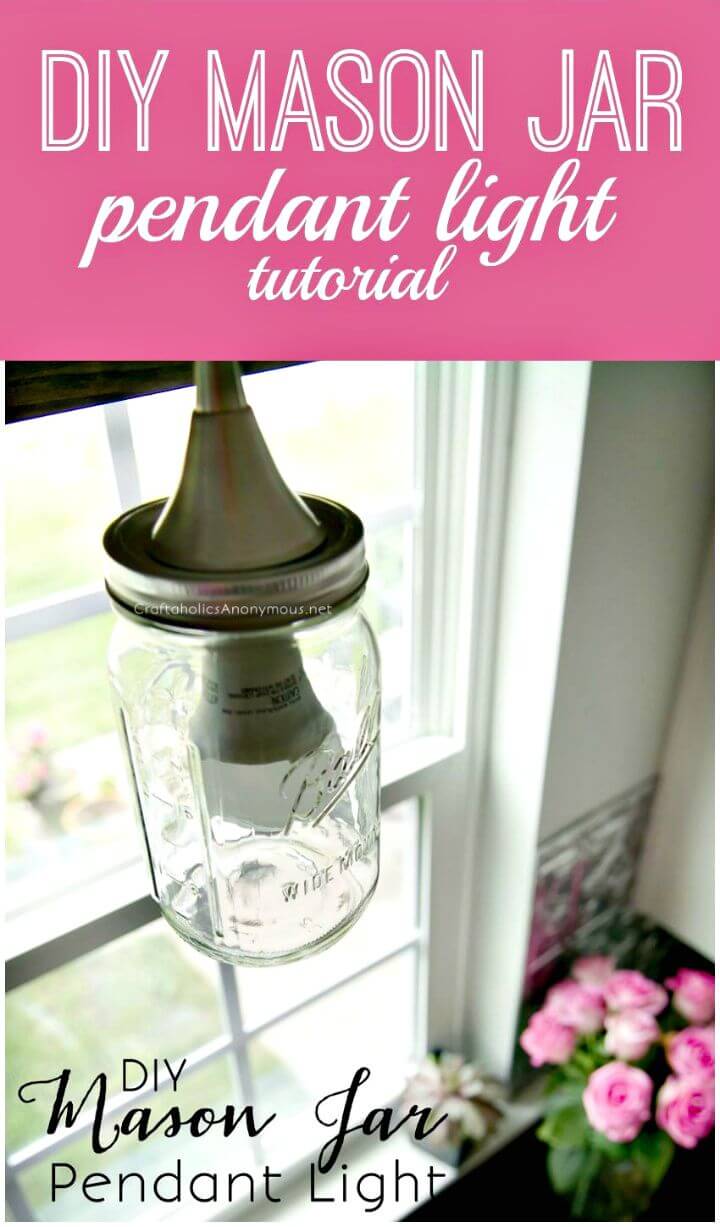 If any of your light or bulb has fused you need to change it and we know what can used to replace it and that too with a touch of uniqueness and decorative per. So get a mason jar and a light bulb and get your light fixture the adorable makeover and that too with the cheat pf the cost but with great stylistic value.. Here is the link to the tutorial of this great DIY mason jar pendant light craftaholicsanonymous
How To Making Mason Jar Pendant Light – Free Tutorial: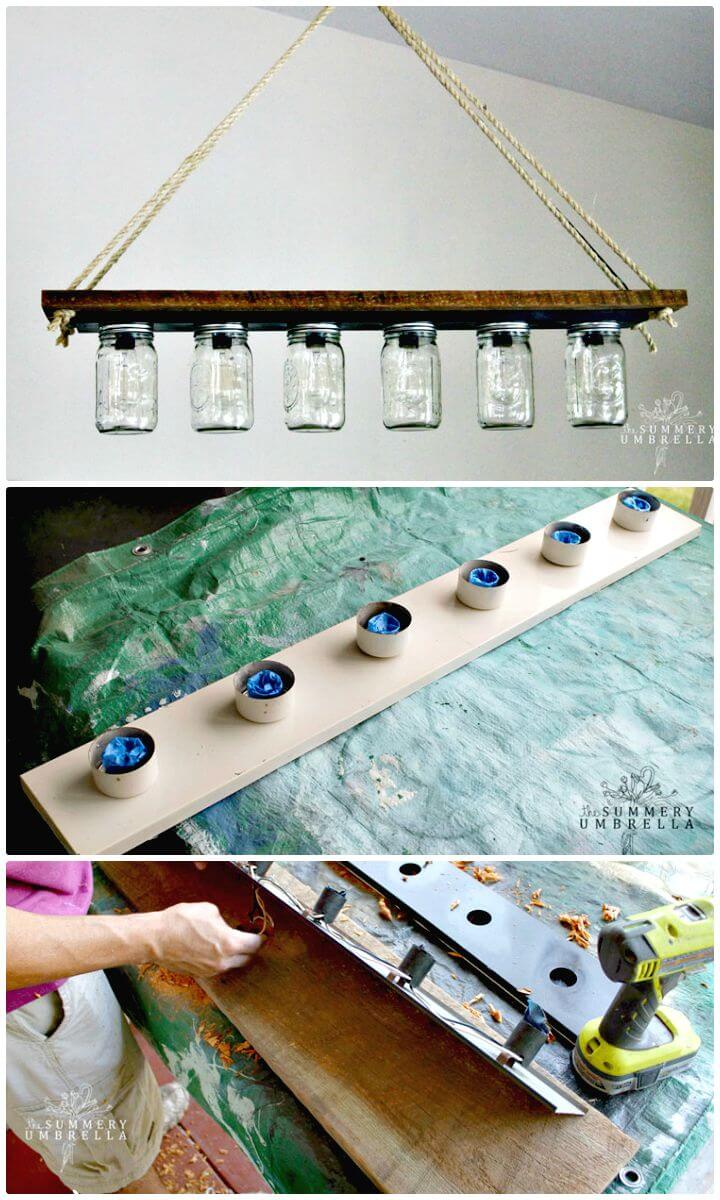 The pendant lights are the the best of the lights to add the grace and style to your spaces. You would need some wooden board and the mason jar lights to create this this really pretty and rustic beauty to your spaces. So grab your feasible supplies andt he tools to get his pretty pendant light done thesummeryumbrella
Easy To Build A Mason Jar Chandelier – Free Tutorial:
If you got a rustic styled kitchen with some pretty wood work there then we got you something that can really spruce up the rustic appeal and the wooden beauty of your spaces. This pallet and mason jar made pendant light would really compliment your country style setting of the kitchen and is really cheap, fun and easy to create yourself at the home. Here are the details of the project brandisawyer
DIY Mason Jar Chandelier – Free Tutorial: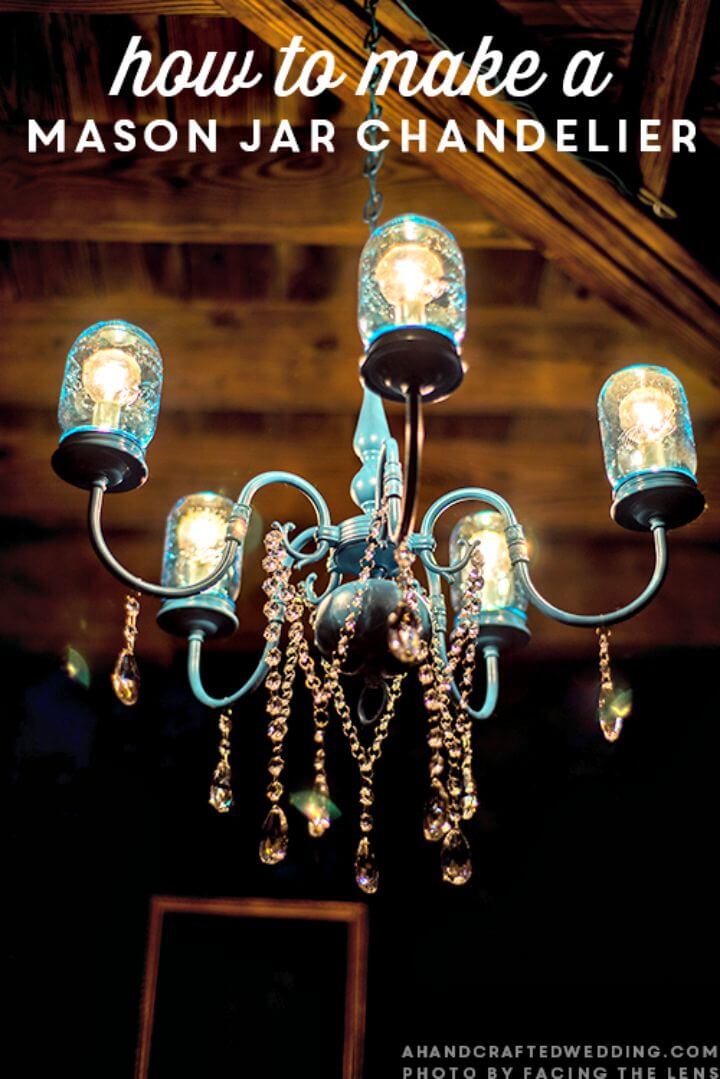 The lights are the must part of the wedding decor too. So here is this idea of creating a vintage inspired light chandelier for your outdoors to add the beauty details to your wedding decor. You need an old chandler stand the mason jars to be used as the lights and it would turn out to be so pretty and awesome. Check out the step by step details of the mason jar chadelier tutorial here mountainmodernlife
How To Make A Pendant Trio From Mason Jars – Free Tutorial: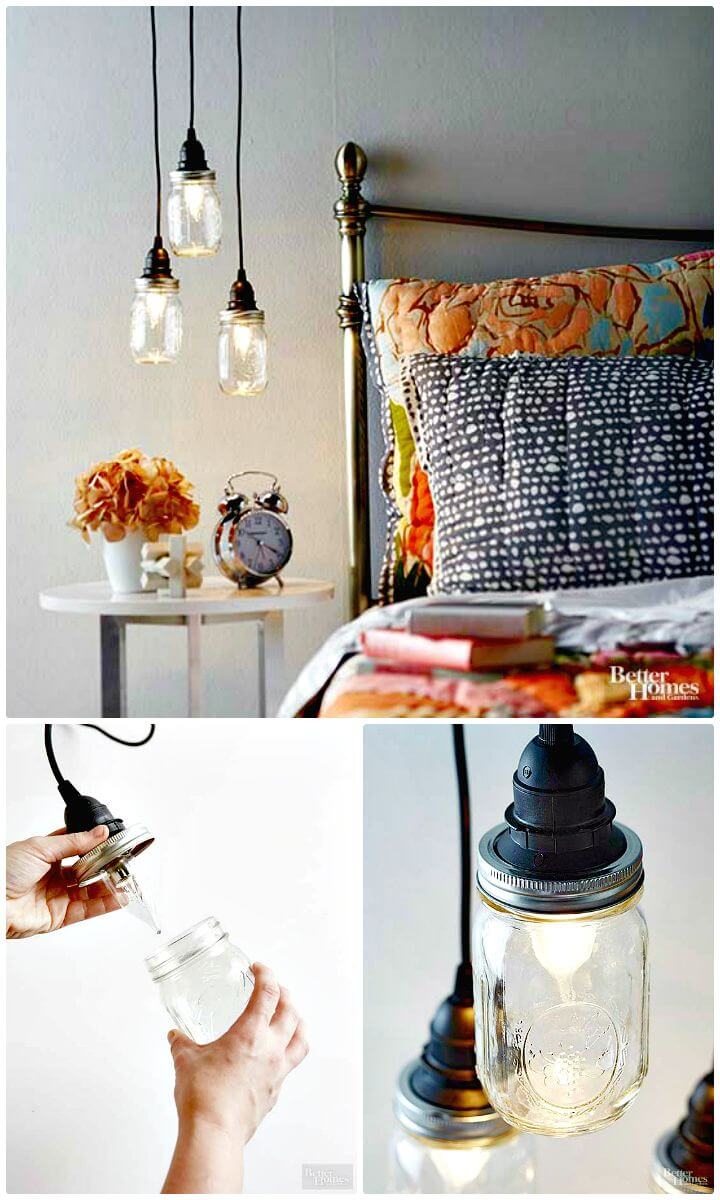 Having lights by the side of your bed is just so important and utterly necessary but ere is how you can do it now in the unique and the quirkiest of the way. So instead of the boring nightstand lamps you can create these hanging mason jar lights to your bedside and enjoy the light in the really cute and fun way. Here is the link to catch the complete details of this adorable hanging besides mason jar lamp bhg
DIY Mason Jar Fairy Lights – Free Tutorial: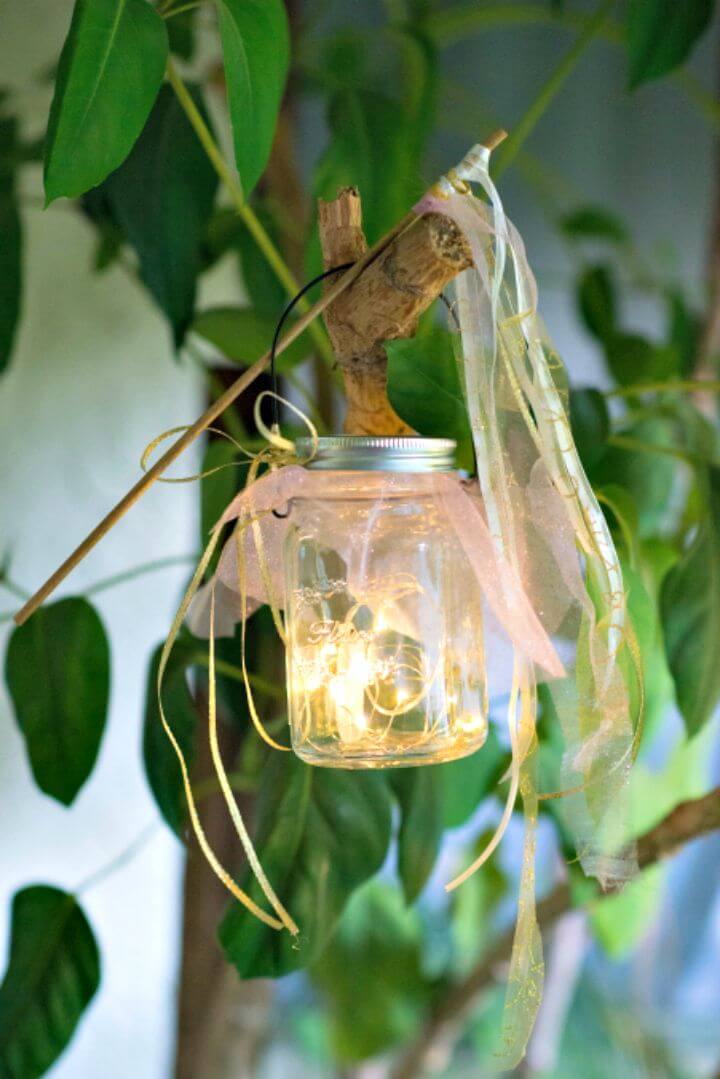 No matter what is the festive or the event the best way to decorate your outdoors is put some cute fancy lights there. So here is the cutest and the most pretty lights that you can create for the jazzed up look of your garden or patio. These are thee the mason jar fairy lights having been made to look totally fair like with the embellishing of tulle cover and the ribbon on the top. They would look superbly gorgeous hanging on your trees so do hack the complete idea here masonjarcraftsblog
DIY Pink Candles And Glitter Candle Holders – Free Tutorial:
Candle lights are the most pretty lights to use on your dining table for the perfect intimate light for your spaces. So here is how you can create your own fancy lights for the dining table decor using the mason jars and the glitter. Jut glitter up the bottoms of the jars using glue and then hold your pretty candles inside and you are done with your adorable candles. Check out the easy details of the idea here birdsparty
DIY Holiday Mason Jar Luminary – Free Tutorial: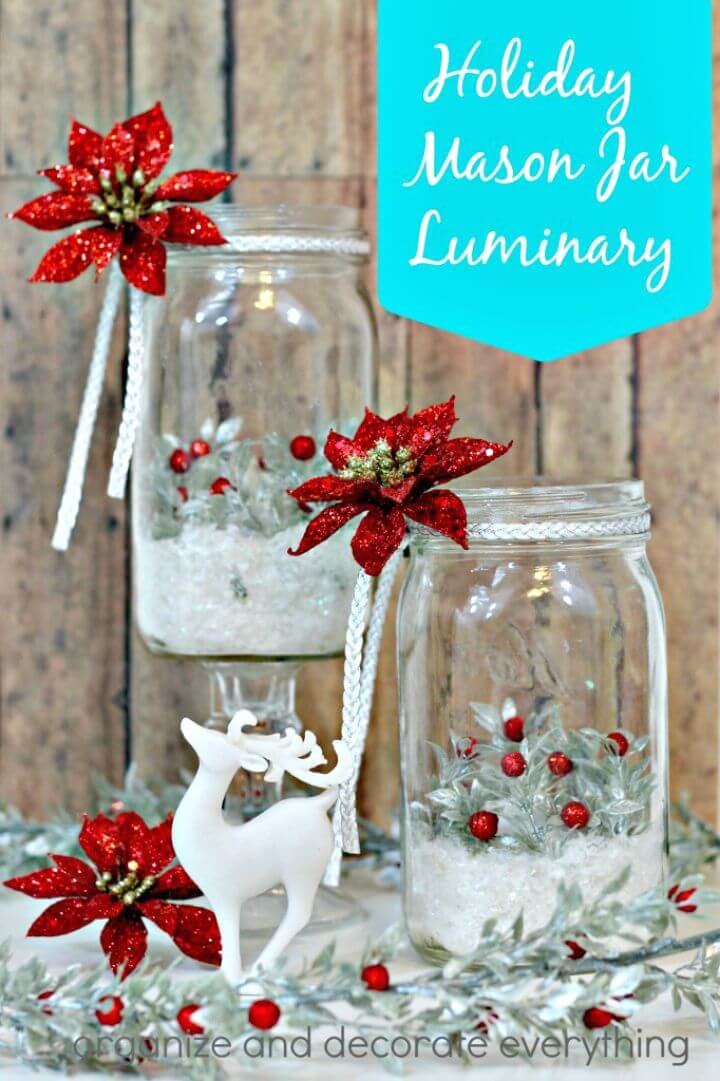 Decorating your spaces with the seasonal crafts is really soothing and here is something really whimsical that would spruce up the decor of your spaces with the winter feels. These are the mason jar lights with the snow filled in and then accentuated with the ribbon, flowers and the reindeer. You can nicely display them on your tables and shelves and enjoy the pretty decor vibes. Check out the details of the idea here organizeyourstuffnow
DIY Wonderfully Scented Mason Jar Oil Candle – Free Tutorial: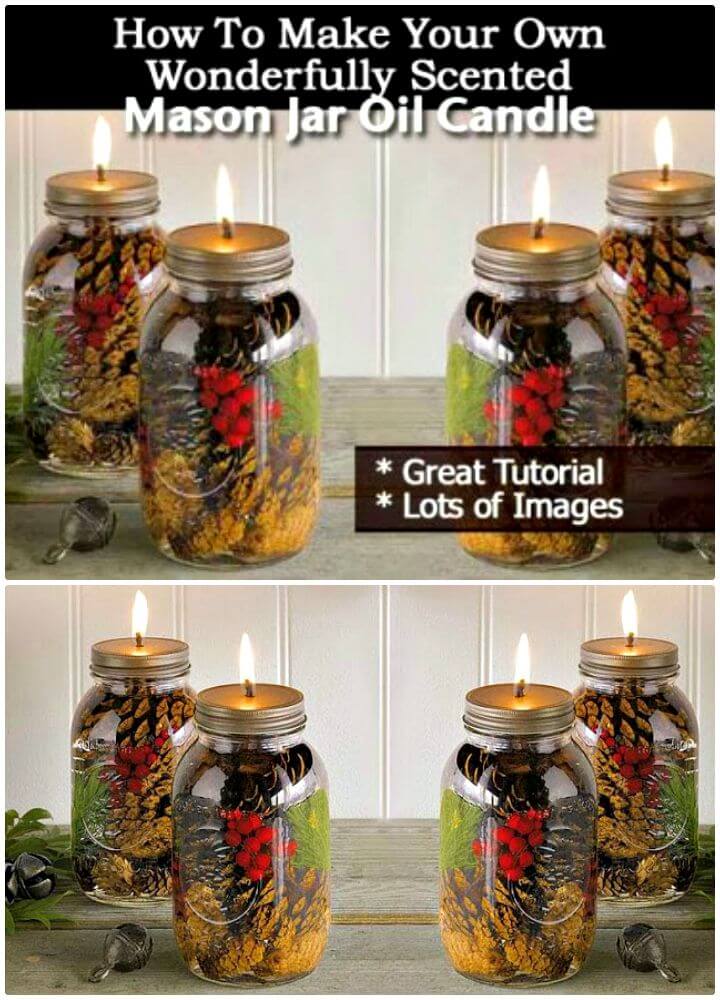 A nice smelling house is the desire of every homey person especially when thee is gathering like a dinner or party. So we are going to show you how you can easily make the custom scented candle lights for your spaces using the mason jars. You can fill the jars with any of the things you like the smell of like the pine cones, crystals and the cranberries. You can check out the details of the project here recycledawblog
How To Make Snowy Pine-cone Candle Mason Jars – Free Tutorial: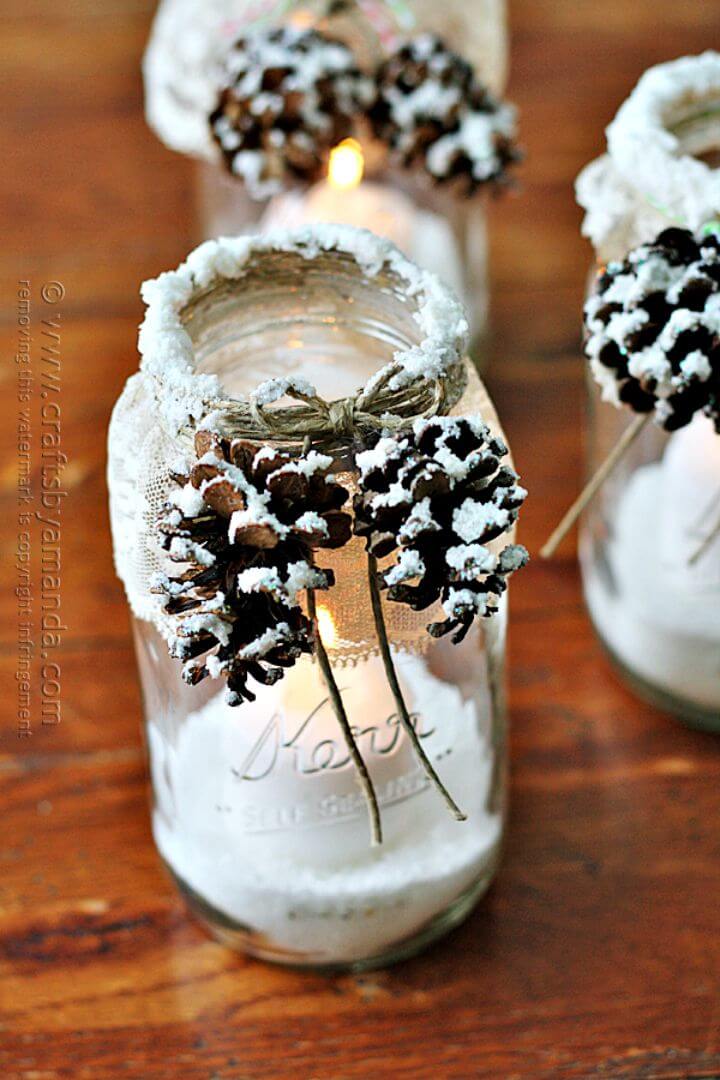 The warm glow in the cold weather is just so romantic and intimate and now you can enjoy them at the cheapest of the rates with these mason jar made winter lights for the tables, mantles and the shelf. The mason jar has been filled with the fake snow and then decorated with the frosty pine cone to bring the complete winter spirit. Lastly add the tea lights and enjoy the boost up to your decor craftsbyamanda
DIY Snowman Mason Jar Luminary Ornament – Free Tutorial: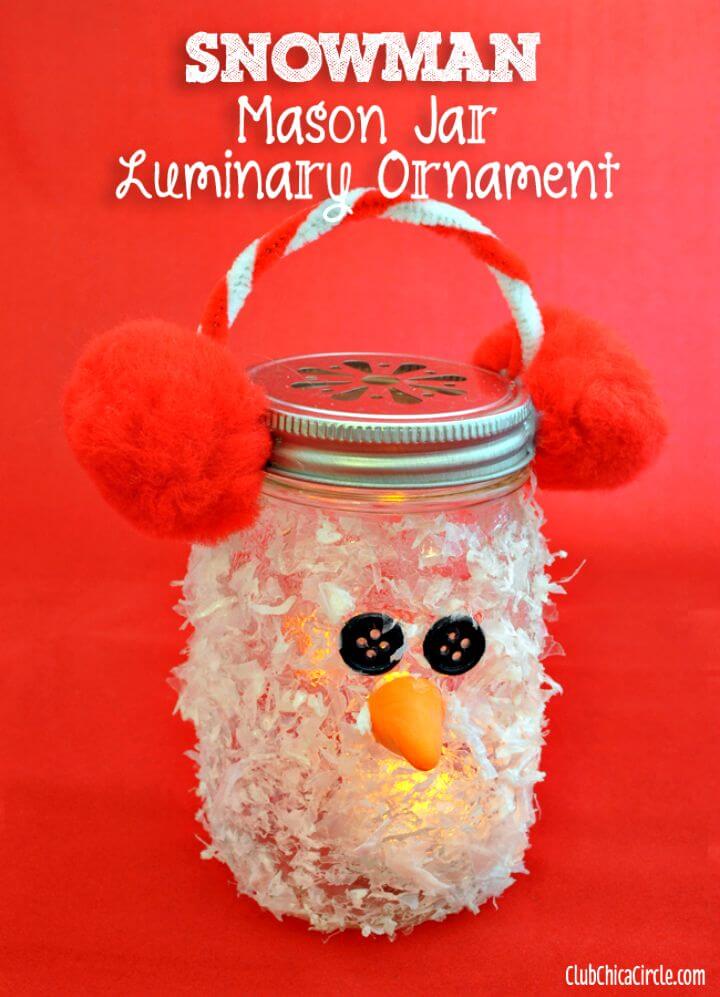 The mason jar decor is just incomplete without the adorable snowmen getting a house in your indoor or the outdoors spaces. So here is the cute little version of the mason jar snow man which is just immense easy to create out some snow flakes, glue and the cute pom pom ear mugs. Imagine it resting on your shelves and the mantles with so much prettiness. Details here chicacircle
How To Make Magical Christmas Mason Jars Lanterns – Free Tutorial: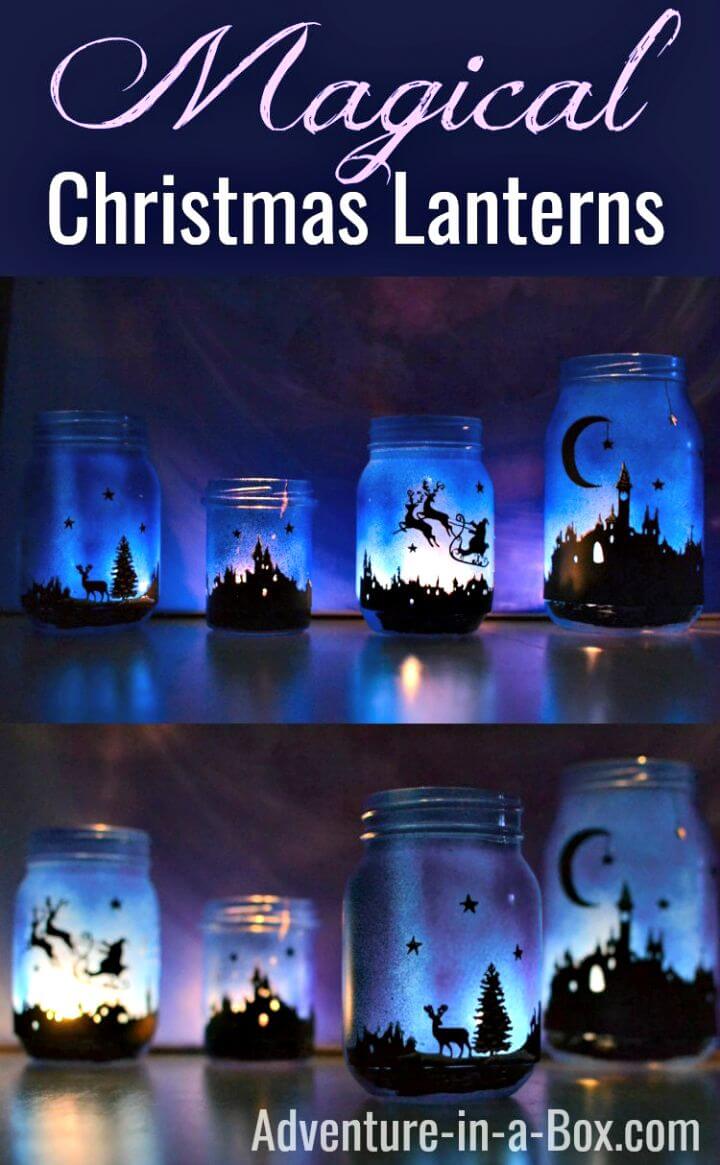 You would fall in love with these Christmas lights as they are nothing less than a magical charm for the eyes. The mason jars have been used to create these immense whimsy pieces with the awesome silhouette designs of fairies, reindeer, Halloween and more and thus add to your tables mantles and the shelves the perfect glow, charm and the fun. you can Check out the details of this utterly cute and lovely lights here adventure
DIY Firefly Mason Jar Lights – Free Tutorial: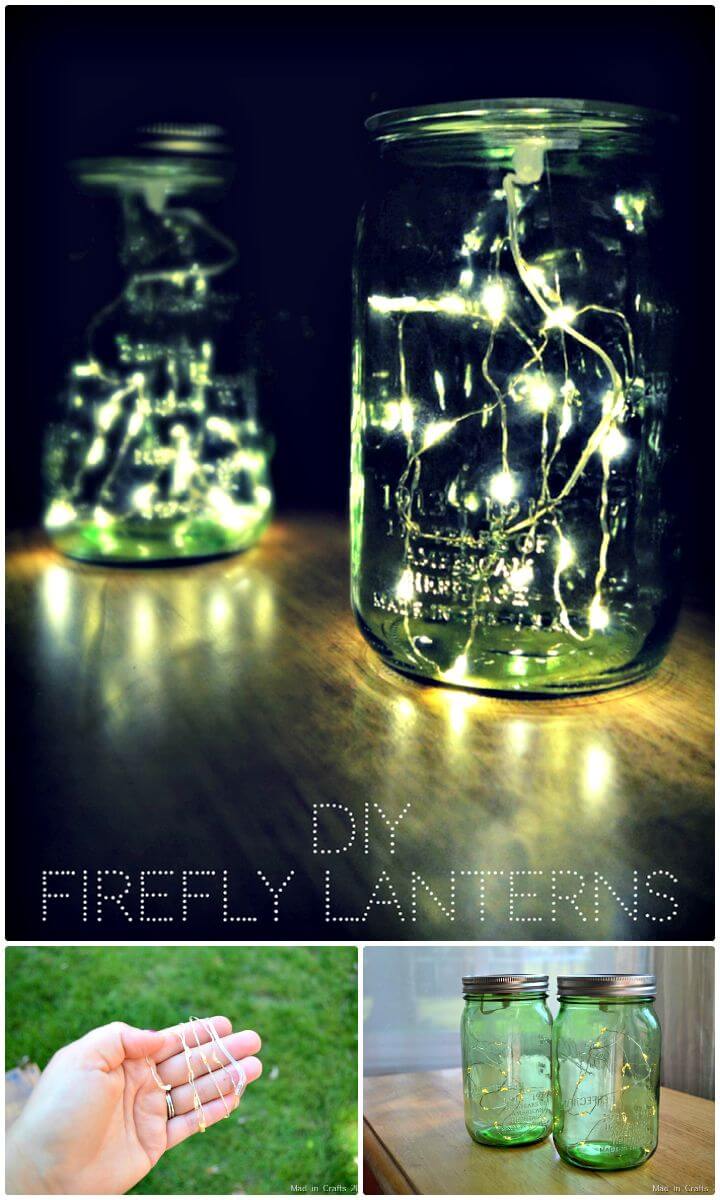 Fireflies have natural lights on their tails and they look just breath takingly beautiful in the night wandering here and there in our garden spaces. Getting inspired from the fire flires these gorgeous and whimsy pieces of the mason jar fairy lights have been created so easily and cheaply at home. The mason jar has been just filled with the very thin and small LED lights strings and painted in light shades and they are done to create the intimate display in your outdoor or the indoors as well.Tutorial here madincrafts
DIY Hanging Solar Mason Jar Lights – Free Tutorial: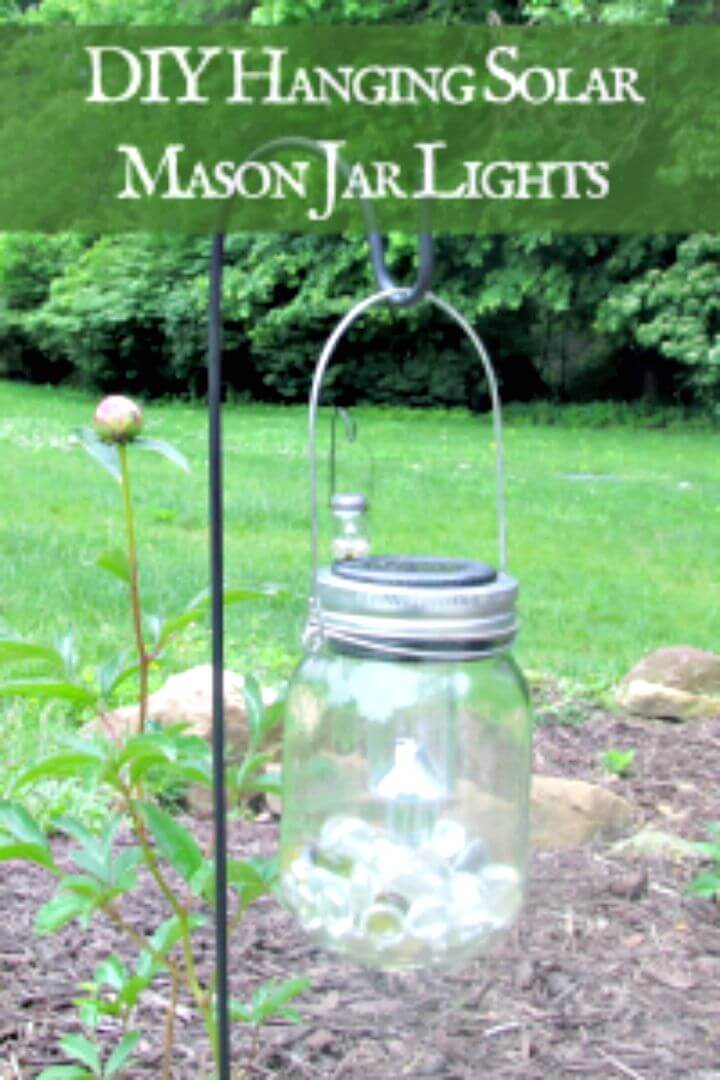 Add more decor and beauty to your outdoor spaces with these cute handmade mason jar lights to be the part of your patio or the garden decor. You just need the empty mason jar, get them filled with the lights and then hang them nicely in your space and its done. You can enjoy the lovely warm glow in the night whenever you visit the outdoors. here is the link of the tutorial to get this simply gorgeous mason jar light for your spaces joyfullytreasured
Easy DIY Mason Jar Lights – Free Tutorial: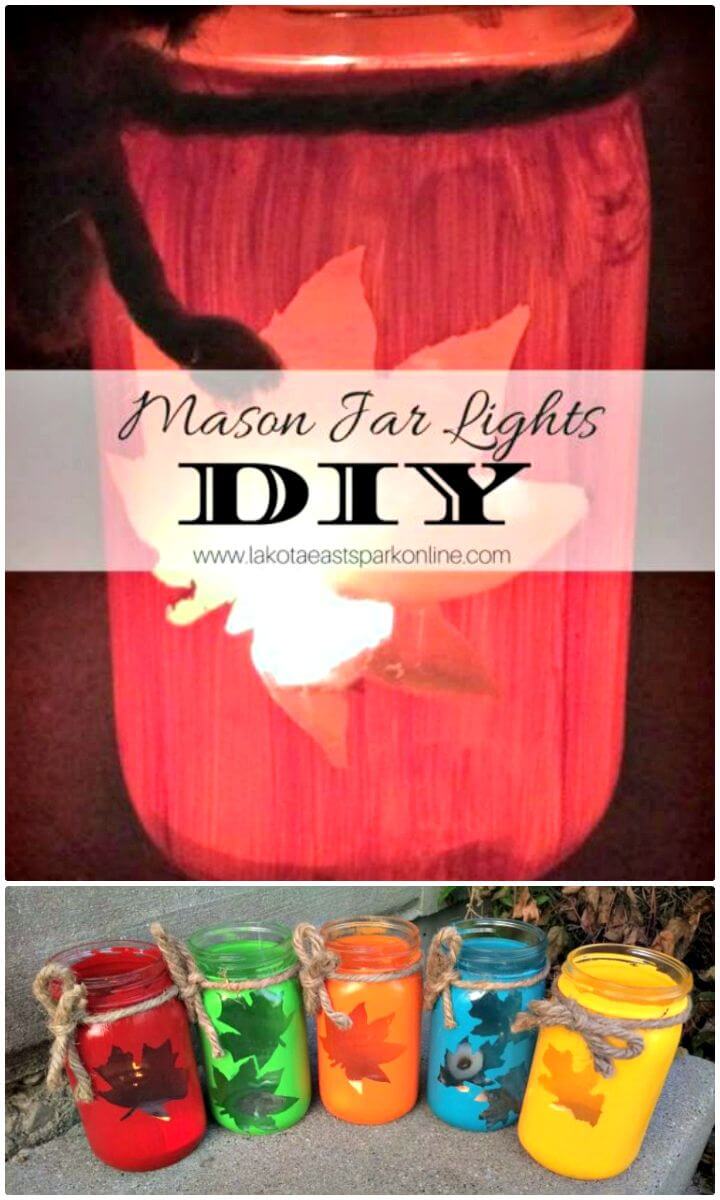 Lights or the candles are the best of the decors to be used for the styling of your mantles and the shelves. The mason jars offer you a variety of the lights to be created and adorn your spaces with and these painted mason jar with the autumn leaf design ar the best to let your mantles and the shelves boast of. The colors are loud and bright and thus they would really create and instant eye catching appeal in your decor. Details of the plan here lakotaeastsparkonline
DIY Mason Jar 4th of July Decorations – Free Tutorial: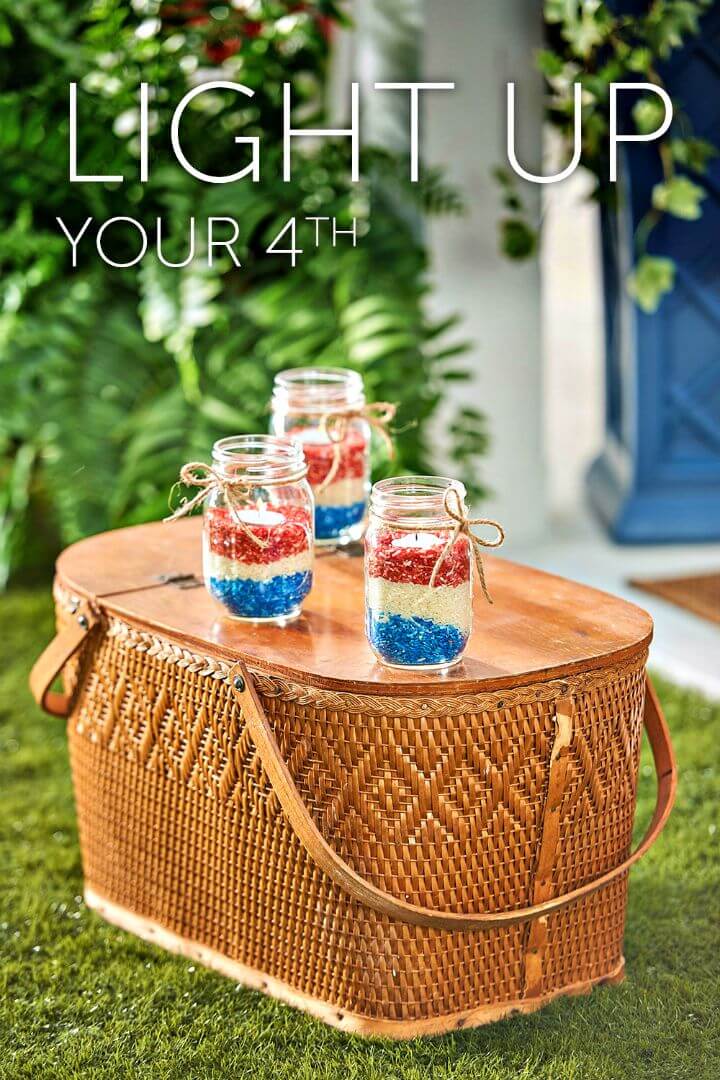 If you need some cute and enchanting center pieces for the 4th July then here is the perfectly cute, fun and totally simple idea for your work on in like 10 to 15 minutes. You would need mason jars, tea lights and some white rice. Paint half of the rice in blue and red food colors and then layer them up in the mason jar and top with the tea light and thus the patriotic decor is ready to be flaunted around. Details here improvementscatalog
DIY Little Mermaid Mason Jar Light – Free Tutorial: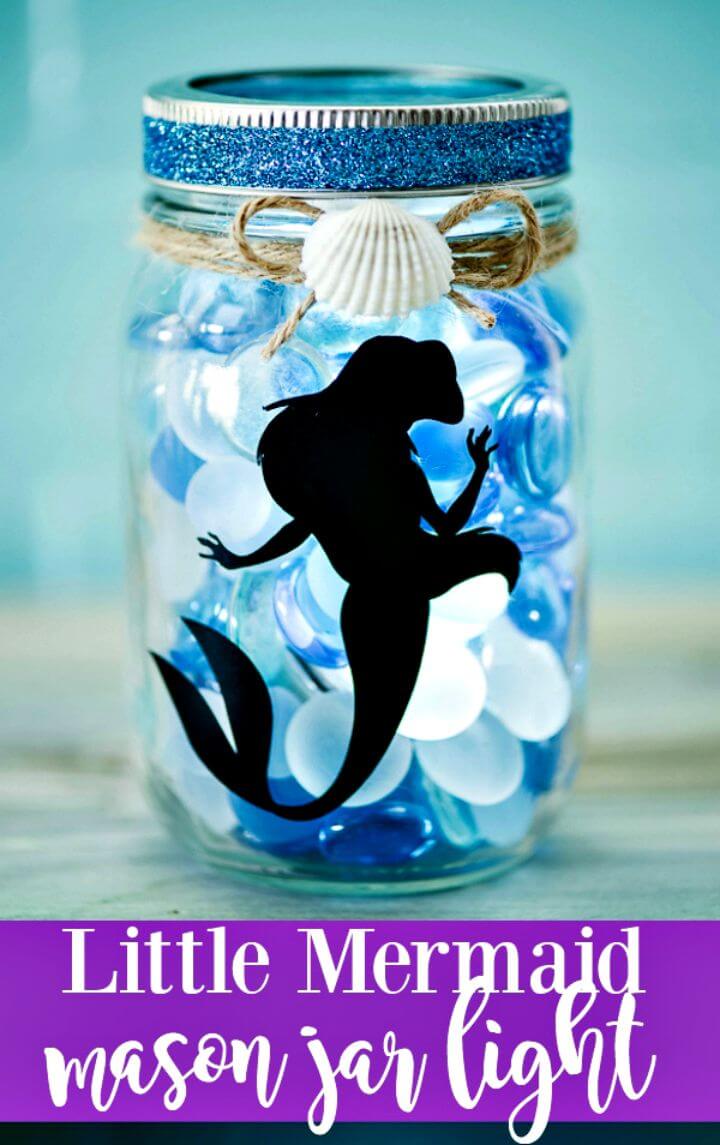 There is no need to tell how much the kids are in love with the Disney land so here is something that would make their room decor look inspired from the charm of the Disney land. This is an adorable mermaid mason jar light that would look absolutely chic and fun on the shelves or the table of the kid's room. So you would need a mermaid silhouette, blue glittered cap, and the marbles in blue and white to fill the jar with. The rest of the details are here apumpkinandaprincess
Easy DIY Mason Jar Pendant Light – Free Tutorial: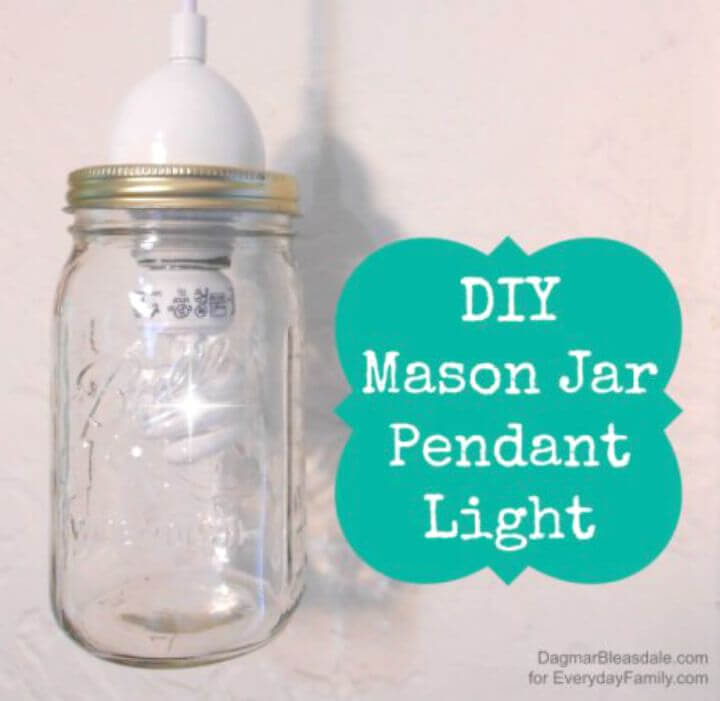 If you got some skills of the electrician then you can easily create these pretty pendant lights for your spaces and save yourself a lot of time and money. So you would need the basic plug in socket accessories and the mason jars to make these simple yet fun looking mason jar pendant lights and use them anywhere in the house be it kitchen, porch living or the bedroom. Here is the link to grab the details of the idea with easy steps everydayfamily
How To Make Cute Mason Jar Chandelier – Free Tutorial: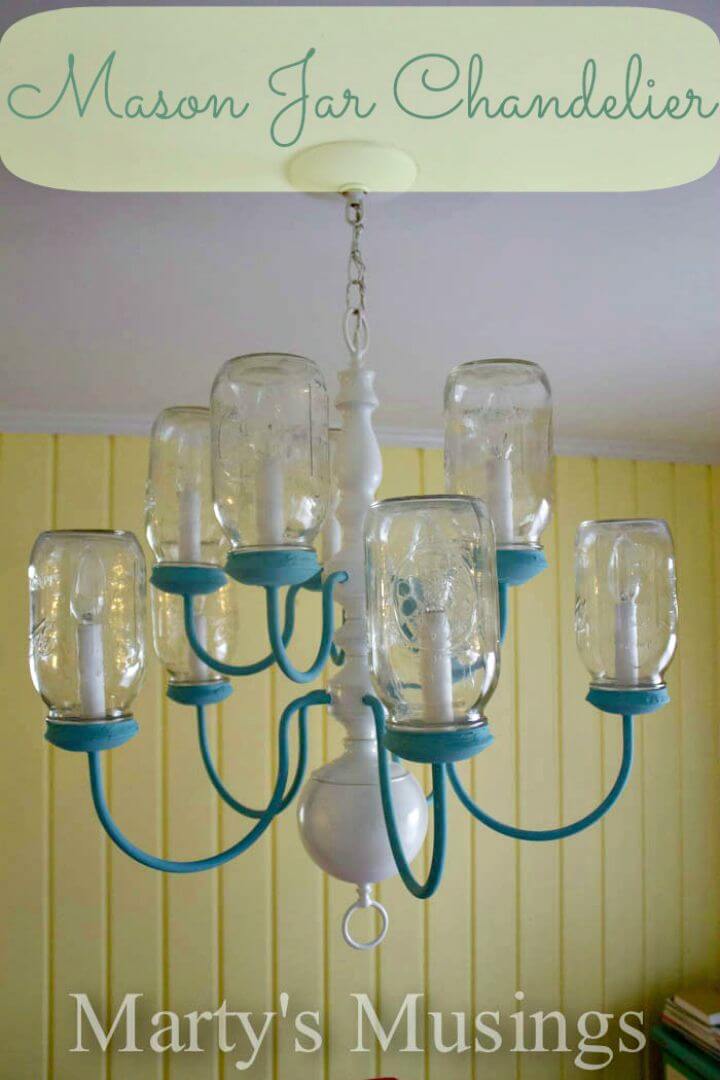 Bring some shabby chic vintage vibes in your home decor with this lovely chandler that you can make on your own with some feasible techniques and the tricks. Grab an old chandelier from a dollar store and then paint it and add the mason jar lights to it. Here is the link to let you enjoy some lovely touches to be added in your home decor.Here is the link to grab the easy tutorial details martysmusings
How To Make You Own Mason Jar Solar Lights – Free Tutorial: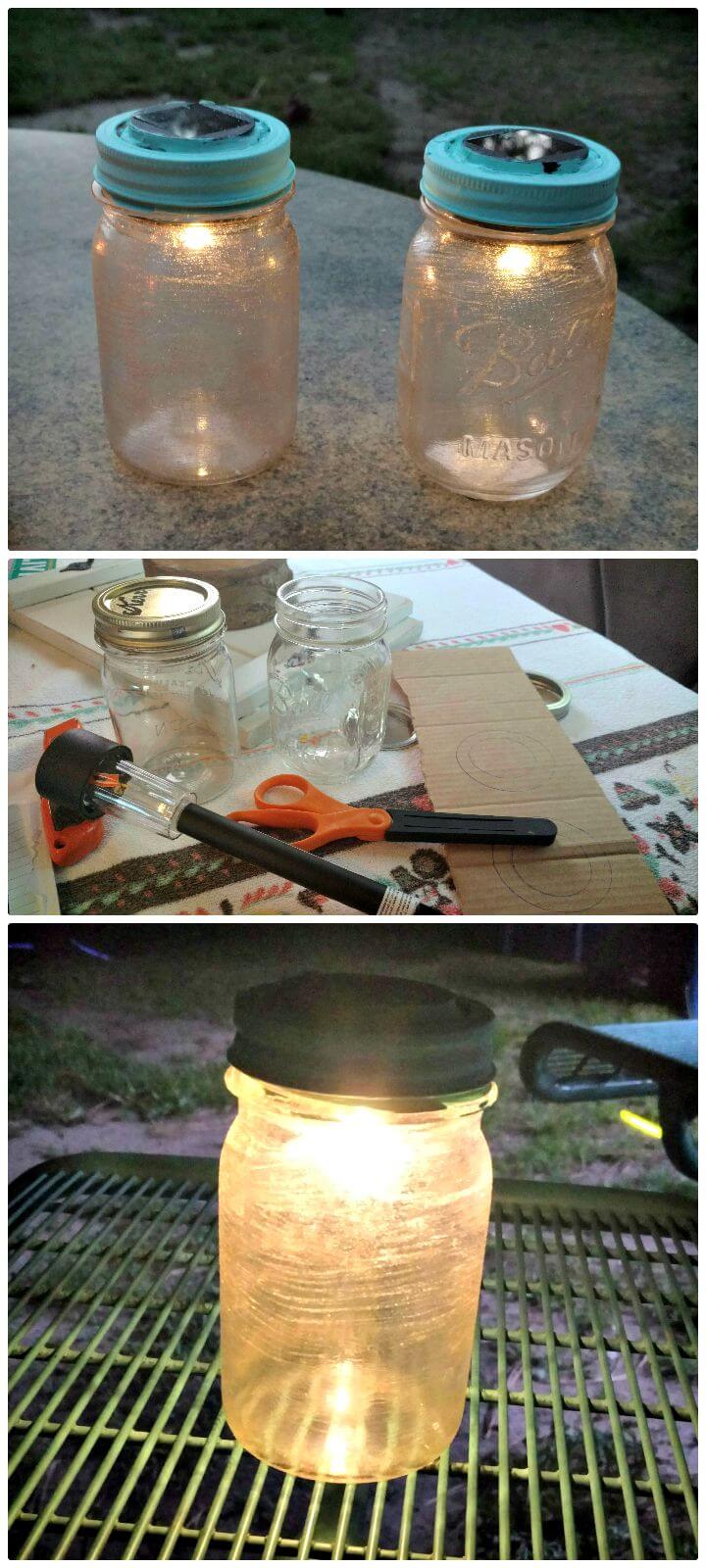 Add some dreamy touches to your outdoor with these handmade mason jar lights to be added in your spaces. You don't have to work so much on these mason jars lights to make them look decorative. You jut need to paint the lids of the jars to make them look so pretty and simply gorgeous and fun too. Here is the link for easy and fun details of the idea wenatcheemomblog
DIY Solar Mason Jar Lights – Step By Step Free Tutorial: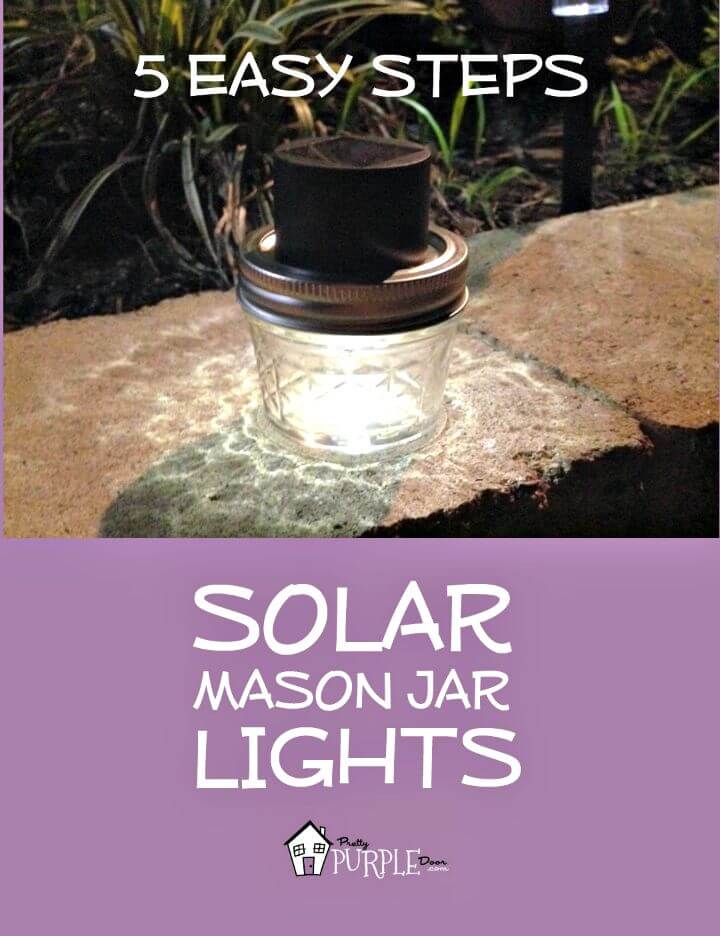 Save your power and use these pretty handmade solar lights in the outdoors to get the free light in your spaces. These mason jar solar lights are so cute and fun to create yourself at home with some technical light stuff and a cute mini mason jar. You can check out the details of the pretty and functional idea here with easy steps and the instructions prettypurpledoor
How To Make A Mason Jar Light In Minutes – Free Tutorial: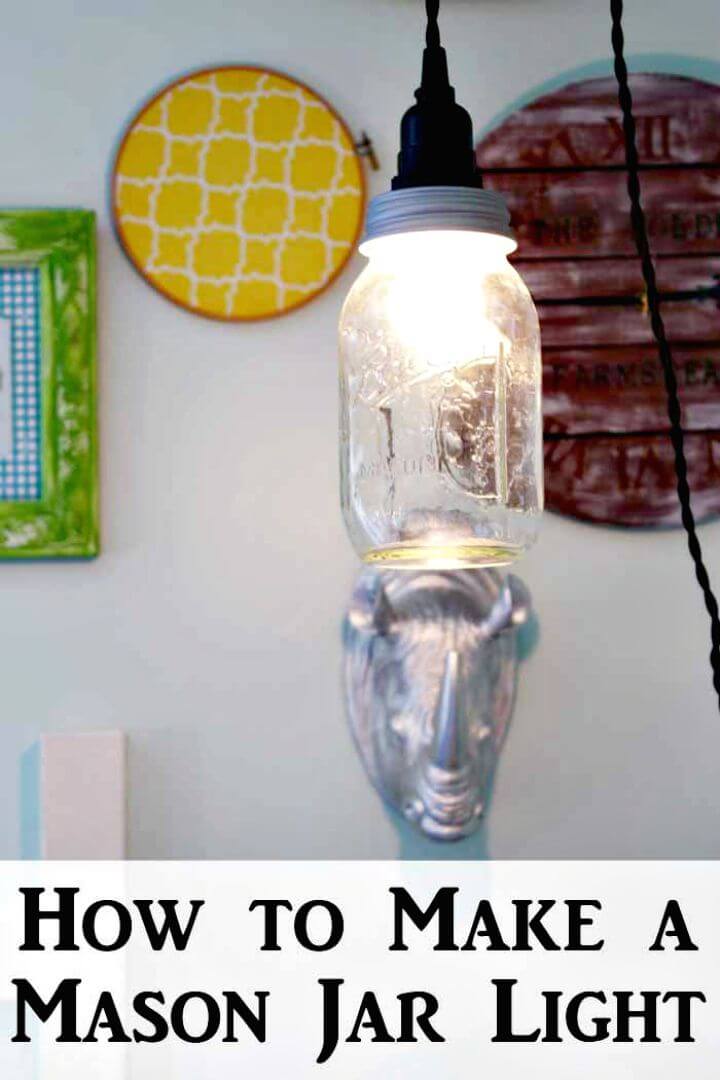 If any any area of your is demanding some light there then you should really be getting your hands on these feasible mason jar lights to not only save your money but time too. You would need an empty mason jar, bulb with socket and wire and some of your tools to work this easy and fun mason jar light to be hung around and light up your spaces with.Check out the details of the idea here thecountrychiccottage
DIY Vintage Canning Mason Jar Pendant Lights – Step By Step Free Tutorial: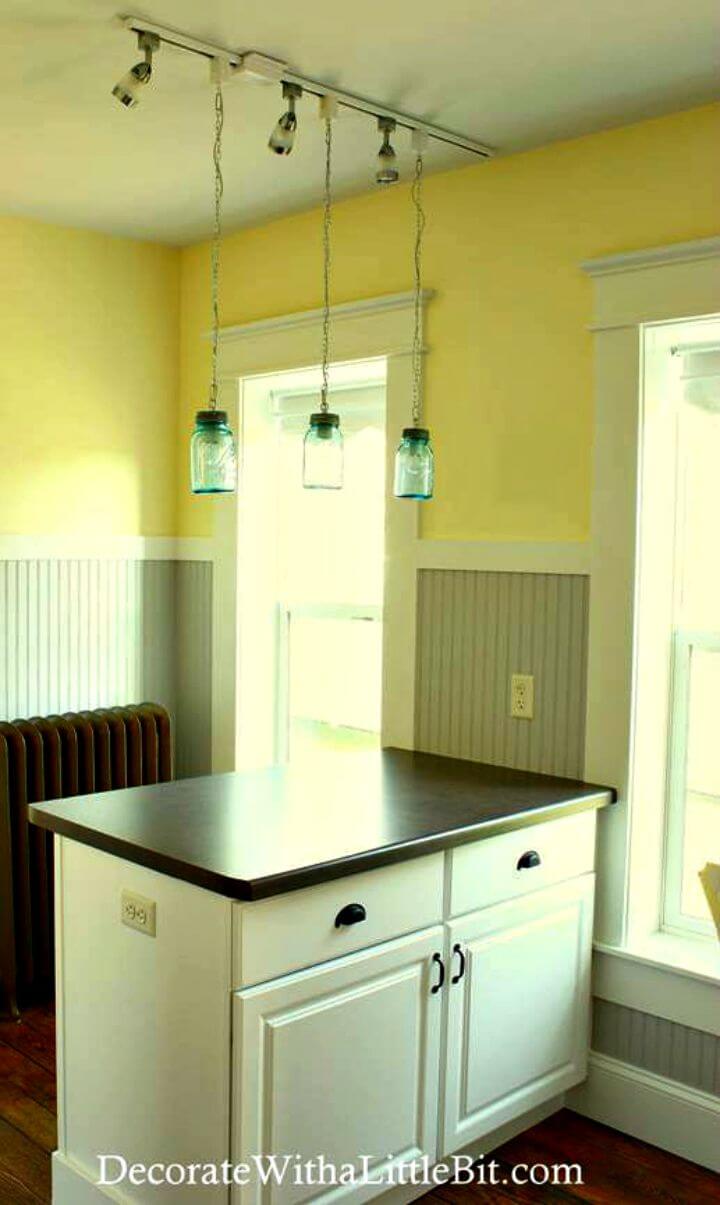 Pendant lights are the great choice for a home as they not only provide you the ample light but also add the perfect style statement to your spaces too. Os here is how you can DIY this petty yet simple and cost efficient mason jar pendant lights into your kitchen and enjoy a great jazzed up look of your spaces. You check out the tutorial details here remodelaholic
DIY Farmhouse Light With A Mason Jar – Free Tutorial: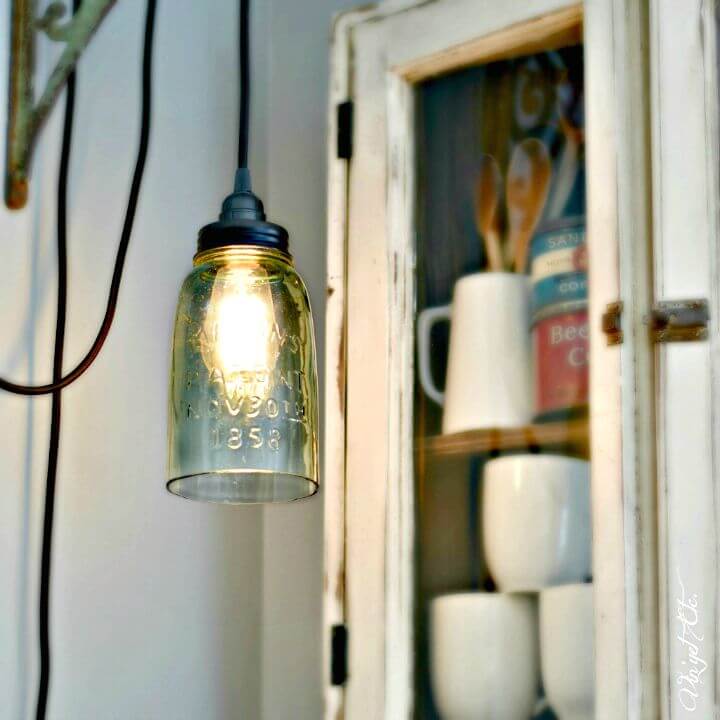 We all love the country side decor and style added to our spaces and there are so many ways to do that. So if you want to bring some farm house appeal to be added in your places then getting this perfectly cute pendant light would be the apt thing to get your hands on. The mason jars have been cut out from the base for the perfect farm house look and for the rest of the details browse the link here vinyetetc
DIY Illuminated Hearts Mason Jar Light – Free Tutorial: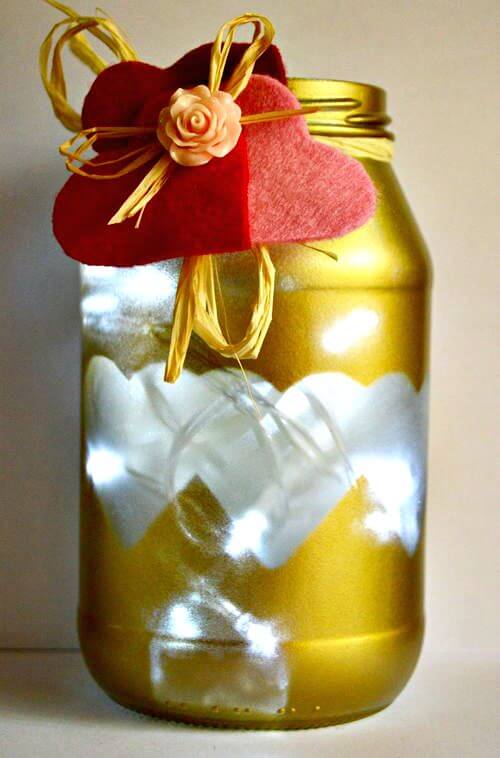 How about a mason jar light that bring not only the perfect glow but the decor beauty too. Here is this adorable painted mason jar light with hearts on it. When you would place your light inside the mason jar and lit it up the hearts would illuminate and create the perfect charm for your tables and the shelf decor. You can learn the tutorial details and the instructions of the idea here favecrafts
How To Make Mason Jar Tiki Torches – Free Tutorial: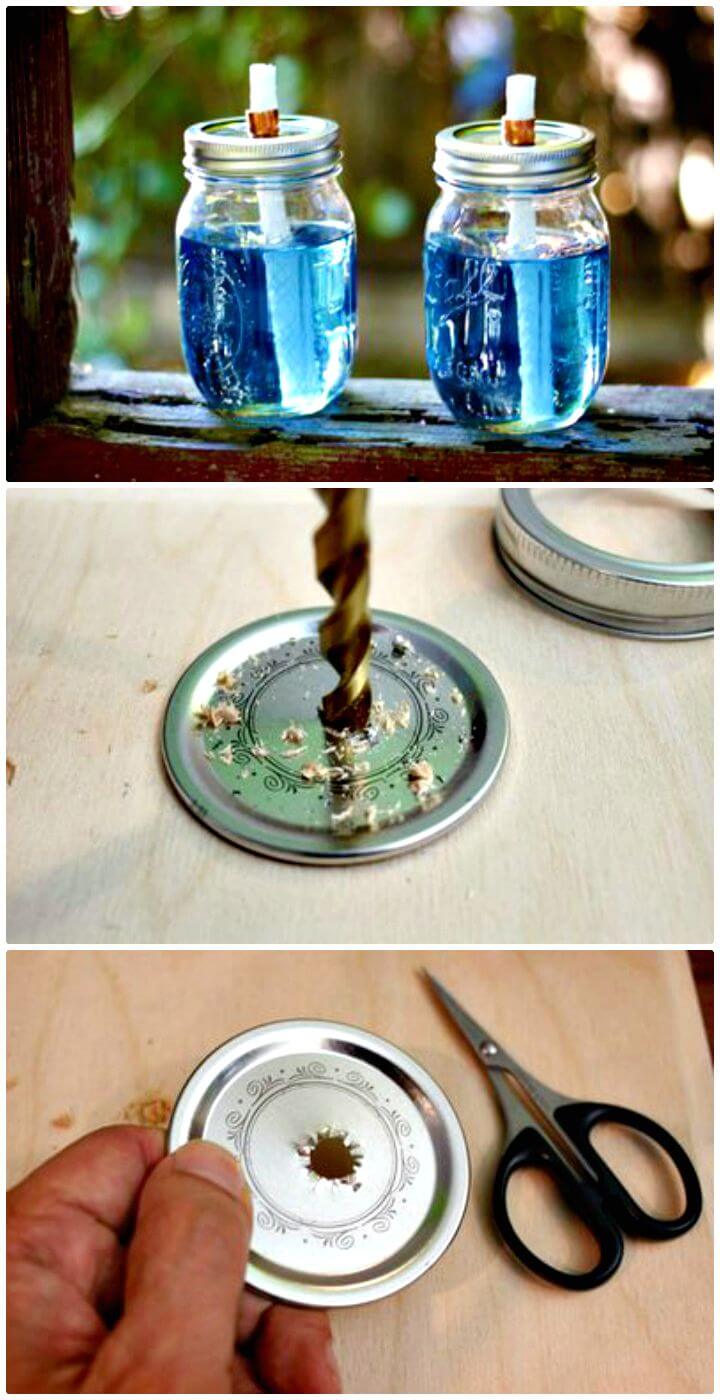 The summer are all about the outdoor fun in the evenings and the nights so you would really need some fun and functional lights to be available in your garden or the backyard spaces. Here is the idea of creating the perfect Tiki lights to your spaces. They would look great standing on your outdoor tables or hang them to create more impressive display around your spaces. Check out the step by step tutorial details of the idea here ehow
DIY Mason Jar Drop Lights – Free Tutorial: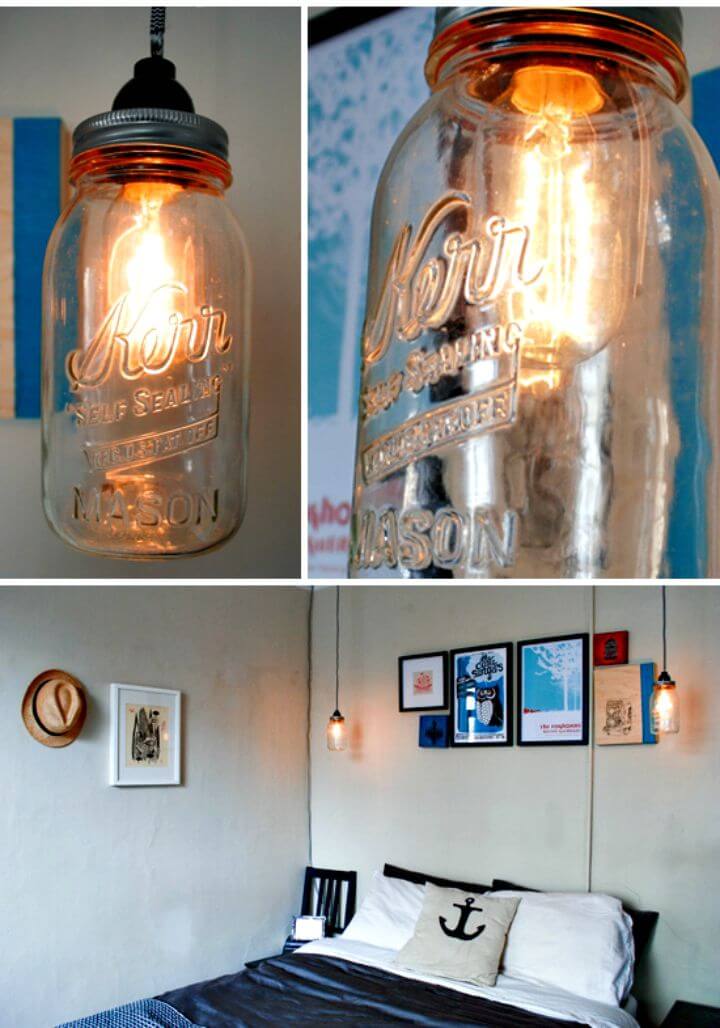 DIY Mason Jar Light Fixture – Free Tutorial: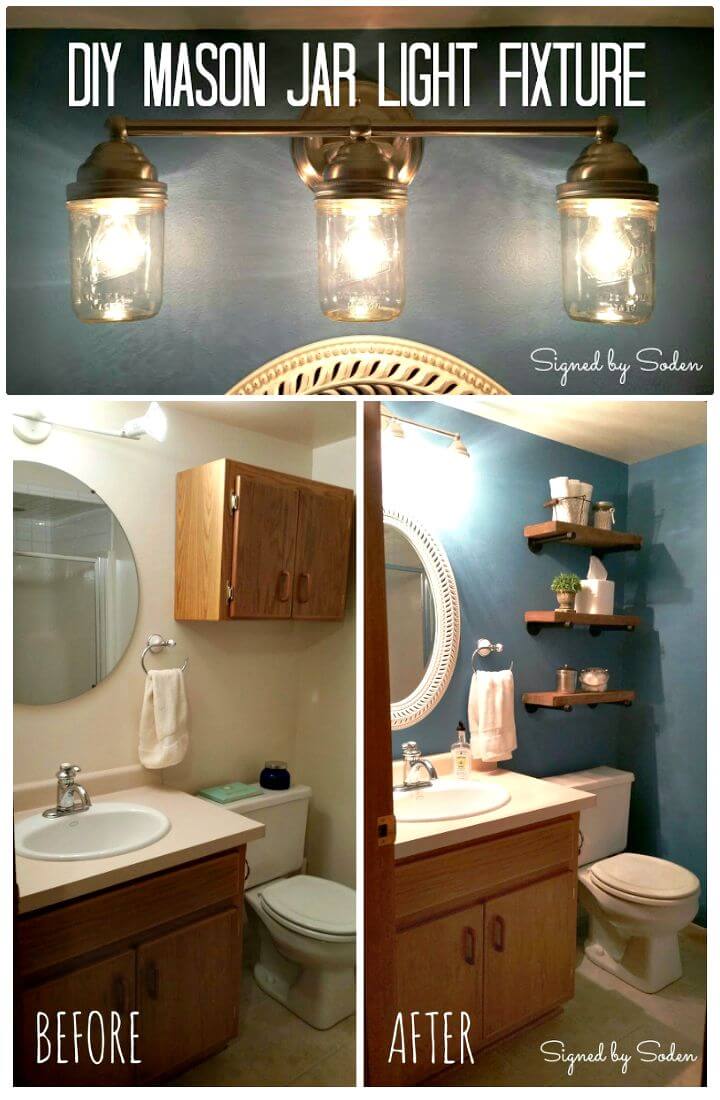 You need a well established and efficient light system in your bathrooms especially over the vanity so that you can easily get your self ready and do your makeover. So why waste money on the market bought lights as you can create this utterly functional and totally professional looking mason jar lights for your spaces. You can check out the details of the idea here signedbysoden
DIY Mason Jar Pendant Lights – Free Tutorial: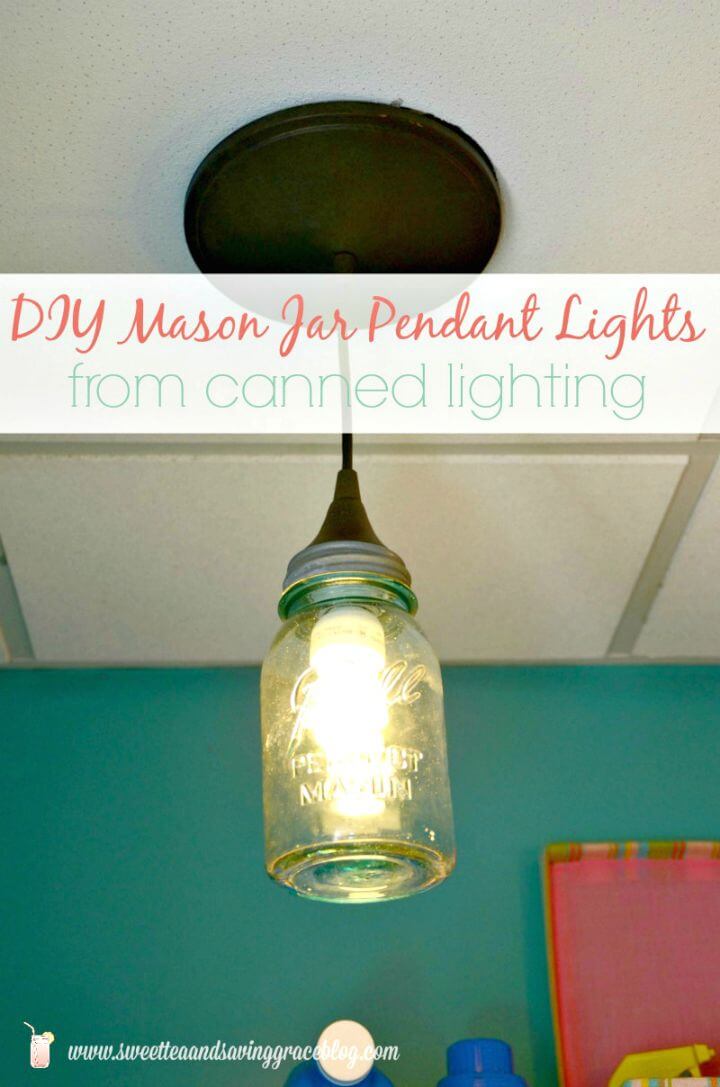 Laundry rooms are boring but still can manage some cute ways to make them look fun and decorative. Adding these cute mason jar pendant lights would the perfect idea to freshen up your laundry space and make it look all spruced up and fun. You can easily make these pendant lights out of the mason jar, bulb and some electrical stuff like wire and sockets. You can check out the rest of the details here sweetteaandsaving
DIY Mason Jar Solar Light – Free Tutorial: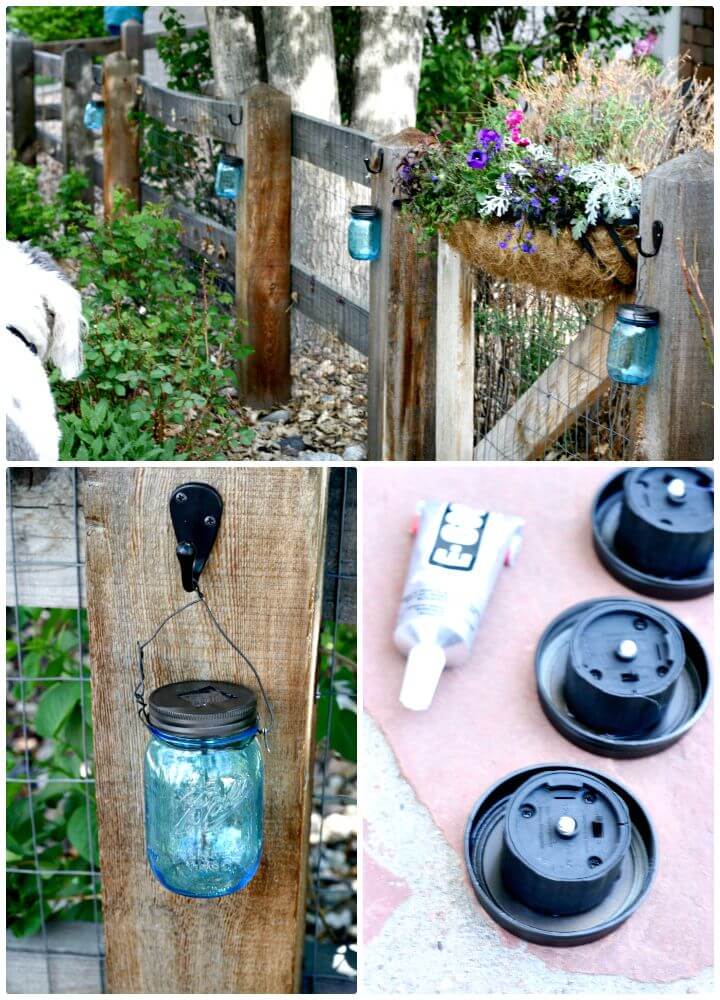 The lights are necessary to be installed in your outdoors and you can now install these mason jar solar lights in there and let them stay lit all the night and they would not cost you even a single penny.You can use either the simple white mason jars or the blue jars to turn them into the cute and simple solar lights and then hang them over your fence and get the ample light. details of the idea are given here thriftdee
How To Make A Fairy Light Mason Jar That Actually Works – Free Tutorial: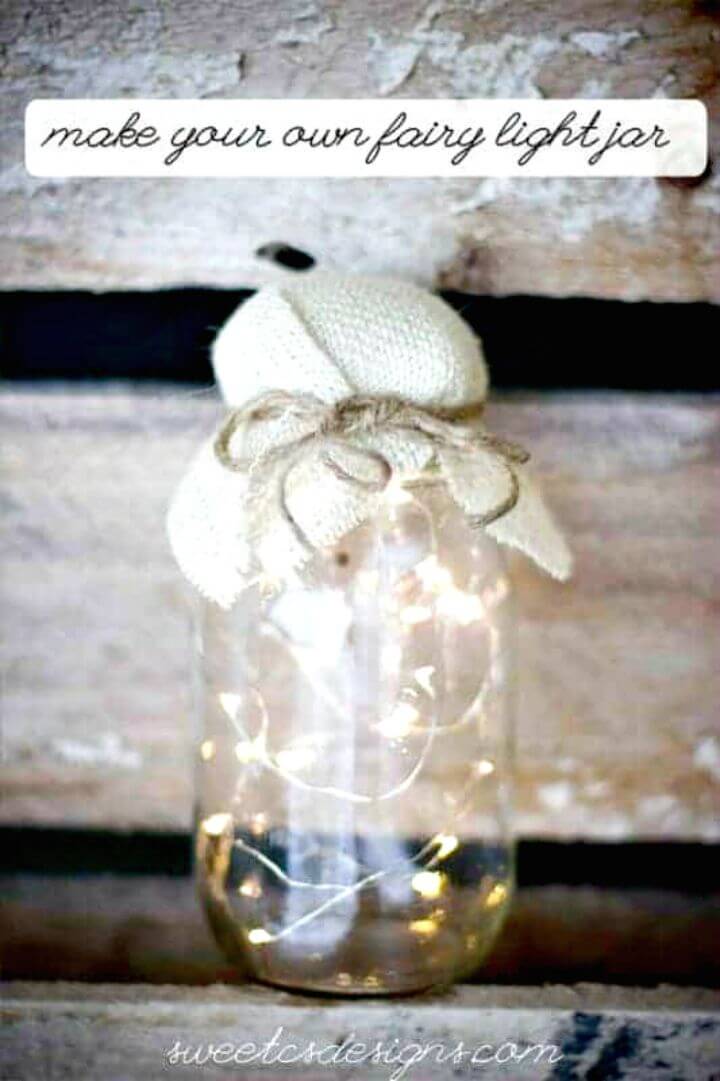 Fairy lights are just too whimsy and fun to have on your tables, shelves or the mantles and make your spaces look all brighten up in the cutest and the most delightful ways. You can easily install a fairy light with the use of the mason jar by just adding the tiny LED light strings into the jar and providing them battery at the back of the lid. To make it look more decorative it has been accessorized with rope and burlap sweetcsdesigns
DIY A Vintage Mason Jar Pendant Light – Free Tutorial: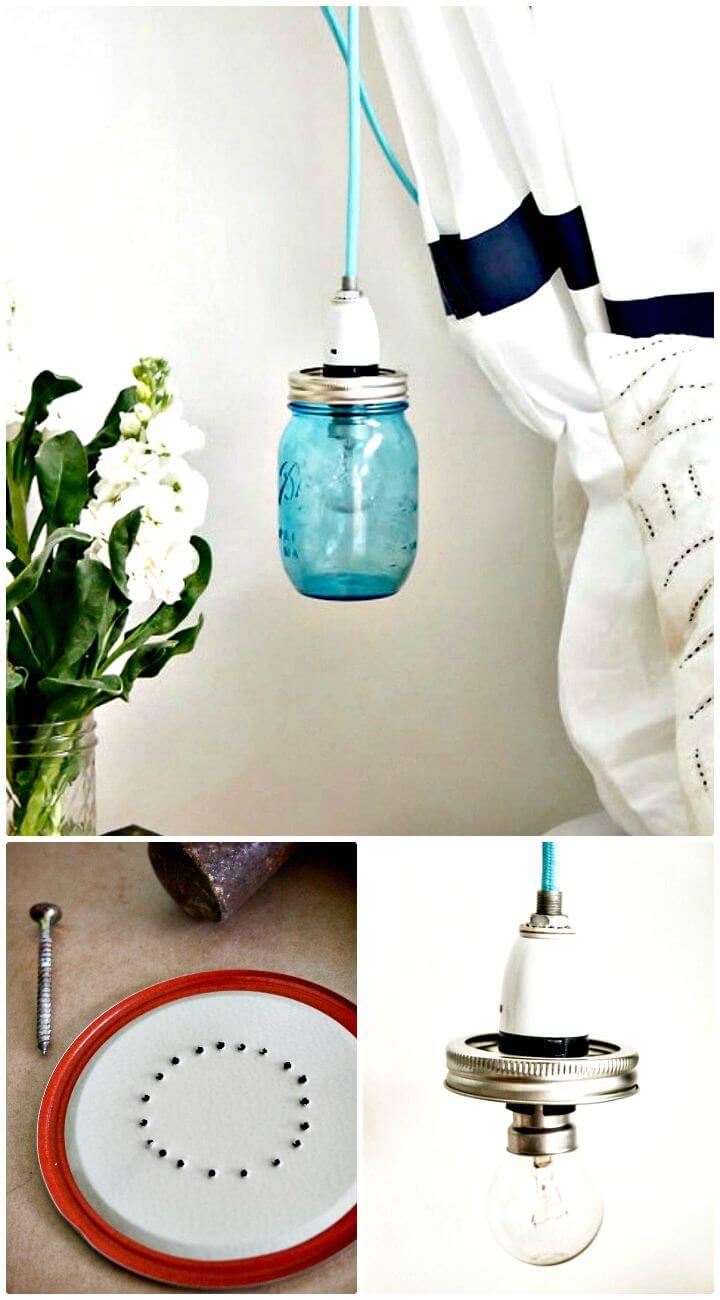 White and blue are the perfect coastal shades for your decor theme of the beach and to get the matching pendant lights for your pretty beach theme these mason jar pendant lights are just awesome to have in your spaces. This blue mason jar with white socket of the bulb has turn out to be so beachy and cute and for your chic styled spaces. You can learn to create this pretty light here abeachcottage
Easy DIY Mason Jar Luminaries – Free Tutorial: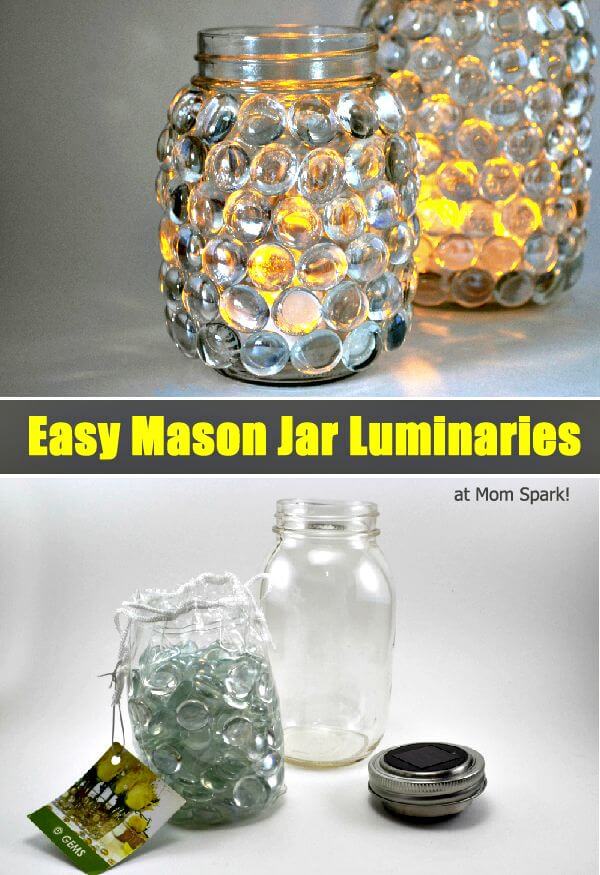 Those gorgeous table luminaries that you see on the shops with hefty price tags can now be cheaply created at home using the simplest of the supplies and the easiest of the crafting techniques. SO grab a mason jar, add glue to it and then add the glass gems to it all around and they are ready to carry the tea lights inside and emit the gentle glow in your spaces by standing adorably on your tables or the shelves. Check out the details of the project here momspark
How To Make A Wondrous Woodland Mason Jar Light – Free Tutorial: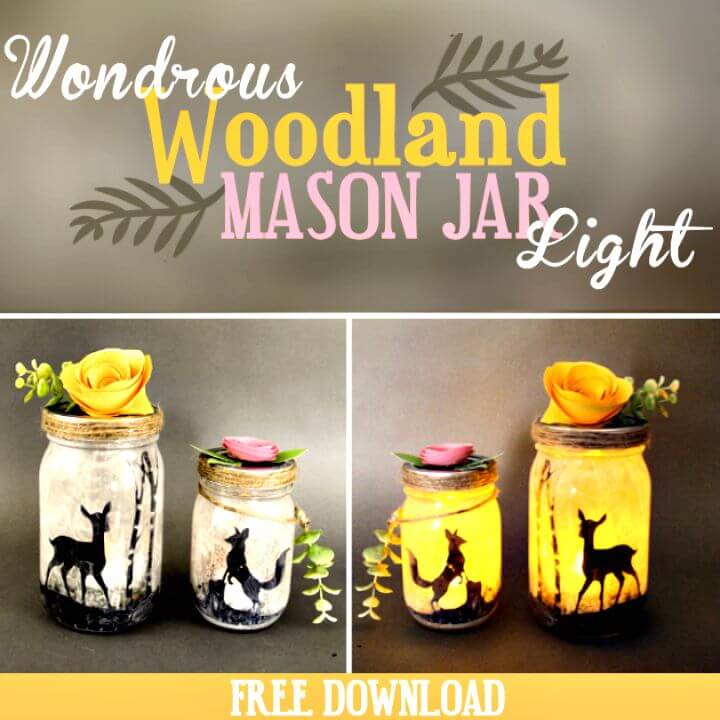 We all love nature and here is the utter heart warming way to bring the natural in your home decor with these whimsy woodland lamps to be added on your shelves, mantles or the window spaces. You just need to print out the deer and fox silhouettes on the paper and then attach them to the painted mason jars and they are done. The embellishing with the paper flowers is just adding the icing on the cake to make the lamps look beautiful. Check out the details of the idea here happiness
Easy DIY Mason Jar Lamp – Step By Step Free Tutorial: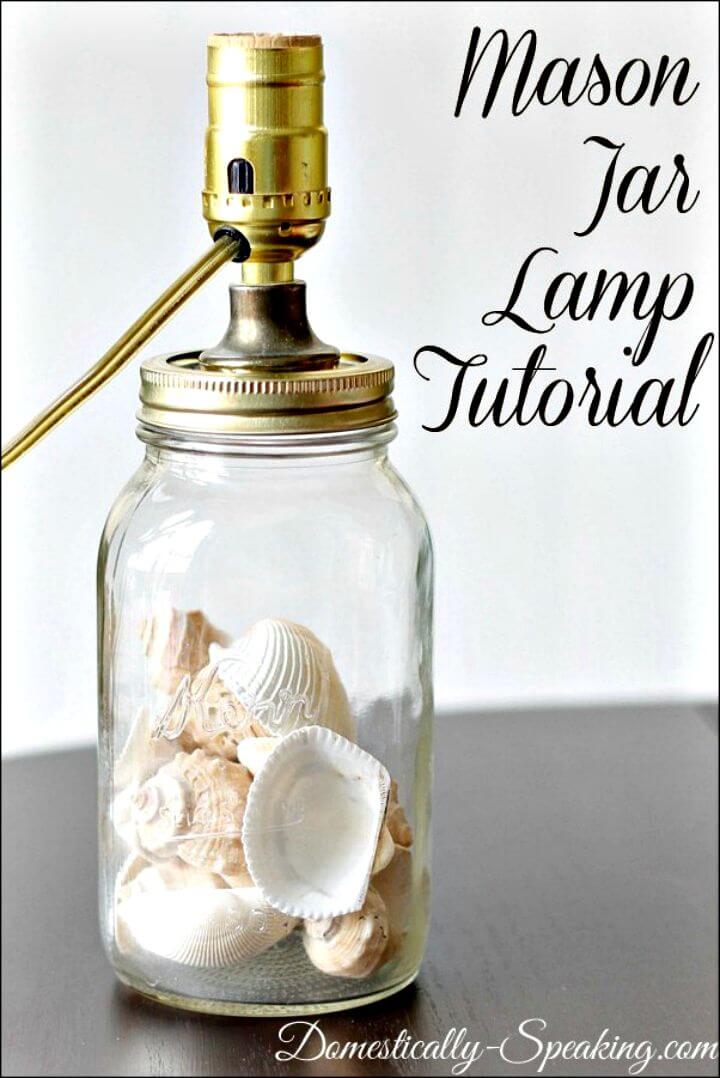 The shells you collected from your beach trips would make the best and the most functional display on your shelves in the form of this lovely mason jar sea shell lamp. Apart from the mason jars and the shells you would need a laming kit to get this simply yet gorgeous lamp for your space and bring in the coastal vibes. Check out the easy and fun details of the project here with all the instructions and guide domestically
Easy DIY Mason Jar Solar Light – Free Tutorial: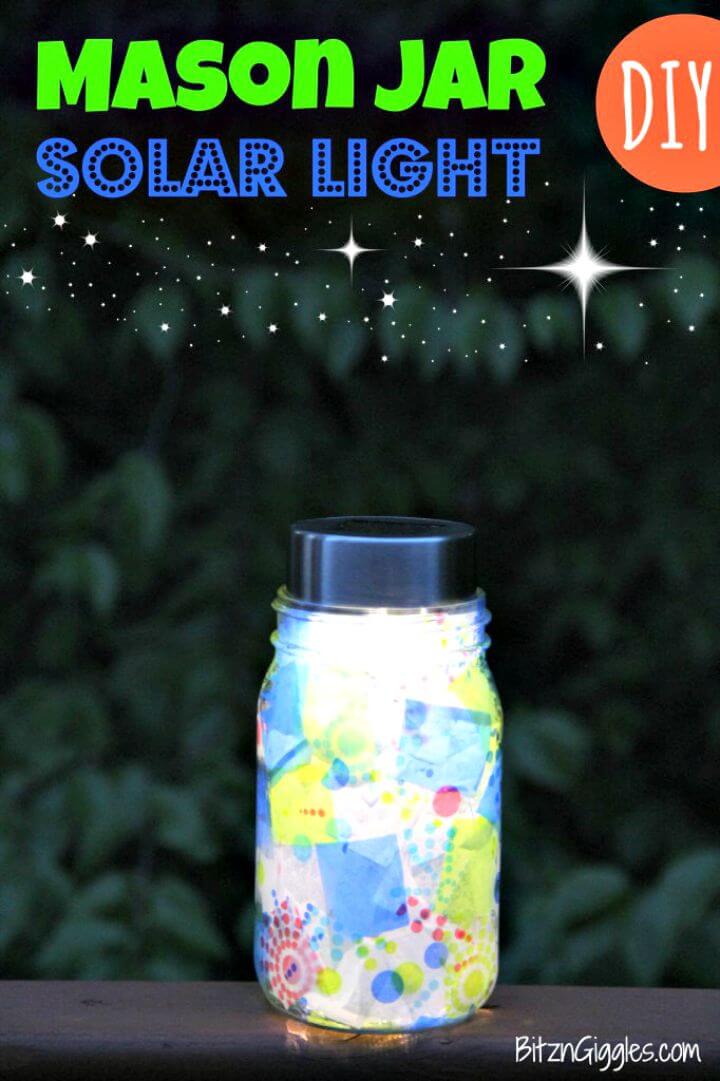 The mason jars solar lights are no new to the crafty people but there are ways you can make them look more special, fun and custom for your decor needs and desires. Here the simple mason jar solar light has been turned into a fun decorative piece for your shelves or mantles by gluing the colorful patterned tissues inside the jars. Grab the pretty details of the idea here smartschoolhouse
Easy DIY Mason Jar Christmas Display – Step By Step Free Tutorial: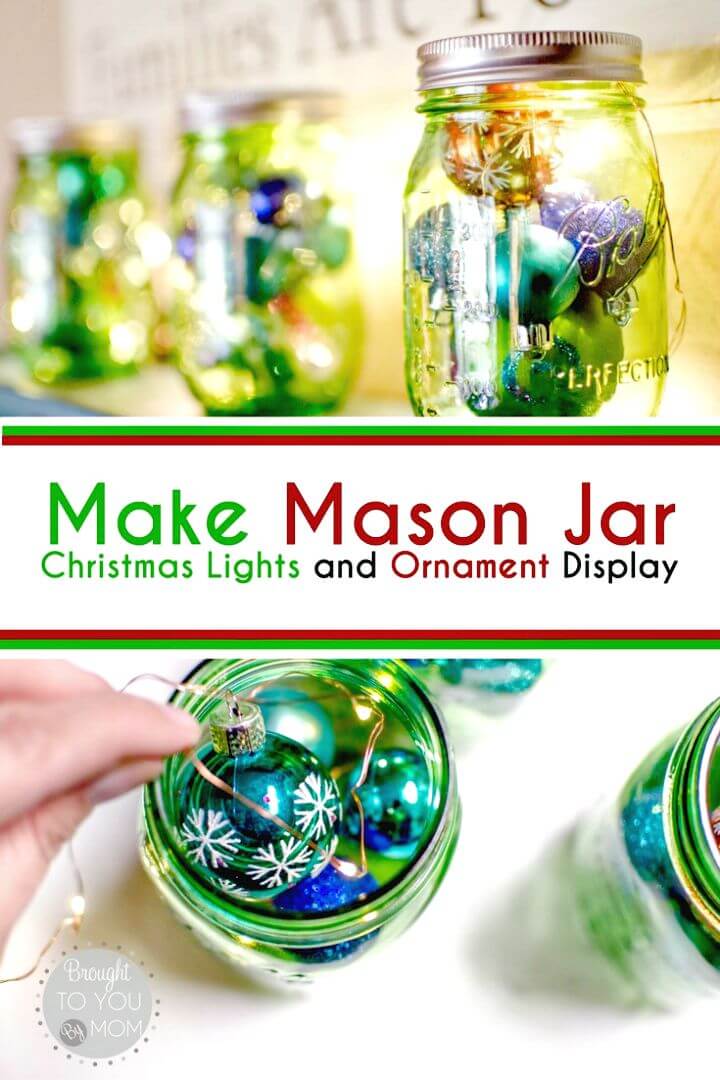 The whole house is lighted up beautifully when the Christmas in knocking your door with lots of happiness and fun. So this time you can arrange these unique and lovely lights for your mantle or the shelf places with a huge beauty and appeal. These mason jar Christmas lights are made up out of the mason jars and the colorful Christmas tree balls. You can catch the complete details of this pretty idea here brought
Easy DIY Mason Jar Light – Free Tutorial: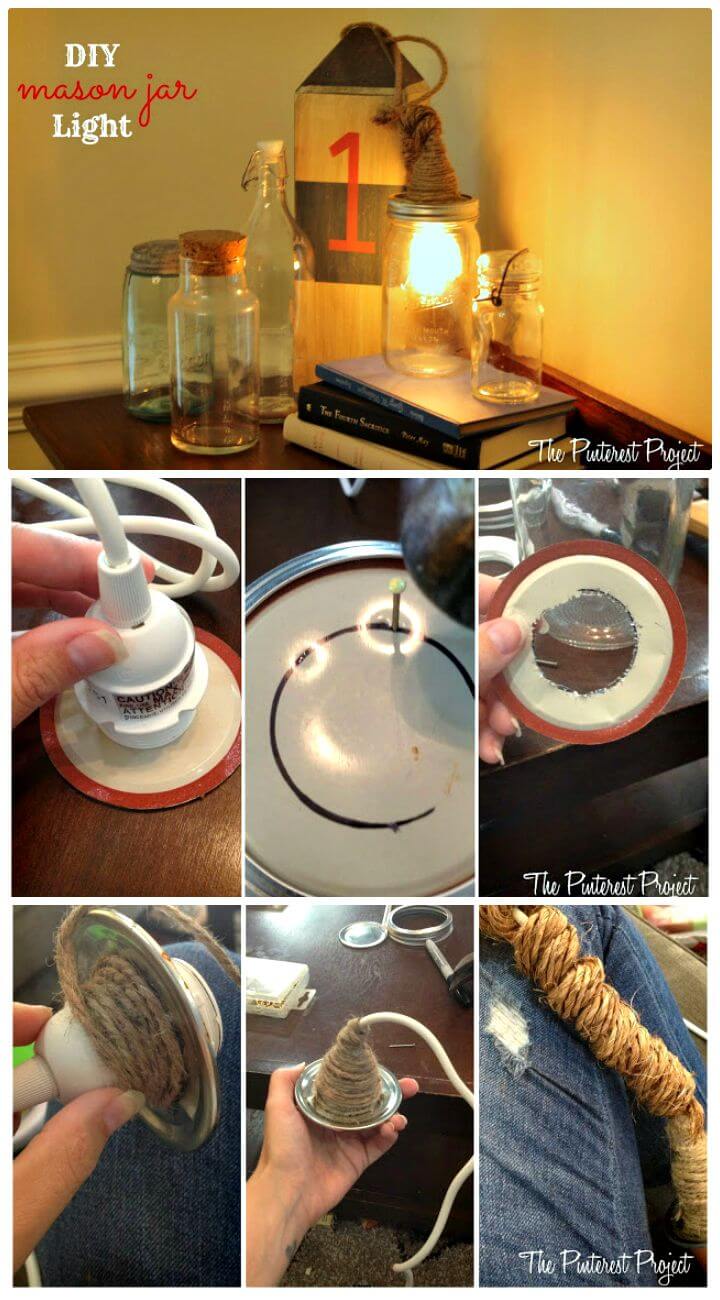 The study desks or the working tables in the house really need the ample light source so that you can the family members can work with all the ease and feasibility there. So here is how you can create the perfect perfect light for them to study at night or work on some assignments or office tasks. Not only the light but you would get the perfect decorative boost up too with thees mason jar lights. Hack the idea here thepinterestproject
DIY Mason Jar Hanging Light Fixture – Free Tutorial: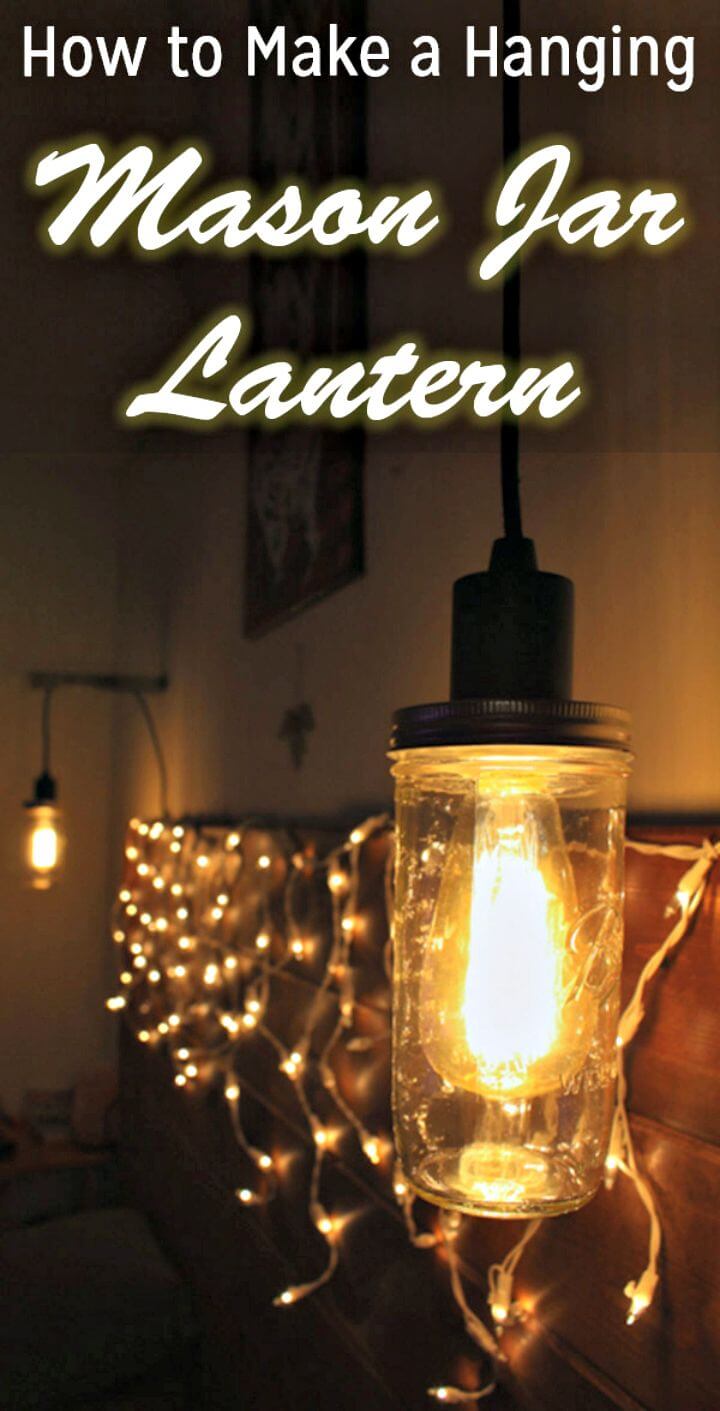 If you think your outdoors need some more light to get fully lighted up then you are at the right place as we got the perfect plan for you to work on. Using the cheapest of the supplies like the mason jar and a bulb you can create these amazing hanging pendant lights for your spaces and make them hang over your outdoor walls with a perfect grace and appeal. Learn to make this pendant light right here craftingagreen
Easy DIY Mason Jar Lanterns – Free Tutorial: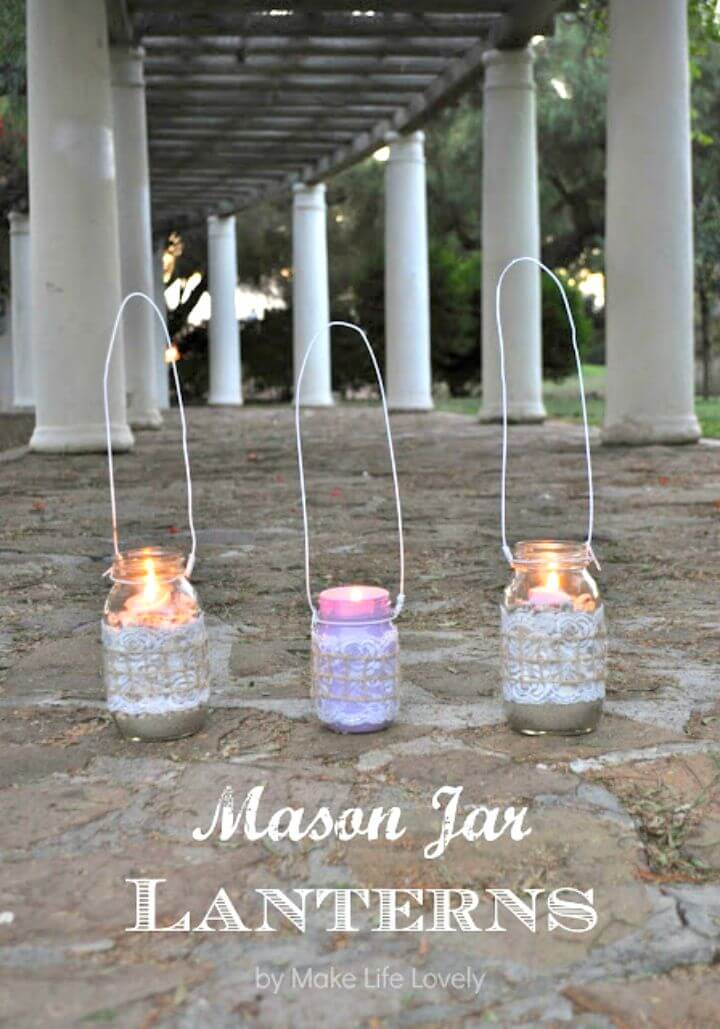 Summer nights or evenings are great to have some fun with the family or friends get to gather. So to prepare your backyard, garden or the patio for the party you really some cool and pretty lights and we got you the perfect ones. You can create these hanging lanterns for your outdoors having been made out of the empty mason jars and embellished with the lace pieces and jute twine for that shabby chic appeal. You can learn the easy tutorial of the idea here makelifelovely
DIY Glittering Gem Mason Jars Lights – Step By Step Free Tutorial: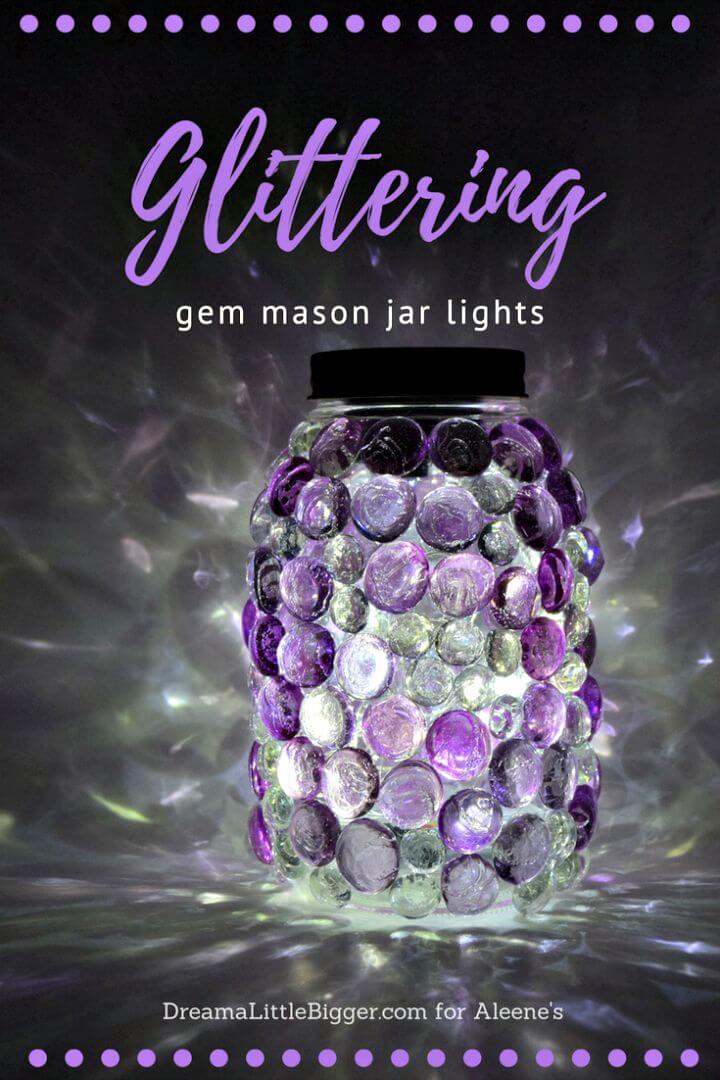 How cute and lovely it would to be to have these gorgeous luminaries in your living, bedroom or in the kitchen and get the romantic vibes added to your spaces in the real simple and fun way. You just a mason jar and get it glued with the round shaped glass gems and you are decor. Add battery lights or the tea lights to the jar and enjoy the awesome light effect created in your spaces at night. Check out the easy and fun details of the project here aleenes
DIY Mason Jar Glitter Lava Lamps – Free Tutorial: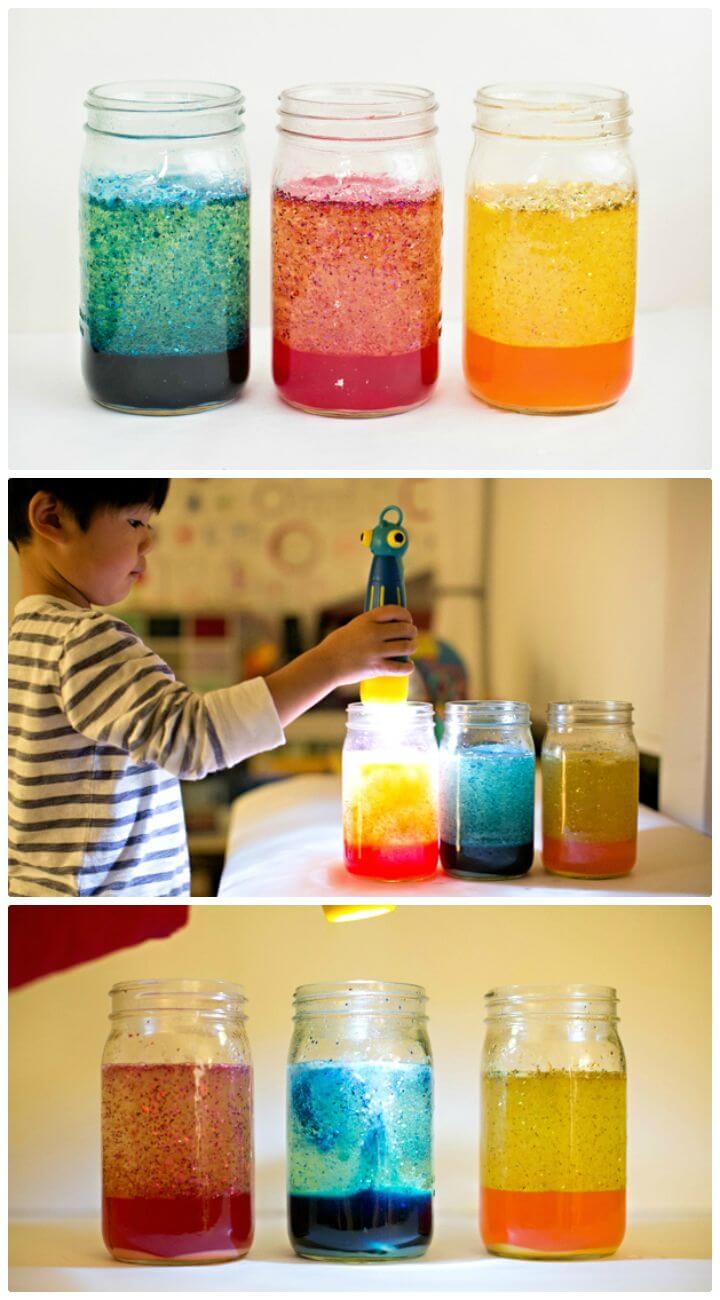 If your kids love science then there is this project that you can do with them and have lots of scene and decor fun this weekend. These are the cute, colorful and totally amazing looking lava jars lamps to be a funky part of your table and shelf decor. You can check out the details of the idea here to have some fun time spend with the kids through this awesome project to work together with them hellowonderful
DIY Frosty Mason Jar Lanterns – Step By Step Free Tutorial: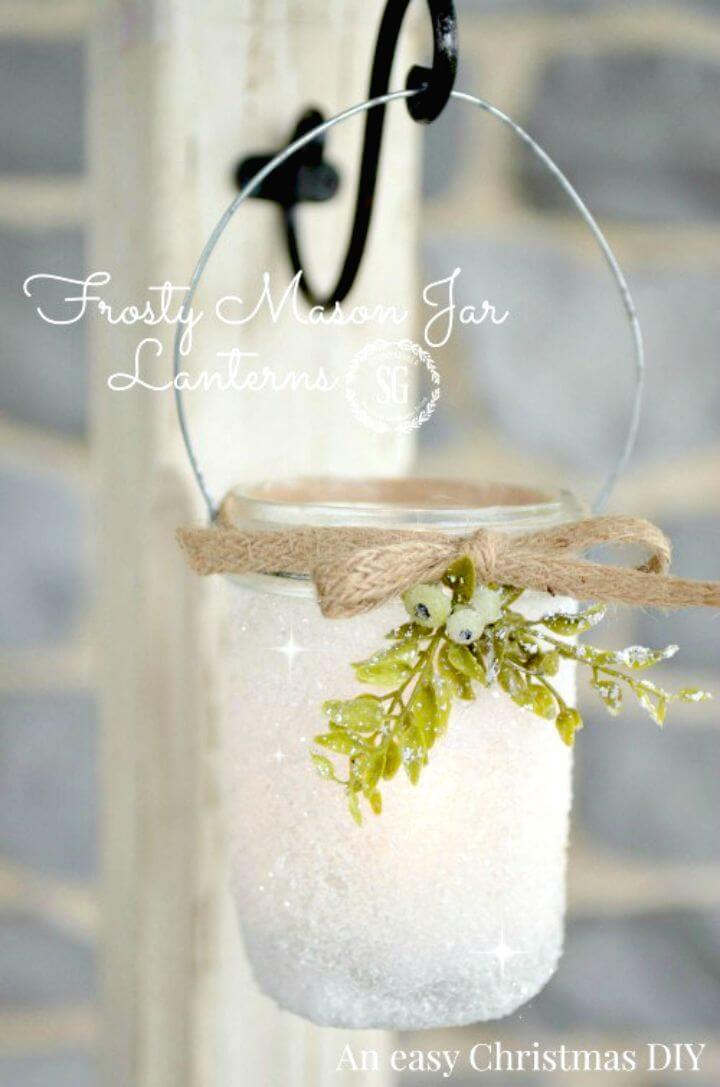 When its the Christmas around, we love decorating our spaces and the lights are the must part of the festive embellishing specially for the shelves, mantles and the small tables. So with the perfect Christmas and winter feel this frosty mason jar light would be the gorgeous ones to display around either in your indoor to hang in your outdoors for a perfect festive charm. Check out the details of the idea here stonegableblog