Create magical moments with balloon crafts and elevate your party decorations to a whole new level. Learn how to decorate balloons with these 30 simple balloon crafts and decoration ideas to add flair and charm to any celebration. These DIY balloon crafts offer versatile and budget-friendly options for turning ordinary balloons into eye-catching masterpieces. From floral balloon arches and donut balloons to confetti-dipped balloons and balloon-powered sponge boats, these balloon craft projects cater to all tastes and themes. Impress your guests, friends, and family with these innovative party decoration ideas that can be customized for any special occasion.
These simple balloon decoration ideas contain step-by-step instructions, ensuring anyone can join in on the fun – regardless of their experience level. Balloon crafts are an excellent way to tap into your creativity and transform your event space with minimal effort.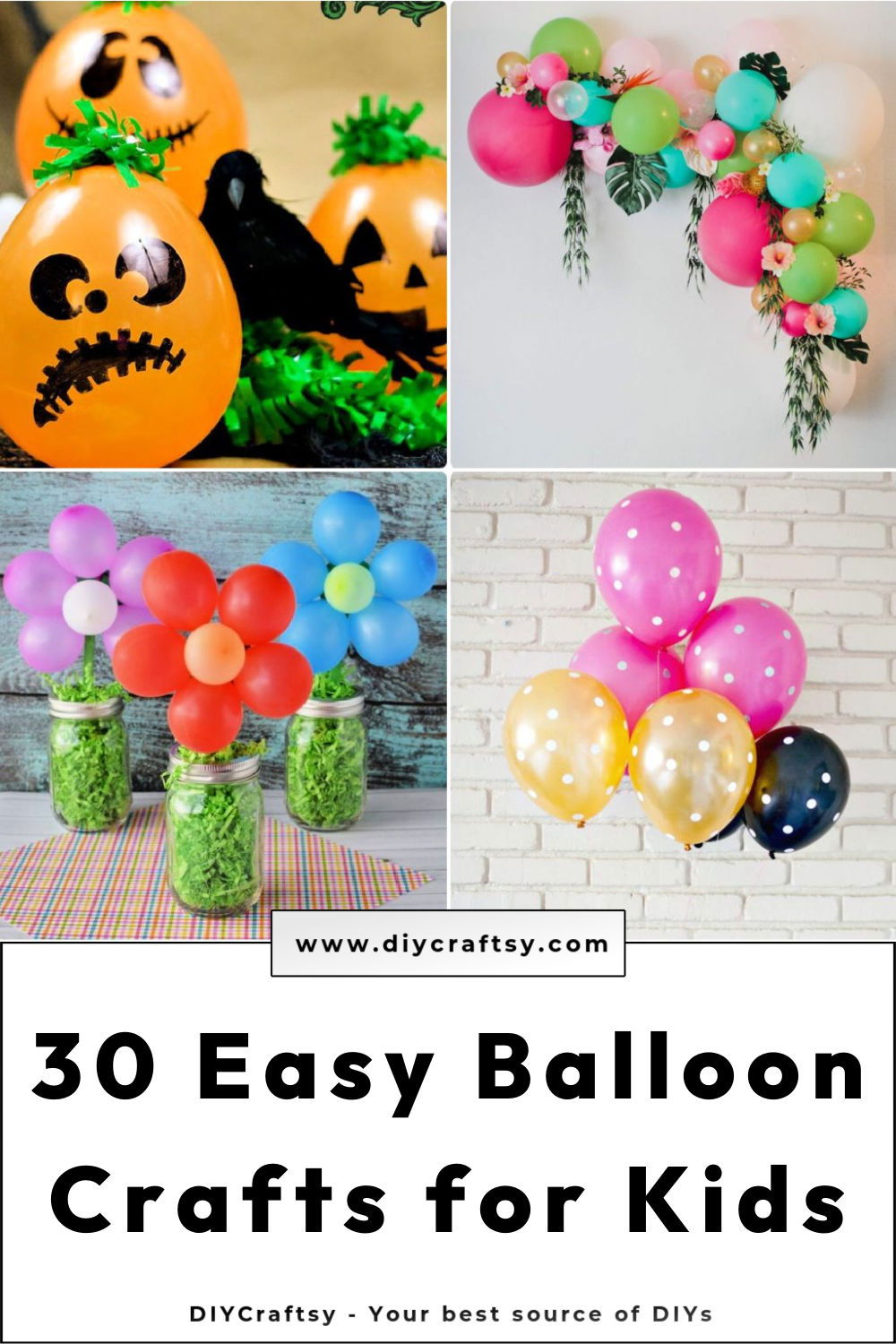 By incorporating various textures, colors, and patterns, you can create a unique and unforgettable experience for your guests. So, gather your supplies and explore these 30 simple balloon crafts and decoration ideas.
1. DIY Floral Balloon Arch With Afloral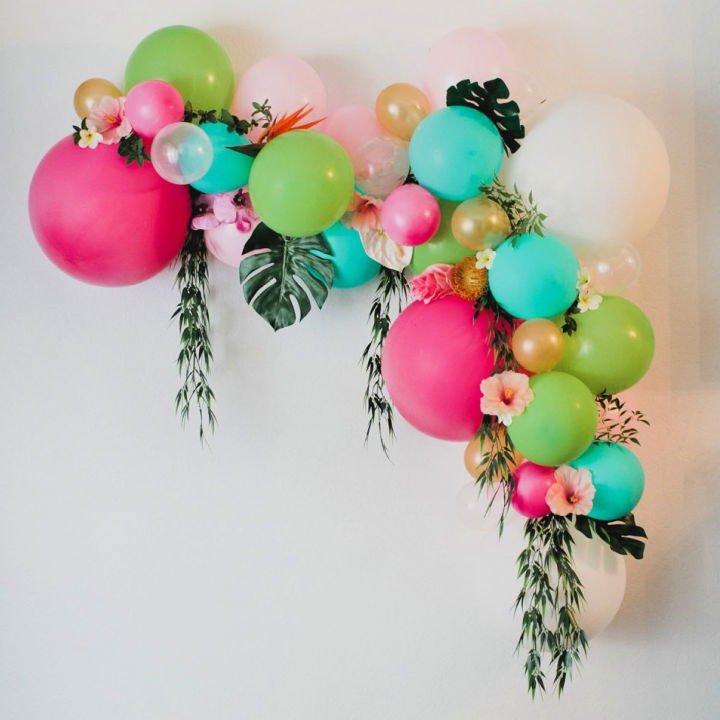 Immerse yourself in the vibrant allure of a DIY floral balloon arch, a stunning addition to any event, from bridal showers to birthdays. The preparation requires a selection of your favorite silk flowers and a myriad of balloons in your chosen color palette, along with other essentials like a balloon decorating strip, a staple gun, and glue dots.
You can assemble this playful statement piece in four straightforward steps, choosing your desired arch shape and gradually adding balloons and flowers. The beauty of silk flowers allows for advanced setup, ensuring your arch remains fresh and stunning for your guests.
This project marries the timeless charm of silk flowers with the delightful whimsy of balloons.From securing the strip to adorning it with flowers, each stage offers room for creativity. So, let's brighten up your next gathering with this fun and easy floral balloon arch! greenweddingshoes
2. How To Make Donuts Balloons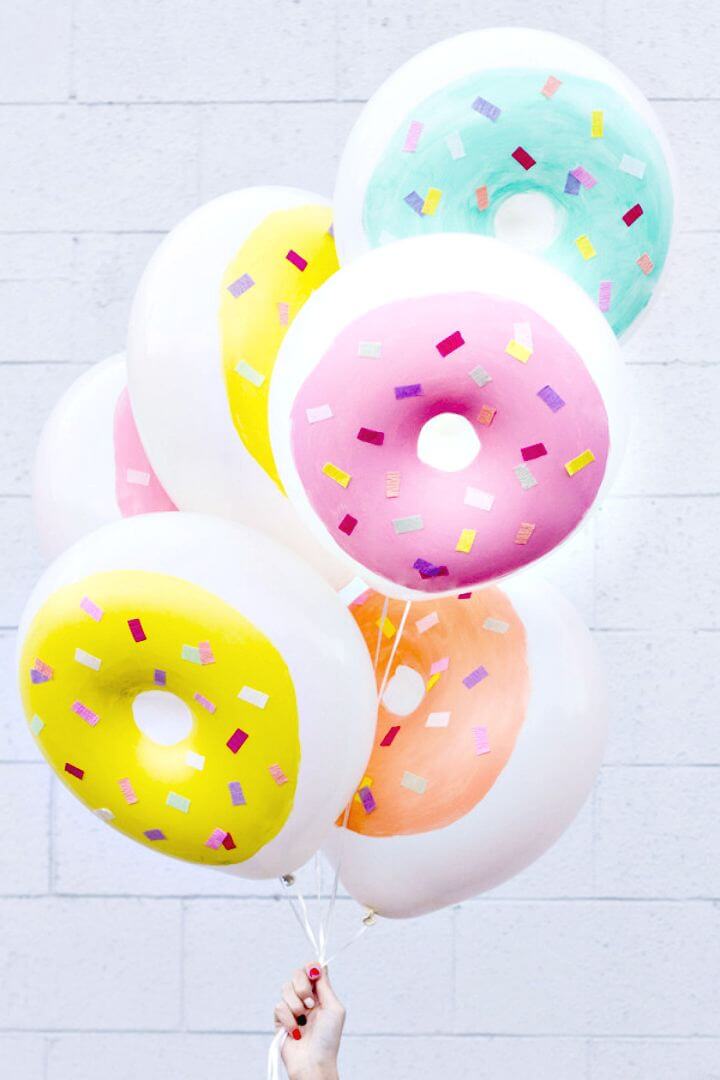 Celebrate any occasion with a unique twist using these adorable DIY donut balloons! Ditch the plain, unadorned look and deck out your donut-shaped balloons with vibrant 'glaze' and 'sprinkles,' creating an eye-catching spectacle your guests will love. These festive balloons add color to your party decor and become a fun conversation starter.
However, remember to serve actual donuts to satisfy the cravings your artfully crafted balloons are sure to inspire! Perfect for any donut lover, these balloons add a touch of fancy and charm to your party ambiance. Enjoy the process and make your celebrations memorable with these colorful donut balloons. studiodiy
3. Making Bumble Bee Balloons – Free Printable Templates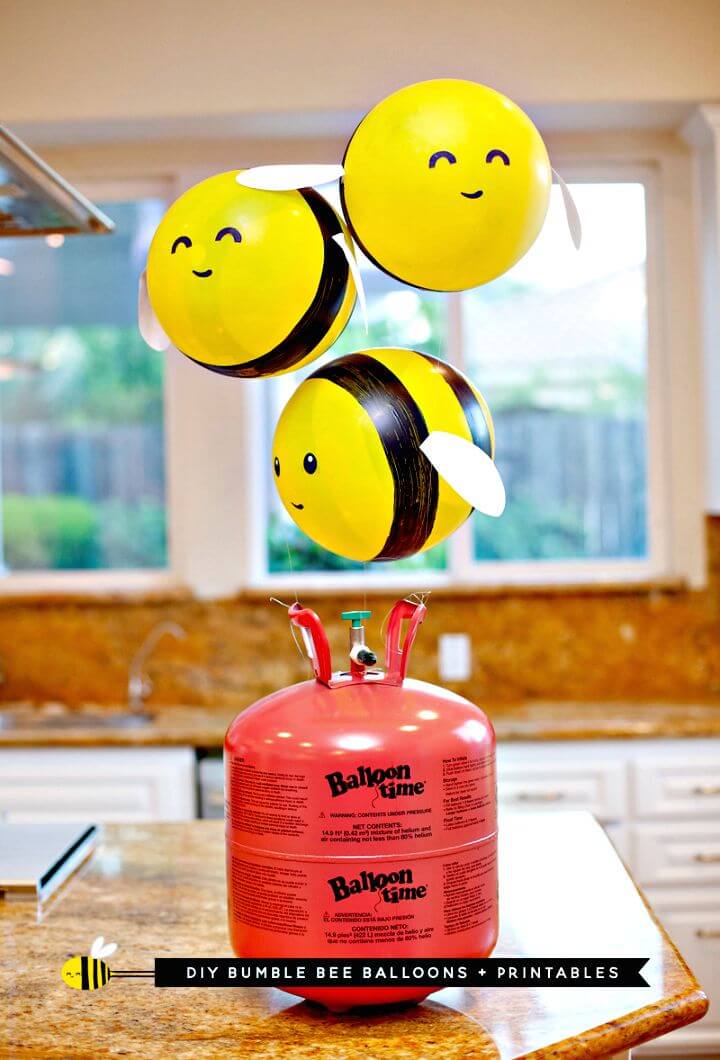 Make memorable events extra special by personalizing your celebrations with themed balloon crafts, adding a unique touch to any occasion. Brighten your party or a casual day with these DIY bumble bee balloons. Ideal for a bee-themed celebration or a surprise to make someone's day special. You can make fun, flying bee decorations with 12″ yellow balloons, helium from a Balloon Time Helium Tank, black craft paint, and a foam brush.
You can prepare them by painting the stripes and letting them dry. On the day of use, re-inflate them with helium to give them a flying effect. The bumble bee eyes, mouth, wings cutouts, and fishing wire add a delightful touch, creating an authentic buzzing atmosphere!
Perfect for any occasion, these Bumble bee balloons are a fun, affordable, and creative way to add an elegant touch to your celebrations. So why wait? Begin the fun balloon crafting journey today and watch your party ambiance buzz with joy! hwtm
4. Gorgeous DIY Flower Balloons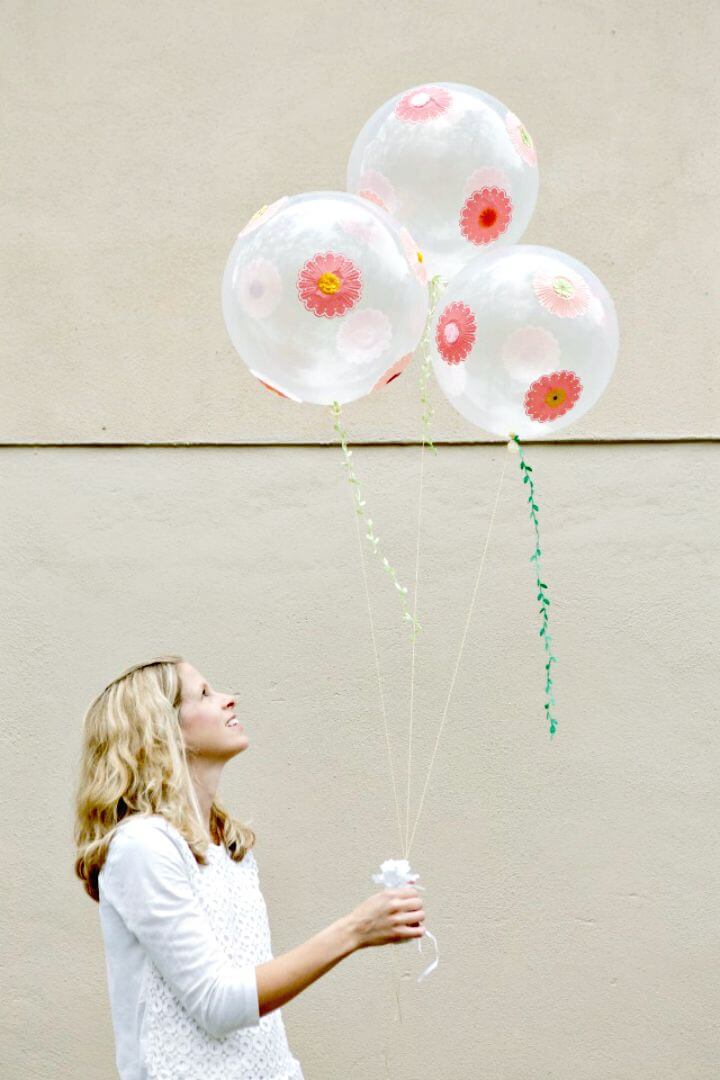 Fetch the loveliness of nature into your home with these gorgeous DIY flower balloons! This pretty decor is ingeniously crafted from cupcake wrappers! This project breathes new life into your celebrations – be it a Mother's Day brunch, a baby shower, or a garden party.
You'll need 17″ latex balloons, Martha Stewart cupcake wrappers, zinnia stickers, specialty ribbons, and double-sided tape. Inflate the balloons with helium, tie them with a pretty string, and adhere flattened cupcake liners with double-sided tape.
Embellish with a flower sticker and repeat until your balloon blooms like a bouquet. Attach a beautiful vine ribbon for the finishing touch, transforming a simple balloon into a unique, eye-catching display. Crafting these flower balloons is as enjoyable as they are appealing, promising to add a festive touch to your memorable moments. designimprovised
5. Make Your Own Pinata Balloons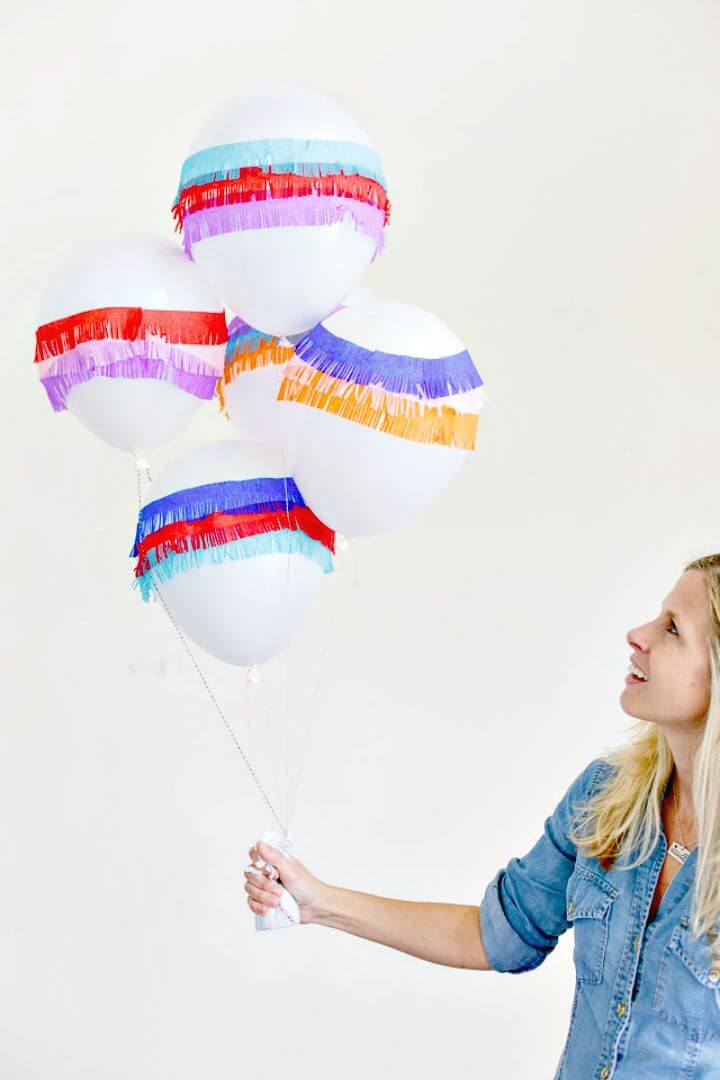 Jumpstart your Cinco de Mayo celebrations with DIY piñata balloons! Unleash your inner crafter and add color and joy to your fiesta-themed party. By using crepe paper streamers, Martha Stewart fringe scissors, and white helium-grade balloons, you can make these vibrant piñata-inspired balloons with ease.
Fringe the streamers and wrap them around the inflated balloons, securing them with double-sided tape. Craft these eye-catching decorations beforehand, or use air-inflated balloons for a longer-lasting display. The piñata balloons serve as stunning party decor and a delightful conversation starter, making your fiesta unforgettable. designimprovised
6. Cool DIY Confetti Dipped Balloons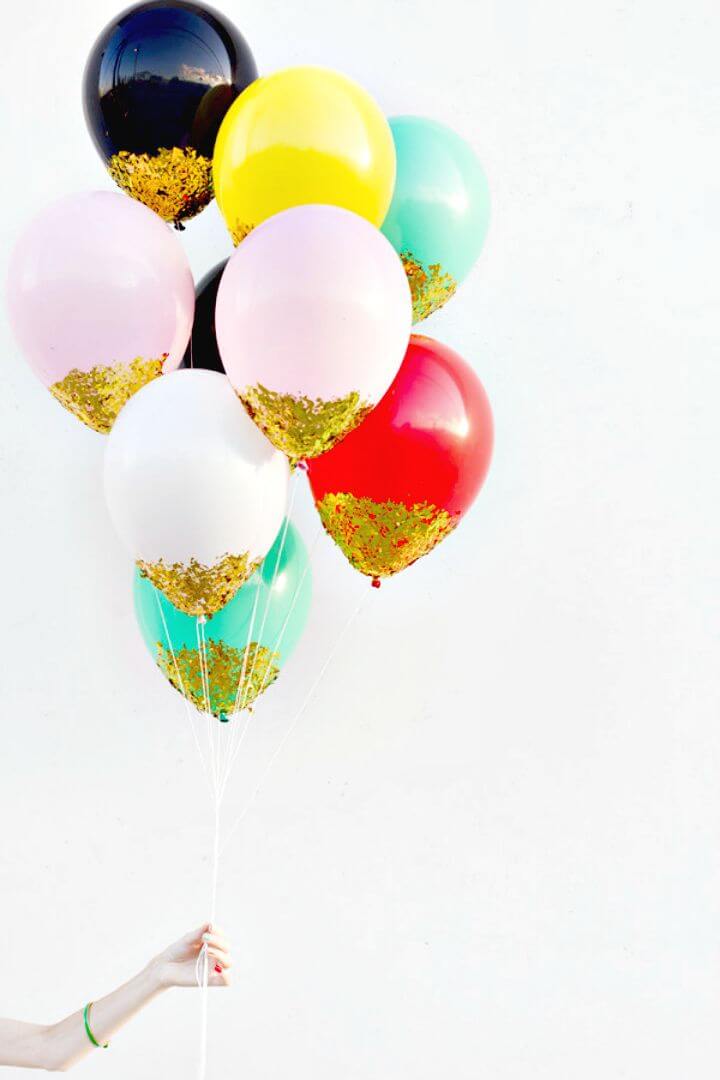 Looking to brighten up your next celebration? Add some festive sparkle with DIY confetti-dipped balloons! These eye-catching party accessories are fun to make and lend a whimsical touch to your decor. You can easily remake this effect with gold foil confetti, balloons, and some decoupage glue or Mod Podge.
Apply a layer (thin) of glue onto the balloons and sprinkle confetti over the surface, pressing it gently for adhesion. A second layer of glue secures the confetti, ensuring your balloons stay glittery throughout your event.
From birthday parties to New Year's Eve celebrations, these confetti-dipped balloons are bound to make any occasion feel special. Let the festivities commence with a burst of confetti-filled joy! studiodiy
7. Amazing Frozen Dinosaur Eggs for Kids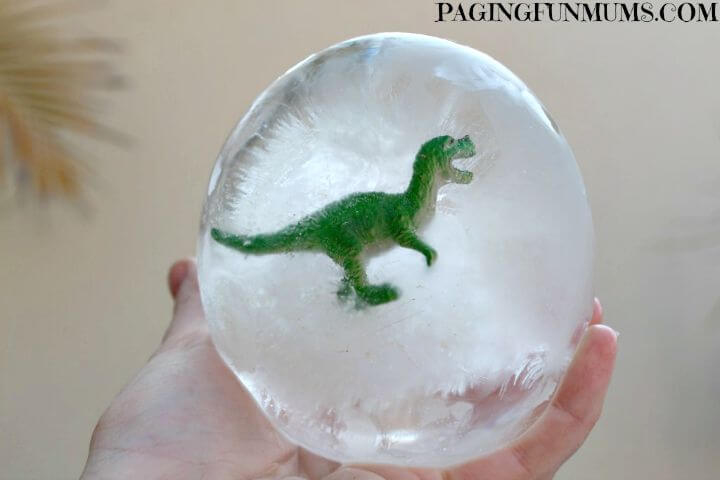 Ignite children's imagination by incorporating balloon crafts into educational activities, teaching them about colors, shapes, and teamwork while having a blast. Unearth the thrill of excavation with this dynamic, child-friendly DIY dinosaur frozen fossil activity. Filled with intrigue and excitement, this activity combines play with a hint of prehistoric exploration. You'll need basic supplies such as balloons, small plastic dinosaur toys, water, food dye, a hammer, and safety goggles to set the stage for a fascinating archaeological dig.
This activity satiates a child's love for dinosaurs and stimulates curiosity and problem-solving skills. With this unique blend of entertainment and education, this activity offers endless hours of fun. Make your child's playtime more engaging with this inventive, budget-friendly activity! pagingfunmums
8. How to Make a Fancy Balloon Arch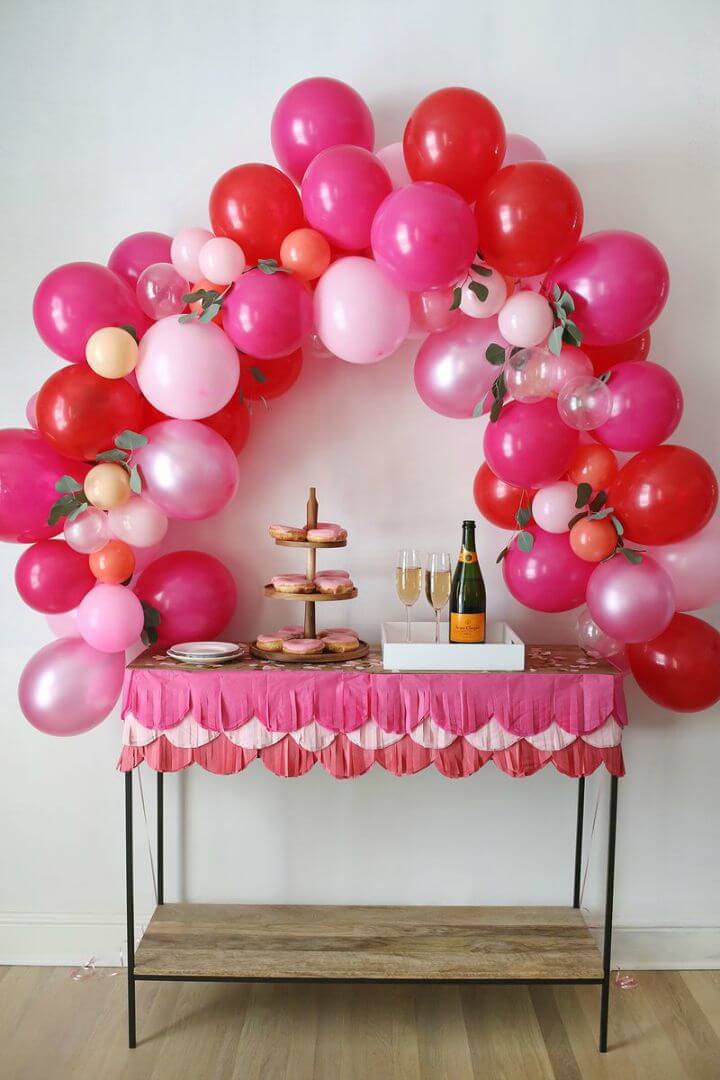 Enhance your celebrations with a striking DIY balloon arch, a project brimming with fun and aesthetics. This versatile decoration fits any occasion – a baby shower, Valentine's Day, or a New Year's Eve party.
This simple yet stylish balloon arch is within anyone's reach with an electric balloon pump, a balloon decorating strip, assorted balloons, and optional greenery. The process involves inflating balloons, arranging them on the strip, adding extra balloons for density, and garnishing with mini balloons and greenery.
This project is a fantastic way to infuse any event with vivid hues and provide a stunning backdrop for capturing lasting memories. Dive into the joy of DIY and make your balloon masterpiece today. abeautifulmess
9. DIY POM POM and Funfetti Balloon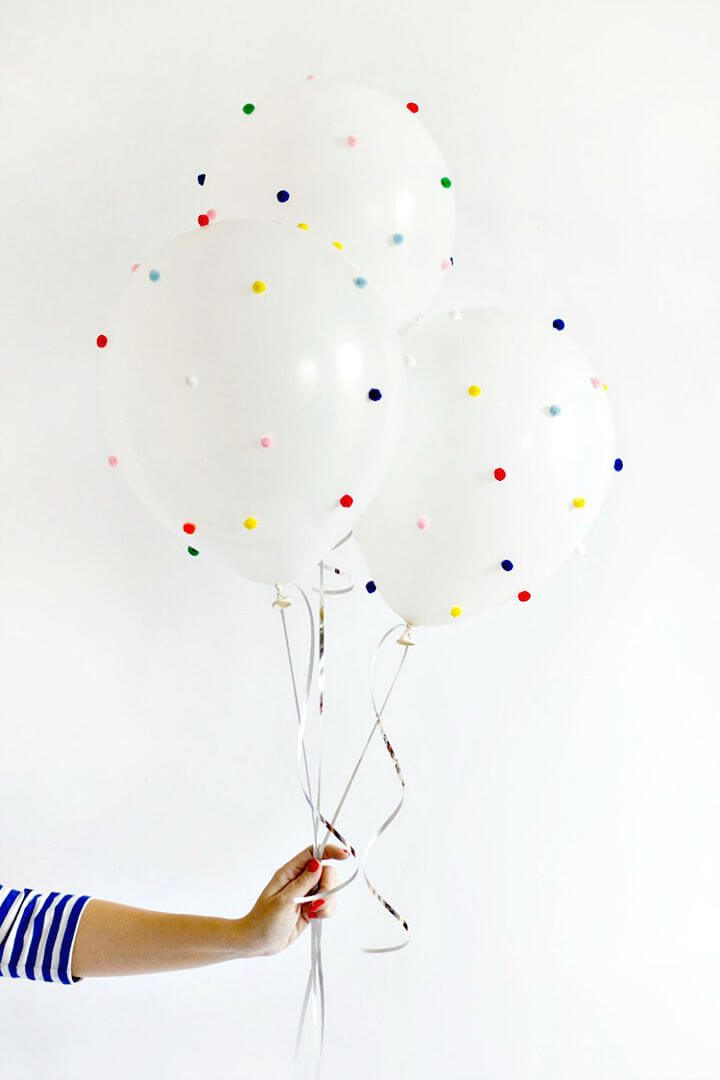 Try your hand at DIY balloon crafts, offering limitless possibilities for customization and self-expression. Commemorate June birthdays with a blast of color and fun with this DIY pom-pom & funfetti balloons tutorial! This easy, two-step process transforms plain balloons into lively party centerpieces. You can effortlessly bring a festive touch to your next birthday bash with clear and white balloons, curling ribbon, a helium tank, rainbow sprinkles, mini pom-poms, and a hot glue gun.
These balloons are a cost-effective way to add sparkle to your party and a unique and creative touch that guests will adore. The result is a whimsical and joyful birthday ambiance that perfectly reflects the happiness of June's birthday. Give it a shot and make your celebrations extra special! freutcake
10. Cute and Festive Balloon Centerpiece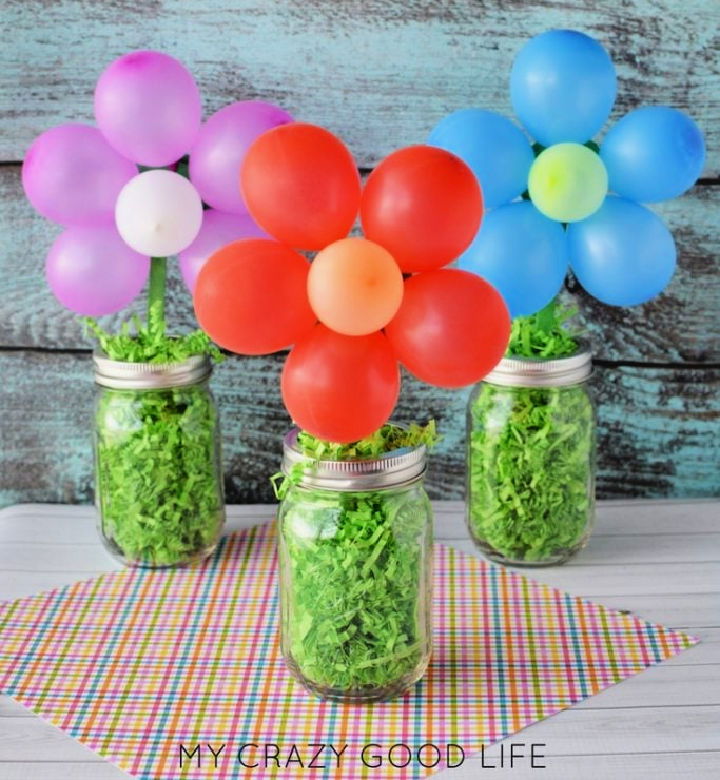 Create stunning DIY balloon decorations for any event with our easy-to-follow tutorials and eye-catching design inspirations. Consider creating your DIY balloon centerpiece. With its colorful appeal and cost-effective materials, this centerpiece offers an adorable way to brighten your tablescape.
It's fully customizable to match any color theme, making it perfect for any occasion. This project involves crafting balloons into flowers, with each flower attached to a craft stick and placed into a mason jar filled with green shredded paper. The process is straightforward:
Cut circles.
Make slits for balloon ties.
Blow up the balloons.
Fit them into the slits.
Secure them with glue.
Each finished centerpiece doubles as a delightful keepsake for guests. Try it today for an engaging crafting session and a fabulous, eye-catching centerpiece for your event! mycrazygoodlife
11. Balloon Elephant Card Craft for Kids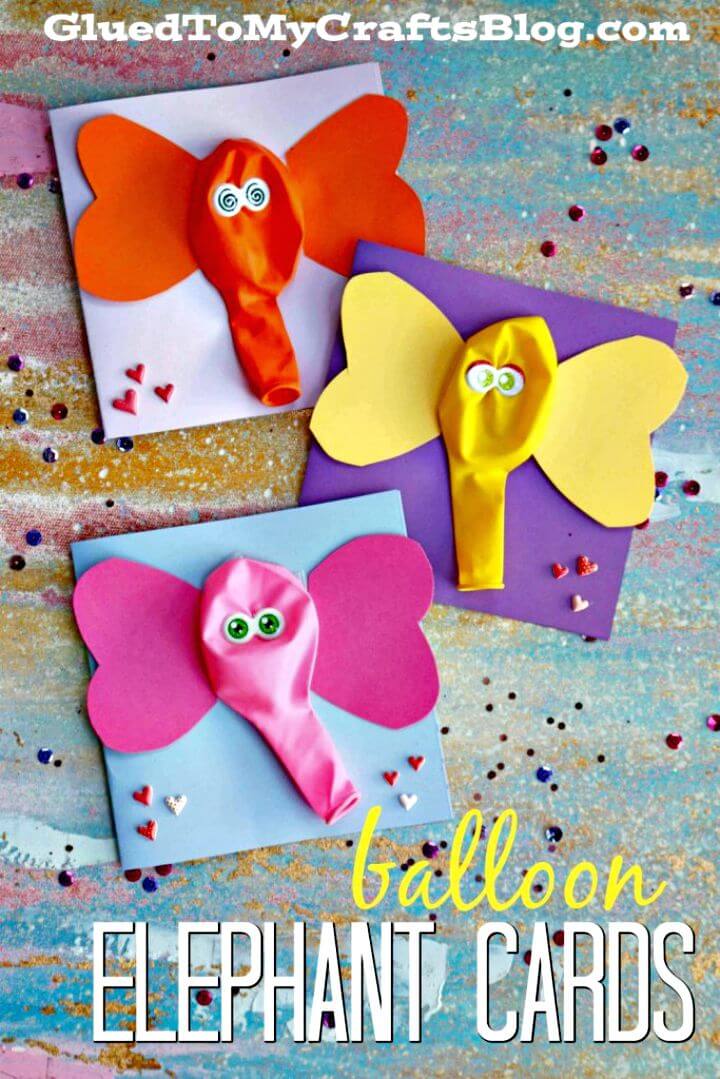 Step up your festive decor game with this DIY balloon elephant card tutorial! It is an inventive idea that combines a unique handmade card with a delightful party favor, adding excitement to any celebration. This craft idea involves creating elephant-shaped cards using latex balloons, cardstock paper, glue dots, and other craft supplies.
The process is simple and fun, allowing for a great creative session, even for older kids. Once completed, the receiver can take off the balloon and enjoy it separately.
It's a fantastic way to spread some cheer for birthday parties, Valentine's Day celebrations, or to share joy through the mail. Be reminded that this idea is best suited for older children with proper supervision. Craft your joy today with this balloon elephant card idea! gluedtomycrafts
12. DIY Balloon Powered Sponge Boat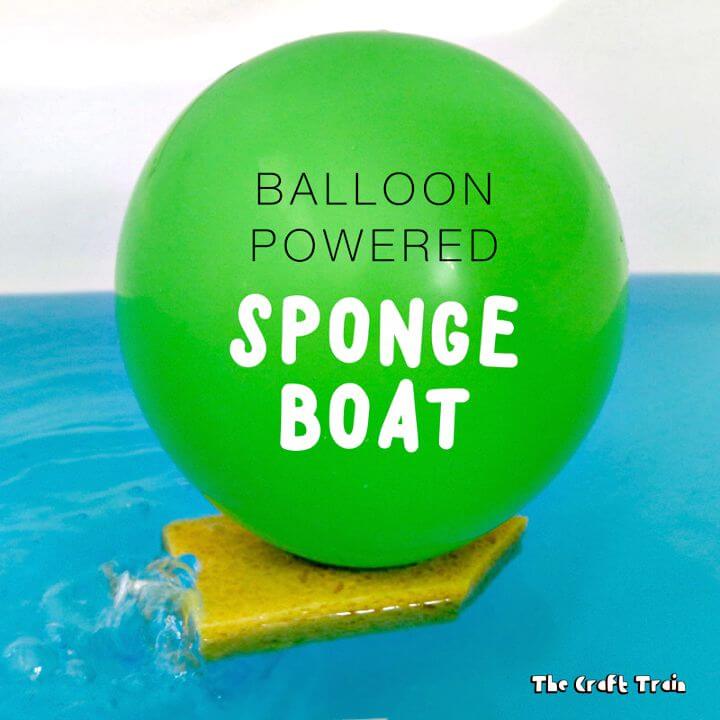 A DIY boat powered by balloons? That's a splash of creativity! Dive into a fun, educational DIY project with this balloon-powered boat. Ideal for the home or classroom, this project merges craft time with science, technology, engineering, art, and mathematics, forming an exciting STEAM activity.
The boat is powered by a balloon mechanism that releases air underwater, propelling the craft forward. While it delights children with its captivating motion, it also instills practical measuring skills and an understanding of basic physics principles.
Whether it's bath time or a sunny day in a paddling pool, this balloon-powered boat promises educational fun and creativity. Remember, the direction of the plastic tube matters for successful navigation. Enjoy this exciting project and bring STEAM learning to life! thecrafttrain
13. How to Make Floral Balloon Backdrop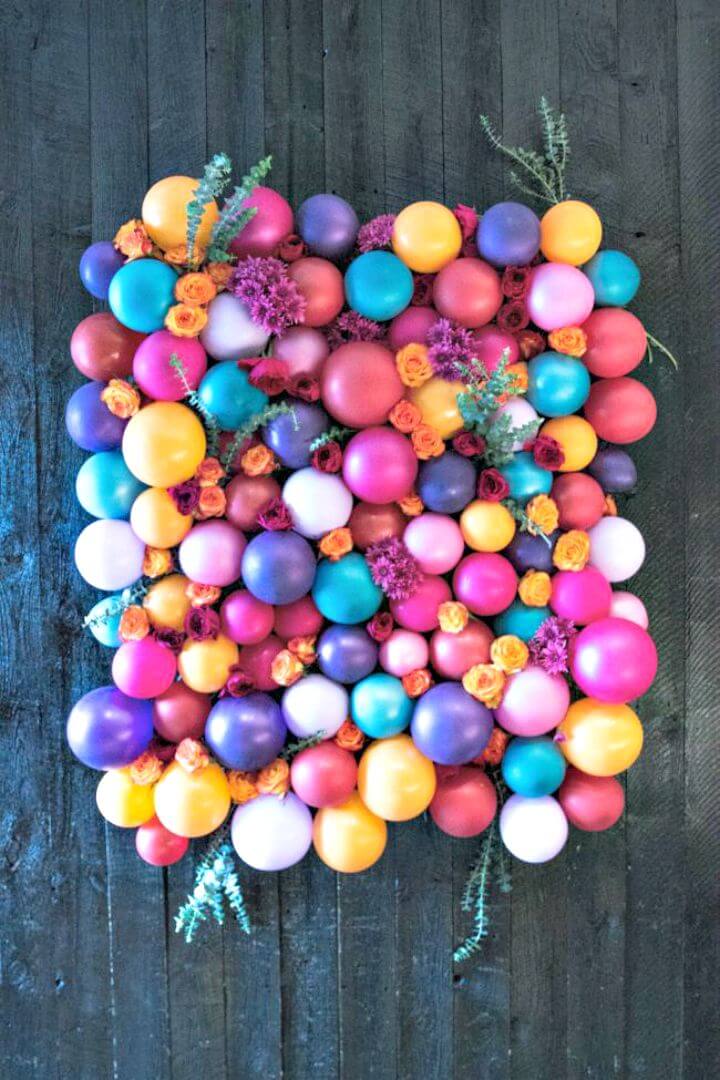 Explore your creativity with balloon crafts, a fun and budget-friendly way to create stunning party decorations and interactive games. Turn your next celebration into a vibrant, picture-perfect occasion with a DIY floral-infused balloon backdrop! It's a creative and eye-catching addition that can transform a simple room into a festive space.
The materials needed include a mix of colorful balloons, a balloon air pump, mesh poultry netting, wire cutters, clear mailing tape, permanent glue dots, thumbtacks, and a generous supply of stemmed-trimmed flowers.
Despite seeming intricate, the process is straightforward – inflate the balloons, arrange them on the netting, and tuck in flowers to fill the gaps. The result? A visually stunning, colorful display that is bound to captivate your guests and make any occasion memorable. sisoo
14. Adorable Mini Rainbow Balloon Arch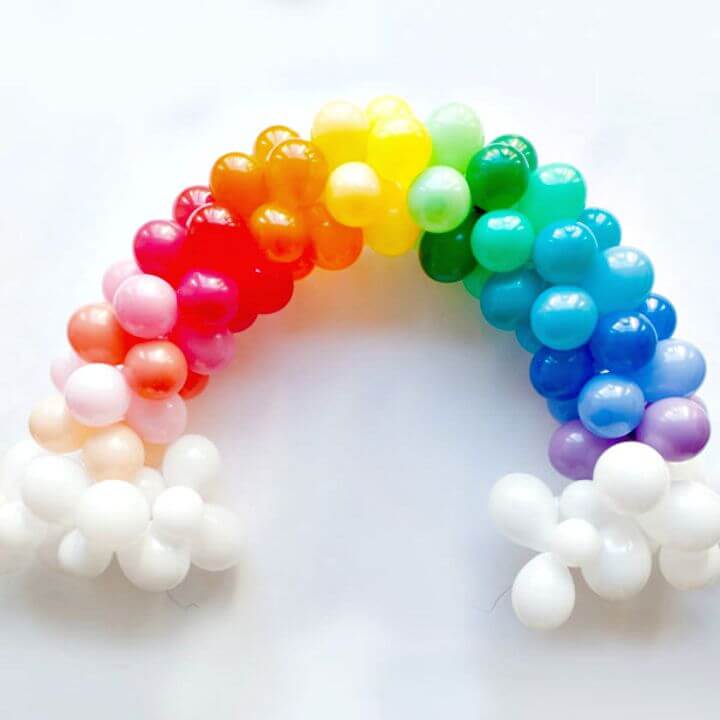 Exalt your festive decor with a vibrant DIY mini balloon arch centerpiece! Ideal for St. Patrick's Day celebrations, photo booth backdrops, or any occasion that calls for a pop of color. Constructing this piece is straightforward and even simpler than a full-sized balloon arch. You only need 6″ balloons in rainbow colors, wire, wire cutters, and a balloon pump. The process involves:
Inflating the balloons.
Tying them in pairs.
Intertwining them around the wire.
Arranging them to mimic the shape of a four-leaf clover.
Add white balloons of different sizes to both ends of the rainbow to complete the look. Voila! Your mini balloon arch is ready to dazzle your space and bring joy to your event. Secure it on the table with tape and enjoy this colorful spectacle! ohhappyday
15. Beautiful DIY Balloon Pumpkin Patch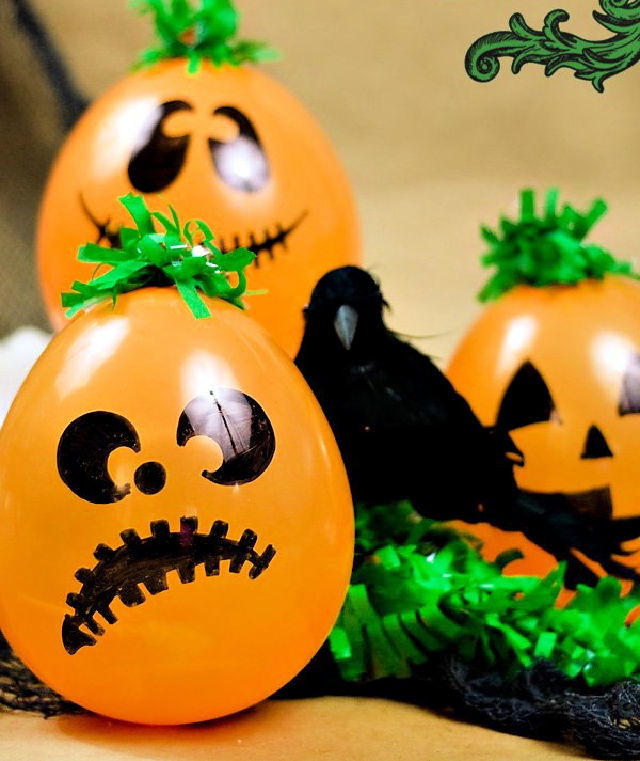 You can make your pumpkin patch of festive balloons with a few easy-to-follow steps, creating an enchanting Halloween atmosphere. This engaging craft combines fun and creativity into an easy and quick Halloween project that doubles as a delightful party treat idea.
You only need small orange balloons, candy, green party fringe, black Sharpie, and school glue. Begin by filling the balloons with treats, inflating them, and then decorating with the green fringe for the stem and vines.
Add personality with a sharpie-drawn pumpkin face. Ideal for scattering around the room to make a pumpkin patch, this project promises kids a memorable Halloween party experience, offering them the excitement of choosing their treat-filled pumpkins. This Halloween, transform your party with this charming balloon pumpkin patch. hwtm
16. Easy and Fast Balloon Rope Streamers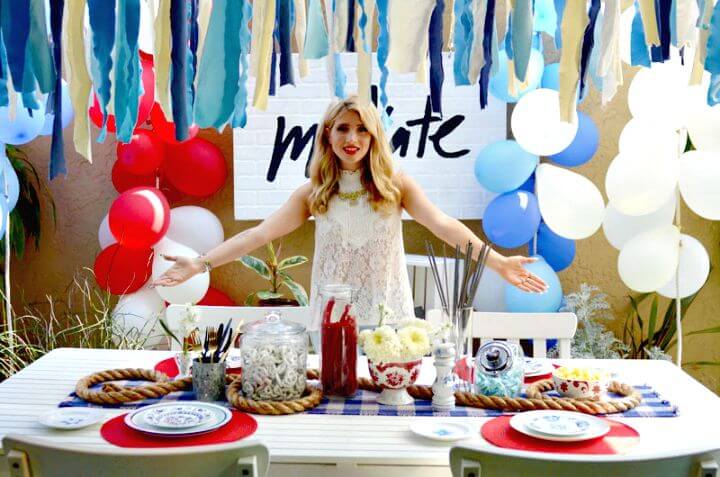 Learn the art of crafting unforgettable moments with mesmerizing DIY balloon decorations for birthdays, weddings, and more. Effortless style in a snap – add some pizzazz with these easy & fast DIY balloon rope streamers! Fantastic for Fourth of July celebrations or any other event, these eye-catching decorations provide a delightful burst of color and the best part – they require no helium.
You'll need balloons in your preferred colors, white rope, twine, scissors, and optional items like masking tape and a balloon pump. You can choose to group colors or alternate for varied aesthetics.
Hang your balloon streamers in a suitable spot and watch your space transform into a joyous celebration hub. This simple yet engaging DIY project creates an unforgettable ambiance for your gatherings today! mrkate
17. Handmake Balloon Cup Shooters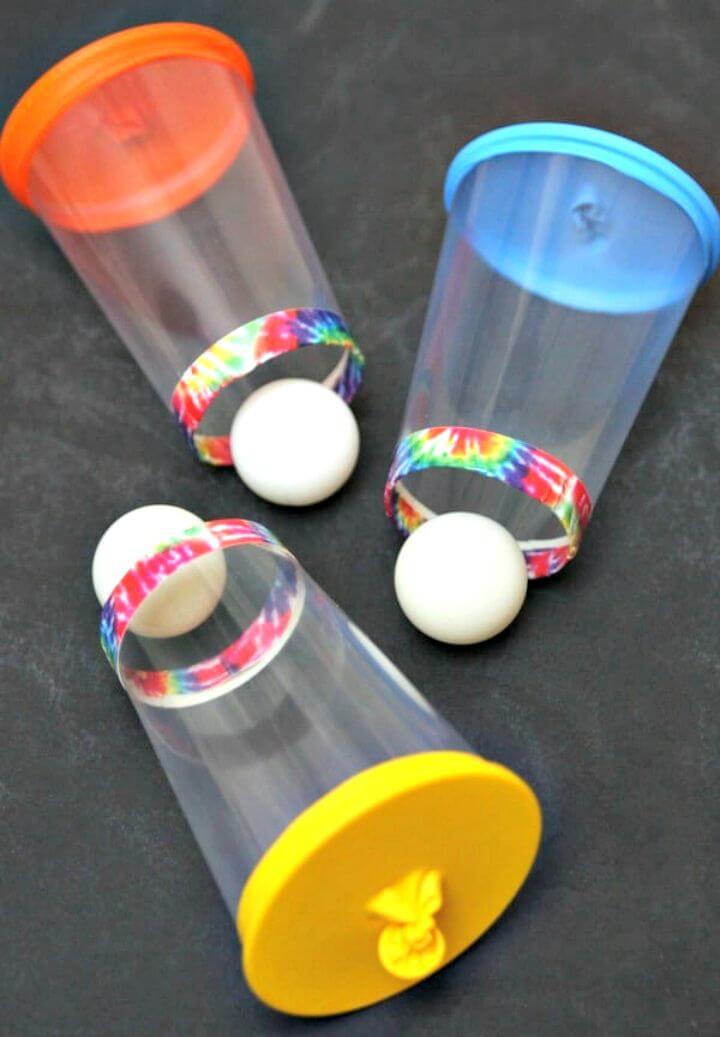 Keep your children entertained for hours with an exciting DIY balloon cup shooters game! A simple yet fun activity that requires minimal materials – plastic cups, balloons, duct tape, ping pong balls, and a mere 10 minutes to set up. The process involves modifying a plastic cup, attaching a balloon, and then launching ping-pong balls across the room.
To increase the level of fun and challenge, add a target on the wall for a point-based game. You can also experiment with various projectiles like marshmallows, beans, pom poms, or paper balls.
Balloon cup shooter is an engaging, easy-to-make activity that promotes learning through play and adds greatly to your kid's playtime. It's time to craft some fun and get those ping-pong balls flying! happygolucky
18. How to Make Hot Air Balloon Party Favors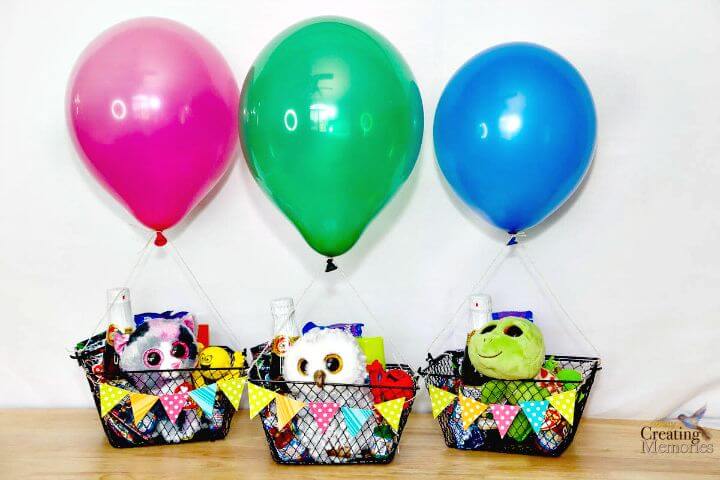 Transform simple balloons into eye-catching centerpieces with these innovative balloon crafts, ranging from whimsical animals to elegant floral arrangements. Let your guests soar away with a memorable keepsake – make hot air balloon party favors for your next celebration! Perfect as delightful centerpieces for any occasion, from baby showers to birthdays. Simple yet appealing, they encapsulate the joyous spirit of celebrations during Spring and Summer.
You can effortlessly craft these fascinating favors by employing easy-to-find materials like party favor baskets, stuffed animal toys, balloons, card stock paper, and a Balloon Time Helium Tank kit. Whether it's a family gathering or a fun-filled party for your little one, these hot-air balloon party favors injecting an element of whimsy into the event.
Customize the baskets with toys, candies, and embellishments, topping it off with helium-filled balloons, and voila – your hot air balloon party favor is ready to impress your guests! creatingmemories
19. Easy-To-Make Unicorn Party Balloons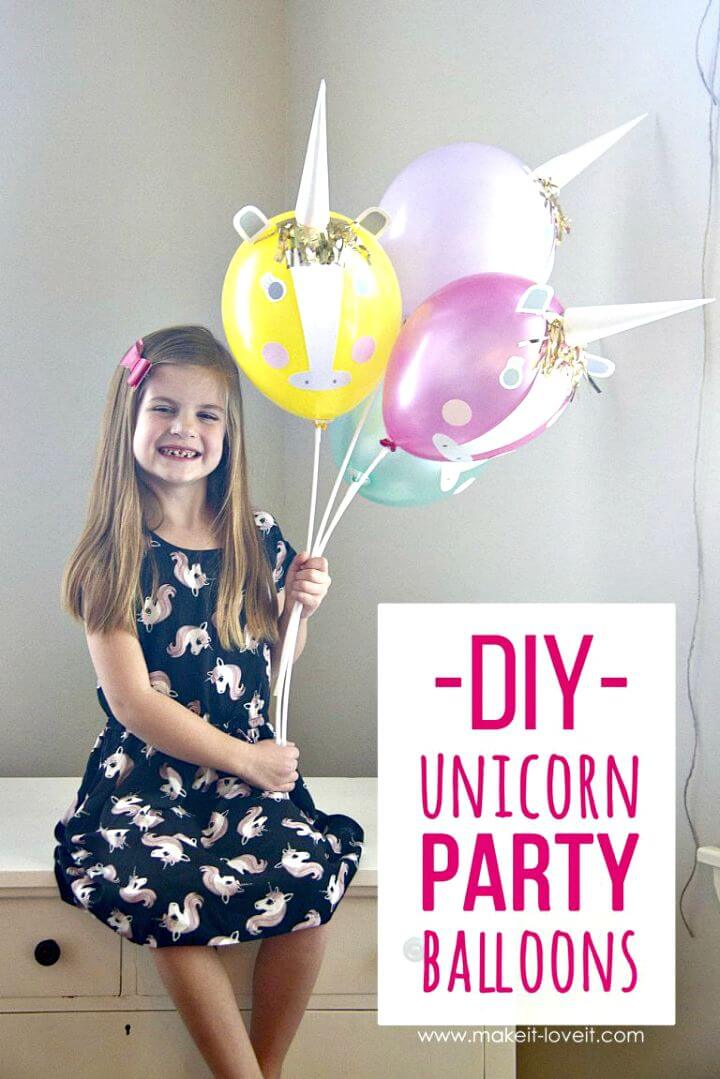 Host a magical celebration with this DIY unicorn party balloon guide! These delightfully whimsical decorations are easy to make and brighten up any party ambiance, especially one themed around the mystical creature – the unicorn.
Utilize inexpensive and easy-to-find materials such as latex balloons, balloon stick holders, a gold foil tablecloth, and double-sided tape. Follow the easy instructions, and you can craft your own adorable unicorn party balloons in no time, perfect for decor or as party craft souvenirs.
With their playful appearance and low cost, these decorations are an excellent alternative to pricier options. So get ready to spread some unicorn magic at your next party, proving once again that creativity and a few inexpensive supplies can lead to satisfying results. makeit-loveit
20. Unique Balloon Fruit Crafts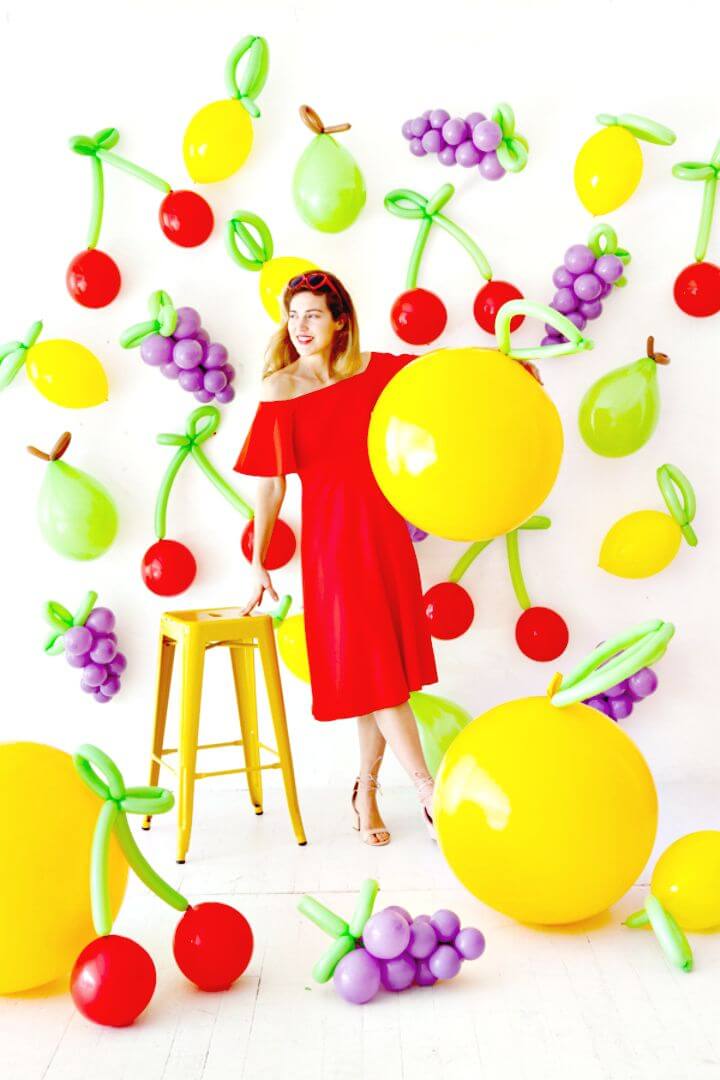 Transform your party space with affordable and awe-inspiring DIY balloon decorations that tantalize your guests' senses. Revolutionize your party decor with this guide to creating awe-inspiring DIY giant fruit props from simple balloons! Ideal for adding a touch of fancy to any gathering, these decorations are effortless and delightfully eccentric.
With just a handful of materials like colorful balloons of varying sizes, a balloon pump, and scissors, you can easily replicate the charm of cherries, pears, oranges, lemons, and even grapes!
Not only do these balloon fruits serve as unique party ornaments, but they also inspire creative fun during the process of making them. Begin crafting today and introduce a playful, fruity twist to your next celebration! ohhappyday
21. Colorful Balloons for Decoration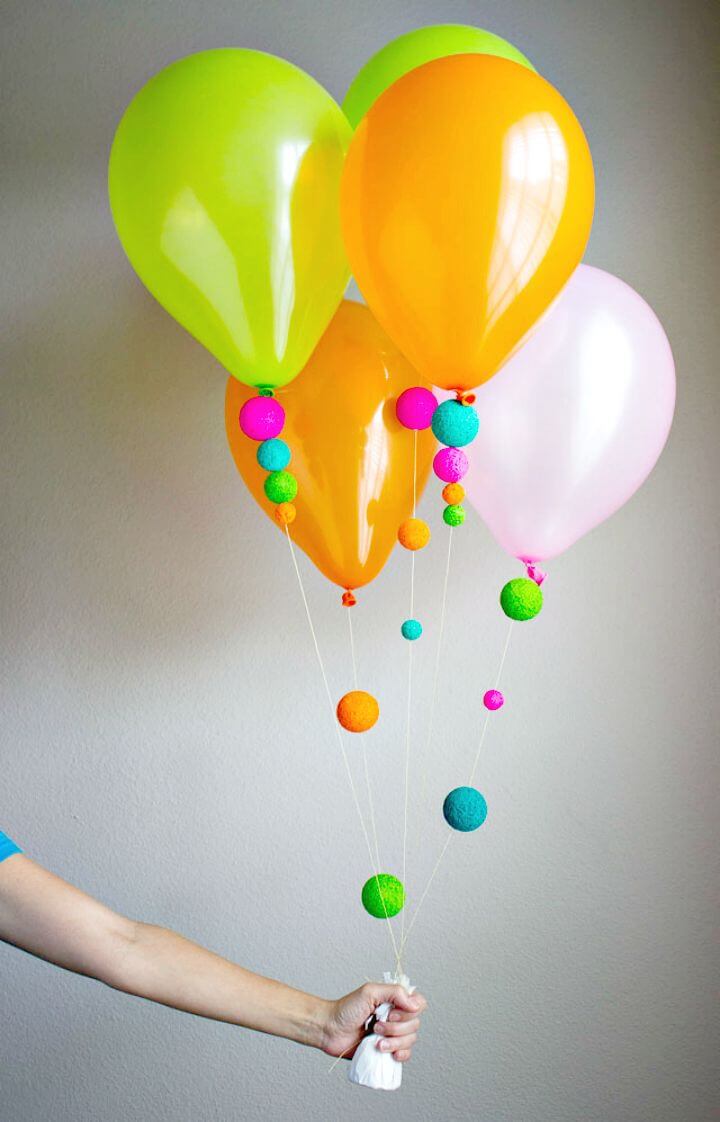 Craft an unforgettable party atmosphere with DIY foam ball balloons! The bouncy, lightweight foam balls adorned on the balloon string can set the mood for a fun-filled summer gathering. These playful decorations, customizable with any color of craft paint, add an enticing charm without adding any weight to your helium-filled balloons.
Making these balloons is an effortless task requiring just a few supplies, such as fun foam balls, helium grade balloons, string, a long darning needle, craft paint, and a foam pouncer.
The foam balls can be painted a day ahead to ensure they are all set for assembly when you're ready. Remember, after the party, you can repurpose the bouncy foam balls for another craft project. Enjoy the splash of color and fun at your summer gathering with these creative balloons! designimprovised
22. How to Make Balloon Cake Topper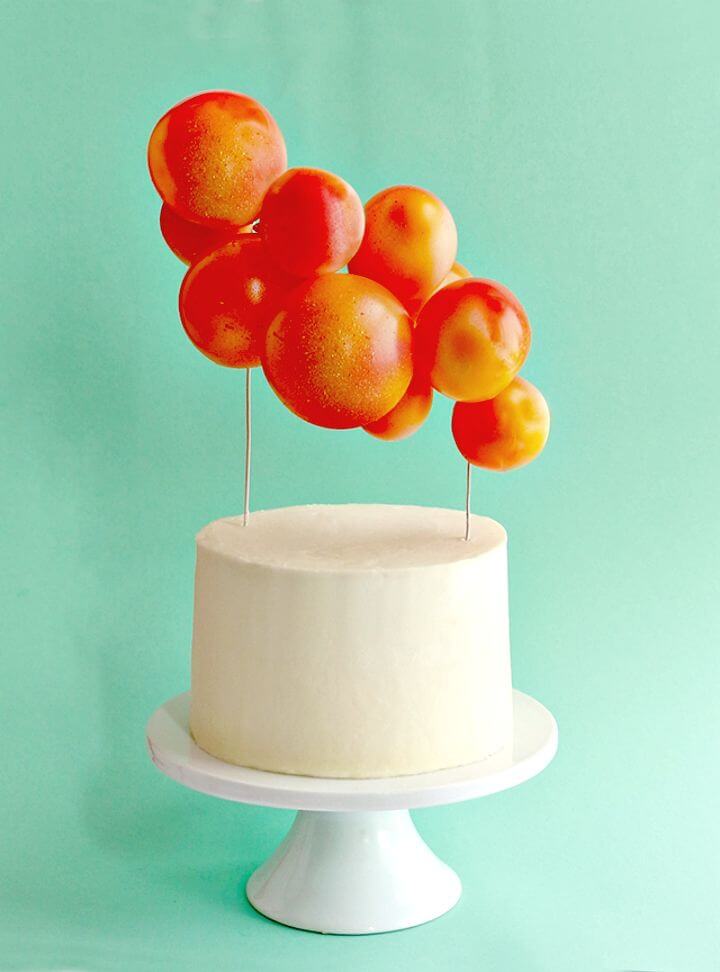 Unveil your creativity with a DIY balloon cake topper! Elevate your next celebration with this unique and easy-to-make decoration. You can change a simple cake into a festive masterpiece with just a handful of supplies, including mini balloons, thin gauge floral or copper wire, wire hangers, a piece of foam, and spray paint.
The process is straightforward and can turn any cake into the star attraction of your party! The attractiveness of this project lies in its versatility – choose your balloon and paint colors to match your party theme, or go for a rainbow effect for a fun and playful touch. With this delightful balloon cake topper, your cake will be the talk of the town! alanajonesmann
23. Easy DIY POM POM Balloons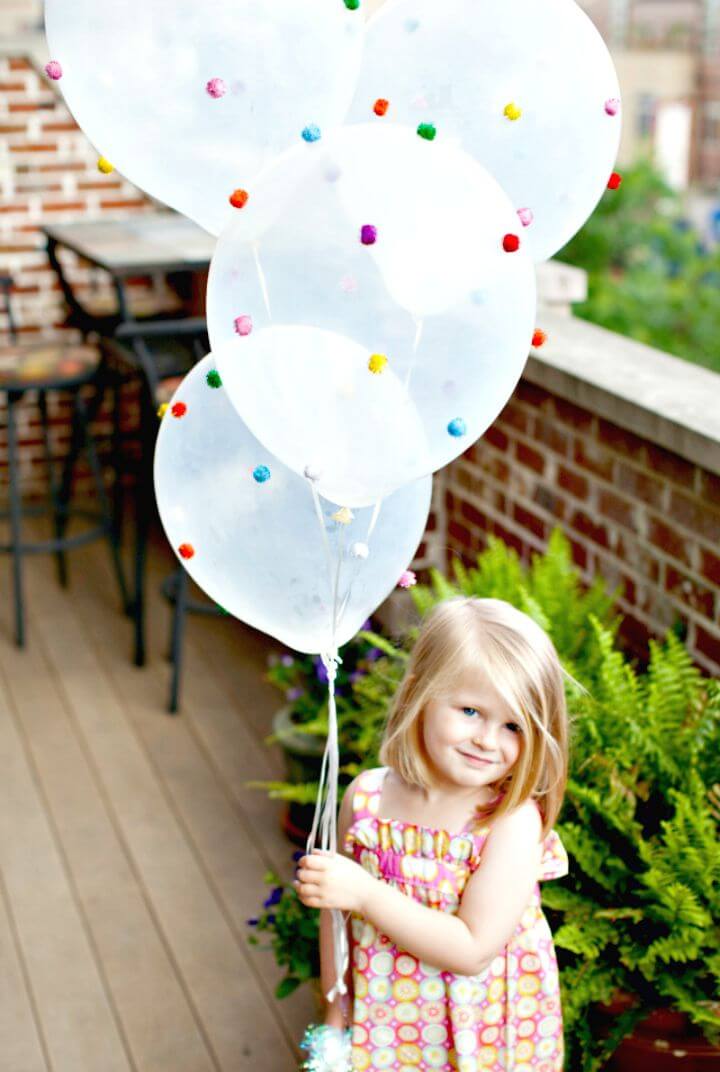 Unleash your inner party planner with these easy DIY balloon decoration ideas, transforming any celebration into a memorable event without breaking the bank. Discover a fun, unique craft with these DIY pom-pom balloons, a whimsical touch to any celebration. The trick lies in using low-temp hot glue, which, surprisingly, doesn't pop the balloons. This quick project takes only 15 minutes and requires clear latex balloons, small glitter pom-poms, hot glue, baker's twine, and a personal helium tank.
The making process involves a simple technique of hot-gluing pom-poms onto the balloon. Remember, the larger the balloon, the more pom-poms it can carry without sinking. Use different color combinations for a creative touch, and be prepared for your decor to last around 6-8 hours before deflating.
Skip helium altogether by using air-filled balloons with sticks for longer-lasting decorations. Enjoy this festive DIY and take your party decor to the next level with pom-pom balloons! designimprovised
24. Make Balloon and Fronds Tropical Party Centerpiece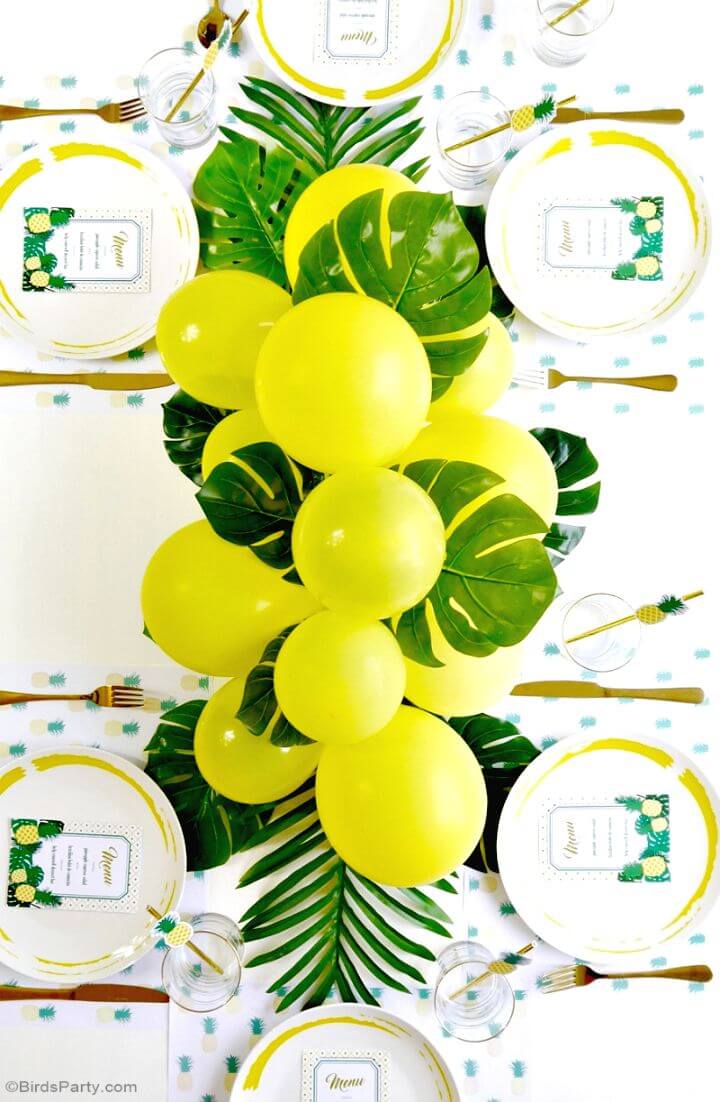 Let's splash and add some sparkle to your party with this DIY balloon & fronds tropical party centerpiece! This project is an effortless way to add a splash of color and a tropical vibe to your event.
You can make a vibrant, easy, and cost-effective decoration using various sizes of latex balloons, palm fronds, Monstera leaves, baker's twine, a tapestry needle, and a balloon air pump. This balloon garland pairs perfectly with a pineapple party theme, adding a wow factor to your table without much effort.
Plus, it's versatile – you can experiment with different balloon colors and foliage for various occasions. Follow the simple instructions, bring your creativity, and get ready to craft an eye-catching party centerpiece that lasts longer than fresh flowers! birdsparty
25. Creating a Cloud With Balloons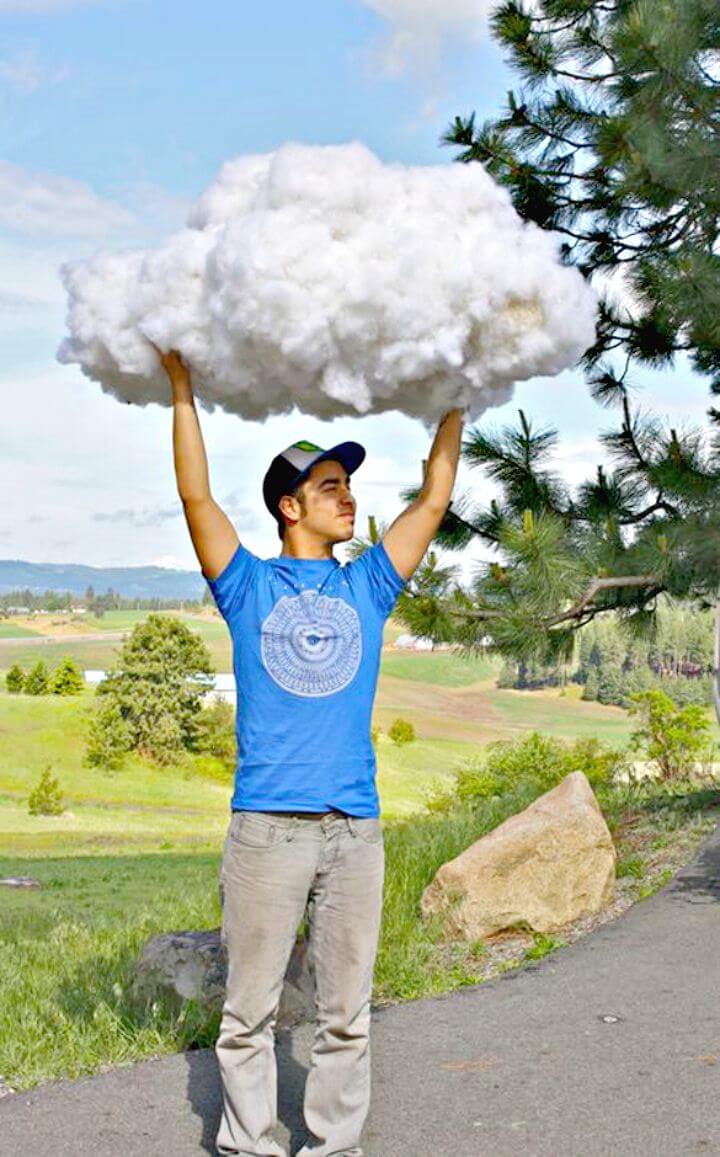 make a creative adventure by crafting your DIY cloud decor with balloons. With patience and time, you can transform ordinary materials into a majestic cloud using white balloons, a flour-water paste, newspaper, and polyester fiber pillow stuffing.
Start by inflating the balloons and arranging them into a cloud shape. Then, make a paste with flour and water, dip the newspaper shreds into the mixture, and smoothly apply them to the balloons.
After drying, a process that might take up to 24 hours enhance the cloudiness by covering the structure with polyester fiber using a spray adhesive. The result is a fluffy, realistic-looking cloud, perfect for photo ops or event decor. Turn your space into a dreamy wonderland with this DIY project. thefarmchicks
26. Make a Balloon Wreath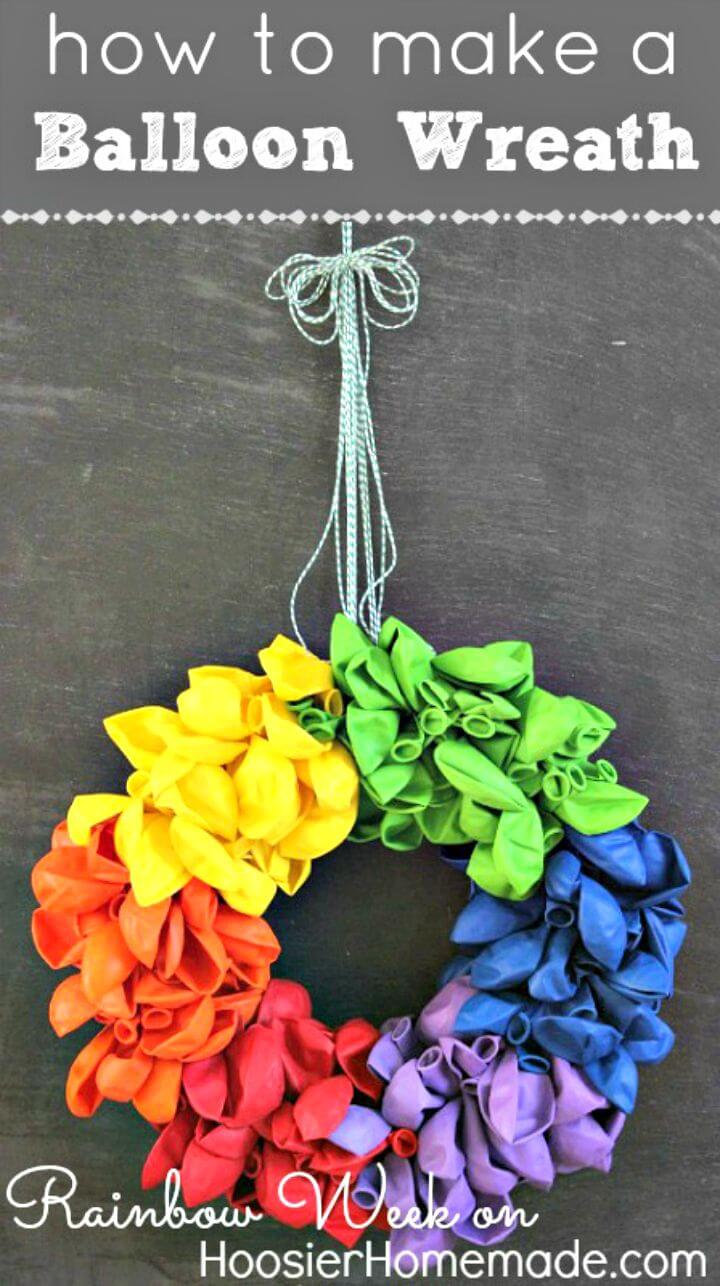 Show your creative flair with a DIY balloon wreath that will be the blow with all who dare! This quick, impactful project is perfect to spruce up your St. Patrick's Day celebration or to liven up a birthday party.
With just a few simple supplies – a straw wreath, balloons, floral pins, and twine or ribbon, you can make a colorful decoration that will surely bring a smile to anyone's face.
The balloons can be arranged in a rainbow pattern or randomly for a burst of colors. The balloon wreath is a wonderful home decoration and a memorable gift. Try crafting this eye-catching piece and add color to your festive occasions. hoosierhomemade
27. Pretty DIY Cactus Balloons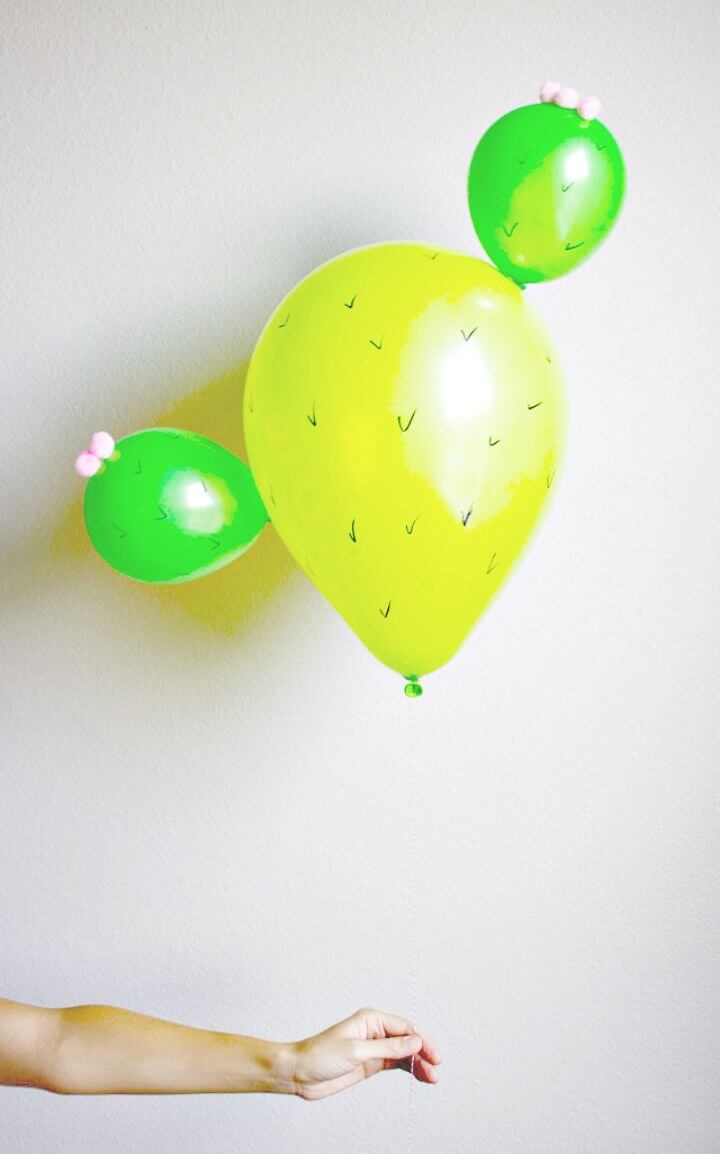 Add a fun and whimsical tinge to your next party with homemade cactus balloons. Elevate your cactus-themed celebration with these chic and fun balloons. Easily inflate with air or helium for a high-quality atmosphere at your dessert party.
Inspired by Arizona's beautiful prickly pear cacti, this unique decoration idea requires 12″ and 9″ helium-grade green balloons, pink pom-poms, twine or string, a hot glue gun, and a Sharpie marker.
In a few straightforward steps, you'll have a delightful party centerpiece guaranteed to impress your guests. So why wait? Add some desert charm to your next bash with these inventive cactus balloons! designimprovised
28. Flower Balloons Craft for Kids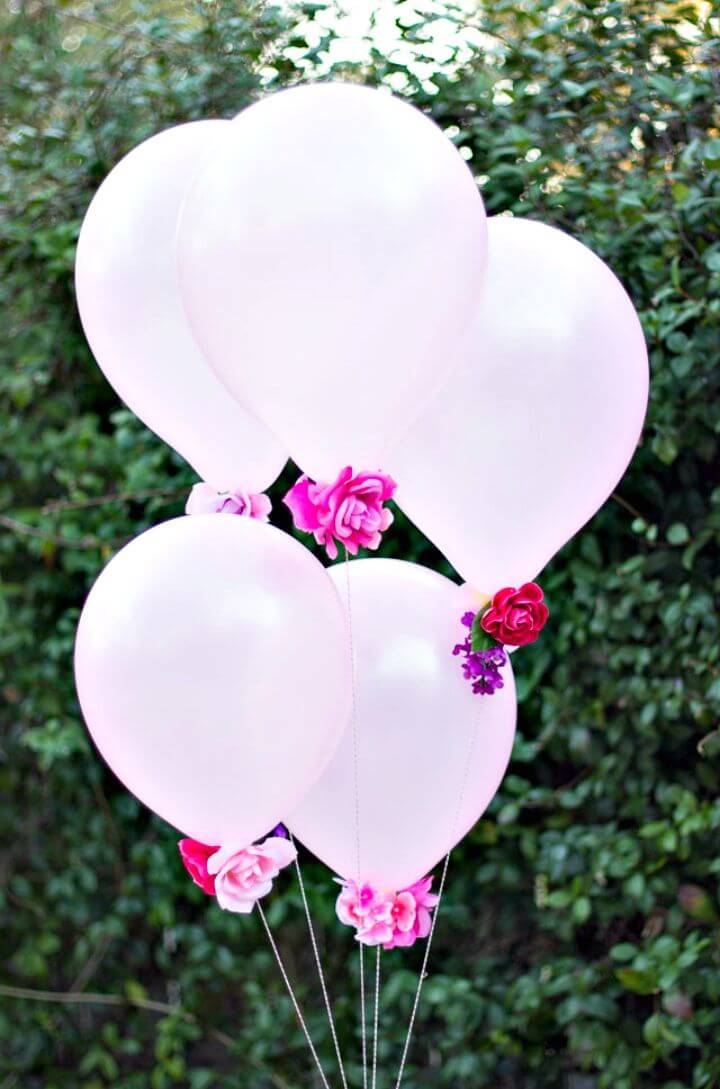 Infuse your celebrations with a hint of botanical beauty with our DIY flower balloons. Repurposing budget-friendly dollar store blooms, these balloons bring charm to any occasion, be it a wedding, shower, or simple get-together. From an impressive display to a quirky alternative to traditional flower bouquets, each balloon costs less than a dollar – a thrifty DIY!
Materials include 12″ pink helium-grade balloons, artificial flowers, baker's twine or curling ribbon, a dual-setting hot glue gun, and wire cutters.
The process is straightforward: inflate your balloons, clip your flowers, and attach the flowers to the balloon base using hot glue. Enjoy crafting these elegant DIY flower balloons and spread the joy by gifting a bouquet to someone special. designimprovised
29. Quick and Easy Polka Dot Balloons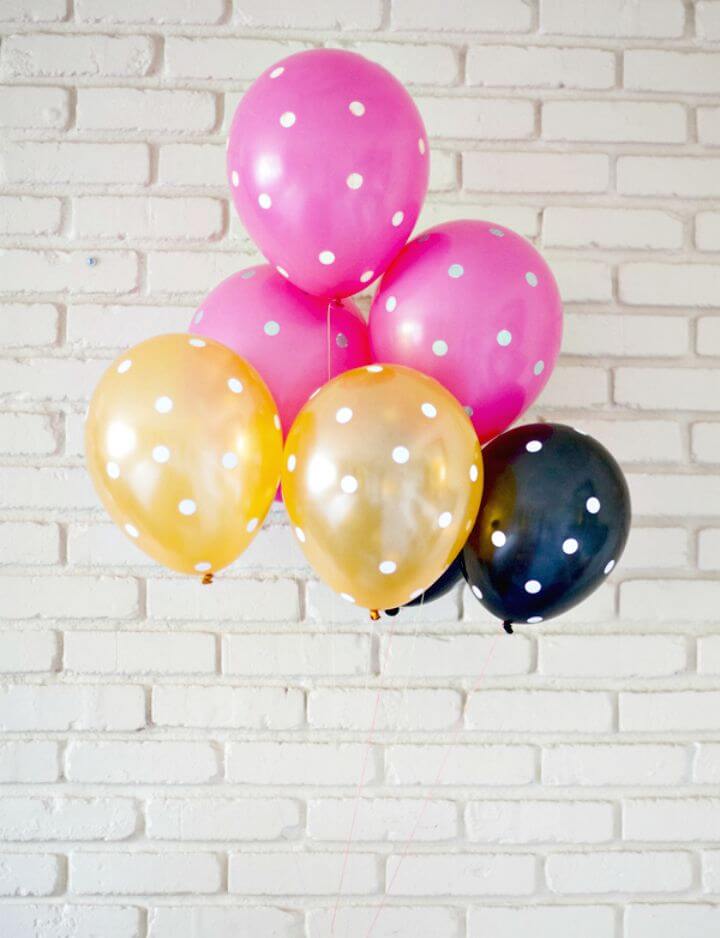 Transform your next party into beautiful heaven with these fun and quick DIY polka dot balloons! In just five minutes, turn plain balloons into whimsical decorations that will make your event special.
You'll need simple office supplies like small circle labels and a Sharpie pen. Leaving some labels white and coloring others adds depth and texture to your designs.
You can tweak the color scheme to suit your party decor, opt for a neutral palette, or make a rainbow of polka dots to enliven your space. Enjoy crafting these playful party balloons and watch how they instantly add joy and vibrancy to your celebrations. asubtlerevelry
30. DIY Marshmallow Shooters With Balloons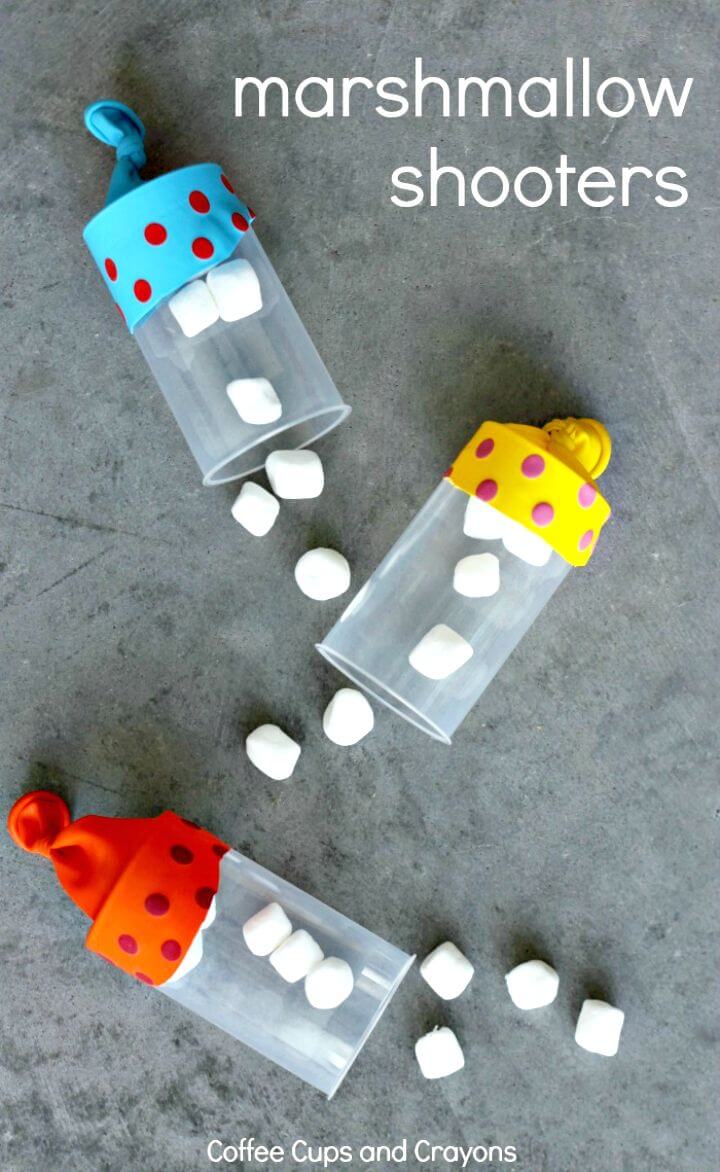 Engage your children in an exciting and educational DIY activity by crafting a marshmallow shooter! This simple and playful project utilizes everyday items, primarily a cake pop container and a balloon, to make a toy that doubles as a science experiment.
Essential supplies also include scissors, mini marshmallows, and, optionally, rubber bands for additional reinforcement. This unique project provides endless interactive entertainment beyond mere amusement by instilling a scientific approach in your kids.
It's not just about the joy of creating and playing but also about understanding cause and effect through an exciting hands-on experiment. Craft your marshmallow shooter today and elevate your regular playtime with a blend of fun and learning! coffeecupsand
Conclusion: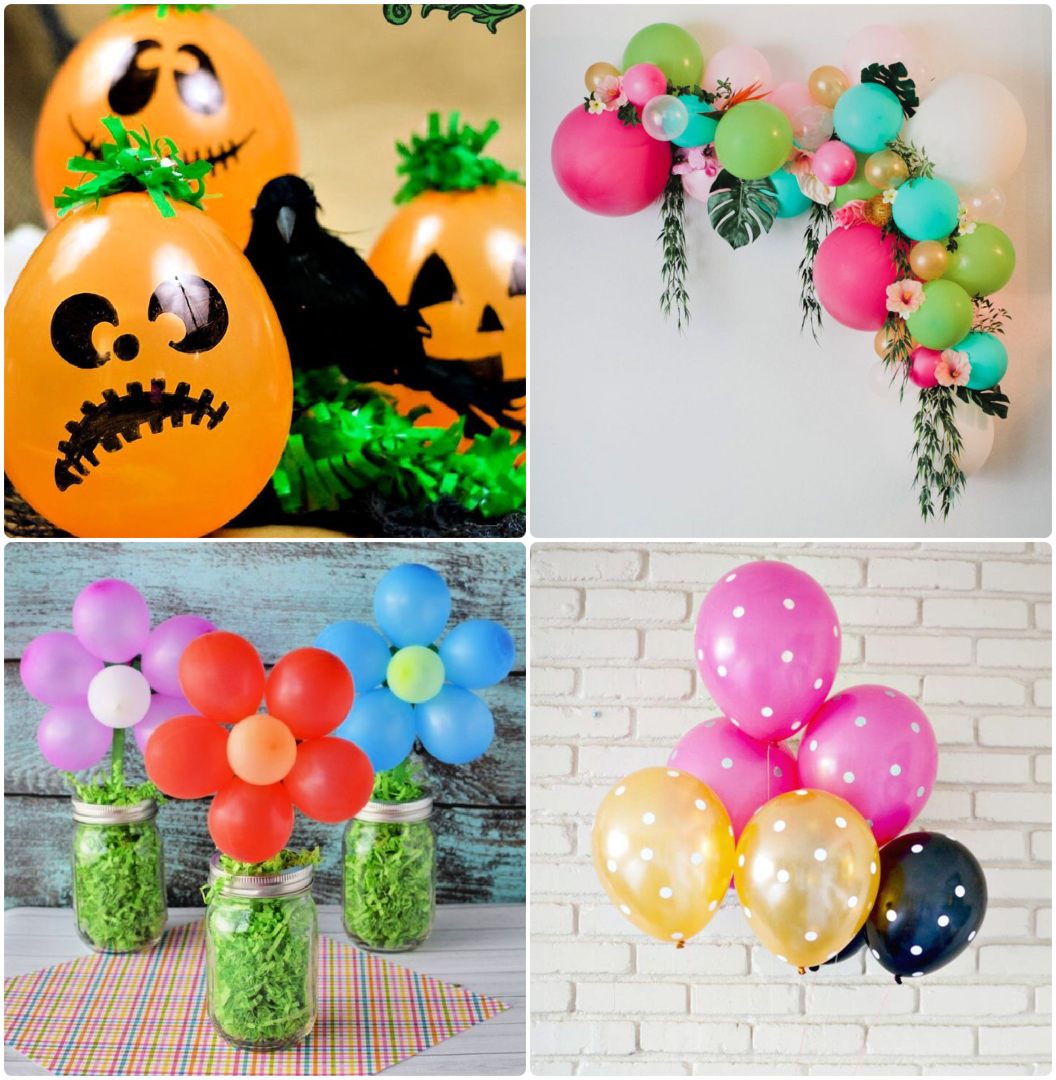 In conclusion, these DIY balloon crafts offer a creative and versatile way to enhance any celebration or event. With 30 DIY balloon craft ideas presented, ranging from simple balloon decorations to more intricate art projects, there is something to suit every skill level and occasion. Try your hand at creating a floral balloon arch, donut balloons, or even a hot air balloon party favor. Regardless of your crafting proficiency, these balloon craft ideas will inspire and elevate your next gathering. Happy balloon crafting!