These 90 fun and easy crafts for kids will make your kids happy and creative when they getting bored at home. These DIY art and craft ideas for kids come with step by step instructions and diagrams. If you want your kids to stay focused then do make them busy in doing these kids craft projects that will improve their imagination. Kids who need a quick fun break after being school days and they are going to be the best entertainment for the kids while doing some smart creativity practices! These crafts are great fun projects for kids during rainy days and the holiday season.
Without schools, picnics, water fun, camps, and activities, the long warm days of summers will make everyone bored. So, if you are often to listen to the word " I Am Bored" from kids, go with these DIY crafts for Kids that will turn every single summer day into an exciting experience. These arts and crafts for kids involve all that can make the kids happy and creatively busy. So, parents and kids will play together for a great summer pastime.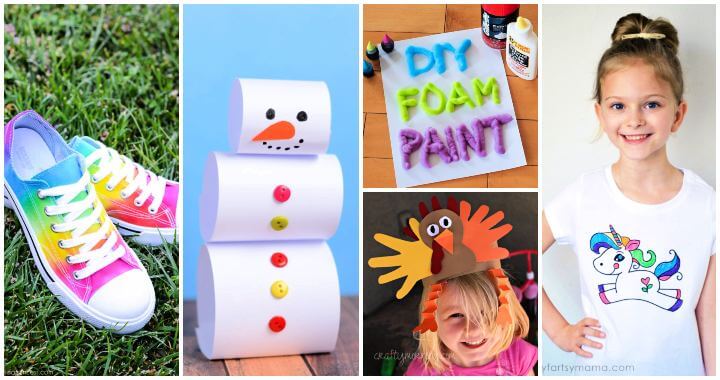 Moreover, playing under the supervision of parents will make the kids learn a lot. Explore this list of 90 easy art projects for kids that involve tons of different crafts for the kids based on painting, gardening, water fun, and creativity. So, the only purpose of these kids crafts is to keep the kids productively busy and physically healthy.
Easy craft ideas for kids to make at home
Provide your kids some colorful papers and a template and allow them to make some lovely pinwheels, a perfect summer craft project! They will have great fun while making lovely caterpillars out of fruit box out sections, this project will involve fun gluing and painting and also make your kids learn to count by making tactile counting craft sticks using paint drops and pencils! If your kids are passionate about gardening then let them make a garden watering can out of a recycled milk can and kids will really love to make the lovely bees using craft sticks, googly eyes, and milk jug cut-out wings! Browse all these kids craft ideas to see more things that you can make with your kids!
In only 10 minutes, your kids and transform a clothespeg into a beautiful doll and a cardboard box into a beautiful butterfly windsock, and at the same time, they and can also weave the paper plates and can add them with handprint cut wings to make lovely honeybees too! See the entire list of these DIY kids craft projects and plan your favorite ones for your kids and browse the attached reference links to grab full free instructions and tutorials!
This collection of easy DIY toys for babies and toddlers will have you inspired as a parent or early years educator to save money & make your own toys!
1. DIY Giant Paper Pinwheels
If you really want to raise the activities of your kids then do indulge them in crafting this holiday season, and this is here the first fun craft they can do to enjoy the summer season! Just let them make these giant paper pinwheels that are sure to be loved by all the kids and are super easy and quick to make! Full tutorial here kidsactivities
2. Make Fruit Box Hungry Caterpillar
Kids will love to do the painting craft projects and hence let them make these fruit box hungry caterpillar that is super quick and easy to make and will make a sweet little toy for the kids! Just cut out the caterpillar-like sections out of a fruit box and then paint it for a lovely appeal and finish with pipe cleaner antenna! Details here theimaginationtree
3. Tactile Counting with Craft Sticks
Give also the education to your kids along with enjoying the crafting fun with them! Just make them learn to count by making these tactile craft sticks that come with glittered glue dots showing the count numbers that have also been written on another end of the craft sticks! Full how-to tutorial here whereimagination
4. How to Turn Milk Jug Into Watering Can
Promote gardening in your kids by making this lovely watering can that is another great craft that all kids will love to do with siblings and friends! Just upcycle an old milk jug into a lovely watering can that will also make a great gift for a gardening loving kid! Full how-to tutorial and instructions here mystayathome
5. Cute DIY Popsicle Stick Bee Craft
These bumblebees are cute like kids and super quick and easy to make! Here all you need the craft sticks, googly eyes, milk jug wings, and some yellow and black paint to make this very interesting popsicle stick bee craft that is sure to impress and is super quick to make also! Full how-to instructions here kidscraftroom
6. Magnetic Tic Tac Toe Board for Kids
All kids love to play the tic tac toe game that kids can easily make at home! Check out here a new homemade version of this game, the magnetic tic tac toe board for kids that is sure to make a great handmade gift for kids! Here xyron creative station, adhesive cartridge and 5-inch laminate have been used to make this magnetic tic tac toe game! Full how-to tutorial here 5minutesformom
7. Butterfly Windsock Toilet Paper Roll Craft
Kids will also love to make this precious windsock using toilet paper roll and paper strips that come with a painted paper butterfly front and hence gains a super cute kids' special look! Use a string or rope loop to hang it aloft in your garden! Another great DIY kid's craft idea! Details here easypeasyandfun
8. Fairy and Unicorn Clothespin Dolls
All kids just love the Disney world so they will just love to do the Disney craft projects! So, let your kids make this fairy and unicorns at home using the paper and clothespins and also some paint! This project will involve gluing, tracing, painting, and cutting and hence will definitely boost the fine motor skills of your kids! Full tutorial here kidscraftroom
9. Woven Paper Plate Bee Craft
Kids will just love to do this brilliant paper plate bee craft that is super quick to whip up! Let your kids paint a paper plate for a yellow appeal and next weave the plate for black stripes using a black string and finish by adding googly eyes, handprint wings, and pipe cleaner antenna! Full instructions here kidscraftroom
10. DIY Handprint Witch in 10-Minutes
Help your kids to boost the self-esteem by making them busy in making this handprint witch that is sure to give a spark to their creative imaginations! A lovely 10-minute paper craft that all kids will love to do with your cut out handprints! Full tutorial here thebestideasforkids
11. Patriotic Cupcake Liner Flowers
Kids can also put together the cupcake liners to make lovely flowers that can be added with straw stems to make cute lovely flowers that can be used in numerous different ways to do further crafting projects and also to boost the home decors! Full tutorial here firefliesandmudpies
12. How to Make Qtip Felt Arrows
Also, add up the q-tips with the felt cutouts and make lovely arrows, and this project will really create too much for your kids! It involves fun cutting and gluing, and kids will love both of these! Another great felt craft project that kids will love to do alone or with siblings! Instructions here munchkintime
13. DIY Origami Frogs
Folding papers into epic fun objects has always been a great crafting obsession for the kids! So, also make your kids do some origami crafting projects to encourage self-expression! Let them make these origami frogs that come with big red tongues and with googly eyes! Full how-to tutorial here easypeasyandfun
14. Make Popsicle Stick American Flags
Promote also the country love in your kids by letting them do some patriotic craft projects, and this popsicle stick American flag will make a great choice in this case! Provide your kids paint, craft sticks, and some inspirations to make this lovely mini flag! Full project details here apumpkinand
15. Pringles Can Binoculars Craft for Kids
Going to trash the empty Pringles can? Don???t waste them but provide to your kids to make these fun binoculars that they can use while playing detective and this project will also boost the creativity of your kids and will also promote recycling in them! Full instructions here happyhooligans
16. DIY Toilet Roll Butterfly Craft for Kids
The crafting projects will really help your kids to express themselves! So, let your kids gain great self-esteem by making these cute butterflies using the paper and recycled toilet paper rolls! Make butterfly wings using construction paper and head over to pipe cleaner for making the lovely antenna! Full instructions here lookwerelearning
17. How to Make Cupcake Liner Flowers
Let your kids also make these flowers that are made of cupcake liners and are super easy and quick to make! Put together the cupcake liners to make the colorful flowers and then add them up with a jewel center! Use green painted craft sticks to make epic flower stems! Full how-to tutorial here onelittleproject
18. Clothespin Dragonflies Kids Craft
Put your kids to a creative track of exploring new ways to use a single object, and these clothespin dragonflies are a brilliant sample and example in this case! Add up the clothespins with these pipe cleaner wings and also with colorful lines to make cute little dragonflies that you can also finish with googly eyes as you can see! Full tutorial here craftymorning
19. Popsicle Stick Wreath in 10 Minuets
The most colorful and enchanting d??cor that kids will love to make this holiday season! A beautiful wreath, made of dip-dyed craft sticks and a paper plate! Cut out the wreath form out of the paper plate and then add the dip-dyed clothespins all around it! Full instructions here babbledabbledo
20. Fire Breathing Paper Roll Dragon Craft
This brilliant craft will provide hours of fun to your kids and is super quick and easy to make! This is here a fire breathing paper roll dragon that kids can quickly make using some colorful papers, pom-pom balls, and toilet paper tubes! Full how-to instructions here onelittleproject
21. Fish Kids Craft Out of Cupcake Liners
Let your kids also make these cute fishes out of cupcake liners that are sure to make an impressive nautical d??cor and will be a breeze to make also! Don???t forget to add the googly eyes and let your kids be totally free to give the final touches! Full tutorial here iheartcraftythings
22. Make Your Own Clothespin Airplane
Your kids can really do wonders with the craft sticks that are often to find around in or out of your home! They can easily paint the craft sticks that can be put together then to make this precious clothespin airplane that is sure to impress! Full tutorial here treasureina
23. New Years Eve Paper Plate Clocks
Your kids can enjoy great crafting with the paper plates too that are always easy to source! Let your kids paint the custom clock numerals on the round paper plates, and next they can finish them by adding custom clock hands making beautiful wall clocks! Full instructions here handmadecharlotte
24. Cupcake Liner Butterfly Craft for Kids
All kids love the butterflies that they can also make at home using the items that are always in stock! Let your kids use some pom-poms, clothespins, pipe cleaners and cupcake liners to make this super cute butterfly, will make a great handmade gift too! Full tutorial here thejoysharing
25. Quick DIY Watermelon Pinwheel
The best summer craft project for the kids to do at home with their friends and siblings! These pinwheels will also make a great summer decoration for sure! Use the paper with watermelon print to make these pinwheels that come with straw handles! Full instructions here kidscraftroom
26. Paper Fan with Blow Pens
Let your kids also go handmade smartly with the craft sticks, papers and also with bow pens to make these fantastic paper fans that are colorful and enchanting and will make a great handmade gift too to someone special! Another great and amazing kids??? craft project! Details here thecraftables
27. Quick to Make Popsicle Stick Puzzle
Kids just love to play puzzle games as they create too much fun and they can also make their own beautiful puzzle games at home using the popsicle sticks just like this given! Put together the popsicle sticks and paint custom shapes and art or also paste your photos on them and here you go! Full instructions here realpurdy
28. Paper Plate Bitten Apple Craft
Let your kids duplicate this very interested bitten apple craft using the handprint cut-outs and paper plate selected in apple color! Here the green apple leaves and the stem are also made of leftover paper plate pieces! Full how-to instructions here kidscraftroom
29. Glitter Popsicle Stick Frame for Kids
Let your kids also make some interesting gifts for friends and family, and this popsicle stick photo frame that comes in amazing glittery appeal will surely make a great handmade gift! Another lovely popsicle stick crafts for the kids! Paint and glitter up the craft sticks and then put them together for a photo frame! Full instructions here madetobeamomma
30. Easy to Make Fruit Fans
The perfect summer craft projects that all kids will love to do at home, the perfect summer fruit fans that will also super gift-worthy! Just grab the paper with summer fruit prints and then fold them and add up with popsicle sticks making lovely fans! Full how-to tutorial here agirlandagluegun
Kids Crafts to Do At Home
These kids craft projects are based on recycling old and useless materials. Therefore, promoting recycling among the kids. These are the simple crafts that kids can do on earth day, valentine's day and help make entertaining gifts for friends and beloved ones without getting a bit expensive! You kids can recycle the tin cans to make fabulous decorative vases and pencil holders, and they can also go handmade with the recycled top rolls to make lovely minion gift boxes! Just browse this entire list of recycled kids crafts and see what you want your kids making in front of you!
Let your kids crafty with the plastic bottles and paint to make lovely fairy house night lights, and they can also make beautiful fairies out of recycled egg cartons that will also make cute gifts for the little girls in the home!
Along with increasing dexterity and self-esteem, the crafting activities will also teach your kids how to be social while working together with siblings and friends! So, if you want to provide your bored kids an instant fun then must plan these simple, creative, and fun crafts for kids that will remove all the boringness from them!
These kids crafts will also rock for the holidays and summers when kids are often to learn something new and amazing! These kids craft ideas involve brilliant recycling projects, repurposing of old things, rock painting ideas, and lots of other DIY projects that will attract your kids!
31. DIY Teacher Gift Tin Can Craft
It's time to recycle those empty tin cans and make this lovely organizing gift for the teacher. Kids would love to do this craft with you and prepare an amazing table organizing gift for their favorite teacher as they can hold their stationery in these tin cans. Grab the tutorial here! dazzlewhile
32. How to Make TP Roll Gift Box
Here is another cute gift box idea for the kids to make when they need a present for their friends. Using a tissue roll and the minion colored paper this lovely minion styled gift box has been prepared and it looks just damn too cute and pretty. Find out the details of the idea here! instructables
33. Toilet Paper Rolls Organizer
The kids can use the toilet paper rolls for the purpose and that too in many sizes and getting them decorated with some colorful and glittery paper. They would look great on kid's homework table holding all their stationery in apple pie order. Details of the idea here! theseaman
34. Super Scout Banquet Place Cards
While celebrating the successful scouting of your kids at the party table you can make these super cute scout banquet place cards. These cute and adorable super scouts have been easily made out of the empty tissue rooks, sharpie markers, and the yellow felt. Complete details with instructions here! cindyderosier
35. How to Make Paper Roll Cups
There are so many things that the kids can make to boost up the afternoon fun and their creativity too. This craft of making cute and colorful cups from the paper rolls is super fun for the little boys and girls to kill their free time. The easy details of the idea have been given here for free! happygirlycrafty
36. Recycled Toilet Paper Roll Building Blocks
The block games are must for the toddlers in the house and now you can gift them the handmade blocks which are cute and colorful. This bunch of the lovely blocks has been made out of the recycled toilet paper rolls and the colorful scrapbook paper and we have got you the complete details of the idea here! swoodsonsays
37. How to Make Fairy House Night Lights
Let the fairies come and stay at your place when you have these gorgeous fairy house night lights for their welcome. Kids are so fascinated about the fairies and everything about them and these cute fairy house night lights would more fun to make at home using some plastic bottles, paint colors and the faux flowers. Detailed tutorial here! craftsbyamanda
38. Upcycle Egg Cartons Into Flower Fairies
Kid's crafts surround most the fairies and things related to the fairy world so here we offer to create this lovely bunch of the flower fairies for them and with them. Using things like egg cartons, colorful papers, paint, and the wooden beads these flower fairies have been created with so much fun. Details here! cucicucicoo
39. DIY Planters from Yogurt Containers
Here is another functional but totally fun craft to let your enjoy some green thumb in the house. So get ready for the spring with these DIY planters that have been made out of the yogurt containers. Gorgeous paint hues and stamps have been used to decorate the planters. Fully detailed tutorial right here! vikalpah
40. CD Snowman Ornaments for Kids to Make
It's ok if the kids cannot go out and make the real snowman as this fun CD snowman ornaments for kids are super fun to make indoors too. Using the old CDS, white paint, black buttons with beads and some foam circles these lovely circles are super easy to make and hang around your spaces. Details of the idea here! happyhooligans
41. Water Bottle Flowers Craft
Flowers are the must part of any of the decor and now you can make some cute flowers at home to use them for your kid's table decoration. Here is this cute bunch of the flowers having been made out of the water bottle bottoms with paint, green straws, and pom poms to look just so damn cute and adorable. Step by step details here! kidfriendly
42. Tin Can Planters – Recycled Crafts for Kids
Your kids would make these adorable tin can planters to bring some charm to the garden or you can use them around your indoor spaces. The tin cans have been turned into the lovely planters by adding fun face features to them. Things like googly eyes, pom poms and pipe cleaners have been used for the decor purpose. Check out the details here! darice
43. How to Make Toilet Paper Roll Binoculars
Kids love to play with the binoculars and now you can make them some cute handmade binoculars to have fun with. Yes, using the paper toilet rolls and the green paper this lovely piece of the binoculars have been made and your kids would love to explore the nature around with it. Details and instructions here! thesprucecrafts
44. How to Make Mini Lid Banjos
The more fun a craft is the more your kids are going to enjoy it and so is the case with this mini lid banjos. You need to use the things like jar lids, colorful washi tape, thick and wide popsicle sticks, and the rubber bands to make these cute and adorable banjos. Check out the details of the fun idea here! thecrafttrain
45. Cute DIY Egg Carton Flowers
These colorful and pretty flowers are handmade and look nothing but a pure bunch of whimsical appeal to the senses. You can easily make these lovely flowers using the egg cartons, card stock, and paint colors. Check out the details of the idea here to make them easily at home with your kids like the fun summer craft. easypeasy
46. DIY Cereal Box Monsters
Cereal box can open up a wide way to your creativity and imagination just like these adorable DIY cereal box monsters to be made out of them. You can easily make it with your kids using the construction paper and the cereal boxes and they would look so great on your Halloween party tables. Check out the details here! craftsbyamanda
47. Easy to Make Milk Carton Bus
Nothing is a waste when you can recycle them into something fun and cute crafts just like this lovely bus have been created out of an empty milk carton. Yes, the carton has been painted up like bus with the bottle caps being used as the wheels. Follow the free details this cute kid's craft right here! craftproject
48. Mini City Out Of Paper Rolls
Kids would love to make some crafts to pass their time in the garden or in the living when they are enjoying the summer vacations just like making this mini city. You would need a fewer number of the supplies to create this cute mini city and that are the paper rolls, construction paper, and the marker. Complete details here! todaysparent
49. Trolls Poppy Popsicle Stick Craft

Making the movie inspired crafts is the most fun thing ever for the kids and this time they can get their hands on this cute and colorful DIY poppy from the Trolls. so start collecting things like the popsicle sticks, paint, green, blue and pink felt and some of the basic crafting tools. Rest of the details are here! craftcreatecook
50. Lego Head Mason Jars For Your Lego Themed Party

Theme based parties are best for the kids and this time you can choose the lego theme party and make these DIY lego mason lego jar heads to decorate your spaces with. So you would need a bunch of the Mason jar to be painted in all yellow and then get the lego face features with black. Complete tutorial here! coup
51. No-Sew Zipper Cases from Old Soda

Make these totally unique and quirky no sew zipper organizers for your kids and let them store their things in a completely clean and safe way. Using the old soda bottles and the zippers the kids can easily make these cute cases to house their pencils, crayons, and markers. Follow the free pattern here! loveit
52. DIY Paper Plate Clock

Kids learn better through the crafts and now they can learn about knowing and telling the time from the clock by creating this super cute and colorful clock on their own. You can learn to make this adorable paper plate craft right on the link here! muminthe
53. Make a Tin Can Bird Feeder

Let the birds visit your garden daily when you have installed for them a perfect food station with this DIY tin can bird feeder. Cut out the lid of the tin can half, decorate it with some paint hues and then hang it around your yard spaces to let the birds come and feed. Easy and fun details of the idea here! momtastic
54. DIY Bubble Wrap Crocodile

Kids love making the animal crafts and this DIY bubble wrap crocodile would be just super fun to create with their tiny little hands and enjoy a summer evening well. The bubble wrap has been painted in green and added with handmade legs and the googly eyes to look just a perfectly cute and lazy crocodile. Catch the details here! positively
55. DIY Bottle Vase

Summers are here which mean you can play with all the bright colors to bring the real summer charm and fun to your spaces. So here is the simple and cute bottle vase so grab an empty bottle and wrap around some colorful piece of the yarn around it and its ready to hold flowers on your tables. Details here! yummymum
Outdoor Arts and Crafts for Kids
Garden decor is a big craze, and the people owning a garden will definitely love to it into a heavenly space! The outdoor garden decor may be too expensive to buy, but you can involve your kids to make your garden look extra beautiful. It will also be a way to appreciate your kids, efforts, and struggle! You may ask that which type of decorative garden stuff the kids can make? We have already solved it for you. Just check out these simple DIY kids crafts and activities for the outdoor that will be big fun for the kids to make at home in the leisure time! You will love doing these crafts with your kids.
Let your kids paint the flowers on the transparent glass plates, and then you can add those plates on the wooden garden stakes to make enticing garden decors. Paint a garden pot in a custom way to make a lovely garden wind chime. Go handmade with the plastic spoons and add them up with the transparency sheet wings to make cool garden dragonflies. Kids can get crafty with duct tape and black electrical tape to make a hanging garden. Let your kids do some smart cuts to a plastic milk jug and flatten up the cut sides to make gorgeous garden faux flowers in no time!
Kids can also go genius with the paper plates and make carrots in the garden. Next, They can decorate the outdoor by making mod-podge citronella lanterns that will rock your garden decor! Browse the entire collection to see more interesting stuff that the kids can make for their garden.
56. Easy To Make Painted Garden Flowers
There are so many things that kids follow from their parents and gardening is one of them and let them have their own garden fun you can let them make these lovely and colorful painted flowers of their own. Yes you can take some plastic plates and let the kids paint them up in bright and colorful flowery images ad then plan tin the soil using some wooden sticks. Get to know more of it here thegirlcreative
57. How To Make Garden Wind Chimes
If your kids also want to contribute to the beauty and maintenance of your garden then let them and making this utterly gorgeous and cute looking garden wind chime would be just perfect. Yes you can paint up a planter pot with dripping technique and make three beaded strings to hang from the pot and thus add oodles of funky charm to your garden decor and that too with the help of your kids. Check out more details of the idea here sugarspiceandglitter
58. Beautiful DIY Garden Dragonflies
The pretty dragon flies look so cute and fun hovering over the plants and flowers and now you can enjoy them all the time as you can involve your kids to make this super cute bunch of the dragon flies to spice up the garden beauty with. The transparency sheets have been colored to form the wings of the dragon fly and the plastic spoon have been used as the perfect body for them. So gather the supplies and have some garden fun with your kids and here are the details to peak into artzycreationsk
59. Simple Garden Markers Spoons
There are so many things related to the garden that the kids can make and enjoy a lot in the summers and making these garden markers is surely one of them. The spoons have been used here to shape up the garden markers with the flatten, painted and plant name written up on them by the kids. Follow the details of the idea here to let your kids try it this weekend turningclockback
60. Pretty Duct Tape Twirling Bee Craft
Summers are here and soon the bees would also be visiting your garden spaces and to let kids know about the bees and do some bee related crafts. Making this lovely and cute duct tape twirling bee would be the fun idea for your kids to get the hands on and add so much charm and cuteness to the garden decor too. So using a yellow duct tape and black electrical tape you can easily shape up this adorable bee twirling craft with your kids. You can check out the details of the idea right on the links here craftsbyamanda
61. DIY Giant Outdoor Pinwheels
There are so many fun projects for the kids to try in the summer and the spring and this one is the best for the kids to get their hands on. Yes these are the cute and colorful pin wheels to be made out of the plastic binder dividers and would not only make kids happy but also make your garden look so much stunning and gorgeous too. They are super cute and fun to make with the kids and here are the details of it housefulofhandmade
63. Milk Jug Flowers Summer Garden Craft
A cute and funky flower among the green plants of your spaces would look so great and fun and the icing on the cake is that you kids can make it themselves and have some fun in the garden when its a pleasant summer day there. Some circles have been cut out of s milk carton to be used as the flower petals and the lid of it has been used as the center of the flower and the skewer as the stem. You can follow the details of the idea right on the link here ourkidthings
64. Carrots in the Garden Craft
If your kids are showing some interest in the gardening then here is how you can polish their interest more with these gardening crafts and making this lovely carrot craft with paper plate would be so much nice and fun. The plates have been painted and and the carrots have been made out of the orange paper and the kids would just love it to the core. You can checkout the details here to make it nicely on your own nontoygifts
65. Easy to Make Jack and the Bean Stalk
To let your kids learn about the growing of plants and flowers is best with the garden projects and this Jack and the bean stalk idea is just the perfect one to get your hands on. The kids would not only enjoy the story in practice but also witness the bean growing in front of their eyes as you can place it over your window spaces to make a really cute and nice display there. Follow the tutorial of the idea right on the link here beafunmum
66. Mod Podge Citronella Lanterns
Lanterns bring the real charm and the romance to your spaces and here is how you can glam up your garden with this gorgeous and hand made citronella lantern and its so easy that your kids can also make it themselves. Yes the simple and plain citronella lantern has been adorned with the pink paper scraps, flowers and the buttons to look so much pretty and fun for your garden beauty. Catch the complete tutorial details here thefrugalgirls
67. DIY Nature Suncatcher Craft
Sun catchers are the beautiful decor pieces for the garden, patio and the porch area of your house and now you can get a totally natural kind of sun catchers and its so damn fun and easy that the kids can make it themselves and enjoy contributing to the garden decor. Using a paper plate and some of the natural garden jewels like the plant pieces, flowers, herbs you can secure them on the plate with the contact paper and thus create the loveliest sun catcher ever. Details here coffeecupsandcrayons
68. DIY Painting Clay Pots Kids Garden Art
Just leave your kids with the paint and they would pour their all heart and the imagination in it and this can really help you to create some mind blowing garden decor pieces for your spaces. Here is the idea of creating a really fun and funky looking painted pot for your flowers in the garden that has been totally painted by the kids in a really cute and fun way. Here is the link to find out more interesting facts about the project kcedventures
69. Thumbprint Art Painted Flower Pots
Thumb nail art is so much fun to work with the kids and let them have some outdoor fun in the summers and here is the fun idea to let them enjoy the thumb art this time. Yes you can let them decorate these adorable garden pots of yours with the thumb art as they can be easily turned into the pretty butterflies and the lady bugs. Do grab the details of this idea as it would make your kids super happy and the link is here momalwaysfindsout
70. Upcycled Fairy Garden for Kids
Kids are so creative and imaginative and here is this fun idea to let them unleash all of their lovely imagination in the best and the most gorgeous way by creating this fancy fairy garden for the garden decor. You would need a pot filled with moss, stones, jewels and a chick fil soup container to let your kids make this adorable and totally wow worthy fairy garden on their own. Here are the complete details of the idea seevanessacraft
71. DIY Garden Hose Spring Wreath
This spring you kids can make some spring welcoming crafts and making this utterly unique and totally quirky garden hose wreath is just the right idea to work on. The garden hose has been coiled up and tied with a ribbon, added with flowers and two pairs of the colorful gloves and your awesome spring is just ready to decorate your doors with. Once the spring fun is over you can untie the wreath and use the hose and gloves for your gardening purposes. Details here createcraftlove
72. DIY Toilet Roll Bird Feeder
There are so many things for a garden decor that your kids can perform and making this cute and functional bird feeder is just the right idea to do let them enjoy some garden fun. Using a toilet roll being layered with peanut butter and the bird seeds this yummy bird feeder has been installed that would invite the little feathery fellows to enjoy some tasty food in your garden. Link here for details factorydirectcraft
73. How To Make 3D Doily Flowers
The spring is the announcement of the flowers blooming all around us and making our world and our life so much full of colors, happiness and natural beauty. So while flowers would be all the focus of decor and home embellishing so they would center the crafting sessions too and your kids can make these adorable 3d doily flowers with the paint and the craft paper and some lovely white doilies. Details here craftymorning
74. DIY Ladybug Painted Rocks
The rocks are the important part of a garden decor and now you can use them in the most fun way to jazz up the garden decor of your spaces with. You can ask your kids to paint up the rocks with the lady bugs and thus add so much fun and charm to the beauty and joy of your garden and also let kids have super fun and happiness making these utterly cute and cool crafts themselves. Follow the details here craftsbyamanda
75. How To Make Bottle Cap Flowers
If you got some bottle caps collected in your kitchen then here is idea of recycling them by making your kids indulge with this really cool and fun garden art project. Yes by gluing some colorful bottle caps together in a round pattern and adding a skewer to them you can easily prepare a funky and cool looking art piece to spice up the decor and beauty of your garden with. Here are the details of the idea suburbia-unwrapped
76. DIY Garden Gazing Ball
If you need a garden center pieces to bring some stylish and decorative touches in there then creating this lovely and cute garden gazing ball would be the perfect plan to work on. And if your kids are crafty lovers then they can easily prepare this adorable and fun garden gazing ball by providing the ball a more clear coat of paint and then adhering the colorful butterflies to it all over and its done. Follow the details of the idea here etcetorize
77. Quick DIY Stone Plant Markers
If your kids want to help you in your garden decor projects then here is the totally fun and easy idea for them to work up so damn easily. Yes they can help you creating the plant or garden markers so that you can easily recognize the plants you have planted. The kids could paint up the rocks and then name them up with the plants or flower sand the pretty and cute markers are ready. Easy details here rainydaymum
78. How To Make Wind Chimes
Without a lovely and cute wind chime your garden decor is just so undone especially when the spring is here with the lovely breeze to blow up the wind chimes and create a melodious noise in your spaces to sooth your nerves. You do not need to buy one as you kids can make you one and that too using the things lying around. Yes by painting up some empty tin cans and bottle caps and then glittering them up the kids can easily make this cutest and fanciest wind chime. Catch its details here handsonaswegrow
79. Make Bottle Cap Flower
Making flowers in painting and drawing is now old so let your kids try making this really new and quirky kind of flower out of the bottle caps and super twisting craft project to go excited about. Yes with the half twisted and colorful bottles caps being glued together you can easily create this gorgeous flower to add some really enchanting appeal in your garden spaces and for the details we got you the link here craftsbyamanda
80. No-Sew Frugal Felt Garden Craft
There are so many crafts for the kids to work on by getting inspired from the natural beauty of the garden and thus have so much to make and create in the summer when they are outside to have fun. So one of the coolest projects to work up would be making these adorable and colorful felt vegetables and it would also be a best learning of the vegetables names for the toddlers too. Details here thehomespunhydrangea
81. Owl Bird Feeder Using Juice Carton
There are many of a garden projects which are totally kids friendly just like making this fun and cute looking bird house or bird feeder for the cute little birds that visit your garden everyday. An empty milk carton here has been used as the perfectly cute and cheap bird house with a few cuts and some additional features like the eyes made out of the bottle caps. The idea is just too simple and fun to do yourself at home and here is how you can do it with your kids this weekend redtedart
82. Make Paper Pinwheels
One of the favorite things belonging to the childhood are the pin wheels and every kid just loves them to the core. So you can make your own bunch of pin wheels with your kids to have more fun with them then just taking them in hands and running fastly to make them go round and round with air blows. Ask your kids to paint up a paper and then use it to form up these adorable pin wheels which would also serve as the cutest garden decor possessions too. Complete how to here childhood101
83. Sea Glass Wind Chime Suncatcher
For summers the best porch decor idea is always a gorgeous and cute sun catchers hanging there and this time your kids can make one. Using the colorful sun glass beads and the little cute cow bells this lovely sun catchers has been made that would light up so colorfully when the sun rays would hit them on a bright sunny day in the spring or the summer. Here is the complete tutorial link of the idea rhythmsofplay
84. Spring Garden for Kids with Dum Dums Lollipops
If you love gardening then you should let your kids also enjoy some gardening fun too and making these magic beans with dum dum lollipop garden would the best idea to let kids enjoy a sweet gardening experience. First of all paint up the terracotta pots that the kids can nicely do themselves and then fill them soil and plant the beans as the seeds and next morning surprise them with these colorful and yummy lollipops all grown there. Complete details of the idea here raisingwhasians
85. Make Spring Windowsill Garden for Children
You can make the most out of your kids painting skills and let them create the fun bunch of garden pots for you. Yes make these lovely windowsill garden pots to be a part of your lovely home decor with oodles of colors and charms. The pots have been painted and the lovely flowers and the birds from the paper napkins have been transferred to the pots to make them look so much stunning and fun and here are the details of the idea pinkandgreenmama
86. Make Your Own Chia Pet
Chia pets are one of the interesting ways to share some fun gardening experiences with the kids and here is the idea to do it so damn nicely in the summers. An empty bottle bottom with the some cute face features on it has been used as the pretty planter and then chia seeds have been put inside it to grow and create this lovely chia pet planter to arouse the beauty and style of your spaces. Hera are the details of the idea to know it more better wikihow
87. Pretty DIY Round Suncatcher Craft
The gorgeous and colorful sun catchers are the really beauty and decor of the windows of the house as they rally bring some light and color to the rooms in the morning when sun rises with its bright rays. So here is the loveliest of the sun catchers which are easy like hell to be made by the kids with transparent lids and the colorful tissues being glued to them. All the kids can make one and you can proudly display them in your spaces. Here is the link for complete details and instructions kidscraftroom
88. Create Fingerprint Garden Labels
Kids love to get involved in the messy art and craft projects especially that involves the free playing with the paint. This time they can not only have fun playing with the paint but also make some functional garden projects just like these finger print garden labels for your planted vegetables and the fruits. They are so cute to paint with the finger prints of fingers and the thumbs win exciting shades of the paint to add oodles of charm to your spaces. Here are the details of the idea twitchetts
89. DIY Outdoor Drink Holders
Summers are great fun for the outdoor activities until you have your water near you to keep yourself hydrated all the time and this garden water bottle holder is just the right thing to bring in your outdoors this summer. Using a piece of fabric, an empty tin can and a stand this lovely water holder has been installed to keep your water bottles near you so that you can easily drink water while doing gardening or more. Catch complete details of the idea here positivelysplendid
90. DIY Toddler Coffee Filter Flowers
Kids just love to do some fun work with the paint and spend some quality time at the home so here is the lovely coffee filter flower craft to let your toddlers get busy with. The coffee filters have been nicely and cutely painted by the kids and then folded into the cute flowers to create a lovely flower garden for your shelf or mantel spaces and add so much to your home dccor. Here are the details of the idea sparkandpook
Easy to Make Kids Crafts: