Do you know how to make your own gift baskets at home? If yes, that's good but if not then no problem at all! Because we have shared unique gift basket ideas that are creative, cheap and easy to make at home. As we are so busy in our lives & we hardly get time to be together and show our love to each other. But thanks to the special events and celebrations who have made it much easier for us to convey our emotions, feelings, and love to the important people in our lives through the best gift baskets with unique gifts.
And giving a gift basket to that beloved person of your family or friends is the best thing you can opt for. Don't even think to buy gift baskets from the market as it would definitely cost you a lot. But don't worry we have shared 70 DIY gift basket ideas which are handy, feasible and totally budget-friendly to try yourself at home.
Even if you are not good at picking up nice gifts and packing them creatively, these DIY gift basket ideas are going to be a big help for you. With anything looking like the basket or any basket in your home like the laundry basket, fruit basket, flowers basket, etc you can use it to hold your number of gifts in it. The things or goodies with which the baskets should be filled must be according to the taste of the receiver.
For example for the mothers day gifts, best friend gifts or a birthday gift for your favorite girl can be the cosmetics, chocolates, their favorite snacks, and spa kit, etc. Same like for the boys and men you would find beverages, beers, wine bottles, favorite game kit, etc to go in the basket and give them the bundle of joys. Handwritten cards or cute printable on these gift baskets would add more fun, emotional warmth and touch wood to the presents.
Easy to make gift basket ideas:
You can enjoy the "theme" idea for these DIY gift baskets to turn out them as the most unique, creative and personalized gifts. There are few gorgeous themes given below according to which you can fill and decorate your gift baskets like cute kitty and frozen theme for the little girls, basketball theme for the boys and men, sunshine theme for the busy ladies to get relaxed, coffee theme for both the genres, etc. and if the gift receiver has some particular interests like cooking or gardening you can gift them accordingly with the crockery, recipe books, special ingredients, gardening tools, seed packets and pots respectively.
And most importantly these DIY gift basket ideas can be adopted for all types of occasions be it festive like birthdays, baby showers, wedding day, friendship day, teacher's day, mothers day, father day, etc. come with the detailed links of tutorial and guidance these DIY gift basket ideas are going to be really easy to get your hands dirty with so browse and have fun making them all.
Laundry Basket Baby Shower Gift:
Baby shower gift is always having too much things to carry and that is we have brought to you this laundry basket idea to put all your baby gifts in the basket and then wrap it up nicely and its ready to present looking so nice and decent. Details of this project here theinspiredhive
DIY Coffee Lovers Gift Basket:
Everything about coffee has been bought and put together in this lovely laundry basket and a perfect gift is ready with a cute printable adding more value to the gift and would make a perfect display on the kitchen counter. Get its details here happygoluckyblog
Gift Basket Made from Garden Hose:
The aqua blue garden pipe hose and black zip tie has been tied together to yield this amazing garden basket to keep your tools in or you can fill it with flowers and hang on the garden walls to uplift the garden decor even more. Here is the full pictorial guide to make it wikihow
Beautiful Tackle Box Craft Kit Gift Basket:
If you have an art and craft lover who always messes with this crafting tools and equipment's this tackle box with three tiers of trays it the perfect idea to organize his belongings and store them well for the next use. So if you want to know more about it click here mamapapabubba
Easy Cheer Up Sunshine Gift Basket:
This box full of shine is the best gift idea to cheer up your angry, depressed or disappointed close one be it friend or a family member. Things like body scrub, ice cream face wash etc in a laundry basket and cute printable having hope quote is a perfect way to delight her up. Catch details here mellymoments
Cozy Slippers into Gift Basket:
Its always a tangling issue when it comes to choosing for a nice gift idea for the family and close ones so here we offer you to look at this cute, adorable and cozy slipper basket gift idea, filling them up with some nice giftable things. Get the full details here and do try it this holiday season prettyprovidence
Useful Home Material Gift Basket: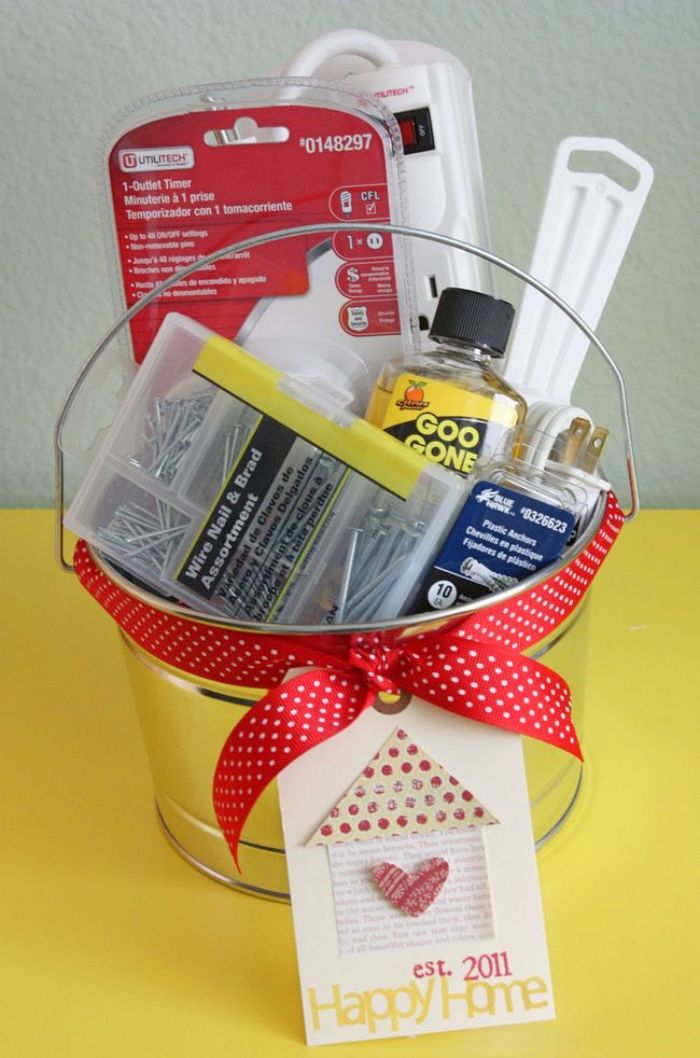 If one of your friends have bought a new house and you want a nice gift while heading to the first visit of either new house this ice bucket full of homey necessities it he best idea to go for and nice printable with best home wishes is adding more emotional value to it. Check out the details here justmakestuff
Hello Kitty Towel Cake/Gift Basket:
There is always a need of a basket to hold the gift items in when you are going to give away some presents so look no more for a market bought basket as you can make a perfect one from the towel as here the Hello Kitty collection for a baby girls birthday has been wrapped in the towel and it looks so lovely. merchantcircle
Easy Food Gift Basket Idea:
If you are in search of a unique and pretty holiday gift idea for your dear one then you need to peek into this cute, cheap and awesome food gift basket idea with all the yummy breakfast things in a cute slow cooker. Here is more to know about this brilliant idea tonyastaab
Quick and Easy Dinner Gift Basket:
Eatables always make a delightful gift both for the giver and the receiver so here is this stunning gift idea with mason jar filled with sauces and pasta and put together in the colander as a gift storage basket with a bow and greeting card making it a complete heart warming gift to go. bhg
Quick and Easy Pancake Breakfast Gift Basket:
Some tasty breakfast things going into a basket and getting wrapped nicely and decorated with cute handmade and hand written tags and wishes would make a perfect gift idea for almost all types of occasions to go with you and bring a smile on the face of its receiver. Know the details here curlyqpaper
Beautiful Easy Coffee Gift Basket:
There are some people who are not easy to please with the market bought gifts they need something special and this morning coffee basket is the apt gift idea to let them drool over. A wooden basket has been used here holding almost all the coffee joys in it and decorated with a ribbon bow and tag thetomkatstudio
End of the Year Teacher Appreciation Gift Basket:
A teachers gift should always be extra ordinary and special so it touches his/her heart and here we have exactly that kind of gift idea with coolers having printed checks on them, used as the cute gift basket. Here is the full tutorial to know and learn more about this smart gift idea. drivenbydecor
Quick and Easy Happy Birthday Gift Basket:
This birthday gift box or basket is the cutest gift idea you would see on internet with some lovely goodies like nail polishes, lip gloss, liner pencils in the box and loaded with crepe paper and gold confetti made cute decor and presented along with a pink champagne. So pin this idea now getting its details from her abubblylife
Beautiful Gardening Gift Basket: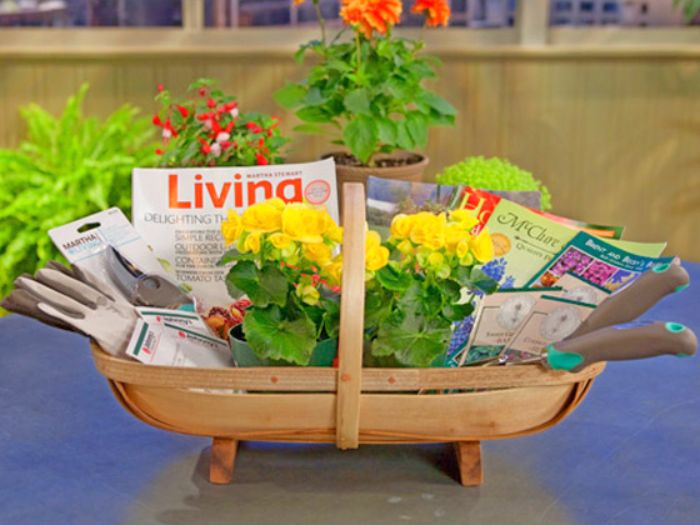 If one of your friends or cousin is planter then this this beautiful gardening gift basket is the perfect plan to present him something really valuable and heart warming for any of the special day or a festive occasion. Here is the link for complete details gardenclub
Kiddle Pool Easter Gift Basket: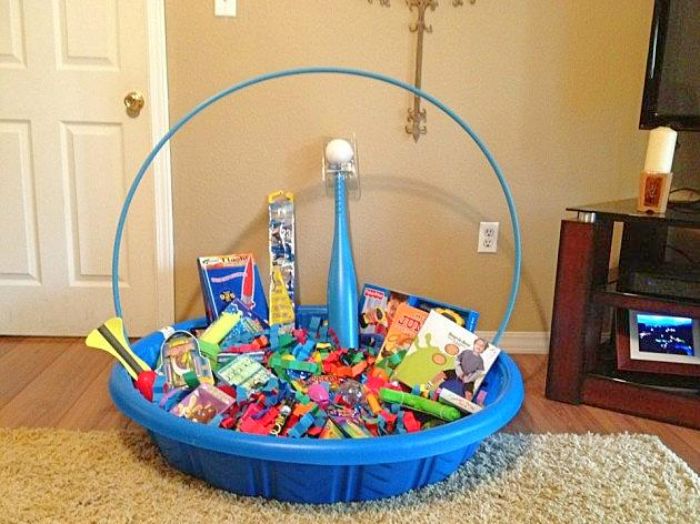 If you are confused about the buying of a gift basket or you are short on money then you need to pick up a kids' swimming pool as it can serve best as a gift basket to hold all your gift goodies nicely in. A curved pipe can act as a basket handle of the same color. Idea belongs here kkyr
The Scoop Ice Cream Gift Basket:
Ice cream is the heart winner for every one so if you are to present a nice gift to someone closed one this i cream scoop basket with ice creams, cones, spoons and straws is the best idea to pull off and you can use an ice bucket for the holding of these goodies or another lying around you. porch
Easy Bundt Gift Basket:
If the person you are going to present gift to, is a cooking lover then this cooking equipment and tool idea and that too in a steel bowl makes a perfect gift choice for you to select. So here are the details of this project to peek into and get darlingdoodlesdesign
Easy Sunshine Gift Basket Ideas:
Best friends, colleague, cousin, mother or sister this gorgeous sunshine gift is a perfect way to cherish them on their big days be it their birthdays or weddings having lot to eat tasty and functional to use as well. Grab the complete details here fantabulosity
Special Pink Gift Basket:
Taking a small pink basket from your kitchen and then filling it with all types of pink goodies you would prepare a perfect gift for a girl on her special day and let her drool over it. Know details of this cute pink gift idea here the36thavenue
Quick and Easy College Survival Gift Basket:
Pointers, pencils, clip boards, stapler etc are the things a college student is always in need of so if your college friends birthday is coming up soon you need to try this college survival kit idea and it would work amazingly. thirtyhandmadedays
Spa and Pampering in a Jar Gift Idea:
Gifts are the perfect way to show your love to the person you love and to pamper them as well so here we have this women favorite DIY spa and pampering gift idea for you to opt for and surprise the beloved ladies in your life. classyclutter
Chemo Care Gift Basket:
No one can realize the pain of cancer patient when they go under chemo therapy but you can try to bring a smile on their face by making their chemo a bit easy and this Chemo basket idea is the perfect idea to that. Details here pinkfortitude
4 Gift Basket Ideas for Your Husband:
Get all the yummy snacks the birthday boy or girl love, put them in a simple laundry basket and paste a nice printable on each snack packet and a perfect gift idea for your best buddy or girl is ready to rock. Full idea details are here thedatingdivas
Back to School Emergency Kit Gift Basket:
If you want a unique and totally decent one gift idea for your favorite teacher then you just browse this emergency kit idea for the teachers as it would not impress them also make a functional place in your kids classroom too. the36thavenue
Easy College School Supplies Gift Basket:
For me the gift is more worthy and efficient if it can be used by the receiver in the most purposeful way like for a student or a class fellow a basket full of stationery and other such supplies is the best gift idea ever. tatertotsandjello
Cool Self-Made Breakfast Gift Basket:
Getting up to the utterly delicious breakfast on the table would be everybody's fantasy for the which now you can fulfill by gifting this great DIY breakfast gift basket to your dear and near ones. Its the most genius idea for gift on holidays too so do check it out. countryliving
Dog Family Summer Fun Basket Gift:
When there is a festive or holiday season and you are pondering on the gift issue you can also take up this dog gift basket idea to present it to those who have a cute dog pet with them as all it got is some fun dog food items and goodies in it so both the pet and owners would be happy for this ajwearsclothes
Quick Get Well Soon Gift Basket:
If you are going to see a sick one then bringing this diy get well soon. doitdarling
Easy Mason Jar Gift Basket:
If you are an art and craft lover then you must bring your crafting touch in the gifts too so that the gifts come out to be really impressive and gorgeous like this TEAl color inspired gift idea for friend's birthday has been so creatively done. Get it full here crazylittleprojects
DIY Teacher Gift Basket Idea:
Let just your creativity come out and get it reflected in everything you do like gifting and here is a cheap and feasible inspiration with this DIY teachers day gift having a colander as basket and some candies, spa card and paper crinkles. Know it more here landeeseelandeedo
Epic Handmade Gift Basket:
There are just endless possibilities to enjoy a unique theme for the gift idea like in this case cleaning theme has been used with all the beauty products, a magazine and some chocolate treats being filled up nicely in a basket. So click and get inspired playpartyplan
Easy Jar Gift Baskets:
Empty glass jars with lid at home are the best to use as the lovely gift storage as here have been used two big glass jars which can be filled oranges, snacks or the snack and beverages both or anything keeping the likes and favorites of receiver under consideration. onegoodthingbyjillee
Cookie Dough Gift Basket:
Neighbors are also expecting some nice gifts on some special days so here is this cookie dough tray idea as one of the best neighbor gift where the cookie dough has been made, turned into balls and frozen before being gifted. Here is everything you need to know about it iheartnaptime
Easy Tired Mom Birthday Gift Basket:
This lovely tired mom gift idea is for all those ladies in your life who you think are having tough routines at home or office. Having a french press, coffee, syrups and half and half this gift basket would enable them to get relaxed with a nice cup of coffee. So do try this idea for your next gift session irocksowhat
Perfect Box of Sunshine as Food Gift Basket:
Box of sunshine of the theme of sunshine is really ruling the internet these for the gift idea search and here is another fun addition to it. with this adorable and lovely box of sunshine having lots of deluges and delights in it to make the reciever say wow while getting it. Get the goodies details and the gift decor here happymoneysaver
Beautiful Home Warming Gift Basket Idea:
If your friend has bought a new house and he/she is working on the decor department you can help them with this home warming basket that you can present as a gift to them as it got a gorgeous white painted planter along with some other needy stuff. Get it full here  victoriaelizabethbarnes
Homemade Mother's Day Gift Basket:
If you are not good at showing or expressing love to your family especially to mother then this DIY mother day gift idea is totally the apt way to that as it so heart warming and touchy with some relaxing and beautifying stuff in it along with a cute flower bunch. Copy full idea right here  julieblanner
Great Cocoa Gift Basket:
This lovely hot cocoa mix along with a pack of marshmallows is a great gift idea and that too for any one in your family or friend circle or other important persons like teachers, neighbors or the colleagues as well.So check out the full tutorial here helloglow
Root Beer Float Food Gift Basket:
Fathers are not so hard to please on their special days as they get excited to see their favorite beer only so here we have this root beer gift basket along with other drink essentials and an ice cream scoop to make a perfect father day gift. iheartnaptime
DIY Breakfast Hostess Gift Basket:
It would be such a nice gesture from your side if you take a hostess gift with you while heading to a party and nothing can beat this breakfast gift idea which would let the tired host have a fun and relaxing start of the after party day. Get it full here  jennysteffens
Easy Movie Party Favors or Little Gift Baskets:
Kids love movies and having a movie night under stars with their friends is the ultimate fun and you can enhance it more these yummy munchies for all the kids as adorable welcoming gift idea with a cute "enjoy the Show" printable on each munchies cup. jacolynmurphy
Perfect Get Well Gift Basket:
Its a customary to bring something with you when you are going to meet a not well person so take this get well soon basket with u having many favorable things for the patient like hand sanitizers, tissue, tea, emergence c etc. Check it out complete here themerrythought
Easy Sports Themed Gift Basket:
Hey looking for a unique and lovely gift idea for men? then this sports themed gift idea is totally your cup of tea. Along with the hat, baseball and sunscreen there are some snacks too in the bucket which have been striped like a base ball. So rock this idea with full details here hoosierhomemade
Holiday  Cupcake Baking Gift Basket:
There is a always a person in our family or friends group who loves to bake and delights us with his yummy creations so nothing would be better to gift him or her a cup cake kit on any special day be it birthday, or friendship day.Here is the full tutorial thetomkatstudio
DIY Cheese, Nuts and Crackers Gift Basket: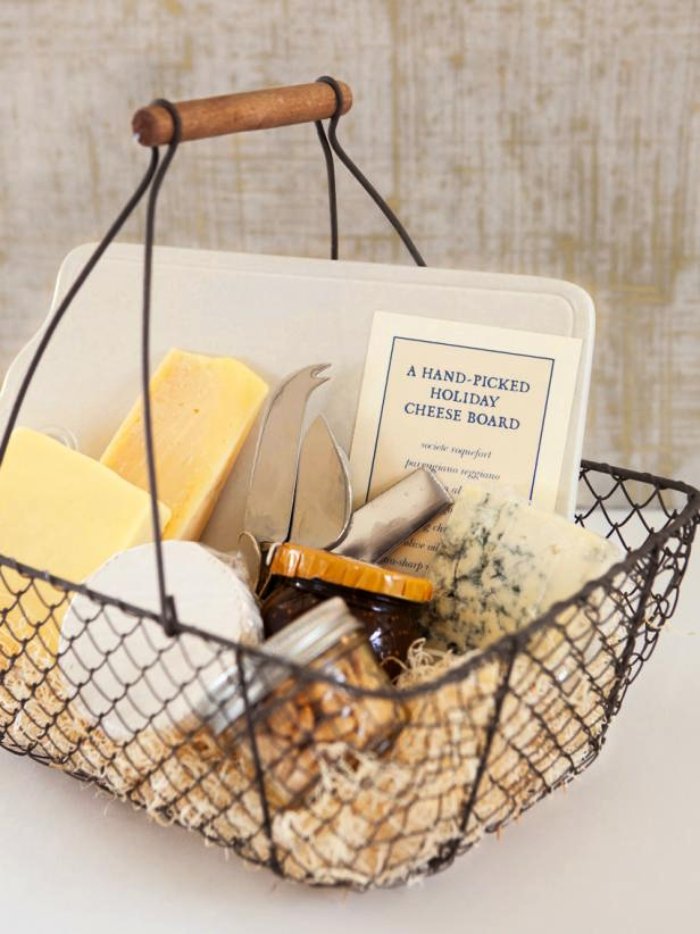 Grab a wire mesh made basket that is so commonly found in our houses for shopping and fill it with things like cheese, cheese board, cheese cutter and some nuts, and a modest yet very excited gift basket is ready yo be gifted to any of the person in your list. diynetwork
Special Tea Lovers Gift Basket:
Some people are tea holic as they can survive without tea so you no need to ponder too much while purchasing a gift for them as you can buy some tea-goodies for them with a tea mug and out them all in the basket with a cute note adding more value and touch wood it. So if you liked the idea check it out here livelaughrowe
Simple and Beautiful Paper Plate Cookie Gift Basket:

Sometimes a nice packing of the simple goodies make your gift look really pretty and special so here we have this cookie basket that has been made from a paper at home with a quick and easy method and decorating it more with a nice blue ribbon and a printable. Learn making of basket here itsalwaysautumn
Epic Manicure Gift Basket:
Any thing of cosmetic is enough to make a woman happy and excited so there is never a dearth of the gift idea for them so if you are also about to gift something to a lady this DIY manicure kit in a cute basket is the perfect idea to go for. Check the details here jolynneshane
Perfect Hot Cocoa Gift Basket:
Creating a unique gift is no more a big deal as you can pick up anything that the receiver like and turn it into a nice gift package with some crafting skill like this lovely hot cocoa gift baskets with cocoa, cups, mugs stirrers and other essentials have been put together in a wooden basket for a stunning gift. thetomkatstudio
Frozen Elsa Easter Gift Basket:
Little girls are just so fascinated about the Disney princesses specially about the frozen prince Elsa so here is this frozen theme gift basket with everything in blue including some yummy goodies and a cute Elsa doll which is enough the little one to drool over. Know more here sisterssuitcaseblog
Self-Made Pop Gift Basket: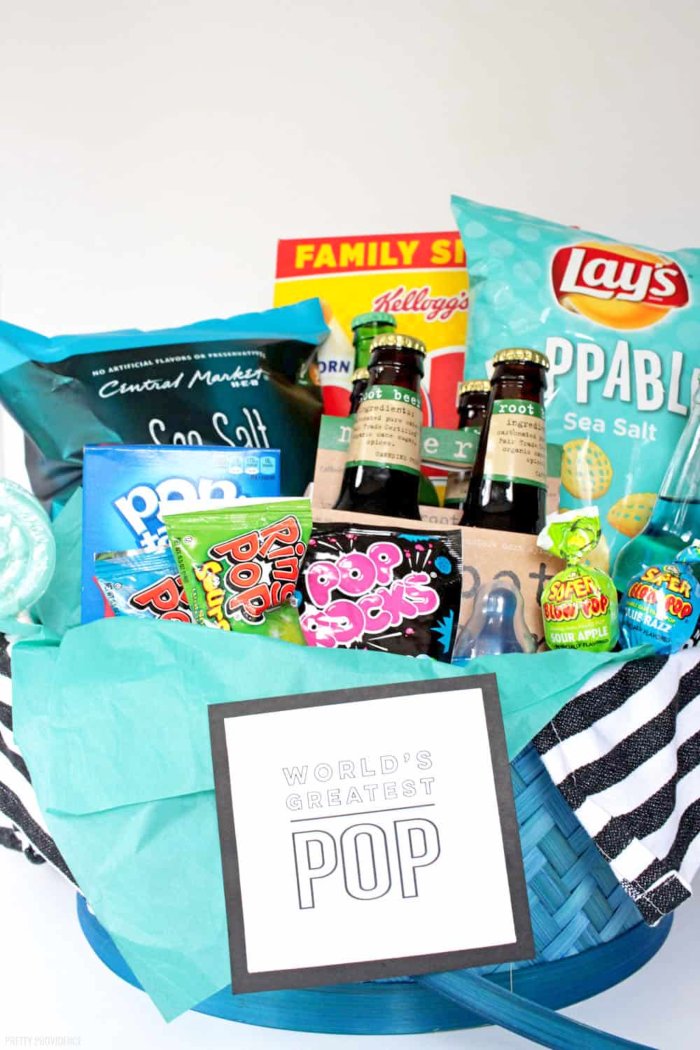 If you are new mommy and want to congratulate your hubby for being too supportive in the entire motherhood journey than this POP gift basket with everything in POP in it like POP rats, POPs, POP rocks etc along with some soda and beverages cans is the perfect idea to pull off. Visit this idea in detail here prettyprovidence
Special Toddler's Easter Gift Basket:
If its your toddlers fist festive season he truly deserves to be gifted something really special and we have perfect plan for you in this regard with this My Toddler's Easter basket idea having been loaded with lots of vehicle toys, puzzles and search and find books. mylifeoftravelsandadventures
Lovely Fall Gift Basket:
This awesomely amazing and gorgeous fall gift basket would give you a big jaw drop for being so unique, perfectly themed and totally fascinating. In a pumpkin basket some gift favors have been added and fall leave design cards with a love not for the  husband has been put in it. So grab the details of this extra ordinary husband gift idea here thedatingdivas
Darling Test Tube Favor Kit:
If you are hosting a party soon and you need some favor ideas for the guest then you must try this absolutely unique, yummy and innovative Test tube favor kit made out of the simple kitchen ingredients like mil powder,  dry creamer, coffee powder etc. Click here to get the complete details of this awesome favor project. somethingturquoise
Hot Cocoa Mix Ornaments or Gift Baskets:
These lovely cocoa mix ornaments are the uniquest things you would find in the gift idea category as they serve you double functional roles for being super decorative and to be used as a hot cocoa cup too. Just add all the cocoa mix ingredients in a cute glass container, tie a ribbon and its done. sprinklesomefun
Chocolate Dipped Spoons for Gift Baskets:
Collect some really cool vintage spoons, dip them deep in chocolate, add sprinkles or marshmallows, wrap u, tie cute ribbons and the gorgeous gifts are ready which are too tasty to add in a cup of coffee and latte and too cheap to be made at home yourself even when short on money. instructables
Easy Ice Cream Sundae Kit/Gift Basket:
Ice creams are more yummy and fun when turned into sundae and these sundae ingredients getting into this box along with the cones and a chocolate sauce jar makes a perfect gift idea for any of the special days be it holidays, or birthday. Get it all here mixingbowlkids.typepad
Special food Gift Basket:
Everything in the shape of basket can be used as a gift storage when you are gifting to someone. Here a big popcorn basket has been used with yummy goodies in it and then wrapped with a plastic wrapper and tied with a  ribbon and that's it, a nice and cute gift is ready to be handed. meganshipton
DIY Cupcake Onesies Baby Gift Basket:
Enjoy a cute cupcake theme gift idea for the next baby shower you are going to attend with the cute onesies inside it having been rolled up and hold in the cute cupcake molds. A big fabric bow tie over it is adding more adorable factor to it. Here is full tutorial of making this basket. club.chicacircle
DIY Emergency Chocolate Gift Craft:
When some of your close friends is facing a hard time you need to bring some smoothness in his life and this too yummy and fun looking chocolate box is the best idea to show your support and love to them and that you are always with them. And eating sweet releases depression too so do try this idea 30minutecrafts
Handmade Mother's Day Spa Gift Basket:
Mothers are so busy in their routine life that they truly need a break from the mundane existence to get themselves relaxed so here is this lovely spa kit basket idea having all the spa related items in it so that your mom can anytime relax in spa. So this mothers day you know what to gift here mom4real
Dollar Store Canister Cookie Gift Basket:
One thing that can make a perfect gift for all age groups is the cookies and putting a few cookies in a canister with a cute and pretty printable on it saying Baked with Love is the perfect gift idea for any occasion and day and for anybody. Know every bit details here lilluna
Women Cosmetic Gift Basket:
Big and luxury gifts are expected on the as its the biggest event so make your beloved ladies jump off with joy with this totally fascinating candle gift basket with candle holder, scented candles lighter and some other bath things to relax and thus making a perfect hamper. Here is the full detail of this project 365greetings
Super Easy Movie Night Gift Basket:
All kids want their gift to be the best and the unique on the teachers day and they want all the help and guide from you in this regard and you can get along this DIY movie night gift basket idea which is too easy to do at home and that too staying in your budget limits. Complete idea lies here survivingateacherssalary
Special Housewarming Gift Basket:
If your close ones have shifted to a new house and are in the process of decorating it you can surprise them with a visit and this lovely DIY house warming gift idea which includes some really genius stuff that would help them to style up their house with. Here is the complete tutorial curbly