It takes time to choose the best gift for a friend or a beloved one but this just not ends here, you will also have to look forward to a perfect gift wrap that will make the gift look beautiful and super gorgeous! A lovely gift wrap always makes the gift look unique, and it would be a big surprise at a very first look before the receiver opens the gift! Here we'll only talk about how you can make custom gift wraps at home using the common home materials and also the items that are always lying around!
Before you get busy making some nice gift wraps at home, we would like you to take a look at these 30 top DIY gift wrapping ideas that are amazingly genius, cost-efficient and will make you learn tons of creative hacks about DIY crafts! You will be highly amazed to see the list of items that will be used for making adorable gift wraps that you use daily and see dozens of times in routines! Time to pack your gifts like a pro with the help of this DIY gift wrap ideas that are amazing!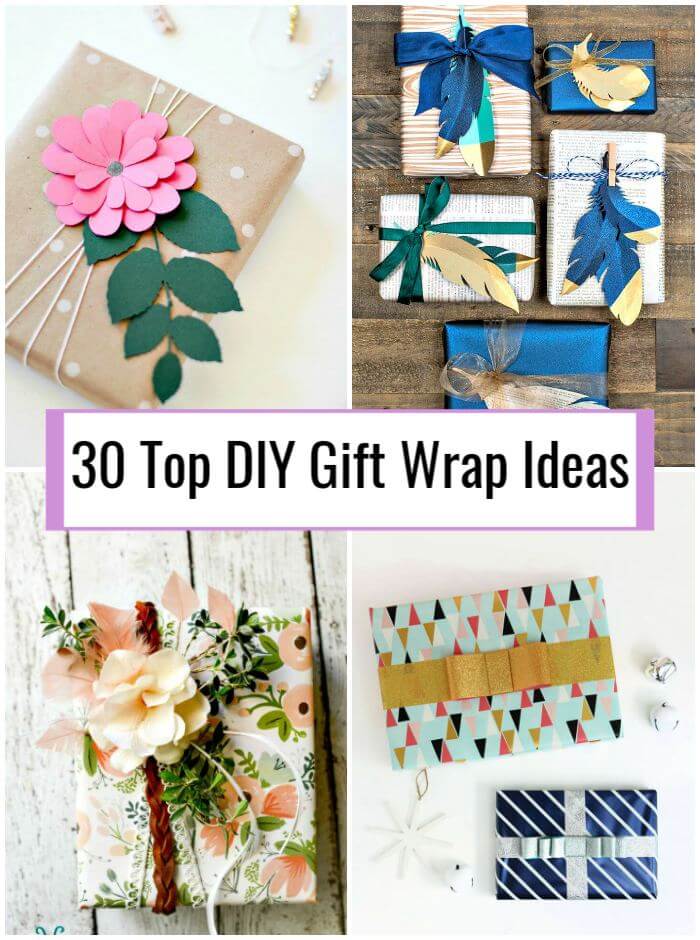 If you want to make some colorful gift wraps, then you can give a touch of pom pom to your gift wrapping papers so they will look great and colorful! Having some old scarves lying in your home? Also, use them in wrapping your gifts beautifully and also print out your papers and custom ribbons to make gorgeous gift wraps at home without getting a bit expensive! If you want that sparkly appeal of your gift wrap then just make the glittery ribbon bow gift wraps at home using glittery tape and colorful tissue paper, just have a look at this given samples that are amazing and eye-catching! You can get inspired of anything special and just incorporate it to your gift wraps to make them unique!
You can go with diverse different ways to make custom gift wraps at home like you can choose the paper or fabric with different prints, patterns, and textures to make some stunning gift wraps at home! Next, you can also make use of stencils, stamps and paint to create custom gift wraps out of simple papers and fabric papers, stamp or stencil the papers to create a custom gift wrap that you are looking for! Moreover, the final step would be to use custom embellishments to make your gifts look special, and the sky is the limit for the decorations to use for your gift wraps! Like you can use the gold dipped feathers, pom-pom, colorful tissue papers, accent ribbon bows, felt or paper flowers and also various items of this kind!
DIY and Crafts:
Check out more exciting and creative gift wraps given below in the collection that you can easily make at home without getting a bit expensive! Visit the respective attached links for each of showcased project to reach full free tutorials and visual guides!
DIY Colorful Gift Wrap with Pom Pom Toppers: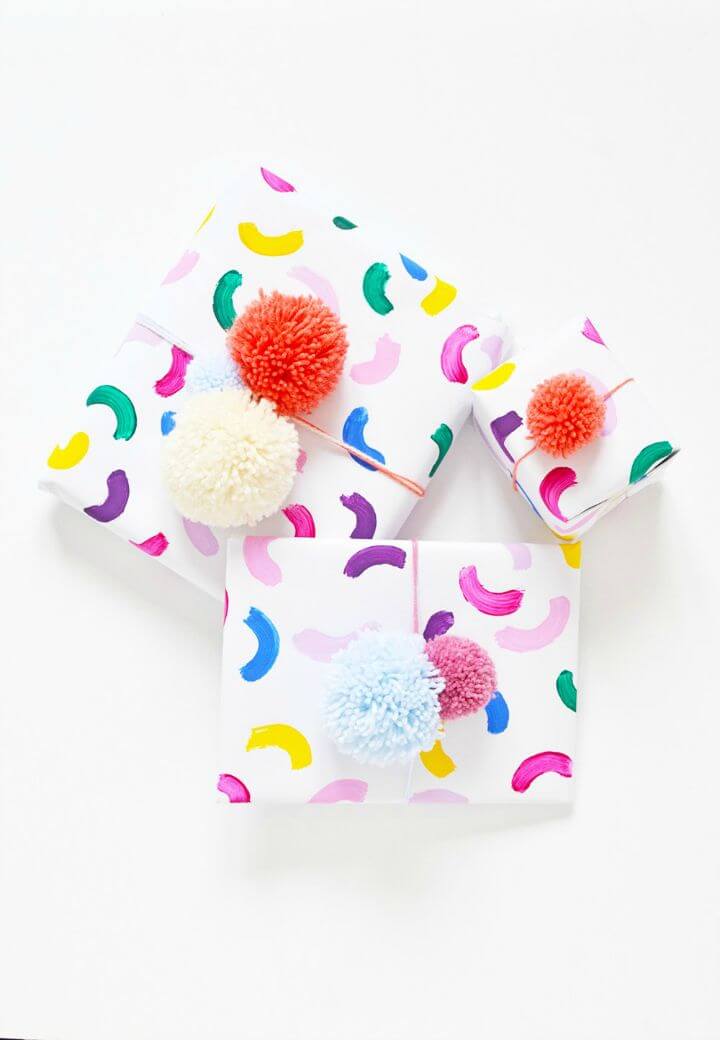 Make beautiful looking gift wraps at home without getting expensive! If you like it colorful, then this given gift wrap with pom-pom toppers would rock! Here this beautiful gift wrap is made of white paper that has been painted for mini colorful mini-moon shapes that cover the entire white paper and finally the colorful pom-pom toppers have been adding for a charming gift wrap! Full project tutorial here enthrallinggumption
DIY Scarf Gift Wrapping Tutorial: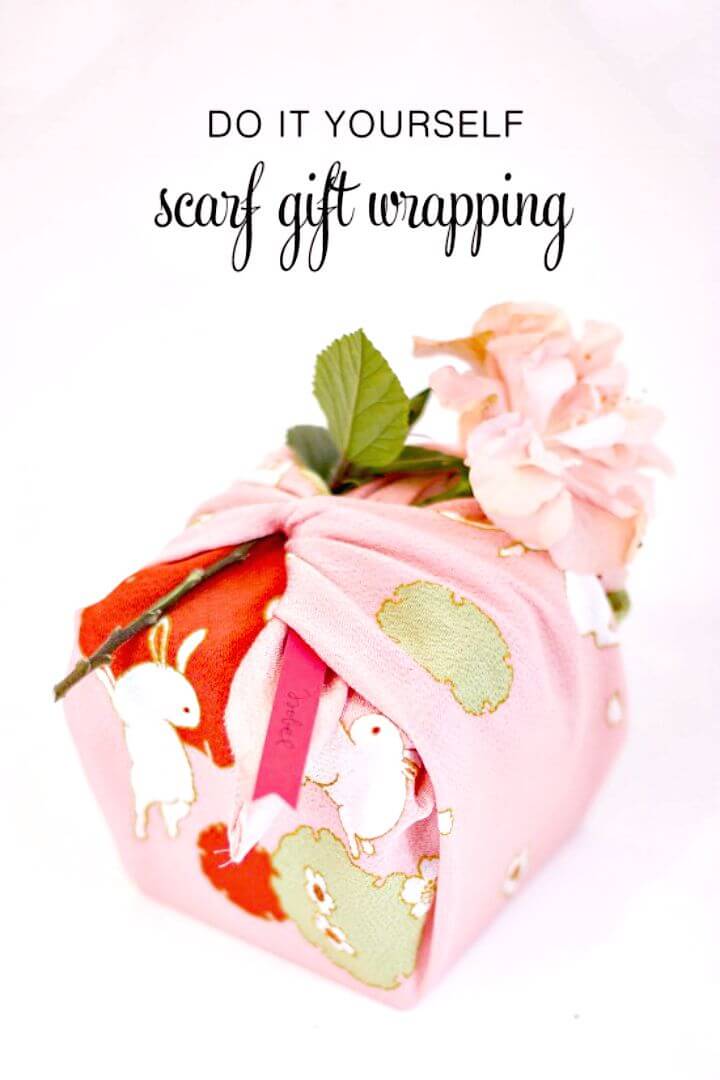 You can also repurpose your old scarves and other fabric stuff to make some durable and charming looking gift wraps at home, and a mind-blowing is given here to hold your attention, it will also make a great inspiration! Here all you need it to lay down the scarf on a flat surface and next you can place your gift on it and can wrap the scarf around and knot! A final step would be to insert some accent flower and greenery under the top scarf knot to make a stunning gift wrap! Full project tutorial here polkadotbride
How to Make Custom Printed Gift Wrap and Ribbon: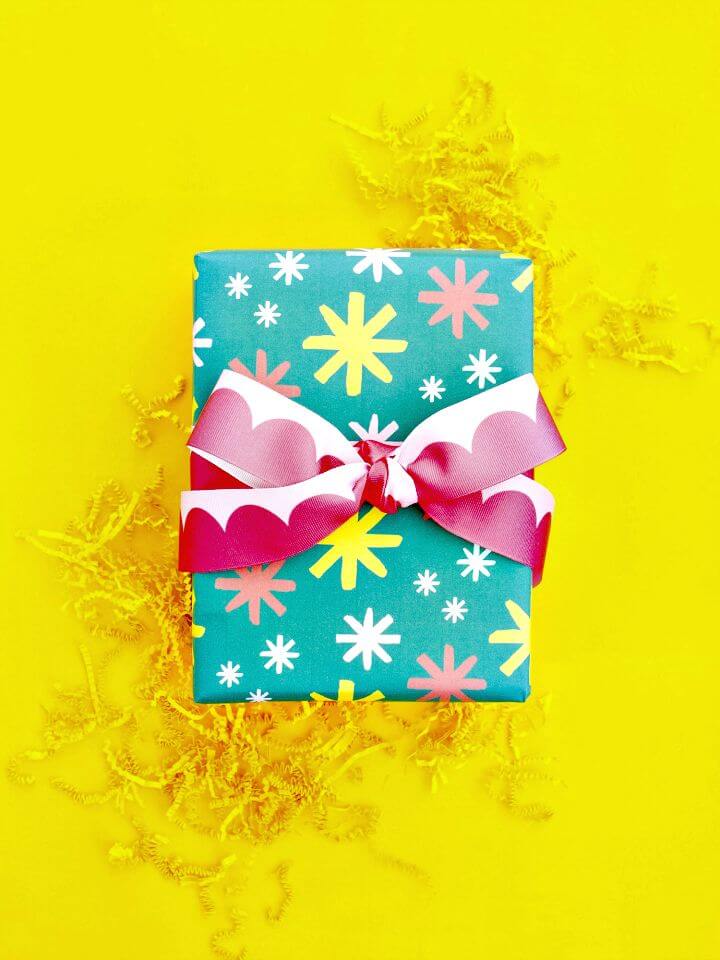 If you get attracted to colorful things, then this given handmade gift wrap would hold your attention! Here the printed paper and printed ribbon have been used for making this enticing gift wrap and it will not take much time! Just wrap the gift in your favorite printed paper, and next just give an accent ribbon loop finish! Full project instructions and tutorial here sarahhearts
DIY Tape Bows Glittery Gift Wrap: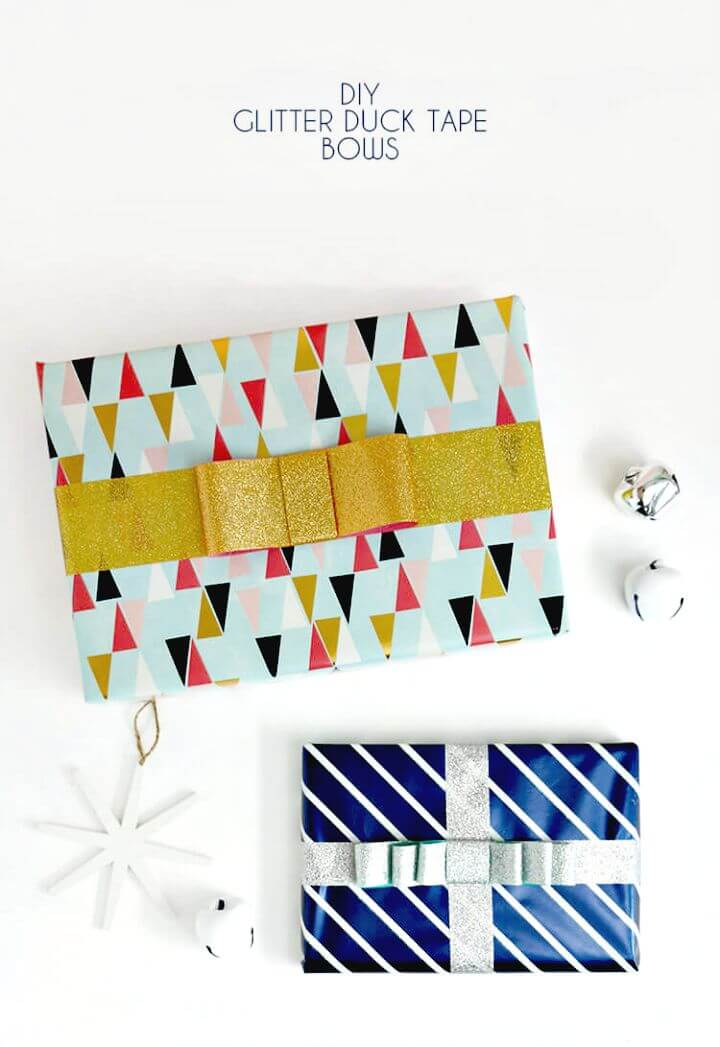 Wrapping the gift is just like to worth the effort you made to find a special gift for a friend! You can wrap the gifts in custom gift wrapping papers, but the final touch can also make or mar the appeal of the gift wrap! You can make use of lace, ribbon and also of accent flower or pom-pom toppers to given an accent final touch to your gift wraps and these glittery tape bows would also rock in this case! Here all you need the glittery duct tapes to make these tape bows! Here is how to make them persialou
Adorable DIY Gift Wrap Ideas: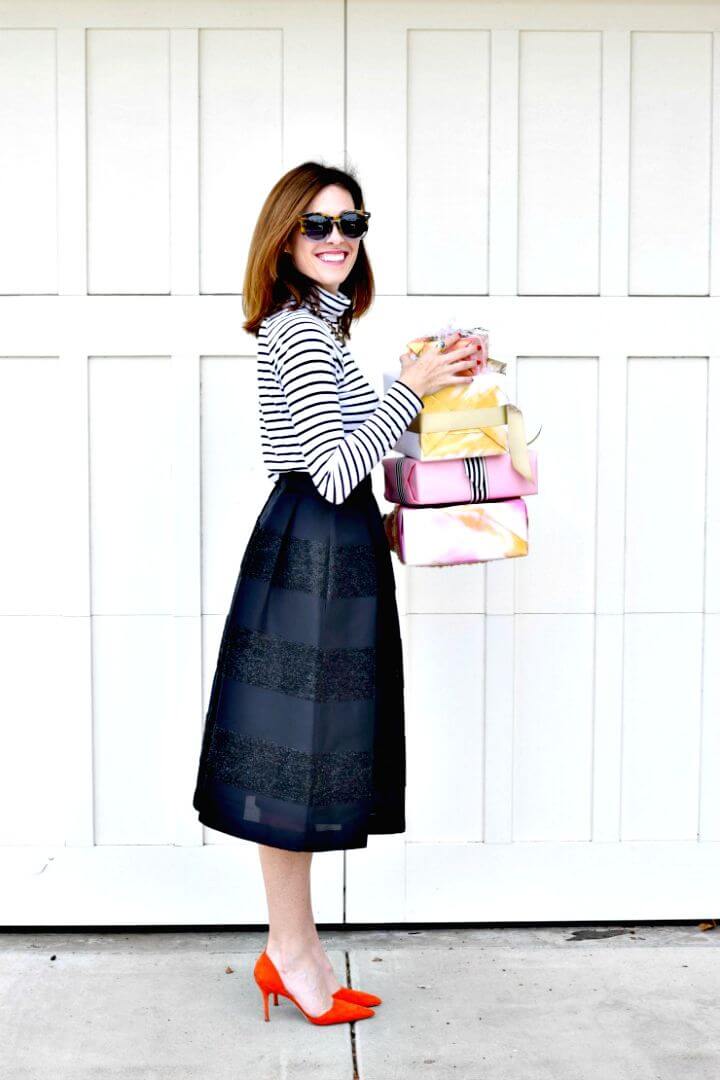 Check out here another lovely and adorable gift wrap that has been done to rock and inspire and is lovely and enticing! Here all you need a normal white paper to wrap around your gift and next you can get it sparkly by treating with few hard paintbrush strokes and final step would be to give an accent gift wrap! Raise the beauty of the gift wrap to peak level by adding a sprig of rosemary for a final touch! Full free project tutorial here artinthefind
DIY Printable Egg Wrapping Paper: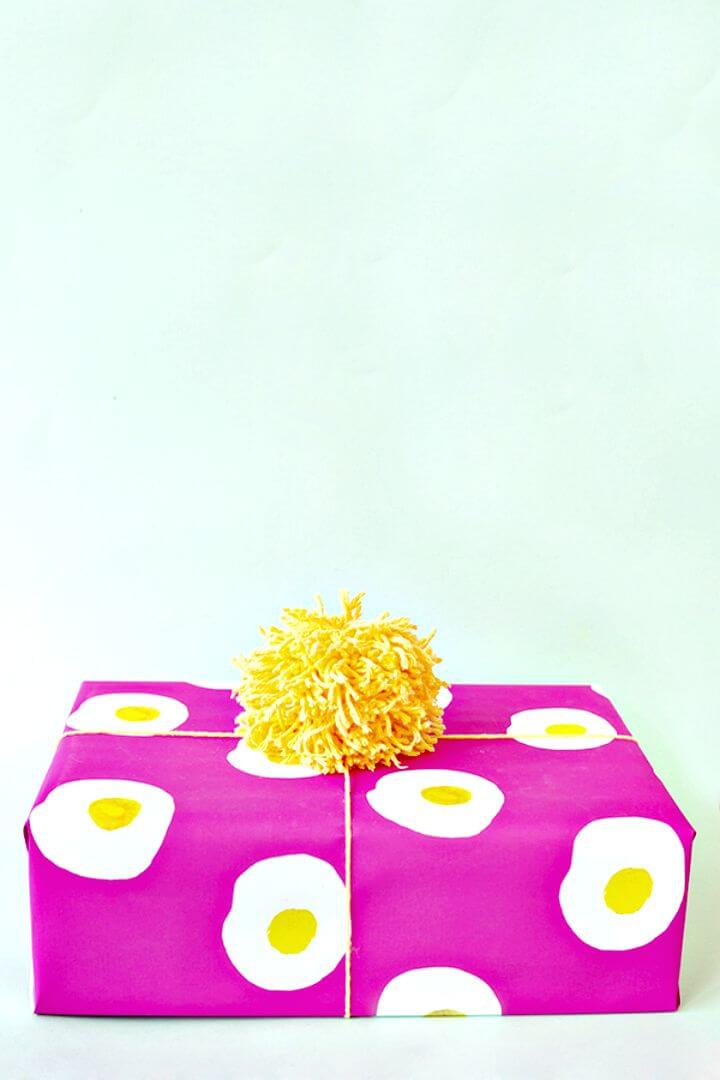 You can also make use of the computer, printer and of photoshop to print out outstanding wrapping papers with custom printed designs! An interesting sample here is this egg wrapping paper that is looking damn cute and lovely and is super easy to make! Just print out a paper with egg print and then finish it up with a pom-pom topper and that's it! Full project tutorial here studiodiy
Awesome DIY Gold Tipped Paper Feathers: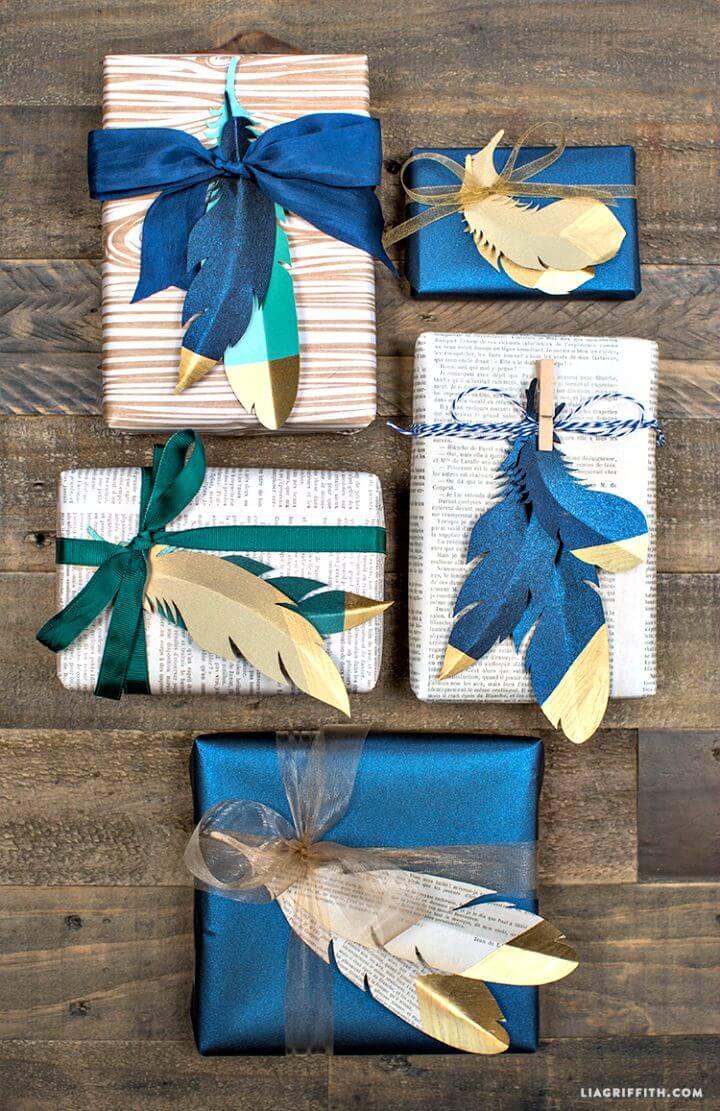 Many modern accents create a stunning look of the gift wrap, and the feathers are one of them and if they come gold painted or gold tipped or dipped then they will rock! Just have a look at this awesome gift wrap in which the gold-tipped paper feathers create a posh look of the gift and the gold-tipped has been inserted just underside the accent ribbon bow! Here is how to make the gold-tipped paper flowers liagriffith
Make Pom Pom and Garland Gift Wrapping: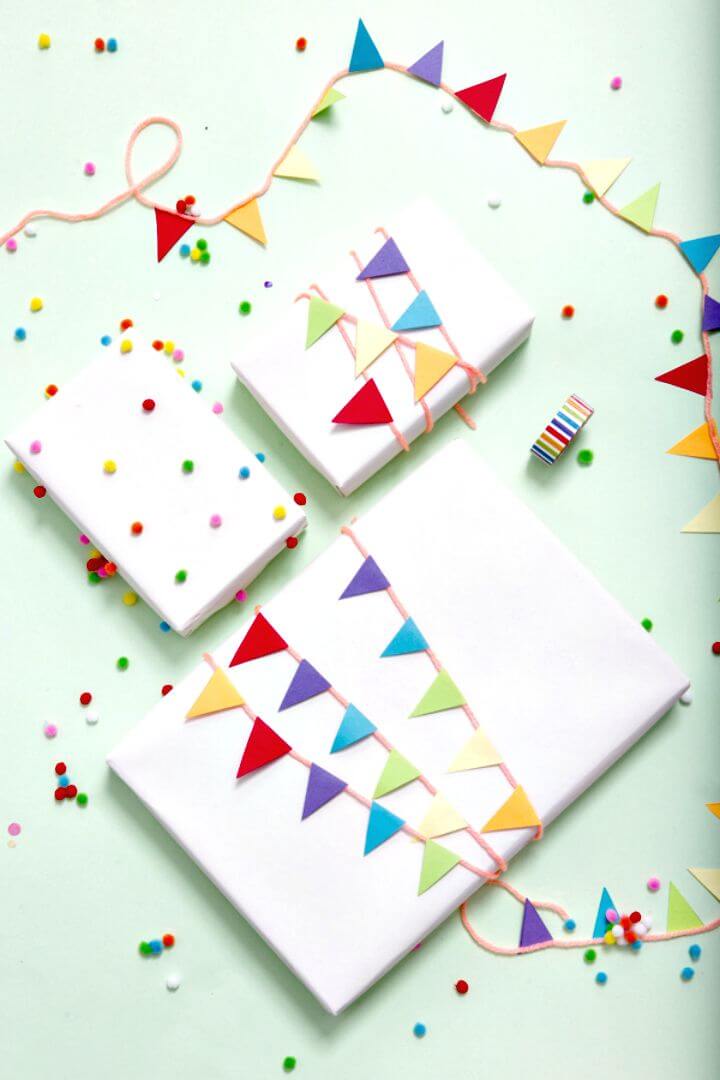 If you have some colorful buntings garlands that are often to the left with after a party and also some pom-pom balls or pom-pom trims, then you can also use them to make super charming looking gift wraps that will go eye-catching! Just wrap your gift boxes in the colorful garlands and pom-pom trims that will rock as instant beautiful and colorful gift wraps, get inspired of the given samples! Full project tutorial here asubtlerevelry
DIY Office Label Watermelon Stickers: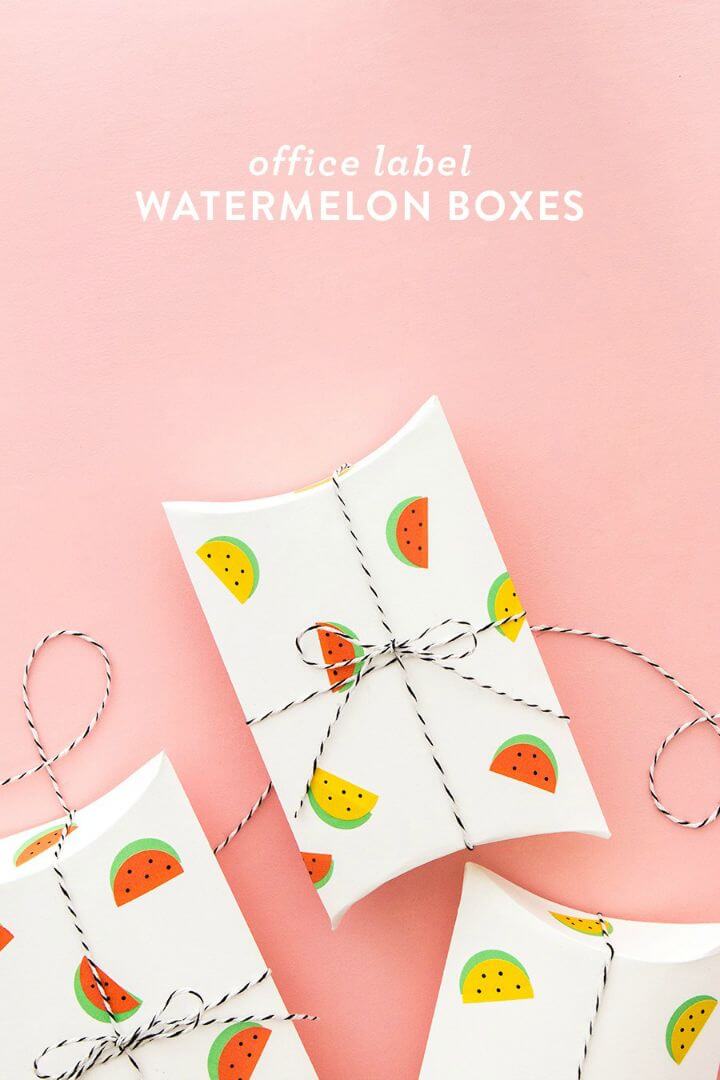 If you are looking forward for a summer special gift wrap then this office label watermelon sticker wrap would really rock and it is super beautiful to look at! Here the green and red office label stickers have been cut into haves and then have been pasted on the white cardstock gift wrap in an overlapping way to make a watermelon slice which have then been added with black dots for near to real looking watermelon stickers! Full project tutorial and visual instructions here sarahhearts
Make Personalized Gold Ribbon Gift Wrap: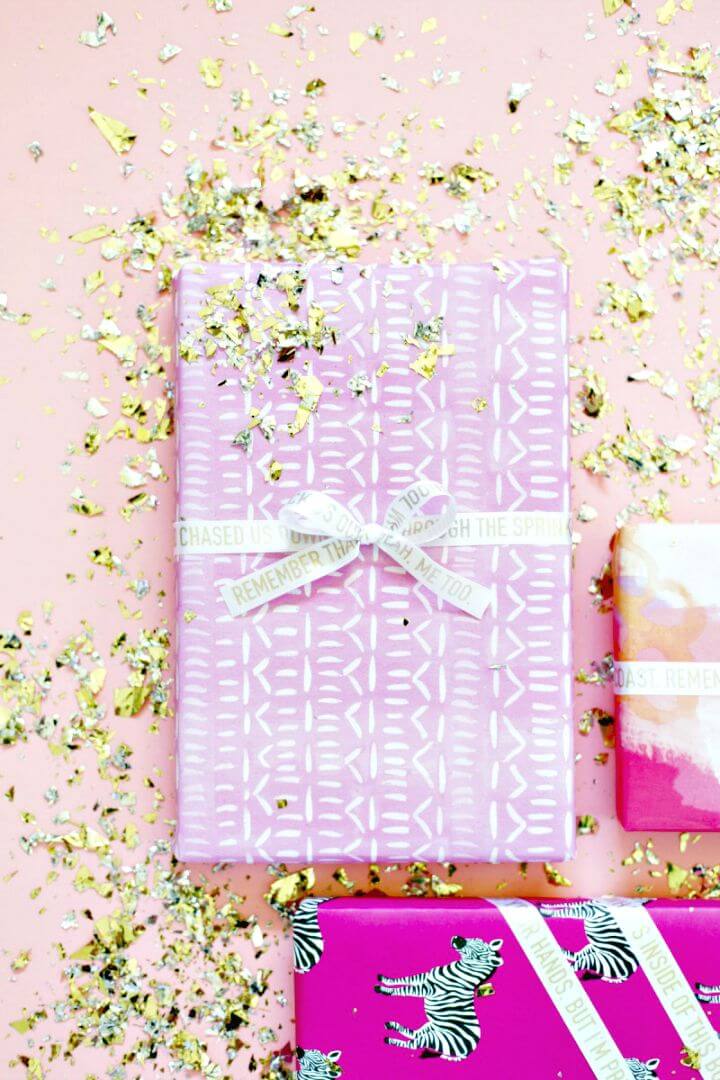 The most of the beauty of a gift wrap comes from the final ribbon accent bow or wrap and here is a brilliant way to get your gold ribbon gift wrap personalized using your mobile phone and printer! Just print the custom gold letters or words on the ribbon and then tie it around your gift and make a stunning personalized gift wrap! Full project instructions her lovelyindeed
DIY Gift Ideas:
Amazing DIY Emoji Gift Wrap: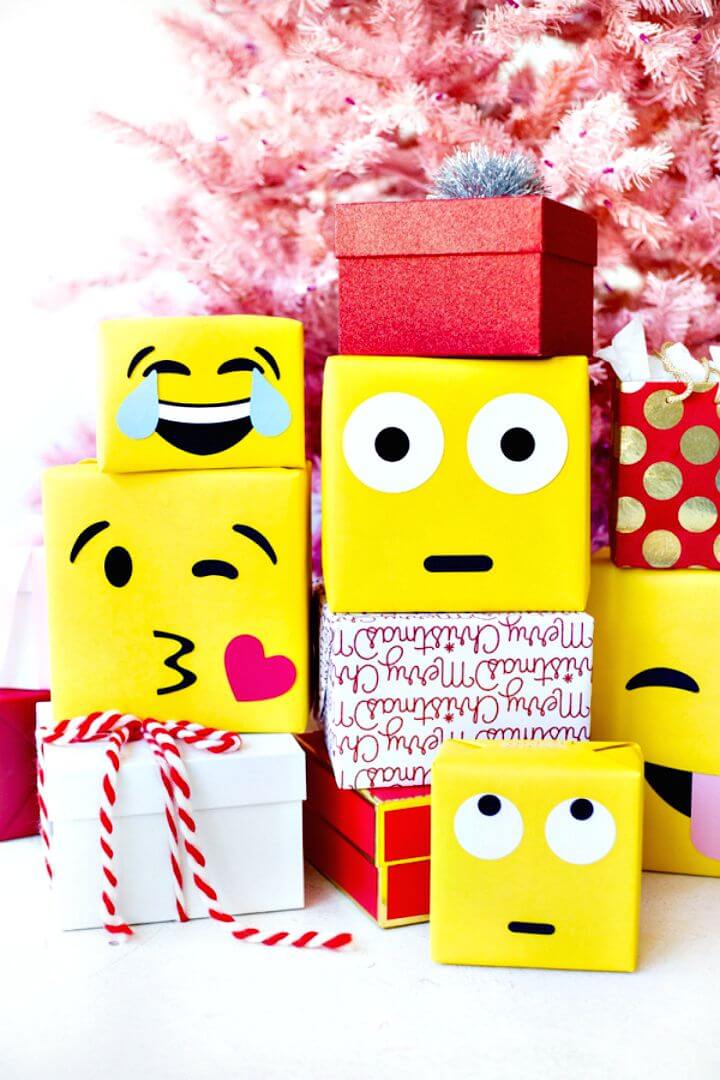 If you really like the emoji that are often a part of your mobile and social media messaging and commenting then you can also make some brilliant emoji-inspired gift wraps at home that will be super beautiful to look at! The idea is just to wrap your gifts in the yellow paper and next you can make the custom paper cut out lips, eyes, nose and heart shapes and make custom emoji gift wraps at home! Just check out some sample gift wraps give below and do duplicate them! full project tutorial here studiodiy
Create Holiday Mouse Gift Wrap: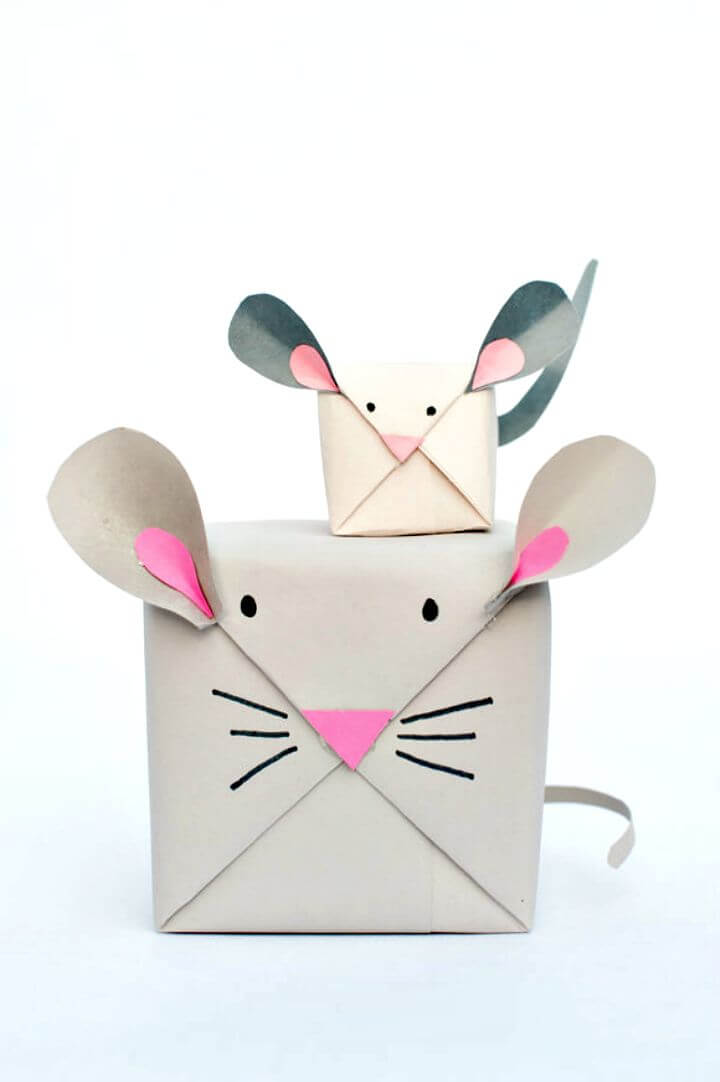 You can also go inspired of different animals, birds and characters to make a charming looking gift wrap in just no time! Just have a look at this holiday mouse gift wrap that is super cute to look at! Just wrap the gift in the paper that matches the skin of a mouse, and next make the mouse ears, nose, tail, and eyes and for near to look and that's it! full project tutorial here handmadecharlotte
Adorable DIY Boho Style Gift Wrapping: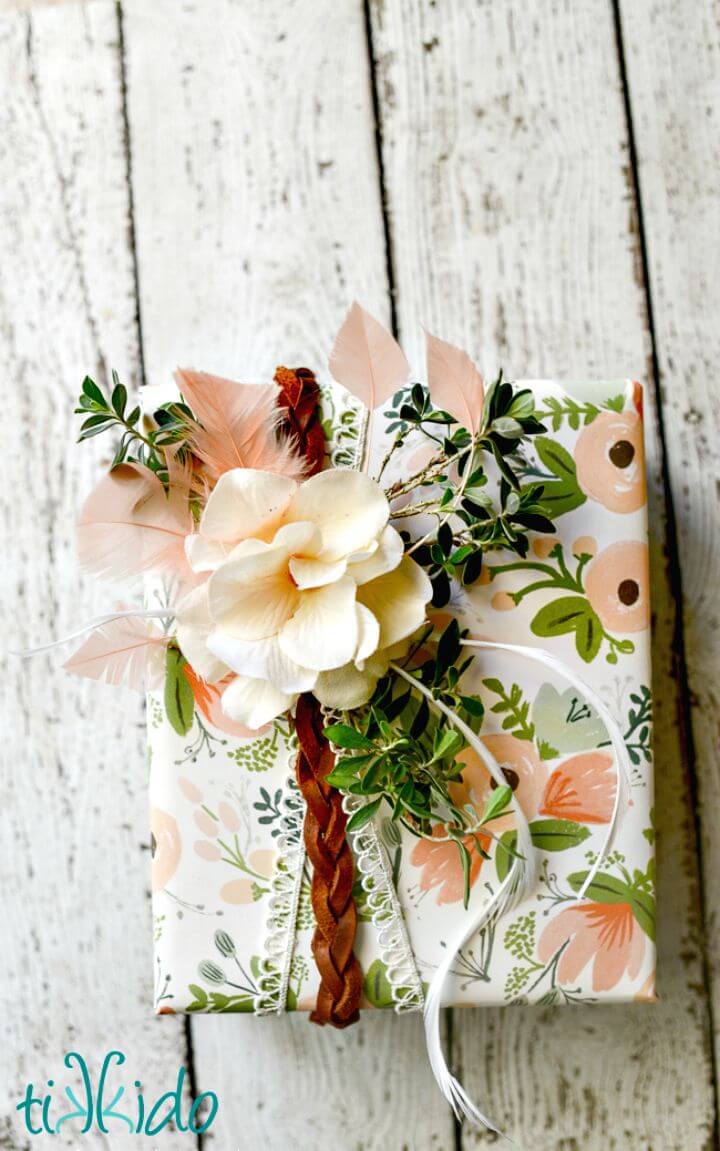 If you are a big fan of bohemian fashion then you will definitely love this boho style gift wrapping that is really looking stunning! Here all you need a braided leather cord, white lace, feathers and faux flowers to duplicate this gift wrapping! This wrapping would itself make a great gift for a bohemian décor lover! Full project tutorial here tikkido
DIY Fabric Ribbon for Gift Wrapping: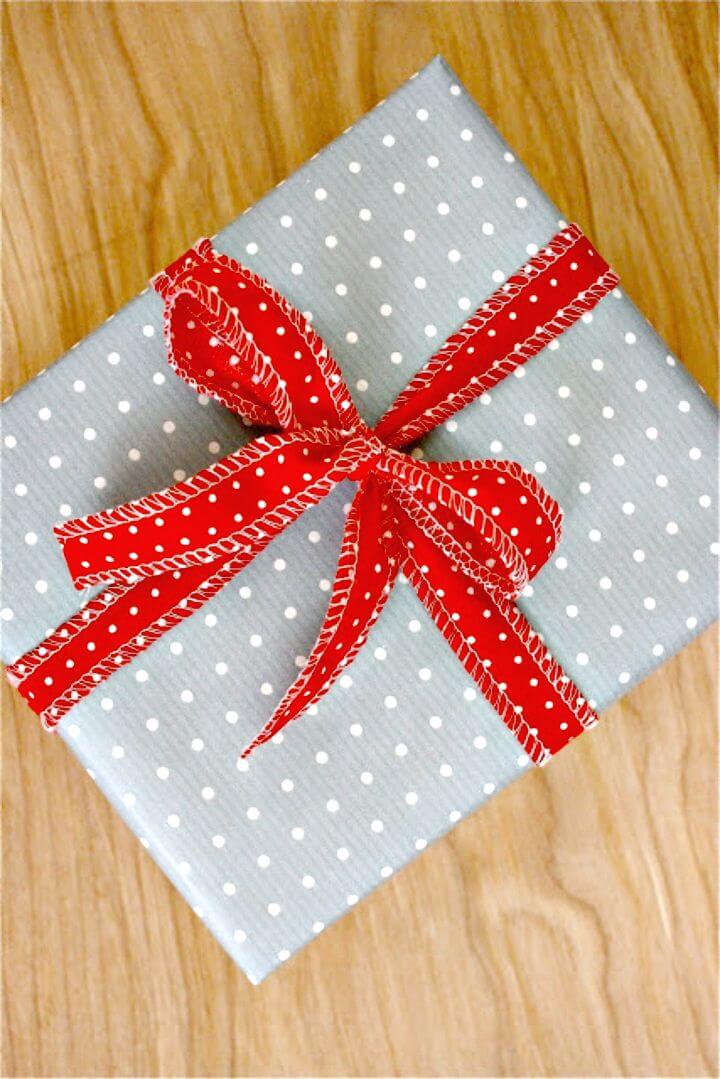 After your covering your gift in a nice printed wrapping paper, you can just move forward to grace it up more by using custom embellishments and a final ribbon bow wrap always give a great finishing touch to a gift wrap! You can also use some scrap fabric from home and cut it into strips and sew to make a great looking gift ribbon! Just check out there the sample that is really beautiful! Full project instructions here madeeveryday
Cute DIY Pink Bloom Gift Wrap: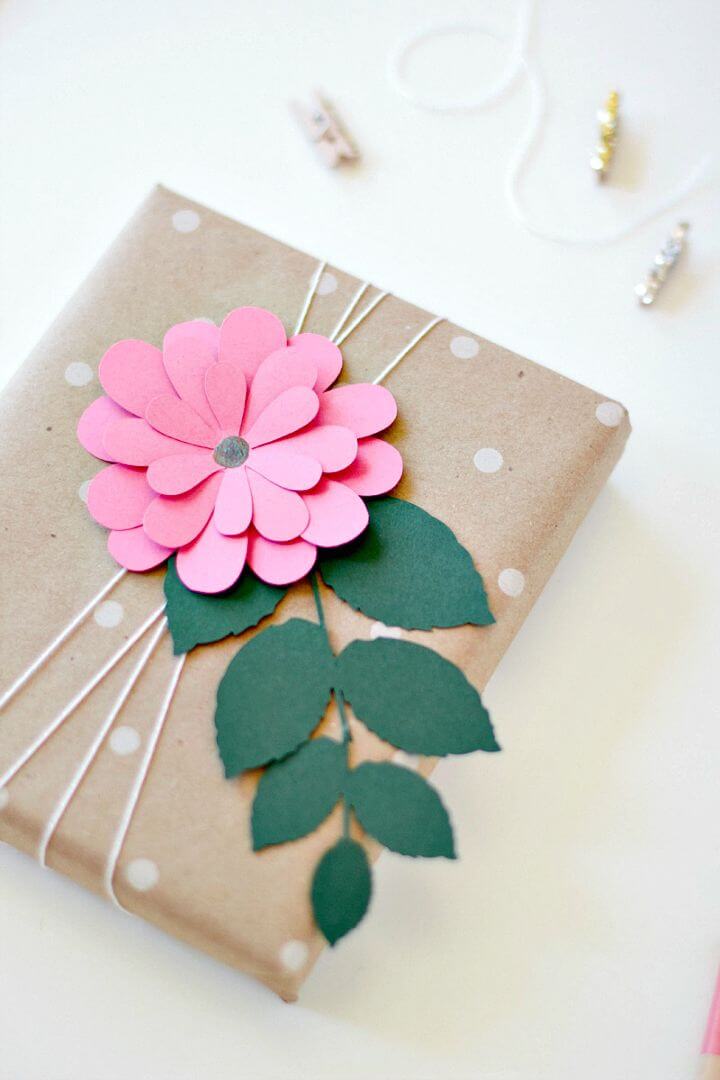 Check out here another brilliant and interesting looking gift wrap that has been done to inspire! This is here a floral gift wrap that is super beautiful to make at home and here all you need the pink and green cardstock paper to make the flower and flower petals respectively and next you can make use of double sided tape, glue and twine to fix the flower on the gift wrap! Here white polka dotted craft paper has been used to wrap around the gift! Full project tutorial here anastasia-marie
Easy DIY Brushstroke Gift Wrap: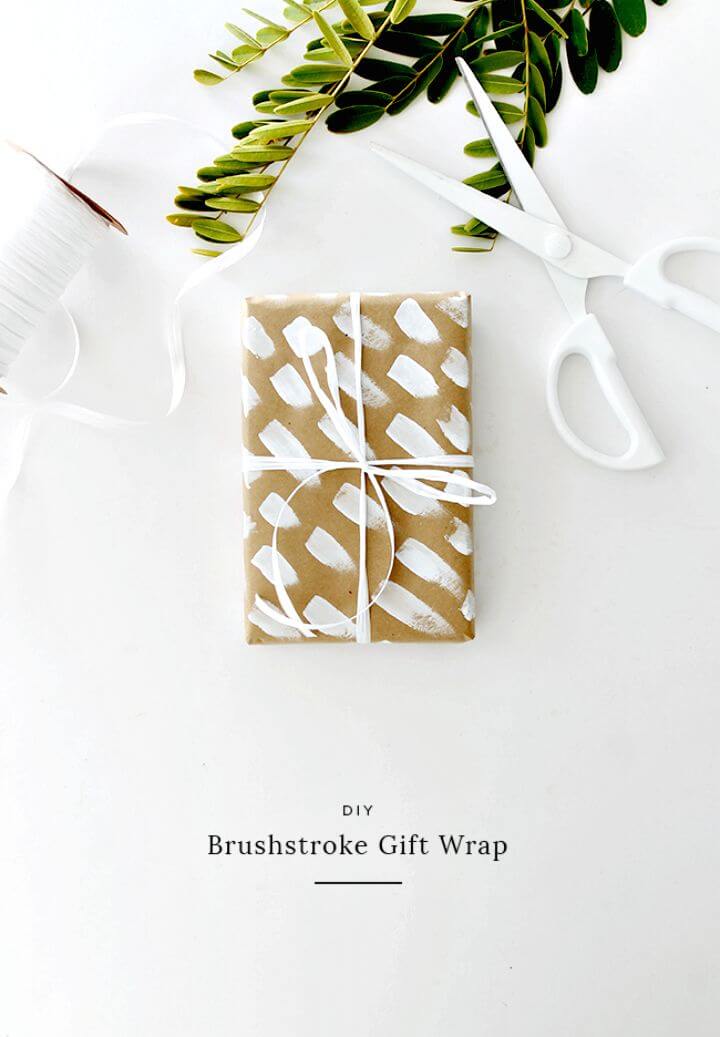 If you are intending to make a superb gift wrap in last minute then here is a super cool suggestion for it! Just wrap your gift in a blank wrapping paper and then just make it look beautiful by giving a few paintbrush strokes! You can go with dots, random patterns and also with tiny but beautiful lines to create a stunning gift wrap! Get inspired of the given gift wrap samples and get inspired! Full project tutorial here almostmakesperfect
How To Make Watercolor Gift Wrap: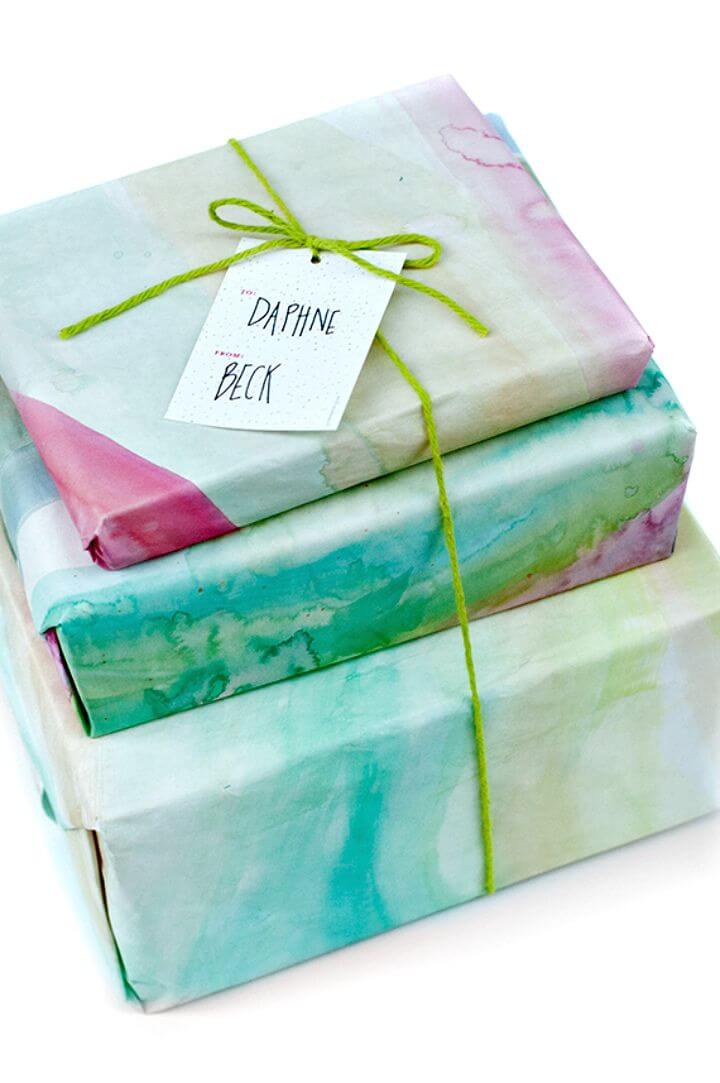 There are countless different ideas for the brilliant looking gift wraps and you will definitely like this another great one that is all about a little painting! If you love the watercolors and the watercolor paintings then you will surely like this interesting gift wrap that is all about to paint a butcher paper in the watercolors to make a brilliant looking gift wrap! Full project instructions here minted
How To DIY Birthday Cake Box: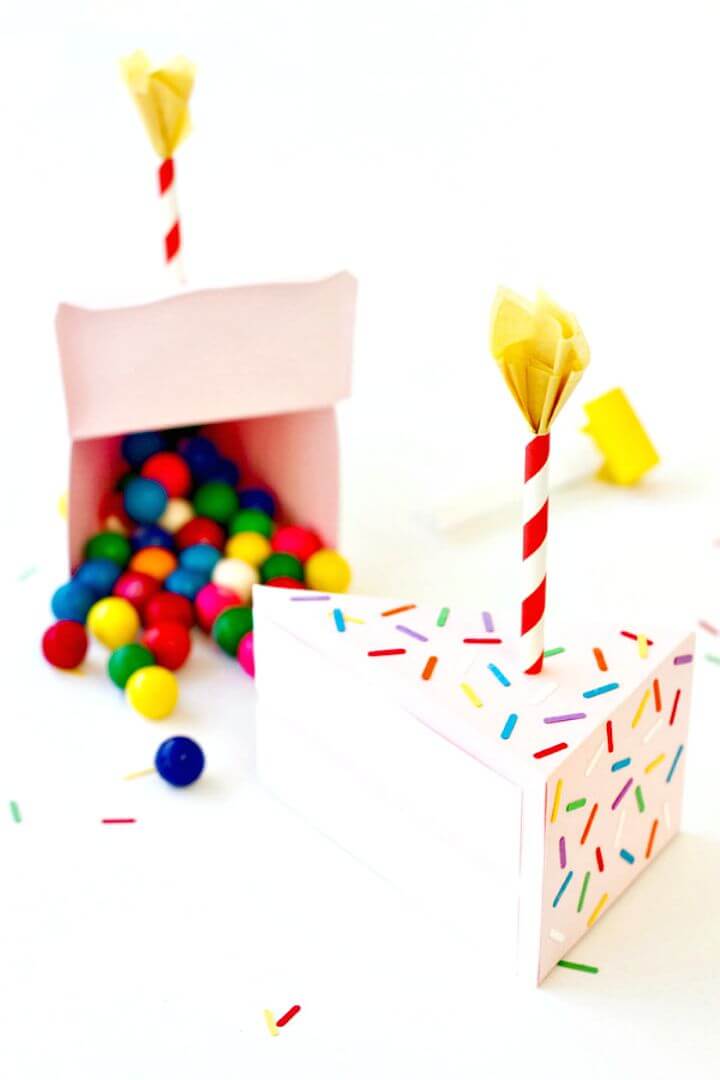 If you are handy at operating the Cricut explorer then you can also help yourself in making too many adorable gift wraps at home just like a pro! You will definitely fall in love with this birthday cake box that would make a great gift wrap and is something super beautiful to look at! Here all you need a cardstock in so many different colors, paper straw and the tissue paper to make this cake box gift wrap! Here is how to make it studiodiy
Quick DIY Paper Orchid: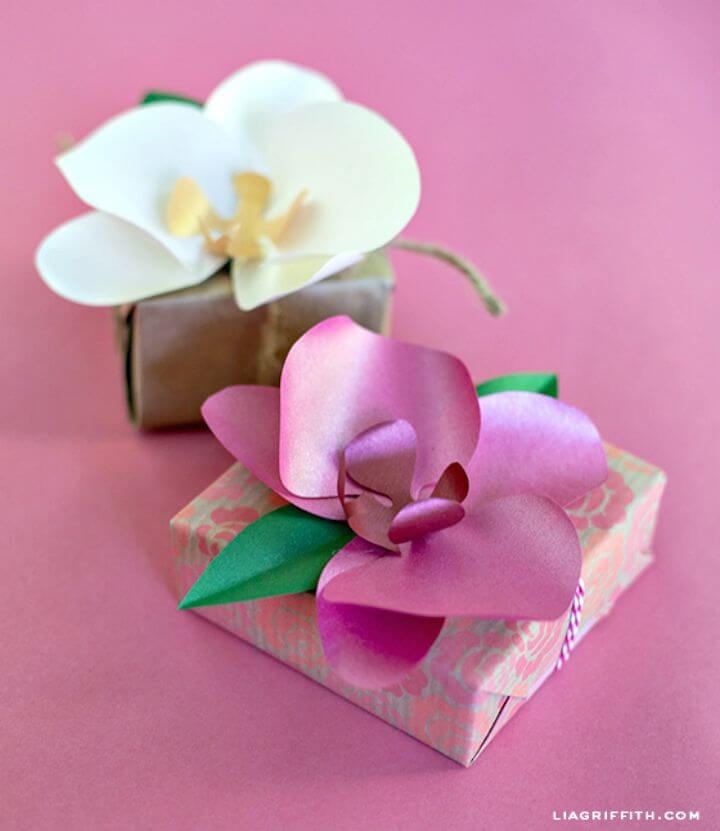 If you are really a genius in paper crafting and just love to make some gorgeous flowers out of the colorful papers then your handmade flowers would just also rock to make fabulous gift wraps for your gifts! Just adorn every of your gift wrap with some flower accent that can easily be pasted on the top! Here these mini gifts, wrapped in the paper brought to a distinguished look with the homemade paper orchids! Full project tutorial here liagriffith
How To Make Duct Tape Gift Wrap: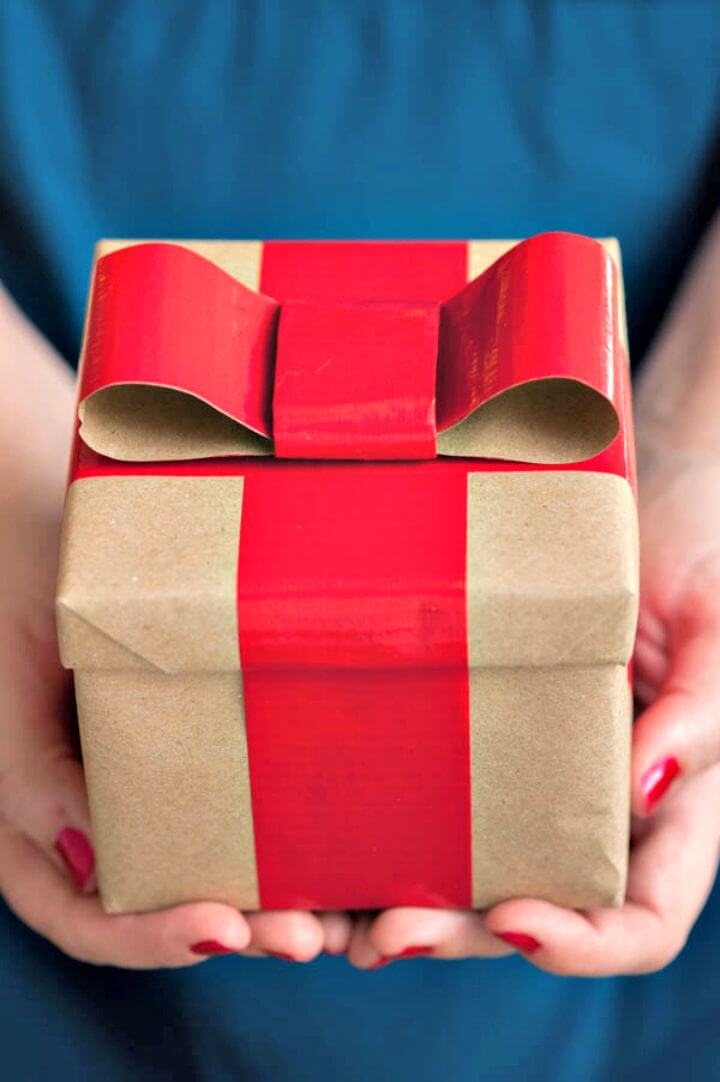 This is just no limit for the gift wrap designs and ideas and here is another lovely one to hold your attention! Just make also use of duct tape to make interesting gift wraps! Just pack your gift in a box then just wrap the duct tape strips all around the gift and end it by making a duct tape bow at the top! Just get inspired of the given sample and do try to duplicate it! Full project tutorial here thesweetestoccasion
Simple DIY Pom Pom Gift Wrap: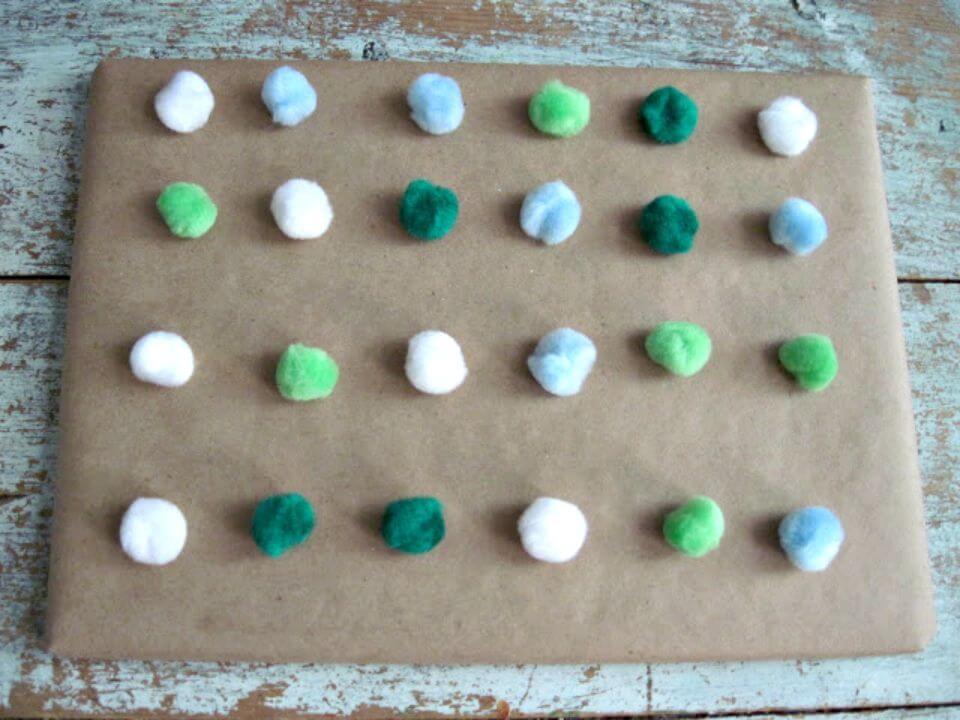 Sky it the limit for the accents that you can use to spice up your gift wraps! You can also make use of garlands, feathers and buntings to make your packed presents look extra cool but the pom-pom balls would also be an ideal choice! Just put together the colorful pom-pom on the top of a wrapped gift making custom shapes and patterns and that's! Just check out there this sample pom-pom gift wrap and do experiment this project with different colored pom-poms! Full project tutorial here twoshadesofpink
How To Make Woven Gift Wrap: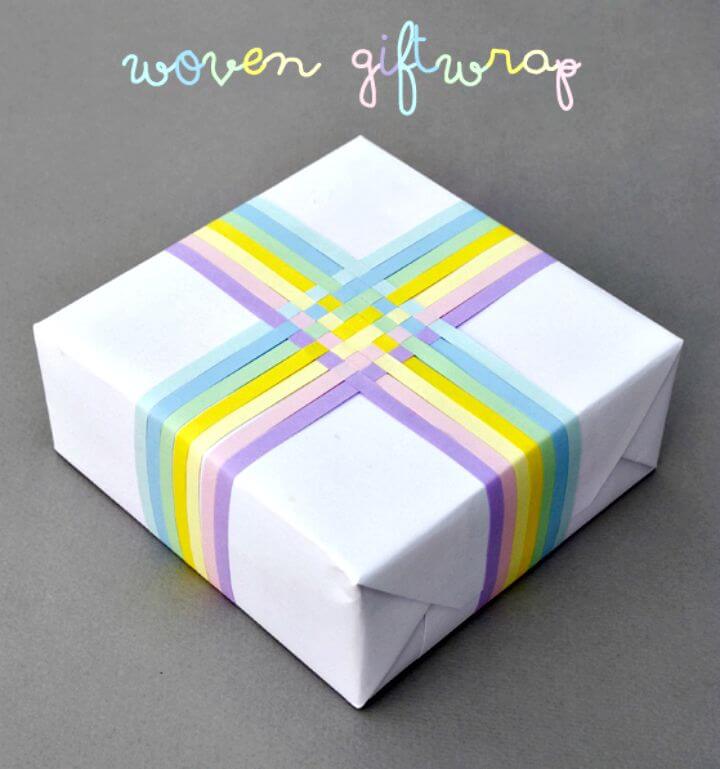 All you having the master hands in art of weaving? If yes, then you can also use your skills to make fabulous woven gift wraps without getting a bit expensive! Here the quilling strips have been woven to make a stunning and super colorful gift wrap that is much looking focally stimulating and eye-catching! Willing to duplicate this gift wrap? Grab the full project instructions and tutorial from here minieco
DIY 3 Last Minute Gift Wrapping: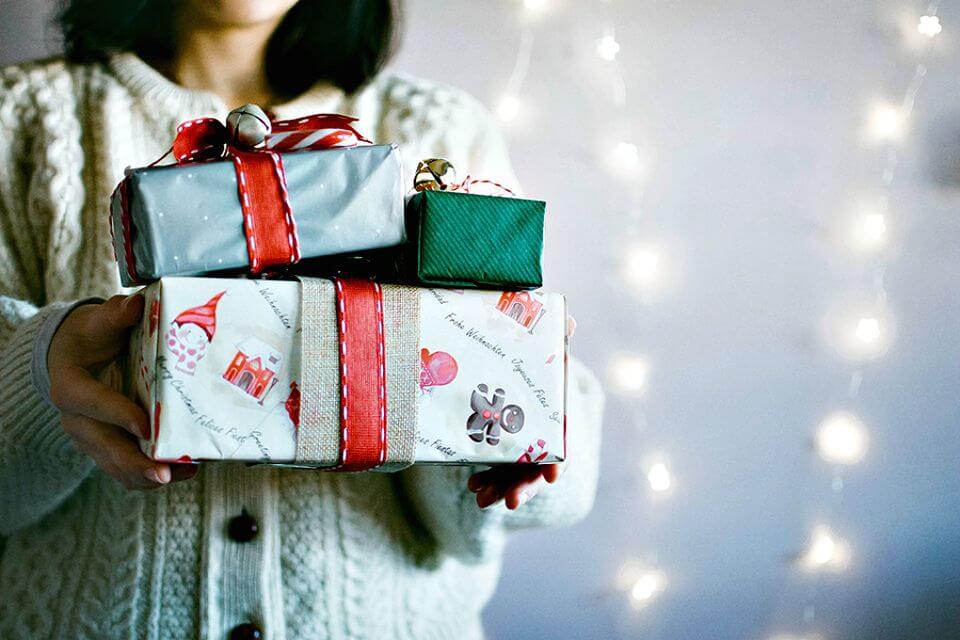 If you are really in hurry to please a friend but lacking of a stunning gift wrap for your selected gift then you will definitely like this creative last 3 minute gift wrap idea! Just tie an accent colorful ribbon around your wrapped gift box and then add in some pine sprigs to make a stunning gift wrap! Also make use of bells and candy cane to adorn your gift more! Full project tutorial here popshopamerica
DIY Mini Flags Gift Wrapping: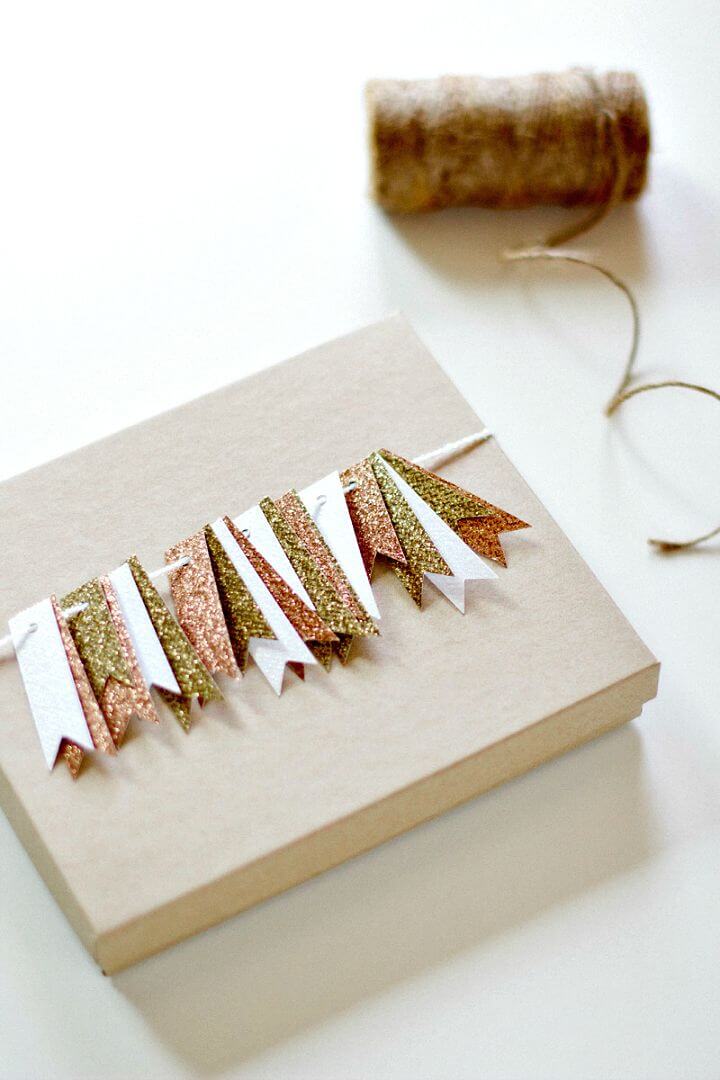 Get inspired of this super unique gift wrapping idea that is all about to play with some glitter cardstock! Just cut out some beautiful mini flag out of the multi-colored glittered cardstock and then string them up all to make an instant beautiful gift wrap in just no time! Just check out here the sample mini flags gift wrap that is made of glittered cardstock selected in gold, bronze and silver! Full project tutorial here anastasia-marie
DIY Paper Tissue Flower Gift Topper: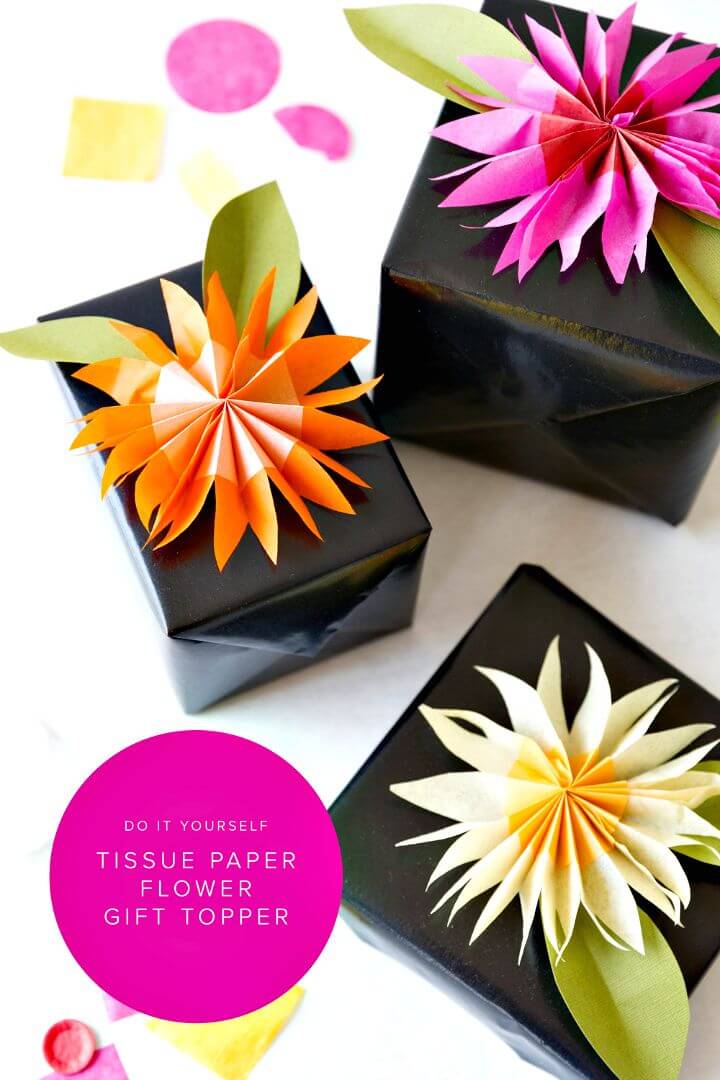 Make also outstanding different accents and decors at home that will come at the top of your gift wraps for instant focal stimulation! An interesting sample here is these tissue paper flower gift toppers that have been made to rock and inspire and are really adorable! Just grab the tissue paper in multiple colors and then make the beautiful tissue paper papers! Full flower topper making tutorial here thehousethatlarsbuilt
DIY Pom Pom Wrapping Paper: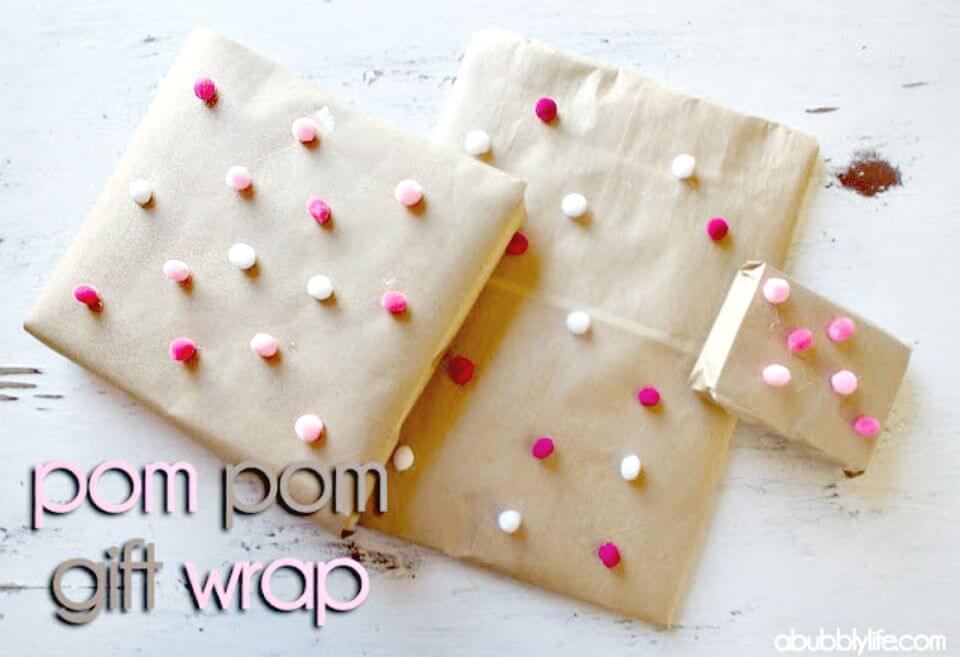 Make also smart use of pom-poms to make a stunning gift wrap at home that will definitely help precious to eyes of the receiver! Just wrap your gift in any blank paper and then glue the colorful pom-pom balls all around the gift wrap to create a stunning gift wrap in just no time! Just check out here the lovely sample that is really beautiful! Grab the full project details and tutorial from here abubblylife
Make Wax Paper Bow: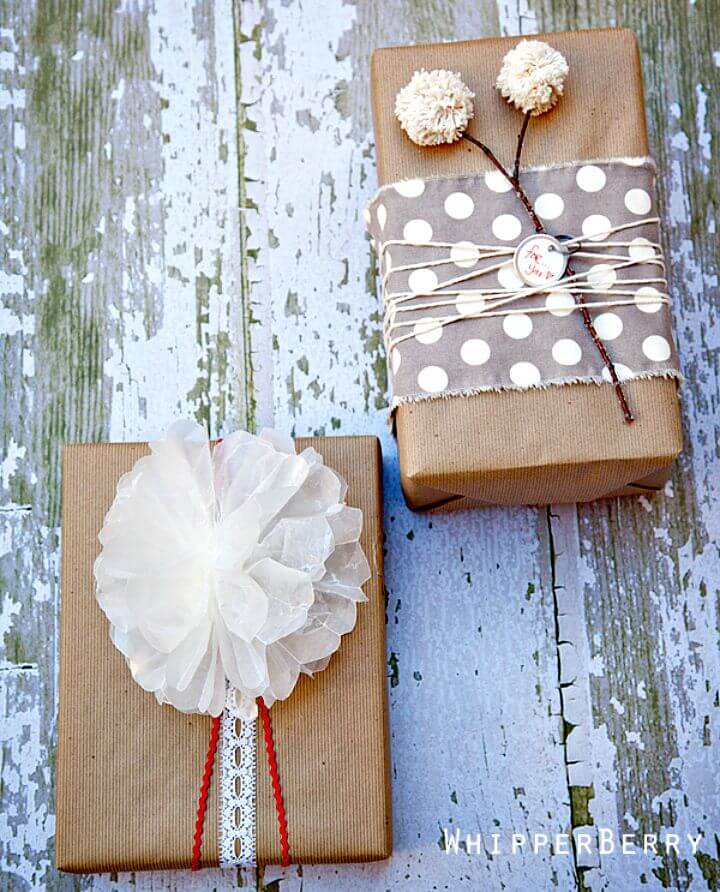 Get also crafty with the wax paper to make outstanding looking gift wraps at home that will go much focally stimulating! Just have a look at this sample wax paper bow that is super beautiful to look at and is super easy to make also! Here again the gift box has been wrapped in the neutral paper and then the wax paper bow flower has been made that will rock as gift wrap topper! Full project instructions here whipperberry
Make Your Own Yarn Tassel: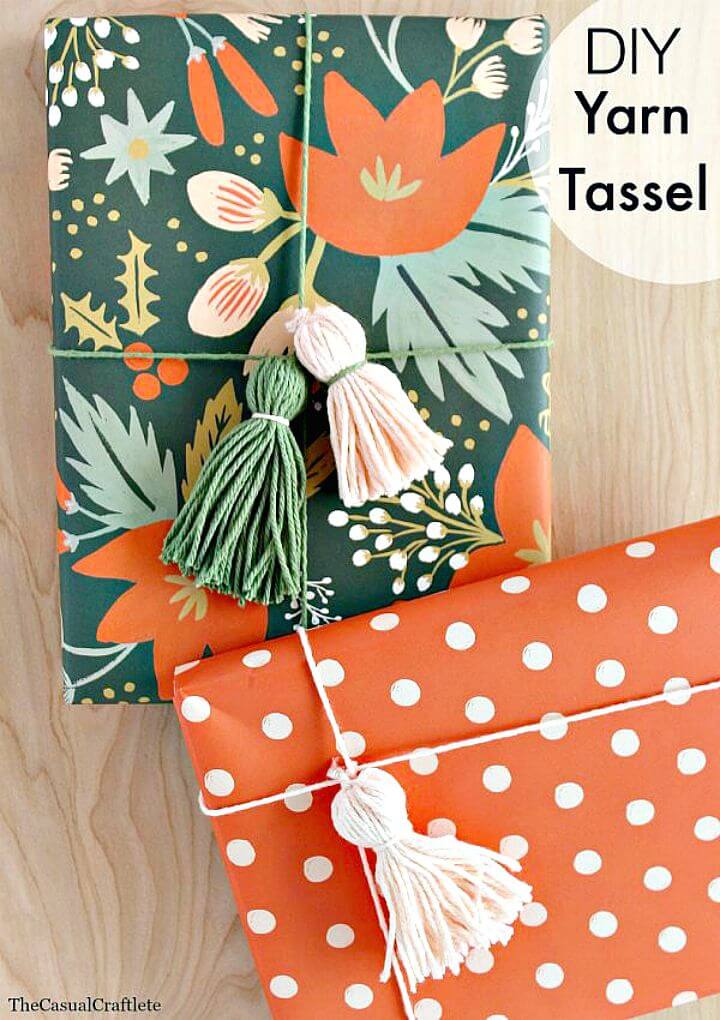 Go also handmade with the yarn and make fabulous looking gift wrap accents and toppers that will raise the beauty of your gift wrap to peak level! Just check out here this very great looking yarn tassels that are purely handmade and has been tied on the top of the wrapped gifts to make them look more graceful and enticing! Grab the full project tutorial and step-by-step instructions here purelykatie
Quick DIY Leather Wrapped Gift Wrap: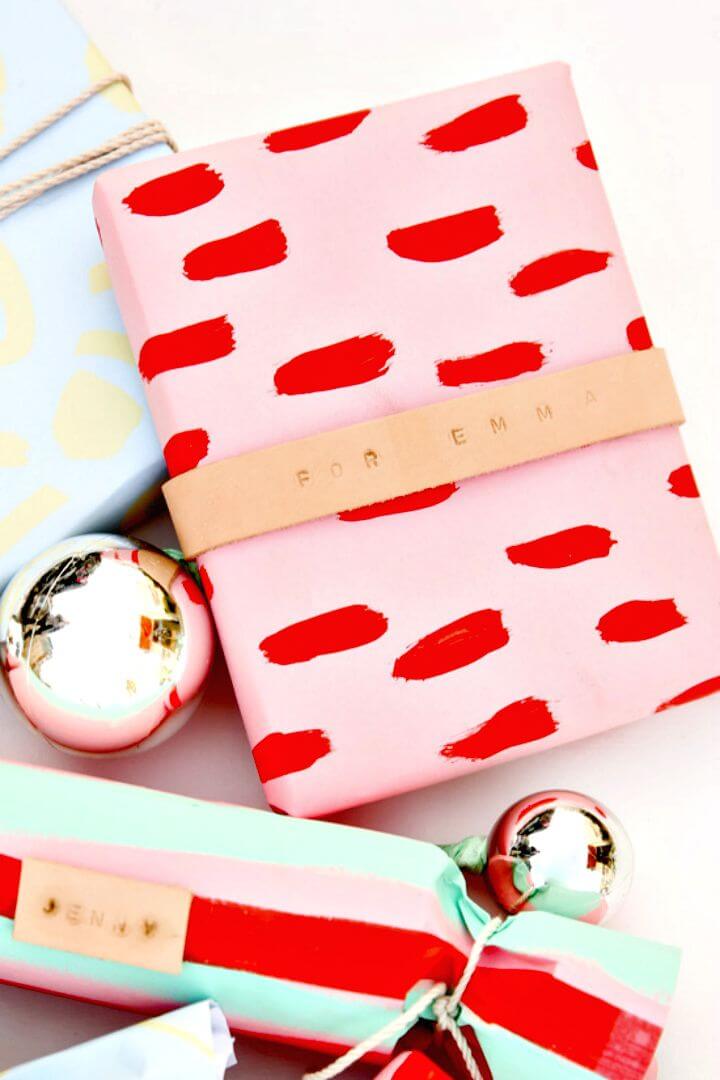 If you are willing to decorate your gift wraps by making some cool lettered or quoted gift wraps then here is a beautiful suggestion for it! just make the leather wrapped gift wraps and then stamp the leather for custom name letters and quotes using the letter stamps and the stamping hammer! Add more trinkets and baubles for extra grace and charm and that's it! Grab the full project instructions from here papernstitchblog
DIY Dandelion Gift Wrap: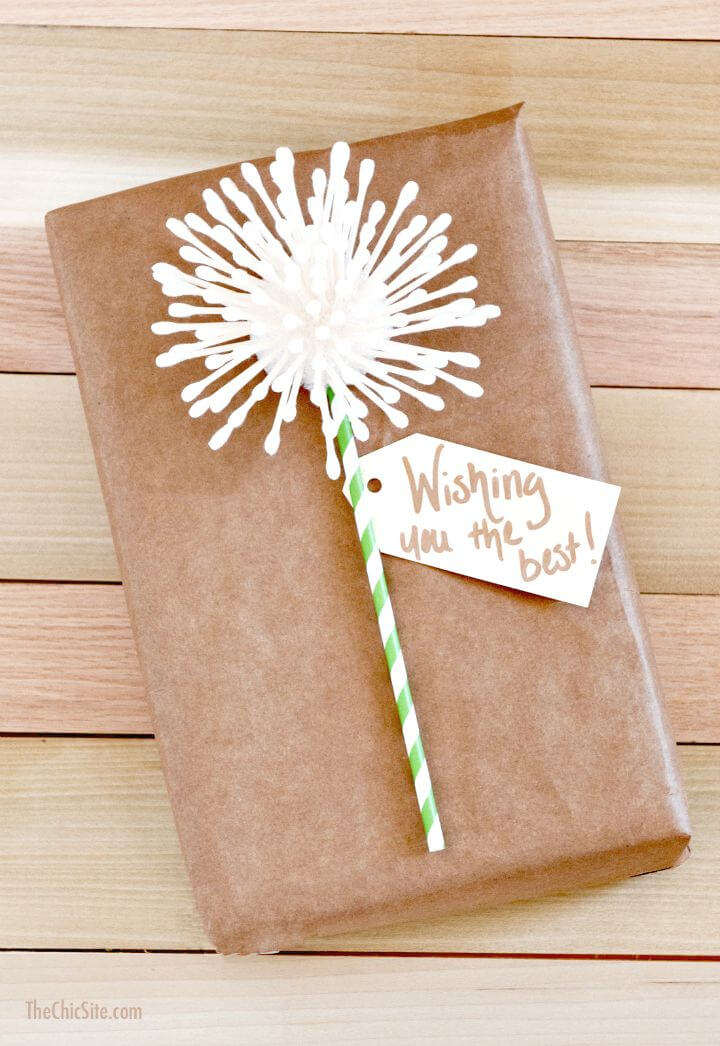 The flowers just rock as the gift toppers and you can also make the dandelions with stems to make some fabulous gift wrap toppers in just no time! You will be amazed to see that you can easily make a near to real looking dandelion at home using the ordinary supplies! Here the q-tips have been fixed vertically all around a white Styrofoam ball and then a straw has been fixed to bottom side as the stem to make a precious dandelion gift wrap that has then been glued on the gift wrap! Grab the full project instructions from here thechicsite