Show your creativity with straw crafts and transform ordinary straws into unique and eye-catching projects! Explore 25 easy and free DIY straw crafts, perfect for kids and adults alike. These fun and engaging straw craft ideas range from straw rockets, paper straw tulips, and geodesic domes, to straw blowers, octopus straw toppers, and straw necklaces. Each project comes with detailed step-by-step instructions, making it easy for you to create beautiful and practical crafts using plastic or paper straws.
These DIY straw crafts are not only eco-friendly but also offer an opportunity to repurpose and upcycle everyday materials. So gather your straws and unleash your inner artist by turning these humble materials into playful straw activities and stunning decorations.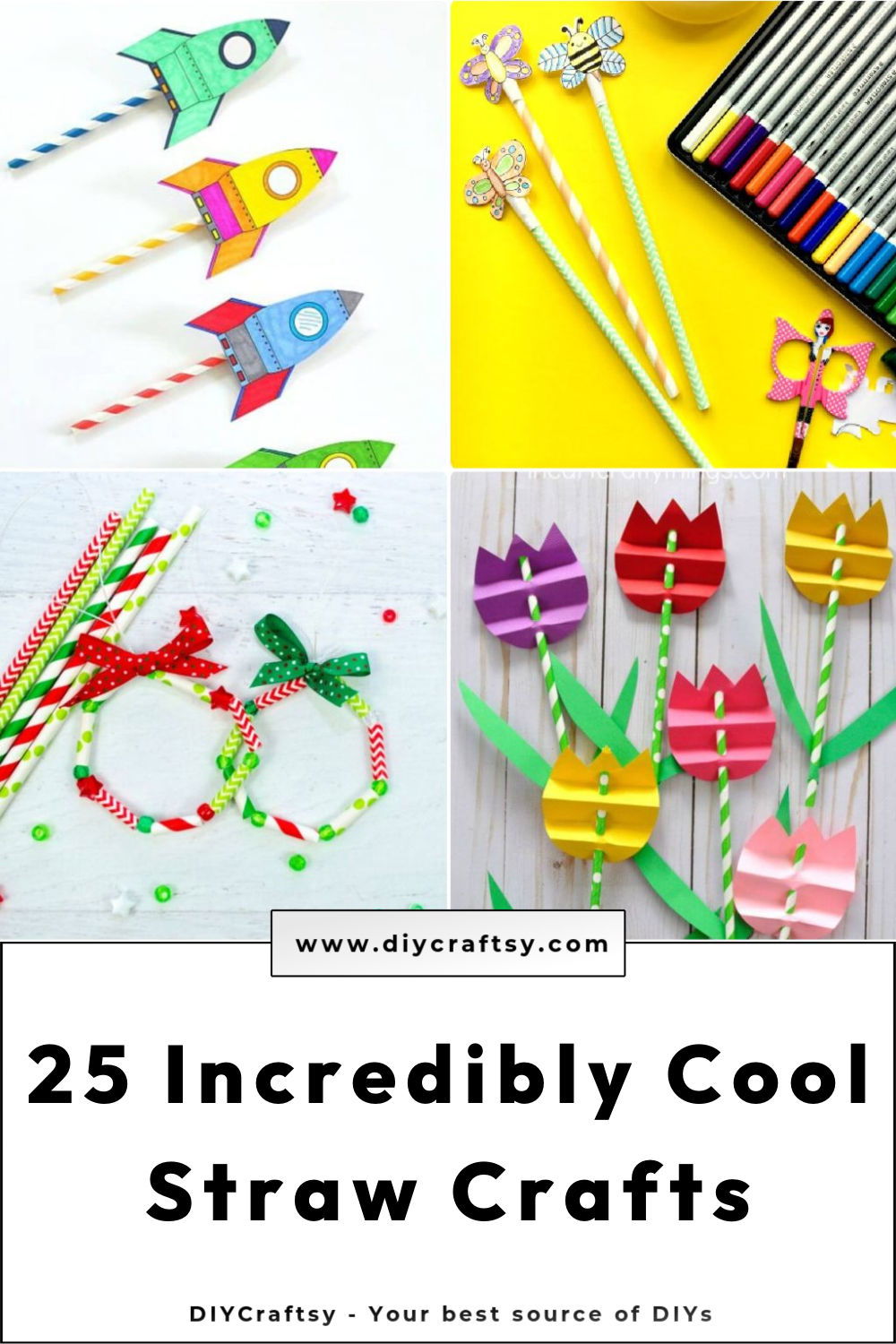 Whether you want to create a whimsical piece for a special event or are simply looking for a fun activity with your kids, these straw craft ideas and projects are perfect for everyone. So don't wait any longer, and start creating mesmerizing straw crafts today!
1. How to Make Straw Rockets
Experience the joy of science and exploration with a fun, hands-on activity – creating and launching DIY straw rockets! This engaging project fosters creativity and introduces kids to physics concepts, space exploration, and flight dynamics.
This activity encourages kids to explore different variables like launch angles, rocket design modifications, and the impact of added fins on the flight path. Moreover, it pairs wonderfully with children's literature like "The Darkest Dark" by Chris Hadfield.
On a rainy day or an exciting classroom session, straw rocket crafting promises an informative and fun-filled time for kids three and up. Blast off into a world of scientific discovery with straw rockets! buggyandbuddy
2. DIY Paper Straw Tulip
Embrace the vibrant energy of springtime by creating this gorgeous DIY paper straw tulip craft! Immerse yourself in the joy of DIY creativity with simple supplies like a tulip flower pattern, green paper straws, construction paper, a hole punch, scissors, and a glue stick. This project is as simple as tracing a pattern, cutting, folding, and assembling, offering a perfect opportunity for a leisurely afternoon activity.
Not only does it mimic the stunning beauty of blooming tulips, but it also adds a pop of color and fancy to any room. This cost-effective craft is fun to make and adds a unique charm to your spring decor. So why wait? Begin crafting today, and let spring hues fill your home with joy and warmth. iheartcraftythings
3. Straw Geodesic Dome and Sphere Engineering for Kids
Get hands-on with this engaging and educational DIY project that involves constructing a geodesic dome and sphere from ordinary drinking straws! This project provides a tangible way to explore the architectural principles of geodesic domes and presents a fun activity for kids and adults alike.
Utilizing 33 straws, Chenille Stems (pipe cleaners), scissors, and a ruler, you'll cut straws into precise lengths and join them together using pipe cleaners to make beautiful 3D models.
With clear, step-by-step instructions, you can easily bring to life these marvelous structures, providing insights into the geometry and structural integrity inherent in geodesic designs. The resulting geodesic dome or sphere can be an attractive decorative piece, an educational model, or even a unique toy. babbledabbledo
4. How to Make Paper Straw Blowers
Inject fun into your next gathering with DIY paper straw blowers! Ideal for birthdays, holidays, or family events, these delightful creations are a simple and amusing project. All you require to get started are straws, scrapbooking paper, and some adhesive. The assembly process is straightforward:
Cutting and folding a rectangular piece of paper.
Letting it dry.
Rolling it around a straw.
Securing it.
Even kids can join in crafting these unique blowers. Not only do they make for an engaging pastime, but they also add a splash of excitement to any occasion. Turn prosaic moments into extraordinary memories with these paper straw blowers! sugarbeecrafts
5. Adorable DIY Octopus Straw Toppers
Straw crafts provide an eco-friendly and creative outlet for artists to fashion stunning, sustainable decorative pieces and accessories. Embark on an exciting DIY project to make delightful octopus straw toppers, perfect for an ocean-themed party or a Finding Dory birthday celebration. You can easily make these adorable and eye-catching accents using construction paper and sticker googly eyes.
The best part? Kids can also join the fun, creating whimsical octopus toppers and sparking their creativity. Not only do these octopus toppers make sipping beverages more entertaining, but they also serve as an engaging craft activity during the party.
The process is simpler and more engaging, with an easy-to-follow tutorial that guides you through every step. With this craft, you're not just making cute straw toppers, but you're also creating unforgettable memories. easypeasy
6. Make Navy Blue Straws and White Polka Dots Frame
Transform ordinary picture frames into a unique, eye-catching home decor element using spare straws! This DIY project utilizes 5×7 white room essential picture frames, navy blue straws with white polka dots, a hot glue gun, and scissors.
The crafting process involves attaching the decorative straws to the frame with hot glue, making a stylish, customized piece perfect as a personal keepsake or a thoughtful gift.
Aside from its aesthetic appeal, this DIY picture frame also allows for recycling materials, aligning with environmentally conscious practices. So, grab those unused straws and a plain picture frame, and let your creativity shine through this fun and easy craft project! theclassychapter
7. DIY Straws Neon Pyramid Necklace
Wake up your love for neon with a handcrafted, one-of-a-kind neon chevron necklace! This vibrant DIY accessory is easy to make and offers a chic way to add a pop of color to your wardrobe. Be your jeweler, and tailor this unique necklace to your style
Using simple supplies such as straws, gold spray paint, and colorful paper – potentially repurposed from old magazines – you can craft this standout piece in just a few simple steps. The gold paint gives the illusion of a heavy, metallic chain while hiding the lightweight materials beneath.
The possibilities are endless, from crafting matching bracelets or earrings to playing with the size of the triangular components! Get your hands busy today and design your very own neon chevron necklace. cremedelacraft
8. How to Make Paper Pinwheel With Straw
Bring the vibrancy of summer indoors with DIY pinwheel decor that your kids can help make. This project requires readily available materials such as scrapbook paper, paper straws, scissors, a glue gun, and a few buttons or embellishments.
To start, you must cut the scrapbook paper into 6″ squares and make 3″ slits towards the center at each corner. Fold and glue each right corner towards the middle, creating a layered effect in the center. Next, embellish the middle with a button or bow and glue a paper straw on the back of the pinwheel.
Place your completed pinwheel in a jar for an instant pop of color on your mantel. The versatility of this craft is unlimited – just swap out the paper for different themes and seasons. This cost-effective, family-friendly craft adds a playful touch to your home and offers a fun activity to engage your children during summer. lollyjane
9. Straw Building Kids Craft
Get creative with straw crafts! Delve into a world of ingenuity and imagination with a simple yet fun DIY straw-building project! The perfect summer activity, it promises hours of entertainment and an opportunity to keep kids engaged and productive. You only need a pack of inexpensive straws and scissors to make wonderful, unique structures.
The technique is straightforward: bend and snip the straws, then connect them into interesting shapes and forms. The fun doesn't stop there – the possibilities are endless!
You can also try crafting trash robots or making easy yarn bracelets. Follow this guide and turn ordinary straws into extraordinary creations today. Enhance your summer with this ingenious, budget-friendly craft idea! handmadedays
10. DIY Spring Flowers Made With Straws and Paper
Brighten up your spring days by crafting a charming DIY bouquet of straw flowers, an enjoyable activity that encourages creativity in kids. All you need are the following:
Bendy straws.
A flower cookie cutter or stencil.
Assorted scrapbook paper.
Preferably card stock.
A glue stick.
Scissors.
Trace the stencil on the paper, cut out the flower shape and some smaller circles for the flower's center. Once you've attached the center, punch a hole and delicately thread a straw from the bottom up. Bend the straw, and the flower will hold in place.
This simple, fun-filled project keeps kids engaged and provides a whimsical touch to their favorite drinks, enhancing their springtime experience. Enjoy crafting these fabulous, fancy spring straws! multiplesandmore
11. Straw Windpipe Music Craft for Kids
make a symphony of sounds with a delightful DIY straw windpipe, a creative music craft perfect for children. Kids can build this engaging instrument with just a few everyday materials like tape and plastic straws in no time. This activity offers fun and an excellent way for children to learn about music counts and explore different pitches.
The making process is quite simple – just line up the straws with tape, secure them together, cut the straws at a diagonal angle, and your windpipe is ready to play!
Don't stop at the windpipe; pair it with a rainstick for an enhanced musical experience. Make a joyful noise today with the straw windpipe, a fantastic tool for fostering creativity and developing an appreciation for music among young learners. greenkidcrafts
12. Easy DIY Drinking Straw Starbursts
Explore the versatility of straw crafts, from creating intricate woven baskets to designing unique, eye-catching jewelry for a natural look. Unleash your creativity and redefine your decor with an engaging, effortless DIY project: the starburst drinking straw ornament. Using nothing more than colorful drinking straws and zip ties, this fun craft transforms your common pantry item into a stunning 3D decorative piece.
These starbursts can be tailor-made to fit your unique design needs, perfect for festive occasions or bringing a splash of color to your daily interiors. Trim your straws to different lengths for a playful, staggered look, or keep them uniformly cut for a more polished appearance.
This project is an exciting pastime and a practical solution for those with overflowing straw collections. Keep your hands busy and your pantry decluttered by turning your excess straws into striking starbursts today! auntpeaches
13. DIY Pokemon Pokeball Ball Straw Topper
Prepare for an exciting Pokemon-themed party with a unique DIY Pokeball straw topper that will impress Pokemon enthusiasts. This project brings creativity to life using everyday supplies such as a permanent marker, red paint, clear tape, a drill, and ping pong balls.
The procedure is straightforward; drill holes in ping pong balls, paint them to resemble a Pokeball and fit them onto your straws. The resulting Pokeball straw topper enhances any Pokemon-themed party or gathering, offering a fun twist to regular straws.
This simple, affordable, and captivating craft project effectively channels the spirit of Pokemon, demonstrating a creative and unique way to incorporate fandom into everyday life. Start crafting today and transform your party drinks into an adventure! 4theloveoffamily
14. Pom Pom Challenge Using a Straw and Tape
Straw crafts are an easy and fun way to explore your creativity. Engage your children in a quick, exciting, educational activity with a DIY pompom challenge. This simple game, ideal for ages three and up, requires minimal equipment and preparation and can be set up within a minute! This challenge entertains your child and serves as a fun learning tool.
It helps children to gauge the intensity of their breath and the angle of the straw to keep the pom pom on the track, which in turn aids in developing language and problem-solving skills. It's fascinating to watch the trial-and-error process in the initial minutes of the game.
You can tweak the game to your child's skill level, making it as simple or complex as needed. This fantastic game can keep your kids entertained and learning simultaneously. So, grab your pom poms, tape, and straw, and set up an exciting pompom race right in the comfort of your home! laughingkidslearn
15. How to Make Straw-burst Wreath
Engage children in straw crafts, fostering their creativity and fine motor skills while teaching the importance of utilizing sustainable materials. Craft a vibrant, eye-catching wreath from simple paper straws with this fun and affordable DIY project! Made from a flat floral and craft ring, paper, and paper straws, this wreath is a bold and delightful addition to any decor. You can make a stunning radial pattern that truly pops by carefully trimming the straws to different lengths and adhering them to a paper-backed floral ring.
Enhancing your home has never been easier – all you need is a pencil, scissors, a hot-glue gun and glue sticks, a pack of 144-count paper straws, and a scrap of ribbon to hang your completed masterpiece.
This unique creation offers a fresh, modern twist on traditional wreaths, adding a touch of playfulness and creativity to your space. Embrace your inner artisan and start crafting today! womansday
16. DIY Light up May the Fourth Be With You Cards
Showcase your love for the Star Wars universe by creating unique DIY 'May the Fourth Be With You' light-up cards, perfect for celebrating the iconic Star Wars Day. Using just heavy white card stock or scrapbook paper, red and green LED lights, a couple of straws, batteries, and transparent tape, you can design an impressive card that glows in the dark!
The process is fairly simple and involves inserting the LED lights into the ends of the cut straws and attaching them to the printed card. A free printable card template is provided for convenience. This card can also be a fun and creative way to familiarize your little ones with simple circuits.
Moreover, if you've missed Star Wars Day, don't fret; make a 'May the Force Be With You' card instead. Remember, safety comes first, so keep batteries away from small children. Enjoy crafting these Star Wars-inspired cards that light up any fan's day! leftbraincraftbrain
17. How to Make Paper Straw Frames
Transform your celebration with warmth and charm with a beautiful homemade sign adoring the party tables. Add that extra oomph by gluing decorative straws along the edges of the signboard and frame. This simple yet adorable DIY project is perfect for a unique and personalized decoration for any occasion, bringing more beauty and cuteness to your get-together! Visit the link for full details and get inspired to add your tinge to your celebrations. creativebag
18. DIY Himmeli Patriotic Stars
Discover the versatility of straw crafts, as you transform this common material into stunning home décor, accessories, and gifts with endless possibilities. Immerse yourself in a creative project that will add patriotic spirit to your decor – DIY Himmeli patriotic stars! Make a charming wreath or garland filled with dimensional five-point stars. All you need is wire and coffee stirrer straws cut in two sizes.
The method is surprisingly simple and fun, as you thread and bend the straws to make an intriguing geometric pattern. Once your stars are shaped and wire-secured, enhance their visual impact with a splash of paint.
You can assemble them into a radiant garland or use them as an accent on a wreath, ornaments, or even a patriotic wooden sign. Besides being a great crafting experience, this DIY project adds a unique, eye-catching element to your festive decor! doodlecraft
19. Making a Drinking Straw Sunburst Frame
Get a touch of mid-century elegance to your space with an ingeniously crafted DIY sunburst frame! It's a cost-effective way to update your decor using everyday materials – primarily drinking straws! With a cardboard ring, a hot glue gun, around 200 straws, and your choice of spray paint, you can make a stunning focal piece for any room.
Start by tracing bowls onto cardboard to make a ring, then stick the straws in a circular pattern. Add layers, and adjust straw lengths until you get your desired look. Paint it all over, ensuring the ends of the straws are well-coated, for a seamless finish that mimics metal tubing.
The result is a lightweight, unique sunburst mirror that would cost relatively more if purchased from a store. Let your creativity flourish and your living space shines with this fun, cost-effective project. Happy crafting! howdoesshe
20. Make Your Own Straw Shooter
Traditional straw crafts, such as corn dollies and wheat weaving, carry rich cultural heritage, preserving age-old techniques and symbolism. Liven up your summer with a fun, easy-to-make DIY straw shooter craft, a perfect boredom buster for kids. This quick project comes in many designs, sometimes called straw blowers or rocket blowers. This combination of crafting and doodling is an ideal indoor or outdoor activity to keep children engaged.
Materials include straws (any size, paper or plastic), scrap paper, sticky tape, pens, and scissors. With these supplies, kids can swiftly assemble these unique paper toys.
If you encounter issues making the shooter fly, a simple pinch and wiggle to adjust it to fit the straw better should do the trick. With its simple creation process and engaging playability, this craft shines like a fantastic boredom buster. Happy Summer Crafting! redtdart
21. How to make Straw Earrings
Get ready to add a vibrant pop to your summer look with this fun and inventive DIY tutorial for straw earrings. Perfect for anyone eager to experiment with their style, these earrings from cocktail straws offer a unique, eco-friendly fashion statement. All you need are some straws, glue, jump rings, and earring wires.
The process involves cutting the straws into small pieces, gluing them together to form a design, and attaching them to the earring wires using the jump rings. You can even paint the straws for a custom color palette.
Despite the super glue's pungent aroma, it gets the job done – although a glue gun might be a preferable alternative. Whether you're spending your day under the warm sun or yearning for some summer in chillier weather, these DIY straw earrings will surely bring a slice of summer fun. ohohblog
22. Unique and Colorful DIY Straw Cake Topper
Breathe life into any birthday cake with unique and vibrant DIY straw cake toppers. You can turn a vanilla cake into a playful centerpiece using inexpensive materials such as colorful plastic straws, scissors, heavy-duty circle punch, twine, and wood skewers.
This project involves cutting various sizes and colors of straws, punching holes into them, and stringing them onto the skewers or twine. It's a fun, straightforward process that results in a truly eye-catching decoration.
The toppers don't only serve an aesthetic purpose but also enhance the celebratory ambiance of any party. Remember, no birthday cake should be boring – let your creativity shine with these colorful straw toppers! crateandbarrel
23. How to Make a Dandelion Gift Wrap
Add a unique tinge to your gifts with a DIY dandelion gift wrap idea! A simple yet creative project, it uses everyday Q-tips to form delightful dandelions, embracing their natural white color for an elegant effect. Paired with a warm "wishing" tag, this wrapping technique adds a personal charm to your presents, making them memorable even before unwrapped. This comforting dish is a testament to the versatility of tropical flavors. Remember, these intriguing creations aren't just about utility; they spark joy and creativity in everyday tasks. thechicsite
24. DIY Neon Straws and String Hanging Planters
Explore the world of straw crafts, a sustainable and eco-friendly art, by creating intricate designs and masterpieces from simple straws. Bring a vibrant touch to your indoor green space with DIY neon hanging planters. These eye-catching, contemporary planters can be crafted using neon cords and straws in as little as 15 minutes. Their vibrant pop of color is sure to liven up any room.
Additionally, they provide a unique home for your favorite succulents, granting them an elevated perch to flourish and grow. Follow this simple step-by-step guide and customize the materials to match your aesthetic – opt for a rustic vibe with jute twine or go chic with metallic tubes.
Ready to transform your greenery into an artistic installation? Get your neon cord and straws and start crafting these modern, space-saving planters for a perfect blend of utility and style. brit.co
25. Easy DIY Wreath Ornaments With Paper Straws
Boost the holiday spirit with delightful DIY wreath ornaments crafted from vibrant paper straws. These simple yet charming ornaments are ideal for family crafting sessions and serve as thoughtful Christmas gifts. Let your children's creativity shine as they customize their designs with various straw colors, beads, and ribbons.
Engaging in this project is fun and aids in enhancing fine motor skills. The step-by-step instructions will guide you through crafting these ornaments effortlessly.
The joy of crafting these wreath ornaments extends beyond creating them; hanging them on your Christmas tree or gifting them to loved ones brings an additional layer of joy. Begin the fun today and infuse your Christmas tree with a unique burst of color and handmade charm! projectswithkids
Conclusion:
In conclusion, these straw crafts offer a versatile and creative way to upcycle and repurpose everyday materials. With a plethora of engaging projects such as straw rockets, geodesic domes, and DIY neon straw planters, there are countless opportunities for both amateur and proficient crafters alike to hone their skills. Exploring activities with straws stimulates the imagination while promoting environmental consciousness. Dive into the vibrant universe of straw crafts and make unique, colorful, and entertaining masterpieces.