Wire crafts are a fun and affordable way to make your own jewelry, decor, and gifts. Explore 25 easy DIY wire craft ideas and projects to make cool things perfect for all skill levels. From geometric Himmeli wreaths and wire-wrapped jewelry to sculptural art pieces and decorative home accessories, our craft wire project ideas cover a variety of themes and styles. By using different types of wire, such as copper or colored craft wire, you can make stunning creations that will impress your friends and family.
Making things with wire is not only enjoyable, but it's also an affordable way to make personalized gifts and home decorations. The versatility of wire makes it an ideal material for both beginner and advanced DIYers. Simple wire crafts like beaded jewelry and wire-wrapped pendants are great for beginners, while advanced project ideas like topaz sunburst pendants and wire garden art offer a challenge for seasoned crafters.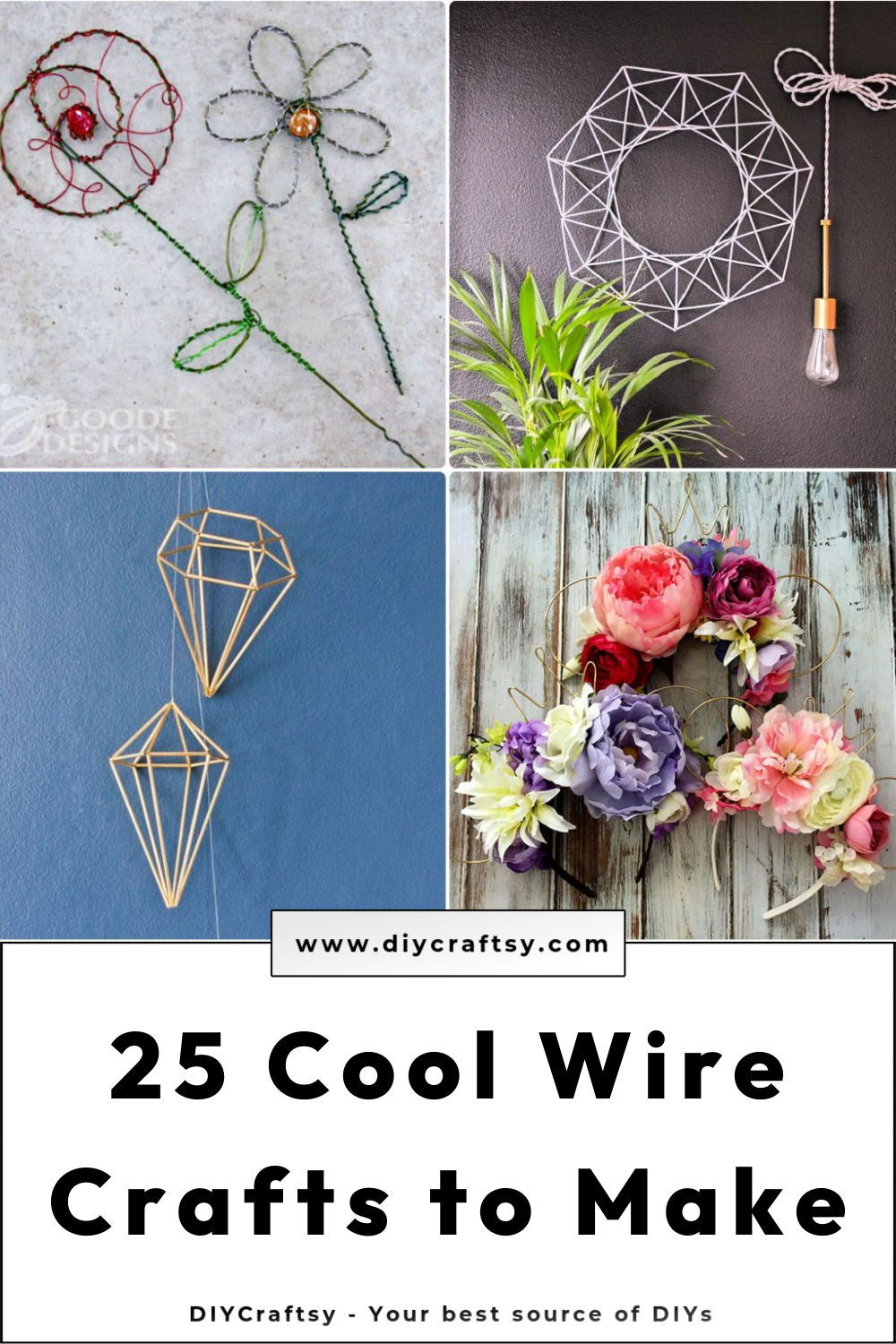 Whether you're looking for wire sculpture ideas, copper wire crafts, or even easy DIY wire decor, our list of 25 creative and easy DIY wire crafts has something for everyone. Get crafty and start transforming basic wire into beautiful and functional art pieces that you'll be proud to display in your home.
1. How to Make Geometric Himmeli Wreath
Immerse yourself in the Scandinavian art of Himmeli by crafting a DIY geometric wreath that adds a touch of style to your decor. Ideal for all seasons, this wreath blends seamlessly with any home aesthetic. Unveil your artistic prowess with cocktail straws and 26-gauge floral wire, and within an hour, you'll have a beautiful wreath to grace your front door or wall.
This easy-to-follow guide will help you make a stunning geometric wreath, free from any complexities. Engage your crafty side and join the design process of making an aesthetically pleasing 3D object from 2D materials. Discover the joy of crafting as you cut, thread, twist, and connect your straws into a geometric masterpiece.
Make your project unique by using a brass wreath kit or opting for a personalized touch with spray paint. Let your creativity shine, and enjoy the captivating charm of your wreath. This engaging and rewarding activity adds a touch of homemade sophistication to your home decor. vintagerevivals
2. Cute DIY Wire-Wrapped Bracelets
Make a unique statement piece with these easy-to-follow instructions on crafting wire-wrapped bracelets. The beauty of this DIY lies in its simplicity – you only need a handful of supplies, including 20-gauge wire, needlenose pliers, wire cutters, medium-sized beads or crystals, and a cup for shaping. Enjoy the freedom to choose beads that resonate with you and personalize the piece for someone special.
Beginning with about 3 feet of wire, this guide walks you through measuring, shaping, and wrapping, ensuring you have a beautiful bracelet. Each handmade adornment features three beads, perfect for stacking multiple bracelets.
For those who enjoy crafting, it's an interesting and satisfying project with a stylish result. Perfect as gifts or a treat for yourself, the possibilities are endless! So why not start crafting today and enjoy the thrill of making something uniquely yours? clumsycrafter
3. Handmade Wire Braided Rings
Discover the ultimate guide to making DIY braided rings with no tools required! In this step-by-step tutorial, you'll learn how to make five unique and stylish rings using simple materials and easy techniques. Whether a beginner or an experienced jewelry maker, these rings are perfect for expressing your creativity and making personalized gifts.
You can craft beautiful handmade rings in under five minutes with just copper wire, beads, and basic wire cutters. Watch the video tutorial and follow the instructions to make your stunning accessories. Don't miss out on this fun, cost-effective way to showcase your style and uniqueness. instructables
4. How to Make Wire Sculpture
Whether you want to make a necklace, a wreath, or a sculpture, you can do it with wire. Check out these wire crafts that are fun and fabulous. Explore the world of 3D art through this fun and educational DIY wire sculpture activity for kids. With simple materials like garden wire, wood blocks, and colorful wood beads, children can translate their line drawing skills into making 3D forms, a perfect introduction to basic art concepts like line and space.
This hands-on project offers the joy of designing unique sculptures while enhancing motor skills and artistic understanding. Perfect for indoor activities or school art projects, children will love how their artwork transforms depending on the viewing angle.
This cost-effective, engaging project also adds a touch of retro art to your home décor. Start crafting today and foster creativity and learning in a fun and interactive way. babbledabbledo
5. DIY Topaz Sunburst Pendant
Illuminate your style with this DIY topaz bead pendant. This radiant accessory combines a faceted, .75″ topaz gem and seed beads in clear and two shades of topaz to make a dazzling finish. With pliers, 18-gauge, and 24-gauge wire, you can meticulously form a circle to surround the gem, followed by carefully positioned beads to add an extra layer of shimmer.
The beauty of this project is the fusion of simplicity and sophistication, where the pendant effortlessly becomes a versatile addition to your collection. Enjoy this unique piece's sparkle, and let it be your statement piece that won't disappoint. Step up your accessory game today with this beaded pendant. domestic divaonline
6. Homemade Geometric Himmeli Diamonds
Design stunning geometrical shapes for your home using Himmeli-inspired designs! This step-by-step DIY guide will walk you through making three unique shapes using metallic brass tubing or cocktail straws. From wall decor to tabletop sculptures, the possibilities are limitless.
In crafting, you will use essential supplies such as a ruler, wirecutters, marker, tube cutter, and pliers (optional). If you opt for the straw version, a simple pair of scissors will suffice. The creation process involves:
Cutting your material into specific lengths.
Threading them onto a wire.
Securing them in beautiful, symmetric designs.
Metallic spray paint can be used to add a touch of elegance if you opt to work with straws. Transform your living space with these intricate Himmeli-inspired sculptures today! diyinpdx
7. Easy to Make Copper Wire Art
Add a bespoke touch to your home décor with an easy-to-follow DIY copper wire art. The project involves crafting a unique decoration using 24-gauge copper wire. This guide explains how to mold the wire into a heart shape with the word 'home' integrated on one side, using your hands as the main tool.
Despite potential imperfections and challenges, the finished result yields a charming and personalized piece that celebrates the essence of home. The copper wire art is versatile, making it a perfect addition to any wreath or standalone piece.
This creative project invites warmth and personal flair into any living space. Get inspired and give your décor a copper touch today! sinkology
8. DIY Iridescent Fairy Wings with Wire
Unleash your creativity this Halloween with realistic DIY fairy wings that balance drama, charm, and budget-friendliness. Crafted with solid galvanized wire, transparent gift wrap, and a touch of glitter paint, these wings capture the season's magic while adding a Tinkerbell-inspired touch to your festive ensemble.
This do-it-yourself project offers an accessible, step-by-step process where a wire is transformed into wing frames, coated with gift wrap for a translucent effect, and finalized with a shimmering paint sweep.
Reinforced with ribbon and a comfortable elastic band, these wings promise durability for all your Halloween adventures. Perfect for those seeking a unique, handcrafted alternative to store-bought options, these fairy wings bring a whimsical sparkle to your Halloween attire! atsecondstreet
9. Upcycled Copper Wire Pendant Lights
Unearth hidden treasures and breathe new life into those overlooked items with this step-by-step guide to transforming discarded lampshades into stunning, eye-catching DIY light fixtures. With ingenuity, basic household tools, and some readily available materials such as a pull string light socket, threaded nipple, washer, hex nut, lamp wire, and a bit of spray paint, you can add a stylish and unique tinge to any room.
This budget-friendly makeover provides a fun and creative activity and promotes sustainable living by repurposing items that would otherwise be thrown away. Don't let your old lampshades collect dust – reinvigorate your space with a unique and individual lighting solution! vintagerevivals
10. How to Make Wire Garden Art
Dive yourself into an environmentally-friendly craft project and elevate your garden décor with this DIY recycled wire garden art guide. Using wire clothing hangers and other simple materials such as colorful metal jewelry, glass gems, and wire cutters, you can make vibrant flowers and dragonflies to enhance your outdoor space.
Be advised bending hanger wire may require some patience and practice. However, this craft not only yields beautiful artwork but also allows you to give a second life to otherwise discarded materials.
Get ready to transform your garden into a beautiful gallery of handmade wire art pieces with our step-by-step instructions. Enjoy the aesthetic charm and sustainability benefits this project offers. jgoode
11. DIY Wire & Floral Mickey Mouse Ears
Experience the magic of Walt Disney World uniquely by crafting your own DIY wire & floral mickey mouse ears. If the traditional hats aren't your style and the headbands cause discomfort, this creative approach offers a wonderful alternative.
With a simple bending technique, hot glue, and some ribbons, you can fashion wire into the iconic shape of Mickey's ears. Adorn your creation with your choice of silk flowers, adding a touch of charm and personalization.
The beauty lies in the flexibility of the design; whether you prefer spring hues or love vibrant purple or pink, your floral Mickey Mouse ears will reflect your personality. It's not just about making a memento; these Mickey Mouse ears also make a delightful gift for your loved ones, making your visit to Magic Kingdom truly memorable! pinkcakeplate
12. Boho-chic Wire Wrapped Beaded Crochet Bracelet
Have a distinctive, boho-chic style with this DIY beaded crochet bracelet made with wire! This wrap bracelet perfectly showcases the unique allure of crocheting with wire, which can be worn alone or stacked for a layered look.
Supplies needed include 28-gauge wire, a 3.75mm crochet hook, 6/0 seed beads, a toggle closure, and a couple of crimp beads. The step-by-step instructions allow you to make a bracelet customized to your wrist size, with options for a 3-wrap or 5-wrap style.
Enjoy crafting this beautiful piece of jewelry that marries traditional crochet techniques with the versatility and durability of wire, resulting in an accessory as enduring as your style. petalstopicots
13. DIY Wire-wrapped Tree Necklace
Looking for unique wire crafts? Unleash the beauty of nature-inspired jewelry with a DIY wire-wrapped tree pendant necklace. Requiring only a few materials, such as 24 gauge wire, stone chip beads, and basic wire tools, you can craft this wearable piece of art with a unique appeal. This compact and elegant accessory is just 1-1/2 inches from the bail to the pendant bottom, making it a discreet yet noticeable addition to your ensemble.
The tutorial will walk you through the simple process of preparing your wires, forming the base, making the tree's trunk and branches, and adding your beads. Take a step forward toward your creative journey, spruce up your accessory collection, and allow the Tree of Life necklace to help you connect with nature's brilliance. happyhourprojects
14. Cute Twist Wire Bracelet Design
DIY your style with this twist wire bracelet design – be creative and make it yours! Make an intricate, dainty bracelet using smaller beads with this detailed guide. This project employs a variety of beads, including green agate, malachite chips, green cat's eye beads, and Toho beads, intricately woven using 26 gauge silver-colored florist wire.
Follow the systematic steps, from bead selection, placement, twisting, and intertwining wires, to adding a personalized touch with decorative elements like a Mobius love knot. This guide ensures a hands-on, engaging process while being educational. Finished in 30 to 45 minutes, this project is perfect for individuals wanting to upcycle spare beads and make unique jewelry pieces. littleredrobinbird
15. Making a Wire Butterfly Sun Catcher
You can do amazing things with wire. Learn how to make wire crafts with these simple and stunning projects that will wow your friends and family. Enliven your garden with a touch of whimsy and the twinkle of crystals. Craft this DIY Bohemian butterfly sun catcher using the brilliance of 195 crystals, complemented with 18 and 19-gauge steel wire and 18-gauge aluminum wire. A clear fishing line gives an illusion of a flying butterfly, making your tree sparkle in the sunlight and cast rainbows on your patio.
The handy wire cutters, chain nose, and round nose pliers make assembling the sun catcher a breeze. Tailor-make your butterfly using the reflective power of 8mm-12mm crystals for the wings and 6mm for the antennas.
The wings are securely wrapped using 18 gauge aluminum wire, while the body is decorated with striking black crystals. Smaller crystals add the final touch to the butterfly antennas with the help of a 19-gauge wire. Unveil the radiant charm of your garden today with this sun catcher tutorial. hometalk
16. How to Make Wire-wrapped Rock Rain Chain
Imbue in the calming spectacle of a DIY rain chain that delivers a visually appealing water feature for your home. Transform unappealing downspouts into a beautiful water show during rainy weather. The craft involves wire-wrapping river rocks, a technique.
The process requires dollar store rocks, floral wire, paper clips, a pencil, and wire cutters. The charm of this project lies in the rocks you choose and how you wrap them. Enjoy the pleasing sight and sound of rainwater trickling down your new chain.
This rain chain is a delightful addition to your home that serves a practical purpose and brings a touch of nature's charm to your outdoor spaces. Let the soothing cascade of rainwater make a serene environment for you today! dollarstorecrafts
17. Easy DIY Nicole's Wire Cacti Garden
Wire crafts are not only gorgeous, but also eco-friendly. You can reuse and recycle wire to make these wire crafts that are good for the planet and your wallet. Revamp your space with a unique touch of greenery by crafting DIY wire and wool cacti! This creative project involves sculpting wire into cacti forms, wrapping them in yarn, and adding vibrant tufts of wool for the blooms. These handcrafted pieces add color and charm to any corner of your house, whether placed in tiny terracotta pots or taped on your wall.
The main materials include malleable garden wire, wool yarn, and craft glue. What sets this project apart is its simplicity and versatility. The handcrafted wire and wool cacti provide an eco-friendly, maintenance-free alternative to live plants.
Plus, they're a great way to express your creativity and bring a touch of nature indoors. It's a fun and engaging activity requiring no complex skills or expensive supplies, making it perfect for crafting enthusiasts and nature lovers. Brighten up your space today with these adorable wire and wool cacti! jungalow
18. Easy Aluminum Wire Craft
Inject creativity into your holiday celebrations with a vibrant array of craft projects using aluminum craft wire. Enjoy its versatility and flexibility as you engage in three fantastic DIY wire craft projects that range from personalized Christmas ornaments to unique vase accents.
Start by crafting an elegant beaded pearl letter, a stunning Christmas ornament, or a chic accent for gift wraps. You'll need 24 gauge paddle floral wire and colorful Mardi Gras beads. It's an affordable project costing over $10 and takes less than twenty minutes to complete.
Additionally, the curvy wire ornament hanger project is an excellent way to display heavy or delicate ornaments more sturdily and fashionably. Lastly, give your plain glass vases a quick and easy makeover with colorful aluminum wire wraps, making an exciting texture and color play. These fun, affordable, and simple projects will charm your holiday festivities! mardigrasoutlet
19. DIY Wire Wrap Woven Pendant
Dive into the intriguing process of crafting a DIY woven wire teardrop pendant with a flat, circular focal stone. With the guided steps, transform simple supplies like 18 or 20-gauge wire, bent nose pliers, wire straighteners, and a desirable circular stone into a stunning piece of handmade jewelry.
Starting with forming a wireframe around your chosen stone, our guide takes you through shaping, caging, and weaving, helping you make a delightful piece that encapsulates creativity and skill.
With a pinch of patience and an appetite for crafting, you'll be wearing your self-made teardrop pendant in no time, showcasing not only the beauty of the stone but also your unique artistic talent. flight-fancy
20. Brown Floral Wire Pumpkins
Uncover the charm of turning ordinary materials into festive fall decorations with this creative DIY pumpkin craft. This guide demonstrates crafting unique wire and rope pumpkins, perfect for enhancing any autumnal display. For the wire pumpkin, all you need is brown floral wire, a glass for shaping, and a little patience.
This guide will direct you through each step – from wrapping the wire strands around a glass to achieve the perfect circle to fastening them all together and adding a stem. The rope pumpkin, on the other hand, employs a cardboard tube and multipurpose rope.
The tube is cut to size, filled with rope, and topped with a rope stem to make an enchanting and rustic pumpkin decor. This tutorial is not only enjoyable and easy to follow but also budget-friendly. Moreover, these pumpkins make for delightful additions to your entry table, enhancing the welcoming vibe of your home! somedaycrafts
21. Wire Wrapped Rhinestone Leather Bracelet
Transform your accessory style with this unique DIY wire-wrapped rhinestone leather bracelet. This personalized, easy-to-make design gives the classic rhinestone bracelet an innovative twist. You'll need a leather band, E-600 glue, a metal clasp, wire, and a rhinestone chain to make this stylish piece.
The assembly involves gluing one end of the clasp to the leather, wire wrapping around the clasp base, and carefully securing the rhinestone chain on the leather band. It fits any wrist size and can be adjusted as required.
Don't worry if you're not fond of bracelets; this wire-wrapped rhinestone leather bracelet might change your mind! Its simplicity and elegance make it an accessory worth flaunting! mygirlishwhims
22. Quick DIY Gem Wire Tree
Welcome in the spirit of spring by crafting your gem tree, a nature-inspired DIY project that will add a unique tinge to your home decor. You'll need a cutter and round nose pliers, flat black jewelry wire, green multifaceted glass beads, green seed beads, and a textured pebble to act as the base.
Following the detailed steps outlined in this tutorial, you'll turn these simple materials into a miniature tree embellished with gem-like leaves firmly rooted onto a pebble.
The flexible nature of this project allows you to adapt and experiment, using different colored beads and wire, making variations like an autumnal tree or a blossoming tree. Craft a piece that fits your aesthetic, and have fun making your gem tree today! windysunset
23. Make Your Own Wire Pendants
Wire is a versatile material that you can bend, twist, and shape into beautiful wire crafts. Discover these wire crafts tutorials that are perfect for beginners and experts alike. Express your creative potential with this DIY, easy wire pendants! Dive into the gratifying world of wire crafting with simple yet elegant designs to fill your jewelry box with self-made masterpieces.
You can bring these stunning pendants to life by utilizing basic crafting materials like craft wire of various gauges, craft pliers, and an array of vibrant beads.
From wrapped bead pendants to whimsical galaxy-inspired designs, these guides will lead you step-by-step, ensuring your final result is not unique but utterly enchanting. Rekindle your creativity and experience the joy of handcrafting your wire jewelry today. instructables
24. Simple DIY Decorative Wire Vase
Add a stylish, boho-inspired touch to your living space with DIY wire vases. Crafted with just a few supplies, including heavier gauge wire, electrical tape, wire cutters, and fabric scraps, these unique, sculptural vases are affordable and simple. They showcase artificial flowers with an eccentric charm and are a funky blend of modern and bohemian aesthetics.
Additionally, they maintain their appeal even without flowers, becoming versatile décor pieces for your home. In the making process, cut wires are fashioned into the desired vase shape, with tape securing the joints and fabric, adding an element of bohemian flair.
Their adaptability, as well as their quirky design, makes these DIY wire vases an attractive feature for any interior. Plus, they're a cost-effective alternative to constantly buying fresh bouquets. Get creative with these funky vases and bring unconventional style to your home décor! abeautifulmess
25. Wire Photo Hanging Picture Frame for Under $15
Make your walls come alive with a unique DIY wire photo hanging picture frame – all for under $15! It is fabulous to display your favorite memories, Christmas cards, or sentimental keepsakes! This innovative frame design allows you to clip pictures, notes, or small items within the frame, allowing for easy rearrangements whenever you please.
This project involves a picture frame, 22-gauge wire, mini-colored spring clothes pins, super glue, brass thumbtacks, and acrylic paint. The making process involves painting, measuring, attaching the wire to the frame, and finally clipping your photos or cards.
Besides being a creative piece of home decor, it can also serve as a visual prayer board, helping you keep loved ones in mind. Make your hanging picture frame and transform how you display your cherished moments! whatsupfagans
Conclusion:
In conclusion, exploring DIY wire crafts opens up a world of creativity with endless possibilities. With numerous wire craft ideas and projects available, such as handmade wire jewelry, wire sculptures, and copper wire art, there are options tailored for all skill levels. DIY wire crafts are not only enjoyable and fulfilling but also allow for artistic expression and the opportunity to make unique, personalized pieces. So, why wait? Embark on your wire crafts journey today and experience the satisfaction of making your own things.