Bird crafts are a great way to get kids engaged in creative activities. Find 35 fun and easy bird crafts for kids, preschoolers and toddlers. From classic origami designs to paper plate creations, each craft includes easy-to-follow instructions that are perfect for families looking for a unique way to spend time together. Help your little one channel their inner artist by crafting birds out of popsicle sticks, pinecones or even handprints! Each bird craft project is designed with safety in mind, so parents can rest assured knowing their children will be having great fun while learning something new.
You can also make fun and creative bird crafts for preschoolers and toddlers. These bird arts and crafts range from bird-shaped bird feeders to painted rockets and display bird art to handprint bird pictures to bird-themed fun toys, these fun bird crafts allow children of all ages to use their creative imaginations.
And for older students looking for something more challenging, bird crafts for elementary school students include paper cutouts or detailed drawings of different species of native birds. No matter the age level, these bird crafts provide an engaging and exciting opportunity for children to explore their creativity!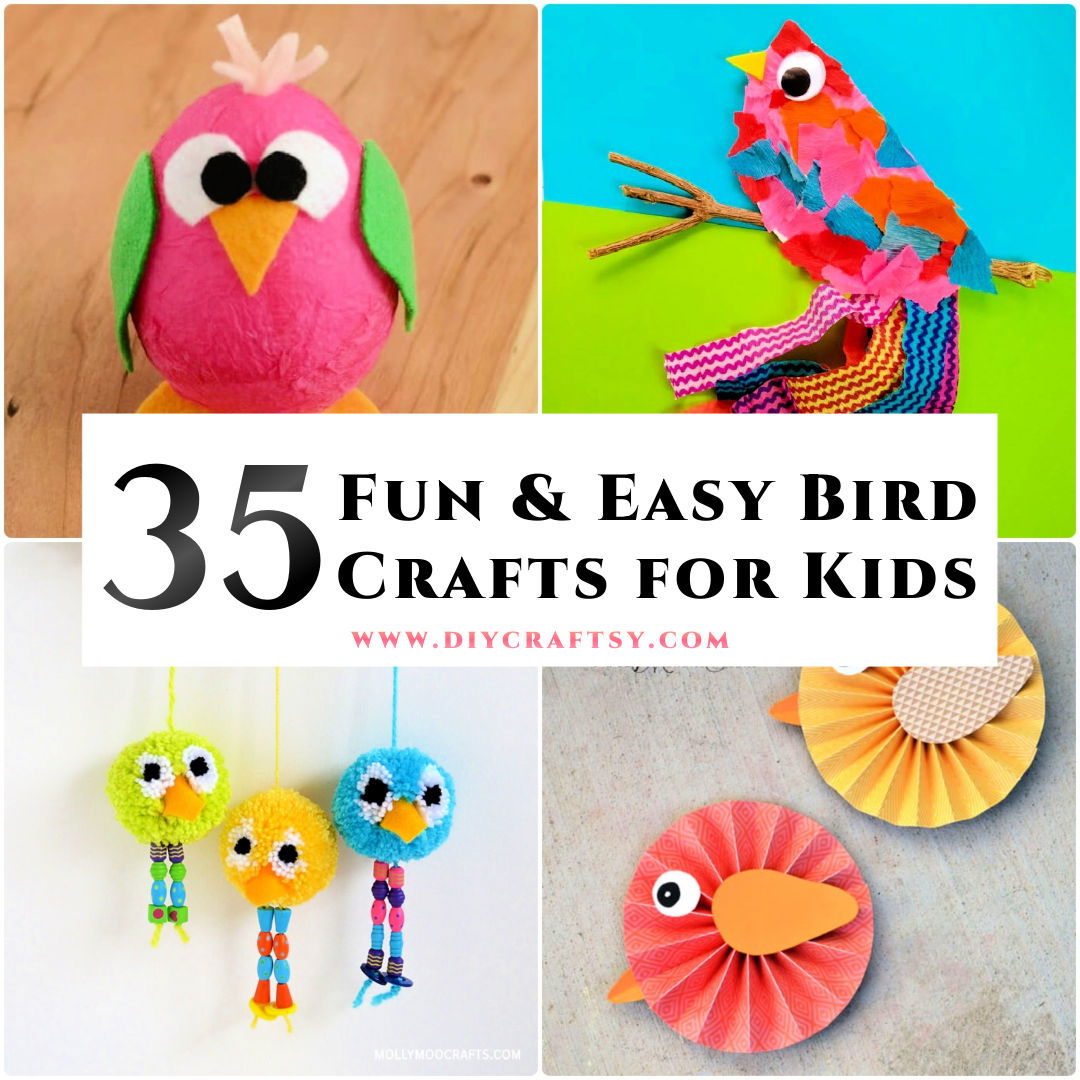 Easy Bird Crafts for Kids, Preschoolers and Toddlers
The best part of having fun with kids is that they can be delighted with even the little things, and making those things is also way more fun! While you explore these 35 easy bird crafts for kids, you can find them pretty therapeutic for yourself too! So, bravo to that, right?! These bird crafts for kids are made using the common and readily available craft supplies you can easily find at home. Most of these fun bird crafts are made for toddlers or preschoolers, but even your elder ones can have fun while making them. And these could also make cute little room decors!
It is insanely easy to make these bird crafts for kids! Using common supplies like paper plates, tissue rolls, colorful feathers, paints, googly eyes, craft sticks, buttons, etc., We have added these beautiful and charming bird decor options, which you can make using pom poms, beads, threads, and wooden sticks.
Make cute yarn sparrows in perfect 3D effects! Plus, you can't even imagine the wonders you can do with sticky notes! Also, with winters here, don't throw away the empty citrus, but turn them into cute little birds! So, let's explore these bird crafts for your kids and have some real-time fun with your kiddos!
1. Easy and Fun DIY Paper Bird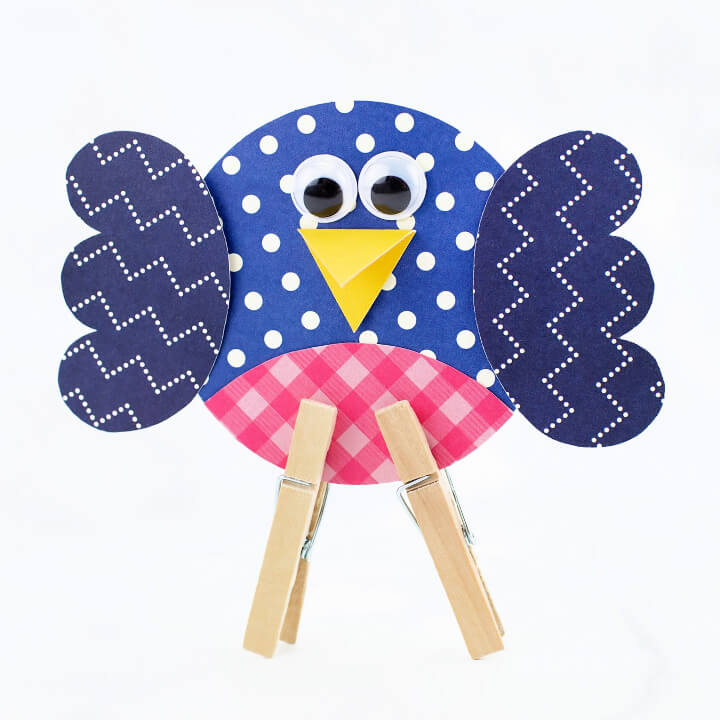 Summer breaks are all about creating and crafting something exciting. This summer, why not help kids with some DIY Papercraft. This Paper bird craft is something that can make them learn a new craft and excel in the art class. firefliesandmudpies
2. DIY Paper Plate Bird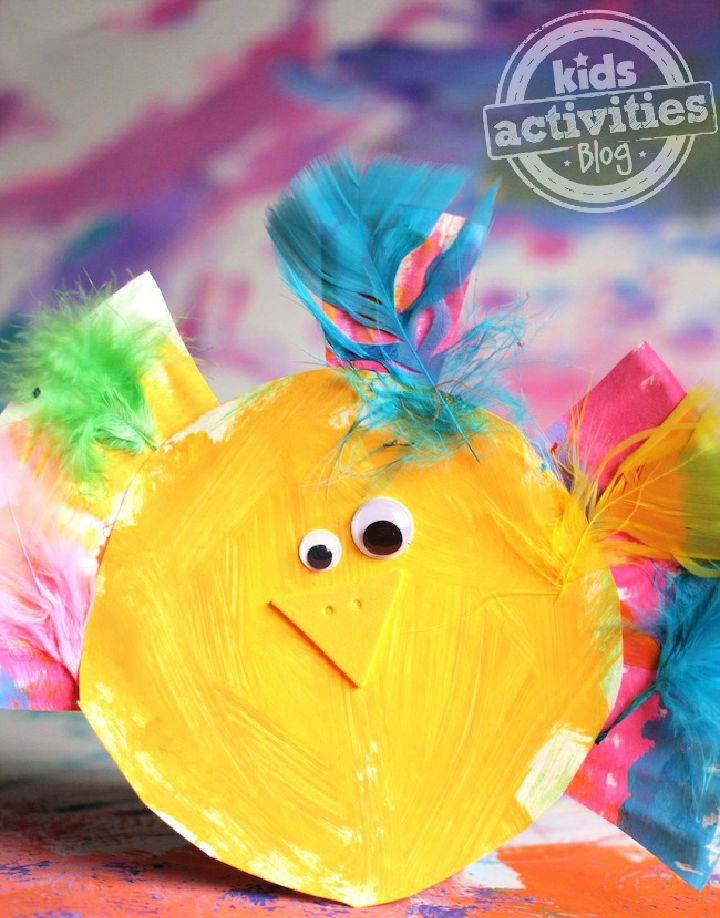 Every kid is an artist, give them some art supplies, and they can come up with some craft of their own. This bird made out of paper plate is one of the craft, you can make them learn in some easy steps, and by using some simple art supplies. kidsactivities
3. Easy Baby Blue Bird With Template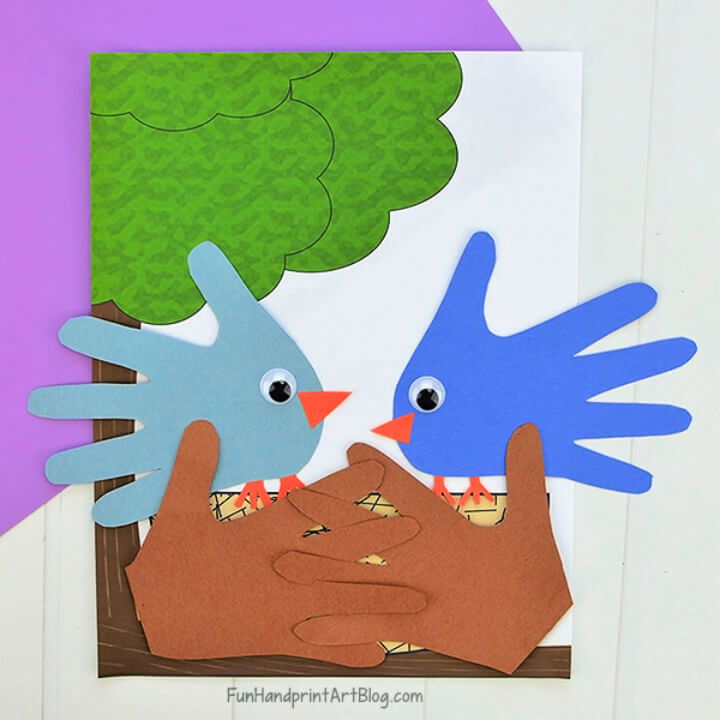 Kids are cute beings, they love to make simple and adorable art pieces of their own all the time. Whether its art class or at home. This paper Blue baby bird is somewhat that they sure will love to create themselves. funhandprintart
4. Make Painted Rocks Bird Craft for Kids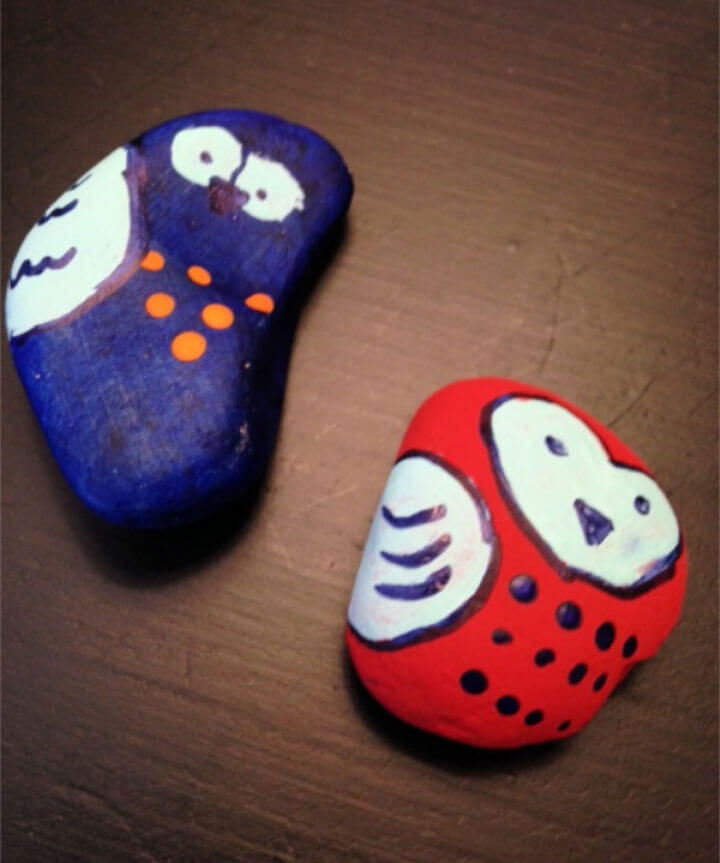 A little decor element has never harmed anybody; these painted stones in the form of baby birds are the testament. Place it in your kid's room or even in the garden by the flowers or by the poolside. You just need some basic supplies to get your own decor showpiece. greenkidcrafts
5. DIY Cardboard Roll Bird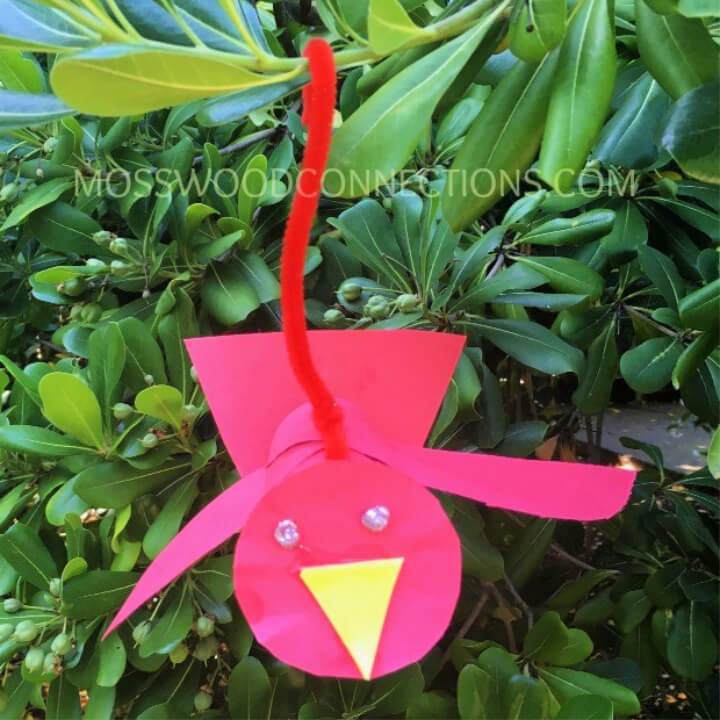 School is one place where a kid learns some basic education, at home, they can learn some co-curricular things as well. Like a rolled shaped DIY Bird made out of cardboard paper. This bird will surely be an add on to your little one art skills. mosswoodconnections
6. DIY Craft Stick Bird Puppets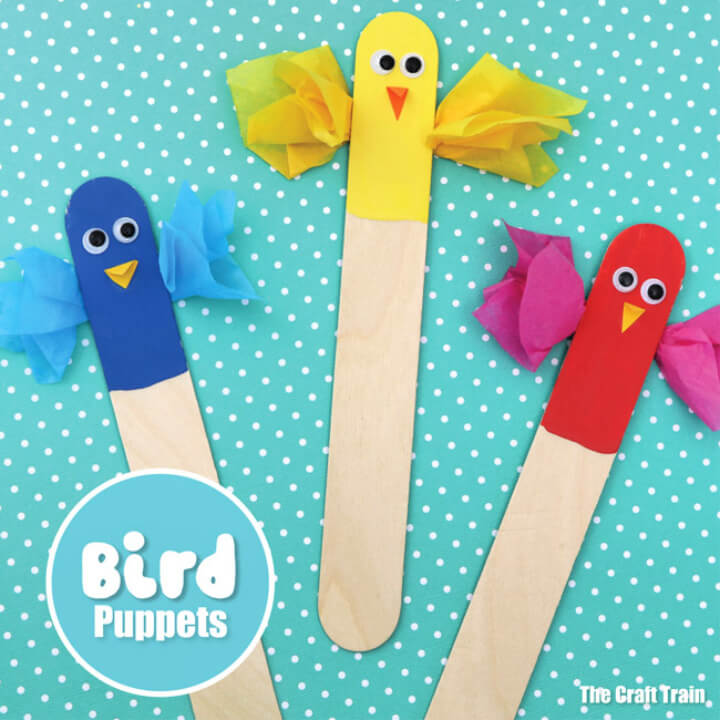 Kids love to store small things, like buttons, coins, and bottle caps, or sometimes even ice cream sticks. These ice cream sticks come handy when they are needed in an art class project. Especially when you are asked to make a DIY Bird puppet face out of them, like here. thecrafttrain
7. Make Whirly Twirly Flying Birds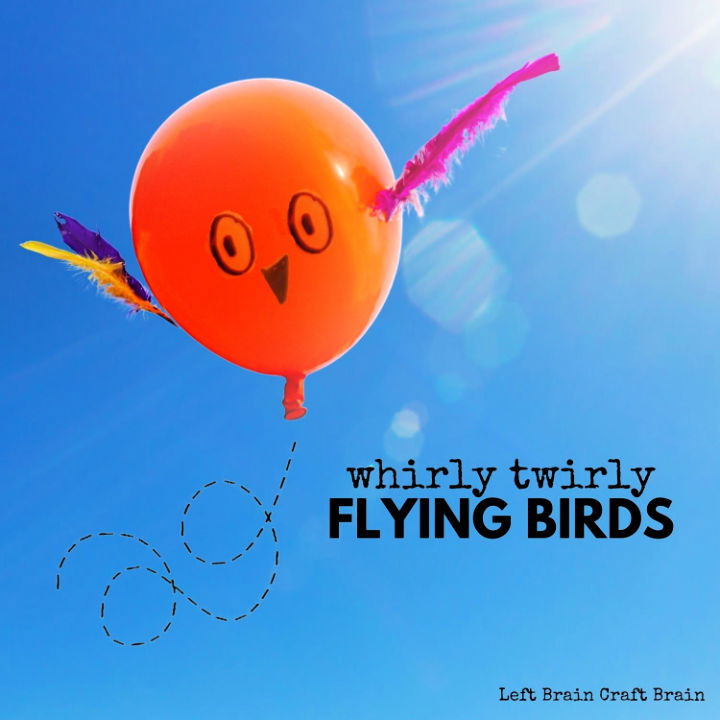 Art brings out the real artist within you. So how about helping your kids in bringing their real talent out. With this DIY Whirly Twirly flying bird made on a gas balloon, you can assist them in creating this cool craft. Add a little feather element on it to give it a bird feels. leftbraincraftbrain
8. Create Peacock Using Popsicle Sticks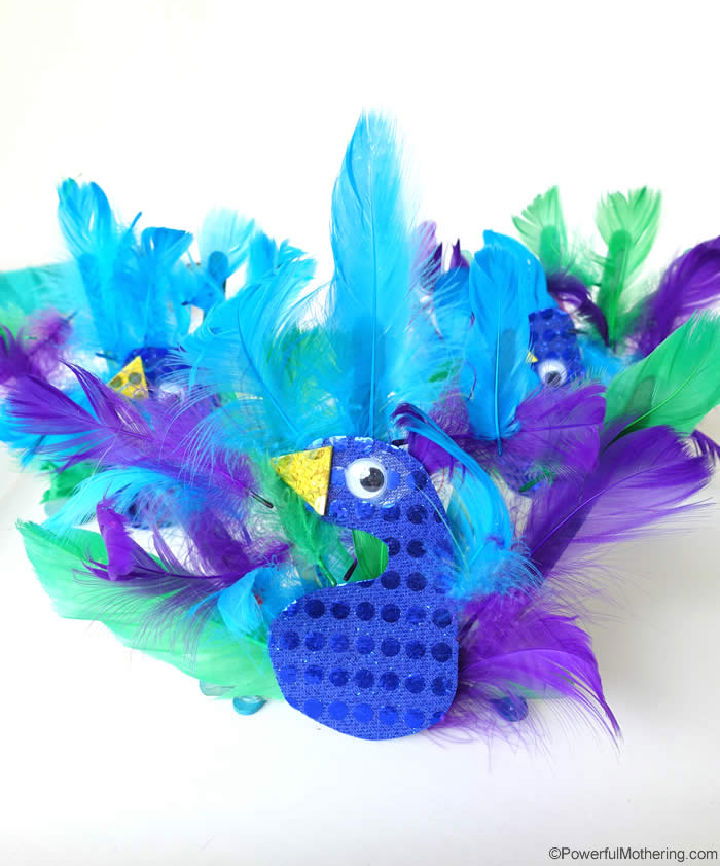 Peacock is one creature of mother nature that looks so beautiful while opening its wings. Why not create something for your kids too from our simple bird crafts. With this DIY Peacock feather Bird inspired tutorial, you can create one of your own. powerfulmothering
9. DIY Owl Inspired Bird Feeder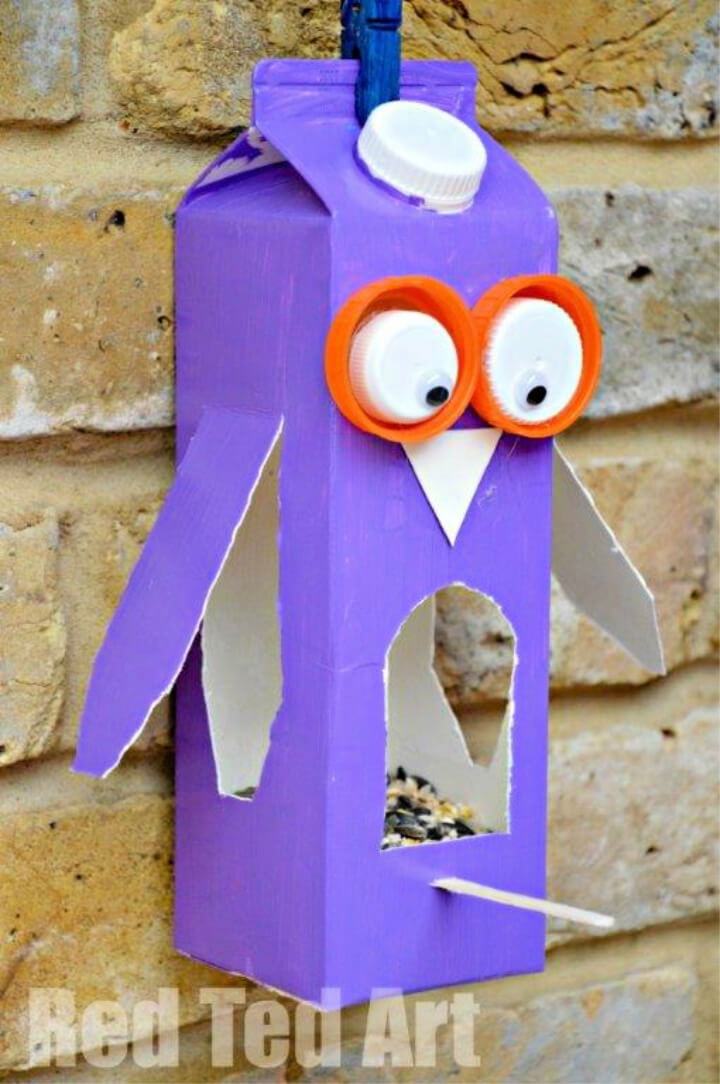 Check out this huge-eyed, feathered OWL inspired bird feeder made out of a milk carton. This craft is a piece of art that you can hang in your patio wall or even place it on your balcony so birds can be fed from it all day long. redtedart
10. How to Make Toilet Roll Baby Bird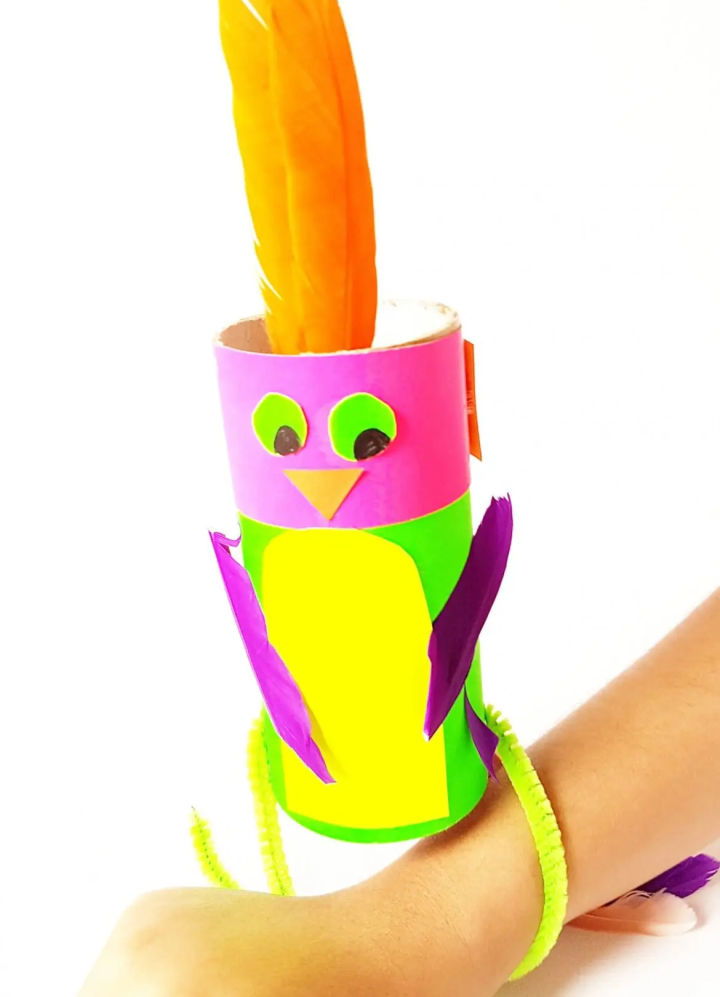 Kids love to create some crafts all by themselves. This leftover roll from a tissue paper roll is surely one piece of craft to make a DIY baby bird out of. Hang a feather on its head, and you can get your very own bird out of toilet roll. artcraftandfun
11. Bird and Nest Craft for Preschoolers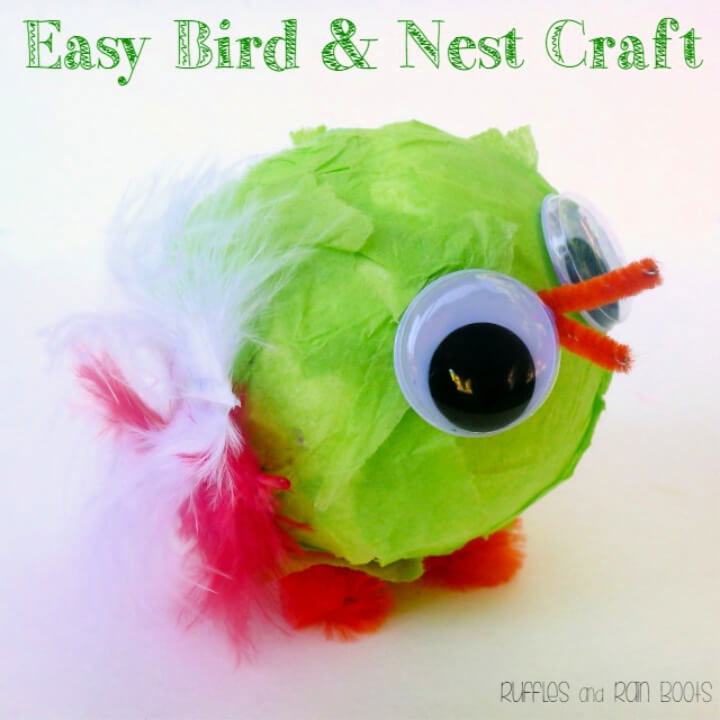 Kids love to see birds flying all day long, we sure love their chirping voice in the morning too, but kids have some different way of looking at things. Just like this DIY Bird and Nest craft, which is surely one way of learning for kids before they go to join the school. rufflesandrainboots
12. Easy Feathered Bird for Kids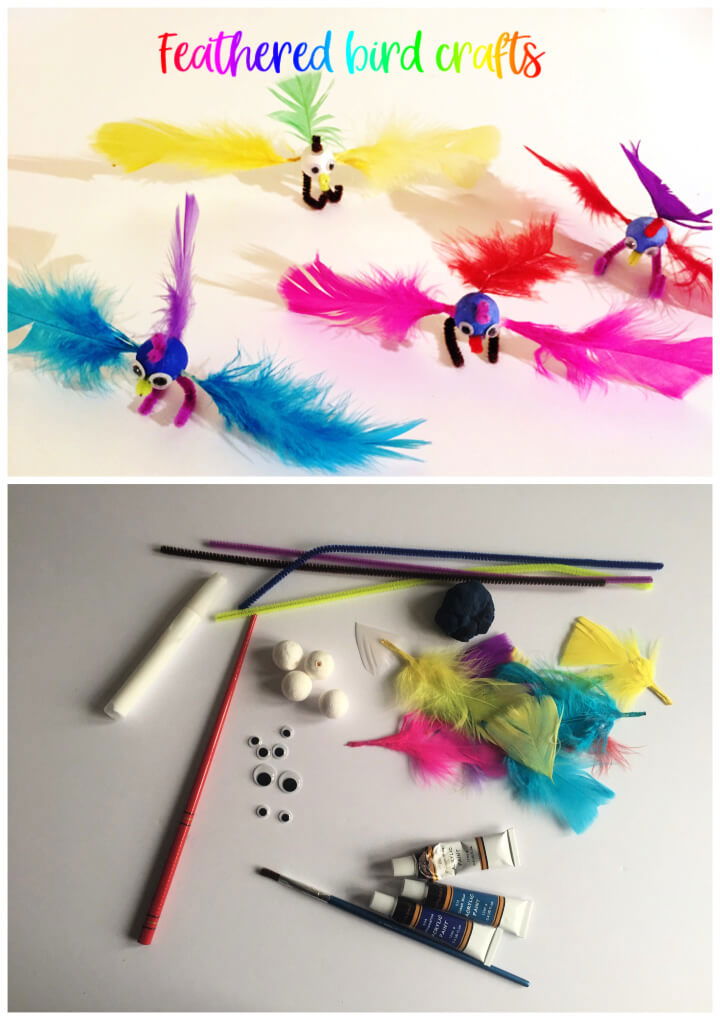 Birds come in all sizes and types, some are colored naturally, and some are huge feathered while some vary as per their looks. This easy bird crafts tutorial on feathered bird craft for kids is undoubtedly a project your kids would love to work on in their free time. curiousandgeeks
13. Spring Baby Bird Craft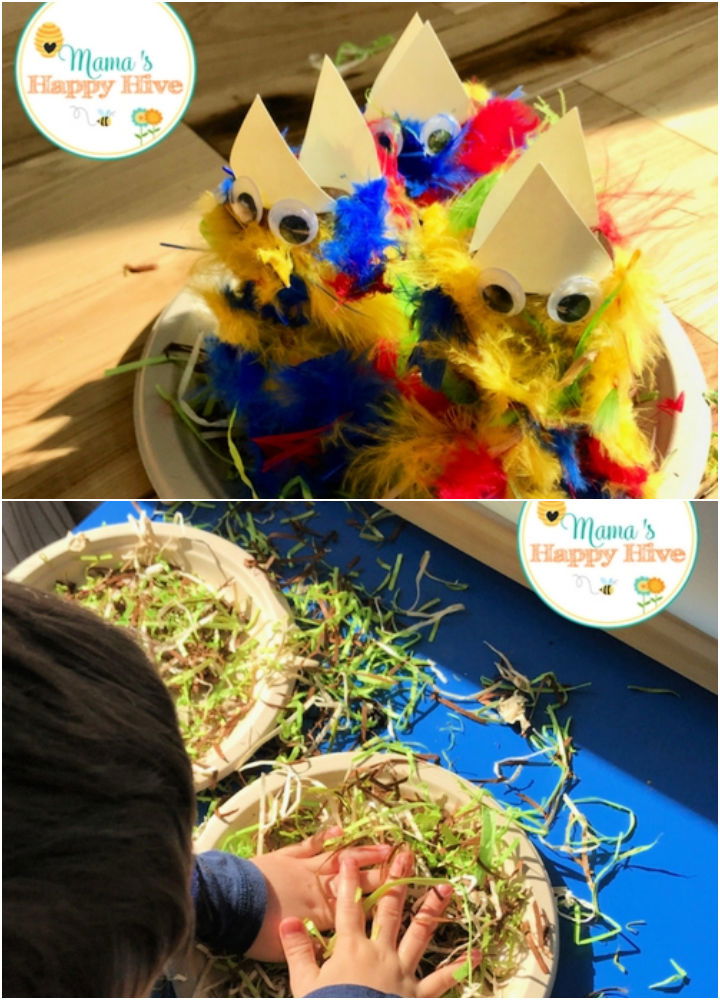 As soon as winter ends, spring season arrives. This is the time of the year when birds love to welcome spring with singing and trees come back to life. A perfect time for kids to add a skill to their craft with their DIY Spring baby bird craft. mamashappyhive
14. Cute Toilet Paper Tube Bird Craft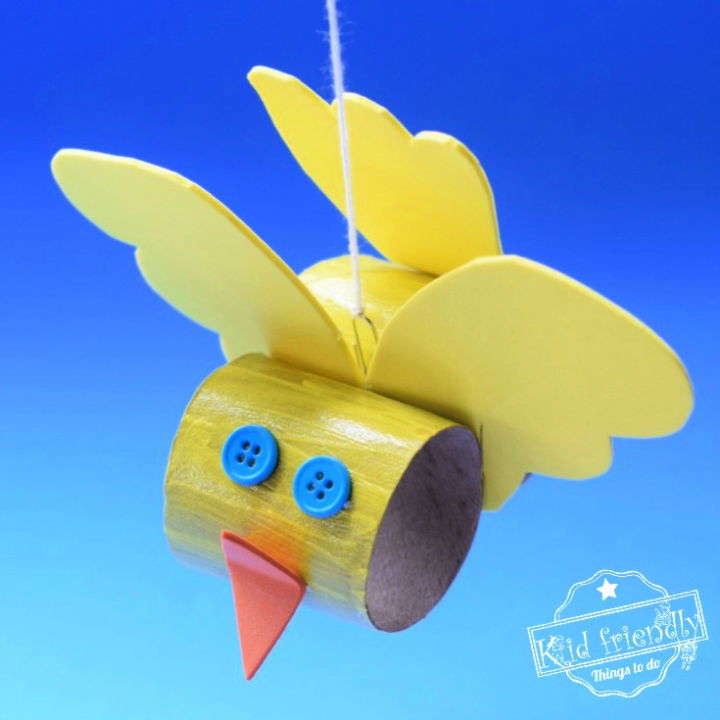 For all those mommies out there, who store things even when they are used! This DIY Toilet Paper tube bird craft is for you. All you need are some supplies from your sewing kit, and you can get your kids a bird out of them. kidfriendlythingstodo
15. Quick DIY Craft Stick Bird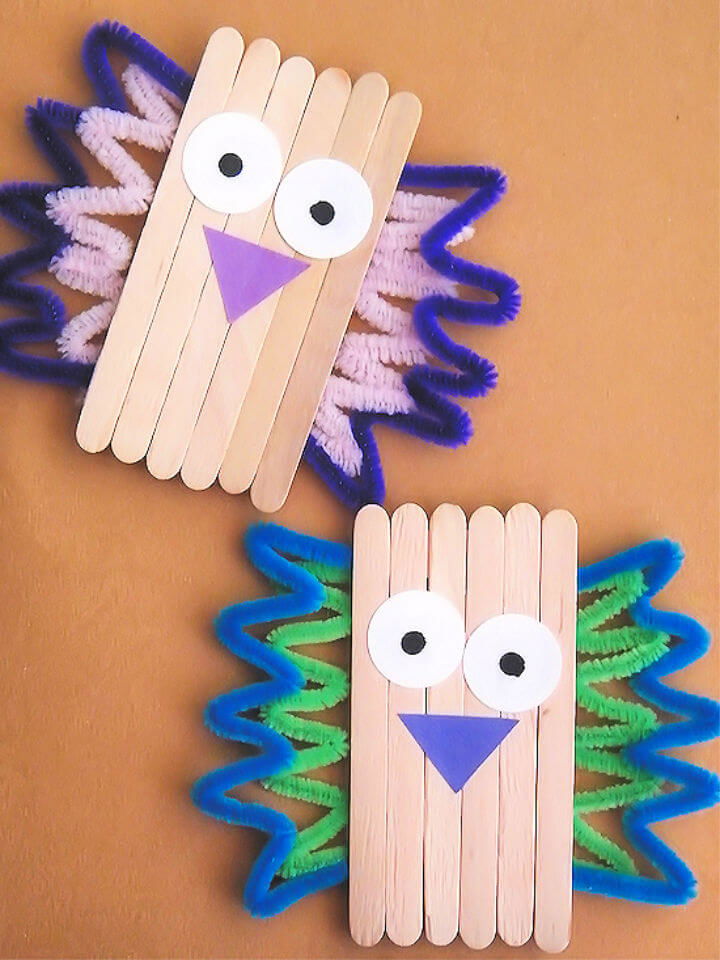 What a fun way to create something out of Popsicle sticks; these Popsicle sticks, when glued together, create a perfect base for your DIY Craft stick bird craft. Add some vibrant wings to it later on with the help of bending pipe cleaners. ourkidthings
16. How to Make Origami Paper Bird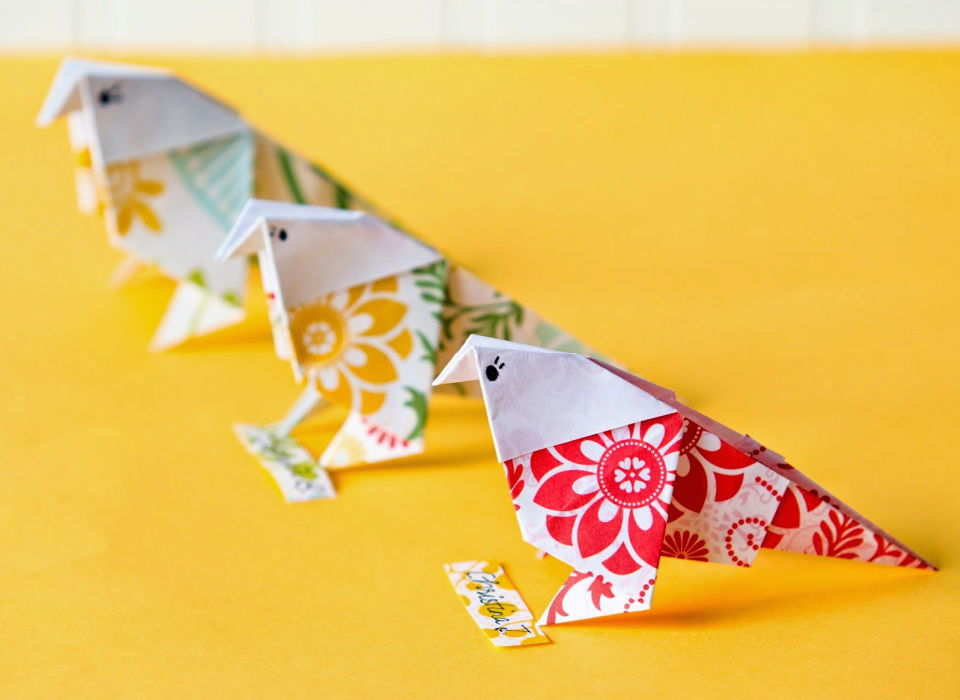 What a fun way to recall those all art classes with these paper origami birds. These birds might seem difficult to achieve, but they aren't so. Add some winged elements on its sides by using some basic supplies to get the perfect bird for kids. stjudescreations
17. Pom Pom Bird Craft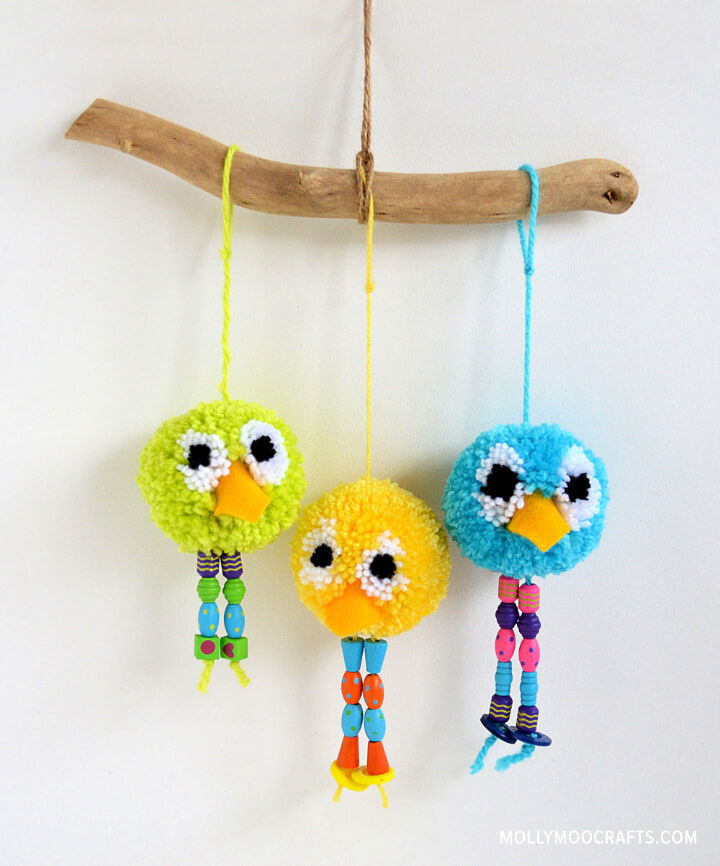 Want to add a little makeover to your kid's room? Well, with this DIY Pom Pom bird craft tutorial, you can create some magic in your craft. Add an element on rustic decor to it by hanging these pompom birds on a wooden branch. mollymoocrafts
18. DIY Sticky Notes Decorated Birds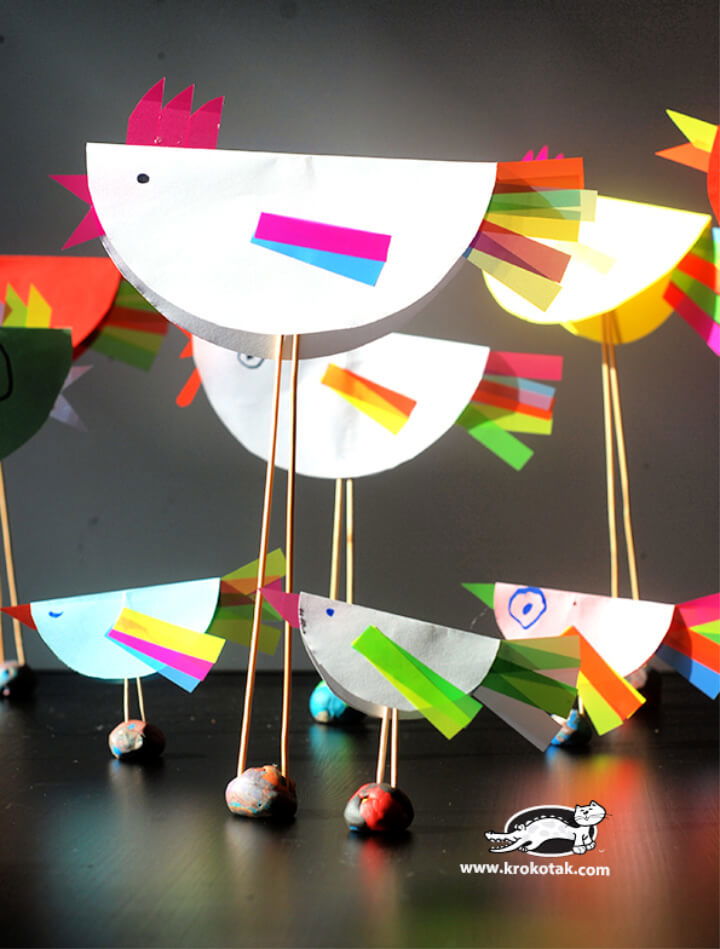 Sticky notes do come handy all the time to recall some tasks! Why not use them to create something exciting from them too. This DIY Sticky Notes birds tutorial Is surely going to keep you hooked up to create the best-looking bird for your kids. krokotak
19. DIY Curled Paper Birds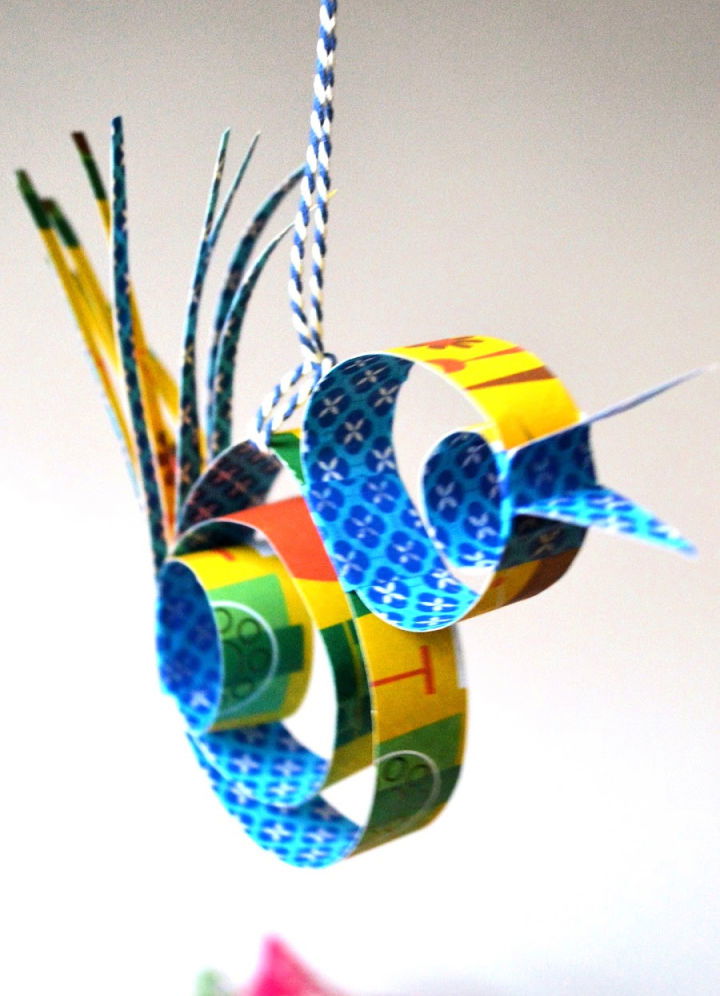 Paper art and craft can never get boring; with each design and some creative flair, you can create some magic of your own for your kids. Like the curled up paper bird made here. All you have to just follow these simple steps. ing things
20. Cute DIY Yarn Bird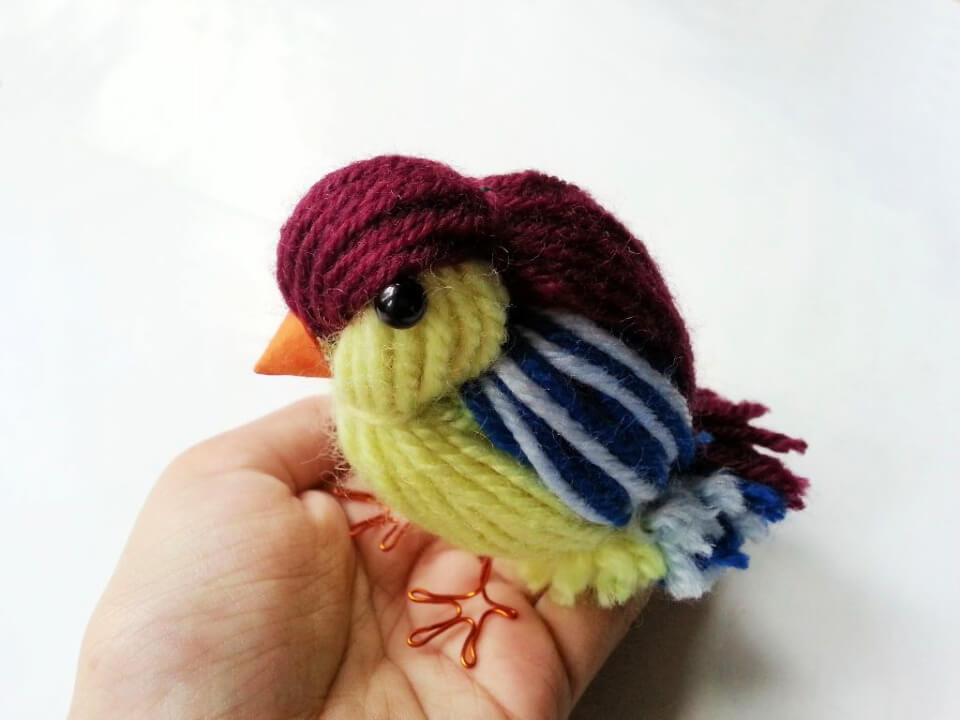 Crochet making is always something associated with winters and warmth feeling. This DIY Cute yarn bird project can be done in some easy, simple steps. All you need some basic sewing essentials and nice yarn fabric. instructables
21. How to Create Paper Plate Love Birds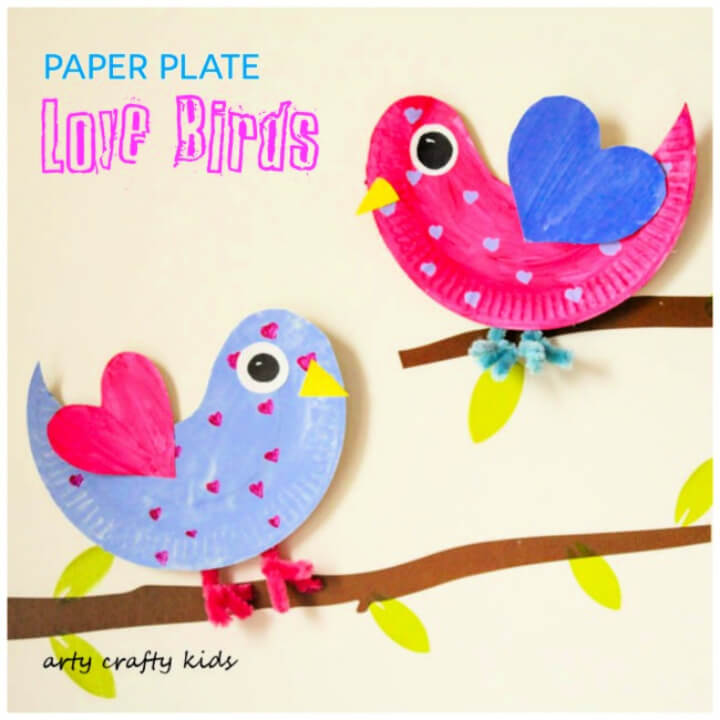 Paper plates are an essential part of every picnic, they come handy all the time when food is served. Why not use them to create some DIY Plate love bird craft of your own. Add some colors to it by painting them with nice watercolors. artycraftykids
22. DIY Birds Using Popsicle Sticks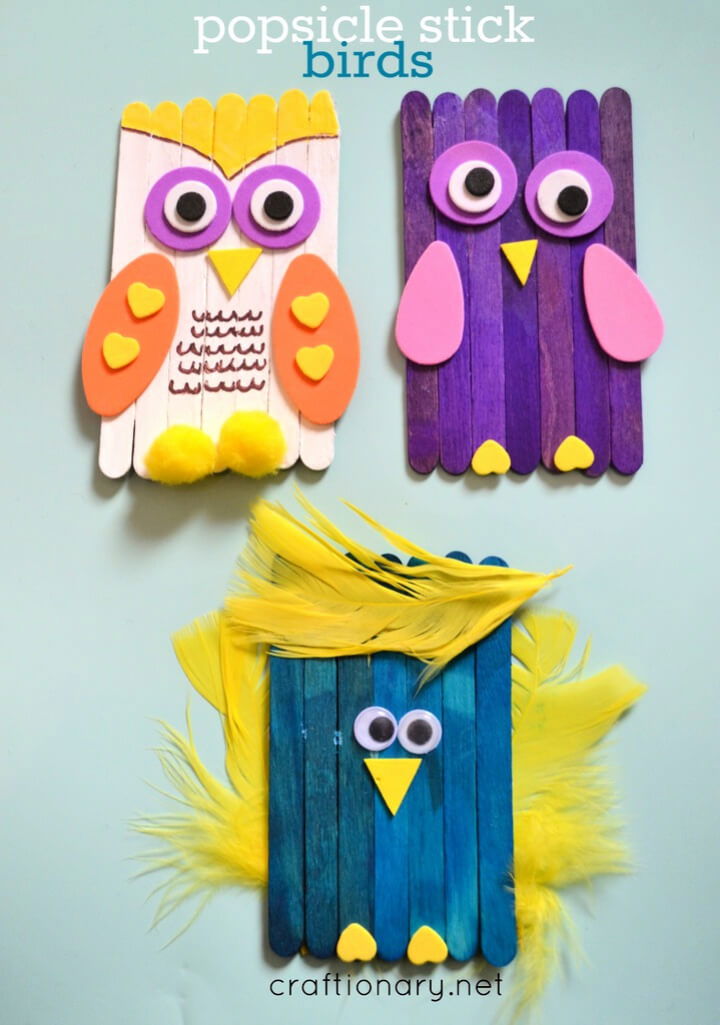 One more from our DIY bird crafts! Kids love to eat Popsicle; these sticks will come handy when they need your help to create something exciting. Like the Birds craft made here by using some Popsicle sticks. Add some feathered touch to it on its head to make it look like a bird. craftionary
23. Easy DIY Paper Plate Bird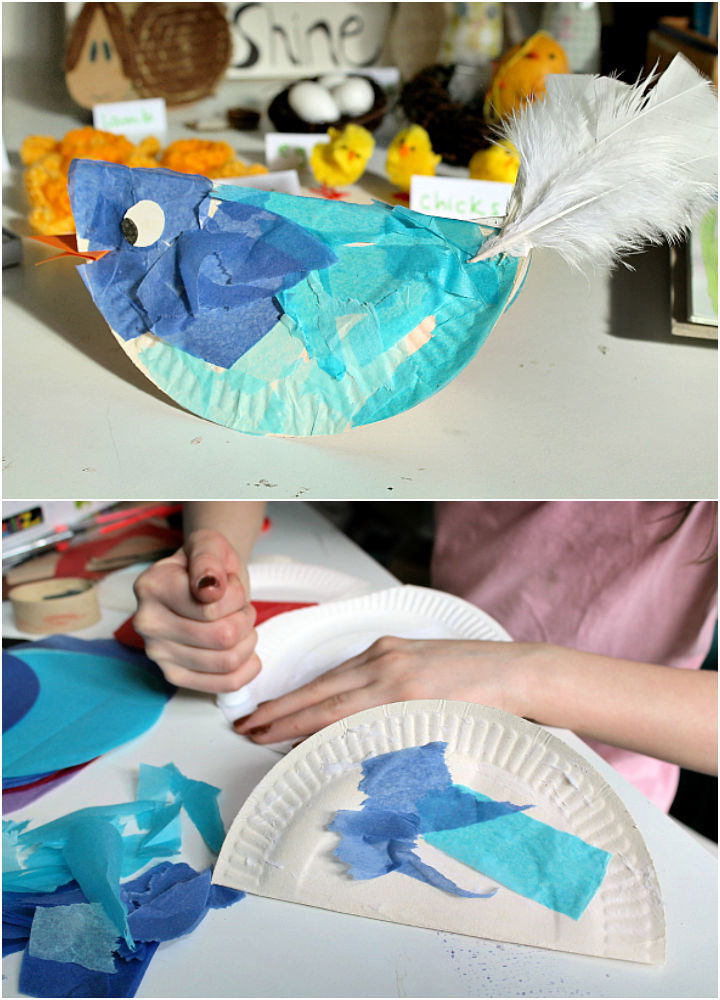 Schools these days give tons of Art projects to kids as homework, in order to help your kids with some creative craft project at school. Create something like this DIY Paper plate made bird craft. This only takes very little of your time, and it cost less too. nurturestore
24. Make Your Own Citrus Birds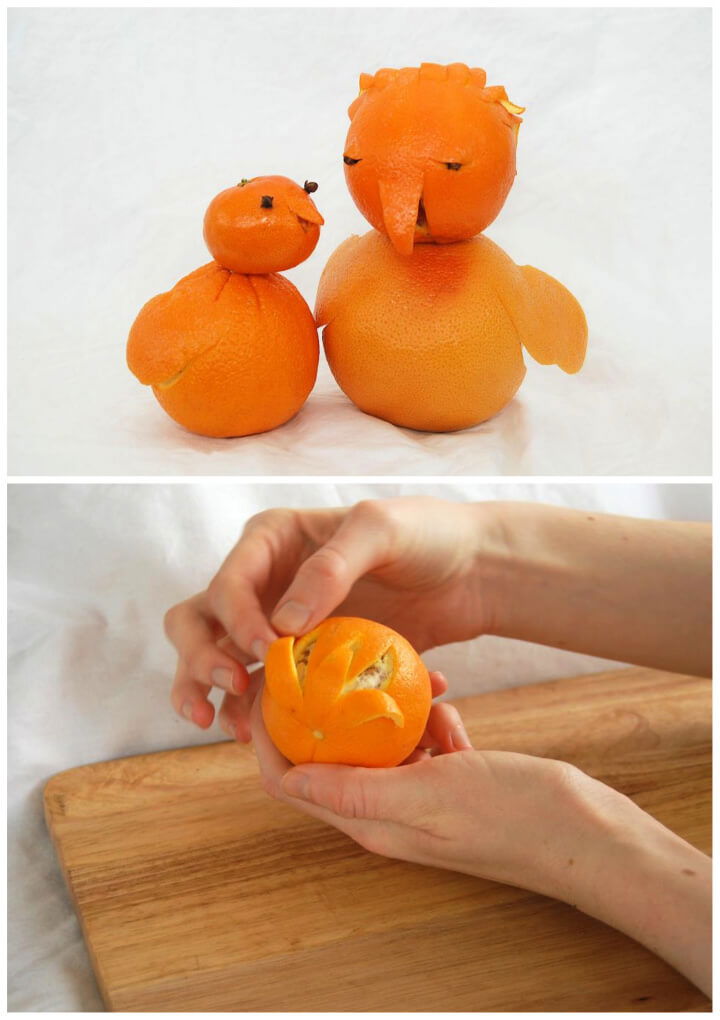 Seasonal fruits have their own attractions, so does citrus has. This orange-ish fruit is not only loved by everyone but also can be an amazing craft piece model for your kid art class. Like the DIY Citrus Bird made here. hgtv
25. DIY Blue Bird With Cupcake Liner Nests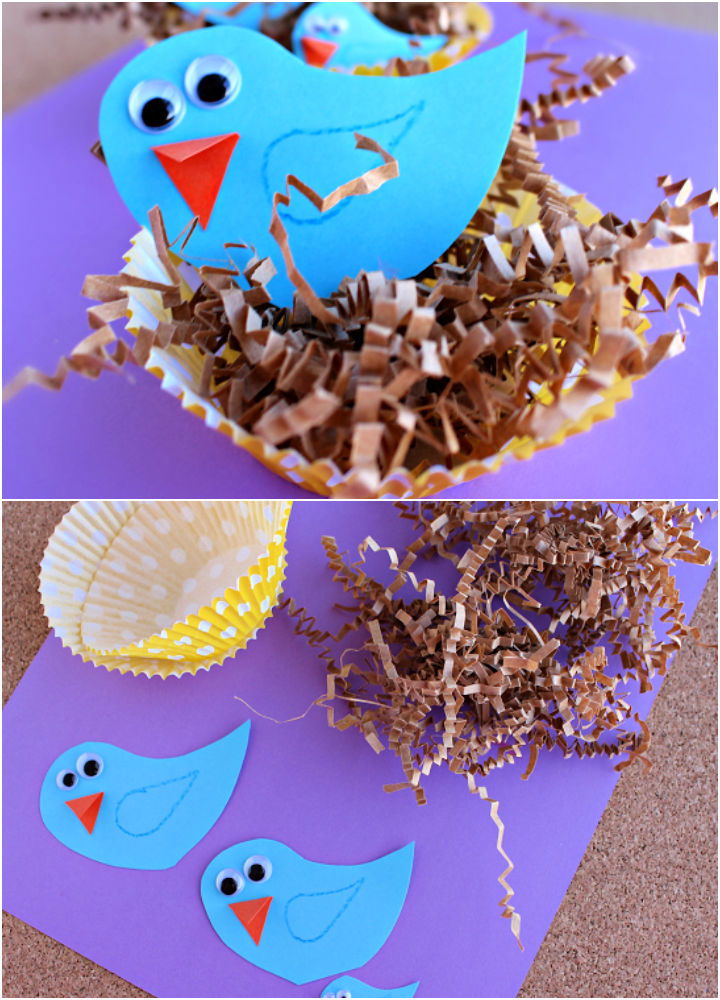 Skills are innate in every individual; with this blue paper bird craft, you can make some amazing DIY Bird craft by yourself. Add some cupcake liners in the form of nests under it to give it a bird on nest look and feel. craftymorning
26. Simple DIY Spring Bird for Kids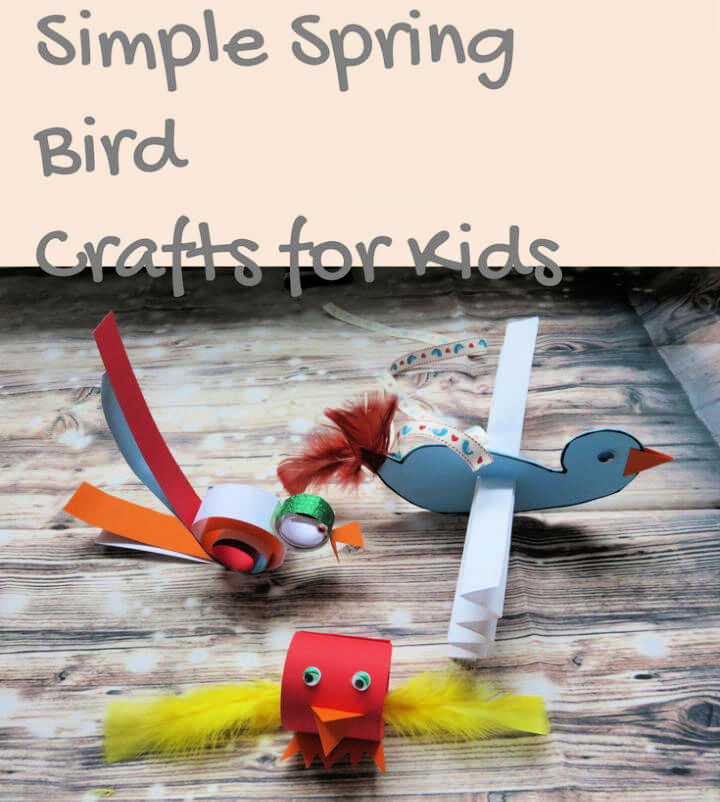 As spring comes, so does different kinds of birds, these birds sing all day long as they celebrate the richness of spring. Make some spring inspired birds craft for kids so they can welcome spring in their style. susankmann
27. DIY Cupcake Wrapper Birds Craft for Kids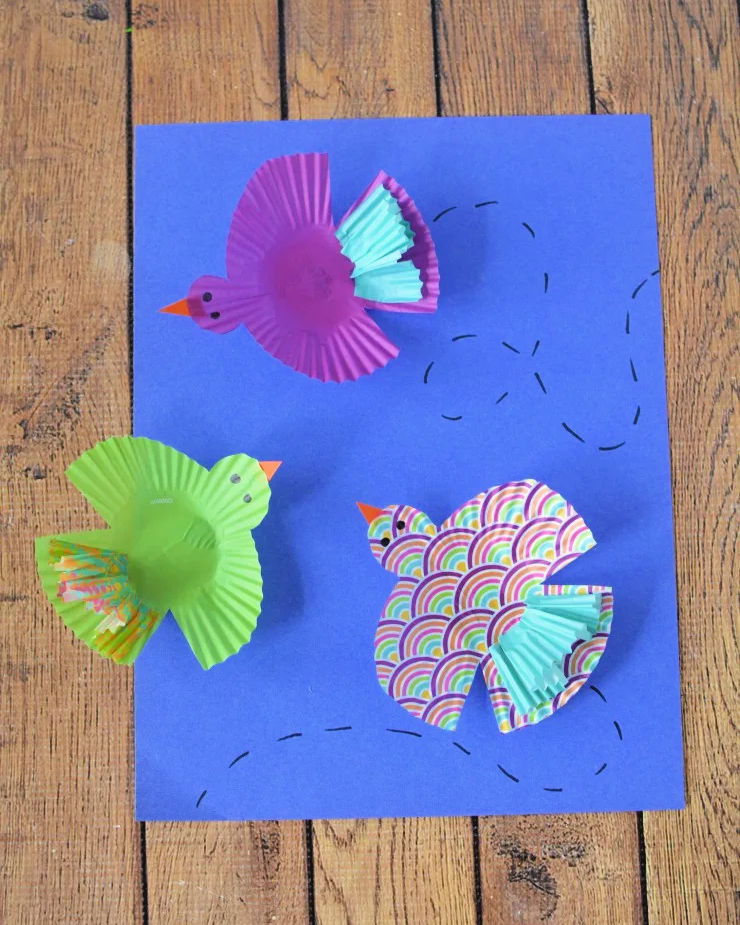 With these colorful cupcakes, wrappers create some DIY Cupcake shaped birds for your kids. These wrappers already have a wavy structure on them, so it becomes easy for you to make it look like more of a bird. Add some feathers on the side to complete the look. frugalmomeh
28. Paper Plate Bird Using Torn Crepe Paper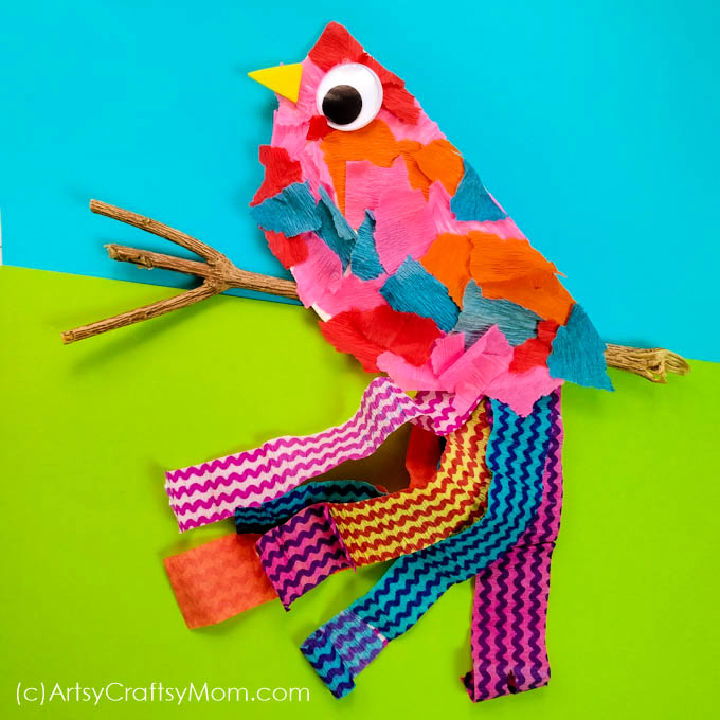 Kids love to play with art and craft. With this amazing DIY Bird craft, you can see the interest a kid puts in placing up feathers on the sides by tearing up the crepe paper and make a perfect Bird on a paper plate. A perfect DIY for your preschooler. artsycraftsymom
29. How to Make Paper Rosette Birds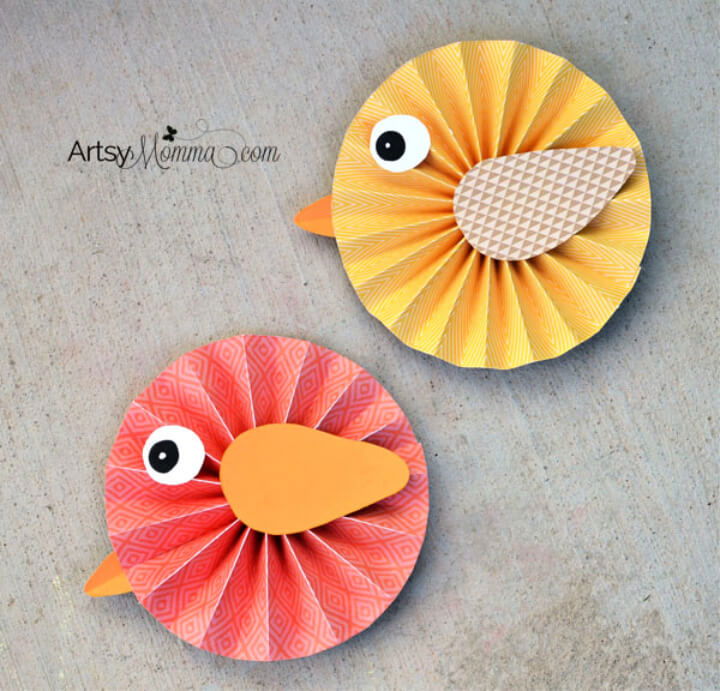 Paper rosette birds are a fun activity for kids of any age, this craft is perfect to affiliate with the spring season. Though it's a little tricky, but with this pictorial tutorial, you can create some for your kids in some easy, simple steps. artsymomma
30. Cute Baby Bird Craft for Kids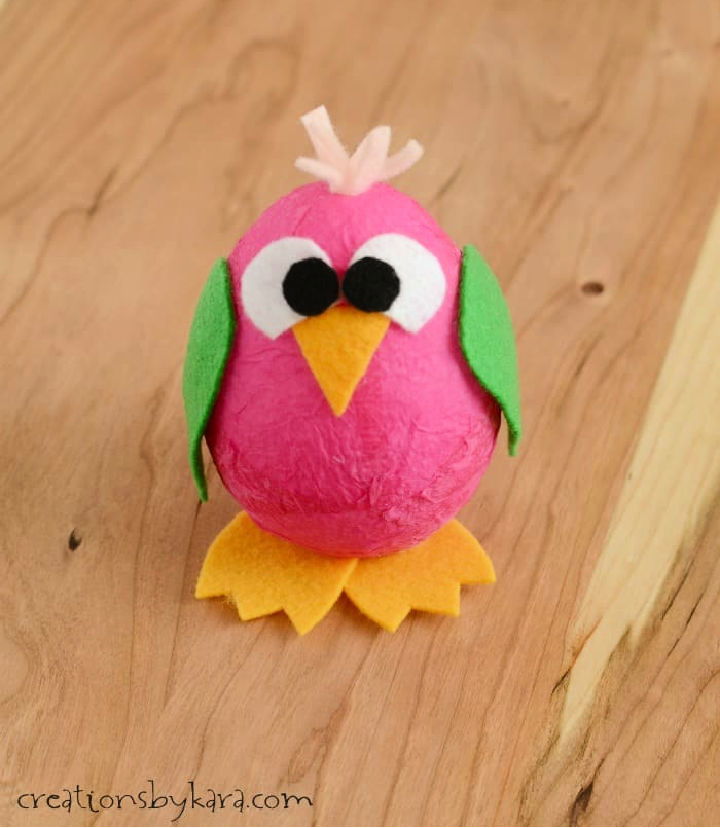 Kids love to make small artsy pieces all by themselves; they are always intimated with small textures and patterns. With this DIY Cute baby birds- kids craft idea kids can work on some cute small baby birds. All they need are a few art supplies. creationsbykara
31. Adorable DIY Whimsical Birds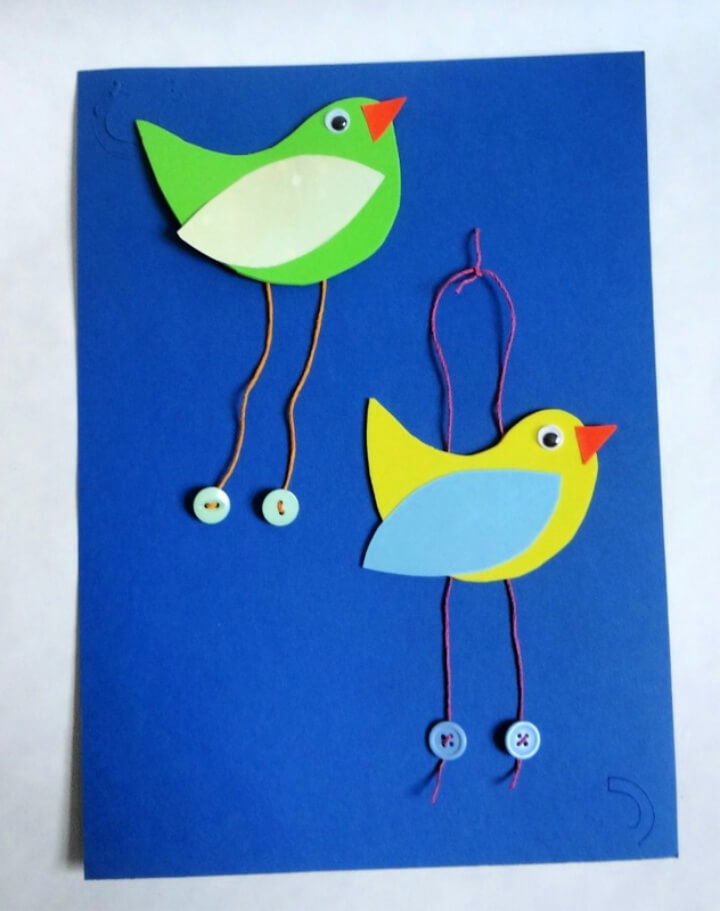 Who doesn't love birds on a beautiful sunny morning in winters, working on building their nests to spend winters and then welcome winters later on? This DIY Whimsical bird craft for kids is adorable as these birds correlating with the winter season upon us. ourwhimsicaldays
32. How to Make Paper Songbirds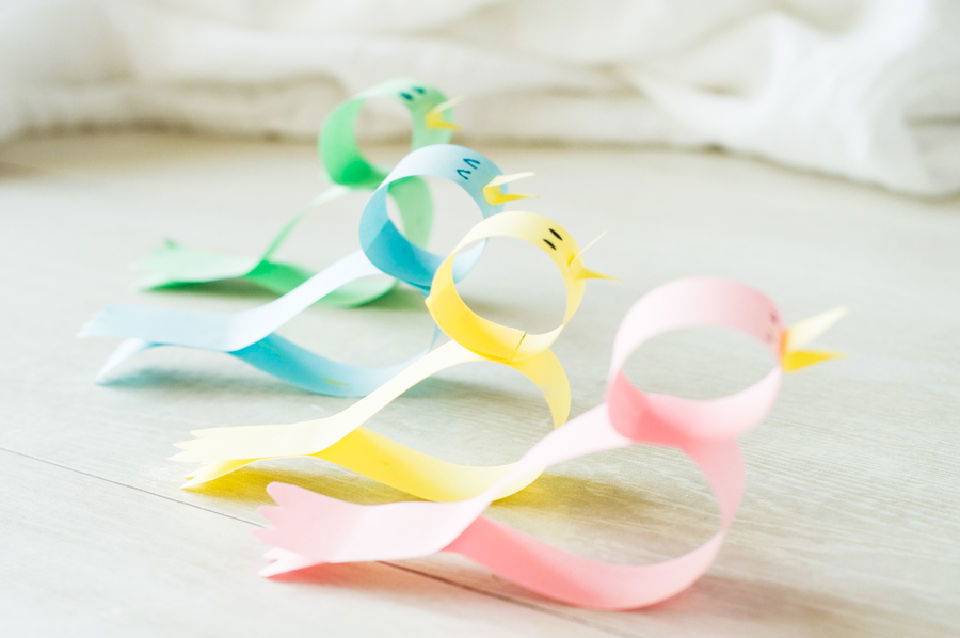 Early in the morning, it is always a relaxed feeling to listen to the birds while they sing songs. Create something similar for your kids by this tutorial on DIY Paper singing birds. You will be needing an art paper and a few basic supplies to create this craft. homanathome
33. DIY Eccentric Paper Cup Birds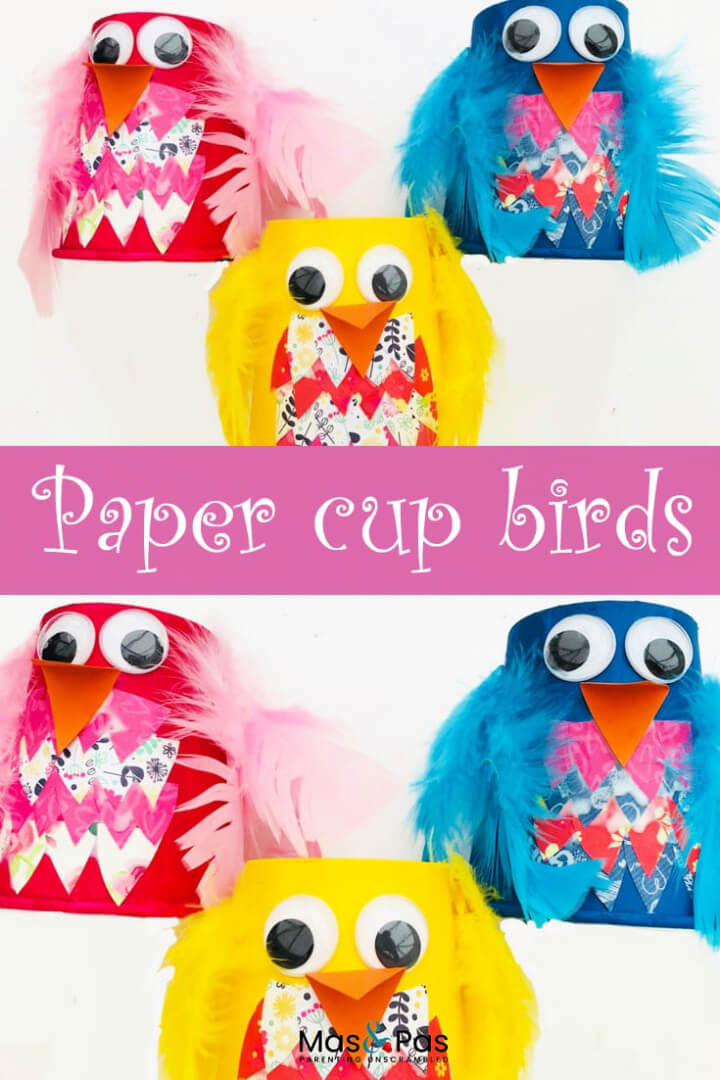 Check out this amazing pen holder inspired, paper bird cups craft. Perfect for you to place on your work desk as you place some pens and stationery items in it. Get yours in simple steps like stated here. masandpas
34. DIY Shape Bird – Educational Craft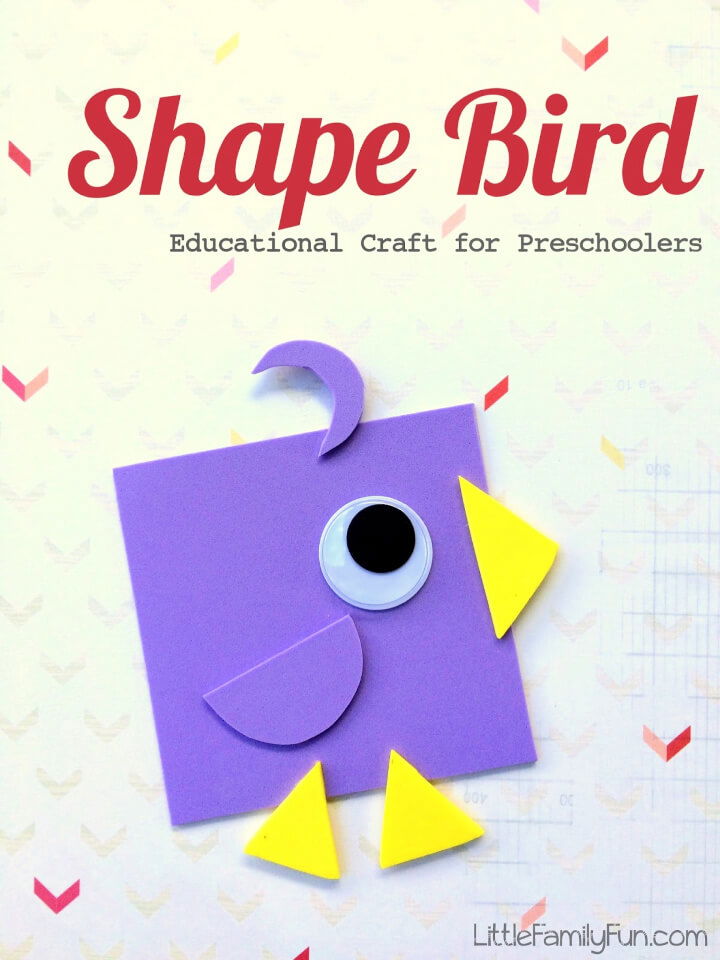 Art is all about some creative flair; the more creative the person, the more creative the art. For kids, this scenario is a bit different. If you have some preschoolers at home, this Paper DIY bird craft is for them to work on and create some of their own craft. littlefamilyfun
35. Paper Plate Birdhouse Craft for Kids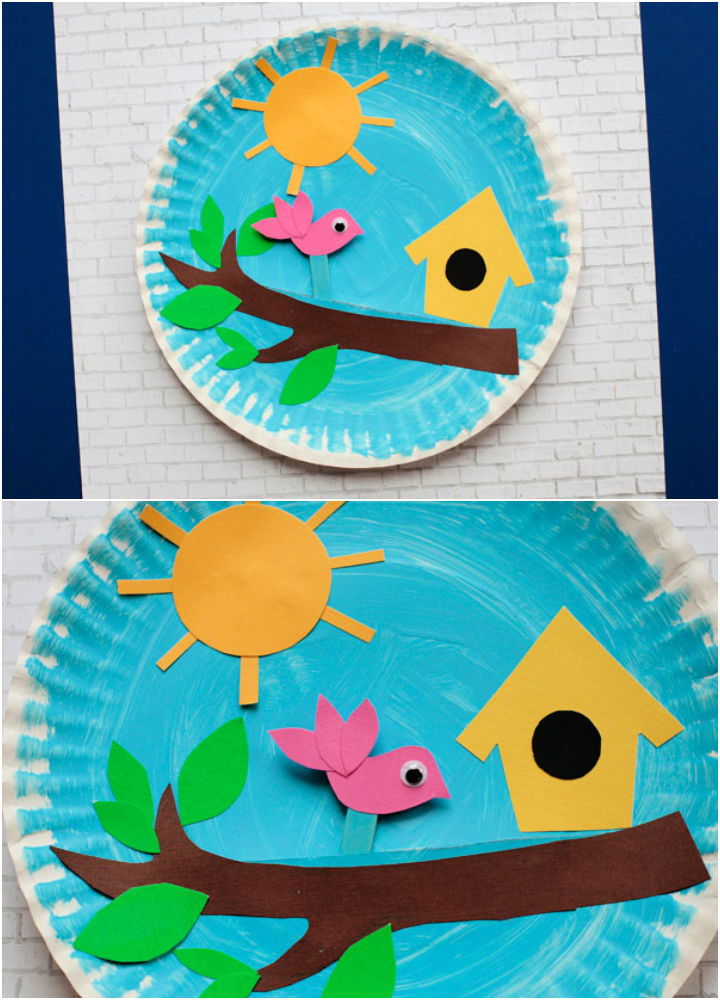 Kids love to interpret things via art, and if you see their crafts, they are cute and have a meaning associated with it. Like the paper plate craft has done here with birdhouse on the back and bird flying through it. nontoygifts
Related DIY Projects and Ideas
Crafts for Kids: Find these easy and fun crafts for kids that are perfect for all ages and keep your little ones busy all day.
Paper Plates Crafts: These cute paper plate crafts are perfect for little hands and imaginations! You're sure to find something your kids will love to do.
Popsicle Stick Crafts: For kids who love to craft and build, here are clever popsicle stick craft ideas that are fun and easy to make.
Pipe Cleaner Crafts: The pipe cleaner is a classic crafting material these easy pipe cleaner craft projects will show you how pipe cleaners can be used for various creative things.
Crafts to Do When Bored: Crafts are a great way to spend your time, find this list of fun crafts to do when you're bored, from knitting and drawing to painting and more!
Rainbow Crafts: From Popsicle sticks to tissue paper, our list of easy rainbow crafts for kids has got you covered! Use a variety of inexpensive materials to create these fun projects.
Paper Bag Puppets: Learn how to make easy paper bag puppets with our free templates and step-by-step instructions!
DIY Pencil Case: Looking for a cute, cool and inexpensive pencil case? Find easy DIY pencil case ideas to help you make your own personalized pencil case design.
Kids Art Display Ideas: Kids love to make art. But it can be hard to find the perfect way to display it. We've compiled creative kids art display ideas for displaying your child's artwork.
Mermaid Crafts: If you're looking for easy and fun crafts for kids, check out our mermaid crafts. These cool sea creatures are a great way to get creative!
Fun Crafts for Kids
DIY Slingshot: Make your own fun slingshot to keep your kids busy for hours with these easy DIY slingshot ideas! Learn how to craft a simple but effective slingshot out of materials around the house so that you can play games outdoors.
DIY Chore Chart for Kids: Keep your kids organized and motivated with these simple DIY chore chart ideas! From printable chore charts to creative crafty ideas, you'll find the perfect way to encourage good behavior in children of all ages.
Shark Crafts and Activities: Looking for fun shark-themed crafts and activities for kids? Check out our list of easy shark crafts and activities suitable for children of all ages. From paper plate sharks to a Jaws challenge, you'll find something your kids will love!
DIY Solar System Crafts: Bring the solar system to life with our collection of fun and easy Solar System projects for kids. From DIY crafts to educational activities, explore outer space with your little ones! Perfect for at-home learning or science class.
DIY Fruit Crafts: Bring the joy of crafting to your kid's life with these fun, easy and creative DIY fruit crafts for kids, preschoolers and toddlers! Check out our list now for fantastic ideas.
DIY Easel Plans: Your kids will be very happy with a homemade easel that they can use to show their creative art and craft. Find free DIY Easel Plans that will help you create a fun, interactive and creative play space for your kids.
Painted Rocks: Get inspired by these fun and easy rock painting ideas for kids to help your child's creativity flourish! These fun and engaging crafts are perfect for little ones of all ages and skill levels.
Conclusion: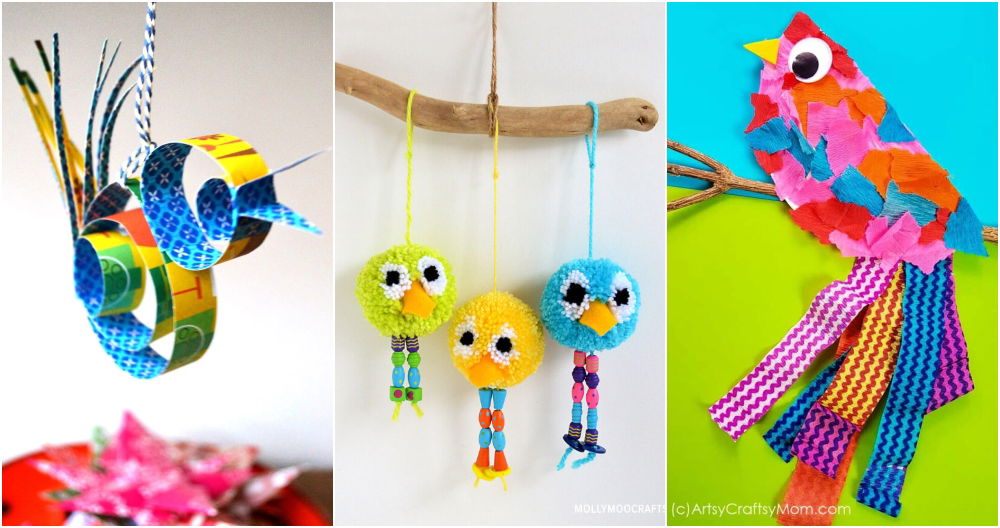 We bet with these little fun crafts, you can not only master the art of making some super cool and fun bird crafts but also get some productive, fun time with your little ones! Make your own creative birthday party decors, angry birds theme for any other spring bird theme. Do it all by yourself with the help of your little ones!