Looking for ideas on how to display your children's artwork? Here are 50 ways to display kids art and save the best artwork. Art and Crafts have been with us for centuries long. Art is somewhat that if displayed, each individual takes it as per their understanding. From names like Pablo Picasso to Vincent van Gogh to Leonardo da Vinci, these people were the leading names in art and design, and everyone still counts as a renowned artist. Kids in this tech era are now artists of their own.
Do you have piles of kids artwork that are simply taking over your home? From portraits and self-portraits to abstracts and still life paintings, it's time to start displaying and preserving your children's masterpieces. Fortunately, there are plenty of creative kids art display ideas that you can use to make the most out of all your kids artwork. From mounting pieces on walls or strings across a hallway to putting pencil drawings in a neat frame or arranging colorful paintings on the fridge, you can find tons of ingenious ways to keep your little artist's masterpieces front and center. In no time, their stories will stay alive long after they create them.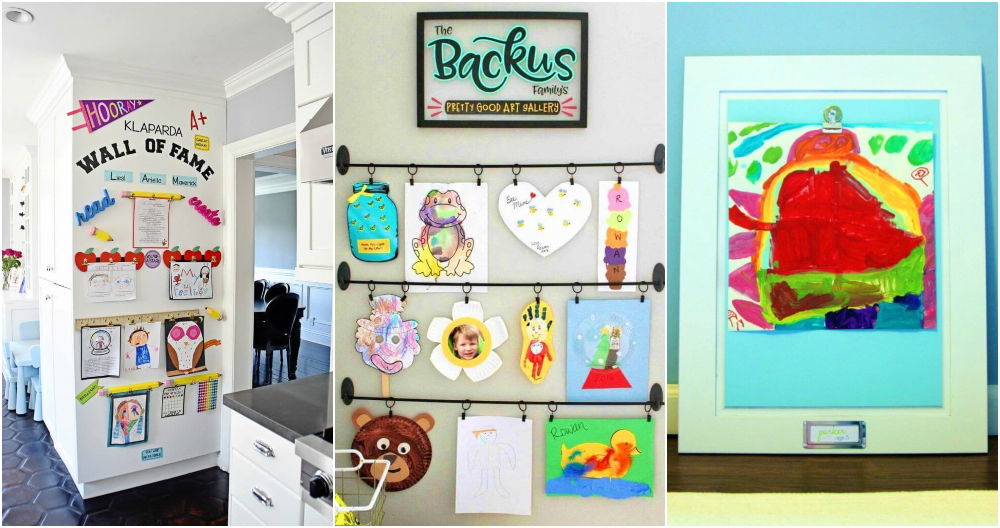 50 Kids Art Display Ideas to Enjoy Your Children's Artwork
Appreciate your little artist by exploring these darling 50 clever kids art display ideas for your little fellows! They like to draw, paint, sketch, and create designs of their own. The school projects, the extracurricular work they get in summer holidays, every piece of their creation is somewhat unique in its own way, making them a little Picasso of their own house.
So if you are a parent or guardian who is looking for some ways to organize this art piece made by your child or want to sort them in a manner that it is not just presentable for you but also a motivation for your child to discover his real artist within. Enter these DIY ways to display kid's artwork!  Not only you can save it for yourself, but you can show it to the world how creative your kid can be. So here we have got these loving kids art display ideas for you to flaunt your kid's artwork and art sensations!
1. How to Make Kid Art Frames
Every child is an artist. So if you are that parent who wants to give a little colorful corner to your gallery or corridor or even your kid's room, all you would be needing are some basic essentials to make the art frames by yourself ourthreepeas has got you all covered. ourthreepeas
2. Children's Art Gallery Wall
Create a colorful art gallery of your own with your own kid's art display at your home, use French paneling or a colorful wall in the background to enhance the little one's school project. Hit the tutorial for details. iheartcraftythings
3. DIY Organizing Kids Artwork
Organizing and sorting the art pieces for your kid comes handy when you want to show them to a friend on a family get together or so. Hang a little soft board in your kid's room or your living room so your little one can pin them up like here. thehappyhous
4. Clip Frame for Kids' Artwork Display
Erika from livingwellmom thinks that the DIY Clip frame is perfect for effortlessly showing kids' work of art. All you would be needing are some basic essentials from your house to make the perfect clip frame for your kid's art display. livingwellmom
5. How to Make Clothesline Photo Display
Gone are the days to showcase your kid's art display or work on tabs or mobile phones display them on a clothesline as presented by freshcrush . Get the step by step gudie from the tutorial for making this charming wall decor idea! freshcrush
6. DIY Magnetic Refrigerator Art Frames
Are you a mommy who wants to showcase the project your little one has brought from his art class to your friends, or you want to sort them in a proper fashion that it looks presentable too? Well, these Magnetic Refrigerator frame ideas by Amy from positivelysplen can help you out. positivelysplen
7. Homemade Kid's Art Gallery Wall With Crayola
Crayons were these pastels everyone enjoyed as kids during school projects. If you are looking for a nice corner to display these Crayola then get some ideas from here. erinspain
8. Kid Art Display Using Ikea Curtain Rods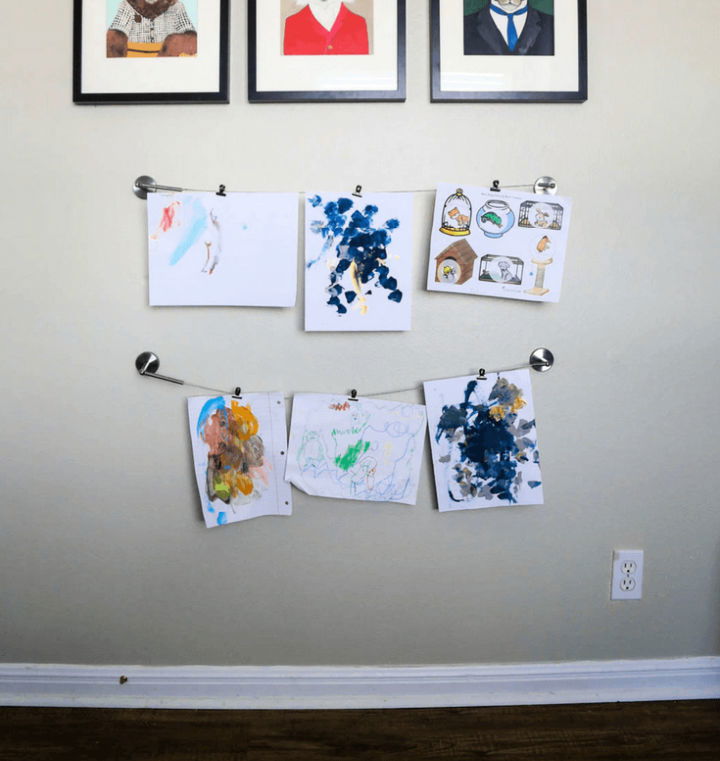 Want to give your kids room a little makeover with a simple yet cost-effective display? Use simple curtain rods to hang the art pieces made by your little one, and you can even add on a new one every time he/ she wants to and replace the old one. loveandrenova
9. Inexpensive DIY Kids Art Display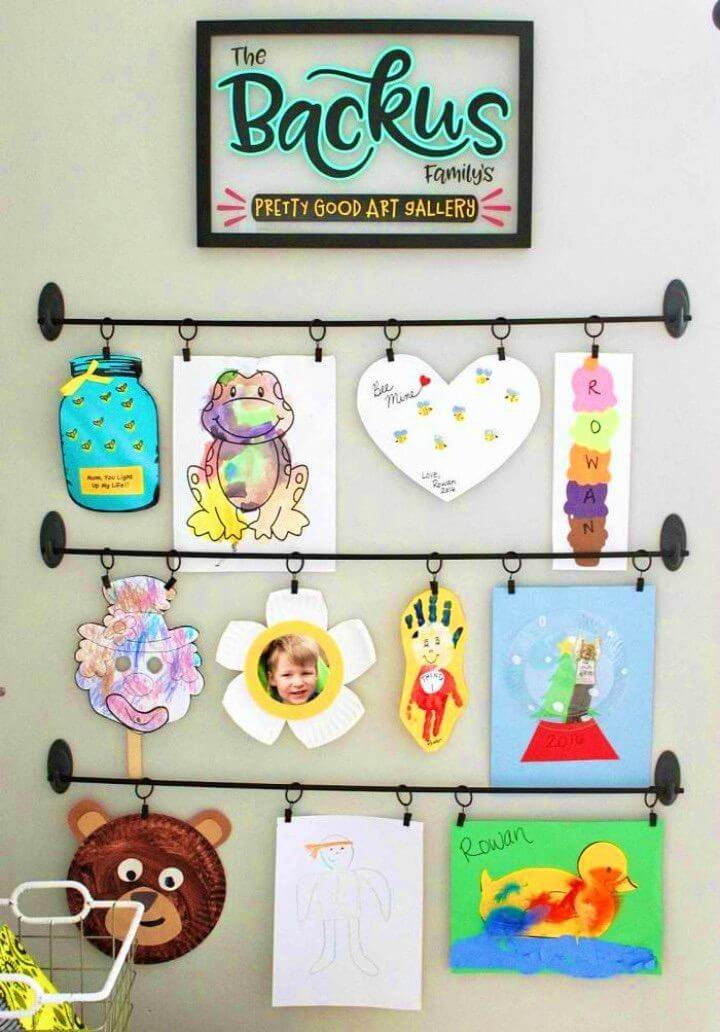 Got some handful of supplies at home to make your kid's art display? Well, you can do so as Christine from wherethesmiles did, and most of all, it's not even expensive. wherethesmiles
10. DIY Kids Artwork Gallery
Looking for a solution to fill up your empty hallways or corridors? Can't decide how to budget things up or how cost-effective things can be done? What you can do is use the art projects from little jimmy's summer vacations and hang them up on nice photo frame like Susan did from ohmy creative
11. DIY Children's Art Gallery Wall
Short of budget and looking to display some less expensive ways to display some cool work your kids have been working on? Here is another great idea from our DIY ways to display kid's artwork! Appreciate your kid's work with these simple few steps! catheywithane
12. How to Make Kids Art Display Board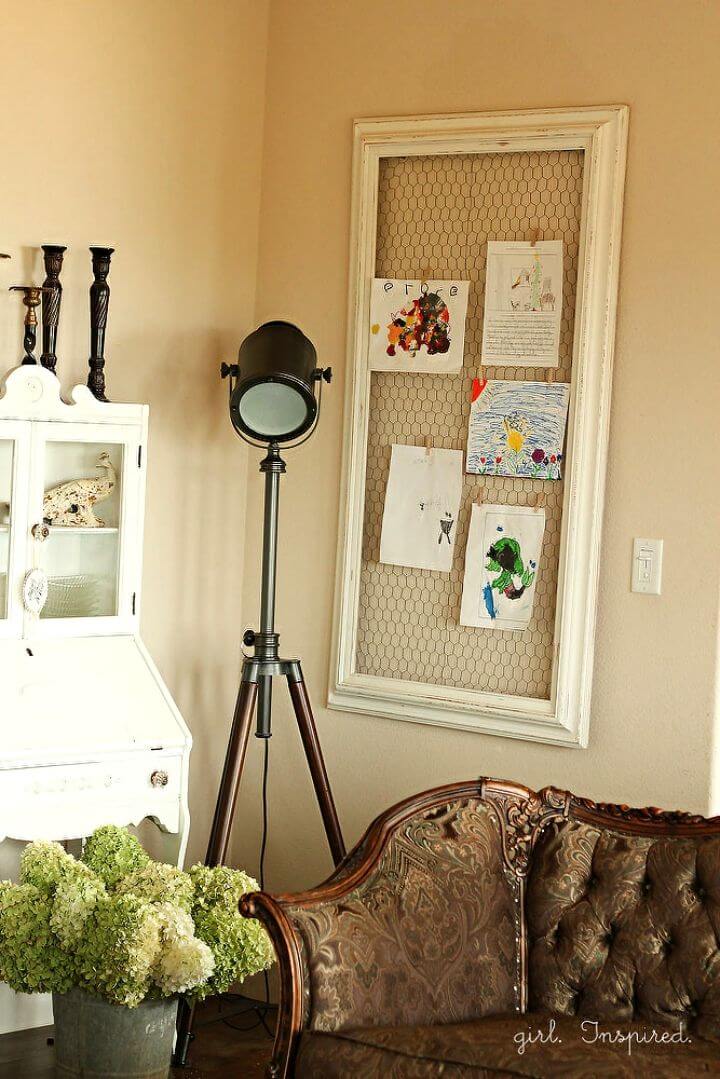 If you are that proud parent whose kid brings lots of nice A graded art project at home and you want to display them in a nice manner, then here is how you can do so. The girl inspired has got just the perfect idea for displaying your kids artwork with pride! thegirlinspired
13. Handmade Kids Art Wall Under $5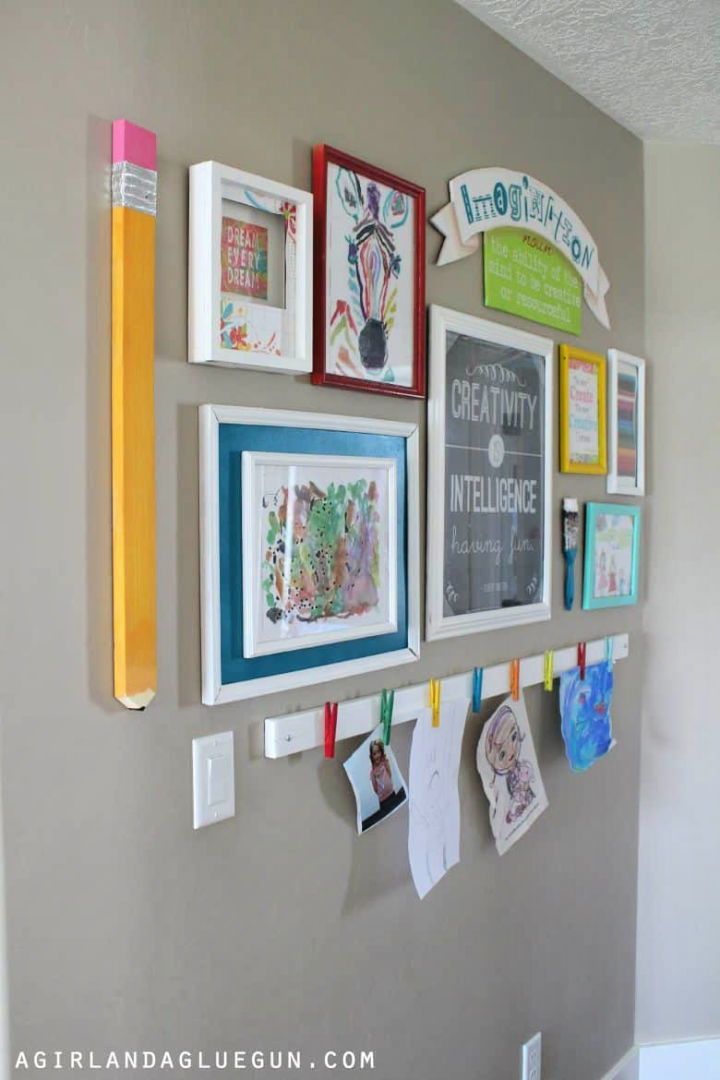 Kids pining too much of their work on your refrigerator, and you want to get rid of it? Here is how you can do so that it is less exhausting and is easy to manage for you as well. agirlandagluegun
14. DIY Kids Artwork Gallery Wall
Who doesn't like a caricature of himself? Specially made by their little one. Create a nice collection of your on a plain background wall as done by Lisa from greylustergirl
15. DIY Arts Area and Gallery for Kids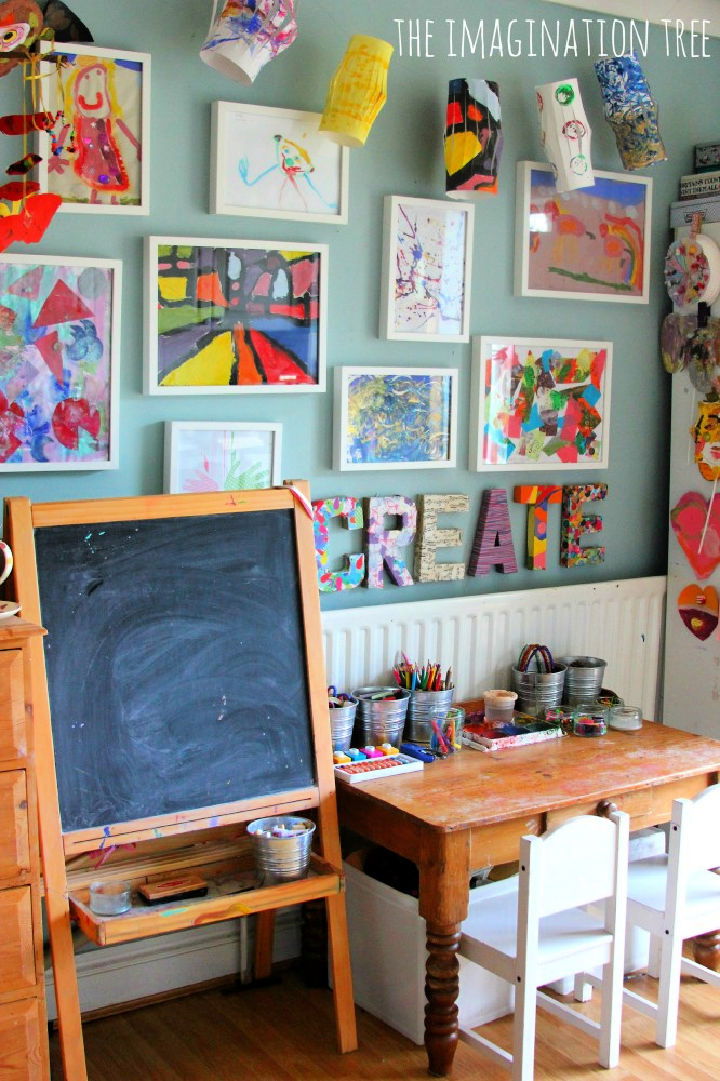 Make an innovative dsiplay space and flaunt in your home or living room, your kids imagination zone! Let them showcase their creative skills and can call their own safe place to be as imaginative as they want. theimagination
16. Make Magnetic Picture Frame Display
Looking to give your old fridge a little makeover of your own? Do so by making some DIY lightweight magnetic frames and use basic tools from your household pieces of equipment and add a little creative element in it by displaying the drawings made by your little one ad done here. howdoesshe
17. DIY Display Kids Art on Hangers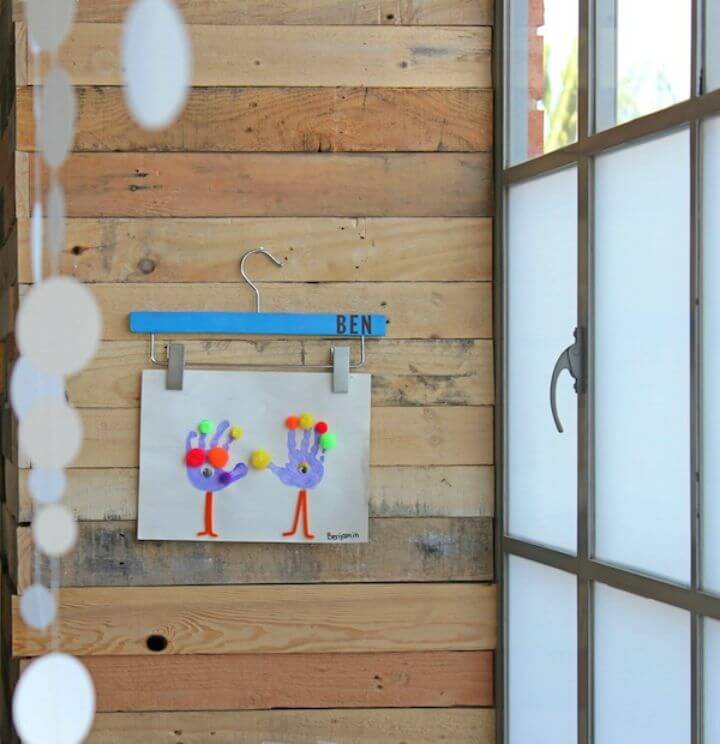 Want to get rid of old hangers as you moved into your new house? Well, you can do so by using them as a display tool to enhance your corridor or even your living room with crafty art pieces made by your little fellow. honest
18. How to Make a Kids' Art Book
Each individual parents want to see best out of their kids, from education to curricular activities to even art classes. And for that creating a small portfolio book for them goes a long way as done at artfulparent.
19. How to DIY Kids Art Display
Create a handy DIY art display for your kids that your little angels would love to work on. Start off with working on a Display wall where kids can pin their daily art classwork. cleanandscentsible
20. DIY Store and Display Your Child's Art in Style
Create some amazing display options for your kids, where they can showcase their art skills. You can use some DIY Frames, Clothesline, and few basic essentials as shared here. childhood101
21. How to Make Playroom Art Display
Make your kids proud by having their own little playroom art display wall where they can display their amazing art pieces as done here. Appreciating the little one's efforts is quite important to encourage their imagination and cute art plays! After all, its always the little things that count. iheartorganizing
22. Create Picture Frame Wallpaper for Children's Art
Want a little art competition of your own at home with your kids? Well, you can do so by painting some frames on any wall or any background and let your kids explore their creative side as done here. artfulparent
23. Make Your Own Children's Artwork Display
Design and construct your DIY display corner by using some basic artsy pieces made by kids at school project. All you would be needing is a clothesline, some cloth hanging clips, or even a hanging rod. frillsfluffand
24. DIY Canvas Print From a Child Masterpiece
Give a hungry man a fish, you feed him for a day, but if you teach him how to fish, you feed him for a lifetime. A Little different scenario here is you don't need to give your kid a fish give him a canvas paper and a board, and you can get a masterpiece of your own, which you can display in your own little DIY art gallery. artfulparent
25. DIY Display Kids Art in Empty Frames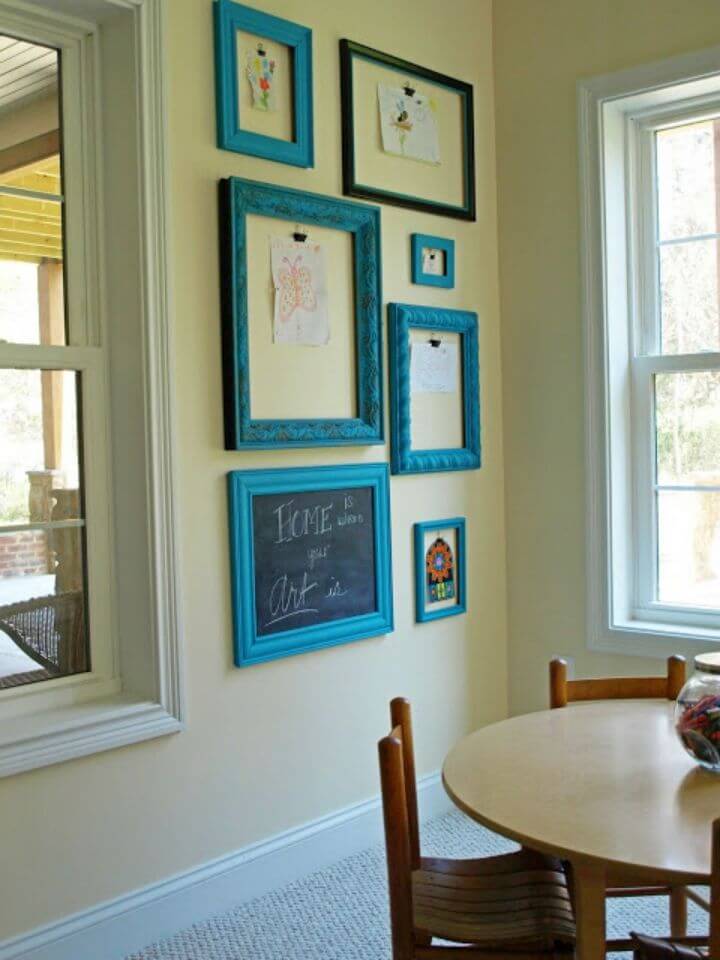 Broken some picture frames while shifting to a new house? Well, fear no more. They still are usable. What you can do is hang some of the colorful art class projects by your kids in the place of mirror and have a little display wall of yourself of your new home and done here. lessthanperf
26. Giant Cork Board Wall for Kid Art
Tired of hanging your kid's school art class project everywhere? From Paintings to stickered creations or drawings. Well, you can minimize it by making a cork wall of your own at your home and pin all the creative work made by your little one. younghouselove
27. Easy DIY Fabric Wall Decals
Give your walls a little creative element by making these amazing fabric wall decals. You can even cut them out in shapes of some animals, stars, or any shape you like to use and display your kid's art. howaboutorange
28. Making a Children's Art Gallery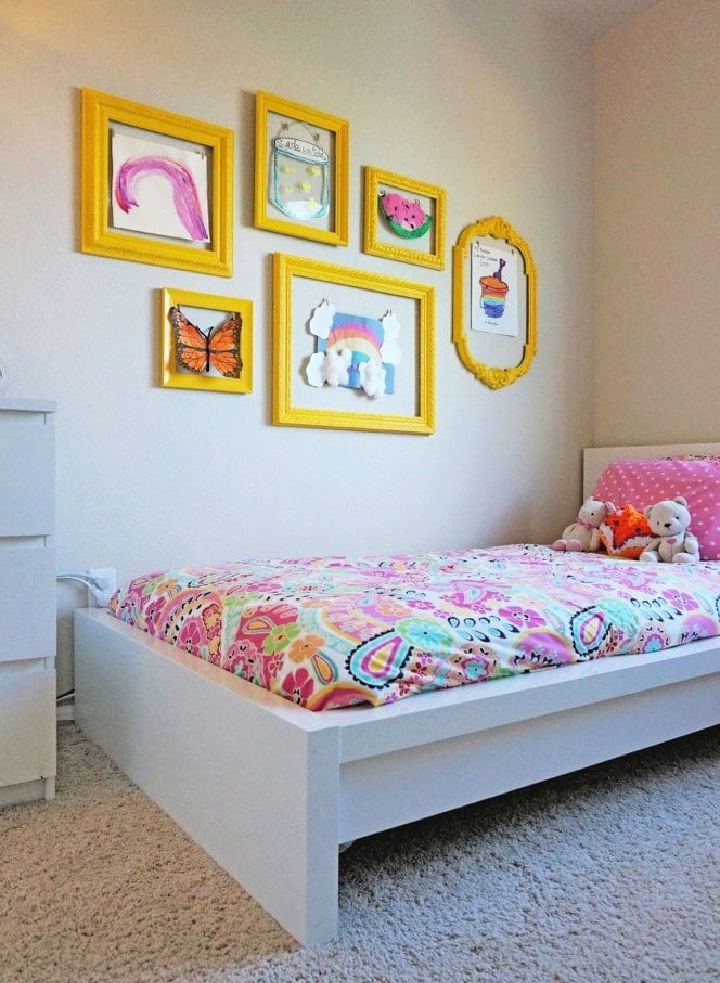 Use some colorful frames from any art store to make a little art gallery of your own in the kid's room or living room where you can display some of your kid's artwork pieces as Kristin from Yellow Bliss Road does here yellowblissroad
29. Make a Wood and Wire Art Display
Want to add a rustic yet creative touch to display your kid's artwork? Create some DIY Wood and wire boards at your home by some basic elements you can get from your home even. All you need are some basic essentials, as described here. lizmarie
30. Simple DIY Display Your Kids' Art
Every parent loves to admire the creations of their little ones and want to make them feel accomplished in their recent art project. Well if you are that sort of parent than all you need is to follow some simple steps as mentioned here designimprovised
31. Make Playroom Art Gallery Wall
Kids love to play. That's all they do since they don't have 9 to 5 jobs to go to. So If you are that parent who has allocated a specific playroom for all the fun for kids, you can enhance its element by adding some art piece made by your kids on some DIY Picture frames to give them a more colored feel. centsationalstyle
32. Awesome DIY Kids Art Gallery Wall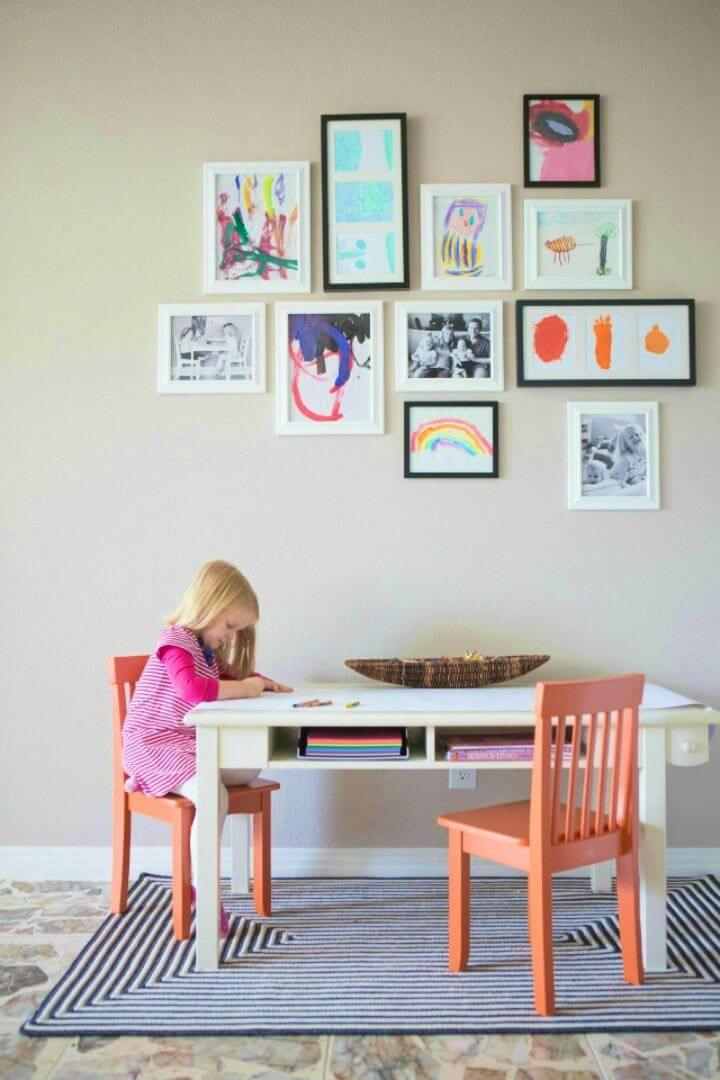 -Add a pop of color to your living room wall by adding some of the creations made by the kids in your house, mix them a little with some family pictures to give it the perfect happy family feels and gallery wall appeal. designimprovised
33. Make Your Own Cork-board Tiles
Make your own creative wall to showcase your kid designs by making cork board tiles and hang on them these design, this wall can be in your living room or in your kid's room or even in your lobby. day reading
34. Simple DIY Kids Art Display
Parents love to organize and sort some of the art pieces made by their little ones so they can show it to their relatives or even save it for later to hold a nice memory to it. So if you are that parent, then you can have some creative and eye-catchy guidelines from here. simplyorganized
35. How to DIY Large Art Frame
If you have some old frames lying useless in your storeroom and you don't know what to do with them. You can always make them old art projects from your kid's school art class archive into a display for your living room, as shared here. makeoversandmo
36. Easy DIY Rustic Wall Art Made by Kids
Create a rustic and natural feeler to your home by making the young artist use some natural products, from using a plant, leaf, or branch of a tree. Kids these days know how to show their creative talent by using these natural products, which you can later use to create a natural rustic wall art of yourself. playtivities
37. How to Make Ten Dollar Ledges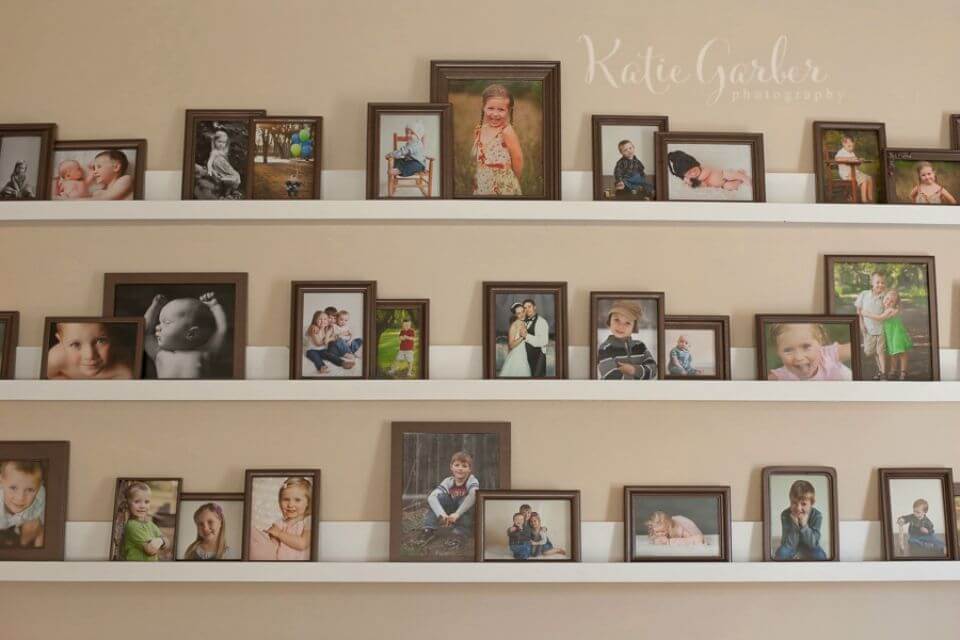 Make a floating shelf of your own by designing DIY art frames at home as done here. You can even enhance them by adding some artsy school project work made by your little one to give it more a family ten dollar ledges showcase. ana white
38. DIY Kids Art Gallery Display
Want to enhance a new paint wall with some nice picture frames, but you can't sort out which pictures to go with. You can always use those archived art class pieces saved in the kid's room to create a little display wall of your own. classyclutter
39. DIY Hanging Kids Artwork
Art your own divider display utilizing re-purposed picture edges and stopper. Making custom edge facings to fit over plain or ugly rescued or locally acquired edges adds an individual touch to your youngsters' very own manifestations. blackanddecker
40. Make Child's Art Display on the Wall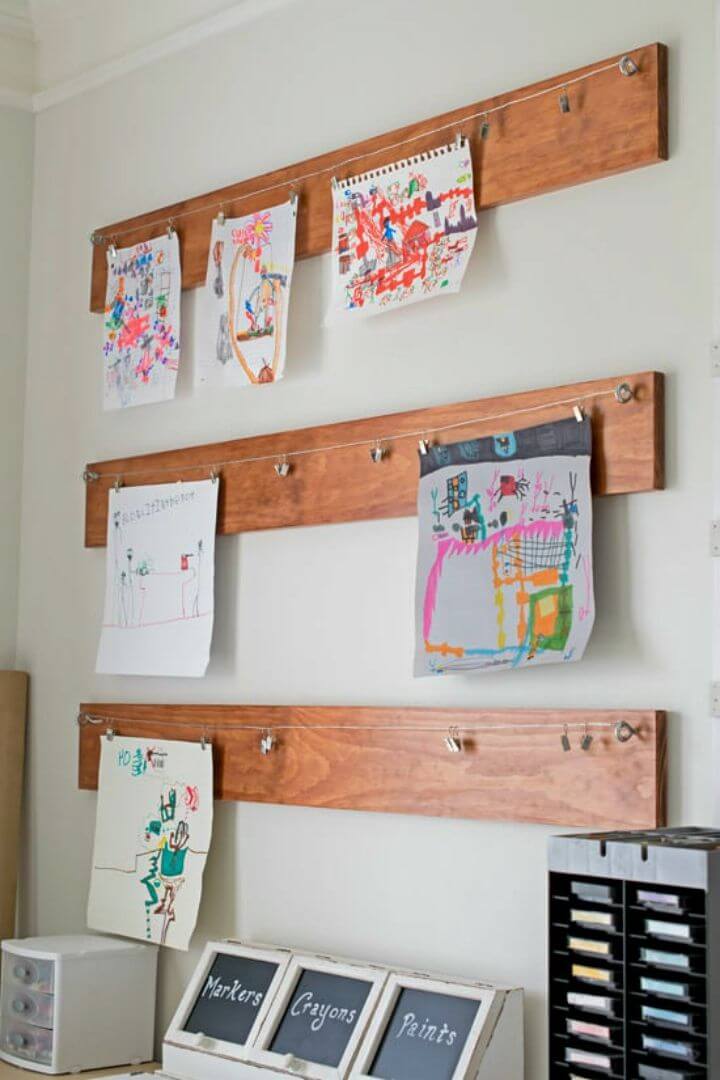 Add a new element of design to your living room with a wooden board and some wire. Hang some nice drawings made in art class by little ones, you can also change these drawings whenever kids draw new designs. cravingsomecre
41. Quick to Create Art Gallery
If your kids love to bring home their art class projects that need some praise, all you can do is create a DIY ART Gallery of your own in your house by following these simple steps, as mentioned in the tutorial. justanotherhan
42. How to Make Photo Display Frame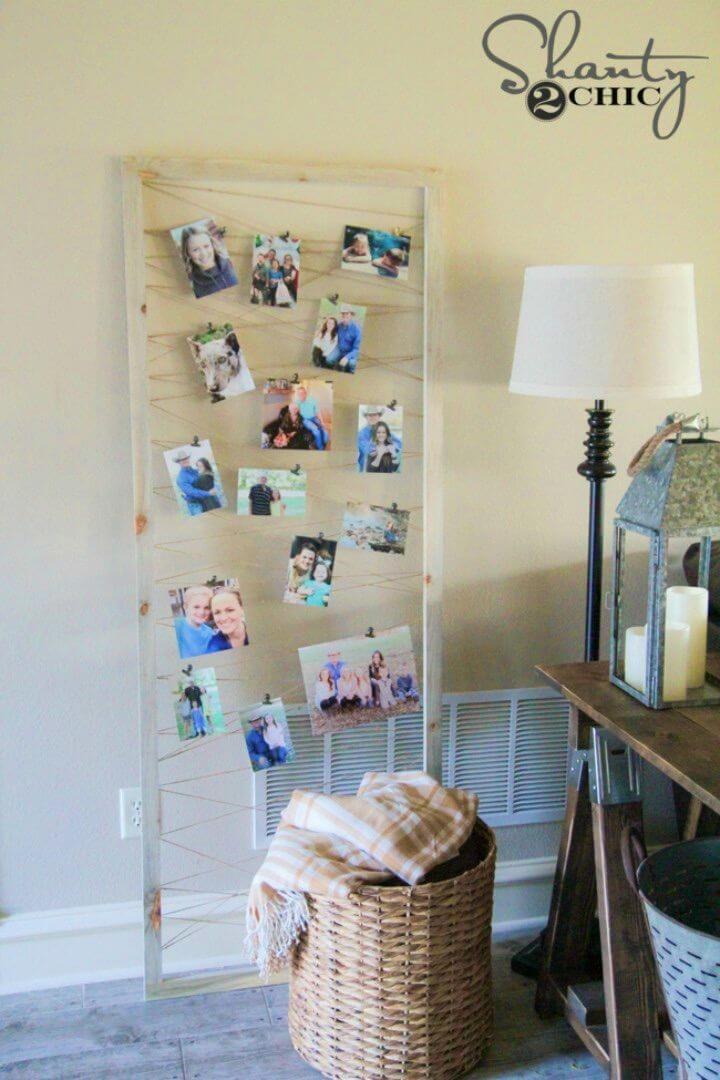 Looking some nice and creative ways to display DIY Photo display frames, here is how you can do so by just using some basic tools from your home and even some supplies from the hardware store down the road. shanty 2 chic
43. DIY Mini Canvas Image Transfers
Use small wooden easel boards to display the art works your little one brings home. Pay a little visit to any art store in town and get the basic accessories to get the artworks on display as done here. consumercrafts
44. DIY Snapezo Frames to Display Kid's Artwork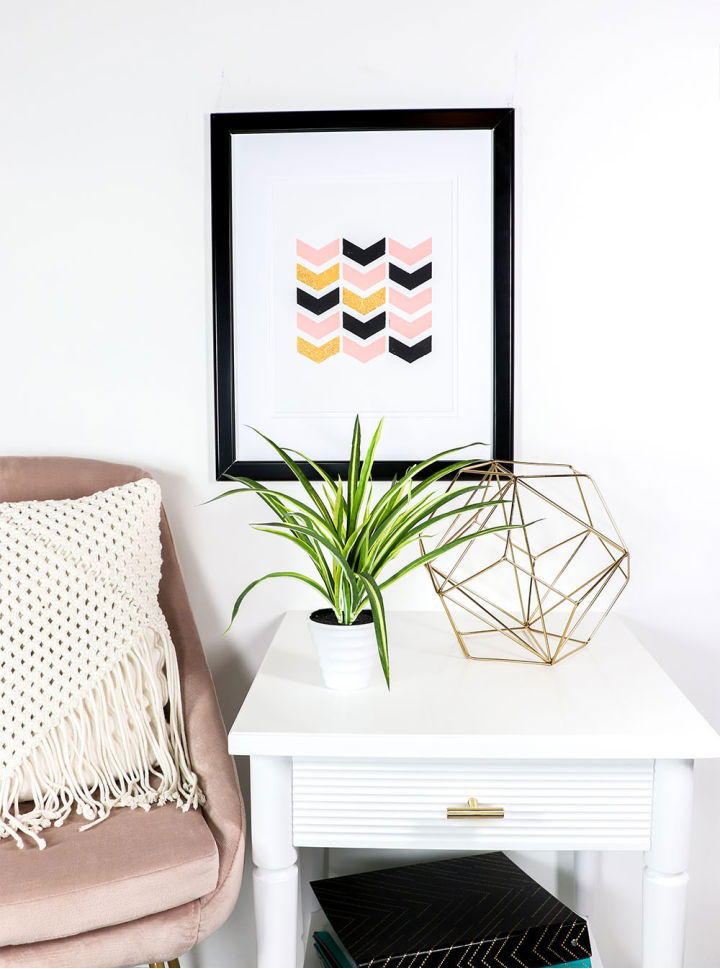 Snapezo frames are new hip in town, taking away the conventional frames from the household. These frames are an upgrade to your DIY ways to display kid's artwork. It's easy, cost-effective, and you can even change your designs as you want. printablecrush
45. Easy DIY Display Kids' Artwork at Home
Get tired of organizing the art displays made by your kids? Or your kid loves to bring home new projects? Work on these easy DIY Ways to create fun and easy displays for your kid's art pieces here. katedecorates
46. How to Turn Picture Frame Into Kids Art Display
Have lots of old frames lying in your storeroom, and want to get them in use? Well, wait for no further and transform them into some DIY art frames so you can show the amazing kids creation in your living room and feel your kid privileged. ourhousenowa
47. DIY Kid's Art Gallery Door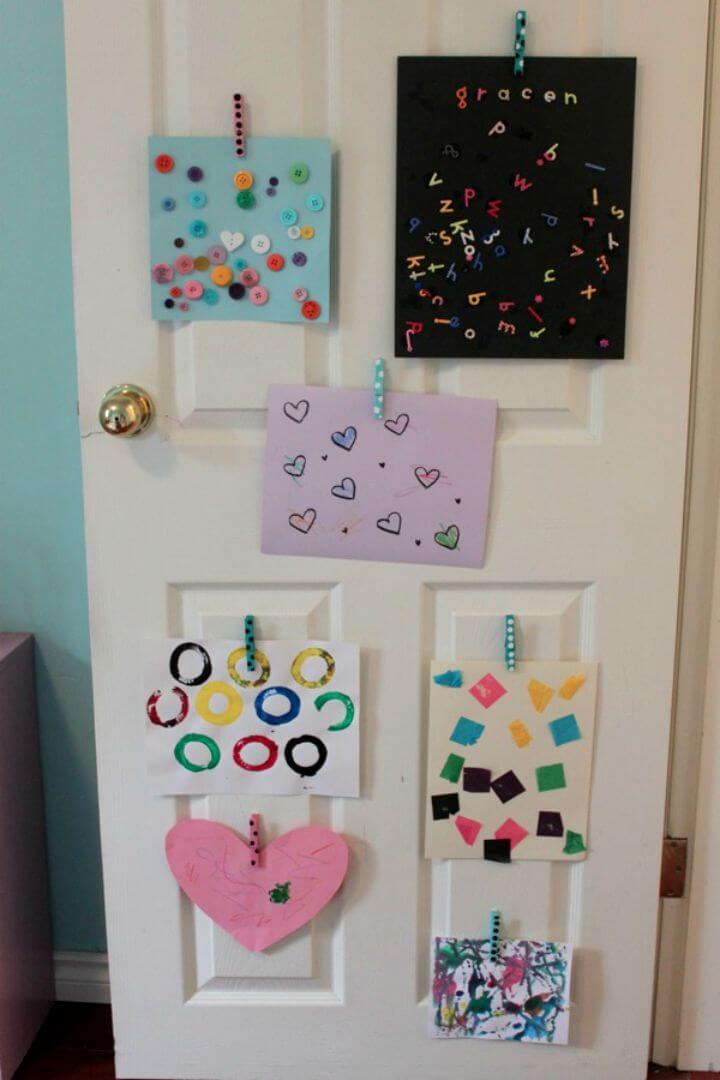 Got a crude entrance Door of your children's room? Want to give it a little makeover? Well, it's time to get those art class archives back to display. Uniquely hang those artworks and get your own DIY Kids art gallery door. mamapapabubba
48. DIY Display for Your Kids Artwork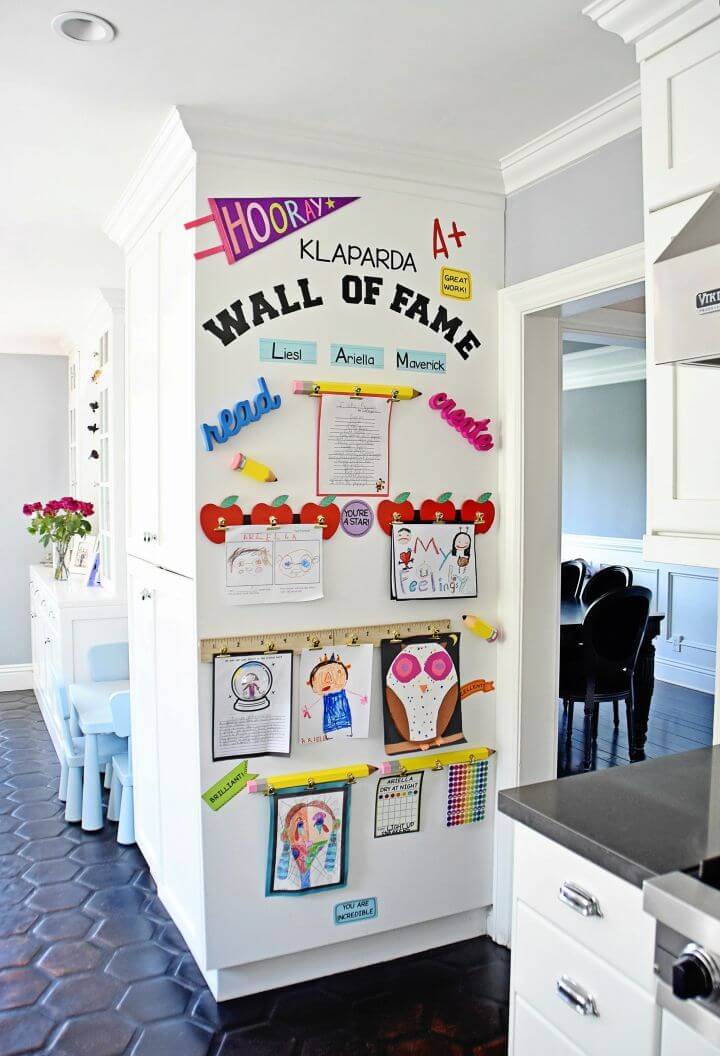 Make a DIY Display for Your Kids' Schoolwork and Art Projects by opting for a single wall that you want to decorate in your house. It could be in your living room or even in your dining area, giving your home a kid's art showcase every week. projectnursery
49. Creative Kids Hanging Art Display Wall
Tired of looking at the plain wall in your living room, and you have no clue how to enhance the decor of it. Sheena from here can guide you to enhance the look and feel of your house the way you want it to be like. iriemade
50. Easy DIY Kids' Art Display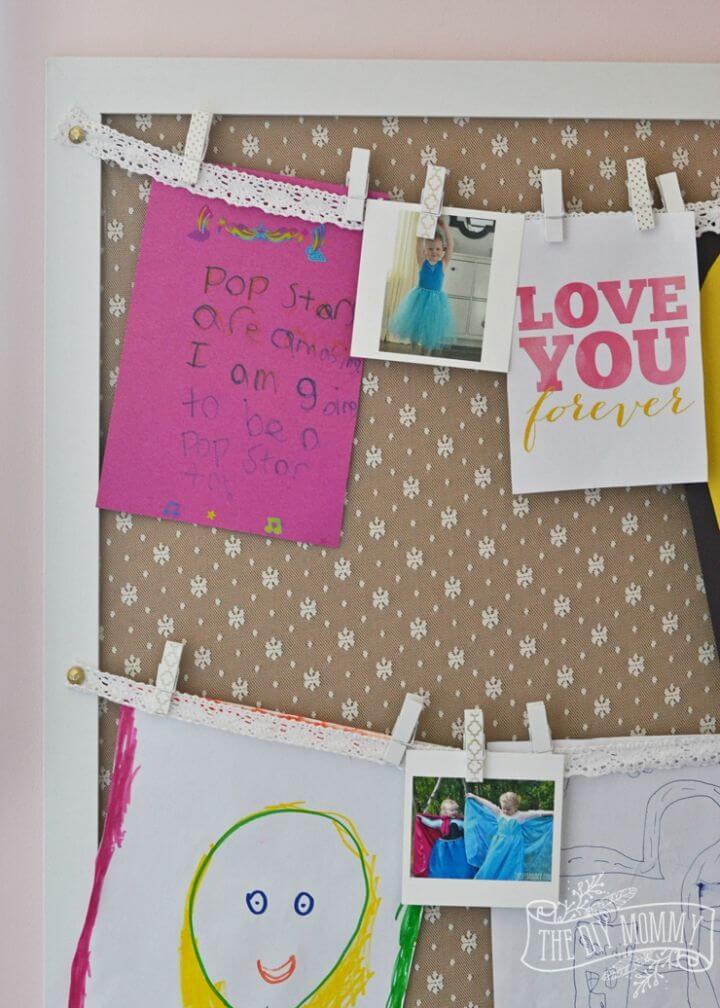 Kids have no lack of inspiration and creativity. They can create ten works of art in a single afternoon, and they love to share them with Parents. If you want to make them feel happy and admired and display them, then follow these simple steps. thediymommy
Related Crafts for Kids
Crafts for Kids: From paper craft to some spectacular painting, this is the best place to find easy crafts for kids. Discover tons of fun art and craft ideas for kids with these simple step-by-step tutorials.
Sensory Bags for Kids: Sensory bags are a great way to encourage children to explore their senses, make new discoveries, and have fun learning. These easy sensory bags for kids are a fun and inexpensive way to provide your child with a hands-on sensory experience.
Space Crafts for Kids: Get your kids excited about space with these do-it-yourself space crafts for kids. Plus, get some great classroom resources to help teach about the solar system and outer space.
Shark Crafts for Kids: Use this list of easy shark crafts for kids to create imaginative and educational crafts for kids of all ages. There is something here for preschool, kindergarten, and elementary age children.
Egg Carton Crafts: Learn to make some of the coolest and most creative crafts with just a few simple materials. These egg carton crafts are sure to entertain your kids and give you some time to breath.
Popsicle Stick Catapult Ideas: Want to make a popsicle stick catapult? Check out these DIY popsicle stick catapult ideas for kids for inspiration.
Conclusion:
Whether you're looking for a way to organize and store your children's artwork or are just looking for some new ideas on how to display kids art, we hope this list of 50 simple and clever kids art display ideas has given you some inspiration. From simple solutions like picture frames and magnets to more creative displays like art walls and shadow boxes, there is sure to be an idea here that will work well for your family.
So get creative and have fun with your kids' artwork – after all, it's a reflection of their unique personalities! Motivate your little ones to keep up their creative sides all the while you color your walls up like a pro! Do you have any favorite ways to display your children's art? Let us know in the comments below.