Pool noodle crafts are a creative and budget-friendly way to upcycle this popular summer item into amazing projects! Explore these 25 fun and creative DIY pool noodle crafts and things to make to enjoy crafting with friends and family perfect for summertime and all ages. These clever pool noodle ideas range from DIY Halloween decorations to backyard games, and even home décor! With step-by-step instructions and detailed tutorials, these pool noodle crafts will inspire you to transform your pool noodles into unique and functional creations.
You'll be amazed at how many things you can do with pool noodles, from making your own stick horse for kids, constructing a racquetball game for adults, or making adorable pool noodle trolls.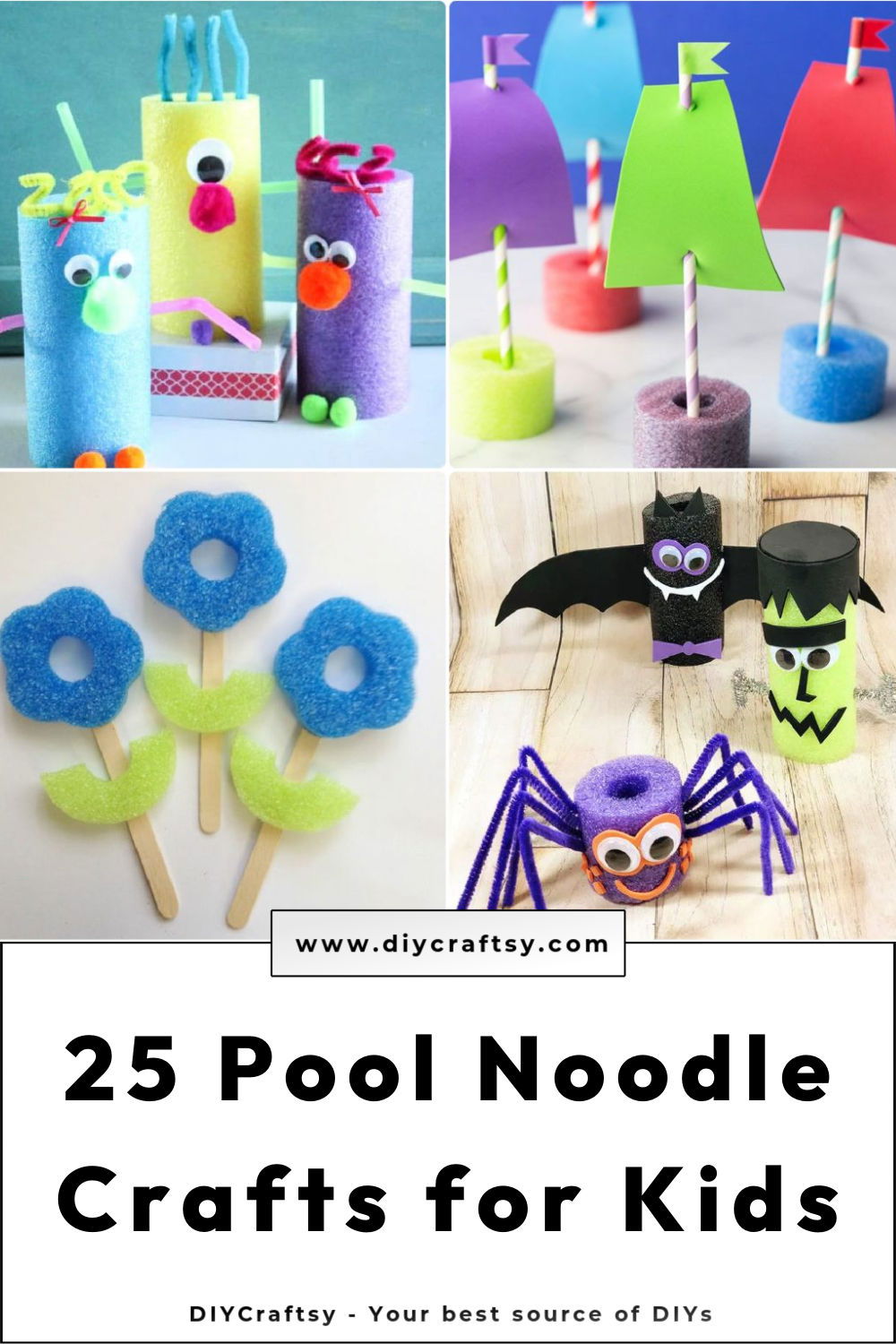 Delve into these 25 fun and creative pool noodle crafts and discover the endless possibilities for your next DIY project. So grab some pool noodles, follow the instructions provided, and let your creativity flourish with these fantastic pool noodle crafts!
1. Easy Halloween Pool Noodle Craft
Immerse yourself in the spooky season with this innovative DIY craft project that brings pool noodles to life as Halloween decorations. You can transform regular pool noodles into spooky Halloween figures, including bats, spiders, Frankensteins, and jack-o-lanterns, in an hour.
This craft project requires simple materials such as pool noodles, googly eyes, chenille stems, and craft foam. Follow the step-by-step instructions to cut and glue your pool noodles into these festive figures.
Perfect for family bonding, these crafts can be eye-catching Halloween decorations for your home. So, why wait? Make this easy yet exciting Halloween decor with pool noodles and jazz up your festivities. darcyandbrian
2. Pool Noodle Stick Horse Craft
Dive into the world of pool noodle crafts and discover fun, budget-friendly projects that repurpose this versatile foam material. Let's follow this fun-filled, crafty adventure with the DIY pool noodle stick horse project! A fantastic way to entertain your young cowboys and cowgirls, these hobby horses also serve as a creative, budget-friendly party favor option. You'll require simple supplies like pool noodles, twine or string, felt, googly eyes, yarn, and tacky glue.
Making this toy is as enjoyable as it is straightforward. Follow the step-by-step guide to designing your horse, making each one distinct with unique color combinations. Kids will relish this activity and love using their new plaything for horseless horse jumps. The joyous laughter around these stick horses is a testament to their charm! gingerbreadpony
3. Simple DIY Pool Noodle Race Track
Get your kids ready for a high-speed adventure at home with this unique DIY pool noodle race track activity! This versatile and fun-filled exercise can be an indoor rainy day pastime or an outdoor summer delight, perfectly suited for toddlers up to second graders. Using a pool noodle, duct tape, and our free printable designs, you can make a thrilling hot wheels race track in just five minutes.
With a pool noodle transformed into a cool race track, this activity turns ordinary play into an exciting race for all ages. It can also be a beneficial chance to subtly introduce scientific concepts, like the effect of gravity and drag on racing cars.
Personalize the track with start and finish signs using the provided printable templates, then have your kids race their favorite hot wheels to see which is fastest. Let your children experience the thrill of speed today with this hot wheels race track! 123homeschool
4. How to Make Pencil With Pool Noodle
Kick off the school season with a whimsical yet easy-to-make DIY pool noodle pencil. Ideal as a teacher gift or a party craft, these pencils can be personalized to represent your school name, the year, or any fun message you like!
You only need yellow and red pool noodles, silver duct tape, a black Sharpie marker, jumbo sidewalk chalk, and a serrated knife. Safely cut segments from the pool noodles to make a pencil and eraser, use duct tape to bind them, and slide in the chalk from the sharpened end.
Finally, personalize your creation with a Sharpie marker. It's a perfect project for fostering creativity and excitement for the upcoming school year. Dive in and add a dash of fun to your back-to-school preparations! lalymom
5. DIY Pool Noodle Racquet Ball Game for Adults
Craft your own set of foam racquets for a fun and safe DIY outdoor game using pool noodles! These versatile tools, usually found at the Dollar store, when paired with duct tape and mesh bags from your grocery shopping, become the main ingredients for this exciting project. Cut specific sections from the noodle to form the handle and racquet head.
Secure with tape and slide the mesh bag onto the racquet, ensuring a snug fit. Perfect for summer playdates or outdoor parties, these racquets also serve as an excellent way to teach kids about responsibility during gameplay. Use a lightweight rubber ball to engage in one-on-one or team games, and watch as the friendly competition unfolds.
Fun, inexpensive, and secure, this homemade foam racquet activity is the perfect addition to your summer game roster. Make your outdoor events more exciting with this unique and creative idea today! ziggityzoom
6. Make Your Own Pool Noodle Trolls
Explore the endless possibilities of pool noodle crafts, from playful home decor to imaginative toys and learning tools. Dive into a world of playful creativity with pool noodle trolls, an engaging DIY craft that your kids will adore. Inspired by the beloved characters from Trolls World Tour, this indoor activity brings their favorite movie to life. Using pool noodles, a troll face printable for the faces, and some everyday crafting supplies, your little ones can make their fun troll faces.
Crafting these delightful trolls is easy. You'll need a pool noodle, 6″ tulle; the troll faces printable, a hot glue gun, ribbon, blue faux flowers, and scissors. Whether it's crafting a vibrant Poppy or a quirky Branch, your kids can tailor their trolls' hair and faces to their liking.
Making these trolls is a fantastic and creative way to entertain kids! Whether it's a rainy or sunny day, this fun-filled activity is perfect for making unforgettable memories. Why not start your troll adventure today? passionforsavings
7. How to Make Pool Noodle Boats
Orient your kids to the joy of DIY crafting with these delightful pool noodle boats! Designed for the summer, these water toys are fun to play with and an excellent way to upcycle old pool noodles. You can transform a basic pool accessory into a vibrant watercraft with a pool noodle, colorful foam sheets, paper straws, and washi tape.
Engage in cutting, threading, and assembling, fostering creativity while ensuring adult supervision. The best part? The end product can accompany your kids in their pool or bathtub adventures, making every splash more exciting. It's time to embark on a nautical adventure right in your backyard with these pool noodle boats. thebestideasforkids
8. How to Make Pool Noodle Lightsabers
Spark your children's imaginations and make an epic battle arena with DIY pool noodle lightsabers! This fun and safe craft project is perfect for Star Wars enthusiasts of all ages. Using leftover pool noodles, duct tape, and black electrical tape, you can make single or double-bladed lightsabers that bring the thrill of the Star Wars universe to your backyard.
Boost the excitement with an innovative twist – a small flashlight placed inside the noodle transforms it into a glowing energy blade. Great for pool parties, sprinkler fun, or backyard adventures, these lightsabers ensure playful and safe battles. Remember, each lightsaber color has its unique Star Wars lore, adding another layer of imaginative play. Craft your Jedi or Sith weapon today! kidsactivities
9. Shark Craft From Pool Noodles
Step into the fun of Shark Week with this engaging, simple DIY pool noodle shark craft project. Using just a few supplies like a blue pool noodle, googly eyes, and some white cardboard, you can make an adorable shark perfect for Shark Week celebrations, beach-themed parties, or playful craft activity.
The beauty of this craft lies not only in its simplicity but also in its versatility – make one or make a school of them. These sharks can make great party centerpieces or fun toys for children.
Moreover, this craft is budget-friendly, costing approximately $3 and just 15 minutes. Adult supervision is required as the craft involves using a serrated knife and a glue gun. Turn your fun, crafty day into a thrilling underwater adventure with this pool noodle shark craft! momsandcrafters
10. How Do You Make a Pool Noodle Garland
Add fun to your summer backyard parties with a DIY pool noodle garland. This weatherproof decoration is affordable and easy to assemble using pool noodles from the dollar store. With just a sharp knife, string, scissors, and your chosen pool noodles, you can make vibrant, large-scale decorations that truly embody the spirit of summer.
The process is straightforward—cut the noodles into 1-2 inch thick slices, string them together, and secure the ends. The final result is a party personality-enhancing garland that can be swung from a fence or deck.
You'll be delighted by the pops of color and the big statement this simple project makes. So get ready to elevate your summer backyard gatherings with this ingenious pool noodle garland. Happy making! prettylifegirls
11. DIY Pool Noodle Lollipop Decorations
Spruce your festive decorations with these adorable, budget-friendly DIY pool noodle lollipops! These charming oversized candies are perfect for Christmas decorations, Halloween costumes, or unique stage props, guaranteed to capture everyone's attention.
To make attractive props, you can gather common materials such as two pool noodles, colored duct tape, a tall stick, scissors, a glue gun, glue sticks, a ratchet strap, and optional cellophane wrap.
Whether for a school play or a special event at home, these pool noodle lollipops are a creative and fun project that will add a splash of color and entertainment to any occasion. Craft these sweet, oversized candies today and make your event memorable! chaoticallyyours
12. Handmade Dollar Tree Pool Noodle Firecrackers
Transform pool noodles into eye-catching creations with these easy-to-follow pool noodle crafts that make a splash at any event. Celebrate this Fourth of July with an innovative Dollar Tree pool noodle firecracker DIY project. These firecrackers are a breeze to create, perfect for bringing a festive flair to your home decor. You can transform regular supplies into stunning festive decor using Dollar Tree pool noodles, Fourth of July table centerpieces, embellishments, a hot glue gun, and wire cutters.
These firecrackers can be made at various heights for visual interest. Additionally, they can be secured together and adorned with patriotic ribbons and embellishments for added flair. Ideal for an outdoor barbecue centerpiece or an indoor mantel display, this project is cost-effective, with three pairs possible from just three pool noodles.
This endeavor isn't just a quick craft; it's a conversation starter for your summer cookout, making it a perfect blend of fun and functionality for your Fourth of July celebrations. southerncrushathome
13. How to Make Your Own Pool Noodle Jellyfish
Bring out your creative flair by transforming an ordinary pool noodle into a cute, colorful jellyfish with this fun and straightforward craft project! This DIY activity primarily utilizes items around the house, like bubble wrap, a pool noodle, plastic lacing, and basic crafting tools, such as scissors, a chopstick, and a sharp knife.
This activity offers an excellent opportunity to engage in imaginative play while providing a unique use for leftover pool noodles. This project is fantastic for kids and adults, inviting everyone to explore their creativity while making a playful sea creature from common household items.
Remember, this craft delivers a fun pastime and provides an environmentally friendly way to upcycle unused pool noodles. So, grab your craft supplies, and let's dive into making these charming pool noodle jellyfish! mamamiss
14. Simple DIY Pool Noodle Flower
Transform your old pool noodles into delightful plant decor with this easy and fun crafting activity! This tutorial on making DIY pool noodle flower picks is perfect for engaging kids in crafting and decorating plants simultaneously. You'll need a green pool noodle, a flower-shaped pool noodle in your choice of color, a serrated knife, wooden craft sticks, and a hot glue gun – all of which can be encountered at your local dollar store.
Within minutes, you'll make charming flower picks by cutting pool noodles into shapes and attaching them to craft sticks. Use these vibrant creations to adorn your favorite plants, offering an appealing boost to your garden or indoor plant pots. Get crafty today and let your imagination bloom with this unique pool noodle project! premeditatedleftover
15. Pool Noodle Snowman Wreath Project
Add a fun, festive touch to your winter decor with a DIY snowman wreath made from a pool noodle. This whimsical and cost-effective project will breathe new life into your home decorations, whether hung on the front door or showcased inside.
This wreath, wrapped in white yarn and accessorized with a hat, scarf, and earmuffs, perfectly captures the spirit of winter. This guide provides detailed instructions on making this charming decoration using easily available materials, including a pool noodle, white duct tape, scissors, and a hot glue gun. Embrace the winter season by crafting your very own snowman wreath today! diynoodles
16. Homemade Pool Noodle Bumblebee
Make a charming DIY bumblebee craft from an ordinary pool noodle! You can bring this adorable bee to life with a simple 3-4 inch segment of a yellow pool noodle, craft foam, googly eyes, and some glue. This project is perfect for kids, encouraging their creativity and motor skills as they assemble the wings, antennae, and face.
It's a great way to repurpose an item common in most homes during summer, making it an economical and environmentally friendly craft. A few straightforward steps make a delightful bee perfect for a children's party or a fun afternoon activity. So grab your pool noodle and let the creativity buzz! premeditatedleft
17. How to Make Pool Noodle Caterpillar
Ignite your child's imagination with an exciting, easy-to-make DIY pool noodle caterpillar. This creative craft idea is ideal for upcycling pool noodles into cute garden decorations. The necessary supplies include a pool noodle, a serrated knife, googly eyes, pipe cleaners, scissors, craft glue or hot glue gun, and wooden craft sticks – all readily available at a dollar store.
The process is simple – cut the pool noodle into segments, make the caterpillar's face, attach pipe cleaner antennae, and glue the segments together. If you want to position your caterpillar in a flower pot, you can affix wooden craft sticks to its back.
This charming caterpillar is a fun craft project and a colorful addition to your yard, garden, or flower pot. An engaging and budget-friendly activity, this pool noodle caterpillar is perfect for stimulating creativity and adding color to your outdoor space! growingupgabel
18. Quick DIY Pool Noodle Pom Pom Shooter
Get a fun and engaging DIY pool noodle pompom shooter for your little ones with this easy guide using just a few simple supplies! Create a safe and engaging shooter by combining a pool noodle, duct tape, a party balloon, and scissors.
Its compact size and smooth texture makes it ideal for tiny tots and preschoolers, providing a sturdy alternative to traditional plastic cup versions. Unlike marshmallow shooters, this pompom shooter avoids clogging issues, keeping the fun going without any hitches.
Besides being a delightful pastime, this project also aids in enhancing your child's hand muscles and gross motor skills as they eagerly chase after launched pompoms. This homemade shooter might be the best gift or party favor for indoor play for your next celebration. frogsandsnails
19. Cute Turkey Pool Noodle Craft
Step into the festive spirit with an easy and fun DIY Thanksgiving craft perfect for family involvement – crafting turkeys using pool noodles! Requiring simple materials such as an orange pool noodle, googly eyes, assorted craft feathers, and craft foam, this project lets you and your kids make adorable turkeys in less than 30 minutes.
These turkeys can effortlessly decorate shelves or bookcases thanks to their sturdy base. Notably, this activity also fosters younger kids' scissor skills, color identification, and fine motor skills, while older kids can enjoy the creative process.
Additionally, there's no mandatory requirement for a hot glue gun; tacky craft glue is a viable alternative, though it may demand extra drying time. Follow this detailed guide to enjoy making your pool noodle turkeys for this Thanksgiving! darcyandbrian
20. Making Pool Noodle Monsters
Discover a fun and inventive way to reuse pool noodles with this charming DIY craft project – pool noodle monsters. Make cute creatures on a summer day with materials you probably have at home: pool noodle, googly eyes, pom poms, bendy straws, pipe cleaners, and ribbon.
You're all set to bring these little monsters to life with scissors and a hot glue gun. Encourage your child's creativity by experimenting with different accessories for your monsters. You might use buttons, foil, or even paper straws.
These cute monsters are an interesting hands-on project and an excellent method to instill a sense of resourcefulness and sustainability in your little ones. So, don't wait any longer – start making your delightful troop of pool noodle monsters today! createcraftlove
21. Cheap DIY Pool Noodle Car Ramp
Unleash your creativity with these colorful and engaging pool noodle crafts that are perfect for kids and adults alike. Spruce up your child's playtime with an ingenious DIY pool noodle car ramp! This engaging and easy-to-make project uses common items like pool noodles, a serrated knife, masking tape, and toy cars to build an exciting racetrack.
Cutting a pool noodle in half creates perfect ramps, providing endless fun and an innovative way to develop building and engineering skills. Enhance the play by placing the ramps on stairs for height, taping two together for an extended racecourse, or bending them for exhilarating curve-offs.
This affordable activity brings a new level of creative play, promising your little ones a thrilling, car-filled afternoon. Don't let those unused pool noodles gather dust – transform them into a dynamic playground instead! hellowonderful
22. Pool Noodle Planes Stem Activity for Kids
Kids can soar to new heights with these DIY pool noodle planes in this fun craft showcasing creativity and an introduction to STEM concepts. This project allows kids to experiment with different designs or follow simple instructions. The materials are affordable, making it a great activity for multiple trials.
This playful airplane, capable of gliding across your backyard, is perfect for a casual game of catch, teaching kids about aerodynamics and balance. You can start the craft journey with essential materials like a pool noodle, cereal box cardboard, craft foam, scissors, hot glue, duct tape, and a few nickels for weight.
With this project, your kids will have a fun toy and a practical learning experience on flight, balance, and stability principles. So, let's start this playful STEM exploration today! frugalfun4boys
23. Dr. Seuss's The Lorax Pool Noodle Craft for Kids
Get inspired by these unique pool noodle crafts that demonstrate the surprising versatility of this affordable and lightweight material. Swoop into a whimsical world of Truffula Trees with this DIY Dr. Seuss's The Lorax pool noodle craft for kids! Transform your orange pool noodles into the beloved Lorax using simple supplies like yellow foam, googly eyes, and glue. Cut a section of the noodle and make the iconic mustache from foam, adhering with glue.
The googly eyes add the final charming touch! This fun and engaging craft makes a delightful addition to a themed party or a creative reading incentive in the classroom. Dive into this project and bring Dr. Seuss'Seuss's imaginative realm to life with your Lorax! survivingateachers
24. DIY Teenage Mutant Ninja Turtle Nunchucks
Submerge your kids in the joy of a Teenage Mutant Ninja Turtle-themed birthday party with DIY Ninja Turtle nunchucks that are simple to make, budget-friendly, and super fun. The supplies required are easy to find and include pool noodles, duct tape, foil tape, and scissors, all of which can be bought at any dollar store.
The process involves cutting, taping, and twisting pool noodles to make an authentic Ninja Turtles accessory. The nunchucks are not just for play; they can also add excitement to any TMNT-inspired event. Unleash your creativity, save money, and keep the kids engaged with this fun project. Remember, the secret ingredient is your enthusiasm! Happy Ninja Turtling! madewithhappy
25. Easy DIY Pool Noodle Luminaries
Illuminate your outdoor space with these gorgeous, easy-to-make DIY pool noodle luminaries! Make a magical ambiance at your summer party with these luminaries, and discover the creative potential of pool noodles as they transform into vibrant floating candles. These luminaries are easy to make and add a touch of whimsy to your backyard night swim.
All you need are LED tea lights, scissors, and pool noodles. Worried about water damage? Don't fret! The pool noodles keep the LED candles high and dry. Simply place the tea light in the center of the noodle, and watch as the foam expands to encase the candle.
These adorable pool noodle lights reflect beautifully on water, making them ideal for centerpiece decorations or a charming addition to your outdoor gatherings. Be the talk of the party and bring some playful creativity to your summer celebrations! createcraftlove
Conclusion:
In conclusion, pool noodle crafts offer a versatile and fun way to repurpose these colorful foam tubes. With 25 creative ideas ranging from Halloween decorations to DIY racquetball games, there's an abundance of inspiration for both kids and grownups to explore. No matter your skill level, these crafts with pool noodles provide an affordable, enjoyable way to make eye-catching décor, engaging toys, or exciting STEM activities. So grab your foam noodles and unleash your creativity with these inventive pool noodle DIY projects!