Are you looking to build your own sauna? Learn how to build an outdoor sauna at home with this comprehensive list of 10 homemade DIY sauna plans and ideas, including step by step instructions and a free PDF guide. Enjoying a relaxing and invigorating sauna experience does not have to require visiting an expensive spa. With some dedication and little skills, it is possible to build an inexpensive DIY outdoor sauna in the comfort of your own home. From step-by-step instructions on building a sauna from scratch to tips and tricks on the different designs available – our list offers inspiration when constructing the perfect relaxation area. So why not take advantage of our helpful guide and start building your very own cheap diy sauna today?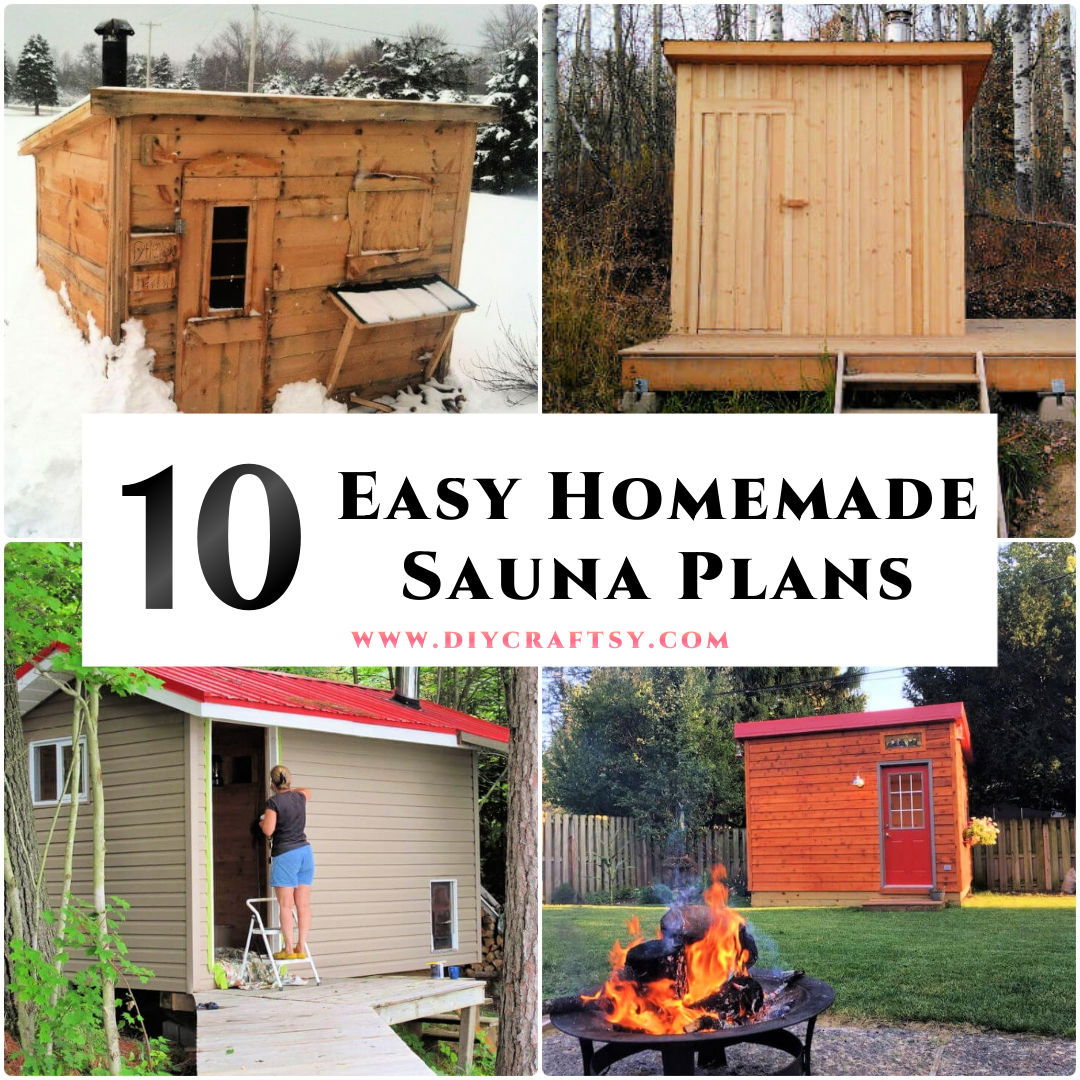 A DIY sauna can be a great addition to an outdoor cabin where you love to spend a lot of time after a busy day. These free DIY outdoor sauna plans will help you build a relaxing and luxurious space for your backyard. With step-by-step instructions and clear diagrams, these free outdoor sauna plans make it easy to design and construct an outdoor oasis. From the foundation to the benches, this comprehensive homemade sauna plans guide will show you how to build a spa-like atmosphere in your own backyard.
Furthermore, you will hack to transform an outdoor cabin and shed into a cozy DIY sauna. Utilize natural materials such as cedar or spruce boards to get that classic look and feel of a traditional sauna. Busy life routines make you tired, and you must relax to spend another busy day. So, relax by planning quick dry and wet heat sessions with these free DIY outdoor sauna plans!
Is it cheaper to build your own sauna?
Yes, free DIY sauna plans can save you money compared to buying a pre-assembled sauna. Building your own sauna using DIY plans gives you control over the materials and design, so you can customize it according to your needs and budget. DIY sauna plans also come with detailed instructions that make the assembly process easy and straightforward, even for novice DIYers. Plus, DIY saunas can often be constructed using locally sourced materials and tools.
Can you make a DIY sauna?
Yes, you can create your own DIY sauna with the help of free DIY sauna plans. DIY saunas are a great way to enjoy infrared heat therapy in an affordable, customizable space. With careful planning and guidance from experts, DIY can be safe and enjoyable for everyone. Get started with your DIY sauna today by searching online for free DIY sauna plans.
How do you make a simple DIY sauna?
Building a DIY sauna is easy and accessible to anyone with basic DIY skills. With our free DIY sauna plans that provide step-by-step instructions for constructing the frame, installing insulation, adding heating elements such as an electric heater or wood-burning stove, and finishing the interior. With these plans, you can create a DIY sauna that will be a luxurious and relaxing addition to your home.
How do you mimic a sauna at home?
You can create a sauna-like environment at home by using a combination of heat, humidity and aromatherapy. To start, run a hot shower or bath and increase the temperature as much as you feel comfortable with. Fill the room with steam and add essential oils to provide aromatherapy benefits. Finally, relax in the warm atmosphere and enjoy the sauna-like experience.
Is it healthy to have a sauna every day?
It is generally considered safe to have a sauna every day, as long as you take necessary precautions. Be sure not to stay in the sauna for too long and drink enough water before, during, and after the session. Additionally, it's important to listen to your body and take breaks if you feel uncomfortable at any point. Regular sauna use can be beneficial, but always check with your doctor beforehand.
Do I need permission to build sauna?
Yes, you need permission to build a sauna. Depending on the region in which you live, building permits may be required before you can begin construction of your sauna. Contact your local town or city hall for information on what kind of permit would be needed and any other regulations that must be met. Make sure to follow all requirements to ensure a safe and successful project.
Does a home sauna need ventilation?
Yes, a home sauna should be adequately ventilated. Proper ventilation helps expel any humidity and heat generated in the sauna while also preventing potential mold or mildew growth. Make sure you set up your home sauna in an area with good air circulation and consider installing a fan to help remove excess moisture. Additionally, keep the doors and windows open during or after sauna use. This will help remove moisture and promote a healthy environment.
Additional Tips: Ventilation is key to any successful home sauna installation! Remember to consider the amount of air circulation, exhaust fans, and door/window openings when setting up your home sauna. Proper ventilation helps ensure safety, comfort, and longevity of your sauna.
Do you need a drain for a home sauna?
Yes, you will need to install a drain for your home sauna. Your local hardware store should be able to provide you with the appropriate supplies. Ensure that your chosen drain is robust enough to withstand high temperatures and humidity levels in a sauna environment. Proper installation of the drain is essential for proper maintenance of your home sauna. Be sure to follow all instructions carefully. A professional plumber may be able to provide assistance with installation, if needed. This will help you ensure that your sauna is as safe and efficient as possible.
Is it hard to build your own sauna?
Building your own sauna requires some technical know-how and patience, but it is not impossible. With the right resources and guidance, you can build a beautiful, safe and relaxing sauna in your home or business. Before beginning construction, it is important to thoroughly research the type of sauna that best suits your needs. With dedication and planning, you can build your own sauna and enjoy its many benefits.
Can a hot shower be as good as a sauna?
Yes, taking a hot shower can be as beneficial as visiting a sauna. Both provide relaxation and stress relief while boosting circulation. A hot shower can also help soothe sore muscles and clear the sinuses with steam. Additionally, you don't need to leave your home to enjoy the benefits of a hot shower like you would for a sauna. Therefore, hot showers are an inexpensive, convenient way to relax and care for your overall health.
Can a hot shower work like a sauna?
While a hot shower can be relaxing, it is not an effective substitute for a sauna. A sauna's dry heat helps the body rid itself of toxins and relaxes muscles in a way that showering simply cannot. Additionally, due to their extreme temperatures, saunas have health benefits that go beyond those obtained by taking a hot shower. For a more beneficial experience, the sauna is the better choice.
What is a better dry or wet sauna?
The answer to this question largely depends on what you are looking for in a sauna experience. Dry saunas typically reach higher temperatures and use dry heat, whereas wet saunas have lower temperatures and use moist heat. Wet saunas often provide more intense muscle relief but may be too intense for some people. Dry saunas are often more comfortable and can provide a good detoxification experience. Ultimately, it comes down to personal preference.
Why should you not shower after a sauna?
Showering after a sauna can be detrimental to your health. It removes the sweat secreted by the body, which helps remove toxins and impurities from within. Showering too soon can cause you to feel lightheaded or faint due to low blood pressure and dehydration. The best practice is to rest for 10-15 minutes before rehydrating and cooling down with a cool shower. This will help your body re-adjust to its normal state.
Who Cannot go to the sauna?
People who have existing medical conditions such as high blood pressure, heart disease, respiratory issues, or pregnant women should not use a sauna. People under the influence of alcohol or drugs should also avoid using a sauna due to the risk of dehydration and other complications. Children under 16 years old and people with open wounds, skin infections, or a fever should not use a sauna. Additionally, individuals with pacemakers or other implanted medical devices should seek advice from their doctor before visiting a sauna.
Is it expensive to run a home sauna?
The cost of running a home sauna depends on the size and type of sauna you purchase. Generally, it will cost around $2,000-$10,000 to buy and install a home sauna. This does not include monthly costs, such as electricity and water use, as well as any maintenance or repairs needed. You may also need to factor in the cost of additional accessories. Ultimately, the cost of running a home sauna will depend on your individual needs and budget. DIY sauna plans can help to keep costs down by helping you build a DIY sauna yourself.
The DIY option is great for those on a budget or with limited DIY experience who still want all the benefits of having a home sauna. DIY sauna plans are available below and provide step-by-step instructions for building your own personal sauna from start to finish. With DIY sauna plans, you can save money while still enjoying the benefits of a home sauna.
How much does a sauna add to electric bill?
The amount that a sauna adds to your electric bill depends largely on the frequency of use and the efficiency of the unit. Generally, saunas are fairly energy efficient, but if it's used frequently, it can increase your electricity consumption by 3–4%. To limit costs, you should use a timer to control the length of usage and check the sauna's insulation to make sure it is properly sealed. Additionally, looking into more energy efficient models can save you money in the long run.
What is the best material for a sauna?
When building a DIY sauna, it is important to choose the right materials. The most common options are wood (cedar or hemlock), plastic/vinyl, and stone. Cedar has natural properties that make it ideal for saunas due to its strength and resistance to moisture, while vinyl is more affordable and easy to clean. Stone is a great option for DIY saunas, as it provides superior insulation and durability. Ultimately, the best material will depend on your preferences and budget. Hope this helps! Good luck with your DIY sauna project!
What is a good size for a sauna?
When constructing a DIY sauna, the size will largely depend on your space and how many people you plan to fit in it. Generally speaking, a sauna should be at least 6 feet wide, 4 feet deep and 7 feet tall. For larger groups, consider building a bigger one with dimensions of 7 feet by 5 feet by 8 feet. Ultimately, the size of a DIY sauna should be tailored to your individual needs.
How big is a 6 person sauna?
A standard 6 person sauna typically ranges from 5ft x 7ft to 8ft x 10ft. All sizes and layouts can be customized depending on the space available, but there is often enough room for six people to comfortably sit or stand while enjoying the sauna experience. To ensure maximum comfort and enjoyment, allow at least 2-3 square feet of sauna space per person. Additionally, be sure to account for the necessary clearance around the sauna (usually at least 3 feet) when measuring.
What size is a 2 man's sauna?
A 2 man sauna typically measures anywhere between 4 to 6 feet in length and width. Depending on the model, they can stand up to 6-8 feet high with ceiling heights of around 8 feet or higher. It is important to have adequate space around your sauna to ensure you have a comfortable experience. Make sure you measure your space before committing to a 2 man sauna.
Is a 120 sauna good?
A 120 sauna can offer a comfortable and relaxing environment, in which to enjoy the many health benefits of heat therapy. Many people find the temperature range of a 120 sauna to be especially beneficial for reducing stress, relieving muscle tension, and providing relief from soreness. With proper use and care, a 120 sauna can provide long-lasting, enjoyable health benefits. However, it is important to always follow the manufacturer's instructions for safe and responsible operation.
How big of a sauna do I need for 4 people?
When selecting a sauna for 4 people, we recommend an infrared sauna that is at least 5-6 feet wide and 6-7 feet long. This should comfortably fit 4 adults and still allow plenty of room to move around. Make sure to measure the space where you plan to install the sauna before making your purchase in order to ensure you purchase the appropriate size for your needs.
For additional advice, you can also consult with a sauna specialist who can help to identify the best type and size of sauna for your space and needs.
Is it OK to go in a sauna everyday?
It is generally safe to go in a sauna every day, as long as the environment and temperature are not too extreme. However, it is important to ensure you drink plenty of water and do not stay in the sauna longer than necessary to avoid dehydration and overheating. Always consult your doctor before using a sauna if you have any existing medical conditions or are pregnant. Always follow safety recommendations when using a sauna.
1. How to Build a Wooden Sauna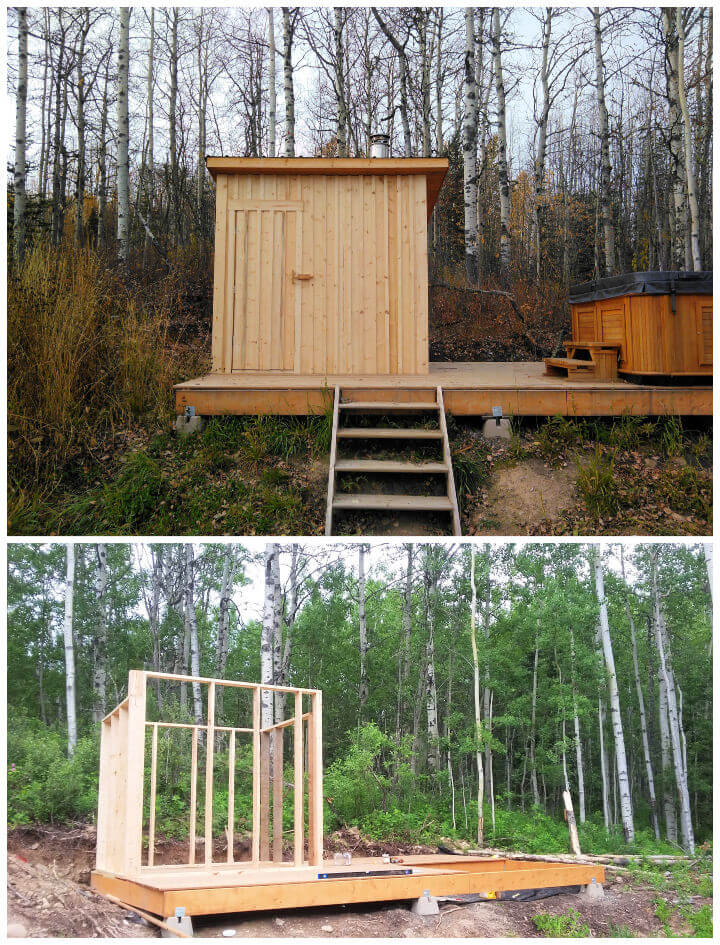 Warm yourself up at outdoor or in the forest while being on a hunt by building this wooden sauna. The project will cost you CAD 13800 that you will spend on buying supplies like a hot tub, wiring, lumber, stove, metal bricks, and cement. It provides an elevated floor, a gorgeous wooden room, and a relaxing bathtub. imgur
2. How to Turn a Shed into a Sauna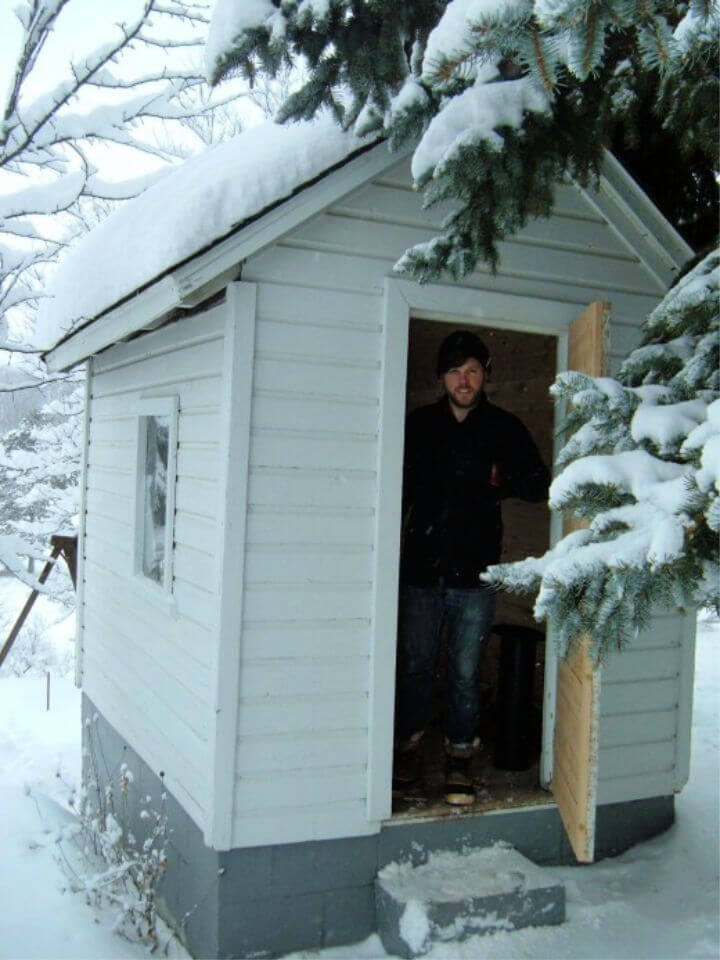 Half of the sauna building project is done if you are already having an outdoor shed. Do smart modifications in the design to transform the shed into a beautiful sauna. Install the vapor barrier in the shed and then insulation. Add interior wallboards for extra stability and finish with a wood stove and ventilation. The total project cost is $1000. dengarden
3. DIY Wood Burning Sauna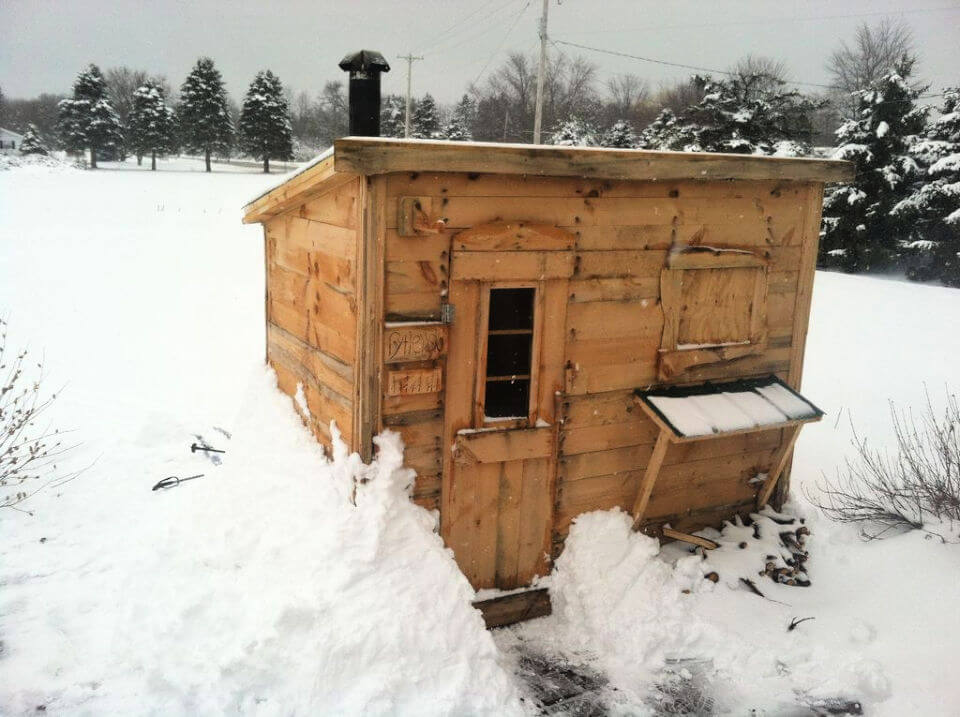 Build this burning wooden sauna to introduce yourself to a deeper sleep, will instantly relieve your stress. Just build a small wooden cabin with a hot bath installed inside. To avoid rainwater retaining, opt for a tilted roof. You need wood, stone, stove, and a 30lb tank to build this wood-burning sauna. instructables
4. DIY Outdoor Sauna In The Backcountry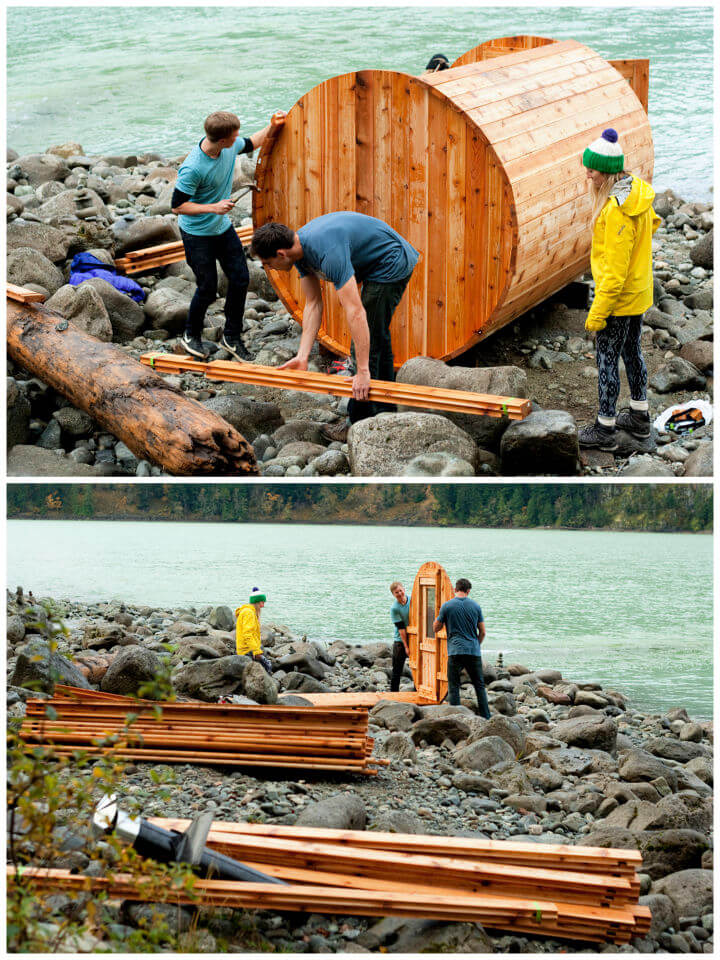 You will love this outdoor sauna that comes in an alluring, cylindrical design. The chimney comes out nicely, adding more decorative value to design. Make it using mostly recycled items like an old stove, wood, old doors, and windows. A little engineering is required to build this fantastic one-of-a-kind sauna design. Details here gibbonswhistler
5. Building a Home Sauna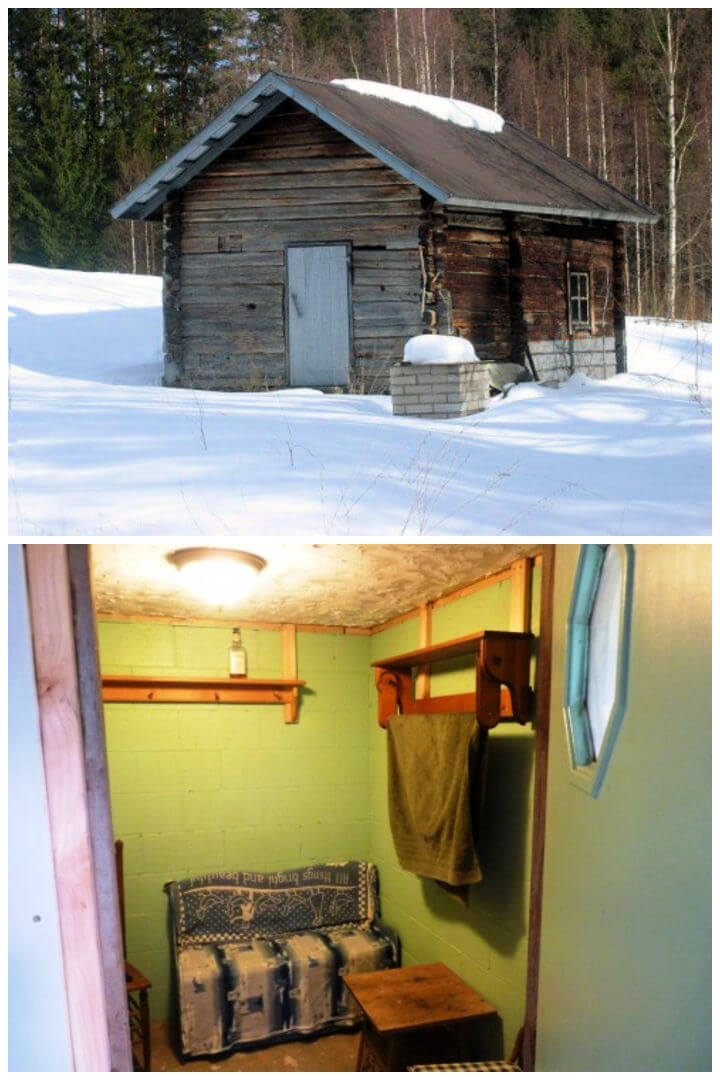 You will be relaxing in this home sauna that is having a shape like a little bungalow. Building this sauna requires to construct a hearth inside with a vertical chimney. Insulate the entire interior and make sure you have installed the right ventilation, highly needed for this project. The total project cost is less than $1000. Details here dengarden
6. Make Your Own DIY Wood Fired Sauna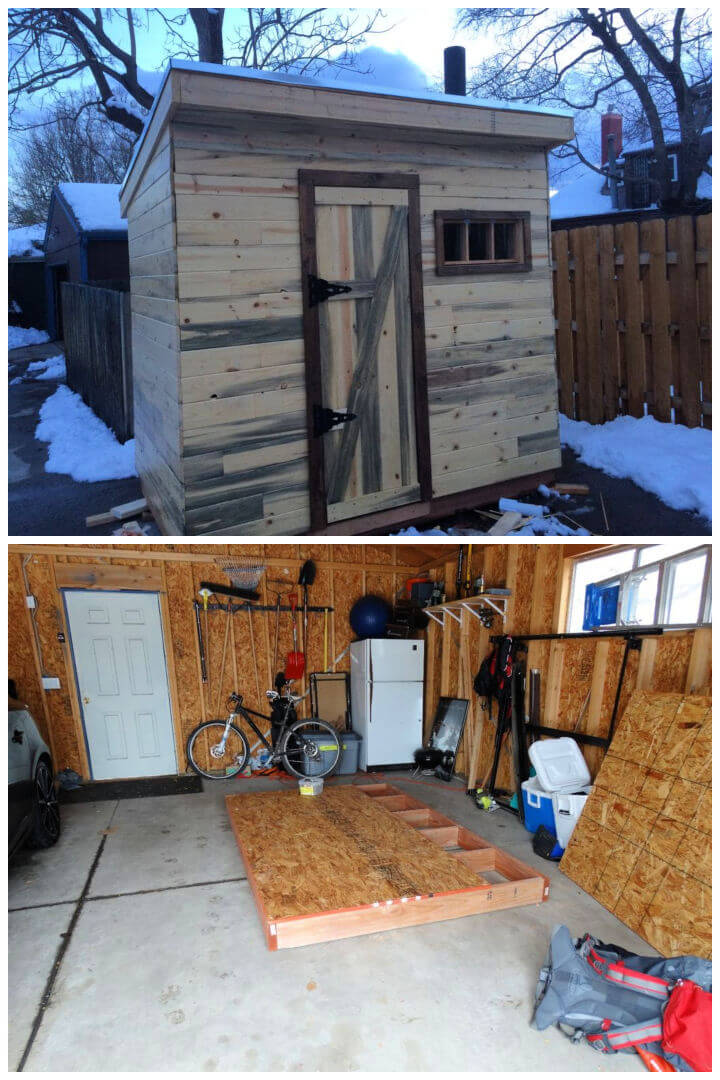 Improve your cardiovascular performance by getting relaxed in this wood fired sauna. It looks like a small home and gains more beauty from the accent-slatted siding. The project involves installing the plywood sheathing to the entire interior. Even a single person can complete this project. Full guides here instructables
7. How to Build a Sauna in 20 Minutes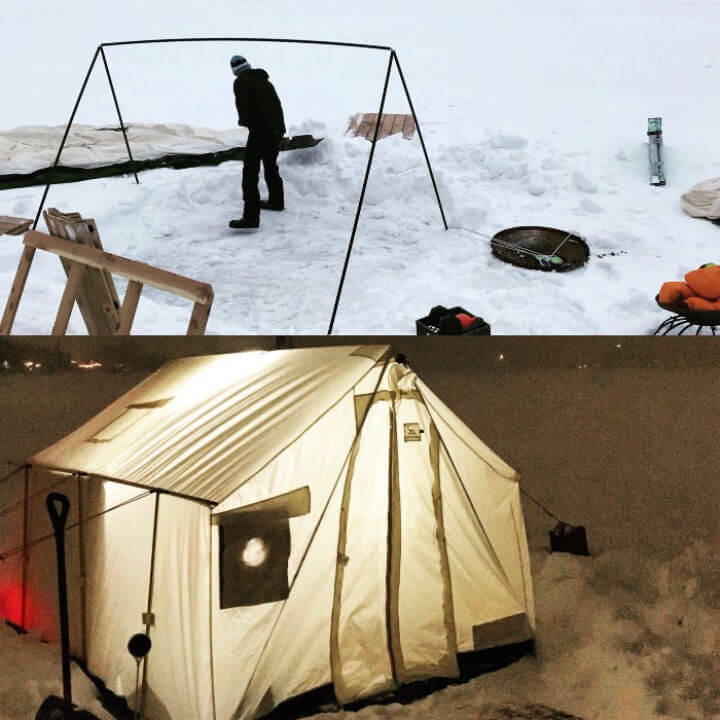 Building a sauna looks a time taking a task that will involve lots of significant investments too. But here is a fantastic DIY hack allowing to create a sauna in just 20 minutes. The best project to do for spicing up your winter camping. The project is relatively easy and inexpensive. You will have big fun too while building it. medium
8. Build Your Own Sauna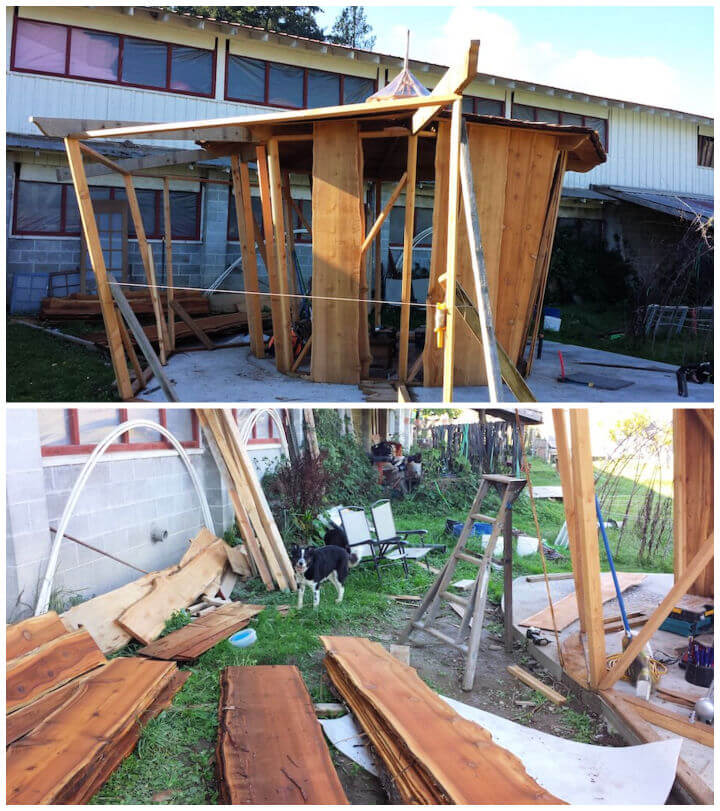 Cleanse your skin by building this sauna, will give you a super relaxing warm bath therapy. Decide your location and create the round base first using concrete, gravel, and wood. Raise the sides from all around the round base and install the roof. Put inside an old or reclaimed stove and enjoy taking warm baths. insteading
9. DIY Sauna in 8 Steps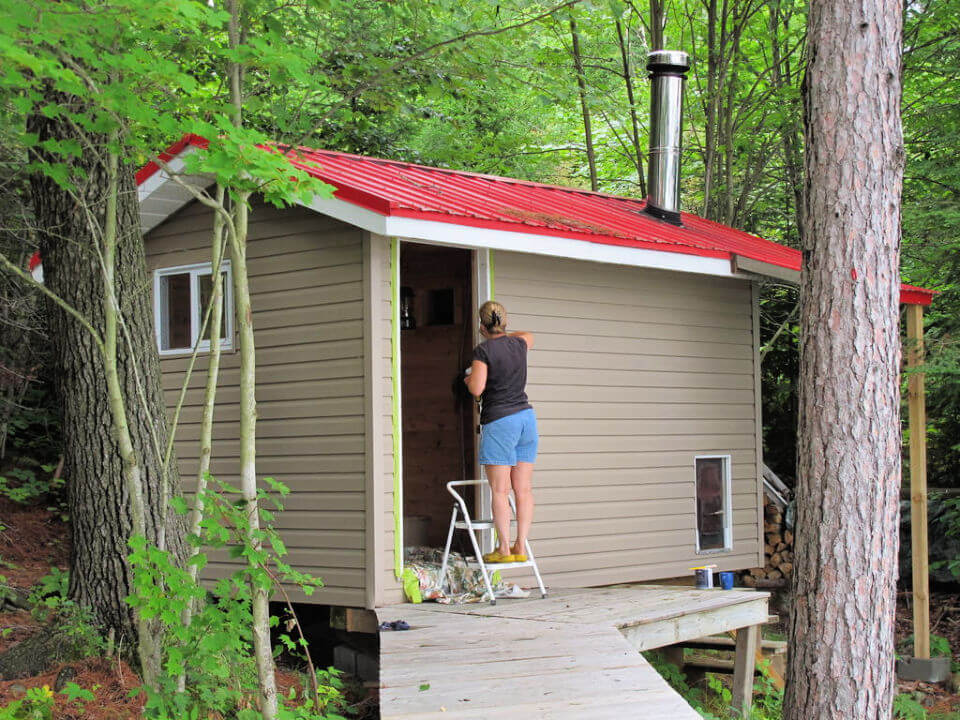 Steam baths make you instantly relaxing by relieving stress, so turn ON a happy mode of your living by making this sauna. Get the step-by-step instructions allowing you to build it in 8 easy steps. The visual guides will make it easier even for a beginner to build it like a pro. The best sauna for your outdoor cabins. instructables
10. Free DIY Finnish Sauna Plan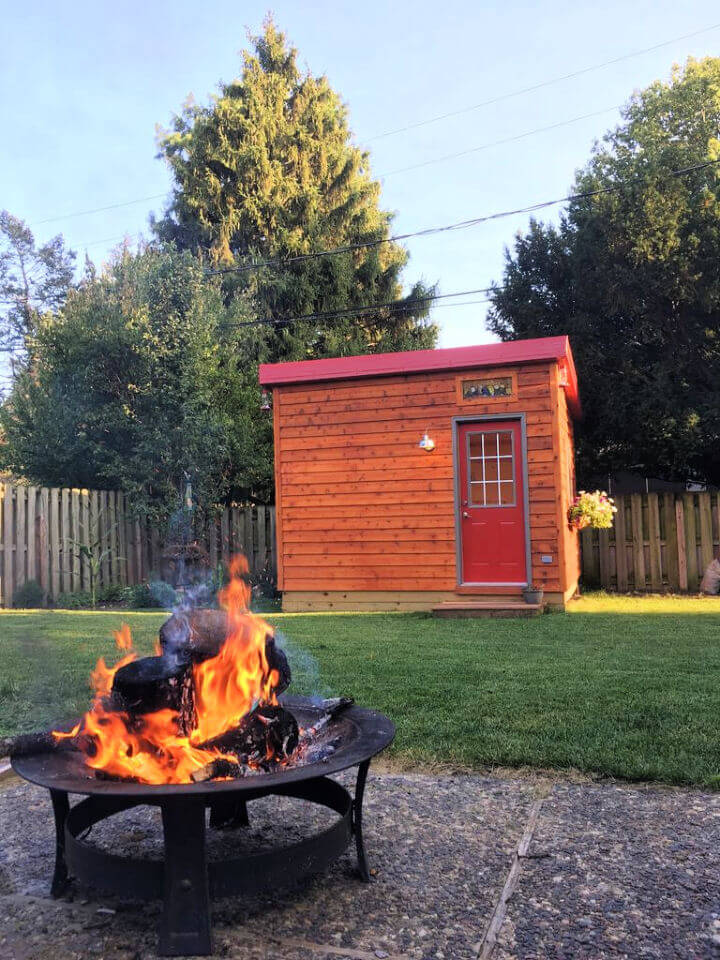 Soothe your body after a long busy day using this sauna, a self-made version that will cost you next to nothing. Start the project by building first the base and, next, raising the frames from the sides to build doors, windows, and roofs. Finish by adding sheathing, insulation, and a stove. Plans here instructables
How to Build a Sauna at Home
Learn how to build your own home sauna and enjoy the health benefits of a personal steam room. This video guide will walk you through the process of constructing a sauna from scratch, including choosing materials, installing insulation, building benches, and other considerations. With some basic DIY knowledge and skills, you can have your very own private haven for relaxation in no time!
How to Build a Portable Sauna
Are you looking to build your own portable sauna? This video guide will show you step-by-step how to construct a state-of-the-art sauna that is perfect for apartments and other small spaces. Learn the techniques needed to build a wooden frame, install insulation, add the heater and steam generator, attach the benches, cover it with waterproof material and more. With this comprehensive tutorial, you'll be able to create your own quality mobile spa in no time at all!
DIY Outdoor Sauna Video Tutorial
Create your own DIY Outdoor Sauna with this easy video guide! Get step-by-step instructions to build an outdoor sauna using timber beams and steel rods. The glass door provides natural light, while a Harvia M3 stove supplies cozy warmth. With 2 weekends of work, you'll be able to enjoy your new outdoor oasis in no time!
Related DIY Projects with Free Plans
DIY Hammock Stand Plans: Check out these Homemade DIY Hammock Stand Plans and Ideas to build your own outdoor relaxation spot. From free-standing stands to hanging chairs, find the perfect one for you!
Free DIY Arbor Plans: Looking for DIY Arbor Plans? Get creative and save money with our list of easy & free Garden Arbor Ideas. Find the perfect design to fit your outdoor space!
DIY Sandbox Ideas: Discover creative DIY sandbox ideas and free plans to create a fun outdoor play space for your kids with these awesome sandpit designs. From cozy backyard oases to simple open boxes, find the perfect one for your family!
Free DIY Cornhole Board Plans: Are you looking for a fun, easy-to-build game? Check out our collection of free DIY cornhole board plans and ideas. Get creative with sizes, colors and designs to suit your style!
Related DIY plans and Ideas
DIY Shed Plans: Build a shed in your backyard for all your tools, garden equipment, and junk. These free DIY shed plans are easy to build and designed for every skill level. Find the one that best suits your needs, and start building today.
DIY Pergola Plans: Build your own pergola with free DIY pergola plans. Pergolas are a great way to add beauty to your garden and outdoor area.
DIY Smokehouse Plans: Smokehouses can be made from various materials, including wood, metal, and PVC pipes. These free DIY smokehouse plans will show you how to build your own smokehouse in just a few hours.
DIY Greenhouse Plans: These free DIY greenhouse plans will allow you to build a greenhouse for your home. It can be used for various purposes, such as to extend the growing season in your garden or to start seeds earlier in the year.
Outdoor Furniture Plans: Whether you're looking for a garden bench, table or chair, this collection of free DIY outdoor furniture plans will inspire and guide you through creating your own unique outdoor space.
Pallet Outdoor Furniture Ideas: Check out these budget-friendly DIY pallet outdoor furniture ideas to transform your boring old patio. From small and simple to large and luxurious, there is a style for every size of space.
Conclusion:
Overall, free DIY sauna plans are a great way to build your own personal sauna at home. They can be designed to fit any size space and budget, allowing you to customize the look and feel of your sauna. With careful research and planning, it is possible to build a high-quality, cost-effective DIY sauna that will provide years of relaxation for you and your family.