Are you looking for a fun and educational activity to do with your kids? Why not try making some fruit crafts? These fruit crafts are perfect for preschoolers and toddlers, and they can be adapted to suit any skill level.
These DIY fruit crafts can be made within just a few minutes, and they don't require special skills or extra peculiar materials! One of the biggest battles the world faces today and must be acknowledged is that our kid's creative powers are now getting absorbed by the digital Ginny! The whole idea of digitalizing everything is quite scary if thought upon carefully! Beat that with these super easy to make fruit crafts that you can let your kids make and enjoy simultaneously! This could also be a fun learning activity in letting kids know what kind of fruit blessings mother earth is showing upon us!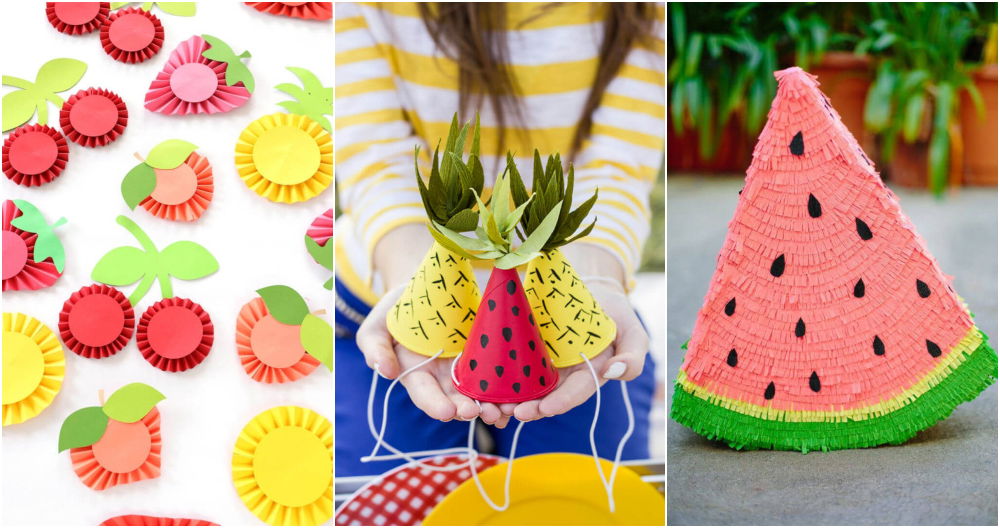 For these fruit crafts for kids, you don't even have to buy or spend any extra money on materials or anything. Most of the supplies used are simple to find and might already be resting in your craft closets! These simple DIY fruit crafts will need chart papers, markers, pens, straws, paper plates, string, twine, popsicle, or craft sticks! And some other fun craft supplies with a lot of imagination! Especially for the summer holidays, you can keep your kids occupied by making cute watermelon fans or other fruit crafts! So, let's take you down this fun and crafty road!
1. How to Make Heart Strawberry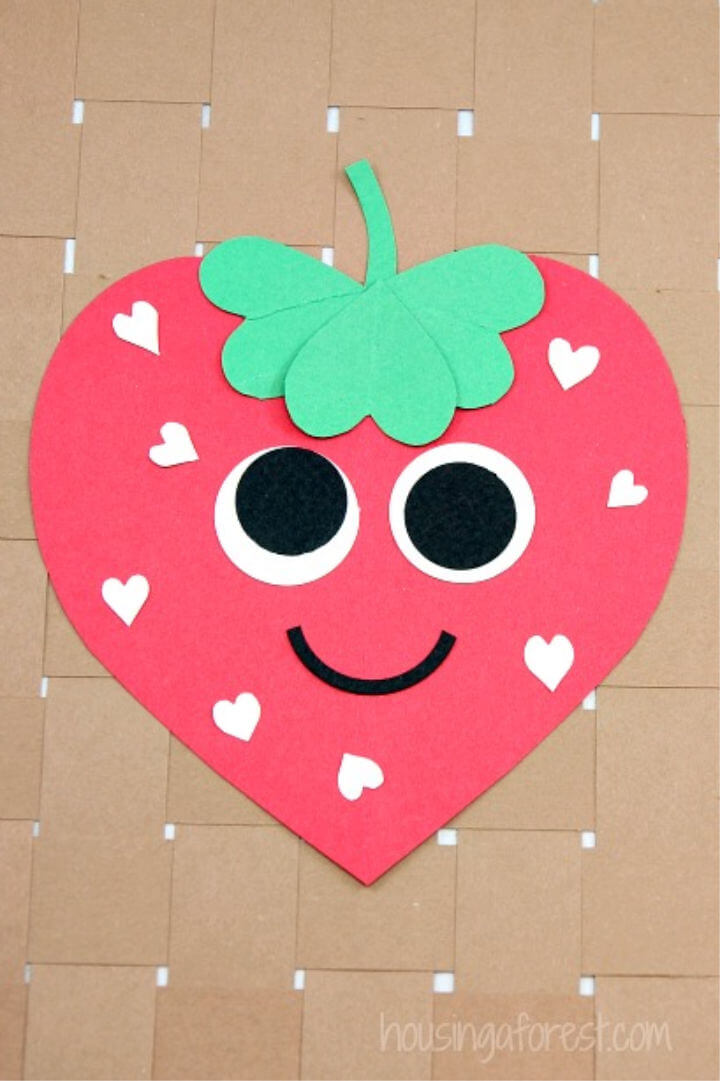 If you are one of those parents who love to help kids with some school art projects, this DIY heart-shaped strawberry craft is something you need to work on with your kids. It's a perfect skill enhancement work for them as well. housingaforest
2. DIY Popsicle Stick Apple Core
Since holidays are about to end, and it's time to go back to school. Well, how about you make your kids learn some DIY fruit crafts in the meantime, like the one on Popsicle stick in the apple core. It's simple and exciting. gluedtomy
3. Watermelon Pinwheel Craft for Kids
Add fun, and a splash of color to your summer welcome party with this watermelon shaped pinwheel. The perfect way to accessorize your living room or outdoor space with this wheel and also a perfect way to celebrate the summer season. kidscraftroom
4. Make Watermelon Frisbee Flyers
Planning for a beach vacation with kids this summer? How about helping them learn some DIY fruit crafts and tricks to make a play Frisbee out of the paper plate. This DIY trick is a perfect learning craft for little kids, so they can have the fun of their own. makeandtakes
5. Fruit Fans for Kids Craft
Summers are usually quite hot, but that doesn't stop kids from having the summer fun! With this DIY fan-shaped fruit, kids can learn something new. This craft is easy to make and only takes a few supplies. theidearoom
6. Easy DIY Tiny Fruit Garland
Fruits are a perfect snack for any season they represent, especially summer fruits. Since they are rich in colors and taste. How about welcoming summers with this Fruit garland. This is a simple craft to create, your kids can help you in making one. tellloveandparty
7. Make Your Own Pretend Play Fruit Tree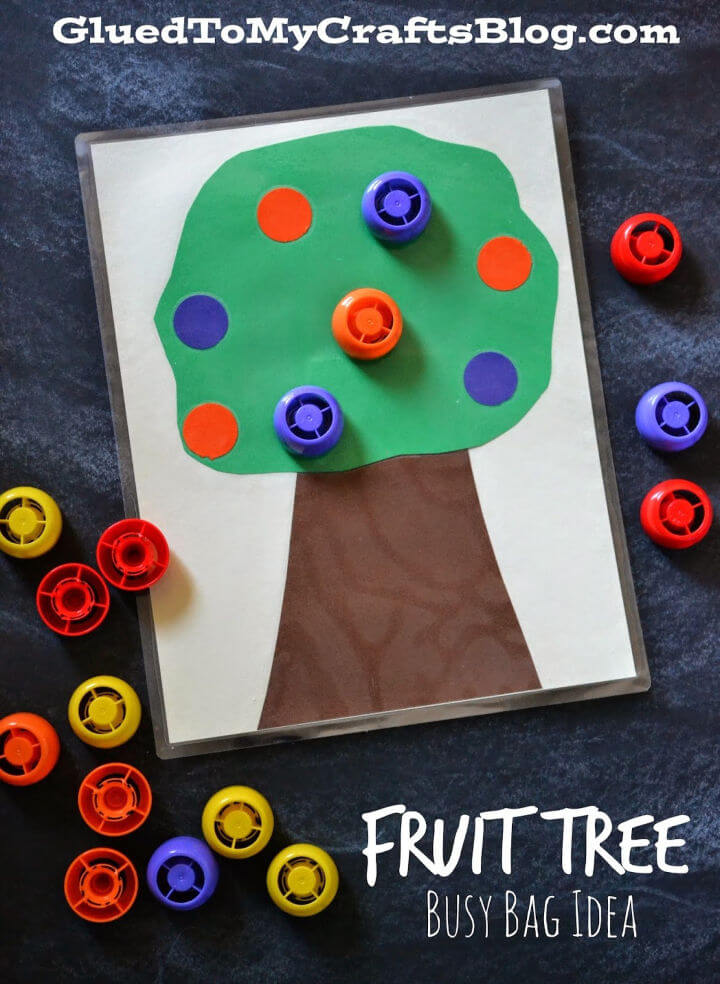 For kids, it's always fun and games with little DIY Crafts, this craft right here is one of them. It kind of pretends to play fruit tree that has some colored fruits look-alike tabs on a tree. Perfect craft for your kids to pluck and play with. gluedtomy
8. DIY Paper Plate and Tissue Paper Apple
Have you ever seen an apple made out of tissue paper? We bet not, with back to school season upon us make your kids learn something more exciting than just a simple craft! All you need is a large paper plate, tissue papers, school glue, scissors, and a few more supplies. gluedtomy
9. DIY Fruit Stamped Lunch Bag
Nothing says fun like a handmade craft! Check out this funky and vibrant fruit stamp lunch bag. Quite an eye-catcher, right? What you need is a fabric lunch bag, paint, foam brushes, and fruit. Some simple stamping to excite the mood. hellowonderful
10. No-mess Summer Fruit Magnets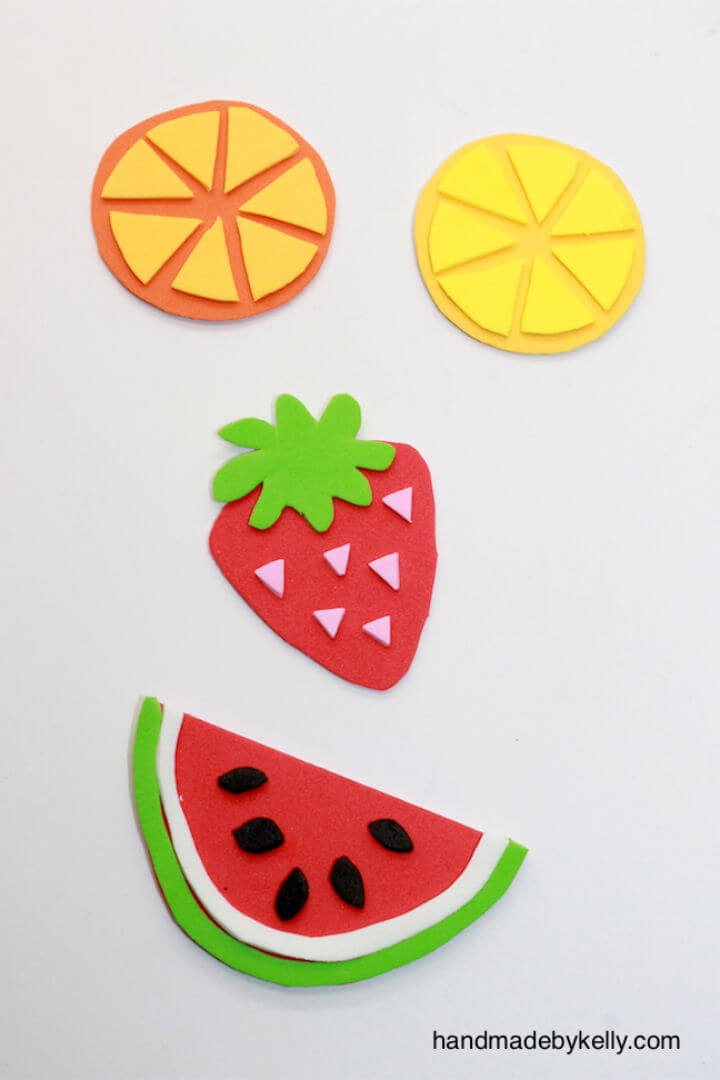 Magnets have been the dress up for any fridge for quite a long time! With Handmade, learn how to make simple no-mess fruit magnets. All by using some foam sheets, fruit love, and backside magnets tags. Get as creative as you would want to be with your little ones! handmadeby
11. Pretty DIY Watermelon Pinata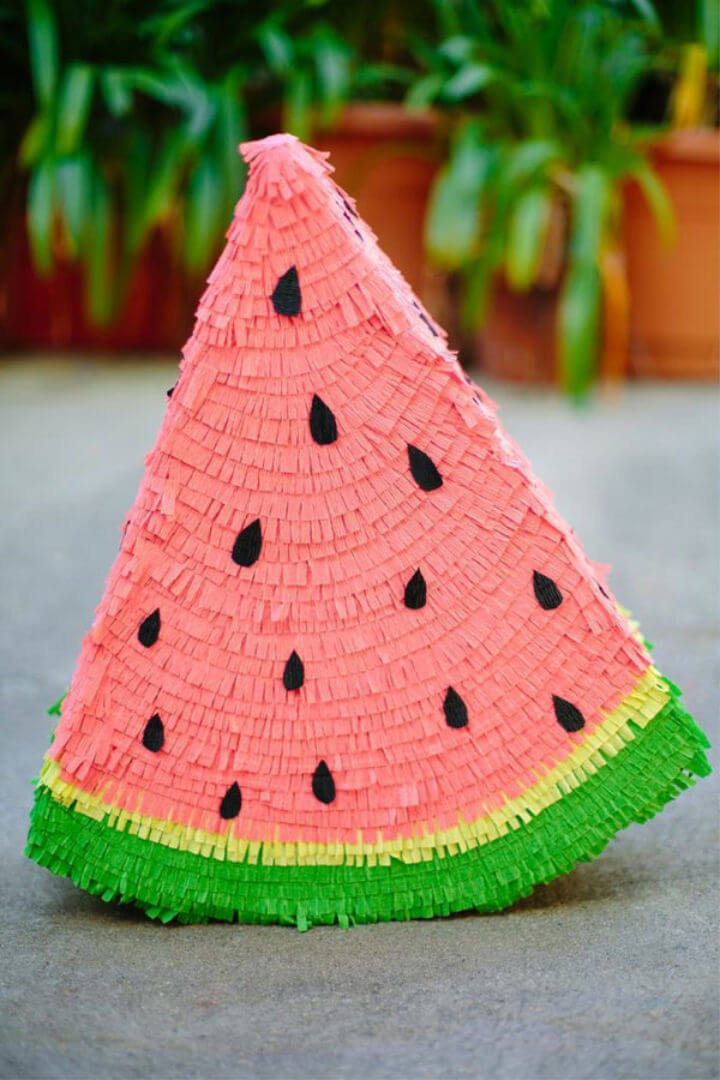 Backyard family gathering parties are always fun for kids, especially when you hang a piñata in the backyard. This watermelon shaped piñata is sure in here for a treat. Fill it with some fruity candies and other treats for kids. ohhappyday
12. Cute DIY Handprint Strawberry
Kids love to take charge of things! This summer enjoy the time with your family and sunshine by exploring some DIY fruits crafts like this handprint strawberry craft. Perfect for welcoming summers with kids and a perfect back to school DIY Craft. 123home
13. Easy DIY Paper Plate Fruit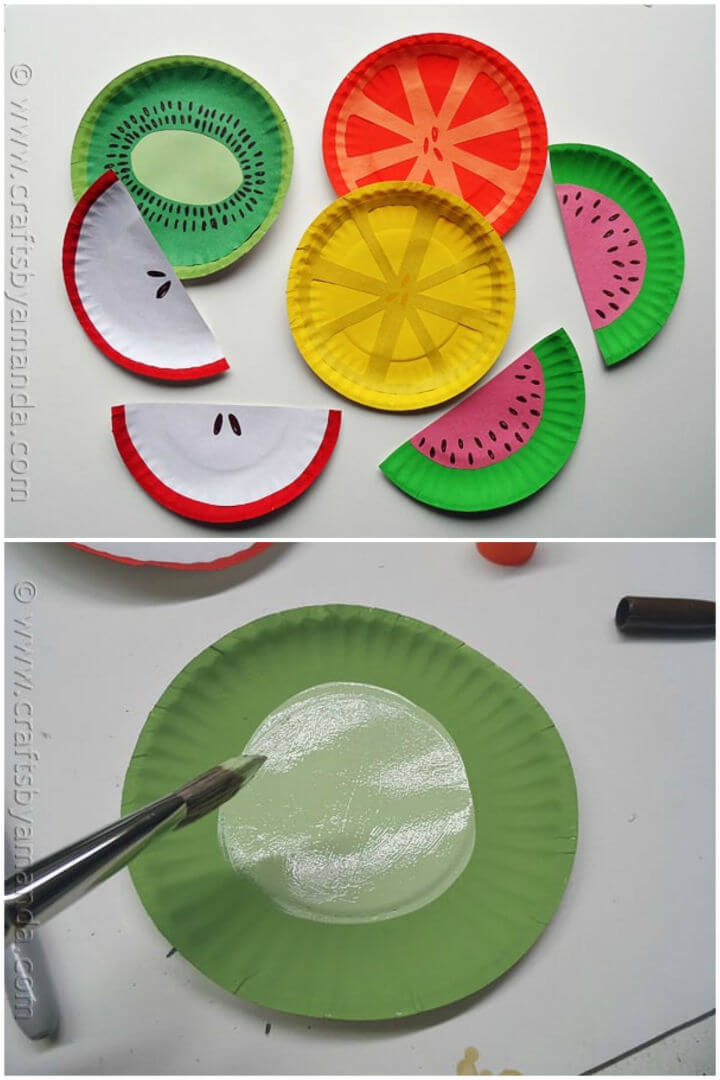 With summers approaching, colorful and tasty fruits also arrive. This Fun DIY Craft for kids that involves fruits made out of paper plates is sure to make a buzz this on season's get together party. This décor element can be made in simple, easy steps like. craftsbyamanda
14. Paper Plate Apple Lacing Craft
Paper plates are a lifesaver in every family vacation since they are easy to carry and have no effort in cleaning. This DIY craft on apply lacing Paper plate is fun to do and learning activity for kids too. With an apple craft in check! kidscraftroom
15. DIY Fruit Straw Toppers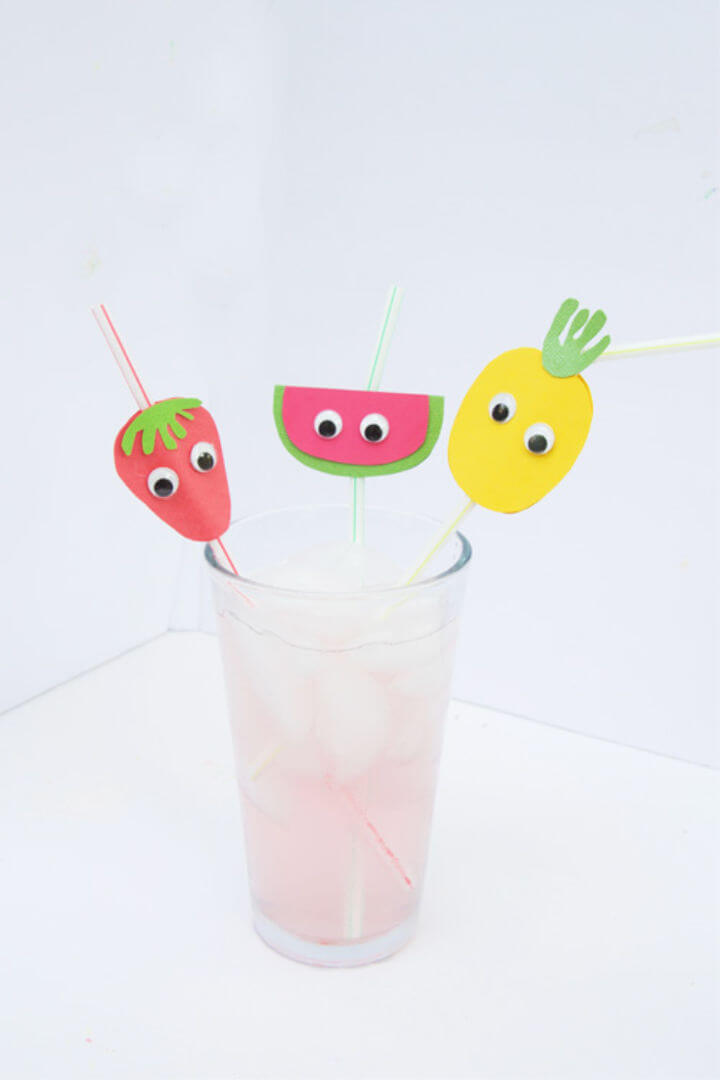 Check out these amazing presentation hack this summer for your cool drinks. These DIY hacks for fruit straw toppers are a must to create an impression that will hype up the kiddo's excitement already! Get yours in simple steps like. onelittleproject
16. Popsicle Stick Fruit – Kid Craft
Kids are fast learners! So if you have some pre scholars at home, this DIY tutorial on Popsicle sticks is for you to make your kids learn some basic motor skills and identification skills as to how to identify fruits and their colors. gluedtomy
17. Make 3D Paper Fruit
Décor for any household is something that can be enhanced as per your liking. If you want to remodel the complete look and feel of your dining, this DIY 3D Paper fruit craft is for you to try. This is easy and requires very little time to achieve. easypeasyandfun
18. Foam Watermelon Kid's Craft
If you have kids at home, enjoying their summer vacations, there is nothing better than helping them learn some summer season DIY fruit crafts. What's better than something they can do all by themselves? Like this craft right here, made up of foam in the shape of a watermelon. darice
19. Summer Fruit Paper Rosettes
For any party, décor plays a vital role. Especially if its summer-themed party, adding some fruit-shaped paper rosettes won't be a bad idea. Since summer comes up with lots of delicious foods, why not use them as a summer party welcome theme too. damasklove
20. Hanging Citrus Fruit Paper Craft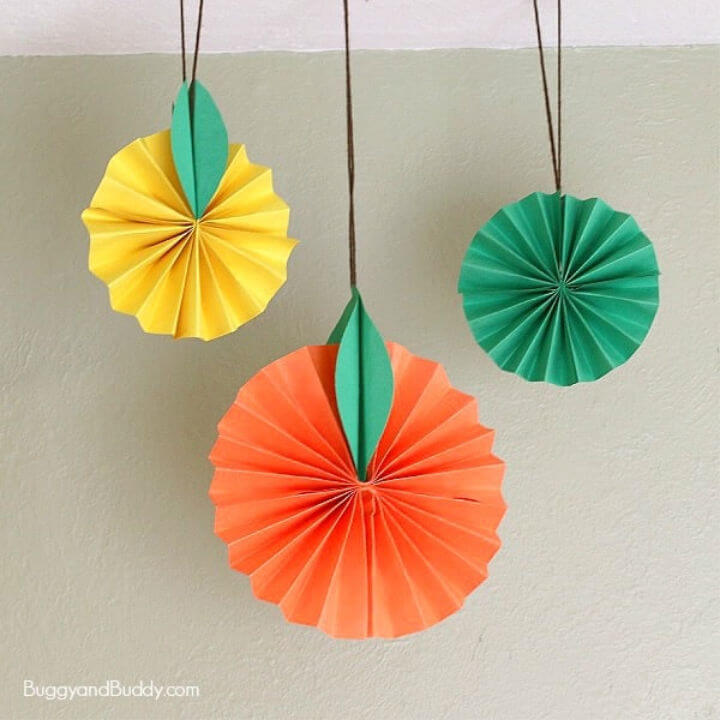 Check out this amazing tutorial on how to use a construction paper as a décor element for thematic party display! The paper is cut out into shapes of different fruits and hanged with a yarn of thread. Easy to craft for kids by using just simple supplies. buggyandbu
21. Summer Fruit Pencil Holders
We as kids were very fond of geometry or stationary cases we used to carry. This DIY Tutorial on pencil cases will surely take you back to all those school days, perfect craft for kids to learn. You can help them make one of their own like done. redtedart
22. Fruit-Inspired Party Hats – Craft for Kids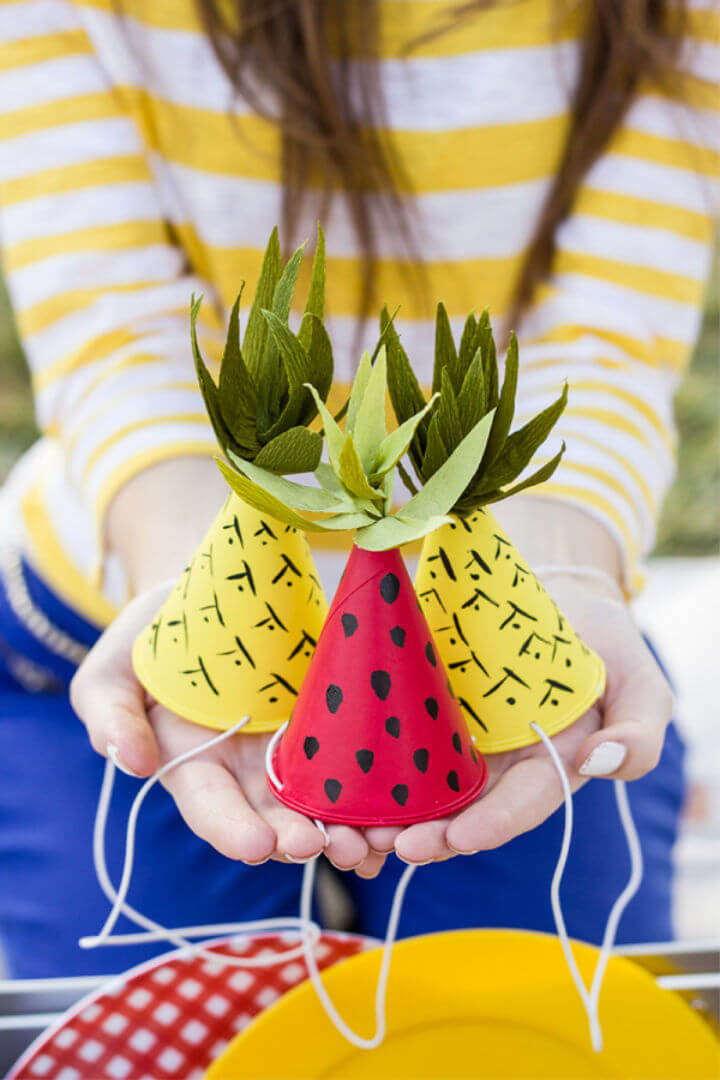 Kids love to rock party attires; for every birthday party, there is a set theme to follow. So if you are planning your kid's birthday party any sooner, these DIY fruit-shaped hats are must to try for the party. studiodiy
23. Pineapple Necklace Kids Craft
Jewelry was made to add an element of beauty in whoever wears it. Still, for kids, even if it's handmade, it carries the similar significance. Like this DIY pineapple-shaped necklace. It is a perfect gift to give to your little daughter for her next birthday. She will love it. raisingwhasians
24. Amazing DIY Paper Plate Watermelon
For kids, fun crafts are always entertaining, enter handmade and fun is already amplified! Check out this DIY Fruit crafts tutorial on how to make a paper plate watermelon. Perfect the learning hacks this summer for kids before they return back to school. easypeasyandfun
Related DIY Crafts for Kids
Conclusion:
Wouldn't you want to untangle your kid's harmful ties the digital world over too much and take them back to the real world? With these DIY fruit crafts ideas, you can show them the wonders that the land of pure creativity holds.