Find what things to make with popsicle sticks through this list of 60 easy popsicle stick crafts, activities and art projects for kids. Kids will have lots of fun exploring their creative sides with popsicle stick crafts! Whether you're looking for quick and simple crafts using only a few popsicle sticks or more advanced projects to keep the kids busy, there are plenty of options to choose from.
From decorations to models and figures, popsicle sticks can be transformed into all sorts of things—the wooden sticks crafts are truly endless. Not sure what to make? Check out these 60 easy popsicle stick crafts for inspiration. With supplies found at any local store and just a bit of creativity, your children will be able to explore their imaginations with these unique and easy-to-make popsicle crafts.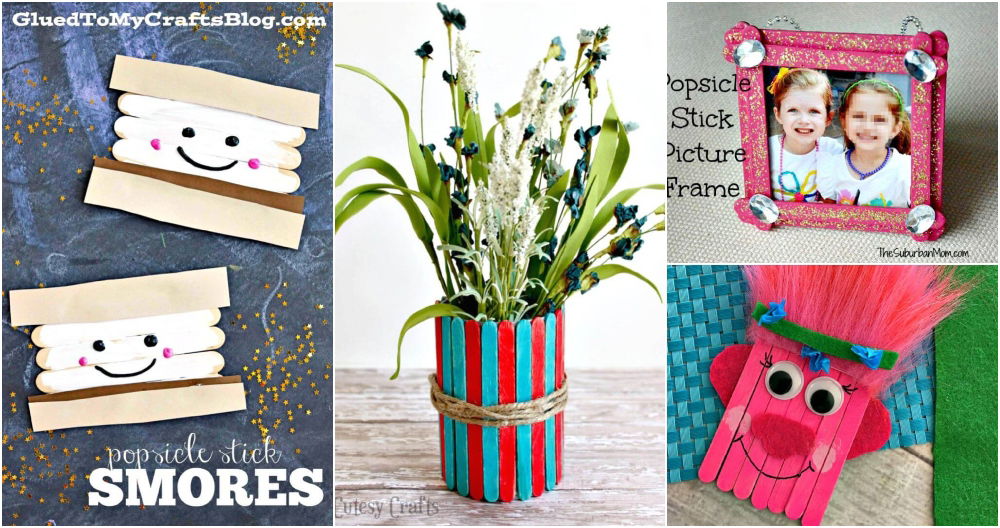 Popsicle Stick Crafts and Activities for Kids
Who knew popsicle stick crafts could be so much fun? From jewelry boxes to amazing room decorations, there are plenty of easy popsicle stick crafts that everyone can enjoy. With just a few popsicle sticks and some creativity, you can create all sorts of beautiful things such as origami flowerpots or a nighttime discovery jar. No matter how experienced you are in crafting, popsicle stick projects are an ideal activity to do with the kids or simply finish yourself. Get creative and explore 60 wonderful craft ideas using popsicle sticks!
1. DIY Washi Tape Summer Boredom Buster Jars
The craft sticks or popsicle sticks are always lying around begging for recycling and you can really do amazing projects with them! Here is the super easy popsicle stick craft project that even a kid can do! Just make the summer boredom buster jars using the reclaimed mason jars and popsicle sticks! Just adorn the tops of the sticks using the colorful washi tapes and then just put them in the jar! Don't forget to add the matching labels to your jars! whilehewasnap
2. Homemade Popsicle Stick Weaving Looms for Kids
Check out this popsicle stick project and get inspired! See this lovely kid's craft made with popsicle sticks! This mini popsicle stick weaving loom will make the perfect toy for the kids to learn weaving art! Here all you need is to make a square frame using 4 popsicle sticks and next you can add vertical string lines to turn it into a weaving loom! buggyandbuddy
3. How To Make a Marble Run With Craft Sticks
Are you lacking of some fun kids toys in your home? If yes, then make some cool ones at home using the craft sticks! Bust the boredom of your kids by making this fun popsicle stick game, the lovely marble run! Here all you need an old cardboard or shoes box and next you can fix dozens of popsicle sticks inside the box as hurdles and for the fun drop of marbles! This great and easy peasy project to do with the craft sticks! Intending to make this craft stick project? frugalfun4boys
4. DIY Kid Friendly Stick Fish Craft
Make cool things with the craft sticks from fun-making kids toys to playful home decor! This sample craft will serve for both purposes, it will make a great home decor and also a perfect kids toy! This craft stick fish toy that has been made to inspire! Here all you need some colorful pom-pom balls, some craft sticks and some pieces of felt to make this stick fish toy! darice
5. How To Make a Folding Popsicle Stick Fans
Hand fans are a common item of need while enjoying the summer time! So, if you are lacking of some hand fans in home then you must get crafty a little with popsicle sticks to make some brilliant ones at home! Just have a look at these folding popsicle stick fans that have been made to inspire! This is a great folding popsicle stick craft project that everyone will love to do! Here the bottoms of popsicle sticks have been pivoted in place using a paper fastener and next, the piece of paper cut in arched shape has been added to the top side of sticks to make the folding fan! pinkstripeysocks
6. DIY 3D Popsicle Stick Craft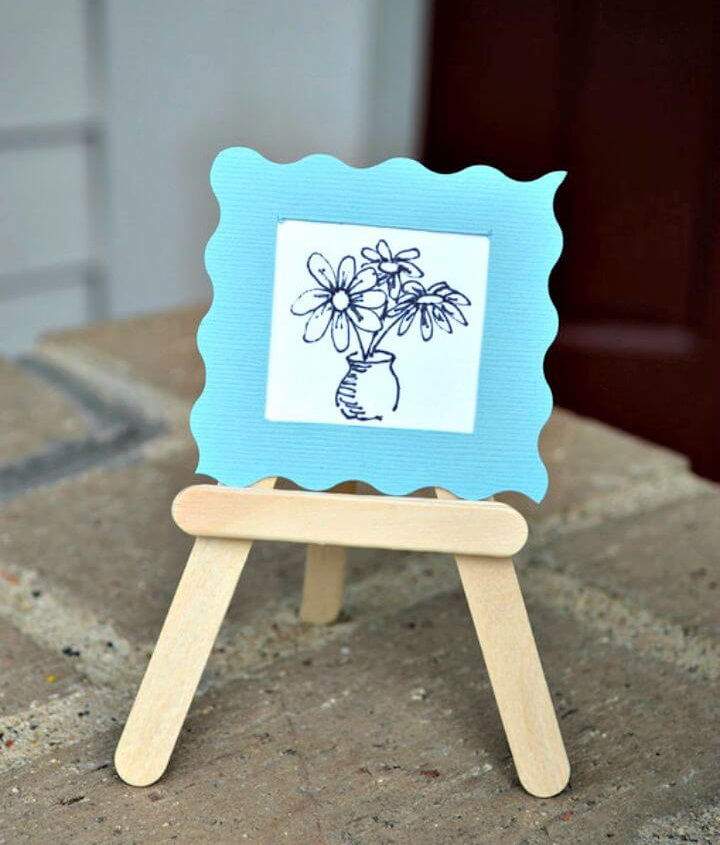 There is a big range of crafts you can make with popsicle sticks. Here popsicle sticks have been put together to make a charming self-standing easel that also comes with a cute painting board! Here the painting frames have been cut out from a cardstock, you can select in any color you like! A pretty simple but innovative craft to make with popsicle sticks! It will make perfect decor, a memo board and a message board! ikatbag
7. DIY Popsicle Stick Playing Cards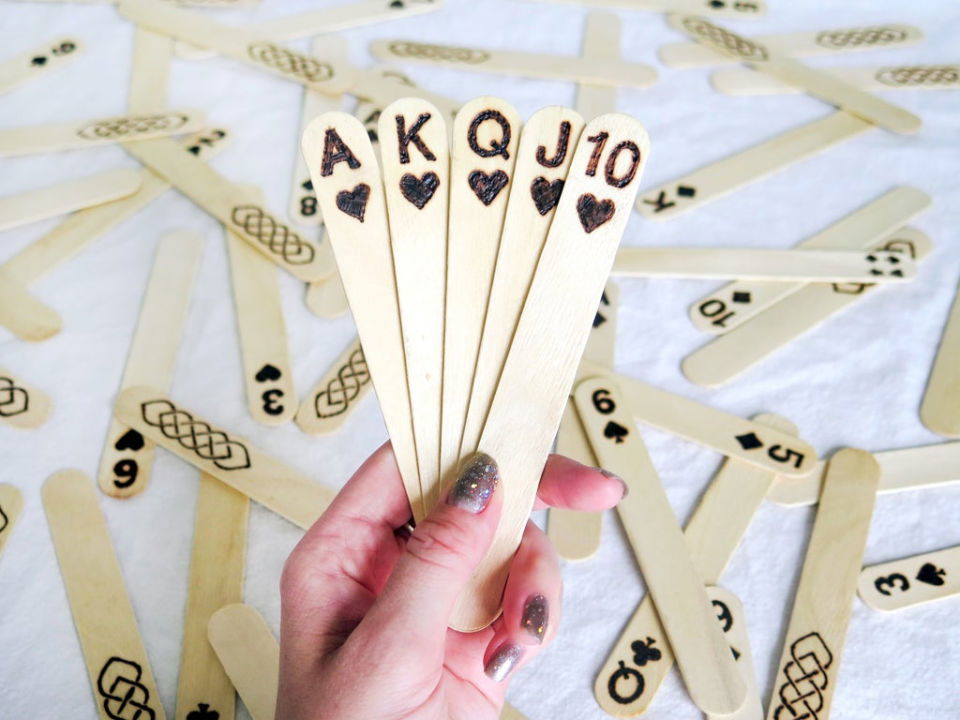 Love playing cards with a couple of friends and family members? This could be a great activity to bust the boredom and the very good news is that you can make playing cards with popsicle sticks! Here making the popsicle stick cards is pretty simple, transfer your design on to craft sticks, burn them in place using the wood burner and next just finish the burned design with sharpies and spray! Next make custom jars or cups to hold your cards! instructables
8. Easy DIY Weird Chalky Heart-shaped Candy
You can just amazing crafts with popsicle sticks for an festival and also for any Memorial Day! If you are forward to make some cool Valentine's Day gifts and decor then you can also go smartly crafty with popsicle sticks! Checkout here the sample popsicle sticks hearts that will make the perfect Valentines for sure! Here all you need some popsicle sticks, a heart template, twine glue and custom charms and embellishments to make these heart shaped Valentines, would make great gifts and home decor for sure! makeanddocrew
9. Homemade Popsicle Stick Bracelets
This great and exceptional craft project to do with popsicle sticks! Just make pieces of jewelry at home by making smart use of popsicle sticks! Here the brilliant charm bracelets have been made with the bigger popsicle sticks and they would definitely bring a great fashion to your wrist! Boil your popsicle sticks and next bend them to bracelet shapes and final step would be adorn them using paint, washi tape, stencils and custom charms! Willing to make these given popsicle stick bracelets? thegraphicsfairy
10. DIY X-TREME Popsicle Stick Bird Feeders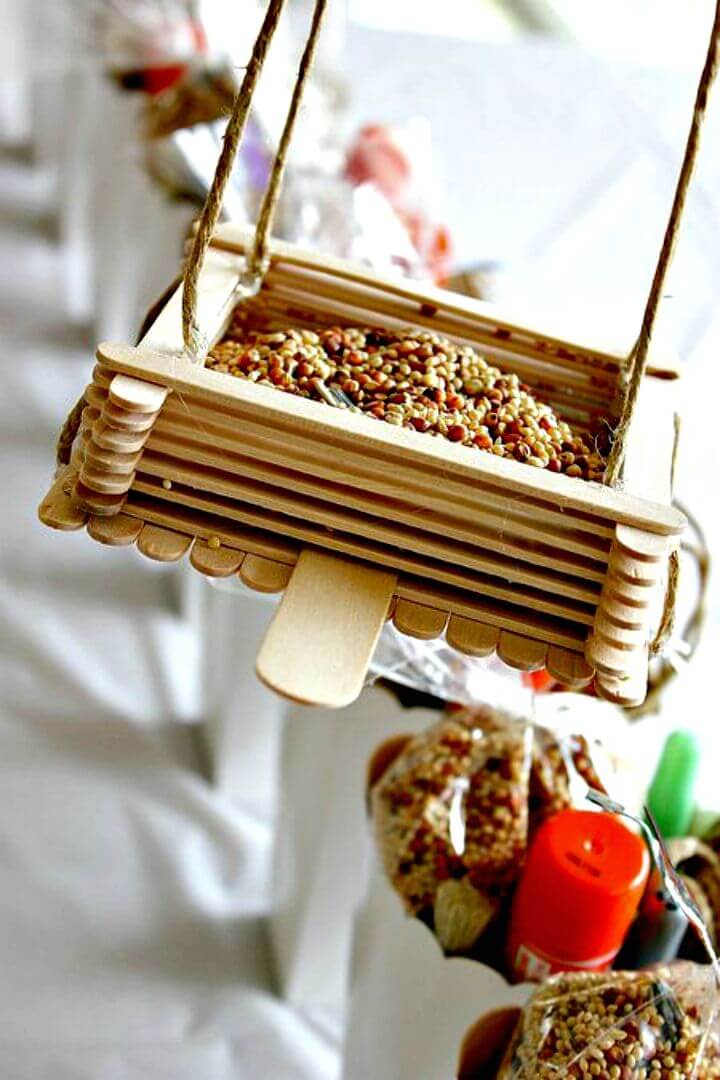 Do also custom garden and outdoor projects with craft sticks, an interesting example here is this popsicle stick bird feeder! Here all you need is to put together popsicle sticks to make a wooden box which can then be hanged in your garden after filling with bird seeds to make a beautiful bird feeder! tonyastaab
11. DIY Catapult for Kids to Make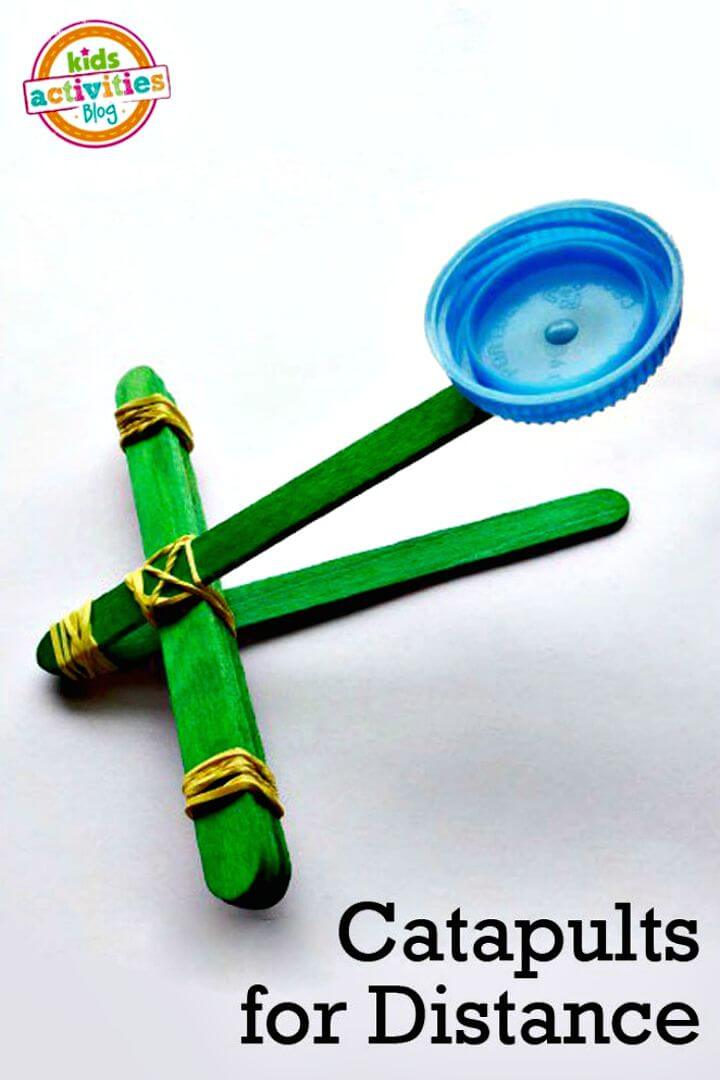 You will definitely fall in love with this another fantastic toy that will definitely make a heart winning gift for a fun loving friend! This sweet little catapult made by using the painted craft sticks, rubber bands and a plastic bottle cap! This innovative and genius craft to do with popsicle sticks and you can easily make this interesting kid's toy! themaven
12. Barnyard Farm Animals Using Popsicle Stick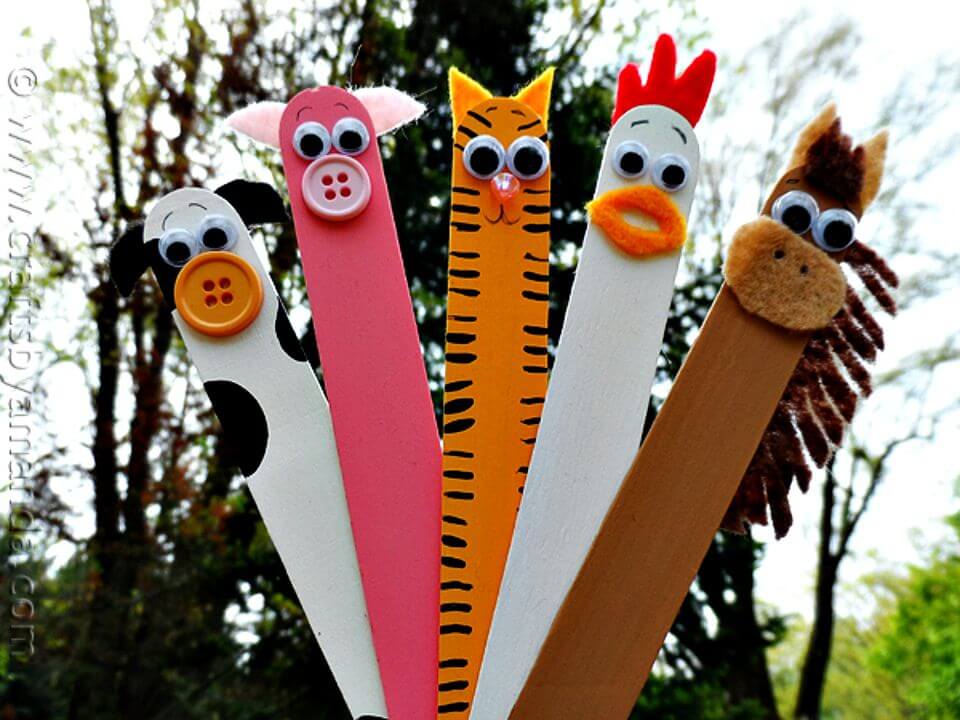 Another innovative project here to do with the craft sticks, just make farm animals with popsicle sticks that will make a great gift to a garden loving person! Here all you need is to paint the craft sticks for custom skin pattern for your selected animal and then you can make the other body parts like hairs and ears and beaks using the felt in respective colors! For making eyes, the googly eyes would just rock! One more extra genius and brilliant popsicle stick craft project to make at home! craftsbyamanda
13. Cute DIY Avengers Bookmarks Craft For Kids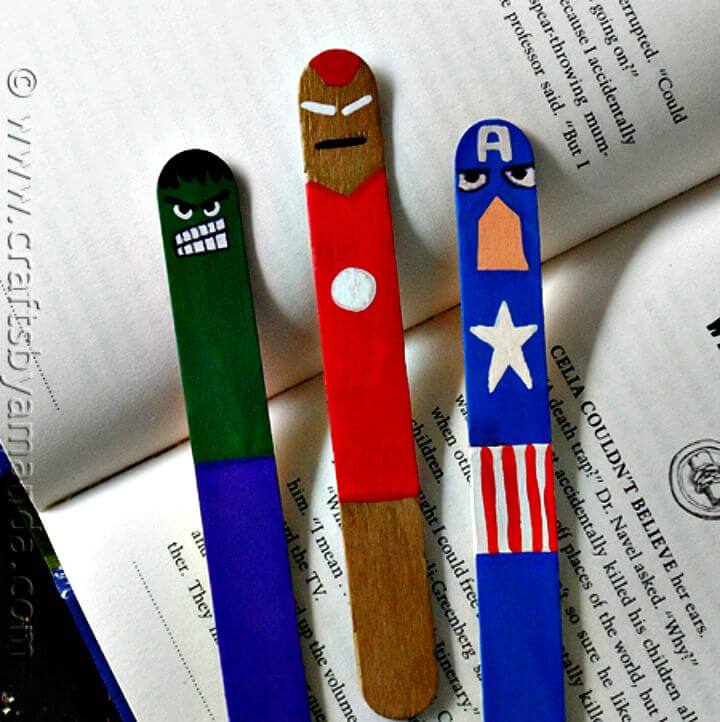 All kids just love the avengers and other heroes so you can also do various craft sticks crafts inspired of avengers that will definitely go enticing to kids eyes! Have a look at these avengers bookmarks that will make super sweet mini gifts for all school going kids! Here popsicle sticks have been painted to appear in captain America, iron man and hulk avatar and hence they will all be loved dearly by all the fun loving kids! craftsbyamanda
14. Super Easy DIY Popsicle Sticks Clock
Have a look at this amazing popsicle stick craft that is all about to boost your interior wall decor and charm! Grace up your walls by mounting the colorful popsicle sticks there as a wall clock! Here all you need a clock kit and some custom popsicle stick numerals to make this adorable all clock that is a delight to view and would definitely bring great visual details to any interior wall! Willing to make the same clock on your interior wall? hiphousegirl
15. Kids Treasure Box made with Popsicle Sticks
We often need custom boxes in home to store the different of our materials like the jewelry items, tools, toys and other keepsakes! So, you can make mini boxes at home using popsicle sticks that can be used perfectly as toy boxes and also as treasure boxes! Moreover, you can also start using them as keepsake boxes at home! Here all you need is to put together popsicle sticks flat as braces and side supports to make the square shape boxes and their lids! Go with custom painted sticks to your boxes in eye-catching appeal! powerfulmother
16. Easy DIY Picture Frame Kids Craft
It just double up the beauty of your pictures and photos if you just frame them up nicely! So, if you are willing to create a handsome display of your photos then you can make photo frames at home using popsicle sticks! Just fall in love with this sample picture frame! Here all you need is to put together the custom painted craft sticks together making square shapes and then you can adorn your frames using custom jewels, glitter and embellishments! thesuburban
17. Popsicle Stick Vases – 4th of July Craft for Kids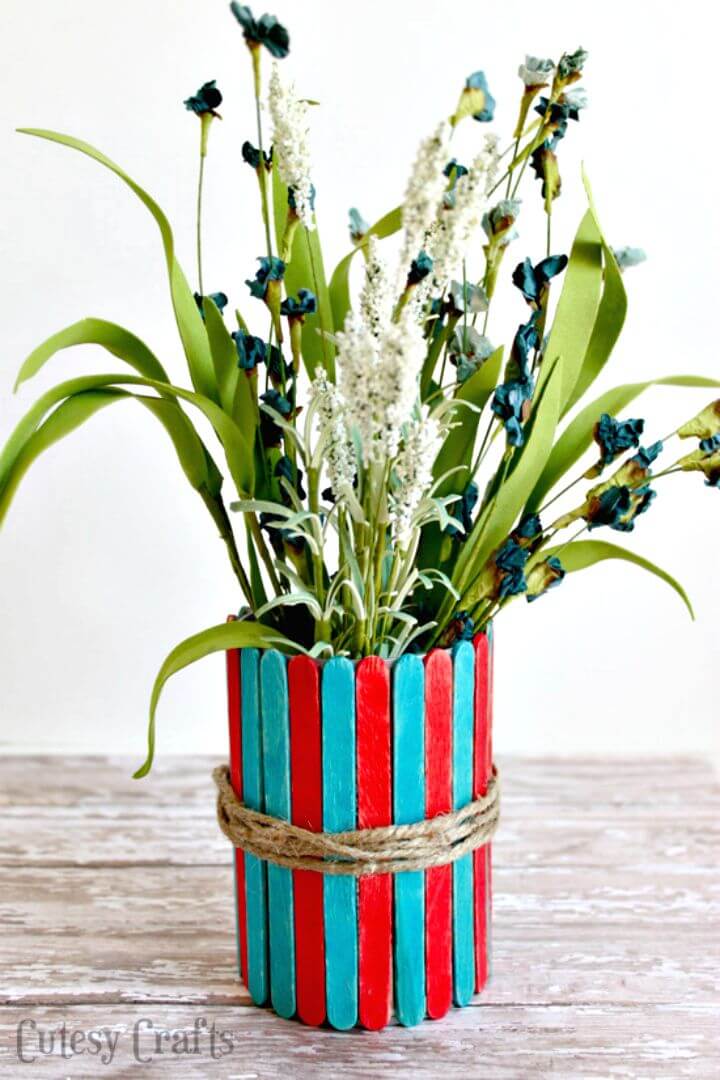 You can also do amazing makeover projects with popsicle sticks that will help decorate and personalize your items of need and interest! Get inspired of this popsicle stick vase that comes covered with vertical popsicle sticks that have been tied in place using a piece of rustic rope! Here popsicle sticks have been painted in blue and red as per demand of 4th July decor! Another outstanding and smart art to do with craft sticks! cutesycrafts
18. How To Turn Popsicles Into An Adorable Bird House
If you are genius enough in your imaginations then you can also do various creative crafts with the craft sticks! Here we would like to give a creative spark to your thinking by sharing this handsome birdhouse that is inspired of a bungalow and has purely been made of custom painted popsicle sticks! Here popsicle sticks have been packed flat and tight to make first the box style square base of the birdhouse and also for the chevron roof of the birdhouse! This brilliant and fantastic craft stick project to do at home! This colorful birdhouse will also be a way to add some colors to your garden! babble
19. How To Make Popsicle Stick Smores
You will fall in love with this super cute popsicle stick craft that is cute and lovely! Here popsicle sticks, cardstock and craft paint have been used to make very gorgeous smores that will be lovely dearly by all kids! This great and sweet craft project to do with popsicle sticks! gluedtomycraft
20. DIY Popsicle Stick Hexagon Shelf
Geometrical wall decor are all in fashion and you can also spruce up your walls by installing some geometrical wall shelves and also by painting custom geometrical patterns there! Just make geometrical wall shelves also at home using the craft sticks, just check out this hexagon shelf that has been made of popsicle sticks and is something super beautiful to look at! This custom geometrical wall shelf will not only display your items of interest and decor but also bring amazing visual details to your targeted interior wall! Here is how to make this honeycomb craft stick shelf makeanddocrew
21. DIY Popsicle Stick Glitter Earrings
Make these pieces of jewelry with popsicle sticks that will not take much time to be in your hands! You will definitely praise these craft stick glitter earrings that have been made by taking a popsicle stick in to mini square pieces which have then been painted, dipped in glitter and then has been added with earwire to make cool earrings! theboldabode
22. Handmade Popsicle Stick Hanger
Every time we wish to bring the garden decor vibes to our interior we go with the planters which can be displayed in several different ways in your home! You can mount them on wall, can put them on shelves or tables and can also hang them aloft to look great and fantastic! So, if you are sorting out some lasting hangers to hang your planters then make some great ones also at home using popsicle sticks! omaha
23. DIY Bending Popsicle Sticks
You can make amazing decor with popsicle sticks and can also use the same craft sticks to decorate your items of need and interest! Here an ordinary cylindrical vase has been adorned with popsicle sticks and hence it is just damn beautiful! Here popsicle sticks have been boiled and then have been bent to fit to inside the bottles! The final step would be to arrange the bent craft sticks inside the bottles making gorgeous patterns and hence the lovely look of them has been created! thecheesethief
24. Cheap DIY Gilded Popsicle Stick Garland
Make very good party decor with popsicle sticks without getting a bit expensive! Here beautiful party garlands have been made with the craft sticks that are damn beautiful! Just glue popsicle sticks on pieces of cardboard to shape up mini square boards and write custom alphabets on them! Next make them gilded using gold sharpie markers and thread them all onto a piece of string to make great garlands! parscaeli
25. Easy DIY Popsicle Wax Paper Lantern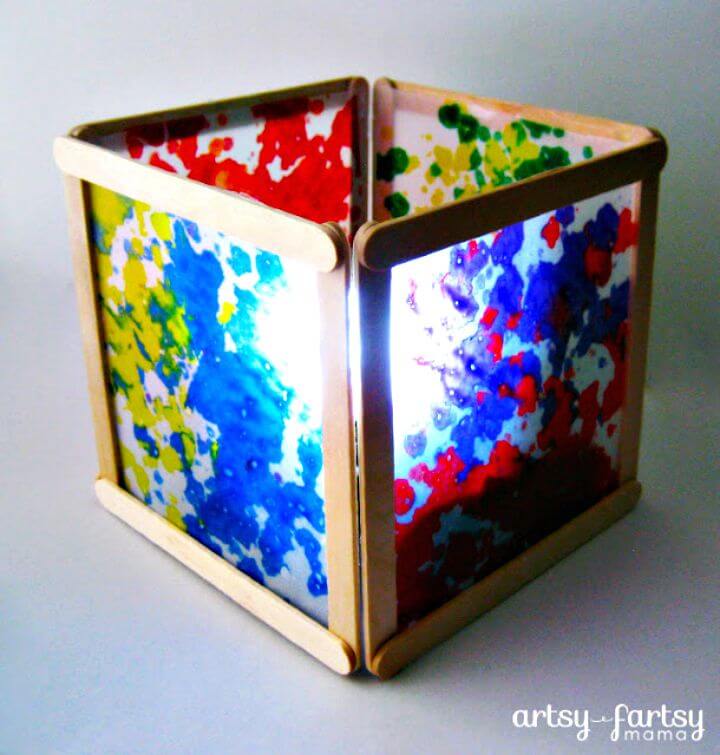 Another wonderful crafting project to do with popsicle sticks! Here you will get a fantastic paper lantern centerpiece that will be a matter of second to make with popsicle sticks and wax paper! Just arrange popsicle sticks to make hollow square frames and then cover them all from inside using colorful wax paper! Make 4 frames of this kind and put them all together to make a cube shaped lantern! Put your light inside of your lantern and enjoy! artsyfartsymama
26. How To Make Pallet Coasters
This ovely craft to do with popsicle sticks! Just make pallet coasters with the crafts sticks and they will just make a great housewarming gift to a new home owner! Here the ideas is just to cut down the round edges of popsicle sticks down then to use the leftover sticks to shape up some mini pallets which can be overwritten for some custom quotes and messages to make adorable coasters! thinkcrafts
27. DIY Garden Markers Using Popsicle
You can do various outdoor and garden improvement projects also with popsicle sticks! If you are a garden lover then you will really like these garden markers that are mini but super cute! Here all these markers are made with popsicle sticks! Paint your sticks in custom colors and also for custom shapes and patterns on them, next write custom letters on them or draw the garden veggie or flower shapes on them! aimeebeeblog
28. DIY Popsicle Stick & Wooden Bead Trivet
Another super smart and creative craft stick achievement is here, the very trivet that has been made with popsicle sticks put together to make a perfect circle and has been equally spaced using the colorful wooden beads in between! Here the assembly of entire trivet has been done by using the elastic that have been threaded into the beads and then into the holes made in the craft sticks to get all tightly in place! harmonicmama
29. DIY Wall Clock from Popsicle Sticks
Intending to spice up your wall with some colors and also with some flawless decor? If yes, then you can simply make this wall clock that is made of wooden beads and also with popsicle sticks! Here all you need is to take popsicle sticks in perfect round shape with colorful wooden beads as spacers among them! The idea is to thread a piece of string or twine through the wooden beads and then through the holes made in popsicle sticks! Install your clock kit to finally finished popsicle stick clock and enjoy! dipfeed
30. Simple DIY Popsicle Sticks Snowflakes
Here is how to boost your home decor using popsicle sticks! Just go smartly handmade with the craft sticks and make great snowflakes which can then be strung up or can be mounted on your interior wall as fascinating decor! Checkout there the sample snowflakes that are damn cute and are super easy to make! Here all you need is to glue together the craft sticks making beautiful shapes of snowflakes and that's it! Here you can do this project with both blank or painted popsicle sticks! agirlandagluegun
31. How To Make Airplane Magnets
We really don't know that what to call these handsome airplanes, toy for the kid or a perfect wall decor! These are here the airplane magnets that are designed at home and are made of popsicle sticks and clothespins which are easy to access! Here the whole body of the airplane is made of a clothespin and next popsicle sticks have been mounted on it as fans! Paint the fans in your own desired way and then finish your airplanes with the magnets! make happy
32. DIY Popsicle Stick Ladybird and Owl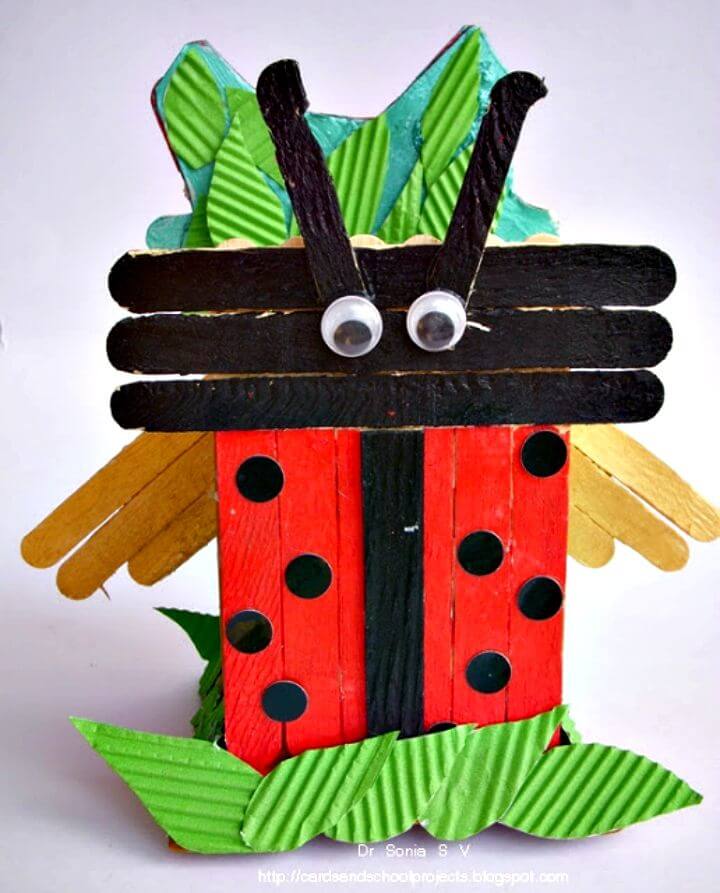 Make sweet toys and decor with craft sticks that will be ready just at a drop of it! Rest of story will tell this ladybird and owl box or decor that has been made with a cardboard box and with the craft sticks! Here the craft sticks have been glued on the cardboard box in different arrangements to create the ladybird and owl avatar! Next the custom paint colors have been used to paint the body parts! Here the googly eyes have been used for the eyes and then the faux leaves have been glued to bottom side for a more enticing look! cardsandschool
33. How To Build A Chain Reaction
This brilliant fun game can be made with popsicle sticks! Just put together popsicle sticks to build a chain reaction that will help explode the sticks in a lovely way that will be a big fun to view! Here all you need a big bundle of paint sticks which can be arranged on one another to build the chain reaction! Checkout here the sample exploding arrangements of craft sticks and you can do the same too at home to please your kids! frugalfun4boys
34. Colorful Rainbow Craft Stick Stationery Holder
Make storage units, desk top organizers and also the stationery holders with popsicle sticks! If you need some inspirations then just take a look at this rainbow craft stick stationery holder that even a kid can make! Here all you need is to paint the craft sticks in rainbow colors which can then be glued around a toilet paper roll to make a perfect rainbow organizer or stationery holder! You can also use it as a makeover up tool holder on your dresser table! Give an accent ribbon or twine wrap to your finally finished stationery holder and enjoy! crafty crafted
35. How To Make Pen & Pencil Holder
A beautiful craft project to do with the craft sticks, just make pencil holders with the craft sticks! Here all you need is to make a square box with the craft sticks! Build each side of the box using custom painted craft sticks and next just put together all the sides making a beautiful box that will serve great as a pencil holder! Don't forget to adorn your finally finished pencil holder with custom charms and also by writing custom letters over it! Step-by-step instructions here jumpstart
36. Cute DIY Popsicle Stick Garden Fairies
Jazz up your garden space also by making cool garden decor with popsicle sticks! Turn your garden space into a mini heaven by adding these garden fairies, an innovative craft stick achievement! Here all you need the cardstock, popsicle sticks, scrapbook paper, paper heart doilies and colored markers to make these garden fairies! This great, smart and genius project to do with the craft sticks! Your kids will also love dearly these fairies if given as a gift to them! gluedtomycrafts
37. How To Make Popsicle Stick Bald Eagle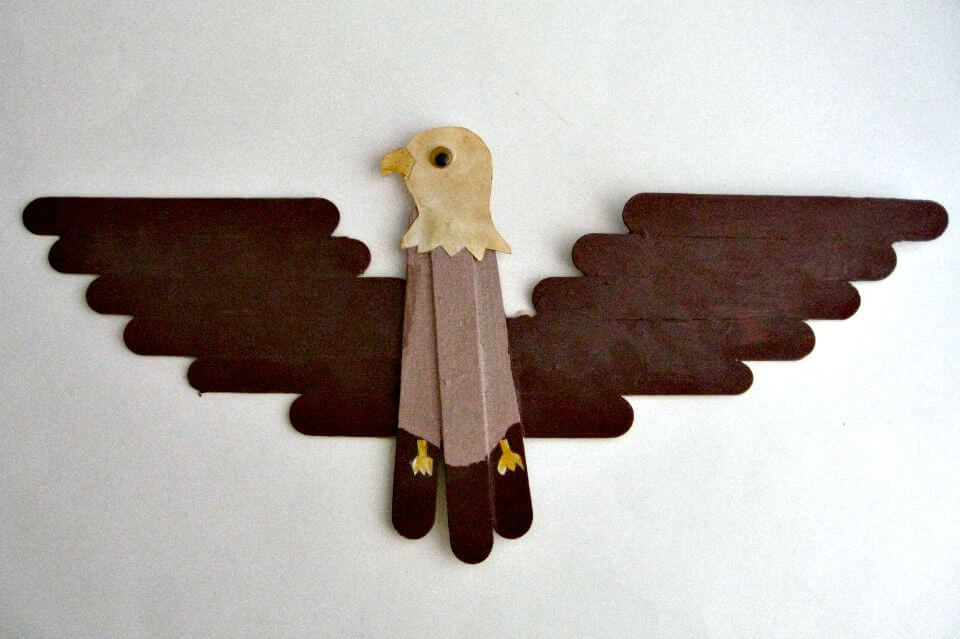 Intending to make your interior wall look fascinating by adding some amazing whimsical decor? If yes, then would like to you tweak your hands a little on popsicle sticks to make some heart touching wall art pieces! Just put a glance at this bald eagle wall art piece that is made of popsicle sticks and is really a ingenious piece of DIY crafting! Just arrange the craft sticks flat to make the body and wings of the eagle and cut out the face and other body parts out of cardstock that can be painted in respective eagle colors! Prefer the googly eyes for the eyes! Willing to make this bald eagle! cindyderosier
38. DIY Popsicle Stick Scarecrow Magnet
Look at this another art and craft project done with popsicle sticks! Here the scarecrow magnet has been made with the craft ticks that will make outstanding decor for your fridge! It can also be mounted on any metallic wall board to boost the home decor and is something super easy to make! Put together a set of jumbo popsicle sticks and then paint a scarecrow face on it, paint also the hat and add some faux hairs and next just finish it up with a magnet at the back! todayscreative
39. Super Easy DIY Stick Wreath Craft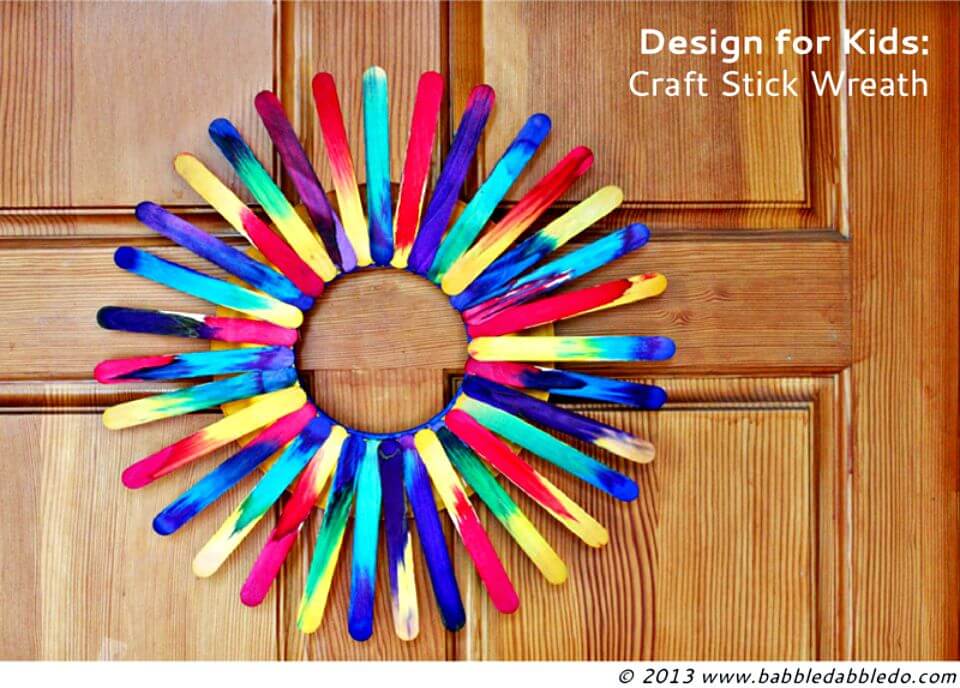 If you are forward for some enticing wreaths for your front door then you must give a chance to craft sticks to make some cool ones at home! Paint the craft sticks and then just paste them all around a wreath form to make beautiful wreaths! In this sample wreath project, the wreath form is made of a paper plate cut out from the center! Glue the your painted craft sticks in place and next tie a ribbon or use custom hanging systems to hang anywhere in or out of your home! babbledabble
40. Balancing Popsicle Sticks Game
Get also crafting with popsicle sticks to make interesting games for your kids that will not let them get bored in their spare time! Here a balancing game has been made for the kids which can really make the kids busy for hours for sure! Here all you need a half cut piece of foam ball and a cardstock round disc to glue over the foam ball half to make the game! Paint your cardstock disc in your own favorite way and then start paying the game with assorted craft sticks! buggyandbuddy
41. Color and Pattern Matching Game for Kids
Another smart game is here to make with the craft sticks! Here the idea is just to make the pattern matching game for the kids using popsicle sticks! Print out the custom popsicle pattern on paper and next paint the craft sticks in respective color and given them to your kids to match the pattern displayed on the print! This would be a best game plan to boost the creative sense of a toddler or a growing kid! Another great kids craft project to do with the craft sticks! theconnection
42. How To Make Popsicle Stick Dragonfly Spring
You will definitely praise this creative popsicle sticks that helps to produce an amazing type of kids toys! Here popsicle sticks have been used to make dragonflies that will make interesting kids gift toys! Here all you need a wooden clothespin and a pair of popsicle sticks to make a dragonfly! Just treat the clothespin as readymade body fo the dragonfly and make the wings by gluing popsicle sticks in x-shape on the clothespin! Paint your finally finished dragonfly, add googly eyes and also a little glitter and that's it! Get inspired of the sample dragonfly! craftymorning
43. DIY Garden Plant Markers for Mother's Day
Do also some amazing garden decor projects with the craft sticks! Here would like to inspire you with garden plant markers that will make a great gift for the gardening loving moms and hence can be given on the Mother's Day to win the heart of your mom! Here all you need is to paint your jumbo sized popsicle sticks and next you can draw custom shapes on them and can write custom names of plants on them! Another easy but great project to do with popsicle sticks! thecountrychic
44. DIY Velcro Dot Craft Sticks
You can make amazing kids games with craft sticks just like the lego! Just like the lego units, popsicle sticks can also be put together to make different shapes, patterns and designs! So, why not turn a set of popsicle sticks into an amusing kid game? Just paint your craft sticks in numerous different colors and then paste the Velcro dots on their very ends! Next you can kids can connect the loops of Velcro dots to hooks making amazing craft sticks patterns and shapes! powerfulmother
45. Gorgeous DIY Sidewalk Chalk "Popsicle"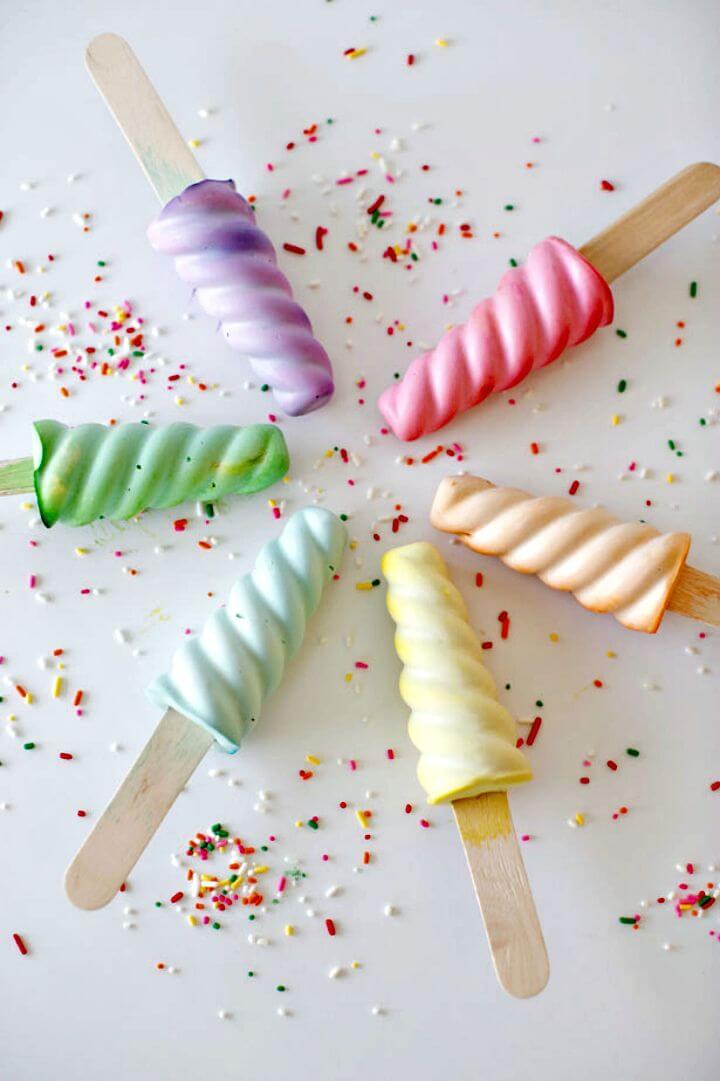 You mostly get popsicle sticks after eating the top ice creams from them! So, how about to turn popsicle sticks again into popsicle? The idea here to make the faux ice cream to paste them on the top of popsicle sticks! Just make use of plaster of Paris, food coloring and water and make a mixture which can be added in the custom popsicle molds! Add popsicle sticks in the center and then let them dry! Checkout here the sample colorful popsicles made at home! Another kids craft to do with the craft sticks! hellowonderful
46. DIY Popsicle Stick Bracelets
The craft projects to do with popsicle sticks are just never ending! Get inspired of this another fantastic one, make jewelry pieces with popsicle sticks without getting a bit expensive! Look at these stunning bracelets that are made of popsicle sticks! Here the idea is to make popsicle sticks too soft to bend, this can easily be done by boiling popsicle sticks! Next, drill holes in the very ends of your bent sticks and add thread into the bigger rubber bands and knot to make handsome bracelets for yourself and for your friends! Paint your craft sticks or adorn them with duct tape for more amazing appeal and look of them! bespangled
47. How to Make Menu Frames
If you are running a coffee shop or restaurant then you will definitely like this another smart popsicle stick hack! You can make menu frames with popsicle sticks that can be placed on restaurant or coffee shop tables! You need is to give sharp angular cuts to the ends of popsicle sticks. And next, you can put them together, making adorable frames! Glue your menu on the frame and then install the backing with back support and make menu frames! build basic
48. Adorable DIY Pearl Statement Ring
Another amazing DIY jewelry project that you can do with the popsicle stick! Just make outstanding statement rings with popsicle sticks and they would also be super gift-worthy! Just grab a mini popsicle stick and paste the flat-backed beads on it and then give it a coat of metallic spray paint! Install you ring base and get a pear statement ring! adventuresin
49. Creative Popsicle Stick Boat Kids Craft
Keep it continue to make the fun-making toys for the kids using the craft sticks! Here the lovely boat toys have been made for the kids using popsicle sticks! Just put flat popsicle sticks and layer them up making a thicker square, add boundary around it and your boat is ready! Glue custom mini toys inside the boat and also install the sails that can easily be made using extra popsicle sticks and some triangular pieces of felt! inspirationmade
50. Easy DIY Magic Wand Reading Pointers
One more epic popsicle craft is here that will definitely please all the school going kids and book lovers! Here the ready pointers have been made with popsicle sticks that are inspired of magic wands! Paint your craft sticks in a custom color and then glue the sparkly foam starts on its top and fill the rest with stick-on jewels! This will transform the painted popsicle sticks into charming magic wands that will be used as reading pointers! Get inspired of the given samples and do make them! creativefamilyfun
51. DIY Beaded Rainbow Wind Chime Kids Craft
Kids always like the colors and this is here another colorful crafting project for kids to do with popsicle sticks! Whether you are willing to decorate your indoors or outdoors, this handmade beaded rainbow wind chime would make a great decor for sure! This wind chime is having the top triangular frame made of popsicle sticks and comes with hanging strands of beads that are also self-made! So, just grab some paint sticks, paint, string and assorted beads to make this wind chime! Grab the full free instructions from here howtothisandthat
52. Handmade Pretend Play Felt Popsicle Craft
Make again the faux popsicles out of popsicle sticks that will make great kids toys and also amazing party decor if threaded on a piece of a string! Here all you need is to glue the felt piece on the popsicle stick which should be cut in shape of popsicle ice-cream! Check out the lovely pretend kids popsicles that are beautiful and much near to real! Adorn also your finally finished popsicles with colorful pom-pom balls and glitter for better results! darice
53. Easy DIY Trolls Poppy Popsicle Stick Craft
Repurpose also popsicle sticks to make multi-functional crafts! Check out this trolls poppy that is made of popsicle sticks, felt and with faux fur! Start your project by painting popsicle sticks in pink then add the pink button nose, googly eyes, felt ears and install the pink faux fur hairs at the end! Your finally finished trolls poppy would make a great a kid toy, a handsome wall decor and also a whimsical garden decor for sure! Intending to make this trolls poppy? craftcreatecook
54. How to Turn Popsicles Into Moana Canoe
Have a look at this another fantastic board, the Moana Canoe that is also made of popsicle sticks and would make an epic present for the kids! Here again popsicle sticks have been packed tight flat in cross arrangements to make a beautiful box which is your boat! Next you can install the ail in the center that can also be made with popsicle sticks and final step would be embellish your boat with custom flowers and charms! Willing to clone this Moana Canoe? catchmyparty
55. DIY Popsicle Stick Baby Chick for Spring
Making popsicle stick baby chicks is an adorable and unique craft that can be enjoyed during the spring season. With just a few simple materials such as jumbo popsicle sticks, white school glue, yellow/orange cardstock, yellow decorative scrapbook paper, yellow paint, paint brushes, paper plate, scissors, and a black marker you can make your own popsicle stick baby chick craft. This particular activity is also great for improving fine motor skills and enhancing creativity in children of all ages. So why not spend the afternoon making popsicle stick baby chicks? makeandtakes
56. DIY Popsicle Stick Organizer Supplies
If you are on a mission organization then you can make outstanding holders, organizers and storage boxes with the craft sticks that will really help you to organize your messy collection of things! Make the popsicle stick boxes and start using them as desk top organizer, as craft room supply holders and also to store the other items of need! This DIY popsicle organizer stores the party supplies like the drink straws! Here you can use the differently painted craft sticks to make these organizers! happinessishome
57. Make Your Own Popsicle Stick Picture Frame
If you are missing out some enticing picture frame to display your memorable photos then no need to worry about it as there are popsicle sticks for a great rescue! Just paint your popsicle sticks and put them together making adorable photo frames in just a few seconds! Just put flat painted sticks on the floor, add the back supports and make adorable photo frames! Next just clip your photos on the frame and adorn it up using custom decorations! This picture frame has been embellished with button accents! afewshortcuts
58. DIY CD Plant Protectors
If you are owning a garden where you have grown some expensive plants and hard to find herb then you really need to ensure its better protection! You can also get a great help from popsicle sticks in this case, just make the beautiful plant protectors using the reclaimed old CD dics and some painted popsicle sticks! Here the idea is just to paint the craft sticks and then to paste all around the CDs! Next you can hang your finally finished plant protectors in your garden with the help of a string or rope! thefairyandthe
59. How to Make Craft Stick Watermelon
One more extra brilliant wall decor is here that is purely handmade! Here you are going to see an amazing use of popsicle sticks and the paint that helps spice up the interior walls! Pack flat the craft sticks to make a thicker wooden board in any geometrical shape and next just paint it in a desired way for a custom avatar! We painted the popsicle frame to create a watermelon, then added lettered tiles and a ribbon bow for decoration. Finally, we hung the finished watermelon art on the wall using the wire loop. craftsbyamanda
60. Homemade Pen Stand and Mobile Phone Holder
This is an amazing DIY Pen stand and mobile phone holder made with craft sticks. It is the perfect way to hold your phone while you work on your project. All you need is a craft stick, a screwdriver, and glue.
Related DIY Projects and Ideas
Popsicle Stick Catapult Ideas: Here are cool DIY popsicle stick catapult ideas that might help you get your kids more creative with their crafting.
Easy Crafts for Kids: Crafts are a fun way to express your creativity and teach your kids something new. Check out this list of easy crafts for kids from arts and crafts to food!
Puppet Crafts for Kids: Are you looking to surprise your kids with something different this year? Here is a list of fun puppet crafts for kids to make that includes easy, step-by-step instructions, as well as materials needed.
Crafts to Make and Sell: Find out how to start an online business with these easy crafts to make and sell for profit that is a guide to crafting something unique, practical, with information on materials, supplies, tools needed.
Ideas to Reuse Milk Jugs: Did you know that the average family of four uses about 200 jugs of milk each year? Here are creative ideas to reuse milk jugs and make your own crafts.
Sensory Bags for Kids: Make sensory bags for kids in a jiffy with these easy to make sensory bags that stimulate your kid's senses and keep them engaged during playtime.
Space Crafts for Kids: These lovely outer space crafts are easy to make and fun to build. They're great for any kid who wants to learn how to make crafts or add some fun into their bedroom.
Conclusion:
Popsicle sticks are a versatile and affordable craft material that can be used to create all sorts of fun projects for kids. These 60 easy popsicle stick crafts are just a few ideas to get you started. So raid your child's stash of popsicle sticks and let the crafting begin!