Find these fun and easy to make 30 DIY shark crafts for toddlers, preschoolers, and kids of all ages to keep your little ones busy for hours! If your little ones are having a shark week at school or your preschoolers are learning for schools, these shark crafts can be of great help to enhance their learning curve and enjoy the process meanwhile! These shark crafts are also a great way to help your kids stay on top of their motor skills, learn and have a strong grip on arts and crafts. A simple gluing together or cutting across the edges cannot hurt any kiddo but, of course, in elder supervision!
In our DIY shark crafts, we have added these fun ways to transform empty toilet rolls into shark binoculars and other 3D shark crafts! From clothespin shark puppets to shark magnets, we have added plenty of fun things and crafts for you to enjoy making with your little ones.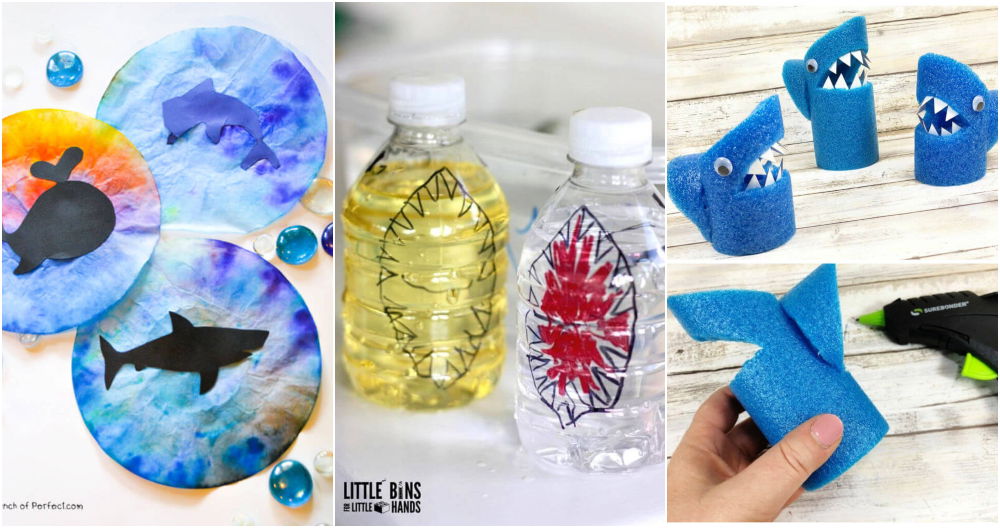 Shark Crafts and Activities for Kids, Toddlers and Preschoolers
Make your kids enjoy and understand how sharks float, what sharks look like, and other shark families by making shark families out of empty egg cartons. Or your white Styrofoam cups to make sharks! It is evident that with our shark crafts in your hands, you can make pretty easy, funky, and insanely inexpensive shark crafts for the party decor. So, gather around your recycled newspaper, glue, glue gun or stick, scissors, google eyes, and other basic craft notions, and let's get started!
1. DIY Shark Toilet Paper Roll Craft
Make something exciting and fun with your little ones by working on an empty toilet paper roll! You are going to need toilet paper tubes (for as many sharks as you want to make), gray paint, paint brushes, googly eyes, school glue, hot glue gun, and a black marker. gluesticksgum
2. Kid Made Shark Craft – Recycle Art
Time for some recycling in our DIY shark crafts! Make your kids make the most out of things that even seem useless at a point. By using an empty water bottle with the main materials, an empty cereal box, or cardboard. funonadime
3. Make An Egg Carton Shark Craft for Kids
Time to make tiny 3D sharks using the empty egg cartons! Transform these egg cartons into these cute tiny shark families and make learning the "baby shark do do do" poem more fun for your kids! craftsbyria
4. DIY Shark Sensory Bottle
Sensory bottles have been this mystery fun for quite a long time! Make this super cute and enchanting sensory shark bottle! What you need for making this is a clear bottle, blue glitter glue, blue glitter, water, and gray foam shark. stirthewonder
5. Snapping Shark Craft
Check out this funky snap shark craft! With an open snapping mouth with different colored gray, blue, and red paper cards. Googly eyes, zig-zag scissors, glue, and double-sided sticky tape. You can also download the free template from the tutorial. teatimemonkeys
6. Pool Noodle Shark Dollar Store Craft
By using dollar store supplies, make these super cute 3D sharks. These fun pool noodle sharks can be made by picking up supplies from the dollar state. They can make a super cute and insanely cheap party decors. mamacheaps
7. DIY Popsicle Stick Shark Craft
There are, after all, just SO SO many exciting things that you can do using popsicle sticks! Like the one here. Make this super funky popsicle stick shark craft using some glue to combine the popsicle sticks, googly eyes, and some paint. todayscreative
8. Create Giant Shark Suncatcher Craft
Contact papers are the perfect sun catchers. They don't make the room too dark, but actually, let the right amount of light come in! By using some contact maker, permanent black marker, tape and tissue paper, and a huge shark! andnextcomesl
9. How to DIY Sharks Float – Shark Crafts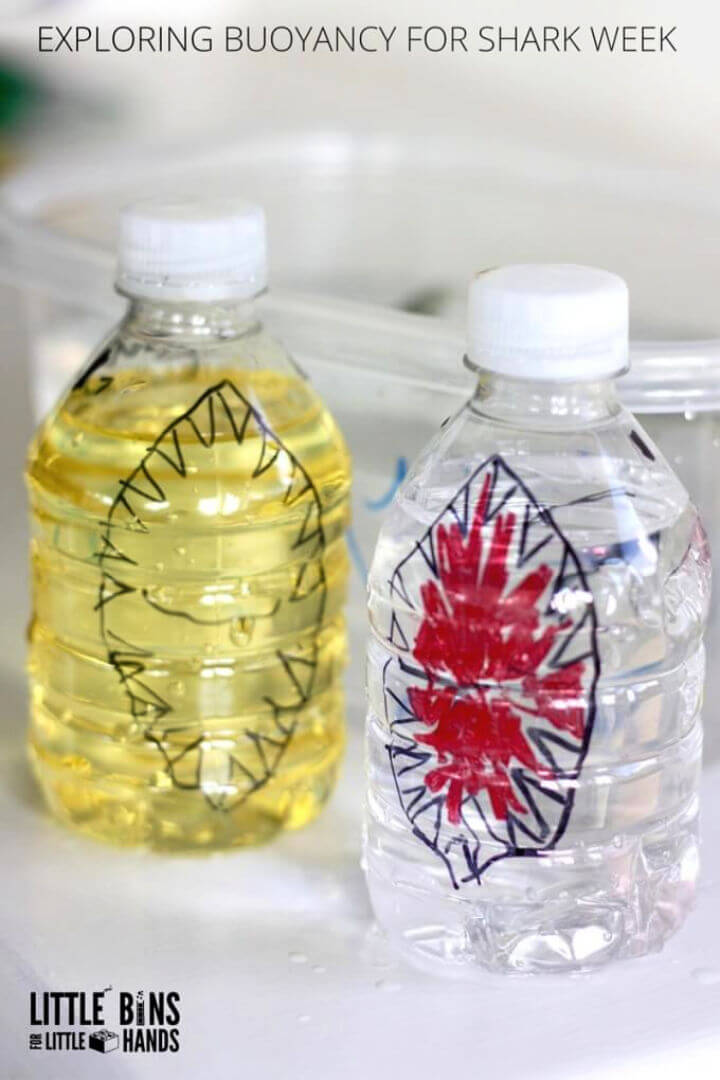 Learning can be fun and not just boring textbook images all the time! Make your kids learn how do sharks float, actually! We bet it is so much fun to learn this way. Just fill the water bottle's oil and water. Hit the tutorial for full details. littlebinsforlittle
10. Free Printable Shark Bookmarks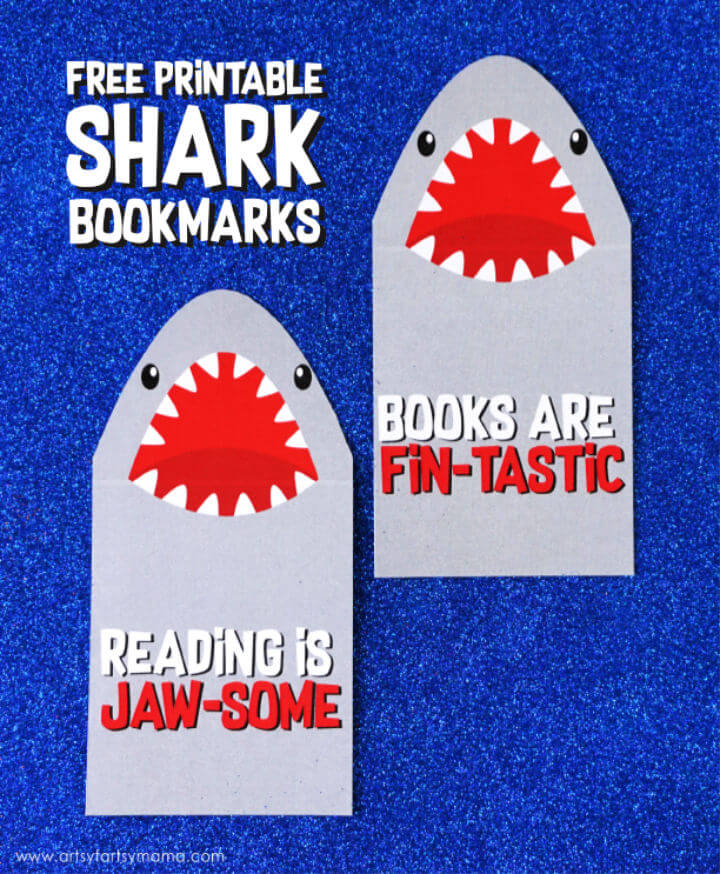 We cannot resist saying that these shark bookmarks are absolutely jaw-some without a single doubt! Just click on the link below and get your free printable from the tutorial. Print, cut, and enjoy book reading with these bookmarks. artsyfartsymama
11. DIY Paper Bag Shark Craft – Shark Activities Preschool
Help your kids sharpen their scissors skills by working on one of the most versatile craft supplies that are the paper bag. All you are going to need is a paper bag, black card, white card, black pen and blue or grey card with glue! craftsonsea
12. Build a Lego Shark for Shark Week
Another exciting idea from our DIY shark crafts! If your kiddo is having a shark week at the school or enjoying under the sea life, here's a fun way to make them learn more about how sharks look like! Fun with legos is in order! littlebinsforlittle
13. Make Shark Clothespin Craft for Kids
Check out this 3D and more like a puppet shark craft! This can be really fun at a birthday party, kids can enjoy playing with it. You simply need clothespin, white and blue paper, scissors, glue, and a googly eye. growingupgabel
14. Styrofoam Cup Shark Craft
Do you have some Styrofoam? Somewhere in the kitchen or in the crafts supplies? Learn this super easy shark craft made using Styrofoam cups. With some blue paint, googly eyes, glue, blue foam board, and white paper. adventures
15. Recycled Newspaper Shark Craft for Kids
Recycled newspaper craft has always been a charmer! You can make funky things by using some recycled newspaper and transforming them into these pretty tiny little sharks. Show your kids some sharks pictures and then get their assistance in making these! littlefish
16. How to Sew Sock Shark
If you have an old shark lying around somewhere and the pair have been separated forever, transform your old shark into this lovely and cozy shark! Make a stuffed shark toy at home using some polyfill material and a few more materials. craftpassion
17. Feed the Shark Alphabet Game for Kids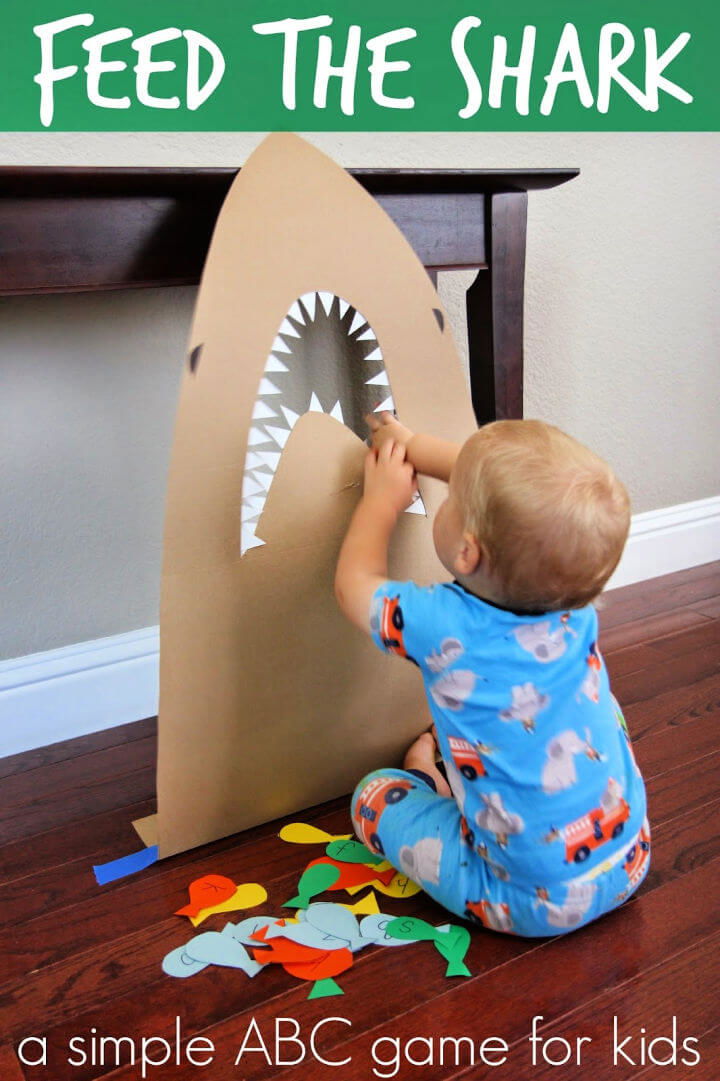 Are you struggling with introducing the love for learning in your little ones? How about this fun game where they get to feed the hungry shark with alphabets? Use a large piece of cardboard to make a huge shark and little colored cardboard fish as alphabets. toddlerapproved
18. Make a Corner Shark Bookmark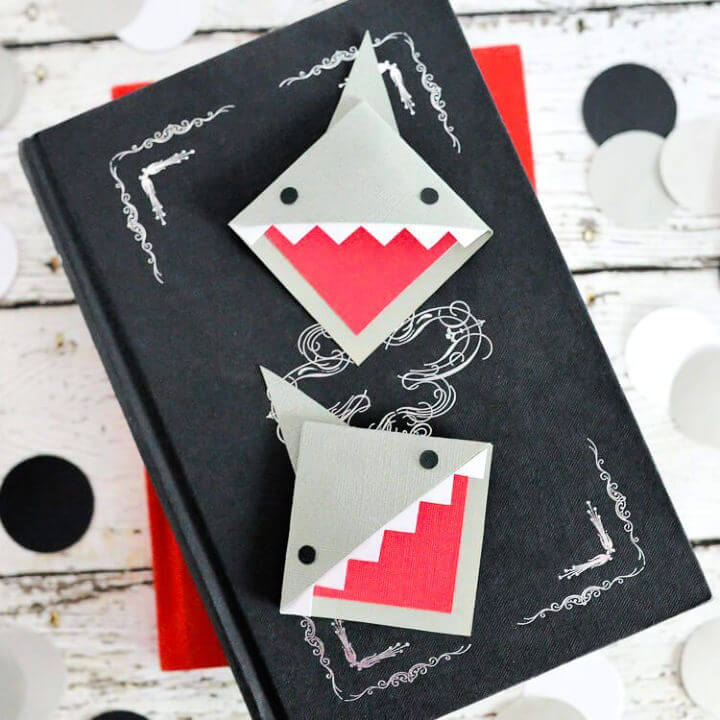 So, looking for ways to make reading even more fun? And never losing the pages where you left off the last time? Check out these corner shark bookmarks! Let the sharks keep the pages stuck in their open mouths, safely! Hit the tutorial for details. heyletsmakestuff
19. Coffee Filter Shark Suncatcher Craft for Kids
Make colorful sun catchers using coffee filters to hang out and enjoy some marine life in your homes! You can easily make these using watercolor paints, paintbrushes, glue, scissors, dark blue or black paper, and ocean animals' patterns. alittlepinchofp
20. DIY Shark Cootie Catcher – Origami for Kids
You must have played with these fortune tellers in your childhood! But this shark cootie catcher with the origami art is going to be way more fun than your simple fortune-tellers! The tutorial will walk you through the step by step guide for making this. easypeasyandfun
21. Shark Suncatcher – Crafts for Preschoolers
Looking for the perfect shark craft for your preschooler to enhance their motor skills with creativity and fun! What you need is clear contact paper, tissue paper squares, gray construction paper, scissors, and get the free shark template from the tutorial. buggyandbuddy
22. DIY Feed The Shark Game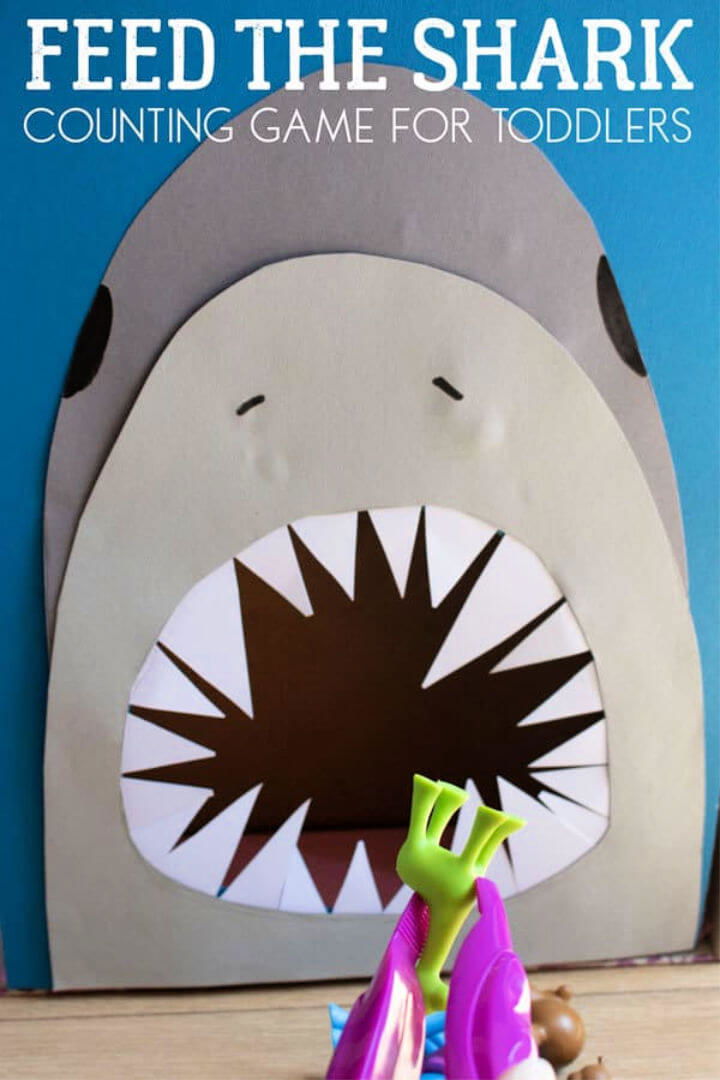 If your toddler has just started walking and everything has been falling off the tables lately! Here's a fun game to keep the little ones caught up for some time. Also, it could be a fun learning counting technique or something like that! rainydaymum
23. Shark Name Game for Preschoolers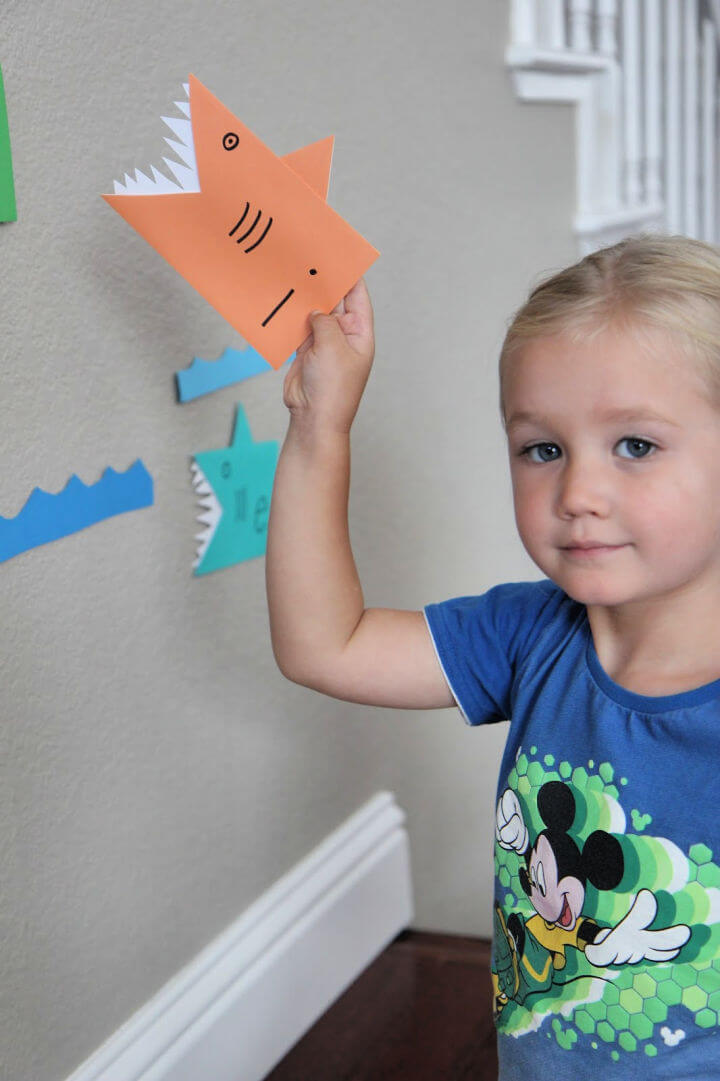 Make your kids learn about alphabets, letters, and writing down their names by making this super cute shark game! Your preschoolers can learn pretty much from it and be all ready for school with the fun part in check! Check the details from the tutorial. toddlerapproved
24. Best Shark Themed Snacks for Kids
If your birthday theme is inspired by The Sharks movie, then just keeping the sharks in the decor is not enough! Nah-uh. Layout these shark candies to take things up a notch. The ingredients will be Airhead candy, Jolly rancher, and sucker stick. naturalbeachliving
25. DIY Toilet Roll Shark Binoculars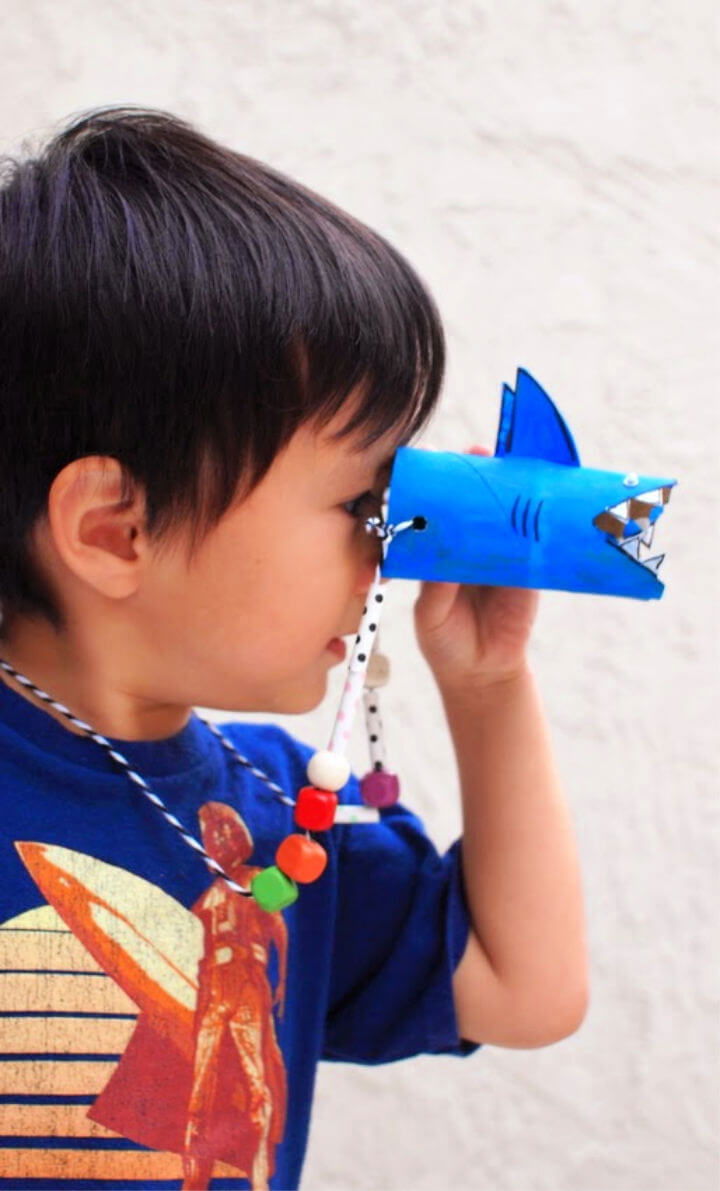 Put the empty toilet rolls to a fun activity by making these binoculars out of them! What you need is 2 toilet rolls, cereal box cardboard, scissors, tempera paint, paintbrush, tape, craft knife, sharpie marker, and a few more supplies. pinkstripeysocks
26. How to Make Shark Clothespin Magnet
By using some clothespin, poster board, red and gray paint, paintbrush, googly eyes, hot glue, and magnets. Make these uber-cute shark magnets and hang them over your fridge, filing cabinet, or gift them as a party favor! thingstosharean
27. Painted Rocks Stone-cold Shark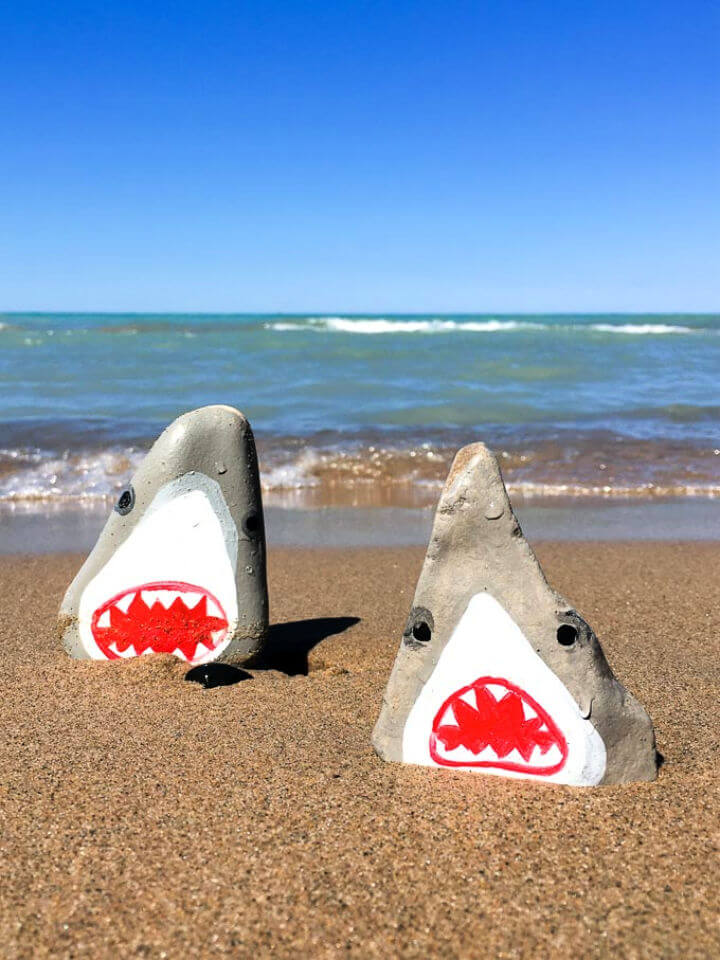 Planning a beach day with your family? Well, you know the next big fun thing that you can enjoy with the kids and folks. Hunt for some rocks while on the beach and dress paint them into these ooh so scary sharks coming right at you! sustainmycrafthabit
28. Squishy Shark Sensory Bag
Check out this squishy shark sensory bag! All the more reasons to enjoy the under the sea life with this squishy shark bag. Put in as many sharks or fish as you want and go crazy playing around these. thechaosandthe
29. DIY Shark Party Popcorn Holder
For your birthdays themed as sharks, add these shark popcorn holders to make everything go with the theme and not anywhere else! This is a pretty easier one from our DIY shark crafts, and all you need is a few steps to follow to fold the paper in a shark-shaped cone! creatingcreatives
30. Shark Free Printable Game
Matching games are always fun! With so many options available on the Apple Store or Play Store, nothing can beat the physical fun associated with shark games. This shark matching game can be easily printed on pieces of paper, and then your kids can enjoy matching the fish! naturalbeachliving
Related Easy Crafts for Kids
Crafts for Kids: Looking for some fun craft ideas for kids? Find easy crafts for kids that are fun and creative!
Sunflower Crafts: Sunflower crafts are a fun way to celebrate the coming of fall and the changing of seasons. These simple sunflower crafts for kids will provide you with hours of crafting joy!
Summer Camp Crafts: These easy summer camp crafts for kids are perfect for your next summer family picnic, campfire, or other outdoor adventure.
Puppet Crafts: Make your own puppets with simple and inexpensive material. These puppet crafts are for kids of all ages that are easy to make and fun to do.
Crafts to Make and Sell: Find easy DIY crafts you can make and sell them online at high profit. You'll find patterns and instructions for homemade items to sell at craft fairs, on Etsy, or in your own home business.
DIY Ice Cream Crafts: Let your kids enjoy summer with these ice cream craft ideas that are so easy, you can do them yourself!
Pokemon Crafts: Craft projects for Pokemon fans of all ages, from simple to more difficult. Includes instructions and pictures for Pokemon crafts your kids will love.
Elephant Crafts: Looking for creative elephant crafts? Start with these fun, easy, and cute elephant crafts for kids of all ages.
Space Crafts: For space enthusiasts kids, these easy space crafts for kids, including rockets, space stations, and more, will spark your kid's creativity and be a fun way.
Rock Painting Ideas: If you're looking for painted rocks that are perfect for beginners. We've collected easy rock painting ideas in a wide variety of styles and with step-by-step instructions.
Conclusion:
Did you see how you can enter fun in learning by opting for our selected DIY shark crafts? Like our shark feeding game, shark bookmarks, matching games, and so much more! Aren't these all just absolutely fin-tastic?