Looking for an easy solar system project for kids? Try one of these 15 DIY solar system crafts! These solar system crafts are perfect for preschoolers, kindergarteners, 3rd grade to 6th grade and older kids. They're a great way to learn about the solar system while having fun!
The solar system is the first thing to study and learn about space. God has created a gorgeous solar system pattern with colorful planets revolving around the bright yellow sun. With these 15 easy solar system projects for kids, you can create this space beauty in an excitingly artistic way. These easy solar system crafts show how easy and fun it is to create these mini versions of the DIY solar system project at home in a variety of fun ways.
To make a solar system mobile project for kids, you'll need some cardstock, craft paint, and a few other materials. Print out the solar system templates and cut out the planets. Paint the planets however you like. Attach them to cardboard circles with string or fishing line. Hang the mobile from the ceiling or a light fixture.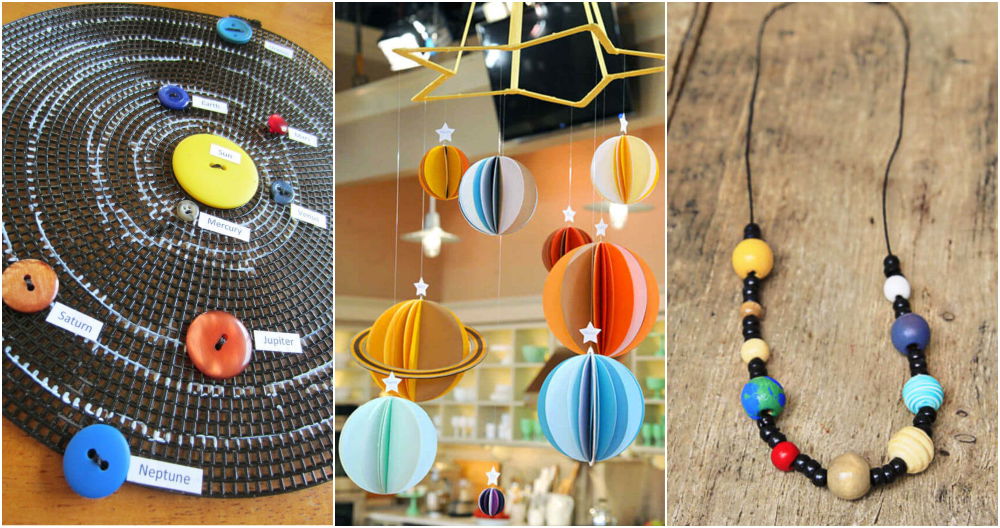 Make your own solar system model with clay or play dough. Roll balls of clay or play dough to represent each planet. Use toothpicks or skewers to attach the planets to each other in order. You can also add moons by rolling small balls of clay or play dough and attaching them to the planets with toothpicks or skewers.
Solar System Project for Kids
With these easy solar system projects for kids, your child can explore the solar system while having fun crafting! It's really super easy to make your own solar system arts and crafts using some simple supplies. This is a great science project for kids of all ages and can be adapted to fit any level of interest or expertise. Not only these solar system science projects, but you can also make some exciting creations with the theme of the solar system too. The solar system mobiles, necklaces, and bracelets are truly creative and quirky crafts in this regard. So get ready to learn about the solar system, have fun crafting, and let the learning (and fun!) begin!
1. DIY Solar System Project – Space Project for Kids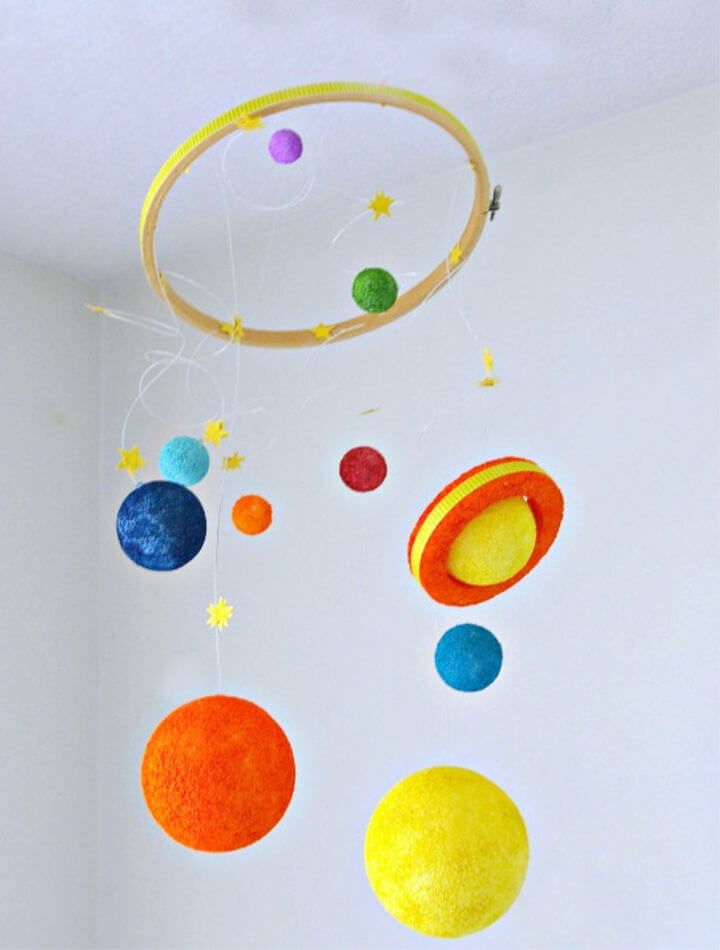 If your kids love science then this solar system space project is going to be a weekend hit for them. The lovely planets are made by painting up the Styrofoam balls and hung on an embroidery hook. It would make a great display at their school science exhibition and after that in the bedroom too. todayscreative
2. Easy DIY Kids Solar System Craft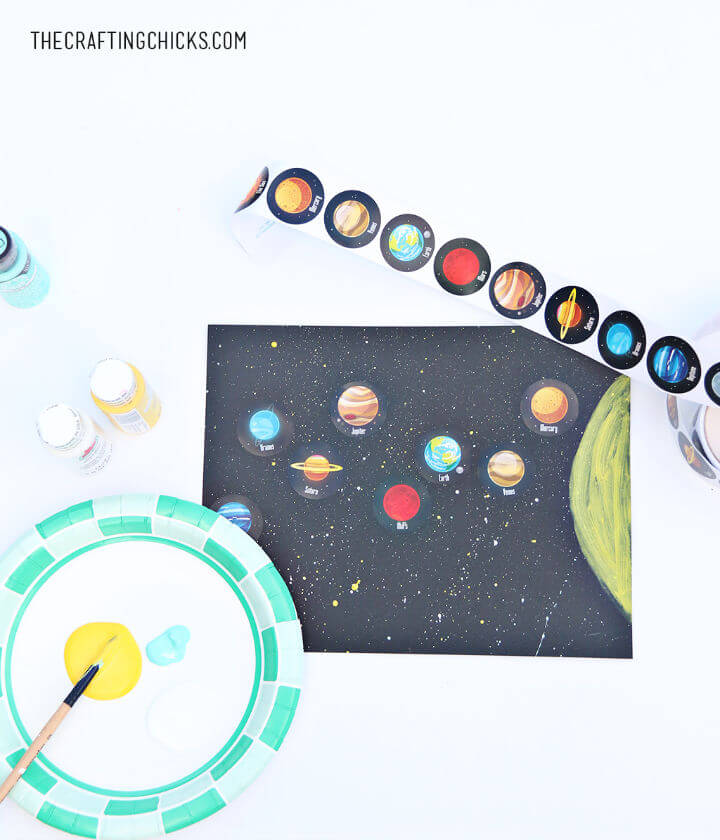 Kids love to paint and if their favorite subject is science then this easy DIY solar system craft is sure fun for them. They can use construction paper and some paint colors to create this lovely solar system on their own. It would look great in their class as well as study room walls. thecraftingchicks
3. DIY Solar System Snowglobe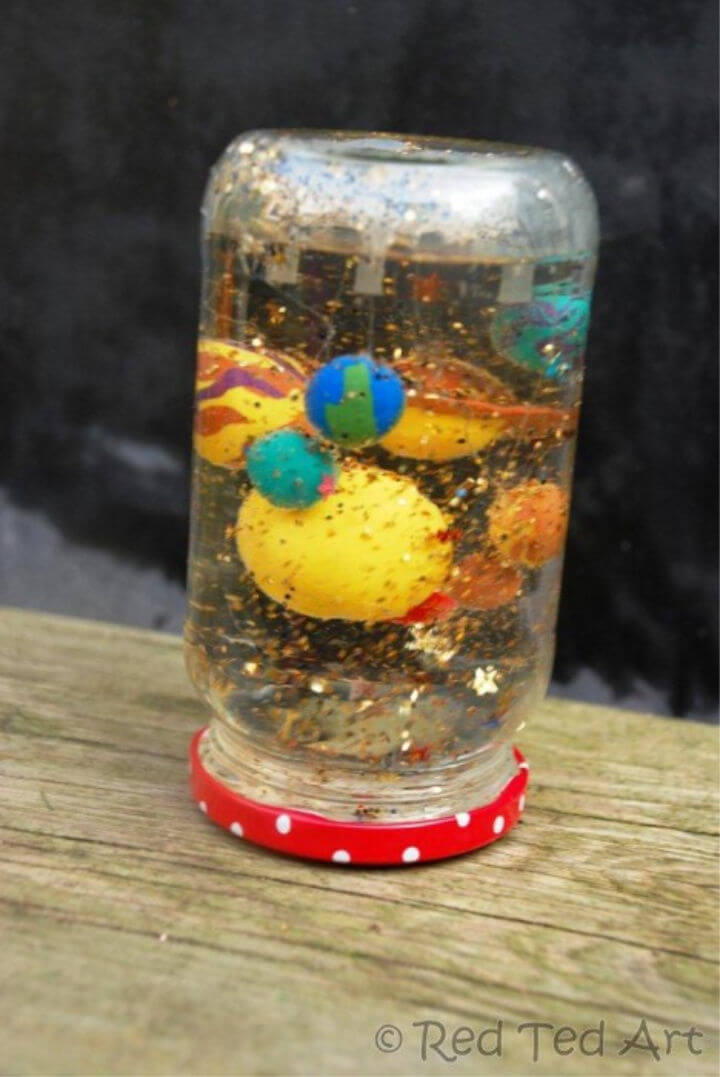 Handmade snow globes are really a trend these days and it can be as exciting as your imagination. This DIY solar system snow globe is apt to display in your kid's room and enhance their interest in science and space in particular. Grab a mason jar and the clay to make this pretty science project at home. redtedart
4. Make Plastic Lid Solar System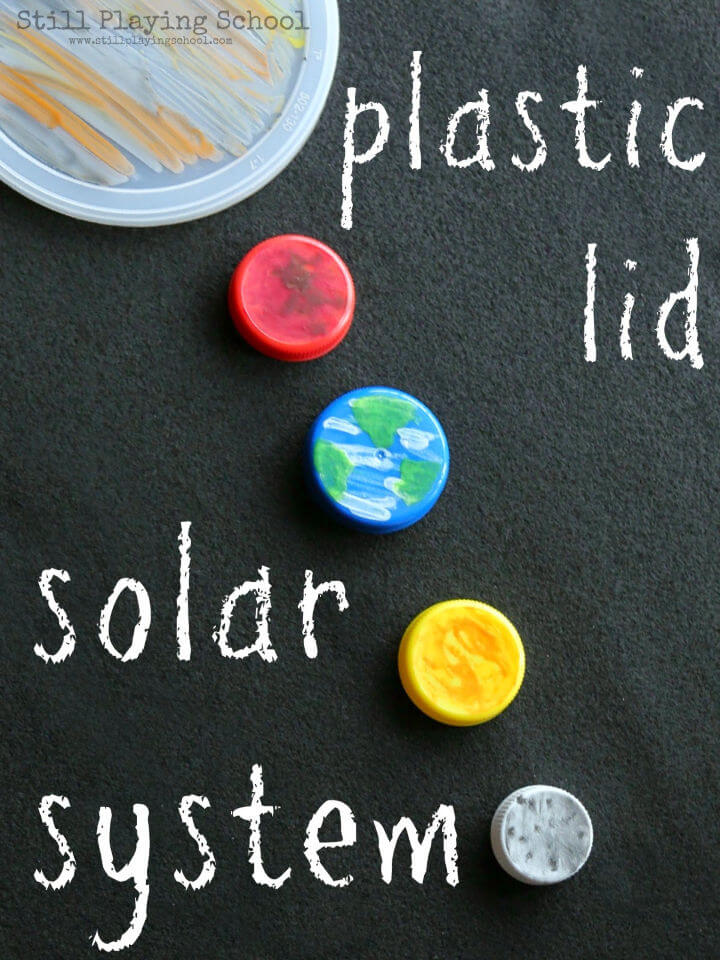 The solar system has round and colorful planets and if kids are reading about it in their science book then you should do a project. This plastic lid solar system would so much easy, fun and cheap to do and let kids learn in a joyful way about the solar system. Details here stillplayingschool
5. DIY Solar System with Button Planets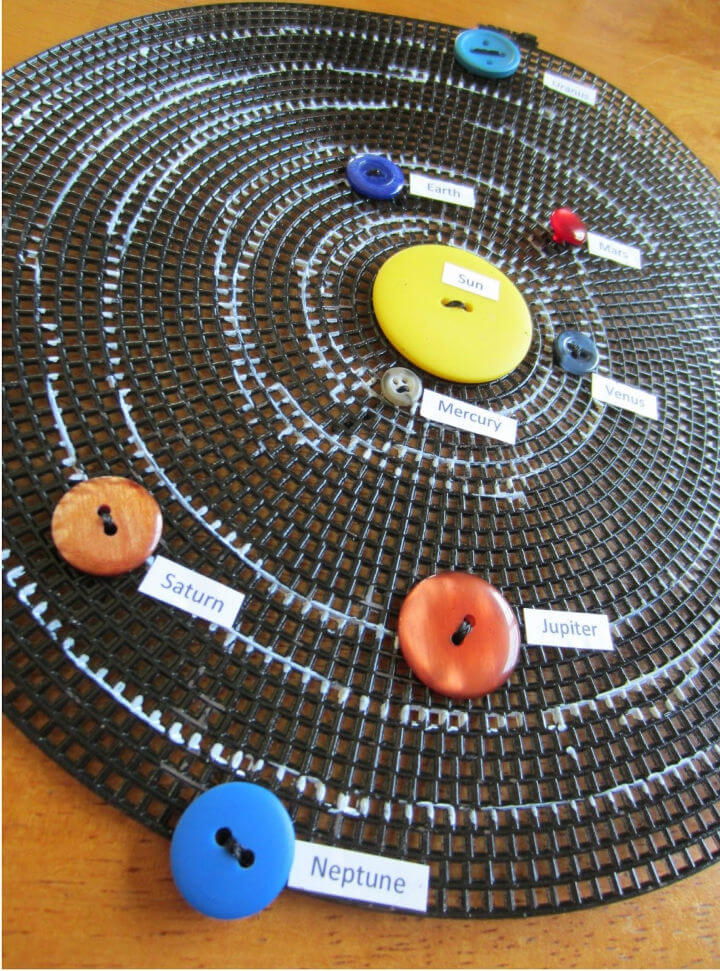 Crafting is so much fun and if it's about science and space then it is full of learning too. The icing on the cake is that you can do this so damn cheaply too. Here is the example of this DIY solar system m made out of a needlework circle and the paint buttons as the planets. deceptivelye
6. Solar System Craft for Kids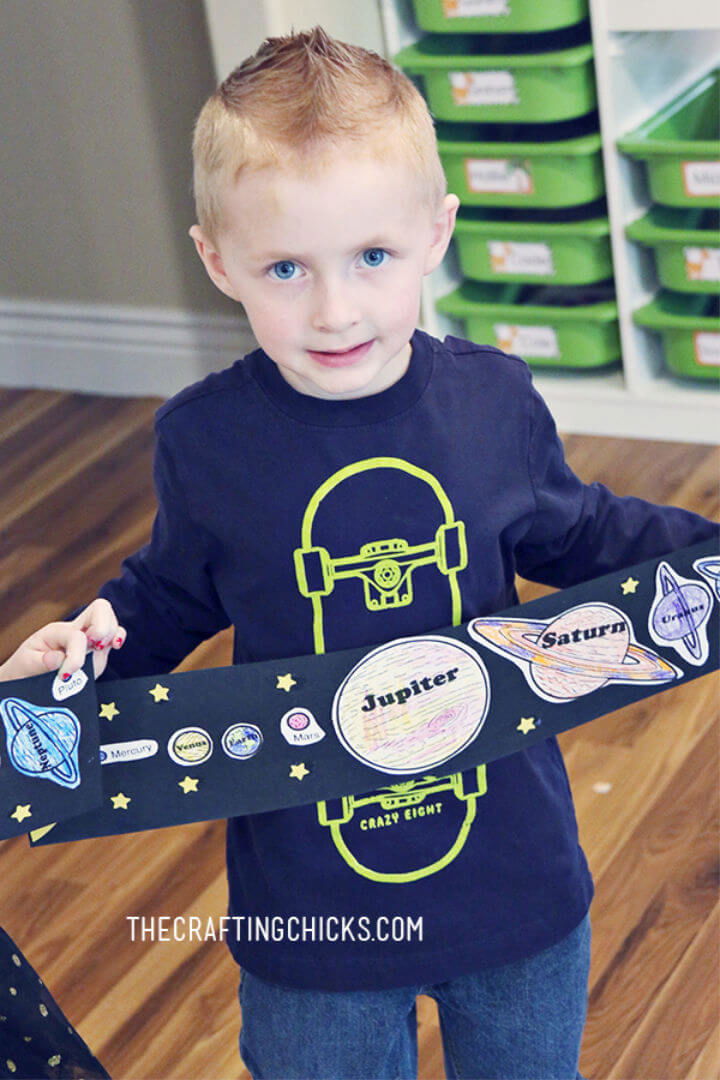 If your kid is having trouble learning the order and names of the planets then getting their hands on this solar system craft would be helpful. The whole solar system is made out of the paper and the planets are first created on templates and then cut out and colored. More details here thecraftingchicks
7. DIY Lego Solar System Science for Kids
Kids love to play with the lego and now you can add some learning to their playing hours with this lego solar system idea. Kids can choose the lego of certain colors to create the whole solar system like yellow for the sun and red for the mars. Complete details here kitchencounter
8. Make Solar System Necklace for Kids
Take your handmade jewelry game to a whole new level with this solar system necklace craft. Using the wooden beads and acrylic paint the mini planet beads have been created to look utter unique and funky as a neckpiece. Your space girls are going to love this necklace so make it with them. rockitmama
9. Easy to Make Solar System Bracelet
Beads are available in all the sizes and the colors so this time you can choose them according to the size and colors of sun and planets. Making this solar system bracelet is a great gift idea for the kids to make and give away to their friends. Even the adults can rock this lovely and unique bracelet too. happyhourpro
10. Colorful DIY Solar System Mobile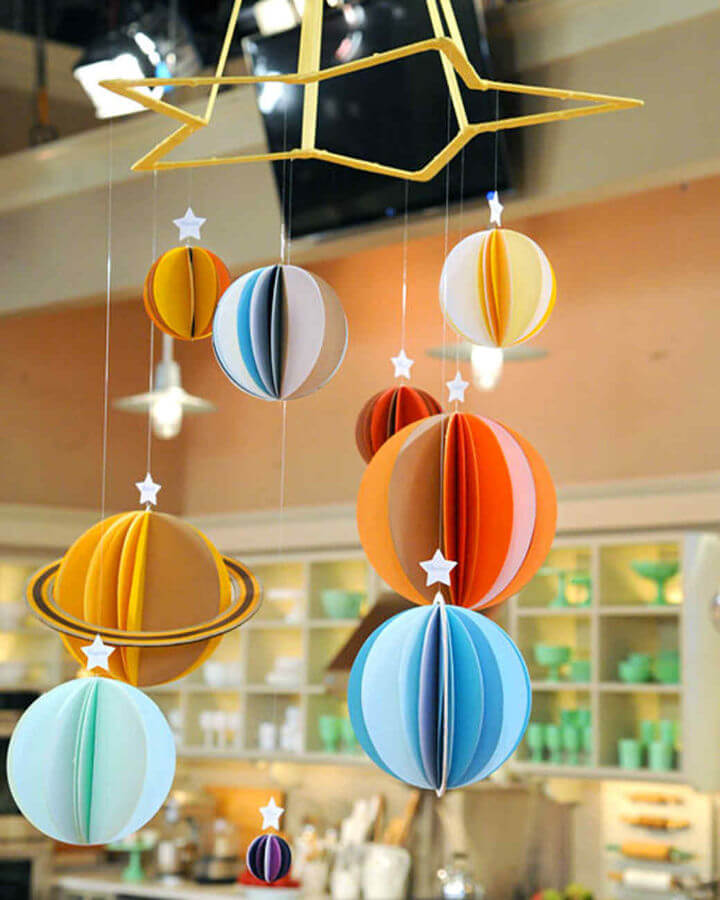 Here is a project that would be exciting and fun for your little baby and bit grown-up kids too. This colorful DIY solar system mobile would accomplish a baby's nursery room and also let the big ones to learn about the planets too. You need colorful cardstock and cutting supplies to make this pretty mobile. marthastewart
11. DIY Light-up Model Solar System Craft
Whenever kids are studying the solar system they get a project of making it a science project. So you can help your kids making this DIY light-up model solar system craft with feasible supplies like the Styrofoam balls and the paint. The kids would love making it and showing it off to the whole class. someonesmum
12. Handmade Solar System Scratch Art
Let your kids explore the space in a fun crafty way with this easy DIY solar system scratch art project. The space items are from the scratch space kit and the rest of the system is made out of the cardboard box. Details here the gingerbread
13. Paper Mache Solar System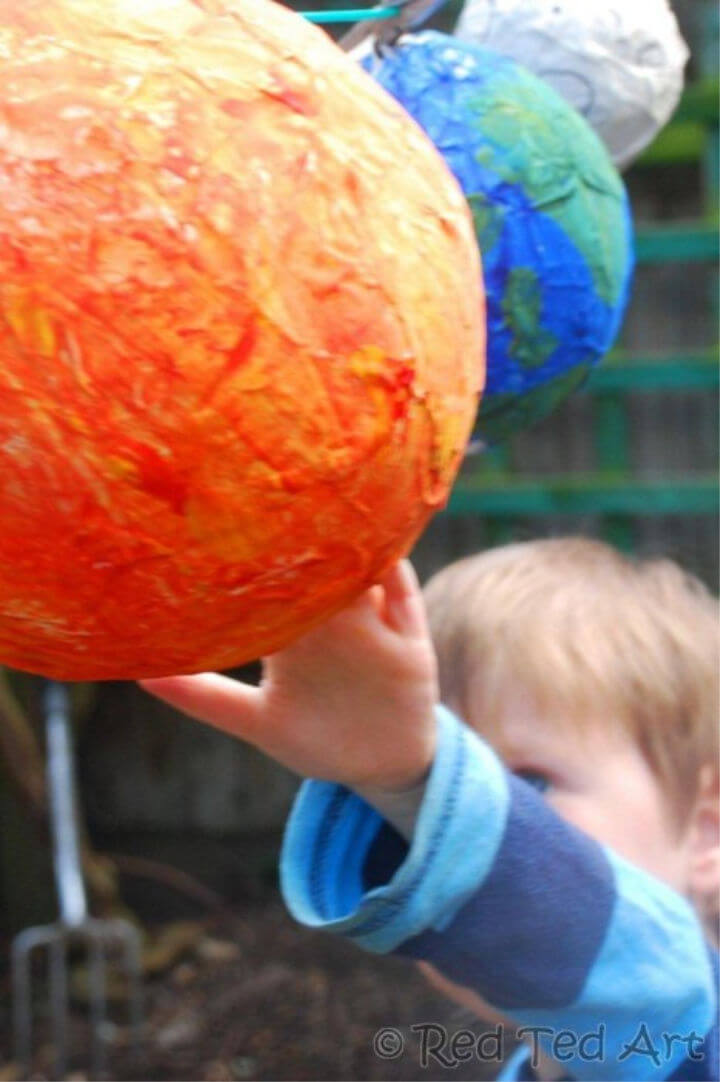 Kids love to play with the mess of paper, paint and the balloons and this paper mache solar system includes this all. The balloons are covered with the newspaper cutting and paper mache paste and then painted with the colors of sun and planets. Complete details here redtedart
14. Pretty DIY Star Wars Planet Mobile
Boys are in love with the star wars and that is why they want a space-themed room too. Enhance the charm of their space room you can get your hands on this lovely star wars planter mobile. Make this mobile from a bought solar system kit, foam pouncers, and the paint. madincrafts
15. How to Make a Solar System Necklace
Girls love necklaces and they are going to hugely adore this quite funky and cool solar system necklace. Every planet has its unique color and size so you can take the simple beads and paint them up accordingly. Lastly, string up the planet beads and your pretty space inspired necklace is ready to rock. lilblueboo
Related DIY Crafts for Kids:
Looking for some fun DIY crafts for kids? Look no further! Our collection of fun and creative crafts for kids will keep the little ones entertained for hours on end.
Mason Jar Crafts for Kids
Looking for a fun and easy way to keep the kids entertained? Check out these DIY Mason Jar Crafts for Kids! With a variety of options to choose from, there's something for everyone!
Summer Camp Crafts for Kids
Summertime means fun in the sun! These easy summer camp crafts for kids are perfect for keeping the little ones entertained. From colorful mobiles to sweet s'mores, there's something for everyone. So grab some crafting supplies and get ready to have some fun!
DIY Fidget Toys for Kids
Making your own fidget toys is a fun, easy, and affordable way to keep kids entertained. Plus, it can help improve focus and concentration. Here are simple DIY fidget toys for kids to get you started.
Cardboard Houses for Kids
Looking for unique cardboard house ideas? Check out these fun and easy tutorials for making houses out of cardboard boxes! Kids will love getting creative and building their own homes.
Sleepover Ideas for Kids
Sleepovers can be a lot of fun, but coming up with ideas for what to do can be tough. Here are some unique sleepover ideas that will keep your kids entertained all night long.
DIY Play Kichen
If you're looking for a way to add a little more fun to your child's playtime, consider building them their own kitchen! Find these diy play kitchen ideas for how to do this, and it's a great way to encourage pretend play. Plus, your child will love having their very own space to cook up imaginary meals.
Make Sensory Bags for Kids
Sensory bags are a great way to encourage exploration and help kids develop their fine motor skills. Here are easy to make sensory bags for kids. with just a few simple supplies, you can create different sensory bags that will keep your little one engaged for hours.
Fruit Crafts for Kids
Looking for fun ways to get your kids interested in fruits? Check out these awesome fruit crafts for kids! They're perfect for preschoolers and toddlers and are a great way to teach them about the different types of fruit.
DIY Sandbox Ideas for Kids
Find these easy to build sandbox ideas for kids of all ages! From simple boxes to elaborate designs, there's sure to be an idea here that will fit your needs and budget.
Conclusion:
If you're looking for a fun and educational project with your kids, look no further than these 15 DIY solar system crafts. These solar system projects for kids will help teach your children about the different planets in our solar system and how they move through space. Plus, crafting is always fun, so the whole family can get involved. So what are you waiting for? Get started on these amazing solar system projects today!