Making a DIY sensory bag for your babies or toddlers can be an exciting way to make personalized toys for them. These tactile tools are an excellent resource for developmental play, calming anxiety, and introducing educational concepts. Learn how to make a sensory bag step by step with these 30 fun and easy DIY sensory bags for babies and toddlers. From alphabet sensory bags that promote literacy to colour mixing bags for science explorations, find it all here.
Our DIY sensory bags are suitable for toddlers and babies to make them have fun for hours. The array of ideas presented ranges from low cost resources – like using items from the dollar store, to more elaborate designs – like a DIY galaxy sensory bag for astronomy enthusiasts. Most of our sensory bag proposals require only common household items like Ziploc bags or hair gel, making it simple and feasible for most households.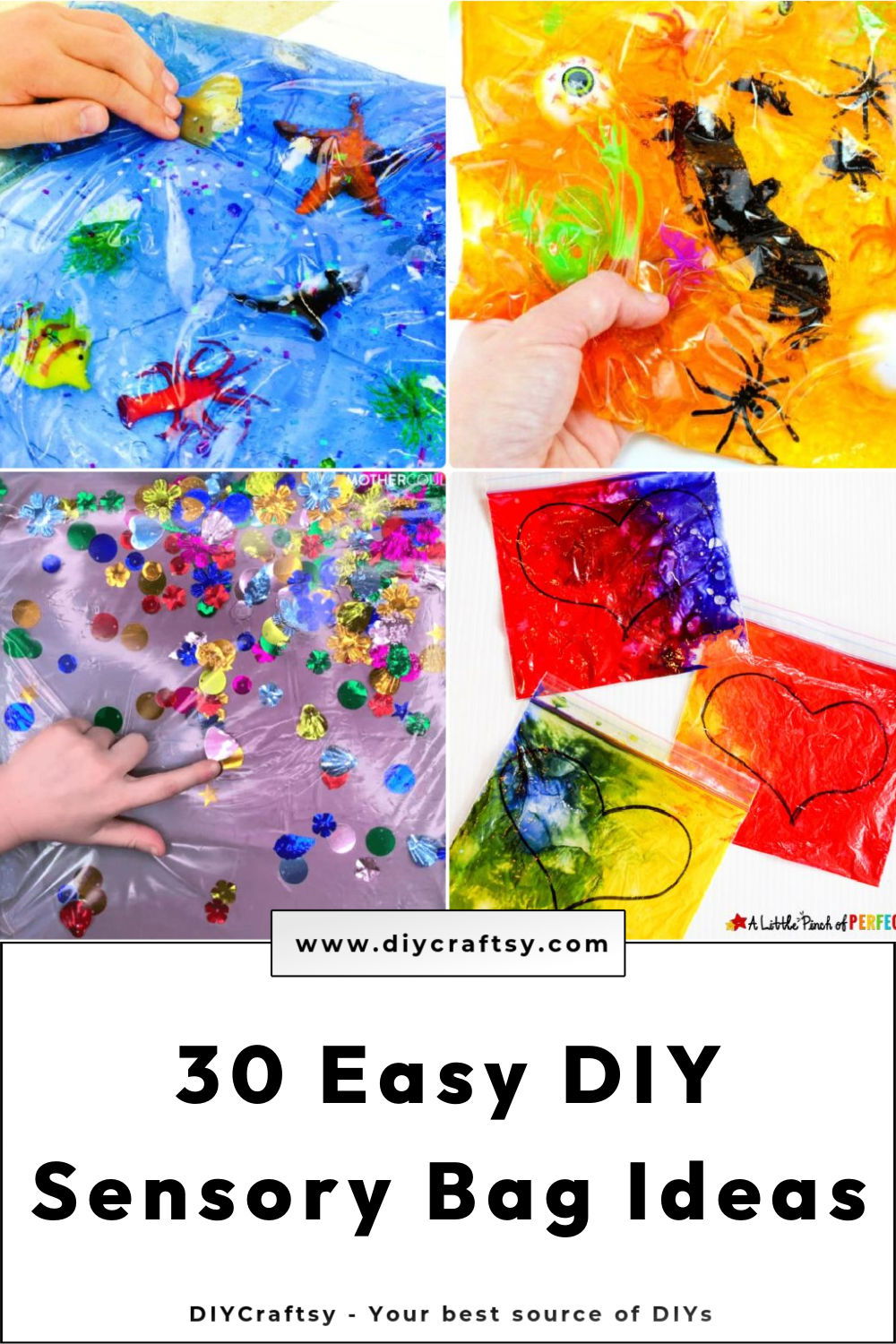 So, if you've been looking for homemade sensory bags for your little one or a playful sensory craft project, these DIY sensory bag ideas are a perfect start. You won't be disappointed in how much fun your child will have squishing, squeezing, and exploring these sensory bags. It's amazing what a little creativity can produce to give your kids endless hours of joy. Get ready to have a blast crafting your DIY sensory bags!
1. DIY Valentines Color Mixing Sensory Bags
Explore the fascinating world of color mixing with DIY heart sensory bags this Valentine's! This creative and mess-free activity will engage children's artistic minds as they squish and mix paint inside plastic zip-lock bags.
You can make heart-shaped sensory bags with just a few supplies, like craft paint in primary colors (red, yellow, blue), plastic bags, and a permanent black pen. Kids can safely squish the paint around by squeezing the air out and sealing the bags, watching in awe as the colors magically blend.
It's a delightful sensory experience that promotes creativity and learning in a fun way. Join in on the colorful adventure and share the joy with others! alittlepinchofperfect
2. Ocean Life Sensory Bag for Toddlers
Take on a captivating ocean adventure with an easy DIY ocean life sensory bag for your little ones. Designed to provide hours of fun, this sensory bag is suitable for kids of all ages. This mess-free sensory play idea is perfect for summer fun, whether for toddlers or preschoolers, or as a stunning addition to a science table.
Immerse your children in the wonders of the deep blue sea with this interactive sensory experience. Gather your supplies, including blue hair gel, sea creatures, shells, and glitter or confetti, and follow the simple instructions to make your ocean-themed sensory bag.
Let your children explore, press, and squish the gel-filled bag to discover hidden treasures. Enhance their learning and imagination with this engaging ocean activity. Dive into a world of ocean-themed adventures today! naturalbeachliving
3. Cheap DIY Baby Toys Sensory Pat Bags
Make engaging and sensory-rich experiences for your little one with these DIY baby toys – sensory pat bags. Crafted from laminating pouches, these easy-to-make bags are filled with various materials, such as sequins, pompoms, and pipe cleaners.
Adding water or other liquids like hair gel or bath oil creates a mesmerizing sensory effect. The bags are sealed with an iron, ensuring durability and safety. Customize the contents and sizes to suit your baby's preferences and developmental needs.
These sensory bags provide hours of entertainment and exploration while promoting fine motor skills and sensory development. Follow this step-by-step guide and watch as your baby delights in the tactile wonders of these homemade toys. mudpiefridays
4. How to Make a Spy Sensory Bag
Engage your kids with this DIY spy bag! Made with a clear pencil case, this simple and engaging toy will keep your little ones entertained and quiet. Gather and photograph 1-2 dozen small items for the bag's visual guide. Print and laminate the photo, then attach it to the pencil case with a book ring. Fill the case with poly pellets and sew it closed to prevent spills. This spy bag provides endless fun as your kids search for hidden treasures. It's an ideal gift for birthdays or any occasion; your children will love it! handmadein
5. Alphabet Sensory Bag – Step-by-Step Instructions
Unleash a fun and engaging way to teach lowercase and uppercase letters to young children with this DIY alphabet sensory bag activity. Designed for pre-k and kindergarten, this easy-to-set-up learning activity uses a sealed bag, hair gel, sharpies, and plastic letters to make a sensory experience that promotes letter recognition.
By tracing circles on the bag and filling it with colored hair gel, kids can move the letters around to match the lowercase and uppercase pairs.
With a video tutorial and a list of supplies needed, this activity is perfect for supervised indoor play and early literacy development. Explore more indoor activities and educational games for kids to keep them entertained and learning. bestideasforkids
6. How to Make a Winter Wonderland Sensory Bag
Transform your home into a winter wonderland with a magical sensory bag filled with snowflakes, pine cones, and twinkling stars! Keep your little ones entertained and engaged with this simple and fun craft.
Fill a Ziploc bag with blue-tinted shaving cream, winter-themed decorations like glittery snowflakes, craft confetti, and silver, white, and blue foam balls.
Seal the bag with packing tape to prevent leaks, and let your child explore and discover the items on the I Spy Winter Wonderland worksheet. This sensory bag is perfect for sensory play and encourages creativity while providing hours of entertainment. Get ready for a winter adventure at home! mamainstincts
7. Halloween Sensory Bag Activity for Kids
Explore the spooky wonders of Halloween with this very fun DIY sensory bag activity! These mess-free bags are perfect for babies, toddlers, and Halloween parties. Simply squeeze clear hair gel into a large Ziploc baggie and add ten drops of orange food coloring. Zip the baggie closed and mix the gel and food coloring together.
Open the bag and place Halloween toys inside before sealing it shut. For added security, you can tape the top of the bag. Babies and toddlers can explore the sensory bag by squeezing, squishing, patting, and sliding their hands over the gel-filled bag.
Use these sensory bags as a safe and engaging activity for Halloween parties or playdates. Discover more Halloween sensory ideas like slime and sensory bins to enhance the holiday spirit. naturalbeachliving
8. Making Your Own Dollar Store Sensory Bags
Discover a budget-friendly way to engage your twin toddlers with sensory play. Make DIY sensory bags using simple materials. Fill ziplock bags with hair gel and add objects like beads, foam pieces, and small action figures to stimulate their senses. Reinforce the bag with duct tape to withstand rough play. Watch your little ones push the beads and squeeze the gel-filled bags. Expand your collection of sensory bags with endless possibilities for creative play. Keep your twin toddlers entertained and engaged with these fun and stimulating activities. happinessiscreating
9. DIY Sensory Bag for Infant
This DIY sensory bag project creates a captivating sensory experience for your little ones. You can make a mess-free and engaging activity using everyday household items in under two minutes. Unlike traditional sensory bags that use clear hair gel, this version utilizes water, making it cost-effective and easy to clean up if accidentally opened.
Simply gather waterproof items, such as pom poms and glitter or confetti, and place them in a gallon-sized freezer ziplock bag. Fill the bag halfway with water, removing all the air before sealing it. For added durability, apply a second layer of clear tape to protect against sharp objects.
Encourage your child to discover colors or shapes by searching and identifying the hidden elements inside the bag, enhancing their fine motor skills in a fun and interactive way. Let their imaginations run wild as they explore this sensory delight! mothercould
10. Best DIY Starry Night Sensory Bag
Capture your child's senses and foster hands-on learning with this DIY constellation sensory play activity. Designed for toddlers and preschoolers, sensory play provides a stimulating and safe way for young minds to interact with the world around them.
Make a sensory bag using inexpensive materials, such as gallon storage bags, clear hair gel, star-shaped confetti, black poster board, and glow-in-the-dark constellation cards. Simply mix the gel with confetti, remove excess air, and secure the bag to a black poster board for optimal visual impact.
This sensory bag offers endless entertainment and fine motor skill challenges and appeals to older kids and adults. Explore the wonders of the stars and expand your knowledge with the Studying the Stars series and related activities. Discover the joy of sensory play and engage in STEM learning through this creative and affordable project. playgroundpark
11. Easy DIY Sensory Bag With Ocean
Make some amazing memories with your little one by making an easy DIY sensory bag with the ocean – filled with fun and exploration! Make an engaging ocean-themed sensory experience for your little ones with this project. This sensory bag will captivate babies and toddlers alike.
Filled with squishy ocean creatures, sparkly gel, and a cool-to-the-touch feel. Say goodbye to messy playtime with this contained and mess-free alternative to sensory bins.
The easy-to-follow instructions require a gallon-sized ziplock bag, hair gel (clear or blue), blue food coloring (optional), glitter, sea animal toys, and packing tape. Seal the bag securely and let your child explore the wonders of the blue sea in a fun and tactile way. kidsactivitiesblog
12. How to Make Lava Lamp Sensory Bags at Home
Ready to bring some science and sensory fun into your home? Get creative with homemade lava lamp sensory bags! Perfect for babies and toddlers, sensory bags provide a safe way for little ones to explore different materials. The process is simple:
Fill a zip-seal bag one-third of the way with baby or cooking oil.
Add 2-3 tablespoons of neon watercolor paint.
Seal the bag tightly.
Secure the opening with clear packaging tape. The oil and watercolors make mesmerizing effects, resembling a lava lamp, as kids squish and shake the bags. It's an exciting sensory play and an opportunity for children to learn and review colors.
For added fun, try other experiments like the oil and water experiment or glowing oil and water. Remember to use a blacklight for the best effect and dispose of the bags afterward to prevent oil seepage. Get ready to ignite curiosity and creativity with this fun sensory activity. growingajeweled
13. Letter Hunt Alphabet Sensory Bag
This delightful and mess-free DIY alphabet sensory bag enhances your child's sensory exploration and learning. Instead of coloring rice, which can end up all over the floor, this activity keeps things in a clear plastic bag. Simply fill the bag with colored rice and alphabet beads, seal it well, and spread it out flat.
Your child can then play various letter-related games, such as searching for letters, finding them based on their sounds, or even spelling simple words.
It's a great way to make learning the alphabet interactive and enjoyable for students. Whether you're a teacher or a parent, this activity will help your child become comfortable with letters while having fun. mymundaneandmira
14. Handmade Feed the Shark Sensory Bag for Toddler
Dive into the underwater world of sensory play with this DIY "feed the shark" sensory bag activity for younger kids. This engaging and mess-free sensory experience allows children to explore different senses while having fun. The customizable shark-themed sensory bag includes a playful feeding game where kids can feed fish to the shark.
Perfect for babies and toddlers, this sensory bag is designed with their safety in mind, with loose pieces securely contained. Follow the simple instructions to make the sensory bag using materials like blue hair gel, foam paper in various colors, a gallon-sized zipper bag, duct tape, and scissors. Children can squish the fish around to feed the shark or make imaginative play scenarios, fostering language, fine motor, social, and cognitive skills! kidsactivitiesblog
15. Make Your Own Sensory Bags for Babies
Learn how to make sensory bags to entertain and stimulate your baby or toddler when you're stuck indoors. These DIY sensory bags are simple to make and customizable, allowing you to use various fillings like glitter, beads, pompoms, and more.
By loading a Ziploc bag with hair gel and your chosen items, you make a sensory experience that is safe and engaging. Seal the bag with duct or packing tape to prevent accidental spills.
These sensory bags provide hours of fun and exploration for your little ones, and you can even tape them to a wall or window for added excitement. Get creative and keep your child entertained with this easy and inexpensive sensory play idea. practicallyfunctional
16. Magnetic Polka Dot Sensory Bag Ideas
Join in a fun craft and dive into an exciting activity by making a DIY magnetic polka dot sensory bag. Combining science, sensory play, and color mixing, this hands-on project is perfect for little learners. Following the book's instructions, children experimented with magnetic counting chips and observed color mixing.
With a heavy-duty zip-close bag filled with water and magnetic chips, the sensory bag becomes a beautiful canvas for making different polka dot formations using a magnetic wand.
This guide also shares how placing the bag on a homemade light box adds another dimension to the play. Get ready to engage your child's senses and spark their creativity with this unique and educational activity. mamapapabubba
17. Make a Color Sorting Sensory Bag
Have a fun and educational sensory experience for your preschoolers and toddlers with this DIY color-sorting sensory bag. You can easily assemble this squishy bag using simple materials like freezer bags, hair gel (or alternative substances), buttons or pompoms, markers, and tape.
Fill the bag with the gel, ensuring good coverage, and seal it tightly. Add buttons of different colors and tape the bag to a table. Children can then enjoy the sensory play by moving the buttons around while developing fine motor skills.
For color recognition practice, draw circles on the bag in corresponding colors and label them. Kids can then sort the buttons into the correct circles, providing an engaging and repetitive learning experience. handsonaswegrow
18. How to Make Nature Sensory Ziploc Bags
Introduce your child to nature while providing a fun sensory experience with these DIY nature sensory bags. Not only are they mess-free and safe for little ones, but they also help develop hand-eye coordination and fine motor skills. Gather items like grass, flowers, stones, and leaves, and place them in a zip-lock bag filled with water. Seal the bag, tape it securely, and attach it to a table for easy play. Explore the world of sensory play with this fun project. kiddycharts
19. Making Hair Gel Sensory Bags
Attract your older babies, toddlers, and preschoolers to fun with an inexpensive and effortless DIY sensory play activity using hair gel sensory bags. This project requires a few supplies like sandwich bags, clear hair gel, food coloring, and packing tape.
Simply squirt the gel into the bags, add a few drops of food coloring, remove excess air, and seal them shut. Tape the bags to a window or door, and watch as your little ones spend quality time exploring the textures and tracing letters while you enjoy some personal time. Enhance your daily self-care routine with this fun and educational activity that promotes independent play. mostlyundercontrol
20. DIY Galaxy Sensory Bag
Have a fun and engaging sensory experience for your little ones with these DIY squishy galaxy bags. Designed to stimulate their senses and foster creativity, these airtight plastic bags filled with gel, glitter, and other objects provide a mess-free playtime.
Perfect for kids who love to touch soft and squishy things, these sensory bags are easy to make using common materials like Ziplock bags, hair gel, glitter, and black paper. Children can enhance their language, fine motor skills, and social interactions by engaging in sensory play.
Make learning fun by incorporating numbers, letters, or shapes into the bags, or explore the color wheel with food coloring. Follow the step-by-step instructions to make your own galaxy sensory bags and indulge your child's curiosity and imagination. craftylittlegnome
21. Make Ocean Sensory Bag for Kids
Dive into the world of letters with this fun and engaging DIY alphabet sensory bag! This project offers an engaging under-the-sea adventure for kids with an ocean-themed sensory bag. No beach trip is required! Watch as your child squeezes and squishes the bag, making the ocean animals move and sway like waves.
This activity suits babies, toddlers, preschoolers, kindergarteners, and even older kids who can't resist its allure. For durability, you can use a disposable ziplock bag or a reusable FDA food-grade storage bag. Add plastic ocean animals and glass gems for extra visual appeal and tactile stimulation.
Fill the bag with water and a few drops of blue food coloring, remove the air, and seal it. Make a mini aquarium sensory bottle with any remaining sea animals for fun. Let your child's imagination swim with delight while exploring this ocean-themed sensory experience. alittlepinchofperfect
22. Homemade Alphabet Sensory Bag
Make an engaging and educational sensory experience with an alphabet sensory bag. This simple and versatile activity is perfect for children of different ages and abilities. With just a few supplies like alphabet beads, clear hair gel, and a freezer bag, you can easily set up this hands-on learning experience.
Squirt hair gel into the bag, add alphabet beads, including letters from their names and sight words, and seal it securely. Let your child squish and move the letters, practicing fine motor skills while you talk about the letter names and sounds. Older children can even use the bag to spell sight and CVC words.
This sensory bag is a fantastic way to foster letter recognition, fine motor development, and language skills. Explore more alphabet activities to make learning fun and interactive for your little ones! funlearningforkids
23. Shaving Cream Color Mixing Sensory Bag
Unveil the world of color mixing with a DIY shaving cream color-mixing sensory bag! This mess-free sensory activity is perfect for babies and toddlers who want to explore colors without getting paint all over their hands and clothes.
Simply fill ziplock bags with tempera paint and shaving cream, seal them with duct tape, and let the little ones squish, squeeze, and mix the colors. This activity enhances fine motor skills and develops visual skills as children observe how colors blend.
Plus, there's no cleanup required afterward! Extend the learning by reading books about color mixing and trying our other sensory bag activities. Get ready for a fun and educational sensory experience! besttoys4toddlers
24. Cool DIY Ocean Sensory Bag
Making a DIY ocean sensory bag is a fun and educational way to explore the ocean's depths. Whether planning a trip to the beach or simply exploring the ocean's wonders, this sensory activity is a fantastic addition to your summertime fun. It's suitable even for the youngest children if sealed properly.
The preschool sensory bag complements various educational units, such as ocean and beach themes, animal studies, and animal habitats. Gather materials like a freezer bag, ocean animals, sand, blue body wash or hand soap, sea shells, and optional blue Orbeez.
Follow simple instructions to assemble the bag, encourage pouring skills, discuss animal characteristics, and incorporate literacy activities. Enhance your preschoolers' understanding of the ocean with engaging resources like printable flashcards and crafts. Let the exploration begin! homeschoolpreschool
25. How to Make a Nature Sensory Bag
Captivate children's senses and promote language acquisition with a DIY nature sensory bag activity. This lesson plan will help introduce the children to different colors and textures through a sensory experience. The materials needed for this activity include hair gel, leaves, flowers, grass, a large ziplock bag, and duct tape.
Children can explore the various textures and colors within a safe and supervised environment by filling the bag with these items and sealing it. It's important to exercise caution and check for tears or leaks before allowing children to touch the bag.
Educators can assess the children's reactions to sensory stimuli through observation. Sensory play enhances language skills and stimulates brain connections, making the activity both educational and enjoyable. lessons4learners
26. Decorating Robots Sensory Bags
Decorate robots with these engaging DIY sensory bags that are perfect for kids' playtime! These sensory bags allow children to add details to the robot outlines by moving objects inside. With just seven supplies, including clear hair gel, wiggly eyes, buttons, and star pony beads, making the bags is a breeze.
Simply trace the robot outline on a gallon-size zipper bag, fill it with hair gel, and add the eyes, buttons, and beads. The sensory bags provide various exploration options, such as making a face, placing buttons and beads on the robot's chest, or counting stars as they are added. Let your child's creativity soar with these delightful sensory bags! jdaniel4smom
27. DIY Swimming Letters Dory Sensory Bag
Let your imagination set sail with this DIY swimming letters dory sensory bag! This hands-on, multi-sensory activity helps children recognize and remember capital letter names and sounds. By incorporating elements from Disney's popular movie, kids can select their preferred letters and uniquely interact with them. The activity involves:
Hearing the letter's name.
Observing its shape.
Feeling the movement of a fish along the letter.
Guide your child to select a letter, say its name and sound, and have them navigate the fish through it, mimicking Dory's journey in the movie. Start with a few letters and gradually introduce more as your child progresses.
You can also explore variations like numbers, simple words, or sight words to expand the learning experience. Make learning enjoyable and effective with this swimmingly pleasurable activity. educatorsspinonit
28. Paint Rainbow Sensory Bag for Toddlers
Enjoy a mess-free and engaging DIY sensory activity for toddlers and preschoolers with this rainbow sensory bag. Sensory bags are a fantastic way to incorporate sensory play without mess, making them perfect for rainy days or indoor play.
Simply make a ziplock bag filled with colorful paints, seal it carefully, and let your little ones explore and mix the colors. This activity promotes fine motor skills and color recognition while providing a sensory experience.
You can even compare the colors they make to a real rainbow. Get ready for hours of colorful fun with this easy and mess-free rainbow sensory bag activity. rainydaymum
29. How To Make a Water Snowflake Sensory Bag
Make winter come alive with your own DIY water snowflake sensory bag! Designed to mimic the sensation of playing in the snow, this mess-free activity is perfect for indoor play. Gather the materials, including a zip-top bag, blue food coloring, hair gel, snowflake buttons, sequins, and optional duct tape.
In just five minutes, you can assemble the bag by combining the gel and food coloring, adding the buttons and sequins, and sealing the bag.
Let your child explore the sensory bag, squishing and playing with the "snowflakes" inside. Use it to teach counting, compare sizes, and introduce new vocabulary. Join in the fun and enjoy the winter-themed playtime together. inspiredmama
30. Squishy Sparkly Sensory Bag Instructions
Express your creativity with our DIY squishy and sparkly sensory bag! There are no limits to what you can create. Made with simple ingredients like water, glitter, and an unused diaper, this sensory bag provides tactile sensory play without the mess.
The absorbent polymer inside the diaper transforms the water into a squishy gel, making a delightful texture for little hands to explore. The bag is sealed with duct tape to prevent leaks and can be played flat on a table or the ground.
It's a fantastic way to introduce sensory play to children, including those who may be hesitant about messy textures. Get creative with colors and add some sparkle with glitter or tinsel for an extra special touch. Let your child's imagination soar as they squeeze and squish through a sensory adventure. intheplayroom
31. Simple DIY Giant Sensory Bag
Relish a mesmerizing sensory experience for your little one with this DIY giant sensory bag. Using a vacuum storage bag and simple household items, you can easily make a captivating sensory bag that will engage your baby or toddler. Fill the bag with water, glitter, pompoms, foam animals, and more to make a tactile wonderland.
Add a touch of food coloring for extra fun if desired. Seal the bag tightly to prevent leaks, and let your child enjoy hours of squishy exploration. This budget-friendly project is entertaining and educational, providing a sensory-rich playtime experience. muggleandmam
Related Crafts for Kids of All Ages
Find crafts that kids of all ages can enjoy. Get ideas for fun and creative activities to do at home with your little ones!
Conclusion:
In conclusion, DIY sensory bags offer endless creative opportunities to engage your child's senses and foster their cognitive development. From DIY Valentine's color mixing bags to homemade feed-the-shark pouches, these 30 easy DIY sensory bag ideas provide engaging and educational activities for various ages and interests. Experiment with different materials and themes to make unique sensory experiences for your little ones. With some imagination and ingenuity, you can transform everyday items into captivating and beneficial sensory toys for toddlers, babies, and preschoolers alike.