Mermaid crafts have been gaining popularity, especially with kids. Kids can use imagination and creativity when it comes to these mermaid-themed crafts. The mermaid craft ideas are nearly endless, making them suitable for preschoolers and older children. From wearable accessories like tiaras, blankets and headbands to painted crafts such as shells, bath bombs and rocks, the possibilities really are endless when it comes to mermaid crafts for kids. All of these DIY mermaid craft ideas will ensure kids have hours of fun!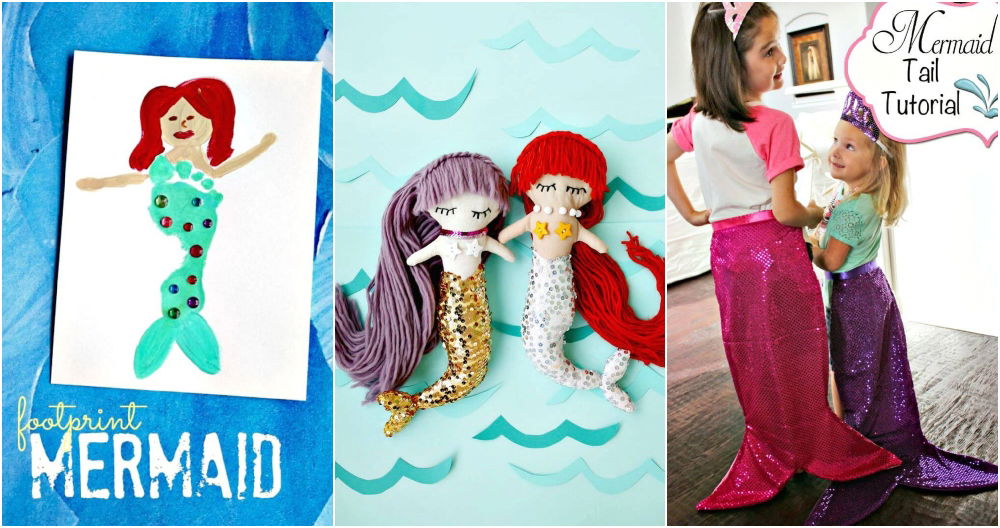 For all the adventurous mermaid fans out there looking for a fun and creative activity. Try exploring the world of 60 easy Mermaid crafts and art activities for kids! Whether you're searching for an idea to entertain your inquisitive elementary schoolers, or need a unique art project to get that preschooler engaged, these mermaid crafts are sure to inspire. From classic coloring pages of friendly mermaids to innovative craft activities tailor-made for imaginative minds, let these creative mermaid ideas be your guide in uncovering the exciting world of mermaid arts and crafts – perfect for kids of all ages.
1. DIY Mermaid Plush Dolls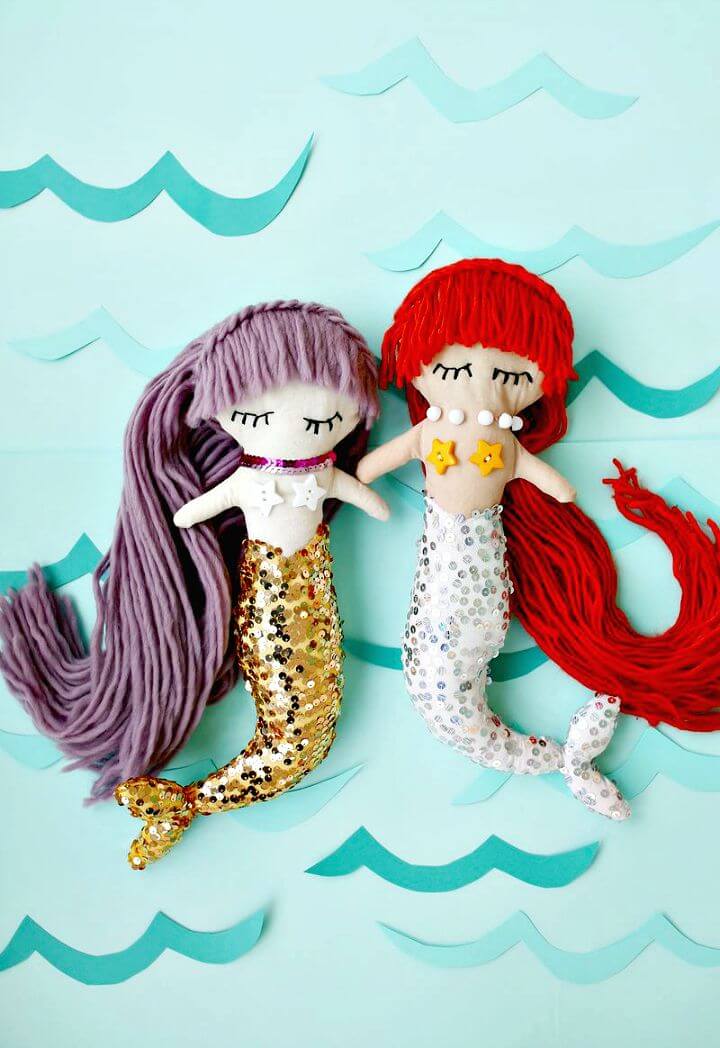 Little girls just love plush dolls and they would fall in more love with these mermaid plush dolls as they are immense adorable and lovely to look at. Using the fabric dolls with the sequin mermaid tails, eyes, sea shell and pearl details, and the pretty colorful willow hairs, these gorgeous dolls would surely win the hearts of every kid out there. You can also use it as a great gift for your nieces too. abeautifulmess
2. Cute DIY Peg Mermaid Dolls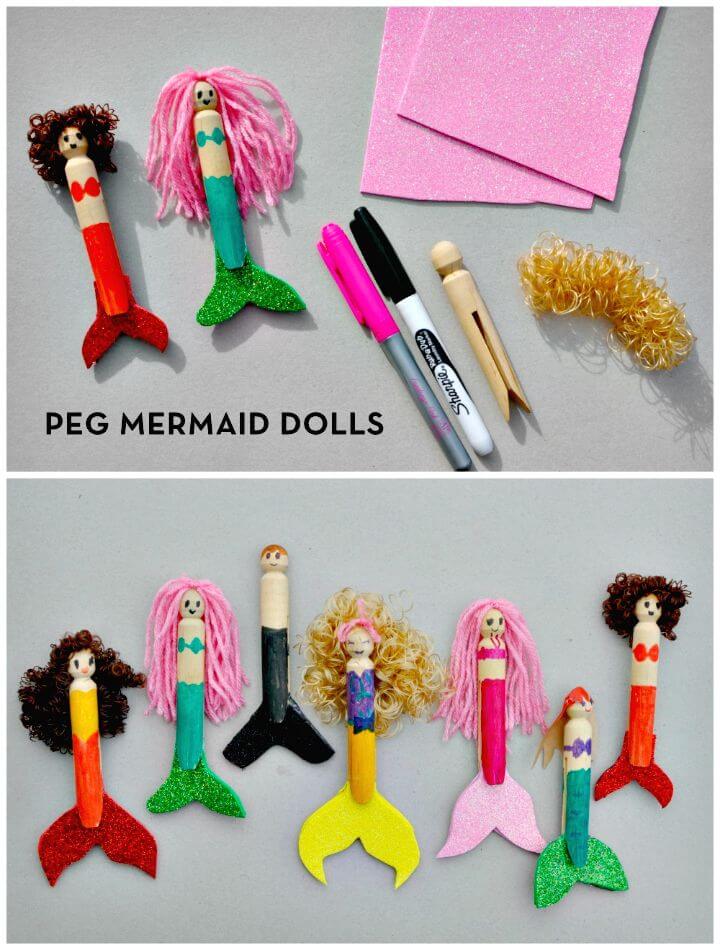 This absolutely cute craft of the wooden peck mermaid would be a nice thing to have fun at birthday parties, school weekend activities or the puppet show kids arrange at home to play and enjoy. They are super easy and hell of fun to create at home even by the kids, using the foam craft sheets, wool hair and pretty paint hues. Details here beafunmum
3. Hula Girl And Her Mermaid BFF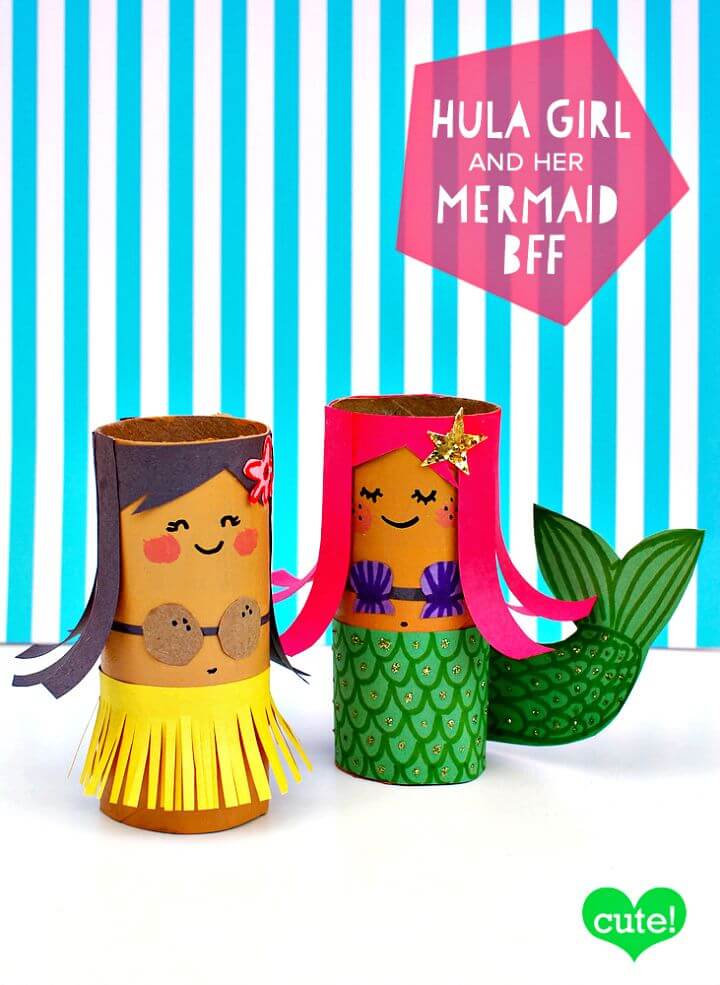 There is a variety of dolls to create out of a variety of materials and supplies. See this hola girl with her mermaid best friend having been made out of tissue rolls and colorful crafting paper. Your little girls would love to have this lovely pair of dolls. mollymoocrafts
4. How to Make Sequined Mermaid Tail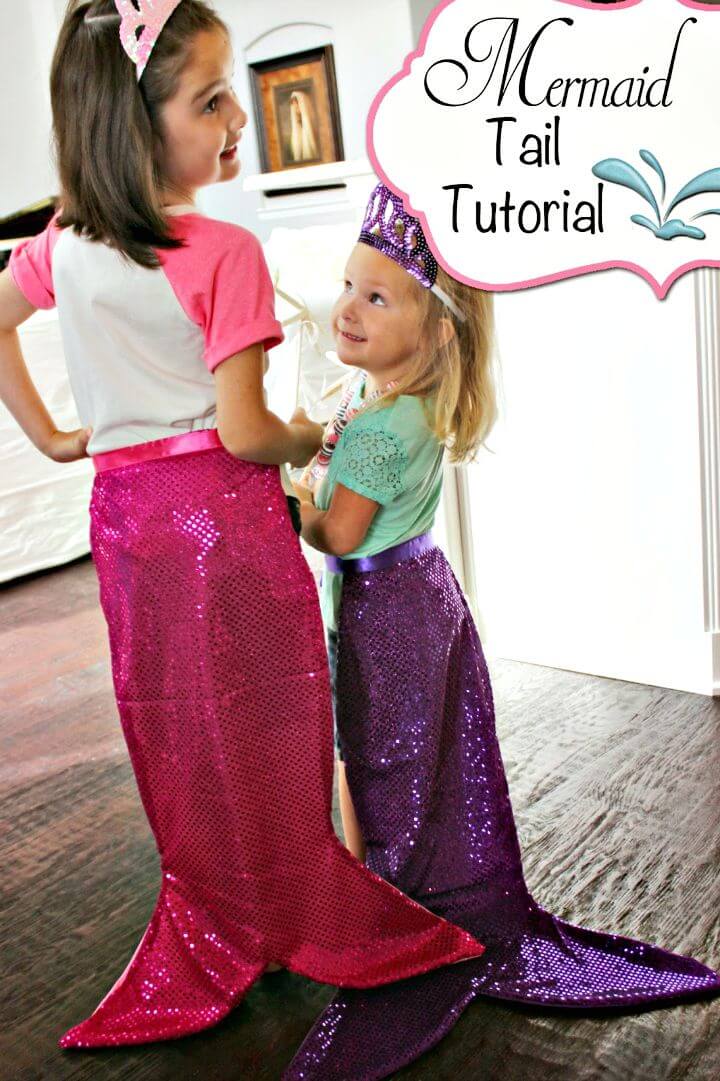 On your girl's birthday, you can make these pretty and shiny mermaid tails out of the sequined fabric. And use them as the perfect party favors as the whole girl gang would just fall in love. With these tails to tie around their waist and act like the perfect mermaids of the house. alittleofthis
5. Making a Mermaid Soap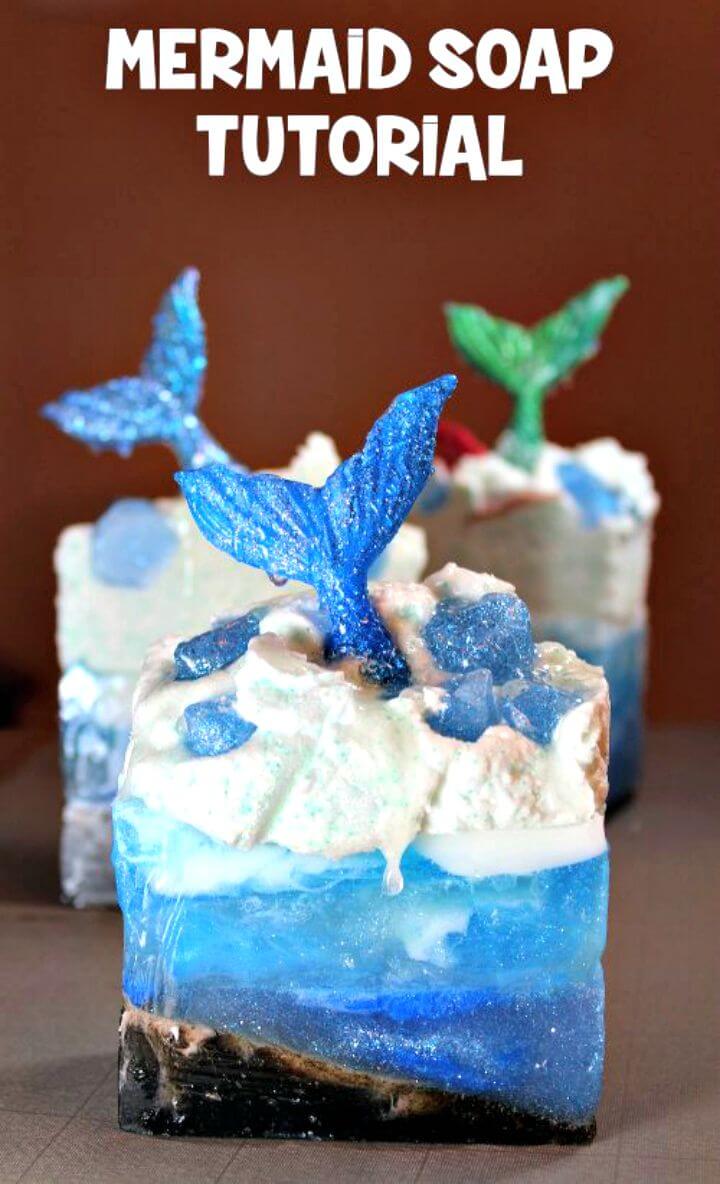 You can indulge in this fun and totally whimsy crafting session with your kids this weekend named the mermaid soap.  A soap mermaid tail, the other soap sea creatures, the ocean and the top frosting. You can make them all separately and then combine to form a whole mermaid soap. soapdelinews
6. Homemade Mermaid Crown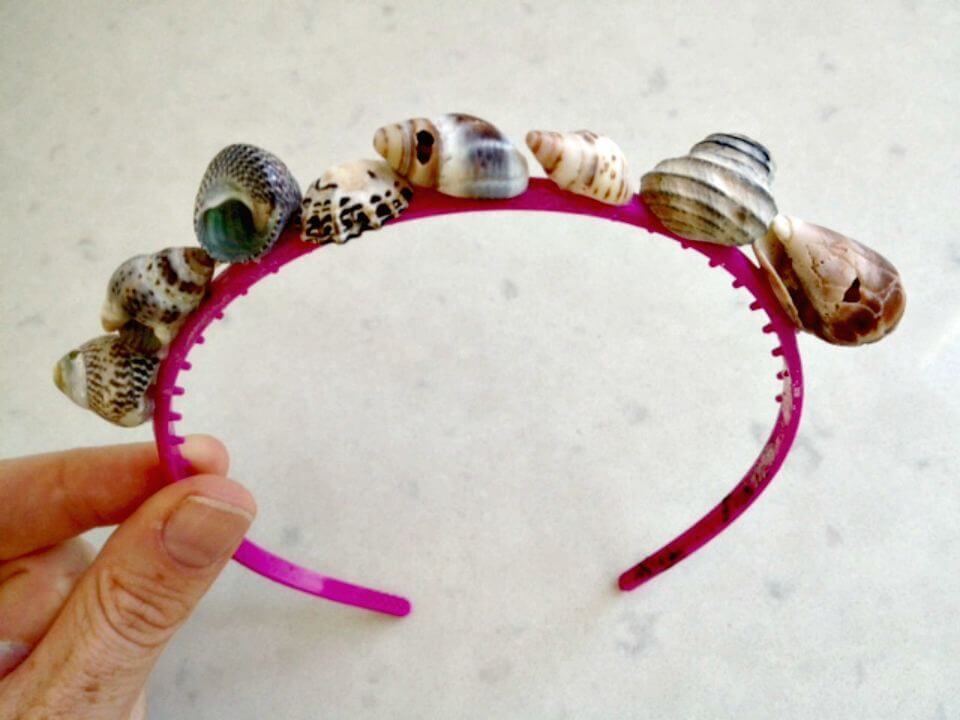 If your girl is getting into the avatar of the beautiful mermaid at any party or the school functional then she would really be in need of this pretty mermaid crown to complete her look with. A simple hair band has been turned into a cool and funky mermaid hair band by gluing some sea shells on it and its ready to rock her mermaid dress up. mykidcraft
7. DIY Mermaid Makeup Brushes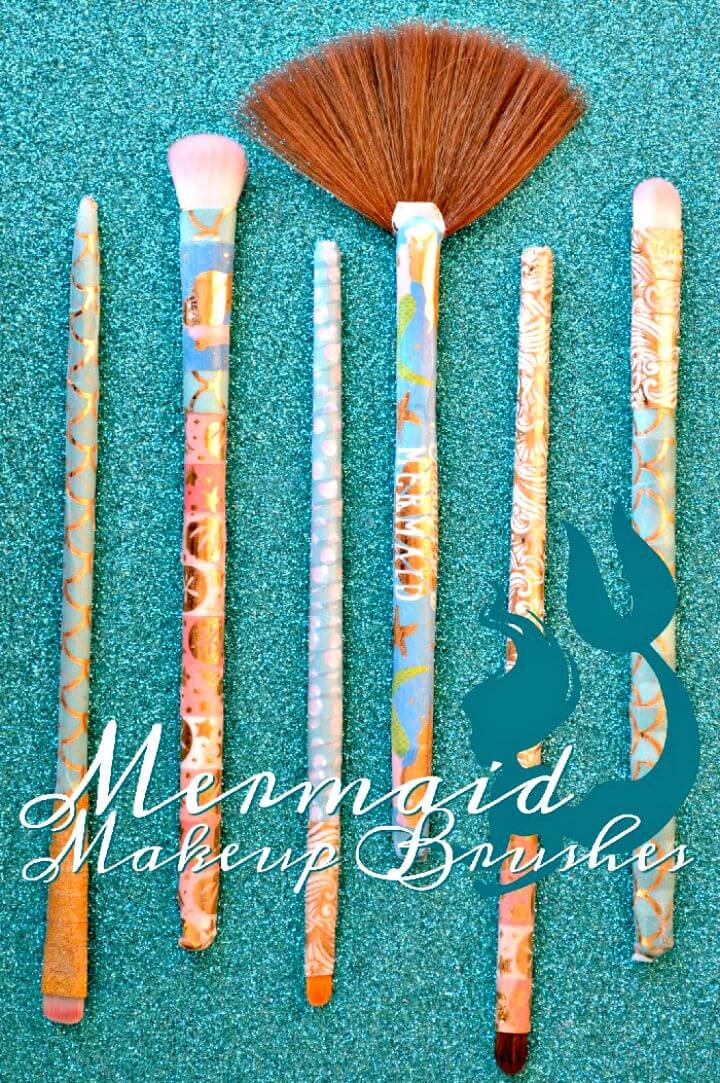 You can add so many pretty touches to all the simple and boring things around just like this pack of make up brushes have been made to look super cute with the mermaid transformation. By only gluing your mermaid-inspired washi tapes to the brushes. You can award this fun makeover look to your makeup brushes. madincrafts
8. Awesome DIY Mermaid Seashell Crown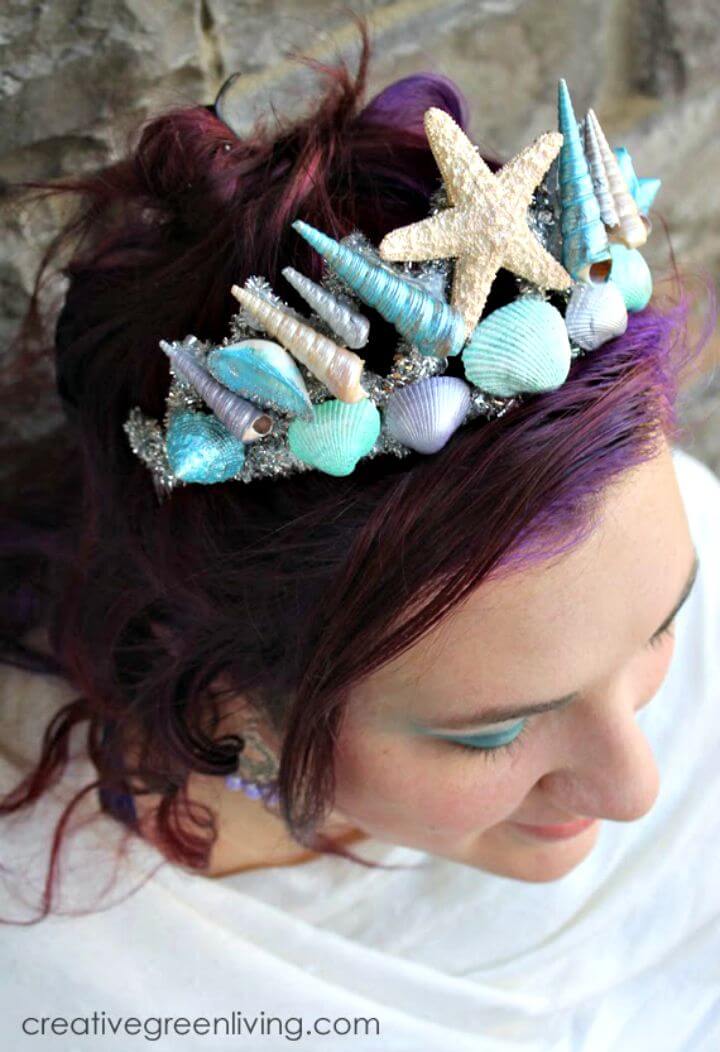 Girls just love to be pretty mermaids at Halloween. We all know that the Halloween mermaid avatar is just incomplete without the mermaid crown over the head. This lovely mermaid crown is made with the Sea shells and starfish getting painted and then glued to the crown. creativegreen
9. Make Your Own Mermaid Shell Bath Bombs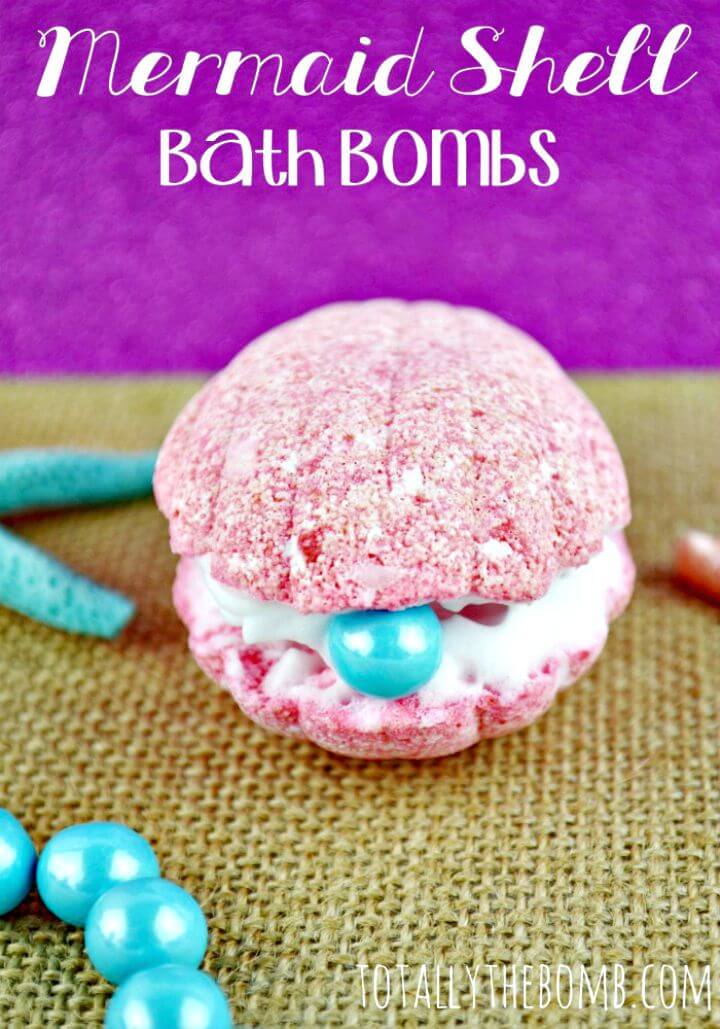 There are so many things about mermaids that you can make for yourself and for your daughters instead of mermaid dresses. Make one of them this gorgeous seas shell shaped bath bomb that can also be gifted to your dear and near ones. You would need your bath bomb recipes and use the sea shell molds to create this lovely bath bomb with a pearl inside it. totallythebomb
10. Adorable DIY Mermaid Tail Blanket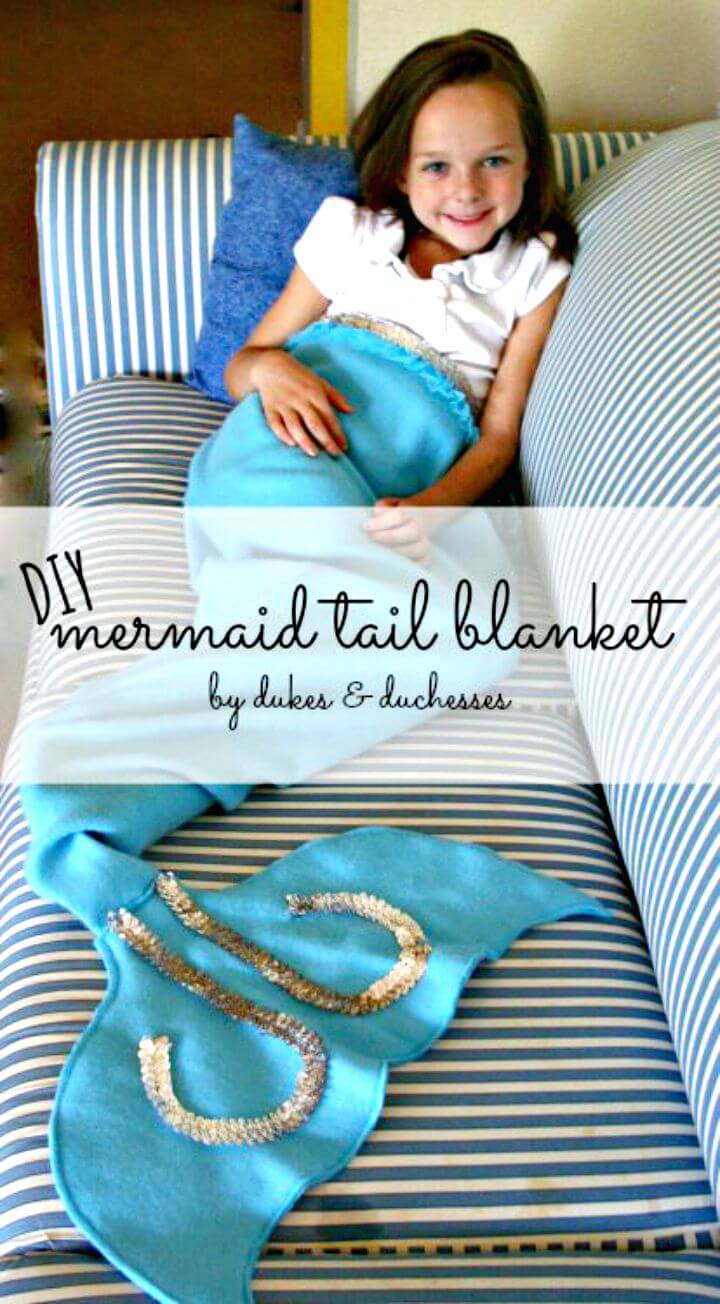 The cozy blankets are the need of everyone in the house to get wrapped up in and enjoy some comfortable time on the sofa. So this time you can make this mermaid blanket with the sequin lace on the tails and believe me your girls would just love it to the core. dukesandduch
11. Easy DIY Seashell Necklace – Clay Jewelry Craft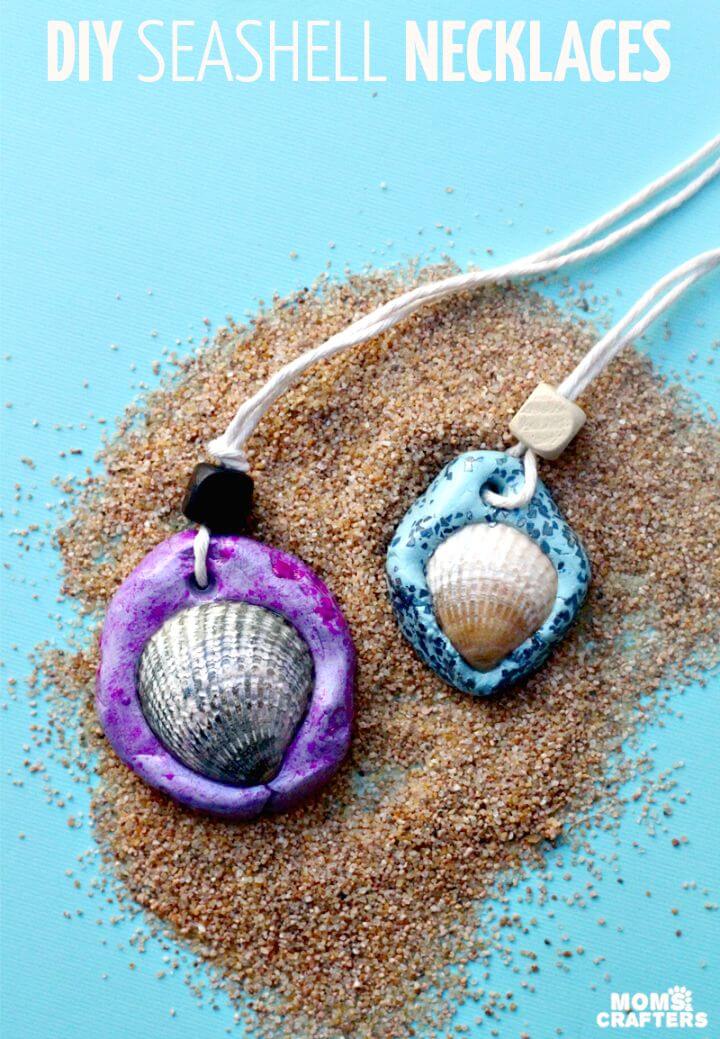 While your girl is dressing up as the mermaid you can not do justice with the complete mermaid avatar with out the fun mermaid accessories to go along with it.  So to grace up the necks of your mermaids you can make these adorable sea shell necklaces in the funky colors. momsandcraft
12. Handmade Mermaid Necklaces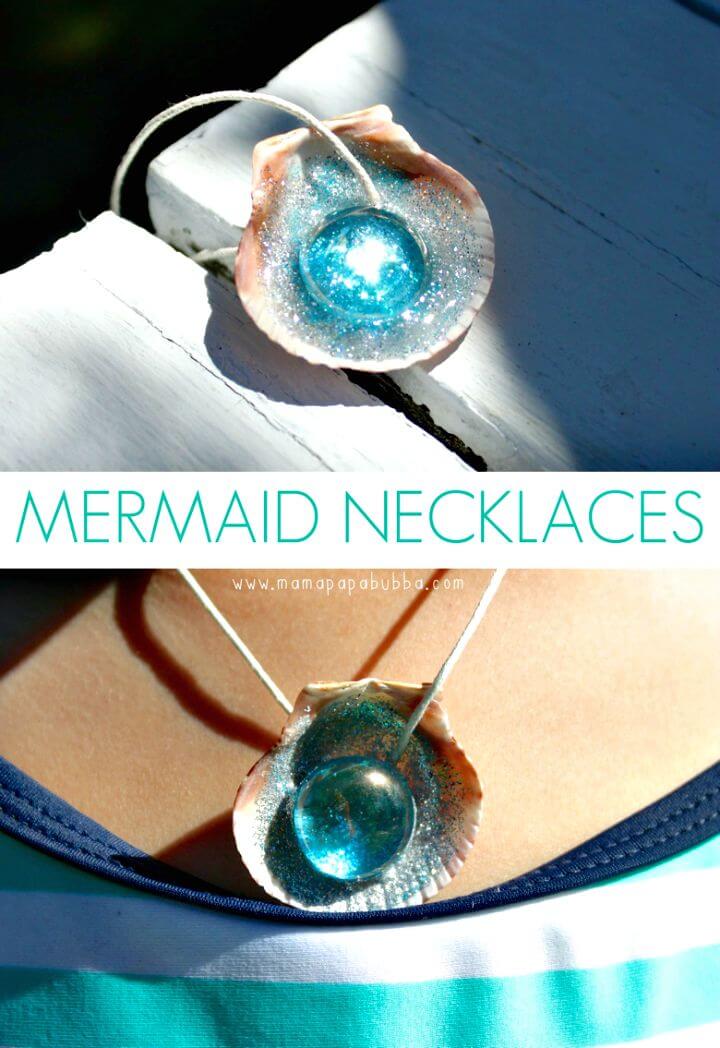 With the glitter glue and the sea shells, you can create this lovely mermaid necklace. Thus wearing them with your tees and tanks you can add some cute touches of the mermaid to your personality. Or even if your little girl is going to be a barmaid at any event, this pretty mermaid necklace would add more beauty and charm to her dress up. mamapapabub
13. How to Make Mermaid Wand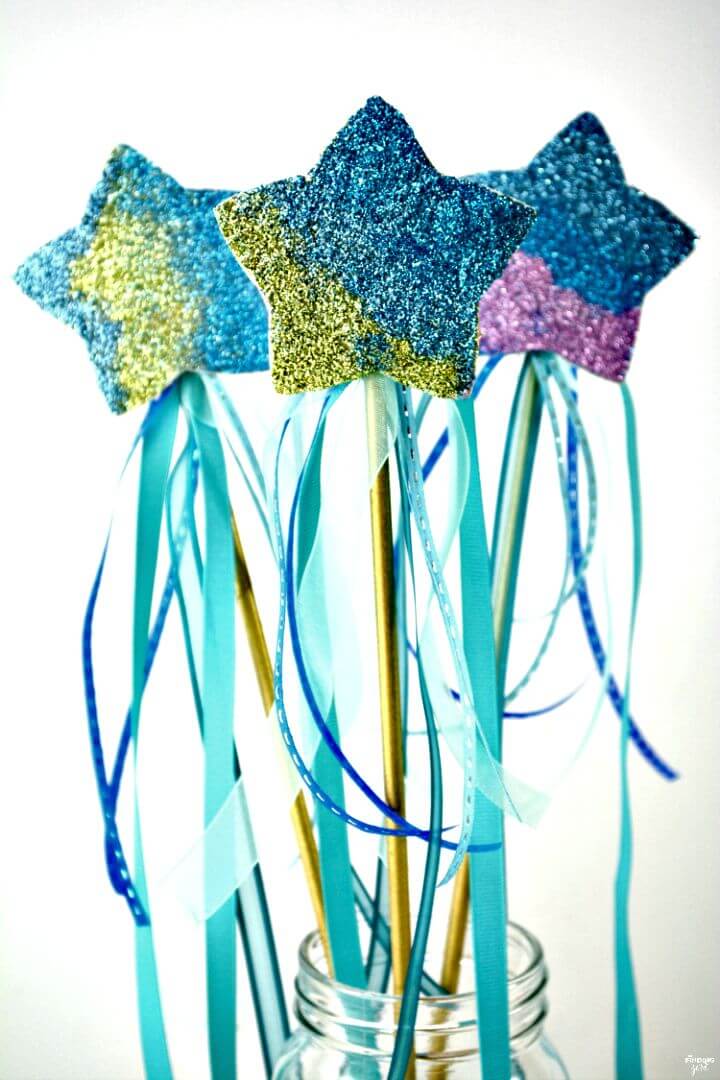 Little girls could be crazy about the fairies and the mermaids and if you can combine them both then you can totally double up the fun for them So while they are getting dresses up for a fancy dress party or the Halloween with their pretty mermaid dress you can make this mermaid want too and totally customize their mermaid avatar on your own. findingzest
14. DIY No-sew Mermaid Tails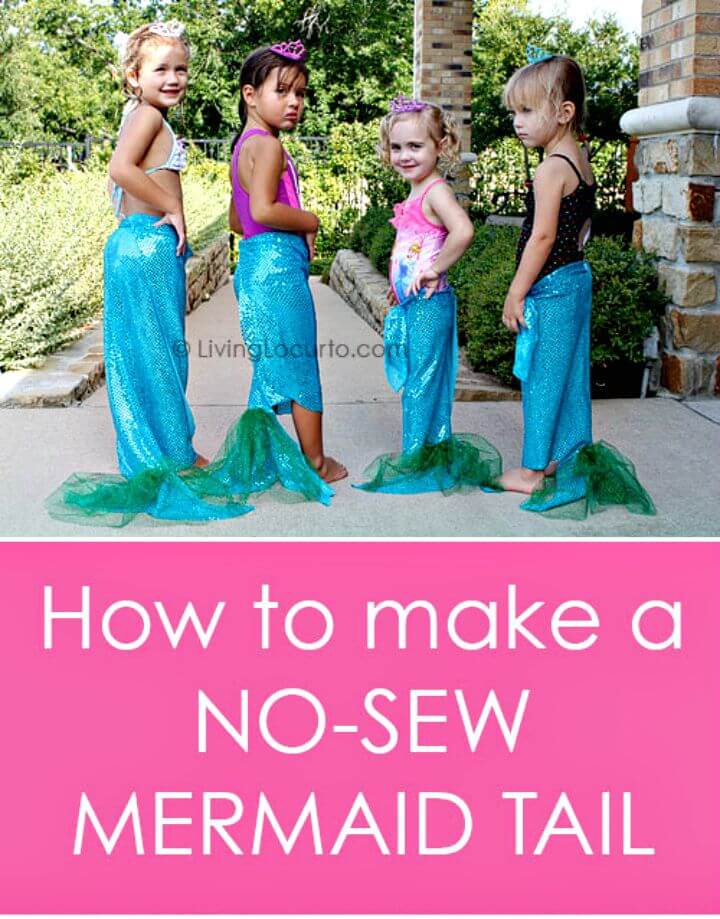 While you are throwing a birthday party for your little girl you can celebrate the theme of the mermaid and add immense fun to your spaces.  Your birthday girl can dress up with this no sew mermaid tail and you can make a lot more as the fun party favors for the whole girl gang and they would all love it. livinglocurto
15. Colorful DIY Cardboard Mermaid Sock Tails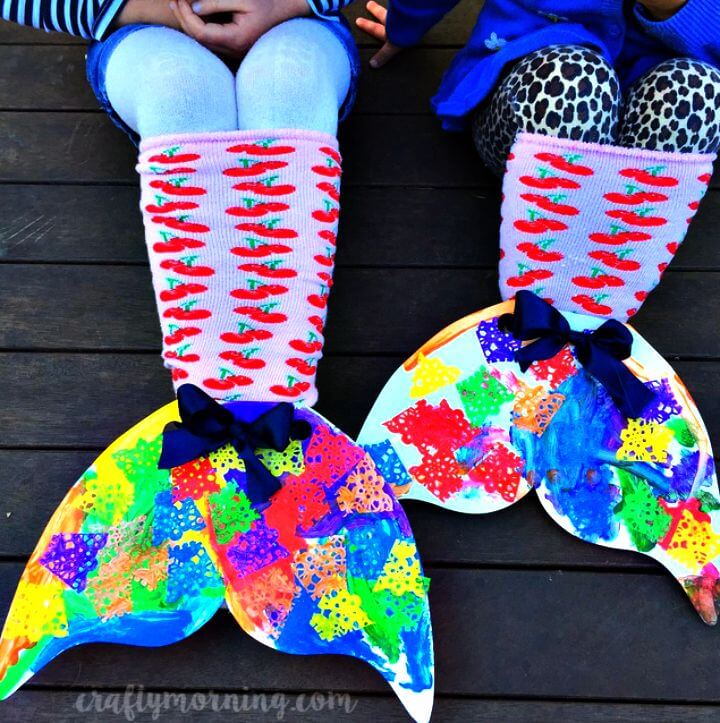 Here is another fun avatar of the mermaids to be enjoyed fully by the little girls in the house. These sock mermaid tails have been created from the cardboard and to create the illusion of the scales colorful doilies have been used and you can see how gorgeous and fun they have been turned out to be used as perfect gift also. craftymorning
16. How to Create A Mermaid Tiara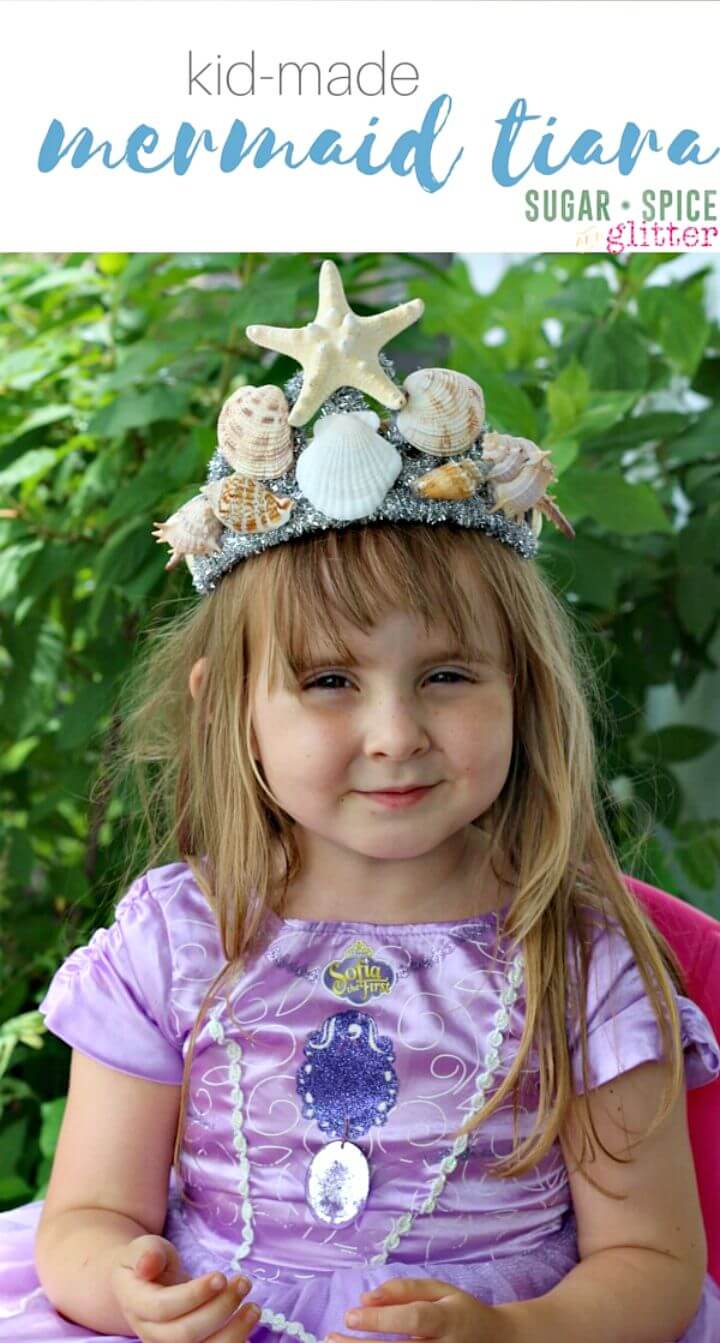 A matching mermaid tail and the tiara can turn any of the frock of your girl to a gorgeous and funky mermaid dress up for here is this absolutely stunning mermaid tiara made out of the a crown, glittery pipe cleaners and the sea shells being glued to the simple tiara or crown. sugarspiceand
17. Cute DIY Mermaid Craft For Kids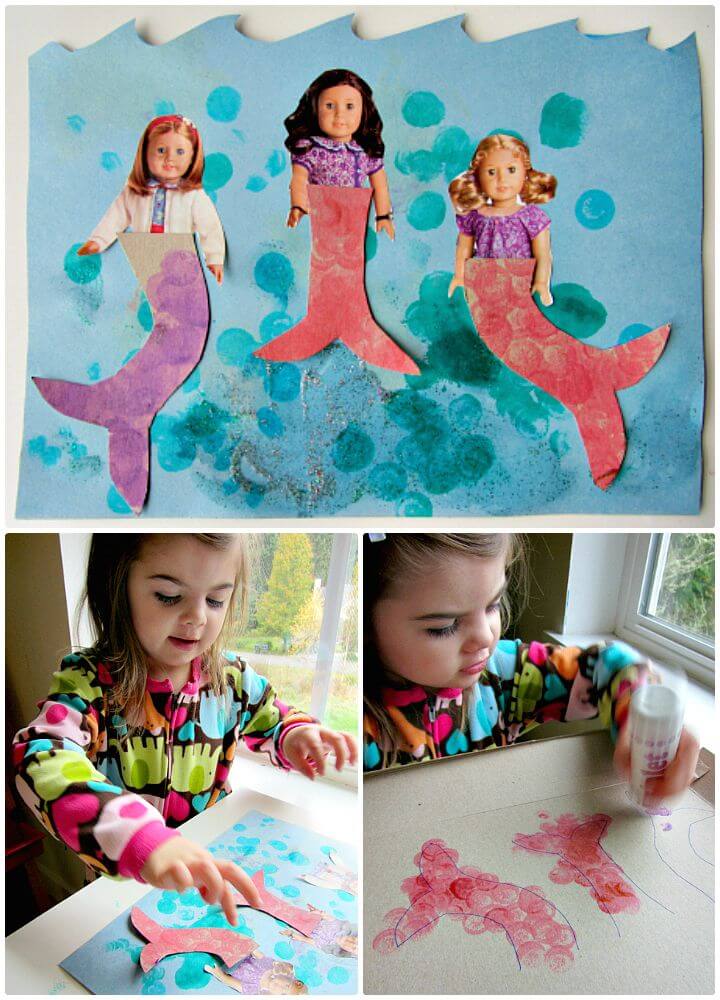 Kids love doing fun crafts at the weekends and here is another one for them to enjoy a hell lot of fun with. Yes you can create this tail-up the mermaid craft for your little girls where they would have to glue the mermaid tails to the catalog cut dolls having been adhered to the crafting board that also has been painted with the sea. notimeforflash
18. DIY Seashell Mermaid Purse Craft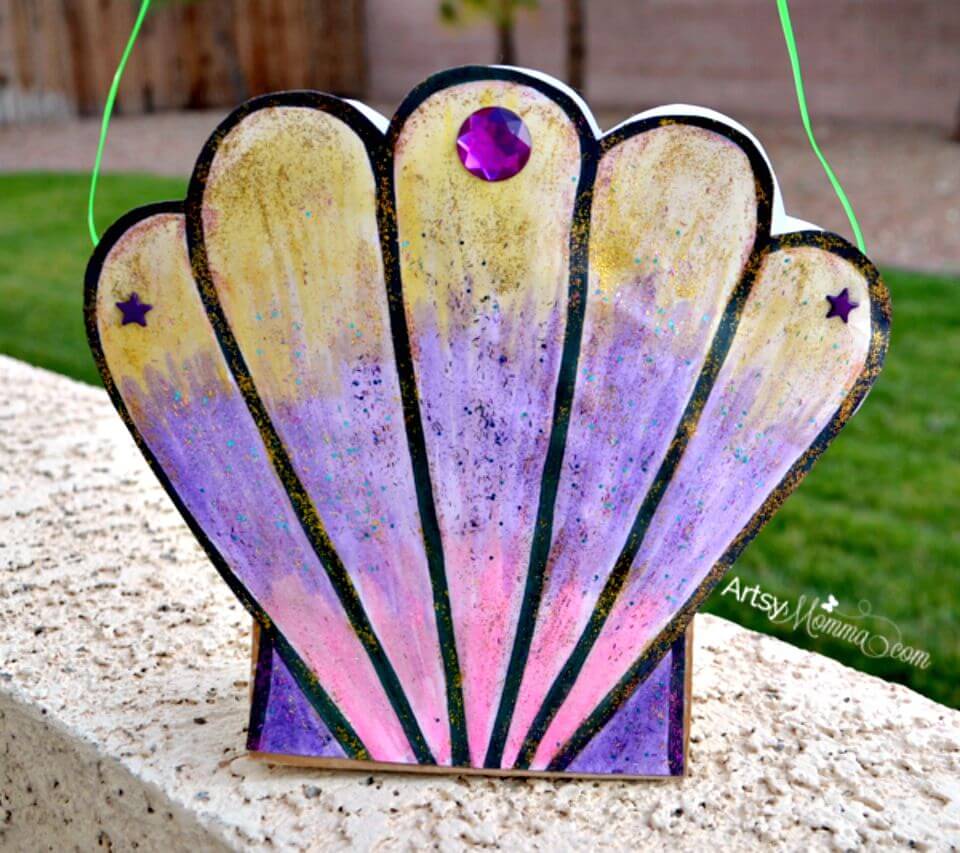 Summers are so much fun for the fashion and the style as you can play a lot with the both and that too with a variety of the colors and themes. How about creating this adorable mermaid purse for your little girls to looks really chic and boho in the summers and also enjoy some cute mermaid touches being added to their dress up too. You can grab the free mermaid purse template here artsymomma
19. Making Cardboard Tube Mermaids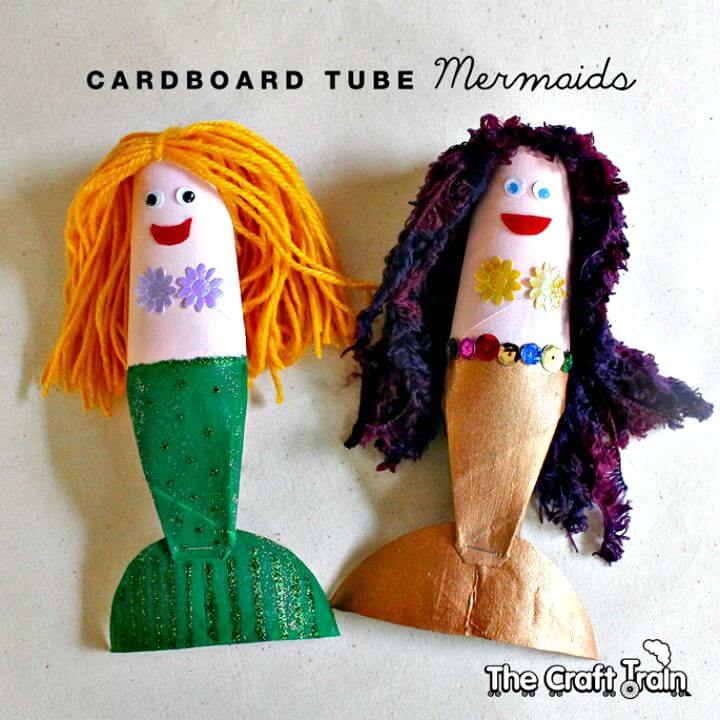 If your little girl is crazy about crafts, then she will love this amazing work of mermaid girls to be created. Using the paper roll tubes, the mermaid body and the tail have been made and then painted, lend with yarn or felt hair and adorned with sequins to look like fun mermaid pieces to play with. thecrafttrain
20. DIY Clothespin Mermaid Craft For Kids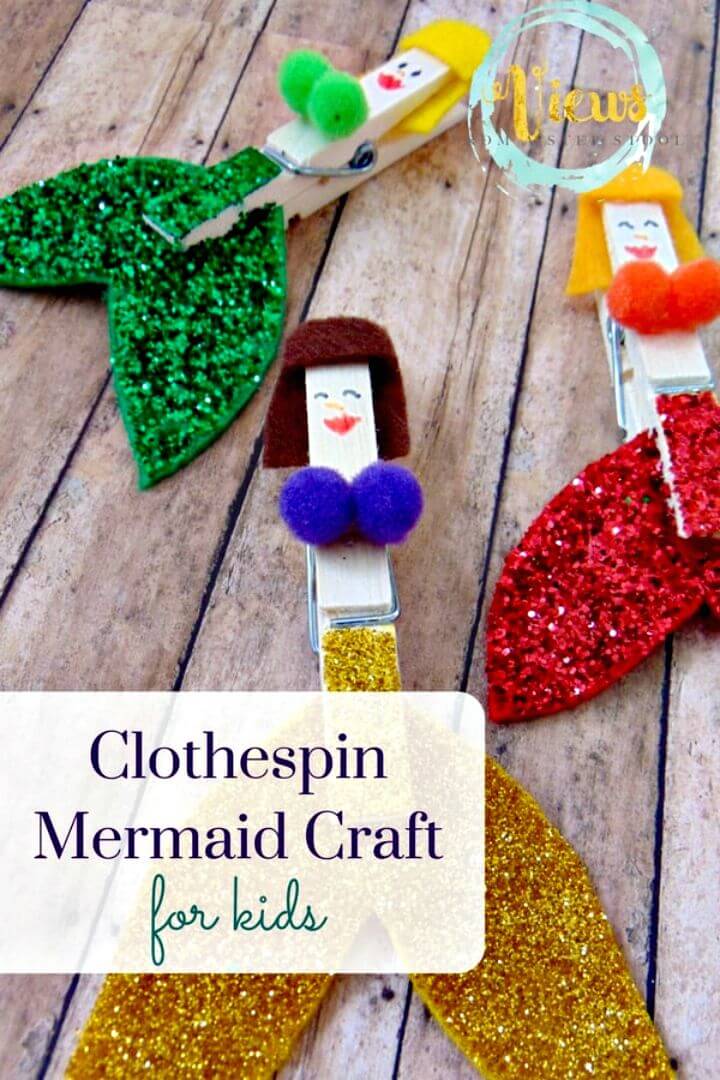 With the easy and fun things lying around you can make cute crafts with your little girls. Just like these mermaid dolls have been made out of cloth pins. Yes, the cloth pins have been decorated with the glitter sheet tails, pom pom balls and the felt hairs and turn out to be enchanting and fun. viewsfromastep
21. Simple DIY Clothespin Mermaid Kid Craft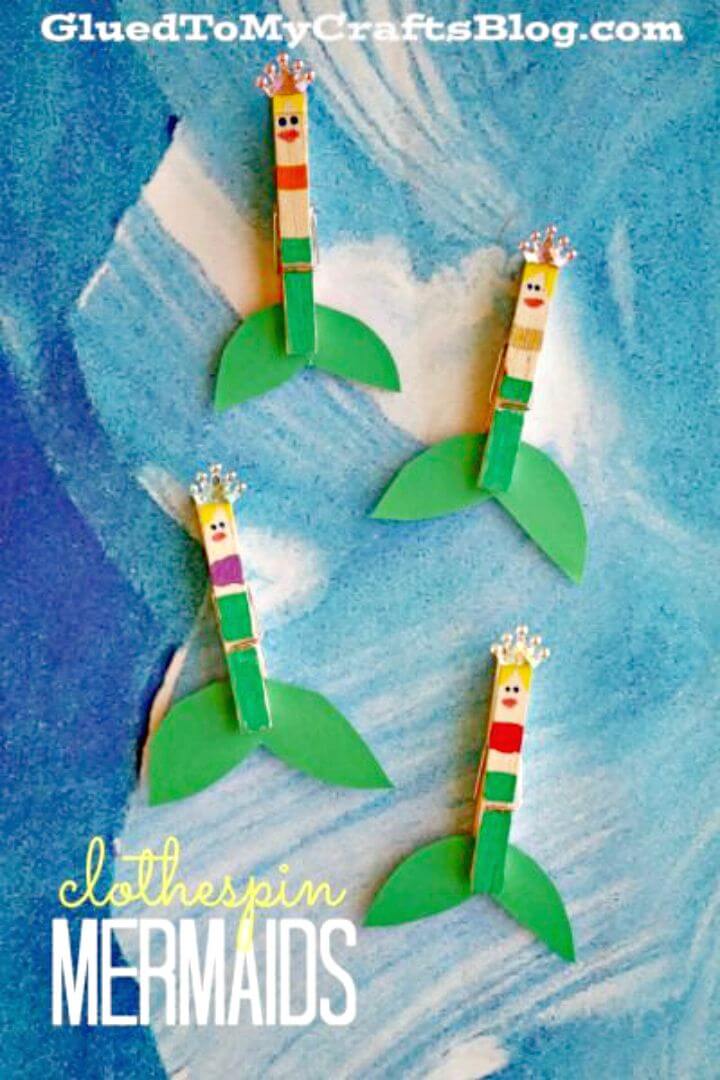 You do not have to buy some expensive stuff to make the perfect mermaid dolls at home as you can totally create some fun out of the things lying around in the house just like this one made out of the clothe pins with some paint work to add the face and dress details. Green card stock has been used to cut out the mermaid tail and add it to the cloth pin and get a completely cute and fun mermaid doll to play with gluedtomycraft
22. Make a Footprint Mermaid Keepsake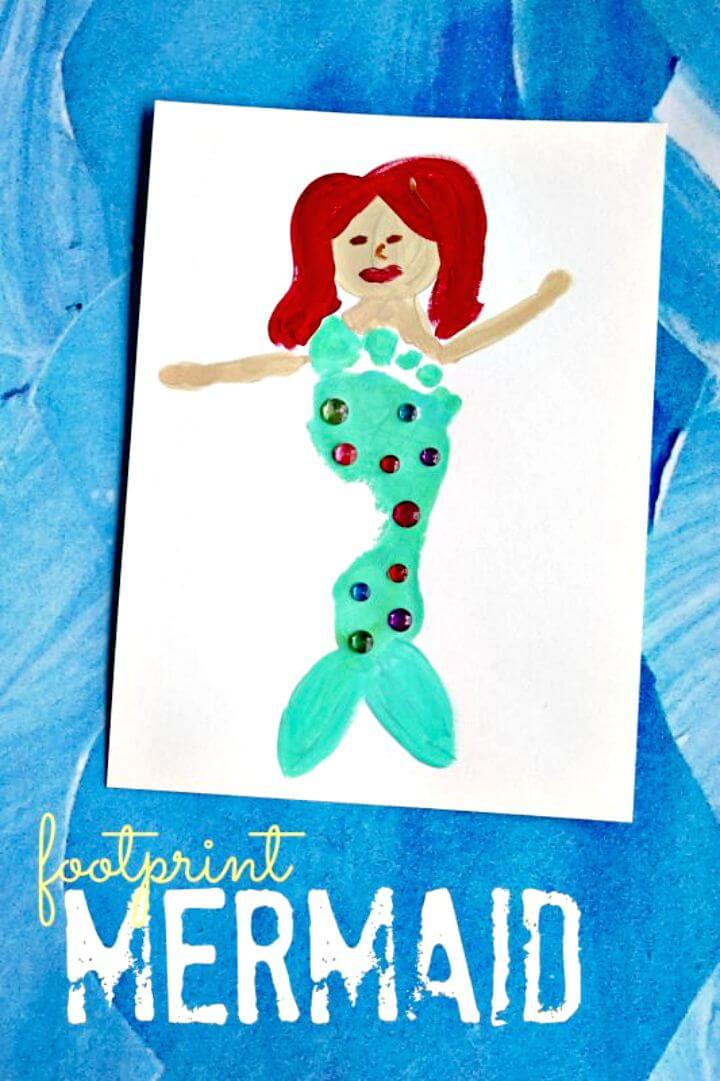 Summers are just too good to do any thing around the house and they are absolute fun for the crafting sessions too and that too with your kids. Here is this pretty mermaid craft to be a part of your summer crafts list as it is super easy and fun to create yourself at home using the easy and cheap supplies. What makes the Mermaid more a fun is the foot print from where the mermaid upper body and the tail has been painted. Learn the cute and fun tutorial of this footprint mermaid craft here makeandtakes
23. How to Make Glittering Mermaid Tail Sensory Bottle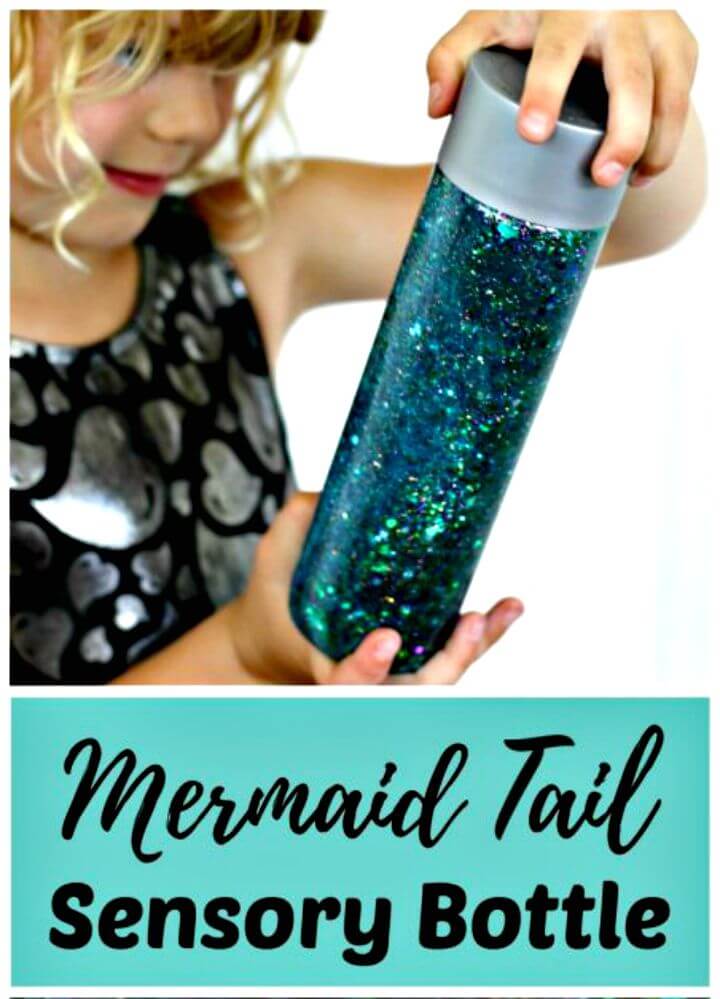 You can make a lot of things at home to excite the senses of your little ones and make them learn a lot at the home too. SO here is the really cute and genius idea of creating this adorable mermaid tail sensory bottle having been create with colorful glitter to turn out so damn pretty and gorgeous to give your little ones a big jaw drop for sure. Learn the details of this sensory bottle here rhythmsofplay
24. DIY Little Mermaid Clothespin Dolls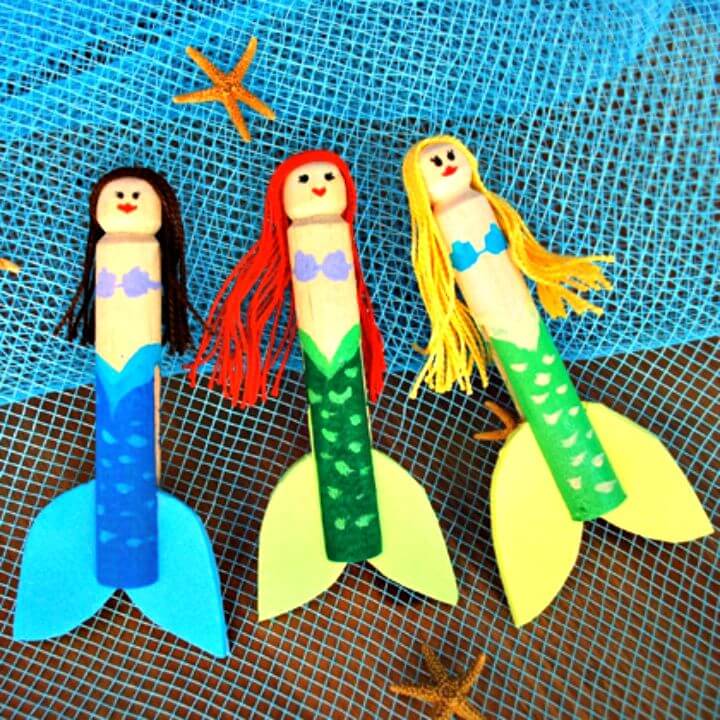 We got you another fun mermaid craft that would be super easy and fun to create yourself at home with the kids and let them enjoy some fun time with their adorable and fancy mermaid dolls. You would need some cloth pins, colorful crafting paper and the paint to create this cutest bunch of the mermaid dolls at home. family.disney
25. DIY Little Mermaid Themed Card with Stencil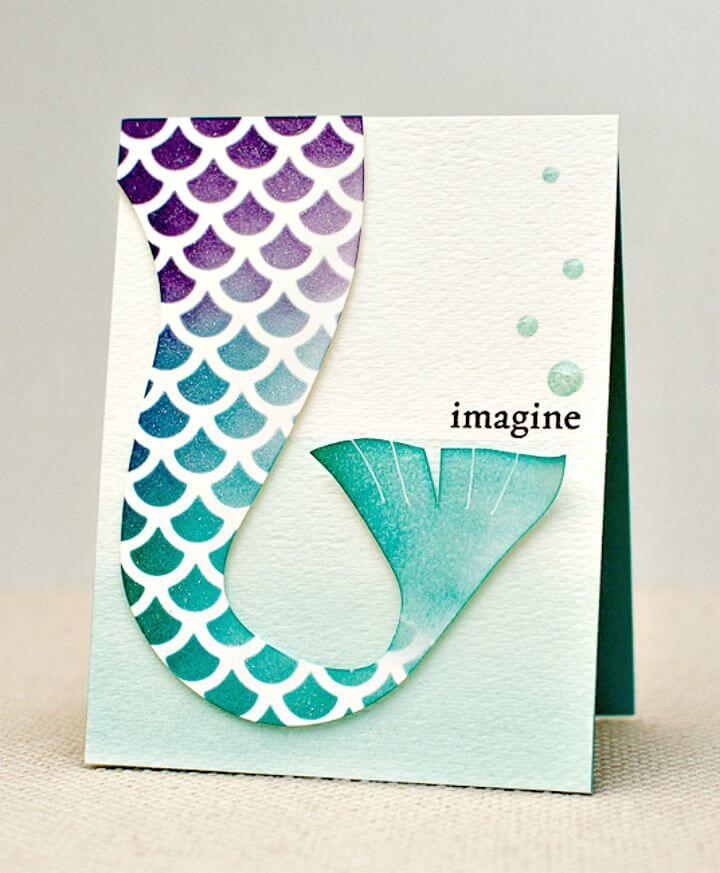 Making cute cards and exchanging them with the friends is the favorite summer task that the kids love to perform and enjoy it to the fullest. So as the kids are in much love with the mermaid you can inspire them to make these adorable and cute mermaid cards to make this summer afternoon and they would just love it. The stenciled scales, the pretty colors and the elegant style f the card really make it look so whimsy and fun. mayholicraft
26. Beautiful DIY Magic Mermaid Tails: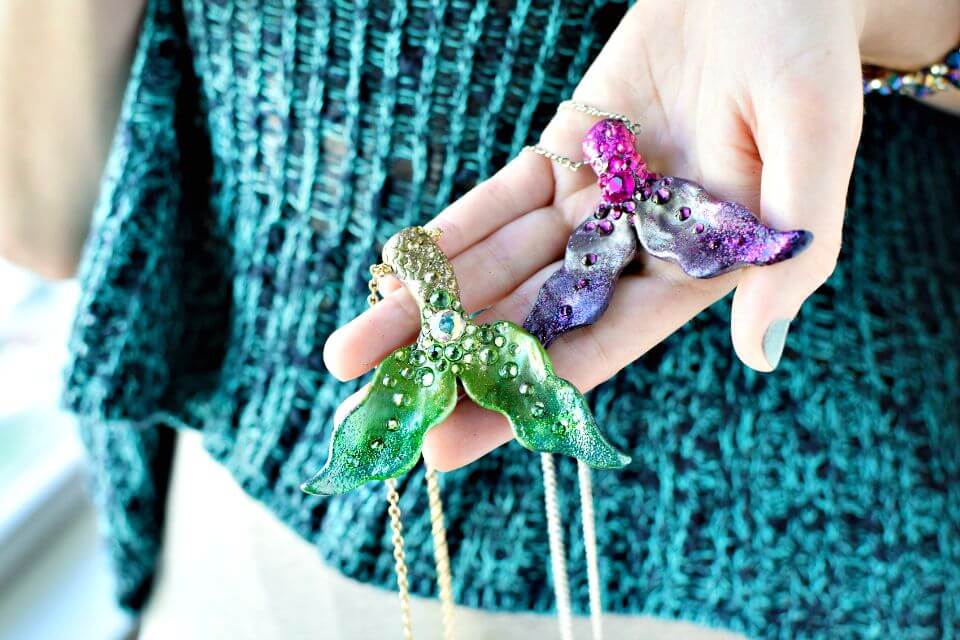 As the mermaid craze is on going and mermaid crafts are all the talk of the town and here are the most adorable and gorgeous looking DIY magic mermaid tails to be made and contribute your part to the trend. Using the clay, some glitter, eye shade and the gems these utter beauty pieces have been created to be used as necklaces, key chains, bag chains and so much more. quietlioncreations
27. Mermaid Costume Made With Coffee Filters: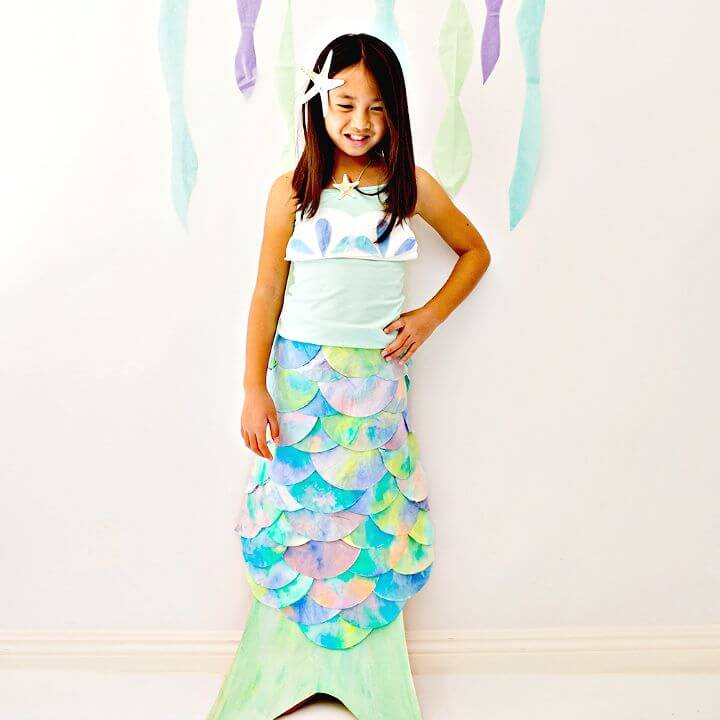 Everybody wants to look super fun and quirky at Halloween and so do the little girls who are hell exciting for the festive and they would love to be the gorgeous and fun looking mermaids for Halloween. This mermaid costume has been made out of the cheapest thing you could ever imagine, and that is a bunch of coffee filters. You can follow this cool and fun project here to create the same costumes for your little sea queen hellowonderful
28. Adorable DIY Mermaid Necklace: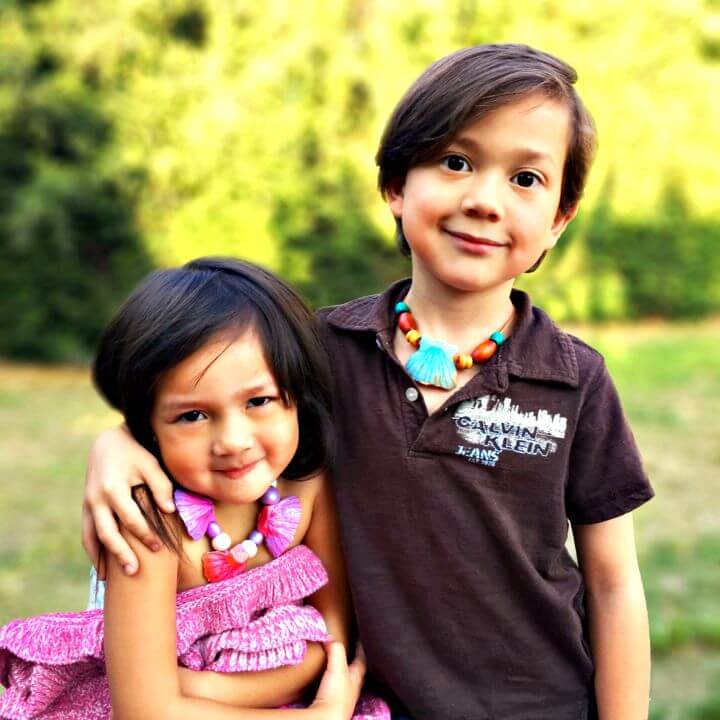 Why should girls have all the mermaid fun as the boys can also enjoy equally. So this time when you would be making these and lovely mermaid necklaces for your little girls you can make the same for your boy too and let him wear it as his pretty merman necklace and twin up with her sister or friend. You would need sea shells and pearls to make these adorable necklaces. creatingcreatives
29. DIY Mermaid Paper Plate Collage: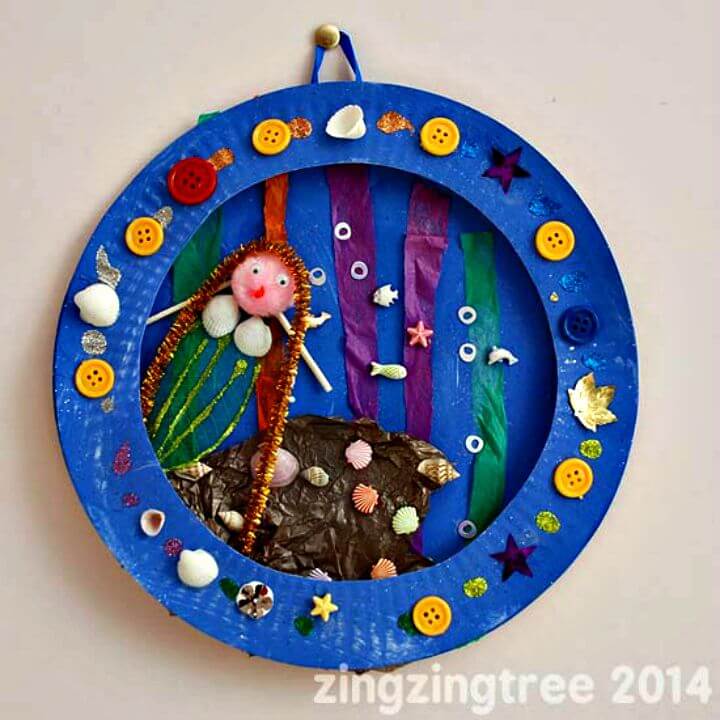 The kids can learn a lot through the art and craft projects and here is this lovely mermaid collage using so many cute and colorful things. Firstly you would need a paper plate, a lot of cute sea shells and stars, some buttons, paint and glitter and then put them together and tada this gorgeous and fun art pieces is ready to be a part of kid's room getting nicely displayed over the walls. bluebearwood
30. Making a Mermaid Shell Hair Clip Craft: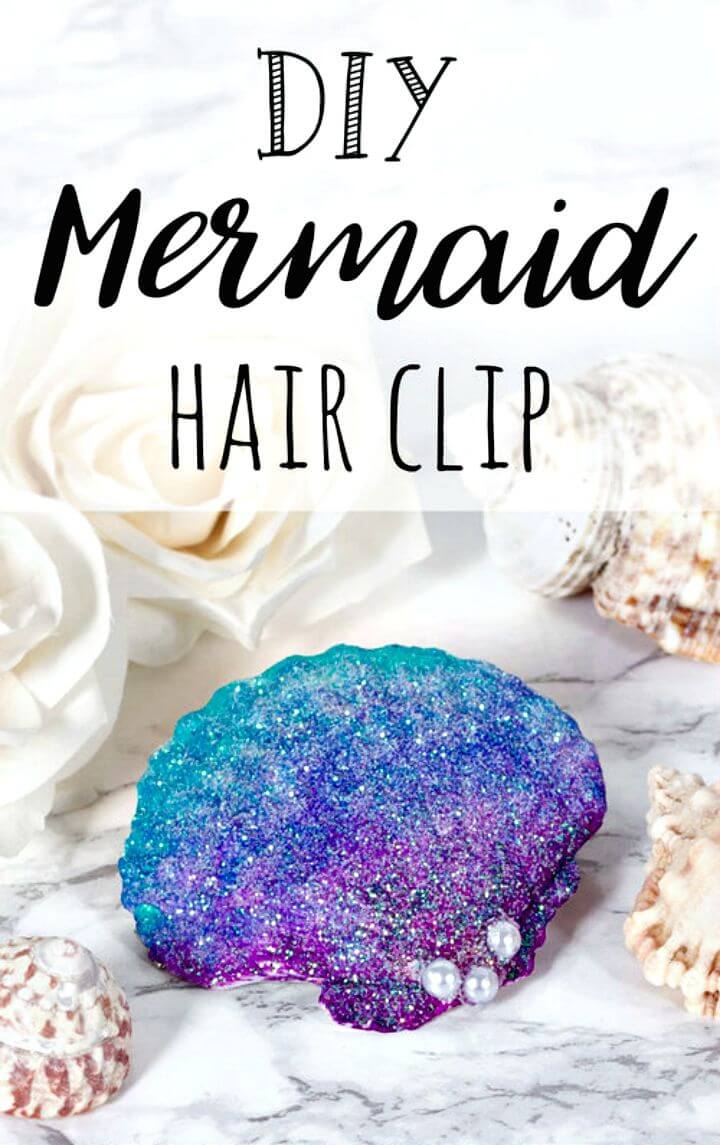 The girls love fancy accessories to adorn themselves and if they are fans of the mermaids they would just love these adorable sea shell mermaid hair pins to adorn any of their dress up be it a frock, tank or the top. They are super easy to make with the paint, glitter and some sea pearls. You can also make a few and use them as the cutest gifts for the girls around and make them happy all around doodleandstitch
31. DIY Mermaid Tail Towel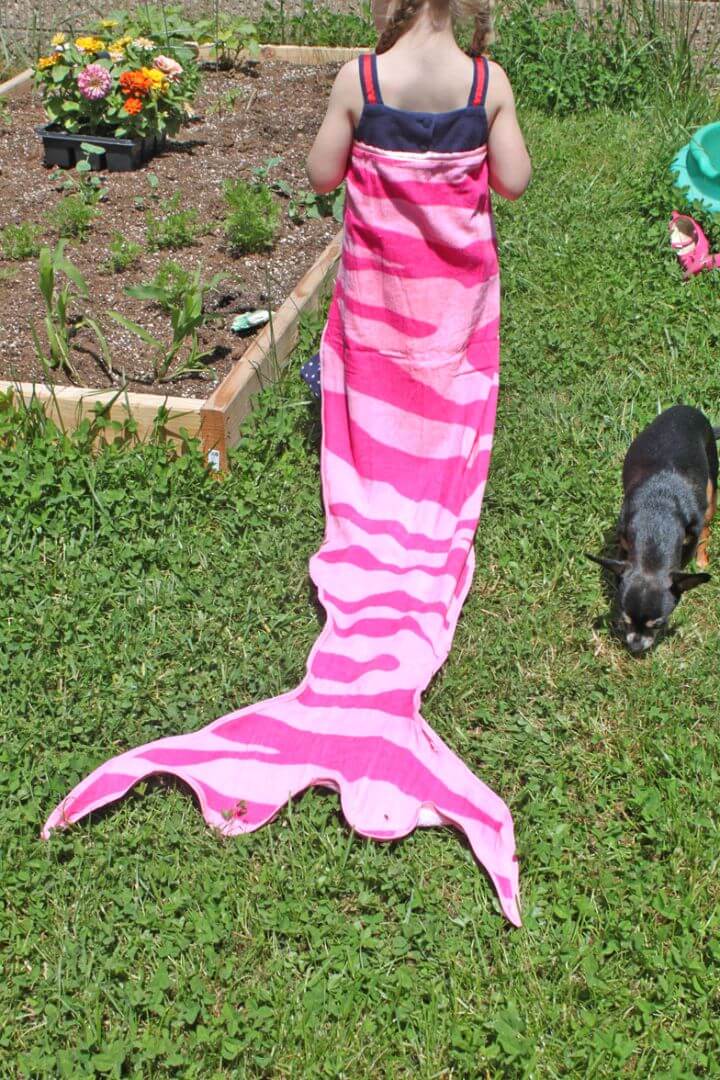 While enjoying some water fun in the outdoors with your kids here is what can make your kids enjoy more and more there. This is the cute and pretty looking mermaid tail tower for your little girls that they can worn around and get themselves dry while enjoying all in water. stitchtomylou
32. Easy DIY Mermaid Tails Out Of A Sock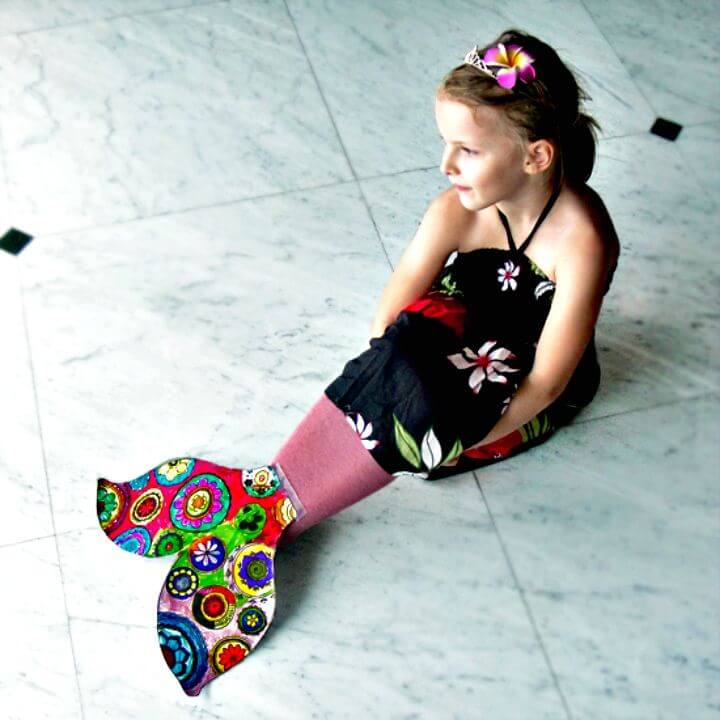 You can make this pretty mermaid tail sock for the little in the house when they are in the mood to play the mermaid pretends. Take up a sock and add the paper cute tails to them and they are ready to rock the look of your little ones in the house for fun play. You can paint up the tail in fancy colors and designs and turn them out to be cooler. hattifant
33. DIY Mix and Match Clothespin Mermaids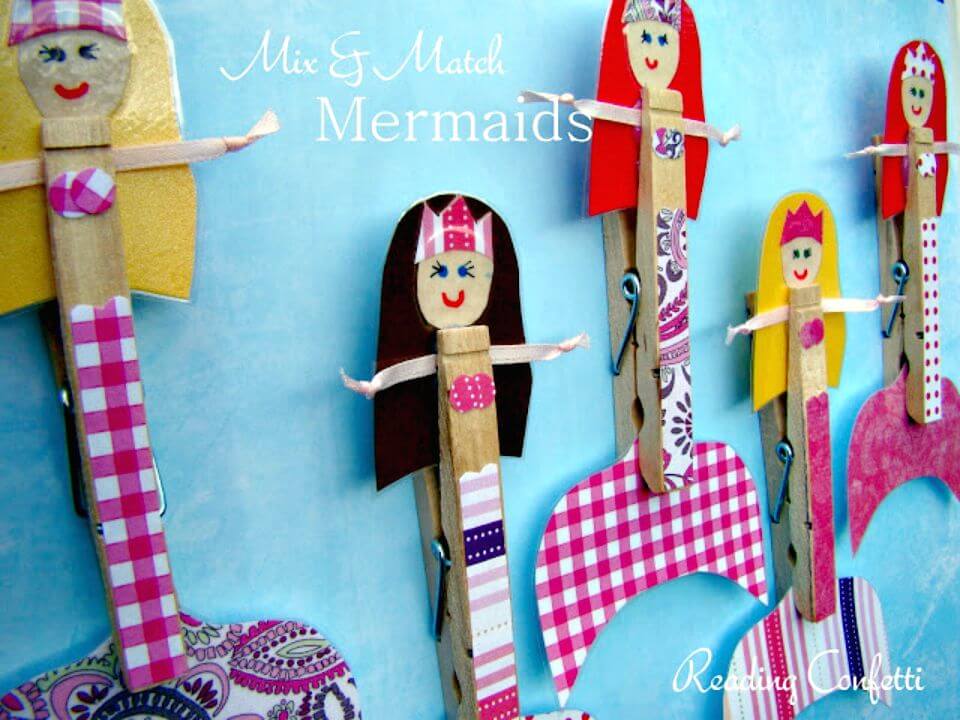 The little girls are so hugely in love with the mermaids and there are so many ways to enjoy their mermaid love at home just like these adorable mermaids having been made out of the cloth pins and some colorful paper. The paper has been cut into the crowns, dress and the pretty tails of the mermaid and glue to the cloth pins and they are ready. readingconfetti
34. Create Paper Bag Mermaid Craft For Kids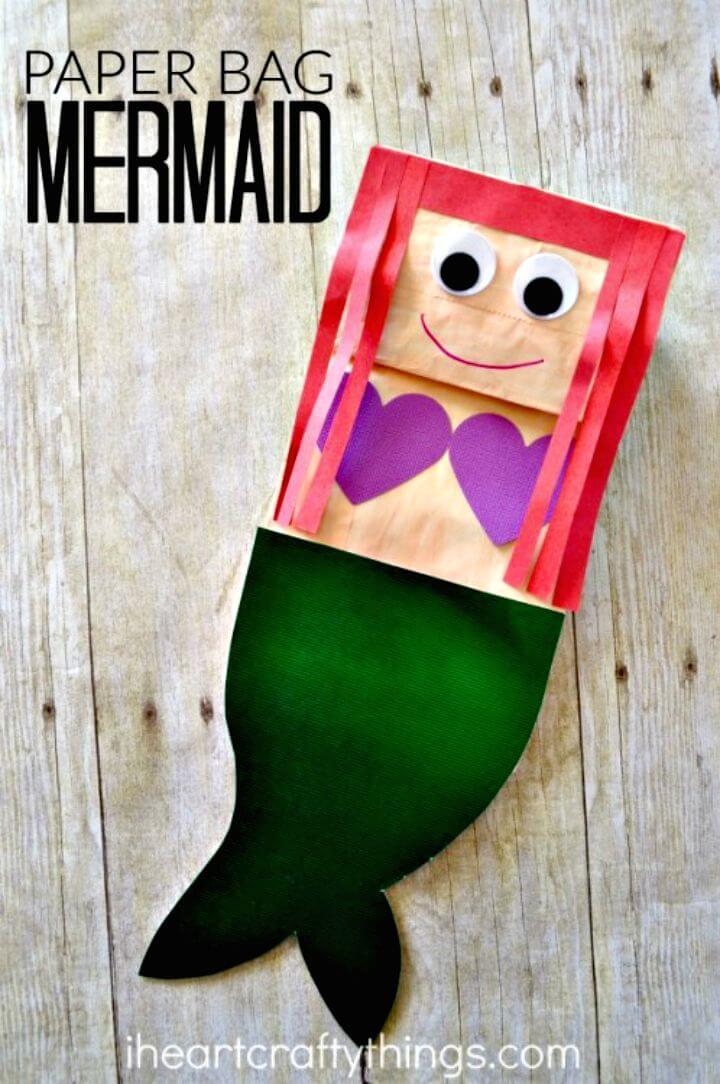 You can go crafty with any thing lying around just like a lunch paper box here has been used to create this amazingly cute and fun looking mermaid doll out of it. Some colorful papers have been used to create the body features of the mermaid like eyes, hair, dress and of course her gorgeous and pretty tail and glue it all up on the paper bag and your lovely doll is ready to feel proud of. iheartcraftythings
35. DIY Play Dough Mermaid Tails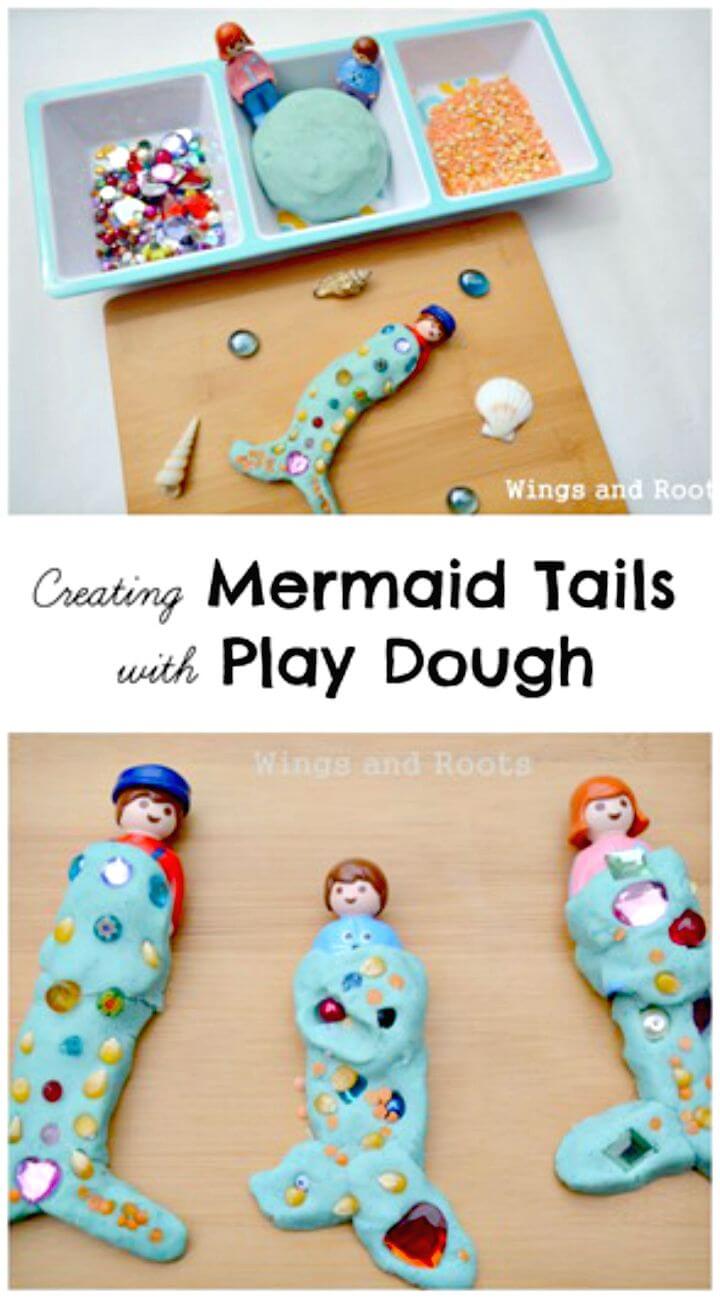 Here is this superb idea to keep your kids busy this weekend by letting them get their hands dirty with this adorable and fun mermaid craft. Yes using the clay dough they can easily create these cute mermaid tails to any of their toys or the dolls and embellish it up with the colorful stones, gems, beads and the lentils and let them turn out to be super cute and fun. wingsandroots
36. DIY Polka Dot Mermaid Tail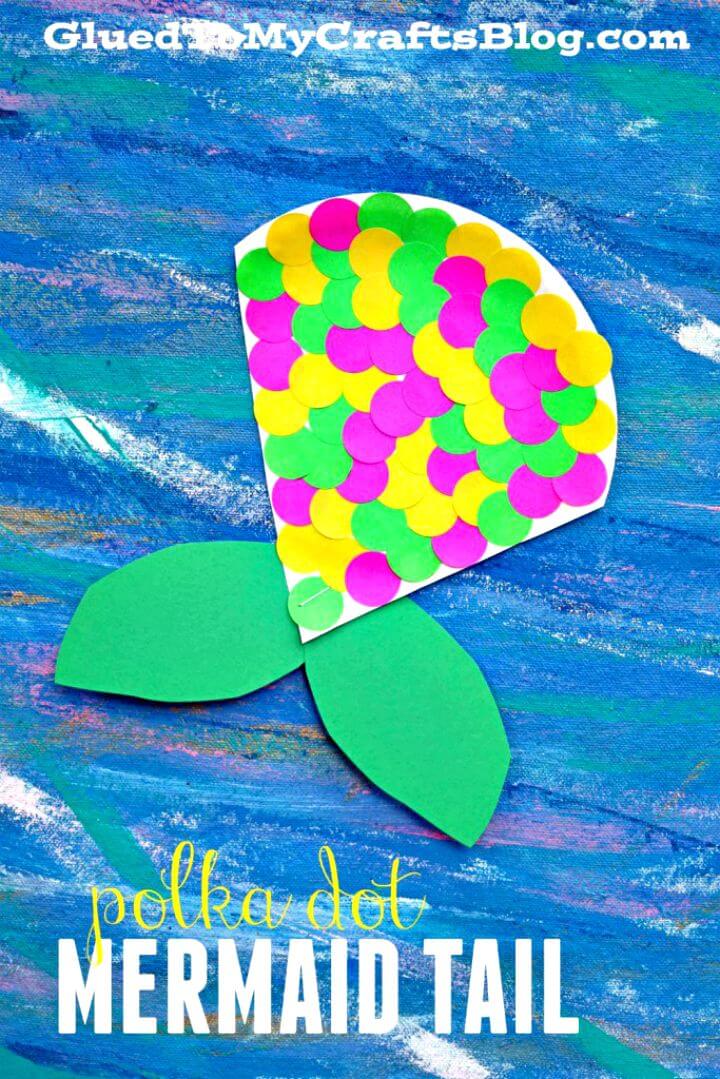 Its like there are endless ways to make the cute and trending mermaid tails and we got another cute one. Here the colorful paper has been used to make this super cute mermaid tail which has been further embellish and spruced up in look with the colorful paper polka dots on it as they really give a glimpse of the scales on the body. gluedtomycrafts
37. Creative Popsicle Stick Mermaid – Kid Craft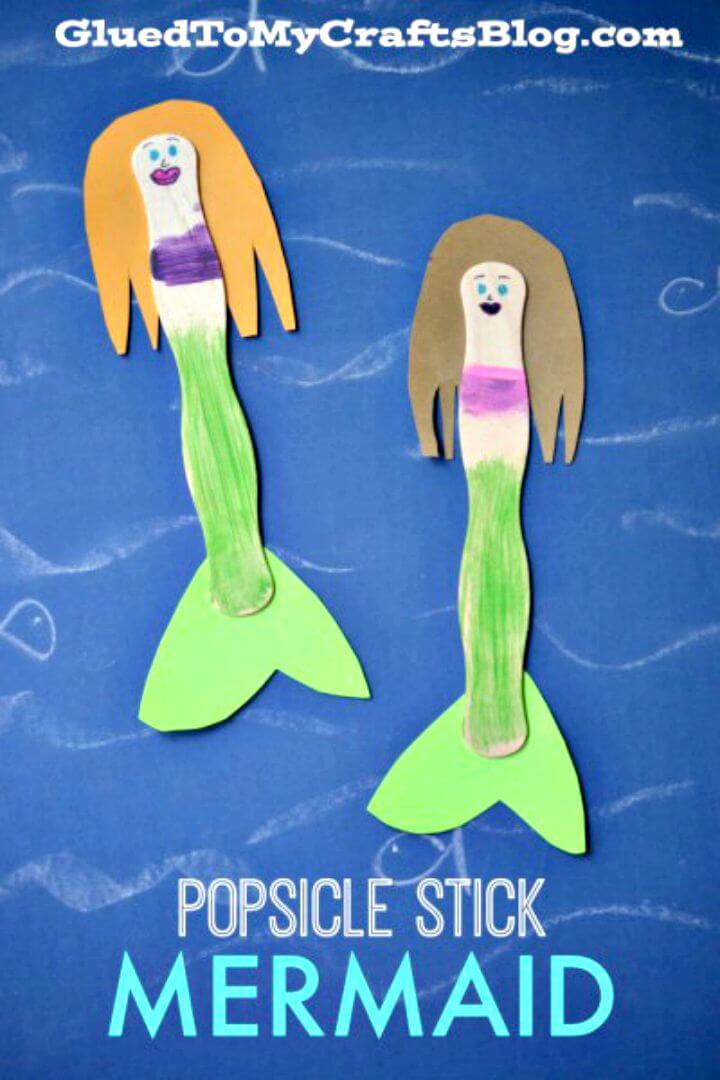 You can make the cutest and the most cheapest of the mermaids out of the Popsicle sticks. Yes you heard this right, by painting the stick with face and dress features and then adding the crafting paper cute tail and hair to the sticks and you got the perfect mermaids ready to let the kids have fun with. as they are sure easy to make the kids would love doing this lovely and fun craft on their own gluedtomycrafts
38. DIY Sparkly Mermaid Slime Sensory Play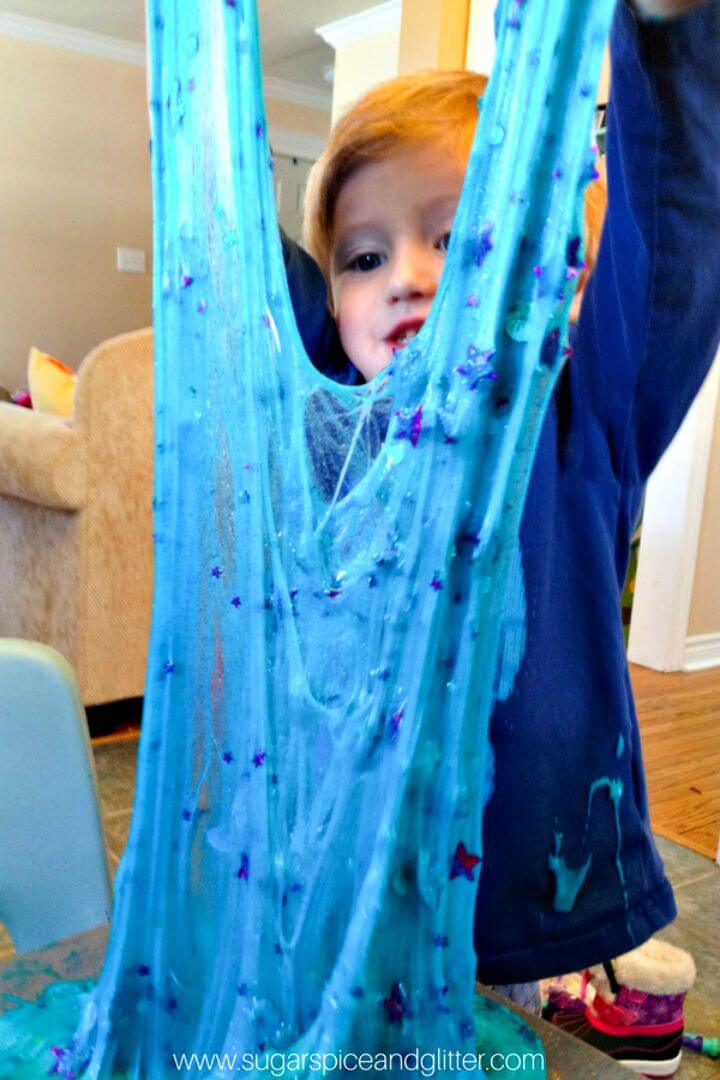 Slime is really getting really trendy on the crafty blogs and here is how you can make the most adorable and the pretty slime til till date. This is the fun mermaid glitter slime that has turned out to be super fun and fancy for the kids and they would love playing with it by squishing it, stretching it and getting all messy with it. sugarspiceand
39. DIY Swimming Mermaid Paper Craft With Free Printable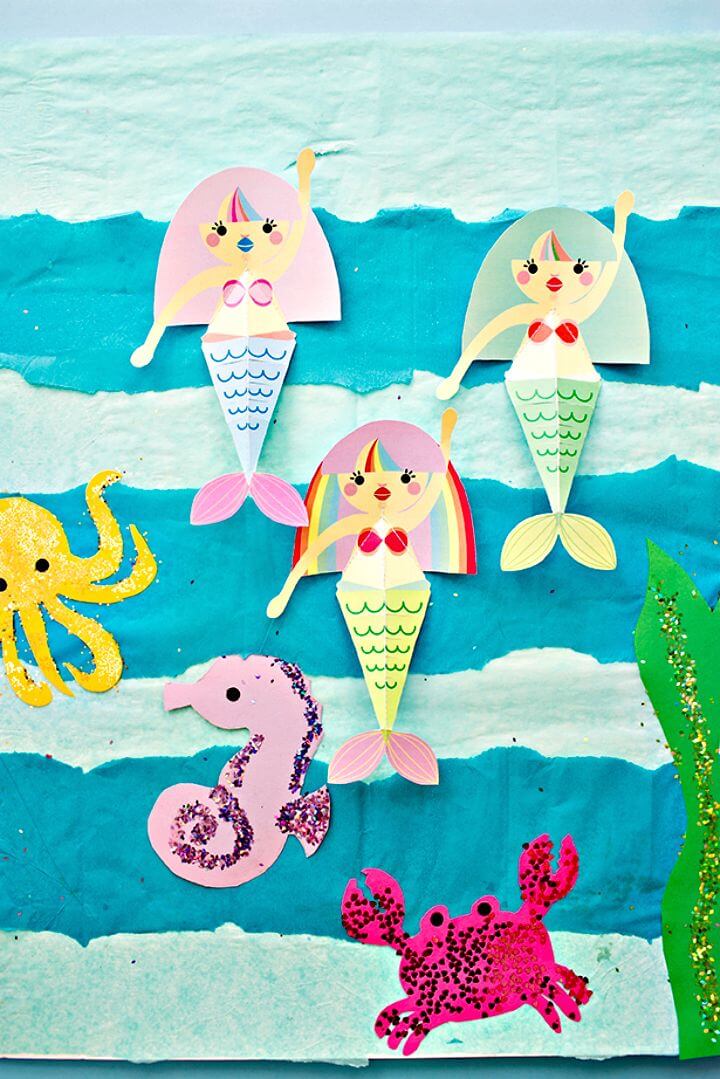 You can use the under the sea or the ocean theme for your kids to create some fun crafts this crafty weekend and they would love doing it. Here is the perfect paper craft showing some gorgeous and fun under the sea creatures like mermaid, sea horse, octopus being nicely swimming over this paper ocean. You can get the free printable of the mermaid and other creatures right here hellowonderful
40. Bright DIY Uber Cute Origami Mermaid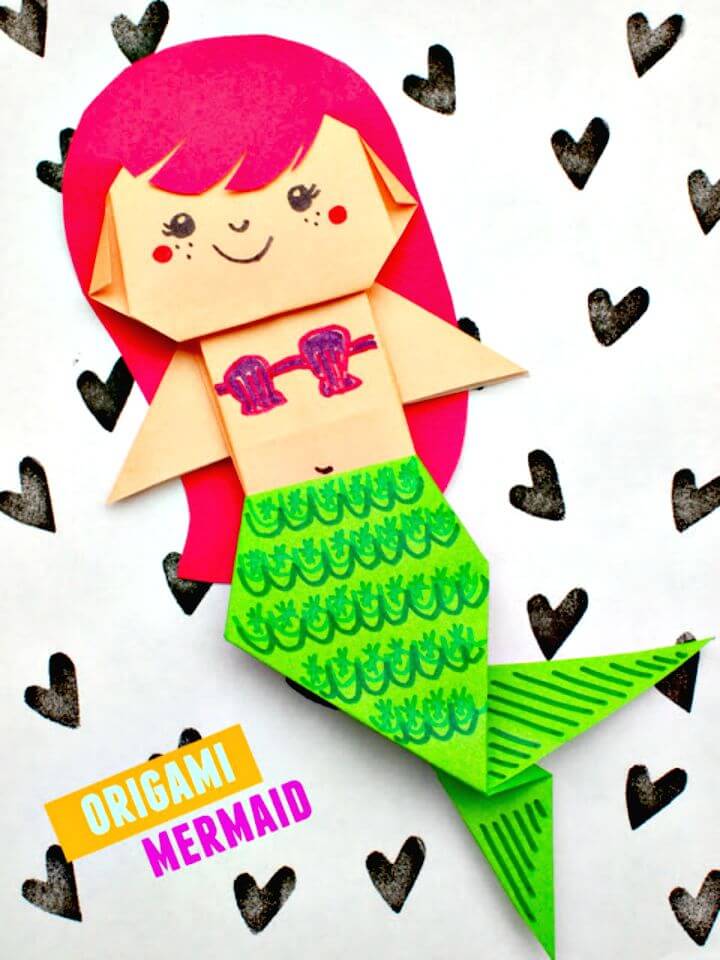 Kids just love origami and what can be a perfect origami than this gorgeous and cute paper mermaid origami for the summers this time. this adorable origami is super easy and fun to make out of the cheapest supplies like the origami paper and the sharpie markers to draw the face, dress and the scales on the tail. Follow the complete instructions of this mermaid origami here pinkstripeysocks
41. Easy DIY Egg Carton Mermaid Dolls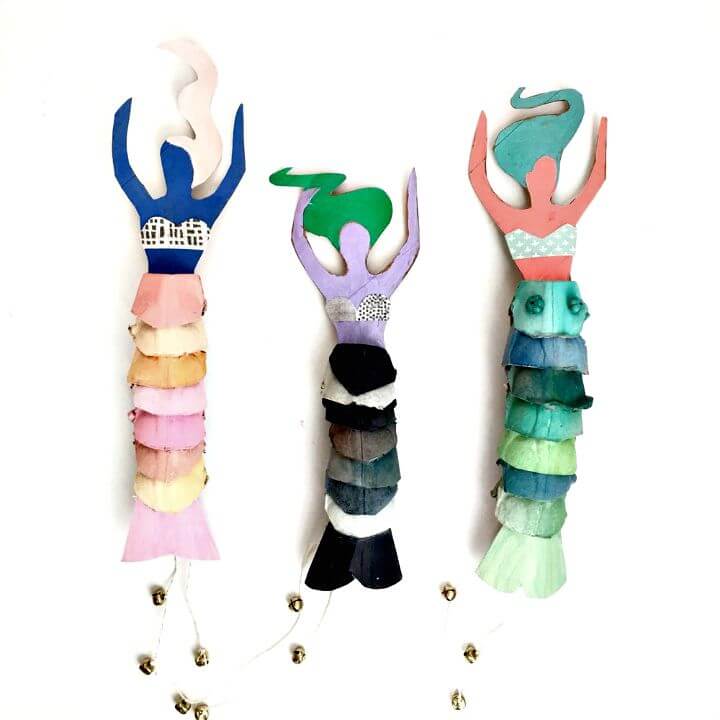 You can use so many things around that you throw considering useless, for your fun crafty projects just like this one where the empty egg cartons have been painted and use to crate this adorable and fun looking mermaid dolls for the little girls in the house. They are super easy and fun to create and play with and thus make the most out of the free weekend time or summer time. You can learn to make them step by step here artcampla
42. How to Make Mermaid Tail For Kids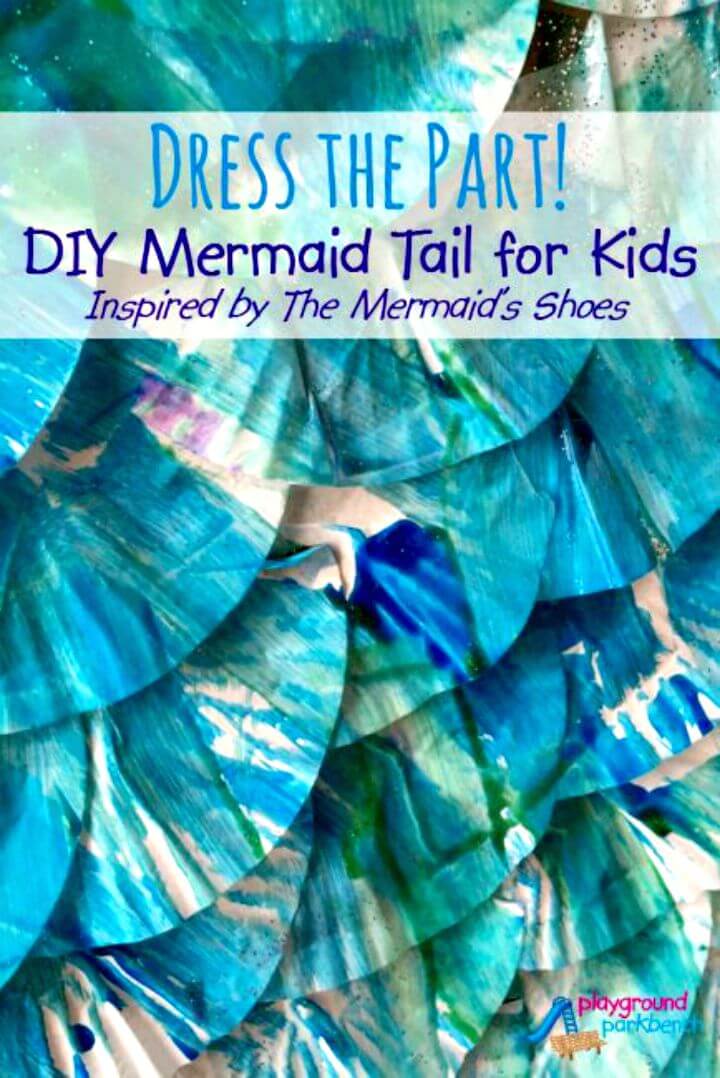 If your daughter is going to start the mermaid tales reading at night then here is the idea of creating the pretty mermaid tails to ear and look exactly like the favorite character in the story. SO this cute and funky mermaid tail has been made easily out of the craft paper, coffee filter and the cup cake wrappers being all glued and painted so damn nice and easily with the ocean colors. playgroundpark
43. DIY Paper Roll Mermaid Craft for Kids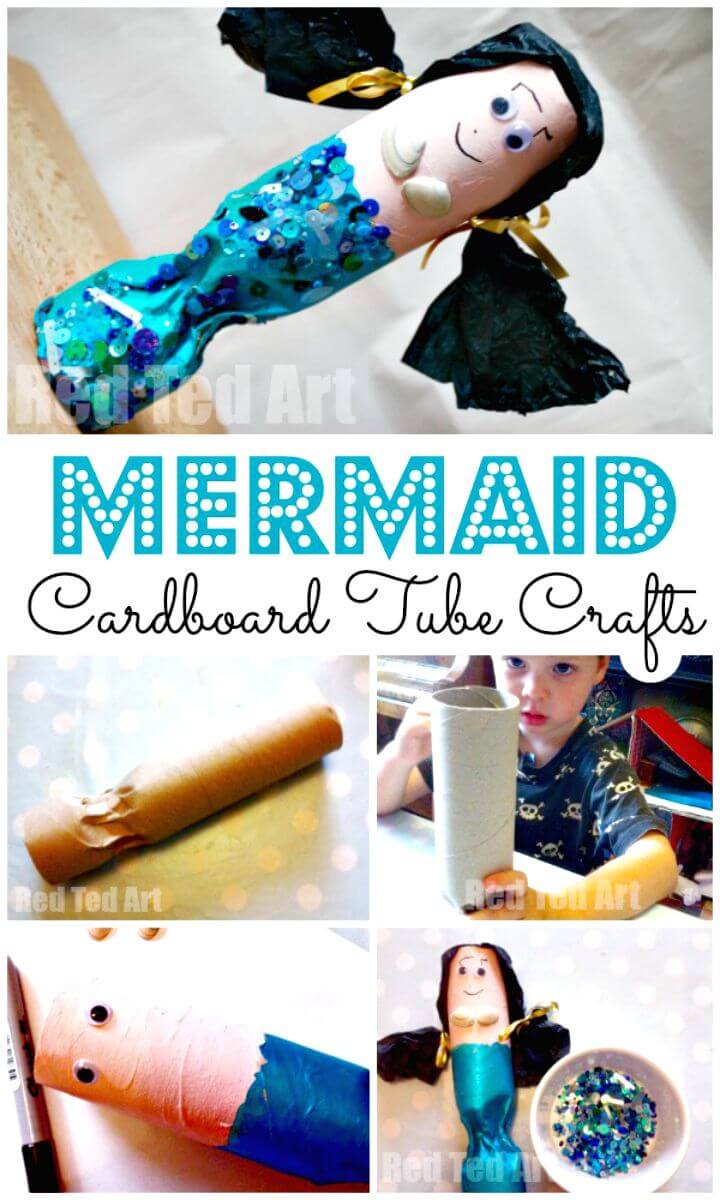 An old tissue old, some paint, pretty and shiny sequins and some of the black tissue paper have created this utterly gorgeous and pretty looking mermaid doll and your kids are going to fall in love with this craft not only for playing but also making it themselves too. redtedart
44. DIY Sequin Beach Bag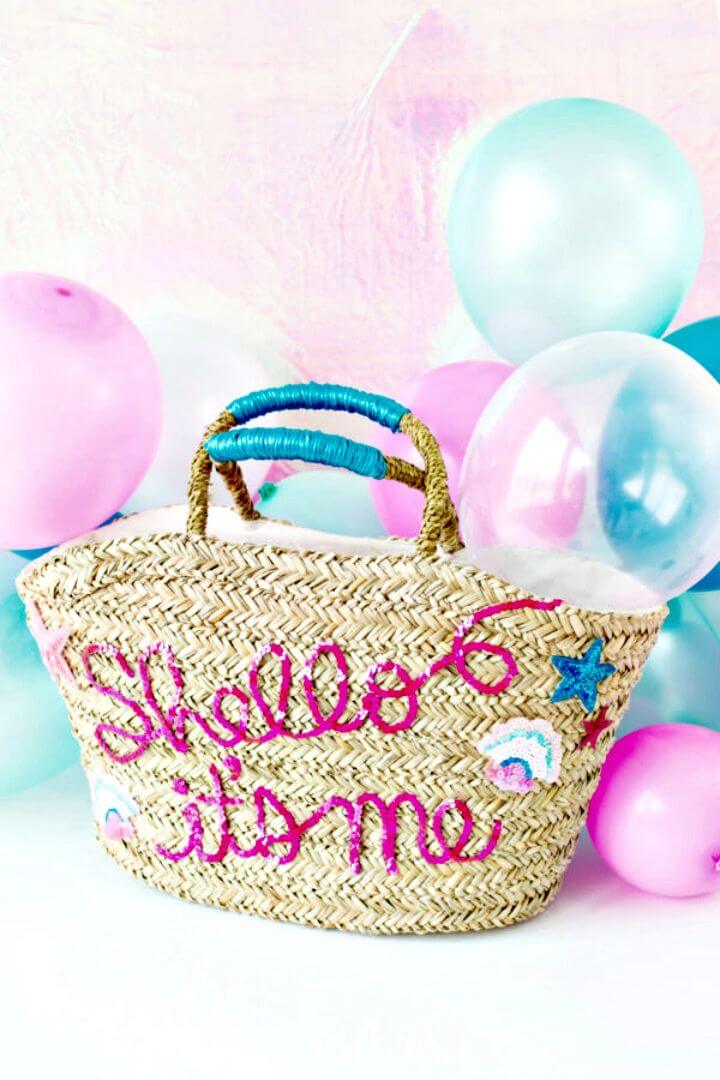 While you are going to beach you can award this absolutely chic and stylishly cute mermaid touch to your beach bag. Yes by creating this fun beach letters using colorful sequins and embellishing the bag some glitter sea shells and the stars you can easily transform your ordinary and simple beach bag to look absolute funky and fantastic. studiodiy
45. How To DIY Mermaid Costume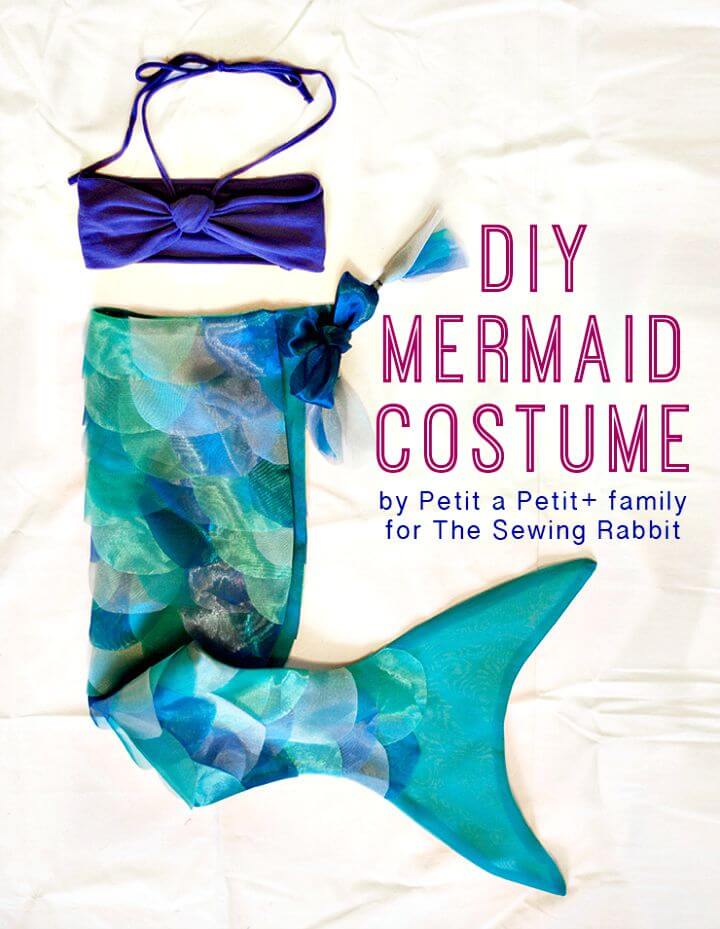 Everybody wants to look cute and unique at the Halloween to meet this purpose successfully you can make your daughter this adorable mermaid dress to be a pretty and dazzling mermaid on the Halloween. You would 5 colored organza to sew up this lovely mermaid dress up with a cute mermaid tail and the bikini top so grab your essentials. mesewcrazy
46. Make Your Own Seashell Earrings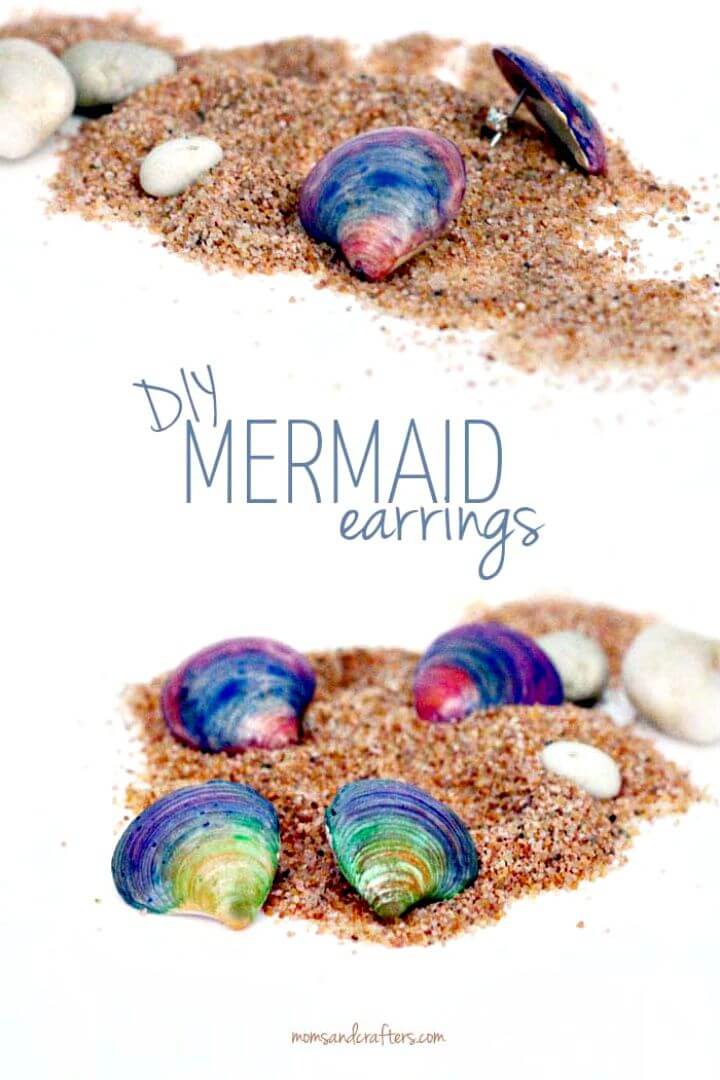 Not only the mremaid tails award you the perfect mermaid look but there are so many other things that you can make and adorn yourself to add some perks of mermaid beauty to your personality and here is the one with the pretty sea shell ear rings to this summer season. You can paint the shells in gorgeous hues and then wear them in your ears to spark up any of the outfit for the summers be it top, tank or a pretty dress momsandcrafters
47. How To Make Magical Mermaid Crown
If your girl is going to dress up as the pretty mermaid at the coming Halloween. Here is that can enhance the charm and fun of her dress up and that is this pretty and cute looking mermaid wand. You would need a want stick, and you an glue some sea shells or the stars to the stick and you are done with it. With their mermaid tail, crown, shoes and necklace this wand would really make her stand out as a stunner at Halloween. totallythebomb
48. DIY Adult Mermaid Tail Blanket
Its so much fun and comfy to relax on your couch or the bed and just watch tv or enjoy your favorite book with your legs being covered and cozy. So here is the fun idea to warm p your lower body with this adorable and utterly fun adult blanket for the adults. You can easily make it out of some pretty and printed fabric and use for yourself as somewhere at heart we are also kids and want to be mermaid like in any of the ways. sewmuchado
49. How To Make Magical Mermaid Crown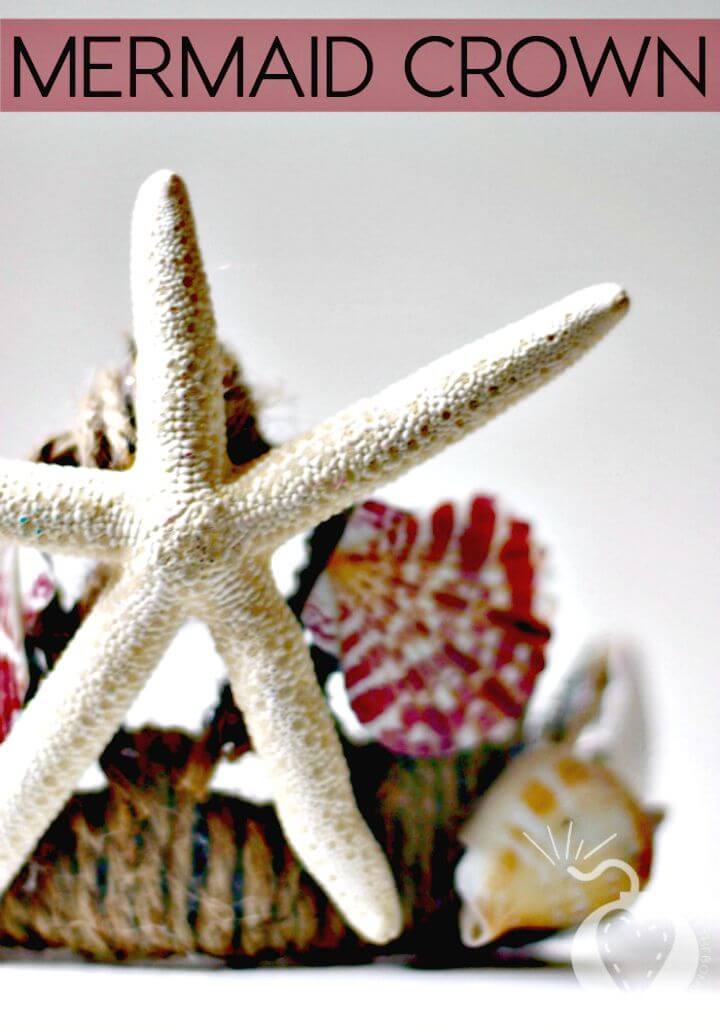 A mermaid dress up for the girls is really fun and funky and they just adore it to the core and the dress up is not only about the mermaid tail but also about the accessories to come along and this mermaid crown is one of them. The crown has been covered with the twine and then embellished with the sea shells, stars and so much more to look absolutely mermaid thing for the head. totallythebomb
50. Cute DIY Mermaid Craft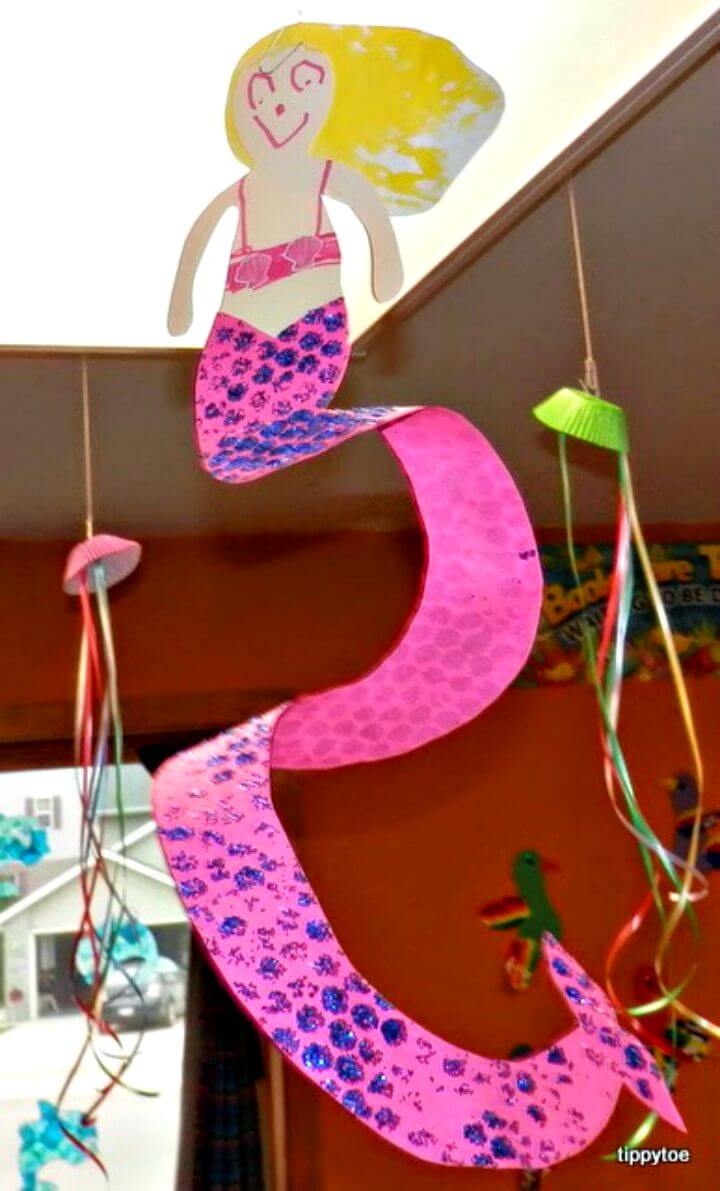 The kids are in love with the mermaid crafts and here is how you can make this chic mermaid craft for them and they would happily display it in their room or to the crafty corner of the house. Using the paper, colors and the glitter this gorgeous mermaid with a big curling tale has been created and no doubt it has turned out to be super cute and fun mermaid ever. tippytoecrafts
51. How To Make Mermaid Tutu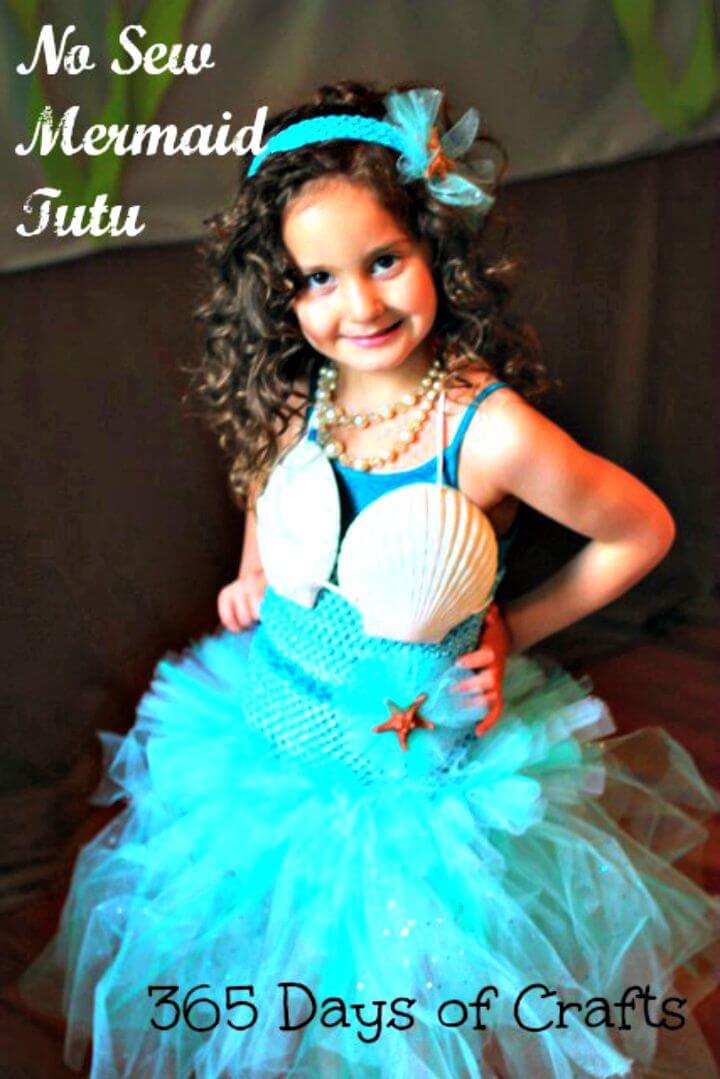 if you are no tailor mom then here is how you an yet make your your girl this lovely and adorable mermaid dress for her next Halloween or the fancy dress party. It has been easily made out of the teal tulle with a pretty sea shell bra and with the rosset headband and the pearl necklace the complete mermaid dress up has been brought to look so stunning and gorgeous together. 365daysofcrafts
52. DIY Wooden Spoon Mermaid Craft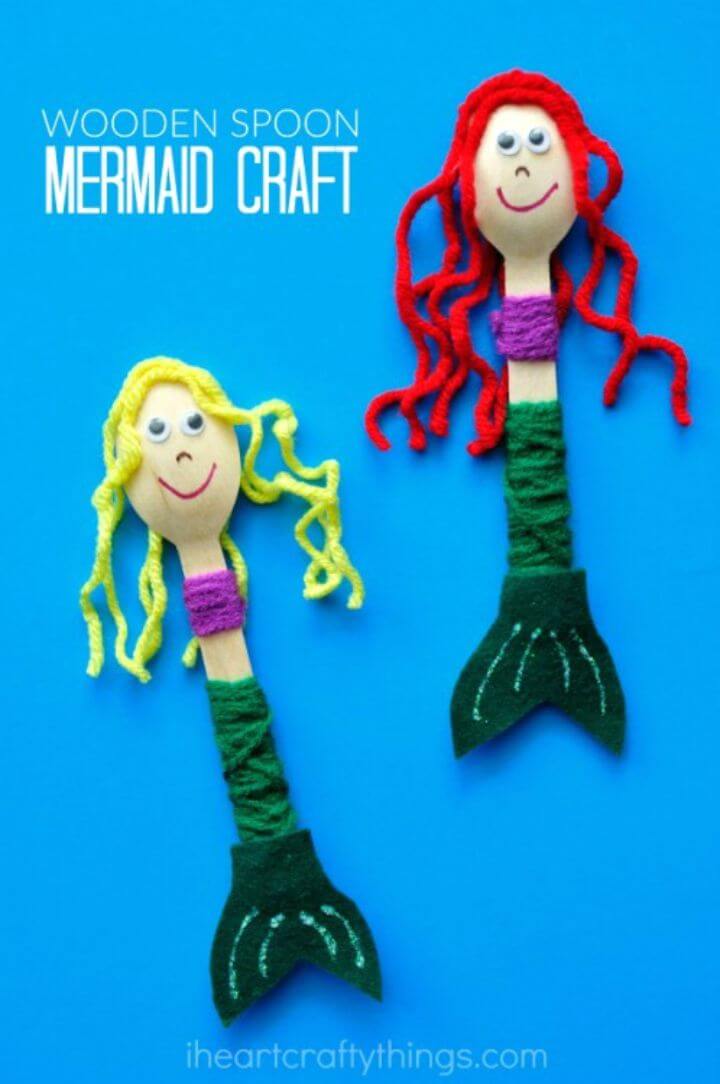 A wooden spoon is just the apt shaped to be turned into a cute and pretty mermaid doll for your little ones and they would love making it with you too. Draw the face features on the spoon top, add a fabric tail and using the colorful tool you can complete rest of the body details like dress, bra and the pretty hair of the mermaid. iheartcraftythings
53. Make Your Own Felt Mermaid Doll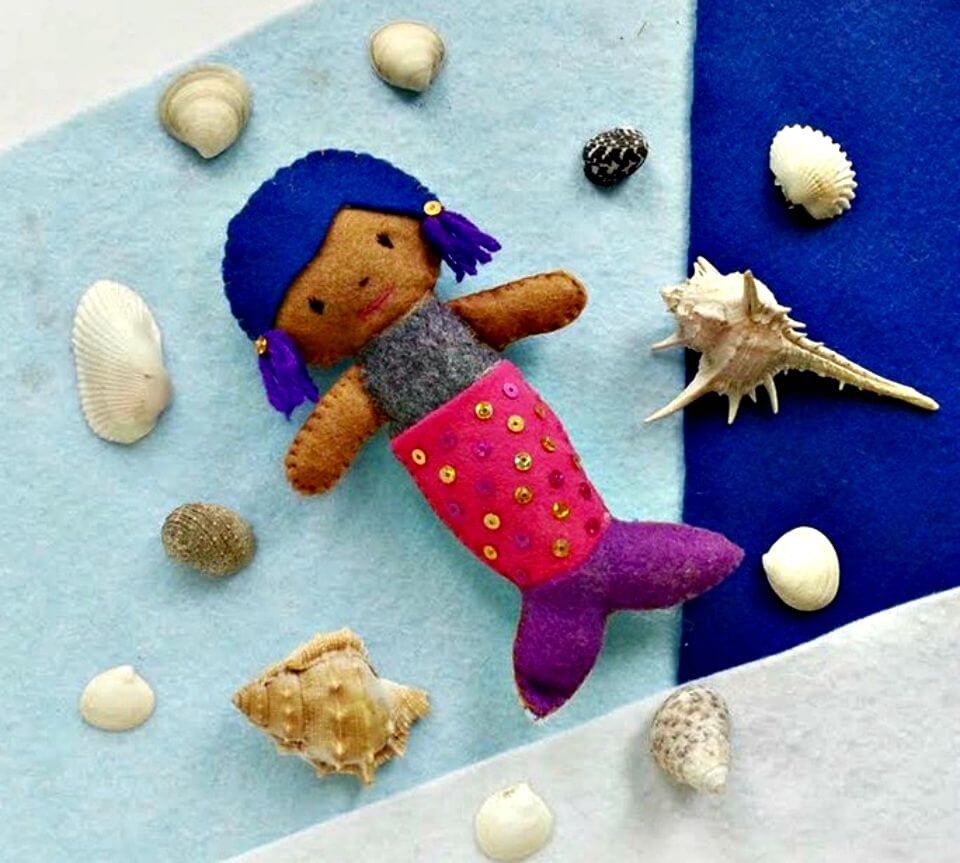 Kids are crazy for the stuffed dolls and the squishy toys and they would fall more in love with this stuff doll in the adorable mermaid avatar. The pretty doll has been made out of a colorful felt fabric combination which has been further stuffed and embellished with the sequins to look absolutely fun and funky. themaven
54. Creative DIY Mermaid Craft
To keep your little girls busy this summers you can easily get this fun diy mermaid craft to your to do list with your daughter and she would really enjoy making it and then playing with it. The cardboard has been traced and cut into the mermaid which have been further painted with the features and awarded with the painted coffee filters glued to the tail and the felt hair on the head. The adorable sea shell and star fish adornments over the chest and the head are really making this mermaid craft look superb and fun. make it you own
55. Pretty DIY Swimming Mermaid Craft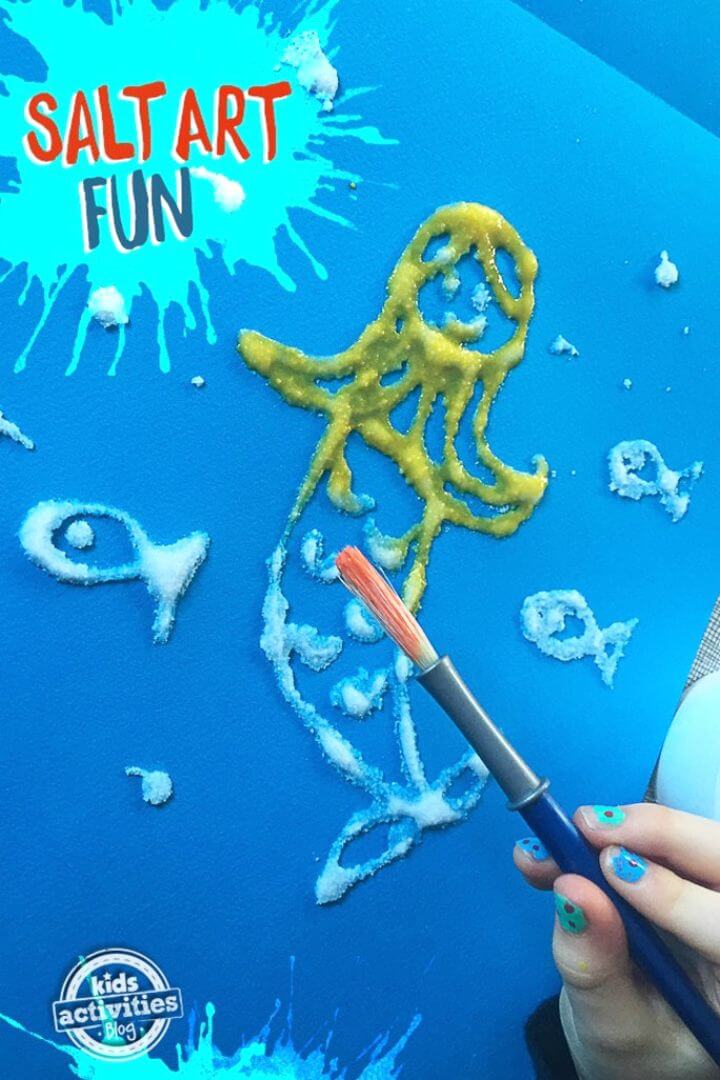 Here is a whole new art to create yourself at home with your kids and have loads of fun doing it too. Using the salt and the colors the kids can really create this super interesting and cute looking mermaid art for the weekend. themaven
56. Quick and Easy DIY Mermaid Boho Earrings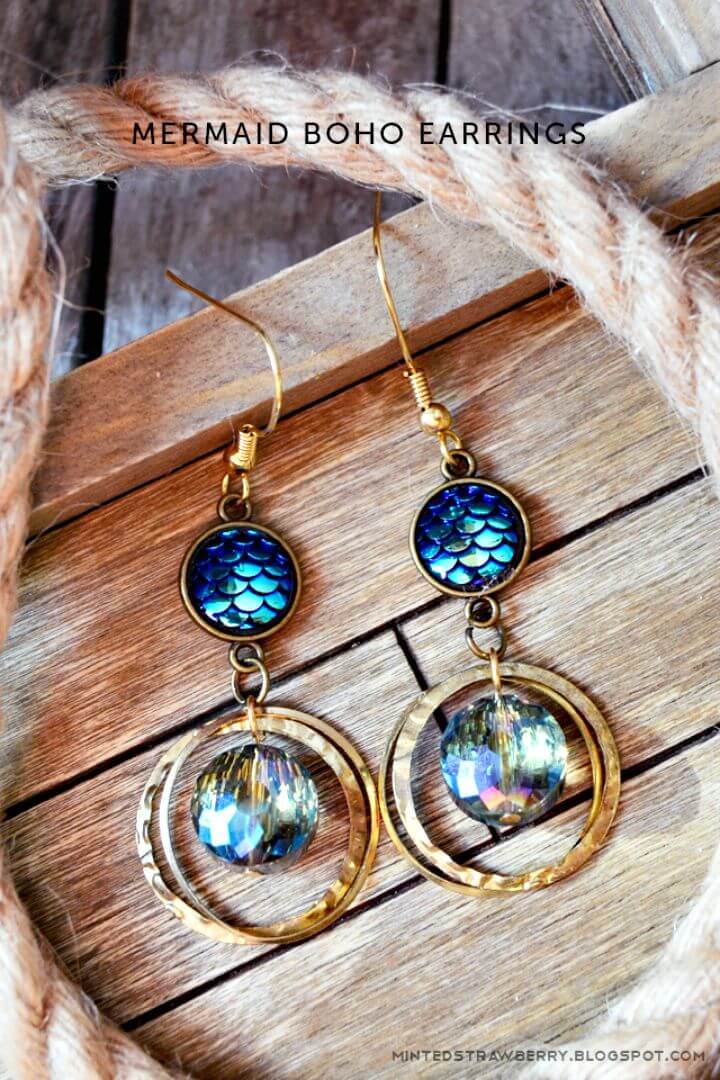 Not only the little girls can enjoy the mermaid fun but the adults can too and here is the answer how to do it so nice and perfectly. Yes with this lovely crystal pair of ear rings you can add a perfect mermaid beauty touch to your every day dress up or while you are dressing up for a party too. mintedstrawberry
57. DIY Popsicle Stick Mermaid Tails Kid Craft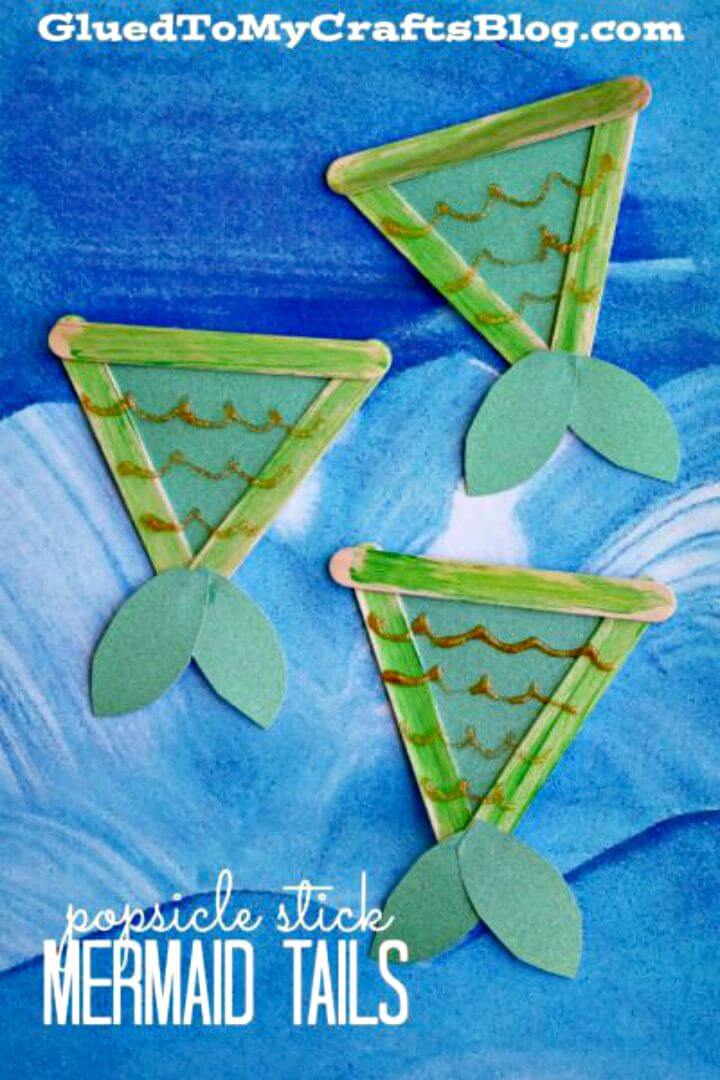 You can make the pretty mermaid tails and enjoy some fun time with your kids when its too sunny or rainy outside. So here is the super easy and fun idea of creating the adorable mermaid tails out the three Popsicle being glued together and creating the tail with the green card stock. Add it to your fun weekend list gluedtomycrafts
58. Simple DIY Little Mermaid Craft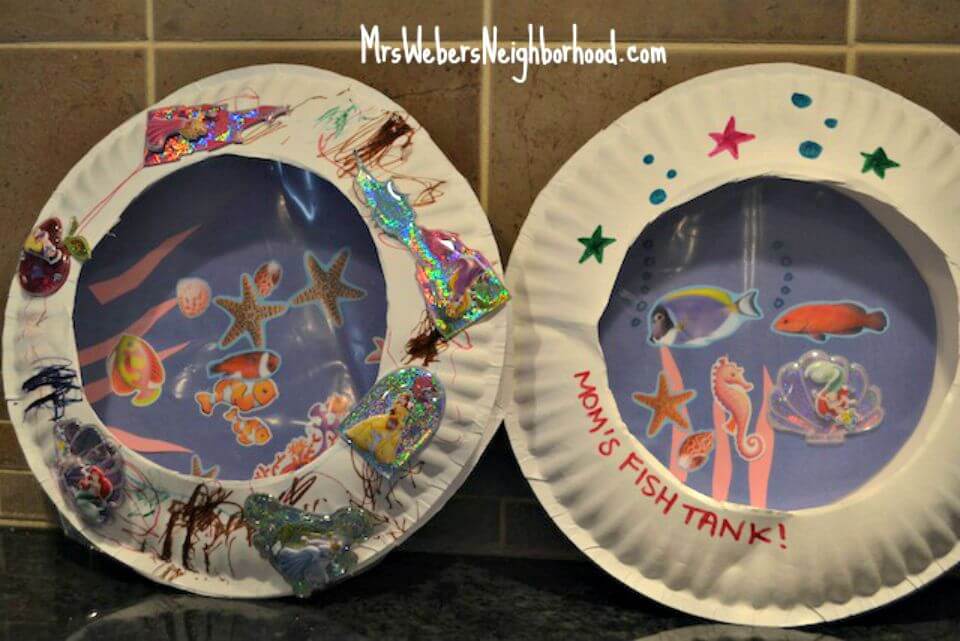 Mermaid is one of the favorite characters of the kids from the Disney land and they can have hell of fun with the mermaid crafts too . This gorgeous under the sea craft has bee nicely created with the fish, sea horses, mermaids and lot of more ocean creatures being nicely displayed on these funky and colorful paper plates. The kids would love making it and then displaying it as a proud craft in their spaces. mrswebersneigh
59. Super Easy DIY Mermaid Vase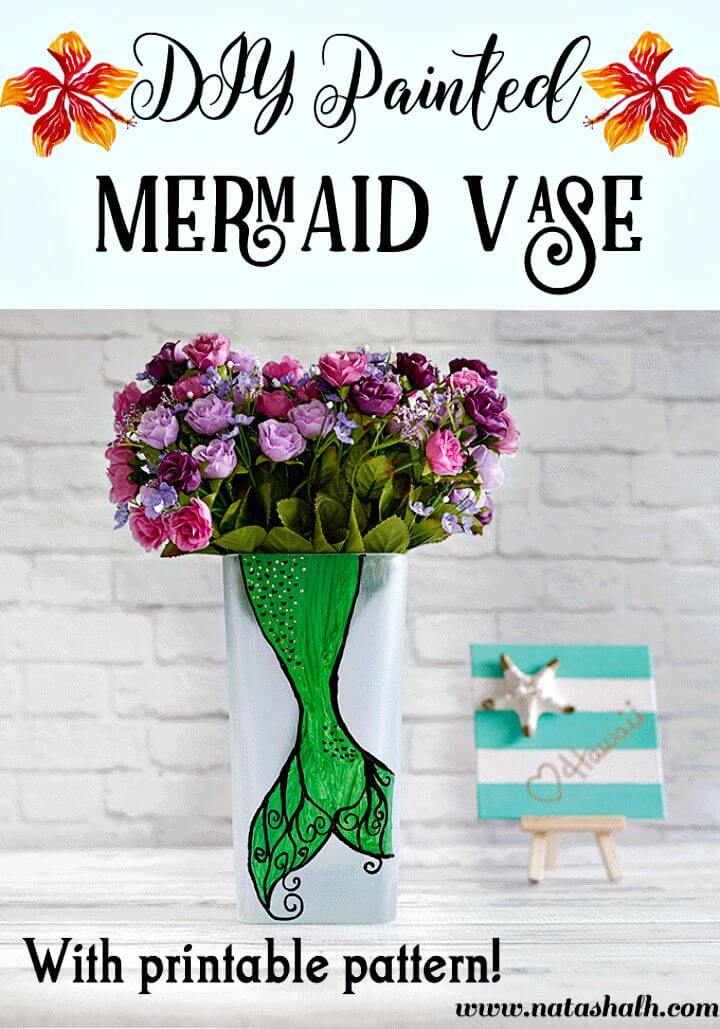 Not only to the dress up and crafts you ca use the mermaid inspiration for your home decor too and here is this pretty mermaid vase adding oodles of charm and fun to your table decor with its rich style and cute appeal. natashalh
Related DIY Projects and Ideas
Easy Crafts for Kids: Looking for easy craft ideas for kids? Check out these easy crafts for kids of all ages, including preschool, kindergarten, and up.
Shark Crafts for Kids: Here are fun shark crafts and activities, kids of all ages will enjoy. They're perfect for a classroom or home setting or just for some quiet time at home.
Solar System Projects: This is a list of EPIC solar system crafts for kids that can be used to teach and learn about our solar system.
Fruit Crafts for Kids: These cool fruit crafts for kids, preschoolers and toddlers are perfect for summer fun. You're sure to find something your child will love to make!
DIY Chore Chart Ideas: Keep your kids on track and motivated with these best DIY chore chart ideas for kids. From a simple and colorful sticker chart to a more elaborate chore wheel, there's an idea for everyone.
DIY Fidget Toys for Kids: Fidget toys are a great way to calm down, focus better, and relieve stress. These super simple DIY fidget toys for kids are both creative and fun to make.
Best Oobleck Recipes: Oobleck is a fun science substance that's safe to play with at home. Read this article for easy Oobleck recipes and instructions on how to make oobleck.
Conclusion:
Mermaids are one of the most popular creatures for kids crafts. There are so many different ways to bring these beautiful creatures to life through art and craft projects. We've collected some of our favorite mermaid-inspired activities that are perfect for kids of all ages. Whether you're looking for a preschool craft or an activity to keep your older children entertained, we've got you covered. So grab your crafting supplies and get ready to create some amazing mermaid crafts!