Learn how to make a paper bag puppet with these 20 easy paper bag puppets ideas with free printable templates in PDF. Paper bag puppets are a great way to get creative with your kids! They are fun and easy to make with our list of free paper bag puppet templates. With paper bag puppets, you can create any type of character imaginable, from animals to monsters, superheroes to pirates! Just choose a paper bag, some construction paper, and the free printable paper bag puppet templates below. Before you know it, your paper bag puppet is ready for an amazing show!
Brown paper bags are one of the most versatile craft supplies. There are so many fun DIY paper bag puppets that you can make on a dull afternoon. Make your kids happy with these fun crafts when getting bored. These paper bag puppets are totally adorable, and kids will love making fun paper bag puppets with them and bringing their dreams to life.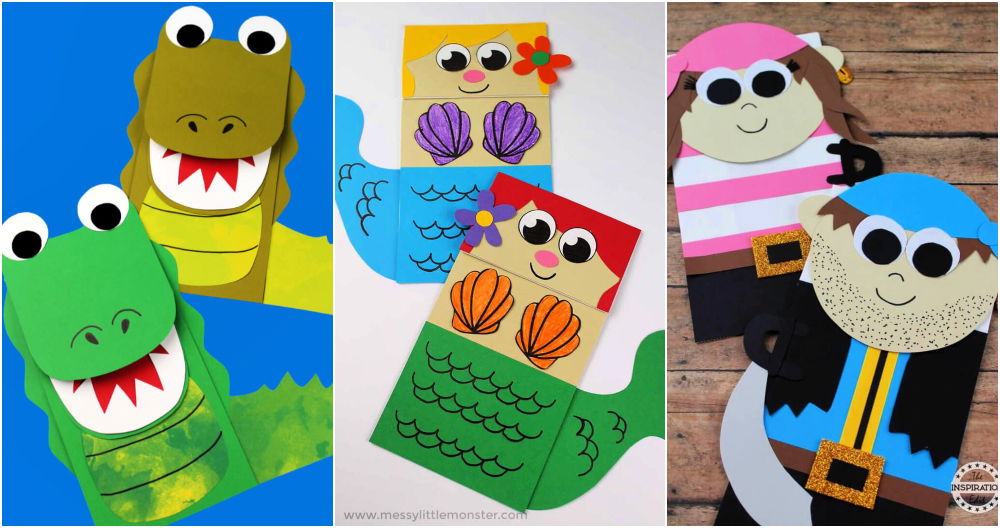 Easy Paper Bag Puppets With Free Printable Templates
From naughty and cheerful minions to all kinds of zoo animals, insects, owls, and mermaids we have got plenty of DIY paper bag puppet ideas for your kids to have a fun oozing afternoon. Playing with these paper bag puppet ideas will make your kids more creative, enhance their attention to detail and improve their motor skills. Creativity is the biggest gift anyone could have, and these DIY paper bag puppets are all filled with fun details.
DIY projects are also one best way to get your kids out of the addictive digital world and bring them something really productive and completely harmless. We can assure after exploring our amazing paper bag puppets, your kids are going to love these play bags absolutely!
1. How to Make Paper Bag Puppets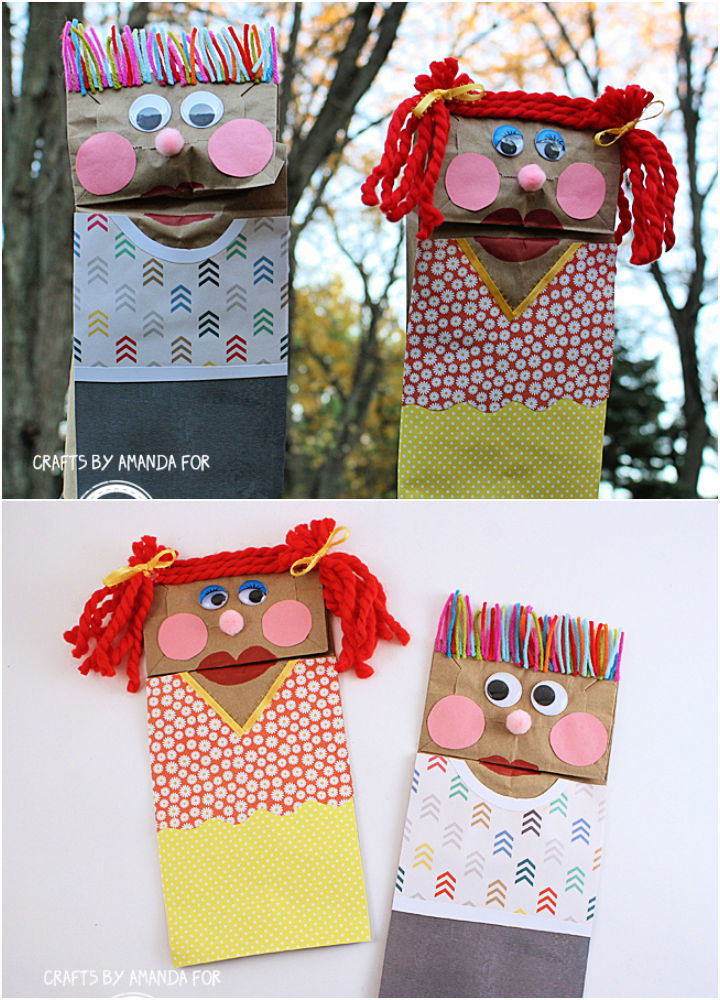 One of the best play games of all times is a classy his and her DIY paper bag puppet. All you are going to throw in for this creative roller coaster is a lunch paper bag, some yarn, googly eyes, cardboard, etc., Get full details in the tutorial. kidsactivities
2. DIY Paper Bag Monster Puppets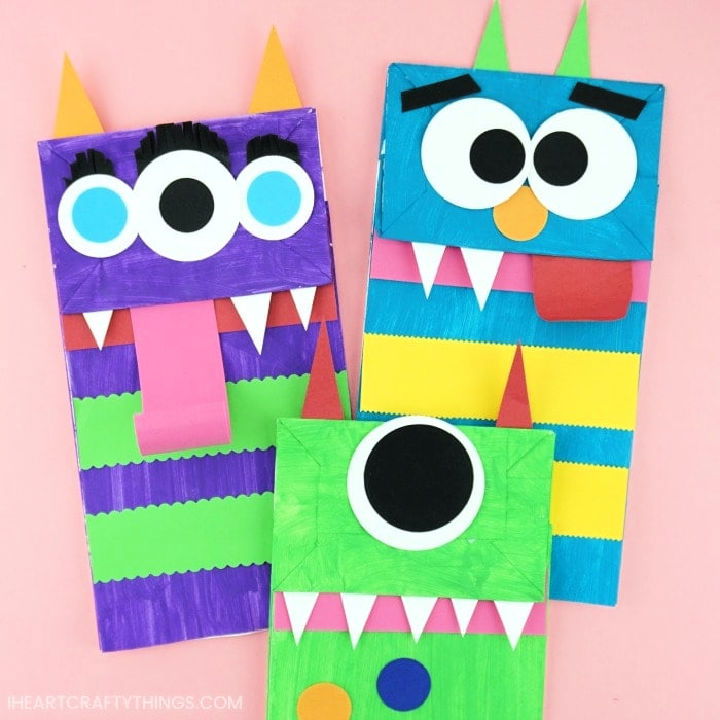 Have a fun Halloween afternoon with your family! With these funky paper bag monsters. Some real drama added to a fun family time in holidays. Just a few supplies like a paper lunch bag, acrylic paint, color cardstocks, and a few other things will do the magic. iheartcraftythings
3. Paper Bag Owl Puppet for Imaginative Play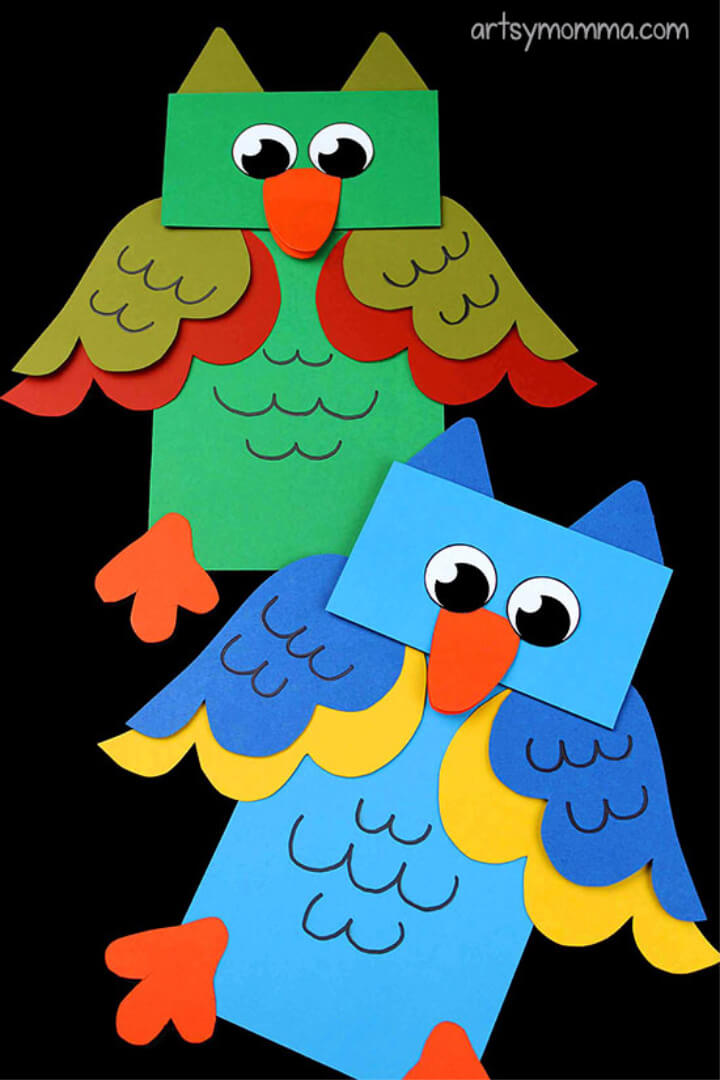 Let's just face it, even when we were all kids. We have all been fascinated with owls. Especially after seeing the snowy Hedwig owl in Harry Potter. This tutorial can elaborate on how to make cute, imaginative owls. Psst! It comes with a free printable template. artsymomma
4. DIY Crocodile Paper Bag Puppets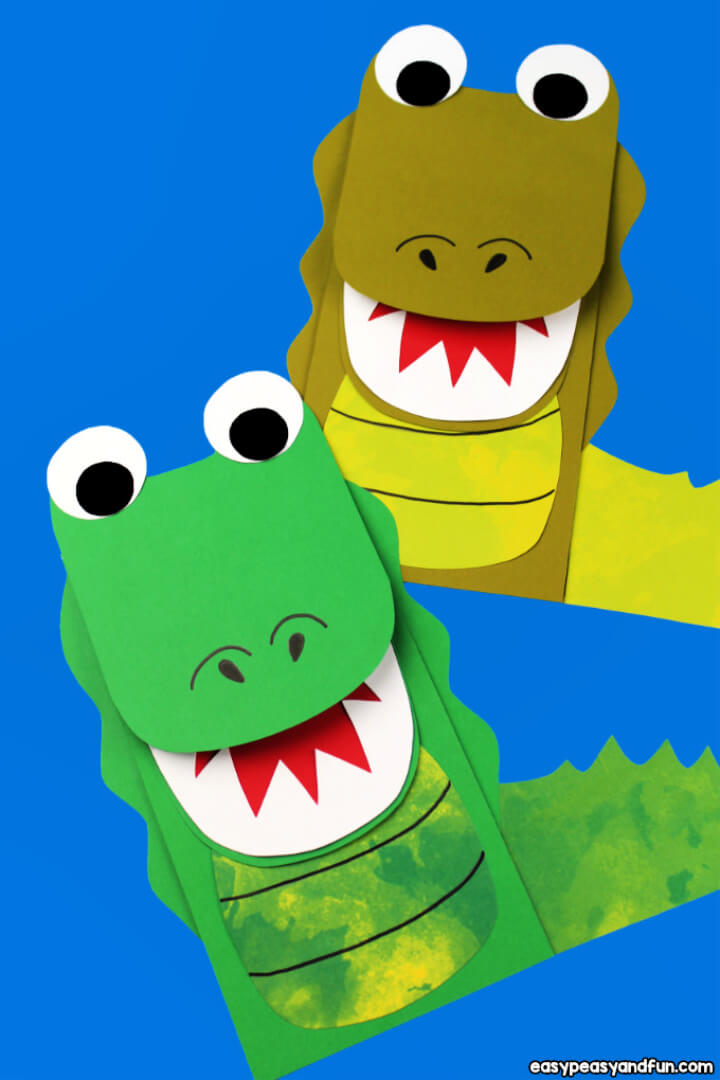 Only if crocodiles looked this funny and cute in real life too! Hah! But still, it's a perfect way to get your kids familiarized with animals. These fun crocodiles can be easily made using paper bags, cardstocks, scissors, glue, and a black marker. easypeasyandfun
5. Homemade Paper Bag Animal Puppets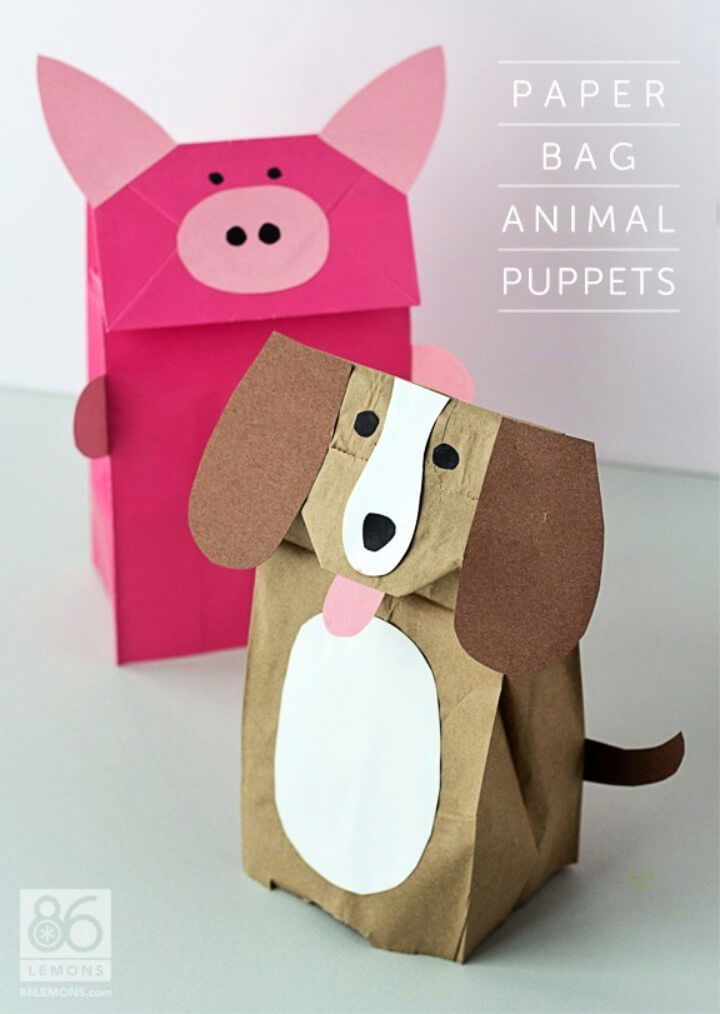 Cute little DIY paper bag puppet animals! Who wouldn't love these? Guess what, the tutorial comes with free templates for the specifics like the ear, nose, etc., Pink for a cute little piggy and a happy brown dog. Check details in the tutorial. 86lemons
6. Paper Bag Lego Man Puppet – Craft for Kids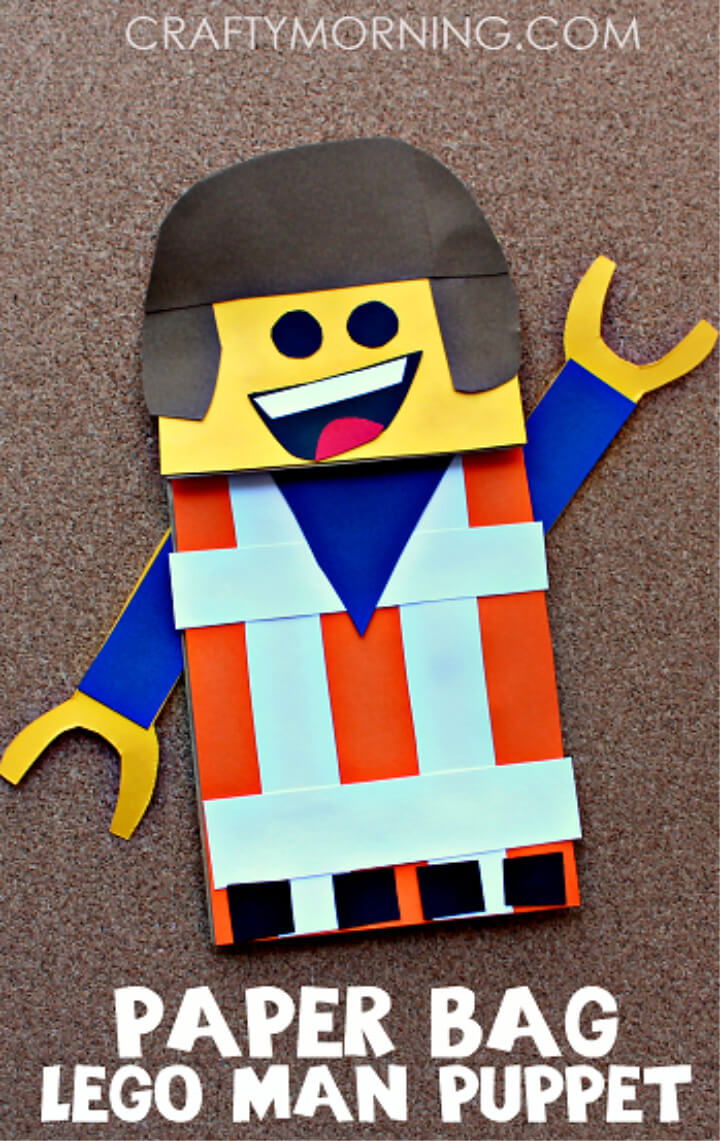 Lego man is all hearts for everyone. Making and mending things all the way! With this tutorial, get your kids capable of making their own teeny tiny DIY paper bag Lego man puppet! The tutorial will walk you through the step by step guide. craftymorning
7. Handmade Mermaid Paper Bag Puppet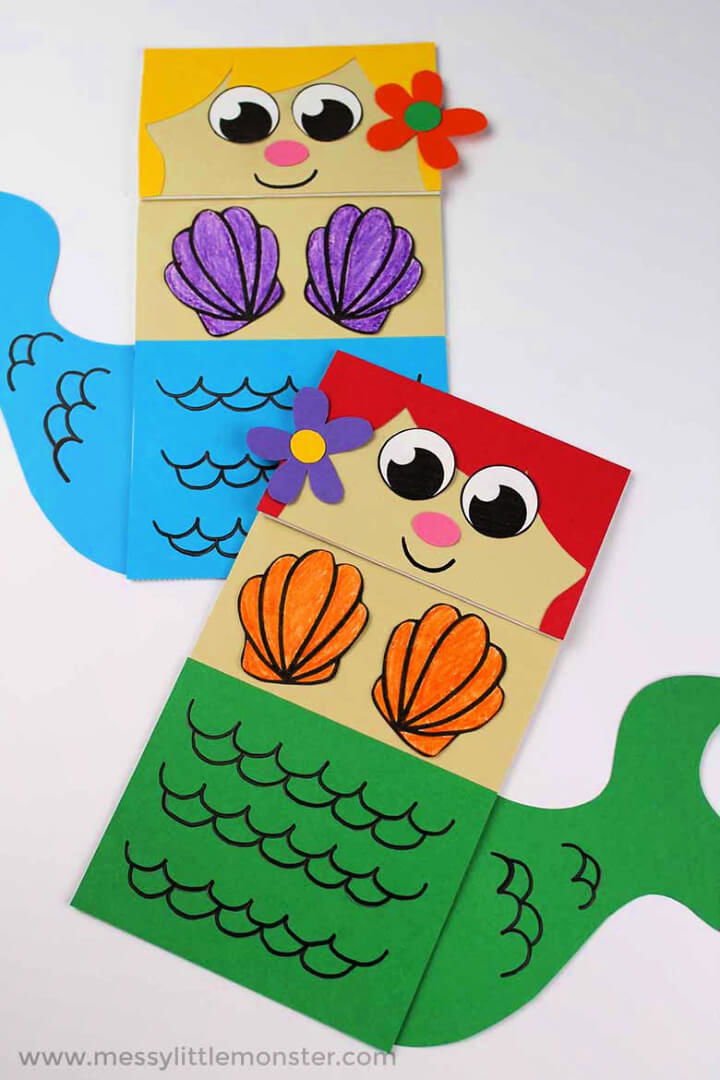 Because mermaids are everyone's awe-worthy weakness. Especially, for kid's mermaids are these mysterious and majestic creatures that reside under the world of the sea. Let's bring them to surface with these adoring DIY mermaid paper puppet bags. messylittlemo
8. DIY Paper Bag Mermaid Puppet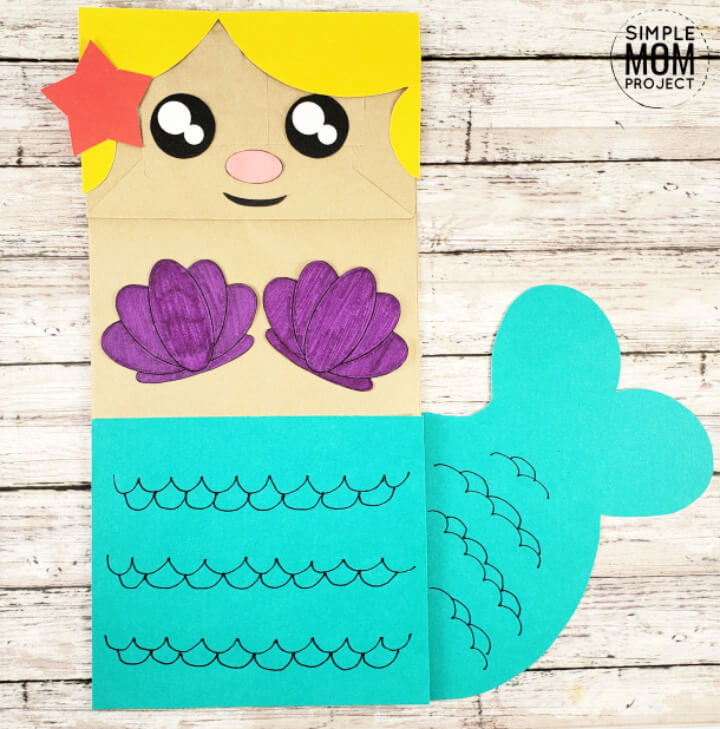 For an uber-cute mermaid-themed birthday party, you can help your kids enjoy a fun mermaid puppet show too! The tutorial comes with free printable template. Head over to the tutorial now to walk through the step by step guide. simplemom
9. Fun DIY Paper Bag Pet Puppets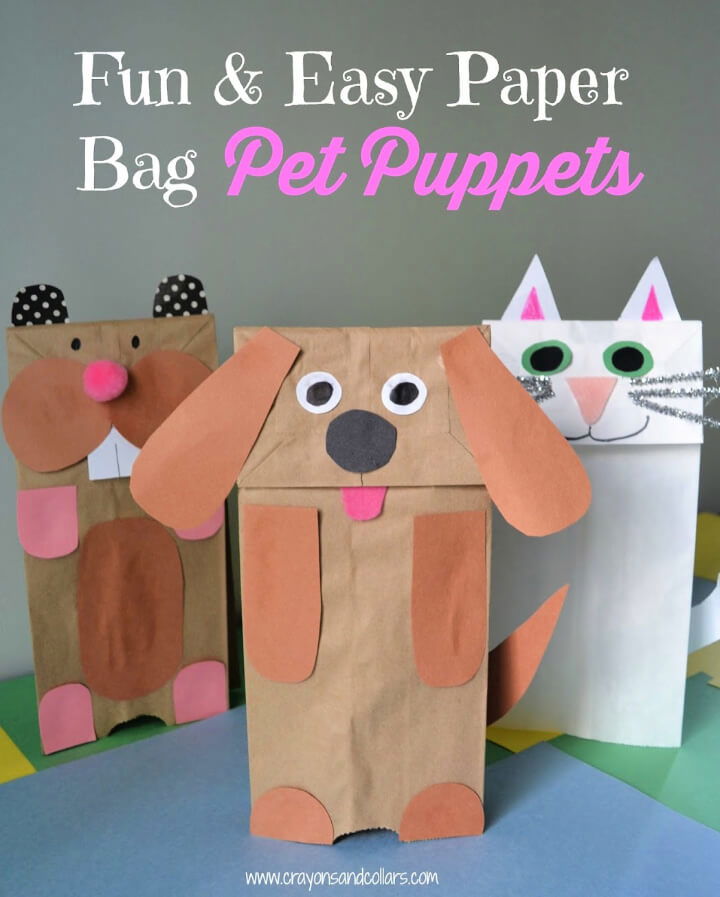 Rabbits, cats, and dogs. All the fluffy animal pets that almost everyone loves. Imagine seeing your kids having a fun day with these fluffy pets puppet show? Let's make it quite possible with this step by step tutorial guide. crayonsandcol
10. Making a Paper Bag Frog Puppet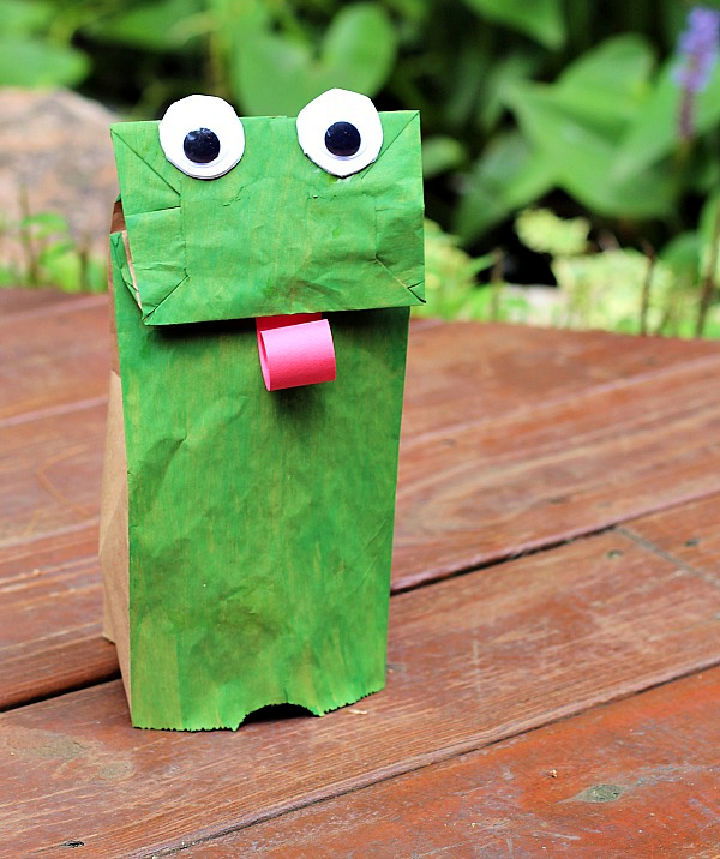 A little green paint, two huge googly eyes, and a curbed pink cardboard tongue would just do the magic for making an adorable paper bag frog puppet! Hop it around the lawn and let your kids go crazy playing with it! Hit the tutorial for details. momunleashed
11. Paper Bag Cat in the Hat Puppet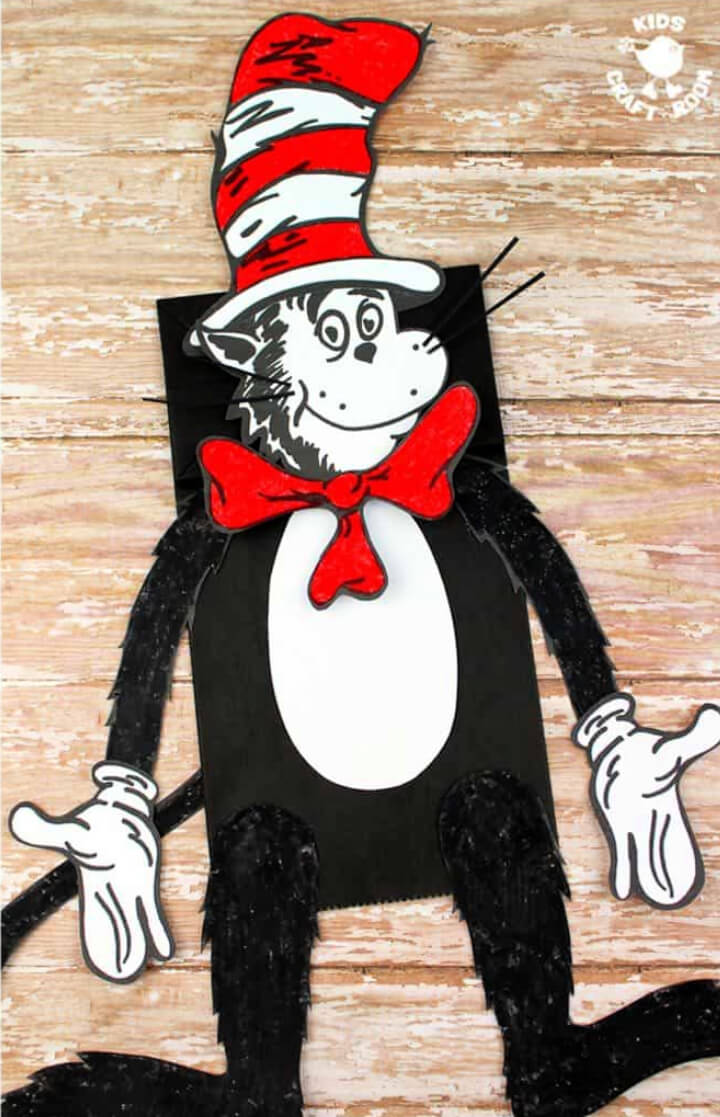 For a fun oozing reading time with some real-time learning, add this DIY paper bag cat puppet in the reading time. Make "The Cat in the Hat" reading even more exciting with the free printable template in the tutorial. Hit the tutorial now. kidscraftroom
12. Easy DIY Turkey Paper Bag Puppets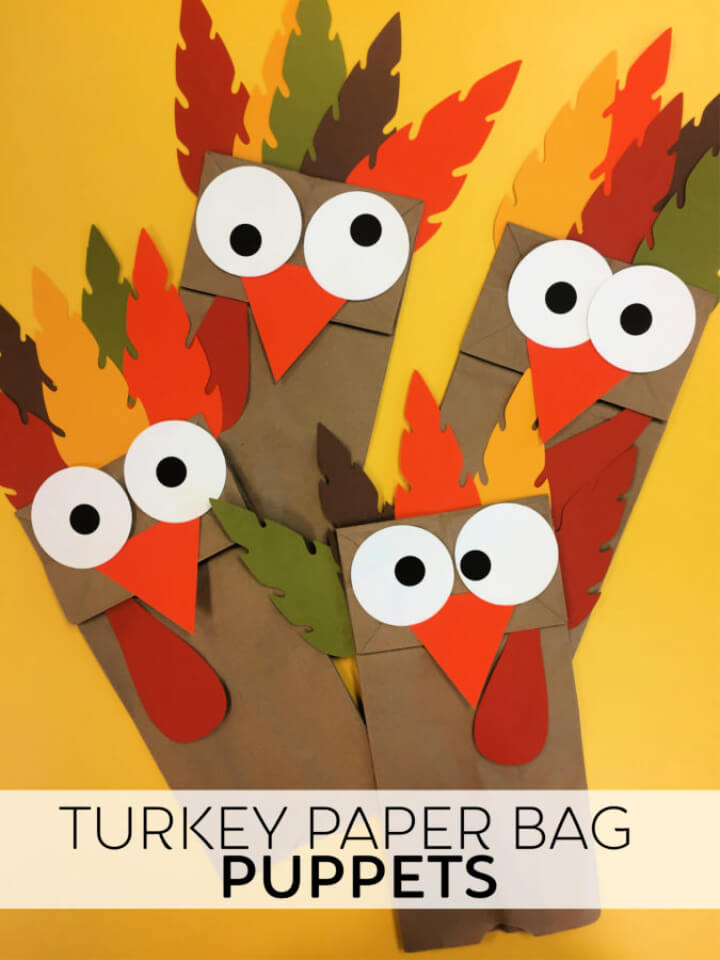 While you are all busy with the meal preparations in the kitchen for the Thanksgivings days, make your kids part of it too. While seeing the exciting Thanksgiving parade, add these funky turkey paper bag puppets to the décor. See details in the tutorial. sewwoodsy
13. DIY Puppy Dog Pals Paper Bag Puppets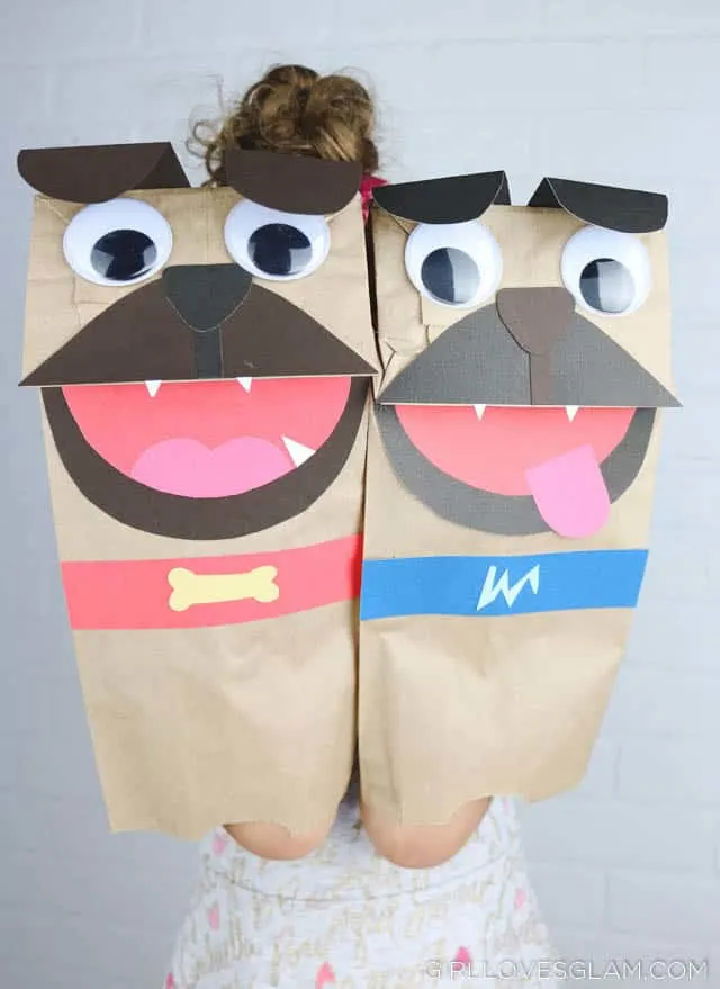 Two is better than one! We are all drool-worthy over these cute puppy dog pals! All you are going to need is a combination of different colors of papers, scissors, googly eyes, hot glue, and a lot of imagination. Hit the tutorial for details. girllovesglam
14. Creative Butterfly Paper Bag Puppet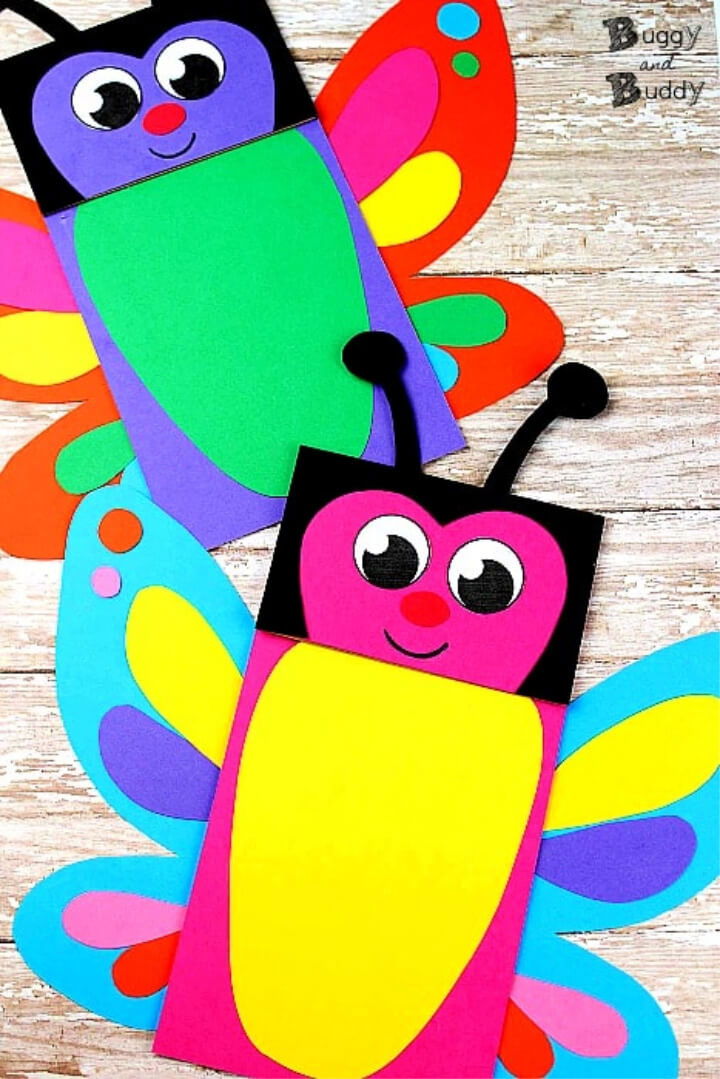 Butterflies are perhaps the most favorite bugs of kids since the beginning of time! Just head over to the tutorial to get the free printable template of this funky and vibrant butterfly. You will be needing paper lunch bags and a few other basic craft supplies. buggyandbuddy
15. DIY Paper Bag Animal Puppet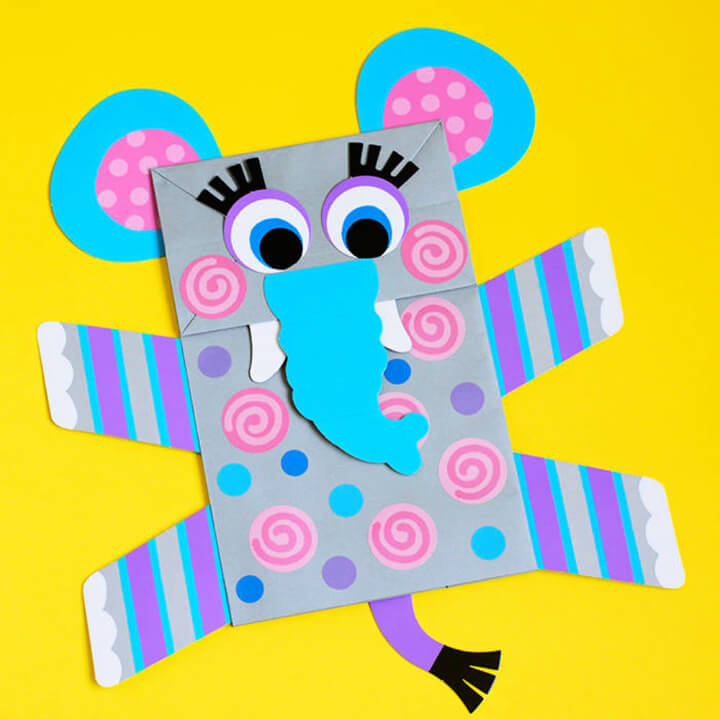 For the little hands to have loads of fun and drama, try out these funky paper bag puppets. Using paper bags puppets kits by Alex. The box comes with a detailed set of instructions, and the tutorial has a detailed step by step guide. blitsy
16. Goose the Cat Paper Bag Puppet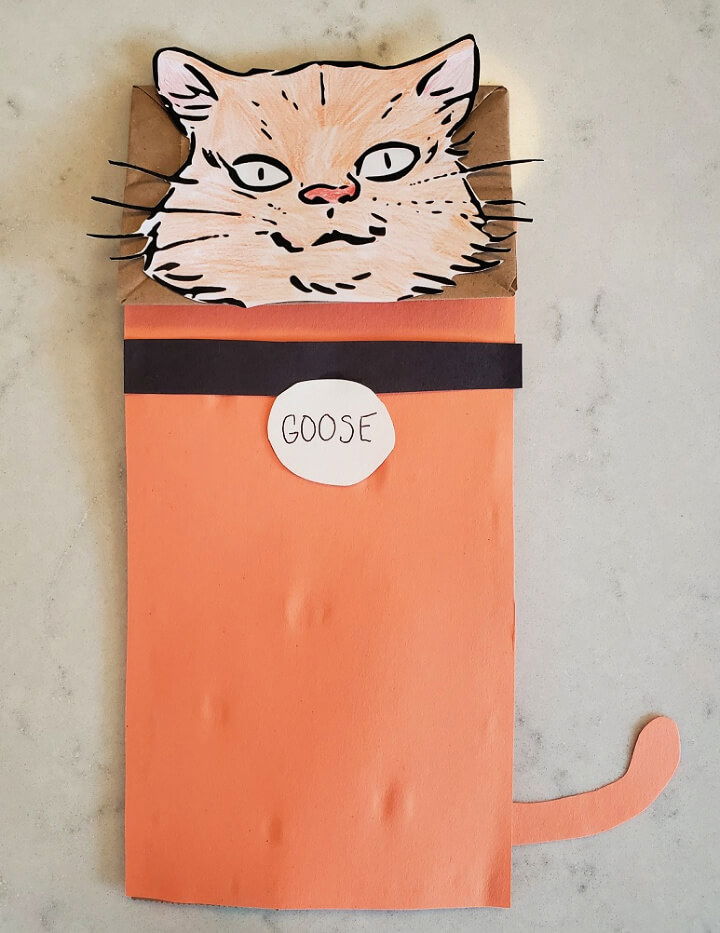 Ever since Captain Marvel has entered our lives, so did Goose the cat. Kids totally adore it. Make this cute 3D paper bag puppet of Goose the cat by seeing the details in the tutorial. It is insanely easy and pretty fun craft actually. mamasgeeky
17. Make Your Own Toy Story Paper Bag Puppets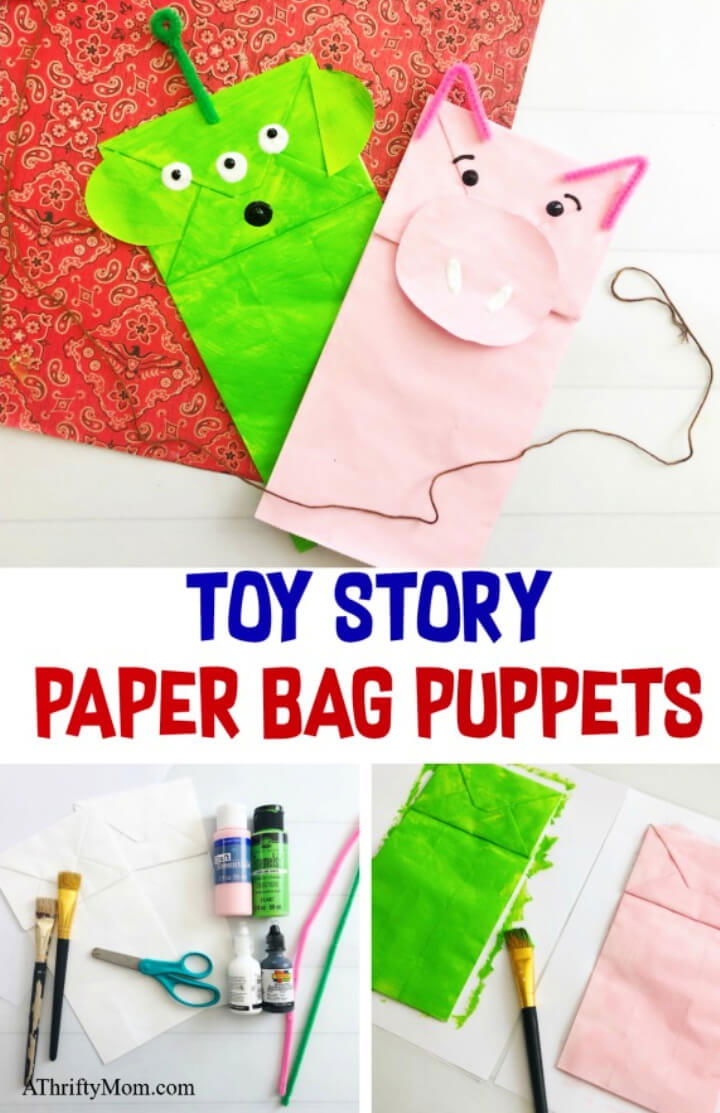 Did your kids love the toy story movie? Time to get them into a fun activity playing around with these cute and funky toy story puppets with these DIY paper bag puppets bag! Everyone can choose their favorite character and go crazy. athriftymom
18. How to Make Paper Bag Puppet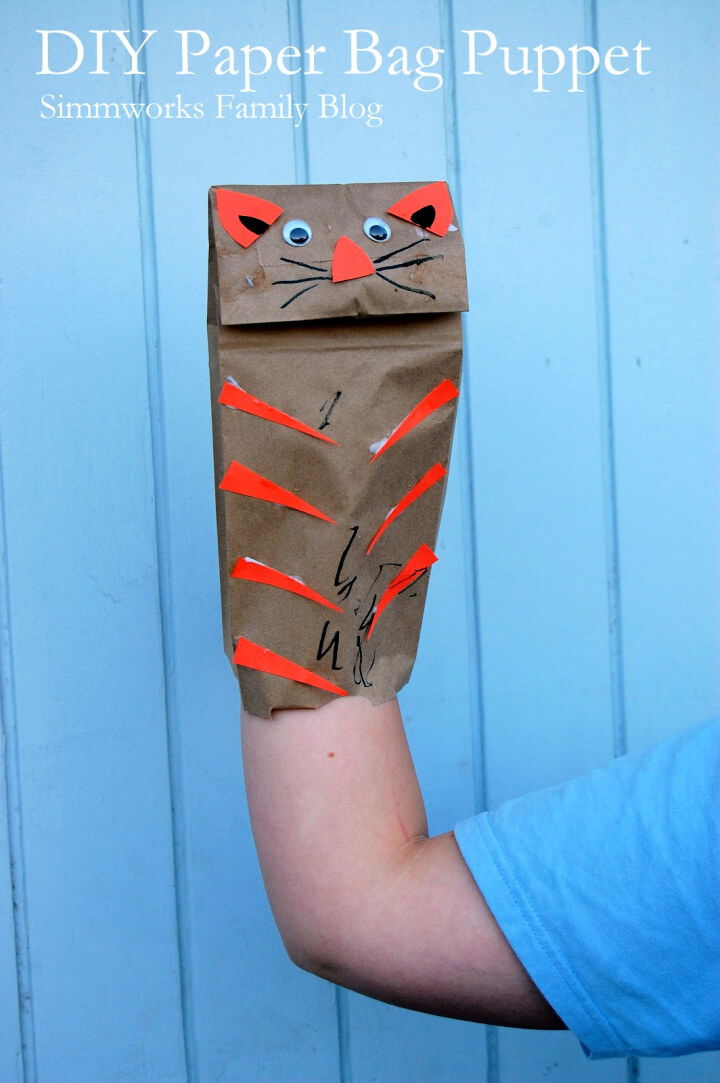 Cats have long ruled our hearts and the hearts of our kids! This paper bag puppet made by using a paper bag, construction paper, glue, scissors, plastic eyes, black marker, and pipe cleaners is going to be your little one's favorite pet toy around the house. acraftyspoon
19. DIY Paper Bag Princess Puppet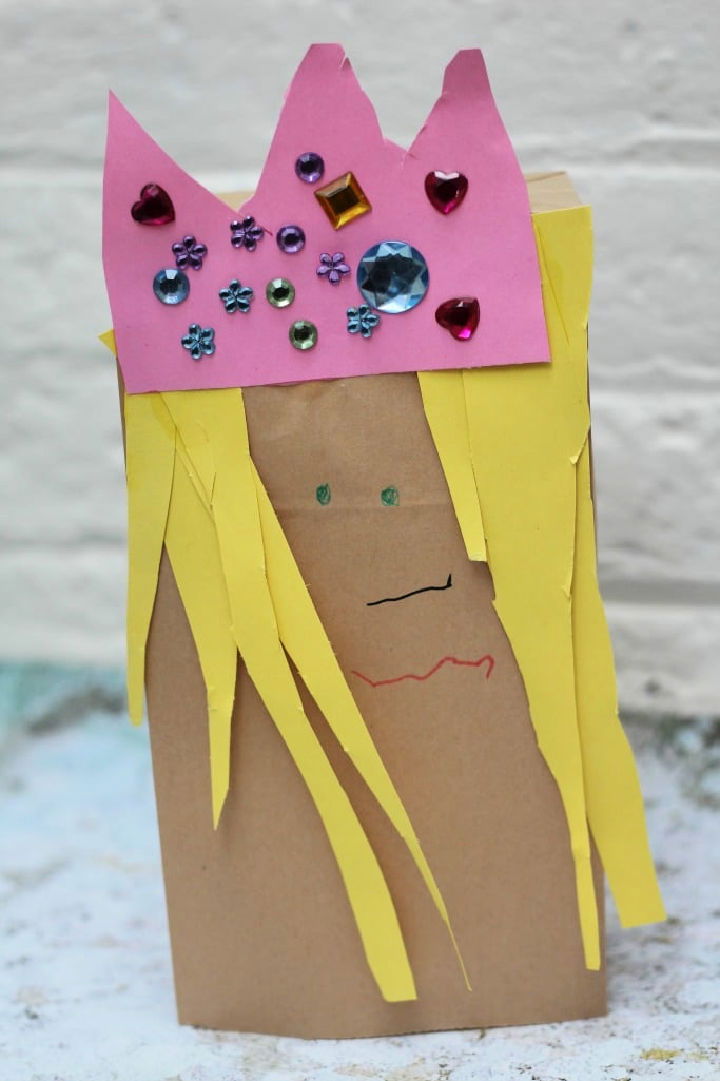 A royal and cute princess paper bag puppet for your little princesses to enjoy! Plus, they get to decorate or dress up their princesses as they please. With embellishments added like beads, rhinestones, jewels, etc. Get details in the tutorial. craftsonsea
20. Captain Hook Paper Bag Pirate Puppet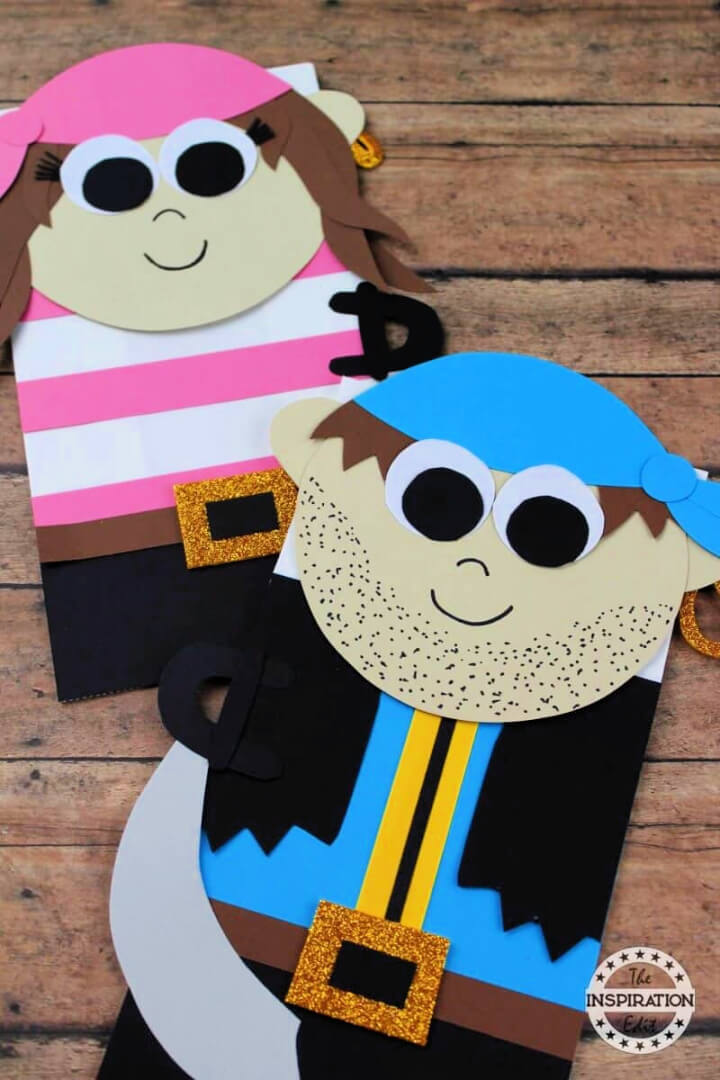 Inspired from Peter Pan's character, Captain Hook, which is enjoyed by kids as he is snapped at by a crocodile is every kid's fun moment. Let's bring that imagination to life with this fun Captain Hook DIY paper bag puppet! See details in the tutorial. theinspiratione
Frequently Asked Questions
1. What is a paper bag puppet?
A paper bag puppet is a craft activity involving the construction of hand puppets from a simple paper bag and other art materials. By manipulating the paper bag, children can create fun characters to use for storytelling or play pretend.
2. What supplies do I need to make a paper bag puppet?
You will need paper bags, craft supplies such as markers and coloured paper, scissors, glue, and other materials to decorate your puppet. Have fun getting creative!
3. What are some tips for making a paper bag puppet?
Gather supplies like paper bags, glue, markers/paint, scissors and craft materials. Cut shapes for eyes, nose and mouth out of the bag or use markers/paint to decorate. Glue items to the bag such as yarn for hair, buttons for eyes and pipe cleaners for arms. Let your imagination run wild!
4. How can you use a paper bag puppet?
Paper bag puppets are a creative and fun way to engage children in storytelling, role-playing activities and more. With just some basic craft supplies such as markers, scissors, pipe cleaners, fabric and yarn you can create your own unique puppet!
5. How do you make a paper bag puppet?
Making a paper bag puppet is easy! Simply cut out facial features from construction paper and glue them to the outside of the paper bag. Add decorations as desired, then insert your hand into the open end of the bag to make it come alive!
6. What are some paper bag puppet ideas?
Some paper bag puppet ideas include animals, cartoon characters, famous people, and objects. You can also create your own original creations! Get creative and have fun!
7. How puppets can be used in education?
Puppets can be used to teach children a variety of topics in an engaging and interactive way. Through puppetry, students are able to visualize concepts and foster creativity, enabling them to acquire knowledge more effectively.
8. What are the benefits of playing with puppets?
Playing with puppets can help to build children's social, language, and cognitive skills. It also encourages creativity, imagination, and self-expression while providing an enjoyable and meaningful learning experience.
Related DIY Projects and Ideas
Puppet Crafts for Kids: Get your kids out of their screens and into some creative hands-on fun with these easy and quick DIY puppet crafts that will keep your kids interested and engaged in the process.
DIY Paper Crown: These pretty DIY paper crowns are perfect for any little princess, and your guests will love them!
Easy Crafts for Kids: Explore easy art and crafts activities for kids of all skill levels that will keep your child entertained while they create beautiful decorations, DIY gifts, and much more.
Unique Sleepover Ideas: Here, you will find unique sleepover ideas for kids, tweens, or teens. Whether you have a sleepover coming up, or are looking for fun ways to spend the night with friends, these ideas will help you plan the perfect sleepover.
Cardboard House Ideas: Looking for a unique, fun and easy way to bring your kids' creativity to the next level? What about these stunning cardboard house design ideas that your kids will love.
Sensory Bags for Kids: Sensory bags are a great way to keep kids busy during a long car ride, or to distract them on the playground. These easy-to-make sensory bags are sure to be a hit with all your kids.
DIY Sandbox Ideas: These awesome DIY sandbox ideas and projects for kids will keep your kids entertained and learning for hours. Learn how to make a sandbox with a lid, build a carousel, and more.
Conclusion:
Whether you're looking for a fun activity to do with your kids or want an easy puppet show that can be put on without much prep time, paper bag puppets are a great option. And if you need help getting started, we've got free printable paper bag puppet templates for 20 amazing characters. So download your favorite PDF template and get crafting! Happy crafting!