Get crafty with these 25 fun DIY emoji crafts! From decorations to gifts, express yourself with these cute and easy emoji craft ideas and projects that are perfect for both kids and adults. From paper plate emoji masks to colorful emoji squishy stress balls filled with slime, this article provides a wide range of emoji craft ideas to suit all interests and skill levels.
With our easy step-by-step instructions and helpful tips, you can make an array of delightful emoji crafts such as emoji mini notebooks, no-sew heart face pillows, and even adorable handmade emoji pinatas. Whether you're throwing an emoji-themed birthday party or looking for a unique gift idea, these emoji DIY projects are the perfect way to incorporate these popular symbols into your life.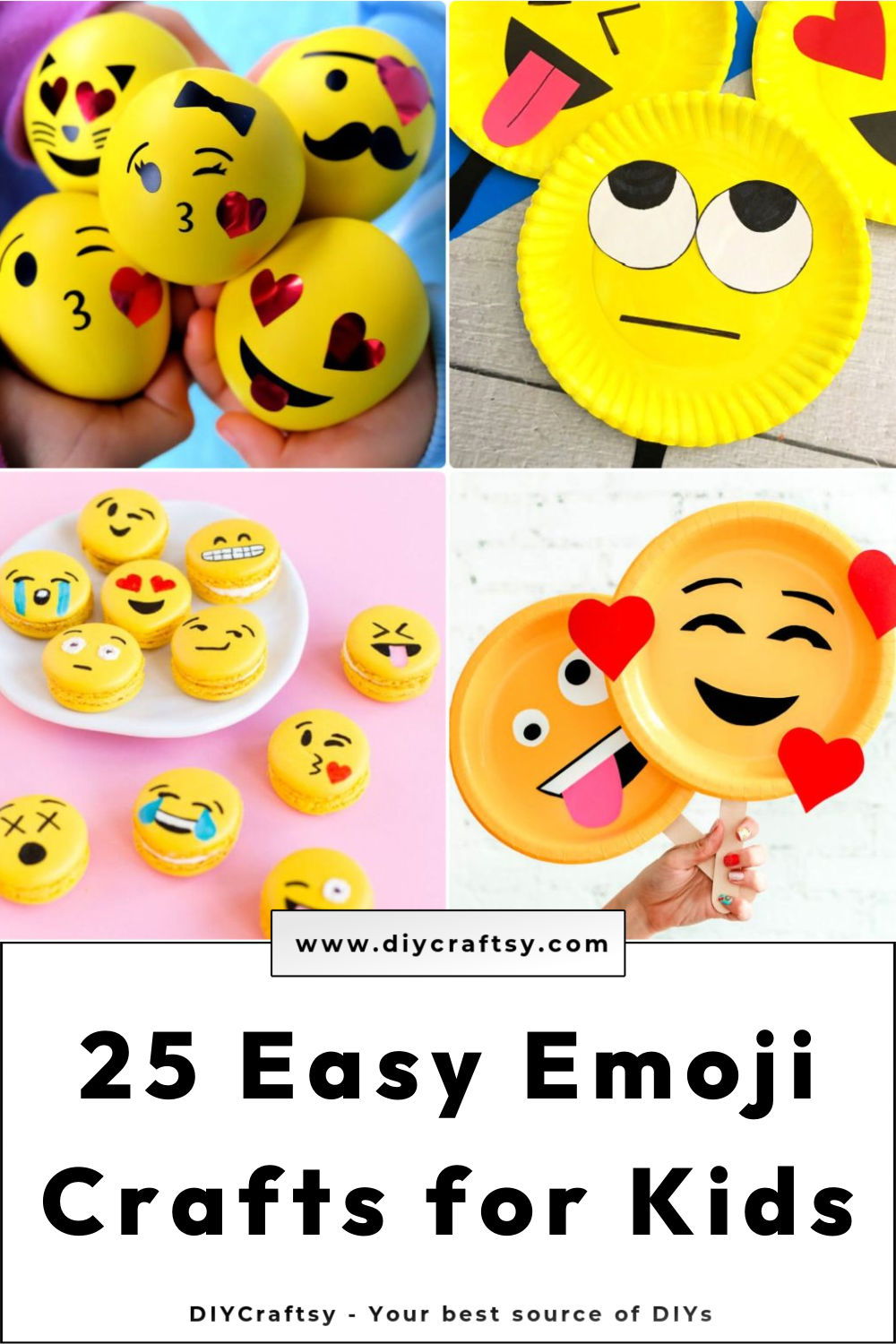 Explore a variety of creative emoji crafts that cater to different preferences and techniques—there's a fun and exciting project for everyone. Aside from adding a touch of whimsy to your personal items, these emoji DIY ideas can also help develop skills in arts and crafts for beginners. Get ready to unleash your inner emoji artist as you dive into these innovative emoji craft projects perfect for birthdays, holidays, or just because. So gather your craft supplies and let the emoji crafts fun begin!
1. DIY Paper Plate Emoji Masks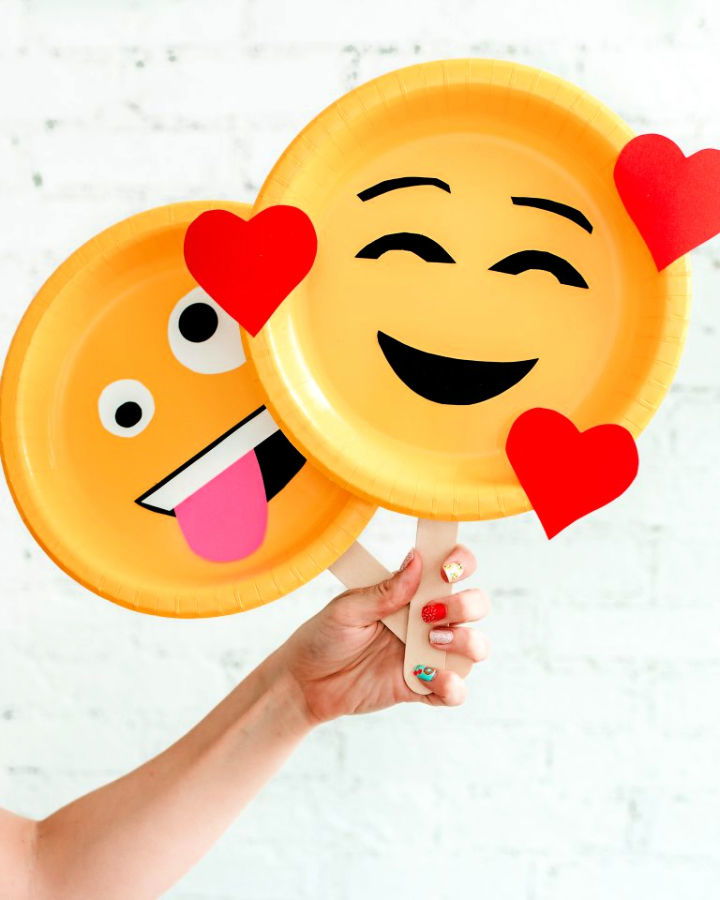 Make teaching emotions to children fun and engaging with this DIY paper plate emoji craft project. Yellow emoji faces are a great tool for emotional education for kids, helping them understand and identify their feelings. All you need for making a variety of emojis are some yellow paper plates, craft sticks, colored cardstock, and glue.
Children are invited to remake their favorite emojis or make new ones, providing an exciting and interactive platform to explore emotions. This activity can also be used to make an interactive feelings chart or as a party activity on World Emoji Day.
Remember to celebrate the day on July 17th and share your creations with your friends. Making your emoji universe has never been so easy and enjoyable! jessicaetcetera
2. Emoji Squishy Stress Balls Filled With Slime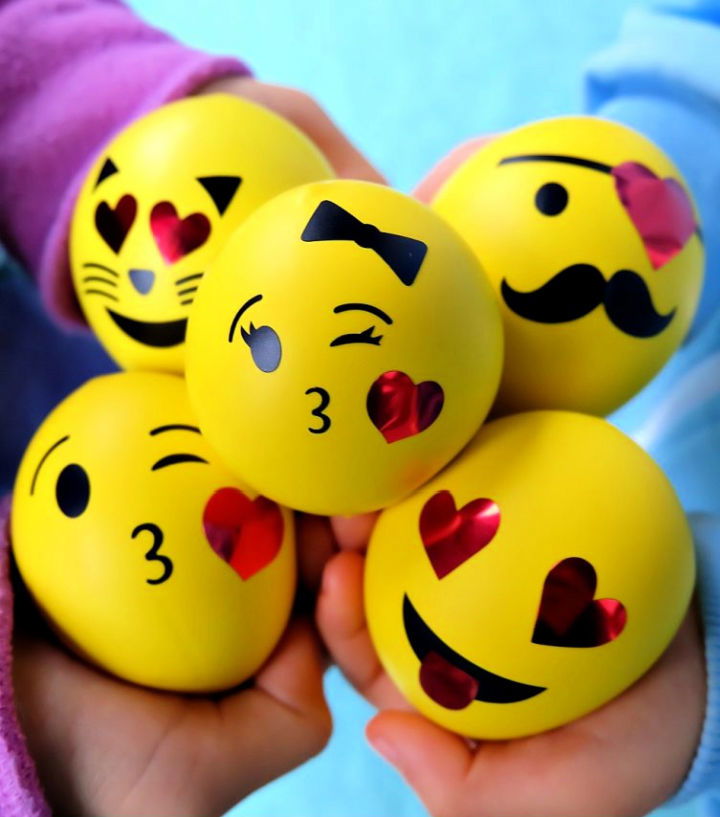 Transform any casual playtime into a blast with the DIY emoji squishy stress balls filled with slime. This enjoyable children's craft project combines three popular elements: emojis, squishes, and slime! Perfect for events like Easter, Valentine's Day, birthday parties, or a fun-filled afternoon, these handmade toys can be crafted using your Cricut machine or balloons pre-printed with emojis.
Utilizing the simple two-ingredient slime recipe mentioned in the guide, the process is straightforward and engaging, ensuring you'll have a blast while creating these stress balls.
Once finished, these squishy stress balls are a creative and playful addition to your kids' playtime, offering an adorable emoji face to adore, the satisfying squish of slime, and a safe, mess-free play experience. Let your creativity shine, and start crafting these squishy delights today! hellocreativefamily
3. How to Make an Emoji Mood Spinner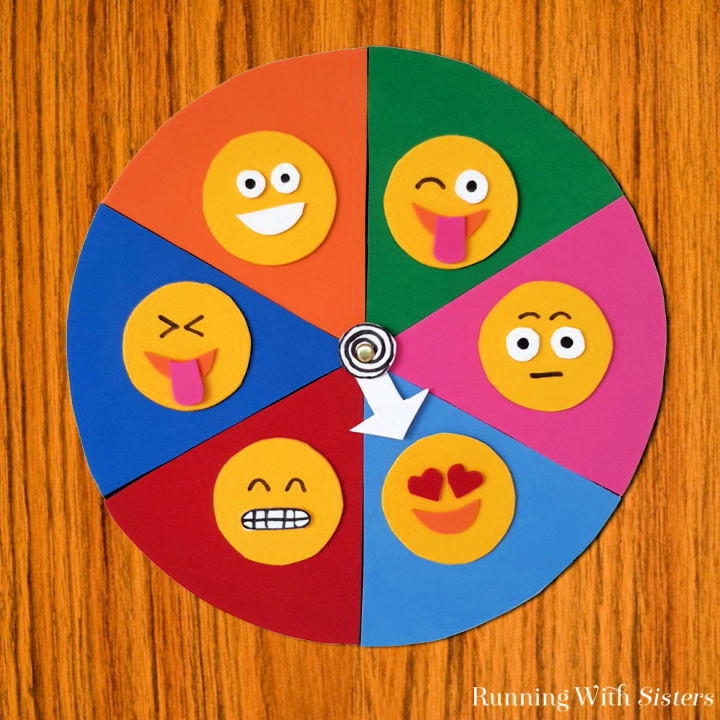 Showcase your emotions with a vibrant, DIY emoji mood spinner, perfect for livening up any kid's room door. Fashioned from colorful craft foam, this spinner lets kids express their current mood visually, offering an insight into their emotional state.
Gather your crafting tools – scissors, a metal brad, a black Sharpie, and craft foam in varied hues. Follow the simple process of cutting and assembling the foam pieces, drawing playful emojis, and attaching them to a pie-chart-style spinner.
The result? A delightful and engaging way for kids to share their feelings. So, set the mood and start crafting today! runningwithsisters
4. Adorable DIY Emoji Mini Notebook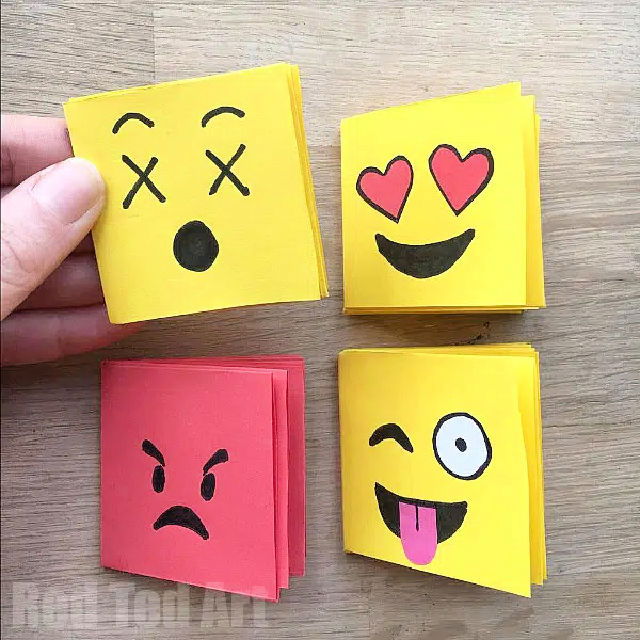 With Emoji Crafts, you can transform ordinary objects into unique, colorful masterpieces that bring smiles and laughter to everyone around. Delve into a creative journey with our exciting DIY emoji notebook project, an engaging Kirigami craft that's an absolute hit with children! You can make an adorable, compact notebook that requires no glue using just an A4 sheet of yellow paper, scissors, and a black pen.
If you wish to diversify your emoji designs, optional materials like pink, red, and white paper and a glue stick can be handy. This craft enhances creativity and provides a fun outlet for children to express their emotions. Remember, follow the instructions closely to perfect the folds and avoid wasting paper.
Once you master this, you'll undoubtedly want to make many more, perhaps even a whole set to represent different feelings. Enjoy creating these personalized, square-format notebooks for a charmingly expressive twist on journaling. redtedart
5. Cute Paper Plate Emoji Craft for Kids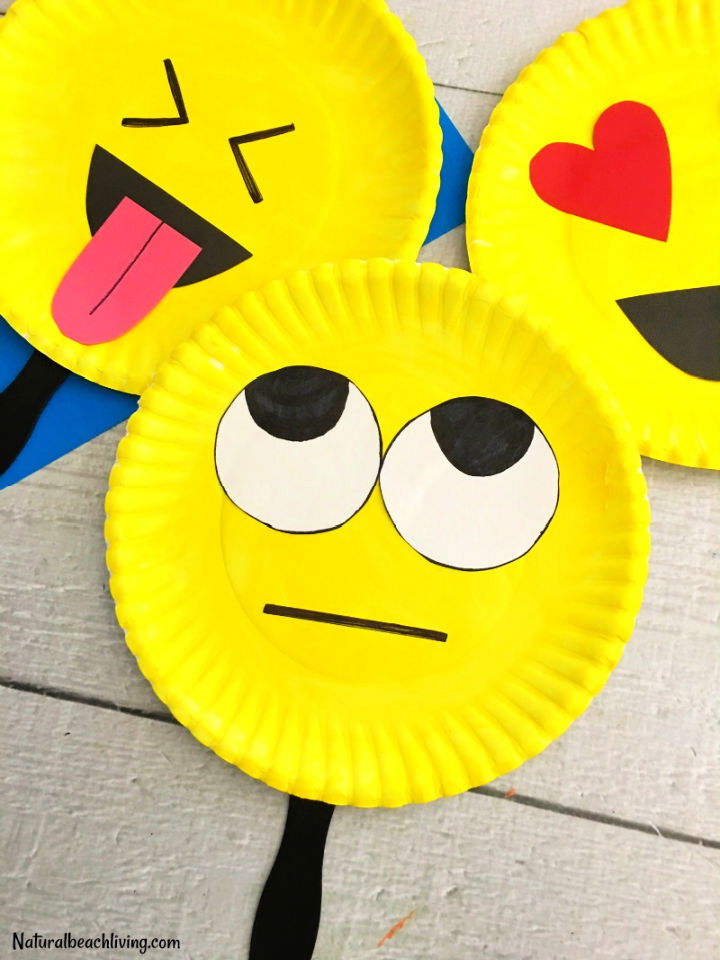 Unleash creativity and fun with this engaging DIY emoji paper plate craft! Perfect for kids and teens alike, this project transforms simple paper plates into expressive emoji faces, ideal for a lively party or an emotions-themed activity. The required materials are easily accessible – all you need are paper plates, scissors, glue, markers, and paint.
As you dive into the crafting process, you'll see just how versatile and customizable these paper plate emojis can be. These paper plate emojis serve many purposes, from whimsical party decorations to engaging educational tools for exploring emotions.
You can even make a mini photo booth using these handmade emojis as a colorful and exciting backdrop for your pictures. So, why wait? Get creative and let these paper plate emojis add fun and entertainment to your next party or learning session! naturalbeachliving
6. Make Your Own Emoji Clutch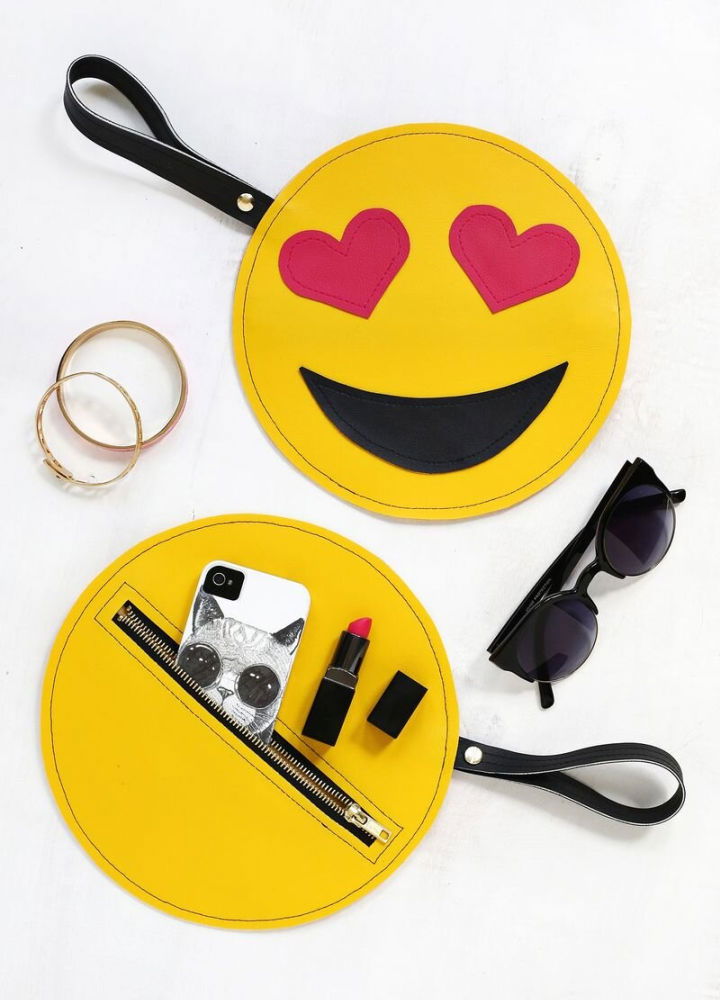 Dive into the world of trendy accessories with this fun and creative DIY emoji clutch! Inject a dash of quirkiness into your style by crafting this vinyl fabric wristlet that perfectly captures the playful spirit of emojis. You're all set to make a fashion statement with just a handful of supplies like yellow, pink, and black vinyl fabric, a zipper, scissors, glue, an X-Acto knife, and an emoji clutch template.
Not only does this project bring out your creative side, but it's also an easy, affordable, and entertaining way to own a trendy piece. Make your personalized emoji clutch and experience the joy of wearing something made with your own hands. Elevate your class and make a statement by adding your newest favorite accessory! abeautifulmess
7. Beautiful DIY Emoji Beaded Necklace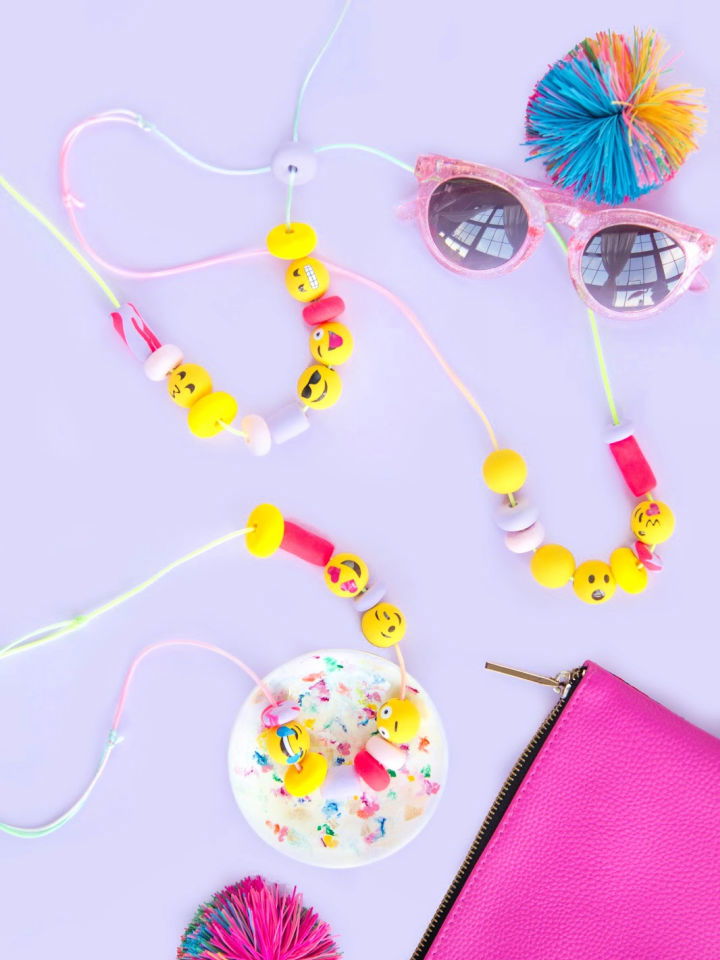 Add a playful touch to your summer ensemble with DIY emoji bead necklaces, a fun and expressive accessory! By painting wooden beads with yellow acrylic paint and designing your favorite emojis, you can make an elegant necklace that speaks to your personality.
You'll need wooden beads, acrylic paint, string, vinyl adhesive, a small paintbrush, a skewer, and oven-baked clay for additional beads. Once your emoji beads are dry, string them together to make a delightful piece of jewelry.
This project lets you flaunt your favorite emojis around your neck, from classic smiley faces to anything that brightens your day. Get started on your custom-made, emoji-inspired necklace today! awwsam
8. Making a Never-Ending Emoji Card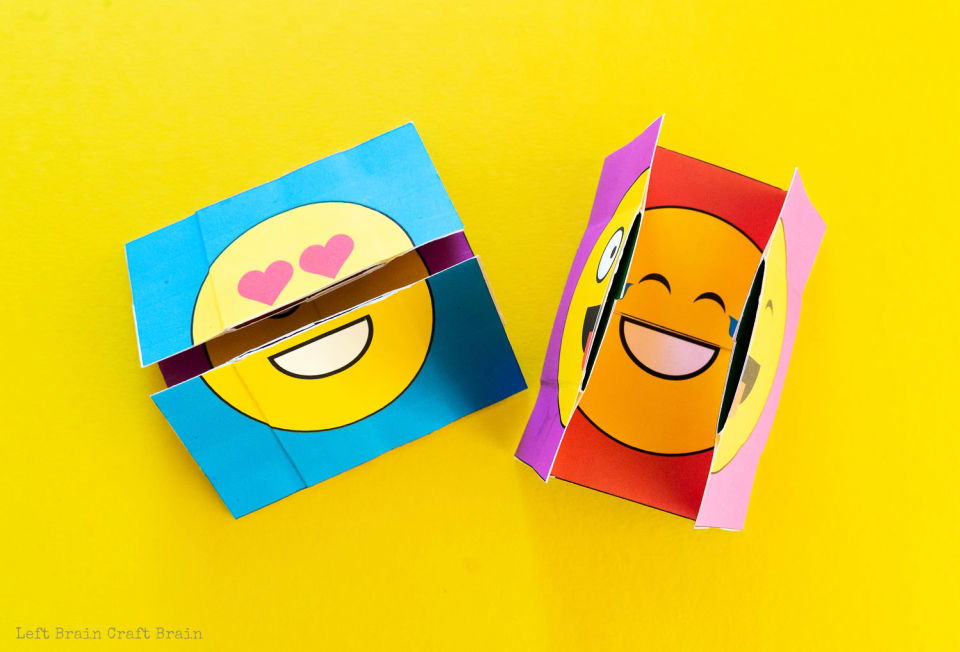 Unleash your inner artist by exploring various Emoji Crafts, including DIY pillows, ornaments, and even personalized magnets. Craft your never-ending emoji card with this innovative, hands-on DIY project! Unleash the fun and marvel at its origami-like magic as it changes its face with every flip and fold. This project brilliantly merges art and mathematics, embodying the spirit of the ancient art of origami.
With just cardstock or paper, scissors, markers, crayons, colored pencils, a glue stick, and the free printable template, you can master this paper engineering feat. Not only does this project promote creativity, but it also provides endless entertainment and a unique keepsake. So, prepare to be astounded and get ready to engineer your never-ending emoji card! leftbraincraftbrain
9. No Sew Heart Face Emoji Pillow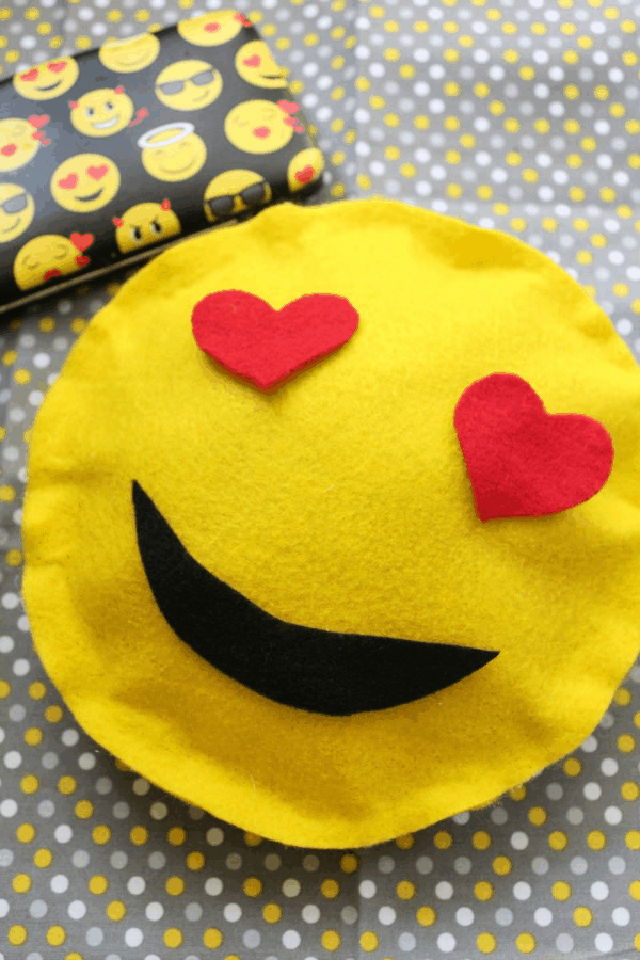 Get an exciting and vibrant addition to your living space with an easy, DIY, no-sew heart face emoji pillow project. This fun activity invites you to transform everyday materials, such as yellow, black, and red felt, scissors, fabric glue, and cotton batting, into an adorable decorative item.
Starting with two yellow circles as the base, a few simple steps – including cutting out and attaching heart and mouth shapes, filling the pillow with batting, and sealing the edges – will result in your emoji pillow.
Its cheerful, love-struck face provides a whimsical touch and offers comfort during your reading hours or as a travel companion. This unique, handcrafted emoji pillow brings a playful pop of color and expression to any setting, and it's just the beginning – you can look forward to creating an entire array of fluffy emoji cushions in no time! thismamaloves
10. Emoji Tin Can Pencil Holders Craft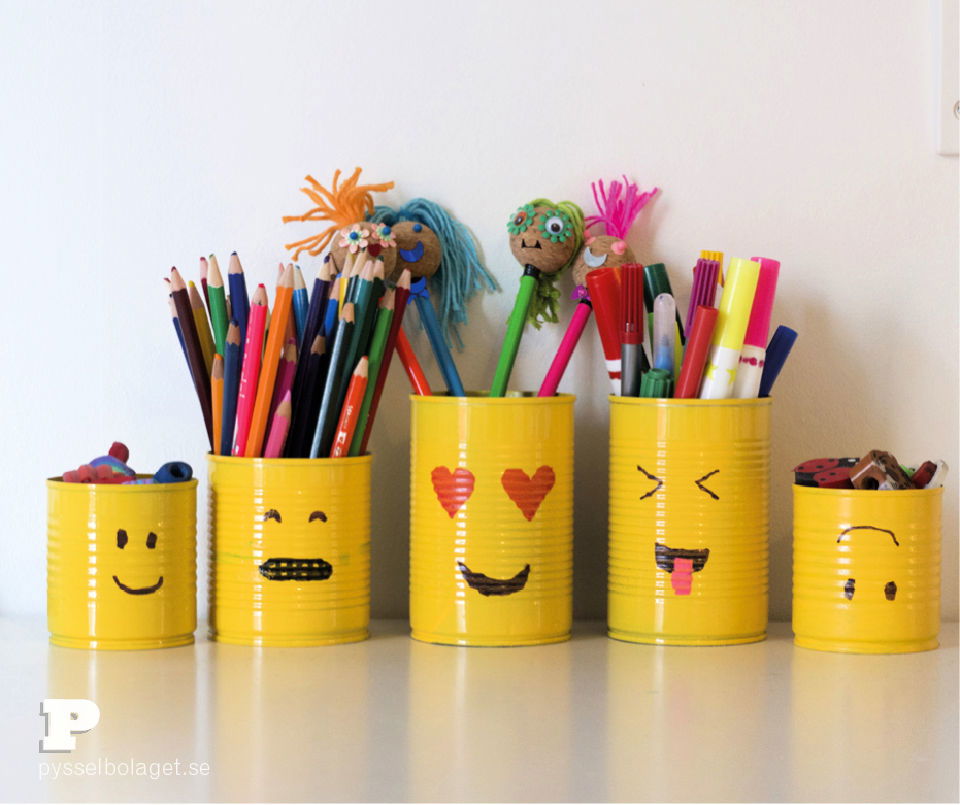 Turn your old tin cans into charming, functional pencil holders featuring emoji faces with this crafty DIY guide. Starting with clean, dry cans, you'll need a splash of yellow spray paint and waterproof markers to complete the transformation. Water-based spray paint is ideal, offering a vibrant and durable finish.
Once the paint is dry, your canvas awaits the creative drawing of emoji faces using waterproof markers. Children belove these Emoji-themed pencil holders bring whimsical delight to anyone's workspace.
They keep your pencils and scissors neatly organized while adding a lively spark to any dull desktop. Harness your artistic flair and enjoy the practical benefits of this simple yet effective project. pysselbolaget
11. Making an Emoji Flower Pot
Familiarize your little ones with the joy of art and the beauty of nature with this exciting DIY emoji flower pot craft. Painting flower pots allows kids to engage with their creative side, producing a delightful decoration for any room. This project uses simple, accessible supplies, including a plastic flower pot and vibrant acrylic paints.
This activity is especially fun as it lets children express their emotions through emojis, each unique face showcasing their current mood. Kids can craft a pot that's truly their own by choosing their favorite colors and emojis.
Great with either faux or real plants, this painted pot adds a playful touch to any space, indoors or out. Let this enjoyable DIY painting project combine the magic of artistry and gardening. allfortheboys
12. His and Her Emoji Door Hangers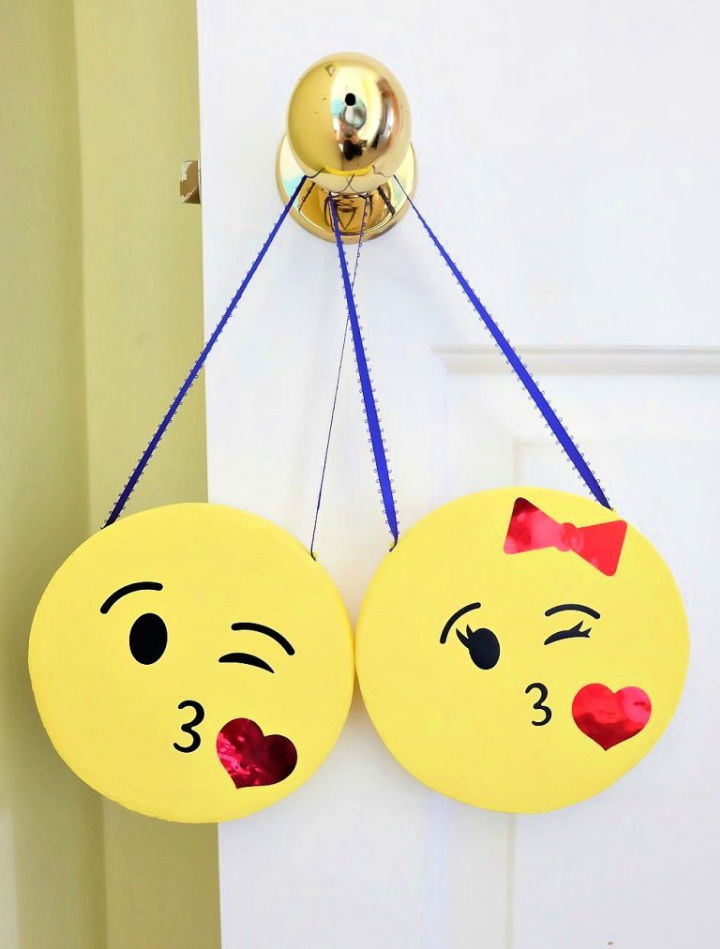 Emoji Crafts are a fun way to express emotions and creativity, making them perfect for parties, gifts, and home decor. Immerse in the world of fun and creativity with DIY emoji door hangers, an interesting project for kids, brightening up any room or party! Leveraging the versatile Cricut to craft his and her kissy face emojis, these door hangers come to life on painted Styrofoam disks.
Materials needed include a flora craft styrofoam disk, Flora craft smooth finish, a putty knife, fine grit sandpaper, yellow paint, foam brush, black and red Cricut Vinyl, Cricut Transfer Tape, a Cricut Emoji Face Cut File, ribbon, and sewing pins.
Following simple and clear steps, you'll make delightful emoji door hangers that are a trendy addition to your kid's room and a fun-filled crafting activity. Enjoy crafting these delightful emojis and adding fun to your space today! hellocreativefamily
13. Handmade Emoji Pinata Gift Box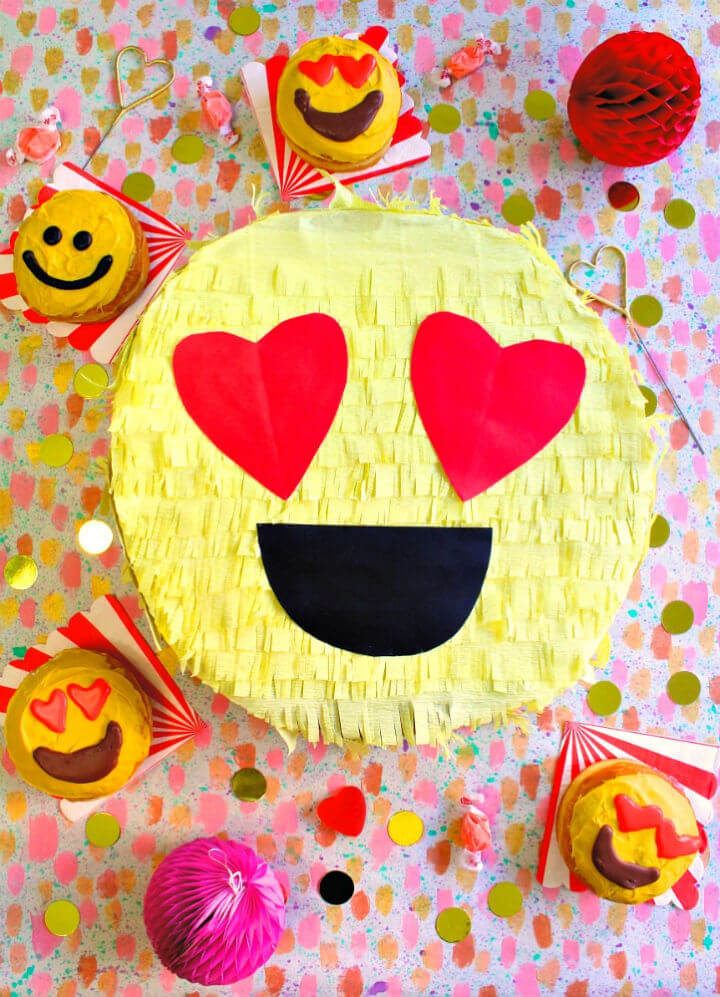 Capture the spirit of Valentine's Day with a unique DIY emoji piñata gift box! Packed with love and creativity, this project transforms simple materials like cardboard, crepe paper, and card stock into a charming emoji-themed gift box, perfect for your special someone.
Using brown packaging tape, tacky glue, a box cutter, and fringe scissors, you will decorate a box with yellow fringe to resemble an animated emoji. This Valentine's Day gift box is beautiful because you can change it to your heart's satisfaction.
Its versatility ensures that your significant other will swoon at your gift's thoughtfulness. You can pack it with their favorite candies, chocolates, sparklers, or even novelty items like mini Honey Comb balls. Pair it with delightful emoji donuts and surprise your sweetheart with a creative expression of affection! briteandbubbly
14. DIY Emoji Balloons for Birthday Party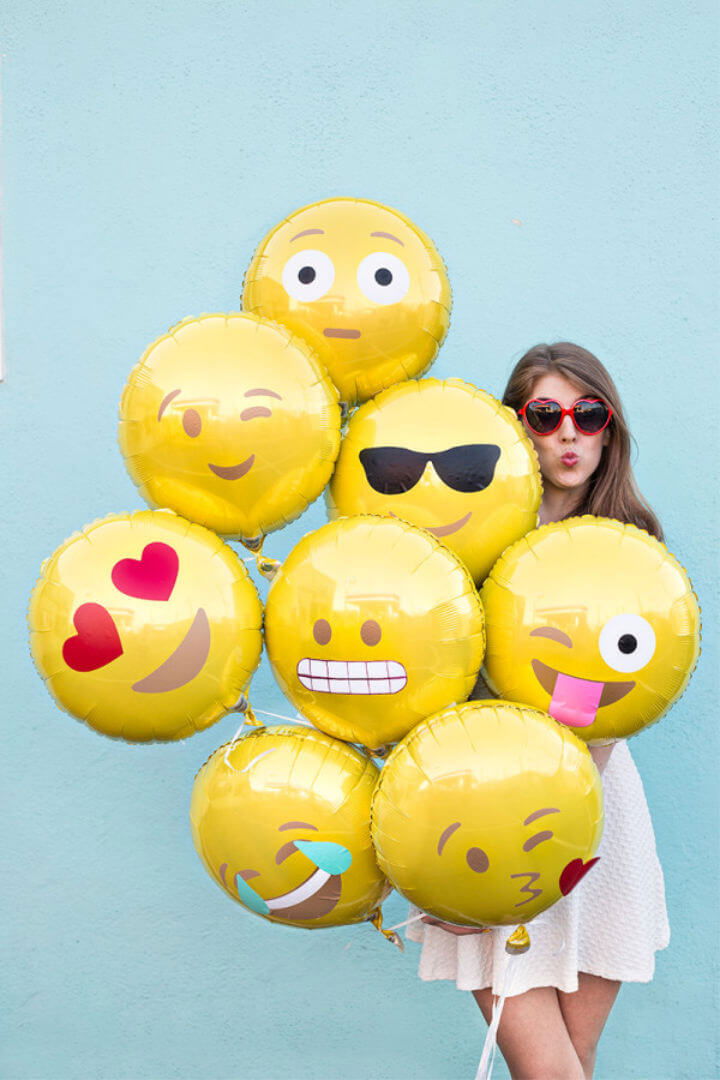 Express your creativity with these unique DIY emoji balloons! Transform simple yellow Mylar balloons into expressive party decor with easy steps and basic supplies. This project requires yellow Mylar balloons filled with helium, various colored vinyl, scissors, or a cutting machine like a Cricut Explore.
By choosing your favorite emoji expressions and carefully adhering cut-out vinyl pieces to the balloon surface, you can bring these popular digital icons to life. Perfect for any occasion, these balloons can be adapted to suit your party theme and will make you the 'Most Awesome Person of All Time.' Try it out today, and showcase your favorite emoji faces! studiodiy
15. Make Felt Emoji Busy Bags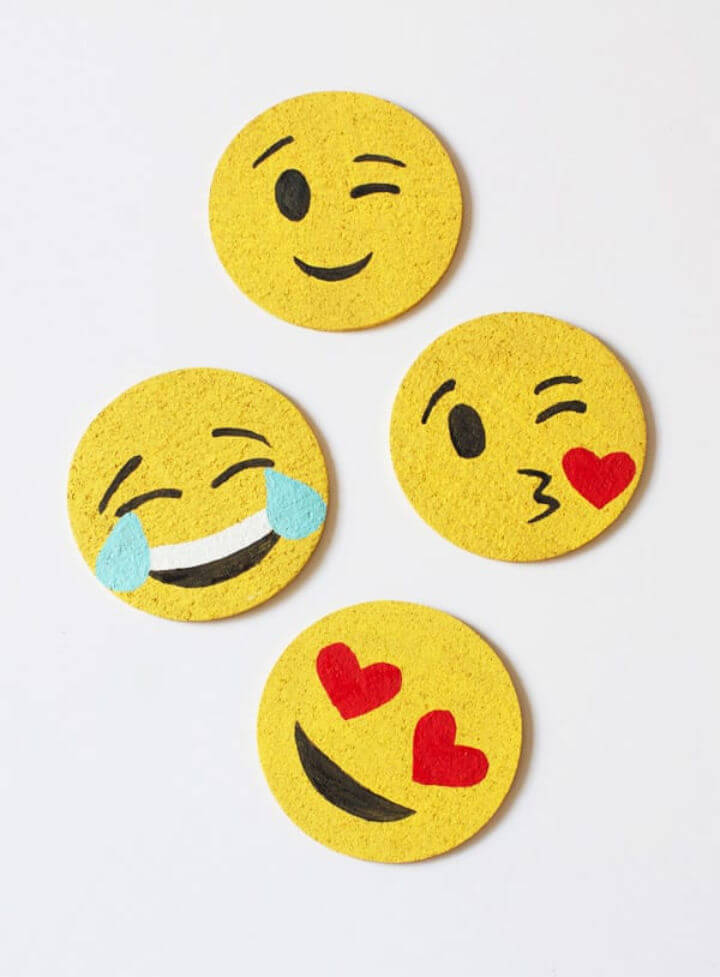 Whether you're celebrating World Emoji Day or simply adding flair to your everyday life, Emoji Crafts are the perfect solution. Inject a playful touch into your living space with DIY emoji coasters – a lively craft idea that transforms everyday supplies into decorative conversation pieces. Combining your love for emojis and your creative flair, you'll make delightful coasters with blank coasters, vibrant acrylic paint, and a protective layer of lacquer.
Make your favorite emoji faces as templates, paint your coasters, and add the final touch with a coat of varnish for a shiny, finished look. These eye catching emoji coasters, conceived with Valentine's Day in mind, would make a delightful gift at any time of the year. Grab your paintbrushes and let the joy of crafting uplift your day! lovelyindeed
16. How to Make an Emoji Paper Garland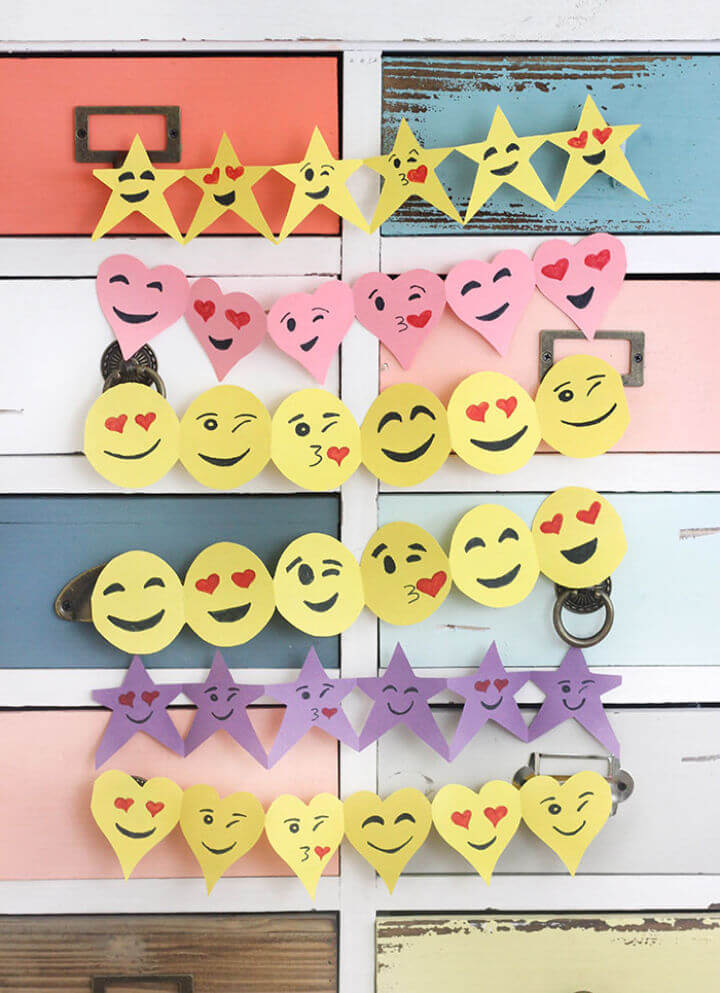 Experience the joy of crafting while expressing your emotions through a DIY emoji paper garland! This lively and vibrant project offers an engaging activity for you and your kids. Made with simple materials such as construction paper in various colors, a pencil, scissors, a ruler, and garnishing tools like markers, crayons, or colored pencils, it's a delightful and easy endeavor.
Begin by folding the paper, drawing your favorite emoji shapes, cutting them out, and decorating them. The result is a fun, creative, and personalized garland that adds an element of cheer to any space, perfect for the start of a new school year. Its playful design livens up your child's lunchbox and creates an exciting back-to-school surprise. Crafting has never been this fun and expressive! cutefetti
17. Homemade Emoji Bath Bombs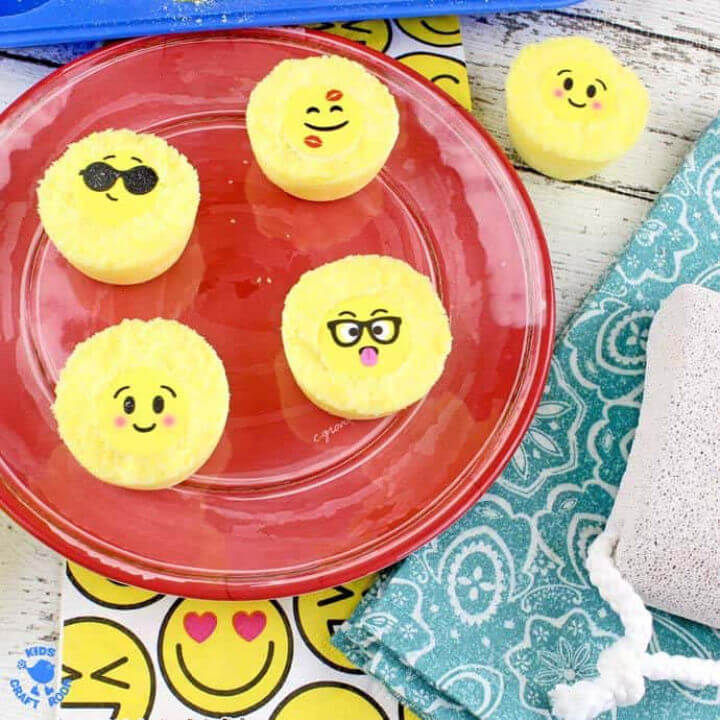 Want to make your kid's bath time extra fun? Check out these charming DIY emoji bath bombs! These bath bombs promise a delightful bathing experience.
With the simple bath bomb recipe involving baking soda, citric acid, coconut oil, corn starch, lemon essential oil, yellow soap coloring, and cute Wilton emoji icing decorations, it's easy to make a range of designs featuring your child's favorite characters.
Ideal for homemade gifts, these bath bombs are a hit with kids and adults alike. Encourage your little ones to explore their ingenuity and make bath time more entertaining with these emoji bath bombs today! kidscraftroom
18. Easy-to-Make Emoji Masks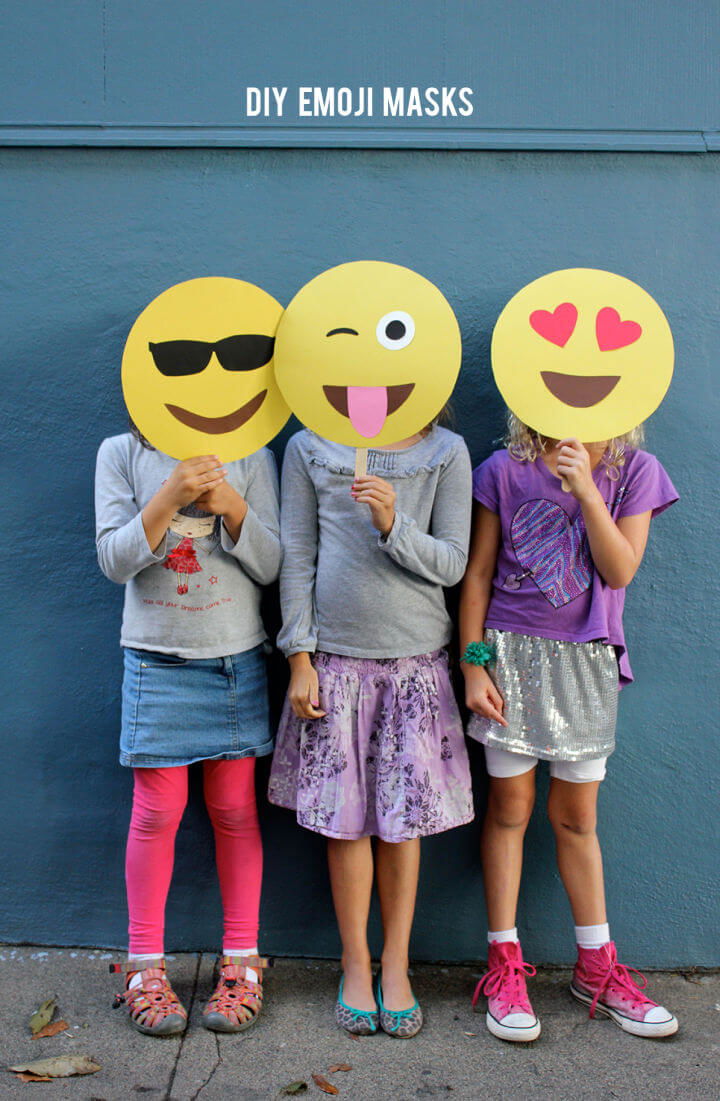 From beginners to seasoned crafters, DIY Emoji Crafts offer an enjoyable challenge that allows everyone to express themselves artistically. Unveil your creativity and add festive fun this Halloween with homemade emoji masks! A fabulous and super easy DIY project, these emoji masks are perfect for all ages. Made from easily available materials like yellow poster board, colorful paper, scissors, glue, and large popsicle sticks, these masks are affordable and easy to make.
This step-by-step guide helps you make your favorite emojis, heart eyes, sunglasses, or tongue design. Once completed, these masks can be a delightful addition to your Halloween party or a photo booth, making it an unforgettable experience.
What makes this DIY even more unique is its versatility – these masks are just as suitable for adults as children. So why wait? Start crafting your emoji masks today, adding fun and excitement to your Halloween celebrations. aliceandlois
19. Make an Emoji Party Cake Topper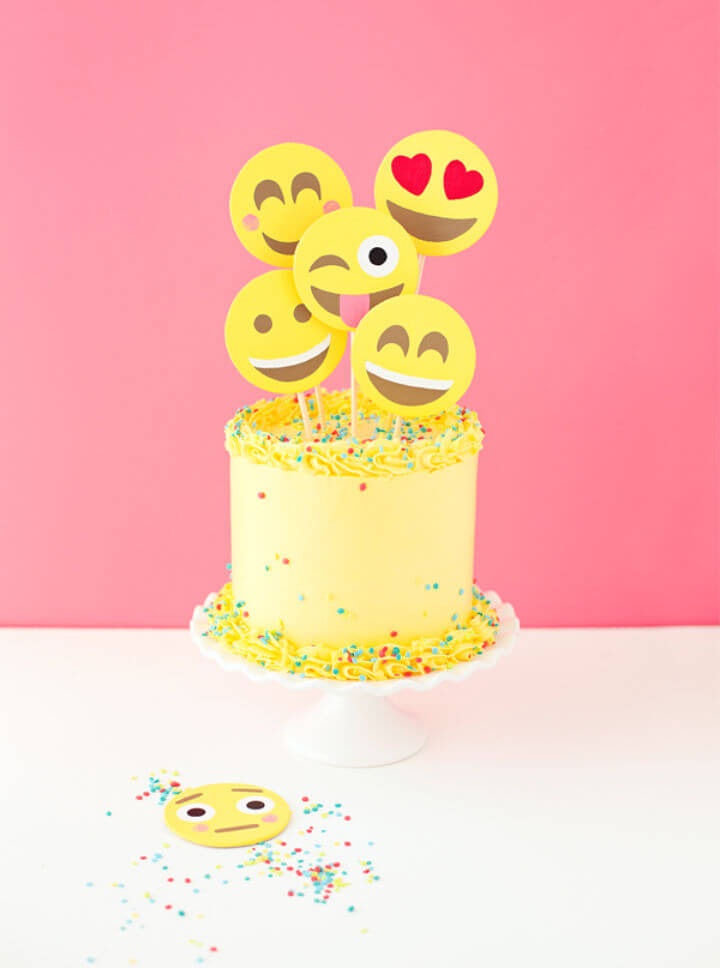 Make your parties lively and engaging with this DIY emoji party cake, a colorful masterpiece brimming with digital expressions. This cake is the perfect centerpiece for birthdays, bridal showers, or even as a comfort for heartbroken friends.
With wooden discs, a foam paintbrush, a small detail paintbrush, a hot glue gun, wooden skewers, and craft paint in vibrant emoji colors, you can easily make this cake at home. Each wooden disk forms the base for the emojis, which you paint on using your chosen emoji references.
Then, attach these discs to the skewers and insert them into your cake. This fun dessert is an interactive, entertaining activity and offers a unique twist to traditional cake decorations, making your celebration memorable and joyful. asubtlerevelry
20. Awesome DIY Emoji Ornaments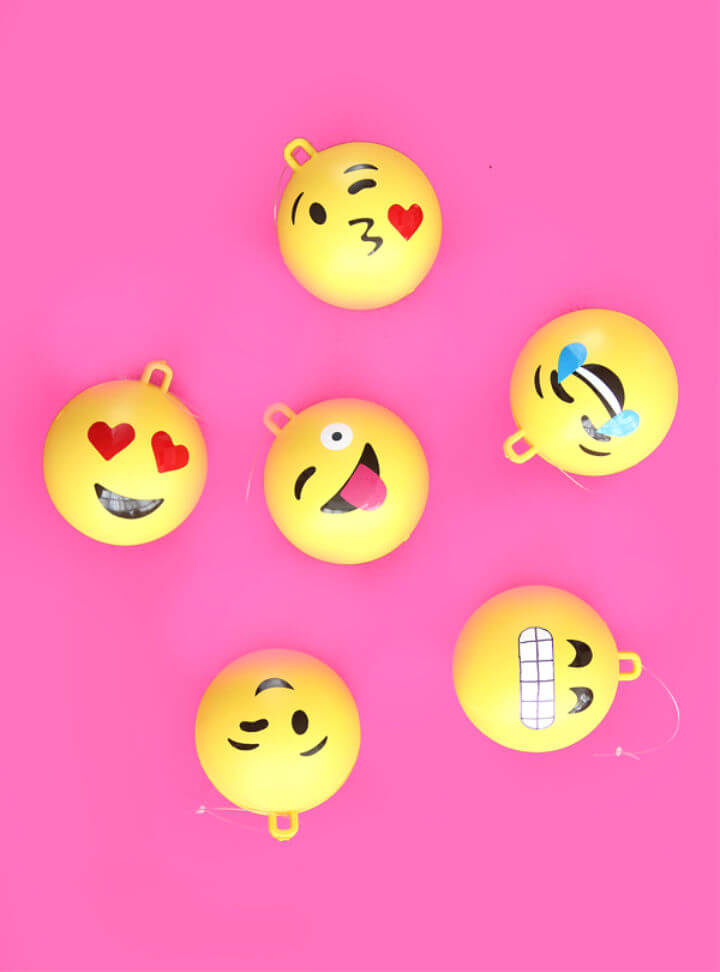 Elevate your holiday decorations this season by incorporating your favorite emojis as big DIY ornaments! Use clear ball ornaments and colored vinyl to make a range of emojis that capture any mood.
Not only do these delightful faces breathe a touch of fun into your Christmas tree, but they also serve as thoughtful gift ideas. Imagine gifting a friend a collection of their most-used emojis – surely a winner at any Secret Santa exchange! The process involves:
Spray painting the clear ornaments yellow.
Cutting out the emoji features from the colored vinyl.
Sticking them on the dried ornaments.
Once completed, these ornaments can be hung on your tree to spread cheer or packed as a unique, personalized gift. This year make your Christmas tree more expressive with these DIY emoji ornaments. asubtlerevelry
21. Easy Emoji French Macaroon Recipe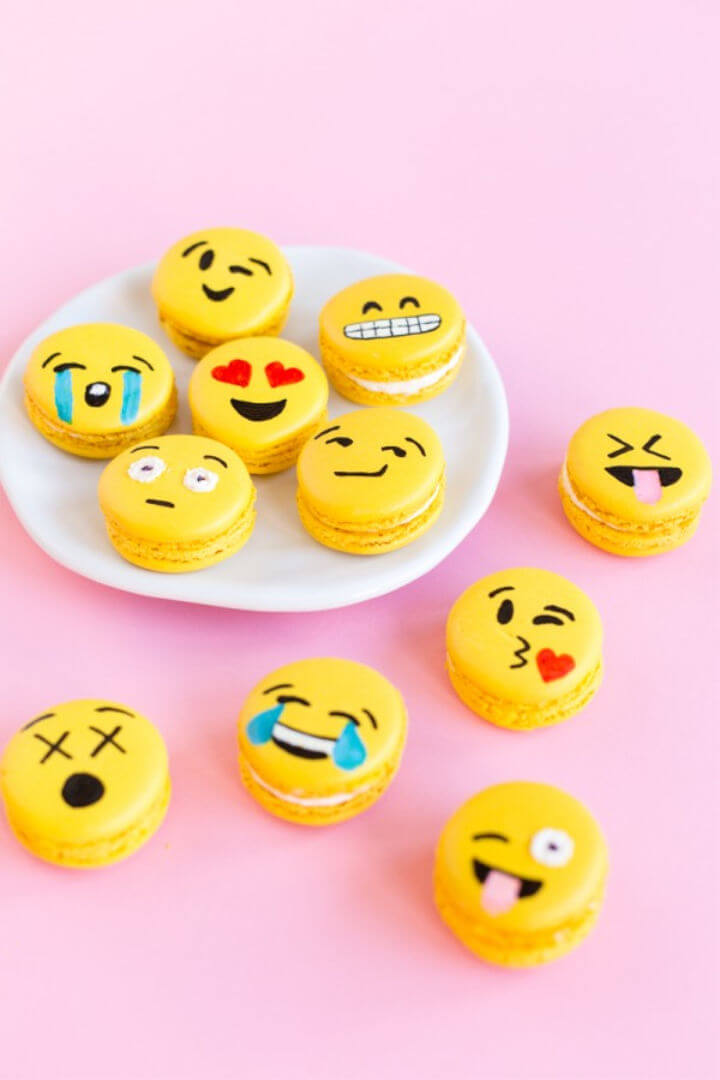 Emoji Crafts provide endless ideas for personalization, ensuring that each project is distinctly tailored to individual tastes and preferences. Embrace the world of delightful, DIY macarons with a quirky twist – Emoji style! This engaging project brings together the delicacy of lemon infused macarons and the universal appeal of emojis.
Embark on this culinary journey with just a few supplies like food decorator pens, frosting, or royal icing, and yellow macarons. The easy guide takes you from sketching emojis to final coloring in just a few simple steps!
Adding an innovative touch to the much loved emojis, this project transforms these sweet treats into iconic edible art pieces that will tickle your creative fancy and satisfy your sweet tooth. Take the plunge into this innovative macaron decorating adventure and bring fun and flair to your kitchen today! studiodiy
22. Simple Emoji Craft for Valentine's Day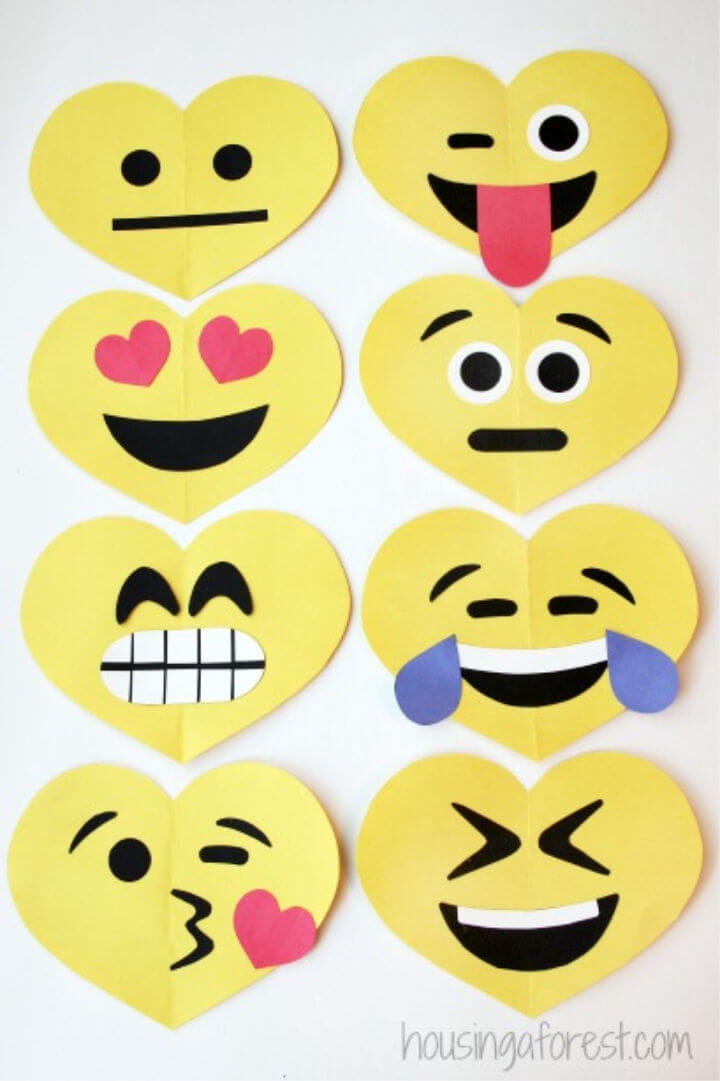 Brighten up Valentine's Day for your little ones with a delightful DIY emoji Valentine's craft! Emojis have become a significant part of communication, and they're now set to add a fun twist to Valentine's cards. Let your kids cut out facial features and glue them on these emoji hearts, perfect for classmates on Valentine's Day.
Although designed as a Valentine's Day craft, these emoji hearts can be an enjoyable activity at any time of the year. Plus, the possibilities are endless – choose from any of your favorite emojis, and make as many as you'd like! Enjoy this creative craft and make Valentine's Day unforgettable for your kids. housingaforest
23. Cool DIY Emoji Gift Tags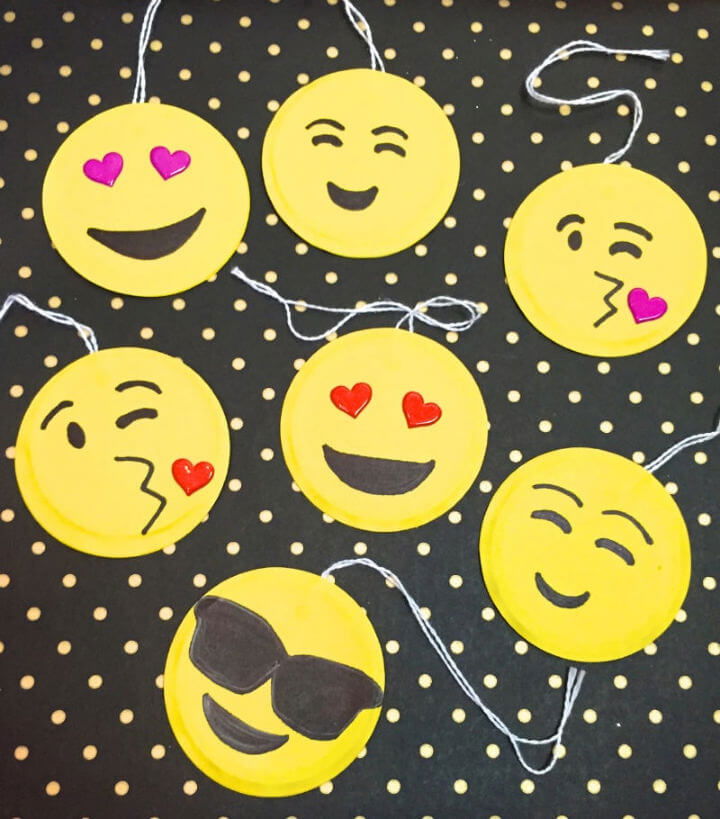 Lighten the festive season with an innovative and fun DIY project- emoji holiday gift tags! You can put a modern twist on traditional gift tags with just a few materials. This creative endeavor is not just easy to accomplish but also adds an element of surprise to your holiday gift packaging.
Inspired by your favorite emojis, the tags are drawn onto round yellow labels, affixed to metal tags, and finished with 'To:' and 'From:' on the back, making each present personalized and expressive.
Moreover, these quirky tags can double up as ornaments, introducing a unique touch to your holiday decor. So, step away from the ordinary this holiday season and dive into a world of creativity with emoji holiday gift tags. Enjoy the spirit of gifting with a side of festive crafting! Happy Holidays! briteandbubbly
24. Emoji Friendship Necklace for Girls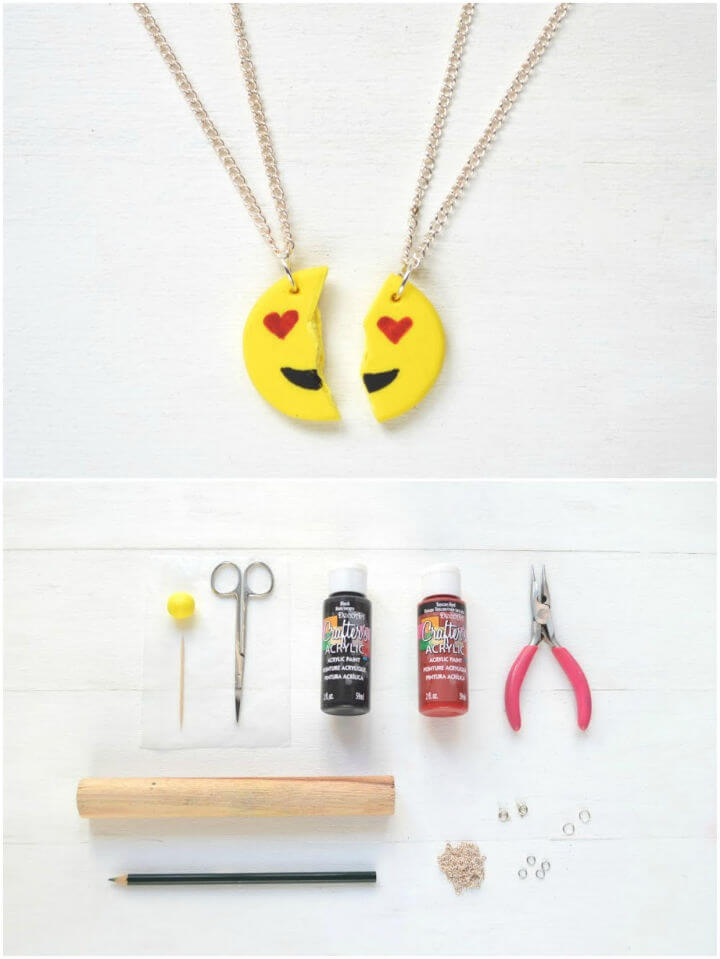 Celebrate your bond with your besties creatively and uniquely! With our DIY emoji BFF necklace guide, you can show your friendship all year round. You'll need yellow oven-bake clay, acrylic paints, and standard jewelry supplies along with simple tools like a rolling pin, toothpick, and pliers. Perfect for National Women's Friendship Day or any day of the year!
Once your necklace is ready, it'll feature adorable, painted emojis – a red heart for the eyes and a black mouth for added cuteness. You'll appreciate how simple yet versatile this DIY project is, as you can adjust the size of your clay emoji to best suit your preferences.
And when you're done, you'll have a set of matching necklaces, one for you and one for your BFF, symbolizing your cherished friendship. Start crafting today and celebrate the irreplaceable bond of friendship in style! brit.co
25. Easy Paper Emoji Wall Hanging Craft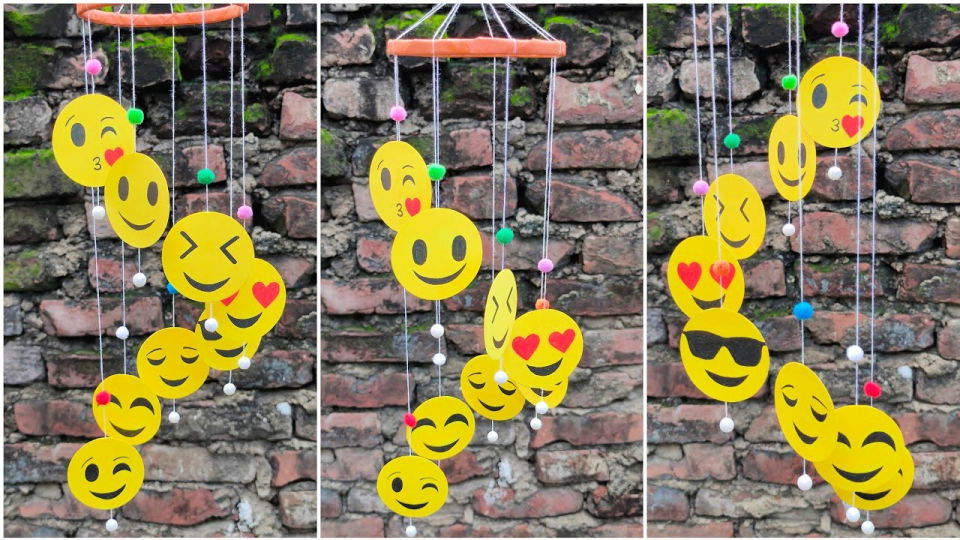 By using Emoji Crafts, you can easily make memorable, one-of-a-kind gifts for friends and family, all while showcasing your artistic talents. Elevate your living space with delightful, DIY emoji wind chimes crafted from paper. This project showcases a unique blend of creativity and simplicity. In a few simple steps, you'll transform these everyday items into a whimsical decoration that adds delight and personality to any room.
You'll appreciate the easy instructions, taking you from preparation to the final creation in no time. The process involves creating paper emojis, attaching them to strings, and assembling them into a wind chime.
This inexpensive project is perfect for those seeking to add creativity and uniqueness to their decor. The outcome is not only a fun decoration but a testament to the delightful possibilities of DIY crafts. Get ready to enhance your space with this emoji wind chime project and discover the joy of creating unique decor.
Conclusion: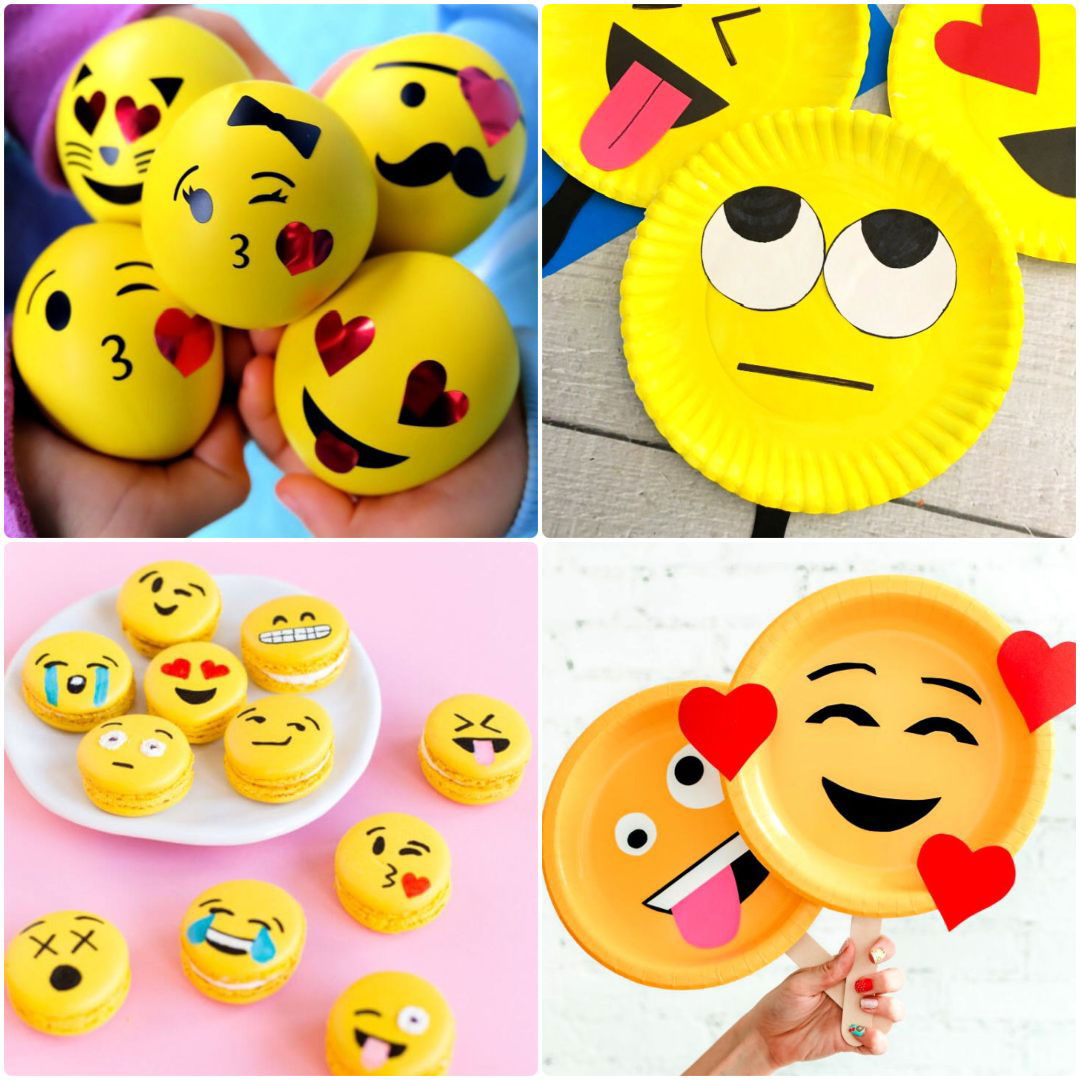 In conclusion, these 25 enjoyable emoji crafts offer a diverse selection of DIY projects, ranging from paper plate emoji masks to emoji friendship necklaces. With fun emoji crafts that cater to different skill levels, there's an activity suited to everyone's taste. Embrace your creativity and enhance your artistic skills using these emoji craft ideas. Whether you're crafting with kids or working on a project solo, these emoji-related activities are sure to provide an engaging and entertaining experience.