Pipe cleaner crafts are not only fun and easy to make but also a great way to use up your pipe cleaners. The pipe cleaners can be used to make many different kinds of things, from jewelry and flowers to animals and hats, as well as more complex objects such as airplanes or miniature houses. With just a few pipe cleaners, some glue and creativity, you can have endless ways to decorate your home or make gifts for family and friends. Looking for inspiration? There are lots of resources online with easy step by step pipe cleaner crafts that can help bring your creative pipe cleaner ideas to life!
Making crafts with pipe cleaners has always been a fun, creative activity for both kids and adults. From simple animals and figures to detailed pieces of home decor, pipe cleaners provide endless possibilities for crafting. Not to mention, pipe cleaner crafts are great for recycling materials like toilet paper rolls into unique and intriguing works of art. With 50 fun and easy pipe cleaner crafts and things to make, there's something for everyone! From beginners who just want to browse easy step-by-step pipe cleaner crafts for kids or more experienced crafters who want to explore pipe cleaner art—it's all possible with these fantastic pipe cleaner projects.
You can make a lot of things with cheap pipe cleaners by following these 30 easy pipe cleaner crafts for kids and adults. Use pipe cleaners to make amazing home decorations, kid's crafts, toys, beautiful gifts, unique party ornaments, knickknacks and party and photo props!
1. DIY Pipe Cleaner Glasses New Year's Craft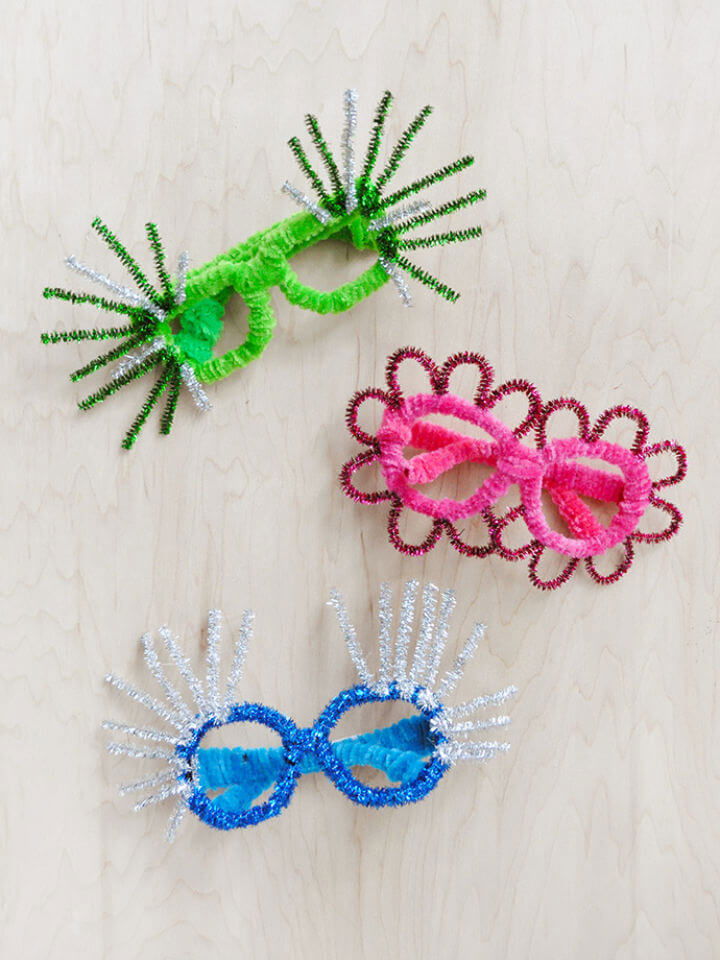 Want to celebrate the new in a super fun way? then do make these brilliant pipe cleaner glasses that will be big fun to wear and will double up the fun of your celebration! A big thanks to the flexibility and sparkly colorful appeal of the inexpensive pipe cleaners for this adorable craft! Full instructions here handmade
2. Pretty DIY Pipe Cleaner Hearts
As you can twist and bent the pipe cleaners easily so you can also create beautiful shapes out of them like these lovely pipe cleaner hearts that are looking divine and would surely make great accents for your gift wraps especially for the Valentine's Day gifts! Full instructions here tellloveandparty
3. DIY Chameleon Pipe Cleaner Creature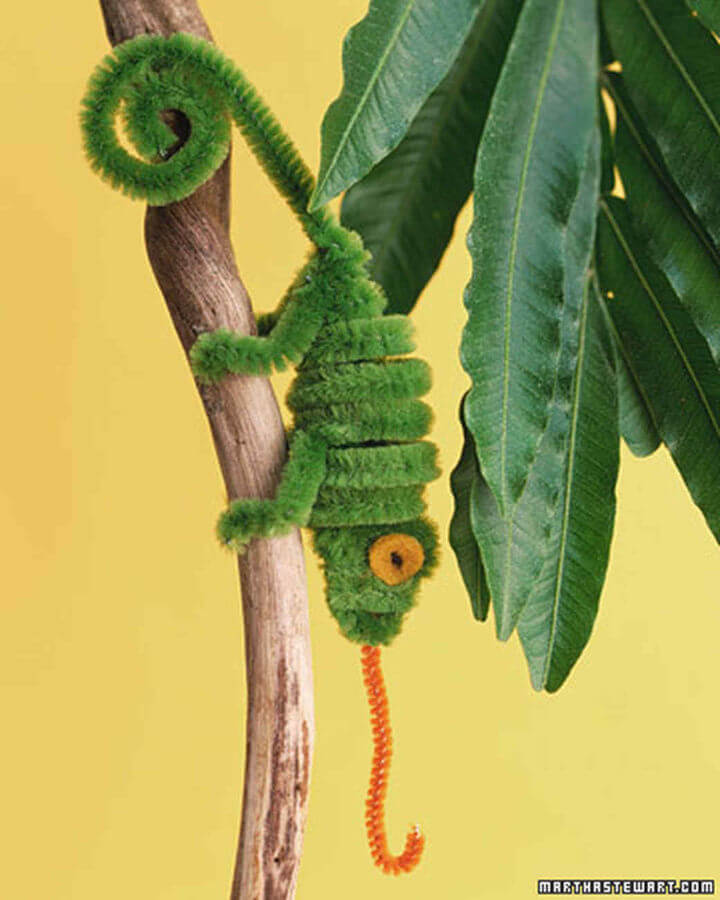 You can also make beautiful animal sculptures with the pipe cleaners that will do nothing but will every onlooker into big amazement! Get inspired by this pipe cleaner chameleon creature that is sure to impress at a very first look and is looking much near to real! It will make a great garden decor and also a toy for the kids! Details here marthastewart
4. Pipe Cleaner Photo Props
Add a lot of fun to your party photos by making outstanding pipe cleaner photo props and get inspired by the lovely given samples that are sure to inspire all the party lovers and craft lovers! Just make the sticks like magic wands by wrapping the silk or colorful ribbon around the dowels and then add pipe cleaner toppers that may be any shape as you can see! Instructions here valeventgal
5. DIY Crab Paper Plate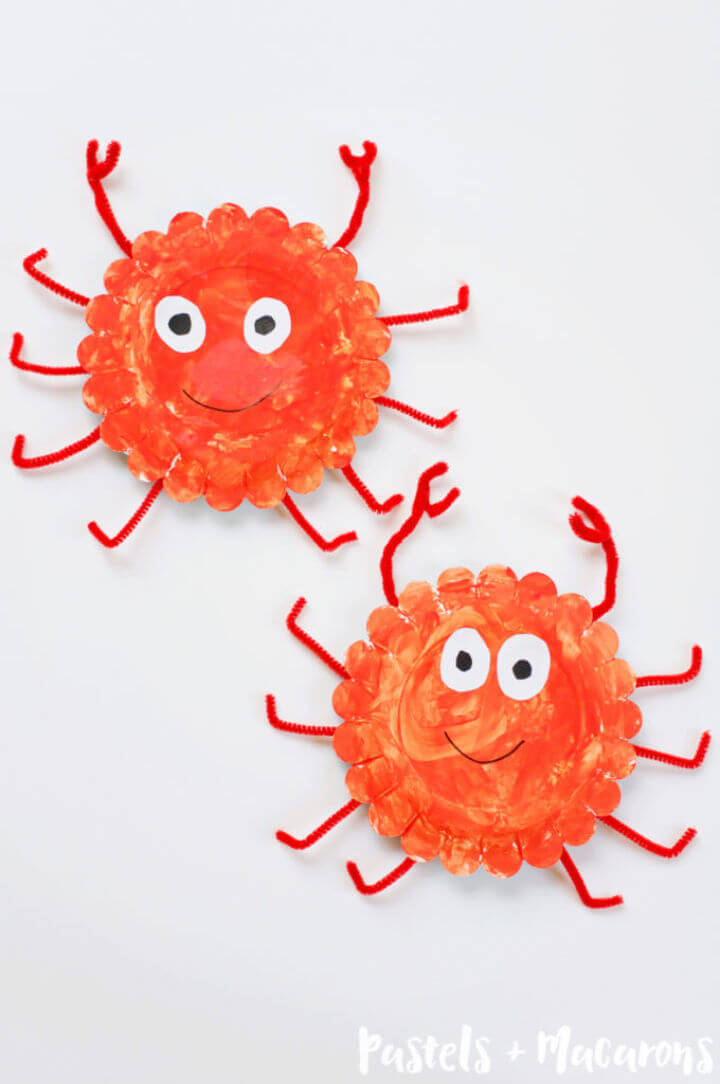 Check out here the fun stuff made with a pipe cleaner, a lovely and cute kids' craft project that is super fun-making also! Just paint a paper plate and add up with googly eyes to make the face of the crab and then add the pipe cleaner legs and make a precious crab kids toy, will also make a great decor! Details here pastels
6. DIY Beaded Pipe Cleaner Butterflies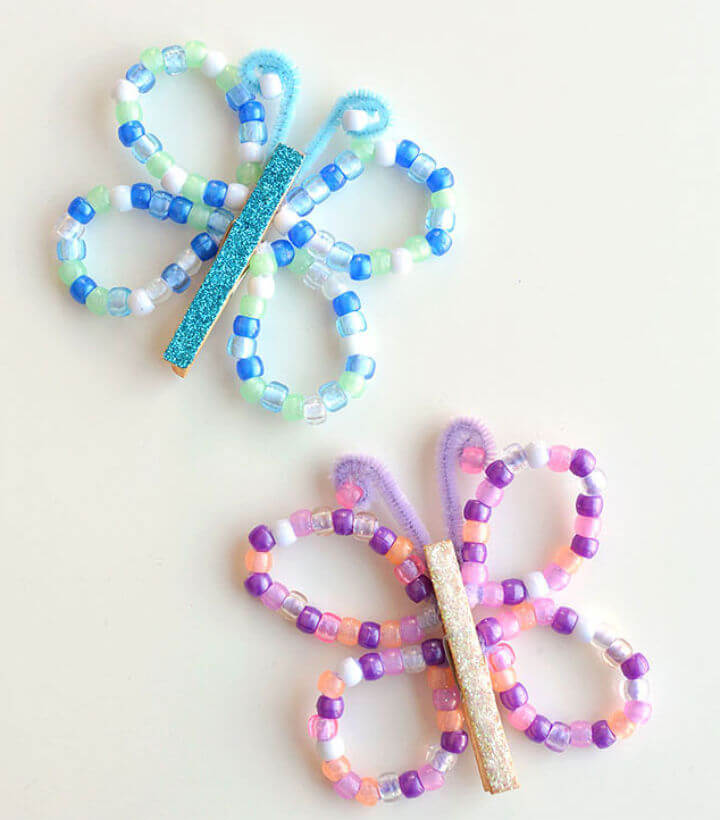 An amazing and super cute crafting creation, done to inspire, a super handsome looking beaded butterfly that comes with a body made of a clothespin and it also comes with a pipe cleaner antenna! Make the butterfly wings using a bead strand! Full instructions here onelittleproject
7. Homemade Pipe Cleaner Cacti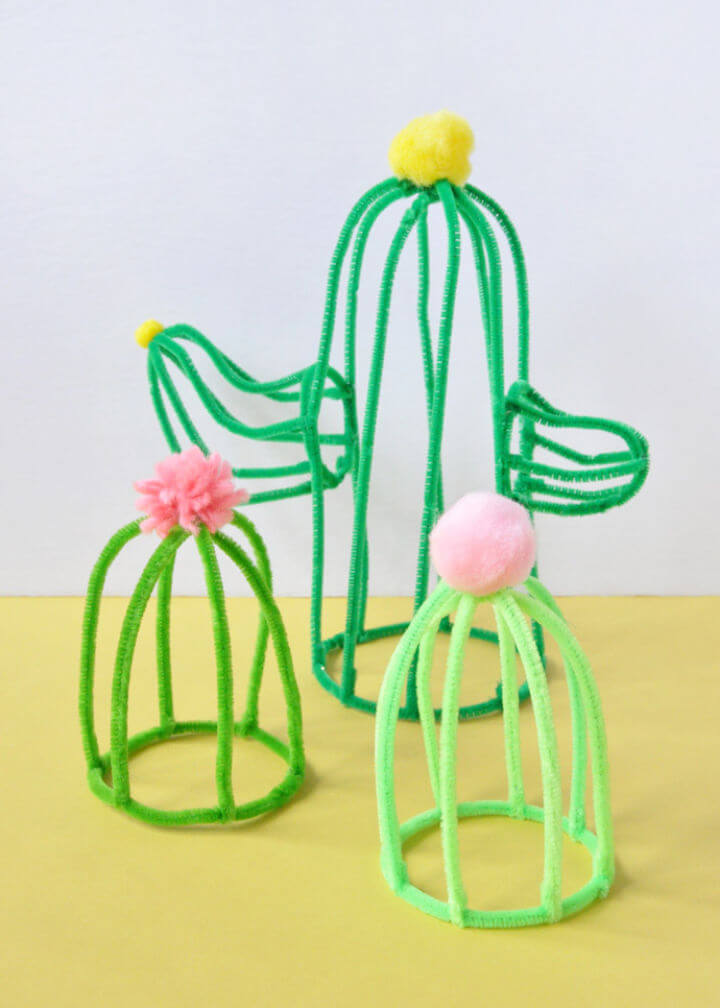 You are going to appreciate the pipe cleaners after taking a look at these pipe cleaner cacti that will make a great indoor and outdoor decor and will be something super lovely and impressive! Willing to duplicate it? Here is how to make it handmade
8. Making a Beaded Pipe Cleaner Snakes
Thread also the colorful onto the pipe cleaner lengths to make beautiful snakes that will make lovely toys for kids! Look at the cutest snake that is not even a little scary and comes with googly eyes! homanathome
9. Easy DIY Pipe Cleaner Pencils
Also, bring alluring glitter and sparkly to the pencils of all school going kids by giving them a pipe cleaner treatment! Grab the super slim pipe cleaners and then wrap them around your pencils and create a lustrous avatar of them! A cool pipe cleaner craft idea for the kids! Instructions here designimprovised
10. DIY Sparklers from Paper and Pipe Cleaners
If you really want to make fireworks for your kids, that will be safe to grab in hand on a festival or new year party celebrations then do go with these paper and pipe sparkers that are made of pipe cleaners and paper handprints! Here these sparklers are quick to make and will cost you just nothing! Details here funhandprintart
11. Pipe Cleaner Rose Hair Ties
Fasten the pipe cleaners together making lovely flowers and roses that you can add them as precious toppers to hair ties creating fabulous floral hair ties that will be a big pleasure for the girls and women to wear over their hairstyle! Full how-to instructions and tutorial here consumercrafts
12. How to Make Pipe Cleaner Crown
Create a princess look of yourself and of your little girl by wearing this very special pipe cleaner crown that comes with glam luster! Just make a crown round using your favorite pipe cleaner and then your own handmade pipe cleaner design to it! Look at the superb given sample! Full tutorial here blytheponytail
13. DIY Pipe Cleaner Dragons Craft for Kids
Pipe cleaners are super flexible, and the blasting good news is that they can be twisted to any shape and have the capability to stay in that shape! By using these qualities and features, this pipe cleaner dragon has been made that will make a great handmade toy gift to your little kids and is quick to whip up! Don't forget to add the craft foam feet, wings, and googly eyes! Full tutorial here frugalfun4boys
14. DIY Kid's Pipe Cleaner Sculpture
By availing the quick bending and twisting properties of the pipe cleaners, your kids really do wonders with the pipe cleaners and a brilliant example her is to make these pipe cleaner sculptures that are super quick and easy to make and are sure to impress! Another great kids' pipe cleaner project! Details here ampersanddesign
15. Make Beaded Dragonfly and Lightning Bugs
The pipe cleaners are super flexible and hence can be bent into any lovely shape and form creating outstanding toys, decor, and stuff! Now also make cool garden bugs out of pipe cleaners and beads! Thread the beads onto a piece of wire and then add it up with the pipe cleaner wings as you can see! Full details here iheartcrafty
16. Pipe Cleaner Monkeys Craft
One of the cutest pencil topper to make with the pipe cleaners, a sweet little monkey made of pipe cleaners, round wooden beads, and googly eyes! You can easily make it sit on a pencil! This is one of the loveliest handmade toy gifts also that you can make for a kid! Full how-to instructions here frugalfun4boys
17. Handmade Peg and Pipe Cleaner Crocodiles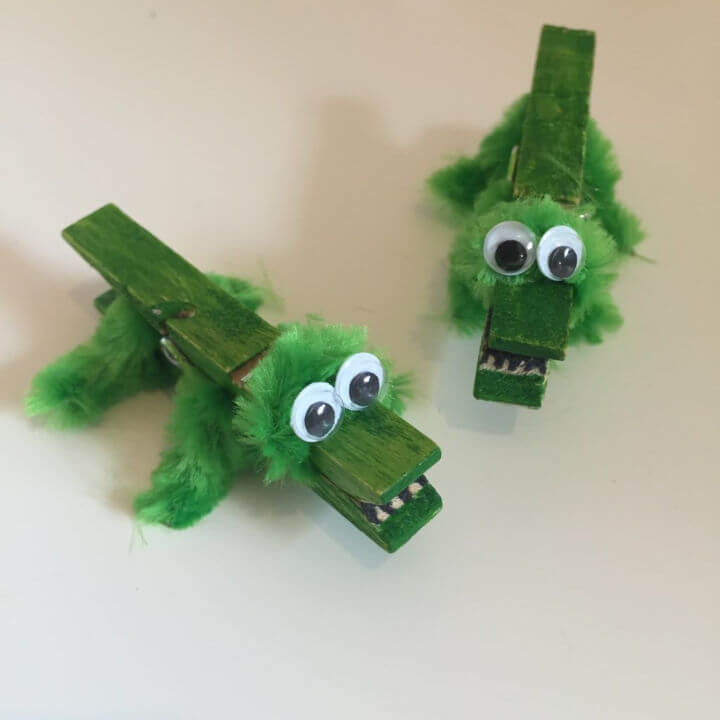 You will just love to stare again and again at these precious crocodile toys that are purely handcrafted ones and are sure to impress! Here all you need the wooden clothespins, googly eyes and pipe cleaners to make these precious crocodiles that will make a cute handmade toy for the kids! Full how-to instructions and tutorial here blissfuldomest
18. Rainbow Wall Hanging Craft for Kids
Are you in love with the rainbows? Really want to give your home a touch of colorful rainbows then time to make this rainbow wall hanging! Just stretch white felt in an embroidery hoop, glue the pipe cleaners in arched shape, creating a rainbow and finish with cotton ball clouds! Full how-to instructions here premeditated
19. Pipe Cleaner Flamingo for Kids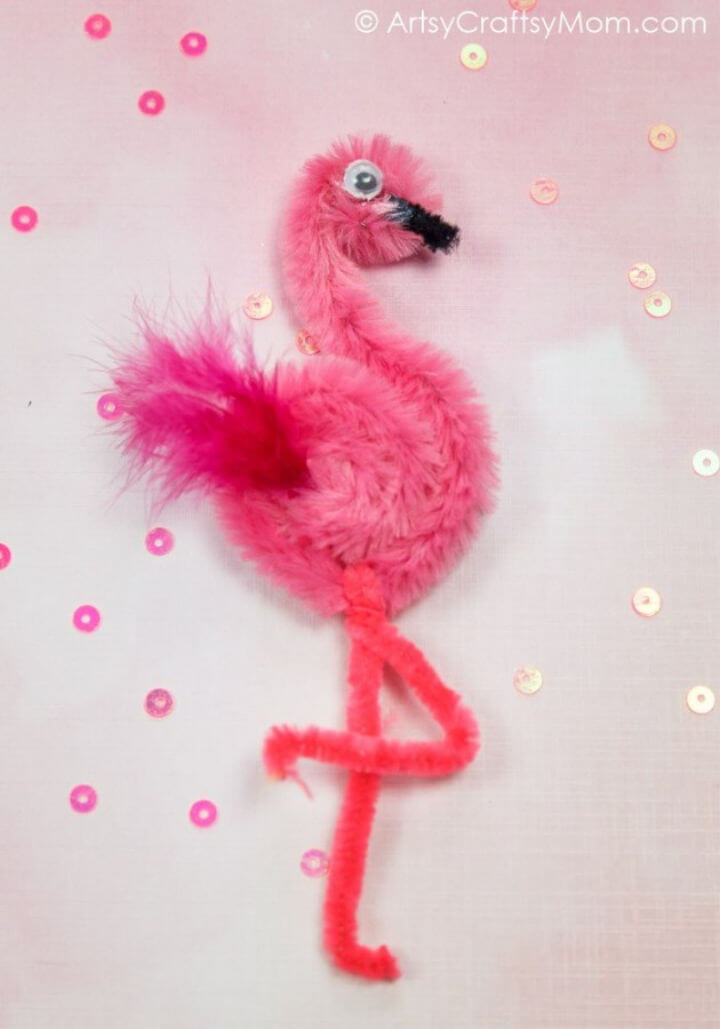 Another great and lovely toy, art or craft to make with the pipe cleaners, a precious flamingo that will make a great handmade toy gift to your little kids and can also be hanged on any wall as a lovely wall art sign! Use pink and pipe cleaners to make the flamingo with legs and finish with googly eyes and faux feathers! Full instructions here artsycraftsy
20. DIY Pipe Cleaner Flower Bookmark
Make the pipe cleaner flowers with colorful button centers and then add them on the top of jumbo craft sticks creating lovely flower bookmarks, will make cute handmade gifts for the book reading lovers! Another great and outstanding pipe cleaner craft idea to grab your attention! Full how-to instructions and tutorial here funlearninglife
21. Make Pipe Cleaner Rose Rings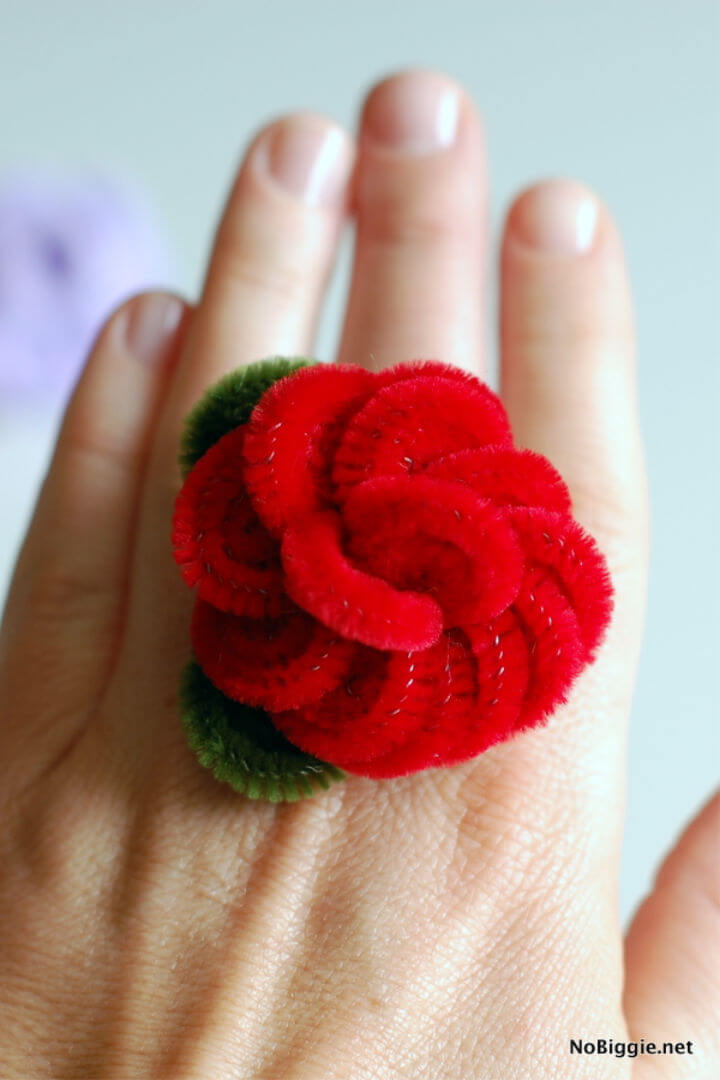 Just like using papers, coffee filters, felt and fabric, you can also make precious faux flowers using the pipe cleaners, and this will all involve creative twisting of them! Look at this miniature pipe cleaner rose ring that you can quickly make using a pipe cleaner rose topper and a custom ring base! Full instructions here nobiggie
22. DIY Pipe Cleaner Pencil Topper Bird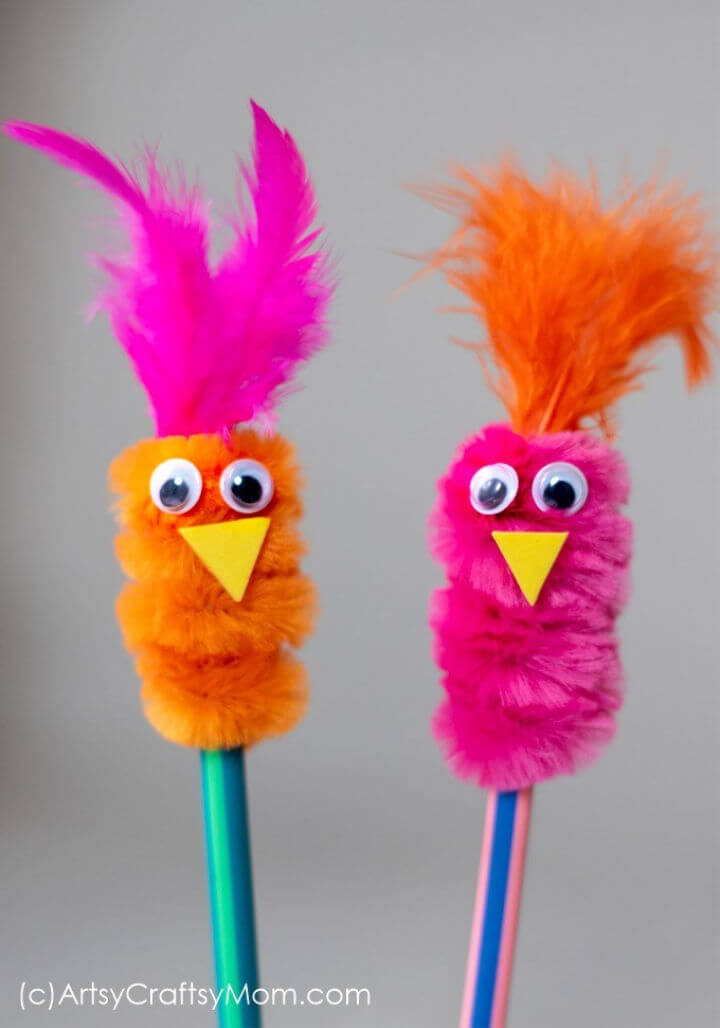 Make also the cute and sweet little birds sculptures out of pipe cleaners that you can add them on the top of a pencil as precious toppers! Make also the pencils cuter for the cute school going kids! For making these bird toppers, wrap the pipe cleaners around the pencil, add a paper beak, googly eyes, and feather over the head, and here you go! Instructions here artsycraftsy
23. How to Make a Pipe Cleaner Shamrock
If you are highly in need of some lovely shamrocks to add to your party, holiday or festival decor plans, then do make them with the pipe cleaners, and it will not work much of your time! Get inspired by these precious handmade pipe cleaner shamrocks that are a piece of cake to make! Tutorial here consumercrafts
24. DIY Styrofoam Cup Mini Spring Flower Pots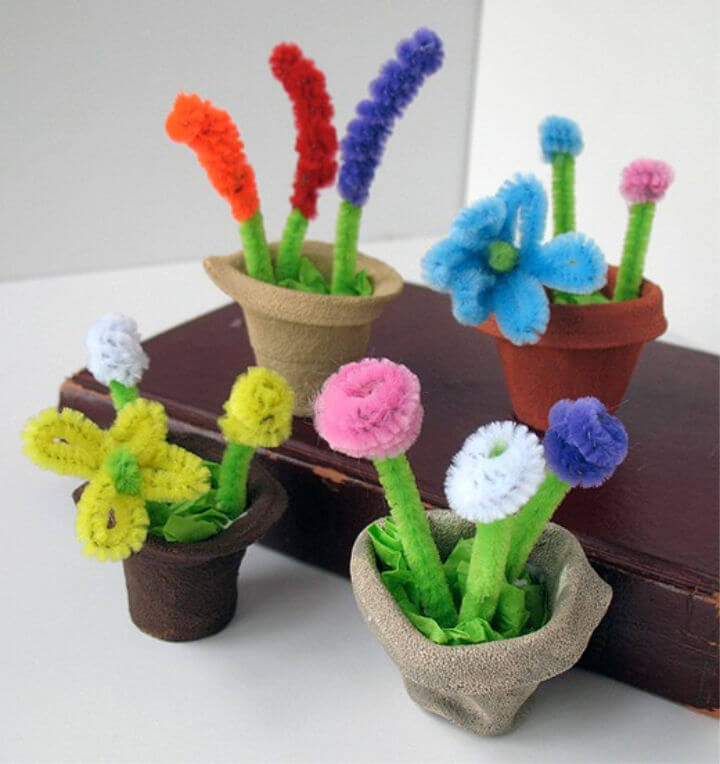 Willing to give a warm welcome to the spring season? Then you must make some brightly colored flower decor for your home and , and pipe cleaner flower pots will make an ideal choice in this case, and they will just cost you next to nothing! Make all sorts of flowers with colorful pipe cleaners and finish with green pipe cleaner stems and add in the cup pots! Full instructions here craftsbyamanda
25. DIY Pipe Cleaner Flower Bouquet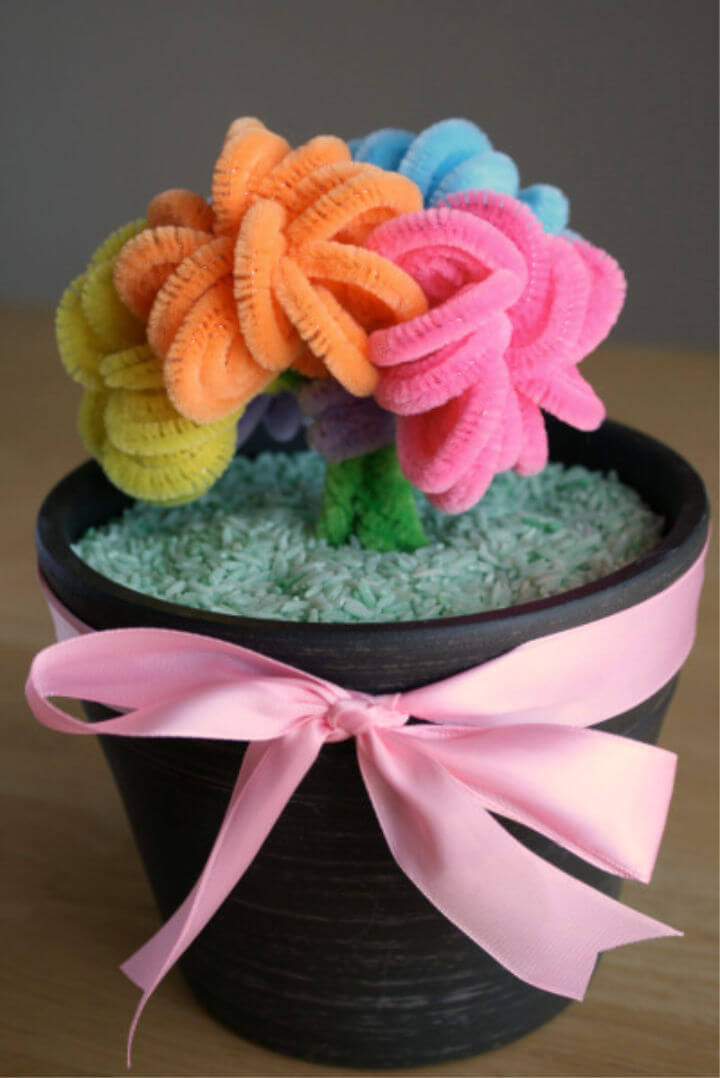 You will love this another great and outstanding pipe cleaner craft project that is sure to make a lovely home decor centerpiece! This is here a flower bouquet that is made of pipe cleaner flowers, and it comes with a pot filled with rice that nicely holds the faux pipe cleaner flower bouquet in place! Full instructions here makeandtakes
26. Awesome DIY Pipe Cleaner Rainbow Bracelet
If you love wearing bracelets that bring tons of colors and cuteness to your personality by making these lovely pipe cleaner rainbow bracelets that are lovely and quick to make! Put together the lengths of colorful pipe cleaners and make lovely rainbow bracelets that can be finished with a white pom-pom flower cloud center as you can see! Details here craftsbyamanda
27. Shape Bubble Wands with Cookie Cutters
All kids just love making bubbles, and you can also make lovely and super cute bubble wands for your kids using the pipe cleaners! Put around the pipe cleaners around the cookie cutters and then add them on the top of the beaded pipe cleaner wands! Full how-to instructions here redtedart
28. Make Your Own Clothespin Dragonflies
Duplicate this super cute little toy for the kids in the home, the super cute and charming looking dragonflies that are made of clothespins added with pipe cleaner wings and googly eyes! A pretty quick and cute pipe cleaner craft to make at home! Full instructions here craftymorning
29. Sticks and Pipe Cleaners Crocodile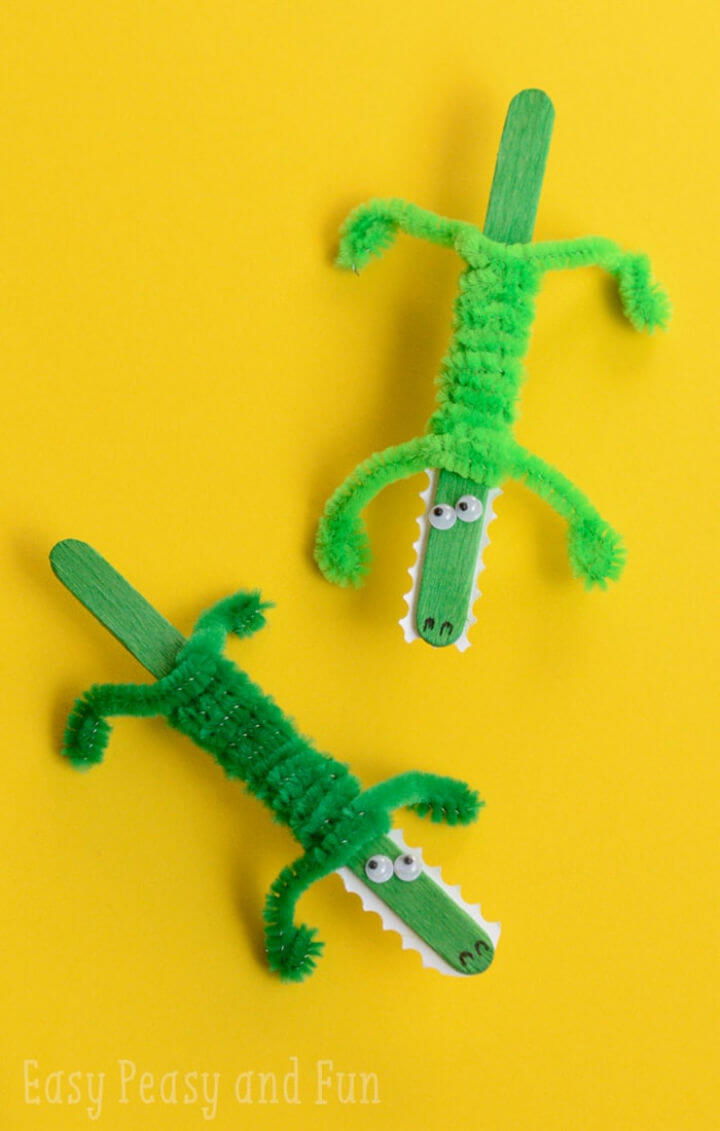 Let your kids also get crafting with the pipe cleaners to gain some great crafting skills! At the very first time, they can try making these crocodiles that are made of craft sticks and pipe cleaners and are sure to impress! Make the teeth of crocodile using paper and zig-zag scissor and finish by adding googly eyes! Full instructions here easypeasy
30. How to Make Pipe Cleaner Daffodils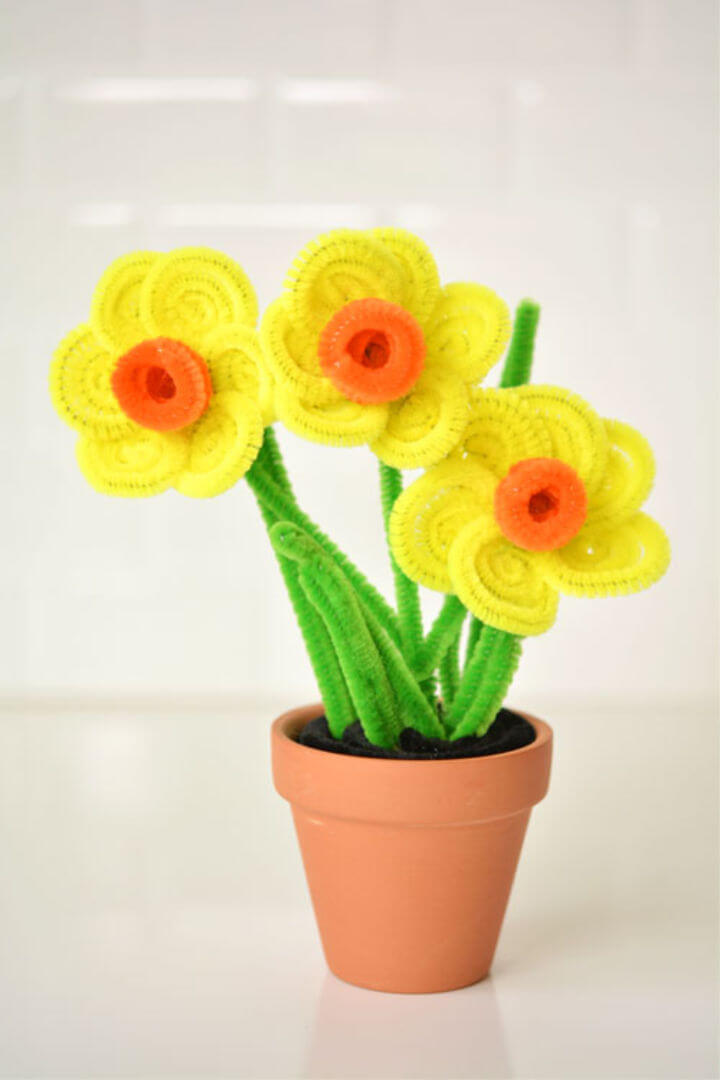 Using pipe cleaners and your creativity, you can make all sorts of lovely flowers out of pipe cleaners and this will not much of your time! Rock your home decor with these pipe cleaner daffodils that come in enchanting yellow appeal and with orange centers! Also, make the green stem with the pipe cleaners! Full instructions here onelittleproject
31. DIY Egg Carton Whale Craft for Kids
We can bet that you have not seen the whale cuter than this that is made of recycled items and will make a great toy for the little kids! Here all you need a cutout egg carton section, pipe cleaners, googly eyes, and light blue cardstock to make this very special egg carton! Full how-to instructions and tutorial here iheartcrafty
32. Simple DIY Pipe Cleaner Pencil Toppers
Look at these more beautiful and cuter pencil toppers that are a breeze to make with the pipe cleaners and will definitely boost the crafting activities of the kids! Let your kids make these monster pencil toppers by themselves and use different sized googly eyes for a monster appeal! Full details here parentscanada
33. Quick to Make Pony Bead Fish
Sorting out some fish decor and craft inspirations then do make these pony bead fishes that are colorful and will make a great toy for the kids! Just thread the colorful pony beads onto a piece of a pipe cleaner that can be bent into a fish shape! Full instructions here ithappensinablink
34. DIY Counting Beads on Pipe Cleaners
If you are judging a show or have asked to give points on performance or on a talent competition, then do make these counting beads on pipe cleaners that are looking damn lovely and cute! Just grab the colorful pipe cleaner lengths and then dropping a count of beads on them! Full tutorial here laughingkidslearn
35. Pipe Cleaner Insects Craft
Make also super mini insects out of pipe cleaners that can be added to your home decor and can also be given as sweet handmade toys to your little kids! Look at these sample spring bugs that are to loved dearly by all the kids and garden lovers! Use clothespins, googly eyes, and pipe cleaners to make this snail and a bug! Tutorial here powerful
36. DIY Fine Motor Octopus Craft for Kids
Boost the fine motor skills of your kids by letting them make this precious octopus out of a paper plate and colorful pipe cleaners! Just punch holes out of the bottom side of the paper plate and tie the pipe cleaner tentacles onto holes and finish by painting a cute face! Full instructions here buggyandbuddy
37. Easy to Make Foam Cup Bunnies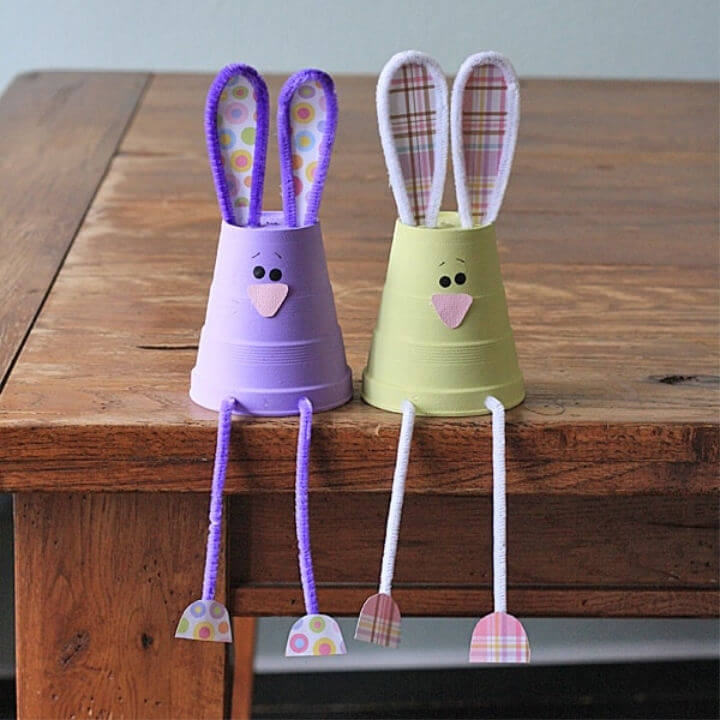 One more exceptionally beautiful and cute pipe cleaner craft project, also make the super cute little bunnies out of foam cups that will be loved dearly by all the kids if given as sweet handmade gifts! Make bunny ears using pipe cleaners and fabric or construction paper and use black paint to paint eyes! Use also leftover paper to make the nose of the bunny! Full instructions here craftsbyamanda
38. DIY Pinecone Turkey Craft for Kids
The cute handmade toys and exceptionally beautiful homemade decor, the enchanting pinecone turkeys made of beaded pipe cleaners, paper, and pinecones! The turkey feathers and wings are made of beaded pipe cleaners and make the front face using paper on which you can paint or draw turkey face features! Details here onecreative
39. Amazing DIY Clothespeg and Pipe Cleaner Bees
You will love making these buzzy bees with your kids that are another great pipe cleaner craft here! Use the pipe cleaner and wooden clothespegs to make the body of the buzzy bees that you can complete by adding craft foam wings and cute googly eyes! Full how-to instructions here kidsactivities
40. Aluminum Foil Butterfly Kids Craft
Are you in dire need of some colorful butterflies to add to your spring home decor plans? Then do make them at home using aluminum foil and pipe cleaners! Just trace the butterflies on the aluminum foil and cut them out, next paint them and finish with pipe cleaner antennas! Full how-to instructions here iheartartsncrafts
41. Preschool Rainbow Craft with Pipe Cleaners
Bring the rainbows to your home using the pipe cleaners and paper! Make the colorful loops that can be put together, making a chain like rainbow strands that you can easily hang around a white paper cloud that you can quickly trace and cut out from a white paper! Look at the lovely given sample! Details here preschool
42. DIY Pipe Cleaner Photo Holder
Pipe cleaner crafts continue to inspire you and here is another lovely and beautiful one to grab your attention, a lovely pipe cleaner photo holder that you can place on an even or flat surface like on a shelf, on a desk or on a table! Just wrap the pipe cleaner around the center of the stone and then make it vertically erected to hold the photos on a height for an enchanting display! Full tutorial here settingforfour
43. Making a Pipe Cleaner Dragon
Make also the creative and fabulous sculptures out of pipe cleaners that will impress all the onlookers! Here all you need the pipe cleaners in respective colors to make the dragon and use the colorful craft foam sheet to make the enchanting wings of the dragon as you can see! Full how-to instructions and tutorial here blissfuldomest
44. DIY Bug Pipe Cleaner with Pom Poms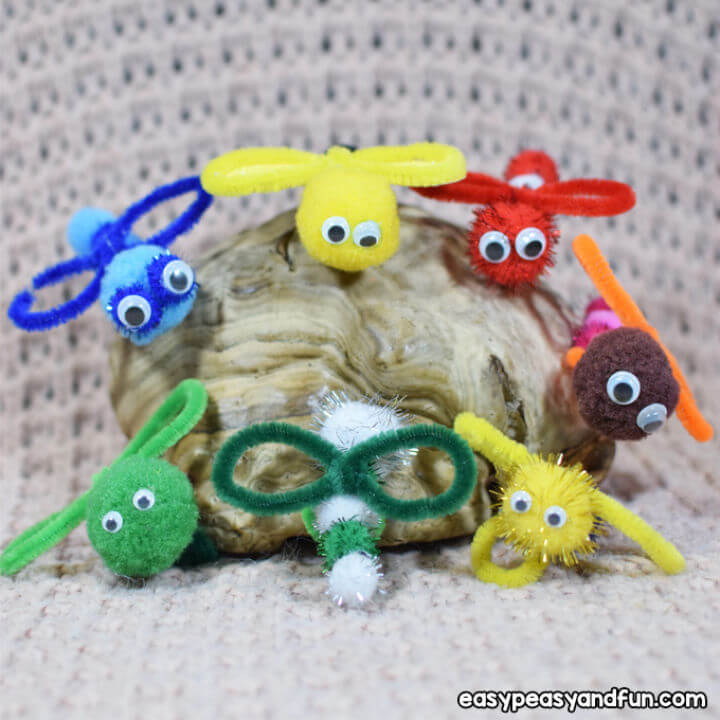 Make also the cute bug toys for the kids using the pom-poms and pipe cleaners in your own beautiful colors! Use pom-pom in different sizes to make the body and the head of the bugs and use pipe cleaners to make wings of the bugs! Finish by adding googly eyes! Full how-to instructions here easypeasyandfun
45. Creative Dancing Princesses Using Pipe Cleaner
The impressive pipe cleaner crafts are never-ending and here is another one, also make the dancing princesses out of pipe cleaners and scrap fabric! Put together the dancing princesses on any accent flat surface for bigger statements of decor! They can also be given to your little girls as new sweet dolls! Full instructions here bluebearwood
46. Pipe Cleaner and Straw Apple Craft
These here the marvelous pipe cleaner and straw crafts that you can also set on the wall as 3D wall art! Just make the apples out of pipe cleaners and straws and then put them together on any flat surface or on the wall for amazing fruit art and decor! Another great pipe cleaner kids' craft! Details here adabofglue
48. Butterflies Using Pipe Cleaners
The butterfly logos, butterfly art, and cute butterfly toys to make with the pipe cleaners made to rock and inspire! Don't forget to create a beaded tail and ahead of the pipe cleaner butterfly! It is super easy to make butterfly wings and antenna out of pipe cleaners! Full instructions here turnthis
49. DIY Pipe Cleaner Tic Tac Toe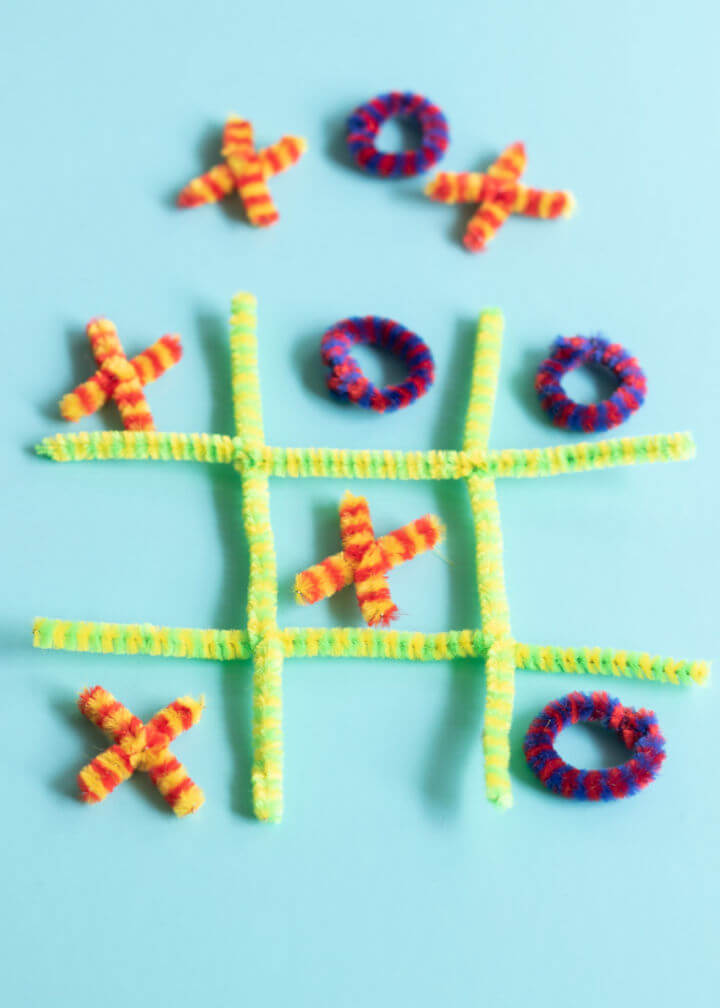 You can also get crafty with the pipe cleaners to boost the fun of your kids! Yes, make interesting games for your kids using the pipe cleaners that will provide never-ending fun to your kids! At a very first, you can quickly build this pipe cleaner tic tac toe game, also make the game pieces out of pipe cleaner! Details here makeandtakes
50. Make Your Own Pipe Cleaner Rings
Make also the super cute rings out of pipe cleaners that will be a breeze to make at home for sure! Just make the ring bases out of pipe cleaner loops and them up with the ring top jewels, here lovely button gems have been used! Full how-to instructions here juggling
51. How to Make Rainbow Jellyfish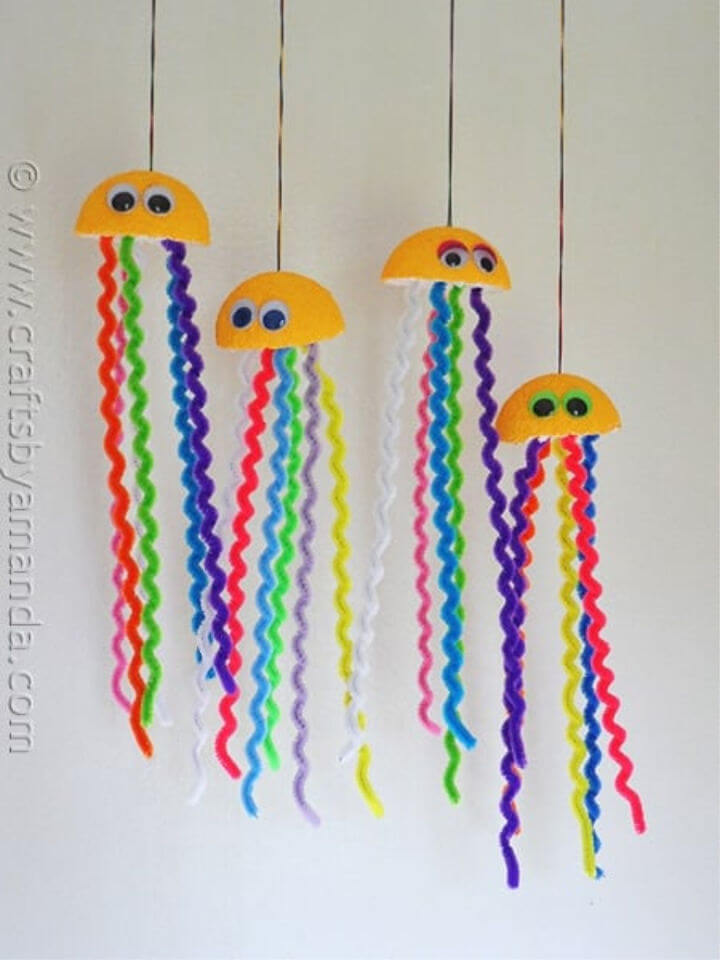 Bring great nautical vibes to your home by making lovely rainbow jellyfishes at home using the Styrofoam balls and pipe cleaners! Just take the Styrofoam balls into halves, paint them and add up with googly eyes and finish with rainbow pipe cleaner tentacles! Details here craftsbyamanda
Related DIY Projects and Ideas
Easy Crafts for Kids: With these step-by-step fun and easy crafts for kids, you can give your child a creative outlet in a safe and fun environment. Crafts range from painting to sewing, so you're sure to find something that your child will enjoy.
Crafts to Make and Sell: Whether you are a seasoned crafter or just want to make extra money, here are simple crafts to make and sell, So turn your handmade gifts into a side income.
Paper Plates Crafts: These best paper plate crafts are perfect for toddlers, preschoolers and kids in grade school. They can be used as a plate, bowl, or party decoration.
DIY Baseball Crafts: From keeping the kids busy to decorating your home, there's something for everyone! These awesome baseball crafts are perfect for any age and skill level.
Egg Carton Crafts: Save your egg cartons, it's time to get crafty! These wonderful DIY egg carton crafts are perfect for the whole family. From paper airplanes and masks to puzzles and games, these crafts will keep you busy for hours.
Crafts to Do When Bored: You don't need to spend money or go out to have fun. With these fun crafts to do when bored, you can entertain yourself in the comfort of your own home.
Conclusion:
Whether you're looking for a fun activity to do with your kids or just want some ideas for things to make, we hope this roundup of 50 easy pipe cleaner crafts has given you plenty of inspiration. We had so much fun putting it together and can't wait to see what amazing pipe cleaners creations you come up with! If you need more ideas, be sure to check out our other posts on simple craft projects and DIY home decor. And if you give any of these pipe cleaner crafts a try, don't forget to share them with us on social media using the hashtag #MadeWithPipeCleaners.