In this modern era, the technology and science it's at its peak! Especially the touch and display screens are always to see around in the form of mobile phone, iPads, TV, and Computers!! Where modern technology has brought several benefits to humanity, where it has always brought some advantages!! The very major disadvantage of it is that it has made the person physically inactive which is giving birth to some healthy problems! People of every age group especially the teenagers and kids seem to be addicted more to screens and this making our generation confined to indoors causing bigger physical and mind health issues! On the other hand, outdoor playing and physical activities develops better immune systems in kids with a better physical healthy! It is really hard to beat the addiction of toys of modern technology to draw attention of kids and adults to outdoor physical activities! But you can do so by installing some attractive and super fun-making outdoor play stations for kids like outdoor playhouses, water swimming pools, tree houses and also the sandboxes!
Everyone from kids to adults like it to play with sands, the way the sand slides through the hands and fingers and its softer touches to body are something that everyone like! So if you have decided to get your kids busy at outdoor this summer by building a diy sandbox for them then here are 60+ DIY Sandbox Ideas and Projects for Kids that are super budget-friendly, easy-to-make and quick to install! All these diy sandboxes are just best alternative to modern expensive sandboxes! Here is one more big gift for you, not only a big collection of the hand-built sandbox, you will also get complete tutorials, complete instructional and picture guides for every single sandbox listed in the collection!
The material that you can use to make the sandboxes would be free if you thoroughly follow the pots. The things you can use for the making of these cute and fun sandboxes are the pallet wood, some lumber wood or any wood available near you for free. You can also recycle some of your old furniture or old homey things to create a cute and totally fun sand box out of it like the tables, tires side tables, dressers, PVC pipes, under bed storage bins, kiddie pools etc.

You can also incorporate a fun theme while building the DIY sandbox like the one with the puppet theater, a car sandbox, pirate ship sandbox, tent sandbox, etc. Complete tutorials, step by step instructions, tool guidance and instructional details of each of the DIY sandbox project are given, and for that, you have to click o n the links pasted below each diy sandbox idea!
DIY Wooden Sandbox with Built-in Seats:

Checkout this self-planned and made awesome wooden sandbox that comes with a great creative twist! It is having a lid that folds into beautiful seats for the kids, this dual functional behavior of lid makes the whole sandbox out of ordinary! Want to Duplicate this very adorable piece of handcrafted sandbox for your kids? Free plans and step-by-step instructions here ana-white
Homemade Amazing Sail Boat or Ship Sandbox: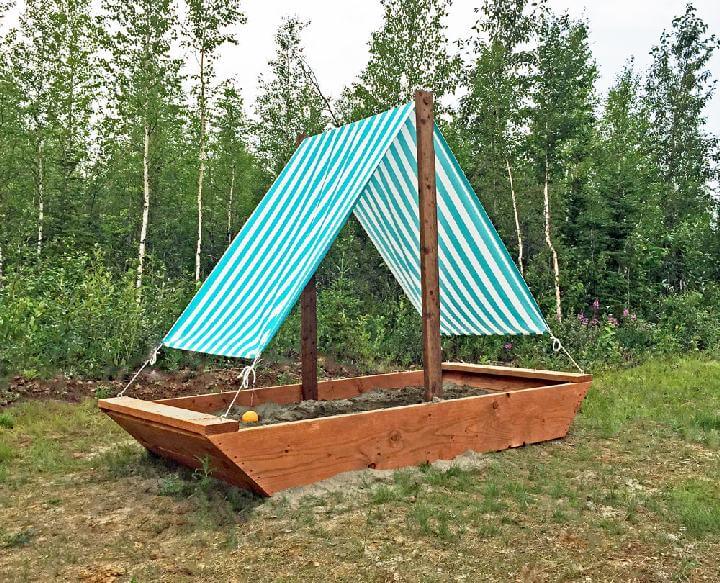 If you want a very unique play station for your kids in shape of a sandbox then this boat sandbox would make an outstanding choice! It is much more than just a sandbox and is visually captivating too! Craft it with your own hands by getting creative with some leftover wood, fabric and rope and drag it to your backyard or garden! It would be both there, an eyepiece and a kids play-station! Further projects details and instructional guide here ana-white
Wooden Handmade Sandbox with Folding Seats: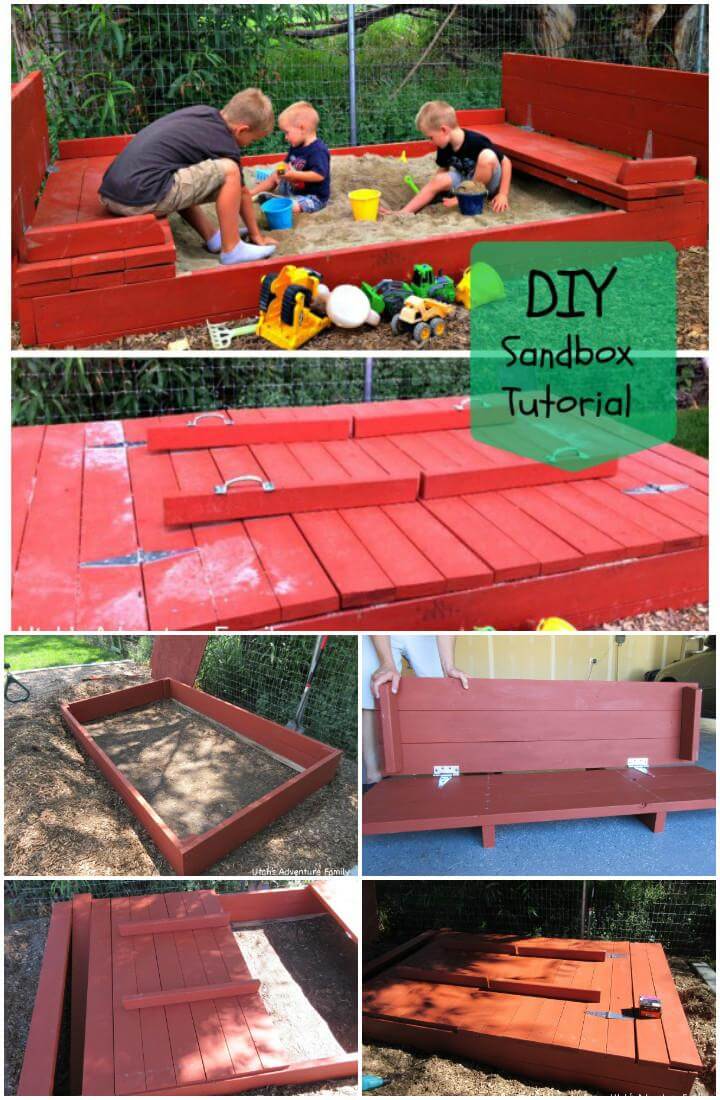 Willing to create a mini beach for your kids this summer in your backyard? This will not take much time and money, just add your backyard with this beautiful and large sandbox! It has been crafted with hands and you can build the same one too by grabbing some old wood from home!! It also comes with a solid hinged wooden lid that opens from the mid and folds back toward both side giving the perfect seats or benches for the kids! Find complete tutorial for this wooden sandbox here utahsadventurefamily
Repurposed Big Tire Sandbox with Umbrella: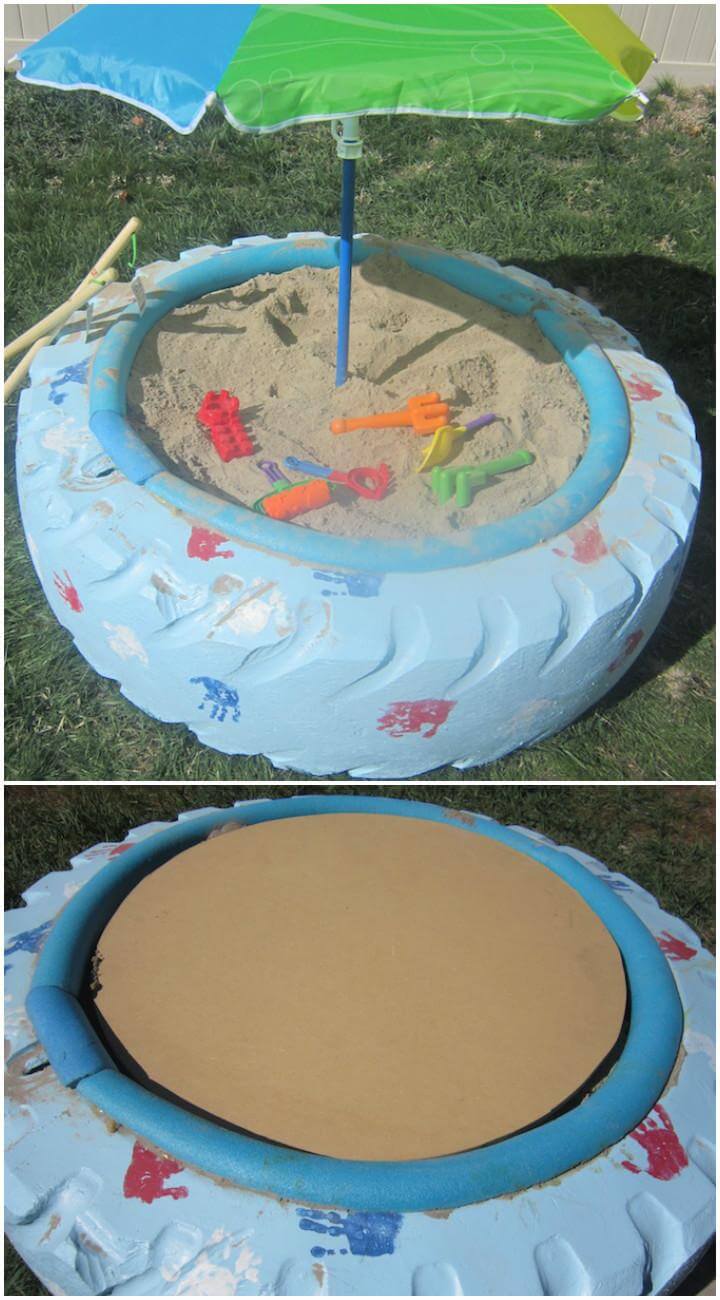 Bigger vehicle tires can be the very instant solution for toddler sandboxes! Just repurpose those bigger tires such as from tractor and make outstanding sandboxes for your kids waiting for fun in the backyard! Paint the tires you selected, cover their one side with round cut piece of plywood and just border it well using a pool noodle, that's it! Complete project details and step-by-step tutorial here iheartnaptime
Self-Made Wooden Kids Sandbox: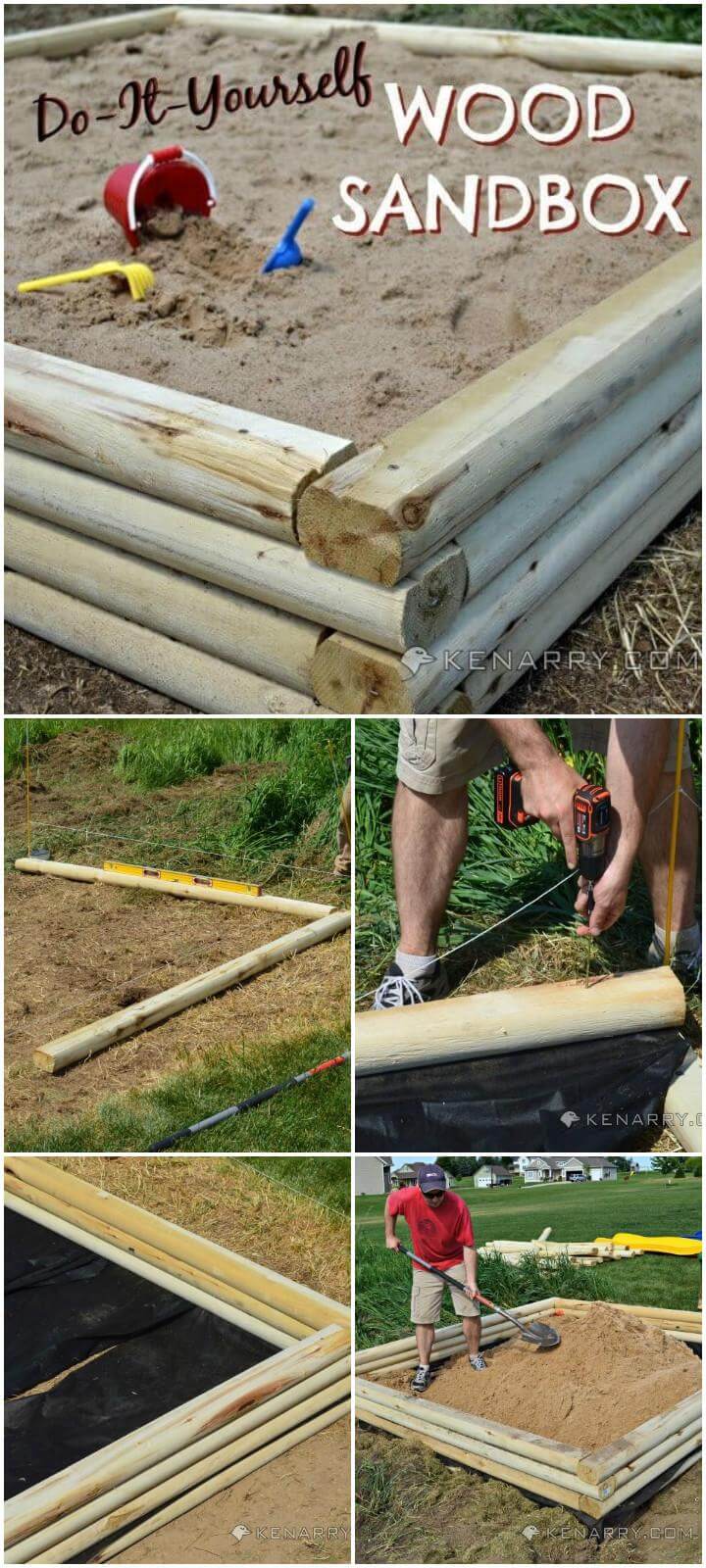 Intending to add a beautiful sandbox to your homestead? This would be something really fun-raising for your toddlers and kids in summers! Measure and level up the area of your outdoor where you want a great sandbox, now use string and rope to mark the perfect square and rectangular shape of sandbox! Now you can simply frame up the marked area using longer landscape timber lengths cut down to measured lengths! Tier more lengths to get a raised wooden square then fill it with sand!! Checkout this given fabulous hand-built sandbox here! Step-by-step instructions and pictorial for this project is here kenarry
Smartly Built Kids Water and Sand Table: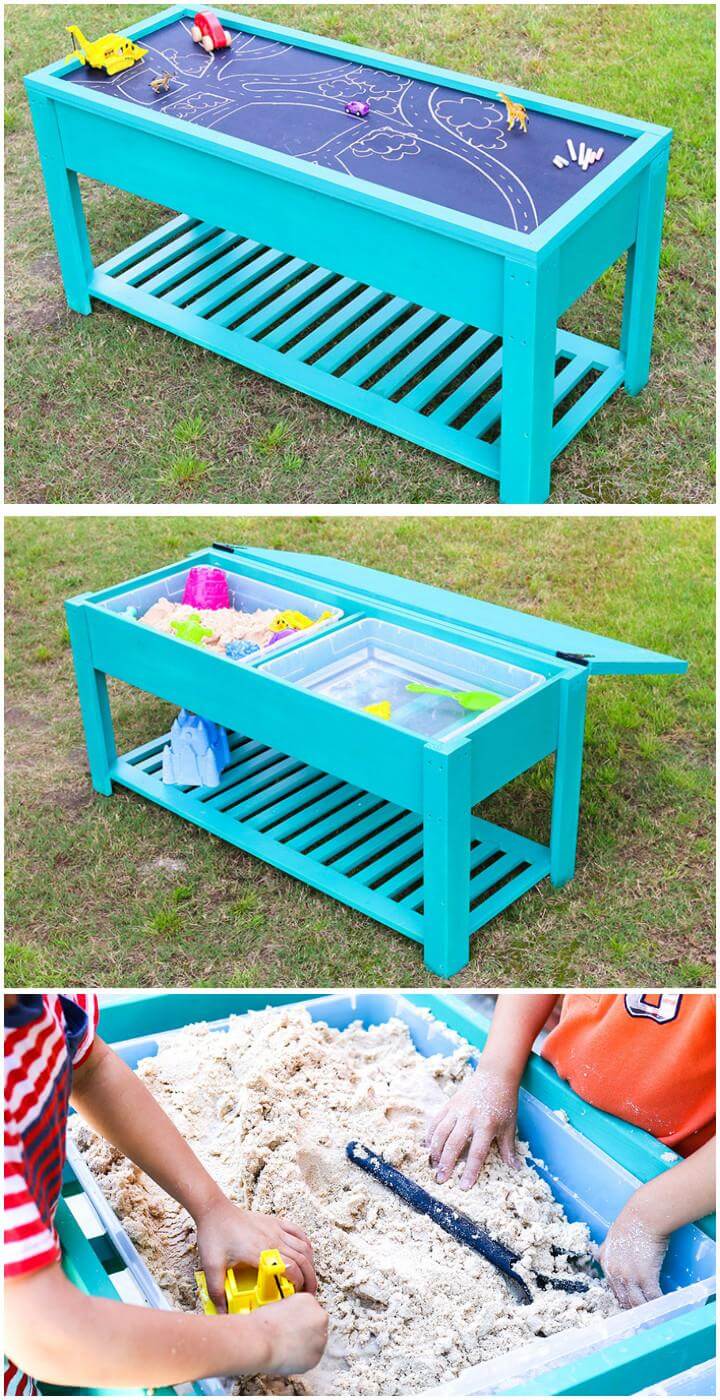 Grab an old table from home and just paint and stain it to let be captivating to all fun loving kids in your home! painting and staining will also be a great way to prevent early weathering of table! Now you have to fit the sterilite tubs in the top of table for water and sand play! Here 28-quart sterilite tubs has been fitted that has been covered with a hinged plywood lid! The top of the lid has been painted with chalkboard paint, so table would be a great painting station for the kids while they are not playing with water and sand!! Here using torsion hinges for the lid is recommended to avoid injuries to those tiny little hands! Further project details and instructions here jenwoodhouse
Hand-Built Sandbox with Rolling Over Tarp: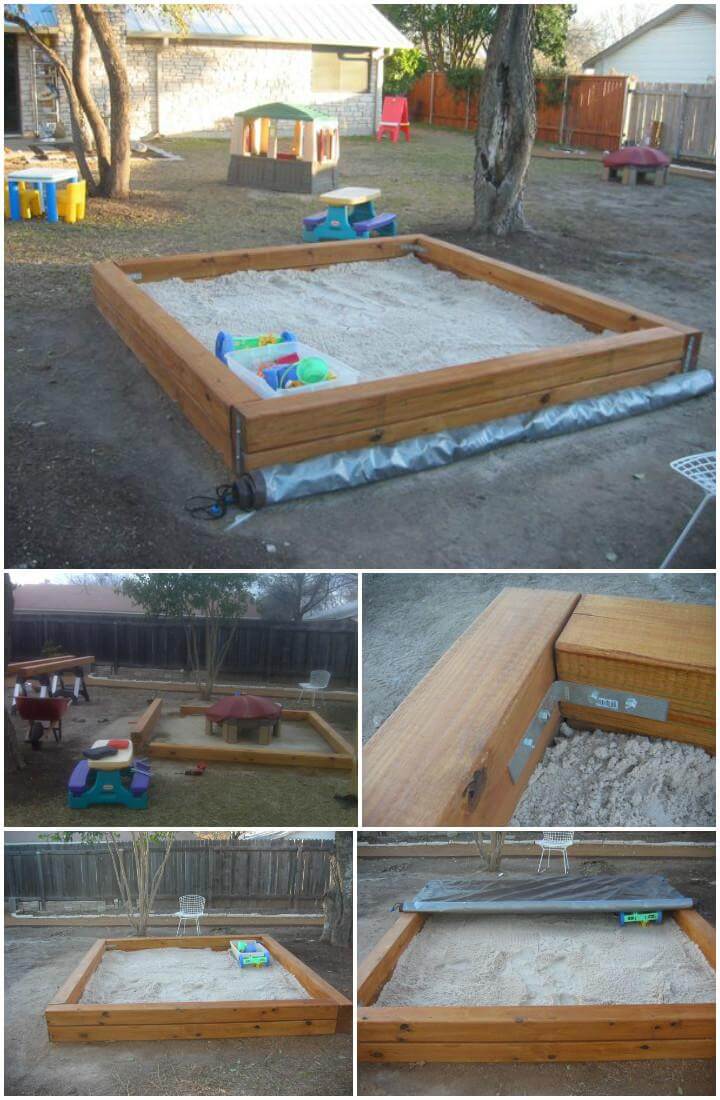 Select flat outdoor area and just put the wood there in place forming a box or square shape! Fill it with sand and a great sandbox would be ready for outdoor fun and play for the kids who are getting bored inside of your home! Use the heavy duty wooden logs or beams for forming the square, timber or lumber lengths would work great! Tie tiered wooden beams using sampson ties and also use metal plates along with nuts and screws to secure all sides in place! You can also fix a big parasol in the center of this sandbox for sun protection to kids! Step-by-step tutorial here modernmontessoriaesthetic
Upcycled Mini Bookcase into Color Block Kids Sandbox:
This is here a big surprise for creativity lover and a cool handmade gift for toddlers! A pretty awesome colorful sandbox made of a mini bookcase! The pieces of bookcase have been separated apart, primed, painted and then have been reassembled forming a chic sandbox! Use the mask tape for beautiful color block stripes! It has been added with lid that will cover the sandbox perfectly while it is not in use! Don't forget to add the hardware drawer handles to lid!! So, the mini bookcases would also be a great option if you need to get a perfect toddler sandbox in no time at a no-cost budget! Step-by-step instruction and picture tutorial for this project is here thehomesihavemade
Homemade PVC Pipe Water and Sand Table:

Kids really like it to play with sand and water in summers! So here is a what you need to gift to your kids this summer, a perfect water and sand table, wholly made of PVC pipes and with a under-bed tub!! What you have to do is to plan the cut and join the several lengths of PVC pipes using elbow, cross-joints and also T-joints, after you get a table frame, just fix the under-bed storage tub in it and that's it! You can add a lot of other things that will raise the fun to peak like the water funnels installed to cross pipe over the lid! Step-by-step tutorial and complete picture guidance here frugalfun4boys
DIY Solid Wooden Sand and Water Table:

Here is another beautiful version of self-made water and sand table! This one comes with a built-in shelf too that will provide lot of space to kids toys and other items of interest! Plan different length of wood to build the wooden holding and then fit the plastic tubs in the top section! This would be pretty easy to do if you having perfect tools and apparatus! This water and sand table would also make a perfect summer birthday present to your beloved kids! Complete tutorial and free plans here ana-white
Handmade Wooden Sandbox or Babysitter: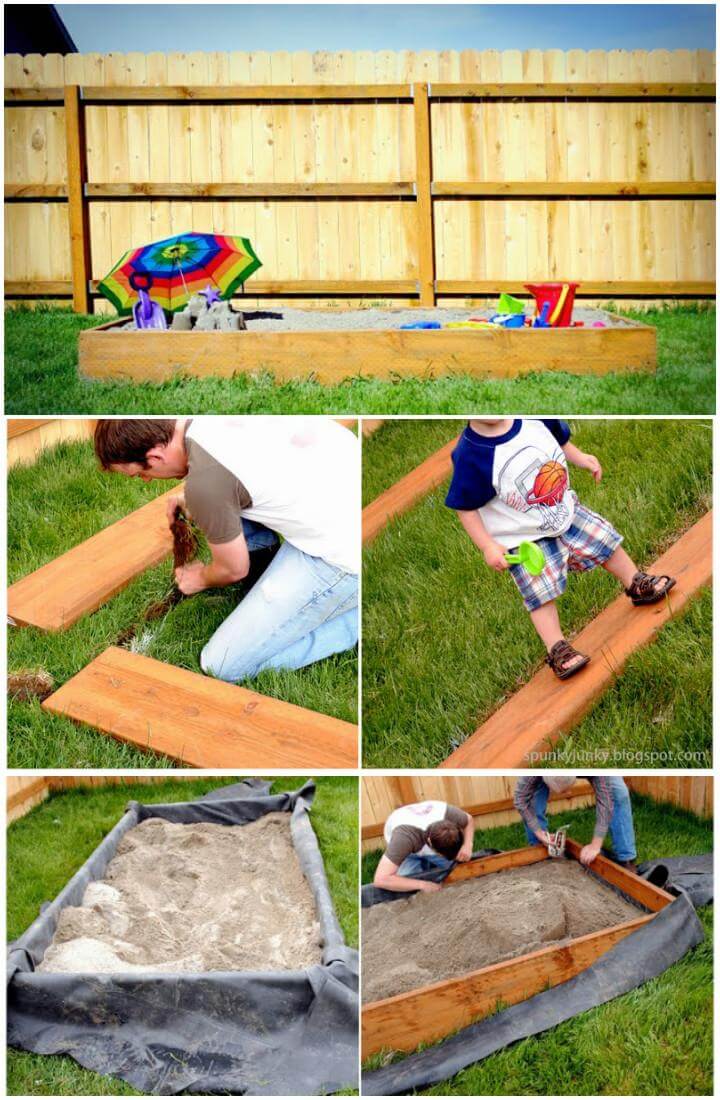 Kids really like it to touch the soft sand that's why they remain busy in playing with sand for hours! If you are also having some sand loving kids in your home then you can easily duplicate this sandbox for them! All you need some bigger wooden slats which can be got in a big square shape holding the sand inside! Select the area of your backyard or garden where you want a sand play station for kids, mark the area and go for some grooves to marked lines! Now keep the measurements in mind and make a wooden square frame, adjust it to the grooves and fill it up with sand! Before sand filling, it would be better to layout the pond line inside the frame like done here! Step-by-step tutorial and picture instructions here spunkyjunky
Under Bed Storage Bin into Kids Sandbox: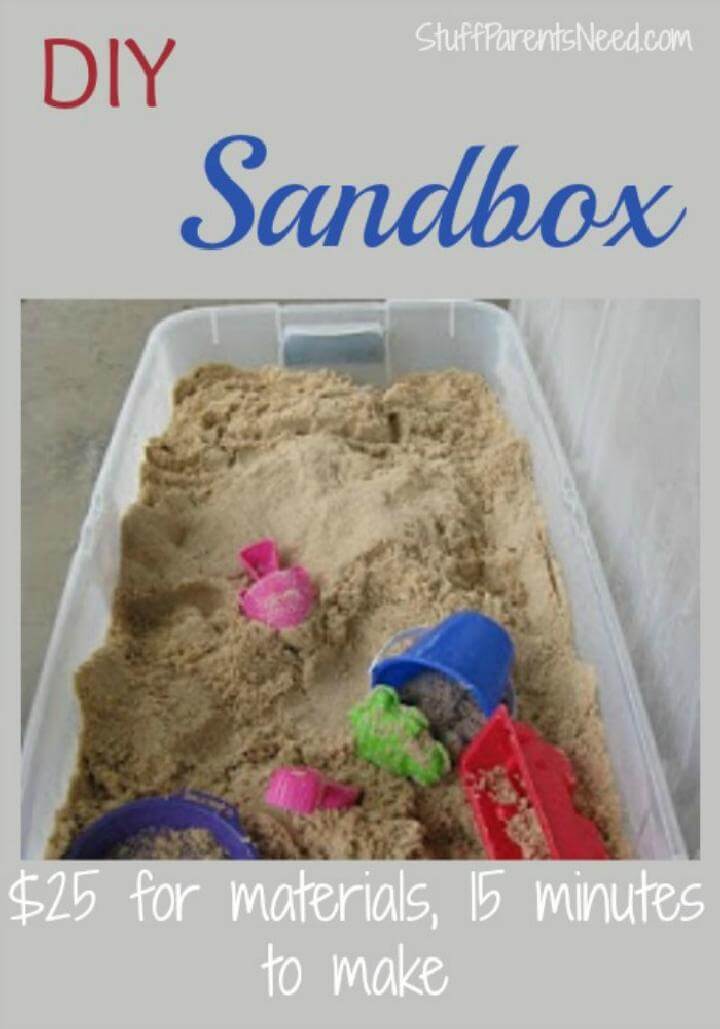 Want a sandbox for your fun-loving toddler in no time? Just fill up a under bed storage bin with sand and just put some kids toys on the top of sand, a perfect sandbox would be ready to make your kid have a lot of fun! A super easy and low-cost sandbox idea ever! Further project details here stuffparentsneed
DIY Self-Made Wooden Sandbox Table:

If you love to work with wood then why not make custom sandboxes or sand table at home for your kids! You can get some wooden slats that can be framed in a square shape! Now you can take 3 of such a wooden squares to make the whole frame of sand table as shown! Follow the slatted arrangements and use the leftover slats to build the bottom shelf! Keep the top frame open and fit a plastic tub in it and then install a lid over it using heavy duty hardware hinges! Complete project details and tutorial here shanty-2-chic
DIY Timeless Kids Sandbox: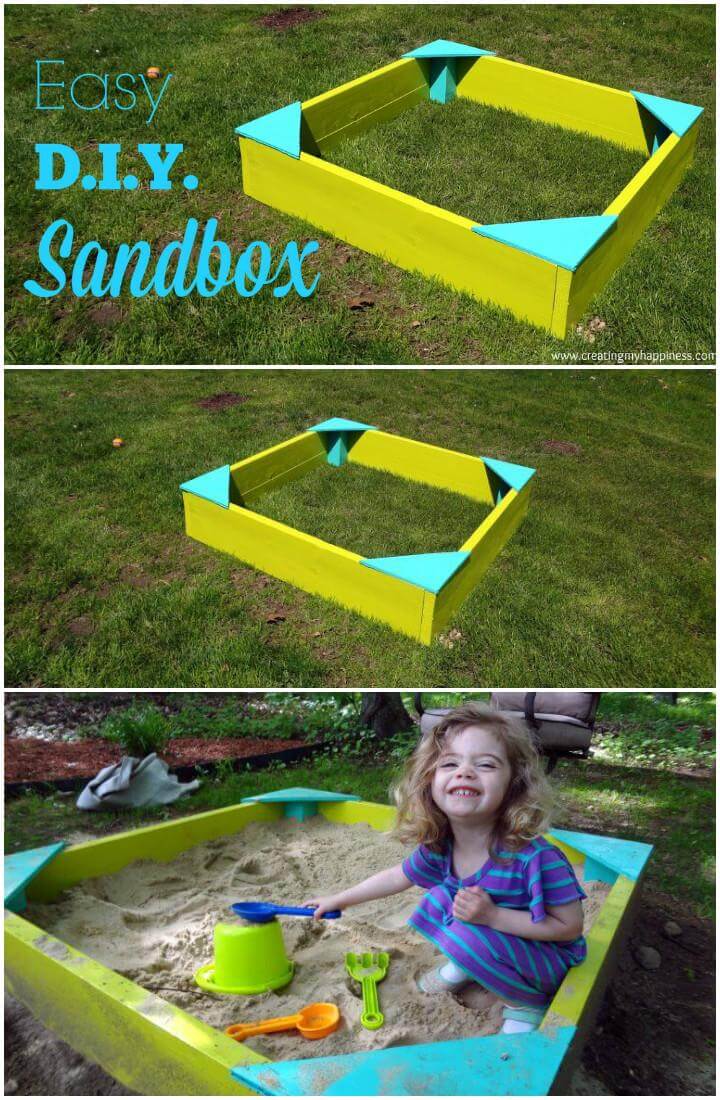 Here is a super easy and timeless sandbox to make at home! Build a wooden square using 4 slats of wood having equal length! Install the inside corner supports and use the leftover wooden triangles to give the top corners a fancy touch! Finally you can paint this easy hand-built wooden sandbox in colors that you kids like too much! Don't forget to fil it up with sand! Complete project details here creatingmyhappiness
DIY Plastic Storage Box and PVC Sand or Water Table: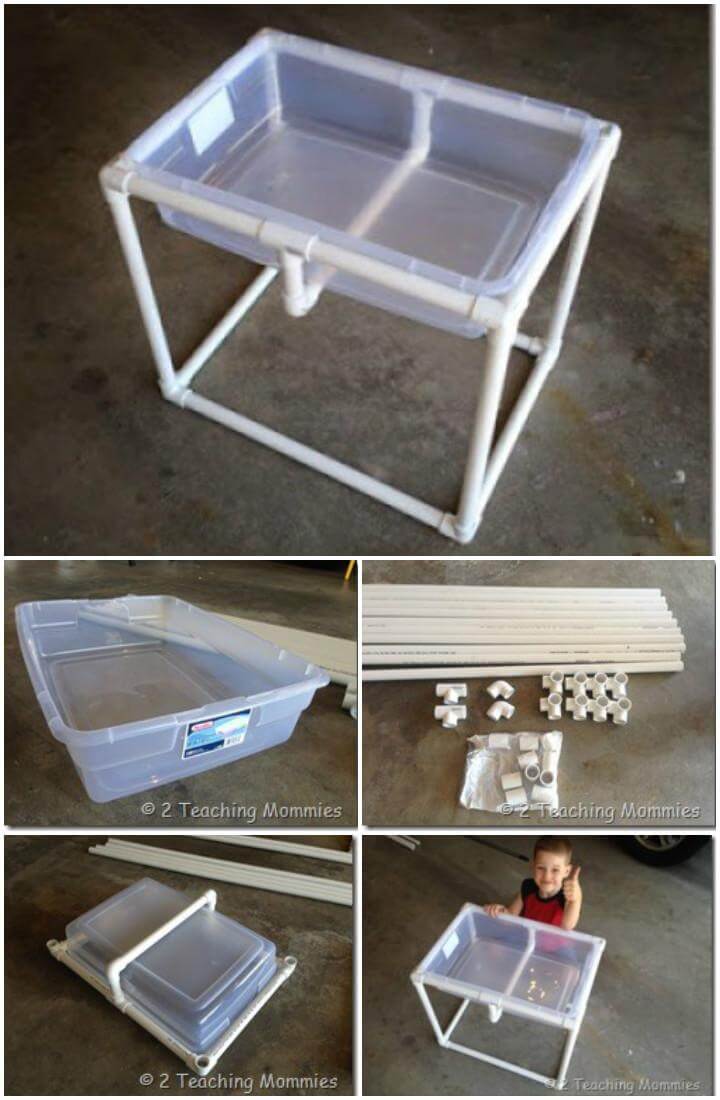 Get crafty with some PVC pipes and 28-quart plastic storage box to build a fancy looking sand or water table for your toddlers or kids! Here you can use the PVC pipe lengths and custom joints to build the lasting holding frame for storage box! Final step would be to adjust precisely the storage box inside the PVC pipe holding! Complete tutorial and step by step instructions here ateachingmommy
DIY Solid Wooden Sandbox with Hinged Lid: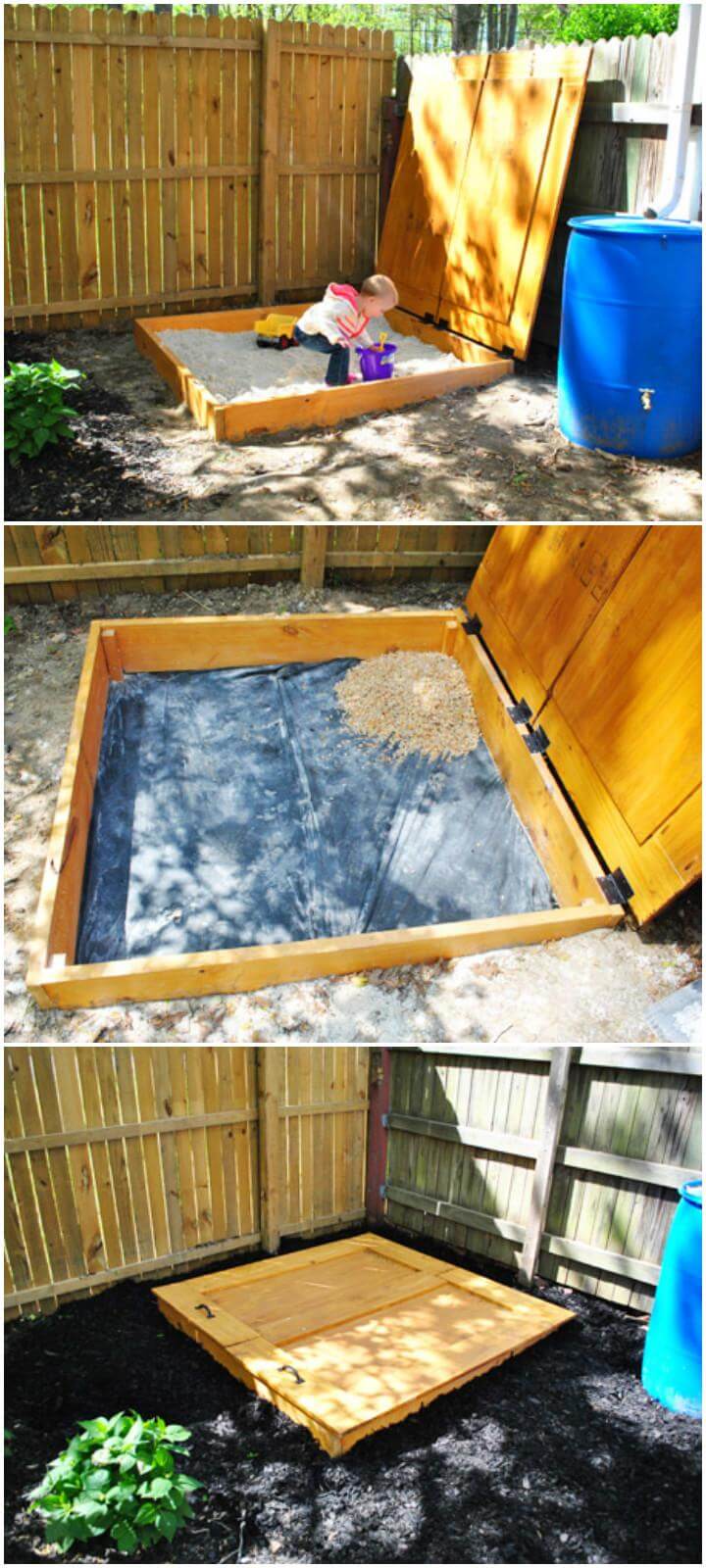 Get inspired of this grand sandbox that is having all the precise dimensions! It is having a square shape and a square shape lid sits beautifully over it! Recycle the old wood or use lumber or timber lengths to make this very special sandbox! This sandbox with cover would be just perfect for any backyard to serve as a kids fun station there! Here large wooden lid comes with drawer handles that help to shut down and lift up the lid easily! Further project details here younghouselove
DIY Kiddie Pool into Sandbox: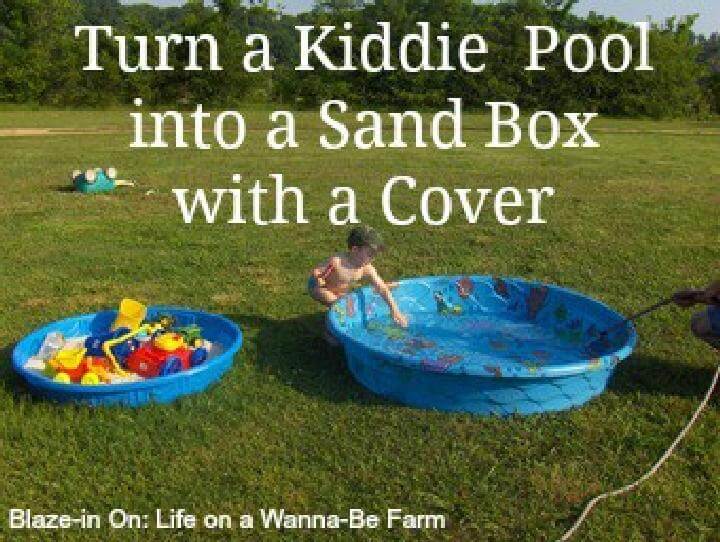 If you little kids are just insisting for a sandbox then a kiddie pool can be the best replacement! Give it a cover and fill it up with some sand just garnish it with some kids toys! Sandbox are not for fun but they also help to boost the creativity of your kids! Further project details here premeditatedleftovers
Mini Sandbox Made of an Old Dresser: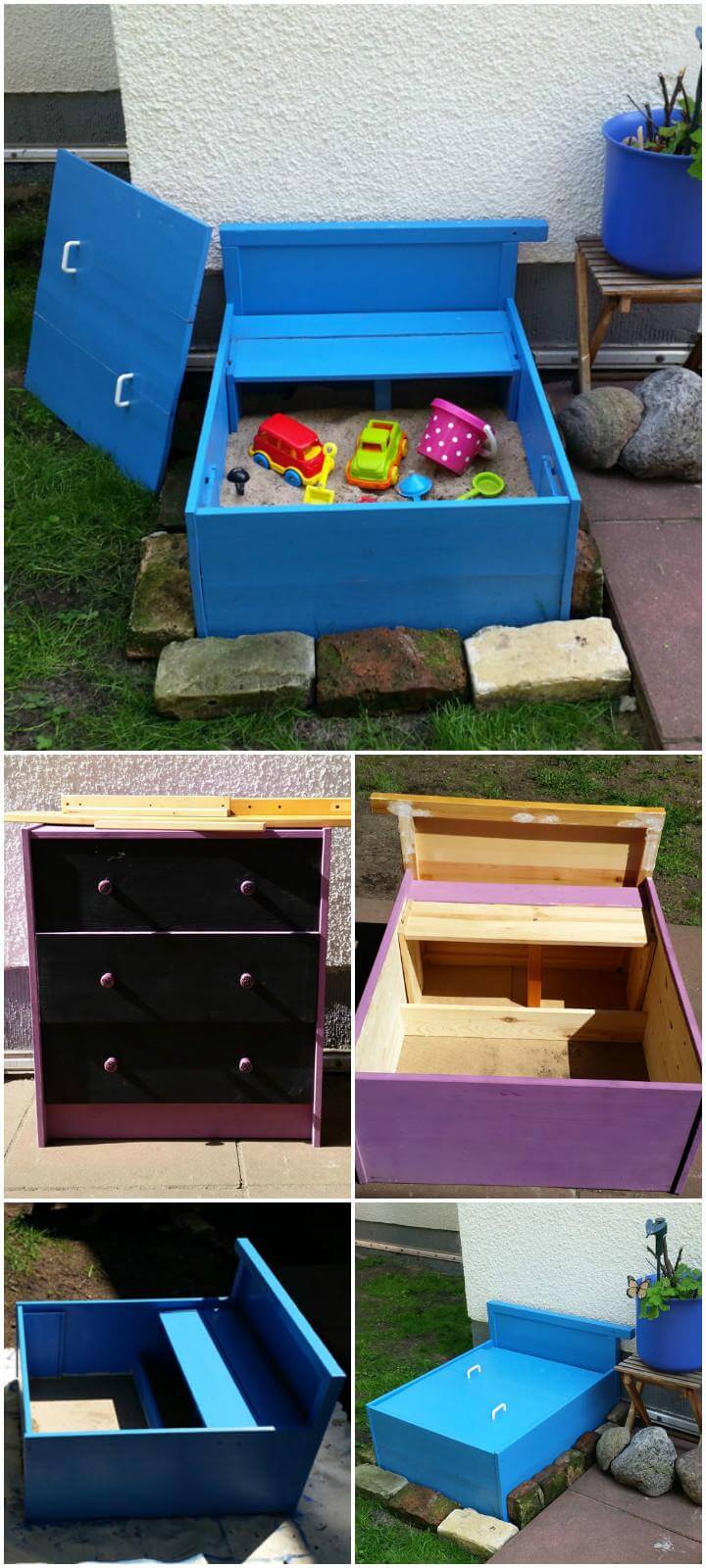 Perfect toddler sandboxes can also be created with crumbled dresser lying useless in your home! Get inspired of this smartly built and beautiful sample! Using extra wood and MDF board, a few modification has been done like the coverage of open back of dresser and the making of top lid! Hence a very beautiful and adorable mini sandbox has been made out of old dresser!! Paint the finally finished sandbox in your favorite colors and gift it to your kids! Complete instructions and step-by-step tutorial here awesomesauceasshattery
DIY Large Rubbermaid Sand and Rock Box: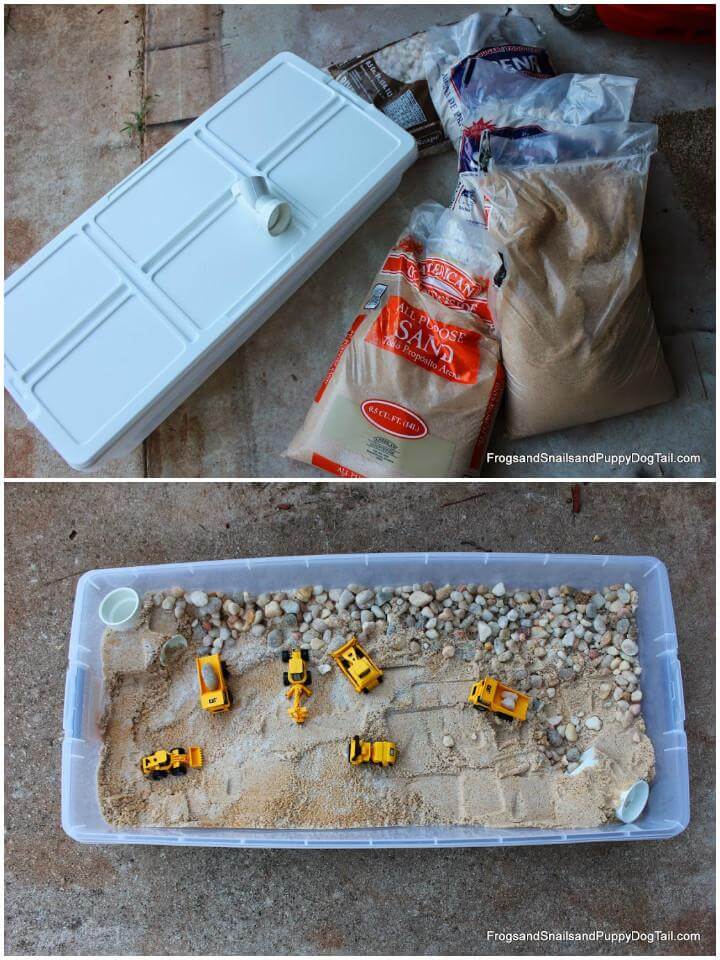 Some old boxes from can serve well as better alternative to expensive market-bought sandbox! Get a rubbermaid or under-bed storage bin and just skip buying a sandbox, just fill it up with sand and let your sweet toddler play with it! Also mix some rocks and some construction trucks over with put a great smile on your kid's face! Super simple, easy and cost-efficient sandbox idea!! Further project details here frogsandsnailsandpuppydogtail
Self-Made and Installed Sandbox with Cover: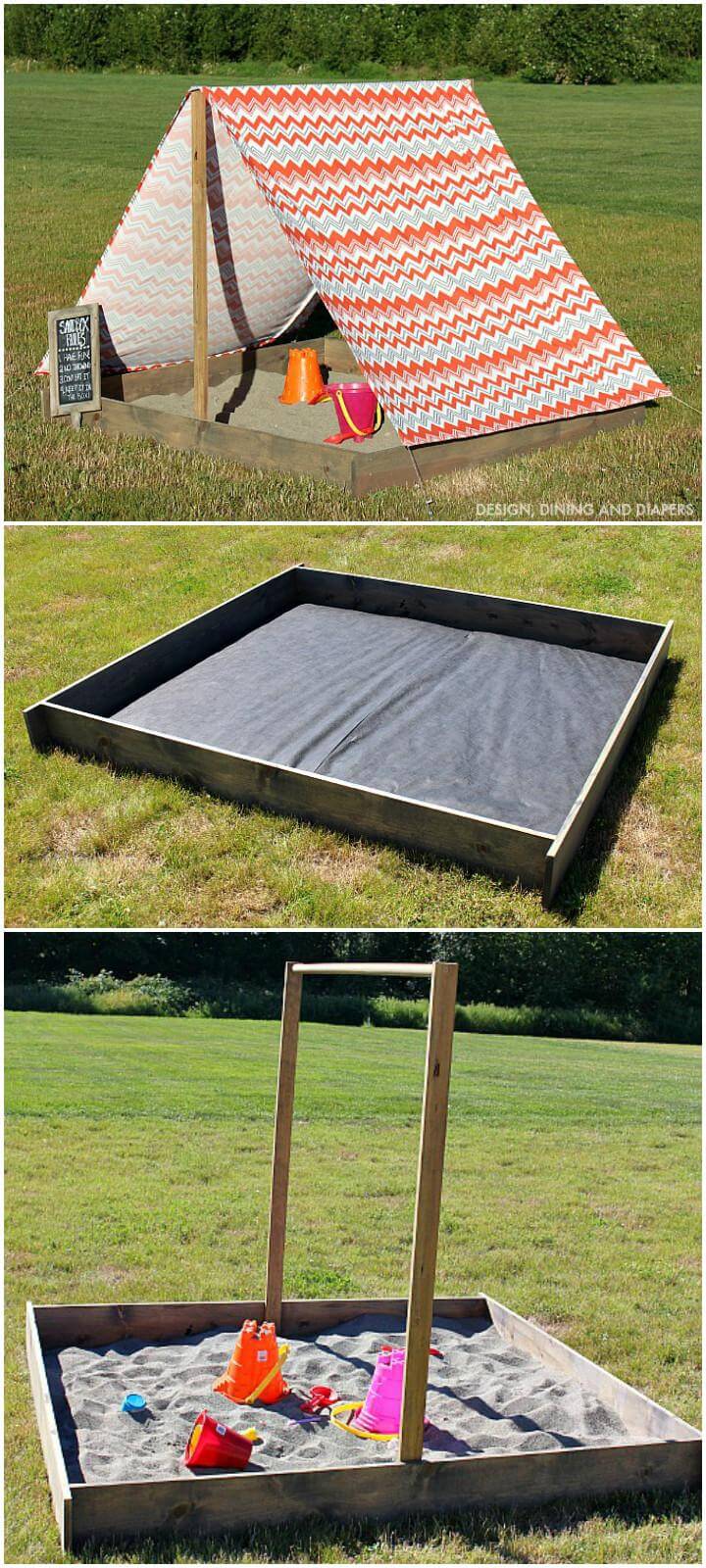 Outdoor playing develops a better immune system in kids and this covered sandbox would be an outstanding way to keep your kids busy in outdoor playing! It comes covered to provide sun protection and is pretty quick to build at home!! All you need to create a big wooden tray with overlay weed barrier! For roofing or cover, you will have to plan extra wood and fabric as shown! Here the whole sandbox would be like a tent or inside a tent! Complete DIY guide and project step-by-step tutorial here designdininganddiapers
Hand-Built Wooden Sandbox with Hinged Door: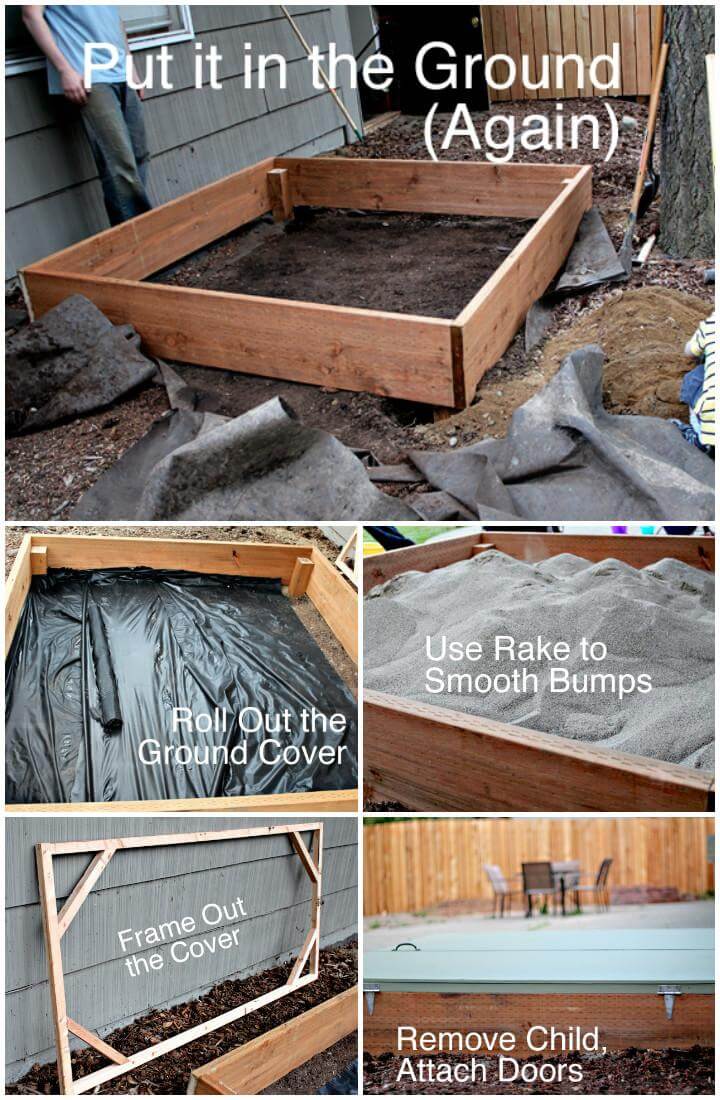 Here is another fantastic one, this sandbox has been made to stay fixed in the ground! Visit your backyard or outdoor and choose the best location for building a fixed sandbox! Next you can simple measure and mark the area up! Next plot your measurements on a paper and start the wood work! Build a big wooden hollow square box but as you have to make it fixed in the ground, so do install some legs too! Now dig some ditches for the legs and fix the whole sandbox! It would be better to give it a ground fabric cover before you proceed to next step! Final step would be to plan a cover and to give the whole box a sand fill! Step-by-step tutorial and complete instructions here modernparentsmessykids
Homemade Kids Wooden Sandbox with Attached Seats: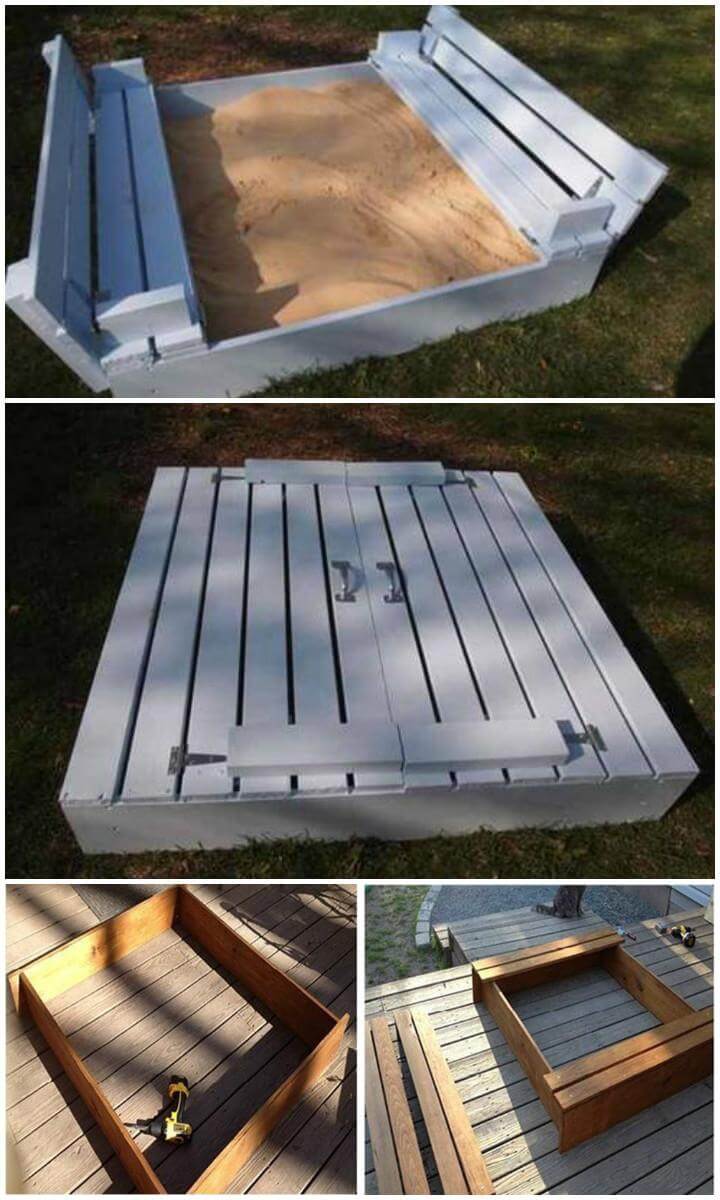 Here is another creative and smartly made one, this one is going to be super special for all fun loving kids!! It comes with attached seats and has been white chalk painted! This one must be added in your to-do list of summer fun projects you will for you kids! Some handy wood work and you will find this precious sandbox next in your backyard! Complete project details and tutorial here icreativeideas
Handcrafted Wooden Sandbox with Umbrella: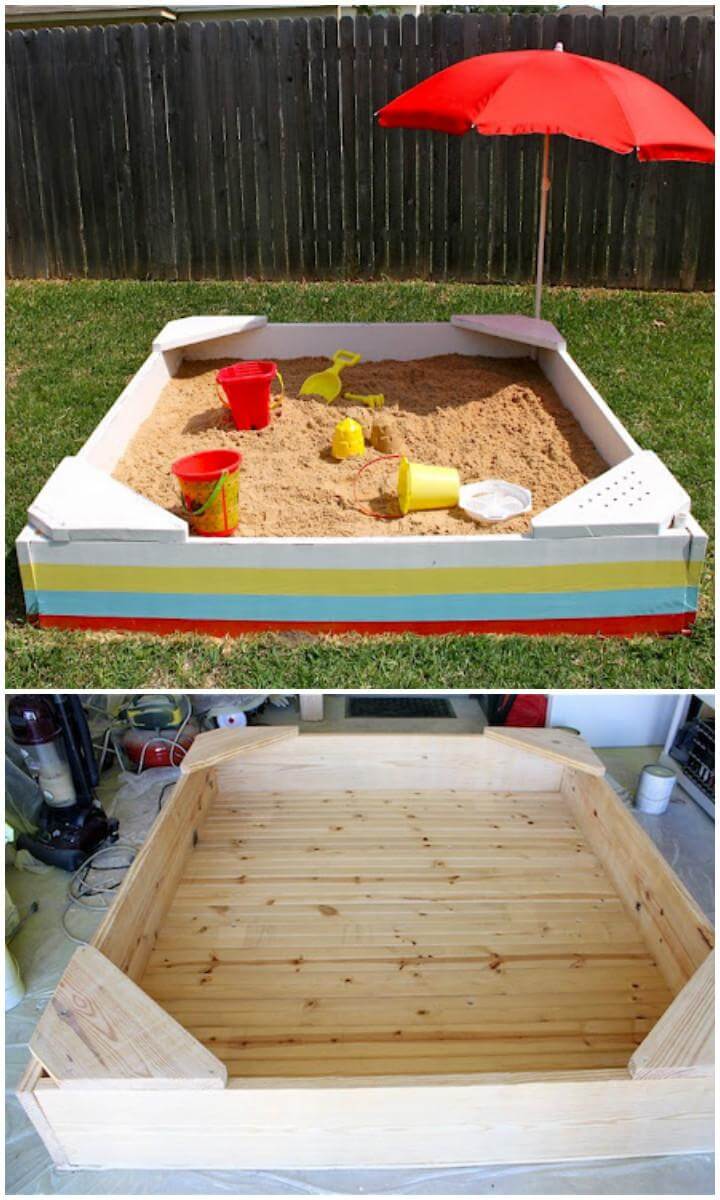 Get some solid timber or lumber wood in shape of longer wooden lengths and just frame them up in a big square box like shape! It should have covered bottom if you don't want it to stay fixed to one place! This whole big wooden tray like model would be the brilliant fun-making sandbox for your toddler and kids! You can also raise it on wheels to let it itself a pleasing toy for the kids, so they will be enjoying rolling it over the home floors! Here it comes with little covered corners and there is a parasol installed to one corner to provide shade to kids! Paint it for weather protection and also for a charming visual! Further guide and DIY tutorial here bobvila
Super Simple and Quick Wooden Sandbox: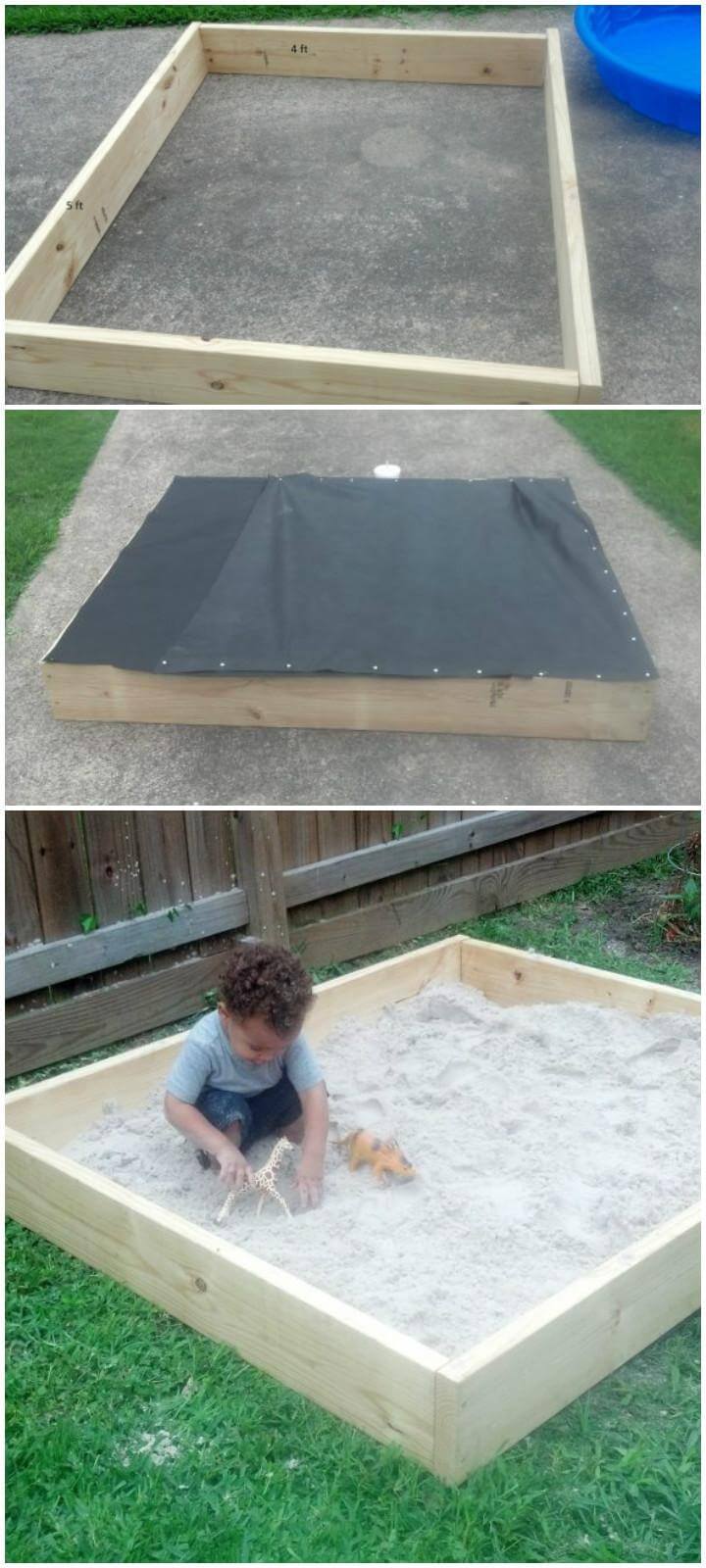 Here is a sandbox that would be in your hands in no time! Here gain sturdy wooden slats have been put together for a big square shape which has been covered from bottom side using a waterproof fabric like weed barrier! Simply copy this sandbox if your toddlers are just crying to be in a sandbox, it will not take much time to be next in your backyard or garden! Time to create your own mini beaches at home for the kids using some wood and sand! Further project details and tutorial here nomadicthoughtsfromlexi
DIY Deluxe Wooden Sandbox Instructions: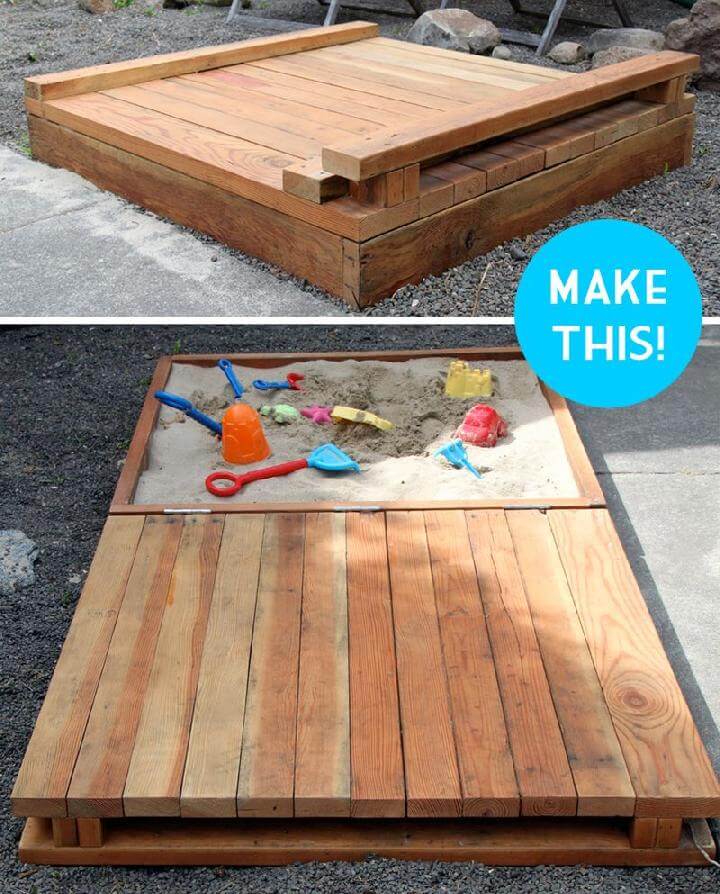 Here is one more great DIY sandbox that provides double fun as it open for the 2 fun-making sections! One is the bottom sandbox and the lid provides a little deck to your toddler where they can sit and enjoy the food while not messing with sand! This featured sandbox is really a big hit and you kids will also like it too much! If would also be a great project to do if you are thinking about a perfect gift for next toddler birthday party! Again you need to get smartly crafty with wood to make this very gorgeous model of sandbox! Step-by-step instructions here smallfriendly
DIY Pallet Sandpit with Built-in Seats: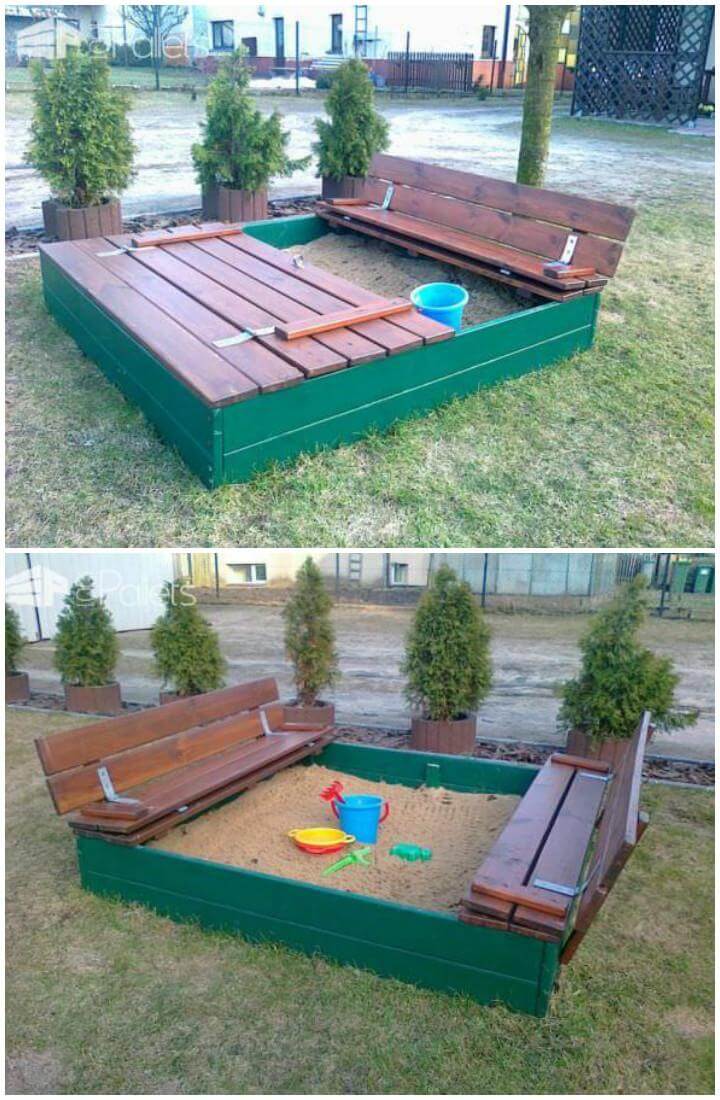 Imagine this wooden well-painted sandbox placed in your backyard or in homestead! Would not it be a big play station for your toddler who are getting bored for staying long inside the home? It would be something that will earn more love for your from your kids as it would make a great gift for them! Want to try building this sandbox? Here is the guide and further project details just in case if you don't get the tutorial see the above given model of same design that comes with complete tutorials 1001pallets
Handmade Wooden Sandbox on Wheels: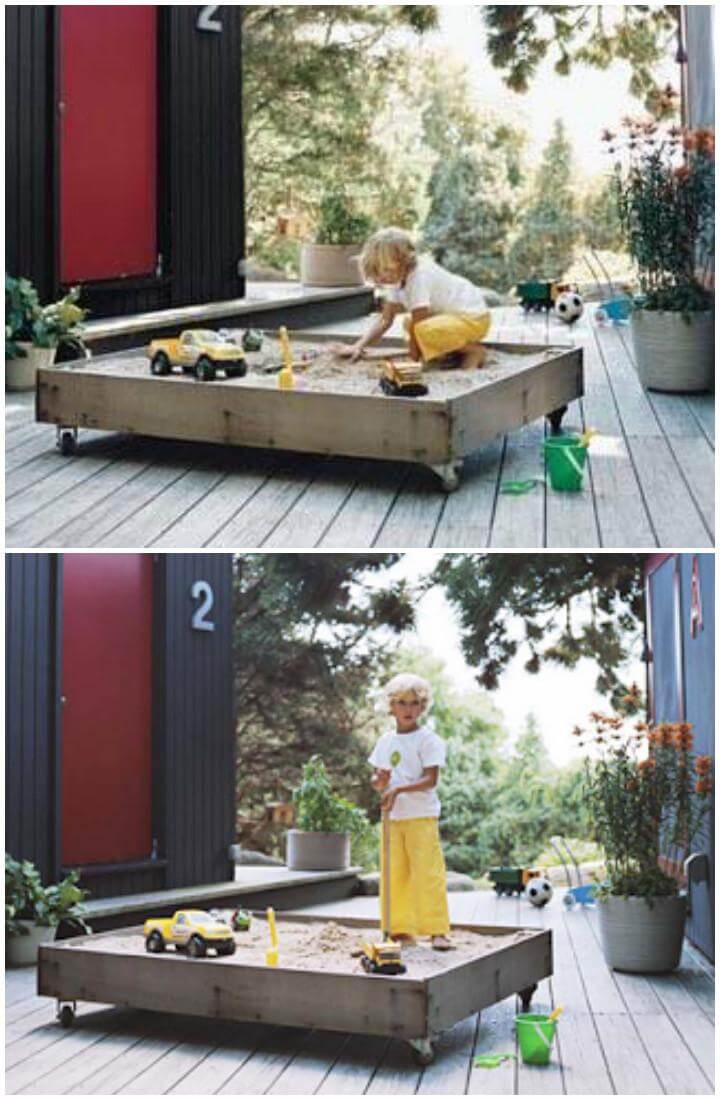 Here is a moving mini beach for the kids, it is capable to serve the kids in any nook or cranny of your homestead, garden or backyard as it has been raised on wheels to be touch to move even by a small toddler! Build a big wooden tray and install the perfect rolling wheels and casters to its bottom corners! Fill it with your favorite beach sand and let your kids be on it with their favorite toys in hands! Further project details and guide here nonchalantmom
Wooden Self-Made Sandbox with Attached Benches: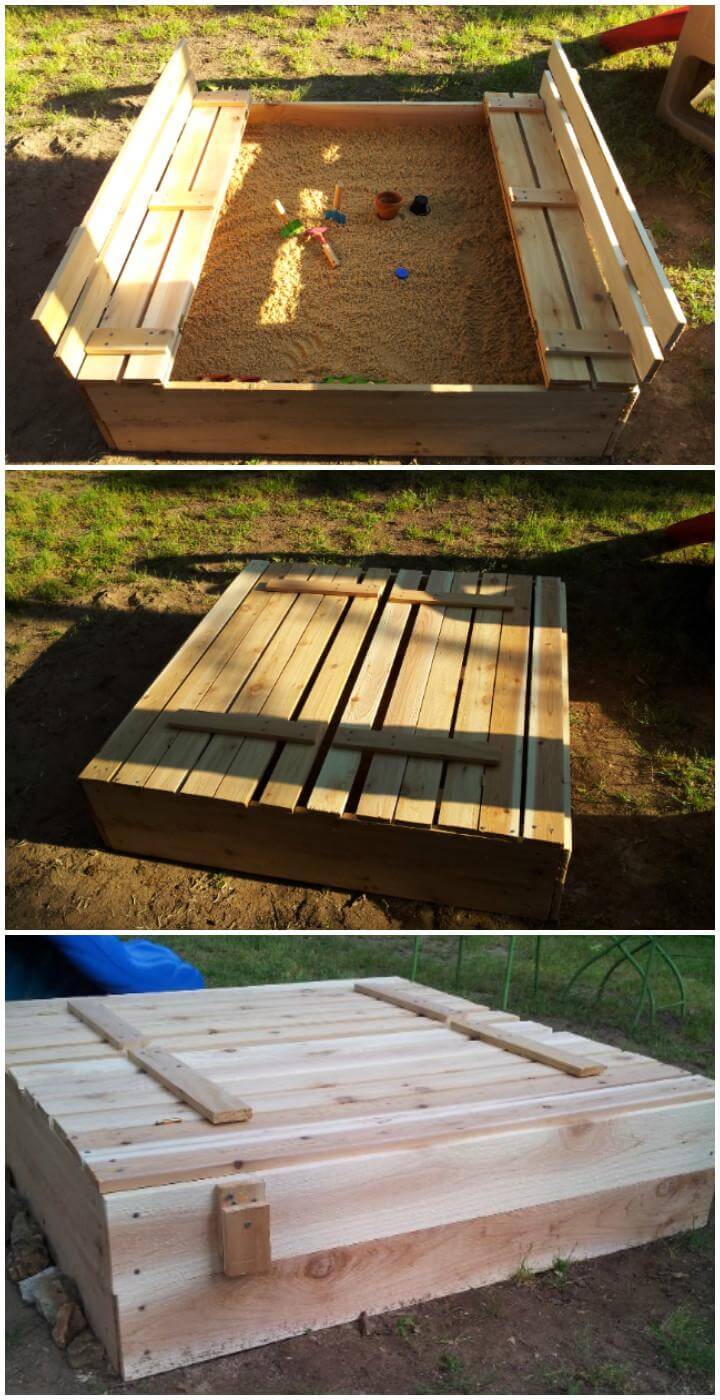 Here is another superb one to place in your garden, it is also having a solid wooden cover that can be changed into seats due to smart folds in it! The attached benches would really captivate the kids more! This sturdy sandbox has been built from cedar wood and has been left unfinished in its original natural wood tone! Otherwise you can paint it modern or in colors you kids like too much! Complete tutorial and step-by-step instructions here perfectsandbox
DIY Picnic Table into Sand and Water Fun Table: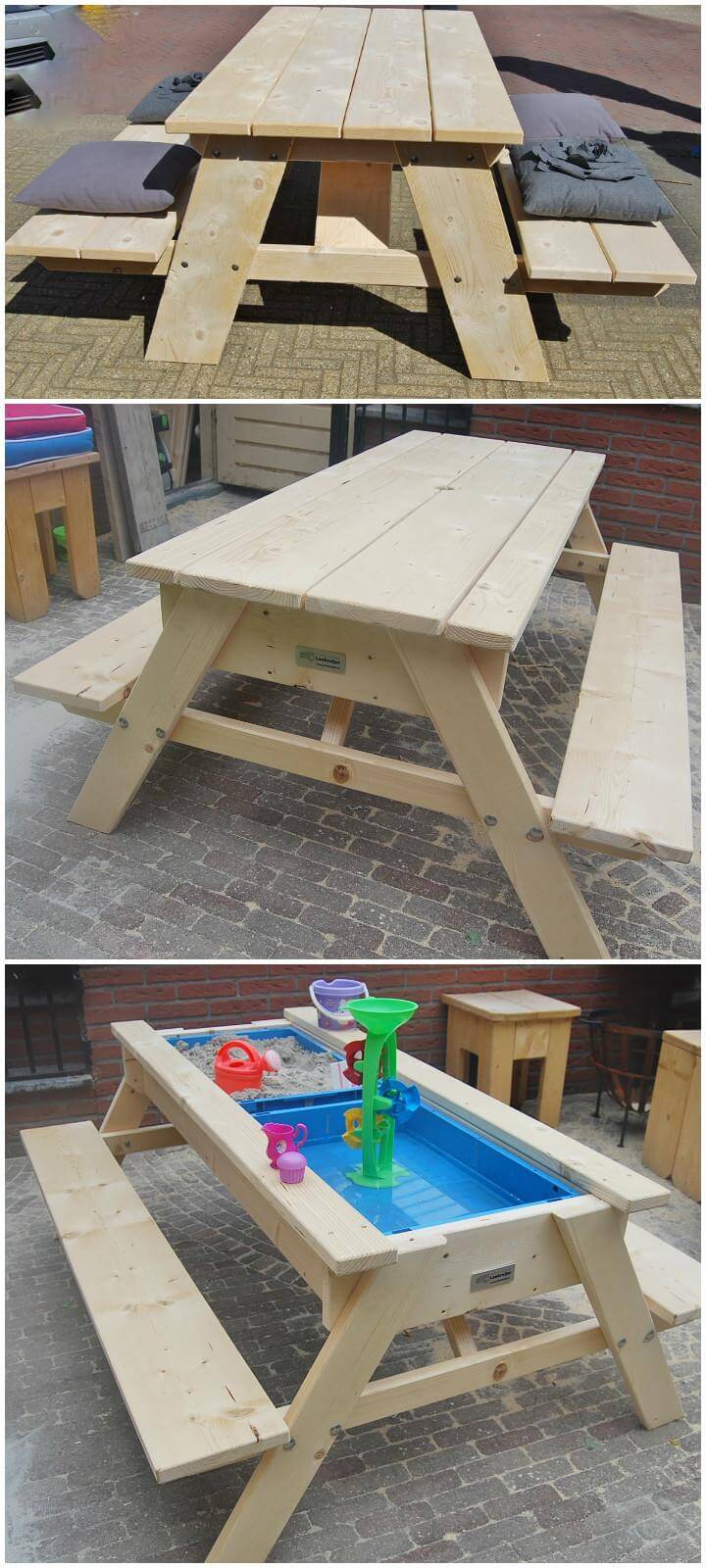 Checkout this one more amazingly great model of sand and water table, it is an updated version of a wooden picnic table! You can dig up the top of a picnic table to fit the plastic tubs inside, so this modified sand and water table would be a great summer gift for all kids and toddlers! Playing with sand and water in summers is something every kid want to do! Another great sandbox idea to tryout!! Further project details here mlankreijer
DIY Play Water and Sand Table: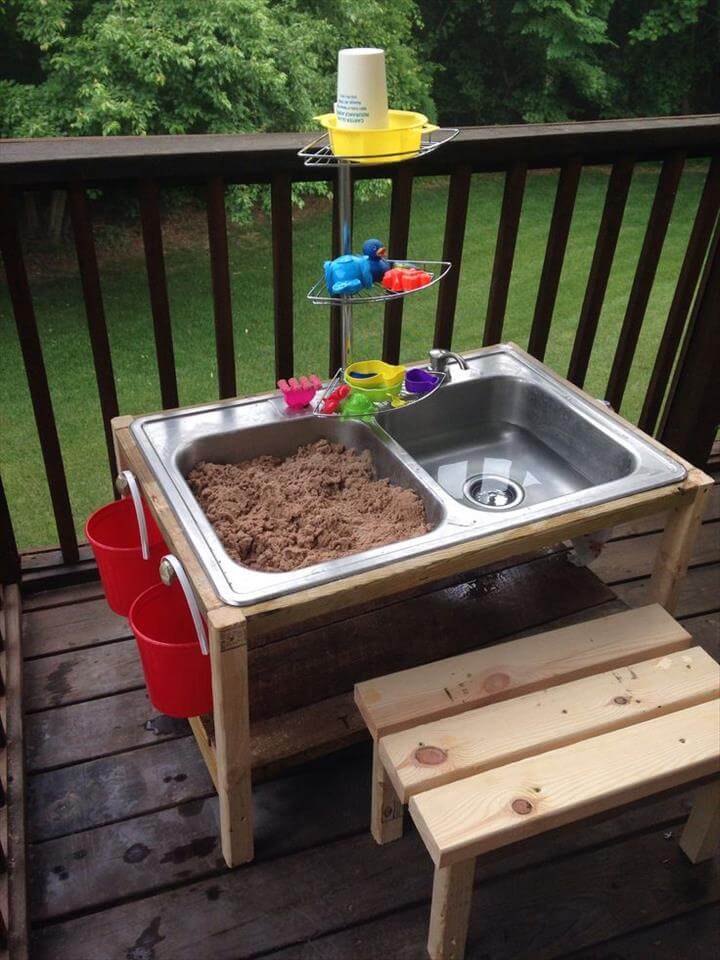 Fit an old sink in the top of a table or in a hand-built wooden holding to get an instant sand-water table for you kids! This would also make a perfect outdoor kitchen for kids to play with! You can checkout this model which is purely handcrafted and is super cost-efficient too! Further project details here zelfmaakideetjes
DIY Fabulous Pirates Ship Sandbox: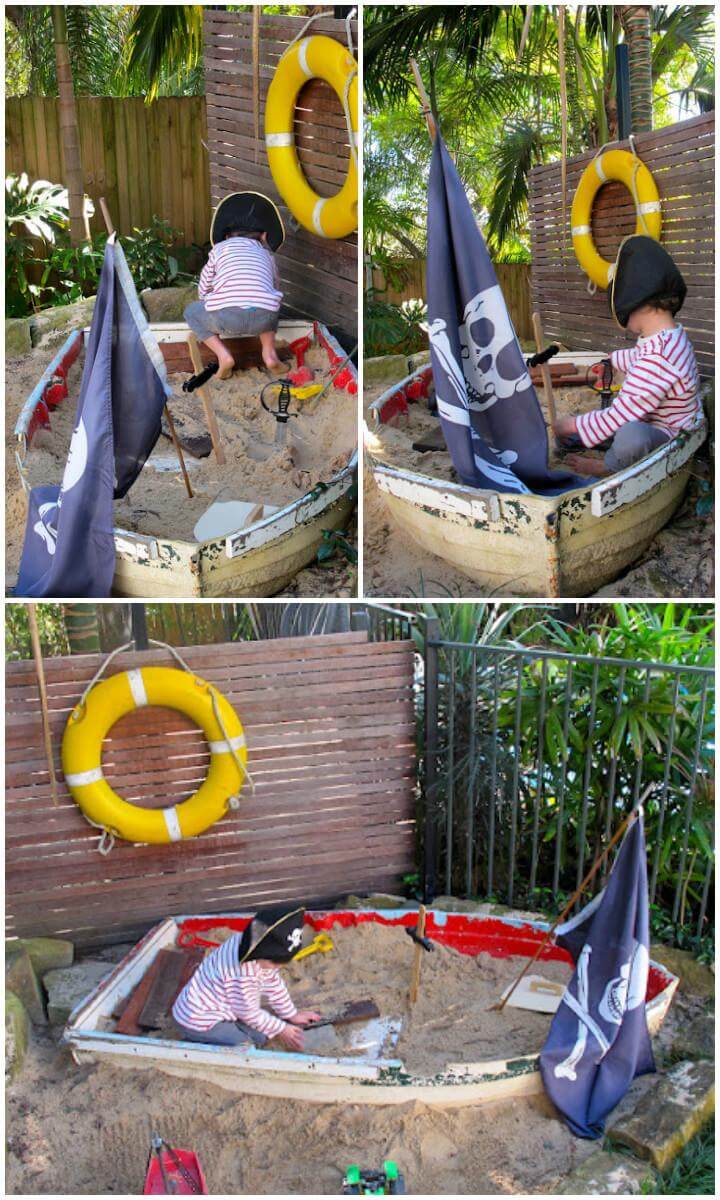 If you are having some old boats lying in home trash store then time to take them out for some amazing DIYs like to build this very special pirates sandbox for kids! Repaint your old boat, give it a pirate ship skull flat and just fill it with beach sand! After you do it, you will soon see your toddler pirates playing inside of it! Another unique sandbox idea to keep your kids busy in summer afternoons! Further project details and instructions here twolittlepirates
DIY Modern Sandbox Made of an Old Dresser: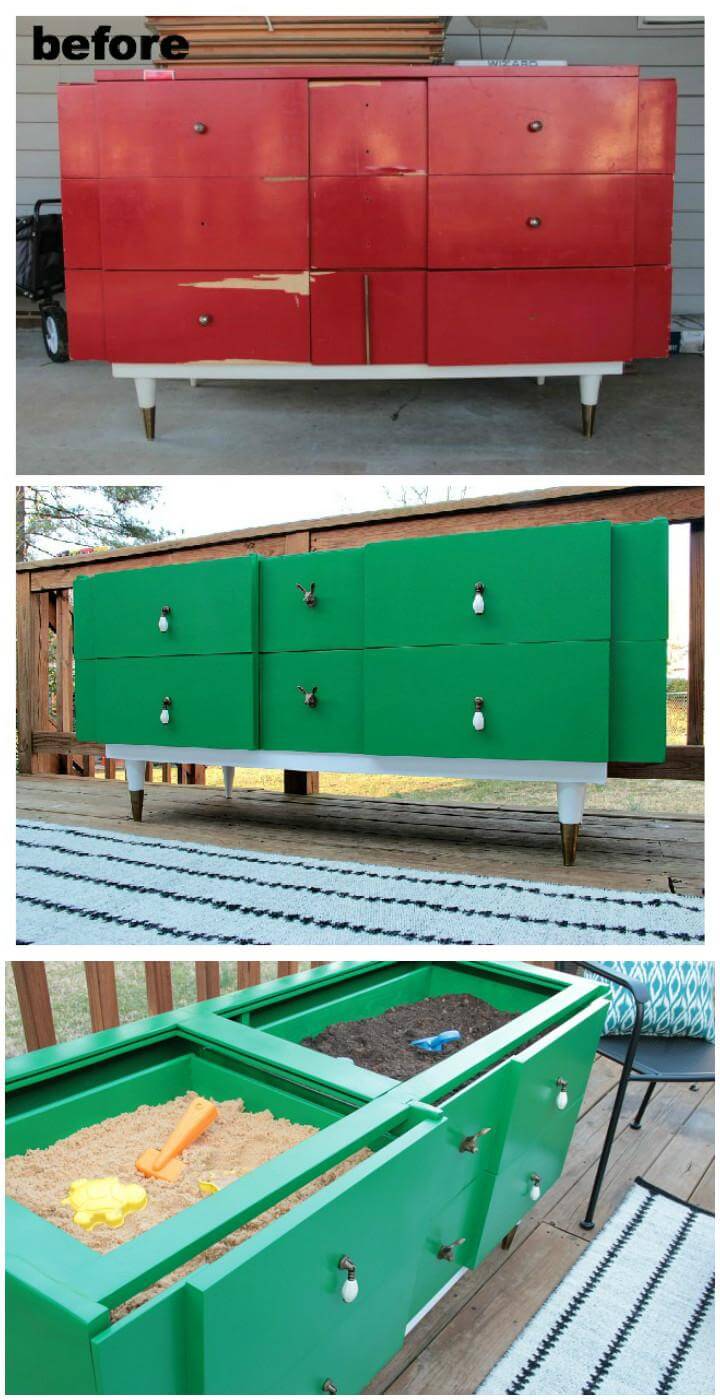 Why not let your old dressers in creating too much fun for you kids, you can easily change them into kids playing stations by just adding and removing few components! Here some top drawers have been modified and a dresser has been changed into a kids sand table that looks superb! It also been repainted for a charming dark green appeal! The creative kids loving parents can also change into a mud kitchen for kids if they want to do so! At the same time, you can also fit some plastic tubs inside the top drawer boxes or places to make a both water and sand fun station for kids! Further project details here eastcoastcreativeblog
DIY Beautiful Car Sandbox:

Double up the fun of sandbox by giving them some fancy shapes like this brilliant car sandbox! It would be super attractive to all kids and they can enjoy the driving too while playing with sand! Here is all you need to do is to make a big wooden tray to hold the sand, but you can use extra wood to transform this wooden tray into a beautiful car, rest of work the paint will do! A super unique and lovely sandbox ideas to copy for your kids!! Complete step-by-step tutorial for this car sandbox is here thisoldhouse
Hand-Built Sandbox Plus Stage and Puppet Theater: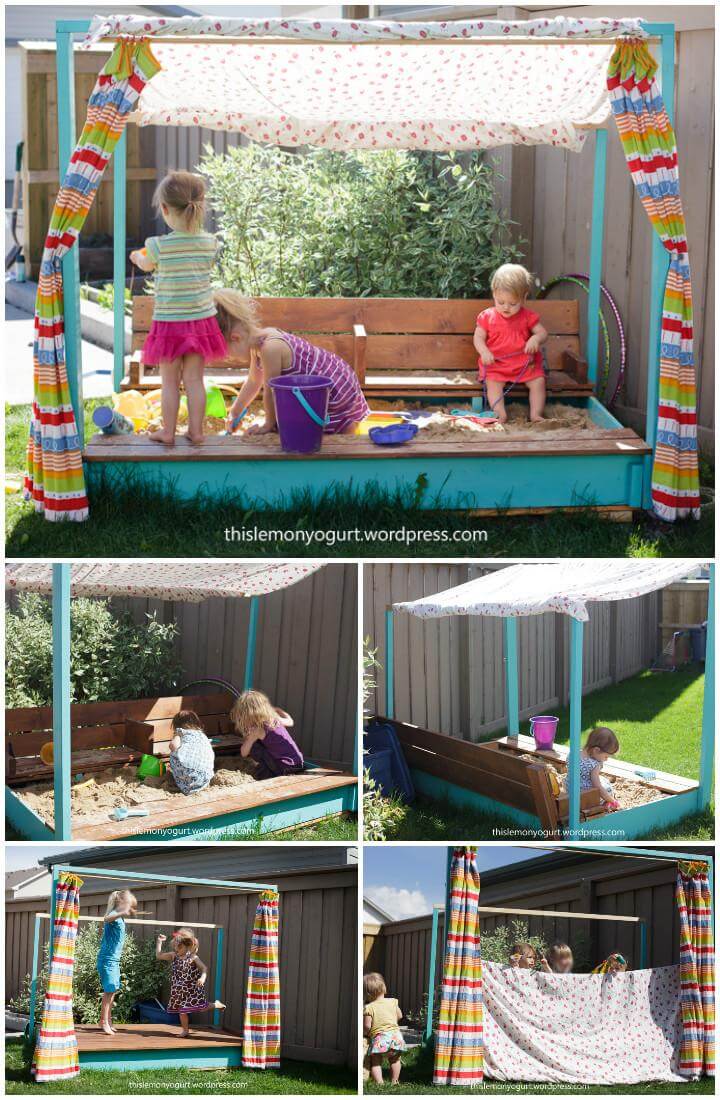 Here is something which is much more than a sandbox and will make a lovely playing station for a group of toddlers! Here it is sandbox which comes with a cover that folds back for beautiful benches! Furthermore, there are additional curtains that turns this sandbox when closed, into a mini theater! This will surely double up the fun and will be a perfect kids fun station for summer afternoons! Complete project details and easy tutorial here ana-white
DIY Upcycled Old Big Tire Sandbox: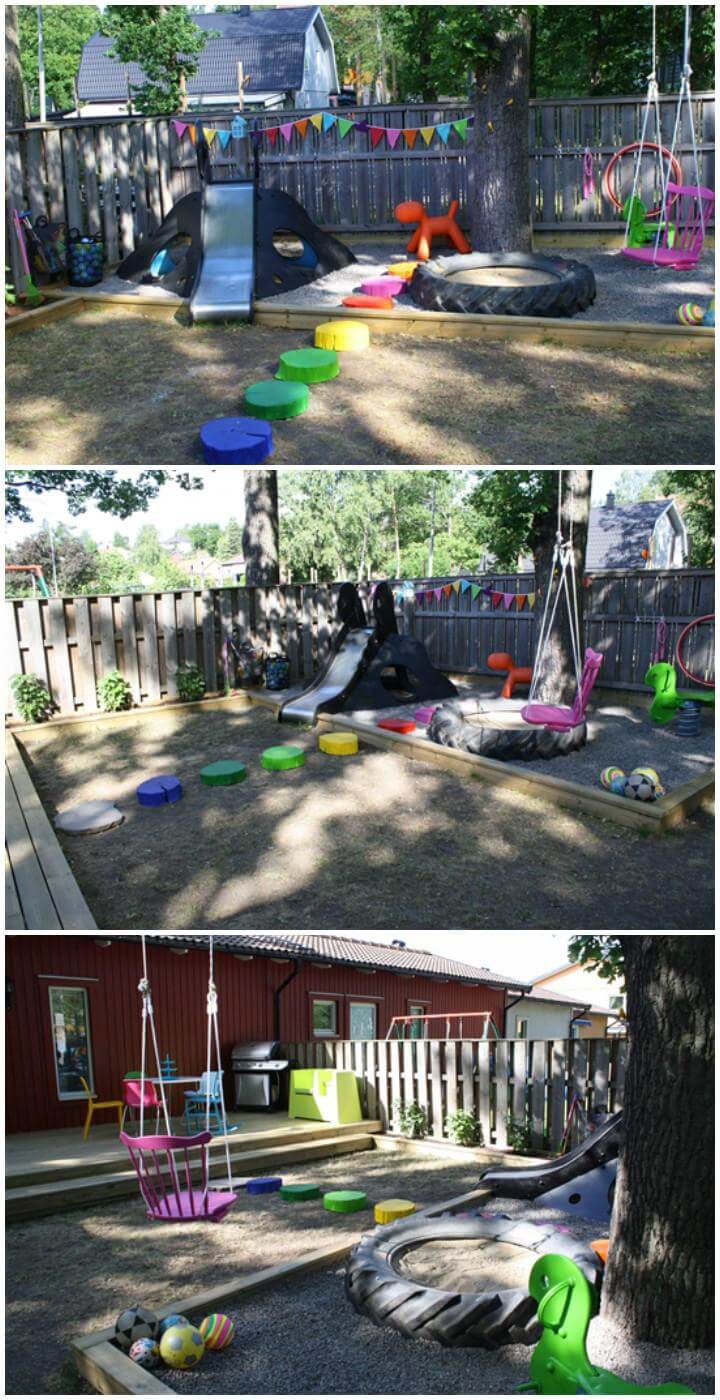 Want to add a sandbox to kids outdoor play-lands? You can do so by spending even a penny from your pocket! Just recycle the old big tractor tires for instant sandboxes for kids!! All you need to do is to put them flat and to fill up with sand!! Further project details and tutorial here lasillaturquesa
Wooden Sandbox with Integrated Chalkboard in the Lid:

Here is another mind-blowing sandbox inspiration!! This brilliant wooden sandbox has been created for a deck! Just to show the sandbox a part of the deck, the wood patterns have been matched perfectly! Here the sandbox comes with a solid wooden lid that is further having a perfectly integrated blackboard, so this would also be a great painting and drawing station for kids! This dual functional hand-built sandbox will make a great choice as it will not only a playing station but it will also creativity boosting platform for kids!! Complete project details and instructions here dmfconstruction
DIY Superb Backyard Sandbox: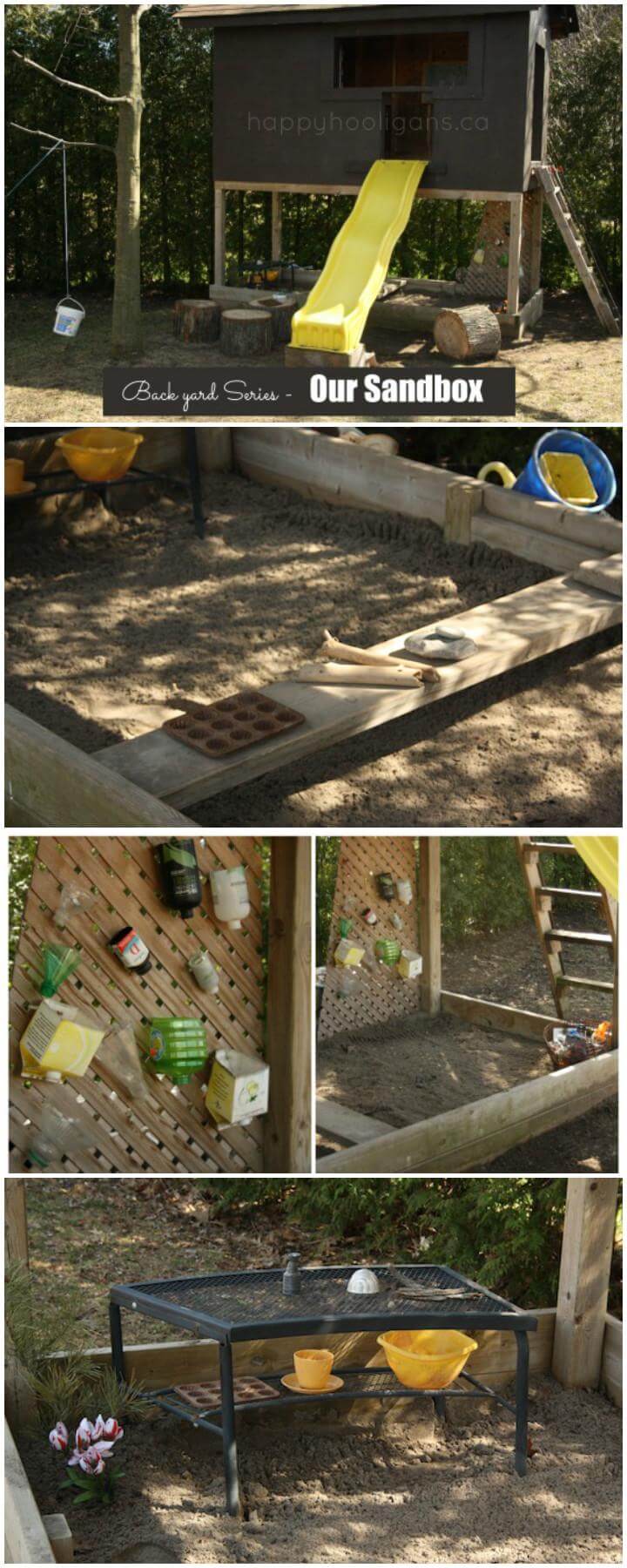 Checkout this bigger sandbox that is actually a playing section of a kids playhouse! This crazy large sandbox comes under the playhouse and has been added with custom items that kids may use to have a great fun like old tables and pots!! Sandbox under the kids playhouse, this will make the most pleasing gift for all kids! Further project details here happyhooligans
DIY Old Barrel Sandbox: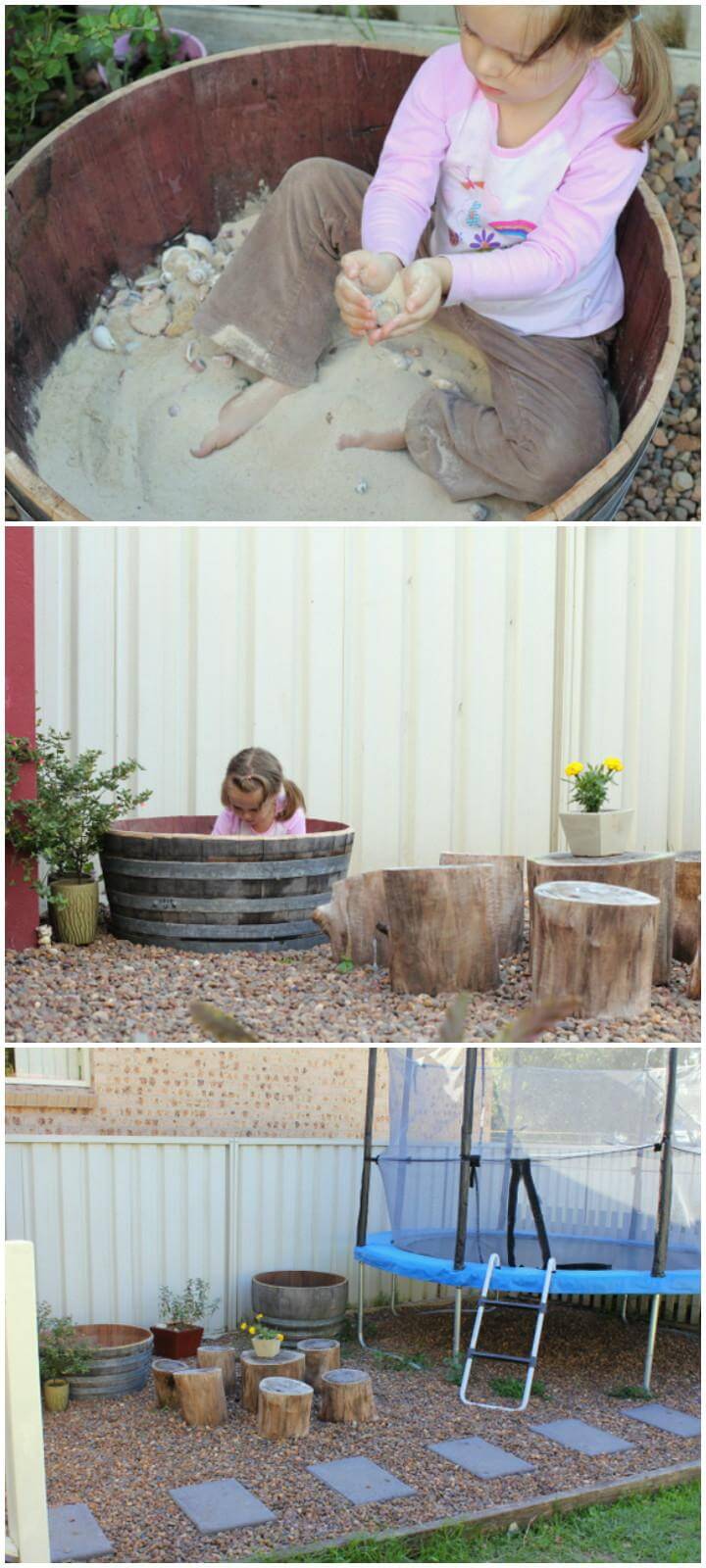 Want to make your kids indulge in outdoor playing? Just make use of some wood logs and old barrel to do so! Cut a barrel in half and adjust it to your outdoor as sandbox! Use the wood logs as mini seats for the kids and let your kids enjoy this very special self-made playing station! Another super cost-efficient kids sandbox idea to inspire you! Further project details and instructions here littleecofootprints
DIY 5$ Plastic Wreath Box into Sandbox: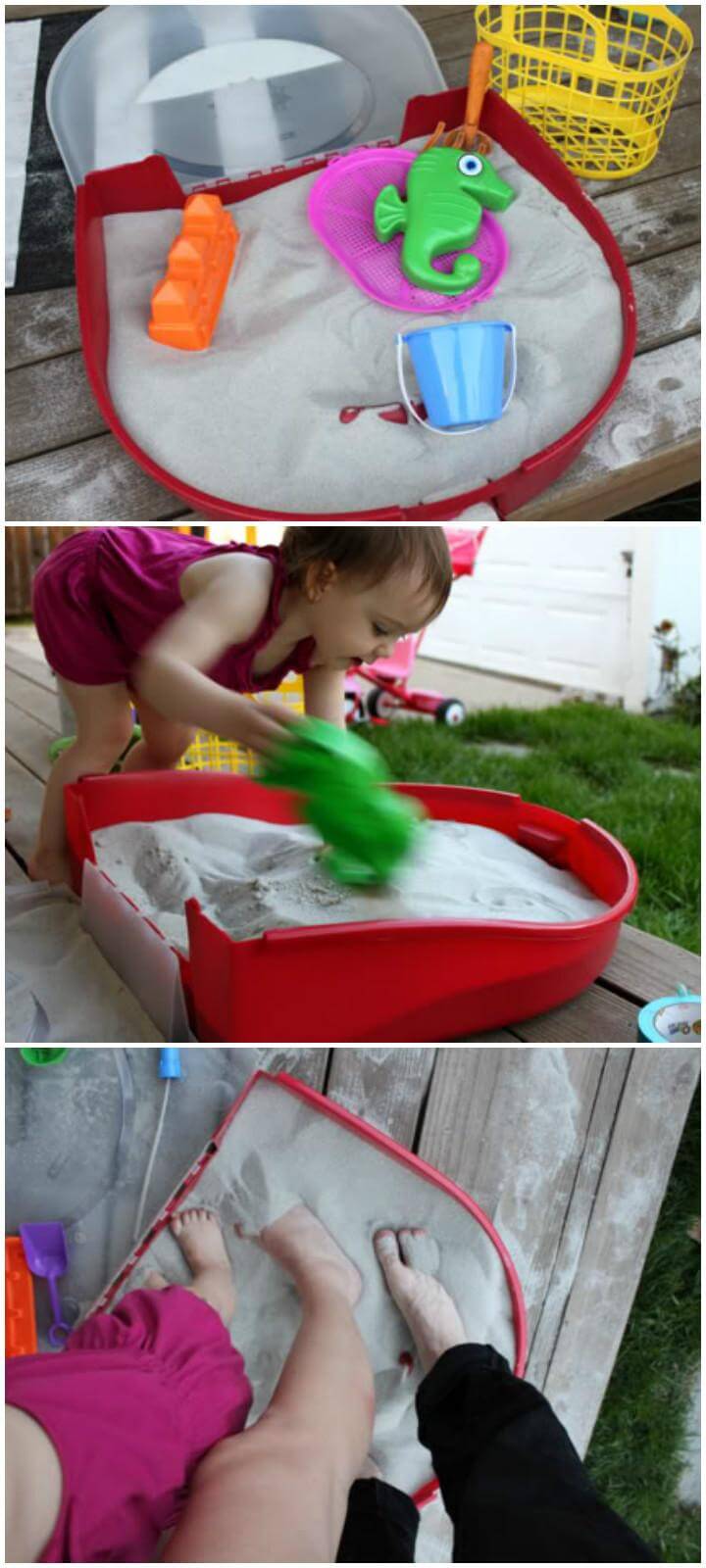 Repurpose a wreath box and start using it as a brilliant sandbox for toddlers! Superb sandbox idea at almost no-cost and it will also take zero time to be in your hand! Further project details here prettyprudent
DIY Wooden Sandbox with Seats – Free Plans: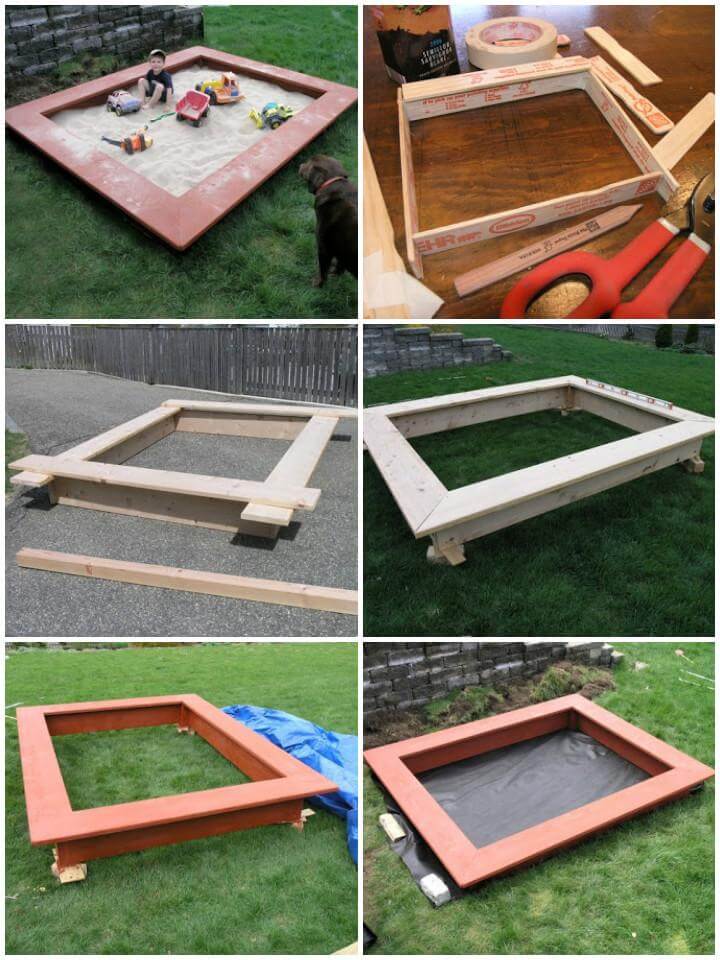 This one comes with broad borders that will make the perfect seats for the kids! Another adorable sandbox for toddlers and kids! Again this beautiful sandbox creation has been done with solid and sturdy wooden lengths! If painted in beautiful colors, this would be a big delight to view in the green backyard! The bottom has been covered with a weed-barrier or waterproof pool fabric and finaly step would be to fill it soft using sand sacks! Free plans and step-by-step tutorial here doverprojects
Handcrafted Wooden Sandbox with Lid and Benches: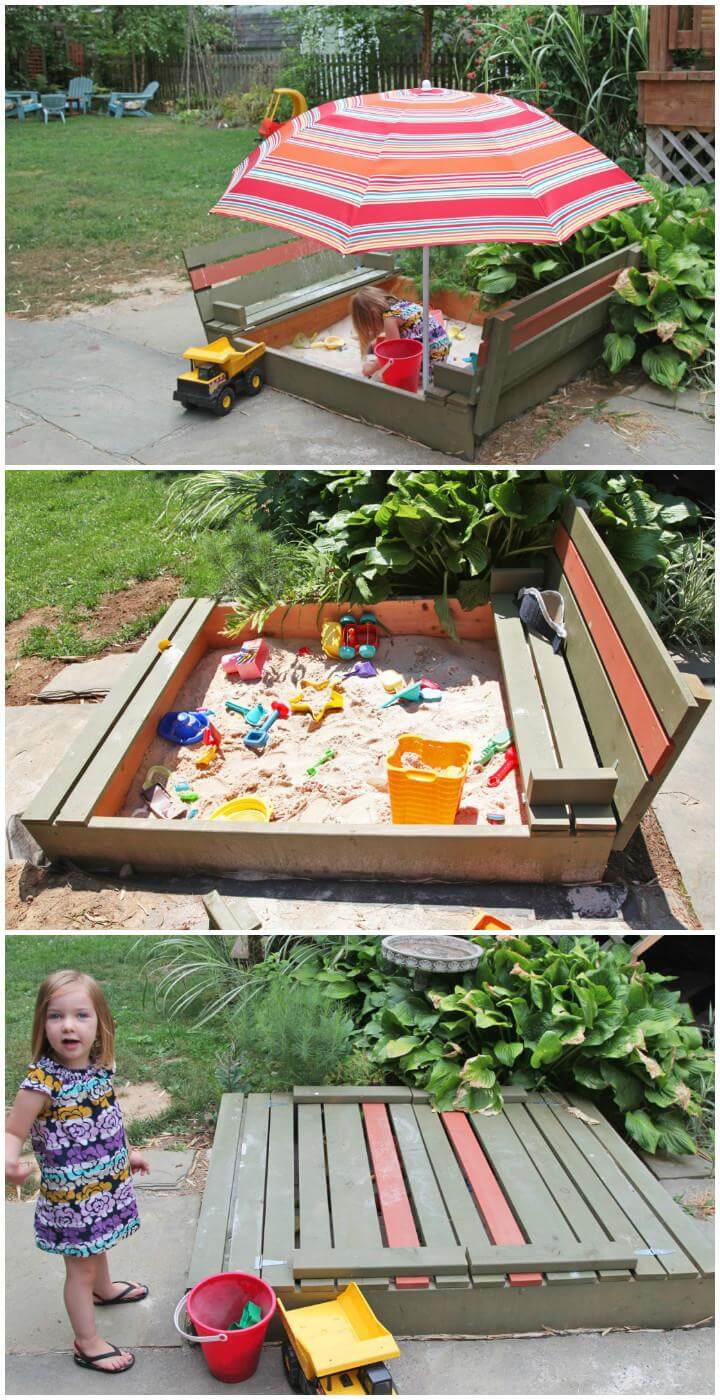 Be a fan of this another special handcrafted sandbox, this comes also with seats that can be unfold flat to make the sandbox cover! To beat the sun-heat, you can simply install a parasol in the center of this sandbox while the playing session is ON!! This mini hand-built beach would something perfect to gift to your kids this summer! Go handmade with old wood of home like pallets to craft this in no time! Further guide and step-by-step instructions here statelykitsch
DIY Super Easy Wooden Sandbox on Wheels: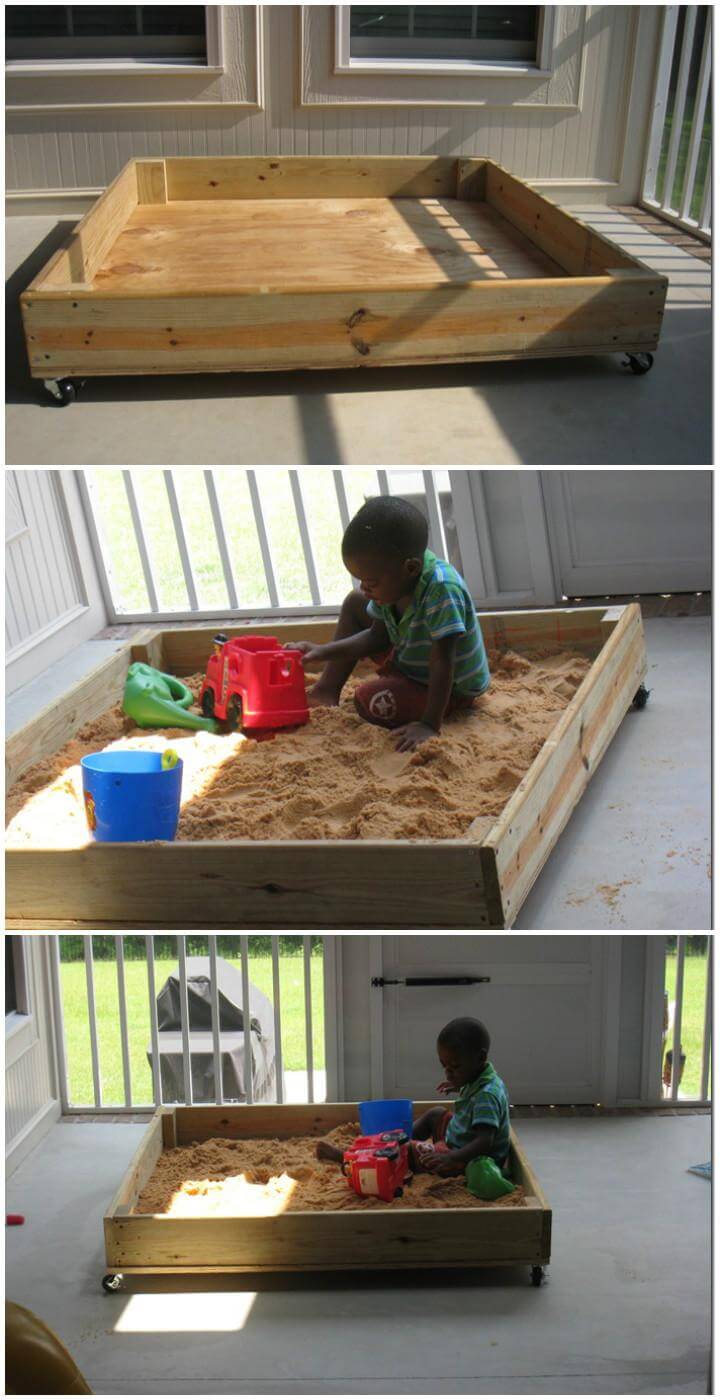 Give yourself a little time and mess with wood a little! All you have to do is to build a large wooden tray may be of square or rectangular shape! Same has been done here but the modern twist here are the caster wheels that help the sandbox to get faster movements on the home floors! Give it a sand fill and top up the sand with toys that are favorite to your toddler! Lets your toddler start the outdoor playing session with sand!! Complete project details here designaddictmom
DIY Round Toddler Sandbox with Cover: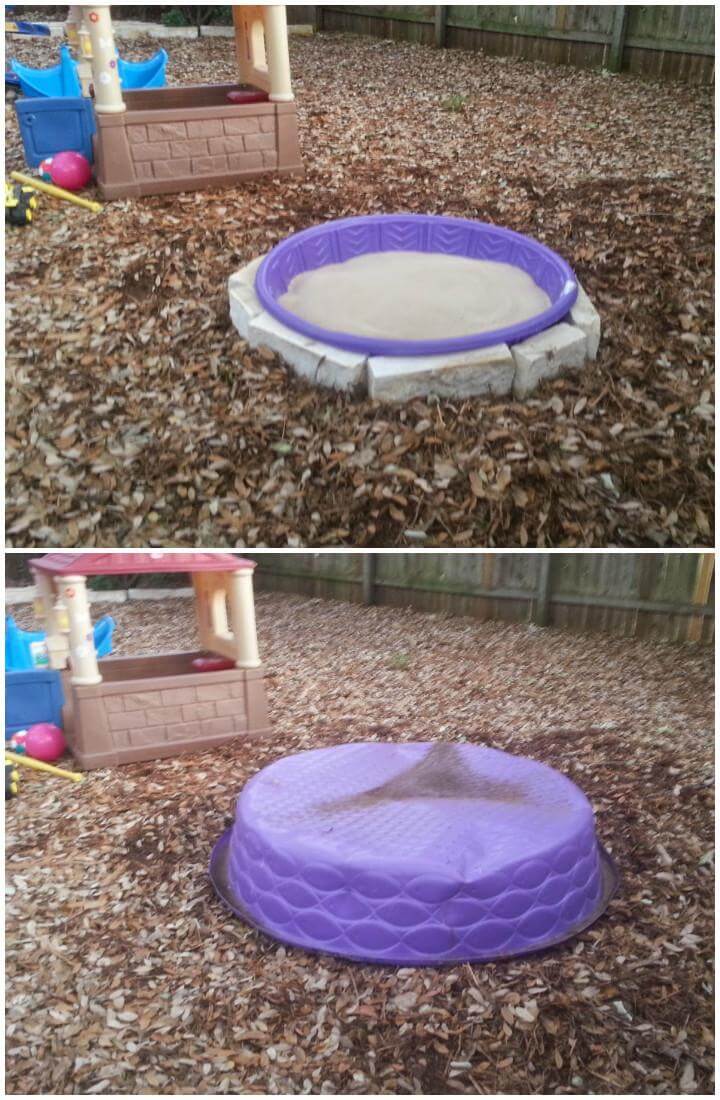 Here is another lovely toddler sandbox made of 2 kid's pools! The smaller one build the base and comes with filled sand! The bigger one has been used as a cover! Cool and easy peasy kids sandbox idea! Let some bricks or limestones be around the sandbox for a little garnishing! Further project details here dadfablab
DIY Unique Plastic Container and Wood Standing Sandbox:

Grab a under-bed storage bin and just build a wooden rectangular frame for it! The frame should perfectly hold the plastic container without a danger of falling down through! Now you can make the plastic under-bed storage container sit in the frame and can install the legs then after! This will give you a mini but beautiful sand table that would that can gift to your toddler to win more of their love! A cool and low-cost sandbox idea for kids loving parents to tryout at home!! mommyneedscoffeeblog
DIY Easy and Simple Sandbox:

Mark the area of your outdoor you have specified for a sandbox and just fix solid timber lengths to those marked positions and build a beautiful sandbox! it would be better to use a waterproof fabric underlay cover before you spread the sand in the sandbox and fill it up! You can do this project with a team of your kids to have more fun!! Further project details and step-by-step instructions here thisoldhouse
DIY Easy Repurposed Kid's Tent Sandbox: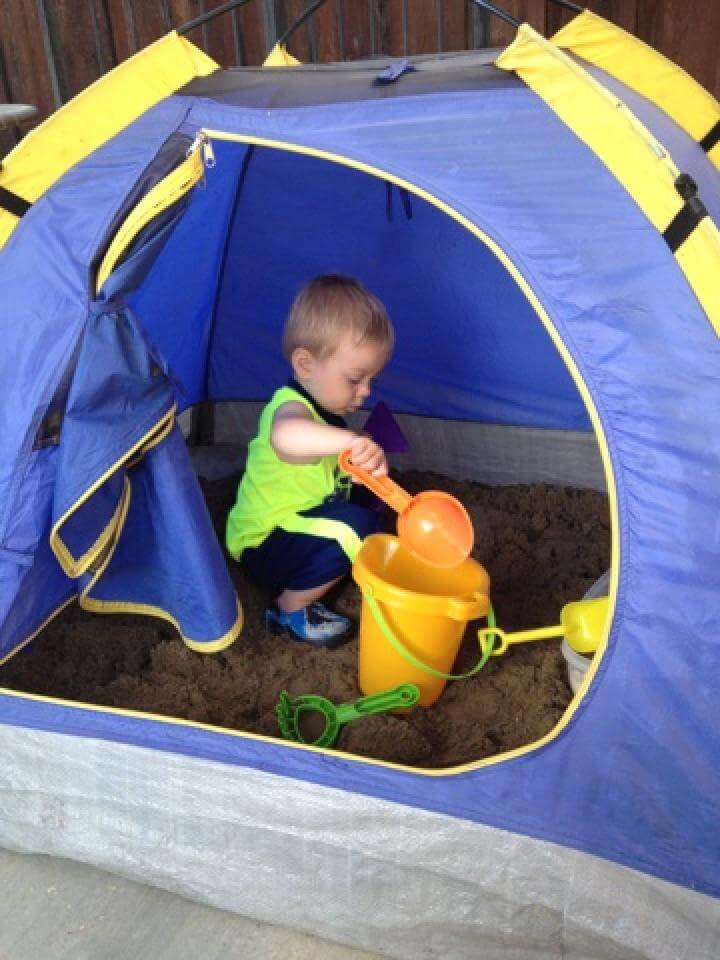 If you are thinking that providing sun protection to toddlers is must while letting them play at outdoor there here is a perfect solution! An inviting sandbox for toddlers in tent style, provides full shade against sun and will keep the kids busy in playing without and inconvenience! A great and mind-blowing sandbox idea with cover! Further project details here coconutxoxo
DIY Wooden Standing Sandbox or Sand Table: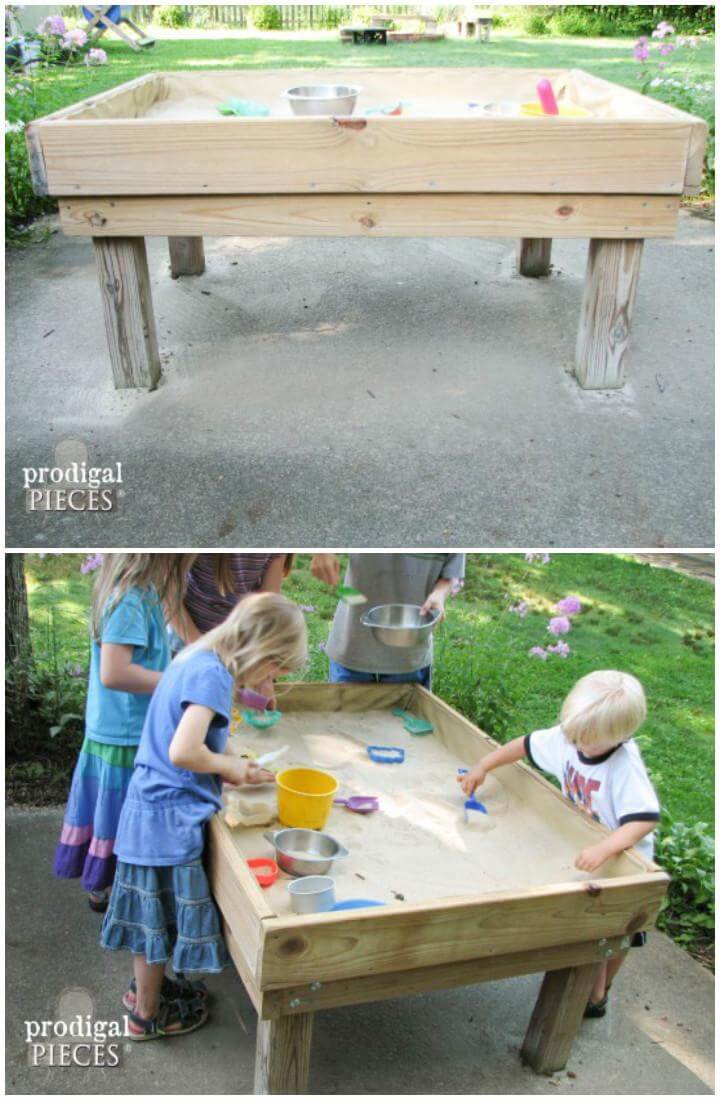 Just like sandboxes, the sand tables also make great surprise for kids who always like to be outdoor to play and have fun! A beautiful one has been given here! So, you can build some beautiful sand tables at home without getting sweaty and expensive! Just craft bigger wooden trays and raise on custom legs and that's it! Use leftover wooden planks from home or just buy the solid sturdy timber for your sand table project! One can even make use of pallets to build outstanding sand tables at zero cost price! Further project details here prodigalpieces
DIY Toddler Water and Stand Table: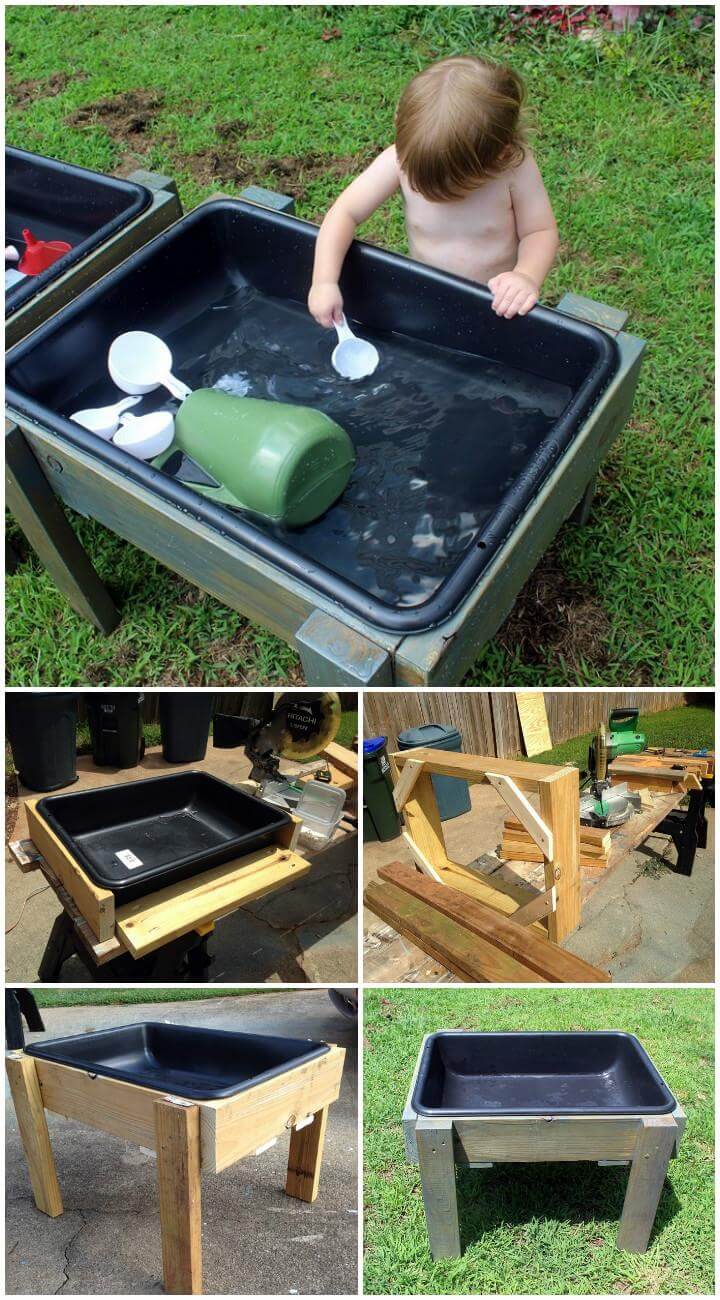 Grab plastic bins having a tray like shape and just prepare wooden holdings or frames for them by keeping in mind their dimensions! After you get the wooden frames that fit best to bottoms of plastic bins, you can take 4 more wooden lengths that can be nailed or screwed outside corners of wooden frames to serve as legs! Vary the size of legs to vary the height of table and just choose the height that is perfect for the standing kids or toddlers! Finish your finally complete table by filling sand or water! Further project details and complete step-by-step tutorial here boxycolonial
DIY Amazing Picnic Table and Sand Table Combo:
Build beautiful sand tables for your kids in picnic bench or table style! Here the top of the picnic table should be a wooden box that should come with a fine cover so it would serve in both ways beautifully, as a sandbox and also a picnic table! Raise 2 pillars from the sides of the your picnic sand table and install a roof or shade that will not let the soft skins of your kids burn in the blazing sun! Get inspired of these given two sample models! Further details and more samples here diyprojectsforteens
DIY Sandbox Free Plans and Tutorial: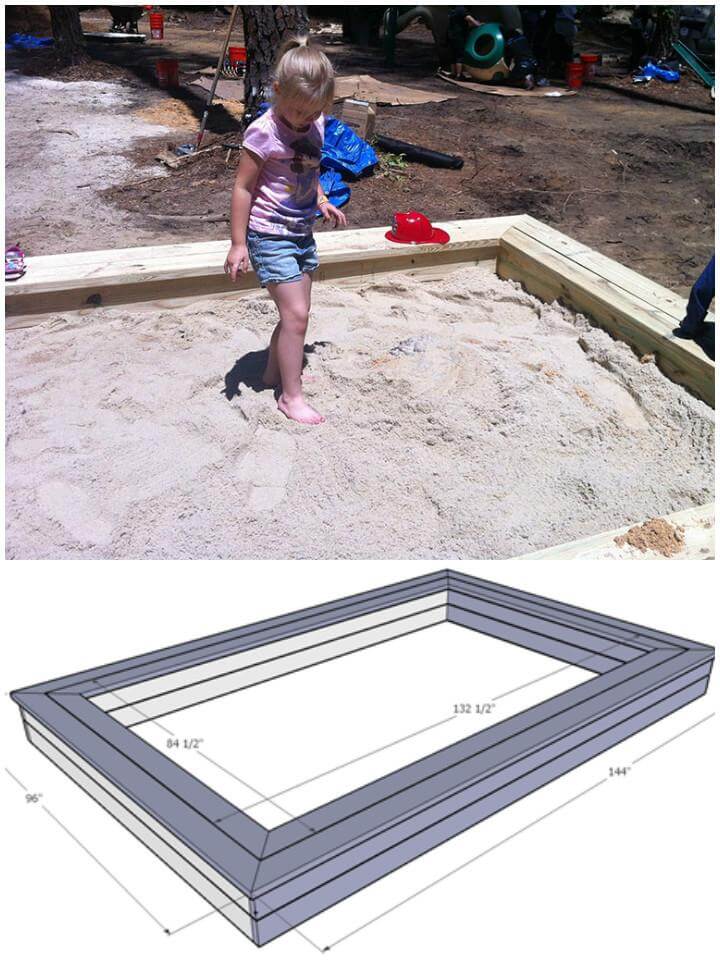 Playing with sand builds better kids health and this is also a creativity boosting experience! So, here is a perfect sandbox plan if you are interested in providing your kids a beautiful sandbox! According to this sandbox plan, you will also get the beautiful seats for your kids around its perimeter! So just grab some solid wooden slats like from lumber or timber to install a beautiful sandbox in your backyard! Free plans and step-by-step instructions here kaboom
DIY Wooden Sandbox with Chevron Roof – Free Plans and Tutorial: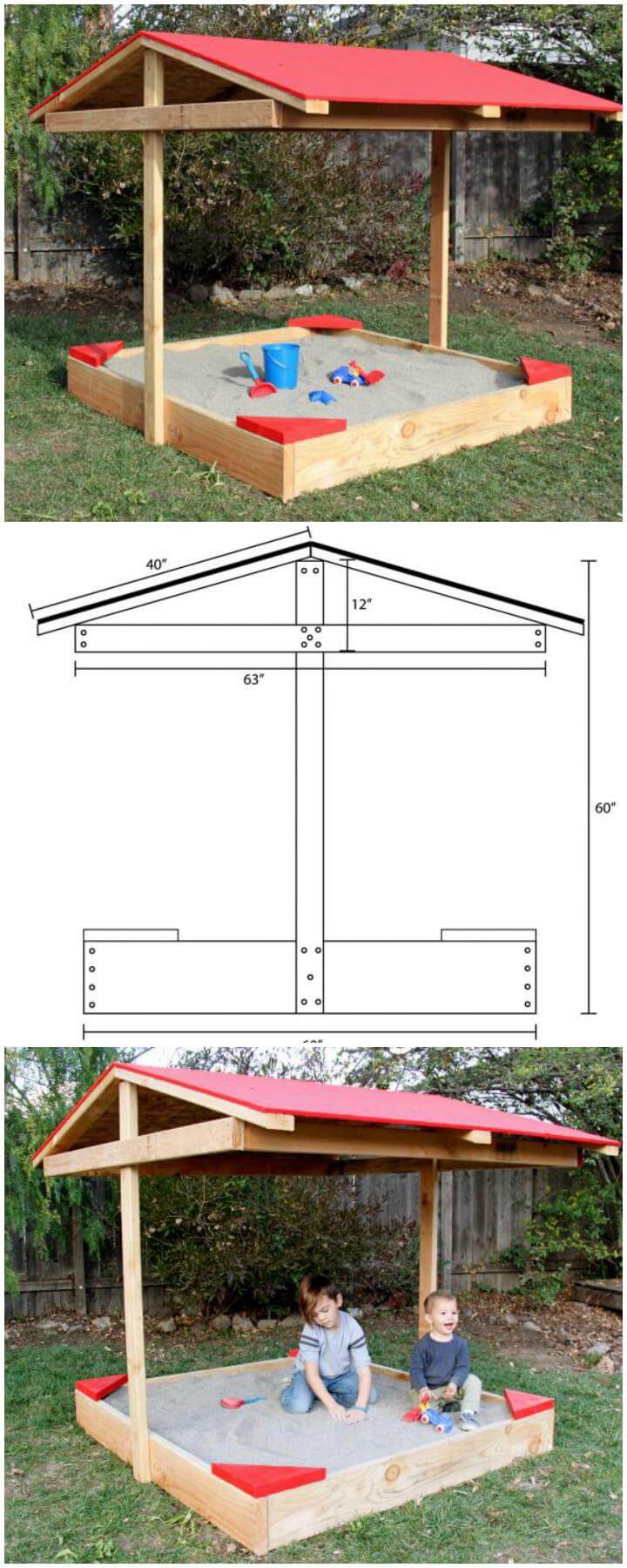 Here is another beautiful one to inspire, a beautiful sandbox with corner seats painted in red and it also comes with a chevron roof or cover! Red paint color really goes best with the natural wooden tone and this results in an eye-popping playstation for the kids! Here the building the whole sandbox is like to build a big wooden box or tray with the available solid wooden planks and roof can be planned separately and can be challenging! Get the solid rafters, ridges and braces and install the roof by making sure at the same time that it will not fall down even after a lots of jolts and jerks! Use the plywood sheets to cover up the roof frame! Complete tutorial and and free plans for this adorable sandbox is here diynetwork
DIY Great Teepee Sandbox: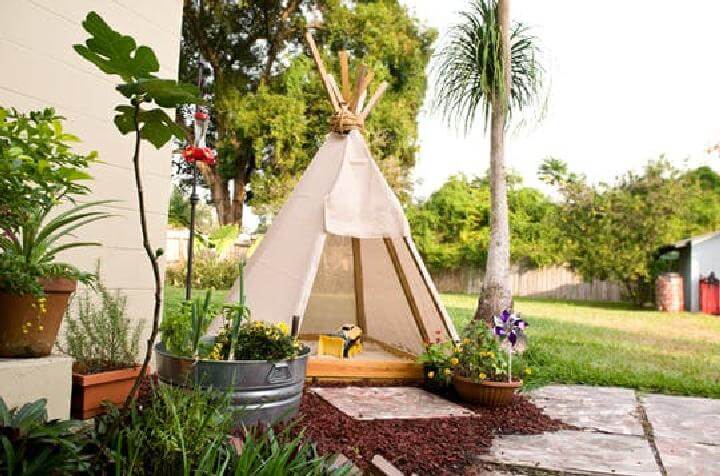 Here is another idea to copy for a superior and eye-catching sandbox for the kids, the beautiful teepee sandbox that will like a small covered beach for your kids! It has whole frame made of wooden lengths! Further project details here apartmenttherapy
DIY Self-Made Backyard Kids Beach: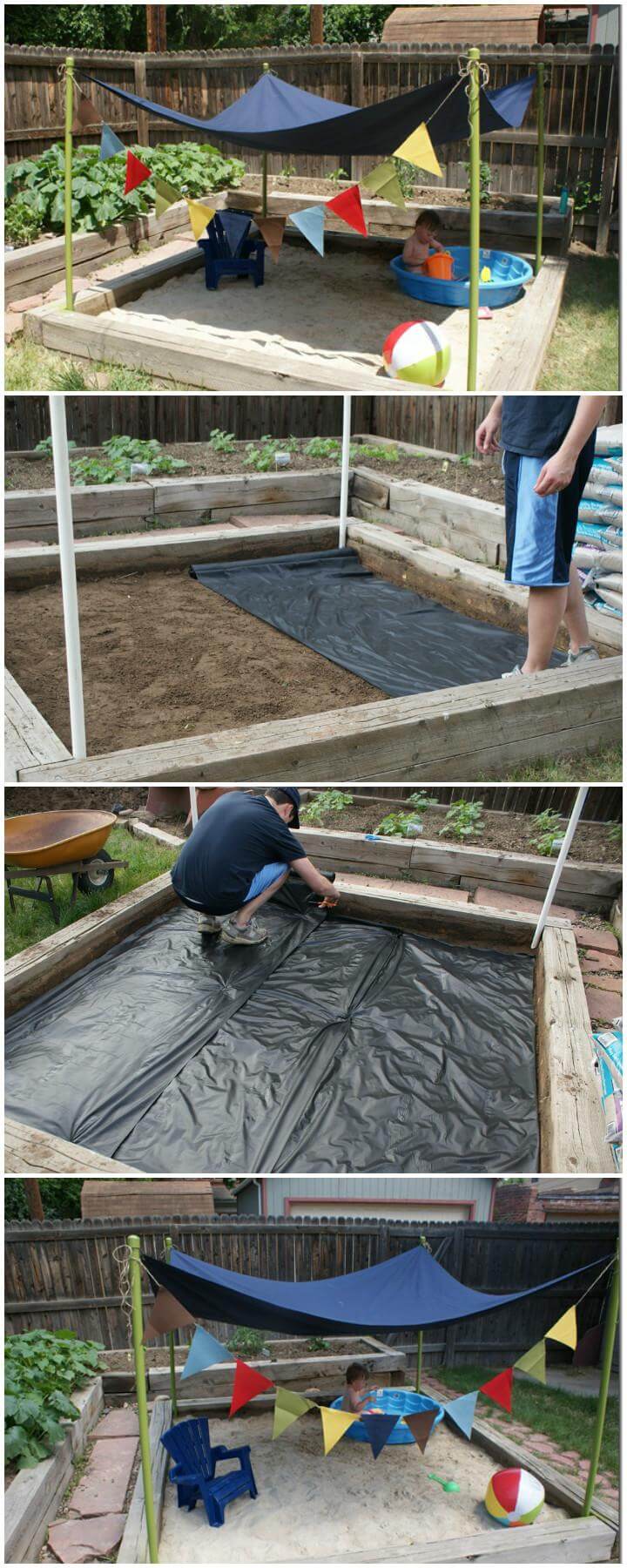 Here is how to build a mini beach for your kids just right in your backyard! All you need some wood, some sand and some beach kids chairs! Final step would to give the whole mini beach a sun-protective cover or roof that can be installed using some kind of wooden poles and fabric tied to them from the corners! Next you can decorate this backyard beach in the way the kids will like! Here solid wooden lengths have made beautifully sit in the ground in form of big square that has then been filled up with sand!! Further project details and complete instructions here wraysist3rs
DIY Backyard Bliss: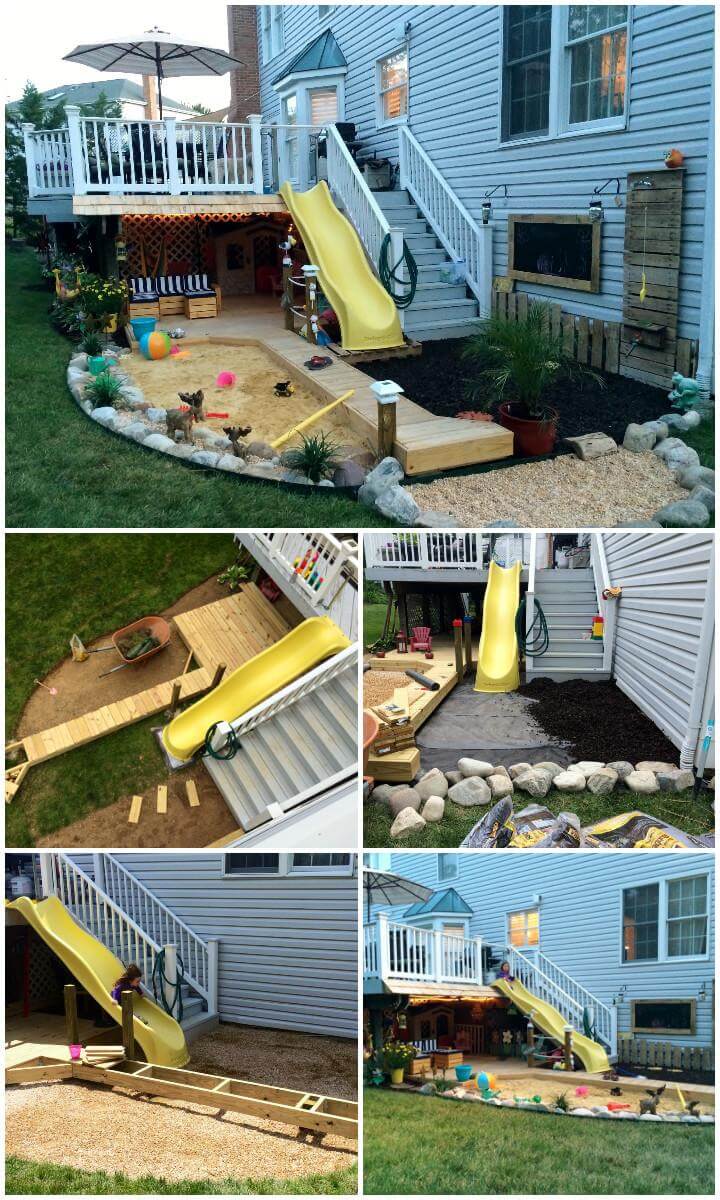 Checkout here the kids fun-station or play land then start after you just come down from the home deck stairs! Just after the slide, there is a area filled with sand and perfectly bordered with wood, this is can be taken as a sandbox there and would be lovely play station for toddler to play with their constructions trucks! Lots of colorful pots, stones and other decors can be used to fancy up the area around as you can see! Further project details here ana-white
DIY Simple Thrift Store Toddler Sandbox: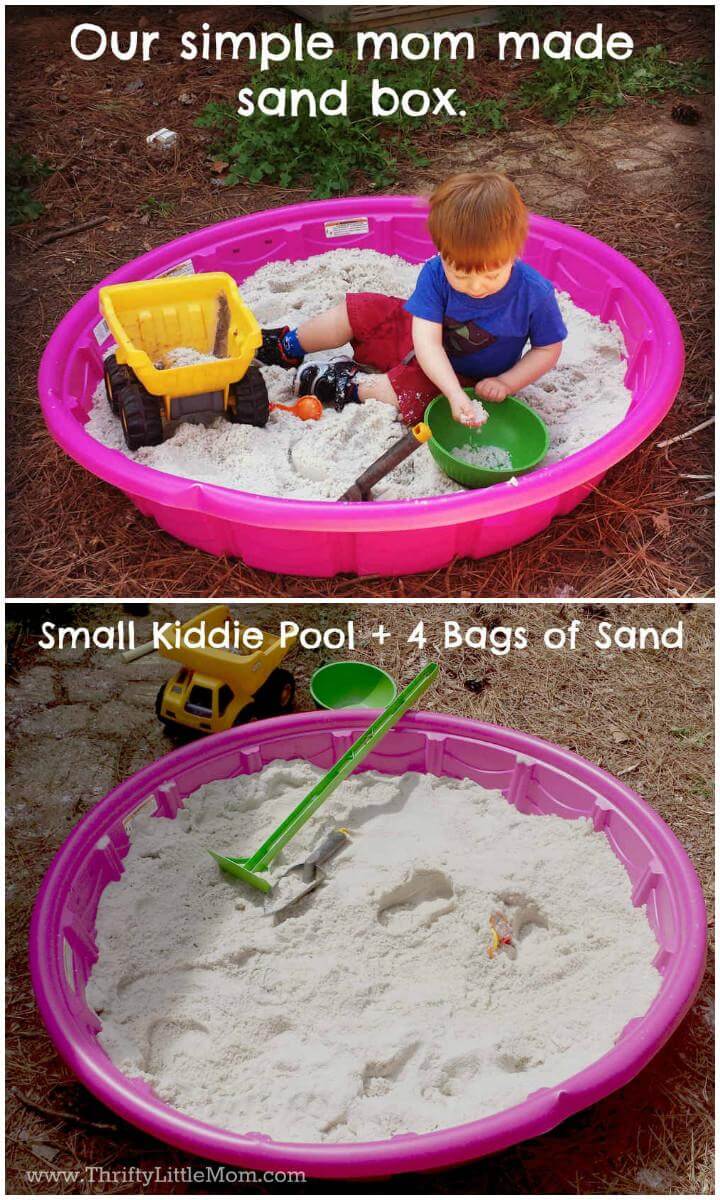 Just buy a kiddie pool that will suit your toddler's size and just fill it with sand! Now you can drag it to your outdoor where often your toddler like it to play with toys! This will be a low-cost sandbox there for your kids to sit in and to have fun with sand! Super easy cost-efficient and quick sandbox idea! Further guide and project details here thriftylittlemom
DIY Pottery Barn Sandbox with Roof: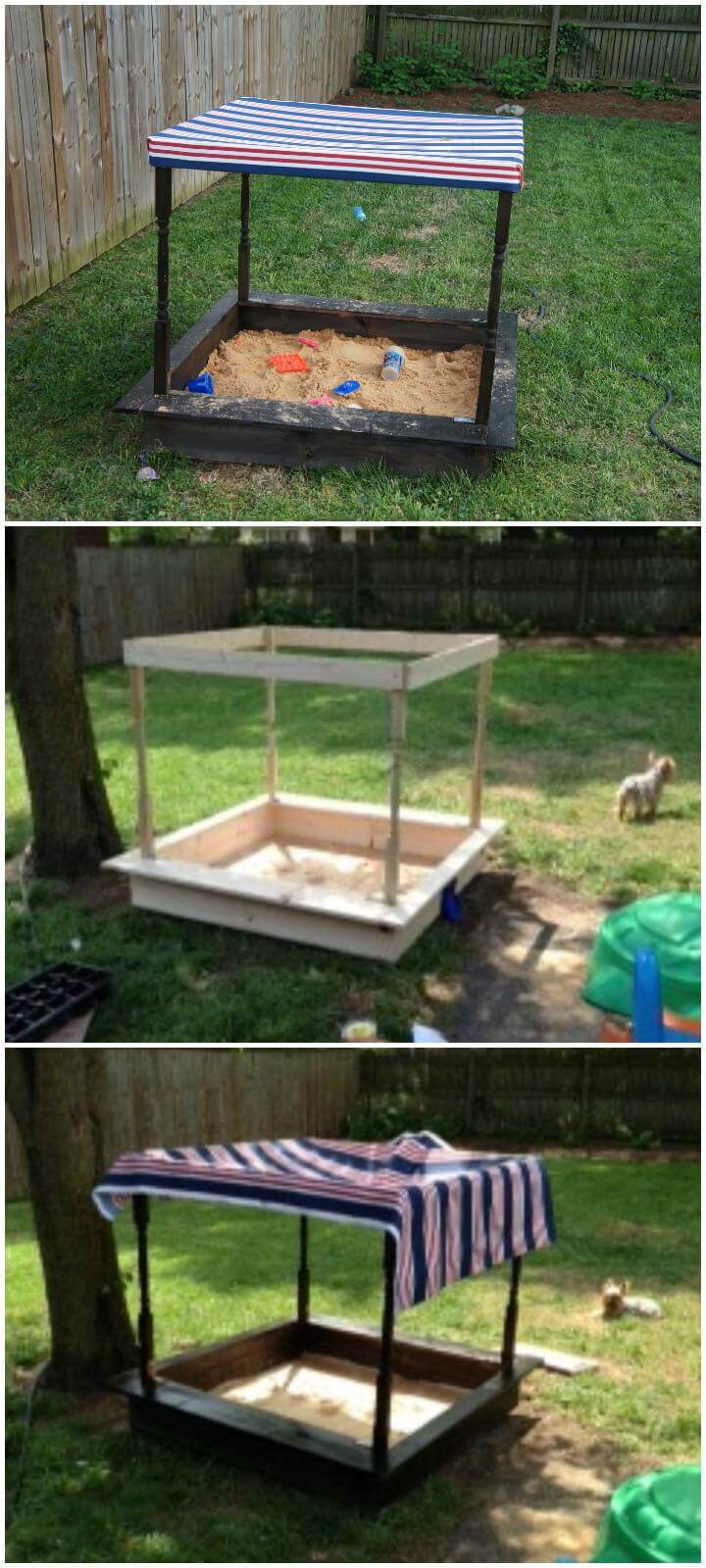 Amaze yourself with this another outstanding sandbox creation! A sturdy wooden sandbox built at home using wood and fabric and it comes with a fine roof that is only for sun protection to kids! The base sandbox is a big wooden box that will contain the sand and it also comes with wide edged sites that will be outstanding seats for the kids! From inside corners of sandbox, 4 wooden pillars of equal lengths have been raised and got erected which ends with a square wooden frame on their top! This top frame has then been covered with fabric for a beautiful covered roof! An insanely clever handcrafted sandbox! Further project details and complete step-by-step tutorial here grizaland
DIY Free Sandbox Plans and Step-by-Step Instructions: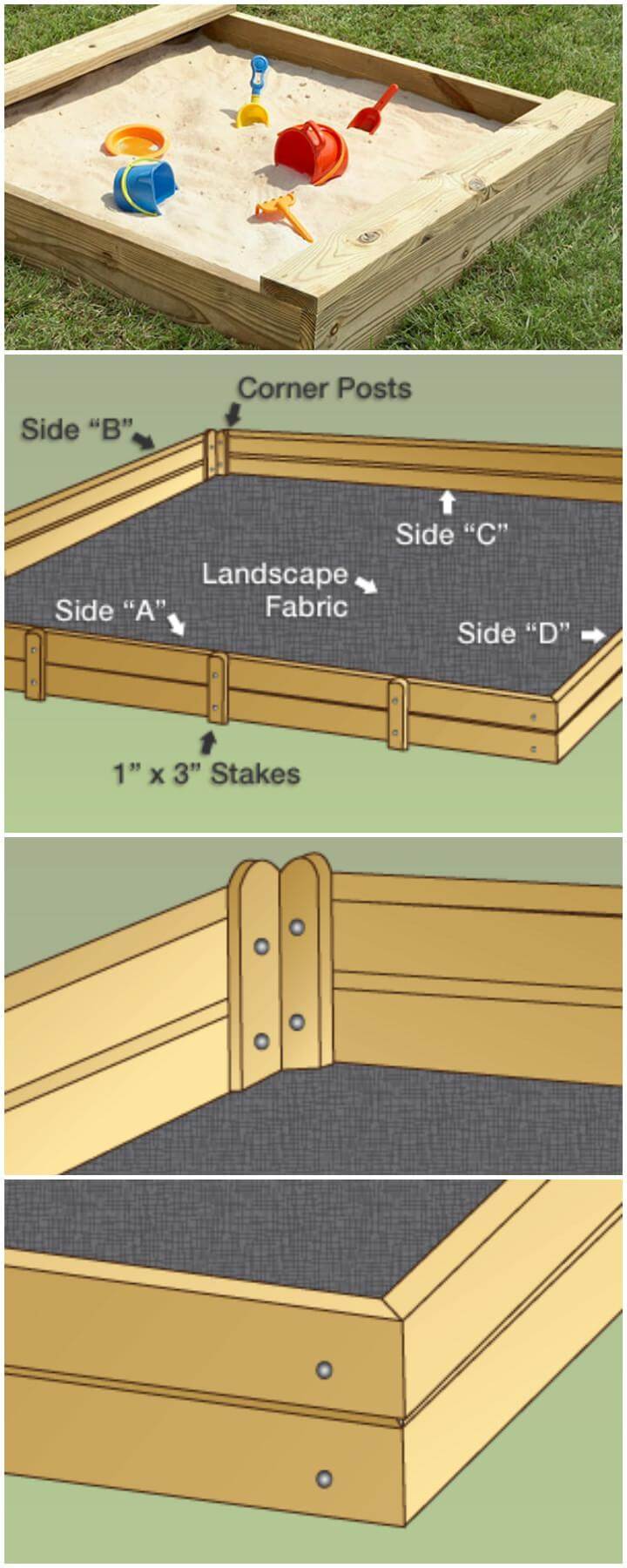 Here are the free plans about how to make a beautiful sandbox for your toddlers who always demand to play with sand! Sandboxes also a great fun way to boost the outdoor activities and playing of little kids! Here is the step by step guide that will help you to install a custom sandbox for your junior or older kids! Here taking measurements, cutting and assembling the wood would be the main tasks to do in precision if you want a beautiful sandpit or babysitter for toddlers! Step by step guide and further project details here lowes
DIY Timber Frame Sandbox Step-by-Step Tutorial:
Here is another great model of sandbox, it provides the kids a secrete box to hide and store their toys! First you can mark the area of your green space where you want a lovely sandbox, then you can remove the grass from there using a shovel and you have to dig the space evenly a few inches deep for better fix and settlement of sandbox frame base! Next you can simply adjust your sandbox frame in the dug flat trench and go next to plan a flat base! Place the plastic fabric sheet and then tier more wooden level to give sides a little more height and to whole sandbox a sufficient depth! Final step would be to add sand and kids in the sandbox! Here a little dress up has been done around the sandbox using rockstone tiles! Step-by-step tutorial and picture instructions here blackanddecker
DIY Wooden Sandbox Step-by-Step: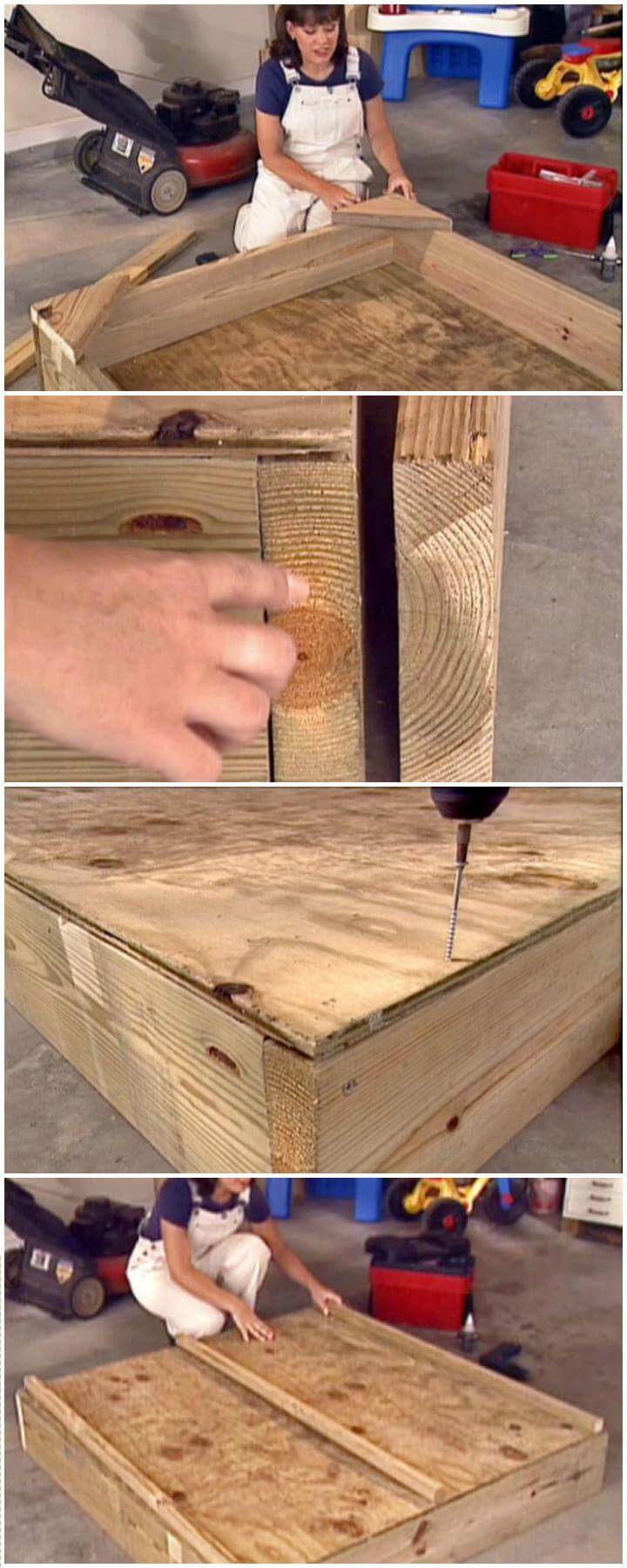 Nail together the 4 lengths of wood and make a big box! Now give it a flat bottom cover using an accordingly cut piece of plywood or MDF board! Addd additional back supports after adjusting well the bottom! Finally you can give this hand-built sandbox some kind of handles for easy carriage and for easy dragging and pushing! Rolling wheels would also rock if you don't this sandbox to stay fixed to one place! In this case, the holes have been drilled in the opposite two sides and then rope handles have been installed! Complete step-by-step picture tutorial here diynetwork
DIY Sandbox Boat Step-by-Step: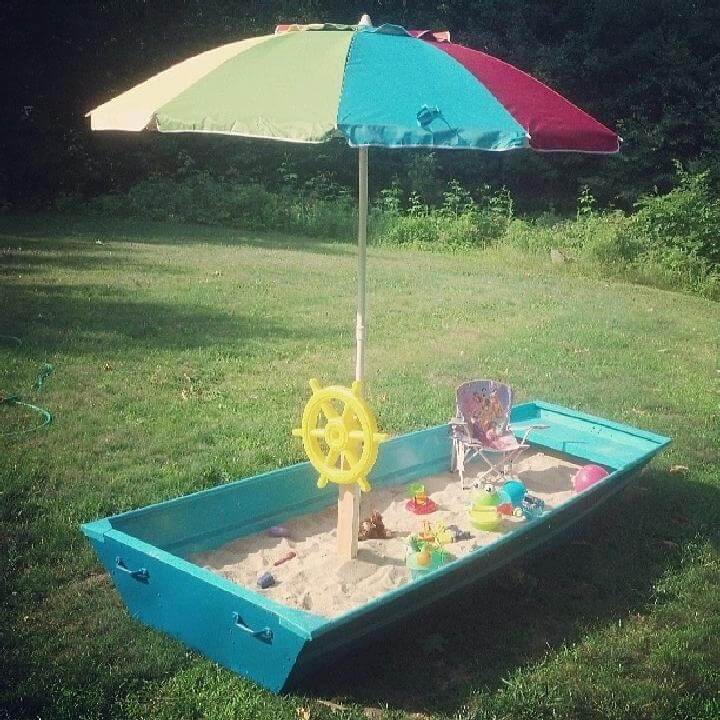 For more information and tutorial details: hometalk
Self-Made Wooden Sandbox with Chalkboard Hinged Lid: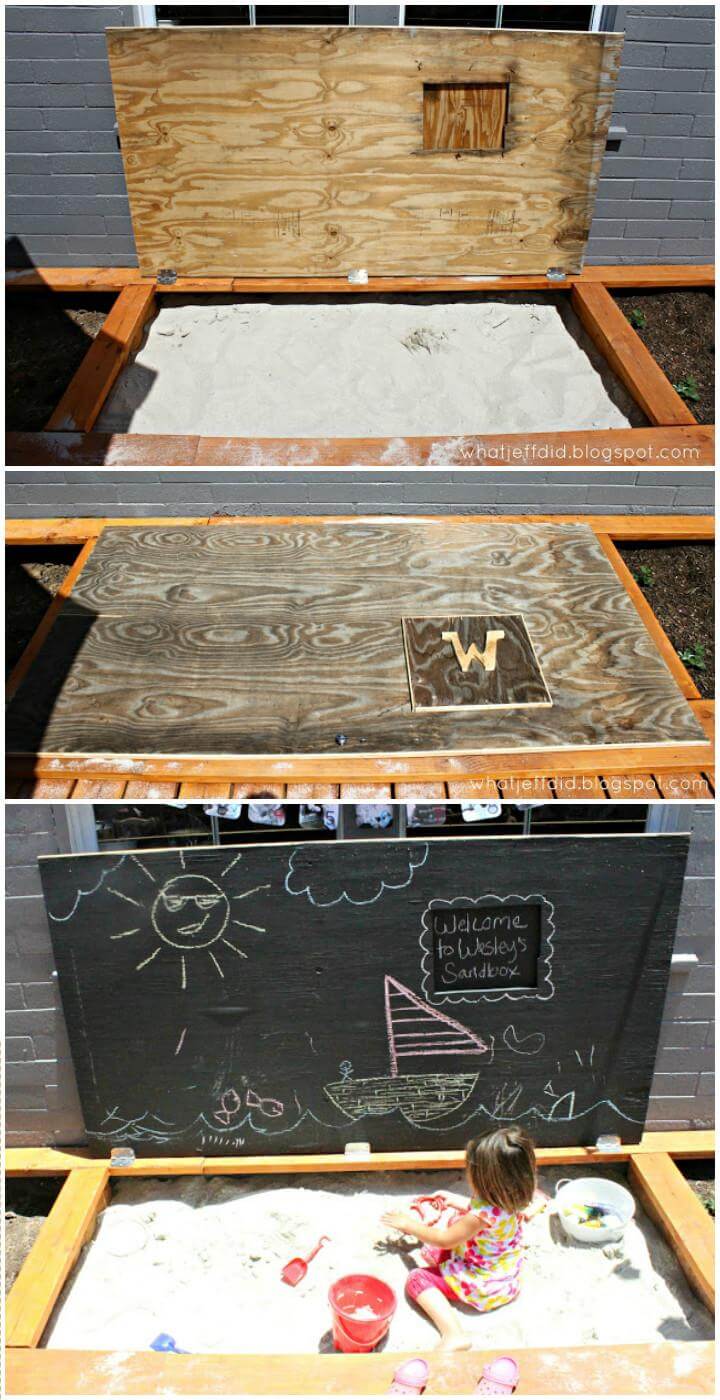 For more information and details: whatjeffdid