Summer is adventurous for most of us as we go to discover the home outdoor in this season and to enjoy the beach visits, outdoor picnics, and the summer afternoon conversations become a fashion and a super fun activity also! So, if you are intending to enjoy all the summer fun affairs and adventures then time to spend a little time on some DIY crafts and projects that can be done for every of your particular summer fun affair just to make it more special and extra enjoyable!
So, if you have decided to have great fun this summer season then you can just do these Top 50 DIY summer crafts that are all about to boost your fashion and home decors and of course also your fun! All the easy DIY crafts are from the genius minds around the globe and hence are sure to boost your creative sense too! The most amazing thing about these summer craft projects is that they are lovely and cost-effective at the same time so everyone can try them at home with any hesitation!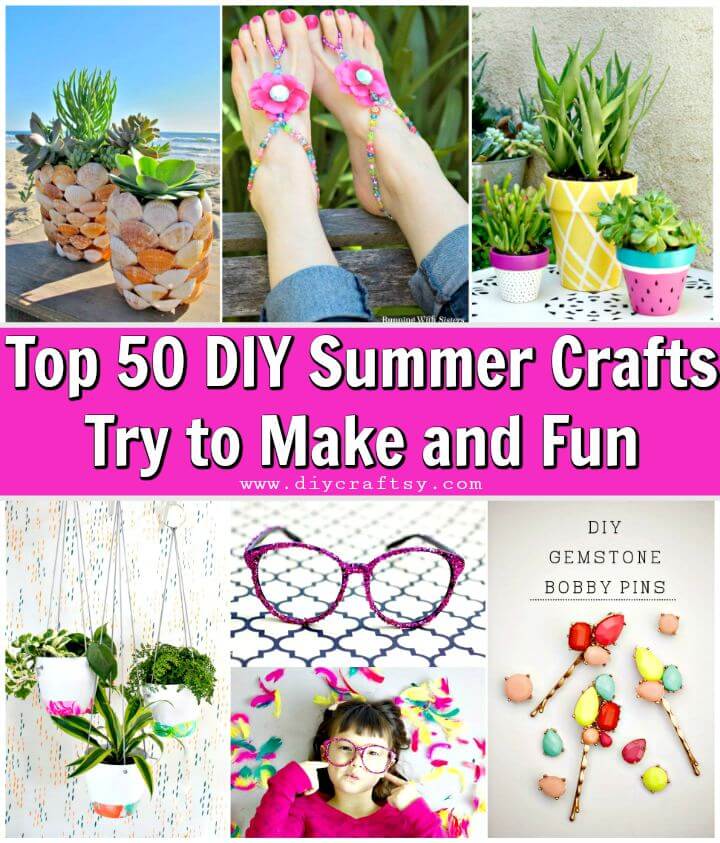 Fill the mason jars with water and also place the custom toys inside to make great looking mason jar globes or centerpieces! Make outstanding dream catchers at home using an embroidery hoop, washi tape yarn and custom embellishments like the stuffed felt heart and pom-poms! Make also colorful gemstone bobby pins that will also make great summer gift for little girls and for all style loving ladies! Moreover, also melt the beads to take them in the flat shape and then make outstanding looking suncatchers out of them!
Next, you can also put together the seashells to make beautiful DIY planters for your patio or any outdoor and also make beaded barefoot sandals at home that will make a great gift for friends and style loving ladies! Have a look at the given samples to get inspired! Paint round wooden discs and transform them into faux food slices and make outstanding looking trays for summers, stare at the given below samples that come with steel spoon handles!
More DIY Crafts You May Like:
Make special mosquito DIY bracelets that will make great summer gifts and also paint your planters pots for custom polka dots and watermelon avatar to make them look summer special! Bring a natural vibe to your spaces by hanging marbled vases to your patio or porch and make light up mason jar aquariums that can be given as a sweet gift and can also be used as a beautiful centerpiece in your home decors! Furthermore, the list will also provide your various tutorial and hacks about how to adorn your accessories for a summer special look, an interesting sample here is the glittered summer glasses!
Take a short tour of entire given list of DIY summer craft ideas and just add your favorite ones to your to-do list of crafts! To get complete tutorials and instructional guides for your favorite projects, just hit the respective source links!
Cute DIY Summer Snow Globes: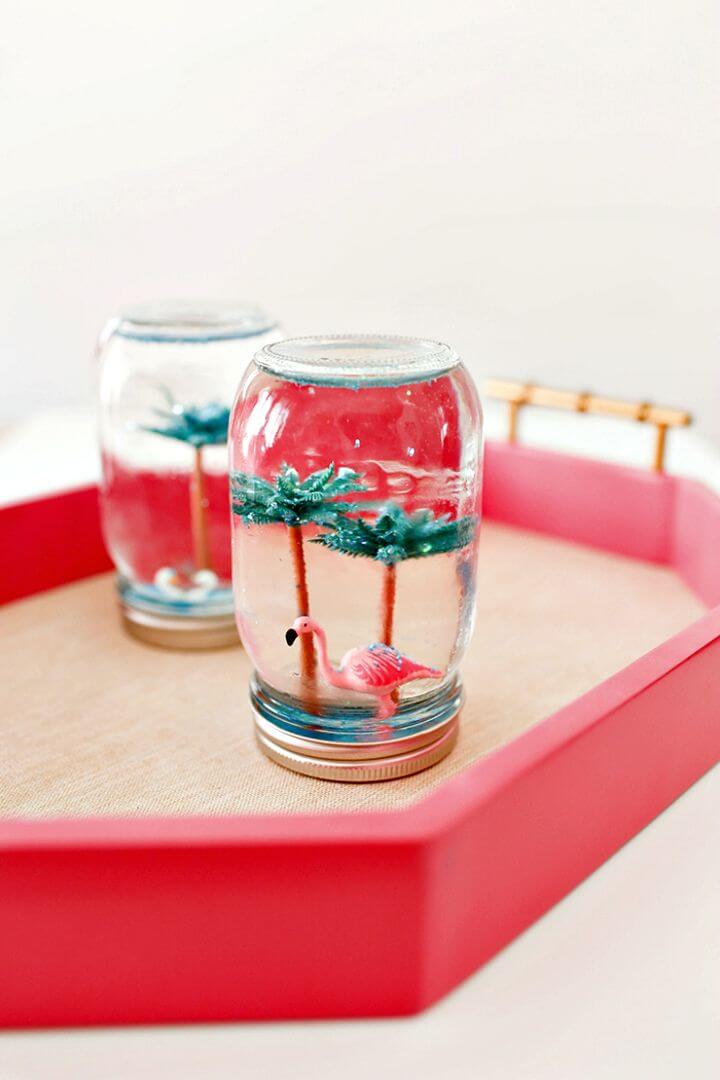 Here is a brilliant home décor project to do in summers, just reuse the glass containers and old kids toys to make stunning looking snow globes that would make the great gift and a home décor centerpiece too! Here making is pretty straightforward and simple, just glue the custom summery plastic figurines on the jar lids and just fill the jars with water and then add your glitter and some drops of glycerin and you are done! Willing to duplicate these lovely snow globes? Grab the full free guides and visual instructions from here graymalin
Easy DIY Dream Catchers: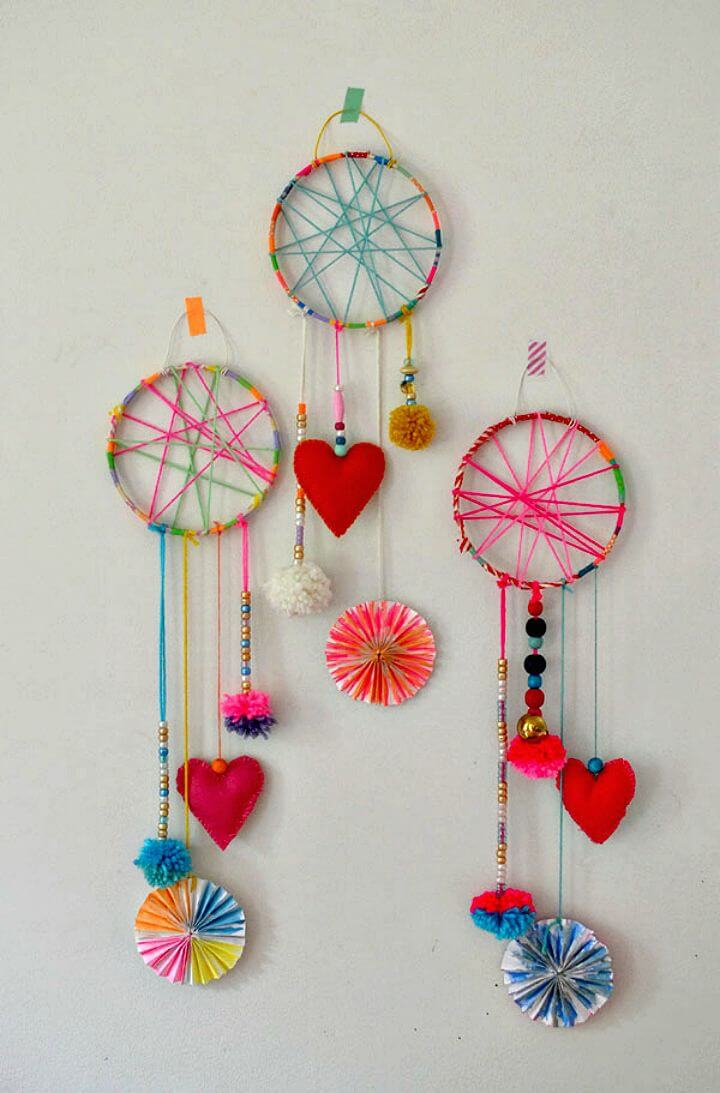 Make also lovely dream catchers at home that will be another great project to do in the summers! If you really like this craft idea then here are a few sample dream catchers that have been done to rock and inspire! Here these lovely dream catchers are made of embroidery hoops that have been covered with colorful twine and have been adorned also with washi tape! Next, the yarn has randomly been wrapped around the hoop and then custom bead strands have been hanged on it that also comes with different other charms like the stuffed felt hearts! Complete tutorial and instructions here artbarblog
Adorable DIY Gemstone Bobby Pins: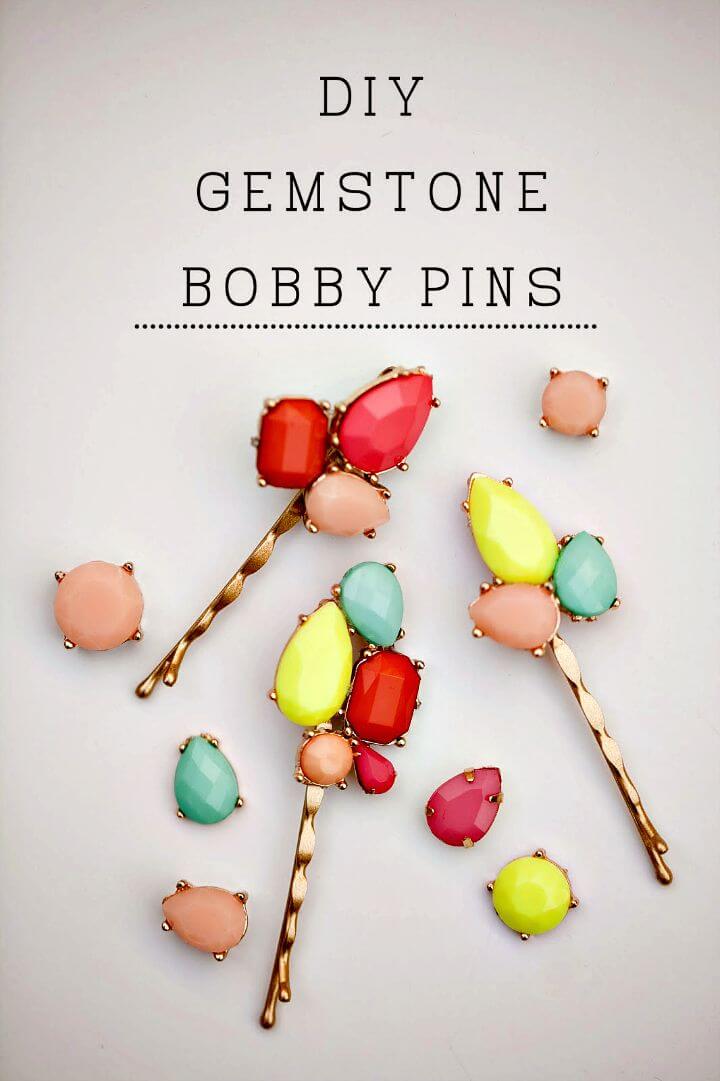 Here is what you need to adorn your heads this summer! Just time to wear the gemstones over your head and the idea is to make the lovely gemstone bobby pins at home! Check out here these sample bobby pins that are looking damn lovely and enticing and have been done to inspire! Here the bobby pins have been adorned with the cupped gemstones that have been cut from old necklace or earring have been glued on the bobby pins! These gemstone bobby pins will also make a great summer gift! Complete tutorial and instructions here tellloveandparty
DIY Melted Bead Suncatchers: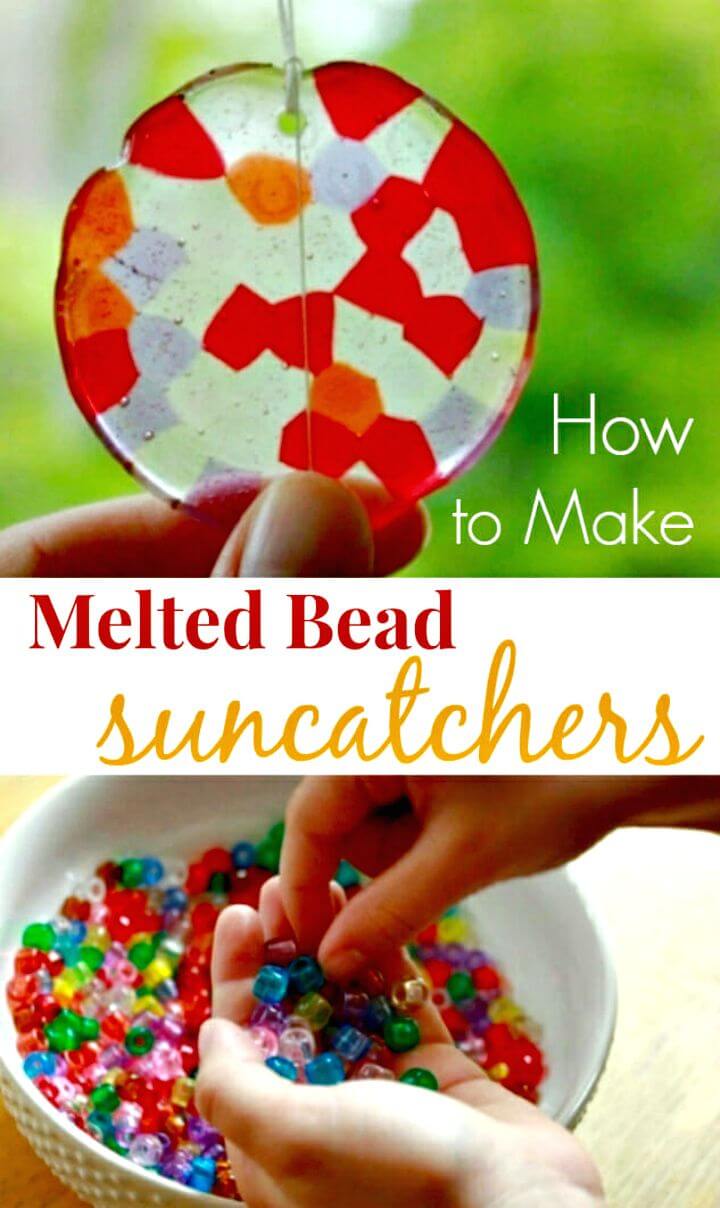 Once again the handmade sun catcher is here but this time it is unique and has been made differently! Just pour your beads in assorted colors in a custom mold and then melt them! Here the beads have been dropped in a round dish and have been melted to make a perfectly round and dashing looking sun catcher! That has been strung up and hanged in the air! Here mini melted bead circles have also been added to a piece of string and hanged with the main suncatcher! Grab the full project tutorial and step-by-step instructions from here artfulparent
How To Make Beachy Shell Planter: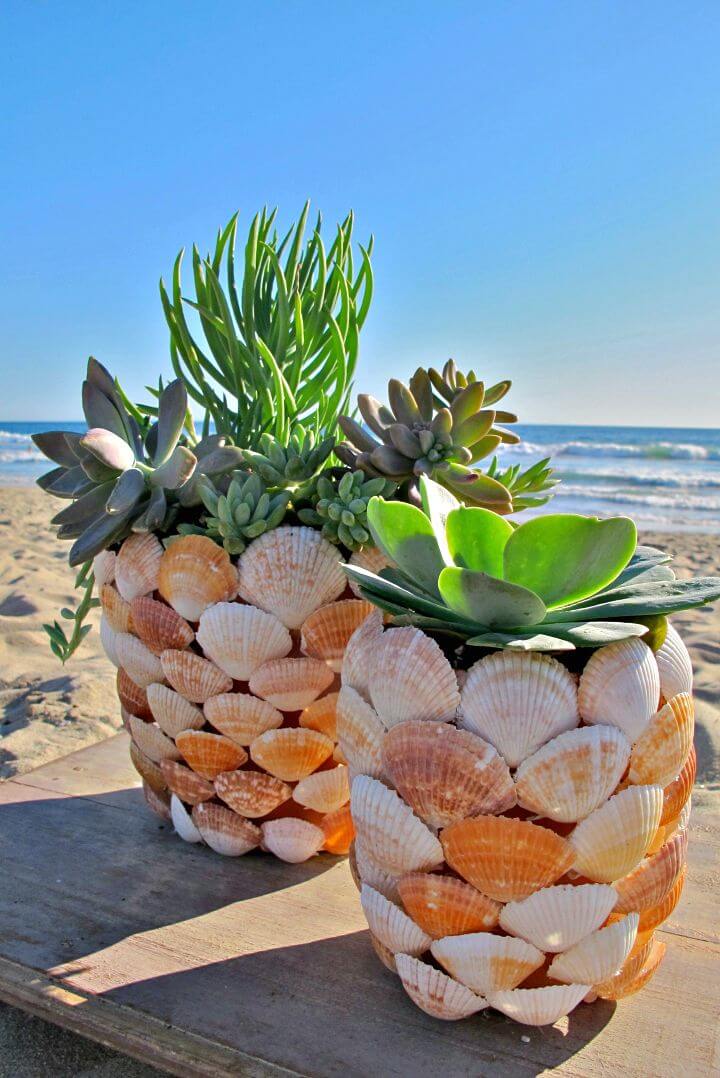 Another outstanding summer project here that is all about to give a beachy touch to your home exterior, porch or green space! Here the idea is to do a little makeover of your garden or porch pots using the seashells which can be glued all around your pots making a scalloped pattern design and hence you will get the beachy shell pots or planter that will be love to look at and would make perfect summer decors for any particular indoor or outdoor space! Just check out here the sample beachy shell planters and they will be a big fun to make at home! Grab the full free details and tutorial from here billabong
Adorable DIY Summer Beaded Barefoot Sandals: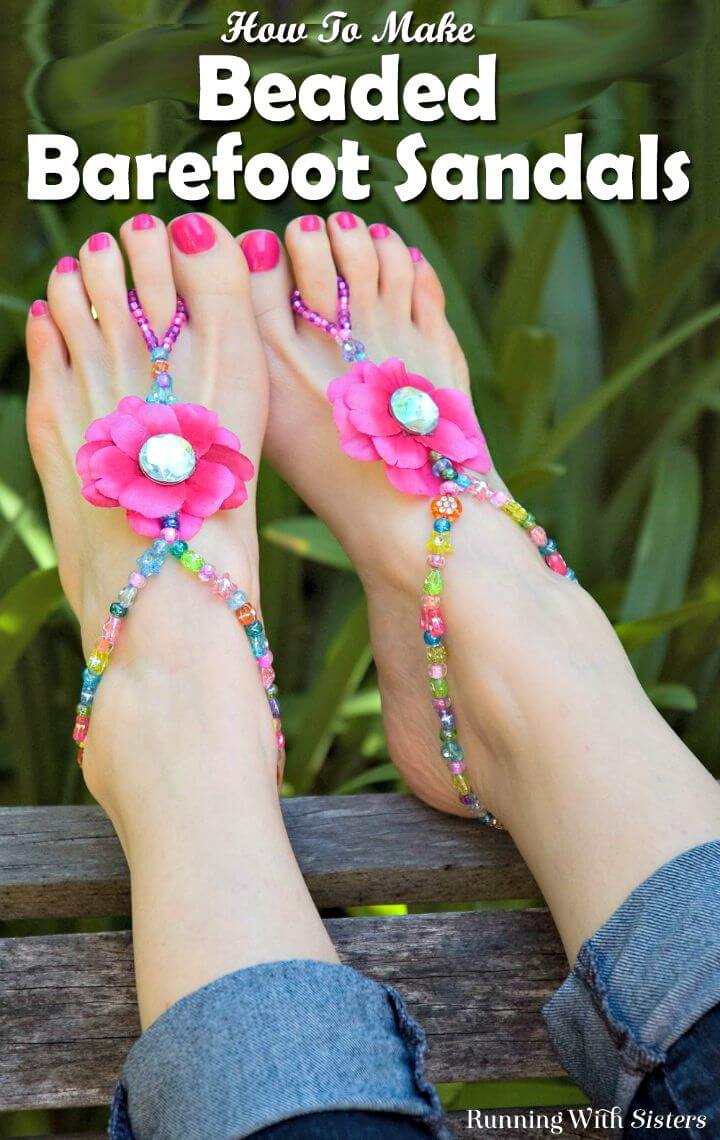 If you are willing to enjoy the beach this summer then you really need these barefoot sandals for outstanding style statements at the beach! Here making these summer beaded barefoot sandals is pretty easy and all you need to do is to thread the glass beads onto the jewelry cord and next you can install the custom flower embellishments to bead strands and can also adorn you finally finished barefoot sandals using plastic rhinestones and gems! Complete tutorial and instructions here runningwithsisters
DIY Summer Fruit Trays: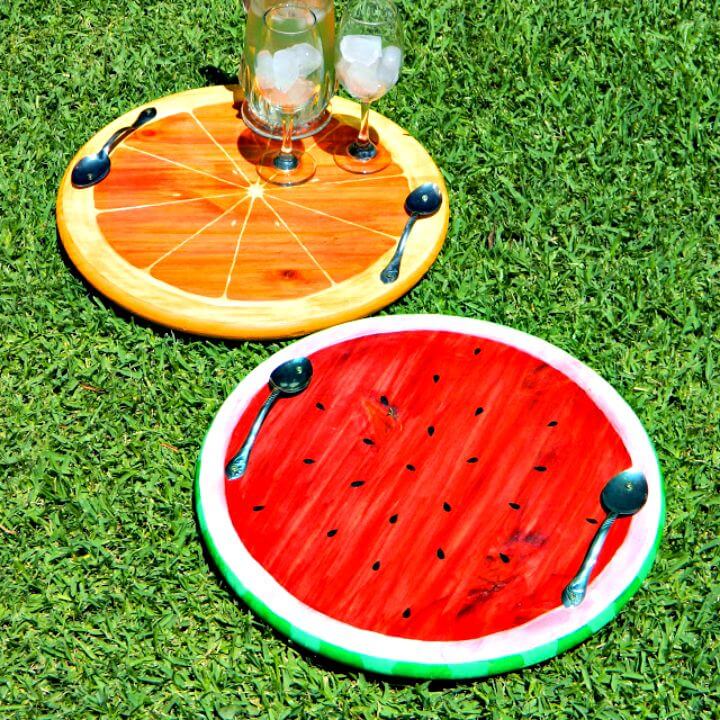 Another outstanding summer craft is here to do at home, just make the fruit inspired trays at home that will help serve the refreshments to your beloved ones in a lovely and charming way! We would like to inspire you with these sample fruit trays that are looking lovely and are inspired by a watermelon and orange! Here all you need the custom wooden round which can be painted to look like fruit slices and then can be added with custom handles! Here the thin spoons have been screwed in the sides of the trays to make the lovely handles! markmontano
Make Mosquito Bracelets With Essential Oils: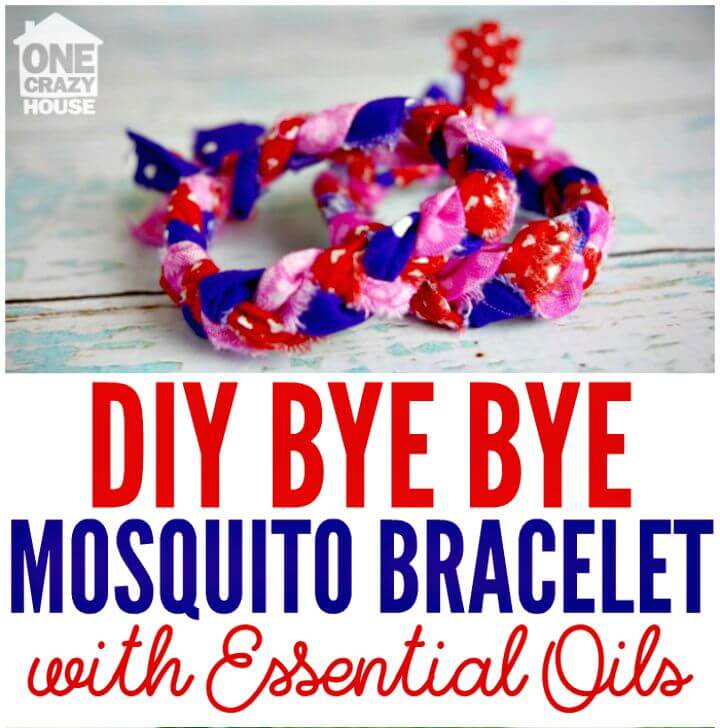 If you are afraid of mosquito bites and the diseases they spread through irritating biting then here is another great project to keep the mosquito away from you! The idea is just to make the custom mosquito bracelets and here is a lovely sample to inspire your creativity! Just take the colorful fabric strips and just braid them together to make lovely bracelets which can then be treated with essential oils and bug juices or custom sprays that will keep the mosquito away! Check out there the sample bracelets! Complete instructions here onecrazyhouse
Easy DIY Summer Painted Planters: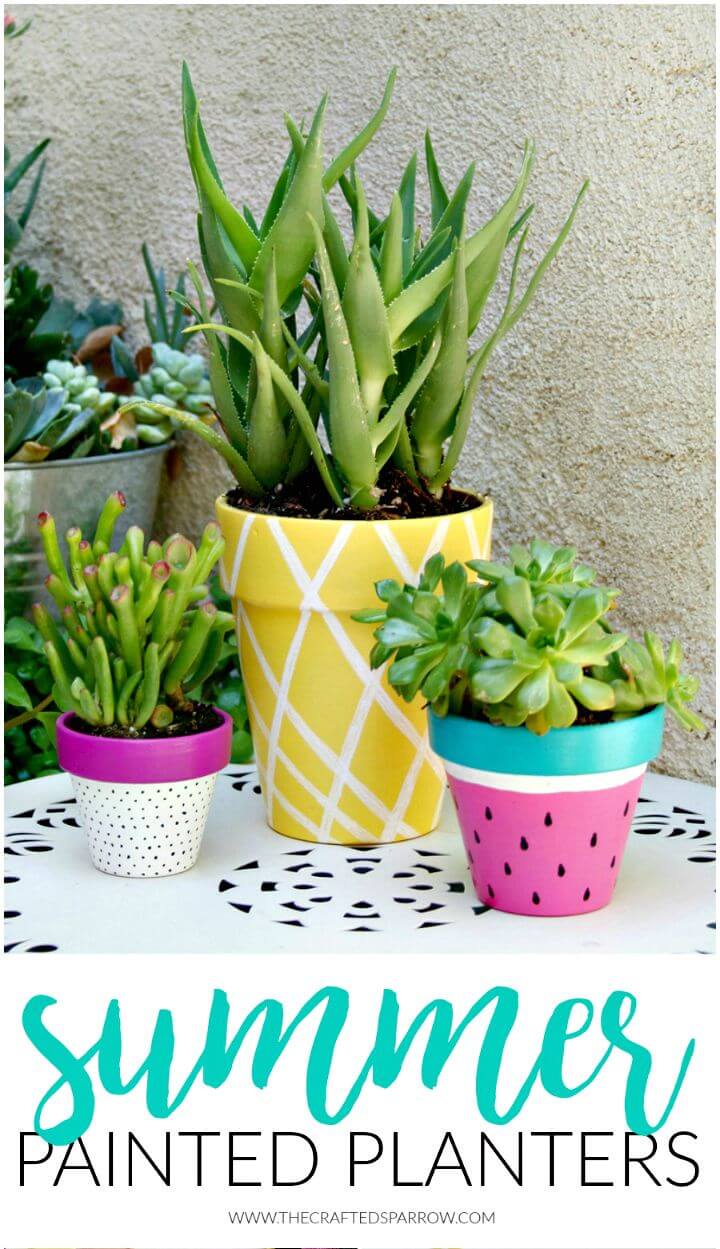 If you are intending to grace up your porch or patio area this summer then here is another great project you can do in this case! Just go for some lovely and summer special makeovers of your planters and pot and make them look extra beautiful! We would like to draw your attention toward these summer planters that have been painted for custom patterns, polka dots and also for some summer fruit inspired avatar and hence are looking much special and eye-catching! Another outstanding summer décor project to do at home! Complete project tutorial and instructions here thecraftedsparrow
Colorful DIY Marbled Hanging Planter: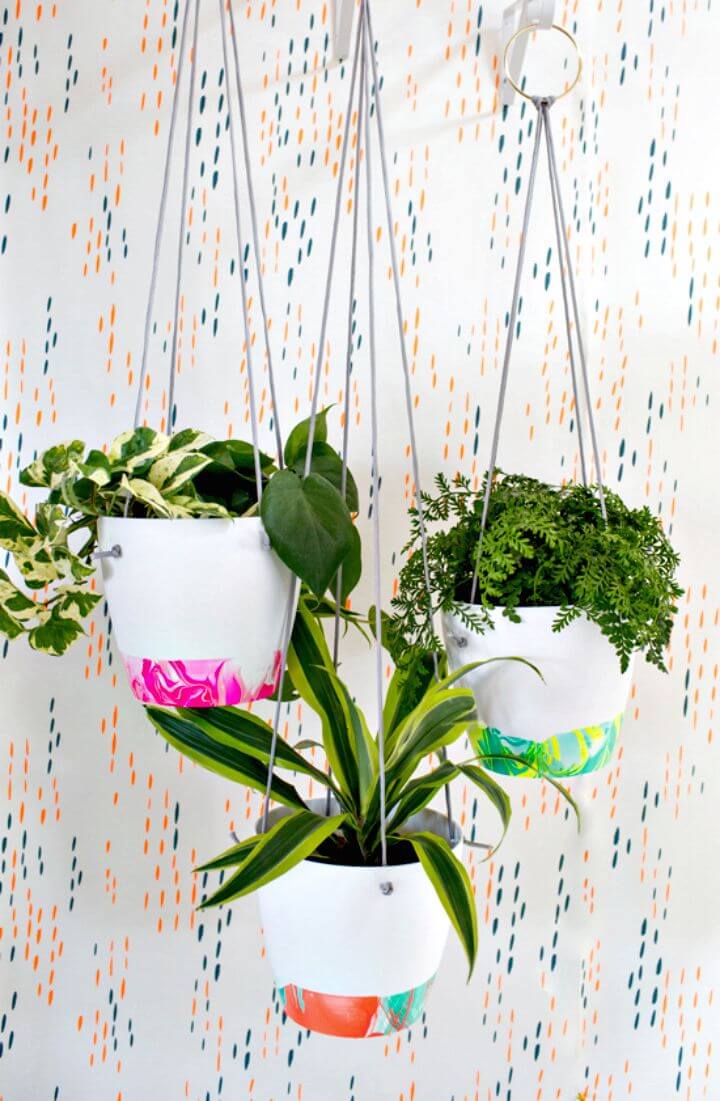 It is just amazing to bring a natural décor touch to your spaces in summer and this can easily be done by bringing some planters or pots to your indoor spaces! Going with hanging planters will be a great idea and if you are already having some good looking ones then here is how to adorn them more! Just marbleized them to look extra beautiful and it is pretty easy to give marble effect to your ceramic pots! Just add custom nail polish in your favorite colors in hot water tub, stir them and then dip your pots in the solution for an instant marble effect! Complete tutorial and instructions here ohjoy
Make Your Own Light Up Mason Jar Aquariums: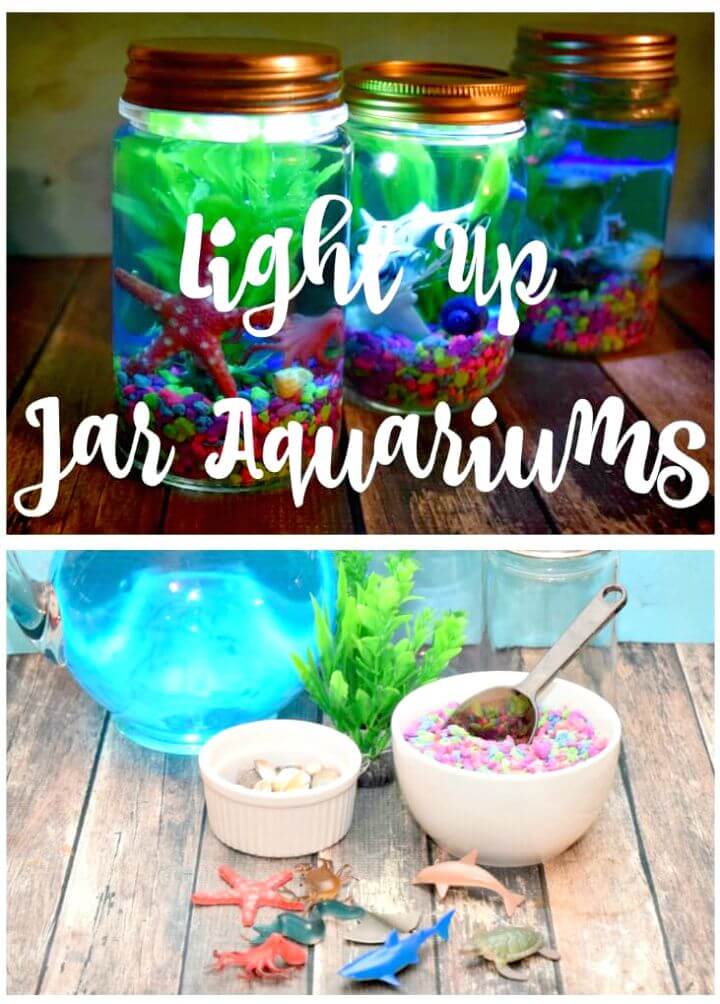 Installing some lovely aquariums to your modern indoor spaces is something that bring the modern features to your interior spaces but it is a matter of bigger investments to own a nice looking aquarium! But there is still a solution, you can make the mini-aquariums at home this summer that will be super gift-worthy also! Just grab your Mason jars and fill them up with cheap sea plans, seashells and with aquarium gravel and then put the faux sea creatures in them! Finally, step would be to fill the Mason jar with the water a little mixed with the blue food color for a seawater color! Have a look at the given sample aquariums! Complete tutorial and instructions here thetiptoefairy
DIY Embellished Glasses for Summer: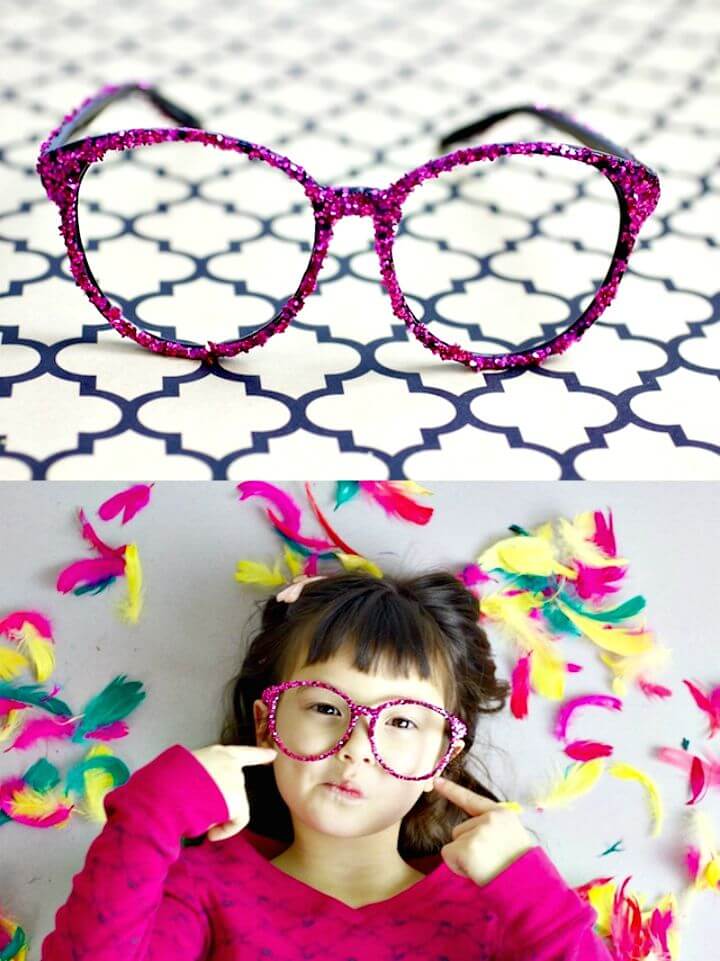 If you are getting bored in summer and need a fun activity to get busy then here is what you can do to bust the boredom! Just adorn your summer glasses at home using the custom items of décors! Just see well embellished sample glasses here that have been made summer special by adding some sequins, glitter and feather to top frame and are looking damn beautiful! These well adorned or decorated glasses would also make a great gift for a fun-loving kid in your home! Grab the full project details and tutorial from here rufflesandstuff
Make Glow in the Dark Jellyfish Craft: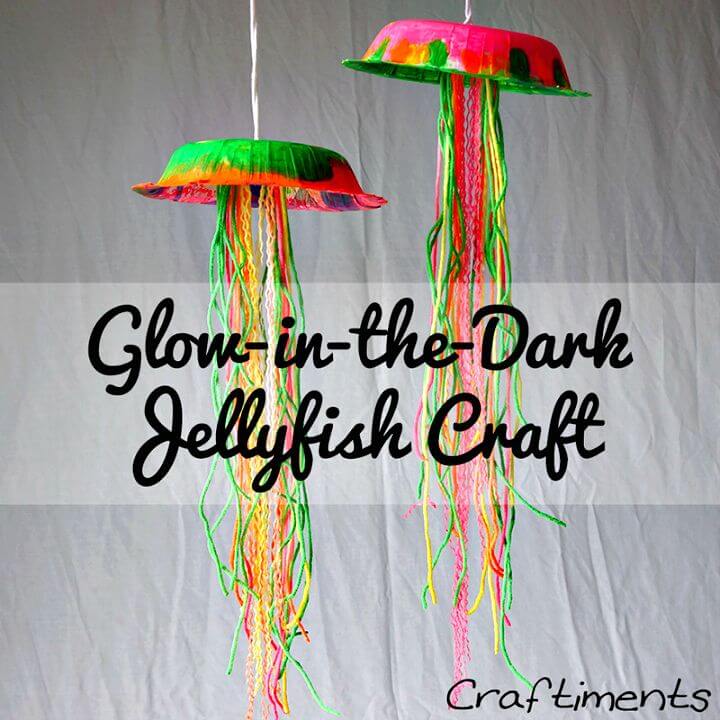 Another smart and innovative craft project to do this summer that will definitely help decorate your indoor or outdoor spaces uniquely but beautifully! Just craft the glow the dark jellyfishes at home and hang them anywhere in or out of your home for beachy décor statements! Just paint the heavy paper bowls for making the upper body of the jellyfish and use the colorful twine length for making the tentacles! Just put the tentacle yarn strands in the zipper plastic bags along with glow paint squirts and seal them and squish well so they will also glow the darkness! Full project tutorial and Instructions here craftiments
How To Make Firework Painting: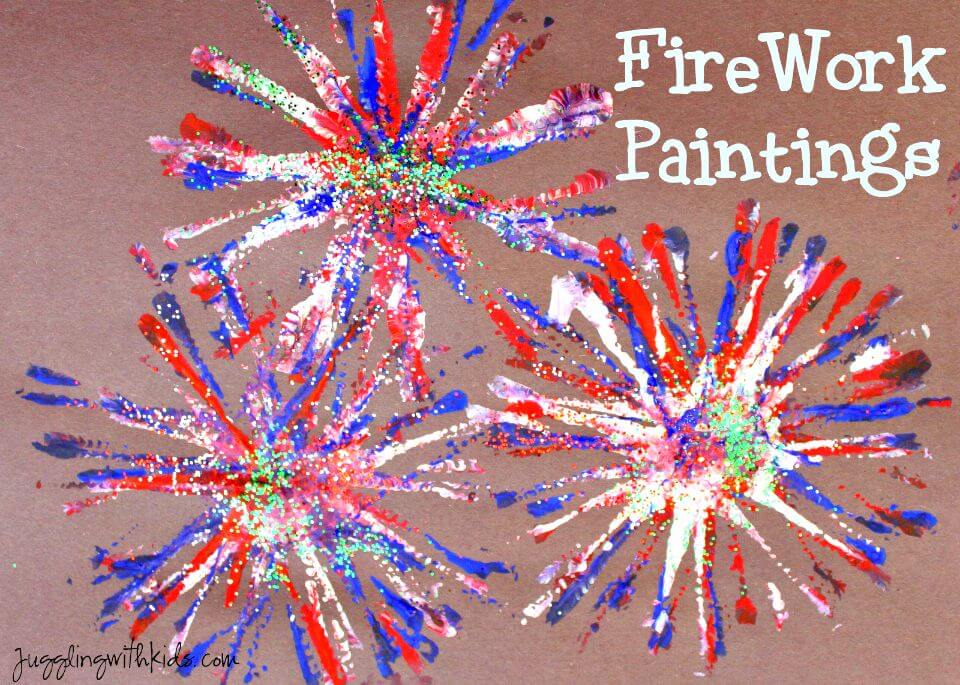 This summer you can also design your own special paintings and wall art pieces to go for bigger wall décor statements! How about making some super cool firework paintings at home using the ordinary materials from home? This is here a crafting project that every kid can do and all you need here the pipe cleaners, paint, glue, paper and glitter to duplicate these firework paintings! Just tie together the lengths of pipe cleaners to make a flower style template or stamp which you can then dip in paint to stamp the fireworks which can you make look near to real using glitter! Grab the full free guides and visual instructions from here jugglingwithkids
Cool DIY Hanging Bird Feeder: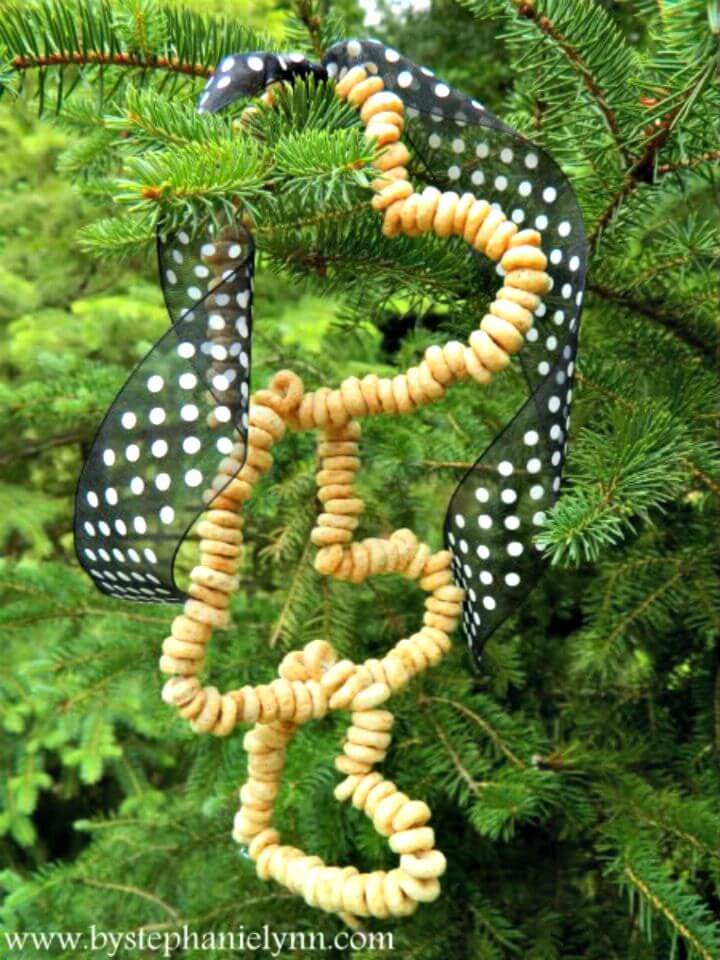 One more epic summer project here to do for your garden! Just attract the chirping creatures to your green space by adding some hanging bird feeders that would be super easy to make! Check out here the sample hanging bird feeder that is made of cheerio hearts and comes with a decorative black polka dot ribbon! Here making the cheerio hearts is pretty simple, just grab your cheerio and slip them onto a piece of wire twisted in a heart shape and make a desired number cheerio hearts! Grab the full tutorial from here bystephanielynn
How To Decorate A Wooden Yoyo: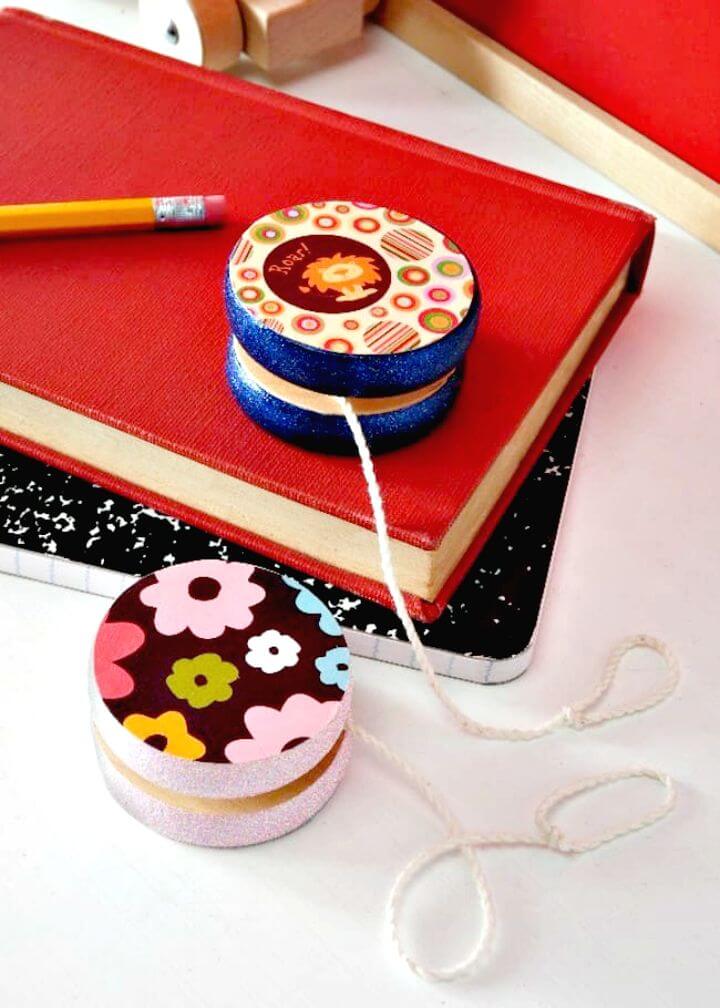 All the kids can be seen mostly playing with the yo-yo in summers while enjoying with friend and siblings! So, decorating your yoyos for a summer special look can be another great summer craft project that all kids and moms can do! So, are you ready to adorn your yoyos using custom embellishments, colors and stencils? If yes, then here is a great inspiration, just Check out these well embellished wooden yo-yos that are looking mind-blowing! Here the scrapbook paper, glitter and acrylic paint has been used to decorate these yoyos! Complete project details and instructions here modpodgerocksblog
Make Your Own Little Sailboat: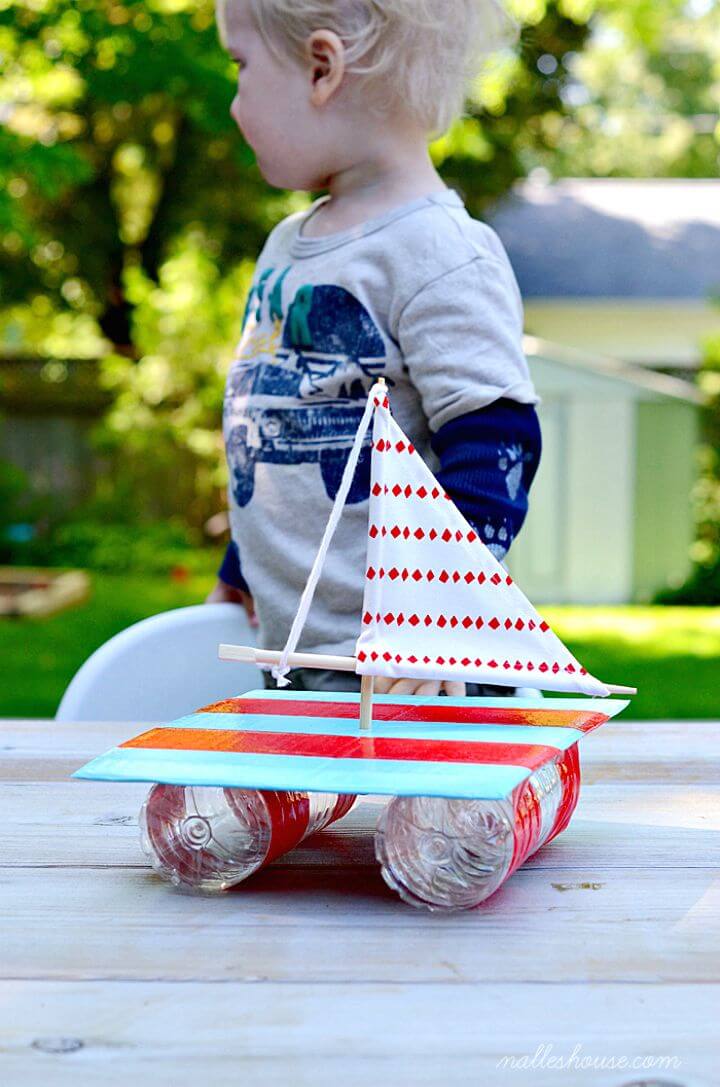 Get inspired of this another lovely and eye-catching kids craft that can easily be made at home! This is here a very gorgeous looking little sailboard that has been made from the recycled materials put together smartly! All moms can try building this little sailboat for their kids and kids can also try their hands to duplicate them! Here you need the cardboard, chopsticks, water plastic bottles, fabric, kitchen twine and duct tape to duplicate this cute looking sailboat! Here is how to make this little sailboat nalleshouse
Easy DIY Egg Carton Mini 'Copters: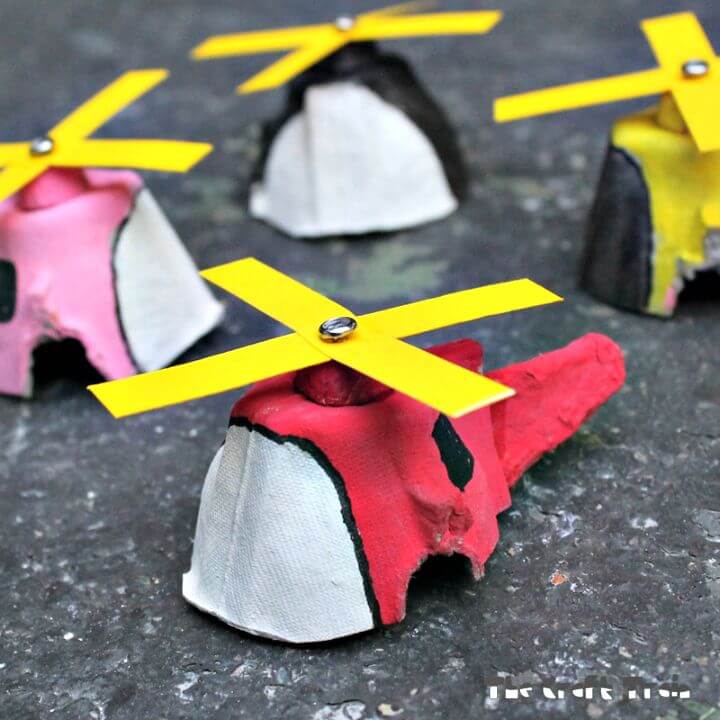 Please your kids also this summer by giving these cute mini copters in their hands! You will be amazed to see that these cute helicopter toys are purely handcrafted and will just cost you almost nothing! Here the custom sections looking like a helicopter have been cut out from the egg carton and have been painted for a helicopter avatar! Put together the custom cut paper strips in x-shape and make the fan of the copter which can be fixed in place using a brad clip! Just use an egg carton cone and cut out the cup to duplicate this copter toy! Get the full project details and tutorial from here thecrafttrain
Adorable DIY Tins Can Bird Feeders: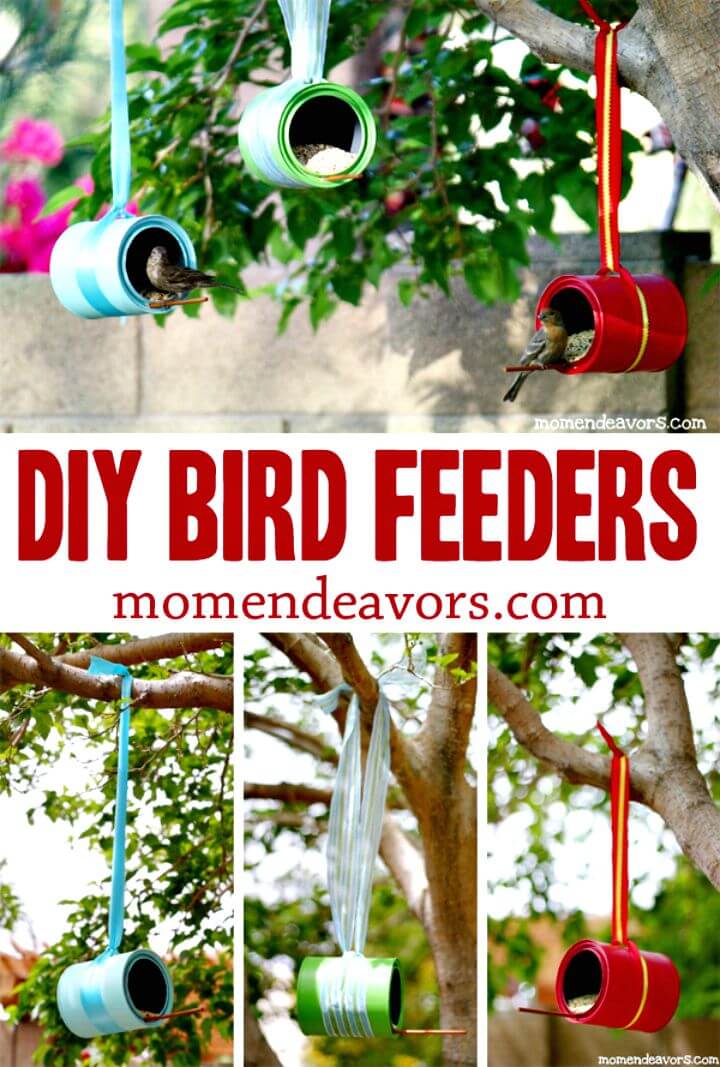 You will definitely fall in love with this another tin can hack that will help boost your summer decors! Just paint your tin can and hang in your garden as handsome looking birdfeeders! Here the three tin can have been grabbed and have been painted differently to make three different birdfeeders for three chirping creatures! Just fill the tin cans with custom bird food like with flinch food, bird seeds or with hummingbird food and then just hang them in the air in your garden! Here these tin can bird feeders have been suspended in the air using the colorful ribbons fastened to center of the tin cans! Grab the full free tutorial and instructions guides from here momendeavors
DIY Camera Strap Tutorial: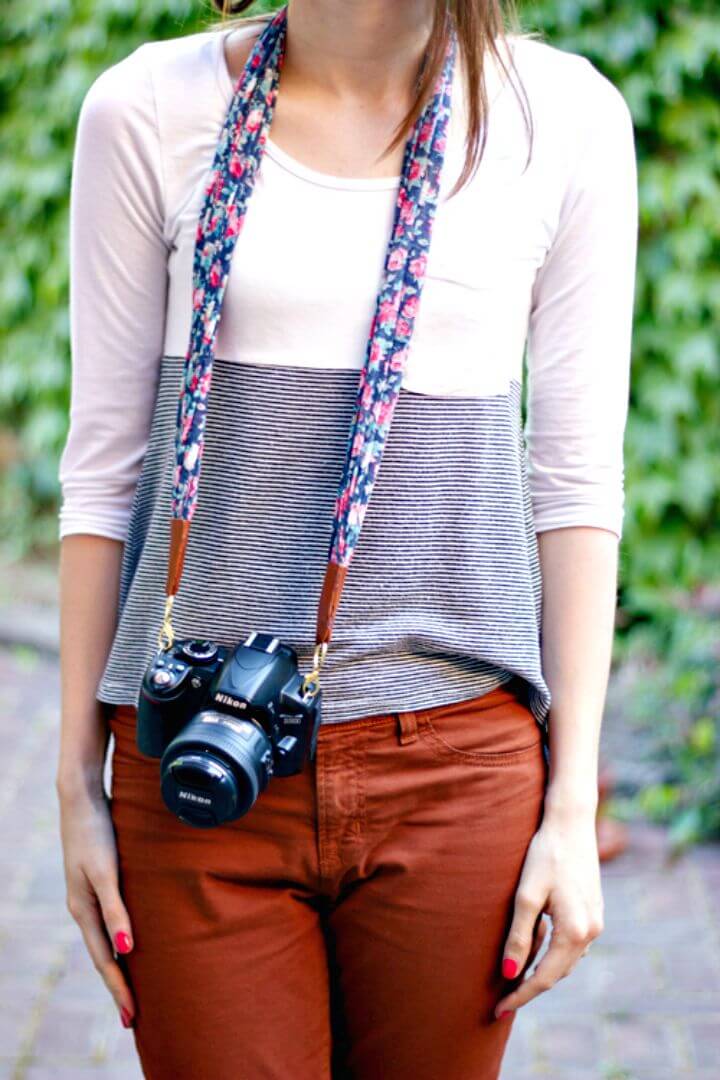 If you are going to discover the outdoors this summer and are also owing a camera to shoot the natural scenery all around then here is another amazing project that you can do to make your adventure great! Just craft the custom camera straps at home that will help hang your camera around your neck along with bringing a great fashion statement to your personality! Here these sample camera straps are made of an old scarf that comes with enticing looking leather ends which have been added with split rings and also with chain closures to get fastened easily and durably to sides of the camera! Full project tutorial here thehousethatlarsbuilt
Easy DIY Painted Beach Ball Makeover: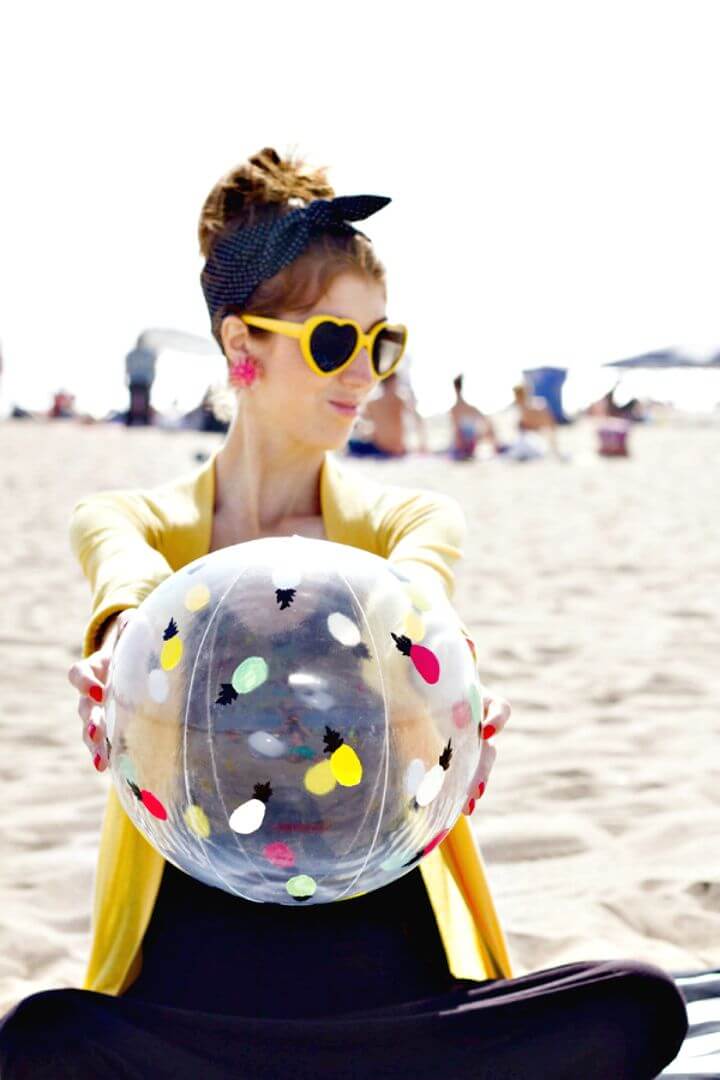 Beach visits, tours, and picnics are what that becomes a fashion and the most enjoyable fun activity in summer! So, if you willing to do so this summer then you can carry some special stuff with you to double up your fun like this painted beach ball that will make a great gift for kids and the matures can also play with it! Here the ideas are to paint your beach balls in your own desired way like for custom shapes, dots or patterns and you can use the paint brushes, masking tape, and your own favorite paint colors to do this! Comprehensive project guides and tutorial here studiodiy
DIY Denim Cut-offs Wine Bag: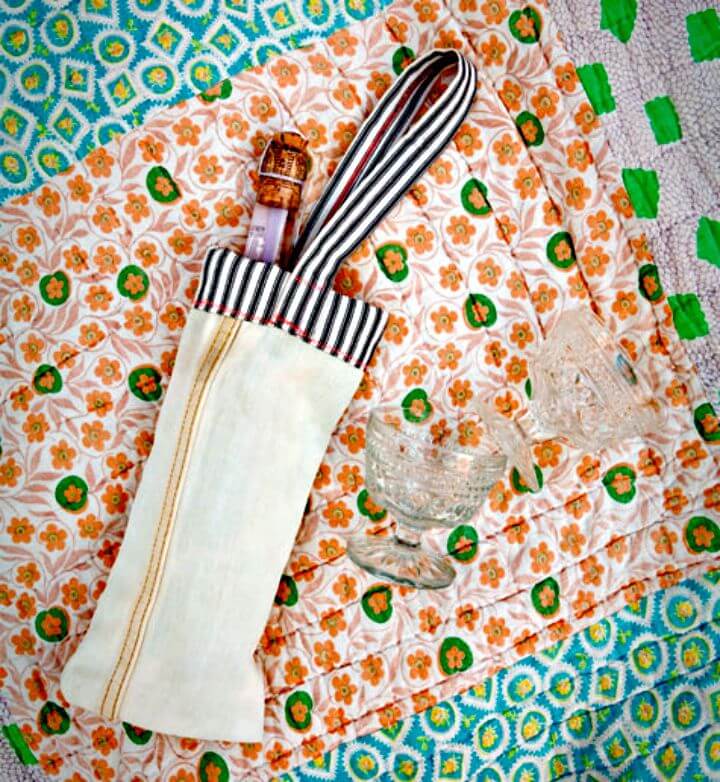 Night out parties are also become a highly fun activity in summers and here is what you need to carry your beverage and drink bottles with your while going for a night out party with friends! This is here a durable bag that comes with lasting straps and it is entirely made of old denim cut-offs! This is here a sewing project and you need the denim leg bottom and some fabric to duplicate this great looking bag! Step-by-step instructions here designsponge
DIY Recycled Egg Carton Caterpillars: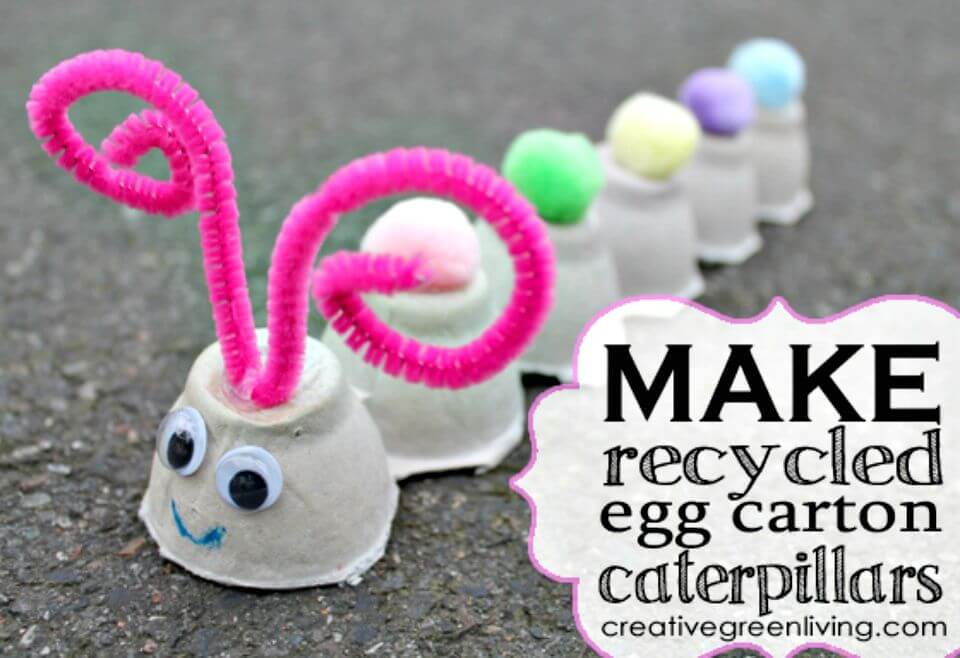 Do also brilliant crafts at home to produce outstanding summer gifts for your kids! Handmade gifts are what that are liked the most and you can make also some cool toys for your kids using the recycled materials to earn more love and respect for your kids! Take a start by making this super cute looking caterpillar that is easy to make and is just looking innocent and cute! Here this fantastic caterpillar is made with the cut-out cup sections from an egg carton which have been painted and put together for making the body of the caterpillar! Pink pipe cleaners make the antenna and googly eyes have been used for the eyes and finally, the colorful pom-pom balls have been pasted on each egg carton for a lovely colorful appeal of the caterpillar! Complete tutorial here creativegreenliving
Simple DIY Paper Spinner for Endless Fun: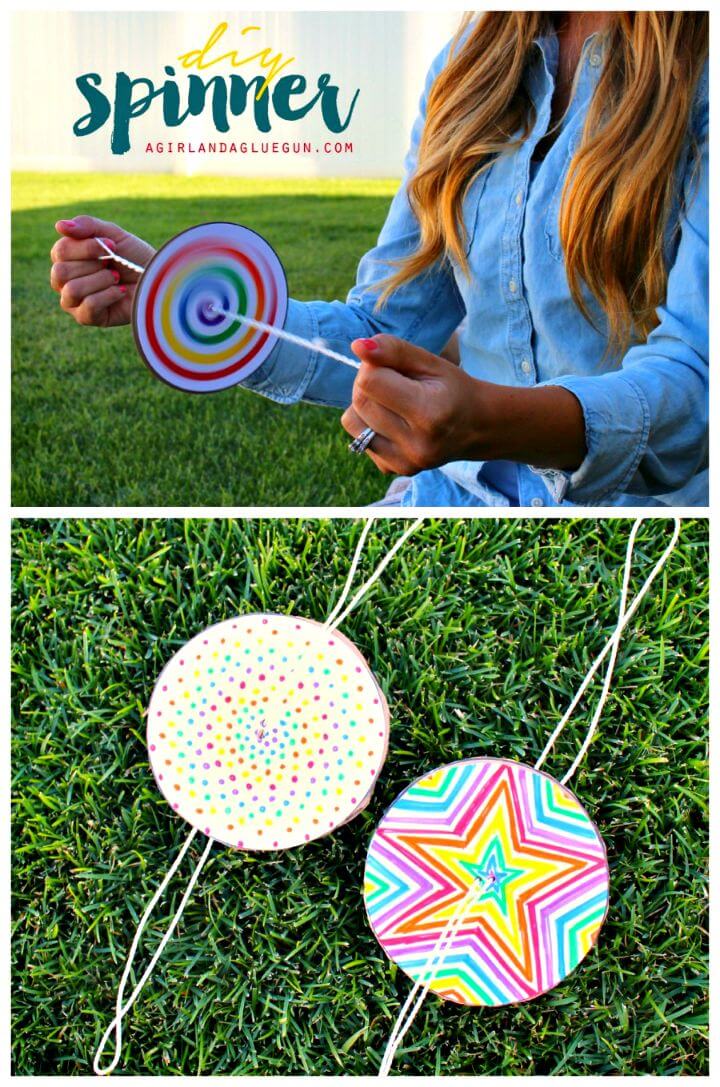 Duplicate this another lovely and fun making toy for the kids that is super easy to make at home! This is here the lovely paper spinner that every kid will love dearly! Making of these paper spinners is super easy! Just cut out some cardboard circles and then adorn them with scrapbook paper or with any custom paper circles that you have painted of your own! Next just make two holes in the center and thread your twine into to finish your spinner! Grab the full free tutorial and step-by-step instructions from here makeandtakes
Make Your Own Magnetic Bug Jars: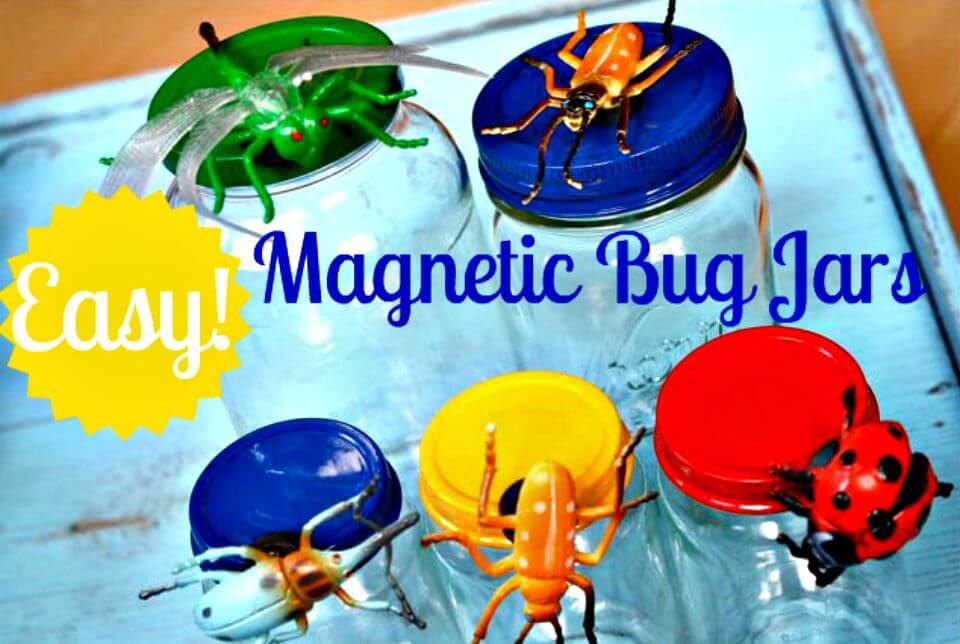 One more special and outstanding summer craft project is here to hold your attention! Just make the good looking magnetic bug jars at home that can also be given to your kids to store the toys and other items of game! Just grab your Mason jars with lids and just paint their lids using enamel paint in custom shades! Then get your plastic bugs in hands and glue the round magnets to their bottom and then paste them on the jar lid for making outstanding magnetic bug jars! Willing to duplicate these jars? Get the full project guides and visual tutorial from here yesterdayontuesday
DIY Patriotic Paper Windsock – Summer Activities for Kids: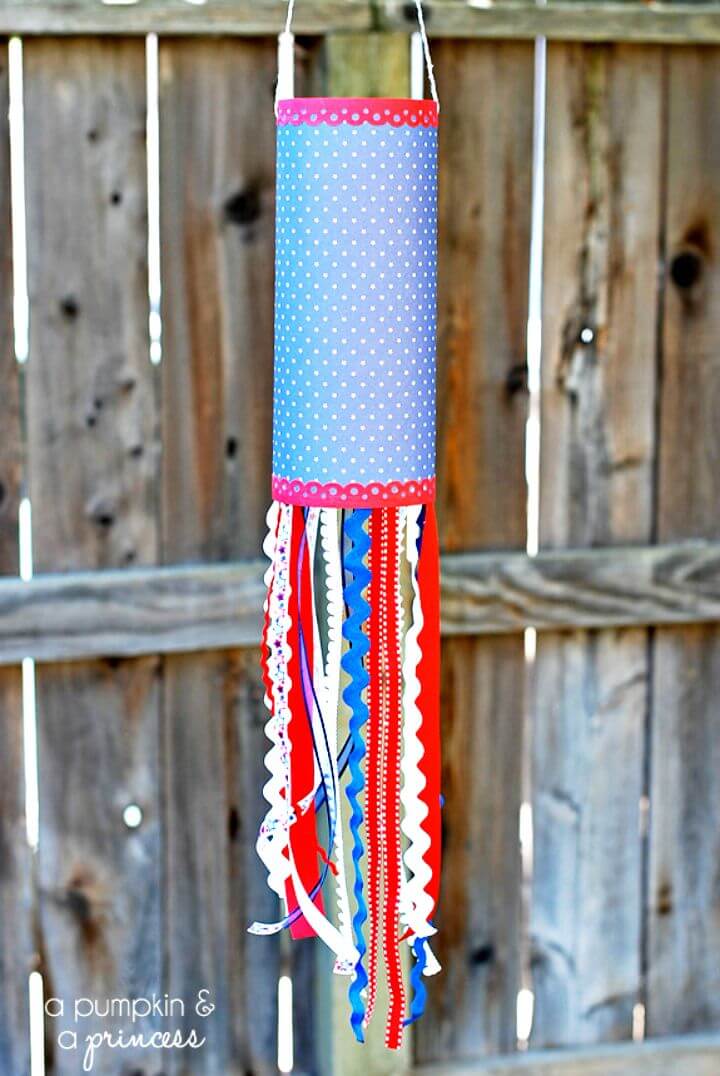 Willing to bust the boredom of your kids by making them busy in some fun activities? Then just let them crafty with some with chipboard sheet and paper and also with some ribbons to make this windsock that will make a perfect outdoor décor for sure! Here just layer the chipboard sheet and scrapbook paper together and adorn the bottom and top of it with a punched paper trim! Fold your chipboard sheet to make a cylinder and then punch holes in the top side of add for hanging strings and just glue the colorful ribbons inside the windsock! A pretty simple and easy peasy summer project to do at home! Full project guides and visual instructions here apumpkinandaprincess
Awesome DIY Flamingo Ring Toss Yard Game: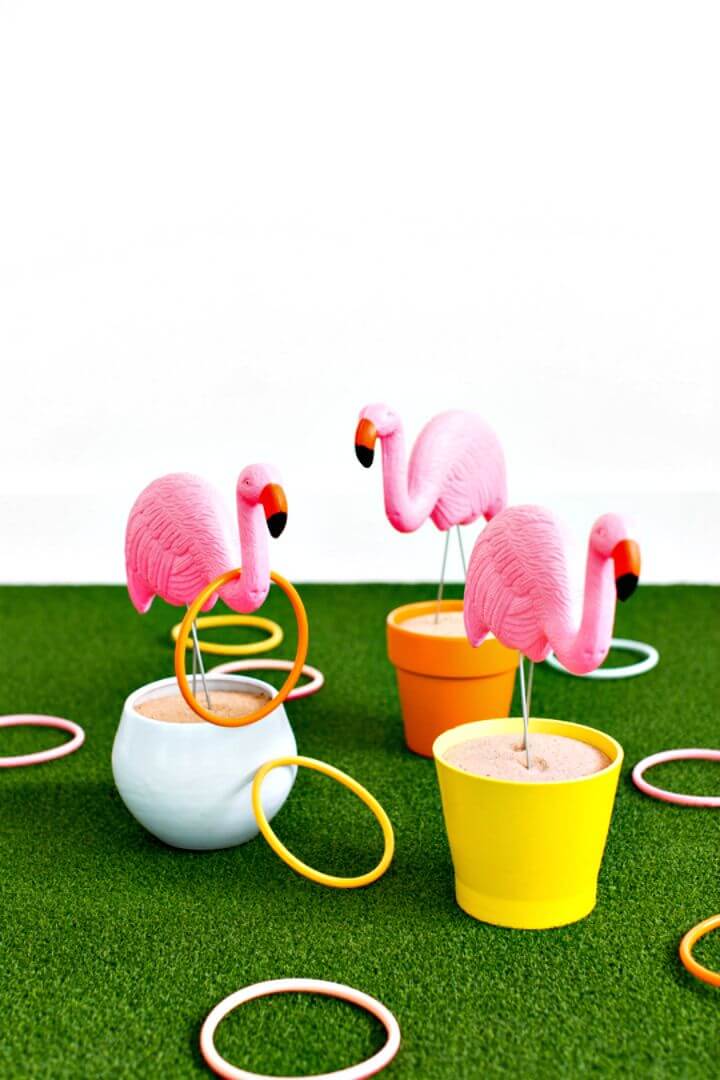 You can also enjoy the summer season more by increasing the outdoor fun activities! For this purpose, you can install various fun games to your garden and outdoor and Check out here the one extraordinary game idea here! Just install the custom ring toss games to your yard or garden that are easy to make but a big fun to play! A very interesting sample here is this flamingo ring toss yarn game that will also boost the garden or yard decors! Just grab the flamingos with stakes and fix them in mini pots filled with soil or sand or just fix the flamingos directly to garden or yarn ground! Next grab your rings and start playing your game! Get the full free tutorial and instructions from here sugarandcloth
How To Sew A Towel Beach Bag: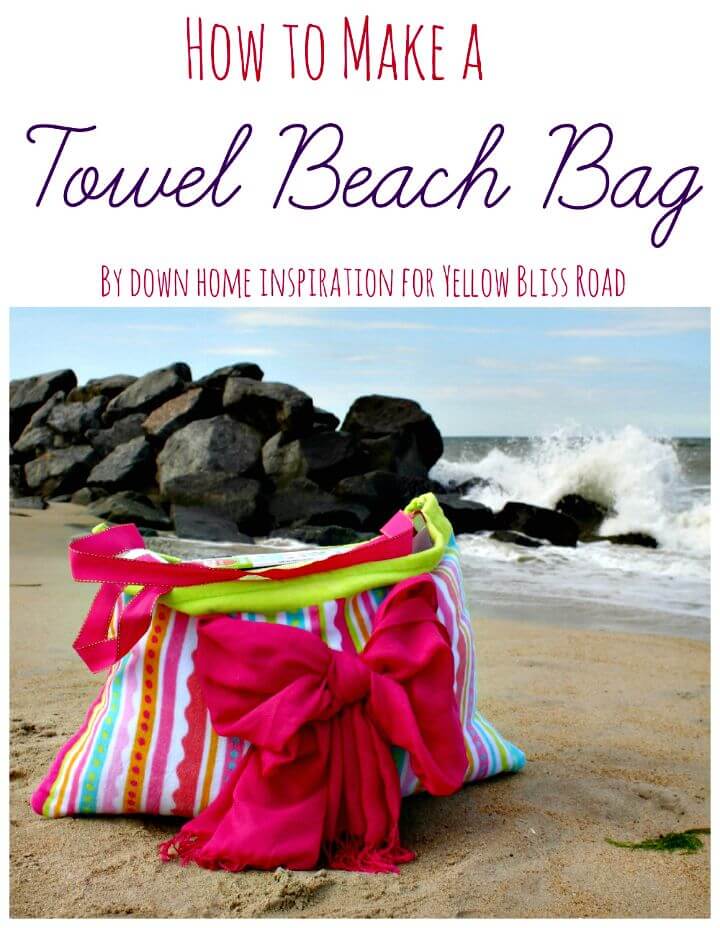 One more amazing sewing project that you can do this summer to enjoy your beach visits and picnics more! Just sew a beach towel to make a sweet beach bag that will to carry your stuff with your without making your sacrifice your style! Here the finally sewn beach towel bag has been added with coordinating ribbon straps and it has finally been adorned with ribbon bow accents! Another great and outstanding summer craft idea! Full sewing tutorial here yellowblissroad
DIY Homemade Butterfly Feeder: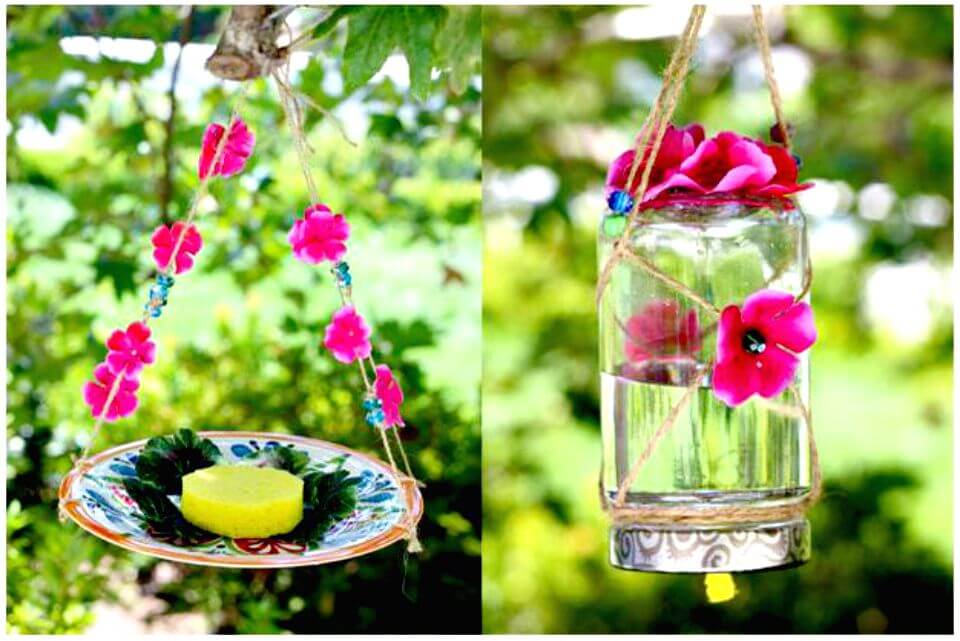 Summer season is special also as we see lots of butterflies in it flying here and there in our garden and this is the most enjoyable scene for everyone! So, if you are lacking of some colorful butterflies in your garden then you can really give them a call by adding some butterfly feeders in your garden! Just make very good looking butterfly feeders at home using the common home materials! Check out here the two brilliant samples, one is made of a plate and other with a glass jar! Just grab your jar and fill it with sugar water and then adorn it up with custom bead and flower strands that will also help hanging it in the air, use the same strands for the plate feeder! Complete project tutorial here ehow
Easy DIY Mason Jar Pineapple and Tags: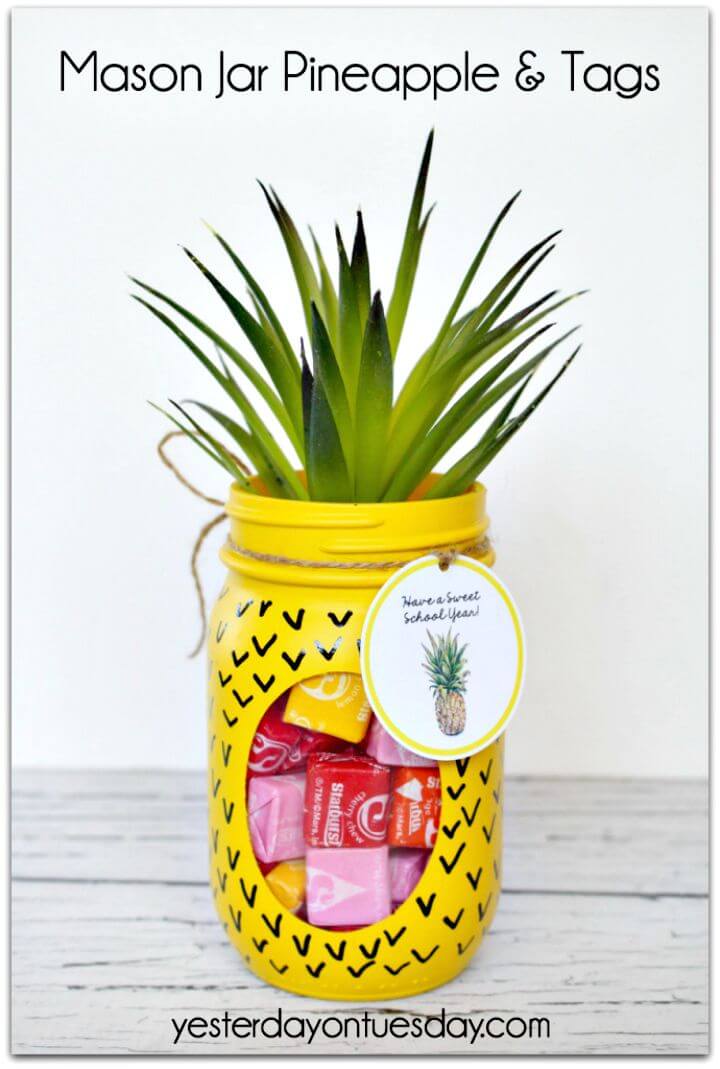 Get crafty also with Mason jars and other glass containers to make beautiful summer decors, centerpieces and also the Thanksgiving gifts! Duplicate this Mason jar pineapple that will make a great home décor centerpiece and also a Thanksgiving gift! Grab your Mason jar and paint in desired color and use the vinyl sticks to cover the areas first you don't want to paint! Here this Mason jar has been painted in yellow and then adorned with black sharpie triangles; finally it has been filled with candies and also with succulents at the top! Full instructions here yesterdayontuesday
How To Create An Element Jar Necklace: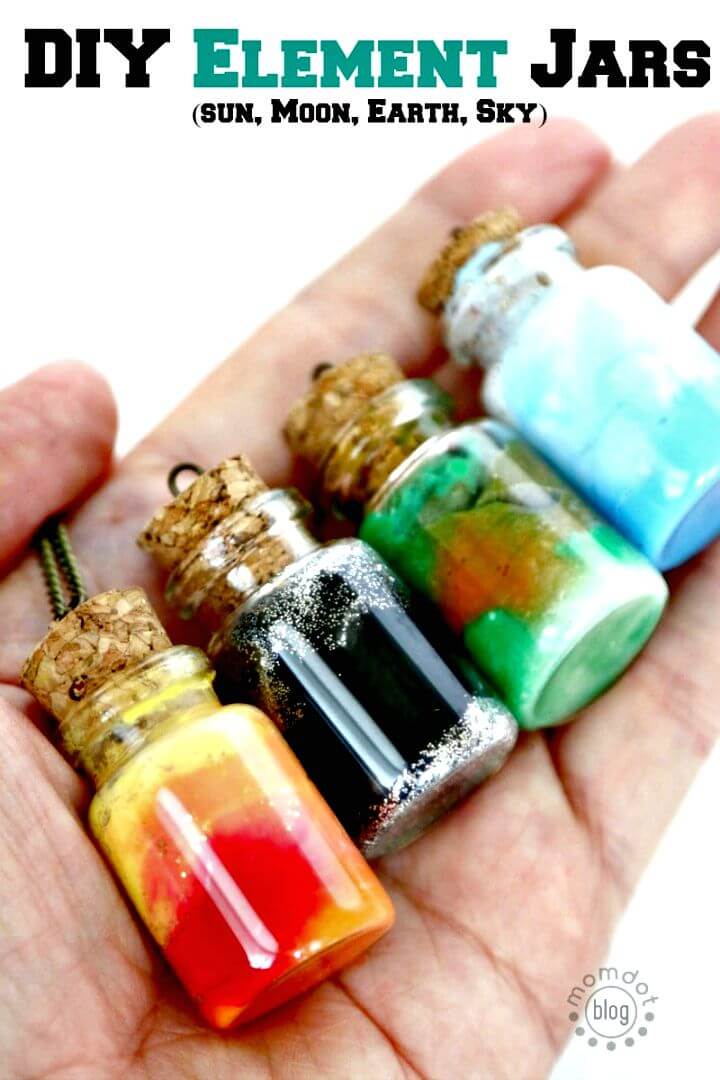 If you are on a mission to boost your fashion and style this summer then you can also do various DIY projects in this case! Just make adorable pieces of jewelry at home without getting expensive and would like to elaborate it with this example of element jar necklace that has been made at home and is looking damn beautiful! Here all you need to grab the element necklace jar with corks which can be painted in desired way and next you can fix the eye-on-screw hooks on them to gain some as super charming necklace pendants! Complete visual tutorial and instructions here momdot
Make a LOVE Yarn Fonts: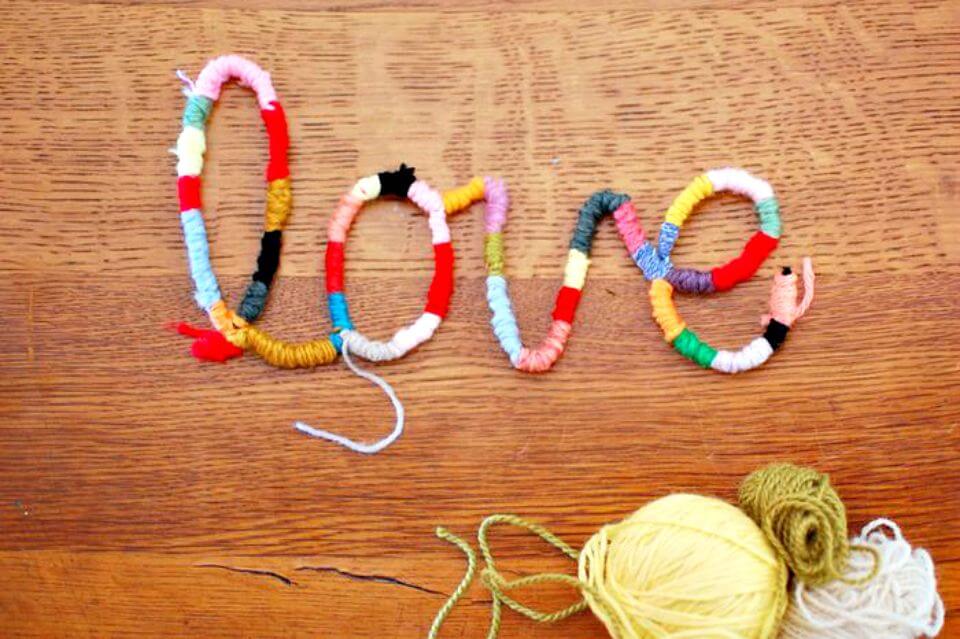 You will surely fall in love with this very special summer project that will help you do various further home décor projects also! Here the idea is to make the custom fonts, letters and symbols using the pipe cleaners and your scrap yarn! Just twist the pipe cleaners to make an alphabet, letter or symbol and next just the paint the colorful yarn all around it to give it some eye-catching colors and your art is ready to go an interior wall or on a custom item of need for instant decorative statements! Complete tutorial and visual instructions here bkids.typepad
How To Create Rain Stick: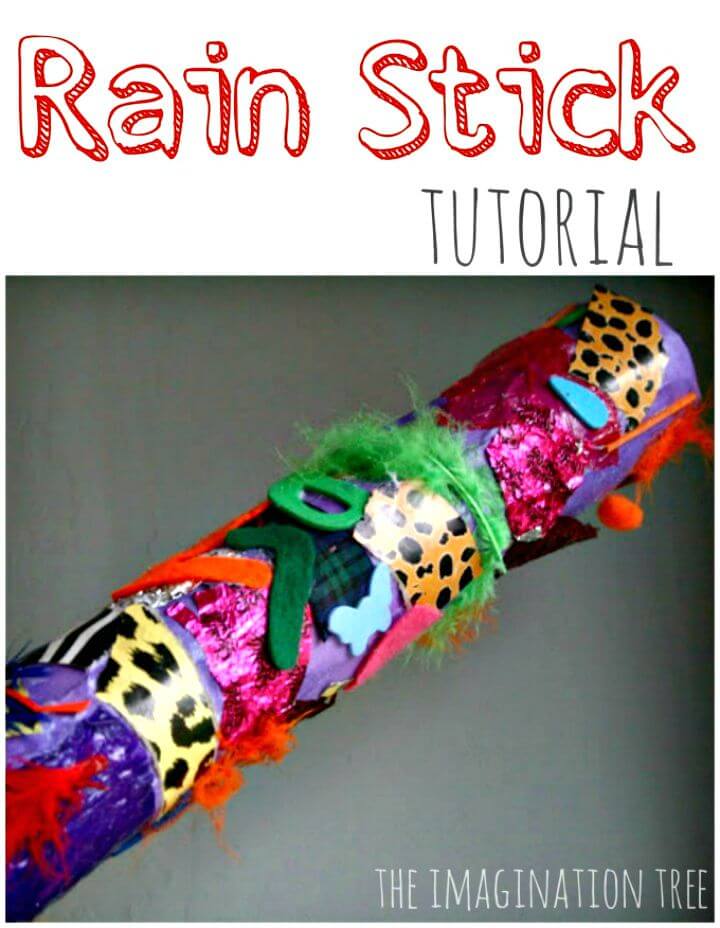 While taking about the summer fun activities and summer kids toys then how can be forget about the rain sticks that can be made easily at home! Get inspired of this interesting rain stick sample that is looking colorful and damn beautiful! Grab a cardboard tube, add nails all around and next just fill it with custom materials like rice, couscous or with beads and next wrap your tube in colorful paper sheet for a beautiful look! Here this sample tube has also been adorned with custom embellished and with animal print papers! Full tutorial here theimaginationtree
How To Make Spray Chalk – Kids Summer Activity: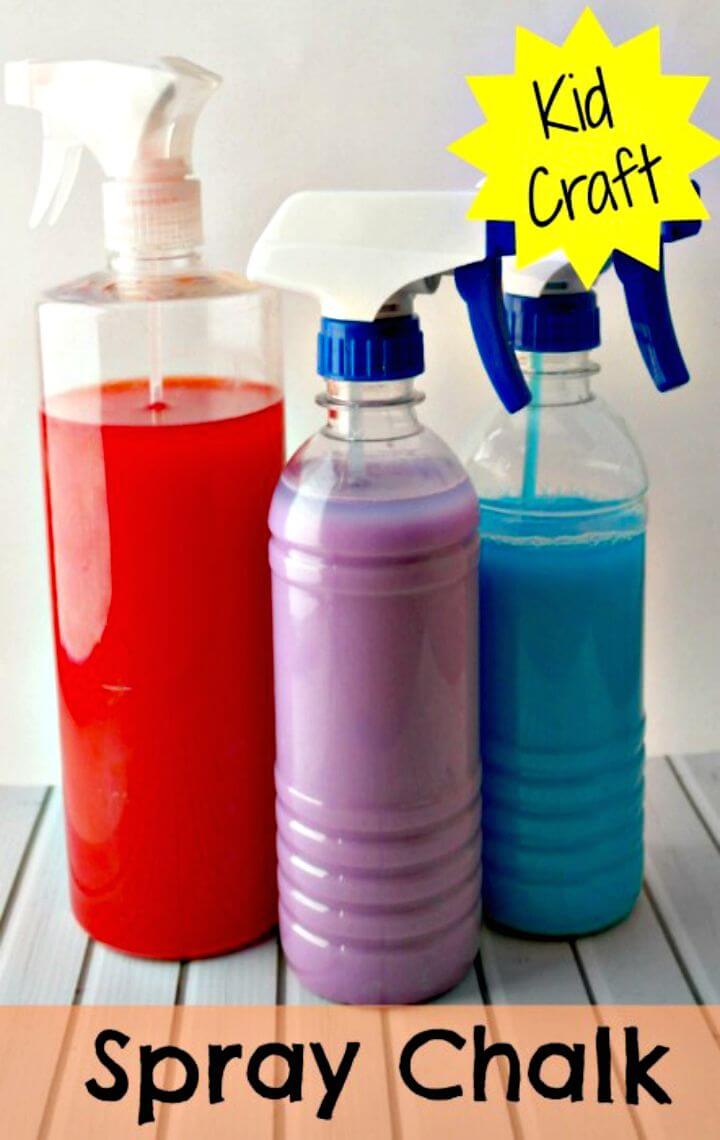 Make your kids enjoy the hot season more by making them indulge in some fun activities! If you are in the planning then would suggest you to add these spray chalks in the list of kids summer fun activities! Making spray chalk is something that even a kid can do! Here all you need is the spray chalk mixture and some spray bottles to make these spray chalks! Just use the cornstarch, water and food coloring to make spray chalk solutions and next just fill them in the spray bottles! Grab the full free details and tutorial from here cleverpinkpirate
Build A Water Wall – Backyard Water Feature: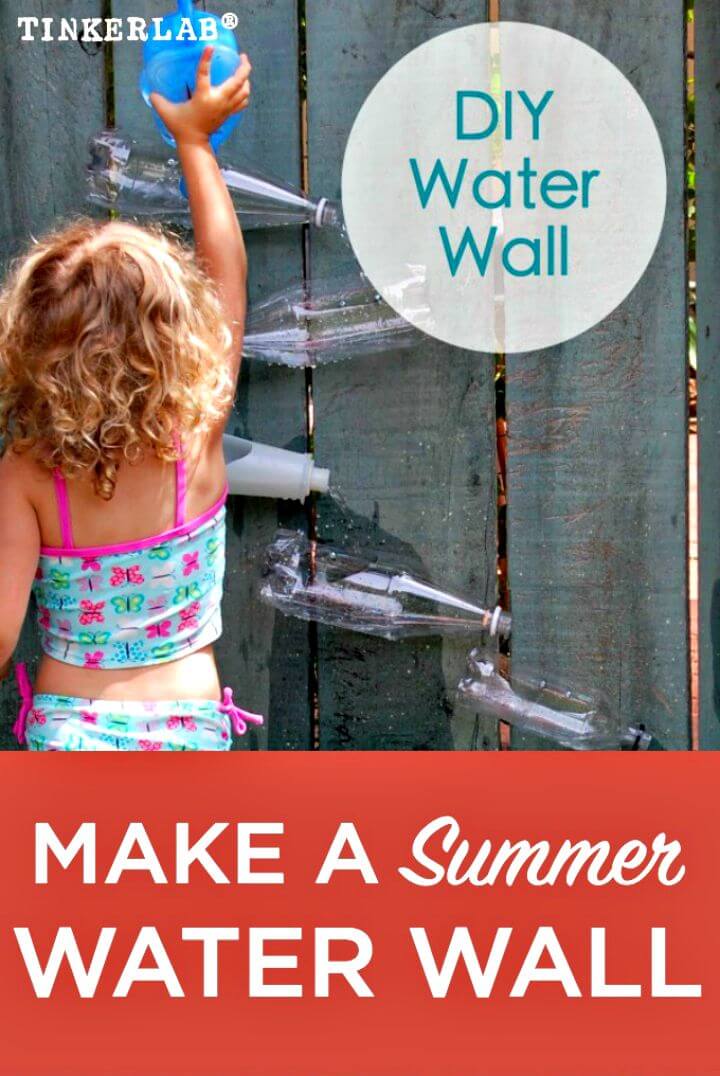 You can also increase the summer activities that involve the water fun this will also make you enjoy the season more along with beating the summer heat! Moreover, you can also install some water features to your outdoor that will also make amazing summer decors and hence will spruce up your outdoors also! So, why not build some water wall that will bring amazing water features to your garden or backyard! Check out here the sample water wall made of plastic water bottles! Here the plastic water bottles come with custom cuts in them and have been hanged on the wall in such a way that upper hanging bottle drops water in the lower one! Grab the full tutorial and instructions from here tinkerlab
DIY Rainbow Bubble Snakes: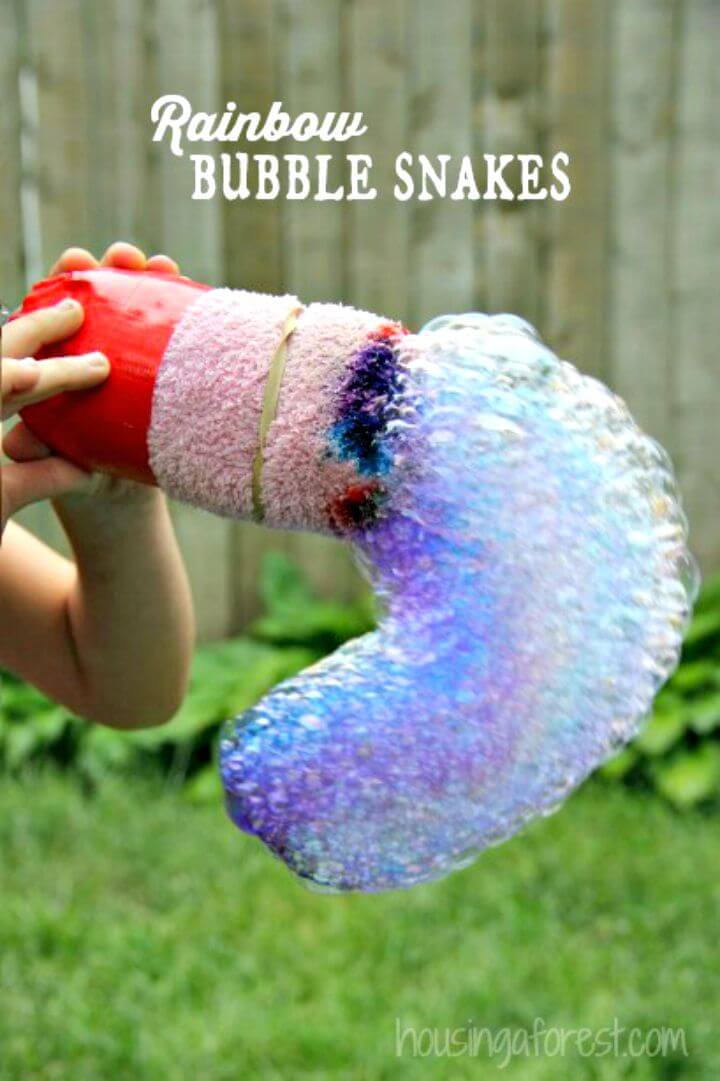 Summers would be boring if you are missing out some water fun or the bubble fun! Here is a brilliant craft project that will help raise the bubble fun, just make the rainbow bubble snakes at home that will make the heart-winning gifts for all fun loving kids! Here all you need the plastic water bottles, sock, food coloring and some duct tape to make these rainbow bubble snakes! Cut apart the bottom of the plastic bottle and cover it the bottom by sliding over the sock and next fill the bottle with bubble water! Add food colors at the end of sock bottom to make the rainbow bubble snakes! Complete project tutorial and instructions here housingaforest
Build Your Own Sprinkler – Summer Craft: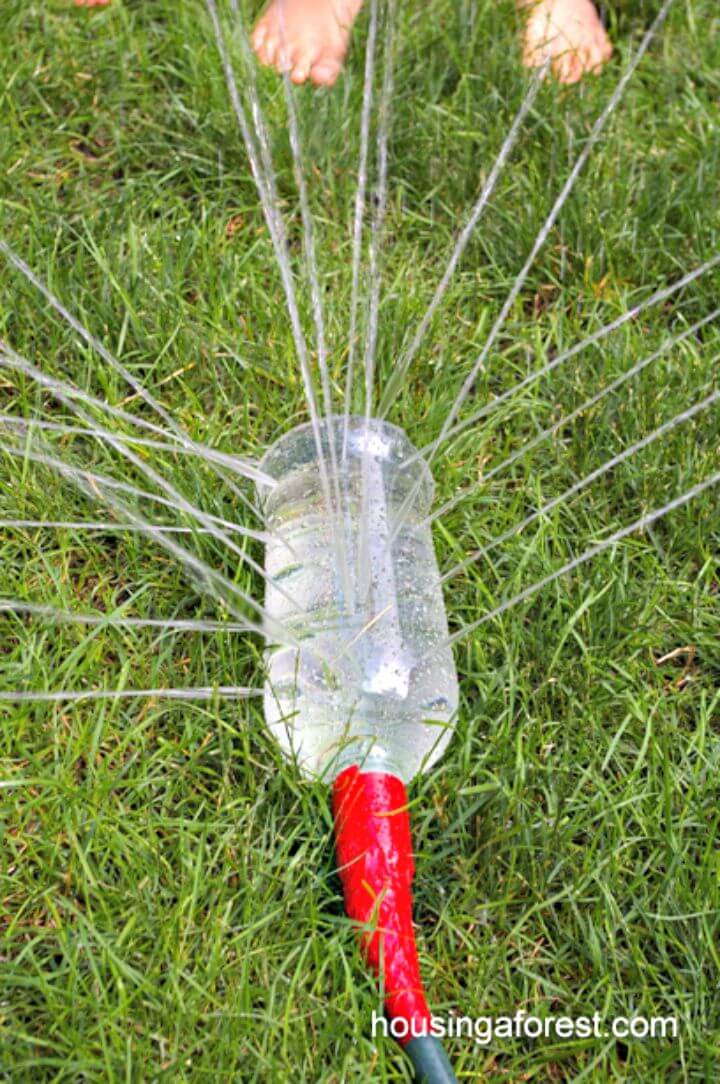 Here is how to raise the water fun this summer, just make beautiful water sprinklers at home using the water bottles and they will also help install amazing water features in your garden! Check out here a sprinkler that is super easy to make, here custom holes have been made in the plastic bottle and then this bottle have been attached to water hose pipe to let the water fun start! You can make many of such a sprinklers at home at just a drop of hat! Full project details here housingaforest
How To Make Lava Lamps: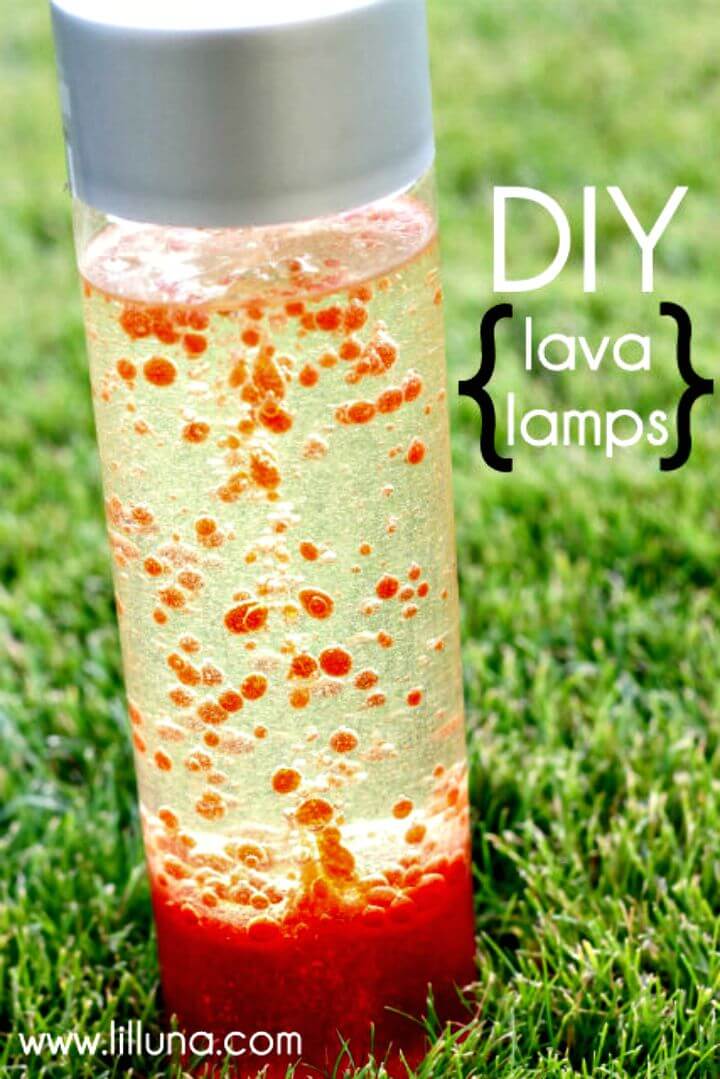 One more outstanding craft to make for the kids that will definitely make a great fun toy and also a lovely summer décor! Just make the lava lamps at home that will be a big delight to view! Just fill your bottles with vegetable a little over the half and then fill the rest with water and add a few drops of food coloring in the solution! This not ends here, you have to add a quarter of an Alka-Seltzer to let the lava fun start! This would definitely make a great gift for the kids! Another great summer fun craft to make at home! Full tutorial here lilluna
How To DIY Homemade Chalk: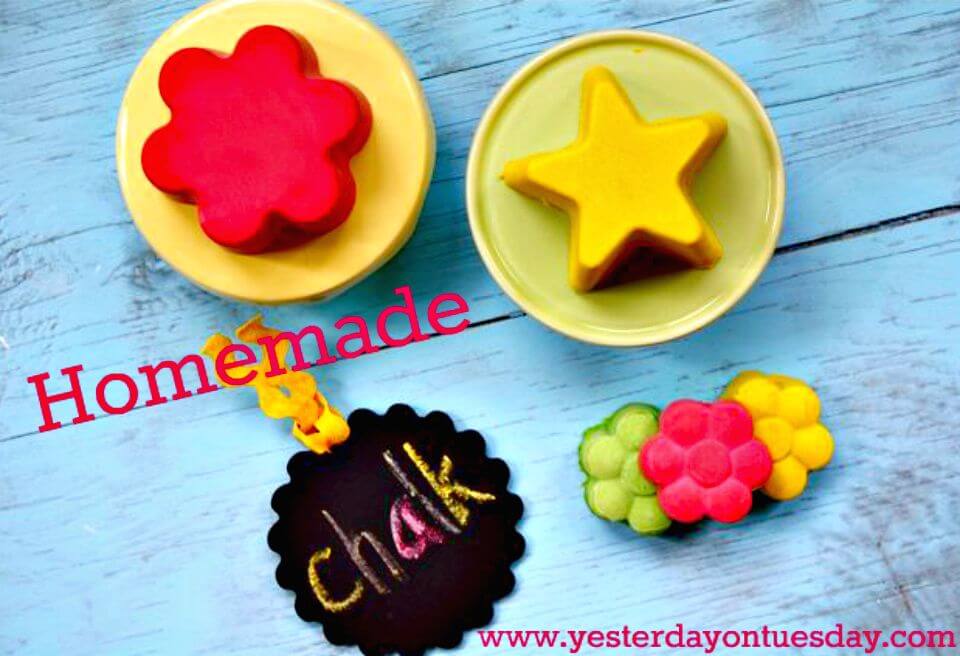 Make also colorful chalks at home for your kids that will also increase the fun activities of your kids tthis summer! Check out here the sample homemade chalks that come in amazing fun colors and are super easy to make! You can use the custom molds to to take your homemade chalks in any desired shape! Here all you need the plaster of Paris, silicon molds, plastic containers, measuring cups and tempera paint to duplicate these homemade chalks! Complete tutorial here yesterdayontuesday
How to Make Your Own Coasters: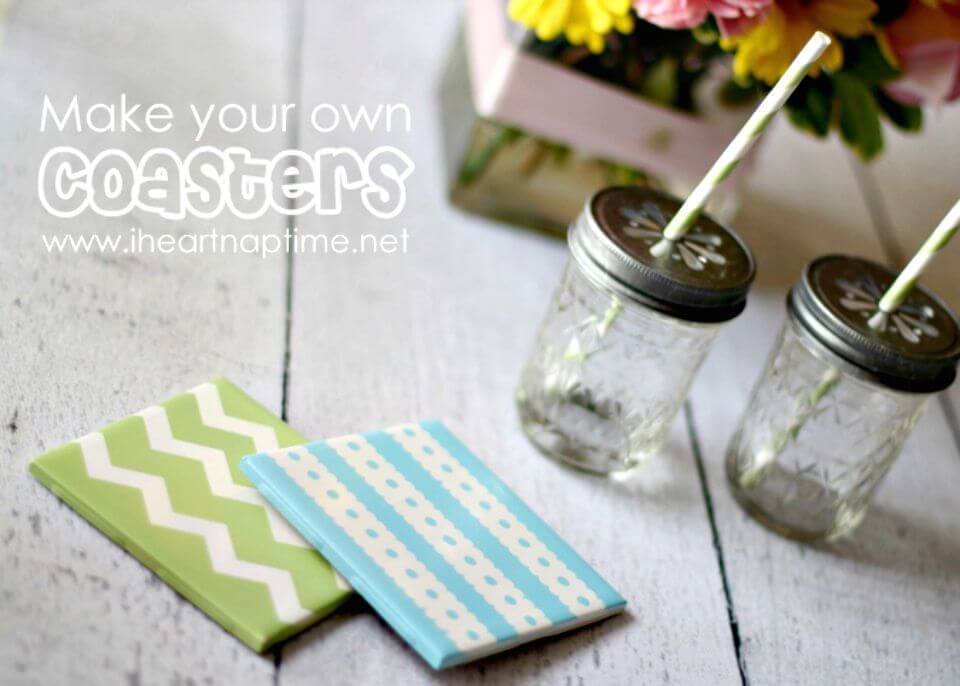 As summers is a season to enjoy the outdoor parties with friends and family members so you can also try making some amazing coasters for your food and drink tables! Check out here the sample coaster that have been painted for custom patterns like for chevron stripes and for dotted lines and are looking much beautiful! Here these coasters are made of white bathroom tiles which have been have covered first with custom vinyl stencils and then have been painted! Finally the coasters have been finished with mini felt circles pasted to bottom side! Complete tutorial here iheartnaptime
DIY Sea Creature Sand Castle Cans: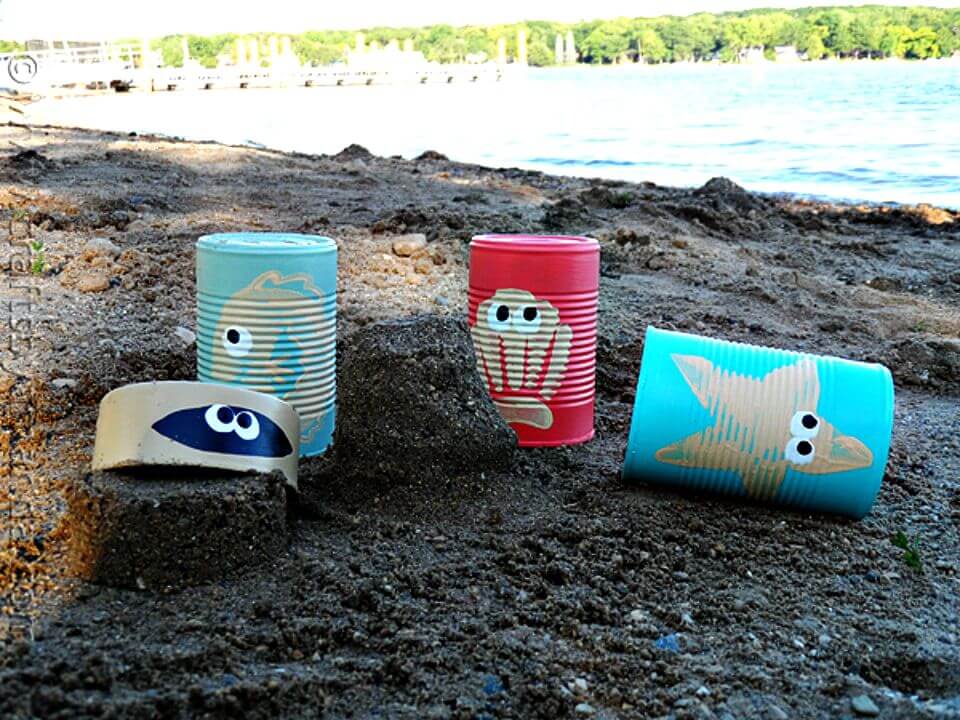 Get also smartly craft with the tin cans and make adorable summer crafts just in couple of seconds! Here the tin cans have been painted and then have been adorned with some sea creature foam stamps for an adorable beachy look to make the perfect sand castle cans! This castle tin cans make the kids busy for hours to play with sands making the castle and they can also be used as perfect beachy organizers or pencil holders on your study table or desktop! Grab the full free tutorial and instructions from here craftsbyamanda
Simple DIY Sunglasses Case Tutorial: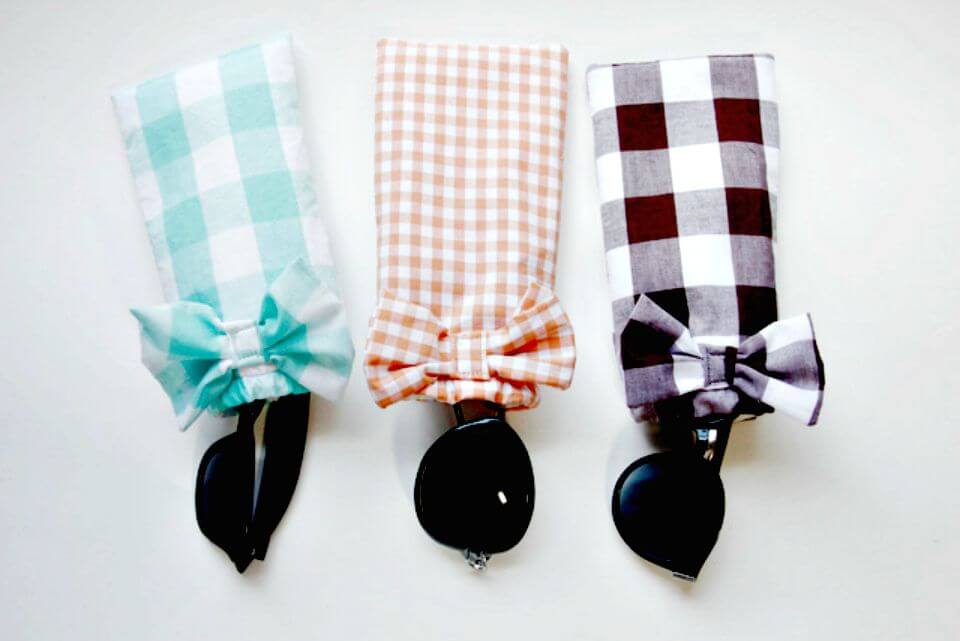 One more smart craft project that all summer lovers can do at home, just craft the custom cases at home for your sunglasses! Here the custom pieces of fabric, lining fabric and of fabric interfacing these sunglasses cover or cases have been made that come with an elastic opening that has also been embellished with the accent bow tie! This is here a no-sew project that you do in summer! So, make these sunglass sleeves for yourself and also for your friend as they will make outstanding gifts! Complete tutorial here seekatesew
Make a Coconut Sunscreen With Shea Butter: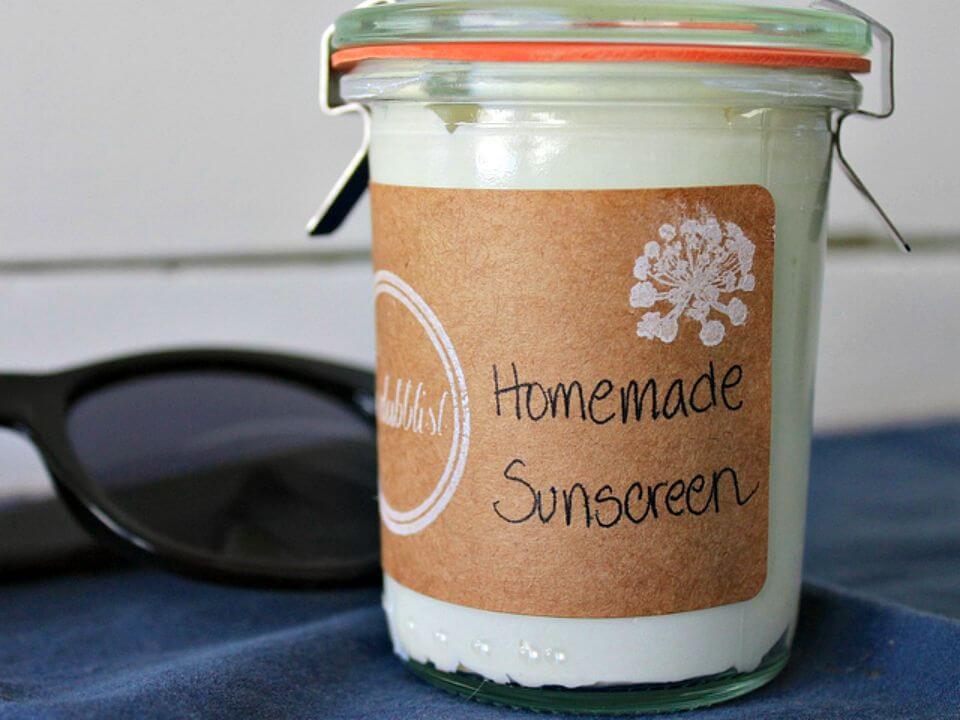 If you are afraid of getting your body exposed to blazing sun this summer that can simply burn your skin then you can also given your skin some custom treatments that will help avoiding the sun tans for sure! So, make the brilliant sunscreens at home using the normal materials of home like the butter and coconut! Check out here this coconut sunscreen made of shea butter, closed in a jar and has been labeled well so can be given as a great summer gift to any friend! Complete recipe and tutorial here beccapiastrelli
Quick DIY Summer Fort Tutorial: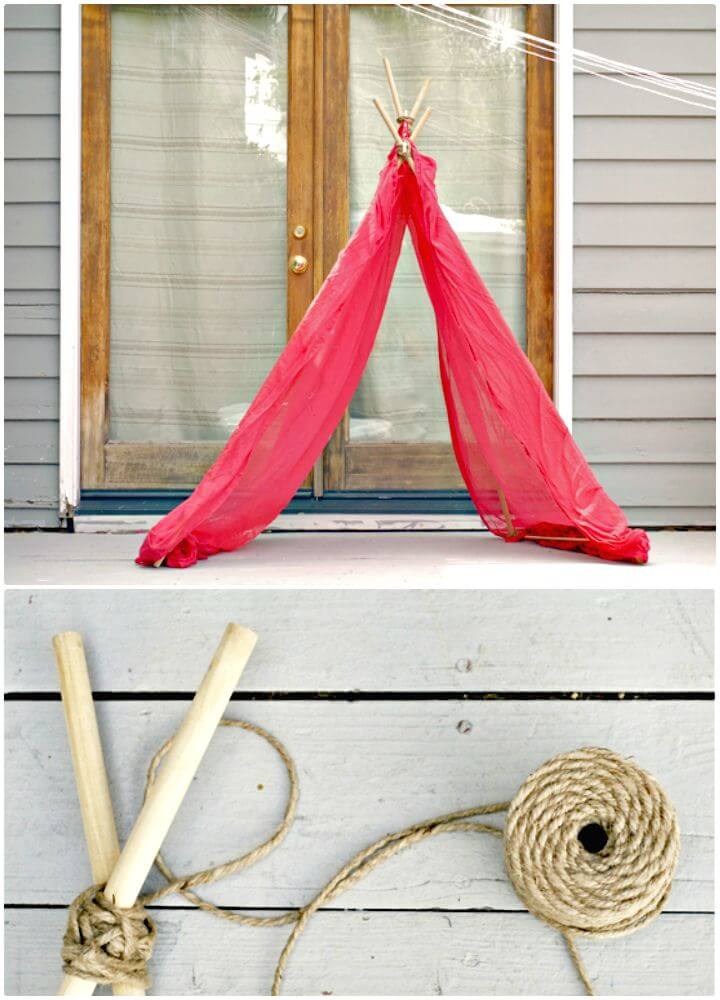 Summers are also the season when we enjoy outdoor camping and tenting and spend most of our time in open environments! So, if you are also looking for a camp or fort for your kids to make them busy at outdoor for some fun camping then you can also make some lovely forts at home without getting a bit expensive! Here this lovely summer fort has been done using the thicker wooden dowels that builds the tee-pee style frame of the fort and next the entire frame has been cover with the sheer tabbed curtains that come with straps which have been slipped onto the cross dowel braces or supports! Complete tutorial here asubtlerevelry
How To Create News Paper Forts: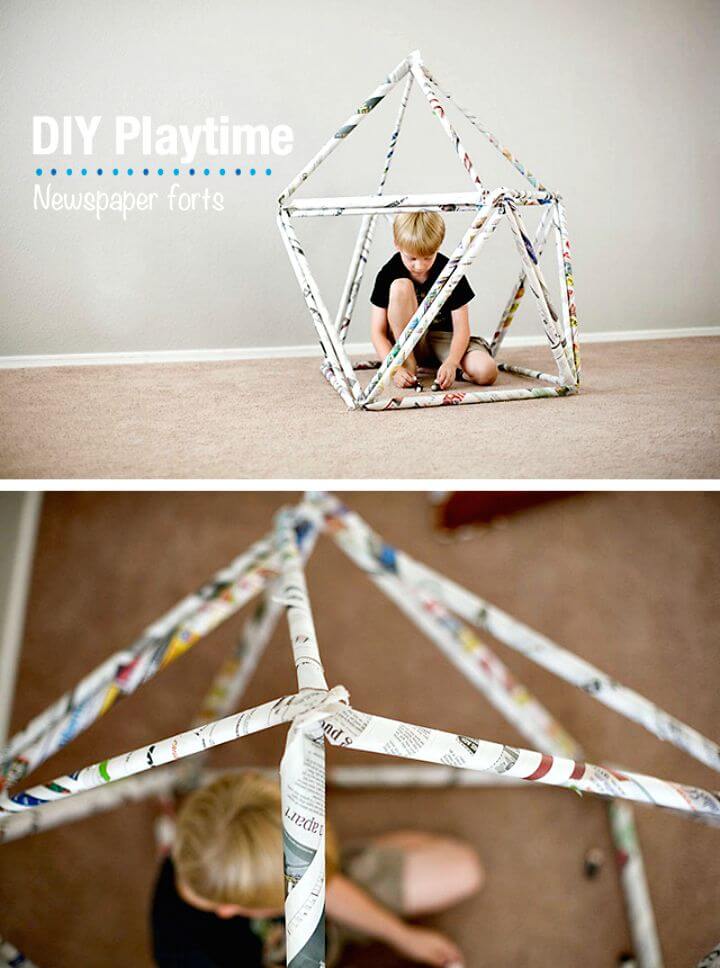 If you are majorly concerned with the summer forts that will make a great playing station for the kids for everyday summer memories then you can also make a custom fort at home using the ordinary materials! Here the old newspapers have been recycled and rolled to make a handsome looking fort that will be loved dearly by all the kids! Here two newspapers have been layered and then rolled to make a newspaper stick and a set of 3 sticks has been used to make so many triangles which have been combined to make a geometrical fort! Cover it up and let your kids play in it! Your kids can also duplicate it? Grab the full free guides and visual instructions from here modernparentsmessykids
Quick DIY Lego Key Holder: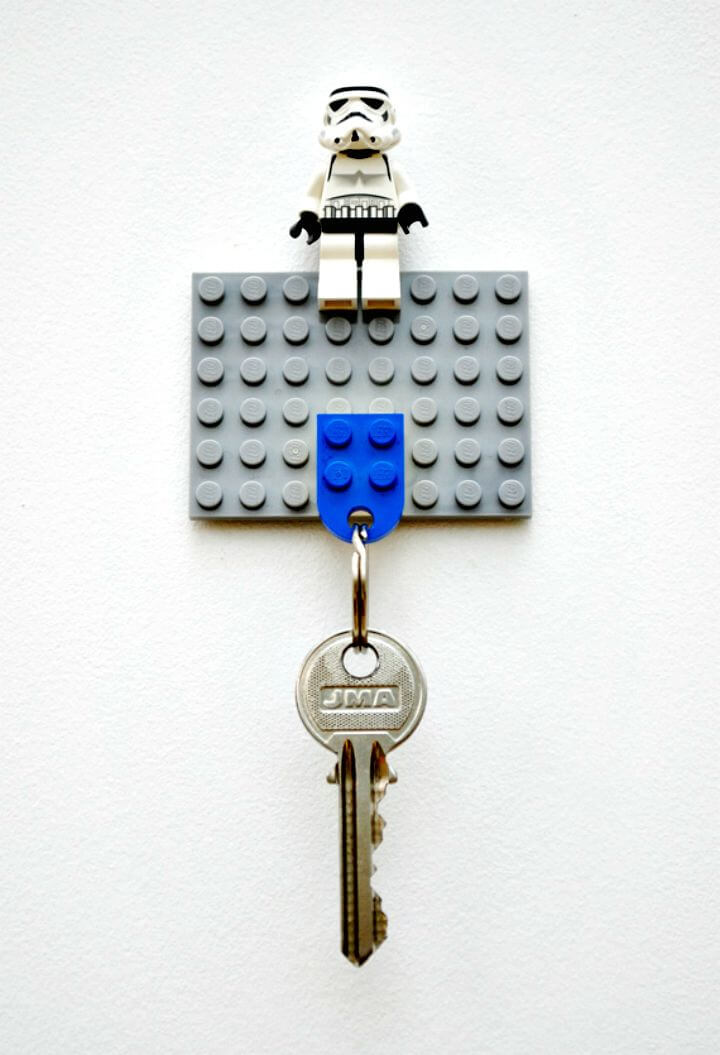 Check out here another great and fantastic looking summer project that is a matter seconds to do! Here a beautiful looking lego key holder has been made that will also make a unique décor for your entryway and is something super beautiful to look at! Here this lego key holder also comes with a stormtrooper minifig installed to top side that is a guardian of your keys and will make your key holder special! This awesome looking lego key holder would also make thanksgiving gift to a new homeowner if you like to do so! Grab the full free tutorial and instructions from here minieco
Cute DIY Superhero Terrarium: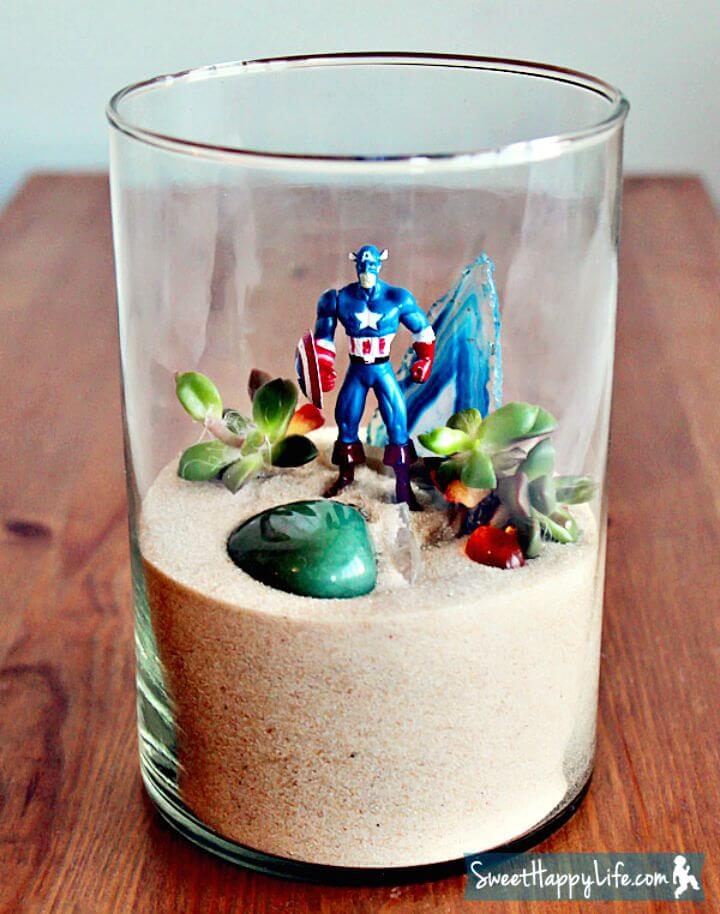 Making beautiful terrariums can be another great fun activity in summers and you can also make outstanding terrariums at home without getting a bit expensive! Check out here a sample superhero mini terrarium that is made of a glass vase filled half with sand and then the custom decorations have been added like the semi-precious stones, succulent plants and the of course with a superhero figure, here the captain America has been put in the terrarium! You can experiment this terrarium with any of your favorite superhero! Get the complete free tutorial and instructions from here sweethappylife
Simple DIY Traditional Kite Craft: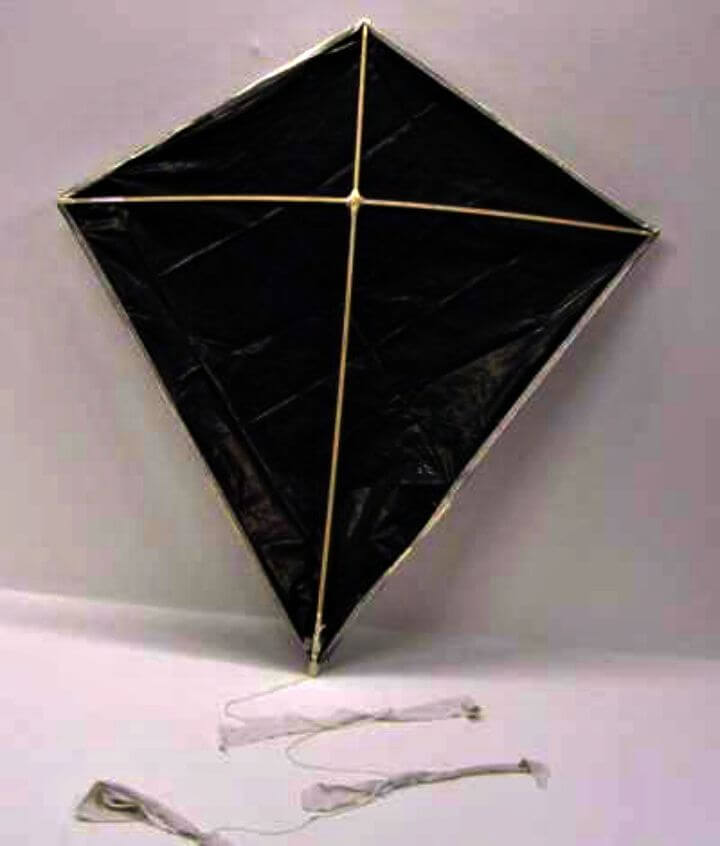 Summers are also a season when you enjoy flying kites and they give enchanting colors to blue sky! So, if you are also going to celebrate colors this summer by flying some kites then why not make some fab looking kites at home without getting a bit expensive! Just have a look at this traditional kite that is self-made and will be ready in just no time! Here all you need the plastic bag or the kite paper, two sticks, some fabric strips for tail and masking tape to make this handsome-looking kite! Complete tutorial and visual instructions here stormthecastle
DIY Coffee Filter Butterflies: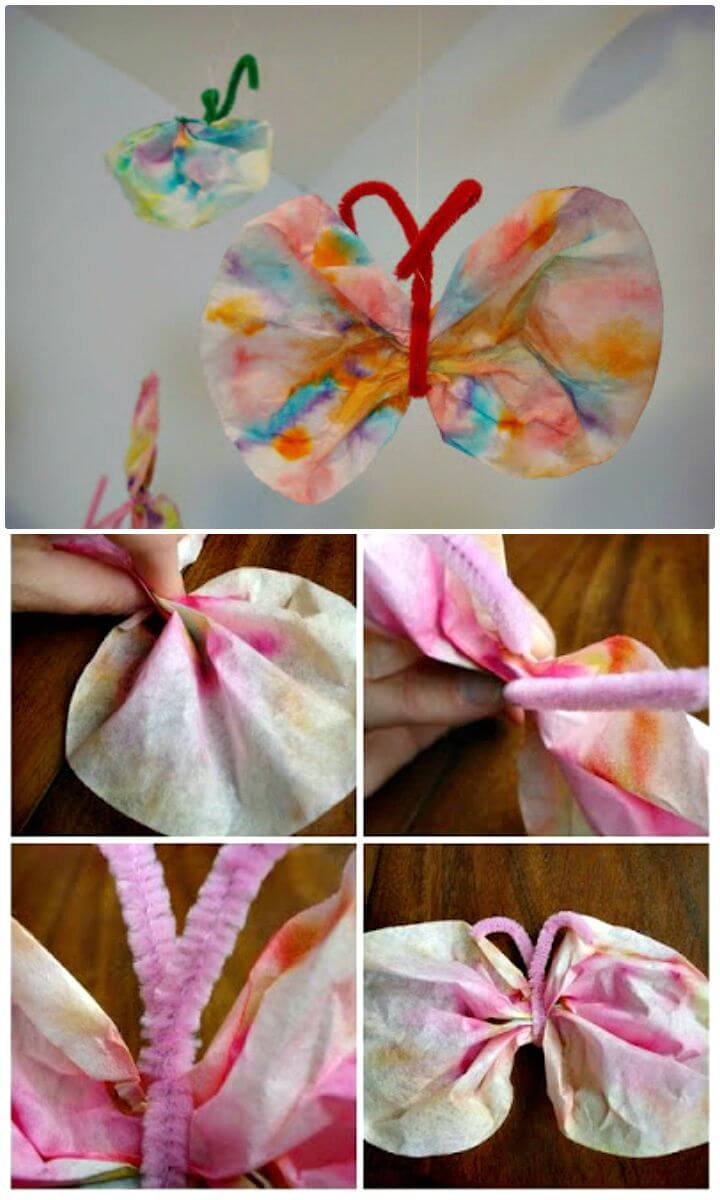 Make also smart use of coffee filters to make enchanting summer decors! Here we are with these fabulous looking butterflies that have been made with coffee filters which have been custom painted for some colors! Here basket coffee filters have been used for making these butterflies! Just tie the pipe cleaners to the center of your finally finished and painted coffee filters to bring them to butterfly shape and these pipe cleaners will also make the antenna of butterfly! Hang these butterflies up in the air using a string and enjoy! Complete tutorial here sycamorestirrings
How to Make Toilet Paper Roll Bird Feeder Craft: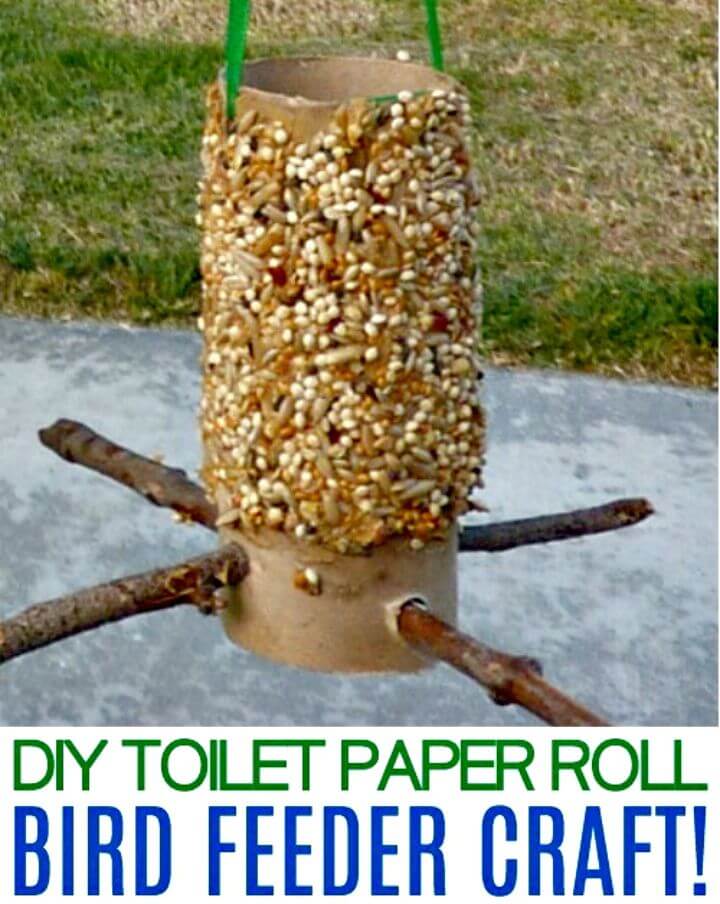 Make also smart use of cardboard tubs and twigs to make fantastic looking birdfeeder for your garden just at cost price next to nothing! Here the twigs has been added in x-shape that make the perfect perches for the birds to sit and enjoy the food, another great and outstanding garden decor project that you can do this summer! complete tutorial here honeyandlime