The joy of sleepover at the end of the party is matchless. Sleepover acts as a catalyst for party entertainment. These 50 unique sleepover ideas can help you to fill the parties with more excitement and fun. The truth and dare games in the middle of sleepovers have their own charm. Wearing your pajamas and chilling in the most casual way relaxes you both mentally and physically. Therefore, planning a slumber party is a must once in a while. Also, what is more fun than spending time with your friends while keeping things casual?
In these tutorials, the DIY sleepover ideas will help you in planning the slumber party in a unique and entertaining way. You can plan different games or fun-filled activities to amplify the joy of slumber parties. You can plan a theme party by wearing the same pajamas or the same colors. Furthermore, you can plan midnight snacks during the party, as a party is not actually a party without food. Bond with your friends and enjoy the essence of friendship through these sleepovers. To get some more ideas, hop on to these tutorials and enjoy!
1. Rustic Popcorn Bar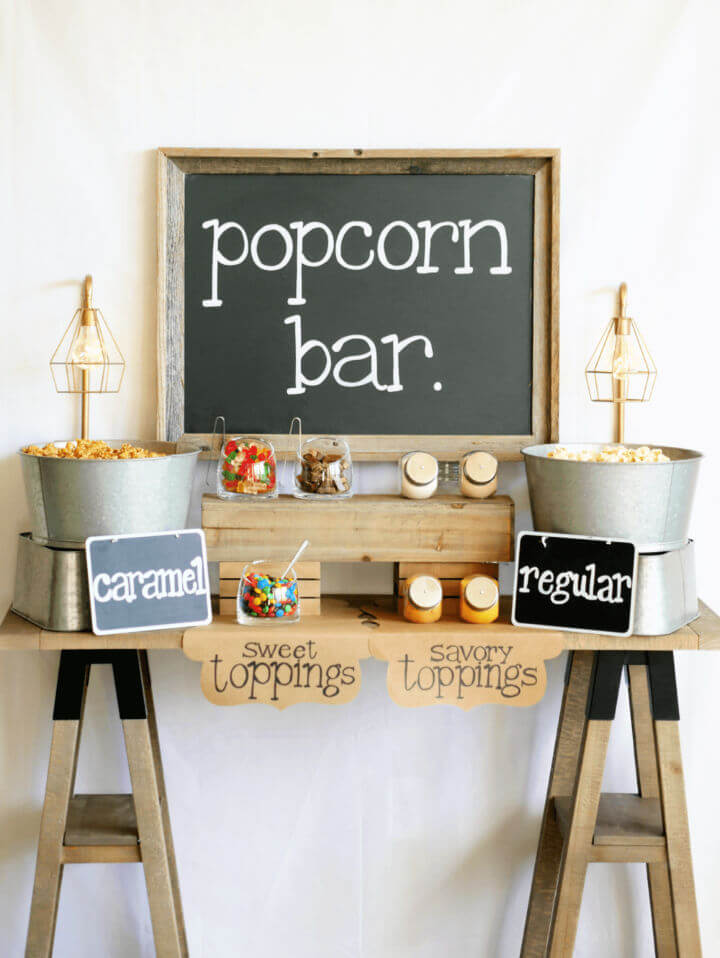 If your teenager daughter is celebrating her birthday by inviting her friends over to watch a movie and have fun and celebrations at night. Style their fun by presenting them with rustic popcorn bars and accelerate their volume of fun with both caramel and regular flavor popcorns. minteventdesign
2. Toothbrush Party Favours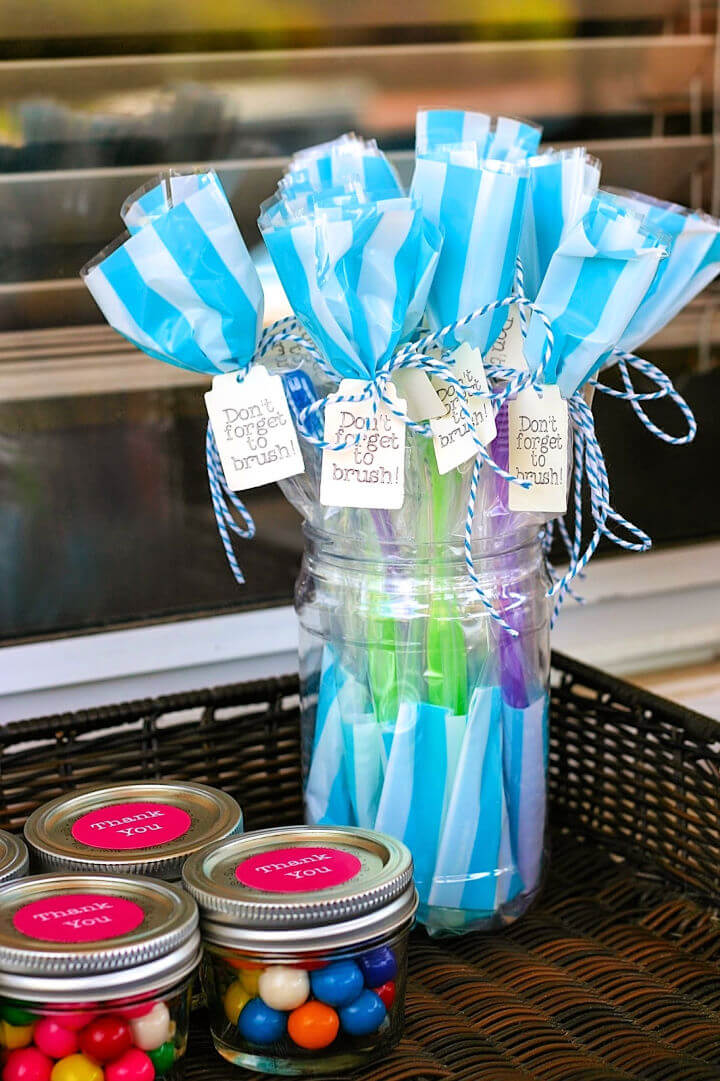 Make a Wreck & Ralph kind of party theme for your kid's birthday where everything they touch is flavored and all fun oozing. The idea of this toothbrush party favors is to give awareness to the children by mentioning some pinpoint notes on a card and attach them to brushes. acasarella
3. Camping Slumber Party for Your Kids
Organize a fabulous slumber party for your kids and their friends and make their sleepover a night to remember. Make little props about camping using marker colors and little hanging stands stuffed with cake and slices of bacon. fantabulosity
4. DIY Lipstick With Crayons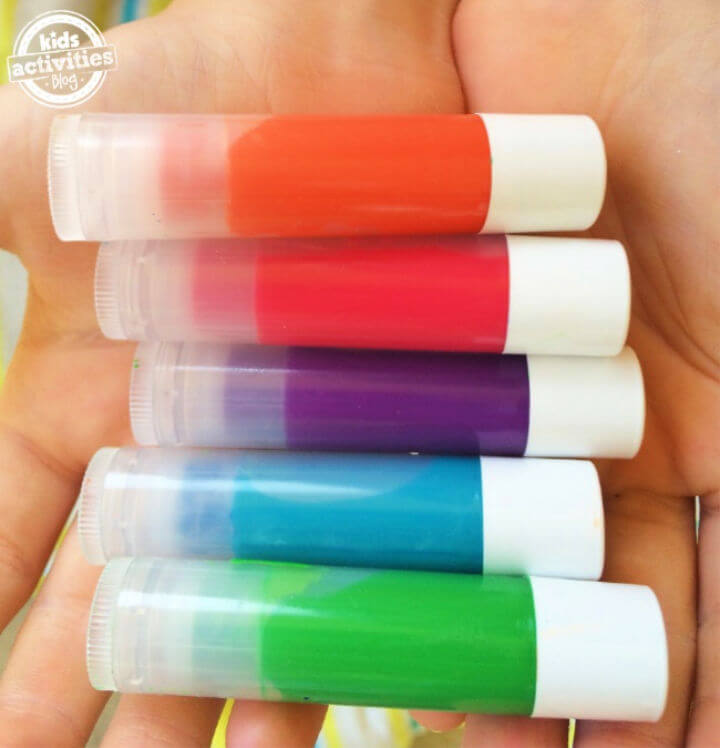 Another one from our exciting DIY sleepover ideas! Make your own lipstick that takes only your 10 minutes, and they cost almost nothing. Also, don't get any trouble with the ingredients as well! All you need is a crayon, it's just a colored wax. So the recipe includes crayons of your favorite color, jojoba oil, and a chunk of seas butter. kidsactivities
5. DIY Kool-Aid Lip Gloss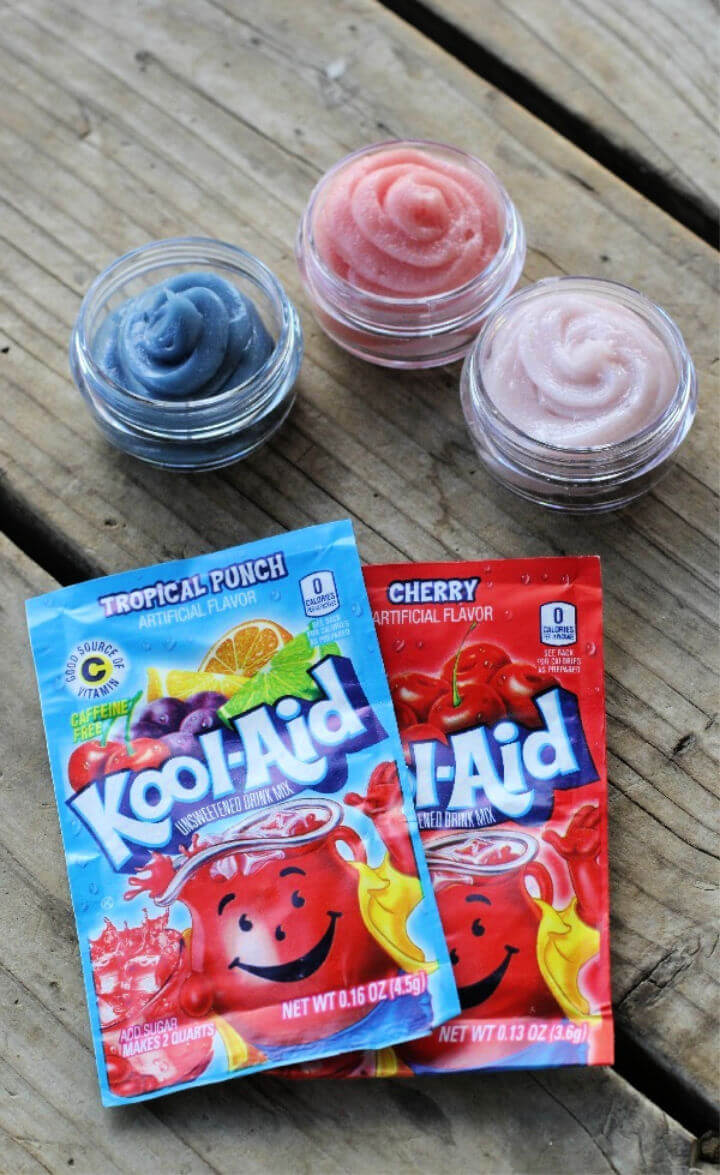 Pour half of a packet of Kool-Aid into a separate small cup, then add a little bit of water and add until it forms a thick paste! Add a spoon of sugar to sweeten it and then add coconut oil for the shiny bright look on the lips. Here is your lip gloss ready to use for the rest of the week. asweetpotatopie
6. Turn Outdoor Cushions to Sleepover Mats
So if you have a sudden guest coming to sleepover at your place and you're in perplex to arrange sleeping mats for them, don't worry! This idea of turning outdoor cushions to sleepover mats will solve your problem. Use dental floss to join the chair cushions together to make a big mat. chicacircle
7. Comfortable Princess Castle Fort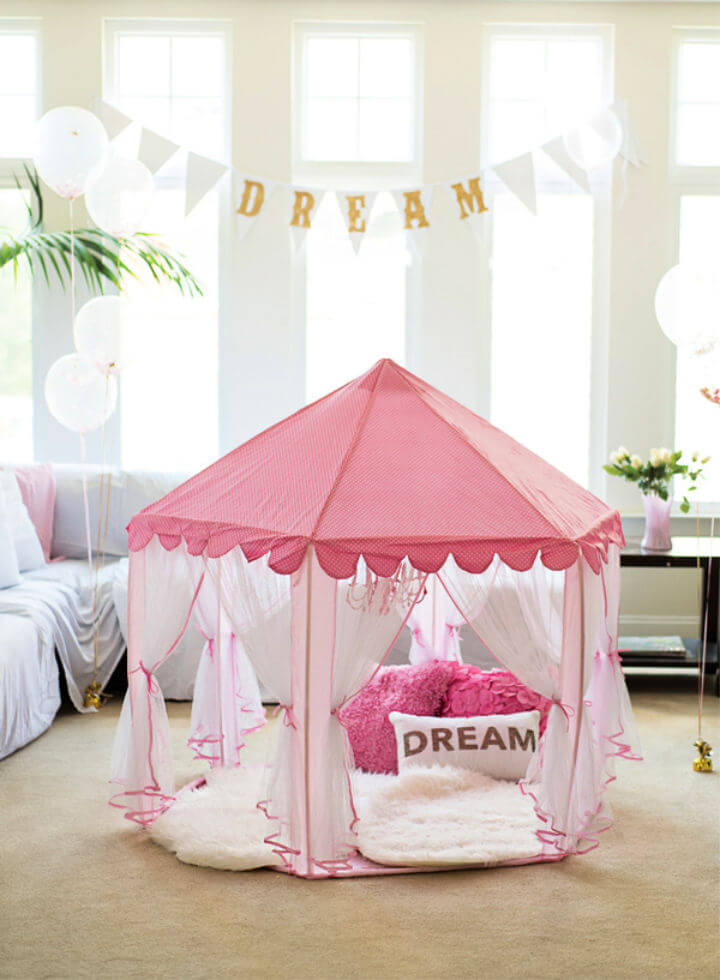 Having a little girl means having a little princess who deserves a comfortable princess castle fort in her room so that she can be a princess in actual. Also, this castle won't take much of your time to set up! You will need bamboo sticks to support the castle and one excellent big sheet for the roof you can easily DIY. hwtm
8. Comfortable Princess Castle Fort
Make an edible princess castle fort with the things you already have in your kitchen like cereal boxes and spoons in your utensils. And for embellishing your castle more, use the loop to put cereals in a thread and place the spoons vertically attached with the cereal box with an elastic band. hwtm
9. DIY Movie Night Popcorn Bar
Make your movie night more fun and entertaining by munching at the popcorn bars and watching the climaxed scene at the same time. Garnish the popcorn bars with some candies and chocolates and serve them all together to get a multi and exciteful taste. familyfreshmeals
10. Spin the Nail Polish Bottle Girls Party Game
So you and your cousins are planning to sleepover at your place, but you're still not able to find a girlish game of amusement? No problem, make this spin nail polish bottle and play truth and dare with your cousins and spend the night laughing and teasing each other. onecreativemo
11. Sleeping Beauty Princess Slumber Party Robes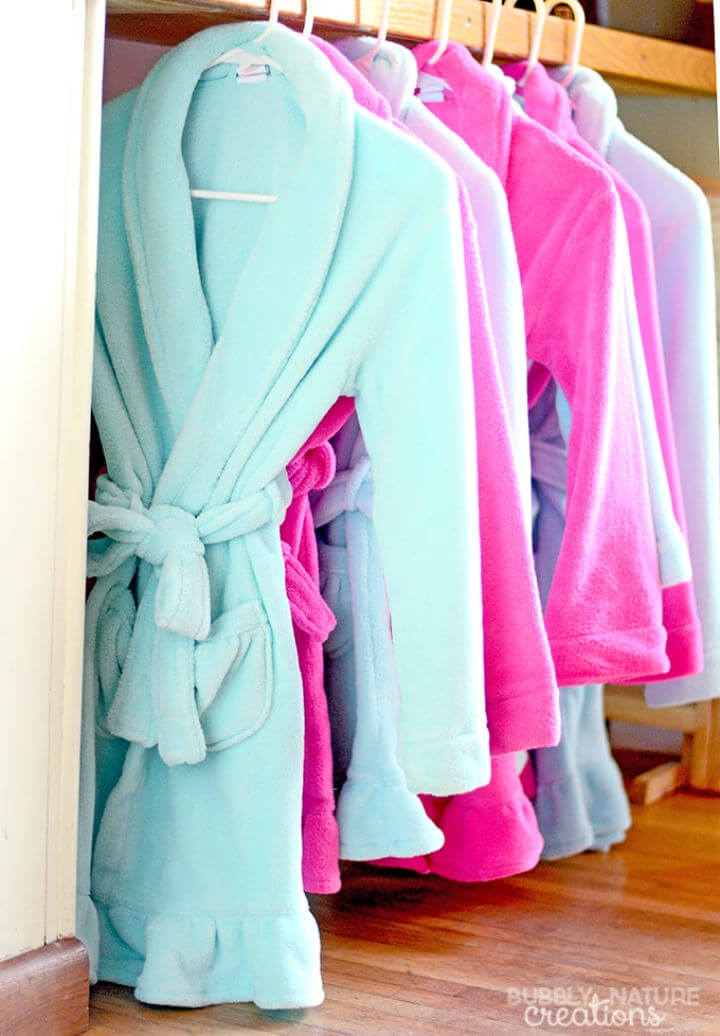 While throwing a sleeping beauty princess party, don't forget to offer your princess friends, these slumber party robes! And especially when your friends are the die-hard fans of Disney sleeping beauty movie. Have a blast at your DIY sleepover night with your friends wearing these robes. sprinklesomefun
12. Star Wars Sleepover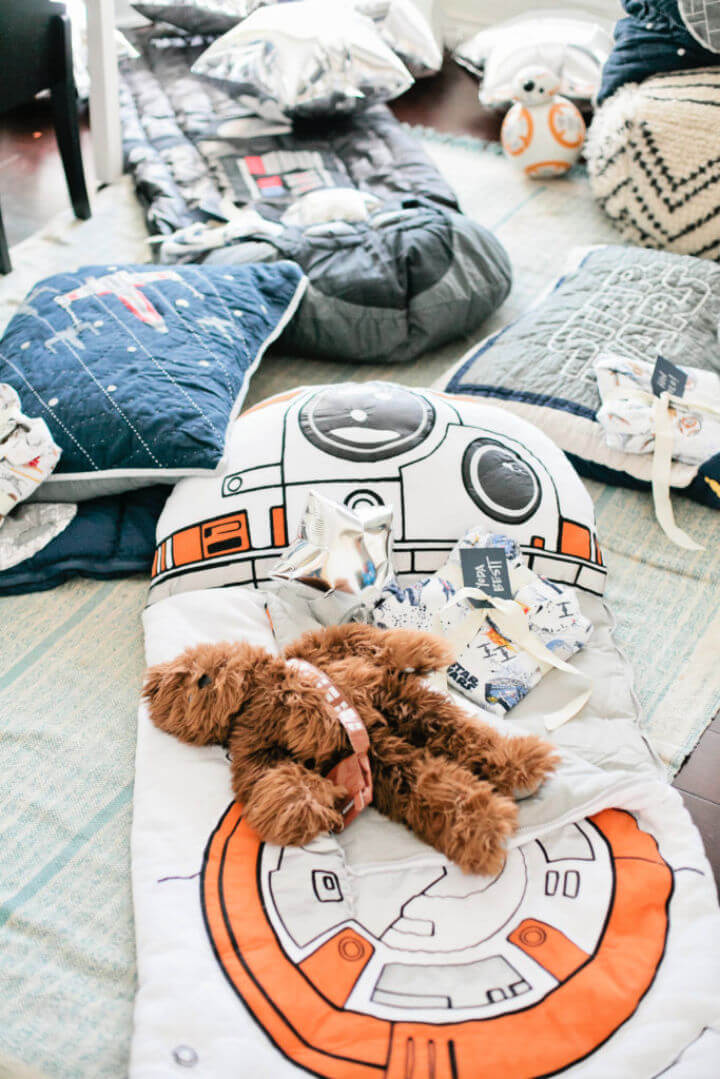 Are your son and his friends are a die-hard fan of Star Wars movies just like the Big Bang characters. This cute set up of star war with sleeping bags having Star Wars theme monogrammed on it is the perfect idea of the DIY sleepover idea and can bring a smile to all of your friends. beijosevents
13. Modern Princess Tea Party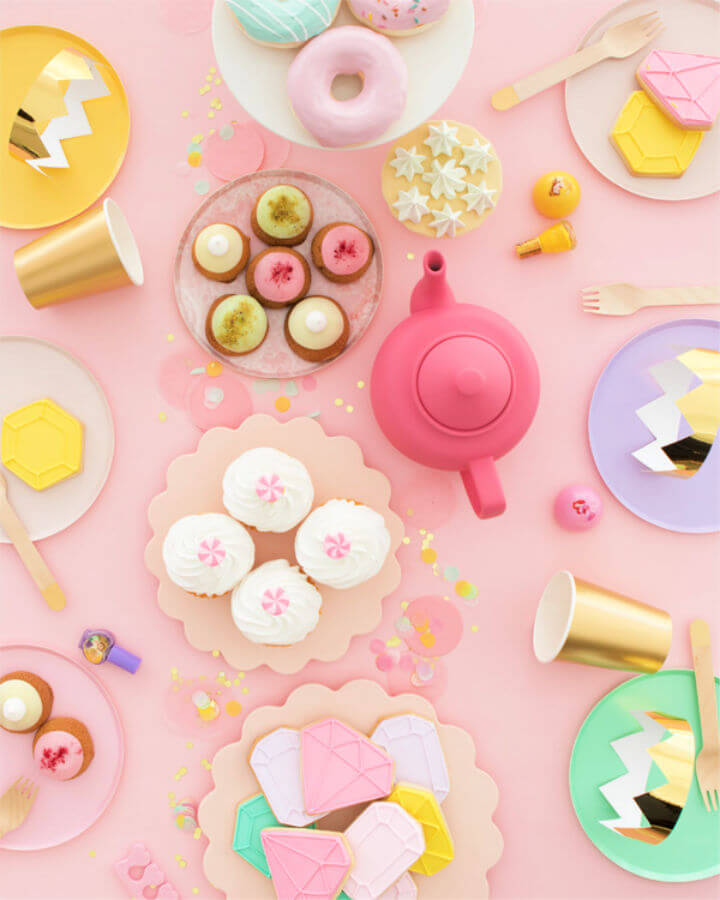 This idea of a modern princess tea party for your toddler and their age fellow cousins to a sleepover will be the best way to spend the night! With all amusement and fun by serving tea with cupcakes and doughnuts to each other by using plastic toys crockery! ohhappyday
14. Slumber Party Pillow Case Craft Idea
Have you planned your guests' sleepover at your villa? Start by adorning the sheets and the pillow covers to give them a special guest treatment. This craft is all easy and fun, all you need to have fabric paint and the idea of transferring abstract art from your mind to the pillowcase. chicacircle
15. Personalized Sleeping Mask
For your comfort and relaxing your eyes when you're having a sunbath or when you're traveling in daylight, this personalized sleeping mask is perfect for you to take a nap. Also, the must-have in your DIY sleepover night plans! Supplies you need to make this mask are fabric, elastic, scissors, pins, sewing machine, thread, and needle. popsugar
16. Unicorn Poop Slime Recipe
To make this unicorn poop slime recipe, you need a bowl of 6oz glitter glue (pink, gold, and blue).  Furthermore, add ½ teaspoon of baking soda and mix in thoroughly, also add 2 tablespoons of water and 1½ tablespoon of contact lens solution. Now stretch the slimes and roll it down in shape of poop. All we hear is FUN in this to-do thing at your sleepover night! momdot
17. How to Make Easy Fairy Wands
A fairy wand can be ideal for your kid's fancy-dress or fancy-frock, it would complete the look of your little girl. You can make the wand in so many ways, but the simplest of all is by tracing the shape on cardboard, cut the shape out and glue it to a short dowel and let it dry. kidsactivities
18. Bohemian Tents for All The Tween
If your tween girl's birthday is around the corner, surprise her well with this DIY sleepover idea of the bohemian tent! With the pink balloons, pink pillows, and foil balloon that depicts the age of your girl. This idea will totally surprise your daughter and make her birthday worth remembering! partypinching
19. Girl Matching Pajamas Sleepover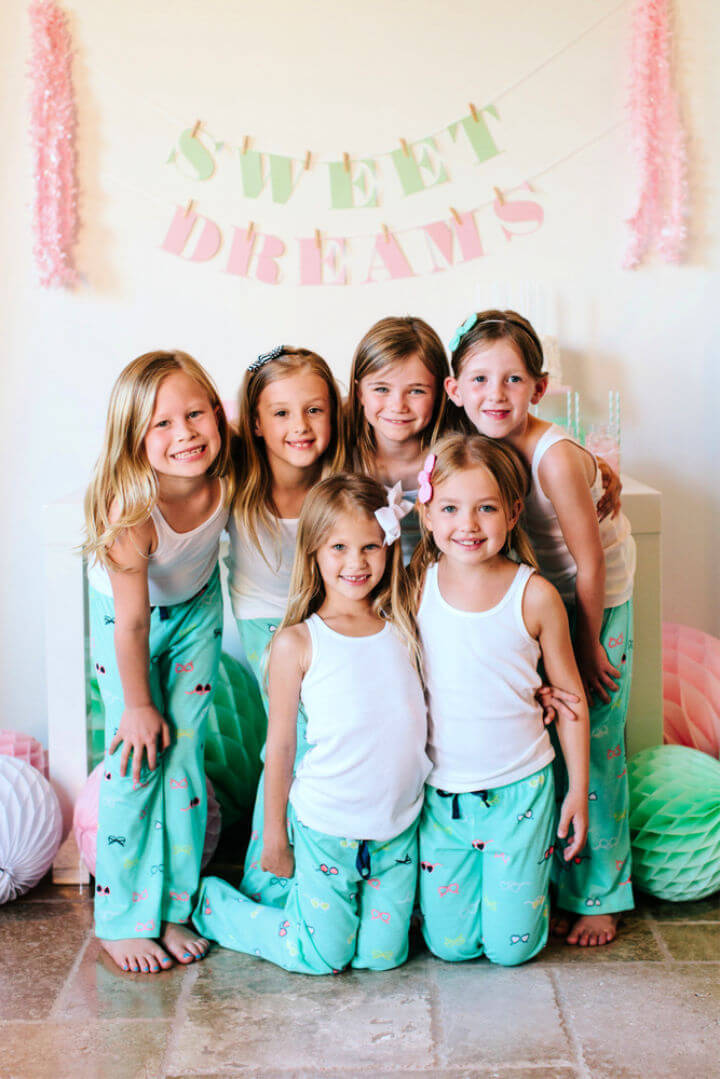 The bond of friendship gets stronger and firmer when it has taken the route to matching PJs! Get your child and her friends the matching pajamas for their sleepover fun and amusement and click the moments in your camera. thetomkatstudio
20. Make Friendship Bracelet Loom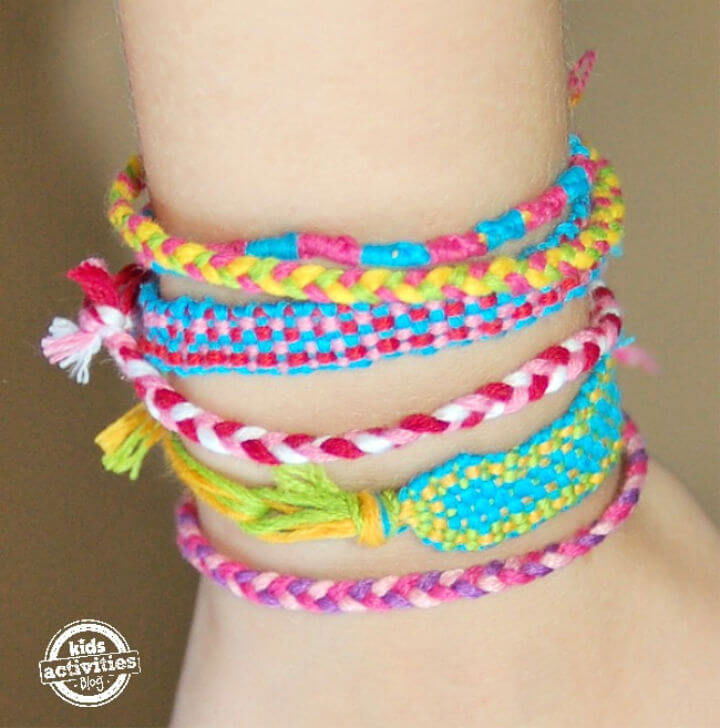 The best idea of a sleepover with your friends is to make a friendship bracelet loom! For all of your buddies so that you guys can go all crazy with each other. You can easily make these bracelet looms at home and still enjoys the same design and pattern as the store bracelet have. kidsactivities
21. No-Sew Unicorn Sleeping Masks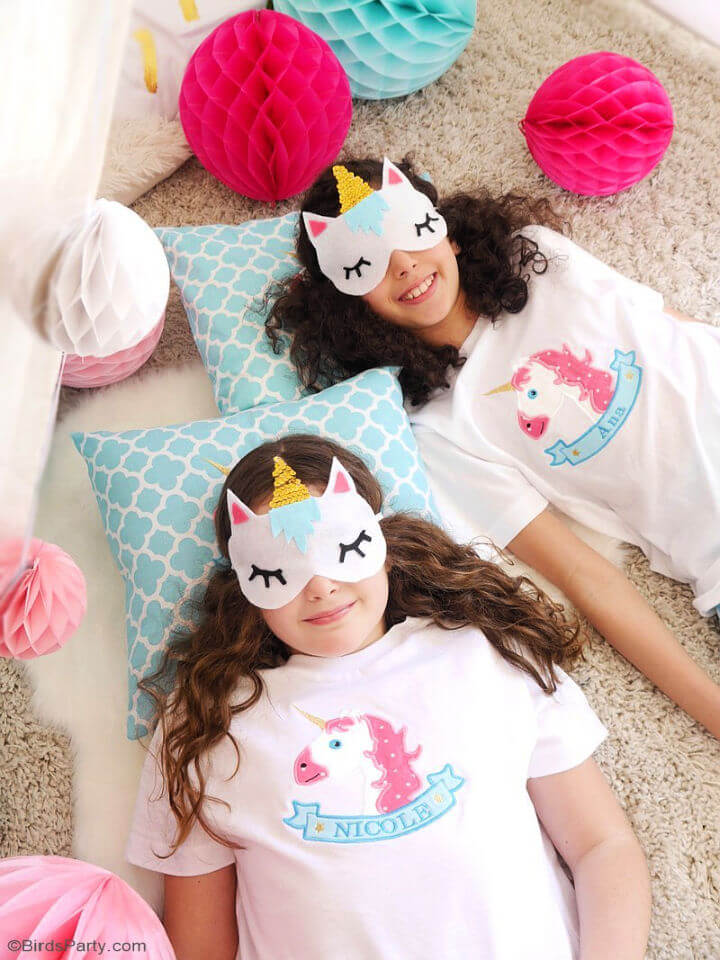 These no-sew unicorn sleeping masks are super fun and easy to make. You can make them all on your own with the material like scissors, hot glue, elastic, pencil, gold sequined ribbon and white, pink, blue, and black felt birdsparty
22. Unicorn Popcorn – Slumber Party Idea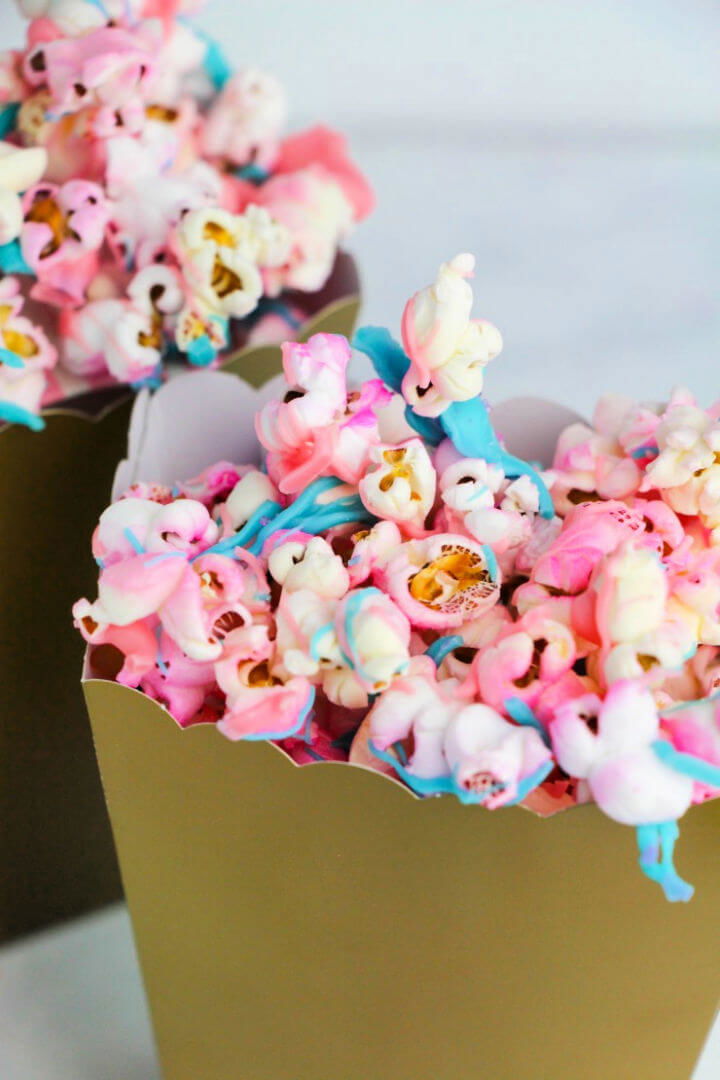 No slumber party is complete without a sweet dish of any kind on a table. Make this unicorn popcorn to provide the grace to your party table and sweeten the mouths of the people by entertaining them with these popcorns. lifeloveliz
23. Game Night At Your House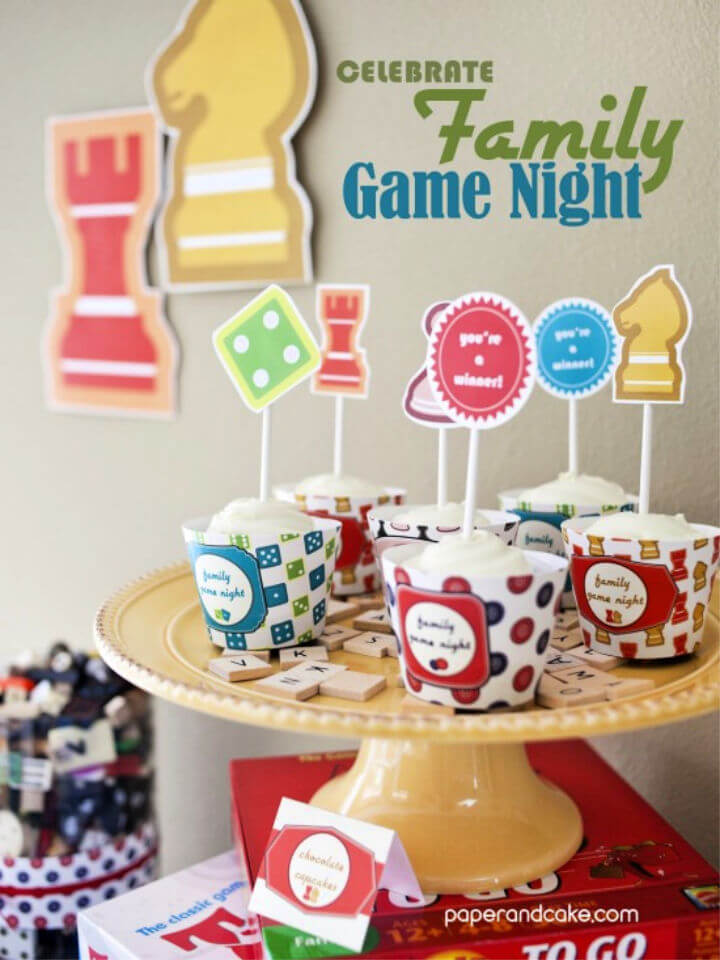 Late-night snacks are the best part of any slumber party! One of the greatest sleepover ideas! So next time when you invite your friends for a sleepover at your house, remember entertaining them with some fun games and make them love spending time at your home! paperandcake
24. Disney Sleeping Beauty Slumber Party
Glamourize your slumber party by planning it as per the theme of Disney's sleeping beauty! Make it way more worth remembering. Plan your party by decorating your room with the glitter dipped balloons and hang them around to give a shimmery touch to your party. sisterssuitcase
25. Glowing Bubbles for Kids
Bubbles are already impressive, but glowing bubbles are even better. It is easy and safe to make a bubble glow, plus you can easily find and arrange the materials required! Like a Bubble solution, glow in the dark solution, and bubble wand. growingajewel
26. A-Frame Pup Tents for Slumber Party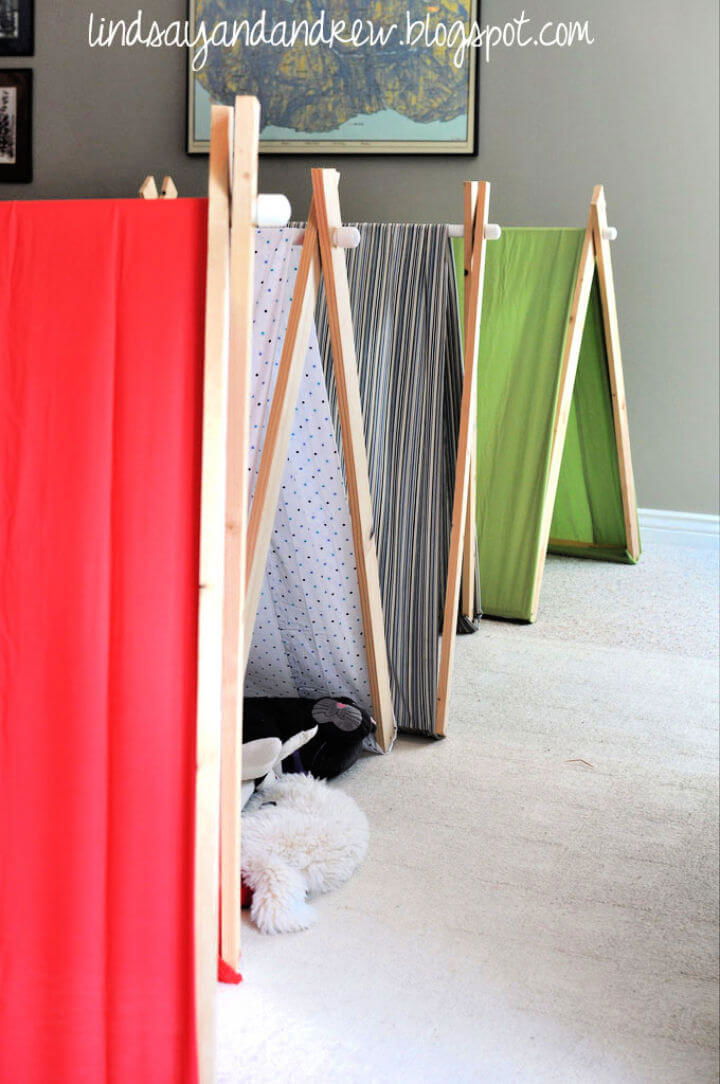 To make your slumber party more awesome and dashing, set up these pup tents. This would be the most fabulous idea to celebrate your sleepover night in the best and fun way. The required reinforcement is PVC, drill machine, screws and nuts, and a piece of thick refined fabric. Add it in things to do at a sleepover night. lindsayandan
27. Blanket Forts for Grown Up Kids
You don't have to be a kid to enjoy with your kids but with this DIY sleepover idea, you can enjoy quite similarly! Build a fort for the grown-up kids of yours and have a tea party inside with them. With the blanket and pillows and a few sheets, you can make an incredible harmless fort for your kids. tenthousandvil
28. Slumber Party Survival Kit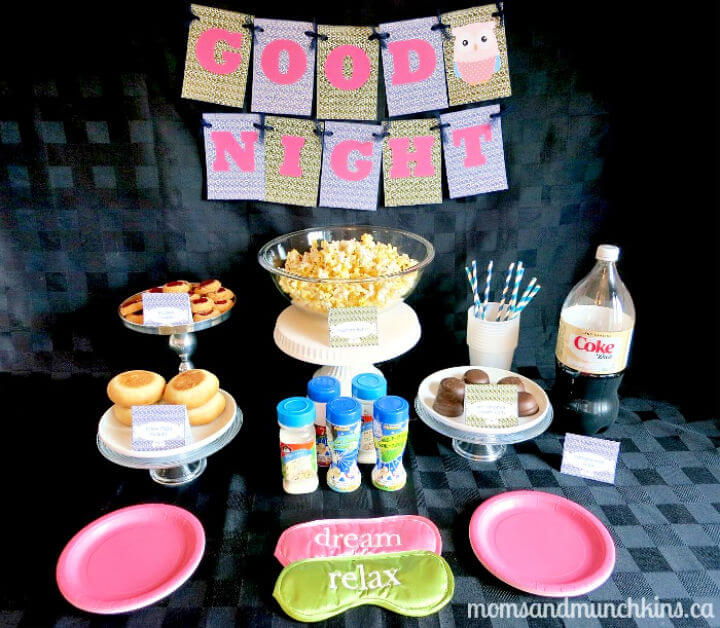 It doesn't matter how old you are. There has been or will be a time when you stay over at your friend's house, but the next morning you will realize you are missing some essentials. So, don't forget to prepare a survival kit next time. Add your toothbrush, balm, chocolates, and more to it. momsandmun
29. DIY Laser Maze Kids Activity
Basically, to implement this idea of laser maze activity for the kids, you just need to tape the crepe paper on the wall in a zigzag pattern! High and low, and back and forth throughout to your hallway. Your kids would definitely enjoy this idea of making their way throughout it. brassyapple
30. Pancake Poppers for Slumber Party
Who doesn't love spending sleepover by staying awake all night talking and gossiping with your friends? Also, serve these pancake poppers for a slumber party as a midnight snack for a happy munching time along. This refreshment will help you all to spend an epic sleepover slumber party. deliciouslyyum
31. Delicious Cupcake Fondue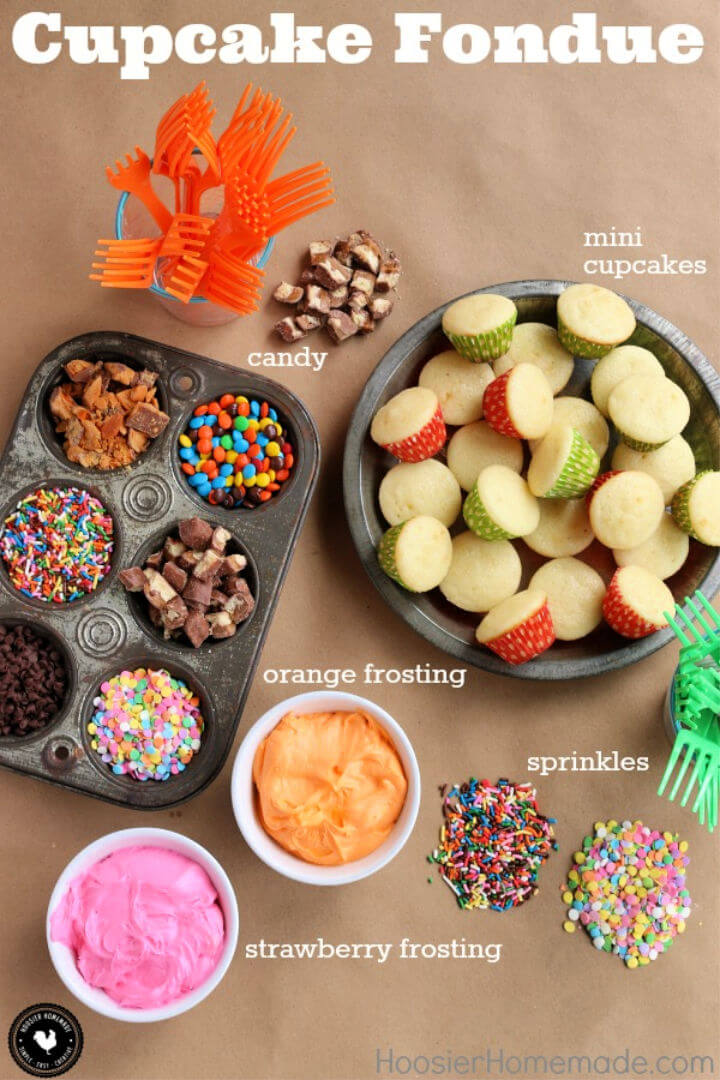 To make delicious cupcake fondue is an epic idea to serve in a slumber party. These cupcakes are easy to make fun to dress up. So whether you are celebrating a birthday at your slumber party or giving your friends a treat, this delicious cupcake fondue should be essential on the table. hoosierhomemade
32. Holographic Neon Slumber Party
If you are celebrating a bachelorette party for your friend and keeping it the strictly All GirlsNight! Then this holographic neon slumber party is the perfect idea for you to celebrate with a caption of "no boys allowed". Decorate the ceiling of the room with loads of balloons. studiodiy
33. A Galentine's Day Slumber Party
You can celebrate the galantine day slumber party by sending invites to your friends to come and sleepover at your place! Decorate your room with any inexpensive papercraft, prepare some snacks for your friends, and prepare some fun activities to spend your time with fun. studiodiy
34. How to Host a Spa Slumber Party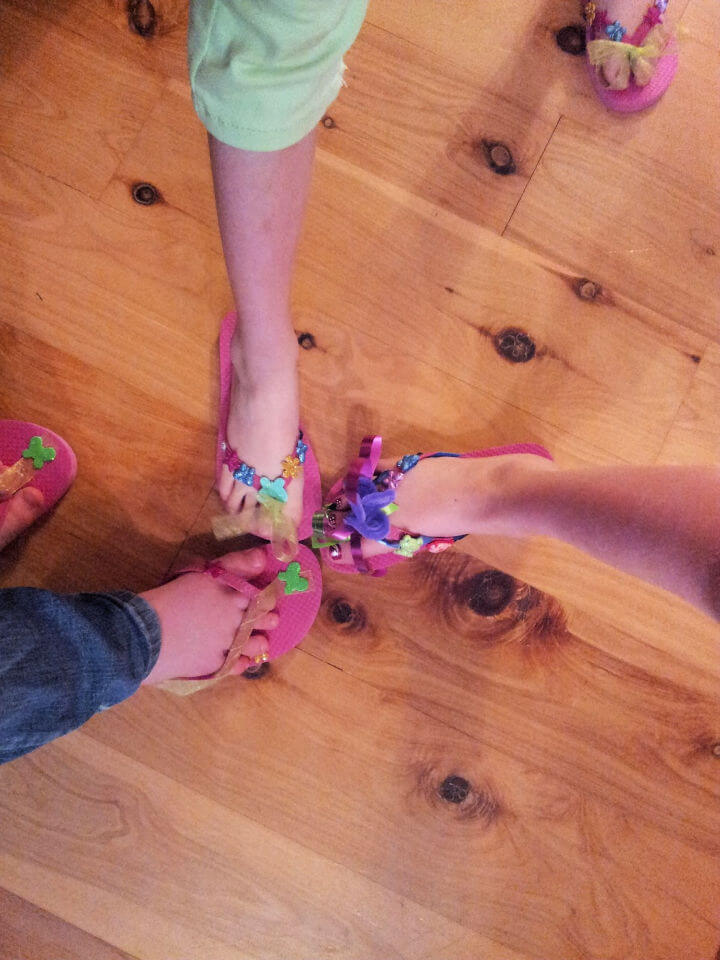 The best idea to celebrate the slumber party with your friends is to host them while offering an entertaining spa. Arranging them a manicure and pedicure kits with nail polishes and feet creams. In the end, provide them with pretty colored flip flops and enjoy the slumber party at its peak. reneetbouchard
35. Toilet Roll Sophisti Cat Crafts
Spend your time by crafting quality products or decorative products to embellish your home. Make this craft by using wasted toilet paper roll or cut the kitchen paper tube into two. Use white paint or crayons and a black marker to draw a cat face. mollymoocrafts
36. Blacklight Party for Kids
Arrange a DIY sleepover idea with a black light party for the kids, the required supplies will be black lights, glow sticks, blacklight pants, glow nail polish, and a strobe light. Moreover, your party needs good food, posters and walls, and clothes. So a pro tip is to make the space completely dark. motherhoodona
37. DIY Iced Coffee Carafes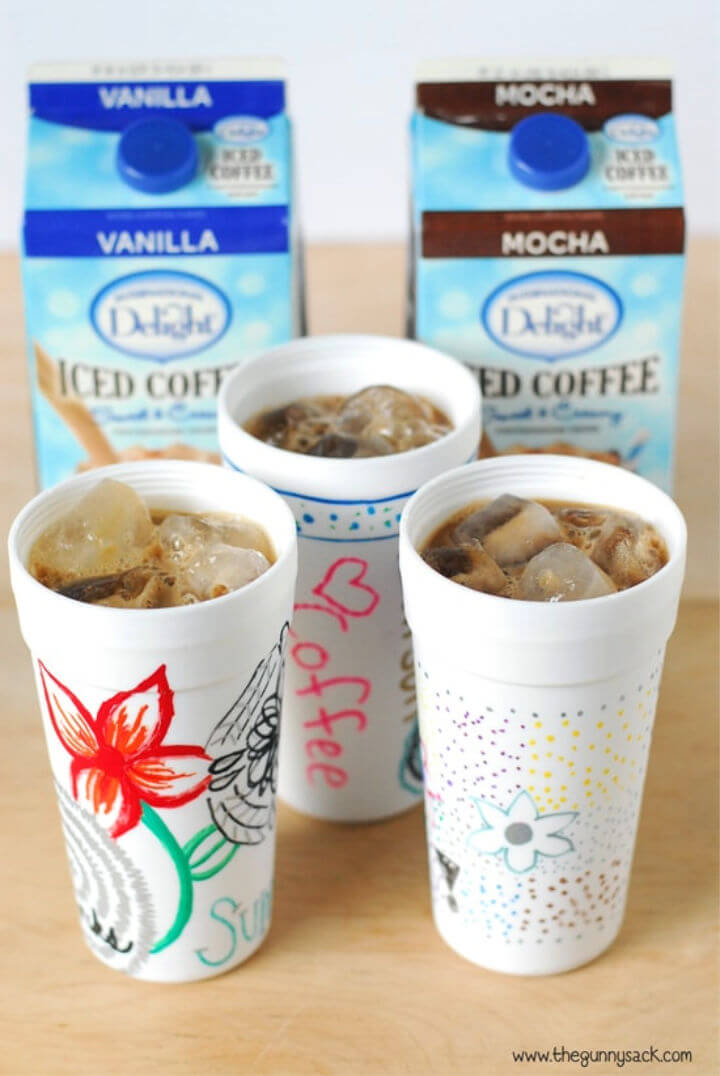 With the heat of summer, it's not easy to get down a hot cup of coffee, use a substitute for drinking your coffee over ice. So if you're at home and having a craving for some cold coffee with Gunny sack learn you can make it all at home! Using coffee powder, ice, and sugar and blend them all well. thegunnysack
38. Whimiscal Rainbow Sugar Scrub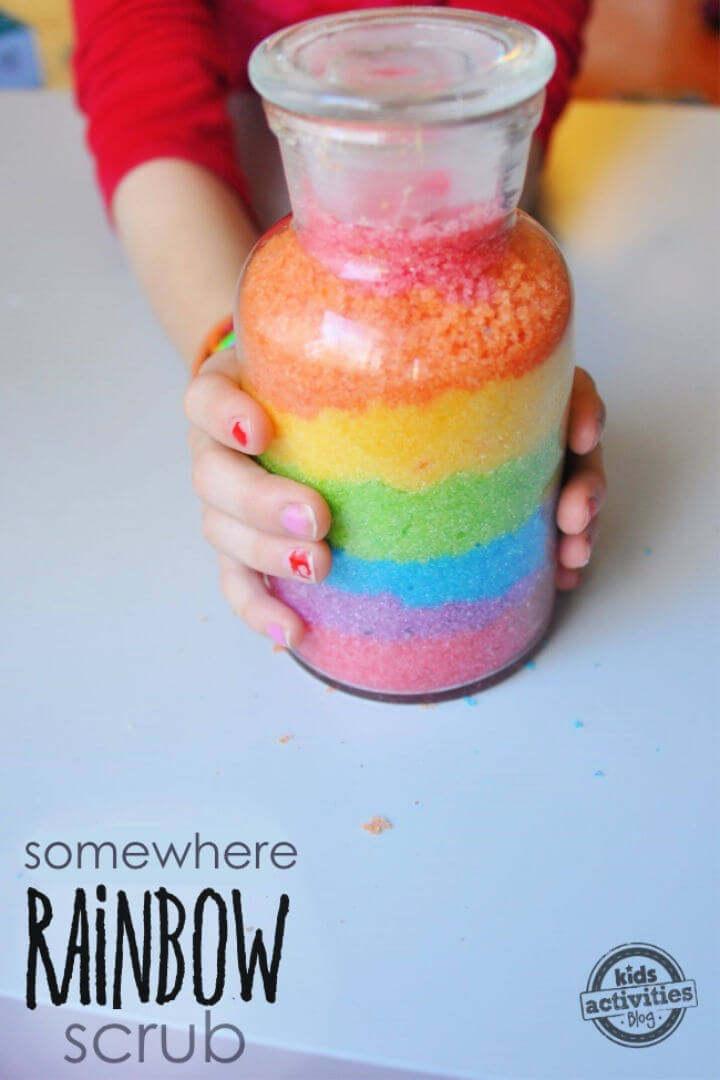 To make this fantastic whimsical rainbow sugar scrub, you need ingredients like granulated sugar, pure honey, olive oil, food color, and essential oil. Take a clean glass container to store the sugar scrub, add colored sugar scrub one on the top of the other and slightly press down all the layers. kidsactivities
39. DIY Dream Catchers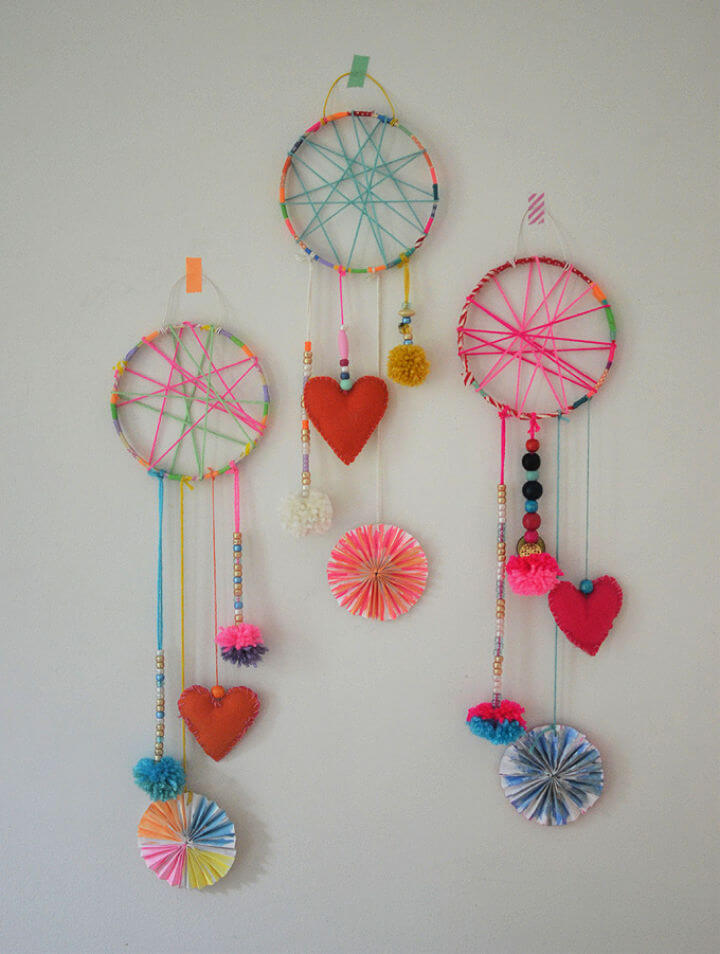 This DIY sleepover idea of a dream catcher is the perfect decoration wall hanging for your hallway. You can do it yourself just by following a few steps. Select a metal or a wooden hoop, use suede lace to wrap the hoop, and choose string for the web. Lastly, pick your decorative material. artbar
40. Adorable Glamping Play Tents
You will make your kids love you even more if you make them thesse adorable play tents for the slumber party or a sleepover plan. The reinforcements you'll need to make these tents are PVC, drill machine, screws and nuts, hammer, and funky colored sheets. domesticityde
41. Slumber Party Photo Booth
Throw the best slumber party ever with these activities for a sleepover! Enter other fun things you can do at your slumber party, like making a photo booth using watercolors or crayons with a cardboard or a chart. mylifeatplaytime
42. Chinese Ladder Friendship Bracelet
Want to gift your friend something special and unique at her birthday party? Make this Chinese ladder friendship bracelets for her. The fact that you put time and effort into it makes it a unique and personalized present. All you need to have is thread yarn in three different colors. designdazzle
43. Glow in the Dark Cotton Candy
Get a glow on your cotton candy if you're planning a pool party and incorporate some lights and shines in your party in an unconventional way. So roll up your sleeves and hack your own décor. With the neon love notes and the glow stick jar, add glow in the dark cotton candy too. livinglocurto
44. Pillow Fights & Brunch Sleepover Birthday Party
Having a pillow fight on a birthday night with your buddies will make your birthday complete fun and exciting. And when your friends get up starving in the morning, suprise them by presenting a sumptuous brunch that will the sleepover worth remembring! hwtm
45. Sleepover Ideas for Kids to Make With Felt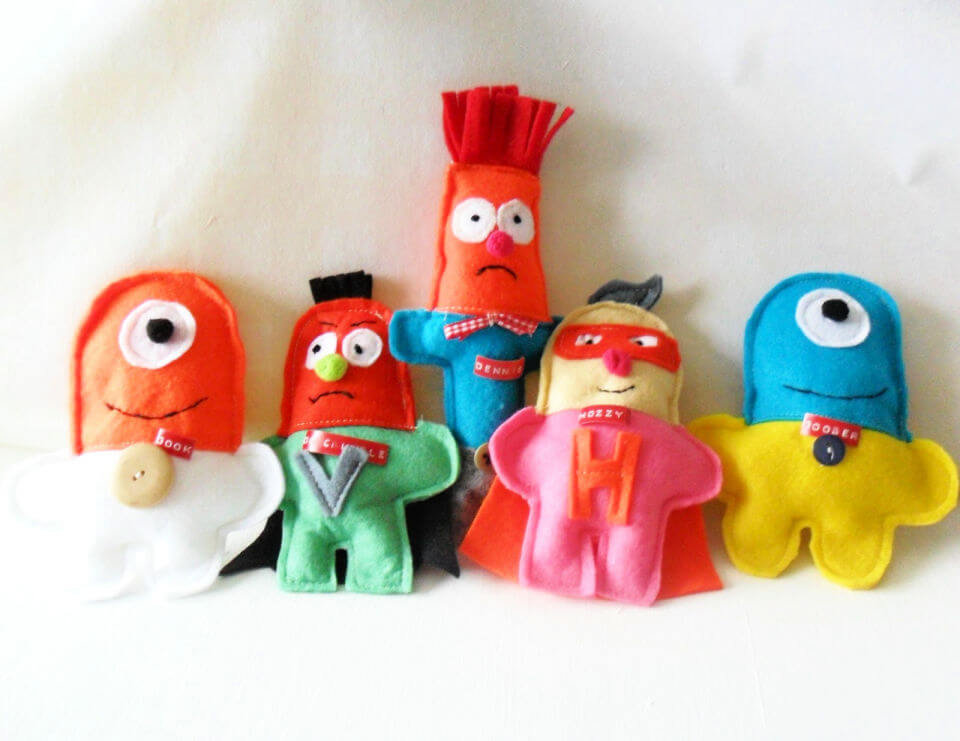 So, next time when your kids want to host a slumber party for their friends, being the mom, you must make them these polyester filled puppets! And let them entertain to their fullest. To make these felt puppets, you need a sewing machine with velvety fabric and buttons. teawagontales
46. DIY Boats – Sleepover Idea for Kids
Sleepover nights are always about playing fun games, what if with this DIY sleepover idea, you can make your kids play and learn at the same time? You definitely have some empty packing boxes at your home, allow your kids to use them to make some boats. They'll need scissors and liquid glue too. ikatbag
47. Pool Noodle Lightsabers for Slumber Party
Make your slumber party flashier and shiny with these pool noodle lightsabers. Don't worry, you don't need to rush to the store to get these. Just do it yourself with the materials like a pool noodle, battery-powered tea light, knife, and clear wrap, and BAM there you are with lightsabers. muddyboots
48. Pillow Case Un-Slumber Party Invitations
"You are invited to our un-slumber party birthday party! Come to play and stay up late". Invite your friends in a rhyming mode and make your very own invitation case with a 12"x12" pillowcase cover. Write with any fabric paint and make a unique, appealing invitation. onecreativemommy
49. Outdoor Movie Slumber Party
Party hard, and have a blast with your friends at the outdoor slumber party at your home. Make this party even more entertaining and amusing by setting up a huge projector at your lawn and play your favorite movies on it. Don't forget to serve popcorns and coke! karaspartyideas
50. Sleepover Ideas You Have to Do With Your Besties
Because you are a girl, so your mind must be flooding with many DIY sleepover ideas! You have so many options to spend your sleepover night with your friends by stalking someone on Facebook or  play a season and have popcorns with it. Pick any! rue21
We are sure that after looking at these tutorials, you are tempted to plan a sleepover for your friends. If you are exhausted from your tiring routine and need some peace of mind, then plan a slumber party with your besties and have the time of your life. Know the truths of their lives help them relax also. And if you are short of ideas, then these best sleepover ideas or sleepover games will be a great help. Therefore, get ready to have the most memorable time of your life. After all, friends are the best people and what's better than spending time with friends.