Learn how to make a homemade slingshot with these 14 easy diy slingshot ideas with step by step instructions using household items. Let your kids play super fun making shooting games with DIY slingshot, giving you all the tips to make a homemade slingshot! The very first thing required would be the shooting frame, make it quickly using the Y-shape tree branches! Remove bark and sand them smooth, next, tie the shooting elastic straps with a leather seat at the back where shooting balls will sit!
For more amazing and unique slingshot designs, browse this collection of 15 easy to make DIY slingshot ideas sharing the best guides, tutorials and step-by-step instructions about how to make a slingshot without getting a bit expensive! These diy slingshot ideas will discuss so many different materials lying around, mostly as scrap, to use for making a slingshot! Let the fun-felt ball fights start again among the kids with these old-fashioned shooting guns!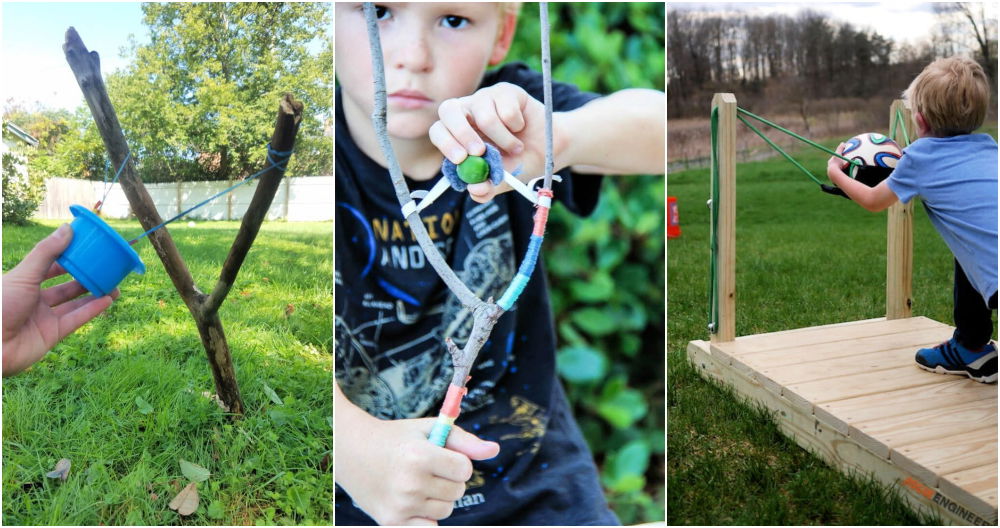 Make use of plumbing pipes to build a lasting longer Y-shape frame for a giant-sized slingshot! Go with these ideas to build an angry bird-inspired slingshot! Make backyard slingshots to shoot the big footballs which will increase the outdoor activities of your kids! Reusing the metal hardware remains also for building a durable slingshot without getting expensive! Get inspired by more design ideas by taking a tour of the entire list of these DIY slingshot Ideas, shared for craft lovers!
1. How to Make Slingshot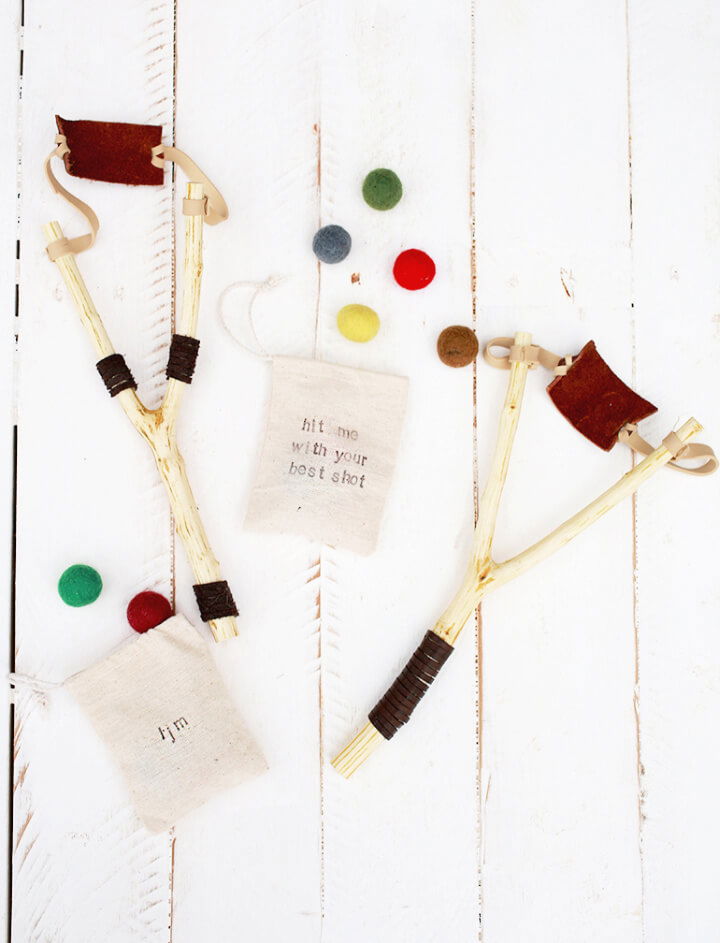 Make this slingshot using a Y-shaped tree branch, tie the large rubber bands to both of its arms that should be equal in length. Add the leather backing to both elastic lengths or rubber bands that will be the holding for the felt balls to shoot. This will be the best fun gift to give to a little kid in the home. themerrythought
2. DIY Rubber Band Slingshot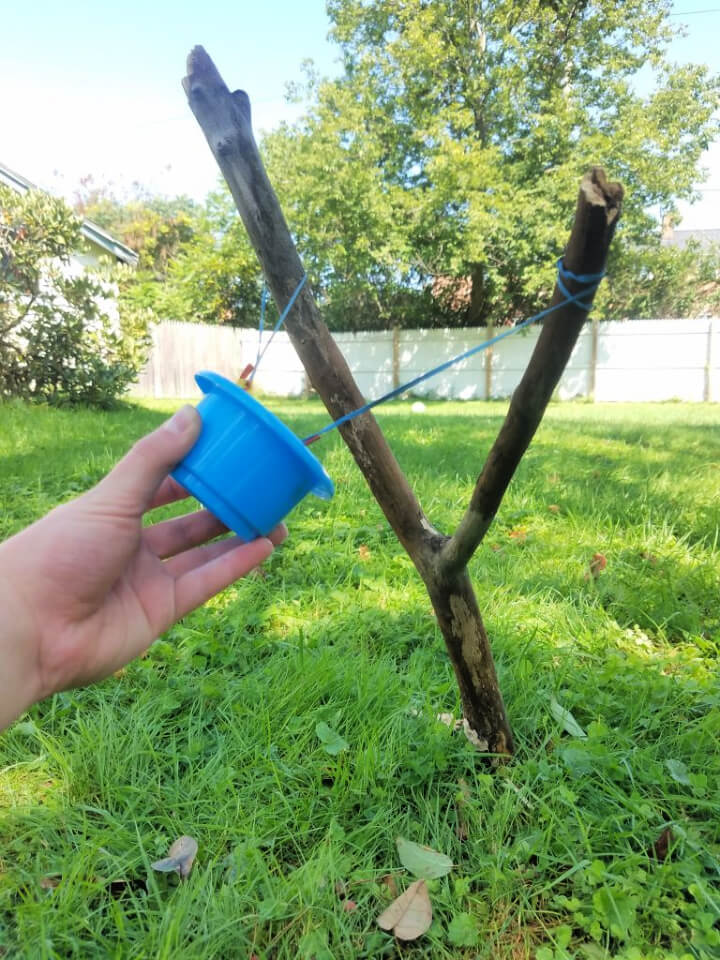 This one is bigger and is fixed in the ground, again make it with a fallen off Y-shape tree branch, tie the equal lengths of the rubber band to both arms, finish with a plastic bucket back. This slingshot will rock even to shoot the bigger balls. Full how-to guides here momscollab
3. Easy DIY Cactus Slingshot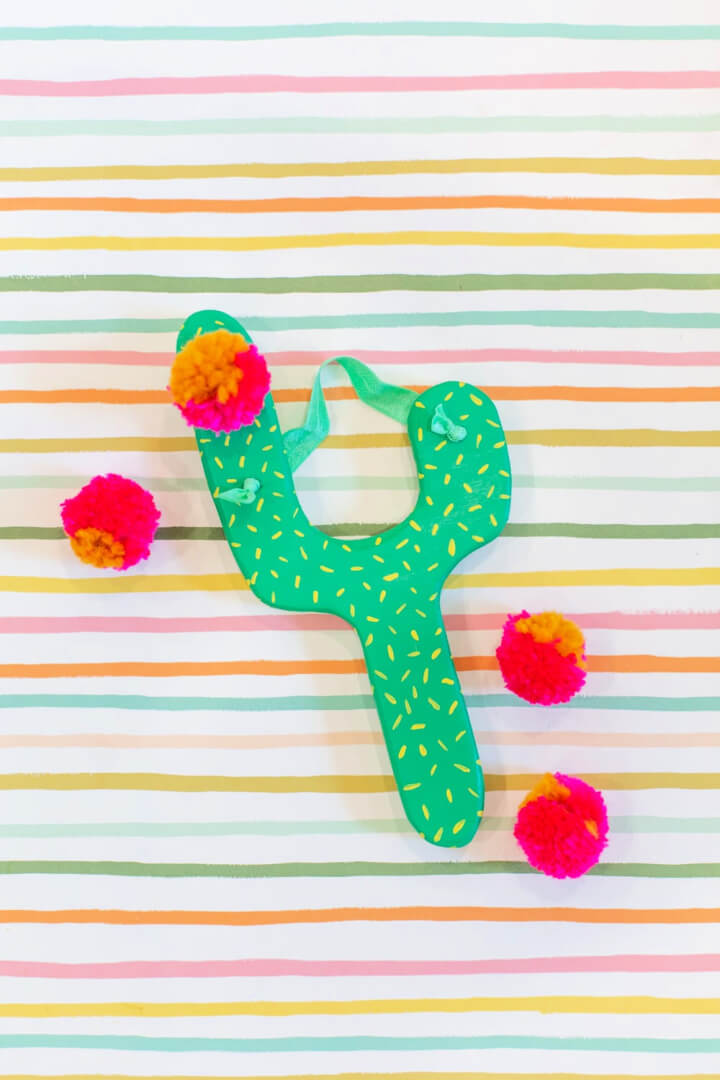 Make this cactus inspired slingshot that will be a worth handmade gift for a fun-loving kid. The slingshot shooting will win the heart of adults too. Use a cactus template and cut a cactus shape out of plywood or MDF board. Make holes in both arms and then string the elastic lengths into the holes. Use paint for a cactus look. lovelyindeed
4. DIY Stick Slingshot for Kids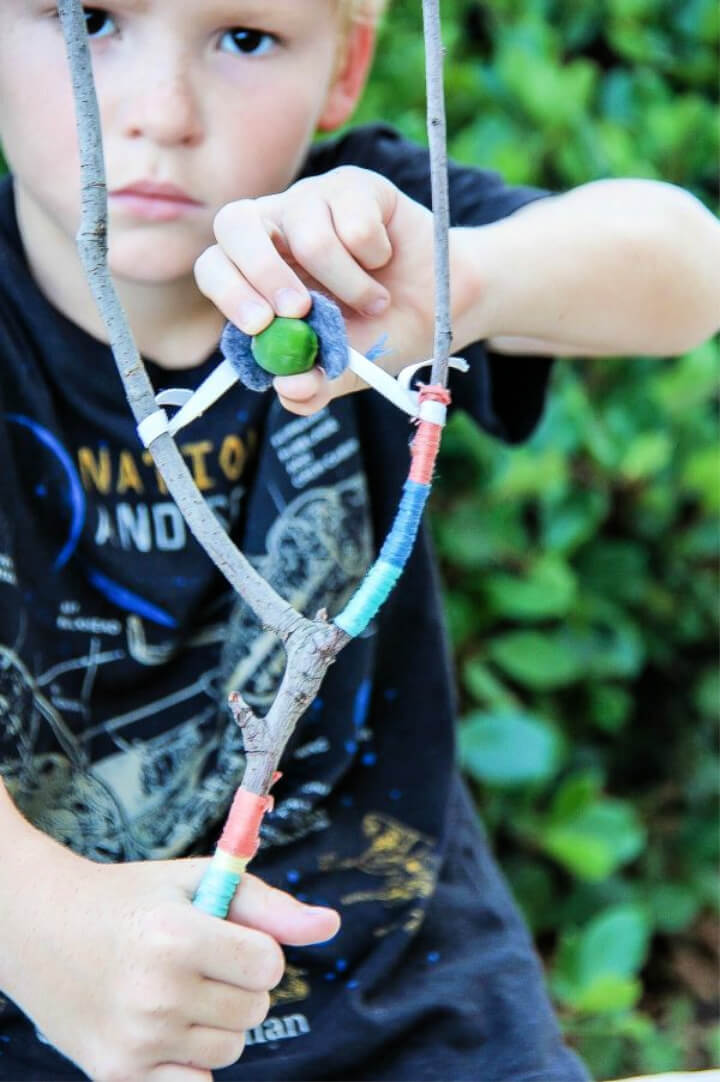 Tree branches are not a waste, repurpose them to build lovely kids' toys. Again upcycle a tree branch to build this stick slingshot. Wrap the colorful yarn around branches for a colorful appeal. Get helped by a piece of leather, rubber bands, and yarn to install the shooting mechanism. makeandtakes
5. Building a Backyard Slingshot
Turn your backyard into a prominent fun place for the kids by adding this backyard slingshot. This giant-sized slingshot can shoot a big football too to hit the plastic basket stacks in your backyard. Build the wooden base of it with vertical arms using heat-treated lumber and deck boards. Use the carriage bolts, wing nuts, washers, and a water balloon launcher to build the shooting section. rogueengineer
6. Make Your Own Slingshot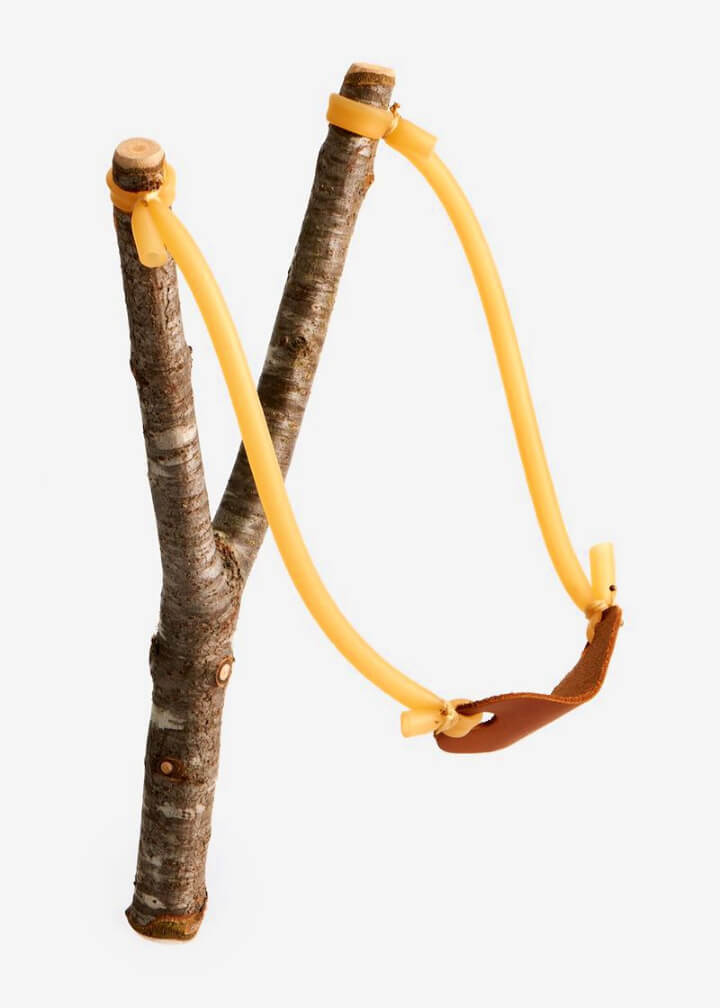 Whip up this slingshot model using the buckthorn branch with two arms. Next, use the natural rubber tubing, a leather pouch, and sinew to turn the Y-shape tree branch into a lovely shooting gun. The best retro toy kids' gift to make at home without getting a bit expensive. How-to tutorial here trendhunter
7. Simple DIY Slingshot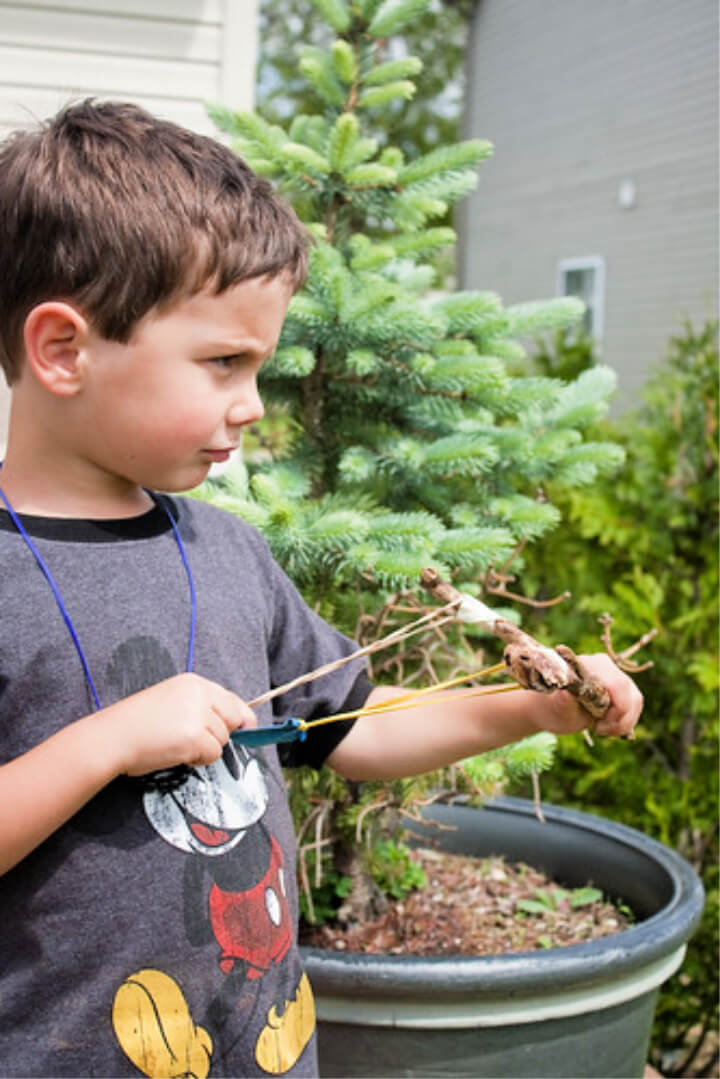 Let the felt shooting wars begin among the kids by making some slingshots at home, the best-felt ball shooting guns. Here you need a forked stick, rubber bands, and scrap leather cloth piece to make this cool slingshot model. The best felt ball launcher to make for kids in no time. theriskykids
8. Cheap DIY PVC Pipe Slingshot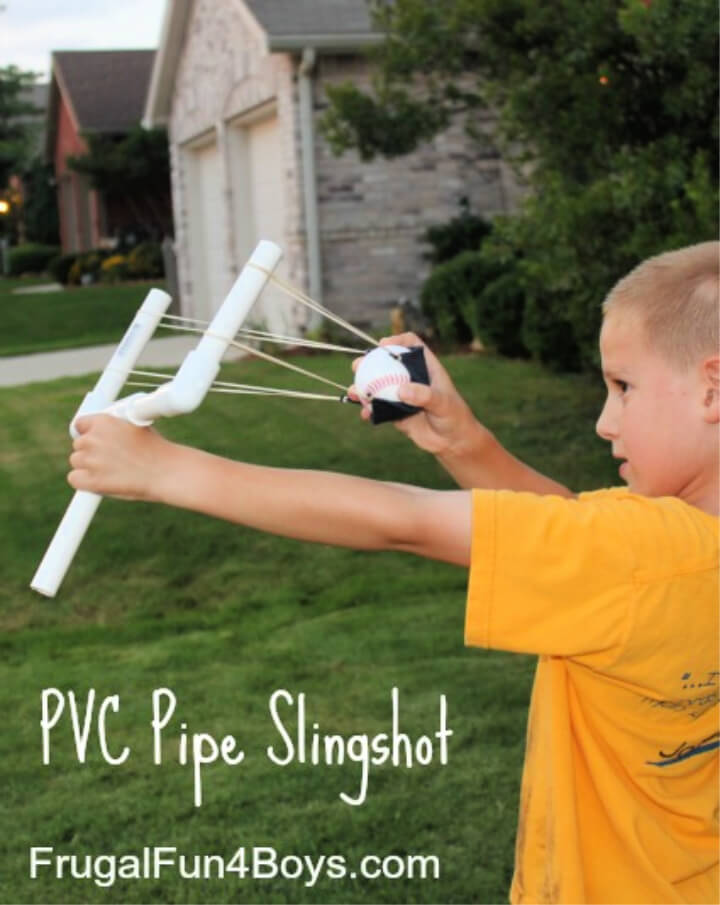 Instead of using the tree branches, upcycle PVC pipe scrap pieces too to build a slingshot. The equal cut lengths will bring accuracy to design. To get the PVC pipe lengths in Y-shape, use the elbow joints. Use a leather piece for the back pouch, and 4 rubber band lengths will be enough to install the shooting mechanism. frugalfun4boys
9. Homemade Metallic Slingshot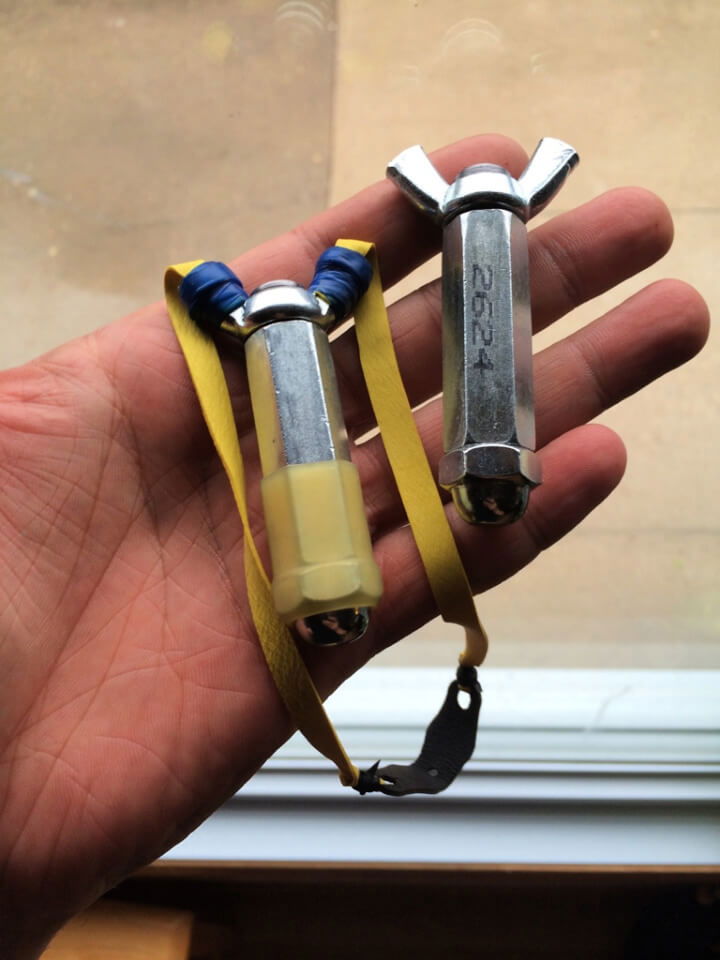 This creative work done with the hardware materials will get your appreciation. Use the wing nuts, bolts, other nuts, and metal tubing to make the metallic slingshot frame. Build the rest of the model with rubber bands with a piece of leather. A durable slingshot model to make quickly at home. slingshotforum
10. Survival Sling Shot with Big Game Capabilities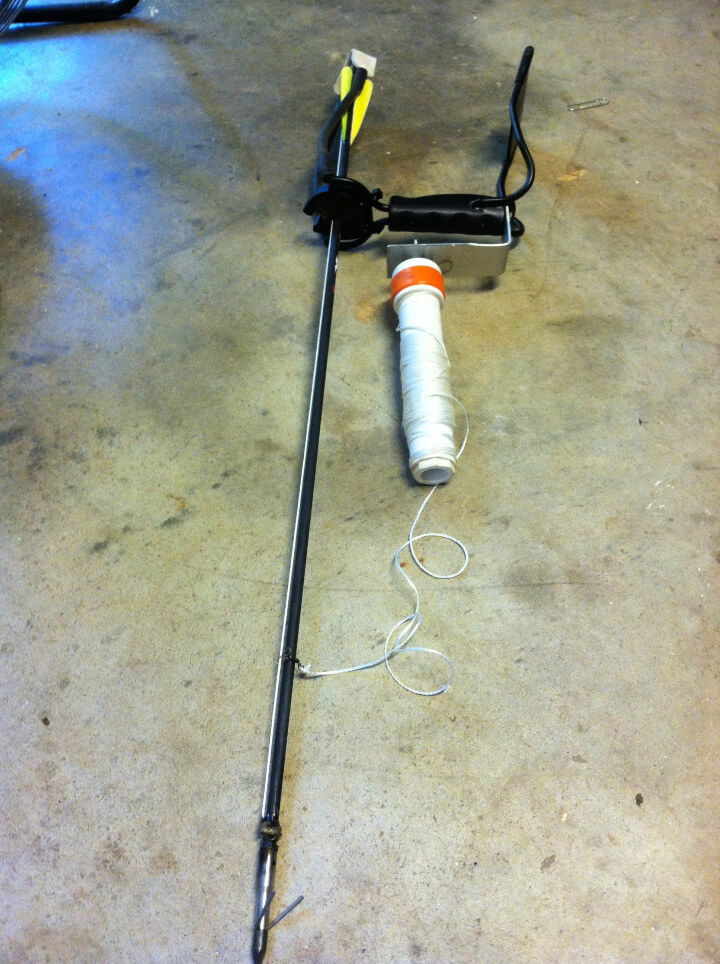 If you love the shooting games, then you will definitely like this survival slingshot model. A comparatively precise and more modern type of slingshot designed to inspire. Making of it involves using PVC pipe, wrist rocket, aluminum plate, and nylon bank line, etc.. How-to details here survivalsherpa
11. Handmade Slingshot with Felt Ball Ammo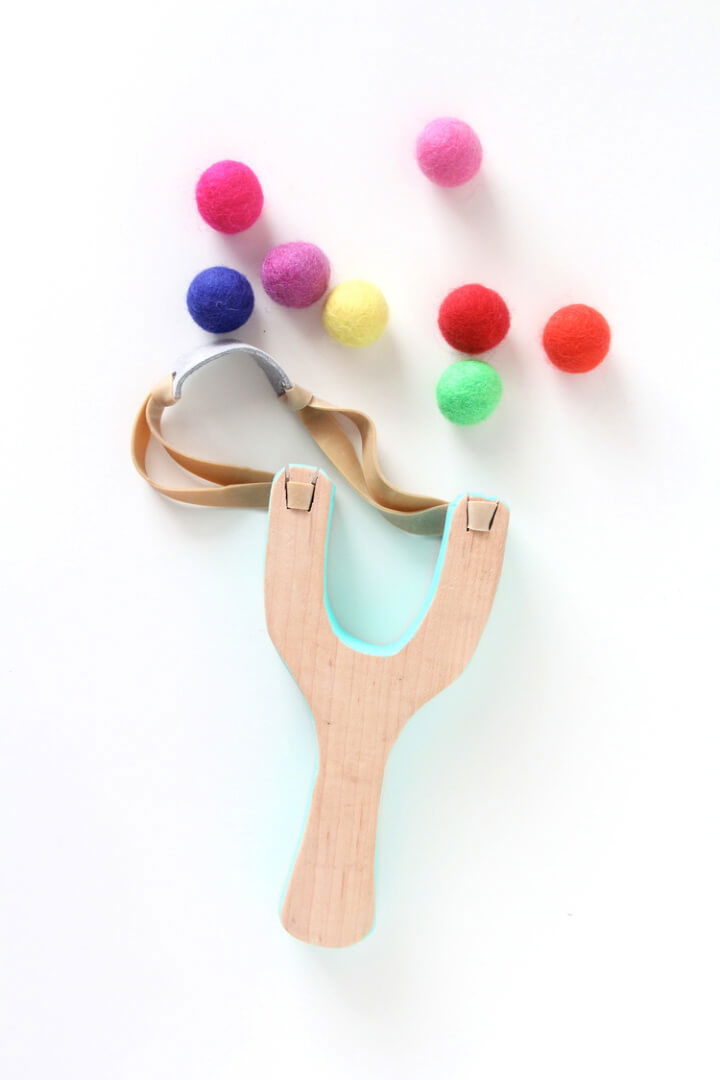 Shooting the soft felt balls is a great fun activity, the things become amazing when you use a slingshot as a shooting gun. Use a "Y" shape slingshot paper template, trace it on a piece of wood and then cut it out. After you are ready with the frame, cut slits in its arms to tie the rubber bands. andweplay
12. DIY Giant Angry Birds Slingshot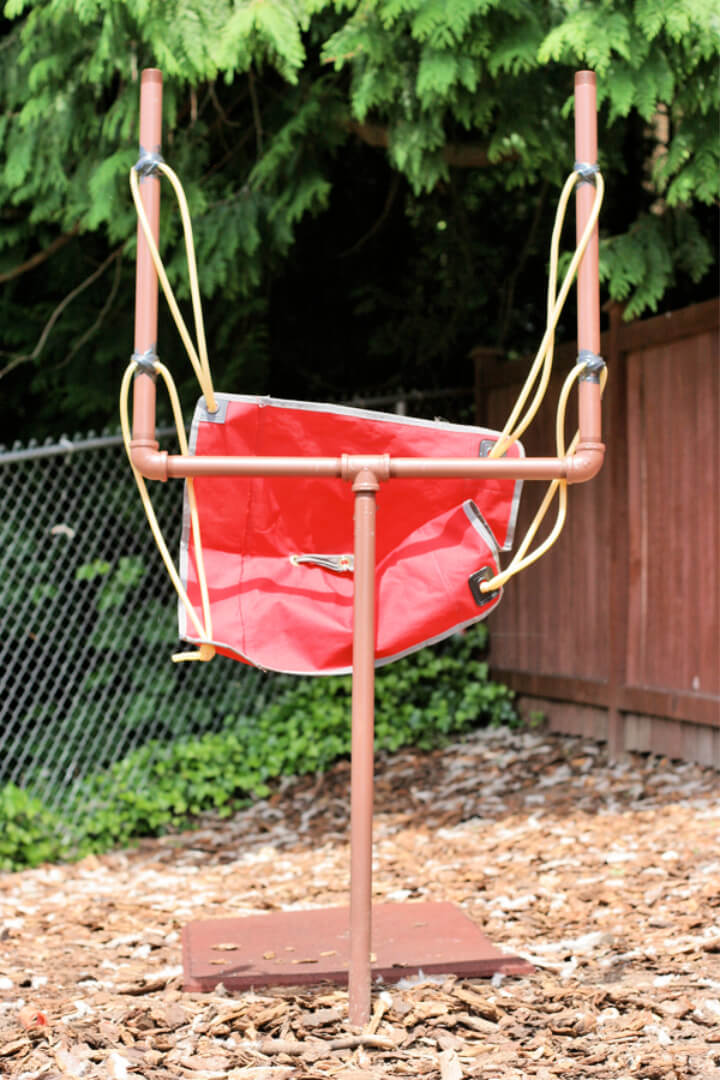 Are you in love with the angry birds deeply? So, do make this giant angry birds slingshot, that case easily hold the big balls even the angry birds to shoot the target. Build the frame using plumbing pipes, T-joints, and elbow joints. Nature rubber tubing will rock for the shooting mechanism. simplystyledhome
13. Old Fashioned Slingshot for Kids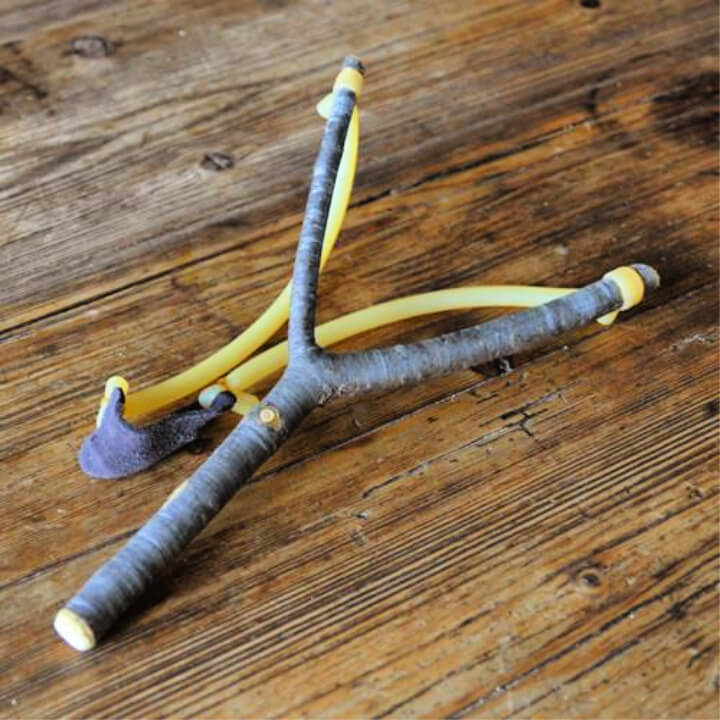 A slingshot is the most loved retro toy for the kids. So, do make this old fashioned slingshot to live those past days again. Give it as a fun gift to your kids, whip it up using rubber tubing, a Y-shape tree branch, and a leather pouch.
14. How to Make Wooden Slingshot
Big or small, thin or thick, you can make use of any Y-shape tree branch to quickly create a slingshot. Drill holes in the robust Y-shape tree branch, string the rubber tubing into to get the elastic shooting lengths. Add a leather pouch to back ends of it.
Related DIY Projects and Ideas
DIY Outdoor Games: Go outside and have fun with these Ultra-Fun DIY outdoor games for summer and spring that includes backyard games, lawn games and also perfect for camping, picnics, and more!
Board Game Ideas: Here are amazing DIY board game ideas that you can make to entertain guests. Get some simple supplies and whip up a fun game in minutes!
Tic Tac Toe Game Projects: Get your friends together and have an exciting game night with these engaging DIY tic tac toe projects. Whether you're a beginner or an expert, these games are sure to give your game board a new life.
Cornhole Board Plans: Build your own cornhole boards at home with these free DIY cornhole board plans and ideas. From basic designs to stunningly detailed instructions, you're sure to find the perfect board for your next backyard game.
Plinko Board Plans: Plinko is a game based on chance. It's a fun way to pass the time and teach your kids math skills while they play. Plus you can use these free DIY plinko board plans to make your own board!
DIY Minecraft Ideas: These best DIY minecraft projects are fun and creative, so let these ideas inspire your next project. From sculptures to shadowboxes, you'll have a new creation in no time.
Family Reunion Games: Are you looking for some fun games to play at your next family reunion? Look no further! These fun family reunion games are sure to keep the whole family entertained. From classic games like tag and charades, to newer games like Heads Up! and Jenga, there is something for everyone.
Conclusion:
If you're looking for a fun outdoor activity that also doubles as a handy weapon, then check out these 14 easy homemade DIY slingshot ideas. With just a few simple supplies, you can create your own slingshot to take on your next camping trip or use for target practice in the backyard. So get creative and have some fun with these diy slingshot ideas – who knows, you may even want to make DIY slingshot for each family member!