Learn how to make an easel for painting with these 25 homemade DIY easel plans with step by step instructions. Are you looking for ways to sharpen your art skills or pass the time with a fun, engaging craft? Consider making your own homemade DIY easel that will make your kids happy. With simple step-by-step instructions, including blueprints and detailed diagrams, these 25 homemade DIY easel plans will show you how to construct your own custom easel using wood and household material in no time. Whether you plan to display finished artwork or just use it as part of the creative process, these DIY easel plans have everything you need to build your very own diy easel for any purpose, from a diy table easel, diy painting easel, diy wood easel to a diy art easel and homemade easel.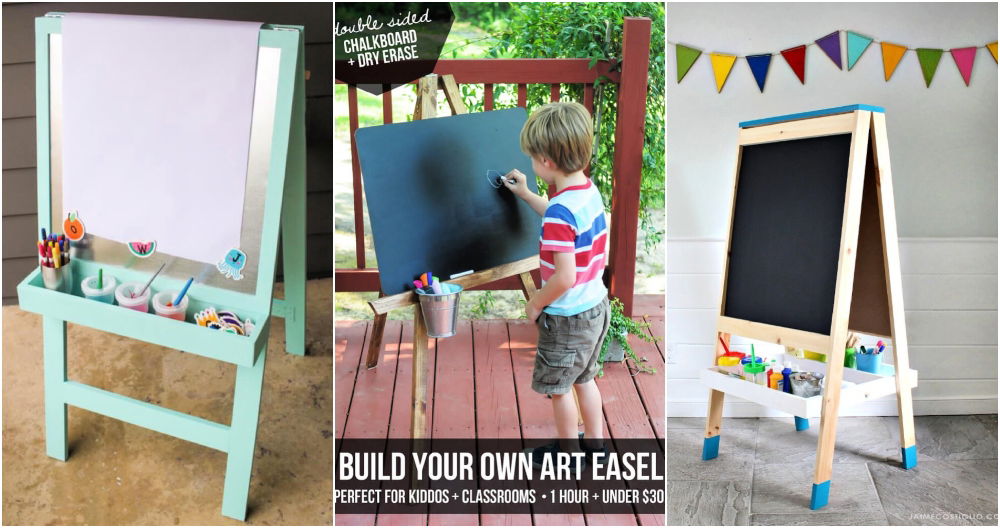 Free Homemade DIY Easel Plans
Want to display your artwork? Or willing to get the right posture to start your art and painting projects? Then go with these DIY Easels for both displays and draw your art on the right and comfortable angle. A custom easel is a big essential in the life of an artist and helps avoid the effects of perspective. Time to skip buying the expensive easels; make your ones at home with custom added features. Plus, you will be all free to build them in custom dimensions. Build every style from a self-standing to a tabletop easel, with these 25 DIY Easel Ideas will make you say a big wow.
From metallic magnetic to the chalkboard to acrylic paneled easels, the ideas involve building all sorts of designs like a pro. They will help double up your drawing speed by providing a right comfortable angle. Moreover, they will help improve your posture, along with being the best stands to display your completed art paintings.
The provided tutorials, step-by-step instructions, and visual guides will be a total help to make you build every unique design of easel you are looking for. Furthermore, upcycle the cardboard boxes and wooden suitcases to create attractive designs of a super inexpensive easel. Jump in the list of DIY Easels to take a tour of all the ideas giving you lots of design inspirations.
1. How to Make a Cardboard Easel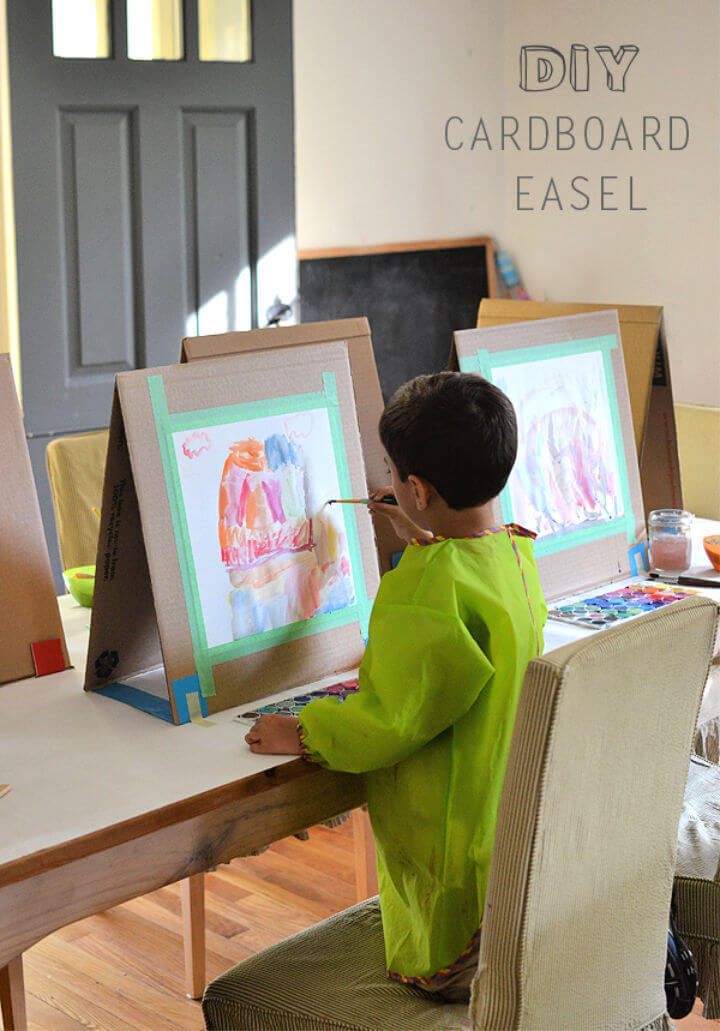 Improve the quality of your paintings using an easel. By easel, we don't mean to buy an expensive one, make your one even with the recycled cardboard. Here you need large cardboard, duct tape, and sticky back Velcro to make this gorgeous cardboard easel in no time. Detailed guides here artbarblog
2. Portable DIY Painting Easel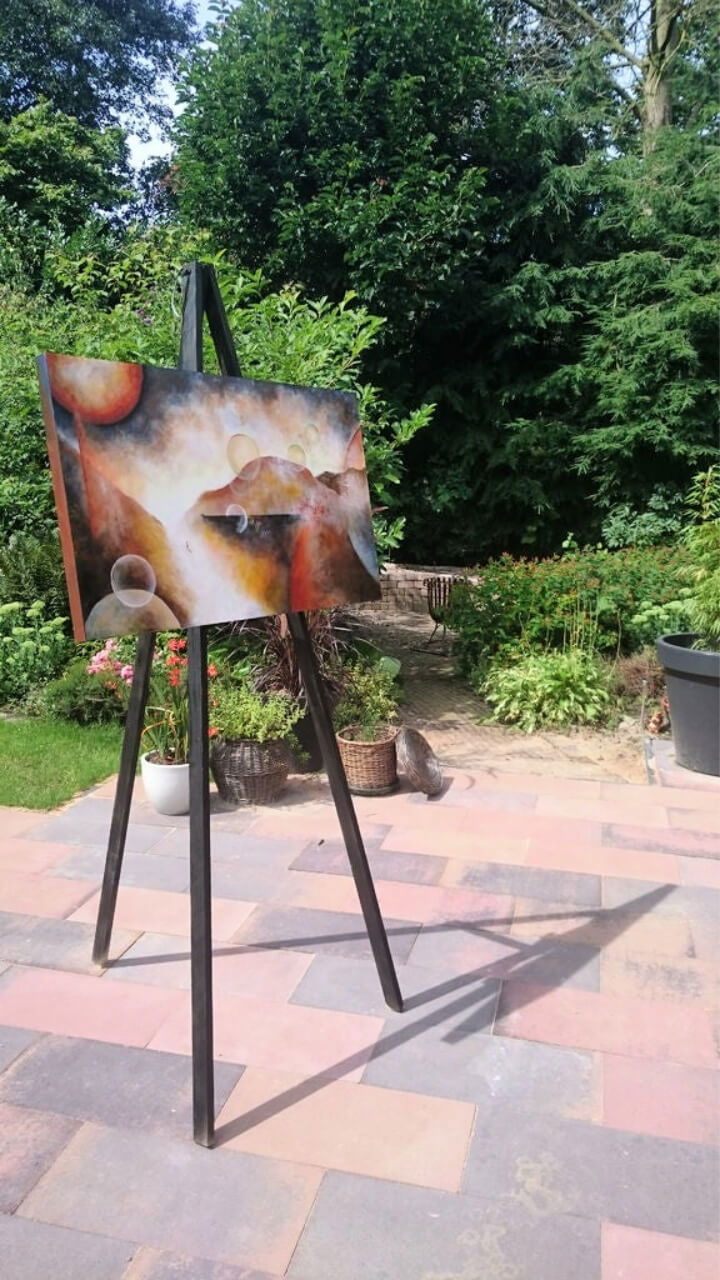 This DIY easel stand is a big essential in the life of an artist. They help get the right vertical angle for precise painting. So, ease your routines of being an artist with this portable painting easel. Make it using 3 wood lengths having dimensions 20mm x 50mm x 2000mm and one length of 20mm x 50mm x 2200mm to make this easel. Further supplies would be rock, screws, and Mp4 ring. instructables
3. Cheap DIY Artist Easel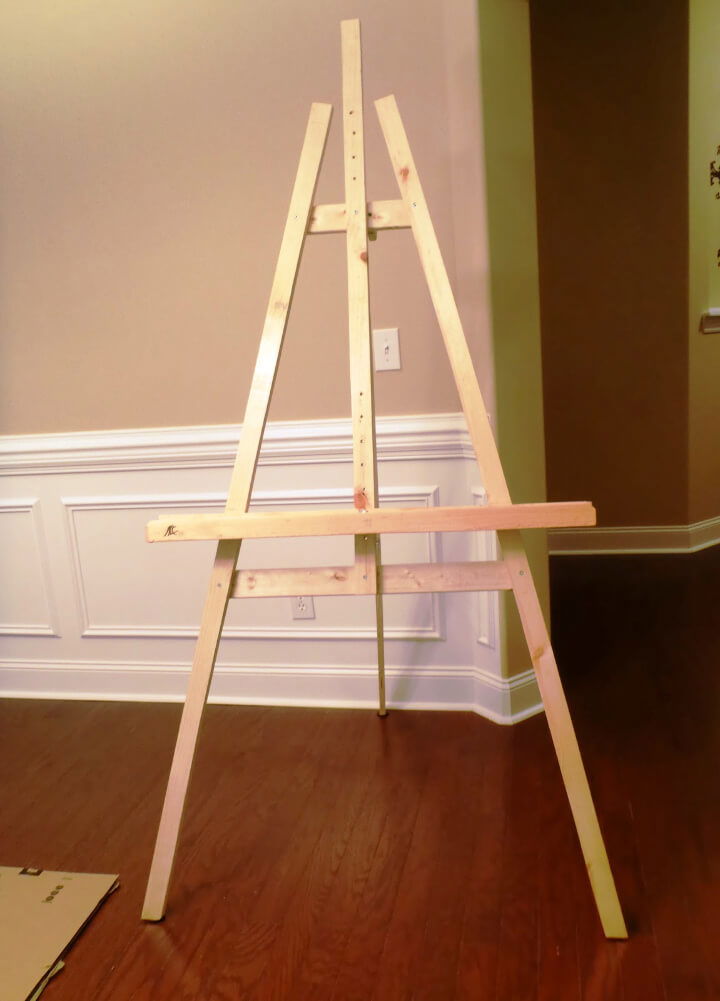 One of the easiest wood projects is to build an easel. If you are surrounded with some reclaimed wood slats, make an easel also for free. You only need a set of wood planks in different sizes to build it. Do the assembling using washers, nuts, carriage bolts, chain links, eye-bolt, and wood glue. Details here lazylizonless
4. Homemade Tabletop Easel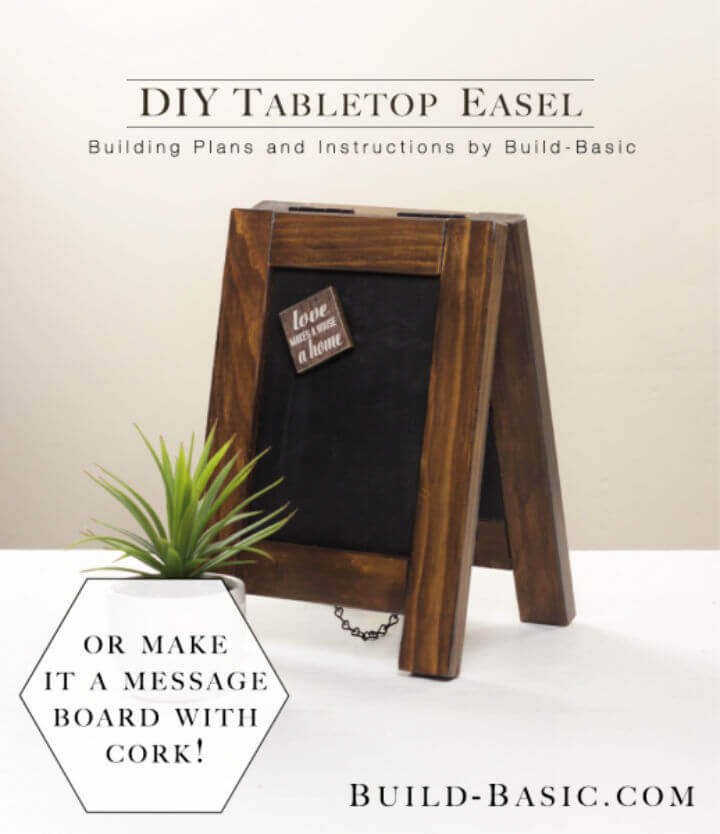 Build this cool easel stand only in 1 hour, an easy wood project that will cost you only $10. Use 1×2 wooden pieces to build the easel frame, go with pocket holes for neatness in work. Fill the frames by placing panels inside, finish with custom paint and stain coats. To limit the stretch, use a metal chain cross support between the frames. build basic
5. DIY Cardboard Tabletop Easels
Maybe you and your kids love to do painting projects on a table. So, get the right painting angles with these tabletop easels made of recycled cardboard. Build the cardboard triangles, will looking pyramids, use the clothespins to hold the art papers on them on an angle. Details here youclevermon
6. Simple DIY Chuck an Art Easel
Look at an easel that will stimulate the painting and art-loving hands of your kids. So, encourage your kids for painting by setting an art easel on a table. You need here a large cube-shaped cardboard box, packing tape, and an IKEA kids' table. The most cost-effective hack for making a modern easel stand. pinkstripeysocks
7. DIY Adjustable Easel
Go handmade with the wood slats to make this adjustable easel. Build it with the 2m thin wood lumber boards and with a 50cm piece of leftover wood. Assemble the easel using rope, hinges, wing nuts. Stop the wing nuts from slipping using felt circles. awesomesauceass
8. Leaning DIY Art Easel for Kids
Are you kids learning painting art skills? Then do make this leaning art easel will help in easy practicing of art skills. They can be around this art easel at any time to try out their creativity. Build this art easel using 1×3 and 1×2 wood planks can quickly be put together to whip up the design. Details here ana white
9. Build Your Own DIY Wood Easel for Kids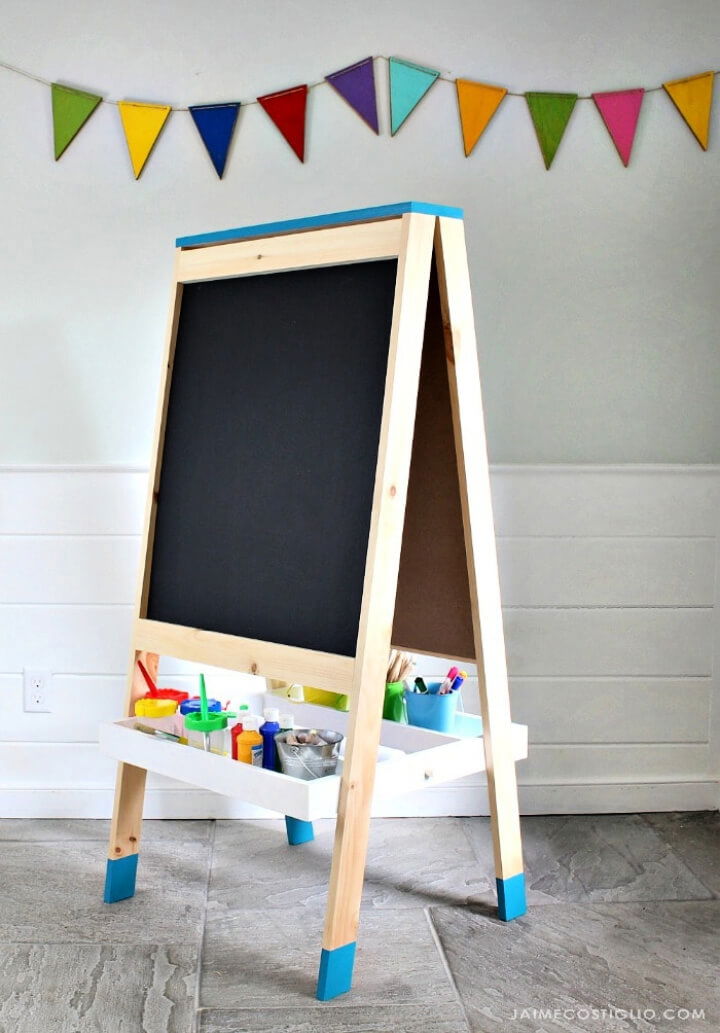 Build the custom quality easel providing space to hold the additional items and supplies carefully. A double-sided chalkboard easel that can stand alone flat on the floor. It gives a tray at the bottom side to carefully hold the art and painting supplies. Build most of it using thin wood planks, don't forget to add panels in the frames. jaimecostiglio
10. DIY Chalkboards and Dry Erase Boards
Spend the cheap amount of $30 dollars from your pocket to build this dry erase chalkboard easel in less than an hour. Grab the 8′ and 6′ foot sizes of 1×2 wood slats to build legs. Finish with a chalkboard dry erase frame. Support the folding hinged legs with metal chains for limited stretch. thecluelessgirl
11. DIY Kids Outdoor Acrylic Painting Easel
Start the never-ending painting fun for the kids by building this acrylic painting easel. This will involves paining on acrylic and hence will allow quick drying of the painting frame. Put together the 8′ food 2x4s and 1×6 and a 68″ 11/18″ quarter around to build the self-standing structure. This painting easel comes with a 36″x30″ acrylic panel and offers a supply holding shelf too. fixthisbuildthat
12. Building a Plywood Chalkboard Easel
The plywood is the smartest choice for building easels, especially the chalkboard easels. Build this double-sided self-standing chalkboard easel using 3 length of 1″ x 3″ x 8″ and 1 length of 1″ x 4″ x 8″. The lengths will build the frames that you can add up with plywood sheet panels. Don't forget to hinge the tops. remodelaholic
13. Fun and Easy DIY Chalkboard Easel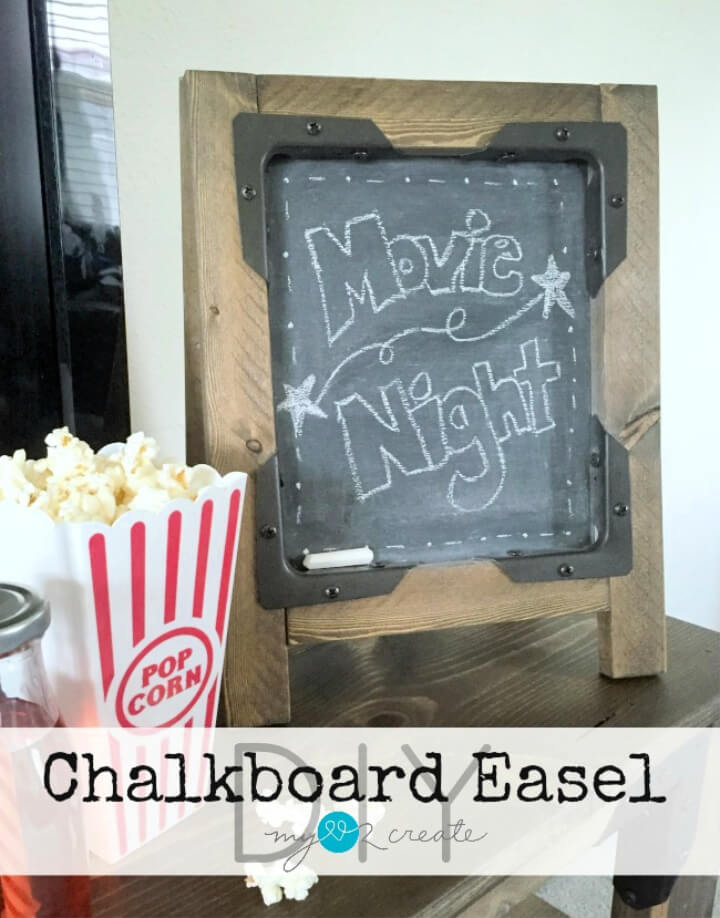 You will praise the wood and metal sheet combo, building this fun and easy chalkboard easel. One side of this folding easel is wooden, and then the other is magnetic and come filled with chipboard and metal sheet panels, respectively. It gains a lot of more beauty with the L-shape metal connectors added to corners. mylove2create
14. Creative Tabletop Easel
The table easels are highly favorite when we want an easel for the kids as they come with less danger to fall off than the self-standing easel. Duplicate this given easel using the 2'x4′ 1/2 inch MDF board. Drill holes in the tops to tie the rope through and add up each panel with the slim extended shelves that will hold the chalk. bobvila
15. Handmade Kid's Art Easel
Go again with the wood and metal to build this art easel. Use it for both purposes, to display your art and to make your art on painting. Go with galvanized steel metal to make a dry erase board. Build the rest of the easel using wood strips and plywood. Do add the lower shelf holdings to hold your supplies with care. diynetwork
16. DIY Art Easel
Get helped by the cardboard to make good looking and inexpensive art easels. Use them as message boards, too, in your home. Fold a cardboard sheet and put on the table like a tent, use both of its sides for displaying art paintings. Use tape to hold corners of painting paper in place. Make use of string to set a limit of stretch. ziggityzoom
17. How to Make Outdoor Easel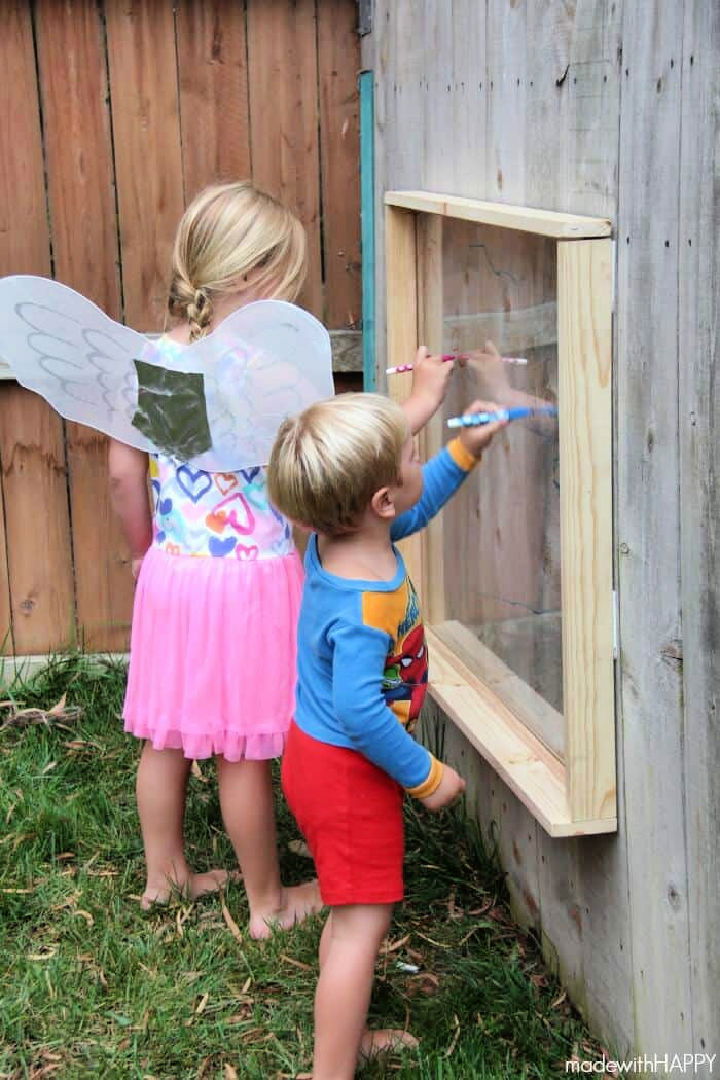 Target the outdoor wooden garden fence wall to make instant beautiful DIY art easel for kids. They will help keep the creative juices of your kids flowing. Make a hollow wooden frame and hang it on the wooden fence wall and get an instant outdoor easel inexpensively. Details here madewithhappy
18. Make Your Own Easel for Mirror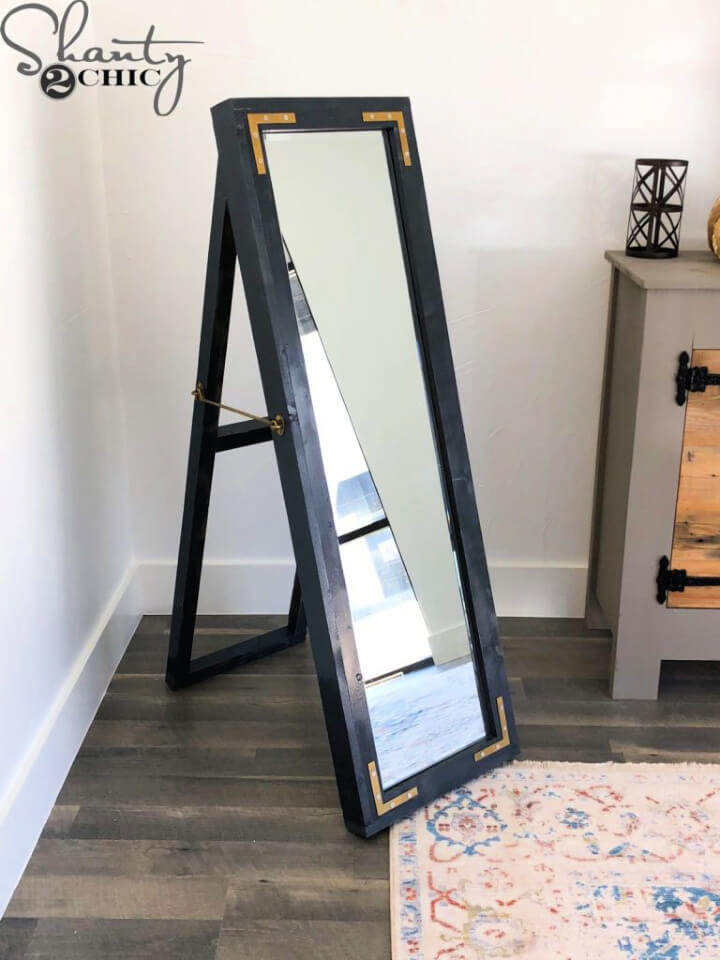 Extend the functional criteria of the easel stands. They are not merely to hold and display your art paintings, make cool easel mirrors too. Make the basic frames using wood slats. One should come at the back to support the mirror. Fill others with a plywood backing and install the mirror to it using recommended hardware. shanty 2 chic
19. DIY Chalkboard Easel for Front Porch
Increase your drawing and painting speed with this easy to make chalkboard easel. The construction is all about to build the A-frame panels first that can be filled with plywood or metal panels. Hinge their tops to allow them to stand alone on a table surface. You need wood slats and chalkboards and a few hinges to make it. ourvintagehome
20. Large Chalkboard Easel Plan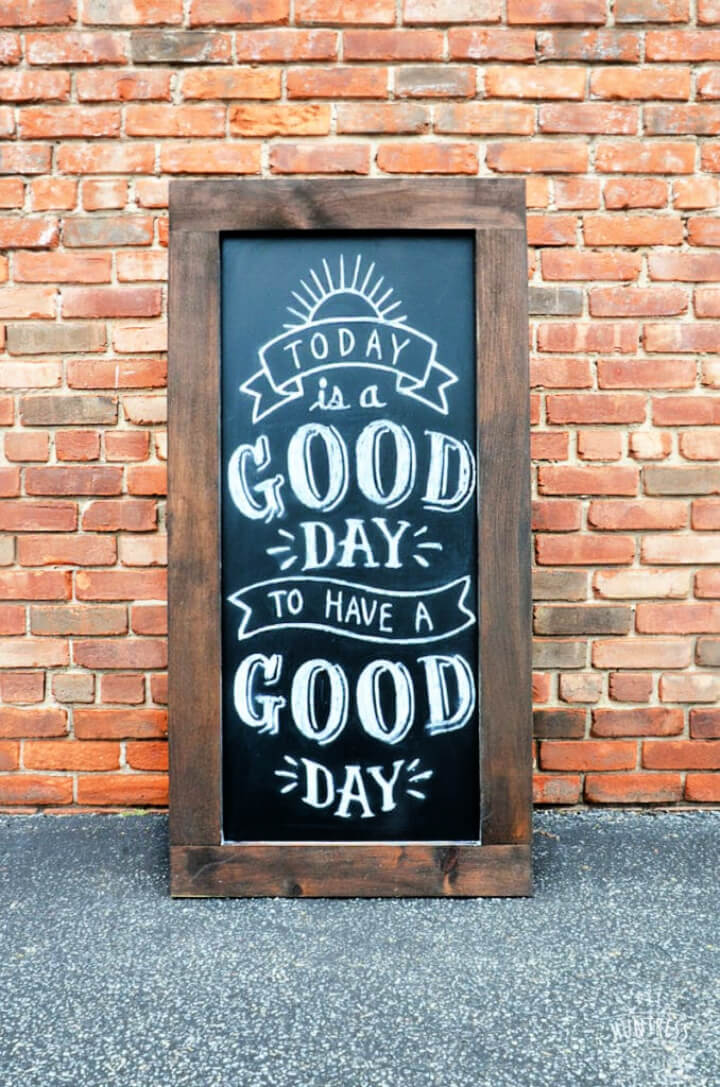 According to the needs and height of your kids, make the easel stand in any custom dimensions. Get here instructions to build a large chalkboard easel will give you the right posture to draw and paint. Get it for another purpose to display your art and messages at home. Details here diyhuntress
21. DIY Garden Art Easel
Get crafty with the 4 lengths of 2x4x6 pieces to whip up this DIY garden art easel. Get it for an enchanting display of garden centerpieces, also add a metal basket in front that can hold your spare items of decor and need. The light green painted appeal blend beautifully in the garden greenery. empressofdirt
22. DIY Wood Table Top Easel
Build every style of easel at home in a trouble-free manner. Get here fantastic guides for building a wood tabletop easel super quickly. Grab the 1×6 boards to create this little stand beauty. Make it hold your photo and mural frames too for bigger style statements. notjustahousewife
23. Outdoor Easel for Kids
Create this big pleasing gift for your art and painting loving kids, the acrylic paneled easel stand will allow a quick-dry erase. Painting on the glassy acrylic sheet will be big fun, seeing through features will create more fun. Build the easel frame using wood of choice. Here is how to make it playathometeacher
24. DIY Art Easel Out Of An Old Wood Case
Recover fantastic easels too out of old wood suitcases. Peek into details of this smartest recovery. You need here 1×2 inch board, 1×1/2×1/4 hardwood board to add cool modification in a wood suitcase to make this portable art easel. Get helped by the wing nuts for adding adjustable features. simplepractical
25. One Sheet of Plywood Art Easel
Do wonders with single plywood sheets, building this DIY art easel is one of them. It has amazing curved sides, a long wooden dowel rod at the top will nicely hold the art paper roll. Different build in storage options will take good care of your supplies. Free plans and tutorial here housefulofhan
Related DIY Projects and Ideas
Large Wall Art Ideas: These cheap DIY large wall art ideas are perfect for any space and any budget. Some of these projects only take minutes to set up and can be done with a few simple materials.
Chalkboard Paint Ideas: Looking for a way to spice up your living room or revive the walls of your child's bedroom? Check Out these best DIY chalkboard paint ideas to get you inspired that is the inexpensive and easy solution.
Rock Painting Ideas: Whether you're looking for a fun activity to do with the kids, want to try your hand at painting, or are just bored and looking for something new, these easy rock painting ideas are perfect.
Pallet Wall Art Ideas: Do you love the rustic look? Then you'll love these fantastic DIY pallet signs and pallet wall art ideas which will give you inspiration for your next project.
DIY Wall Art Ideas: Looking for a cheap and easy way to spice up your walls? Then try these beautiful DIY wall art ideas to add a touch of sophistication to your living space on a budget.
Geometric Painting Projects: These fantastic geometric painting projects are perfect for beginners. Find great tutorials with step-by-step instructions and pictures, and then try your hand at painting.
Conclusion:
If you are an artist, whether a beginner or experienced, you will find these diy easel plans very useful. The table and standing easels are both popular types that can be made with a few simple tools and some materials from your local hardware store. With just a little time and effort, you will have a beautiful new easel to help improve your art skills. Have you tried any of these diy easel plans? Let us know in the comments below!