Discover 30 easy crafts for kindergarten, specially curated to provide endless fun and learning for young children. Dive into the world of creative kindergarten art projects, ranging from colorful paper roll monsters to adorable penguin cut-and-paste activities. These art lessons for kindergarten are designed to be simple yet stimulating, allowing children to explore their creativity while improving their fine motor skills.
These crafts and art projects for kindergarten include making crepe paper butterflies, cupcake liner flowers, and tissue paper plate turtles. Bring stories to life with imaginative paper bag monster puppets, BFG dream catchers, and handprint giraffe kid crafts. Encourage play and movement with activities such as DIY shark cootie catchers, Avengers bookmarks, and no-sew superhero masks.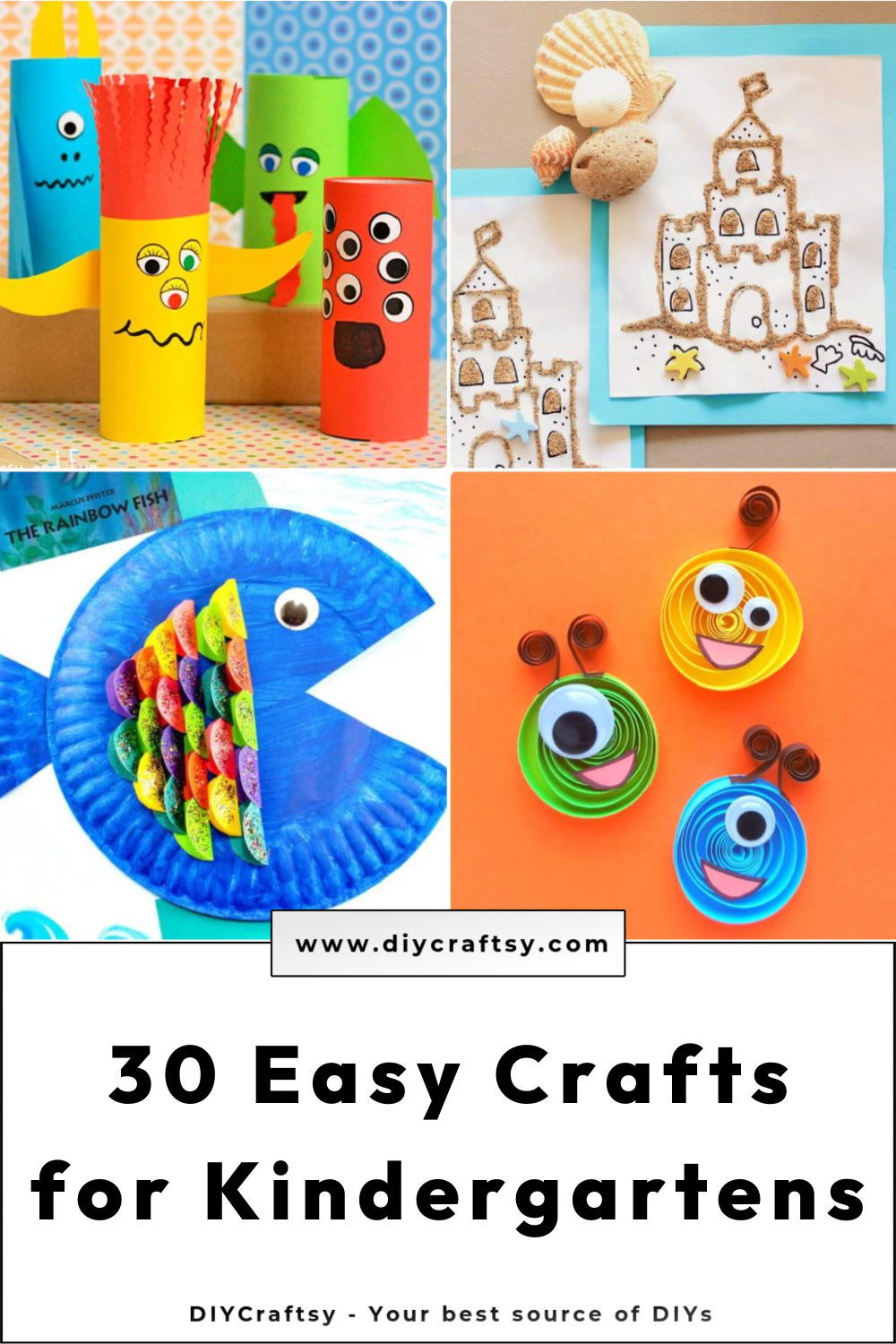 These kindergarten arts and crafts promote learning and hands-on fun for children and parents alike. Make cherished memories while working on projects like cute paper plate elephants, emoji masks, and watermelon pinwheels. Unleash your child's artistic potential by exploring these 30 fun crafts for kindergarten today!
1. DIY Paper Roll Monsters
Enhance your child's cognitive growth and emotional intelligence by encouraging participation in fun and interactive kindergarten art projects. Get set for Halloween with an engaging DIY craft that kids will love – paper roll monsters! This project utilizes simple supplies, such as paper rolls, colored paper or paints, wiggly eye stickers, scissors, and glue. If you prefer, store-bought craft rolls can be used, perfect for a group activity where each child can express their creativity.
Start by decorating the paper rolls with colored paper or paint. Once dry, it's time to transform these rolls into vibrant monsters. Craft wacky haircuts with decorative scissors, affix wiggly eyes, or even append wings, horns, or fangs. The options are limitless and a surefire way to spark the imagination.
This project is a fun Halloween activity and a wonderful way to encourage creativity in kids. Take a snapshot of your monstrous creations for a lasting memory! Don't miss out on this uniquely entertaining Halloween craft – make your paper roll monsters today! easypeasyandfun
2. Penguin Cut and Paste Craft
Entertain your little ones during the chilly winter months with a delightful penguin cut-and-paste craft! A creative outlet for preschoolers and kindergarteners, this free printable activity is a fantastic supplement to a winter-themed lesson or an exploration of winter animals. The penguin craft sparks creativity and sharpens fine motor skills as children deftly handle scissors and glue.
Begin with a downloadable template and watch as your child skillfully cuts, pastes, and constructs their paper penguin. The final result can be as amazing as the little hands that craft it – use googly eyes or cotton balls for a snowy effect.
Packed with math and literacy centers, fine motor activities, and arts and crafts templates, it aligns perfectly with preschool learning standards for an enriching experience. Don't let the winter freeze limit your child's creativity! taminglittlemonsters
3. Easy Crepe Paper Butterfly Craft
Discover easy and affordable kindergarten art projects that can be done with everyday materials, teaching kids the joy of DIY crafts. Capture the vibrant essence of spring in your living space with an easy, kid-friendly DIY crepe paper butterfly craft. These delicate, colorful butterflies require only two essential materials: patterned crepe paper and pipe cleaners. In five minutes, you can make a flight of enchanting creatures that will add a whimsical touch to your room, gift wrapping, or greeting cards.
The steps are as easy as making a bow with strips of crepe paper and fastening them with pipe cleaners to form the butterfly's body and antennae. Take this craft further by arranging your handmade butterflies on chart paper to depict their flight path, or attach them to cards for an extra charm.
This versatile project is not just a fun individual activity but can also be a collaborative endeavor in classrooms, resulting in a collective masterpiece. Express your creativity today with this beautiful craft! artsycraftsymom
4. Make Your Own Cupcake Liner Flowers
Bring a splash of spring bloom into your home with easy-to-make and vibrant DIY cupcake liner flowers. Perfect for rainy-day crafts with kids, these flowers are as amusing to craft as they display. The vivid colors and fun process make this craft ideal for themed parties, Mother's Day gifts, or Easter decorations.
With just a few readily available supplies, such as regular and mini cupcake liners, a green popsicle stick, a yellow sticker rhinestone, crafter's tape, green construction paper, and scissors, you can bring these blossoms to life.
With a focus on creativity, even a simple white cupcake liner can be transformed into a stunning flower. Let your imagination bloom, and enjoy crafting these beautiful paper spring flowers! onelittleproject
5. DIY Sandcastle Sand Art
Collaborate with fellow parents and teachers to exchange kindergarten art project ideas, enhancing your classroom or home education experience. Get creative with your beach souvenirs by transforming sea sand into a magnificent sandcastle sand art masterpiece. This fun-filled activity utilizes a sandcastle color-in page, glue, sand, and ocean-themed stickers to bring your coastal creation to life.
Outline the castle with glue, dust it with sand, and finish with enchanting stickers or seashells. This hands-on project provides a fantastic opportunity to refine fine motor skills, especially as you sprinkle the sand onto the picture. Unleash your creativity and immortalize your beach memories with this fun, tactile art project loved by children and adults alike. makingmama
6. Tissue Paper and Paper Plate Turtle
Discover the joy of crafting with kids through this adorable DIY tissue paper and paper plate turtle craft. Based on the unique and intriguing box turtle, this fun project brings together vibrant colors and easily accessible materials such as tissue paper, paper plates, wiggly eyes, and school glue.
It even includes a free printable turtle template to facilitate the process, making it an ideal activity for home, school, daycare, or camp. This simple yet engaging craft fosters creativity and promotes an understanding and appreciation for wildlife.
Perfectly paired with related library books, this turtle craft is a tangible, fun extension of a learning experience. Enjoy crafting and nurturing a love for nature with your children today. fireflies
7. DIY Paper Bag Monster Puppets
Join the family fun with a delightful DIY paper bag monster puppets project. This simple and engaging activity allows everyone to showcase their creativity while spending quality time together. With materials such as a paper lunch bag, acrylic paint, colored cardstock paper, markers, and scissors, you can fashion a unique monster puppet.
The process involves painting the bag, crafting the monster design with cardstock and markers, and finally bringing your creation to life in a puppet show. This project is an entertaining and imaginative way to celebrate Halloween.
The best part is the endless variations each family member can introduce, making each monster puppet one of a kind! Enjoy this wholesome activity and make lasting memories with your loved ones. iheartcrafty
8. Paper Plate Fish Craft for Kindergarteners'
Entertain your little ones with a fun and engaging paper plate fish craft. This art project is an excellent extension of an ocean or under-the-sea preschool theme. Simple yet creative, the craft utilizes a white paper plate, blue craft paint, multi-colored cardstock paper, scissors, a glue stick, glitter, and a googly eye.
The process involves painting, cutting, and glittering – an array of activities to boost your child's fine motor skills while sparking their imagination. With its eye-catching glittery scales, crafting this vibrant rainbow fish is an entertaining activity and a perfect hands-on educational experience.
It offers a fantastic opportunity to discuss the aquatic world, sea creatures, colors, shapes, and more. So, let your child dive into art, creativity, and learning with this delightful paper plate fish craft. naturalbeach
9. The BFG Paper Plate Dream Catchers
Embrace the magic of Roald Dahl's 'The BFG' by making your own BFG-inspired DIY paper plate dream catchers. Drawing inspiration from the captivating narrative, these dream catchers can be an engaging and colorful way to collect dreams, just like the BFG.
They require simple materials such as paper plates, yarn, crayons, sequins, glitter, feathers, pony beads, glue, scissors, and a hole punch. Each dream catcher can be decorated uniquely, allowing limitless creativity and imagination.
This project not only encourages artistic expression but also brings the enchanting world of Roald Dahl closer to home. It is a stress-free and enjoyable activity for kids and parents alike. thesuburbanmom
10. Egg Carton Turtle Craft for Kids
Explore a variety of kindergarten art projects, incorporating painting, drawing, and sculpture to boost your child's imagination and confidence. Engage your kids in a fun, eco-friendly DIY craft activity that transforms an egg carton into adorable animal figurines – turtles, caterpillars, and frogs. This project requires egg cartons, acrylic paint, pom poms for the turtle heads, googly eyes, pipe cleaners for the turtle legs and caterpillar antennas, and green craft foam for the frog's legs.
The simple yet exciting task involves cutting, painting, and assembly, enhancing your child's fine motor skills. Apart from being a wonderful way to spark creativity, it's a great opportunity to introduce the concept of recycling. The vibrantly colored creatures make for lovely play toys, adding fun to the learning process. frugalfun4boys
11. Moving Color Targets Game for Kindergarteners
Engaging in arts and crafts for kindergarteners encourages creativity, improves fine motor skills, and fosters self-expression in young minds. Step into the fun and excitement of the Olympics with an interactive DIY Toddler Olympics color target game. Drawing inspiration from various Olympic throwing and target events, this engaging activity is perfect for toddlers to enhance their color recognition and hand-eye coordination while having fun.
Essential supplies include a cardboard box, styrofoam cups, scissors, permanent markers, string, clear packing tape, and a softball. Once everything is secure, it's time to start the game! Encourage your toddler to choose a color and aim for it with the softball.
The game works on color recognition and coordination and instills the spirit of perseverance – the more they practice, the better they get! Finally, don't forget to take a moment to enjoy this game with your little one, perhaps making it a staple activity in your family Olympics! toddlerapproved
12. Cute DIY Uber Origami Mermaid
Ready to add a splash of summer creativity to your craft time? Why not try making an adorable DIY origami mermaid? A perfect blend of artistic folding and imaginative play, this origami project will be a hit for those fascinated by the mystical world of mermaids.
Crafted primarily from origami paper, Sharpie markers, scissors, and tape, this mermaid is simple and fun to create. With the folds forming the mermaid's charming face, body, and fish-like tail, every step is a part of the enchanting transformation.
This mermaid origami tutorial offers a simplified version of classic Japanese origami, making it a fun and accessible crafting activity for young ones. Dive into origami art and make your enchanting mermaid today! pinkstripeysocks
13. Easy Stamped Sheep Craft for Kids
Jumpstart your spring celebrations with a fun DIY stamped sheep craft for Kids! This craft combines cute farm animals' charm and vibrant spring colors' beauty. This project integrates different art techniques, encouraging children to explore their creativity while learning.
Each step, from crafting the sheep's body and head to making the tissue paper flowers, offers fun and learning. Additionally, this activity offers children a tactile experience as they engage with different textures – the smoothness of paint, the softness of cotton, and the crunch of tissue paper.
Not only does this craft help develop fine motor skills, but it also promotes imaginative play as children make their unique spring scenes. Start your springtime crafting journey with this stamped sheep craft today! buggyandbuddy
14. DIY Shark Cootie Catcher
Explore a world of colorful possibilities with arts and crafts for kindergarteners, helping them develop essential cognitive and social skills. Craft a charming DIY shark cootie catcher that brings a touch of creativity and fun to your child's playtime. Utilizing the art of paper folding, this simple origami project adds a twist to the traditional fortune teller. You can easily follow the video tutorial or step-by-step guide to transform a template into a playful sea dweller.
Crafted with materials such as print or glossy paper and a craft stick, the process involves folding, creasing, adding fins, and optional gluing for extra stability. Kids can enjoy this hands-on activity, which is perfect for sparking their imaginations. So grab your free printable shark cootie catcher template, and let your little ones dive into this engaging DIY project! easypeasyandfun
15. Paper Handprint Giraffe Kid Craft
Giving these easy crafts for kindergarten aged children in educational settings promotes cognitive growth, problem-solving skills, and a love for learning through artistic expression. Venture into craft-making with this DIY giraffe handprint craft project, ideal for creative individuals, moms, educators, and, most importantly, kids! This fuss-free and engaging activity is an excellent way to spark creativity while crafting a vibrant keepsake for the whole family.
With just a handful of supplies like yellow, black, and brown cardstock paper, markers or pencils, basic craft scissors, school glue, and large wiggle eyes, you can transform a simple handprint into a charming giraffe in no time.
This project perfectly aligns with a zoo or circus-themed lesson at home or school, making it a valuable and enjoyable learning activity. Excite your artistic spirit and embark on this hands-on journey today! gluedtomycrafts
16. DIY Cupcake Liner Ice Cream Cone
Embark on a fun summer activity with this DIY cupcake liner ice cream cone kids craft, designed to inspire creativity and provide amusement during those warm, idle days. Reminiscent of family ice cream outings, this craft utilizes commonplace supplies like cupcake liners, light blue or white cardstock paper, brown paint, a plastic fork, and an array of optional embellishments to mimic delicious ice cream flavors.
Following straightforward instructions, children can fashion charming ice cream cone representations, applying fork-painted patterns to the cone and decorating their 'scoops' with gems or black hole punch circles for a fun and vibrant effect.
This engaging craft enhances artistic skills and encourages imaginative play, serving as the perfect precursor to an evening ice cream treat. Craft your way to a joyful summer! iheartcraftythings
17. Avengers Bookmarks Craft for Kids
Entice your kids into a fun, creative, and exciting crafting world with these DIY Avengers bookmarks! This project is ideal for motivating kids to read more and show their love for their favorite Avengers superheroes. They'll be proud to mark their pages with characters like The Hulk, Captain America, and Iron Man.
The crafting process involves using jumbo craft sticks, varied paint colors, a white paint pen, a black Sharpie, and a black ballpoint pen. A clear paintable sealer or Mod Podge gives these bookmarks a protective coating, ensuring longevity.
The simplicity of this project allows your child to tap into their imagination while freehanding these iconic characters or by following the provided pattern. So, why wait? Let your little superheroes express their artistic abilities with this interesting and rewarding project! craftsbyamanda
18. Quilled Paper Monsters Step-by-step Craft
Engage little artists with colorful kindergarten art projects that develop fine motor skills and foster creativity in young minds. Burst into the vibrant and fun world of DIY quilled paper crafts with a monstrous twist that children will adore. This activity involves making playful, quilled paper monsters, which make an ideal crafting project not just for Halloween but all year round.
With quilling paper strips, craft paper, googly eyes, craft glue, and a slotted quilling tool, your kids can let their imaginations run wild, designing creatures that are as goofy, spooky, or amusing as they wish. The process is broken down into straightforward, manageable steps to guide them on their monster-making journey.
From coiling the quilling strip to adding googly eyes, every part of the process is a creative adventure. This unique, engaging craft will keep little hands busy and fuel their love for crafting. Dive into this craft project and make some paper monsters today! whispered
19. Make Your Own Watermelon Pinwheel
Take up the joyful spirit of summer with a creative and colorful DIY watermelon pinwheel craft. Echoing the season's iconic fruit, this craft combines the playful charm of a classic windmill toy with a watermelon's vibrant, juicy appeal.
Made with simple supplies like red and green craft paper, sharpie pens, and a jumbo straw, it's a quick and delightful craft that doubles as a fun toy or a unique summer party decoration. This tutorial includes detailed instructions and illustrative video content, making the crafting process enjoyable and straightforward.
Once the pinwheel is ready, add a fun twist to your summer by trying the rainbow blowers, croaking frogs, chomping shark puppets, and rock snails craft projects. Enjoy this brilliant combination of crafting and summer fun to make lasting memories! kidscraftroom
20. DIY Paper Plate Dalmatian
Transform a simple white paper plate into an adorable Dalmatian with this fun and easy DIY craft, suitable for kids of all ages. The project requires basic supplies like scissors, a black and red crayon, tacky craft glue, a medium-sized wiggly eye, a pencil, and a black pen.
Following straightforward steps, kids cut, color, and assemble their paper plates into a cheerful, spotted Dalmatian. This activity is not just a way to keep children entertained; it also stimulates their creativity and fine motor skills.
Moreover, it can be a playful method to teach kids about community helpers and gratitude by delivering their paper plate Dalmatians, and a thank you note and cookies to the local fire station. Perfect for home, school, or daycare, this craft can make memorable moments and a playful learning experience. craftsbyamanda
21. No Sew Superhero Mask Tutorial
Explore various crafts for kindergarten children, such as paper plate animals, handprint art, and colorful suncatchers, to stimulate their imagination. Immerse your family in the heartwarming tale of Big Hero 6 with a fun and engaging craft project! Make DIY, no-sew masks inspired by your favorite characters from the movie. These masks can be created with ease and minimal fuss using everyday supplies like various colors of regular felt, Pellon Wonder Under 805 interfacing, thin white elastic, chalk markers, scissors, and iron.
These playful masks ignite creativity and strengthen the bond between kids and their parents, perfect for a family movie night. By transforming into Baymax or Hiro, children can embrace the movie's positive values, like the importance of helping others and the power of knowledge. Try this unique project today and enjoy a memorable movie night with your little heroes! millionmoments
22. DIY Patriotic Cupcake Liner Flowers
Elevate your festive decor with the charming appeal of these DIY patriotic cupcake liner flowers. Thi for Memorial Day or 4th of July celebrations, these creations are a fun craft for children of all ages and serve as a delightful centerpiece when arranged in mason jars. All you need are the following:
Red, white, and blue cupcake liners (standard and mini).
Corresponding colored buttons.
Lime green paper straws.
Tape.
Glue dots.
The easy-to-follow steps involve:
Flipping the cupcake liners inside out.
Attaching the mini liner to the standard one.
Securing a button in the middle with a glue dot.
Lastly, a straw is taped onto the back of the flower. Watch your kids enjoy making this vibrant craft s craft is and add a pop of color to your festive celebrations! fireflies
23. Paper Building Blocks for Kids
Dive into the fun and educational world of paper engineering with these simple yet ingenious DIY paper building blocks. This tutorial demonstrates a unique approach to learning about structural design, turning a seemingly weak material like paper into robust, triangle-shaped building blocks. Witness the strength of these fascinating creations by constructing your paper structures and testing their resilience.
From a heavy metal straightedge to balancing Oreos, the challenges are unlimited. Made using thick colored paper, a paper cutter, a straightedge, a cutting mat, and tape, this project is perfect for children aged six and up under adult supervision.
The result? A captivating hands-on experience that brings out the child's creativity and broadens their understanding of basic engineering principles. This unique papercraft proves to be more than just a fun activity – it's a gateway to the engineering world for kids. babbledabbledo
24. Make a Kaleidoscope Without Mirrors
Take part in a wonderful family activity with this DIY kaleidoscope craft that brings creativity and science into your home! Using a paper towel tube, aluminum foil, and colorful translucent beads, you can assemble a homemade kaleidoscope that, although not fully functional like a traditional one, mirrors the fascinating patterns similarly.
This project serves as a learning platform for children about colors, shapes, and reflection while offering artistic inspiration. Moreover, it's an excellent way to repurpose those spare paper tubes.
So, prepare your materials and enter a vibrant world of kaleidoscopic patterns. This homemade kaleidoscope is a fun craft project and an educational experiment. darcyandbrian
25. Cute Paper Plate Elephant Craft
Craft your adorable paper plate elephant with this fun and straightforward DIY project! You can transform an ordinary plate into a charming elephant with everyday household supplies, such as a paper plate, scissors, glue, white paper, a black Sharpie, and paint.
First, follow the designated design to cut out the elephant shape. Paint it with either blue or pink and wait for it to dry. Next, cut out eyes and secure them. Once cut into a narrower strip, the remaining piece of your paper plate becomes the elephant's trunk.
If you prefer, give your creation a feminine touch by adding eyelashes and a bow. This engaging craft offers both a creative outlet and a delightful piece of art. craftymorning
26. How to Make Emoji Masks
Collaborative crafts for kindergarten classrooms, like group murals and garden projects, encourage teamwork and boost social development among young learners. Sink into a fun and creative world with this easy DIY tutorial on making homemade emoji masks. This craft will be a fabulous addition to any Halloween party or photo booth; these emoji masks are not only a hit with kids but also adults. These masks will be ready in no time and made using simple craft supplies like yellow poster board, colorful papers, scissors, glue, and large popsicle sticks.
By tracing and cutting out a large circle for the face, determining the emoji design, and attaching all elements with glue, you can bring your favorite emojis, like heart eyes, sunglasses, and the tongue-out emoji, to life!
Making these emoji masks is an enjoyable activity and a great way to unleash creativity and make any occasion special. Step up your Halloween game with these DIY emoji masks today! aliceandlois
27. Egg Carton Bee Craft for Kids
Let your kids get creative and buzzing with this fun DIY egg carton bee craft! This simple yet endearing insect activity is fantastic for preschoolers and kindergarten students and can be a fun project during spring, summer, or even Earth Day. It's a fantastic way to utilize waste and turn it into a cute educational project.
This project enhances fine motor skills while painting, cutting, and wrapping the yarn. Once complete, these miniature bees can serve various purposes.
They can be used for imaginative play, classroom decoration during the spring or summer, or even as hanging mobiles, adding a playful touch to any space. Make learning engaging and eco-friendly with this egg carton bee craft project. buggyandbuddy
28. Paper Flower Craft for Kindergarteners
Welcome the vibrant spirit of spring with this charming DIY paper flower craft. Ideal as a colorful decoration for your home or a fun, educational activity for a classroom, this craft involves constructing a radiant bouquet of paper flowers.
By following simple steps and using a handful of supplies – such as a circle paper punch, colored papers, scissors, stick glue, green paper straws, and clear tape – you can make these delightful decorations in no time.
They offer a wonderful fine motor exercise for young kids, while older ones can relish the project's creativity. You can customize the craft for adults using unique materials like sheet music or newspaper. So why wait? Get crafting and fill your space with the warmth and cheer of handmade paper flowers! easypeasyand
29. Cute and Playful DIY Unicorn Puppets
Unveil the magic of creativity with this fun DIY project that transforms simple materials into playful unicorn puppets! To bring these enchanting creatures to life, you'll need white and silver cardstock, a circle punch, googly eyes, multi-colored yarn, a hole punch, markers, scissors, and glue.
Begin using the provided unicorn craft template to cut out shapes from the cardstock. Punch holes for finger puppet control, then attach the head, neck, ears, and gleaming silver horn.
Adorn the puppet with vibrant yarn for the mane and tail, and finish with a googly eye and hand-drawn features. Ideal for kids' crafts or a unique party activity, these DIY unicorn puppets are sure to spark joy and imagination. Make your herd, and let the magical play begin! iheartcrafty
30. Egg Carton Dragonfly Craft for Kindergarteners
Let your imaginations soar with this fun and easy DIY egg carton dragonfly craft! Make a vibrant, adorable craft with your kids using simple household items. With just an egg carton, paint, white card stock paper, tissue paper, glue, pipe cleaners, and scissors, you can help your little ones bring to life a colorful insect.
Start by fashioning a body from a 6-cup side of an egg carton, then let the kids paint it in their chosen shades. While waiting for the paint to dry, craft the wings from white card stock paper and tissue paper squares.
Add some character to your dragonfly by inserting pipe cleaner antennas. Once everything's dry, attach the wings to the body. A delightful way to stimulate children's creativity while teaching them about nature! craftymorning
31. How to Make Button Art Tree
Engaging crafts for kindergarten students foster creativity and enhance fine motor skills through hands-on artistic activities. Fetch the beauty of nature indoors with a DIY button art tree! Craft an enchanting decor piece with your children using this fun button art craft tutorial. By incorporating colorful buttons onto a painted canvas, your child can make a vibrant tree or any other engaging design that sparks their imagination.
This project offers an opportunity for artistic expression and a fantastic learning moment about sorting by size, shape, and color.
Experience the joy of creating button art that radiates charm and creativity, a unique and exciting activity you and your children can relish together. Remember, a little supervision is required for younger kids around small objects. Dive into this button art craft and let your child's creativity blossom! simplydesigning
Conclusion:
In conclusion, these 30 fun crafts for kindergarten contain a wide range of art projects and activities that are perfect for young children. With art projects for kindergarten like DIY paper roll monsters, penguin cut and paste crafts, and easy crepe paper butterfly crafts, kindergarteners can unleash their creativity and develop important skills. So, give these art lessons for kindergarten a try and watch as your little ones enjoy their artistic journey. Use these arts and crafts for kindergarteners and make unique masterpieces to proudly display on your walls or refrigerator.