Rainbow crafts are a great way to bring a bit of creativity and color into your child's world. Whether you're after an easy crafting project for preschoolers, something kindergarteners will love, or a beautiful art piece for older kids, there is something for everyone with these 60 easy rainbow craft ideas. From paper plate rainbows and yarn wrapped rainbows to shirt decals and rainbow bingo, your kids can explore their creative side while getting creative with art made from different textures and colors. With this collection of 60 easy rainbow crafts for kids, they'll be having lots of fun without the fuss!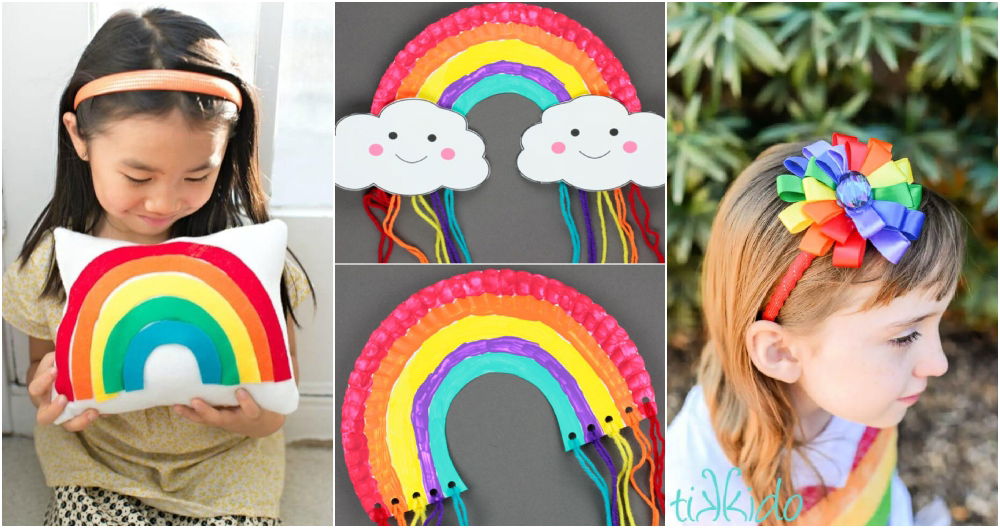 Crafting can be a fun and educational activity for kids, especially when they are able to create something vibrant and colorful like rainbow crafts. These easy rainbow crafts are perfect for young children who can gain practice in their fine motor skills while making eye-catching artwork. You will be surprised at the range of fun rainbow activities you can do with your kids – from colorful science experiments to DIY accessories that any child would love to make and wear. Why not spark the creativity of your little ones today by enjoying 60 fun and easy rainbow crafts for kids?
1. DIY Rainbow Gumball Necklace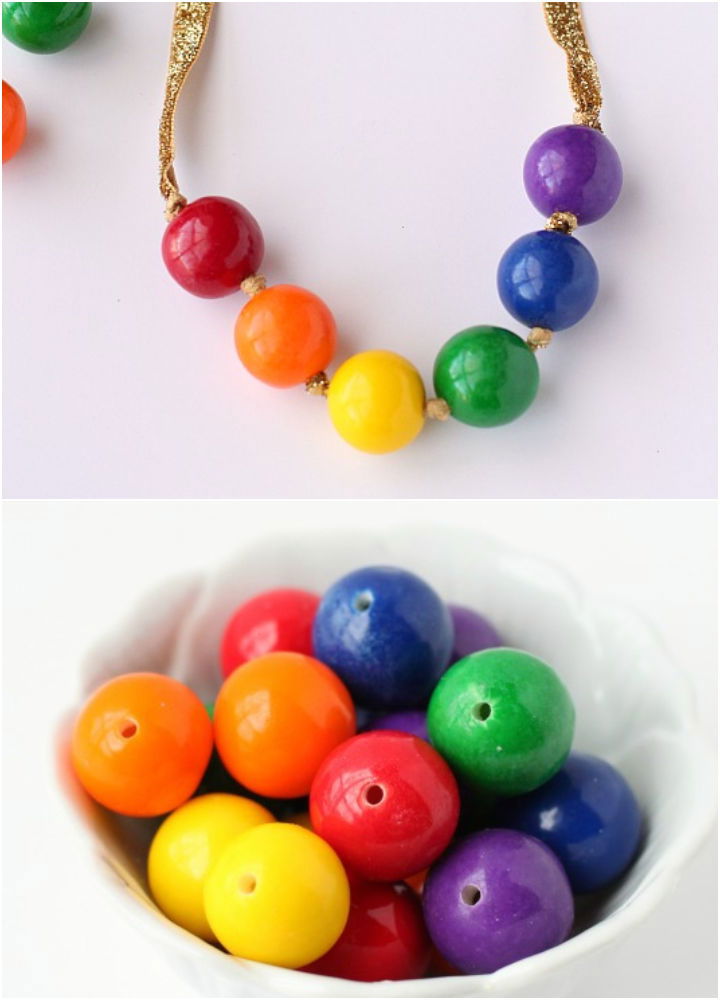 What can be more beautiful than the rainbow to take some inspiration! So get some rainbow beauty in your accessories. And make this rainbow necklace to rock your summer fashion with. Just get rainbow colored gumballs and a glittery ribbon to shape up this pretty and cool necklace. gigglesgalore
2. Pretty DIY Rainbow Glitter Vase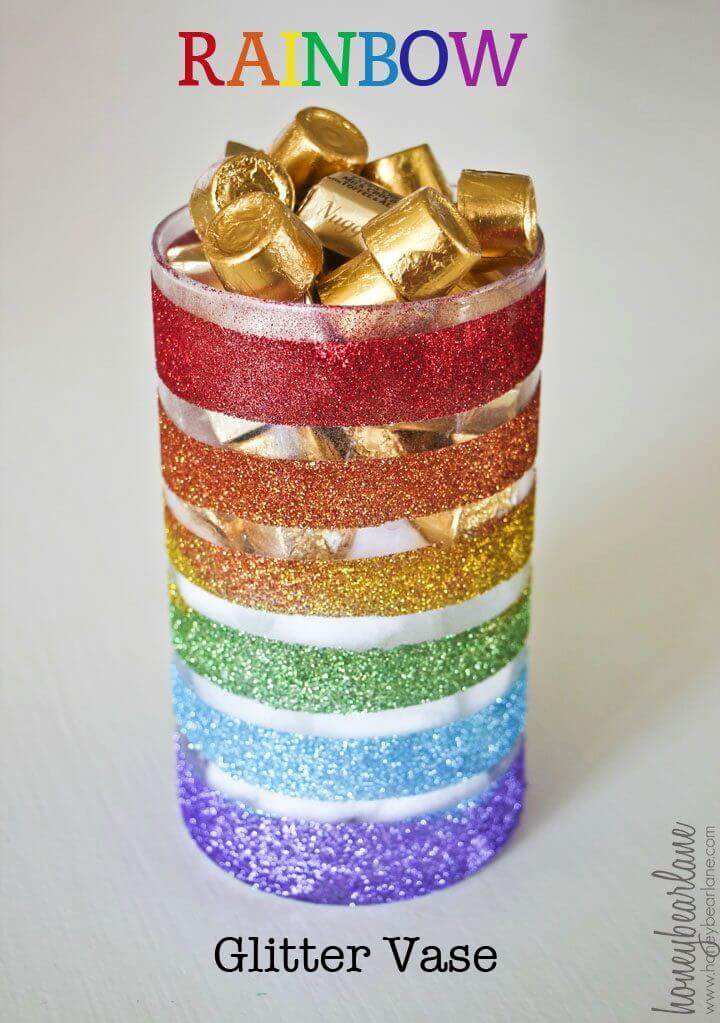 Make your vases look the cutest with this rainbow glitter over them. Grab the glitter in rainbow hues and glue them all on the vases in the stripes. Your vase is ready to rock your home decor. Get yours now! honeybearlane
3. No-sew Felt Scalloped Pillow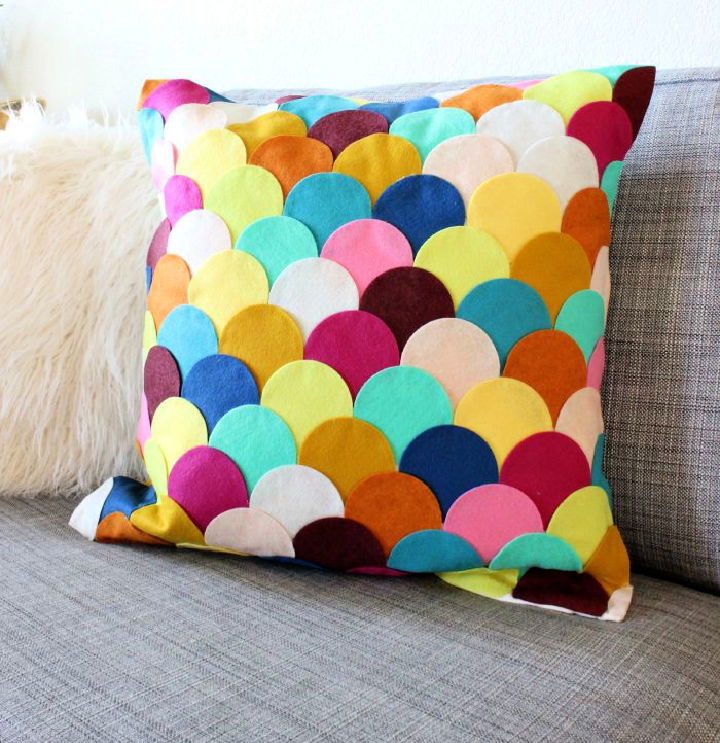 Make your pillows look super cute and colorful using your crafting skill. This felt scalloped pillow is just the right thing to get your hands on. The colorful felt pieces have been cut into small circles and scalloped all around the pillow and it's done. classyclutter
4. Make a Rainbow Threaded Embroidery Hoop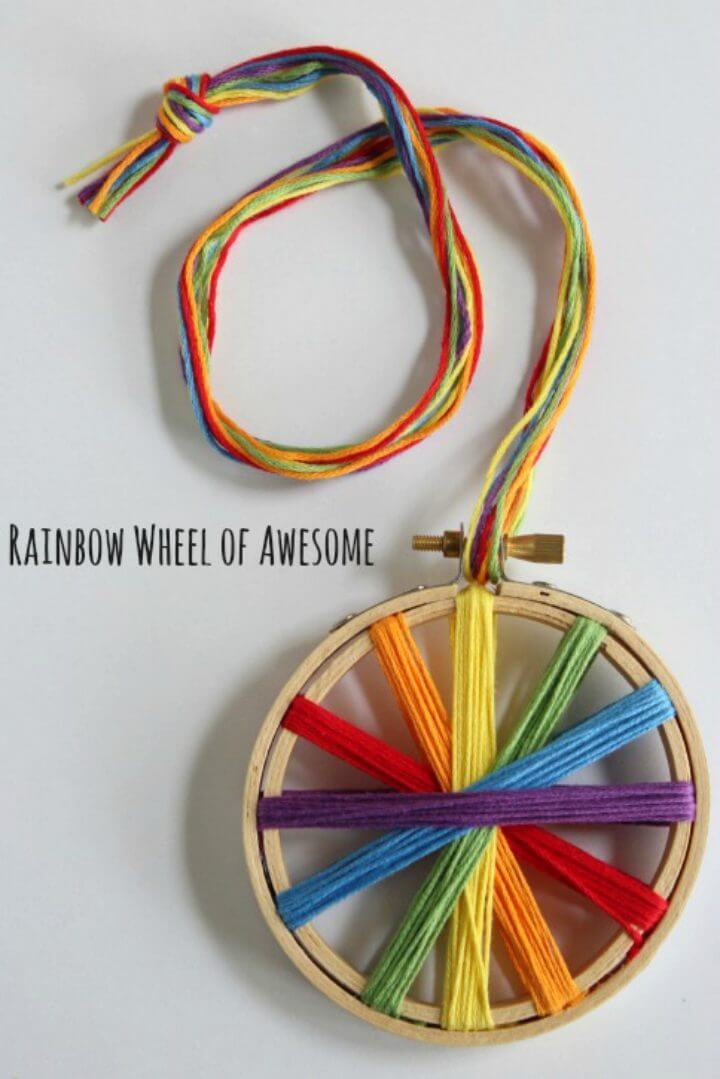 If you do embroidery at home then you must be having a lot of colorful threads and embroidery hoop to make this. You can use the rainbow colored threads to work up in a star pattern over the hoop to create a catchy wall hanging. makeandtakes
5. DIY Rainbow Mobile Craft for Kids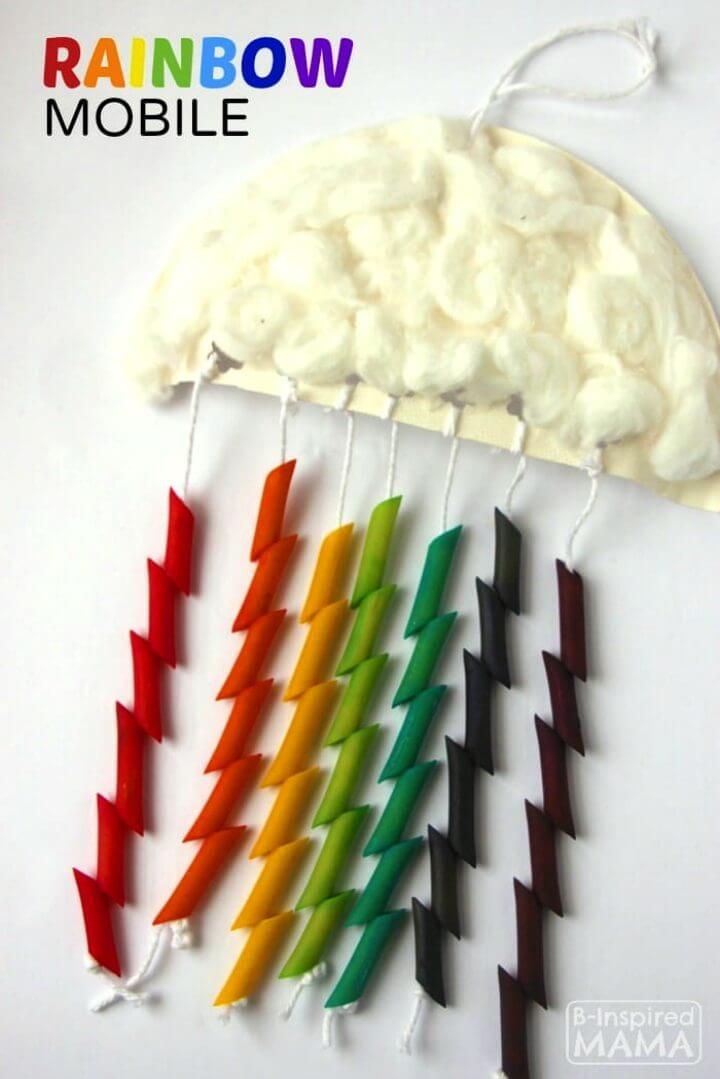 Babies so much attracted to fun colors. Make them this cute rainbow mobile to hang ove their roof or the crib. The pasta has been colored in rainbow hues. And hung over a paper made cloud using threads and the perfect crib mobile is ready. inspiredmama
Popsicle Stick Crafts for Kids: Find these easy popsicle stick crafts to make with your kids, including easy instructions and pictures full of fun, creative crafts for kids to try.
6. Easy DIY Rainbow Tissue Paper Fascinator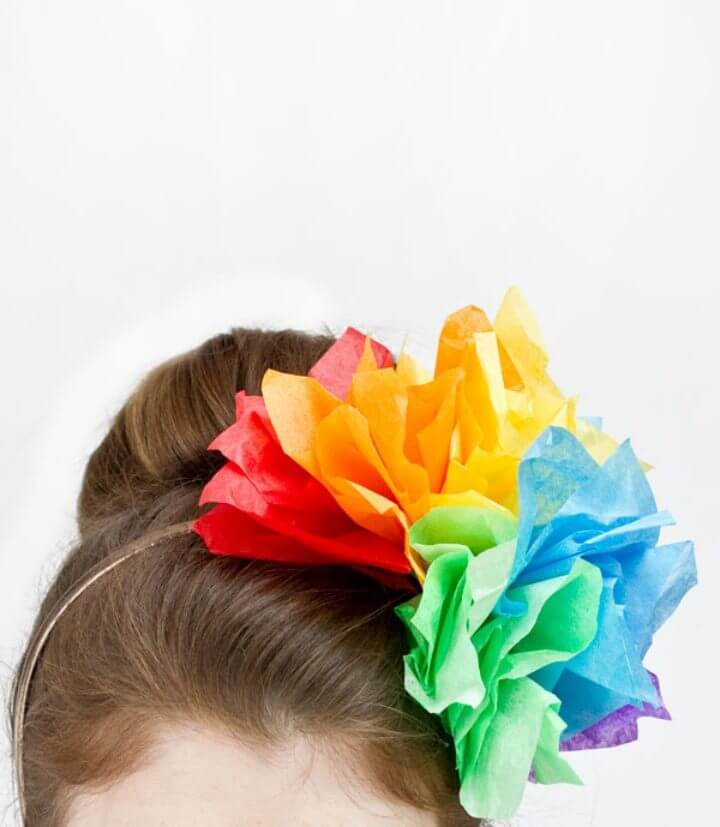 Make your little girl's dress for a summer party look super cute and complete with this handmade rainbow tissue paper fascinator. You just need some rainbow colored tissue paper and cut them into pieces to make a flower like a hair accessory and the girls would be so happy to wear it. studiodiy
7. DIY Paper Plate Rainbow Craft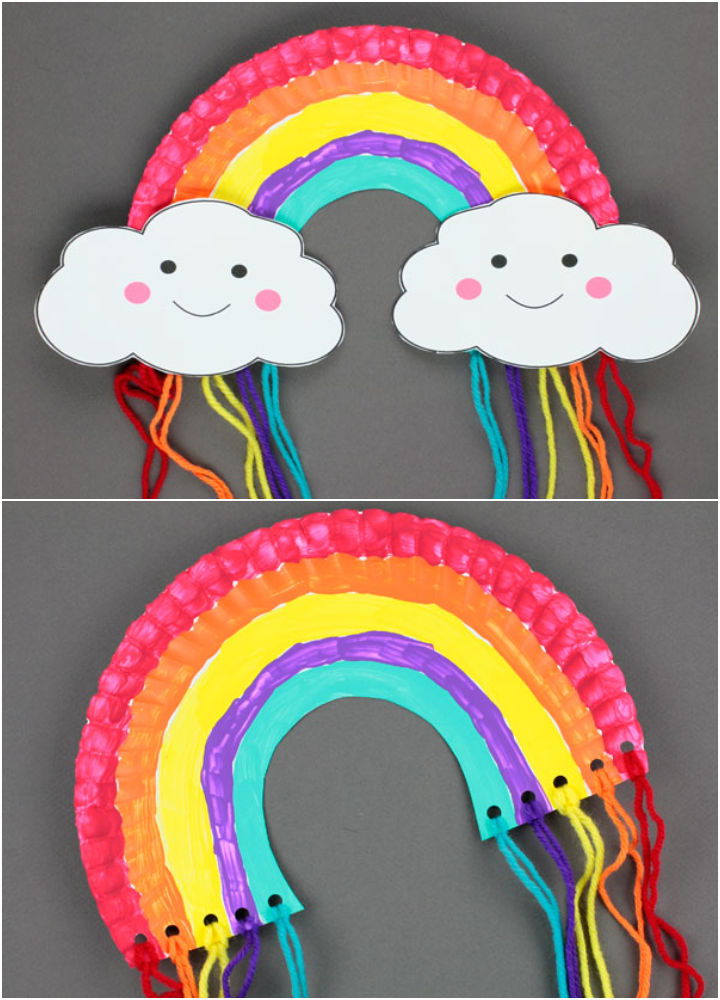 Make your kids indulge in some fun crafts this summer and making this lovely paper plate rainbow would be just awesome. All you need is to provide them a paper plate, some rainbow-hued threads, paper, color markers, and the basic craft tools. Rest of the details are here! nontoygifts
8. Tabletop Rainbow Paper Organizer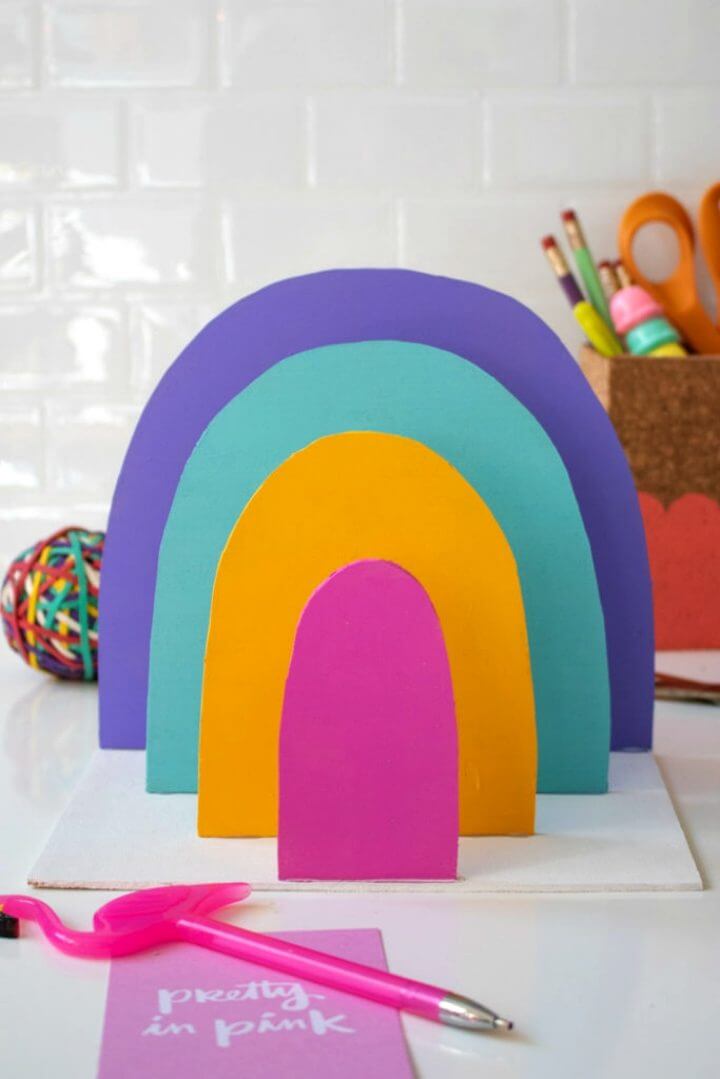 Kid's tables are always messy. If you are also one of the mommies who are looking for solutions. Then this tabletop rainbow paper organizer is the best idea to get your hands on. Not only it would clear the table but also make it look so gorgeous with those rainbow colors being used. clubcrafted
9. Handmade Rainbow Rhinestone Pumpkin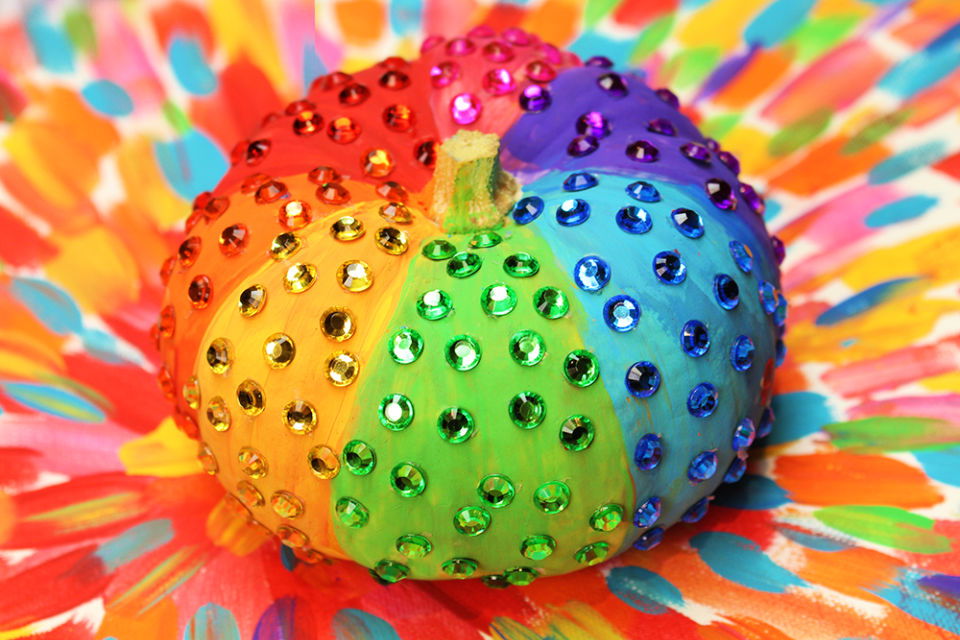 We know that pumpkins are for winter or fall decor. But with some colorful and sparkly makeover, they can be a part of your summer and spring home decor too. Here is this gorgeous pumpkin having been beautified with rainbow paint hues and rhinestones. Check out complete idea details here theswelldesigner
10. How to Make a Rainbow Tote Bag
Most of the tote bags are so much boring and plain in looks and we get easily tired of them so it's time to dress them up and this rainbow makeover is just the apt idea to get your hands on them. The gold painted bottom and the colorful rainbow stripes at the sides and it's done. damasklove
11. Making a Rainbow Popsicle Stick Wreath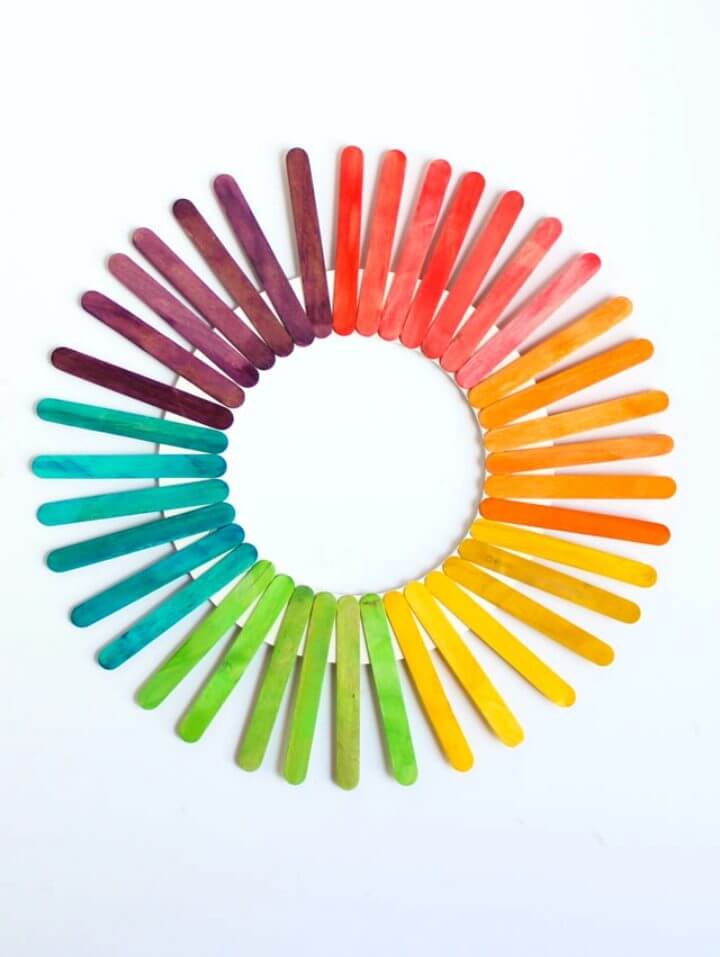 Welcome the summers in a colorful and cool way by making this super cute and colorful rainbow wreath. Using the Popsicle sticks with rainbow color coats on them, the wreath ring has been decorated all over to hang over your spring or summer door. Step by step details here! designimprovised
12. DIY Rainbow Bag Charm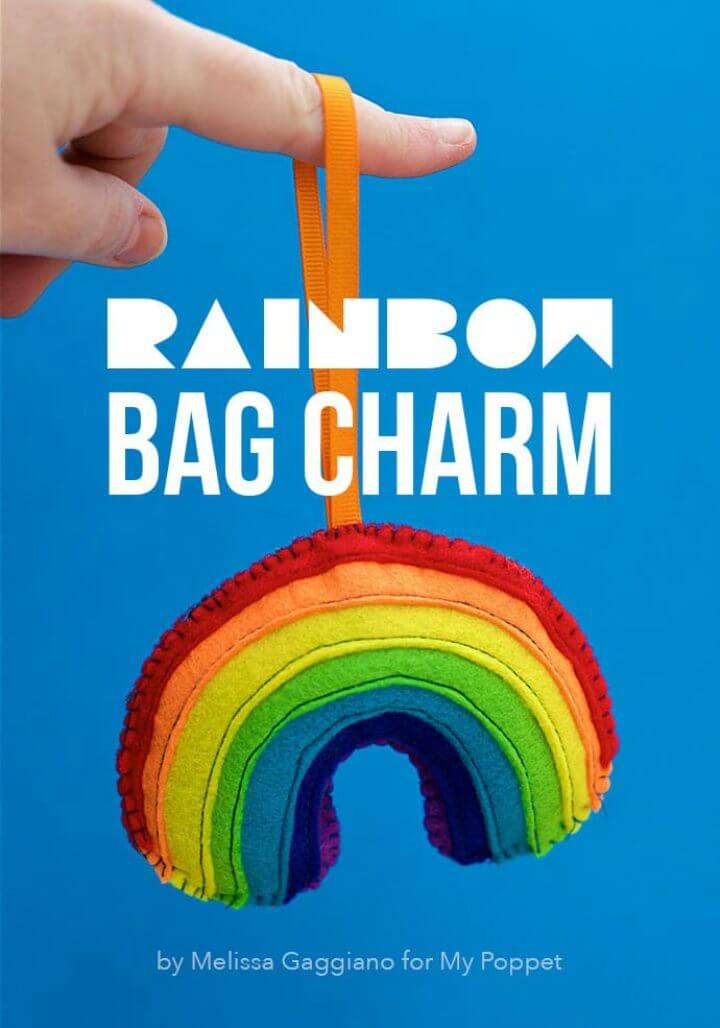 Give your bags and purses a pure pop out of colors with these DIY rainbow bag charms. You can easily make one at home using some colorful felt pieces and the pom pom lace. It would make a great gift for your girlfriends too. Step by step details here! mypoppet
13. How to Make Rainbow Hair Bow
Here is this utterly cute and totally funky kind of bow that you can use for your headbands. Yes, a simple handmade or market bought bow has been sprayed with the rainbow hues and would look great with your summer dresses. Check out the details here! doodleandstitch
14. DIY Rainbow Fruit Mason Jar Craft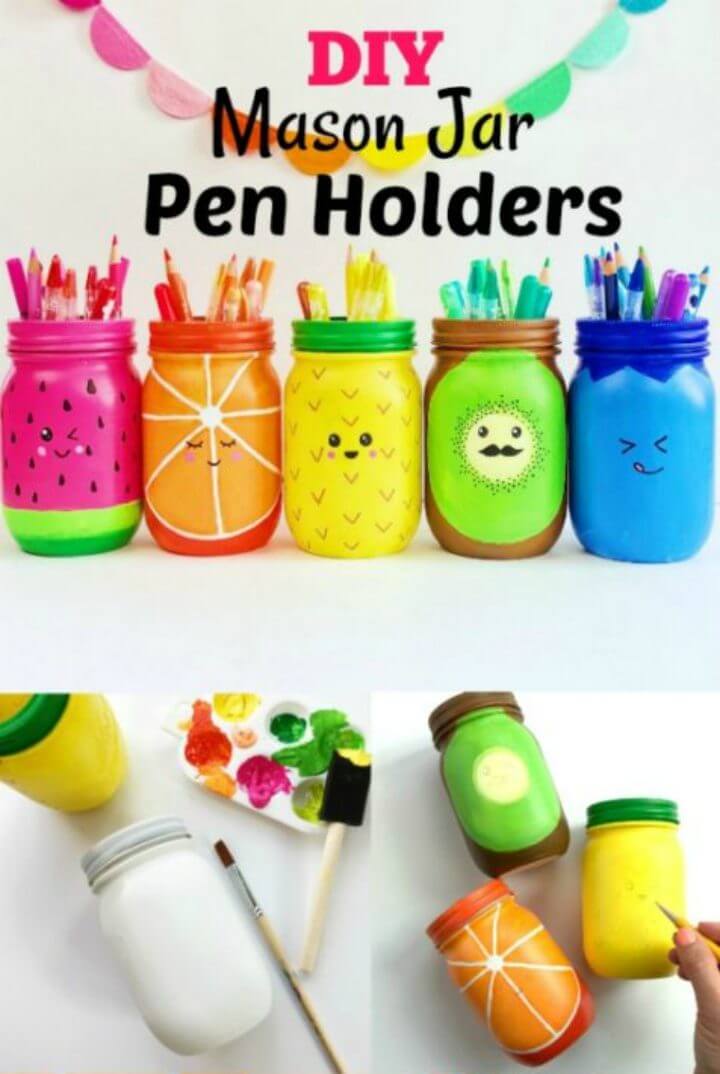 We love using the mason jars for our home organization. And this time you can do it with all the fruity summer fun.  Yes here mason jars, before putting them into the organization work have been painted in rainbow hues. And with fruits on them and would look so eye-catching standing on your tables. colormade
15. Homemade Rainbow Fringe Wreath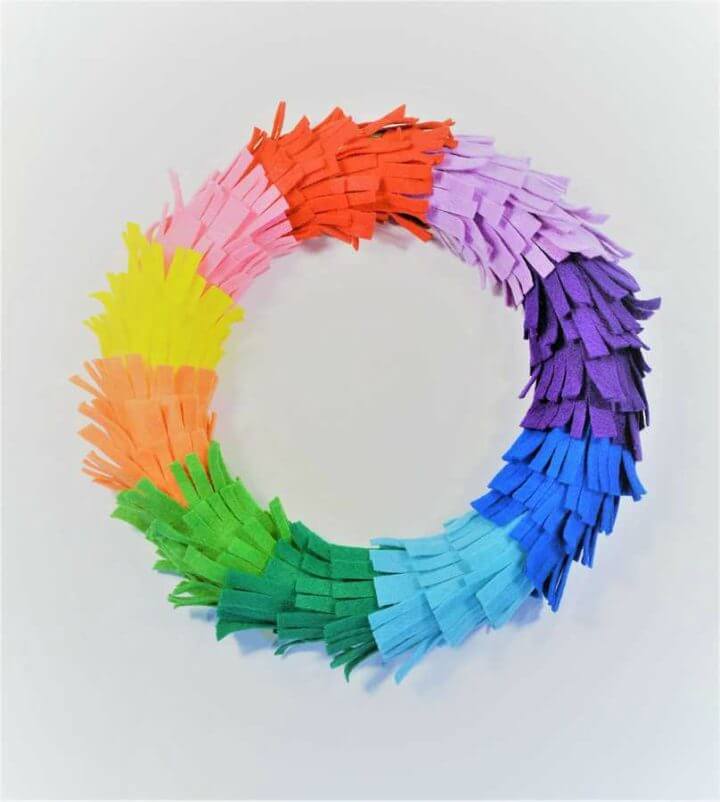 Welcome the spring in the custom colorful way with this handmade rainbow fringe wreath hanging on your doors. The felt in rainbow hues have been fringed and the used on a wreath ring to look just so cute, catchy and adorable. Complete details here! burlapandblue
DIY Graduation Cap: Looking for a graduation cap idea? Find out how to create beautiful DIY graduation cap decorations that are chic, unique, and perfect.
16. DIY Rainbow Milk Carton Pinata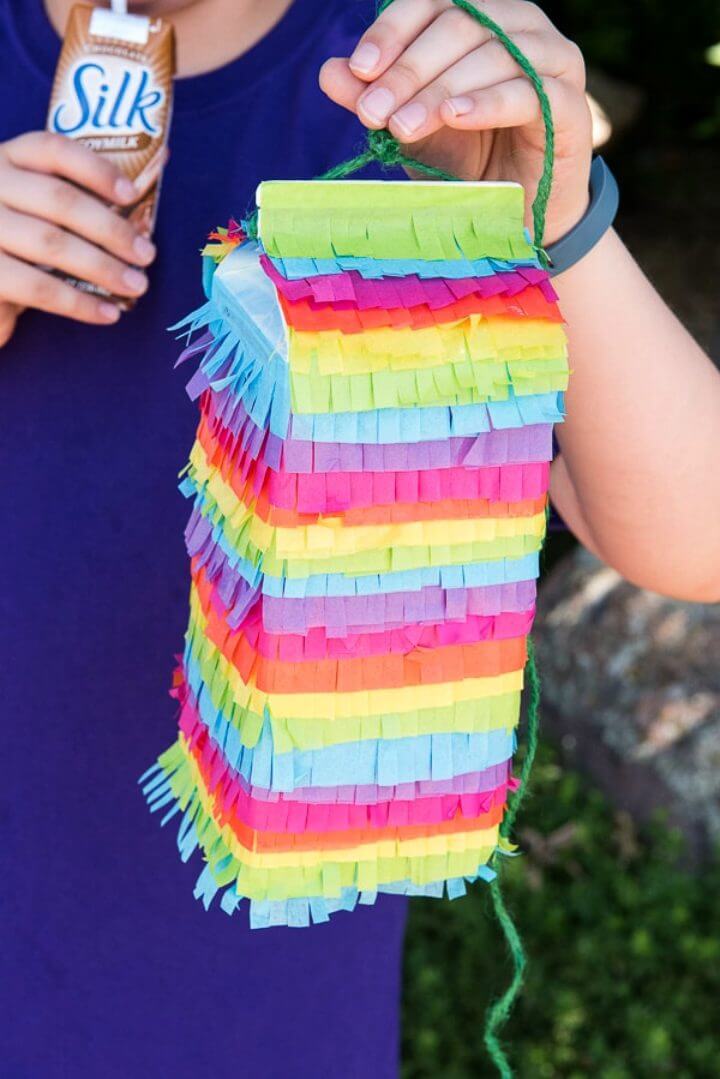 The summer parties for kids would much more fun when you have these rainbow milk carton piñatas for them. Yes, the Milk carton here has been covered all over with the rainbow colored paper cut fringes and your cute pinata is just ready to rock the kid's summer bash. Easy details here! boulderlocavore
17. Cute DIY Rainbow Pom Pom Necklace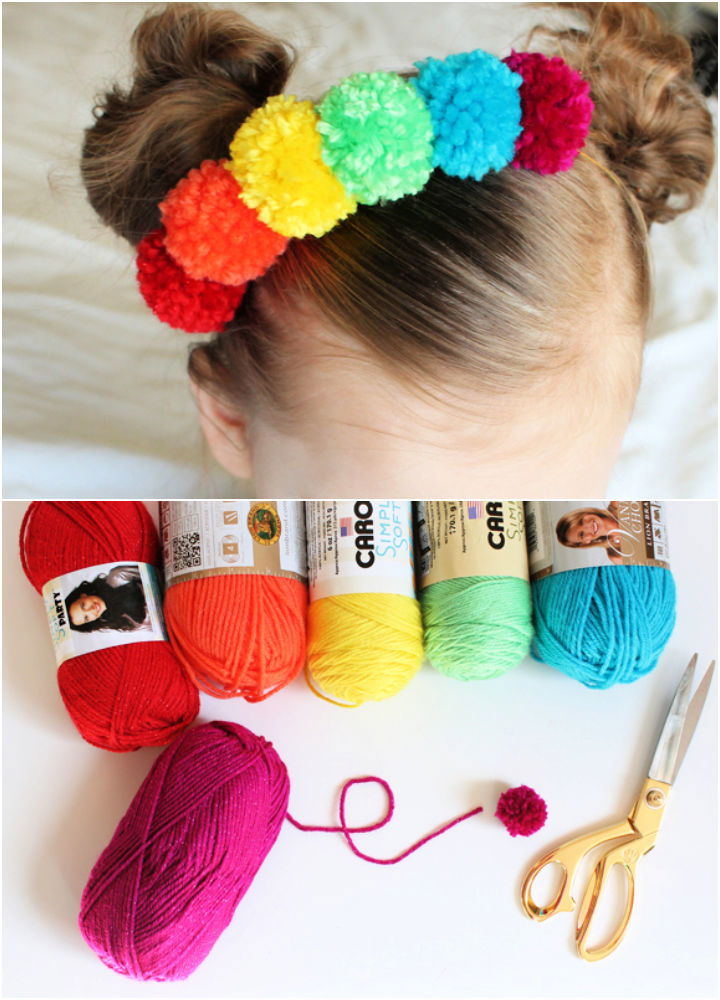 If you make this lovely rainbow pom pom necklace for your little girls then they are going to love you more and more. With just a few colorful pom pom balls and some thread, you can easily shape up this pretty rainbow pom pom necklace which can also work up as a cute headband too. sisterssuitcase
18. DIY Rainbow Shamrock Suncatcher Craft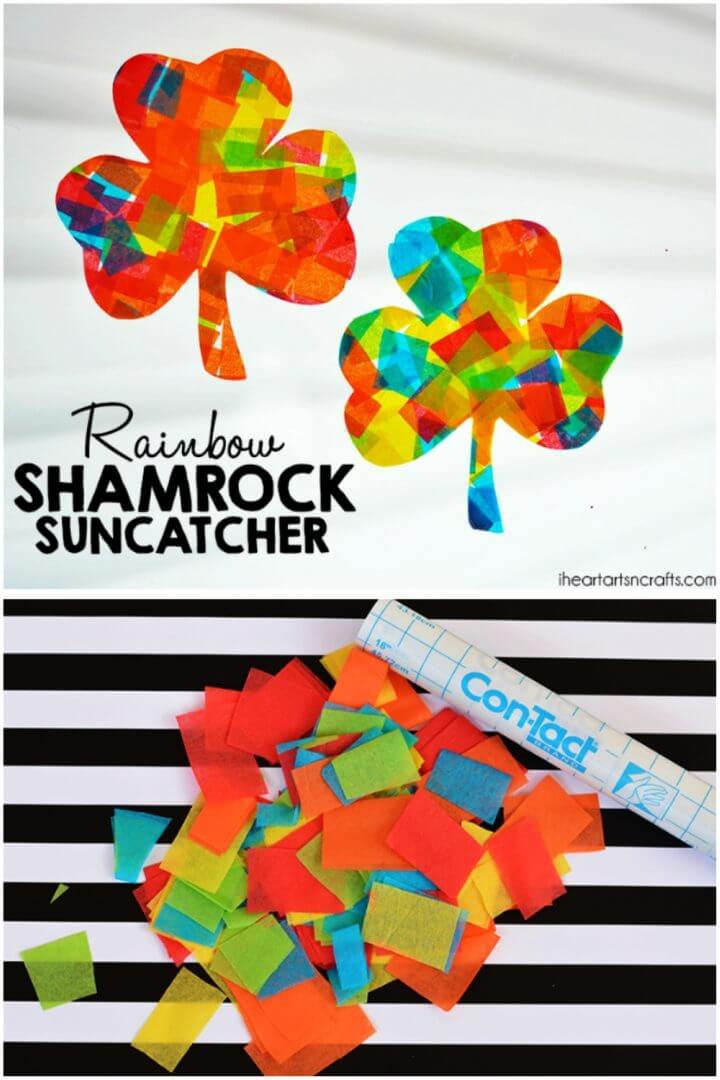 We love making and hanging sun catchers around our places during the summers and it's one of kid's favorite craft to do also. So this time when you sit with your kids to make some catchy sun catchers these rainbow shamrock sun catchers are there to inspire you. Check out the details here! iheartartsncrafts
19. Easy Rainbow Paper Plate Weaving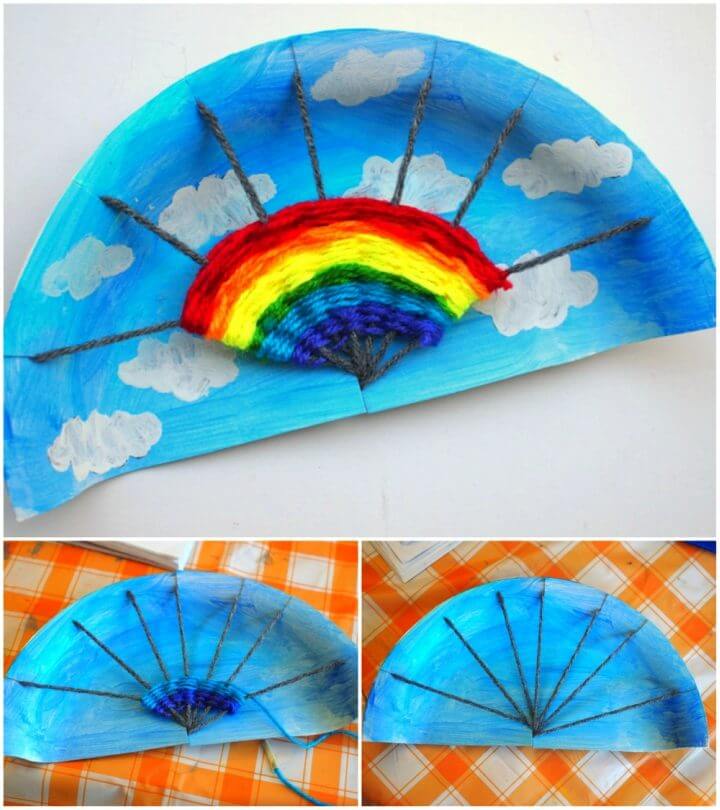 It's time to get your kids friendly with some summer crafts and keep them busy too. Here is the idea of creating a lovely rainbow for the kids and they can easily do it on their own. The half paper plate has been painted as the clouds and using colorful threads, a rainbow has been weaved on it and kids can easily copy this project. pinkstripeysocks
20. Cute Tissue Paper Covered Pots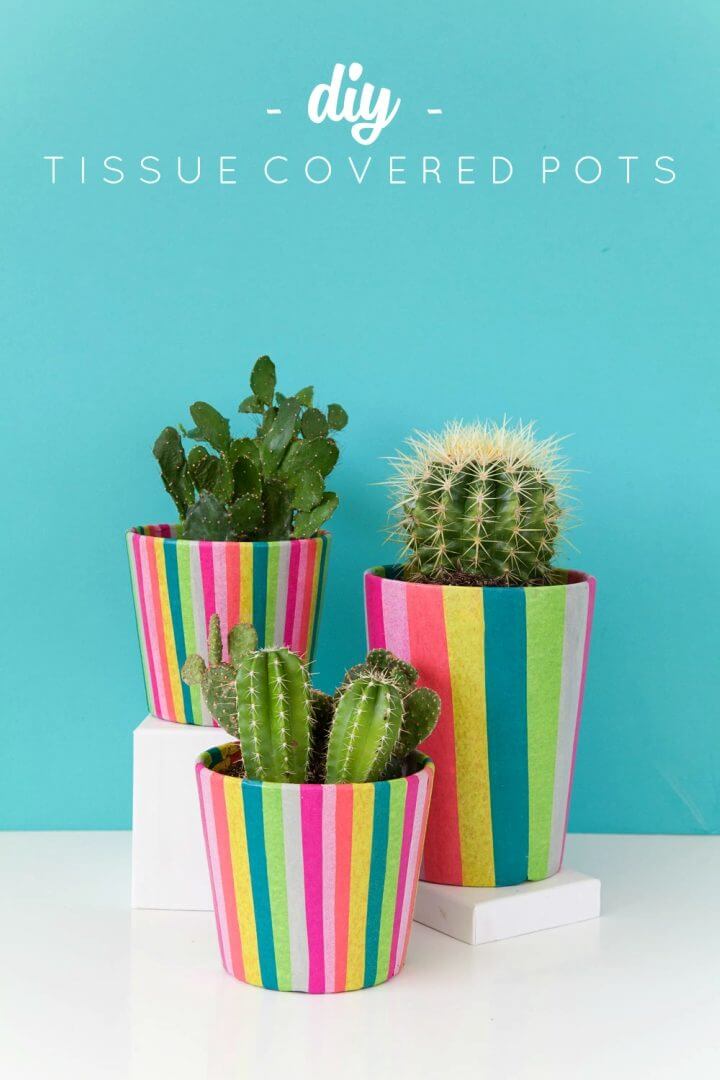 If you have some indoor plants then here is how you can make them look totally summer friendly with some easy decor project. As summers are all about the colors so you can grab rainbow-hued tissues and wrap your planter pots with them and make the pots look so catchy and fun. tellloveandparty
Paper Bag Puppets – You can make paper bag puppets for children or adults, as an art project, as a gift, or just for fun! Find these simple paper bag puppets with free printable templates. Includes instructions on how to make a paper bag puppet.
21. DIY Rainbow Fish Craft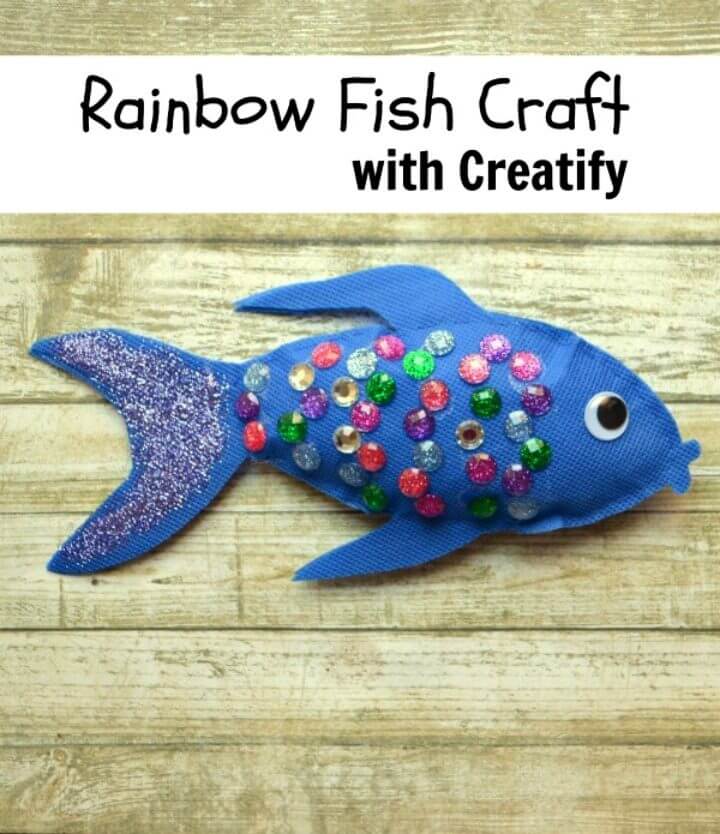 Rainbow is an inspiration for the colors and the beauty so you can add to anything and everything as well. Here is this utterly cute handmade fish which have been made to look super cute and fun with added rainbow colored gemstones all over. Easy details here amylattacreations
22. Rainbow Double Sided Zipper Pouch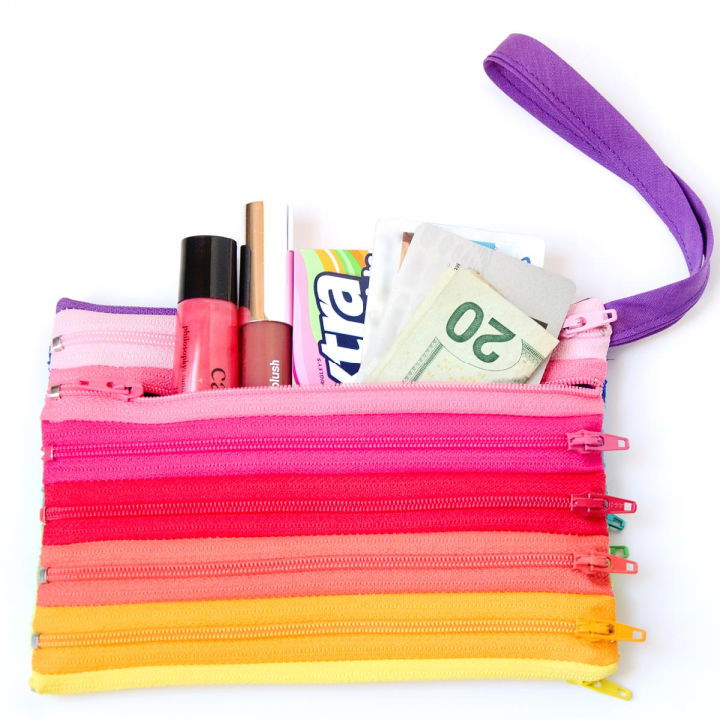 Colors are back in life with the arrival of the summer and the spring so flaunt it all the way possible. Make this adorable and colorful rainbow zipper pouch to hold your dollar bills, cards and more and that too in a really quirky and cute style. Learn to make it here scatteredthoughts
23. Paper Plate Rainbow Kids Craft
Let the kids get inspired from the natural beauty and make this lovely rainbow and cloud craft to enjoy some fun crafty session at home. A half cut paper plate would make the clouds and colorful strips from the cardstock would create the perfect rainbow look. Check out the details here! anightowl
24. Rainbow Paper Plate Tambourine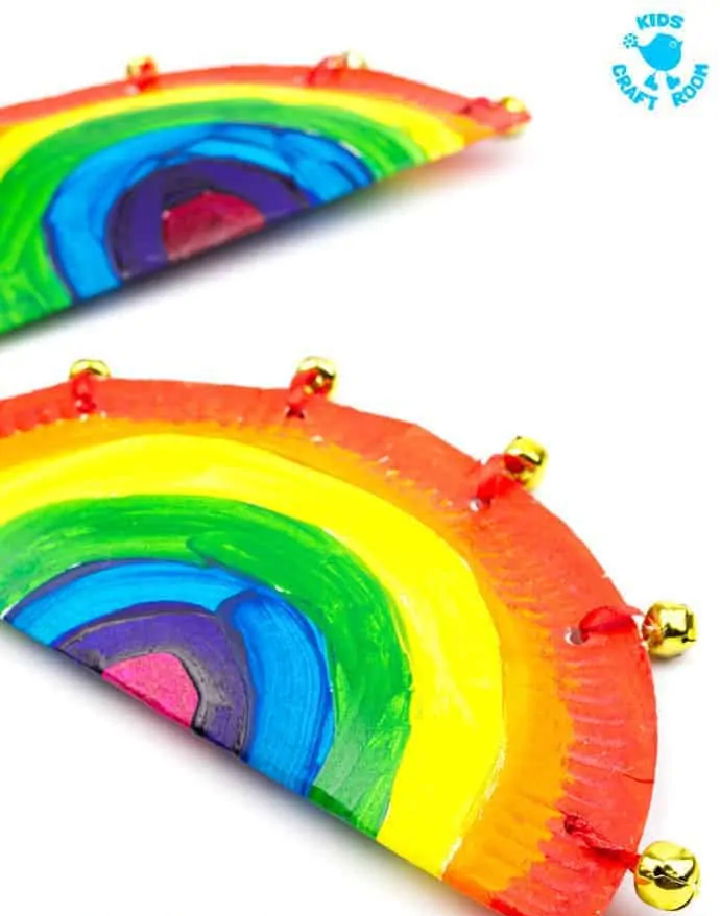 There is a lot of crafty fun to get your kids all busy and happy during the summers and this time you can let them make some cute rainbow inspirations. Yes using a half cut paper plate, rainbow paint hues and the metallic bells the kids can easily create this lovely tambourine on their own. kidscraftroom
25. Rainbow Marbled Butterfly Pasta Art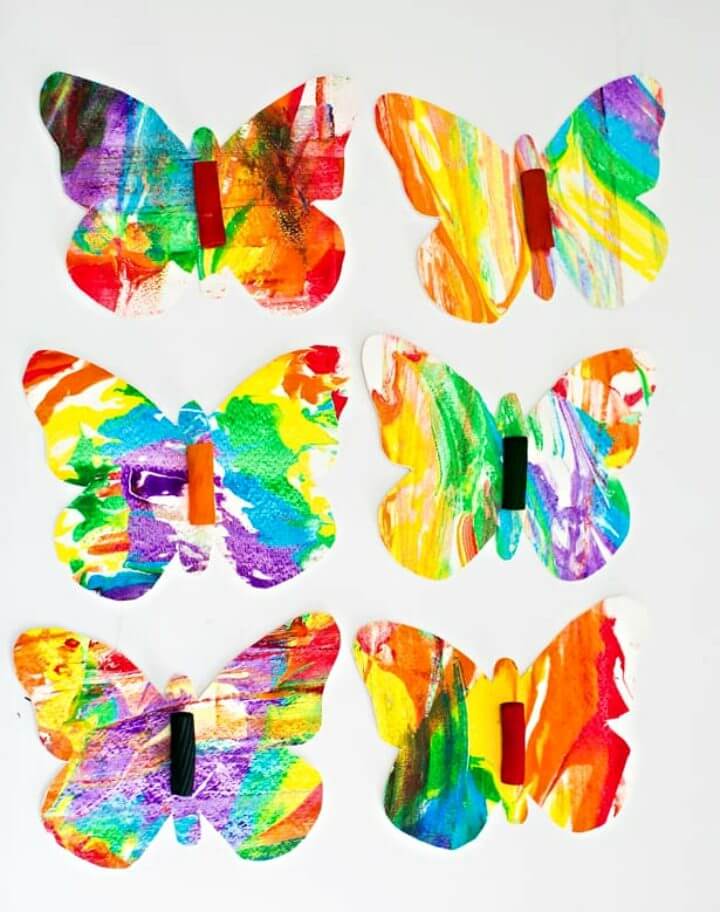 After rainbow, the butterflies have the gorgeous manifestation of the colors given by Nature and it would be just awesome to combine both of these colorful sensations of the natural beauty together. So here is the idea of creating this beautiful marbled butterfly pasta art and that too using the rainbow hues all over. hellowonderful
Kids Art Display Ideas: Make your living room or playroom a gallery of art. Your children can enjoy their artwork for longer periods of time with one of these creative kids art display ideas that will make your home stand out.
26. DIY Paper Plate Rainbow Yarn Art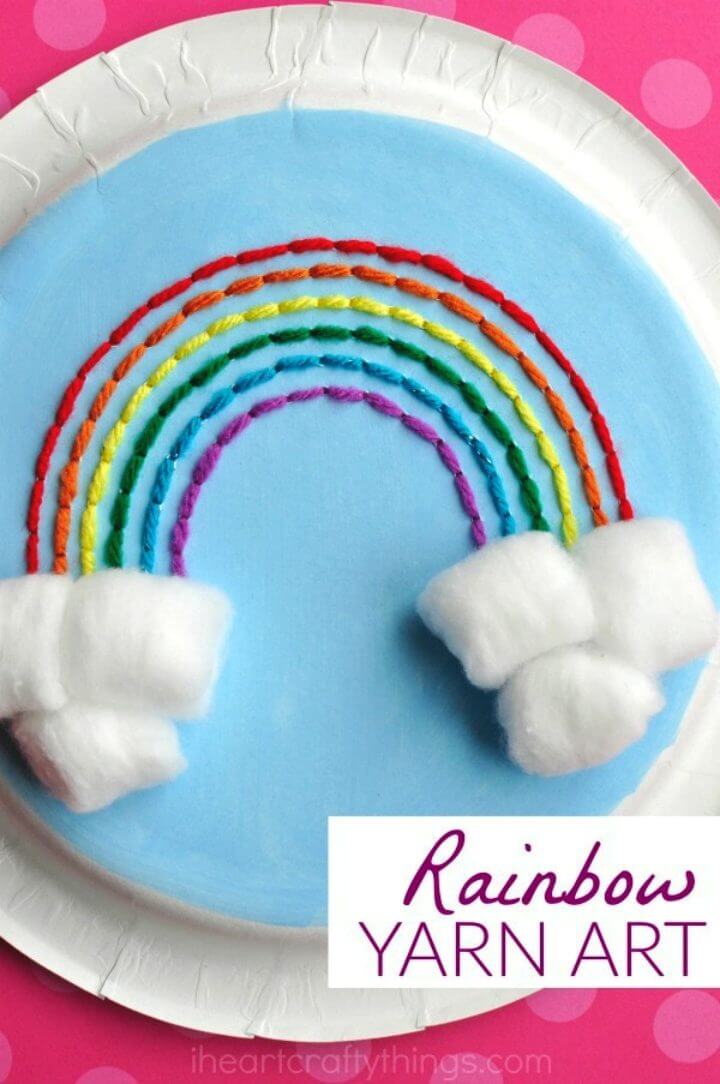 Kids love creating the natural beauty scenes and images through their painting and art and craft and rainbow is surely one of them. So here is the idea of creating a lovely and cute rainbow over a blue paper plate using the rainbow-hued yarn pieces and cotton as the clouds at the rainbow ends. iheartcraftythings
27. How to Make Rainbow Weaving Art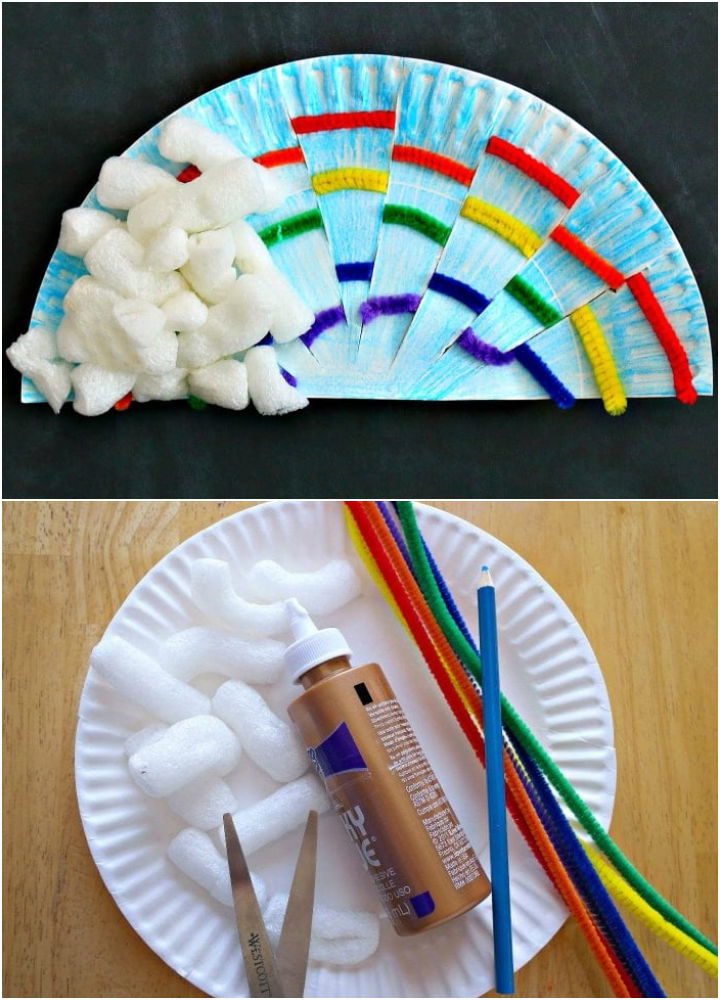 It's time to get artistic with you or with the kids and create this super cute and fun looking rainbow weaving art. Using a paper plate and some thick rainbow-hued yarn this gorgeous piece of art has been easily created and so can you with your kids on a fun summer afternoon. temecula
28. DIY Rainbow Hair Accessories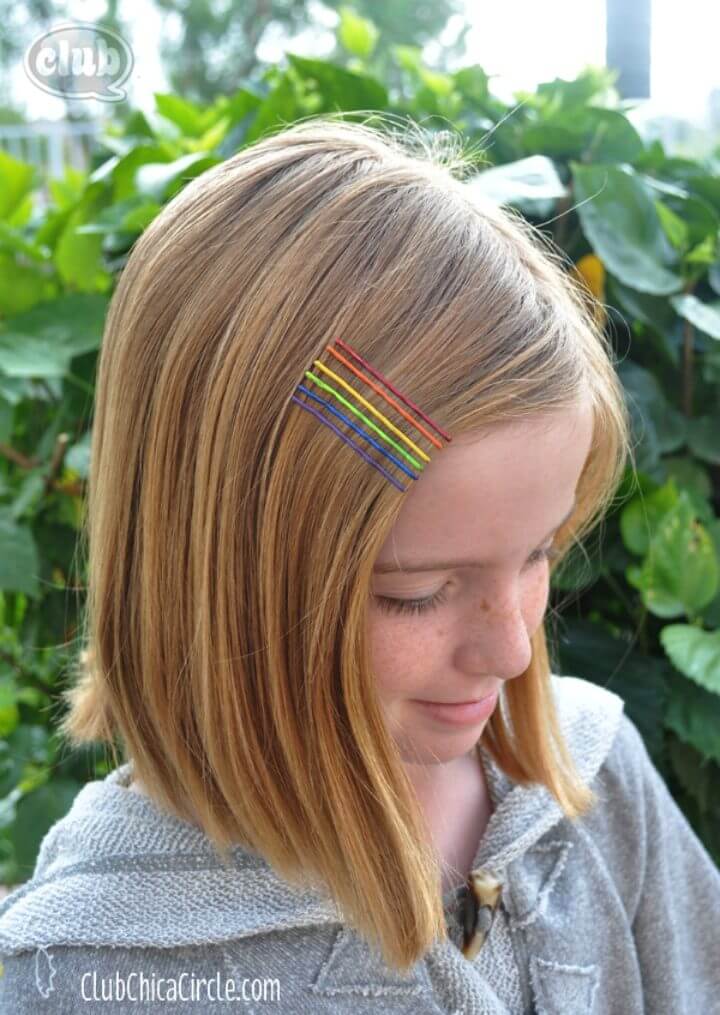 Jazz up your little girl's summer fashion with some cute and lovely colors of the rainbow and here is the idea of doing the hairpins. Yes, the hairpins here have been painted in rainbow shades and would look great on the hair of your girl whenever she is off to outdoors in the summers. Details here chicacircle
29. Easy DIY Lego Rainbow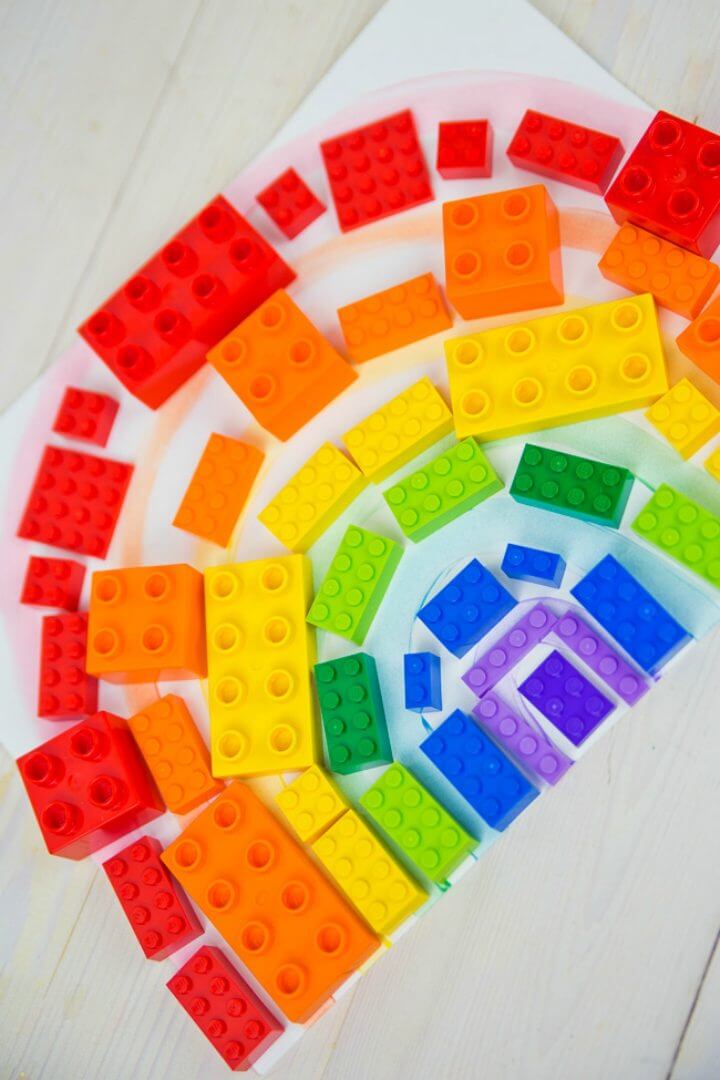 Lego games are the part of every kid's treasure box and here is how you can use for some other crafty and fun things at home with the kids. Yes, with the colorful pieces of the lego you can help your kids to create the pretty rainbow over a white base and it would look so cute and fun. kidsactivities
30. Make Your Own Rainbow Weaving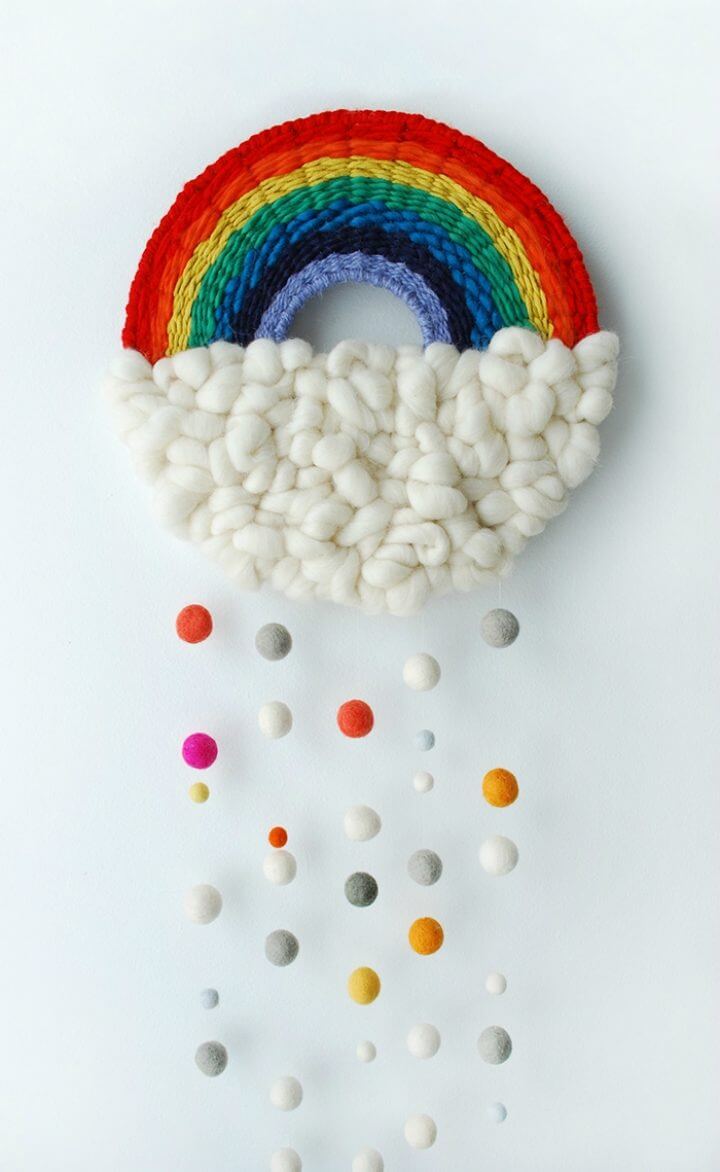 If your are looking a cute handmade craft idea to decorate your walls with and it should be summer themed too then making this rainbow weaving art is the best idea to get your hands on. You would need the rainbow-hued yarn to weave up the rainbow and some pieces of cotton for the clouding. scout
31. DIY Rainbow Paper Plate Pockets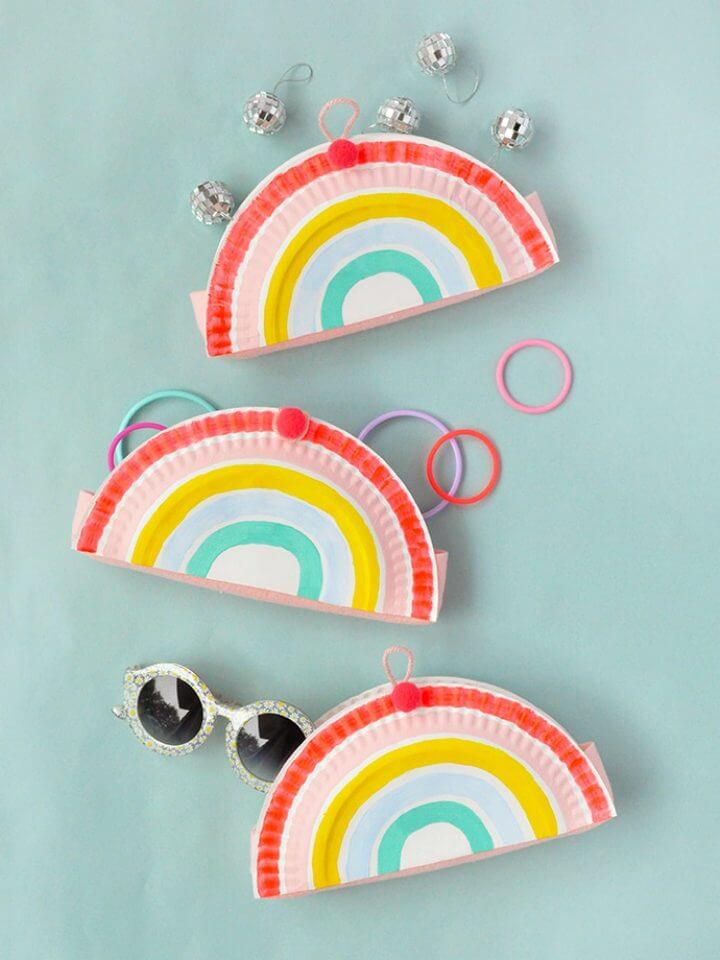 Paper plates are great to use for so many crafty projects at home and here is the one for you to look out for. Yes, the paper plates have been turned into cute pockets and the multiple color decoration has been used on the pockets to make them look beautiful like the rainbow. handmadecharlotte
32. Rainbow Paint Scraped Tote Bag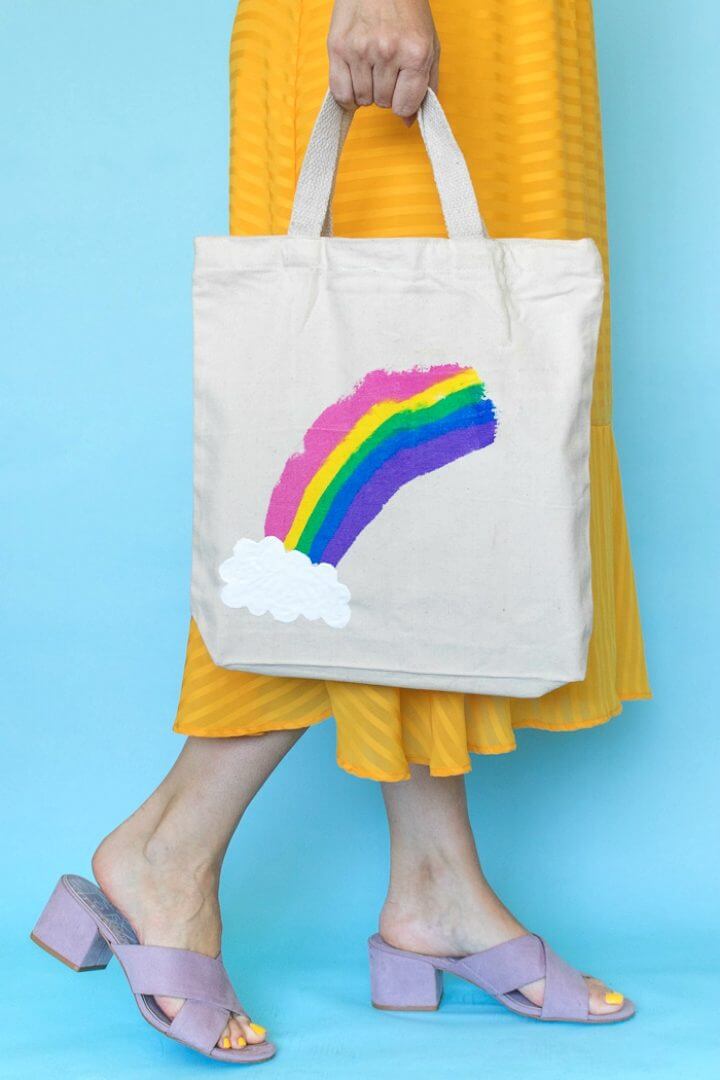 Most of the tote bags are all white and plain and if you do not like their plain dull look then lend them a pretty makeover. Here is the idea of creating a lovely rainbow on your tote bag using some paint and make it look so jazzed up and gorgeous in minutes. clubcrafted
33. Breezy Cardboard Rainbow Mobil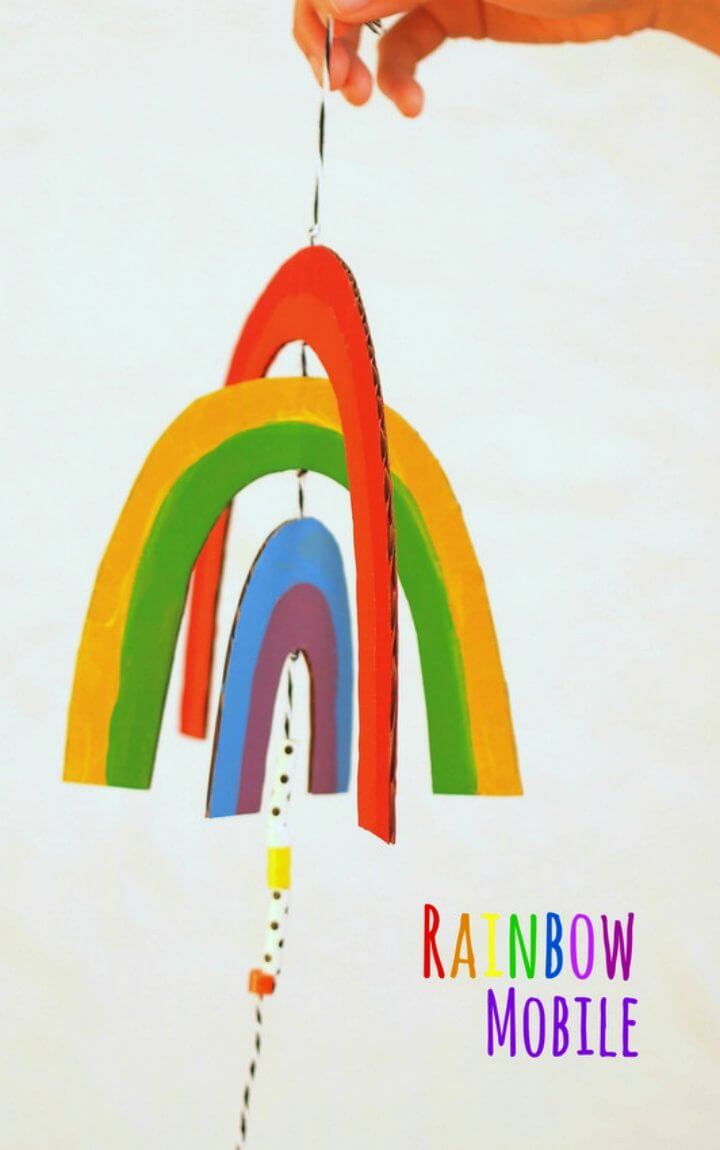 If you have some cardboard boxing lying around then here is how you can enjoy them by using them for some fun crafty hours at home. Yes get your kids indulge with you and create this awesome cardboard rainbow mobile for your little baby. Check out the details here! pinkstripeysocks
34. Cute DIY Paper Rainbow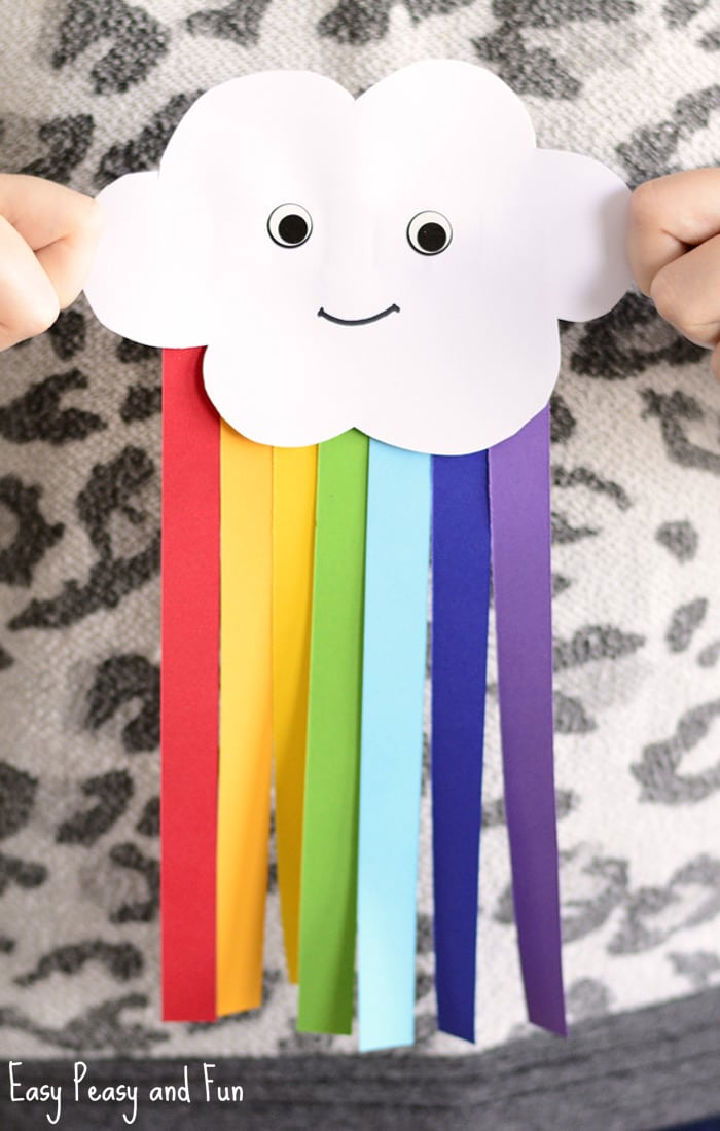 Let your kids develop their skills and talent by getting crafty and artistic this summer and making this cute DIY paper rainbow is a great idea. Using some white paper, colorful cardstock and the color markers they can easily create the view of the rainbow coming out of the clouds. easypeasyandfun
Pipe Cleaner Crafts: Learn how to make pipe cleaner crafts with easy instructions and step-by-step pictures. Get your hands dirty today with these easy pipe cleaner crafts and things to make.
35. DIY Cardboard Tube Rainbow Blowers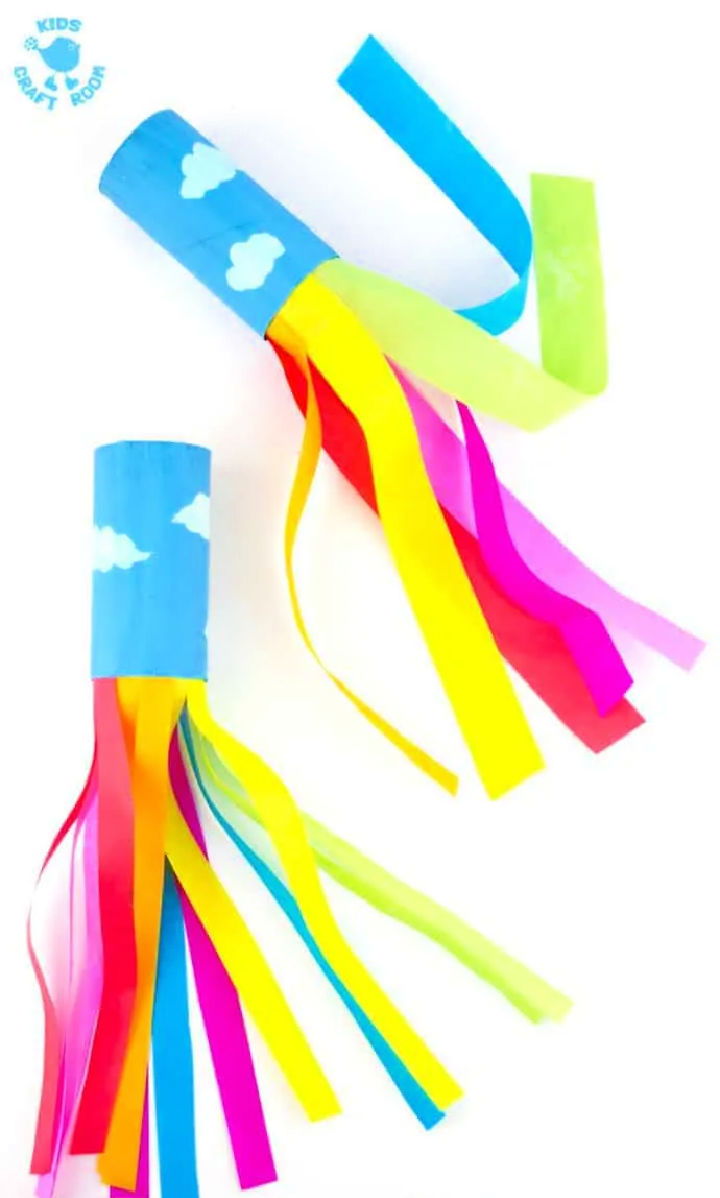 Kids can make a lot of fun stuff from the trashy items just like these DIY cardboard tube rainbow blowers have been easily made at home. You need empty tissue rolls and the colorful card stock to create these amazing looking and fun toys for the kids at home. kidscraftroom
36. Rainbow Maracas Using Plastic Spoons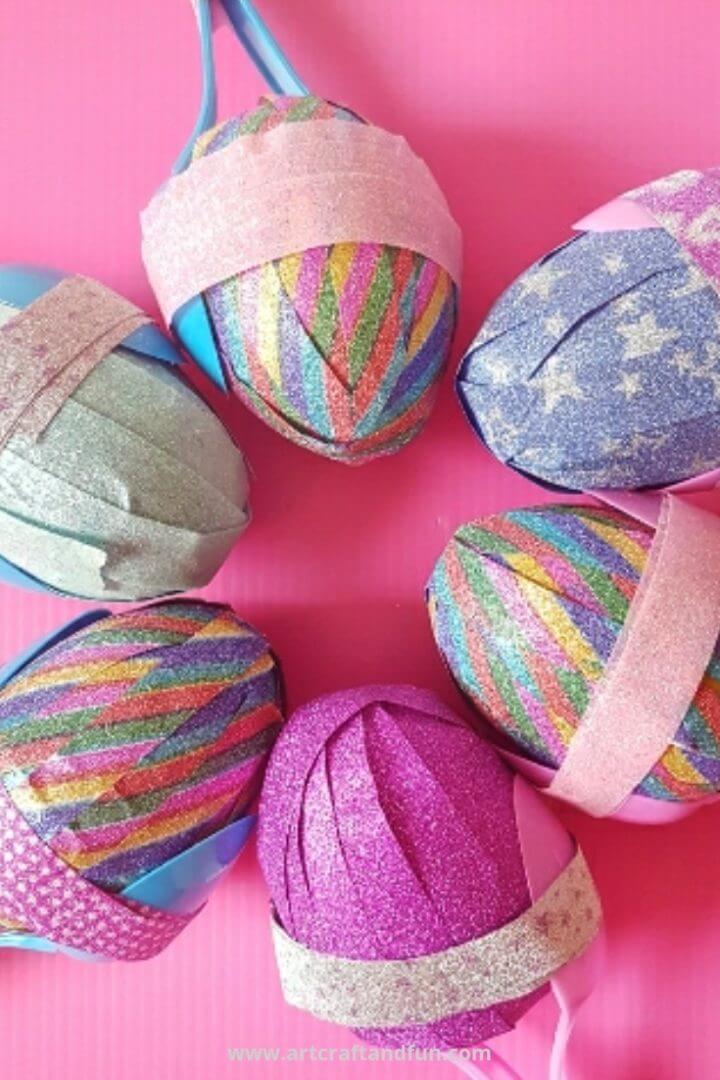 Kids love to play with so many things and maracas are one of them especially the girl love to shake them around. Using the plastic spoons from your kitchen and some colorful glittery sheets you can easily create these cute and colorful rainbow maracas. artcraftandfun
37. DIY Glittery Rainbow Painted Clutches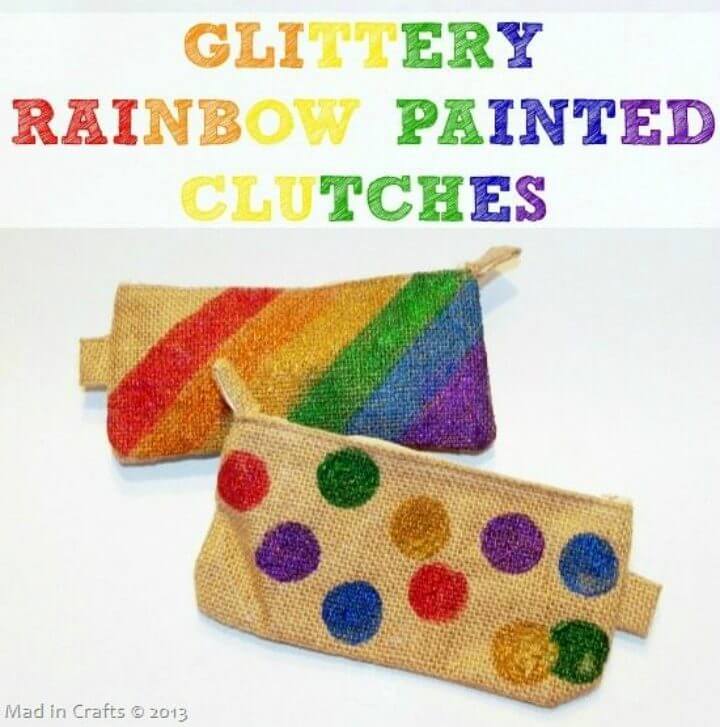 Your little girls would be more than happy seeing these totally cute and colorful clutches that you can make at cheaper rates at home. The clutches have been made out of the burlap and then painted in cute rainbow shades with stripes and dots to look so pretty and fun. madincrafts
38. Cheap DIY No-sew Rainbow Wall Hanging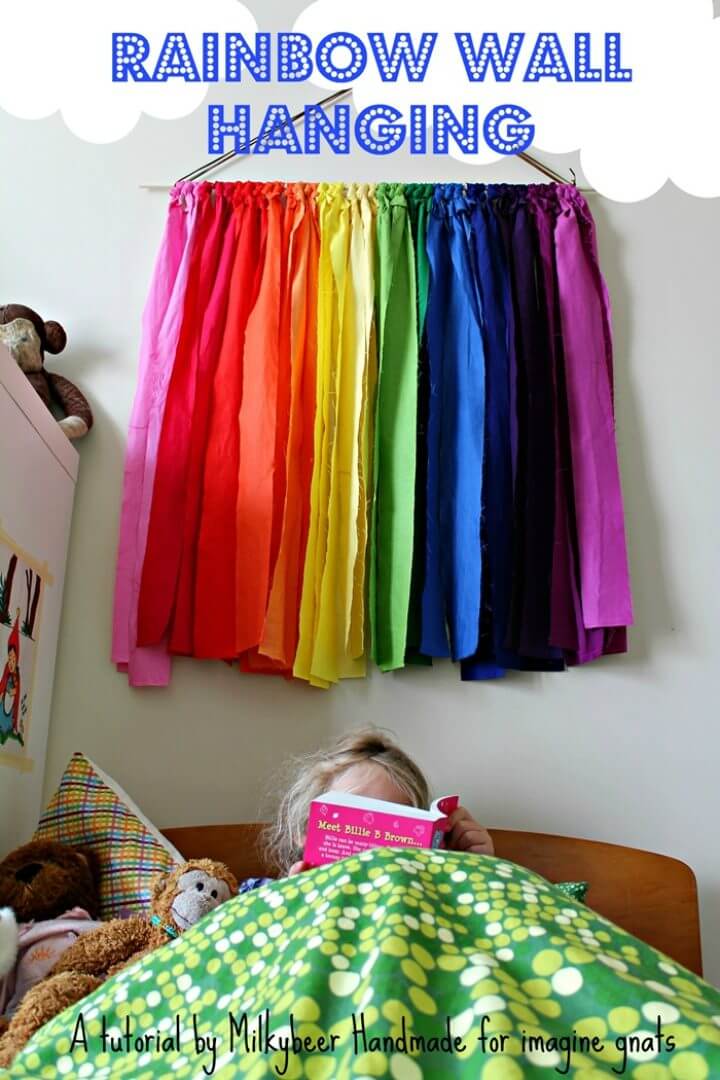 Make your little one's room look a bit groomed up by getting the walls this lovely rainbow wall hanging that is just super easy and fun to make on your at home. With a wooden rod, a cord and colorful fabric strips in rainbow hues are the cheap and easy things you need to make this pretty wall hanging. imaginegnats
39. Paper Plate Rainbow for Kids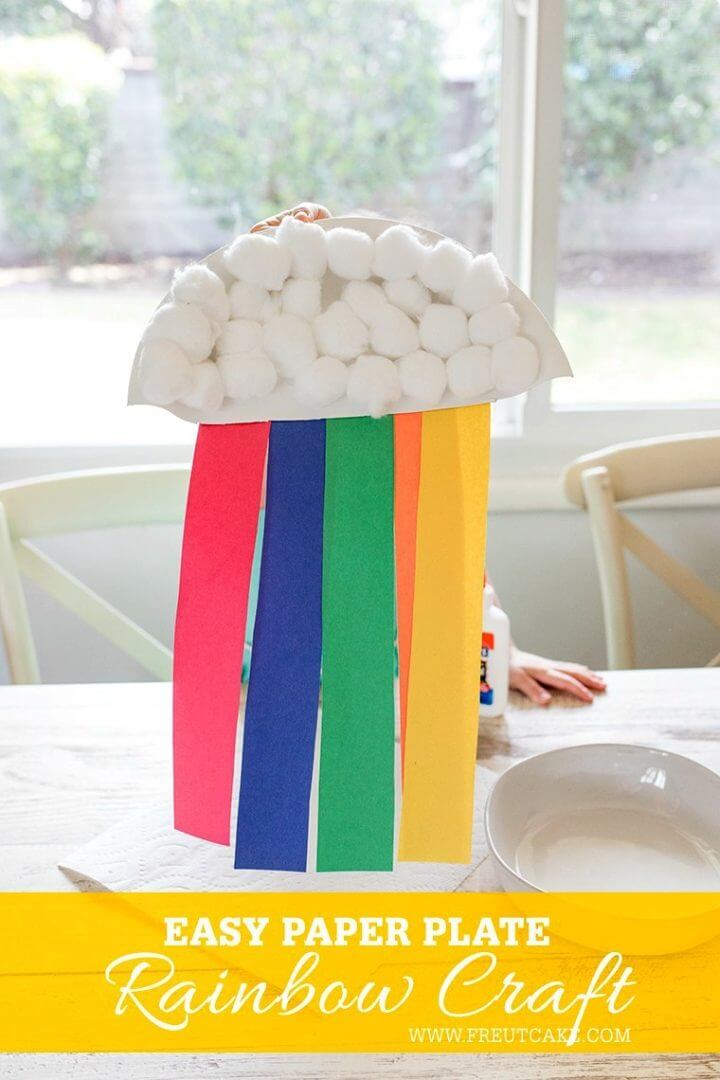 Get your kids busy this summer with some fun and cute crafts just like this paper plate rainbow making. With a few things and supplies, you can easily let your kids create these amazing craft. Paper plate, colorful constructions paper, and the mod podge and let the kids have fun. freutcake
40. Quilled Rainbow Craft for St Patrick's Day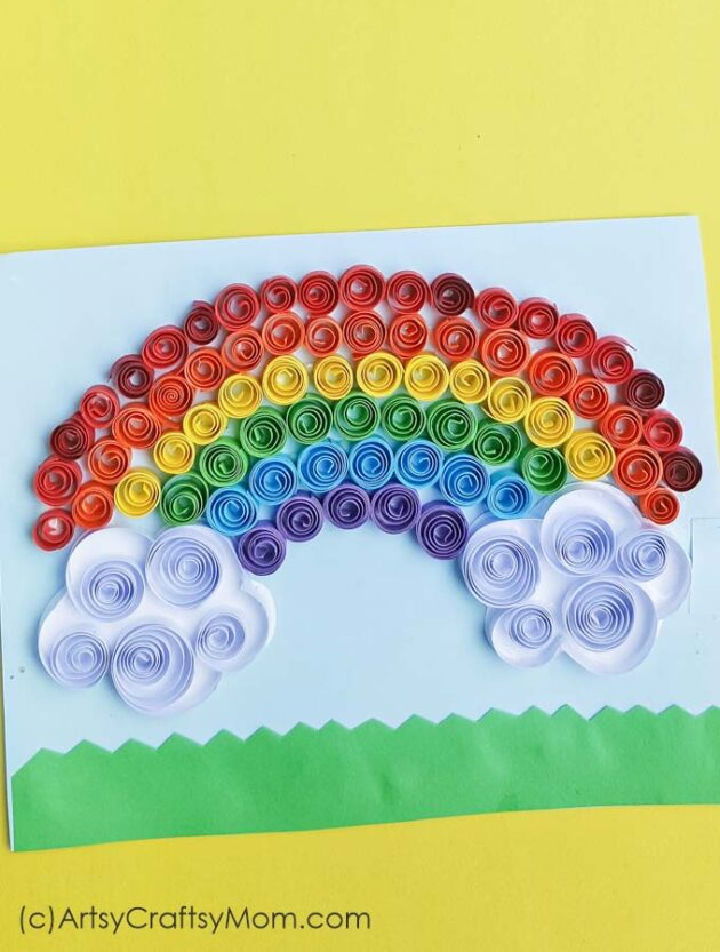 The art of quills is really getting popular these days and you can get your hands on this fun art too with this quilled rainbow craft and that too for the St Patrick's Day. Using colorful construction paper and some of the white the rainbow has been created with the paper quills. Learn the complete tutorial here! artsycraftsymom
41. Rainbow Pony Bead Prism Suncatcher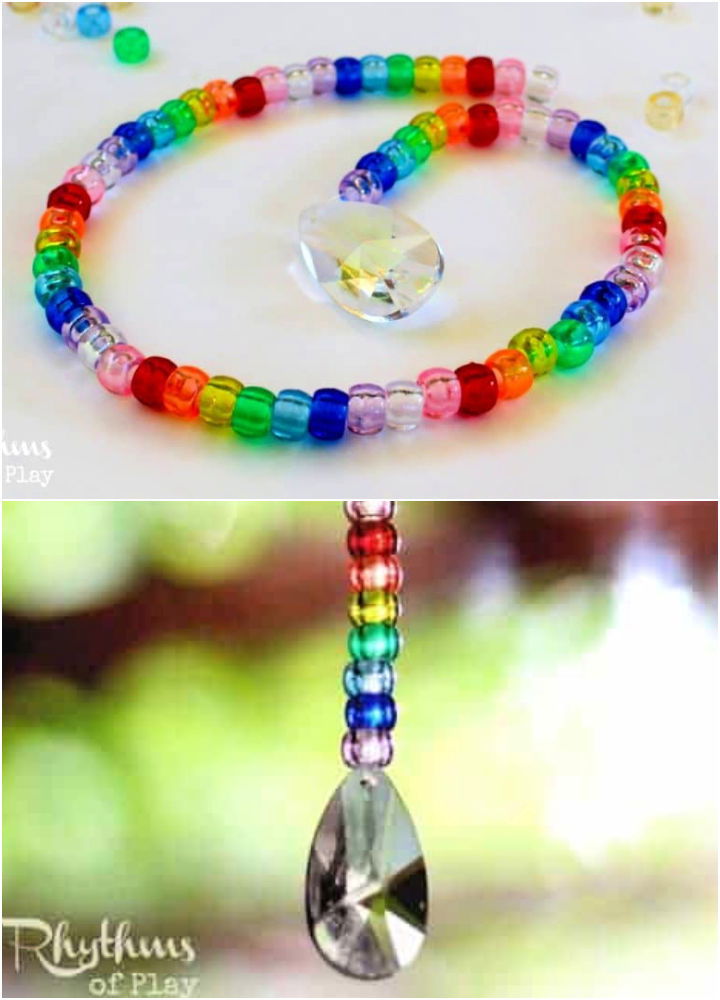 Many of us are in the habit of collecting beads and here is this lovely rainbow pony bead prism sun catcher to bring in use those collective beads. Kids would love making this pretty and colorful sun catcher and that too with the rainbow hues to look just super catchy. rhythmsofplay
42. How to Make Rainbow Yarn Art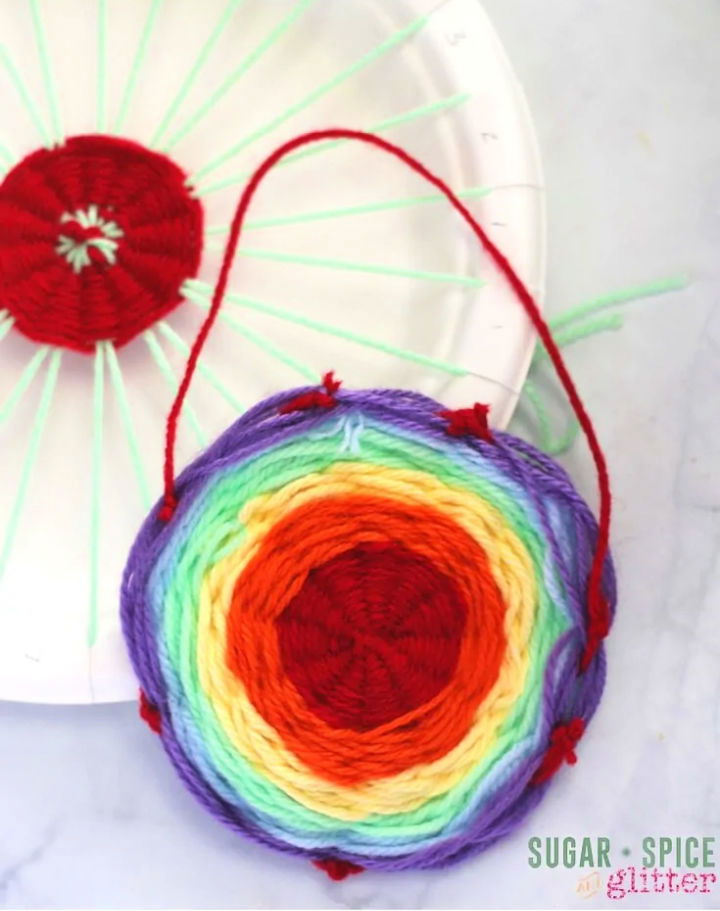 Yarn art is such a cute way to make your spaces look so much interesting and fun with a touch of custom decor and here is this lovely rainbow yarn art. Using the rainbow-hued yarns this lovely and cute round shaped rainbow yarn art has been created. You can place it on the tables or hang on the walls. Details here! sugarspiceandglitter
43. Handmade Rainbow Heart Suncatchers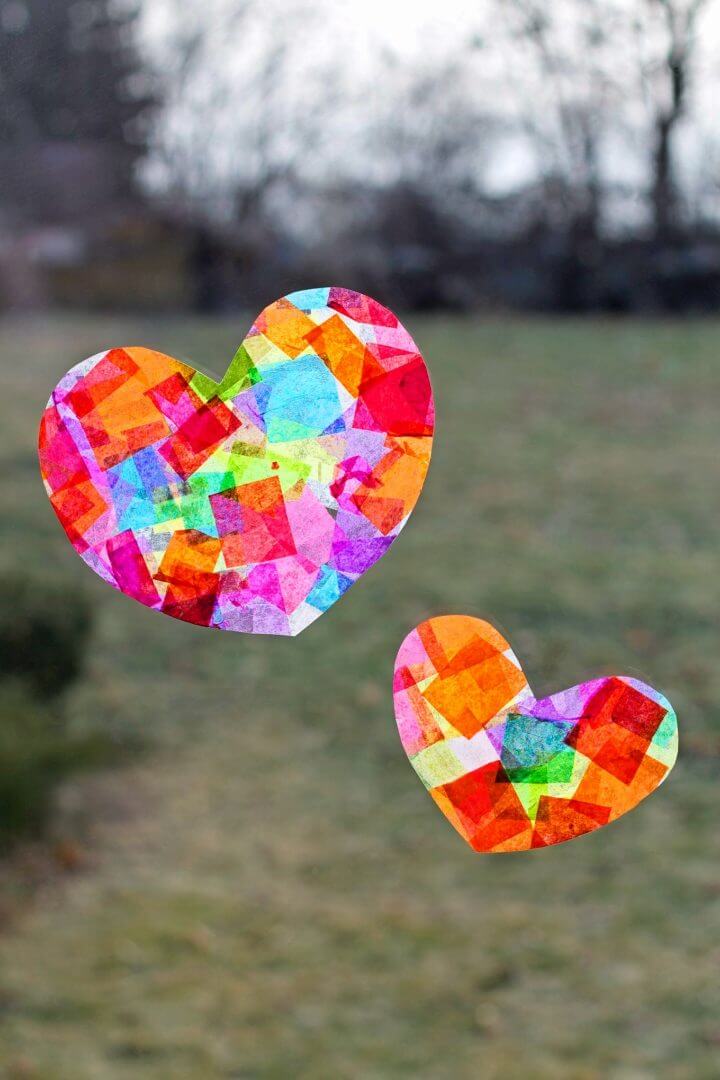 Making suncatchers with colorful tissue papers is really the best thing ever to craft for the summers. So here is the idea of creating this lovely heart-shaped rainbow sun catcher for your outdoor places. Introduce this art to kids and they would love to make it on their own. firefliesandmudpies
44. How to Make Rainbow Mouse Pad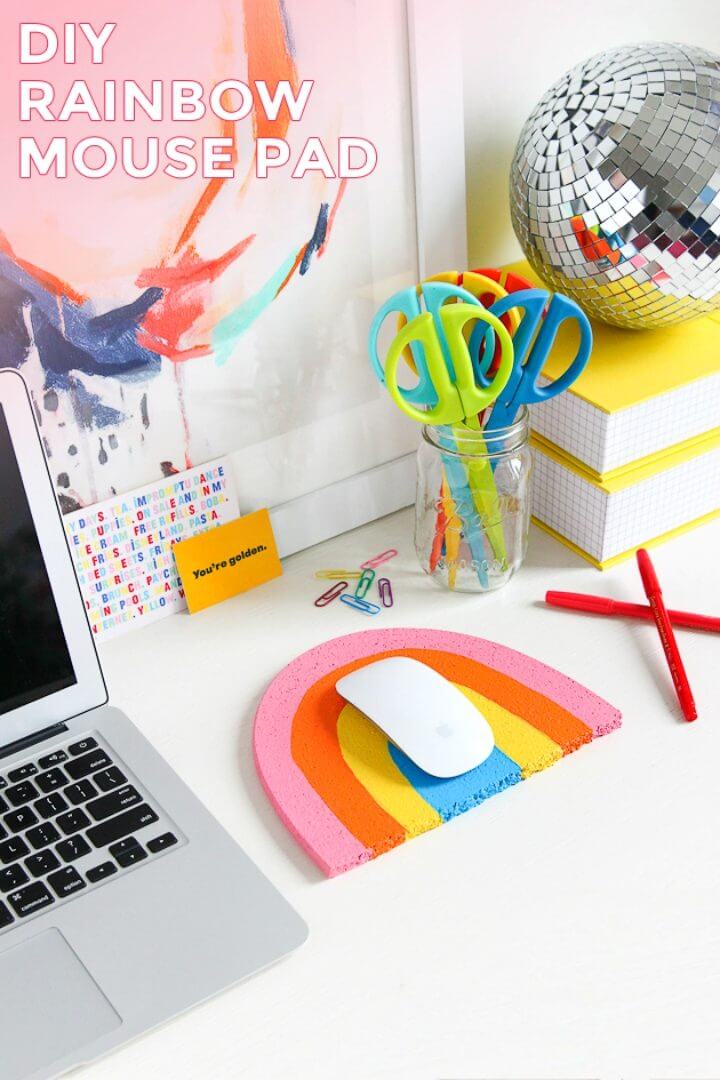 The cute and colorful vibes can really bring positive changes on your working moods so here is the idea of creating this lovely rainbow inspired mouse pad for your computer table. The lovely rainbow mouse pad has been made out of the cork board being cut in half and with some paint hues to create the rainbow on it. thecraftedlife
45. Rainbow Beaded Leather Bracelet Tutorial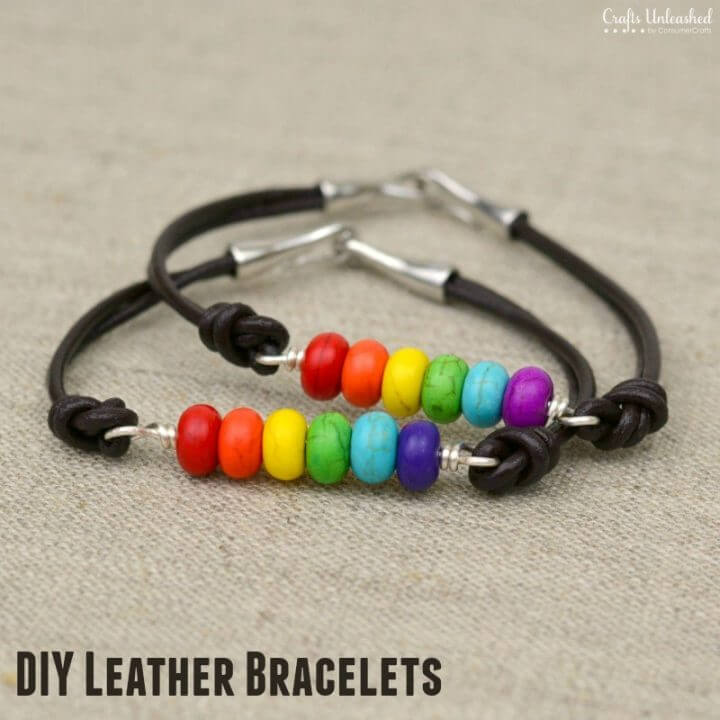 Making bracelets at home has become the favorite craft of us and here is the idea of creating a beaded leather bracelet for yourself or for your BFF. The special thing about this lovely leather bracelet is the rainbow theme used for the colors of beads. Here is the easy and fun tutorial! consumercrafts
46. Make a Origami Chest of Drawers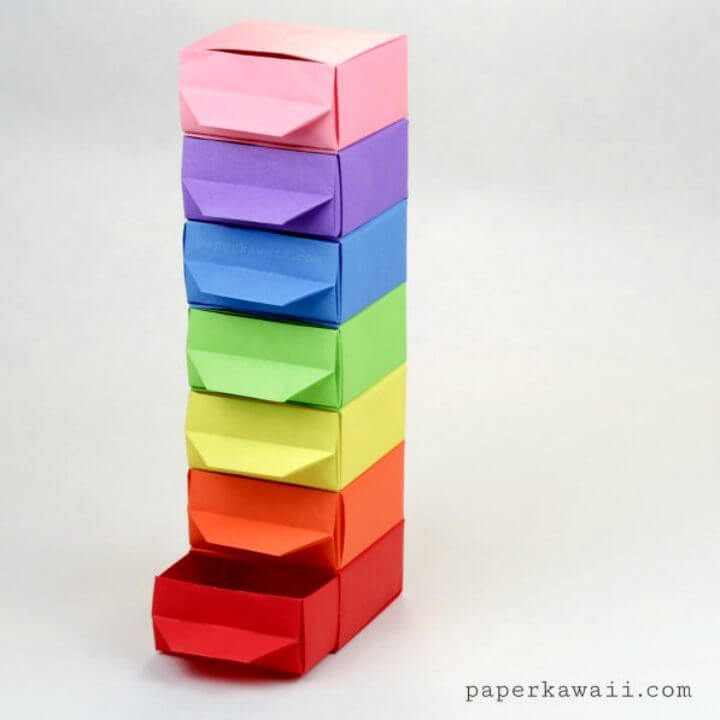 The craze of origami crafts has been all over the globe and the internet and there is literally nothing that you cannot make from this colorful craft paper. So please your baby girl and make her this lovely chest of drawer to use in her room or even in her dollhouse. The rainbow color theme makes the chest look so stunning. paperkawaii
47. Vibrantly Colored Coffee Filter Flowers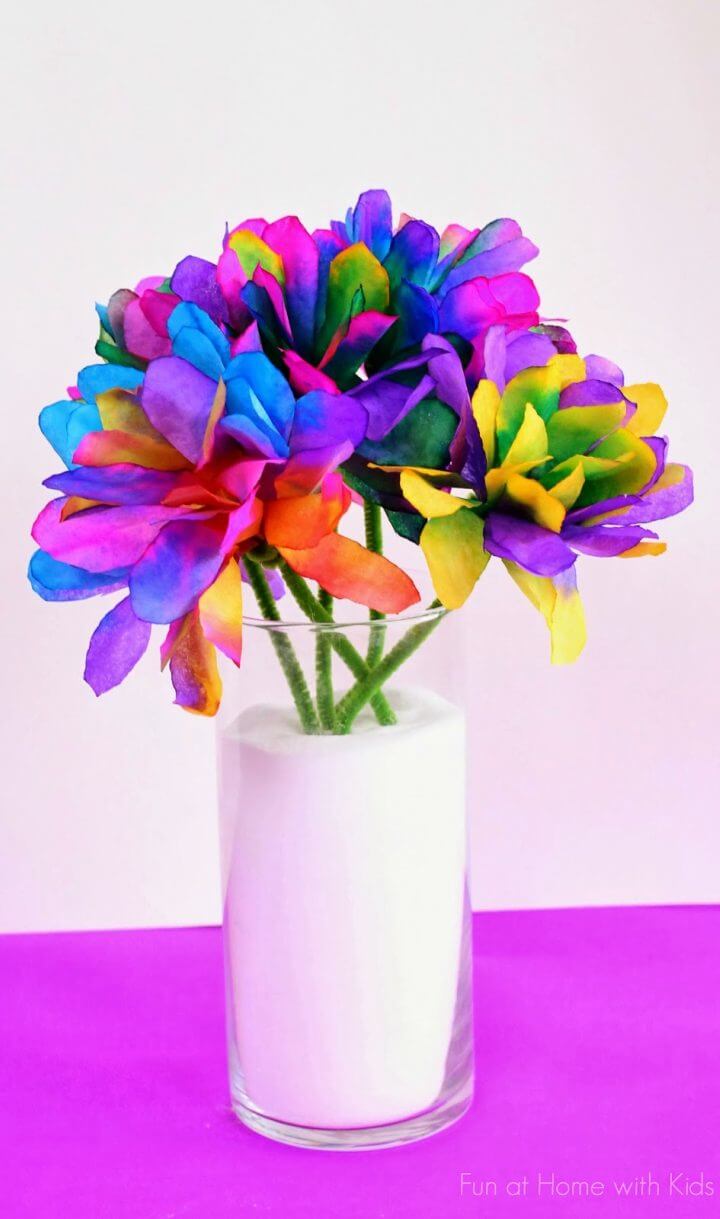 Coffee filters are so easy to use for the paper crafts especially when you want to make flowers of papers. More than simple and plain white coffee filter flowers the colored coffee filter flowers would look more catchy and fun for your spaces. So paint the coffee filters and make flowers and let them flaunt in your vases. funathomewithkids
48. Making a Mini Rainbow Balloon Arch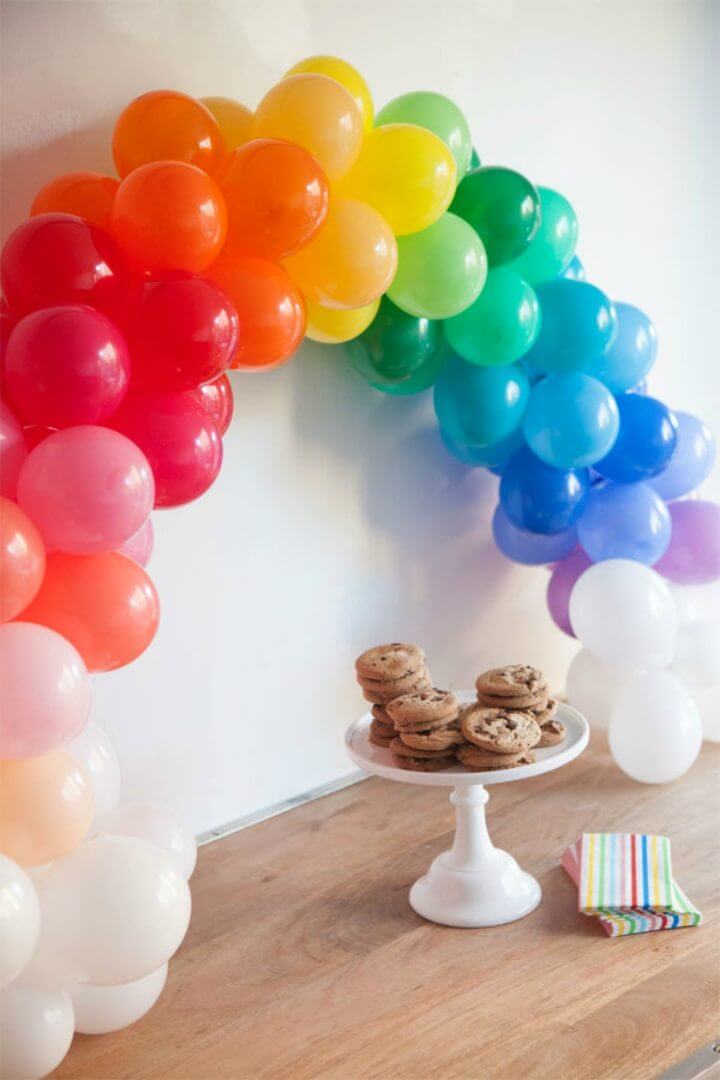 Summers give us a chance to use all the vibrant colors in our party decor especially when it is for the kids. Balloons are must to have for the kid's party decor and this time you can make this lovely balloon arch for your walls and it would look just super stunning and fun. Check out the details here! ohhappyday
49. Simple DIY Smiling Rainbow Paper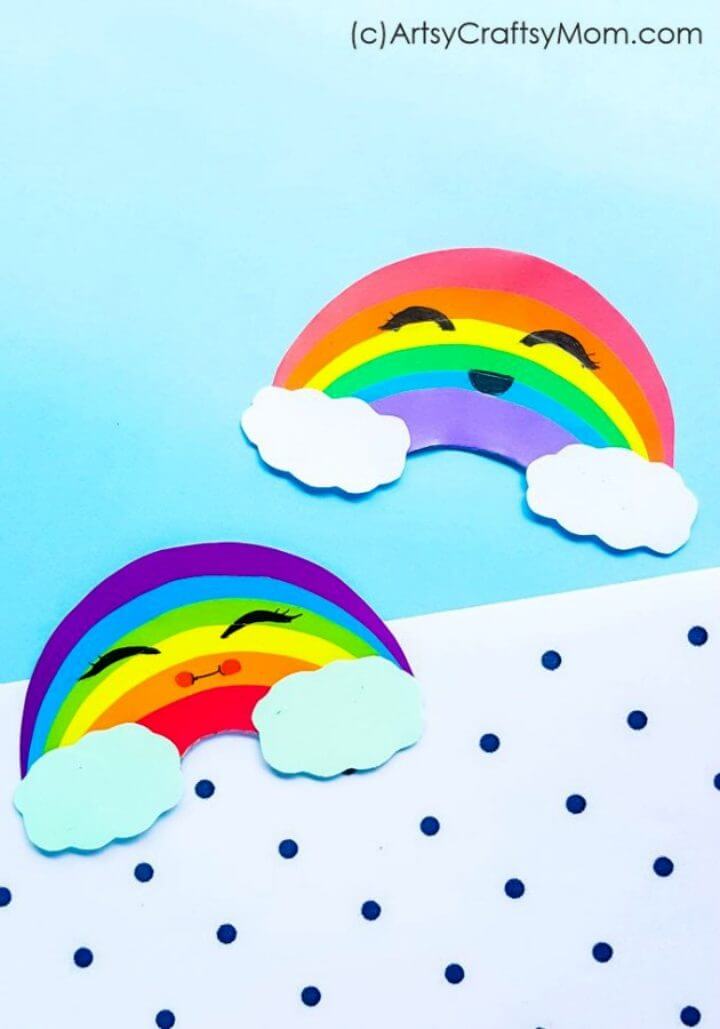 The best way to keep your kids busy is to involve them in the fun art and craft sessions as they can learn a lot from it too. So, one of the crafts that you can pin for them to do this summer is making this utterly cute smiling rainbow paper. The smiley features on the rainbow make it look really more cute and fun. artsycraftsymom
50. St. Patrick's Day Rainbow Crown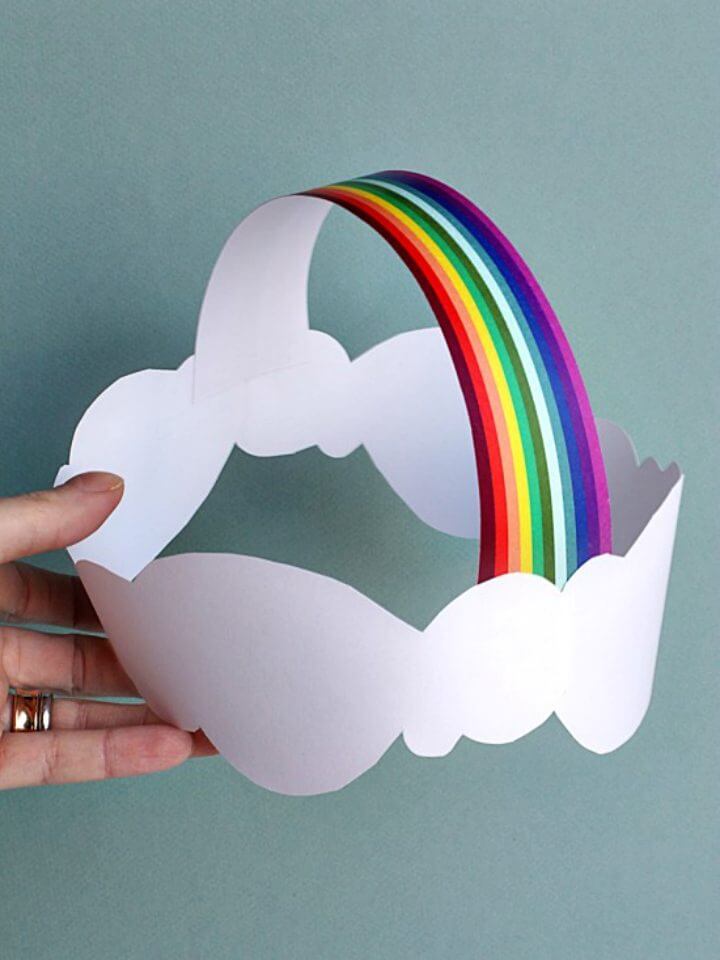 Here is another cute and fun craft that you can do on the St. Patrick's Day to make your kids feel so much happy and fun. Using some construction paper or the card stock you can make this lovely rainbow crown for your kids and let them feel like king and queen for the day. smallforbig
51. DIY Giant Crystal Rainbow
Pipe cleaners are also being used in the making of so many arts and craft projects and here is the idea of creating a giant crystal rainbow to flaunt around. So grab the pipe cleaners which have the rainbow colors and glue them together to make the pretty rainbow to display around. hellowonderful
52. Rainbow Loom Band Pencil Toppers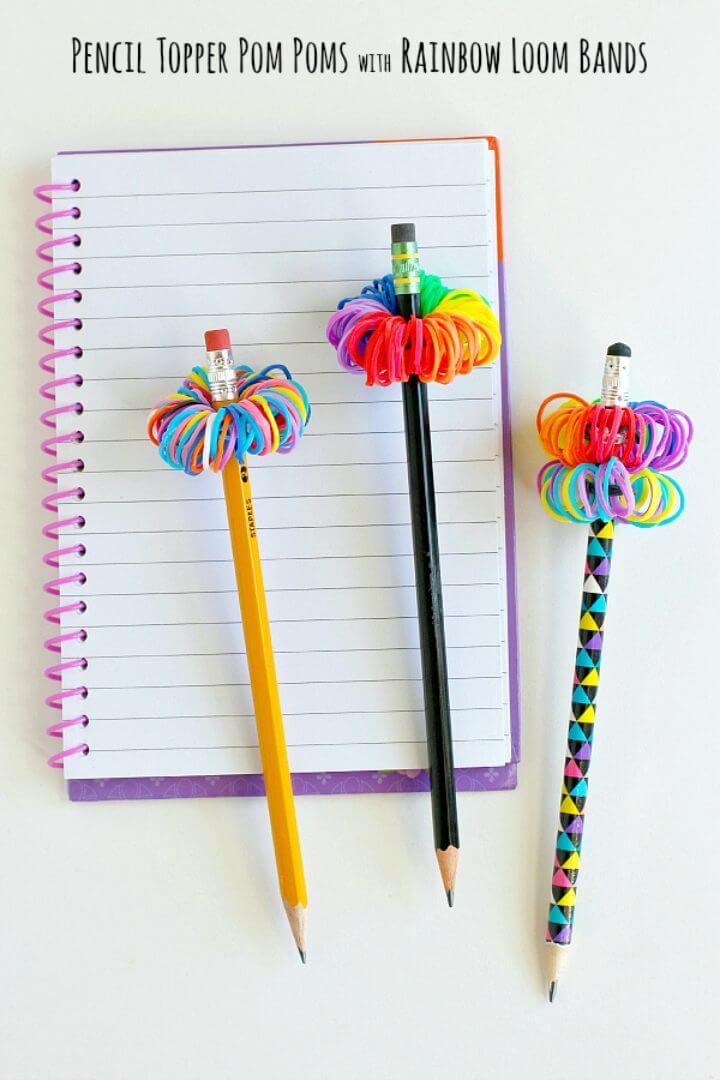 Make these pretty rainbow loom band pencil toppers and let your kids be all excited and fun while using the pencils. So collect the rainbow colored loom bands and put them together in a round shape and wear them on the back of the pencils for a complete pretty and chick look. Check out the details here makeandtakes
53. Easy DIY Felt Rainbow Pillow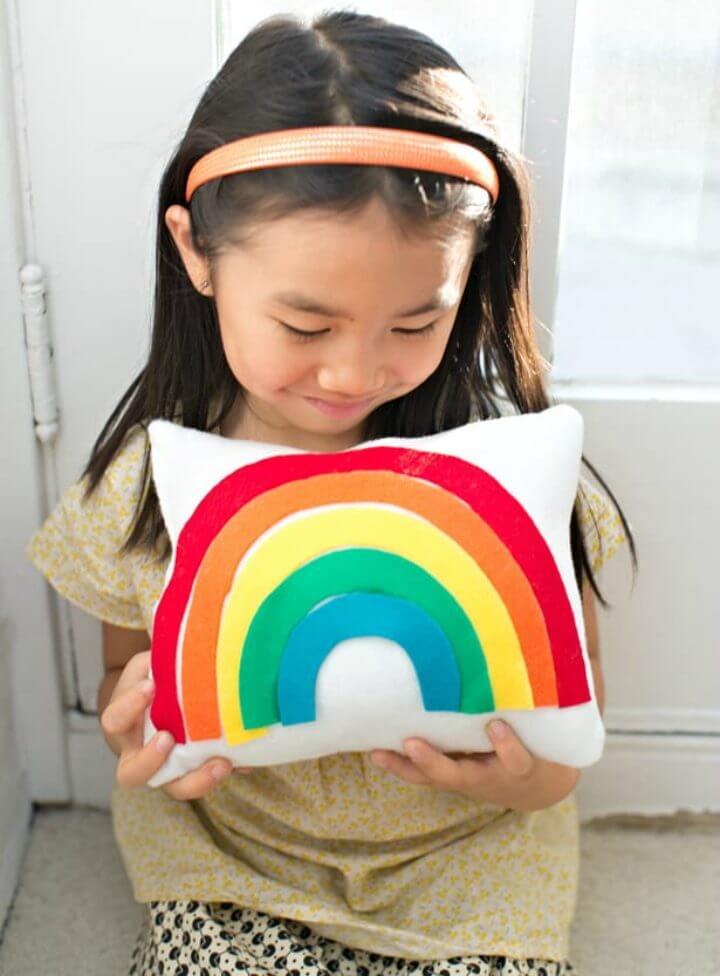 You can make a white pillow instantly the most interesting and fun one by adding some colors too. Not the ordinary colors but the rainbow colors. So grab some rainbow colored felt and shape up a rainbow on the white pillow and it would look perfect to be on your kid's bed. hellowonderful
54. Easy to Make Rainbow Barrette
There are a lot of options and choices to make when you want to work on an art and craft project at home. Just look around and you got so much to work on just like the colorful ribbons. Yes using those ribbons you can create this lovely rainbow barrette and even your kids can make as it is super easy and fun. sweetlilyou
55. Pretty DIY Heart String Art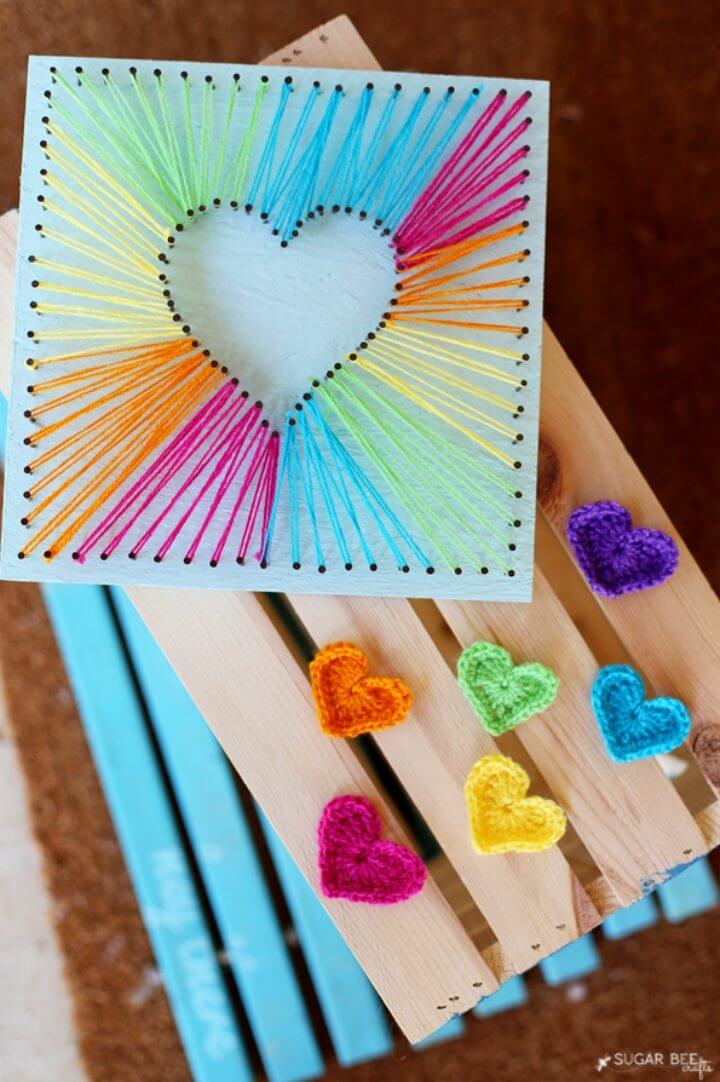 The art of yarn is really fun to work on and here is the idea of creating a lovely and cute string art. Make your kids so much happy and fun with this heart-shaped string art. With nails, one board, the colorful yarn you can shape up this lovely heart-shaped yarn art. Check out the details here sugarbeecrafts
56. DIY Rainbow Tassel Tote Bag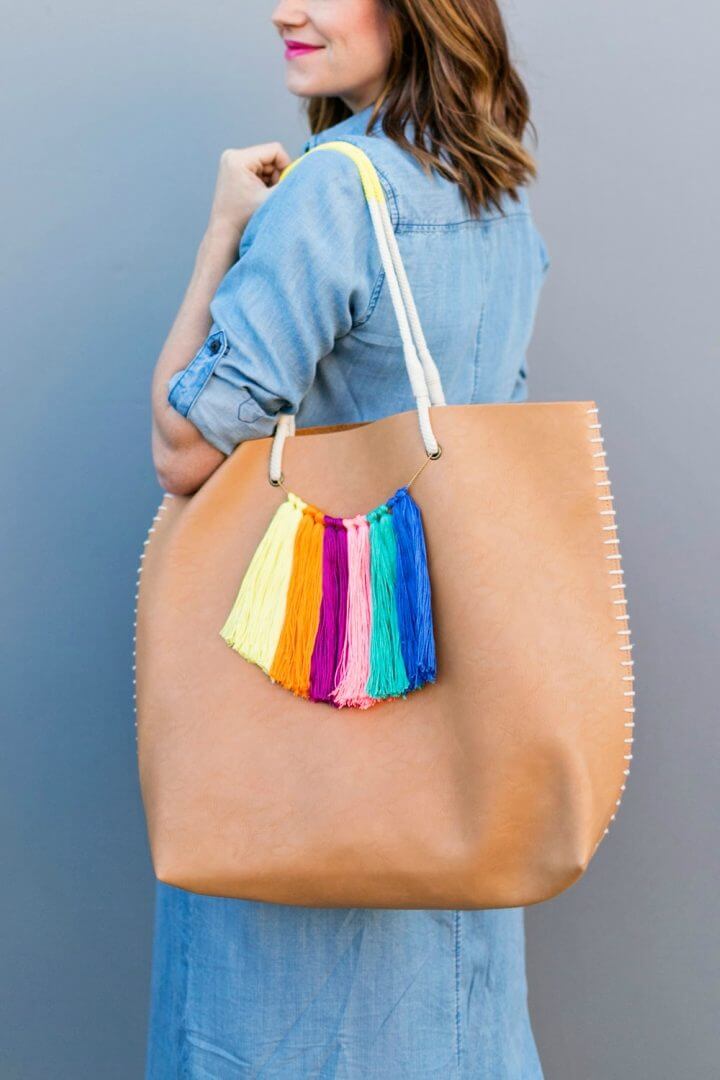 You can add the perfect pop out of colors to your bags with this bunch of tassels. A bunch of yarn tassels have been added to the bag strip and have been added to the bag strip and it looks so much catchy and fun for your regular fashion. You can check out the details here! tellloveandparty
57. DIY Rainbow Pom Pom Tote Bag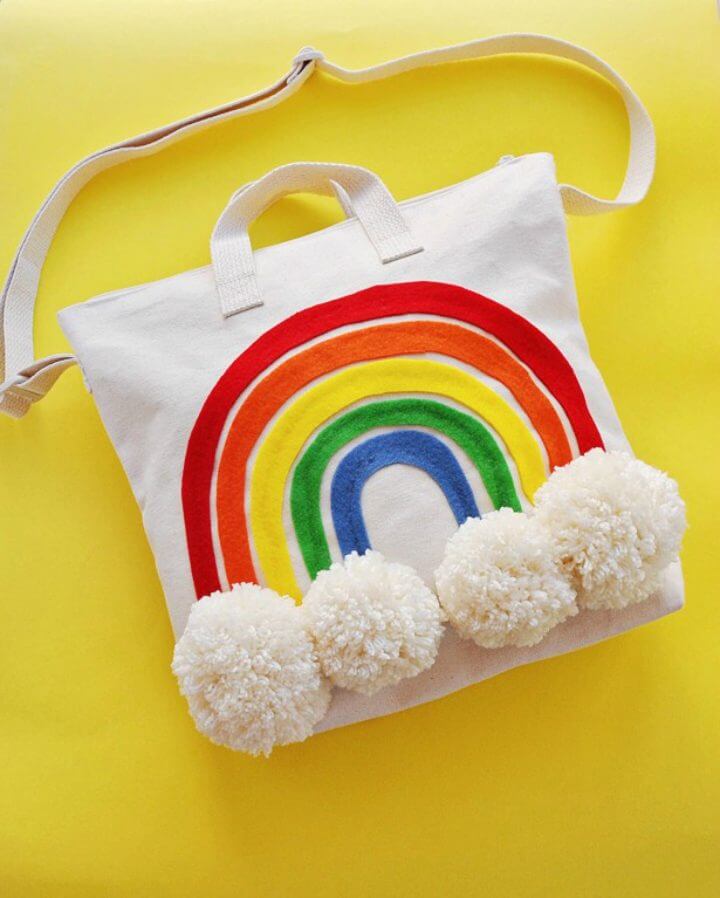 You have a bag and you want to make it look better for your summer fashion. Use the pieces of felt and some pom pom to create a cloud and rainbow on the bag and make it look so much pretty and fun. You can check out the awesome pom pom tote bag here to refashion it here.
58. DIY Headband with a Rainbow Ribbon Flower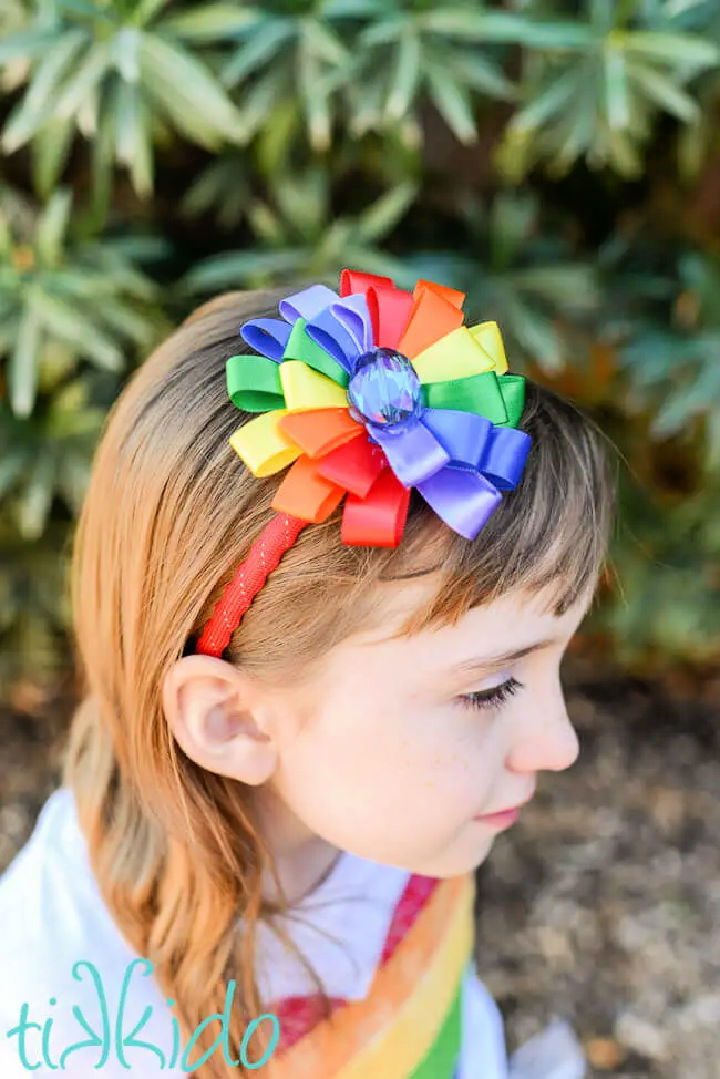 You can check out this lovely and cute rainbow themed flower out of the ribbon and a headband. Try this lovely headband on your head and make your little girl so much pretty and fun.  You can check out the details of the idea here! tikkido
59. Rainbow Ribbon Magic Wand- Toy for Kids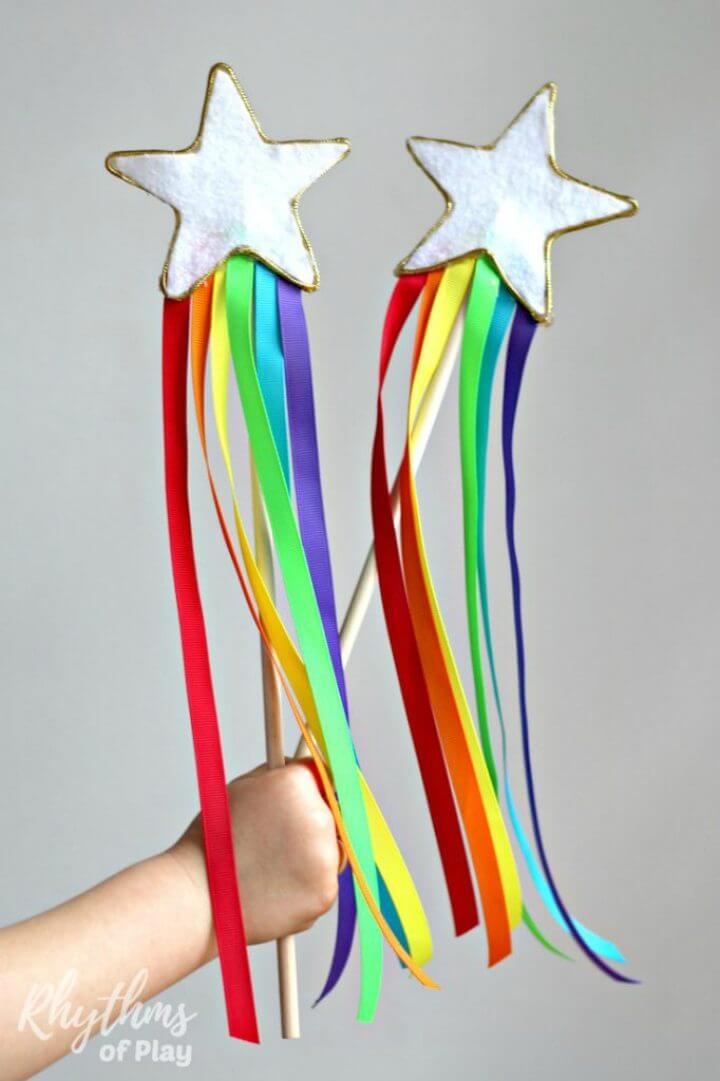 Make your kids this lovely magic wand this summer on 4th of July and this rainbow magic wand. With some ribbons, felt stars and rods you can create these pretty rainbow ribbon magic wand for your kids and let them be fairies for a day. Learn the complete tutorial here! rhythmsofplay
60. Pop-up Heart Rainbow Card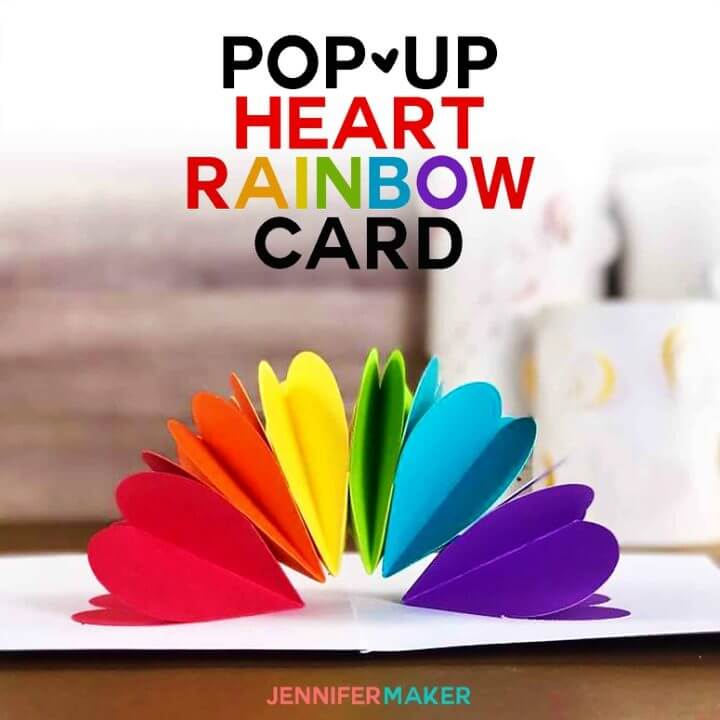 Rainbow is the most beautiful thing to witness ever. Check this idea of creating this rainbow inspired art in the shapes of hearts. This lovely pop up heart rainbow card here and enjoy making it with your kids as a fun crafty session. Details here! jennifermaker
61. DIY Zipper Toy for Toddlers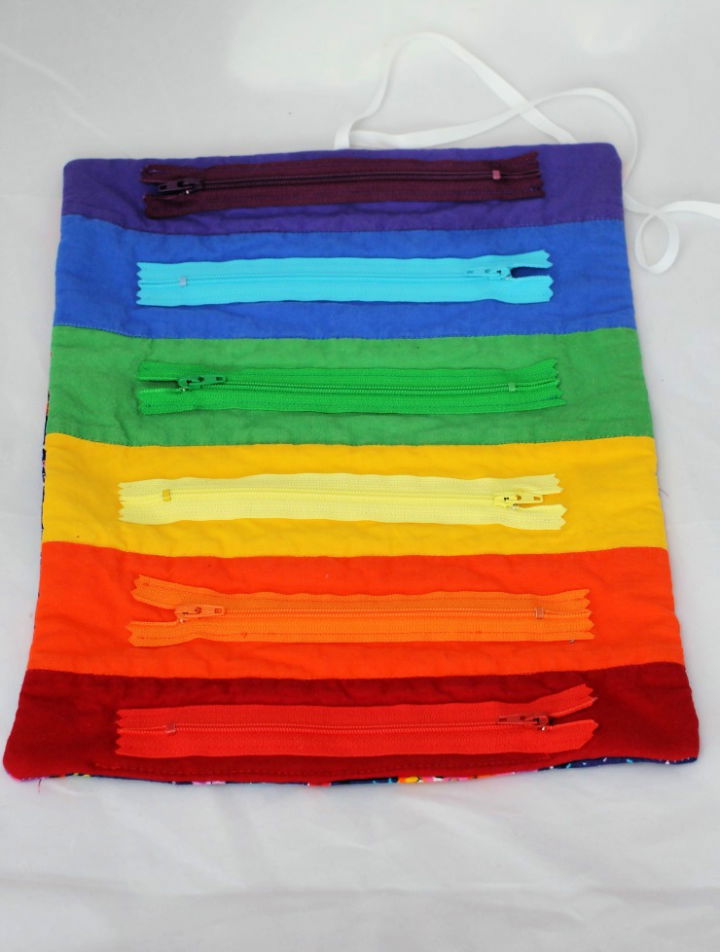 Zippers are also available in so many colors and forms and here is another fun thing to make out of the zippers. Yes, this is a cute zipper toy that you can make for the toddlers and let them have fun playing with it. Just grab the zippers and fabric pieces and learn to make it here! swoodsonsays
Related DIY Projects and Ideas
DIY Colored Sand: Colored sand is a fun and easy way to add color to crafts. Here are simple ways to make colored sand that you can use on a variety of projects.
Mermaid Crafts For Kids: Make your kids' playroom or bedroom more fun and colorful with these easy mermaid crafts for kids. These activities are perfect for children of all ages, even the littlest ones.
Crafts to Make and Sell: Whether you're looking for a way to earn extra money on the side or are just looking for a fun project, you'll find the perfect DIY crafts to make and sell in this article.
Horseshoe Crafts: These easy DIY horseshoe crafts are a fun project that can be done by anyone. They're easy, simple projects perfect for beginners or experienced crafters.
Elephant Crafts for Kids: Get your kids away from their screens with these creative and fun elephant crafts for kids that they will love.
Valentine's Day Crafts: Check out these lovely DIY valentine's day crafts and gifts that are truly unique from the rest. Find your perfect gift for those you love – including your sweetheart and kids!
Summer Camp Crafts: This is the ultimate list of best summer camp crafts for kids including easy activities like drawing and painting to fun crafts like making a birdhouse.
Pokemon Crafts for Kids: Do you have a child that loves Pokemon? Here are easy and fun ideas for Pokemon crafts your kids will love.
Burlap Crafts & Decor Projects: Burlap is a great material to work with, and there are so many ways to use it. Learn how to make your own burlap crafts and decor projects with these tutorials.
Conclusion:
These 60 easy rainbow crafts for kids are perfect for young crafters! With simple materials and step by step instructions, these crafts are great for rainy days or boredom busters. So get crafting today with your little ones and make some colorful memories together!