Making stunning and unique art pieces with air dry clay has never been easier. Discover 40 easy air dry clay ideas for kids and adults, including fun crafts and projects to try an make unique things. Air dry clay is a natural and versatile material that can be used to make many different projects without any special equipment. You can shape it, stamp it, cut it, paint it, and even make jewelry with it. Air dry clay is also great for kids and adults alike, as it allows you to express your creativity and make something unique and beautiful.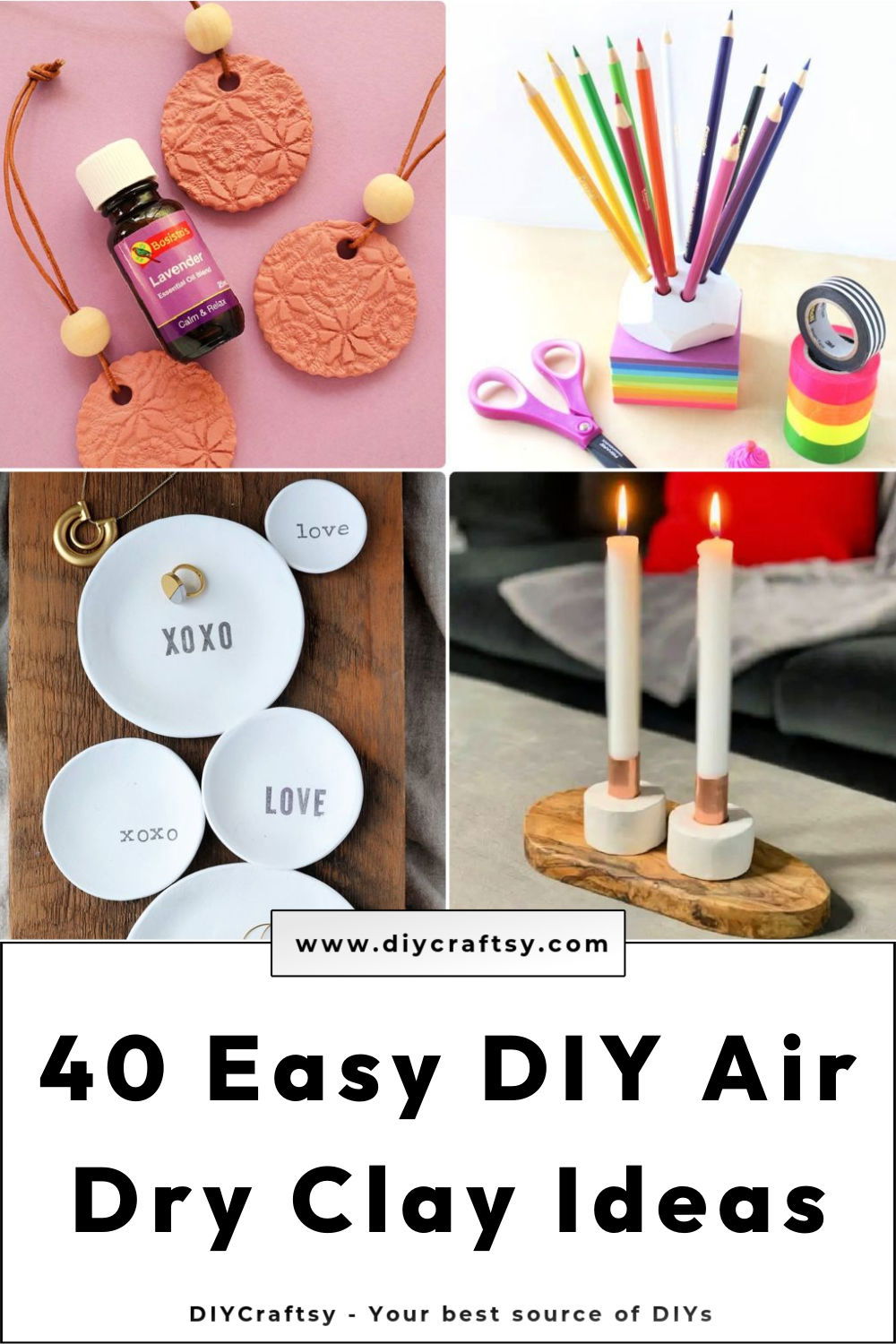 Easy Air Dry Clay Ideas for Kids and Adults
Whether you want to craft cute clay items or more intricate sculptures, our air dry clay ideas include simple and intricate projects. From making candlestick holders to creating beautiful jewelry dishes, there are so many clay ideas you can utilize air dry clay in your crafting. One of the most popular air dry clay ideas is making pots and planters for succulents, herbs, or flowers. Use our fun air dry clay ideas to make plates and bowls for your jewelry, keys, or snacks.
You will not only discover cool things to make out of clay, but also learn how to make air dry clay projects like essential oil diffusers, colored pencil holders, and mini succulent planters. These air dry clay ideas explore various clay mold ideas, designed with both kids and adults in mind.
Let your creativity shine with these air dry clay ideas, including air dry clay chain link decorations, and even clay pots. Try out miniature air dry clay ideas for adults like DIY clay knobs, air dry clay napkin rings, and clay mantle clocks. Our straightforward, detailed instructions guide you through each step of the process, making our air dry clay ideas and projects ideal for people at every skill level.
So, why wait? It's time to get your hands on some air dry clay and start creating your own magnificent clay creations. The world of these fun and easy air dry clay crafts is yours to explore. Happy crafting with air dry clay ideas!
1. Make an Air Dry Clay and Raffia Trivet
Take your crafting skills to the next level with a homemade air dry clay and raffia trivet! You can make a beautiful and functional boho raffia trivet with this easy DIY tutorial.
Whether you need a trivet for your pots or a stylish plant pot holder, this project is perfect for adding a Bohemian flair to your home. Using natural air dry clay, raffia, and twine, you can craft this trivet in no time.
Start by creating the centerpiece with clay and then weave the raffia around the trivet using a simple pattern. Finish off with a seamless joint for a polished look. This trivet is a great addition to any kitchen or a decorative piece for your plants. veryliv
2. Best Air Dry Clay Jewelry Bowls
Add a touch of beauty to your home with the perfect DIY air dry clay jewelry bowl! Whether you're a pottery enthusiast or just looking for a creative project, air dry clay is a versatile material that doesn't require a kiln or oven. Gather your supplies, including air dry clay, a rolling pin, glass bowls, acrylic craft paint, a paintbrush, and fine sandpaper.
Roll out the clay to a thickness of 1/4 inch and cut around the edges of the bowls to create nesting sets. Press the clay into the bowls, smooth the edges, and let them dry overnight.
Once dry, remove the clay from the bowls and sand the edges for a polished finish. Personalize your bowls with colorful acrylic paint. This easy and enjoyable craft project opens up a world of possibilities for working with air dry clay. Give it a try, and let your creativity shine! aliceandlois
3. Making Candlestick Holders Out of Air Dry Clay
Bring a handmade charm to your home decor with DIY air dry clay candlestick holders. This tutorial provides a detailed guide on making candlestick holders using air-dried clay. The process is easy and enjoyable, making it a perfect project for the upcoming holidays or as a thoughtful handmade gift.
The materials required include air dry clay, copper tube cap fittings, a small bowl, wax paper, clay tools, a craft knife, sandpaper, and varnish. The tutorial provides step-by-step instructions, including tips on smoothing seams and removing blemishes.
The result is a beautifully crafted candlestick holder that adds ambiance to any room. Make unique and personalized candle holders with this creative and easy-to-follow guide. artsyprettyplants
4. Air Dry Clay Jewelry Dish for Beginners
This DIY tutorial will teach creating beautiful and practical clay jewelry dishes. These dishes are perfect for storing rings, earrings, and other small accessories while adding a stylish touch to your vanity table. The crafting process is easy, quick, and therapeutic, making it a fun project for beginners and experienced crafters.
Using air-hardening clay or polymer clay, along with basic materials like acrylic paint and alternative tools found around the house, you can make up to 10 small clay jewelry dishes.
Follow the step-by-step instructions to shape, flatten, and mold the clay, then allow it to dry before adding a touch of color with acrylic paint. Enjoy the satisfaction of crafting these unique and personalized jewelry dishes for yourself or as thoughtful gifts. Happy crafting! thecraftaholicwitch
5. DIY Air Dry Clay Chain Link for Decoration
Refresh your coffee table with this easy, fun DIY clay chain link decor piece. Add depth, texture, and interest to your coffee table decor by making your chain out of air dry clay. Air-dry clay is simple to mold into any shape and requires no baking.
Roll the clay into a long strand, form the first loop, and join subsequent strands to make a chain. Experiment with different loop sizes, shapes, and lengths to customize the piece to fit your home decor perfectly. This quick and creative project is accessible and a great way to elevate your coffee table style. decorlovin
6. Cool Terracotta Clay Essential Oil Diffuser
Embrace the earthy aromas of nature with this cool DIY terracotta clay essential oil diffuser! These charming diffusers can be used to fragrance your home or as essential oil car air fresheners. Made from air drying terracotta clay and embossed with vintage crochet lace, they have a unique pattern and texture.
These handmade oil diffusers are trendy and make perfect gifts. They can be scented with essential oils and hung in a room, car, or school locker. Personalize the design with your creative flair and even add initials.
The porous terracotta soaks up the oils, releasing a lovely fragrance over time. Follow the easy instructions to make these eco-friendly air fresheners for yourself or as thoughtful gifts. mypoppet
7. DIY Air Dry Clay Colored Pencil Holder
With so many air dry clay ideas available, you'll never run out of inspiration for your next artistic masterpiece. Gather your supplies and bring out the artist in you – make a unique DIY air-dried clay pencil holder that expresses your creativity! This unique and colorful colored pencil holder uses air dry clay and a wide range of craft supplies, including Crayola Air Dry Clay and colored pencils.
Roll a ball of clay and compress it into a dome shape, then insert the colored pencils into the clay. After allowing it to dry overnight, use a knife to cut away random chunks of clay, creating a geometric pattern. Let it dry for a few more days before painting it with white paint or adding touches of gold with a paint marker.
This versatile project can be customized to hold various art supplies like Sharpies, crayons, or gel pens, making it a creative addition to your desk or a thoughtful gift. linesacross
8. Stamped Air Dry Clay Pottery Bowls
Learn How to use molds and stamps to make unique air dry clay ideas. Unlock your inner artist and make one-of-a-kind pottery bowls with DIY stamped air dry clay! These adorable and personalized stamped air dry clay bowls are superb for Valentine's Day. Using air dry clay, you can craft charming bowls featuring modern black letters like "Love" and "XOXO."
The simplicity of white clay adds an elegant touch. In addition to Valentine's Day, these bowls make perfect gifts for any occasion. Gather your supplies, roll out the clay, cut it into shapes, smooth out imperfections, and then stamp your chosen words.
Let the clay dry overnight before gently removing it from the glass bowl. Please note that these bowls are not food safe. Let your creativity shine with these delightful stamped air dry clay bowls! aliceandlois
9. How to Make Rustic Air Dry Clay Tags
Put a rustic twist on your gifts with air dry clay tags – letting the creativity flow! Perfect for gifting, keychains, or ornaments, these tags are easy to make. Roll out the clay onto a ziplock bag or wax paper to prevent sticking, and use a cookie cutter or cup to create the desired shape.
Add words using alphabet stamps and create a hole for the twine with a straw. After drying in the oven on low heat, the tags can be sanded and sealed for a finished look. While air dry clay may not be the most durable option, it offers a natural color and unique texture. Consider exploring polymer clay for these resilient creations. canarystreetcrafts
10. Easy Faux Stone Jewelry With Air Dry Clay
Upgrade your accessory game with a touch of contemporary chic – make dynamic, easy DIY faux stone jewelry with air dry clay! Instead of struggling to drill holes in real rocks, use EasySculpt self-hardening epoxy modeling clay to create realistic-looking stones that are easy to work with.
The materials needed for this project include the modeling clay, release agent, universal opaque pigments, gloves, wooden craft sticks, and a hand-held drill with a small drill bit. The process involves:
Blending the clay.
Adding pigments for desired effects.
Shaping the clay into stones.
Letting them cure.
Once cured, drill holes through the stones and thread them onto elastic jewelry thread to create stunning bracelets. Whether you make these for yourself or as gifts, these faux stone beads will impress with their natural and bohemian appeal. resincrafts
11. Homemade Air Dry Clay Half Moon Hangers
Learn how to make stunning half-moon DIY clay hangers with this step-by-step tutorial. Whether you're a fan of air dry clay or looking for a unique way to display your handmade creations, these clay hangers are perfect for hanging up yarn wall hangings, weavings, macrame pieces, and more.
Gather your materials, including air dry clay, dowels, rolling pin, and acrylic paint. Roll out the clay, cut out half moons, and create openings for hanging your artwork. Let the clay dry, sand any rough edges, and paint the hangers to your liking.
Finish off with a matte varnish to seal the paint. These adorable clay hangers will add a touch of creativity to your space and showcase your artistic flair. aprettyfix
12. Cute Air Dry Clay Napkin Rings
Exalt your Christmas table setting with these DIY air dry clay napkin rings. This budget-friendly craft project utilizes air dry clay to create personalized and unique napkin rings that can double as place cards.
You can easily make these stylish napkin rings at home with just a few materials like air dry clay, alphabet stamps, a cardboard tube, and basic tools. Customize them by stamping your guests' names on the clay and adding a coat of varnish or paint for a coordinating party look. These napkin rings are perfect for Christmas and can be used for other occasions. Get creative and impress your guests with this simple yet charming project. gatheringbeauty
13. Adorable Air Dry Clay Cocktail Garden Planters
Elevate your cocktail game with DIY clay cocktail garden planters! Discover the joy of growing everyday herbs like basil, coriander, sage, rosemary, and even chilies right at home to add exquisite flavors to your favorite drinks.
With these Mexican-inspired planters made from air dry clay, you can make your tequila cocktails truly special from start to finish.
This informative guide provides step-by-step instructions, including materials such as plant pots, a retractable knife, and sandpaper. Unleash your creativity and take your mixology skills to new heights with fragrant lavender and other fresh herbs from your cocktail garden! fallfordiy
14. DIY Stamped Air Dry Clay Pots Idea
Give your pots a personalized touch with this easy DIY stamped air dry clay pot idea! This tutorial will guide you through the process of making your custom-sized pots without the need for a kiln. Whether adding a pop of color or keeping it natural, air dry clay allows endless creativity.
Use these pots as charming mini planters or stylish pen holders for your desk. The materials needed are easily accessible, including air dry clay, stamps, an acrylic rolling pin, a craft knife, and fine sandpaper.
Follow the step-by-step instructions to mold, shape, and decorate your pots, and finish them with a matte white look or add your personal touch. Let your imagination lead you and make beautiful clay pots that complement your home decor! gatheringbeauty
15. How to Make Air Dry Clay Fishes for Adults
A splash of creativity and a pinch of hard work is all you need to make beautiful DIY air dry clay fishes for adults! These painted clay fish are perfect for making backpack tags or keychains for friends or adding a charming sea decoration to your home.
Gather some air clay, construction paper, a cutter, scissors, a pencil, paint, paintbrushes, and string to get started. Trace and cut out fish shapes from construction paper, then use them as templates on the clay. Cut around the shapes, add optional details with a cutter or toothpick, and let the clay dry for at least 24 hours.
Once dry, paint the fish and attach a string through the eye hole. Hang them up or use them as tags or keychains. Get creative and enjoy crafting these delightful fish! hellowonderful
16. Handcrafted Air Dry Clay Pens
The perfect gift for the creative, these handcrafted air dry clay pens will spark the imagination! Perfect for writers and pen enthusiasts, these DIY pens are sure to bring a smile. You can make a forever pen with a replaceable ink cartridge using simple supplies like Bic pens, air dry clay, and gold wire.
Follow the step-by-step guide to prepare the pens, wrap them in terracotta clay, create gold details, and finish with a coat of varnish. Get creative by mixing different clay colors for a faux-aged ceramic effect. These personalized pens make excellent gifts or special treats for yourself. veryliv
17. Creative Air Dry Clay Pendant Lamp
Dive into beautiful air dry clay ideas and learn how to craft charming sculptures, jewelry, and home decorations. Creativity shines from the DIY air dry clay pendant lamp, illuminating your space with its unique design. Create a unique and stunning pendant lampshade with two unusual materials: air dry clay and mini orange cones. This project is perfect for those who want to experiment with pottery and ceramics but lack access to a kiln.
With air dry clay, you can make a one-of-a-kind lampshade that hangs from the ceiling, adding an unexpected element to your decor. You'll need air dry clay, paint pens, a hanging light cord, and a bulb. Follow the step-by-step instructions to shape the clay around the cone, flatten the top, and make decorative patterns with paint pens.
Once the clay has dried, remove it from the cone and attach it to the hanging light cord. Whether you prefer minimal designs or bold colors, these pendant lampshades will add a unique touch to any room in your home. Join the DIY movement and let your creativity shine with this innovative project. brit
18. Beautiful Air Dry Clay Mini Succulent Planters
Bring the beauty of nature indoors with charming DIY air dry clay succulent planters. These stunning creations are perfect for illuminating any space and spreading joy in every corner of your home! Create charming and unique planters for your succulents with this easy DIY project.
You can craft eye-catching planters by using dry air clay and repurposing items like small cacti plant pots, plastic plant pots, or glass candle jars. Roll out the clay and wrap it around your chosen pot, smoothing the joints and adding texture with different designs or shapes.
Let the clay dry, and if desired, give your planters a faux-glazed finish with spray varnish. Finally, place your succulents or cacti inside and enjoy their cozy new home. Get creative and make your stunning planters today! burkatron
19. Gorgeous Air Dry Clay Leaf Dish Art
A gorgeous DIY air dry clay leaf dish art is a perfect reminder that the beauty of nature can be found everywhere! Perfect for older kids, this craft project is ideal for fall and can be customized as a unique gift for birthdays or Christmas.
Use leaves from a hydrangea plant or a maple leaf to form the dish, or experiment with different leaf shapes for creative variations. All you need is air dry clay, acrylic paint in your choice of colors (like rose gold, gold, or bronze), and a sealer such as Mod Podge Gloss.
The step-by-step instructions guide you through imprinting the leaf, shaping the clay, air drying, painting, and sealing the dish. Enjoy making these beautiful keepsakes that can be used as ring dishes, key holders, or decorative pieces for years. thebestideasforkids
20. How to Make Air Dry Clay Sugar Skull Bead Necklaces
Air dry clay ideas are perfect for kids and adults alike, offering endless opportunities for fun and creative expression. Unlock your creative side and make beautiful DIY air dry clay sugar skull bead necklaces that bring a unique sparkle to any outfit! This fun and versatile craft project is fantastic for kids and adults and allows you to shape the clay into sugar skull designs using cocktail sticks.
After decorating and creating a hole for the necklace, let the clay dry for around 48 hours. Once dry, seal them with Mod Podge and paint them with bright acrylic colors. Add multiple layers of Mod Podge for protection, then thread yarn or thread through the hole.
The finished necklaces are ready to wear and will be a hit, especially if you are fascinated with skeletons like Cherry and Tiger. Discover the joy of working with air dry clay and unleash your creativity with this fun craft project. letsdosomething
21. Attractive Air Dry Clay and Rope Pot
Make your own unique and stylish DIY clay bowls with this easy tutorial. These handmade bowls are perfect for holding fruit or other small items and add charm to any space. Using air dry clay, a bowl, roller, straw, needle, rope, and embroidery floss, you can create beautiful clay bowls in no time.
Roll out the clay, press it into the bowl, and smooth out any imperfections. After drying, remove the bowl and fix any cracks or creases. Add a decorative touch by sewing embroidery thread through the holes around the edge of the bowl and wrapping rope around it. Get creative and make a set of these delightful clay bowls for your home. fallfordiy
22. Aesthetic DIY Air Dry Clay Keychains
Bring creativity to your keychain with these DIY air dry clay keychains – perfect for adding an aesthetic flair! Air-dry clay is a versatile and affordable crafting material that doesn't require a kiln or oven for drying. The guide introduces the best air dry clay brands, such as PLUS Clay, and lists the supplies needed for the project, including clay cutters, texture sheets, and jump rings.
The step-by-step instructions guide you through rolling out the clay, cutting shapes, embossing letters and textures, poking holes, waiting for the clay to dry, painting, and adding jump and key rings.
Optional embellishments like tassels and charms can be included for extra flair. Discover the joy of working with air dry clay and create unique keychains that make perfect gifts or personal accessories. averageinspired
23. Unique Air Dry Clay Mantel Clock
Discover to make a beautiful and minimalist DIY terracotta mantel clock in three easy steps. This project offers a refreshing break from constantly checking your smartphone for time. With natural terracotta air dry clay and a clock mechanism, you can shape the clock body to your desired design, ensuring a smooth finish.
Attach the clock mechanism and select the perfect set of hands, and you're ready to set up your unique mantel clock. Add a triangle-shaped backing to stabilize the clock, and voila! Enjoy the charm of a handmade timepiece that will enhance any shelf or table in your home. veryliv
24. Air Dry Clay and Driftwood Spoons for Kids
Express your child's creativity with DIY air dry clay and driftwood spoons – the perfect combination for hours of fun! Create stunning and unique photos with these clay and driftwood spoons. This easy tutorial provides step-by-step instructions on making stylish spoons using dry air clay, driftwood, wire, a drill, and food-safe varnish.
Perfect for food styling or as decorative props, these spoons are a creative addition to your kitchen or photo shoots. Just remember not to submerge them in water as they will melt. Personalize your spoons and show off your creativity by adding your flair. Let your imagination run wild with these beautiful clay and driftwood spoons! fallfordiy
25. Making a 3D Graphic Planter With Air Dry Clay
Elevate your plant game with this DIY 3D graphic planter! Make a personalized pot with a fun saying that reflects your style using air dry clay and mini alphabet cookie cutters. Roll out the clay, cut out the letters, and shape them to the pot's curve using water. After letting the letters dry, glue them back and spray paint the entire pot in your desired color. Let it dry, and voila! You have a unique and stylish planter for your favorite plant. Embrace your inner plant lady and add a touch of creativity to your space with this easy and affordable project. clubcrafted
26. Colorful Air Dry Clay Animal Head
Have a blast making your menagerie of wild and whimsical animal heads with a DIY, colorful air dry clay! You can bring fun to your space using air dry clay, mini square canvases, small twigs, acrylic paint, paint pens, hot glue, and Velcro Command strips.
Start by studying images of animal heads to create basic shapes, such as a log shape for the deer's neck and an oblong circle for the head. Let the clay dry for two to three days, then work on the mounting canvases by painting them with black chalkboard paint and adding texture with a gold paint pen.
Spray paint the animal heads, add painted stripes to the twigs, and attach them to the back of the deer head. Use paint pens to add stripes to the zebra and polka dots to the elephant. Finally, mount the animal heads on the wall using Velcro Command strips. Get creative and transform your space with these charming clay animal heads. delineateyourdwelling
27. Air-Dried Clay Bottle Vase Project
Get a rustic charm to your home with this DIY air-dried clay bottle vase project! Make your bottle vase using air drying clay and creatively transform your home decor. This simple and entertaining project is perfect for adults and teens who want to work with clay. Upcycle old glass bottles into stunning vases that can be used to display flowers, act as centerpieces, or add a decorative flair to any room. The process involves:
Kneading the clay.
Adding ground coffee for a speckled effect.
Rolling the clay into a sheet.
Covering the bottle with clay.
Smoothing any imperfections.
Once dry, the vase can be painted and decorated according to your style. Display it on a shelf, as a floor vase, or as a centerpiece on your dining table. Let your imagination run stormy and create a unique piece that reflects your creativity. craftsyhacks
28. Hand Painted Air Dry Clay Candle Holders
Catch the wax from your candles with these pretty painted DIY candle holders! Discover the joy of working with air dry clay and create beautiful trinkets like geometric candle holders. Although carving smooth surfaces in 3D might be challenging, making flat candle holders catch wax drips is a delightful alternative.
Ensure the base is flat and sturdy, the spot for the candle is deep, and use shorter and wider candles for safety. You can easily make these charming holders with dry air clay, candles, and acrylic craft paint.
Roll out the clay, cut a circle, shape it around the candle, let it dry, and then paint it with your desired colors and patterns. Remember to secure the candles with melted wax and never leave them unattended. Enjoy the creativity and functionality of these unique candle holders! littleredwindow
29. How to Make Bowls With Air Dry Clay
Learn how to make stunning stamped clay bowls using dry air clay with this easy DIY craft project. These bowls are beautiful, durable, and require no firing or baking. Follow the straightforward techniques provided, and you'll soon be creating charming catch-all clay dishes to decorate your home or give as thoughtful gifts.
The process involves using dry air clay, rubber craft stamps, an ink pad, and basic cutting tools. Personalize your bowls by choosing different stamps and ink colors, allowing you to create unique decorative pieces. Discover the joy of working with air dry clay and enjoy the satisfaction of making these lovely bowls for your home. gatheringbeauty
30. Cool DIY Air Dry Clay Pinch Pot Planters
Enhance the ambiance of your home with charming DIY air dry clay pinch pot planters! Create alluring planters with this simple and fun project. This approachable ceramics tutorial teaches how to make a pinch pot from air dry clay. Unlike traditional pottery, air dry clay doesn't require access to a kiln or specialized studio.
Discover the step-by-step process of rolling a ball of clay, pinching it into a pot shape, smoothing imperfections, and allowing it to dry. The tutorial also includes instructions on painting and varnishing your pot.
Create unique clay artwork without needing a pottery membership and explore the world of ceramics with this beginner-friendly project. Add a touch of creativity to your space with personalized clay pots for succulents or air plants. jennylemons
31. Inexpensive Handmade Air Dry Clay Knobs
Let your imagination be the limit as you design unique, affordable DIY air dry clay knobs! Learn how to make inexpensive clay knobs, a cost-effective alternative to expensive store-bought options. In this tutorial, you'll discover how to transform ordinary knobs using air dry clay.
Cover your existing knobs with clay, shape them to your liking, and let them dry. Once dry, spray them with your desired color, such as Rust-Oleum's Metallic Gold.
The result is beautiful custom knobs that add a touch of elegance to your furniture. With minimal supplies and creativity, you can achieve a high-end look for a fraction of the cost. delineateyourdwell
32. Egg Carton Craft With Air Dry Clay
Transform an ordinary egg carton into a work of DIY art with some air dry clay and creativity! This project offers a charming and practical jewelry holder to celebrate the arrival of spring. This project allows you to organize your keepsakes or jewelry, even after Easter, delightfully. You can easily craft this beautiful piece with an egg box, air dry clay, and sandpaper.
Begin by trimming the excess from the egg carton and rolling out the clay. Press the clay onto the carton, smoothing it out and patching any holes. After letting it dry overnight, remove the cardboard and sand the edges and interior.
Add a few coats of varnish, and voila! You now have a lovely carton to showcase your decorated eggs or store your precious jewelry. Let your creativity blossom with this whimsical project! fallfordiy
33. DIY Air Dry Clay Mushrooms Design
Introduce a unique touch to your Christmas tree by creating whimsical DIY mushroom ornaments! These lucky charms will stand out beautifully. Using air dry clay and a few simple tools, you can craft these adorable ornaments that will bring a whimsy charm to your holiday decor.
Follow the step-by-step instructions to shape the clay into mushroom caps and stems, adding texture and details along the way. Once the clay is dried, you can paint and seal the ornaments to your liking before attaching a string for hanging.
These clay mushroom ornaments make thoughtful and creative gifts or a fun addition to your holiday decorations. papernstitchblog
34. Make Your Own Air Dry Clay Llama Vase
Create stunning, one-of-a-kind pieces with these versatile air dry clay ideas, perfect for artists of all skill levels. DIY air dry clay mushrooms are the perfect addition to your next craft project and a great way to add nature-inspired beauty! Follow the step-by-step instructions to shape and mold your vase into any design you desire, whether it's a llama, bunny, cactus, or rainbow. The secret to waterproofing it is an internal glass bud vase encased within the clay.
Start by wrapping the air dry clay around the vase, adding features like a muzzle, cheeks, and ears, and then fine-tune the details by smoothing the clay with water. Let it dry, fill in any cracks with a clay paste, and allow it to dry completely.
Finally, paint your vase with acrylic craft paint to reveal the intricate details. This engaging project requires patience, but the result is a charming, personalized vase that will impress. Let your creativity flourish, and create your one-of-a-kind vase with air dry clay! abeautifulmess
35. Air Dry Clay Miniature Fairy Garden House
Unveil a creative DIY project for crafting a miniature fairy house using air-dried clay. This tutorial showcases using a dry brush painting technique to create a beautiful and unique design. With the ability to incorporate a rooftop garden and bring the outdoors inside, this fairy garden house offers endless possibilities.
The project also includes a planter for green thumbs to showcase miniature succulents or indoor plants. The clay used in this project is homemade paper clay, but any air dry clay can be utilized. Follow the step-by-step instructions and let your imagination soar with this whimsical craft. Get inspired and create your enchanting fairy world!
36. Make an Air Dry Clay Kawaii Banana Charm
Putting your personal touch on a DIY kawaii banana charm made with air dry clay will surely make it as unique as you are! Learn how to make an adorable kawaii banana charm with this easy tutorial. The video provides step-by-step instructions and is perfect for beginners. Follow along and make the cute banana charm you can use as a keychain, necklace pendant, or decorative item. Don't miss the chance to indulge in this creative and fun project. Give it a must-shot!
37. Easy DIY Air Dry Clay Sculpture Tutorial
Set your inner artist free with this easy DIY air dry clay sculpture tutorial – the perfect way to express yourself! With this inspiring project, learn how to transform air dry clay into a stunning bird sculpture and turn it into a unique table lamp. This tutorial showcases a step-by-step process, providing helpful tips along the way.
Discover the endless creativity of air drying clay as you follow along and create your own beautiful home decor piece. Whether you're a skilled crafter or just starting, this tutorial will ignite your artistic spirit.
Don't miss the chance to explore an exciting and creative project with this guide. Grab your supplies, indulge in the joy of sculpting, and let your imagination soar with this unique air dry clay project.
38. Simple and Effective Air Dry Clay Dishes
Get inspired and let your creativity soar with these easy air dry clay ideas for DIY home decor. This project is perfect for beginners, focusing on rustic textures rather than perfection. Discover how to make trinket dishes, a cup/mug, and a vase using air dry clay.
Each project is simple and achievable, allowing you to unleash your artistic side. Whether you want to add unique pieces to your home or explore a new crafting technique, these air dry clay ideas will help you create a beautiful, personalized decor. Watch the video for step-by-step instructions, and get ready to bring texture and charm to your living space with this engaging tutorial.
39. Easy Air Dry Clay Project for Home Decor
Transform your home decor with these stunning air dry clay ideas, adding a touch of elegance to any space. Let your creative juices flow and transform your home into a work of art with this simple DIY air dry clay project! This tutorial demonstrates creating flower pots, vases, jewelry dishes, and bowls by incorporating instant coffee and ground coffee powder into the clay. The process yields a unique and stunning look, making these self-made flower pots perfect as gifts.
This tutorial shares the delightful experience of working with air dry clay and showcasing the coffee painting technique's fun and beautiful outcome. Follow this tutorial and get inspired to try this creative coffee painting technique on air dry clay for yourself!
40. DIY Air Dry Clay Jewellery Trays
With this engaging tutorial, you will encounter how to craft stylish, unique DIY jewelry trays using air dry clay. The video illustrates an impressive process of imprinting the clay with diverse leaves and grasses to achieve stunning patterns. This tutorial offers a classy and practical piece you can make with step-by-step instructions. Discover the art of working with air dry clay, and unleash your creativity by crafting these one-of-a-kind jewelry trays that are functional and decorative.
Related DIY Crafts to Try
Discover some fun and creative DIY craft ideas to try out and unleash your inner artist! Perfect for crafting enthusiasts of all skill levels.
Decorative Terra Cotta Pots: Turn your plain clay pots into stunning decorative pieces with these unique clay pot crafts that are easy and fun to make.
DIY Charging Station: Keep your devices organized and charged with these practical DIY charging station ideas that are easy, simple, and unique.
DIY House Numbers: Make your home stand out with these DIY house number signs that are unique to display your house number in style.
DIY Snow Globe: Create your own winter wonderland with these homemade DIY snow globe ideas that are magical and festive.
DIY Rug Ideas: Add some warmth and coziness to your floors with these homemade DIY rug ideas that are easy and cheap to make.
DIY Wedding Gifts: Show your love and support for the newlyweds with these unique DIY wedding gift ideas that are thoughtful and personal.
DIY Incense Holder: Fill your home with soothing aromas with these beautiful DIY incense holder ideas that will help you make your own incense holders.
DIY Cricut Crafts: Unleash your creativity with these DIY Cricut crafts and projects that are perfect for beginners and Cricut lovers.
PVC Pipe Projects: Repurpose PVC pipes into amazing projects and craft ideas with these DIY PVC pipe projects that are versatile and functional.
DIY Stress Balls: Squeeze away your stress and anxiety with these DIY stress balls that are 25 ideas to make your own stress relievers.
What to Do with Old Jeans: Don't throw away your old jeans, upcycle them into something new and useful with these denim upcycle ideas.
Related Easy Crafts for Kids
Engage your little ones with these fun and easy crafts for kids! Let their imagination soar and keep them entertained for hours. Perfect for a rainy day or weekend activity.
Conclusion:
In conclusion, exploring air dry clay ideas is a creative and enjoyable way to create stunning DIY projects. From easy clay sculpting to crafting cute clay ideas, there is an abundance of inspiration for all skill levels. Try your hand at making trivets, jewelry dishes, candlestick holders, or even charming animal figurines. Air-dry clay crafts open up a world of possibilities for artistic expression and unique home decor pieces. Start experimenting today, and discover the unlimited potential of air dry clay projects!