What can you do with old jeans? Explore these 25 denim upcycle ideas to transform your worn-out denim into stylish and functional items for your home and wardrobe. From unique fabric book covers to trendy tin can planters, these upcycled denim projects showcase the versatile potential of your old jeans. With easy denim crafts like no-sew DIY denim owls and colorful denim scrap wreaths, you'll find fun and creative ways to give new life to your old jeans. These upcycling ideas also cater to varying levels of sewing expertise, from simple, beginner-friendly projects to more advanced denim crafts that challenge your sewing skills.
By repurposing your old jeans, you not only make beautiful and functional items, but also contribute to a more sustainable and eco-friendly lifestyle. So, gather up those denim scraps, dust off your sewing machine, and dive into these creative denim upcycle ideas.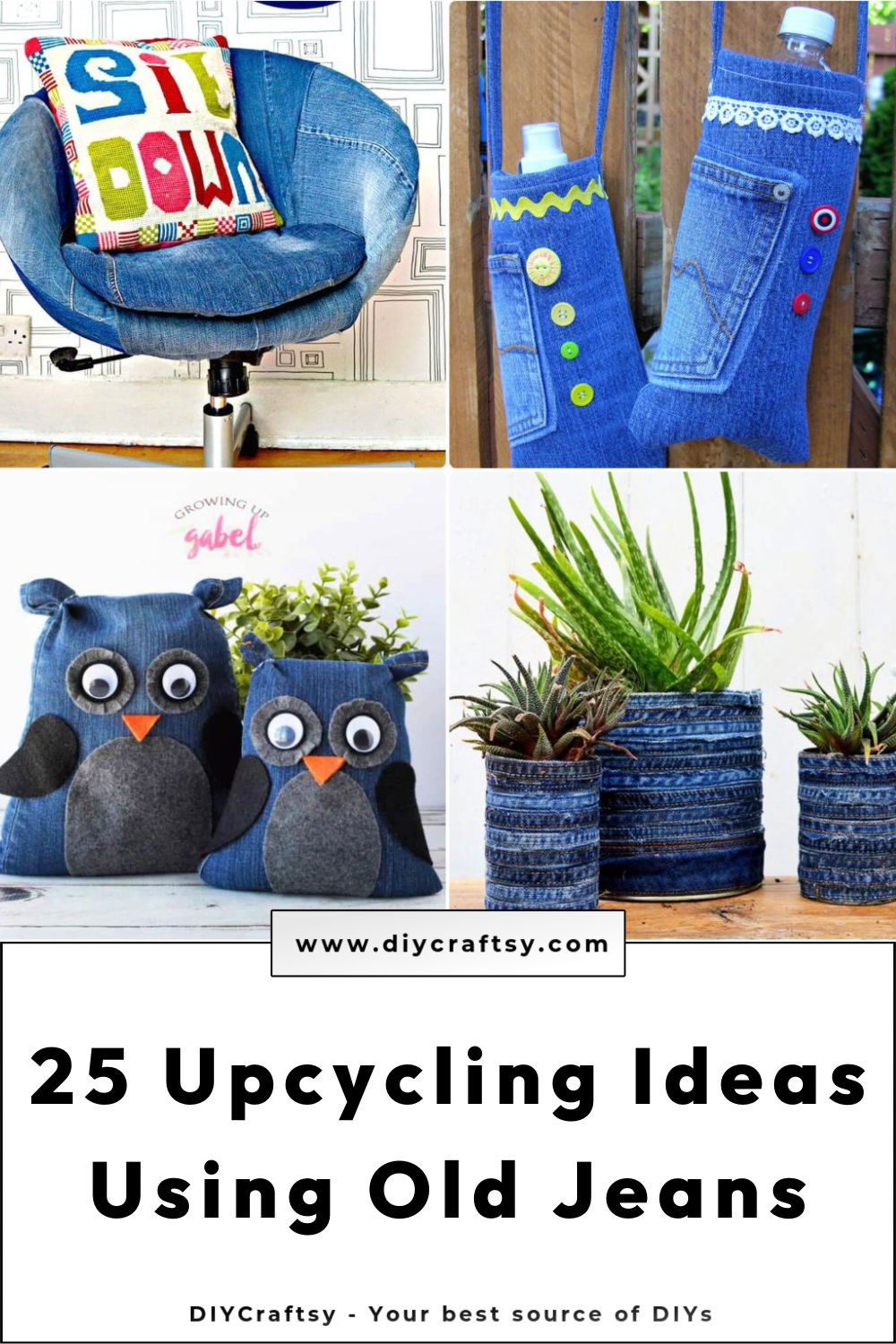 Get ready to impress your friends and family with your DIY prowess and stylish old jeans creations! Remember, there's no limit to what you can make regarding upcycling denim. Release your inner artist and transform your old jeans into new and exciting treasures today!
1. How to Make a Jeans Fabric Book Cover
Keep your beloved books well-protected and stylish with your handmade fabric book covers. This handy DIY guide will teach you to measure, cut, and sew a durable cover that perfectly fits your books, ensuring they last longer.
Using a heavier fabric, a zigzag stitch for strength, and optional coordinating fabric for unique designs, your books will sport a fresh look. Add handles to the cover and turn your books into portable companions.
This tutorial will teach you to make book covers and opens the door to making coordinating covers for notebooks or photo albums. So why wait? Prepare your sewing machine, pick out your favorite fabric, and start crafting a bespoke book cover today!
2. Upcycled Denim Tin Can Planters
Reignite your love for recycling with this innovative upcycling project that combines worn-out jeans and tin cans into an appealing DIY denim planter! Discover the joy of repurposing by turning discarded denim seams, hems, waistbands, and spare tin cans, into unique home accents, perfect for displaying succulents or as quirky pen holders.
All you require are a few essential supplies: old jeans, tin cans, Mod Podge, pins, scissors, and your choice of plants. The process is simple and enjoyable, using cutting, gluing, and pinning techniques, resulting in a distinctive rustic aesthetic.
The denim planter contributes to eco-friendly practices and infuses a personal touch into your living space. Give a second verve to your old jeans today and make this charming denim planter! pillarboxblue
3. No Sew DIY Denim Owls From Old Jeans
Give your old, favorite pair of jeans new life by making an adorable, no-sew DIY denim owl. This unique, upcycle craft is a fun project for kids or a scout troop while also a great solution to reusing jeans that have worn out but still hold sentimental value.
Made using materials like denim jeans, rice or beans, felt, and hot glue, this craft requires no sewing skills. The step-by-step guide ensures that making this denim owl is a fun and accessible activity for all. This denim owl is a creative way to recycle jeans and is a charming addition to any room decor. growingupgabel
4. DIY Luggage Tags Made From Jeans
Transform your travel gear with DIY upcycled denim luggage tags. Created from repurposed jeans, these tags withstand the trials of travel, and with their stylish frayed edges, they stand out amid a crowd of similar suitcases.
You can craft these unique tags using simple materials such as denim fabric, clear vinyl for an information card window, a metal grommet for hanging, and basic sewing supplies. This project is perfect for utilizing denim scraps and promoting eco-friendly practices.
Enhance your travel experience with these handmade, durable, and fashionable denim luggage tags. Be a trendsetter in sustainable fashion, and never lose sight of your luggage again! scratchandstitch
5. How to Make Jean Hexagon Pillow
Make an enchanting home decor piece with the DIY jean hexagon pillow project, which turns worn-out jeans into a stylish cushion. This project repurposes old jeans of various shades into a beautiful hexagonal pattern reminiscent of a stunning blue ombre effect.
Necessary supplies include old jeans, scissors, a hexagon shape, an iron, threads in different shades of blue, a sewing machine, fabric fusion adhesive, sewing pins, and a 20×20 pillow insert. This unique creative process involves cutting the jeans into hexagon shapes and arranging them in an appealing pattern on a drop cloth.
Combining ironing, adhesive application, and meticulous sewing ensures the hexagons stay perfectly in place. The end product is an envelope-style pillow cover that is as environmental-friendly as it is gorgeous. So gather those old jeans and transform them into a magnificent home decor accent piece. remodelandola
6. Repurposed Denim Water Bottle Bags
Recast your old jeans into a chic, practical accessory with this DIY denim water bottle purse project. Ideal for those who cherish function and style, this easy-to-follow guide helps you transform a low waist pair of jeans into a water bottle purse for your little granddaughters. Armed with jeans, some basic sewing skills, and a dash of creativity, you can breathe new life into your discarded denim.
The pockets from the jeans add an extra layer of utility to the bag, providing a snug fit for your money and cell phone, letting you keep your hands free for shopping. The adjustable straps are another unique feature – tied at the top; they can be easily modified according to the user's height.
This denim water bottle purse emphasizes the importance of hydration and encourages sustainable fashion practices. Why wait? Repurpose your old jeans today and make these charming purses for your granddaughters or yourself! home cottage
7. DIY Colored Denim Scrap Wreath
Bring a vibrant touch to your decor with this stunningly creative, colored DIY denim wreath. Using scraps of denim, you can craft an eye-catching masterpiece perfect for your door or wall. By dyeing your old jeans into various hues with simple fabric dye, you make a brilliant mix of colors that complement each other beautifully. You may also use fabric or regular acrylic paint for non-washable items.
This project involves cutting your dyed denim into strips and embedding them into a foam wreath with a pencil's point. A charming touch is added with a large bow tied from burlap, secured using long stick pins.
Although the process requires some patience, it's a delightfully engaging activity you can enjoy while watching television or spending time with your kids at the park. Dive into this project today and add a splash of color to your living space with a uniquely crafted colored denim wreath! craftsbyamanda
8. DIY Chair From Old Jeans
Upgrade your workspace with an eco-friendly, style-forward project – a DIY denim-covered chair! You can make an impressive and practical piece using an IKEA Skurvsta chair and repurposed denim. It's an excellent choice for anyone with worn-out jeans and a love for unique crafts.
The process involves making a paper pattern, cutting and stitching denim pieces, and attaching them to the chair with an electric staple gun. This method doesn't just work for denim – the reupholstery process remains the same for any fabric you choose.
The transformation gives the chair a new lease on life, offering a comfortable and durable seating option while expressing your style and commitment to sustainable practices. The newly-upholstered chair brings a trendy yet laid-back vibe to your office, contributing significantly to a personalized, inspiring environment! pillarboxblue
9. How to Sew Denim Quilt
Turn your old jeans into unique treasures with these upcycle jeans ideas that combine sustainability and style for a fresh look. Sew a gorgeous and eco-friendly DIY denim quilt from old jeans with this easy tutorial, a perfect accessory for picnics, park playdates, or soccer games. This unique project utilizes recycled denim, cut into long strips rather than small squares, to construct a quilt that's not only beautiful but also durable and warm.
This technique results in a quicker assembly and a stunning light-to-dark color effect achieved by using jeans of varying shades. Opt for soft flannel as a backing material, eliminating the need for batting to ensure your quilt is comfortably heavy and easy to handle. Make sure to keep in mind color consistency and jean distress while collecting your materials, ideally from garage sales.
Whether you tie or sew your quilt, follow the detailed steps provided using a rotary cutter, ruler, and sewing machine to ensure precision. Add a personal touch with your chosen backing fabric and binding, and you're all set to craft a denim quilt that is functional and visually appealing. Add value to your old jeans by transforming them into a cozy denim quilt. itsalwaysautumn
10. Making Rug with Old Denims
Add a refreshing new twist to your everyday denim by transforming old jeans into a unique DIY rug! This practical and stylish project repurposes worn-out denim, breathing new life into your discarded clothes. The project is straightforward yet time-consuming, requiring cutting and sewing together denim pieces. The result is entirely rewarding, yielding a stylish rug perfect for a child's bedroom or any living space.
Gather your materials, including at least six pairs of used denim pants, scissors, matching thread, a sewing machine, jeans and denim machine needles, and anti-slip underlays. The final product boasts a substantial diameter of 5 feet 10 inches, making it an eye-catching addition to any room.
This project promotes sustainable living while enhancing your home's aesthetics. It showcases your creativity and commitment to eco-friendly practices, reminding us that recycling can be stylish and fun. Don't discard your old jeans – transform them into a cozy, recycled denim rug today! ohohblog
11. Make a Denim Placemat
Discover the endless possibilities of denim upcycling and learn how to create one-of-a-kind clothing, accessories, and home decor items. Exalt your dining experience with this creative DIY project, turning your old jeans into stylish and durable placemats! You can turn leftover denim scraps into unique and eco-friendly table accessories using your sewing machine, scissors, and tweezers. This method allows for customizable shapes, fitting any table design or theme.
Also, these placemats are reversible and machine washable, providing both style and convenience. Additionally, you can make a matching set of coasters, which serve as great gift ideas.
Enhance your meals and contribute to a more sustainable lifestyle by breathing new life into your old jeans. Take the first step today and redefine your dining space with these DIY denim placemats! scratchandstitch
12. How to Make a Denim Apron
Unleash your creativity with these eco-friendly upcycle jeans ideas that not only reduce waste but also add flair to your wardrobe. Step into sustainable fashion with this eye-catching and fun-to-make DIY jeans apron! A stylish blend of functionality and creativity, this apron is fashioned from an old pair of jeans, breathing new life into what may have been wasted.
All you'll need are the pant leg of a pair of jeans, bias tape binding, and 1″ twill tape. Start by cutting and flattening the pant leg, shaping it to your preferred dimensions, and edging it with bias tape for a neat finish.
Lastly, attach the twill tape as straps using a grommet press or any attachment you choose, ensuring they're long enough to tie around your neck and waist. This cleverly upcycled Jeans Apron is not just a trendy kitchen accessory but a testament to your commitment to eco-friendly creativity! mybyrdhouse
13. DIY Magazine Rack Using Jeans and Copper Piping
Spruce up your living space with an on-trend DIY magazine rack! Crafted from a blend of repurposed denim and copper piping, this magazine rack is a stylish storage solution for your favorite reads. Begin with a pair of old jeans and around 2.5m of 22mm copper piping, then piece together your unique creation using eight copper piping elbow connectors, a pipe cutter, epoxy glue, and a sewing machine.
Not only will this project revamp your home interiors, but it also provides a thoughtful avenue for upcycling worn-out jeans. Make sure to lacquer your frame if you want to prevent tarnishing. Whether filling it with magazines, logs for the fire, or even providing a cozy resting spot for your cat, this versatile rack adds charm to your decor! pillarboxblue
14. Homemade Denim Button Lunch Bags
Discover inspiring upcycle jeans projects that showcase the versatility of denim, from trendy bags to cozy quilts and everything in between. Dive into the joy of crafting with these charming DIY button lunch bags. The essence of autumn invites the opportunity for new beginnings and resolutions, including making homemade lunches. This creative endeavor involves designing lunch bags sewn from durable, washable cotton fabric secured with a delightful button to keep your meals intact.
These bags aren't merely functional but aesthetically pleasing, prompting you to use them beyond their primary purpose. The crafting process involves a handful of steps, from making a button loop, sewing, attaching bias tape, and making the boxed bottom to securing a button.
The outcome? A lunch bag with dimensions: 6 inches wide, 11 ½ inches tall when open, 8 ½ inches tall when closed, and 4 inches deep. Immerse yourself in this creative sewing project and relish the gratification of DIY crafts! purlsoho
15. Handmade Denim Covered Pencil Can
Get started on a new year of organization with a fun and creative recycling project: a DIY denim-covered can ideal for holding art supplies. Using items like recycled blue jeans and a large can, you could have a unique pencil holder for your office, craft room, or even a student's study desk.
The project covers a can with denim and adds a personal touch with patterned fabric letters attached to colored denim. Thanks to the interesting texture denim offers, this piece serves as an organizational tool and an attractive accent.
Plus, it's an engaging way to involve kids in recycling, creativity, and craftiness, fostering a love for DIY projects. A simple, enjoyable task to kick off a more organized year ahead! craftsbyaman
16. DIY Hair Bows from Denim Scraps
Explore the world of denim upcycling and find creative ways to repurpose discarded denim into functional and fashionable pieces. Give your old denim new life by transforming it into stylish DIY hair accessories! Using leftovers from an old pair of jeans, you can easily fashion various hair bows, perfect for jazzing up any outfit.
You only need a few sewing essentials and creativity to get started. Optional elements include bleach for added effects and embellishments like pearl beads for a touch of glamour. This innovative project lets you showcase your DIY skills and makes a great gift idea, bringing smiles with each denim clip. So, pull out those forgotten jeans from the back of your closet and start crafting these cute hair bows! salutetocute
17. How to Make Denim Fabric Basket
Explore the world of upcycle jeans and learn how to create fashionable accessories, home decor, and more using repurposed denim. Uncover a creative, cost-effective way to repurpose old jeans into delightful DIY denim fabric baskets. Utilizing just a section of the jeans leg, contrasting lining, and interfacing, this guide offers detailed instructions to craft baskets of varying sizes – small, medium, or large.
It takes you through each step – from sewing the lining and making box corners to attaching the lining to the bag exterior and finishing – ensuring your baskets turn out perfectly.
These denim baskets serve as fantastic storage solutions or can be used as unique gift containers. This upcycling project showcases creativity and practicality and advocates sustainability by giving new life to pre-loved jeans. Get started today and crowd your home with these charming, handmade baskets. threadin
18. Easy DIY Denim Lunch Bag
Make lunchtime stylish and sustainable with this easy DIY denim lunch bag! It is a unique and personal lunch bag for your kids using an old pair of denim jeans! This project is a perfect way to reuse worn-out jeans and provide a new, eco-friendly lunch bag.
It only requires basic sewing skills, a few materials like fabric scissors, a sewing machine, thread, Velcro tape, fabric glue, iron-on letters, and decorative patches. This lunch bag displays your creativity and is functional and durable.
It can be washed easily, ensuring your kids have a clean bag for school or camp. Plus, you can personalize it with iron-on letters and patches for a touch of uniqueness. Make lunchtime more fun and sustainable with this homemade denim lunch bag! everydaydish
19. How to Sew a Camera Cozy Using Jeans
Capture the essence of DIY creativity with this unique camera cozy project! This functional accessory safeguards your camera's LCD and lens cap, ensuring your equipment is always ready for your next photographic adventure. Additionally, it features dedicated storage for spare batteries and a convenient place for spent ones.
Designed primarily for Canon S2IS and S3IS models, this versatile pattern can be tailored to accommodate other camera types. The cozy embraces the concept of upcycling, using scrap materials like denim and cotton batik, making it a truly environmentally-conscious choice.
Each step is meticulously designed for precision and durability, resulting in a snug-fitting cozy for your camera. Its detailed battery labeling and secure snap keep everything organized and in place. Enjoy this hands-on project and take pride in crafting a purposeful, stylish protector for your beloved camera. evilmadsci
20. Make a Jean Swing for Toddlers
Heighten your toddlers' playtime with a DIY swing tailored just for them! Made from readily available materials, this innovative and easy-to-build swing can be a treasured addition to their outdoor adventures. You only need a sturdy piece of wood for the seat, chains for support, and a few basic tools to assemble it.
This family-oriented project not only promises fun for your little ones but also fosters a spirit of teamwork and creativity. Once set up, the swing becomes an excellent tool for your kids' physical development, providing an exciting yet safe activity at home.
Although created for one child, this swing can cultivate a sense of sharing among siblings. So, roll up your sleeves and start this exciting project to give your toddlers a joyful, self-made playtime accessory. instructables
21. DIY Shabby Chic Apron from Denim Jeans
Introduce retro style to your kitchen adventures with a homemade Shabby Chic apron from upcycled denim jeans. This DIY creative craft project transforms your cast-off denim jeans into a chic and functional apron, adding a dash of vintage flair by incorporating lace pieces at your local thrift store.
Follow straightforward steps such as cutting down the sides of your jeans, leaving the stitched seam, and measuring specific lengths to make the base of your apron. You'll utilize the existing waistband as a unique feature for a convenient button-back fastening.
After making your denim base, attach intricate embellishments like buttons, doilies, labels, and ribbons to enhance the apron's distinctiveness. The opportunities for customizing are truly endless. It's a fun, environmentally-conscious way to add personal flair to your kitchen attire. thecountry
22. How to Make Denim Shirt Pillow
Give new life to old denim with these inventive upcycle jeans projects that transform worn-out pants into stylish and functional items. Immerse yourself in farm fashion by crafting unique DIY denim pillows! Repurpose denim shirts into functional yet chic decorative items that add a rustic touch to your home. The loveliness of this project lies in its simplicity – no need for extensive sewing or cutting. With just old denim shirts, existing pillows, and safety pins, your creations can take shape in under 30 minutes. E
Embrace your creativity and personalize your pillows with decorative accents like buttons, bow ties, or whatever fits your style. Whether you're into Shabby Chic, Western Cowgirl, or prefer something minimalist, these pillows can be tailored to match any decor.
Experiment with other fabrics like plaids for a fall-themed touch or silky blouses for a springtime feel. This ingenious, no-cut method lets you alter your design whenever you like switching things up. Try this fun, straightforward project today, and spruce up your living space with stylish, handmade denim pillows. thecountryfarm
23. DIY Denim Play Crown
Breathing new life into old jeans, this handy DIY guide outlines how to make an imaginative denim play crown. This project is a perfect opportunity to put your sewing skills to use and achieve an eco-friendly, enjoyable result.
The pattern is easily adapted for different head sizes, providing a creative way to involve your child in the crafting process. You can fashion a playful accessory that stands out by utilizing sturdy denim, a sewing needle, fusible interfacing, and an array of embellishments.
Remember, using a denim-specific sewing needle is essential if you're working with thicker denim. Allow your creativity to soar as you turn discarded jeans into an enchanting crown, sure to spark joy and ignite the imagination! creativegreen
24. Upcycled Denim Pot Holder
Transform your kitchen's aesthetic while adding a practical element with this engaging DIY project. Make unique pot holders, an ideal way to reuse old jeans, utilizing their durable denim and intriguing color.
Cutting squares from jeans and retaining pockets for hand-slipping convenience, these pot holders are designed for both style and function. Accentuate them with an individual touch using scrap fabric and paint. A harmonious blend of yellow polka dots and blue stripes offers a vibrant contrast.
Additional layers of batting and careful stitching provide adequate heat resistance, while an optional hanging loop ensures easy storage. Craft these one-of-a-kind pot holders and add a personal flair to your culinary space at no extra cost. alisaburke
25. Recycled Denim Shopping Bag Pattern
Sewing a DIY recycled denim shopping bag is an eco-friendly way to express your style! It is an eco-friendly and trendy shopping bag made from your favorite old pair of jeans. By utilizing an outgrown pair of jeans, thread, scissors, a shoelace, a piece of Velcro, and a measuring tape, you can craft a reusable denim shopping bag that's stylish and supports the fight against plastic waste.
The project involves several stages, including cutting out the bag and handles, sewing the sides and edges, and attaching the handles for a secure grip. Add an optional pocket from the jeans remains for added convenience.
It's a fantastic way to keep those cherished jeans alive while promoting sustainability. This upcycled denim shopping bag adds a unique twist to your shopping experience while preserving our environment. instructables
Conclusion:
In summary, transforming old jeans into creative and practical items is an eco-friendly way to upcycle denim and extend its life. With 25 brilliant denim upcycle ideas, from fabric book covers to water bottle bags and denim aprons, these innovative projects cater to a variety of skills and interests. Embarking on a denim upcycling adventure allows you to explore easy denim crafts, produce functional items, and give old jeans a new purpose, all while showcasing your unique flair and ingenuity.