All home lovers just take it as a serious issue to create a unique personality and identity of their home! So, while having a matter of displaying the home identity we always go with the house number signs that are mostly displayed on the primary entrance door and also on the exterior wall next to it! The house numbers, if come with a dashing look and display, can help to make your home entrance look special and bewitching! Moreover, you can also opt for the special house number signs as they help add outstanding curb appeal and also create brilliant first impressions of your home exterior! So, if you are finding it expensive to buy custom house numbers, house number display signs and house number plates then Try some special and enticing DIY house numbers at home using the common home materials and of course your creativity!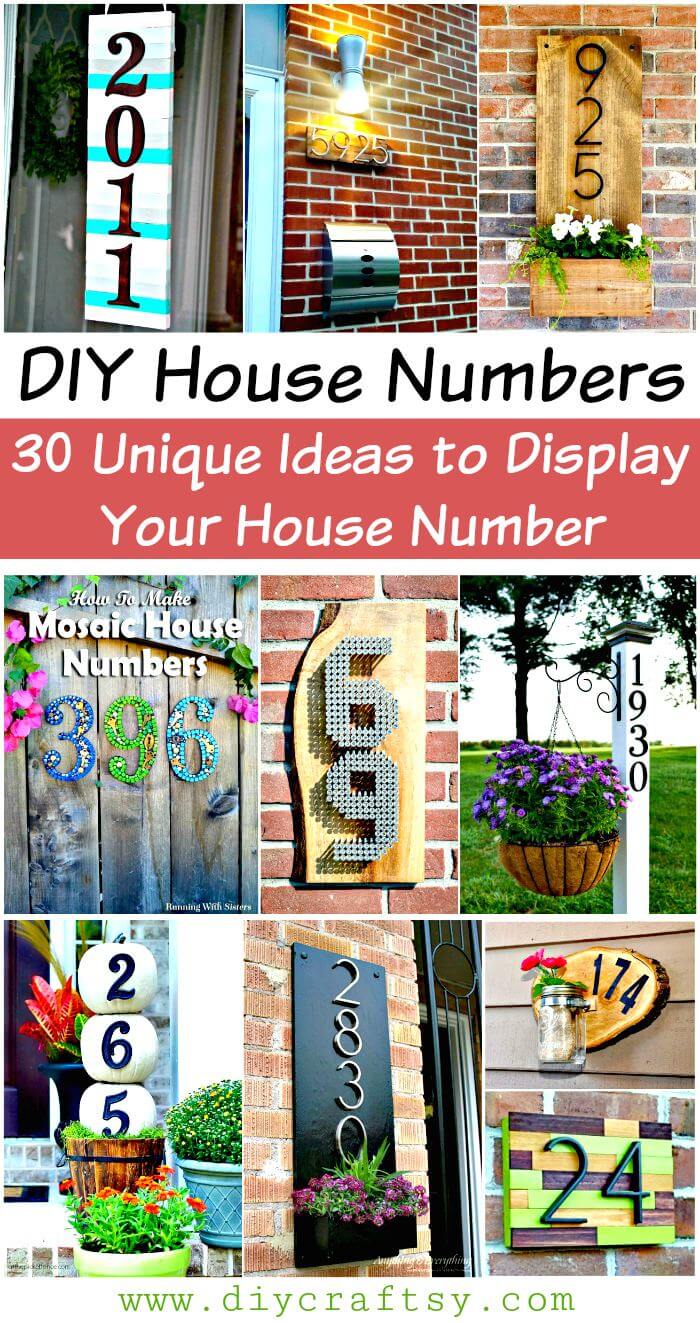 Just add your house numbers on a rustic wood log slice and add it up with a mason jar flower vase and make brilliant looking house number signs! Impress the new guests and visitors also by display the house numbers on your planters placed insides of your primary door! Make also use of cardboard alphabets and wooden letters to make home address number monograms that will also be spellbinding and spruce up your home entrance also by mounting there the mosaic house number letters that can be made with the MDF house numbers which can be adorned by gluing the gemstones, glass tiles, crystals and beads and also the custom charms!
Check out some excellently beautiful DIY house numbers given below that are purely handcrafted! Make the dotted tiered planter house number display that will have the bigger impacts on the beauty of your home exterior and also craft the rustic wall hanging house number signs using the scrap wood and paint sticks! Get inspired by some fab looking samples are given below and experiment them using different paint colors and numerals!
Make the house address number displays using the steel screws and the custom wooden boards that will also spice up your exterior wall with a great metallic touch, screw in your metallic house numbers also on the wood cutting boards to make fantastic looking house number signs at almost no cost!
Display your house address numbers on the self-made wooden posts that may come with solar light accent caps so your house numbers will also be highlighted at night! Create the enticing looks of your primary entrance by hanging they're the patriotic and home address buoys and also stack the house numbered pumpkins to install a fab looking house number topiary, have a look at the amazing given sample that is spellbinding!
You May Like More DIY Home Decor Ideas:
Check out tons of more ideas given below in the list and get yourself inspired! Clone every of your favorite house number display project from the list with the help of free tutorial and step-by-step instructions which are hidden in the attached source links, so do Check out them out!
DIY House Number Plaque With A Wood Slice: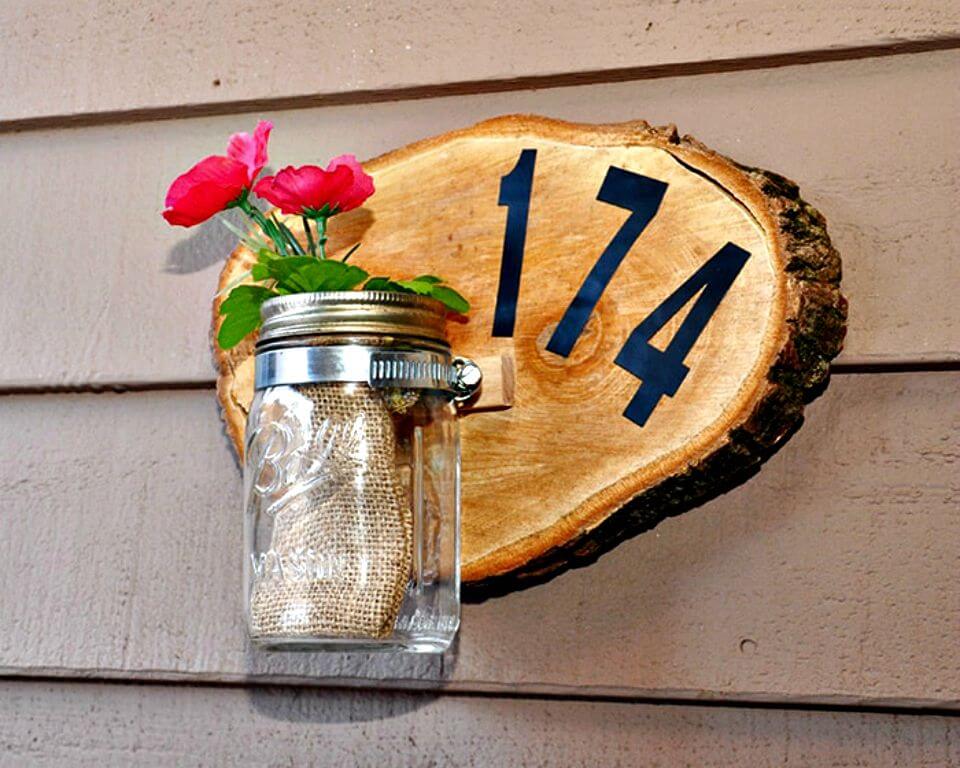 Add a beautiful curb to your home along with tons of rustic yet modern charm with this special house number plaque that is made of recycled items! Here all you need a rustic wood slice with bark, a mason jar, a hose clamp and some numbers to make this enticing looking house number plaque! Just display your custom house numbers on the wood slice and then add the Mason jar full of cut flowers on the wood slice using a hose clamp and it will hang like a cool vase there! A great house number project to do at home! Grab the full free guides and visual tutorial from here diycandy
DIY Wood Planter Box With House Numbers:
Here is another brilliant hack for displaying house numbers smartly! Just add custom metallic numerals showing your house number on a porch planter that has been placed there for a beautiful curb appeal and that's it! You can also paint your planter in a desired color and can also choose the custom numerals that you like a lot! Check out here this sample wood planter box that comes painted in pink and is having silver house numbers mounted on for a great look! Complete project tutorial and instructions here diynetwork
Adorable DIY House Address Number Monogram:
Here is what you need for amazing first impressions of your home to onlookers! This is here an adorable looking house address number monogram that is purely handcrafted! Here all you need address number monogram kit and paint to duplicate this enchanting looking monogram house number! Just grab your MDF letter monogram and just paint it for chevron stripes using masking tape and next add your house address numbers! Hang it to decided location using picture hangers and that's it! Complete project tutorial here craftcuts
Make Your Own Mosaic House Numbers:
Look at these more enticing looking house numbers that will definitely add a great curb appeal to your home! Just make the special mosaic house numbers that will surely help to get impressive looks of your home exterior along with a prominent display of your house address! Have a look at these sample mosaic house numbers that have been made of MDF letters which have been covered by gluing the tiles, glassy cube beads, lock and heart charms and also other items of décor! Complete project tutorial and instructions here kenarry
DIY Polka Dotted Tiered Planters House Number:
Intending to give a warm welcome to your friends and every new entry to your home? If yes, then you should plan out some prominent ways to display your house number address! An amazing idea would be to display your house address numbers would be through tiered exterior planters! Just Check out here the sample polka dotted tiered planters that display the house address numbers beautifully and bring a great charm to entire home exterior! Grab the full project details and tutorial from here positivelysplendid
Adorable DIY House Numbers Sign Tutorial: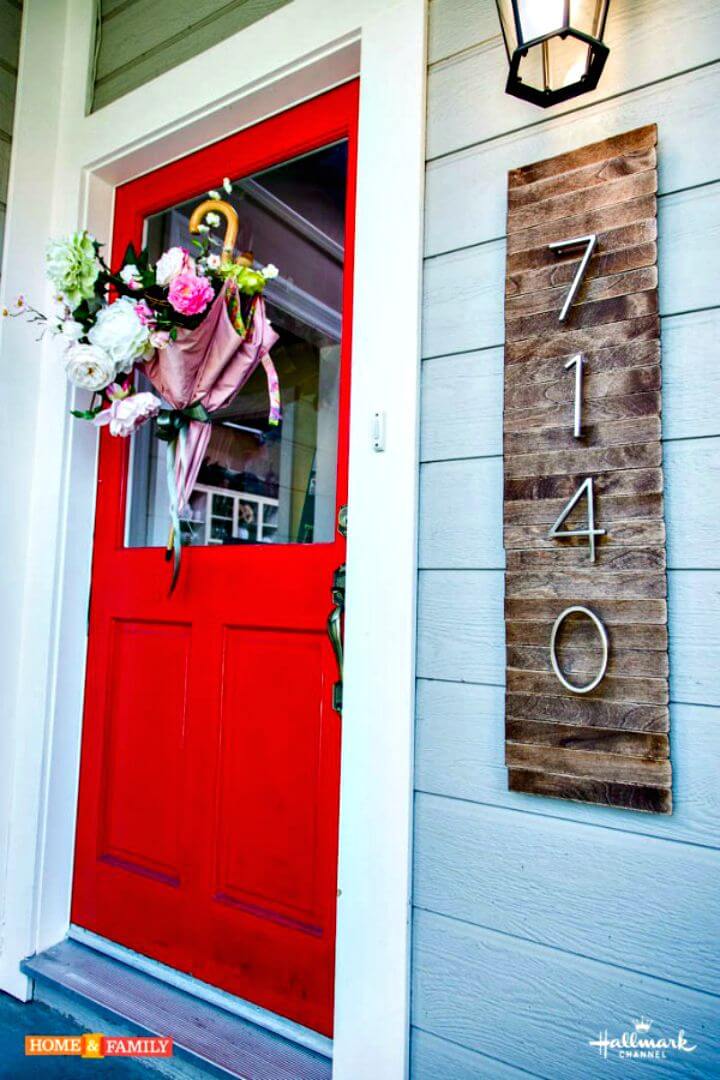 Let your guests and friends praise your entrance by mounting there some cool looking house numbers signs! Have a look at this rustic wooden number sign that will definitely create a bewitching look of your home exterior and is something that you will love to look at twice! Here this rustic wooden number board is made of a plywood board on which the paint sticks have been glued and packed tight! Finally the house numbers have been posted for an alluring view and metal touch! Stain or paint your wooden board in your own way to match your exterior decors! Complete project tutorial here familyfocusblog
Easy DIY House Number Plaque:
Here is another amazing house number plaque that has been done to inspire and is really looking great! Here all you need some paint sticks and a wooden board to make this very handsome looking house number plaque that has been done to amaze and inspire! Just cover your wooden board with paint sticks like a puzzle game, paint your sticks to make a colorful background to your house numbers and then paste your house numbers! This is here another great idea to display your house number display! Grab the full free details and instructions from here aturtleslifeforme
How To Make Modern Stainless Steel Home Numbers: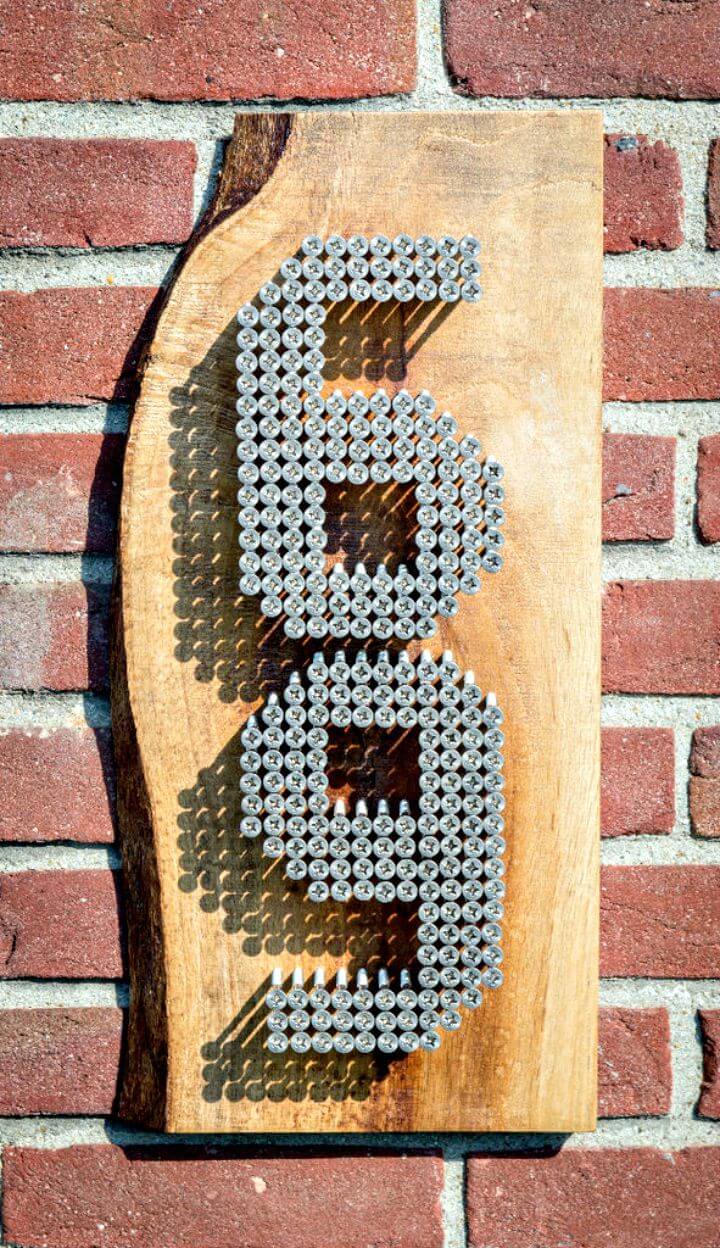 Let all the onlookers and guest praise your home entrance, the idea is just to add some hypnotic type of home address numbers and if you are not having any then make some outstanding ones at home! Have a look at these stainless steel home numbers that have been done to inspire! Here all you need a big wooden plank which can come with drilled holes according to traced out number design pattern and final step would be fit the stainless steel screws in the holes making even 3D house numbers! Grab the full free tutorial and instructions from here instructables
Awesome DIY House Number Sign:
Make also use of cutting boards to make extra beautiful house number plates at just a drop of hat! Here hardware metal numerals have been screwed in the wooden cutting board and hence a great looking house number sign has been made that is just looking fantastic and praise-worthy! Making this number sign is just a matter of seconds and you can also make use of custom paint color and other embellishments to make it look extra great and beautiful! Willing to duplicate this sign for your home? Grab the full free tutorial and instructions from here craftivitydesigns
Build House Number Post:
Bring tons of focal stimulation to your home exterior by making adorable house number signs at home! You can also duplicate this very good looking house number post that is handcrafted and is sure to add great curb appeal to your home! Here making this house number post is pretty easy and all you need a wooden post, a white jacket for the post, your house numbers and a solar light post cap to duplicate this house number post! Intending to duplicate this handsome-looking number post? Grab the full free instructions from here simplelifeofafirewife
Amazing DIY Address and Patriotic Buoys:
Here is what you can do amazing with the thick pine boards for a great curb appeal! Just make the charming patriotic and address buoys with them let them hang on your front entry door! Check out here these sample address and patriotic buoys that have been done to inspire! Just give custom cuts to top side of pine post length and get its top tapered! Drill holes for hanging rope and then paint and stencil your finally complete wooden buoys for a flag and also for your house address numbers! Complete project tutorial here tatertotsandjello
How To Build House Numbers Pumpkin Topiary: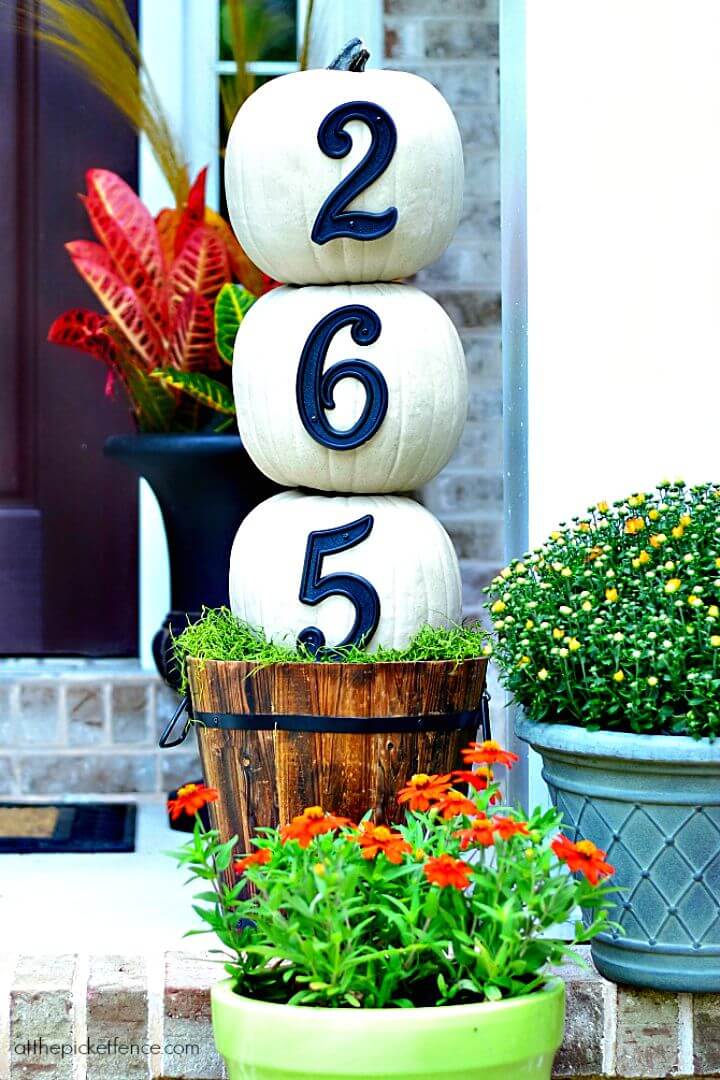 Another brilliant house number display idea here that will also rock for excellent fall decors! Just grab your faux pumpkins, paint them in white, mount your house numbers on them and then tiered them vertically with a planter base! This will make you get with a pumpkin topiary display your house numbers beautifully and enchantingly! Intending to duplicate this brilliant house number project? Grab the full free guides and visual instructions from here atthepicketfence
Modern DIY House Number Planter: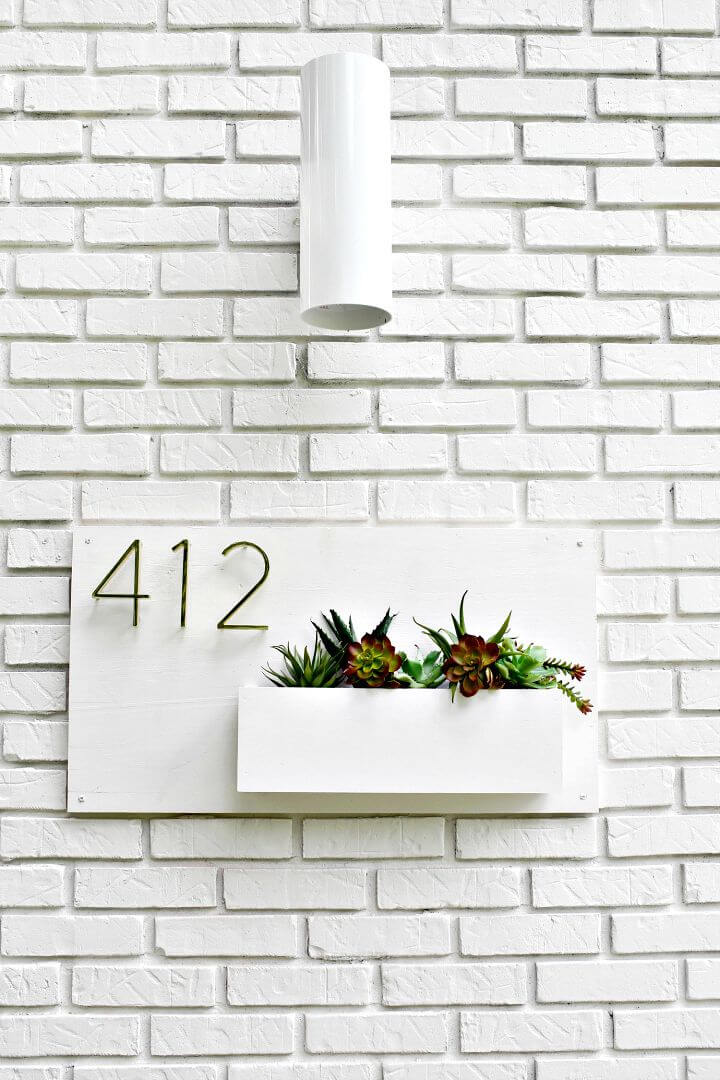 Another fantastic house number sign is here to inspire your creativity! This here the very modern looking chic white house number sign that also comes with a planter for natural décor touch! Here all you need custom cut wooden boards which can be put together for an alluring wooden background and also for a planter pocket in front! Next you can mount your brass house numbers on the wooden board and can add your favorite greenery, plants or herbs in the built-on planter pocket! Another great house number display project that you can duplicate in just no time! Grab the full free guides and visual tutorial from here abeautifulmess
How To Build Address Plaque:
Another fascinating house address number plaque or sign is here that is unique and adorable! Grab any piece of wood or plywood from home and just turn it into a house number display sign using your creativity! Here a bigger wooden length has been added with a planter pocket at the bottom side and has been painted in black, finally the metallic house numbers have been mounted on the black painted wooden board to make a charming house address plaque that will go eye-catching to any onlooker! Grab the full free guides and tutorial from here myanythingandeverything
Modern DIY House Number: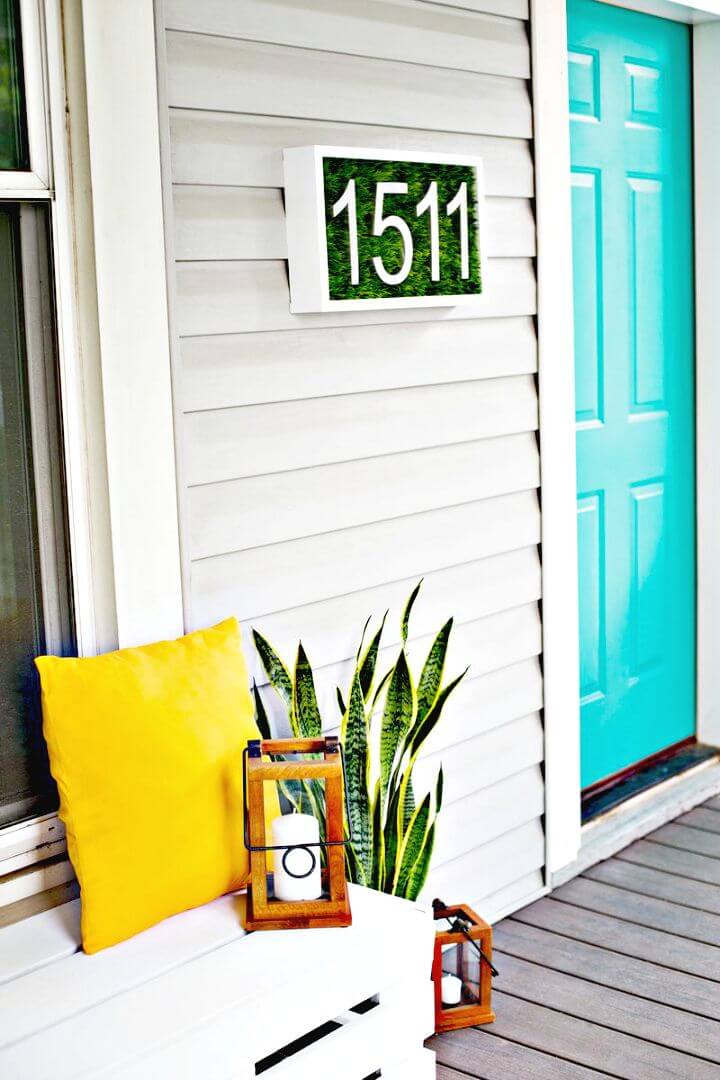 A house number plate is something that will make the very first impression of your home to every new entering person! So, you can really impress the guests and friends by displaying your house address numbers in a brilliant way! Here is a beautiful idea to do this, just grab some wood and make a good looking box out of it, fill it up with faux grass and then add your house numbers in front of it to make a charming house number plate! Check out here the sample plate that comes in chic white appeal and also looks natural due to green grass inside! Willing to duplicate this house number plate? Grab the full free guides and visual instructions from here abeautifulmess
Adorable DIY House Number Sign:
You can also add the natural wooden house number plates to your home exterior portion that will bring a great natural décor touch there along with some rustic or vintage vibes! Here is a beautiful inspiration for that, a very beautiful looking house number sign that is made of rustic wood and it also comes with a planter pocket built to very bottom side of it! Just put together some wood planks or just grab a wooden board of enough width and just add it up with a bottom planter pocket! Next just paste your house address numbers in front of it and get a beautiful looking house number sign! Full free tutorial here shadesofblueinteriors
How To Make Address Numbers Post Planter: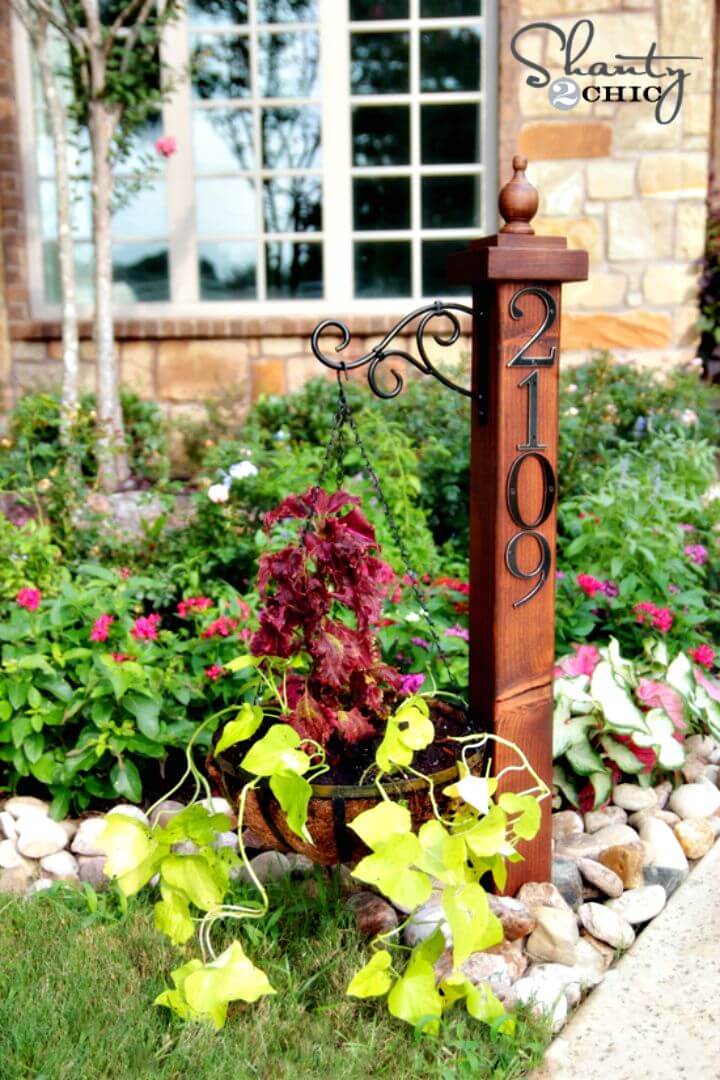 Make also dashing wooden posts that can come with your house address numbers posted on them for a nice and charming display! Check out here the sample address numbers post planter that has been done to amaze and inspire! Here all you need a wooden post, wood aisle and some chopped pallet squares to build the wooden post with accent top and next you can screw in your metal numerals showing the house address! Here creative twist is the hanging planter that hangs on an artistic metal swirl frame that has been installed to one side of the post! Another gorgeous vintage inspired house address number display idea! Complete project tutorial here shanty-2-chic
Modern DIY Mid-century House Numbers Tutorial:
You will definitely fall in love with this rustic yet modern house number sign that is self-made and is really looking enticing! Here all you need a wooden board, paint sticks and some metallic numerals to duplicate this very interesting looking house number sign! Just paste flat your paint sticks on a wooden board and then paint or stain it, leave blank for a rustic or vintage appeal! Mount your metallic numerals and enjoy a lovely house number sign! Willing to own this mid-century modern house number sign? Then duplicate it via free tutorial given here sewathomemummy
DIY Vintage Paddle Address Sign:
Make also smart use of vintage paddles to add a great curb appeal to your home! Just paint your paddles in a custom way for custom pattern like for chevron lines or for colorful stripes and then just add your house numbers on them to make gorgeous looking house number signs that will live for years to come! Check out here this sample vintage paddle address sign that is looking damn beautiful and enticing and is super easy to make! This is here another budget-friendly house number display idea! Full project details here thehappyhousie
DIY House Number Sign And Planter Box:
Make two beautiful posts of same size using the cedar wood beams, finish them with accent tops and then paste combine them into frame shape using a cross support! Also, install the planter box to mid-side of both posts and then hang a house number plate in the center of the frame using the metal chains fastened to the top of the wooden posts! Check out here this sample post that is looking special due to chic white appeal and it would add a great curb appeal to your home! Another brilliant way to display your house address number! Grab the full free guides and visual tutorial from here remodelaholic
Cute DIY House Number Tiles: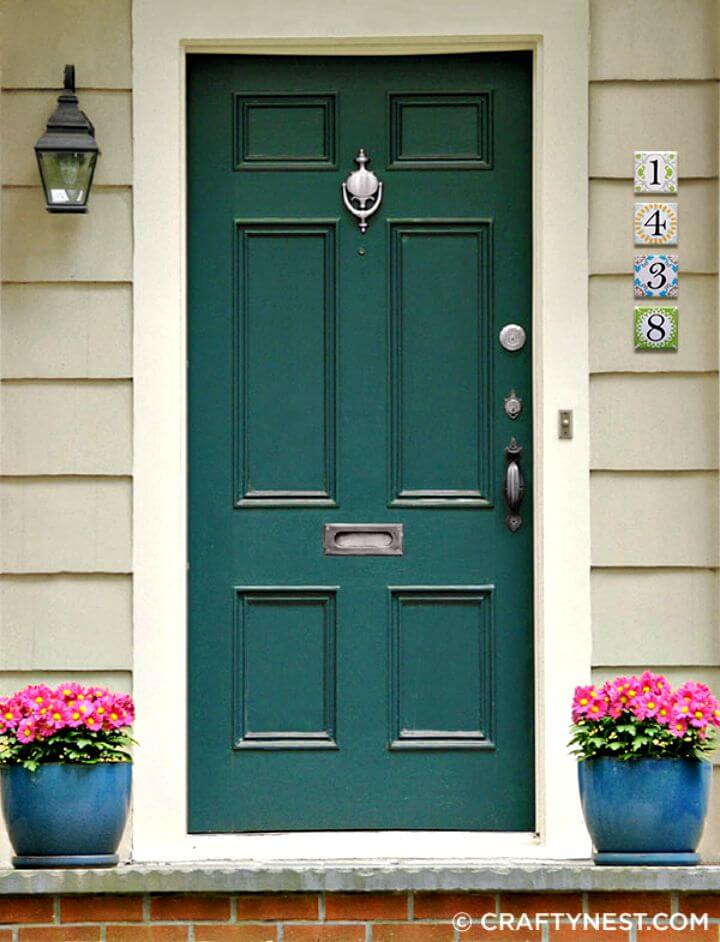 Another lovely way here is to make your home entrance special! The idea here is to display your house number address using the beautiful and colorful tiles! Check out here the sample house number tiles that have been put together in vertical manner and display the house numbers beautifully! You can also use the simple ceramic tiles which can be painted for custom numbers or you can add the vinyl letters to them for making gorgeous house number tiles out of them! Another brilliant and smart way to display your house numbers! Grab the full free guides and visual instructions from here craftynest
How To Make Modern Address Plate: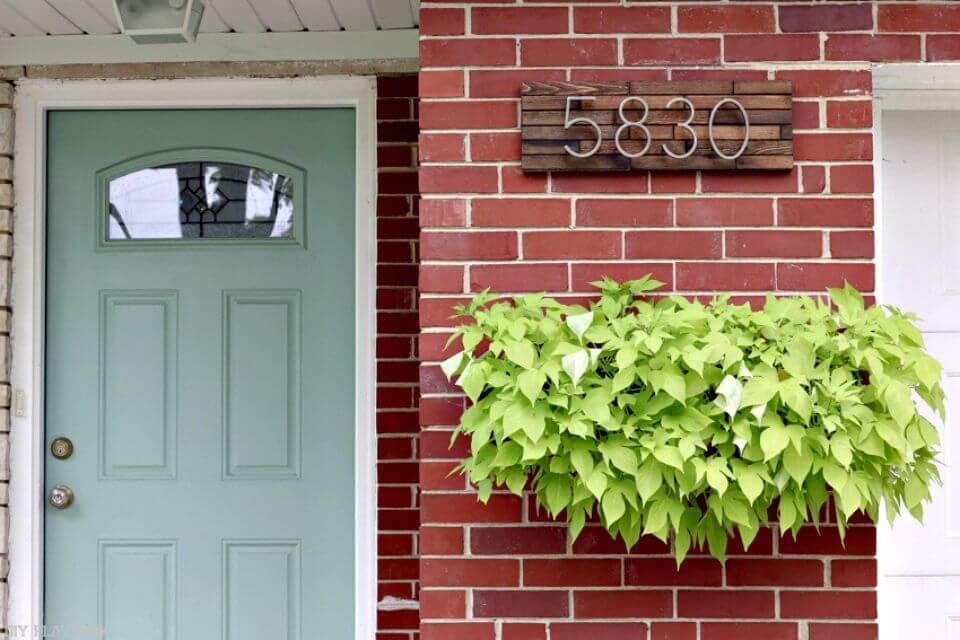 Spruce up your home entrance with a natural touch of wood that will come from this modern address plate that is made of a scrap wood board and also with the paint sticks! Just glue the paint sticks on the wooden boards just like a puzzle game and get the wooden board fully covered! Next paste your metallic steel or brass numbers on the wooden plate and make outstanding house number display signs without getting a bit expensive! Willing to duplicate this sample number plate? Grab the full free tutorial from here thediyplaybook
DIY House Number Door Wreath For Spring: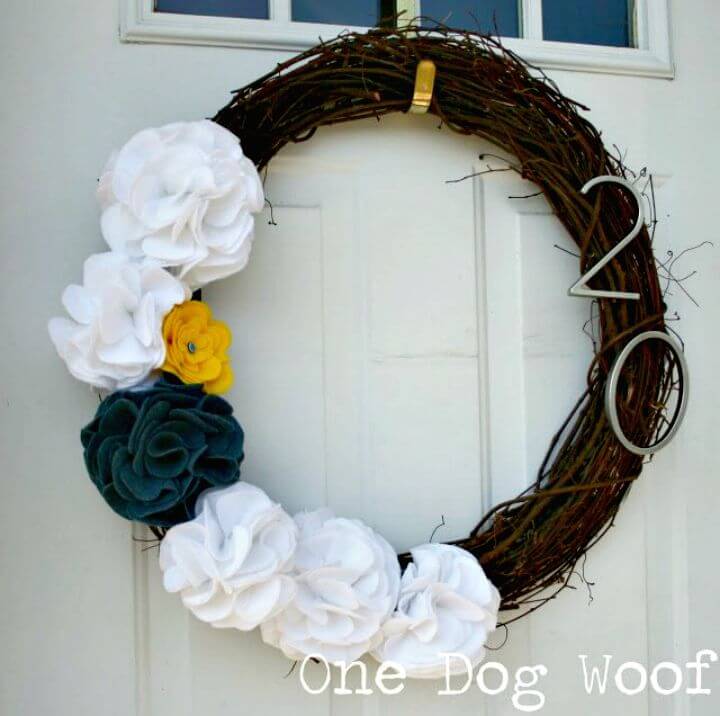 Check out here another outstanding and beautiful idea to display your house numbers beautifully! Have a look at this house number door wreath that has been done to inspire and rock! This wreath would make a great spring décor along with displaying your house address numbers! Here all you need a grapevine wreath which can then be added up with faux or real flower embellishments and next you can mount your house numbers on it! Here faux blue and white flowers and the metallic numerals have been used to make this house number spring wreath! Grab the full project instructions from here 1dogwoof
Easy DIY House Numbers:
Another beautiful idea here to display your house numbers in an enchanting manner! Just repurpose the old picture frames to display your house numbers beautifully! Here a picture frame with wooden backing has been spray painted for an alluring border and white background and has also been added with a back wooden support! Next this custom house numbers have been screwed in the center of the frame to make a gorgeous house number sign or plate! Another outstanding house number project to duplicate! Grab the full free guides and visual instructions from here beneathmyheart
Cute DIY House Number Flower Hanger:
Here is what you can do brilliant with a flower pot and a some scrap wood! Just use them both to making alluring house number signs that will lure the number of view of your primary entrance! Here all you need a wooden plank which can be spray painted and then can be added with beautiful house numbers! Next you can cut a diamond shape wooden board which can also be added with a wooden support that will hold the half cut pot on it to make a beautiful planter! Next just paint it in matching color and just hang just below your house number plaque! This will also add a graceful curb appeal! Complete tutorial here growingingrace
Make Address Number Wall Planter: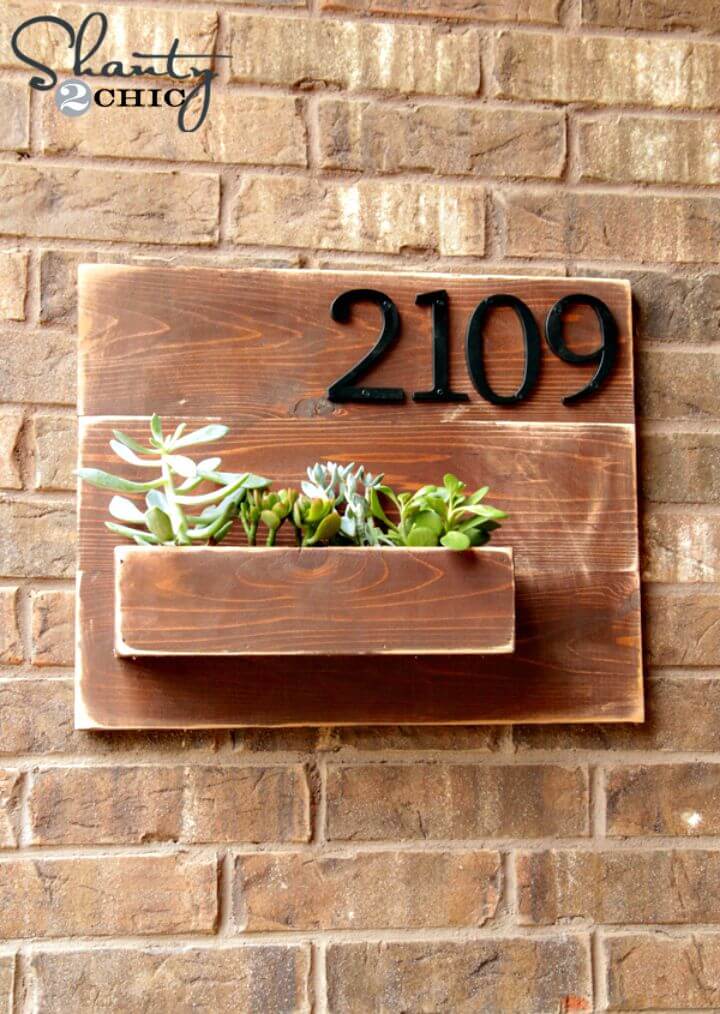 Let the natural tone of wood bring a great grace to your primary entrance! The idea is to make smart use of scrap wood to make gorgeous looking number plates that will hang like a charm for sure! Get inspired of this hand-built wooden address number plate that has been done to inspire and it also comes with a planter pocket that brings extra charm and grace to house number sign! Making this wooden address number wall planter would be a big breeze and you can hang it on the wall using picture hangers! Complete project tutorial here shanty-2-chic
How To Build Cedar Planter Box: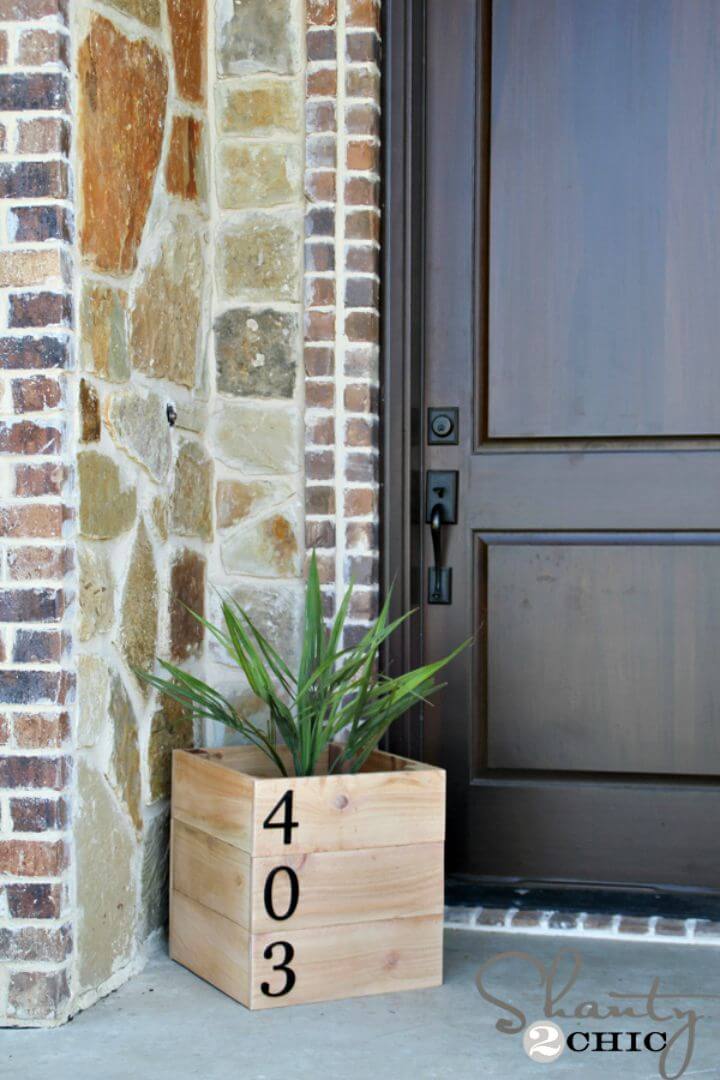 If you are intending to bring natural charm to your primary entrance by bringing some gorgeous looking wooden planters there then you can also prefer them to display your house numbers at the same time! Check out here this sample wooden cedar planter box that is self-made using custom wooden lengths and planks and it comes in natural tone of wood! Finally the house numbers have also been mounted to outside of this wooden planter box for an enchanting appeal! Willing to duplicate this cedar planter box? Grab the full free guide and visual instructions from here shanty-2-chic
How To Make An Easy Address Post:
You would not have seen a home address number post more beautiful than this one that comes in alluring white appeal and is just looking fantastic! Just grab a heavy duty lumber wooden post and just paint it for a chic white appeal, screw in your house numbers in front side of it and finish it up with a solar light cap! Final step would be to add the post with a plant hanger bracket and then to hang a basket planter on the bracket for amazing grace and charm! Willing to duplicate this address post? Grab the full project tutorial and instructions from here hellofarmhouse
Adorable DIY Address Plaque – Paint Stick Art:
One more smart and low-cost hack is here to make a stunning looking house number plaque at home! Just grab a piece of wood and just cover it up with paint sticks which can be painted differently for a charming look of wooden appliqué! Next screw in your house numbers and make an interesting looking house number plaque or sign that definitely create an impressive look of your home entrance! One more fabulous project is here to display the house numbers! Grab the full project details and tutorial from here homestoriesatoz
How To Make Fish House Numbers: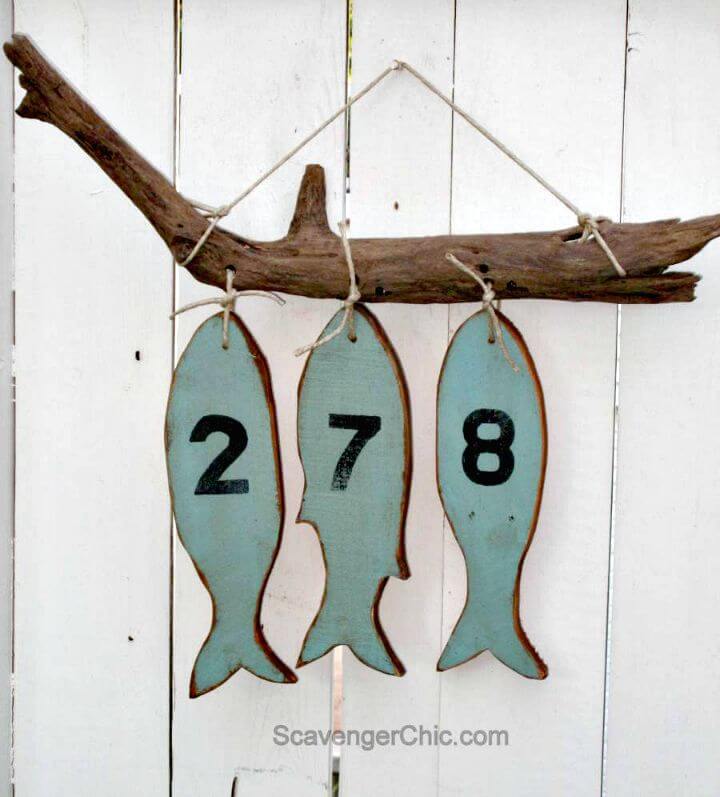 Look at this another outlandish house number display that would bring great rustic touch to your home entrance! Just grab some pallet wood planks and trace out some fish design on them! Cut out your fish shapes out of them using a jigsaw and then just paint them in your own favorite color! Stencil them for custom house numbers and drill holes in their tops to add rope or cord! Next you can grab a piece of driftwood in which you can also drill holes to hang the pallet wood fishes! Hang the entire house number display on your favorite exterior wall and that's it! Full project tutorial here scavengerchic
DIY House Numbers Installed On A Stair Riser:
You will definitely get inspired of this another interesting display of house numbers! Here the house numbers have been displayed on a stair riser and this brings a great visual appeal to entire entrance and this would be another smart way to impress the guests and new home visitors! Just select the area of the stair rise and drill tiny holes there for adding house numbers! Screw in your house numbers there and that's it! This is here another great and smart way to make your entrance enchanting and graceful! Complete project tutorial and instructions here remodelaholic