Exploring the world of DIY snow globes can be entertaining and gratifying, especially when using innovative ideas to craft unique and captivating pieces. Learn how to make homemade snow globes with these 40 creative DIY snow globe ideas that cater to your interests or make perfect gifts for loved ones. These diy snow globe ideas range from fun and easy projects, such as glitter snow globes, to more intricate designs like creating a light bulb snow globe or an illuminated snow globe scene in a jar that are ideal for both DIY novices and seasoned crafters.
Moreover, some DIY snow globe ideas also incorporate upcycling methods, transforming items like mason jars, light bulbs, or fishbowls into beautiful snow globes. These projects not only give new life to seemingly mundane objects but provide an eco-friendly alternative to store-bought decorations.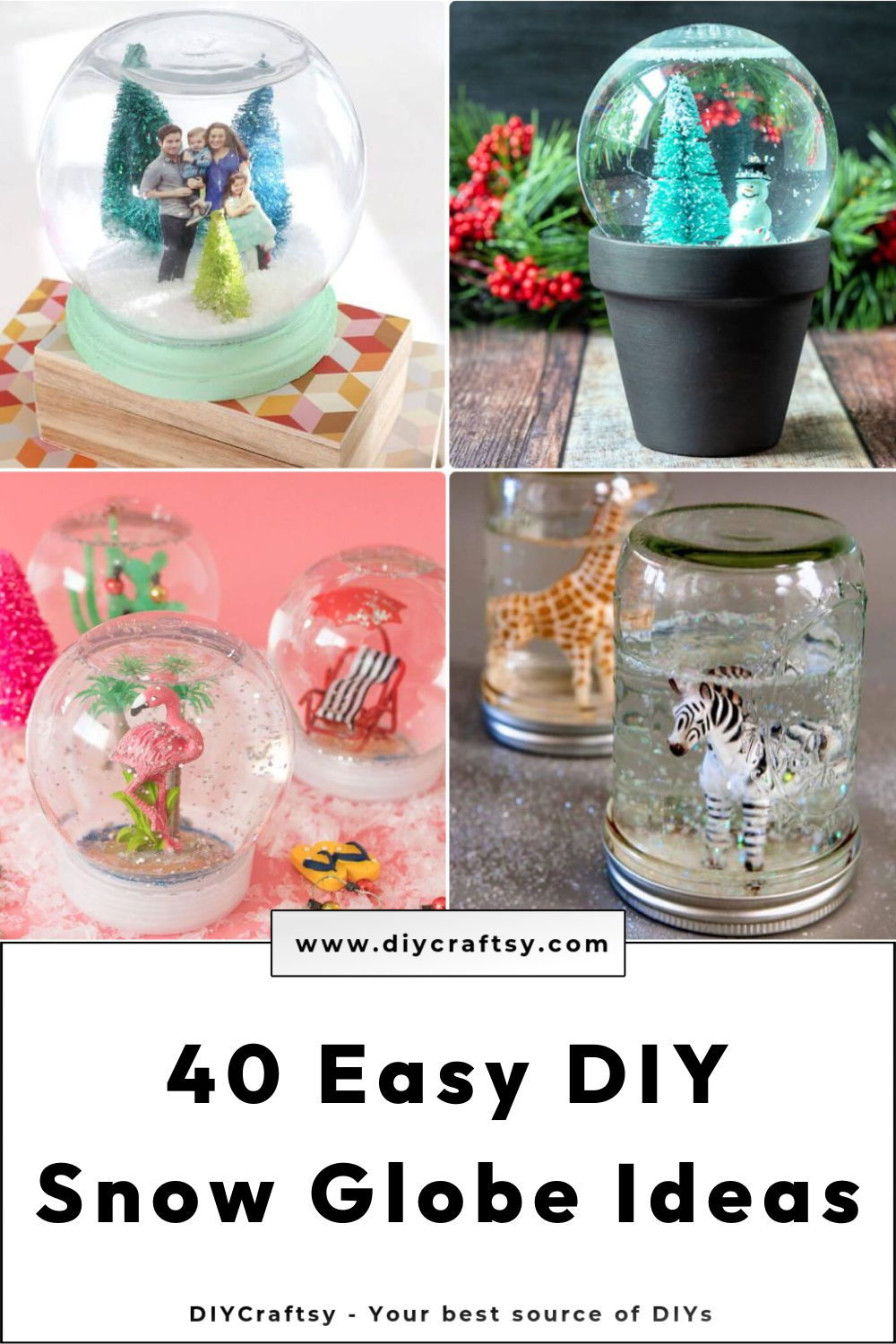 With step-by-step instructions and various design ideas, crafting your own DIY snow globes becomes an enjoyable and rewarding experience. Start your DIY snow globe adventure today and unleash your creativity with these mesmerizing and distinctive designs. Whether you choose to use a mason jar or a shallow glass bowl as a base, the choice is yours when creating your DIY snow globe. To give your globe a unique look, make sure to add glitter, sparkles, and other decorations that bring your wintery vision to life. So prepare for a winter wonderland in your home with these fantastic DIY snow globe ideas!
1. Fun and Easy DIY Snow Globe for a Gift
Craft your winter wonderland with this easy-to-make DIY snow globe. This project requires simple materials such as a snow globe kit or small jars, small ornaments, glitter or fake snow, and a hot glue gun, all of which can be found at home or your local dollar store.
The step-by-step instructions guide you to prepping your base and ornament, filling the globe with water, glitter, and glycerin for added effect, and finally, sealing your globe. This charming craft not only makes for a delightful holiday decor but also serves as a thoughtful homemade gift.
Note that metal bottle brush trees may rust over time, so consider using non-metallic ornaments or creating a waterless snow globe. Express your ingenuity and add a touch of winter magic to your home with this snow globe. hearthandvine
2. Make a Charming Snow Globe
Make your holiday season magical by creating easy, DIY snow globes! In less than 10 minutes, these delightful Christmas decorations can become part of your tradition, charming adults and children alike. Made with simple materials like jars, glitter, glue, and water, they are affordable and easy to assemble. You can personalize these snow globes by adding your favorite figurines or miniature Christmas trees.
These snow globes come alive in your hands, enhanced with tinsel glitter to imitate falling snow and a touch of glycerin to slow down the glitter's descent. Clean jars, sandpaper, and epoxy are essential to ensure your snow globes last season after season.
These snow globes are a heartwarming way to celebrate the holiday season, perfect for gifting, home decor, or a fun family craft session. Enjoy crafting these unique snow globes, and let the Christmas cheer sparkle through your home. sweetestoccasion
3. How to Make a Snow Globe With Kids
Relish lasting Christmas memories with your family through this creative DIY light-up snow globe project. Perfect for indoor family activities during winter, these easy-to-make snow globes spark not only creativity spark creativity and double as charming nightlights.
Made with a large canning jar, battery-operated twinkle lights, fake snow, and various mini figurines, these snow globes avoid the traditional use of water, ensuring a mess-free and safe crafting experience.
The snow globes provide a charming way for children to explore their creativity by arranging their favorite holiday figurines. This project becomes a glowing treasure that kids will cherish well past the holiday season. Light up your winter nights with this fun-filled family project! letslassothemoon
4. Creative Glitter Snow Globe
Let your imagination sparkle and shine with this creative DIY glitter snow globe! This project sparks joy in people of all ages, making it a perfect family bonding activity. From selecting the perfect focal point—a Christmas ornament or a cute little character—to gluing it to the lid of your chosen glass jar, the process is simple yet exciting.
Glitter snowfall can be customized to your preference by adjusting the glue quantity in distilled water. The best part comes when you turn the globe upside down, watching the glitter shower like a soft snowfall. An effective craft, not just for winter festivities, but to gift or enjoy all year round. Tools needed for this project include a hot glue gun, clear glue, a glass jar, and your chosen focal point.
Incorporating glitter and distilled water finishes the scene, creating a mesmerizing miniature world inside your jar. This budget-friendly craft, taking 25 minutes, fills any room with a whimsical, snowy charm. So, gather your supplies and get ready to craft your snow globe. Let it snow indoors! welcometonanas
5. Flamingos Snow Globes for Summer
For those of you keen on crafting, an enjoyable project that adds a personal touch to your decor is the DIY summer snow globes. Evoking nostalgia, these are not ordinary snow globes but vibrant summer scenes inspired by Gray Malin prints like Poolside Palm Trees, Skinny Dip, and Flamingo Balloons. You only need a few supplies – a mason jar, plastic figurines for a summery vibe, blue glitter, glycerin, and a hot glue gun.
Attach your figurines inside the lid of the jar using the hot glue gun, fill it with water, add a dash of glitter and glycerin for a floating effect, and you've got your summer snow globe!
Apart from being an eye-catching paperweight, these delightful globes also make charming handmade gifts. Delve into this project and add a summer splash to your home decor. Be creative and craft your very own unique summer scene. Happy crafting! graymalin
6. Mason Jar Snow Globe for Room Decor
Add a dash of snowy magic to your home this winter with DIY bottle brush mason jar snow globes! This guide walks you through three effortless steps to craft your personalized snow globe in under 5 minutes. You're all set to make this charming decor piece with a mason jar, bottle brush trees, artificial snow, and a glue gun.
The magnificence of this project lies in its simplicity, making it perfect for anyone. You can easily adapt the snow globes to match your interior decor by choosing colored trees or snow, varying the jar or tree sizes, and even opting for gold or silver jar lids.
Not only are these snow globes a low-cost way to spruce up your festive season, but their neutral design also allows them to blend seamlessly with your winter decorations. So, add this little frosty wonder to your winter decor collection! joyfulderivatives
7. Make a Snow Globe With a Picture
Experience the magic of winter from the comfort of your home with this DIY snow globe project incorporating a personalized touch. This charming, customizable snow globe, featuring a picture of your child as the main attraction, is an easy, budget-friendly craft, perfect for fostering creativity and making memories during the colder months.
Following simple instructions, you can transform everyday items, like plastic snow globes, cardstock, a picture, waterproof glue, and glitter, into a unique keepsake. To add to the wintry charm, glycerin can be included to make the glitter float longer, enhancing the snowfall effect.
Once completed, these personalized photo snow globes serve as charming decorations or thoughtful gifts, capturing the joy and wonder of the season in a homemade piece of decor. So let your creativity take the lead and make an exquisite craft that will be treasured for years. messylittlemonster
8. Gorgeous Mason Jar Snow Globe
Immerse yourself in the holiday spirit with these delightful DIY snow globes that are perfect for all ages. These waterless globes can last for years and become a staple in your festive decorations made from common crafting items like plastic globes, miniature figurines, glitter, faux snow, and glue.
Avoiding water in these globes ensures no rusting of metallic parts over time, meaning more creative freedom to include various elements. From attaching your chosen figurines to the mason jar lid to the whimsical addition of glitter and faux snow, there are endless possibilities for customizing your globe.
And don't forget the final touches—a ribbon or some twine around the lid, perhaps? Make your personalized snow globes today and add a unique touch to your holiday decor. madetobeamom
9. Whimsical DIY Mason Jar Snow Globes
Unleash your creative energy with these delightful DIY mason jar snowglobes crafted from simple materials. By using wide-mouth mason jars, styrofoam balls, Snow-Tex, fake snow, glitter, and various other seasonal supplies, you can bring the magic of winter to life within your home. The process of assembling these enchanting snowglobes involves:
Crafting a charming snowman or delicate snowflake scene.
Adding a dash of glittery snow.
Securely sealing the lid.
Not only do these snowglobes make a great personalized decoration, but they also serve as a unique gift option. Discover your creative potential and transform simple mason jars into beautiful winter wonderlands! craftedsparrow
10. Stunning Glitter Snow Globes
Discover the joy of crafting your own captivating DIY snow globes, a perfect indoor activity for kids and a wonderful addition to any winter decor. You can produce a magical winter wonderland within a globe with just a handful of readily available supplies, such as a plastic snow globe or mason jar, distilled water, vegetable glycerin, and chunky glitter.
Personalize each snow globe with waterproof toys reflecting your child's interests, making the creation process even more engaging and the result uniquely their own. Following a simple step-by-step guide, this easy-to-do project is a fun craft activity and a wonderful opportunity to introduce kids to basic science concepts like viscosity.
Turn your crafting session into an experiment and explore how varying amounts of glycerin affect the snowfall speed inside the globe. So, why wait? Add a sparkle to your craft time and make mesmerizing snow globes that will captivate the imagination of kids and adults alike. littlebinsforlittle
11. Mason Jar and Sugar Snow Globe
A winter wonderland in a jar – it doesn't get much sweeter than DIY mason jar sugar snow globes! It's an enchanting way to harness the season's magic and bring a touch of snow inside, irrespective of the weather. To mimic snow, use simple items such as mason jars, toy cars, and animals, along with the key ingredient – sugar.
You can also add miniature bottle brush trees and forest animals, making each globe a unique forest winter scape. Children will especially enjoy assembling these globes, making it a fun family project. The finished globes emit a whimsical, vintage vibe that enhances your home decor, especially above the fireplace.
This snow globe is not just a craft item; it is a tiny snow world that brings warmth and joy to your winter decor. Don't worry if you're a novice or a master in DIY, and this project is simple, affordable, and enjoyable for all. Start crafting your winter wonderland today! happilyeverafter
12. Make a Snow Globe With Written Instructions
Unearth the fun in Christmas crafts for kids with this homemade snow globe DIY guide. Crafting a snow globe at home is as exciting as creating a sensory bottle – children adore them! A key feature of this activity is the freedom to choose the figurines – small plastic figurines or ornaments, allowing a personalized touch.
This snow globe can feature a Disney princess theme, a popular choice in many households. This guide provides valuable tips and tricks, including using glycerin, to ensure the glitter and sequins fall slowly.
Materials like distilled water, glitter, sequins, waterproof characters, a snow globe kit, and glue are essential. With step-by-step instructions, you can ensure a beautiful, homemade snow globe ready to dazzle the festive season. Shake and enjoy the mesmerizing fall of glitter! childhood101
13. Awesome DIY Family Portrait Snow Globe
Illuminate your festive spirit with a delightful twist on traditional Christmas decor with a DIY family portrait snow globe! Craft enthusiasts will relish this novel approach to the ubiquitous holiday ornament, offering a touch of personalization and charm.
These unique snow globes capture cherished family moments within a timeless festive emblem, incorporating elements like bottle brush trees, inkjet shrinks plastic, and a digital family photo. This creative project culminates by using regular salt to make a "snowy" atmosphere within your glass bowl.
For under $20, this fun, inexpensive project can yield 4-6 personalized snow globes, ideal as last-minute gifts or keepsakes. Your personalized family portrait snow globe captures the essence of the holiday season in a heartwarming, hands-on project. Enjoy the magic of Christmas in every snowfall! akailochiclife
14. Handmade Glittery Mason Jar Snow Globe
Immerse yourself in the festive spirit by creating your glittery DIY mason jar snow globe! Perfect as a Christmas decor item or a soothing calm jar, this beautiful, shimmering piece is the perfect way to bring a white Christmas to your home, no matter where you live.
You can easily bring this snow globe to life with a Mason Jar, Elmer's Clear Glue, a snack cup, scissors, a hot glue gun, a bottlebrush Christmas Tree, and some glitter. The secret to making it a calm jar lies in adding glue to the water within the jar. This raises the viscosity, allowing the glitter to settle slowly, mesmerizing you and helping you relax.
With clear instructions and an innovative design, you can place the tree slightly higher, lending your globe a unique and appealing look. Finally, shake it gently and watch the water, glue, and glitter mix to form a fascinating, snow-filled world. Experience the joy of crafting and enjoy your handmade snow globe this Christmas! heyletsmakestuff
15. Making a Winter Snow Globe – Step by Step
Bring the magic of the holiday season to your home with this captivating DIY snowglobe project. This crafty project is perfect for anyone wanting to add a personal touch to their festive decor. You can make your personalized snow globe with basic supplies such as a figurine, a snow globe, E6000 glue, distilled water, glycerine, glitter, and a measuring spoon in just four easy steps.
Besides being a charming addition to your holiday decorations, this snow globe also makes a wonderful gift. Watch the helpful video for a detailed guide on crafting this festive ornament, which will surely sprinkle some holiday cheer into your home.
The joy of making something beautiful by yourself is unmatched, and this project does just that, offering a delightful and engaging experience. Create a wintry wonderland right at your table today with this unique snowglobe project. sewwoodsy
16. Recycled Snow Globe for Beginners
Engage in a fun and eco-friendly activity with this DIY recycled snow globe. Ideal for craft clubs or kids' groups, this project uses everyday items, transforming them into a delightful decorative pieces. With materials such as a round disk, a recycled beverage container, a small fake tree, and Styrofoam snow, you can design a personalized winter landscape within 15 minutes.
The detailed step-by-step guide ensures a smooth crafting process, while the customizable nature of the project allows for unique creations. There are countless possibilities, from a small snowman to a mini nativity scene. So, gather your supplies and start creating your snow globe today! triedandtrue
17. Unique DIY Fishbowl Snow Globe
Looking for a whimsical addition to your holiday decor? Explore the delight with this DIY fishbowl snow globe tutorial that's as delightful as simple! It's an opportunity to express creativity and add a unique tinge to your Christmas decor.
Transform your ordinary fishbowl into a captivating winter wonderland scene with modern Christmas trees, tiny ornaments, jingle bells, and sparkly holiday items.This project is more than just creating a festive decor piece—it's about creating holiday magic in your home.
It's a perfect activity for the entire family, with kids finding joy in filling their globes with snow and an array of decorative items. Plus, these handcrafted snow globes can serve as extraordinary personalized gifts. Dive into the spirit of Christmas and winter with this tutorial! craftionary
18. Illuminated Snow Globe Scene in a Jar
Immerse yourself in the magical charm of making a lighted snow scene within a mason jar. A DIY project that rekindles childhood wonders, it lets you bring a miniature winter wonderland to life with a few simple materials. With a wide-mouth Kerr brand mason jar, a battery-operated tealight, a button magnet, faux snow, and your chosen figurines, this DIY project is a treat to the imagination.
Prepare your jar with faux snow, then add your chosen figures. Affix the tealight to the jar's lid with a magnet, and you're ready to light up your scene. An added ribbon around the jar neck brings a final touch of festivity.
This handmade illuminated mason jar project perfectly adds a personalized touch to your holiday decor. It's a simple, fun, and cost-effective way to capture the magic of winter right in your living room. bitzngiggles
19. How to Make a Succulent Snow Globe
This DIY succulent snow globe will help you make a unique centerpiece for your holiday decorations! Transforming an ordinary spice jar into a mesmerizing miniature winter garden, this project is an excellent way to bring your love for gardening indoors. The key materials needed include:
A small round spice jar.
Artificial succulents or cacti.
A wine cork.
Waterproof adhesive.
Iridescent glitter.
The detailed guide ensures you craft an enchanting snow globe where faux succulents appear to flourish amidst falling snow. It's a great addition to your home décor this festive season.
Plus, it can serve as a special keepsake, capturing the beauty of your garden, even in the heart of winter. Craft your snow globe today and bring a touch of greenery into your winter wonderland. gardentherapy
20. Homemade Novelty Snow Globes
Shake up your holiday season with a twist on a traditional Christmas decoration – by crafting DIY snow globes filled with nontraditional, whimsical objects. A perfect blend of festive charm and personal flair, these easy-to-make snow globes can feature anything you love – from a clay pineapple to a mini donut or cactus, offering a refreshing deviation from the typical holiday palette.
Gather your materials: Sculpey clay, empty snow globes, glitter, glycerin, clay tools, super glue, and waterproof epoxy. These enchanting creations are not just for personal use – they make memorable, one-of-a-kind gifts or party favors, letting you and your loved ones carry a piece of tropical or food-inspired magic into the frosty season. Try this creative project today, and turn the winter wonderland into a landscape of your favorites. awwsam
21. Snow Globe Jars for Home Decoration
Ready to infuse your holidays with a bit of whimsy? This guide will take you through a creative and effortless project: a DIY snow globe jar, an ideal way to celebrate the Christmas spirit, even when the snow is a no-show. By utilizing everyday items around your home, such as glass jars, faux snow, and adorable car ornaments, you can bring a snowy tableau to life. Initiate your crafting session with some festive Christmas tunes.
Start by layering faux snow and miniature Christmas trees in your selected jar and placing a charming car ornament inside. This beautiful jar is a versatile decor, adding a cozy charm to mantels, entryway tables, bookshelves, or even kitchens.
Besides being an aesthetically pleasing addition to your holiday decor, this project is also a delightful way to engage children in the Christmas decoration process, allowing them to unleash their creativity. So, as you await the first snowfall, why not make your winter wonderland at home with these easy-to-make snow globe jars? lizmarieblog
22. DIY Disney Frozen Olaf Snow Globe
Experience the magic of Disney's Frozen into your holiday decor with this delightful DIY Olaf snow globe! Skip the water and go for a mesmerizing flurry of glitter snow, which keeps your miniature Olaf and tiny trees sparkling and festive. You only need supplies like a plastic snow globe, an Olaf figurine, miniature trees, buffalo snow, and glitter.
Assembly is straightforward and fun, with hot glue or e6000 used to attach Olaf and trees to the base. Add snow and glitter, secure your landscape to the globe, and voila!
Make it extra special with blue glitter tape for an exquisite final touch. It's not just a decorative item but an enjoyable activity for the whole family, transporting you to a Frozen wonderland right at home! apumpkinanda
23. Homemade Waterless Snow Globe
Engage your children in crafting delightful waterless snow globes. Not only do they make for eye-catching decor, but they also eliminate risks associated with traditional snow globes, such as water leakage or breakage. The materials required are simple: cardboard or thick paper plates, clear plastic cups, cotton balls, glue, mini ornaments, mini styrofoam balls, glitter, a pen, and scissors.
This project allows kids to explore creativity while crafting unique gifts for friends and neighbors. Not only is it fun, but also it promotes learning, fine motor skills, and artistic expression. This homemade, waterless snow globe is a safe, easy, and engaging activity for the whole family. pragmaticparent
24. Make Your Own Disney Snow Globes
Embark on a charming DIY project that immortalizes a family vacation to Disneyland Paris – make your own Disney snow globes! Perfect for fans of Disney and craft enthusiasts alike, this activity needs simple materials like mason jars, glue, Disney figurines, glitter, baby oil, and water.
Glue your favorite figurines on the jar cover, fill the jar with water and glitter, and add a drop of baby oil to make the glitter float slowly. This is a cost-effective alternative to pricier snow globes and a fun-filled experience for you and your child. Make a memorable keepsake from your Disneyland Paris adventure today! annmariejohn
25. Simple DIY Dollar Tree Snow Glob
Harness the power of a dollar with this nifty DIY project that transforms everyday Dollar Tree items into charming snow globes! An imaginative approach to upcycling, this easy-to-follow guide will guide you through every step, transforming a simple gumball machine into a magical winter scene.
With essential materials like iridescent glitter, white chalk paint, and mini glass ornaments, you're on your way to creating a holiday keepsake with a beautiful shimmer effect.
Don't forget the finishing touch – a festive ribbon and greenery arrangement to top off your sparkling creation. Turn a handful of dollar items into an eye-catching piece of home decor and relish the satisfaction of this delightful and affordable snow globe. fabbed
26. Easy to Make Waterless Snow Globes
Celebrate the festive season with homemade waterless snow globes, an interesting DIY project that offers a unique twist on traditional Christmas crafts. Materials needed include clean jars, animal figurines, pine cones, mini Christmas trees, a hot glue gun, cork tiles, glitter, white pompoms, craft glue, and jute twine. First, cut cork tiles to fit inside your jar lids to elevate your figurines or pine cones, then affix them with hot glue.
Once dry, adorn the cork with 'snow' made from halved pompoms and let it dry overnight. The fun part is adding glitter to the jars, providing a sparkling base for your scene. Once you're happy with the glitter quantity, secure the lid, shake it, and enjoy your winter wonderland.
For a finishing touch, wrap jute twine around the jar lid, tying it into a bow for an added charm. These waterless snow globes make a delightful home decor item and serve as heartwarming Christmas gifts for friends and family. Craft one today and bring a little piece of Christmas cheer into your home! littlehiccups
27. Making a Light Bulb Snow Globe
Discover the wonders of do-it-yourself with this unique creation: a snow globe crafted from a light bulb! Immerse yourself in the whimsical world of this DIY masterpiece. This creative project involves hollowing out a light bulb with an incredible tool to aid in the process – glow stick fluid. The magic starts when you select the mini centerpiece for your snow globe, perhaps a little clay house atop a hill.
Embellished with a glossy layer of nail polish and attached to a wine bottle cap, the piece takes center stage. Next, a touch of glitter and water fills the globe, ready for sealing with a glue gun. With a careful shake, your glittering miniature universe comes alive. This craft project invites creativity, patience, and some experimentation.
Despite the delicate nature of the glass, your final product will be a delightful conversation piece with a personal touch. So, why not bring to life your own sparkling, miniature world inside a light bulb today? magicaldaydream
28. Inexpensive DIY Legoman Snow Globe
Immerse the joy of homeschooling and crafting with this fun-filled, cost-effective DIY project – Legoman snow globes. The ideal activity for LEGO enthusiasts, these simple yet delightful snow globes are made using everyday items like jelly jars and LEGO figurines, and they offer an exciting opportunity for the whole family to partake in.
Not only do they foster creativity and hands-on skills, but they also introduce science concepts such as water displacement and density. Ideal as homemade gifts, these miniature worlds enclosed in a jar can be customized with LEGO figures or items.
So, grab your LEGO pieces and glitter, and let your imagination run stormy to build your Legoman snow globe today! lemonlimeadv
29. Picture Snow Globe for Kids
Get into the festive season with this DIY snow globe project! It's the perfect opportunity to introduce a slice of winter wonderland into your home. With simple materials like a plastic snow globe, laminated picture, glitter, sequins, and distilled water, this craft turns into a delightful Christmas keepsake.
This easy-to-follow guide walks you through creating a personalized snow globe with glittery snowfall and a cherished photo. Ideal for both kids and adults to craft together, this homemade snow globe serves as a charming decoration or a thoughtful handmade gift for the holiday season. Try it out, and fill your holidays with sparkling memories! thebestideasforkids
30. Make a Snow Globe Calming Jar
Take a breather and dive into a mesmerizing, calming world with a DIY snow globe glitter clear jar. This crafty project transforms an ordinary plastic snow globe into a therapeutic tool that doubles as an elegant desk decoration. Hot water, light corn syrup, and a mix of fine white, teal, holo silver, and course white iridescent glitters make a beautiful calm swirl in your snow globe.
Perfect for those stressful moments at work or home, a shake of this glittery spectacle can help refocus attention and promote deep breathing. Plus, the snow globe's discreet design lets you keep this tranquil treasure on your desk without raising eyebrows.
Be it for kids or adults, this easy-to-make, aesthetically pleasing calming jar serves as a perfect mindfulness tool. Time to swirl away the stress with this glittering calming jar! madincrafts
31. Cool DIY California Snow Globes
Jump into the warmth and charm of a SoCal Christmas with this DIY California snow globe! From deserts dotted with cacti to tropical palm trees and laid-back beaches, these glittery snow globes encapsulate the quintessential elements of California living.
Crafted with common items like shatterproof plastic globes, miniature figurines, artificial sand, and glitters, these snow globes are as easy to make as they are delightful to display.
Learn to ensure durability with water-resistant glues and prolong the glitter fall with corn syrup or glycerine. Brighten your holiday decor with these unique snow globes, capturing the charm of a California Christmas right at home. clubcrafted
32. Beautiful and Magical Unicorn Snow Globe
Venture into DIY crafts with this enchanting unicorn snow globe project. You can transform everyday items into mystical keepsakes, perfect as handcrafted gifts or decorations, in just a few simple steps. Add a touch of magic with mini plastic unicorn figurines and a sprinkle of glitter using clear jars as the base.
Including glycerin makes the glitter fall slowly, creating a mesmerizing snowfall effect. The easy-to-follow video guide ensures a smooth crafting process for all ages. Add a glow to your holiday festivities by creating these mesmerizing snow globes, and explore more exciting unicorn-themed crafts for a touch of magic in your everyday life. hellowonderful
33. Make It Yourself Waterless Snow Globes
Reinvent a classic holiday craft with these easy, engaging DIY waterless snow globes. They are packed with festive fun and perfect for personal creativity or group activity. Constructed with accessible materials like glass jars, artificial snow, mini Christmas trees, and snowmen, they add sparkle to any holiday setting.
Krylon Glitter Blast or white spray paint gives the jar lids a frosty finish, while optional glitter lends a twinkle to your miniature winter scene.
The charm of these snow globes lies in their adaptability to your personal touch, and they can be made in just half an hour. Ideal for festive centerpieces or a hands-on craft with children, these delightful creations bring a magical snowfall to your fingertips, regardless of the weather outside tidymom
34. Wonderful DIY Mason Jar Snow Globe
Transform your mason jar into a captivating winter scene with this easy DIY craft. This project, perfect for a thoughtful teacher's gift or a fun family activity, involves creating a charming snowfall effect in a jar. To kick-start this fun endeavor, you'll require a mason jar, fake snow, small figurines, white balls, a fishing line, a needle, and tape, easily available at your local craft store.
The creation process is straightforward. This engaging mason jar craft project offers endless creative possibilities, transforming everyday materials into a magical winter wonderland. Why not bring a little whimsical charm into your home or as a gift to someone special today? classyclutter
35. Glitter Snow Globes From Mason Jars
Take on a delightful winter-themed craft with your kids, making a handmade snow globe. This unique DIY project can utilize their favorite toys or cherished mementos. Gather a sturdy figurine or plastic toy, a Mason jar, waterproof adhesive, glycerin, and a handful of glitter.
After gluing the figurine to the lid and letting it dry, fill the jar with water, ensuring the figure is submerged when positioned. Add a splash of glycerin and a sprinkling of glitter to give it that magic snowfall effect.
Seal the jar securely with the adhesive, and let it dry before shaking it. This creative snow globe is a fun, cost-effective activity that keeps the kids engaged and produces a charming keepsake. Happy crafting! diynetwork
36. Car in Jar Snow Globe Tutorial
Add a touch of nostalgia to the charm of the holiday season with a one-of-a-kind DIY car-in-jar snow globe that you can make yourself! This festive craft incorporates a vintage Volkswagen Beetle and a red woody station wagon in a pint-sized Mason jar to make a captivating display. Materials needed include vintage diecast cars, a Mason jar, bottle brush trees, faux snow, and some baker's twine.
In a few easy steps, attach the bottle brush tree to the car using the baker's twine, add some faux snow to the bottom of the mason jar, place the car inside, and voila! You've got yourself an enchanting snow globe. This craft not only serves as a beautiful decoration piece for your home but also makes an ideal gift for Christmas. masonjarcraftslove
37. DIY Glass Figurine Snow Globe
Capture your kids in a fun DIY project by making a custom snow globe. This project, perfect for all, lets your child showcase their creativity by personalizing their snow globe with unique trinkets or figurines. Materials needed include a glass figurine, jar with lid, Xacto Knife, Rapid Fuse adhesive, and glitter, preferably white or silver. The process involves:
Fixing the figurine on the jar's lid.
Filling the jar with water and glitter.
Securing the lid tightly.
Optionally, small white pebbles and faux greenery can add extra charm. This craft serves as an engaging activity for kids and could also make a great theme for a social gathering. Make this magical decor piece and experience the satisfaction of revealing your unique snow globe for the first time. realitydaydream
38. Vintage Style Mason Jar Snow Globe
Unleash your holiday spirit with a fun DIY project: a mason jar snow globe! This project is perfect for adding a vintage touch to your Christmas décor. You'll need a medium-sized mason jar, small figurines or trees, fake powdered snow, a glue gun, scissors, and a small scoop.
This project uses a limited-edition blue mason jar, miniature trees, and shimmery ornament flakes. With these materials, you can make a winter wonderland in a jar! Simply glue the trees to the lid, add the snow and ornament flakes, and give it a shake.
Personalize it further by adding a ribbon or decorative paper to the lid. Get ready to turn your home into a holiday masterpiece with these charming snow globes! instructables
39. Make a Mason Jar Snow Globe With Step by Step Guides
Swoop into the whimsical world of DIY holiday crafts with this charming snow globe project. Made from easily accessible supplies, including a mason jar, Krazy glue, glycerin, glitter, and miniature figurines, this craft brings the season's magic to life.
Opt for a classic winter tableau or inject your personality by choosing unique figurines to showcase.With simple instructions to guide you through the process, you'll find joy in crafting this charming keepsake.
Not only is this homemade snow globe a delight for your decor, but it can also be a thoughtful, personalized gift to loved ones. Experience the joy of crafting your miniature winter wonderland with this project. freepeople
40. Easy DIY Photo Snow Globe for Kids
Express your kid's imagination this winter with a DIY photo snow globe. This engaging project combines children's fascination with snow globes and the joy of seeing their images in a whimsical winter setting.
To make this interactive piece, gather a few materials, including a printable snow globe template, a 4×6 photo of your child, 7-inch clear plastic plates, Epsom salt, winter-themed decorations, and a hot glue gun. Crafted with simple steps, the project brings a child's photograph to life within a glittering snow globe made from a plastic plate.
This delightful craft is not just an entertaining activity but also encourages creativity and hand-eye coordination in children. Let your kids treasure their personalized photo snow globe, a keepsake to remember their winter fun! itsalwaysautumn
Conclusion:
In conclusion, these DIY snow globe ideas offer a versatile and creative outlet for crafting enthusiasts of all skill levels. With 40 unique diy snow globe ideas to choose from, such as charming mason jar snow globes, delightful unicorn snow globes, and even illuminated snow globe scenes, the opportunities for personalization and self-expression are practically endless. So, grab your supplies and start crafting your own homemade snow globes – a perfect addition to your home décor or a thoughtful and memorable gift for your loved ones.