It is a great ritual to give and take gifts as it helps promote love, and it also a way to build stronger relations with friends, neighbors, and even with the family members! DIY provides various ideas and solutions to make excellent gifts at home for different celebrations, events, occasions and also for the Memorial Days and now we are also offering a list of wedding gift ideas on how to make wedding gifts! DIY Wedding gifts should be unique and memorable as it is a significant turning point in everyone's life and your contributions can be a way to give best wishes to a bride or groom or a whole couple! So, if you want to raise in the eyes of a bride or a groom by giving a special gift, then this list of 35 Unique DIY wedding gift ideas would be a big help to make handmade gifts at home, as you will see here amazing tricks and hacks to create beautiful wedding gifts at home! What amazing in this list of wedding gift ideas is that you will be provided all the tips to make these wedding gifts like a pro without breaking the bank! This is all due to the reason that most of these ideas are based on the recycling of different home materials!
Grab the traditional candles and adorn them with patterned vinyl wraps and turn them into sweet wedding candle gifts! Make the lovely 3D painted hexagonal coasters to give as a wedding gift and also craft the first gold dipped drink glasses that will also make a brilliant wedding gift! Thread the wooden beads onto the string or metal chain and make outstanding necklaces to give as wedding gifts and also make the dip-dyed frosted tumblers that will rock a wedding table! Hand-paint the normal plates for custom patterns, shapes and art and turn them into beautiful wedding gifts and also make an etched monogram pitcher that will make an epic wedding present! Just have a look at the given below samples that are looking damn interesting and beautiful!
DIY Gift Ideas You May Like:
Wrap also Mason jars in the fishnet and make glam beachy lanterns that will also make a great wedding present, also make geometrical painted succulent planters to give as a wedding gift and also design the gold foil brush stroke pillows that will also make epic wedding presents and gifts and would be super easy to make also! Design the special t-shirt with wedding ring art and give them as lovely homemade wedding gifts and next also makes the wood slice serving boards or trays that will also make a great wedding gift!
Browse the entire list of DIY wedding gift ideas and see some more interesting wedding gift ideas and projects that will definitely grab your attention! Visit also the attached links to reach to full free guides and visual instructions!!
DIY Stained Plywood Wall Clock: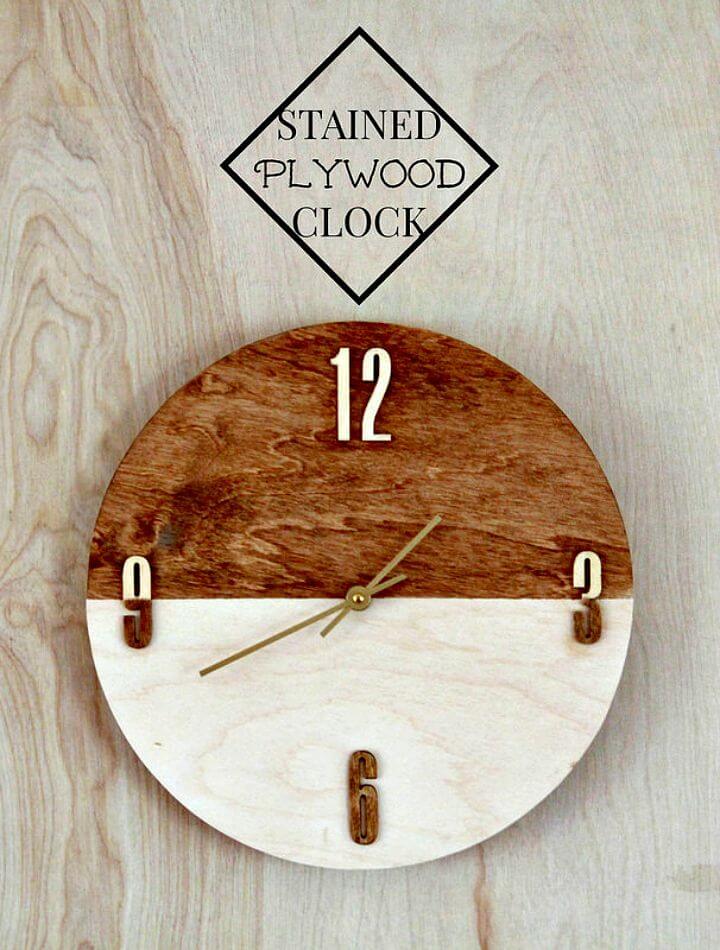 Looking for some amazing wedding gifts that will be easy to make also? Just duplicate this stunning wooden wall clock that is made of a plywood round which has been stained half and comes with gold metallic numerals! Finally the clock system has been installed and the charming clock hands just appear on the top side of the clock! Full clock tutorial here
Tutorial: kristinaclemens
DIY Tassel Throw Blanket Wedding Gift: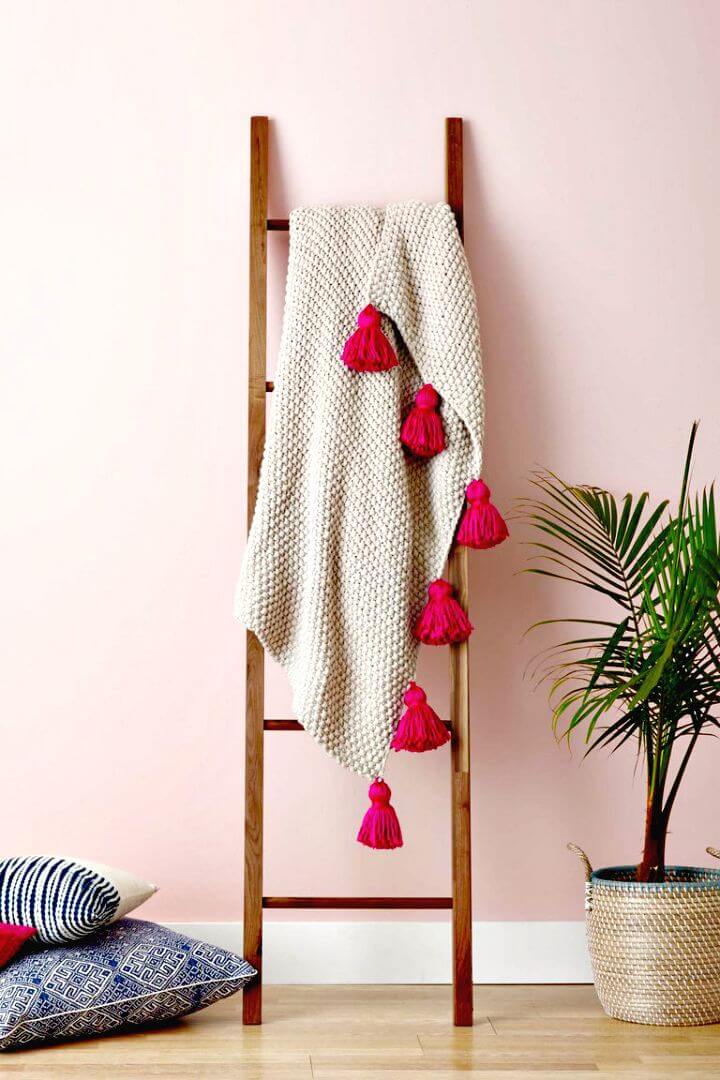 While intending to give someone a great wedding gift we always wish to select one that comes with an extra and brilliant decorative flair just like this tassel throw blanket, the dark pink tassels goes very well to the neutral hue of the blanket! Crochet or knit a blanket and then adorn it up with the colorful tassels to turn it into stunning wedding gift! Full project guides here
Tutorial: womansday
Wonderful DIY Pineapple Night Light: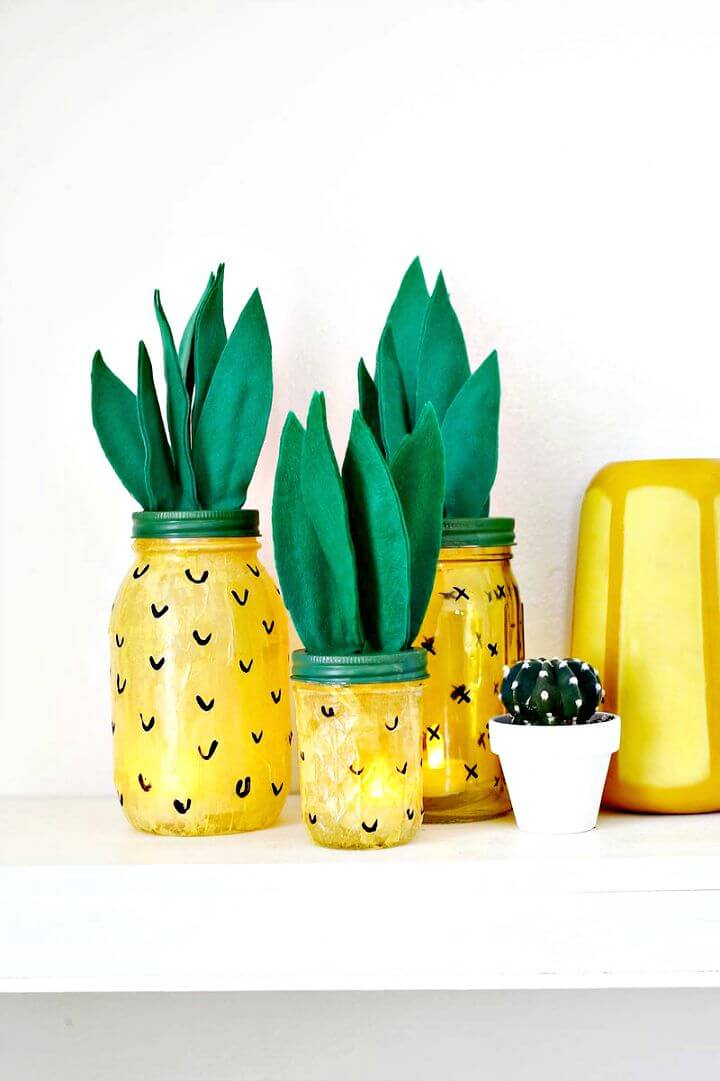 You can also make gorgeous light gifts at home that would save you a big bundle of money! Just make the charming lanterns at home using the recycled items and give them to newly married couples! Just checkout here the exceptional looking pineapple night lights that are made with the Mason jars which have been painted with the yellow and black paint for a pineapple appeal and next make the pineapple leaves with the green felt and that's it! Don't forget to put the battery operated lights inside the Jars! Full tutorial here
Tutorial: abeautifulmess
Modern DIY Granny Square Quilted Pillow Cover: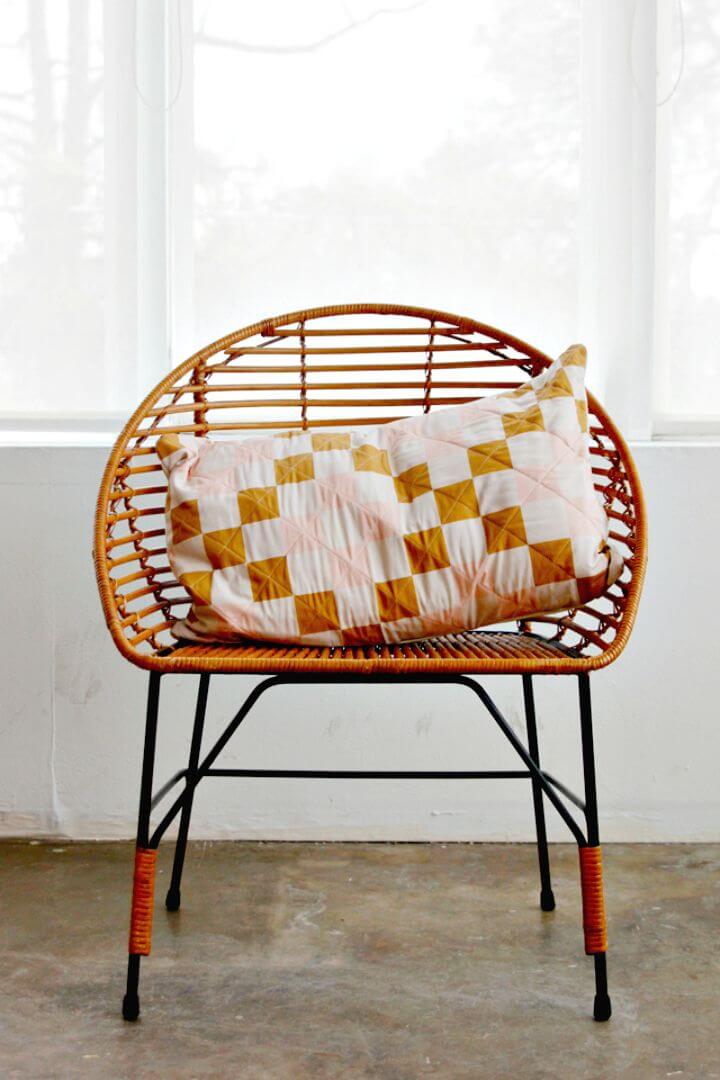 You can also make outstanding looking pillows at home that will make also great wedding gifts! An interesting example here is this given homemade granny square quilted pillow cover that goes much enchanting to eyes and is super easy to make also! Here all you need the granny square fabric, canvas fabric and lining fabric to duplicate this quilted pillow! Full how-to tutorial here
Tutorial: seekatesew
Pretty DIY Gold Dipped Terrarium: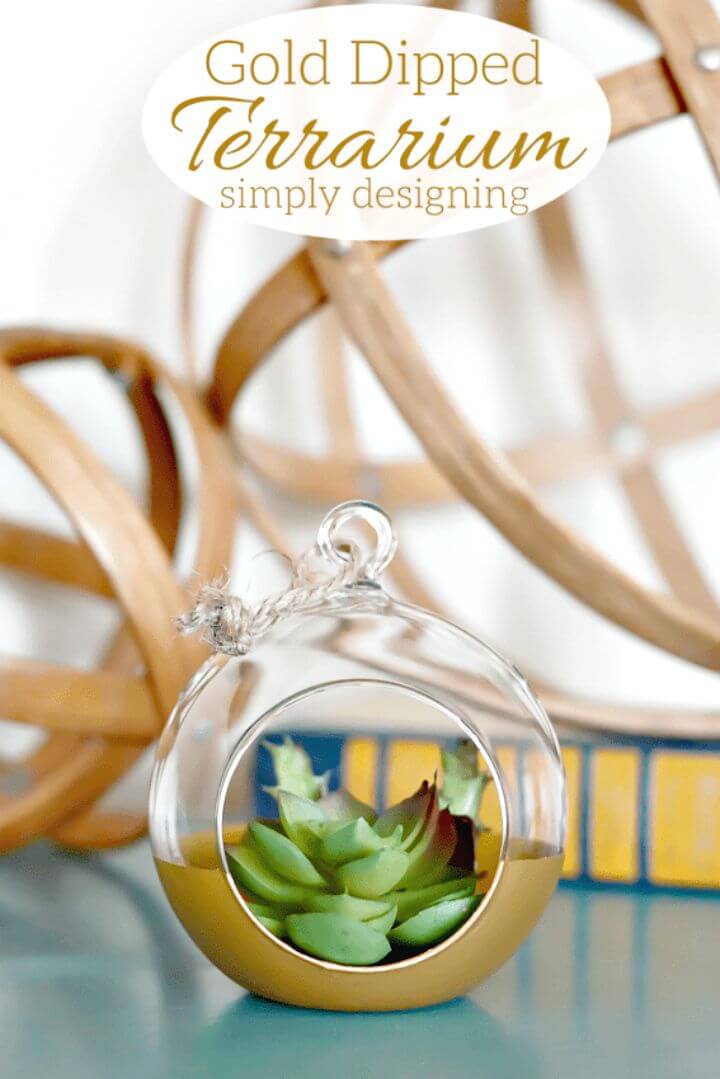 Looking for a posh looking but sweet wedding gift? Then just head over to this very pretty gold dipped terrarium, an exceptional handmade wedding gift that will dazzle the entire audience and is just super easy to make! Just grab a small terrarium with succulents and just make it look gold dipped using foam brush, masking tape and metallic gold paint! Another great wedding gift idea to try out at home! Full project instructions and tutorial here
Tutorial: simplyde
Easy To Make Gold Foil Pillow: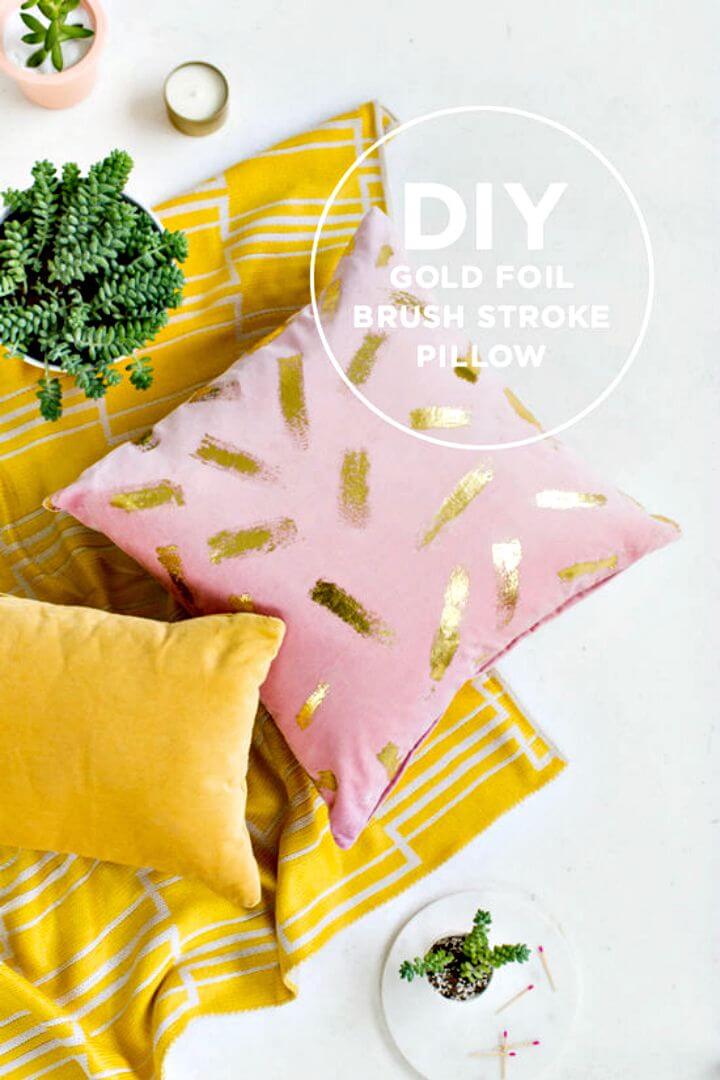 You can also give the normal things and items a glam touch of gold so they will be turned out into the posh looking wedding gifts! Same has been done here with a pillow that would make a thanksgiving wedding gift for sure! Here a normal pillow has been treated with the gold foil to look stunning, another great and smart homemade wedding gift idea! Full project instructions here
Tutorial: designlovefest
DIY Chunky Wooden Bead Statement Necklace: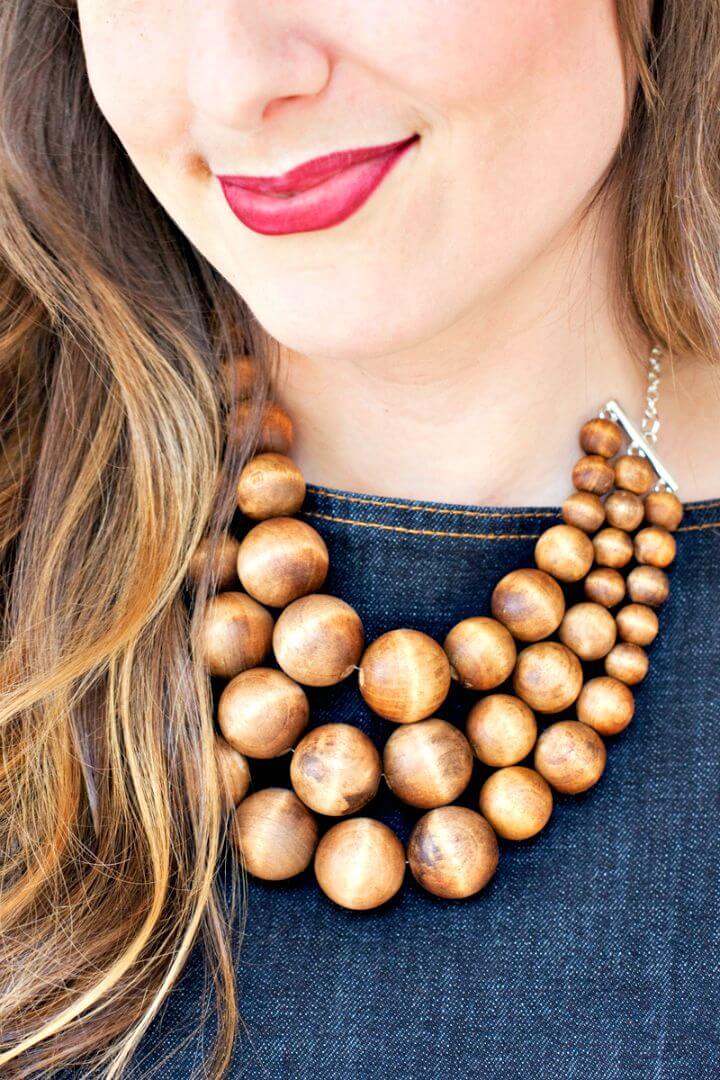 You can also win the heart of the bride by giving her some handmade items of jewelry as a gift! If you really need an inspiration then you can try making this chunky wooden bead statement necklace that has been done to rock and inspire and is really looking great! Just thread the assorted sizes of wooden boards onto thread, complete different rows with different sizes of wooden beads and that's it! Complete tutorial here
Tutorial: abeautifulmess
DIY Dishwasher Safe Painted Dishes: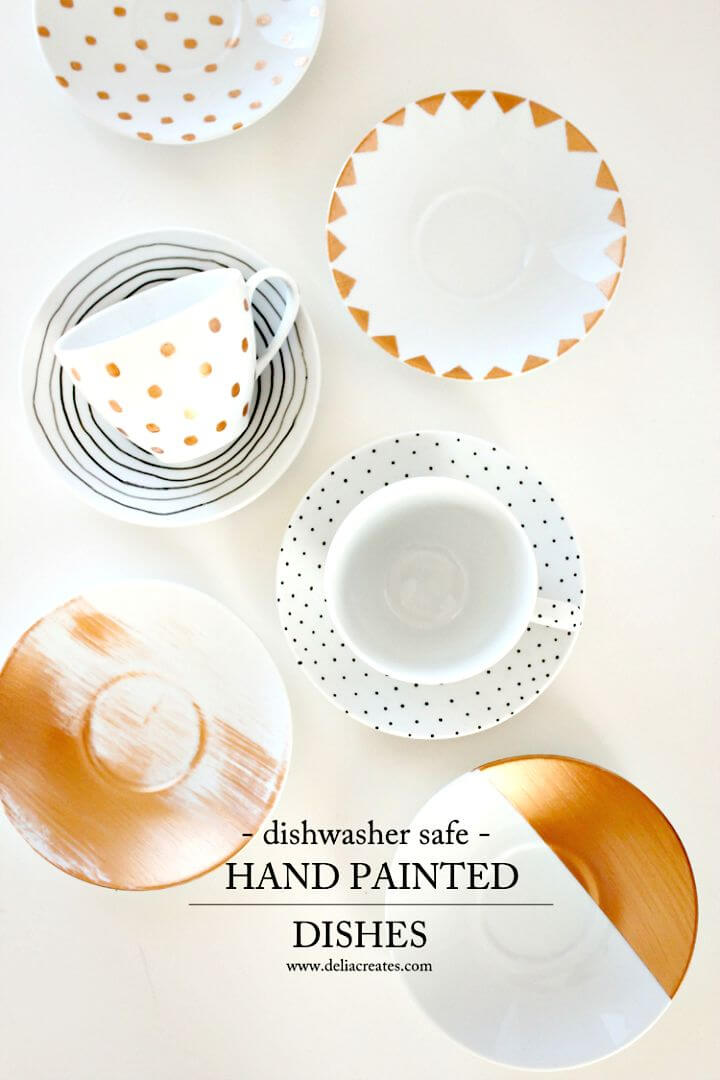 Paint also the different utensils like the ceramic dishes and cups for so many different patterns and art shapes and turn them into highly pleasing wedding gifts! Just checkout here the given painted dishes samples that come painted with the polka dots, with mini geometrical shapes and also as half gold dipped and make stunning wedding gifts! Full project tutorial and instructions here
Tutorial: deliacreates
DIY Dip-dyed Frosted Tumblers for Wedding Gift: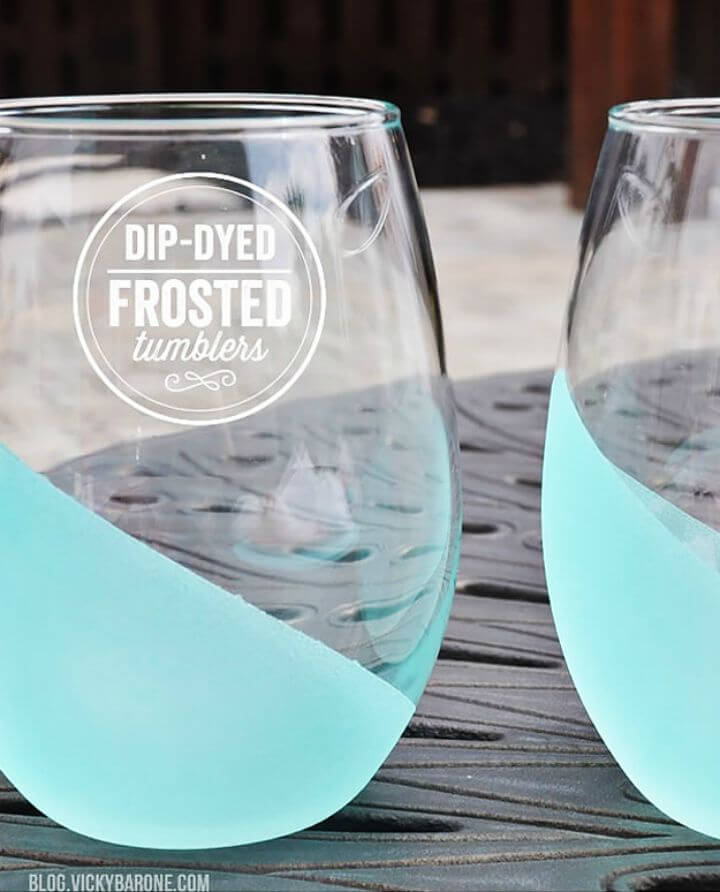 Make also the charming tumblers at home that will make great wedding gifts for sure! Just have a look at the given sample tumblers that are purely handmade and will make a great wedding gift! Just paint the normal glassy tumbles in a style so they will look great and next pack them as sweet wedding gift! Here these sample tumblers have been dip-dyed and frosted! Full project details here
Tutorial: vickybarone
Cute DIY Geometric Coasters: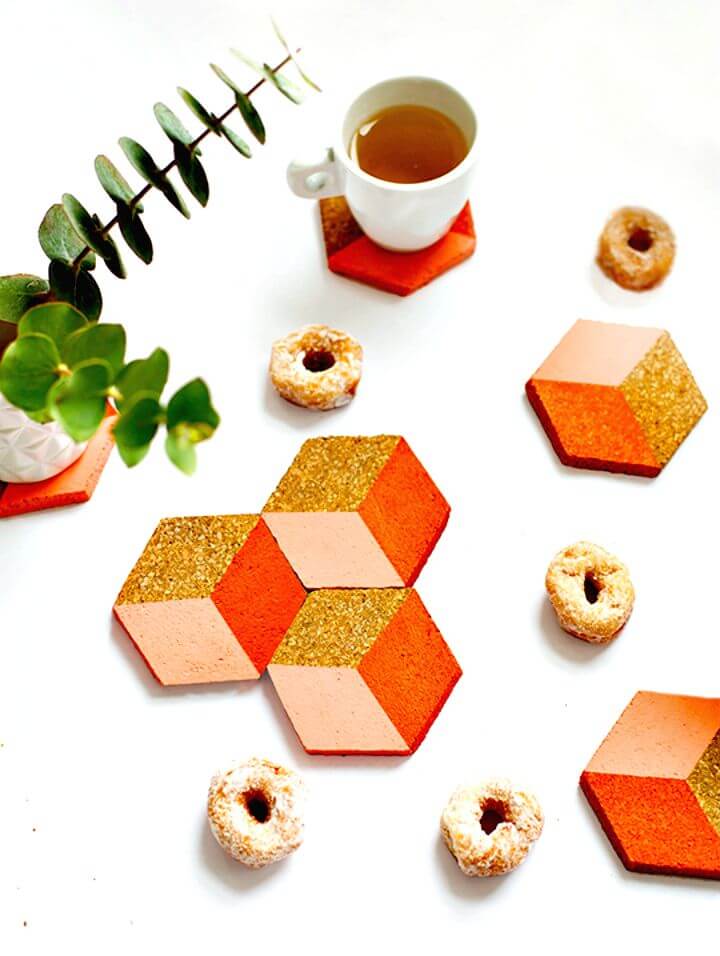 Make also the stunning coasters which can be packed as set to give as an unforgettable wedding gift! You can make tons of different designs of coasters at home using different materials but these geometric coasters would really rock! Just grab the cork coasters and then just paint them as 3D blocks using masking tape and different paint colors! Grab the full project tutorial and instructions from here
Tutorial: sugarandcloth
DIY Gold Leaf Checkerboard Wedding Gift: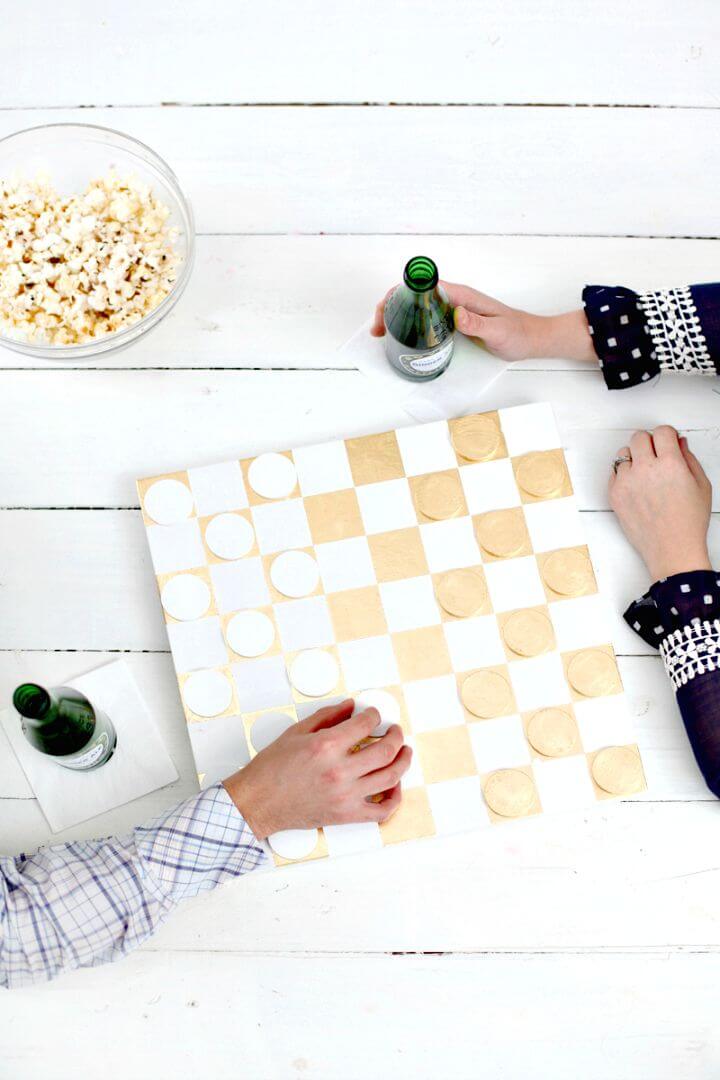 You can make anything special to give as a wedding gift and if the groom or bride just loves to play the checkerboard game then you can also given them as special homemade checkerboard as a stunning wedding gift! A remarkable example here is this gold leaf checkerboard wedding gift that has been made to inspire! Just grab the square plywood tiles and then paint the checker game on it using white and gold paint color! Use the masking tape for painting perfect and equal squares! Full project details here
Tutorial: abeautifulmess
How To Make Burlap Monogram Wedding Gift: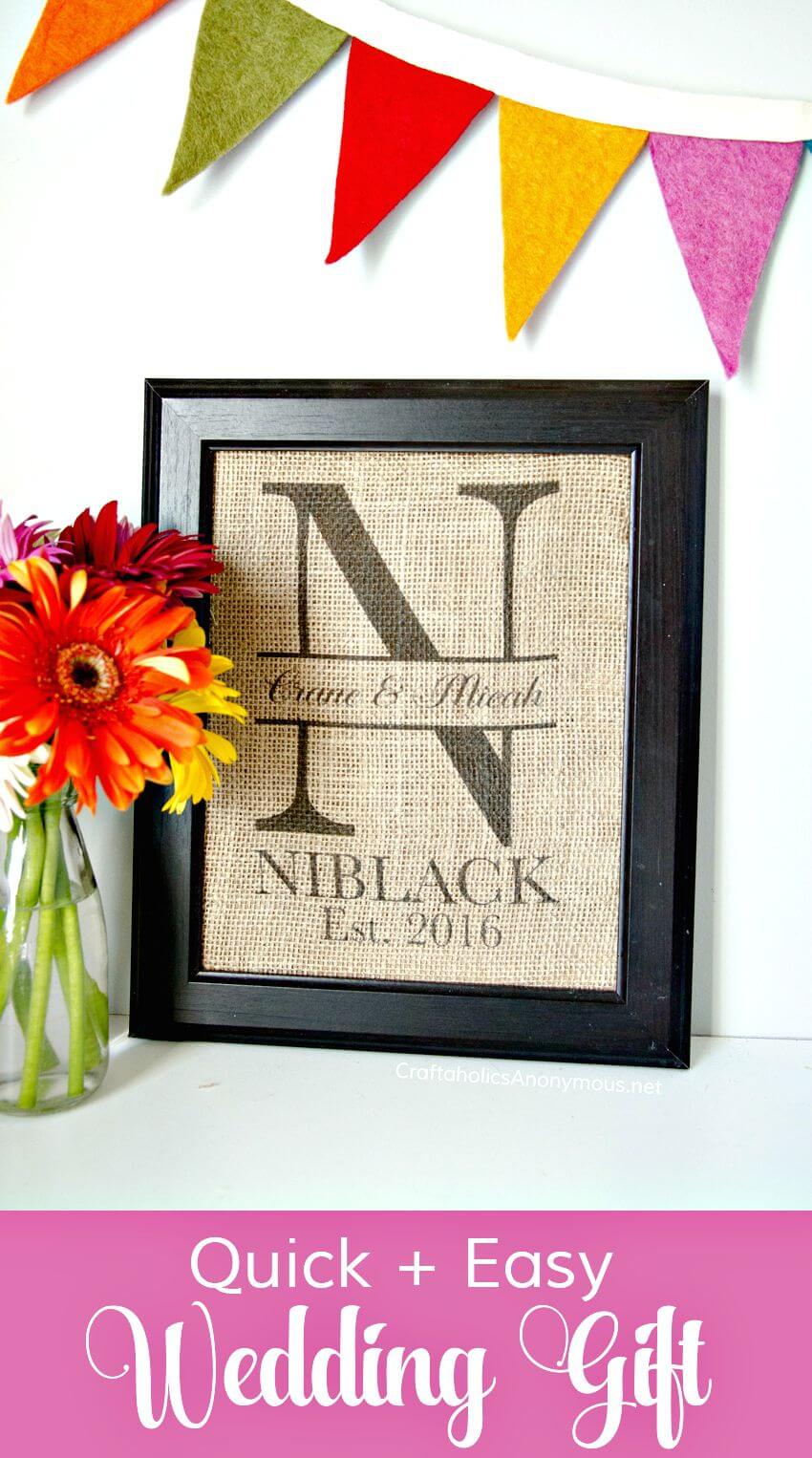 Make also the interesting rustic or vintage inspired wedding gifts that will also raise your respective in the eyes of the receiver that is surely going to be a bride or groom! An interesting sample here is this burlap monogram wedding gift that is a just a piece of cake to make! Just stencil a piece of burlap for a custom art or monogram and then frame it up! Full project tutorial here
Tutorial: craftaholicsa
Awesome DIY Leather Coasters: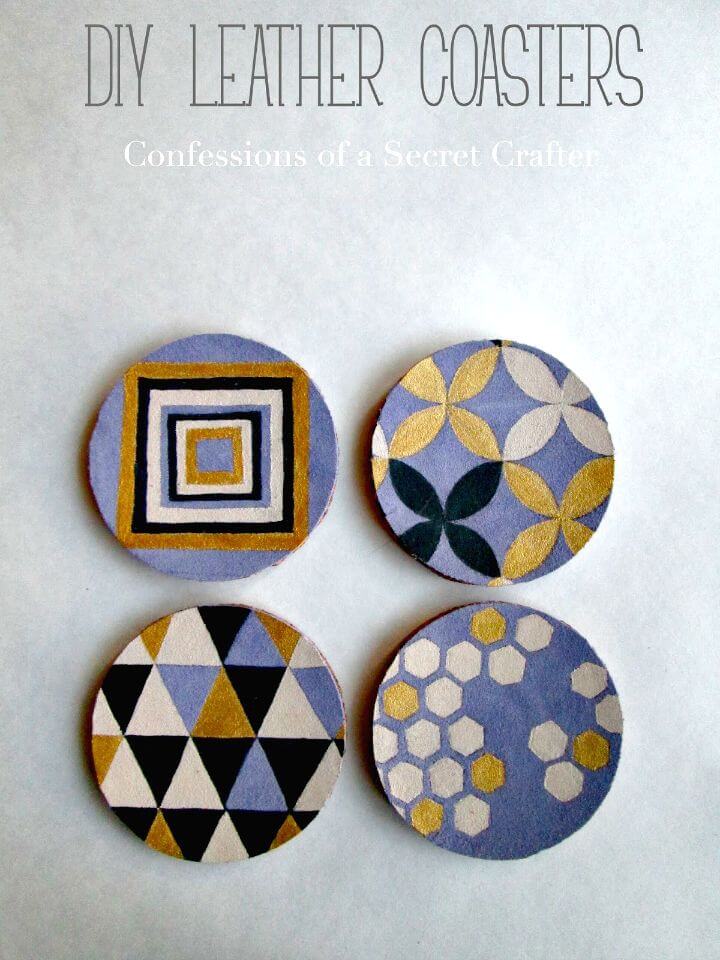 Make also custom round leather coasters at home that will also make a gorgeous wedding gift! Just get inspired of the given sample leather coasters that has been made to inspire! Just cut out the leather circles in size equal to the cork coaster rounds and then glue them both together! Paint custom geometrical patterns and floral art on the coasters and turn them into enticing coasters! Full project tutorial here
Tutorial: confessionso
How To Make Light Bulb Vase: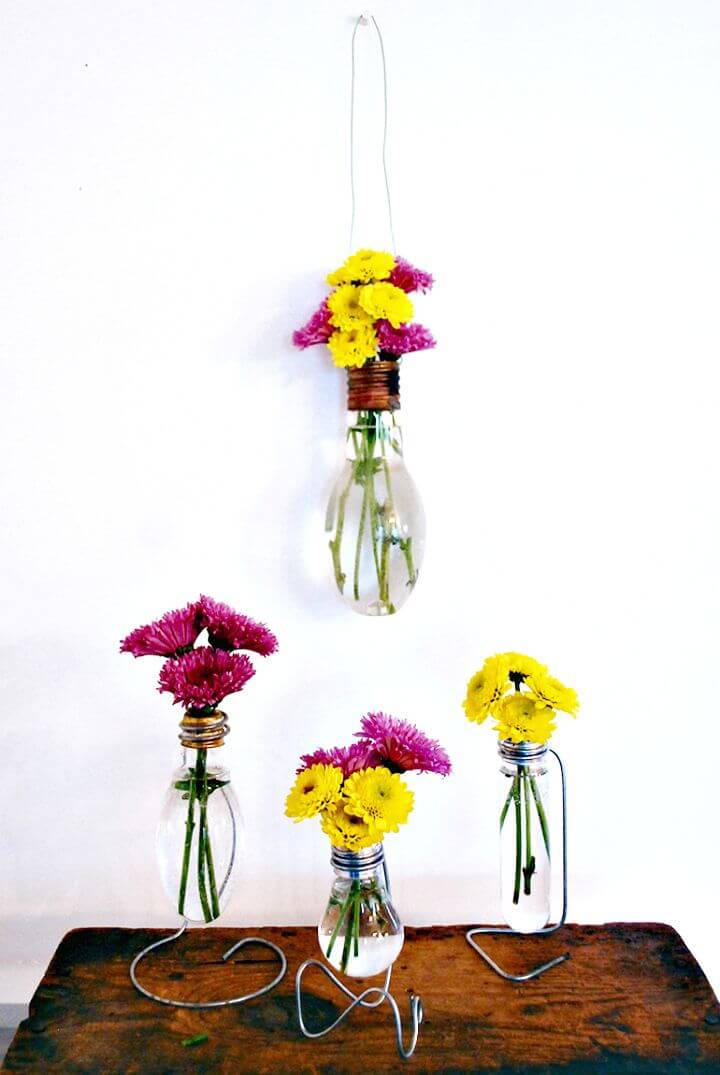 Willing to make a wedding gift at home that will be easy and gorgeous at the same time? Then these light bulb vases would just rock! Just make some holes in the back of the bulb by removing the black part and then fill the bulbs half with water and then add cut flower inside! Make use of wire loops to hang the bulb vases on the wall and next also make the lovely wire stands that will be able to hold the light bulb vases vertically and can be put on every flat surface! Full project details here
Tutorial: themerry
Awesome DIY Monogram Ring Dish:
Make also the adorable looking ring dishes at home that will rock as wedding gift, just have a look at the given monogram ring dishes that are simply eye-catching! Just get some glitter vinyl monograms or art shape, paste them inside your ceramic ring dishes and make lovely monogram ring dishes at home! Full project instructions and visual guides are here
Tutorial: simplydarrling
DIY Ring Bowl from Oven-bake Clay: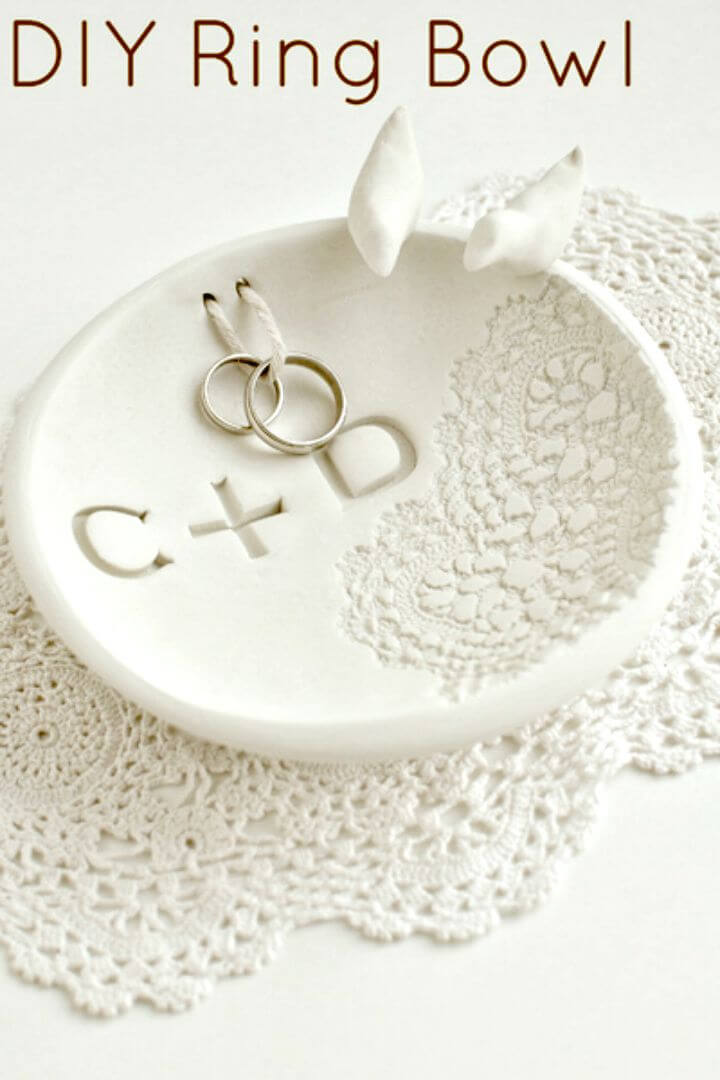 Make also smart use of clay to make the cool ring dishes or bowls just like this given one that is really looking great and enchanting! Just flatten the clay, press the doily on it and then remove to reveal the doily art and at the same time also press down custom monogram letters or name letter initials on the flattened clay! Cut the clay out in a circle shape and then put in a bowl selected as mold, give an oven-bake and that's it! Next paint your clay ring bowl or just decorate it up with custom embellishments! Full project tutorial and step-by-step instructions here
Tutorial: intimateweddings
DIY Gold Vinyl Candle Wraps for Wedding Gift: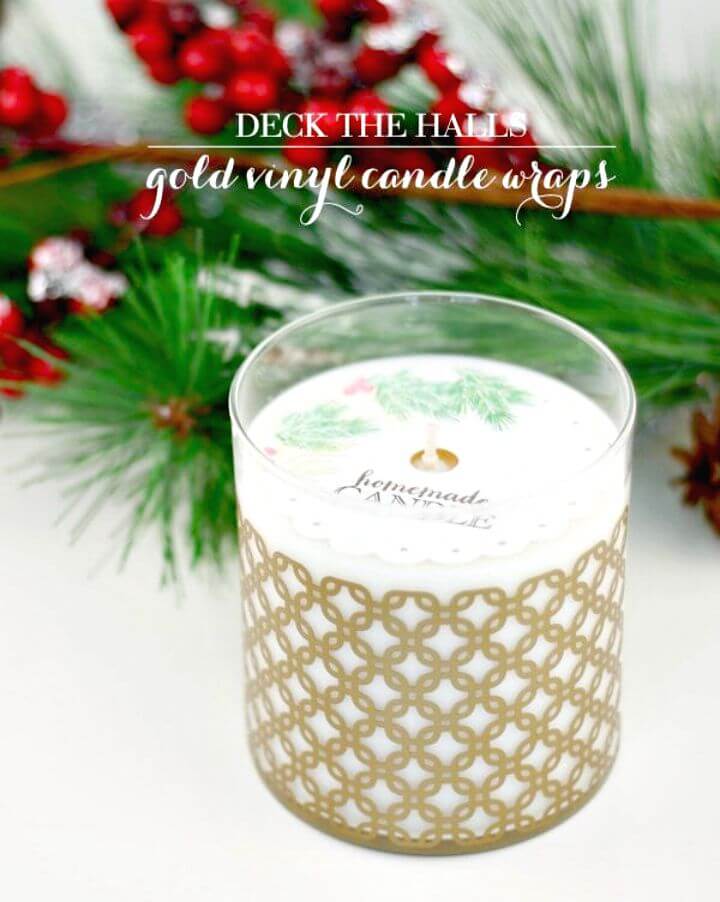 Make also the lovely looking candle lights that will make memorable wedding gift for sure! A very interesting sample here is the given gold vinyl candle that really having a jaw-dropping appeal! Just grab a glassy jar candle and then just wrap it in a gold vinyl wrap having a bewitching pattern or texture! Full project details and tutorial here
Tutorial: damasklove
DIY Paint Dipped Brass Candlesticks: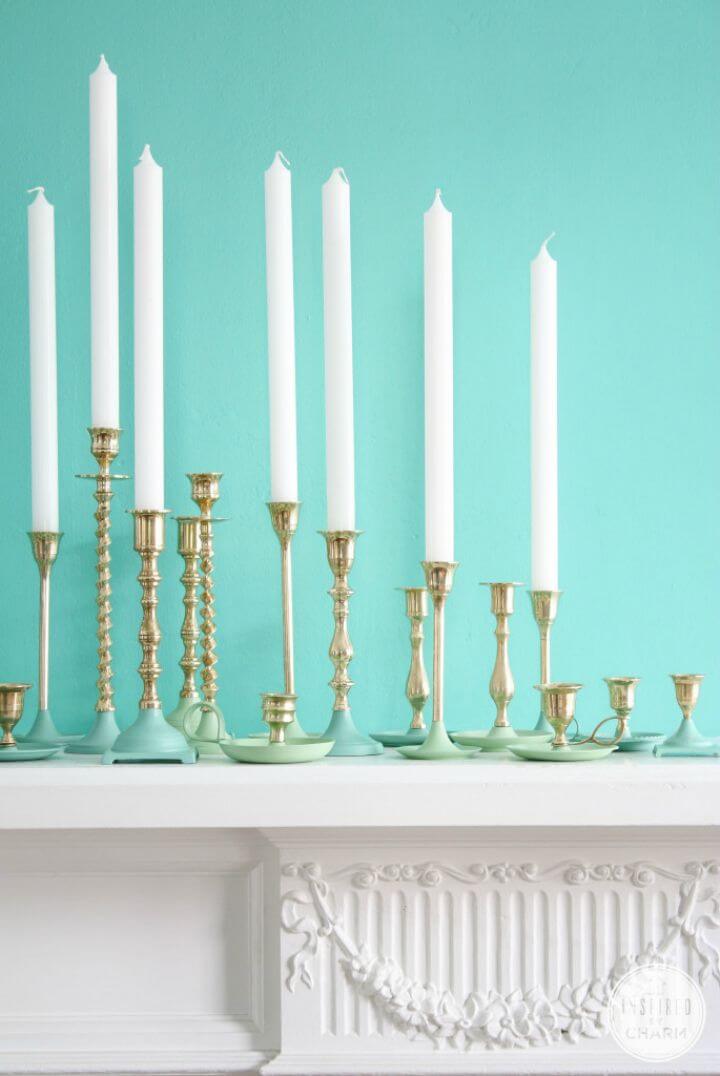 Along with the candle votive and lanterns, you can also make enticing candlesticks that would make a pleasing wedding gift! Just get inspired of the given paint dipped brass candlesticks that have been made to rock and inspire! Just grab the old brass candlesticks and then paint and polish them for a graceful appeal and posh look and that's it! Full project details here
Tutorial: inspiredbycharm
How to Make Gold Dipped Glassware: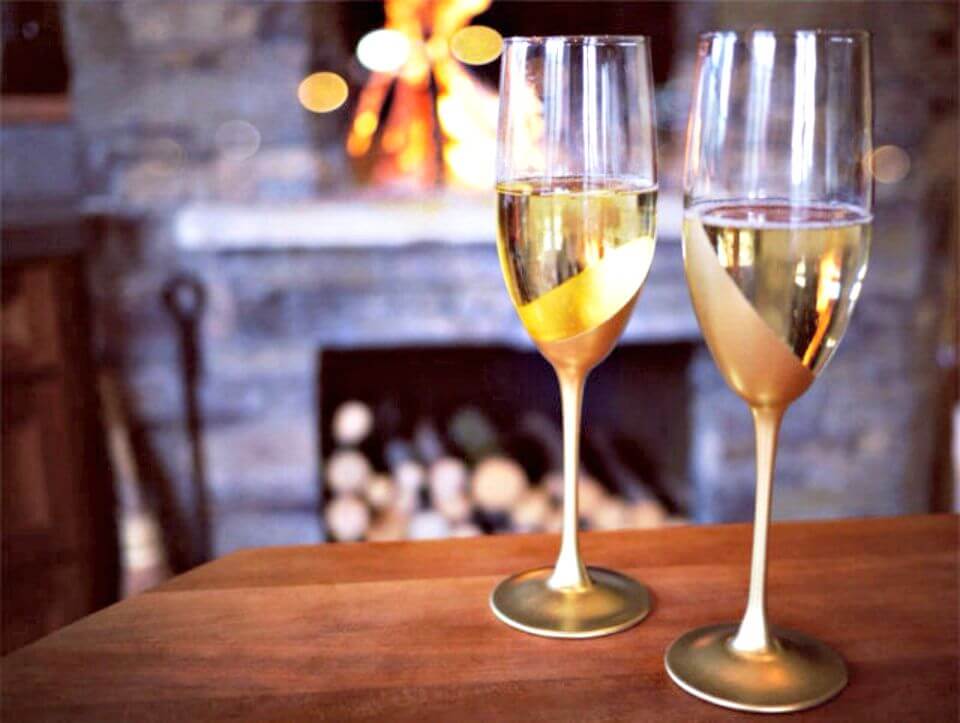 Give also a posh touch of gold to normal drink glasses or glassware to turn them into enticing wedding gifts! Just have a look at these gold dipped glassware that have been done to rock and inspire and is really looking lovely! Here the drink glasses with delicate slim bases have been painted to look gold dipped and hence make a thanksgiving wedding gift! Grab full project tutorial from here
Tutorial: honestlywtf
DIY Etched Monogram Glass Pitcher Tutorial: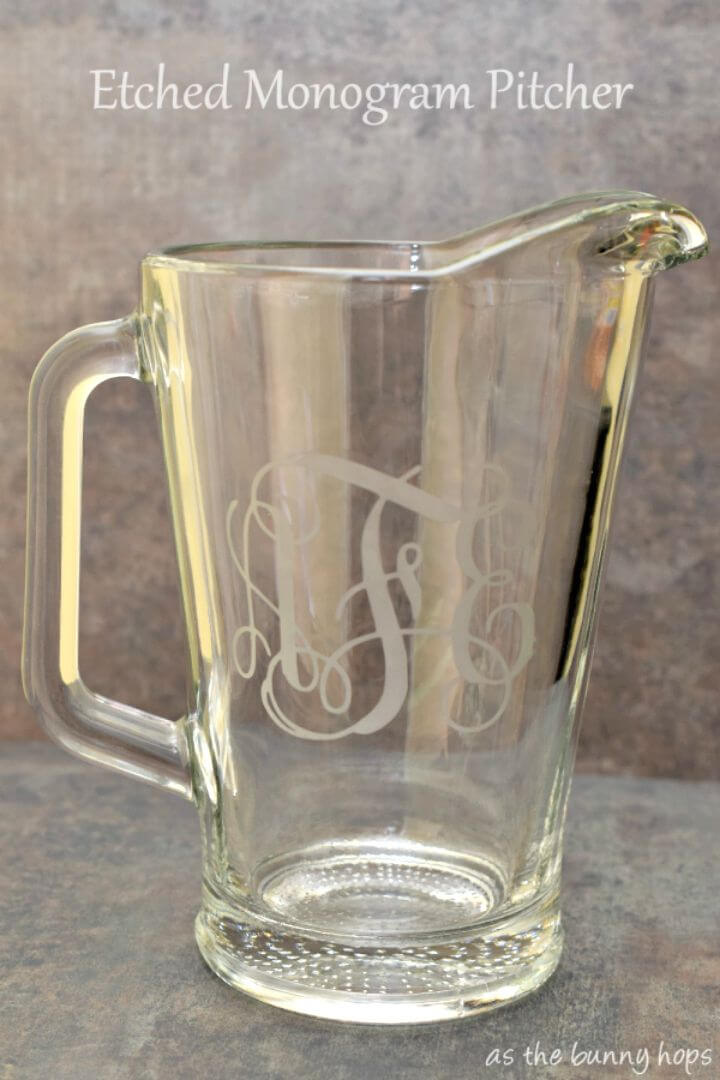 Do you know how to etch a glass surface? So, if you really know great about the glass etching then you can also make smart use of this technique to make lovely wedding gifts, a very great example here is this etched monogram glass pitcher that on which custom art letters or monograms have been etched for a beautiful appeal! Here is how to etch a glass pitcher
Tutorial: asthebunnyhops
DIY Fishnet Wrapped Mason Jar Craft: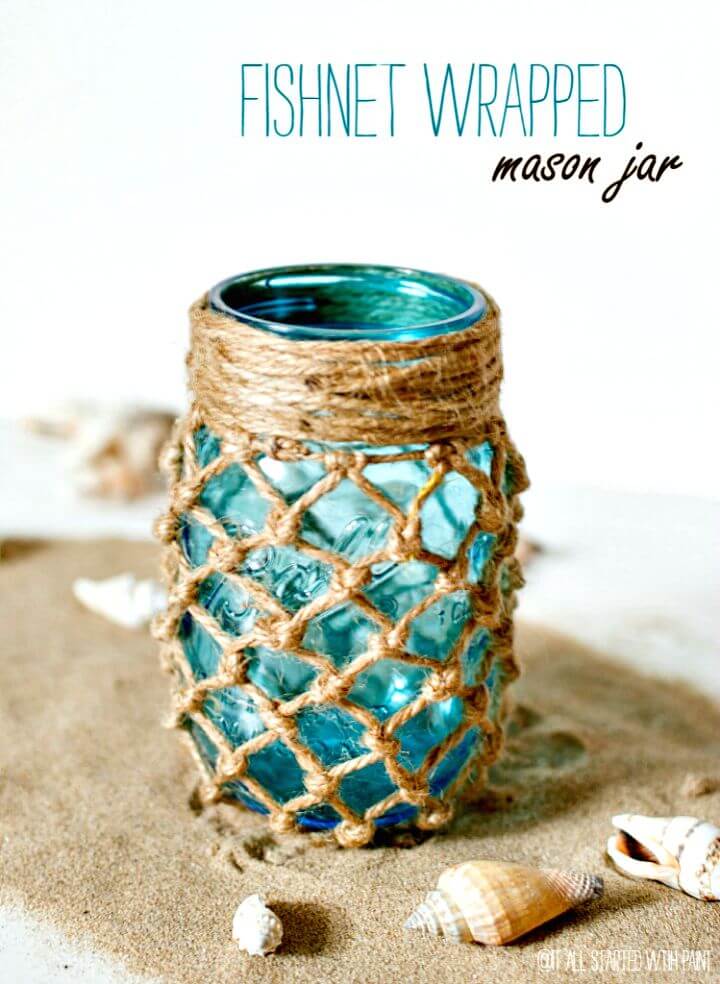 Make also the beachy or coastal decors centerpieces at home that will make lovely wedding gifts for sure! Look at the given fishnet wrapped Mason jar that can be filled with custom cut flowers and candle lights to make a lovely coastal décor centerpiece vase or lantern that will definitely please a groom or bride if given as a gift! Full project instructions here
Tutorial: itallstarted
DIY Wooden Centerpiece Boxes: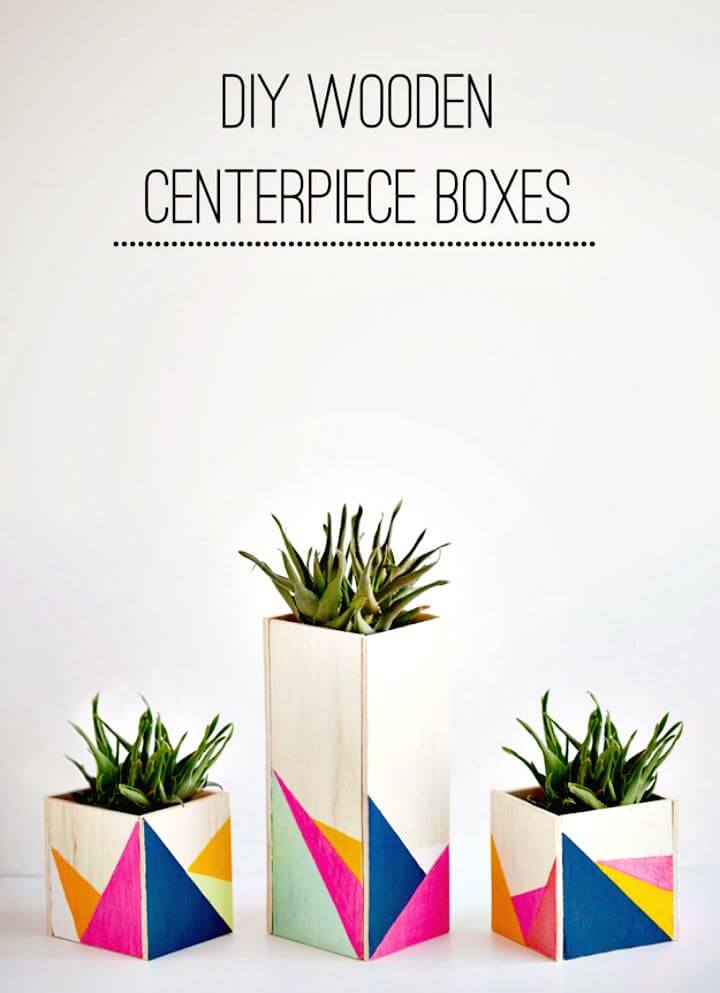 Another great wedding gift inspirations is here that will definitely win your heart, just make the custom wooden centerpieces vases or boxes that will definitely enchant the bride or groom! Just take a look at the given wooden centerpiece boxes that are made of thin plywood pieces! Finally these boxes have been half in color block style and that' it! Fill them up with faux or real plants and that's it! Full project tutorial here
Tutorial: tellloveandparty
DIY Tier Fabric Covered Wedding Card Box: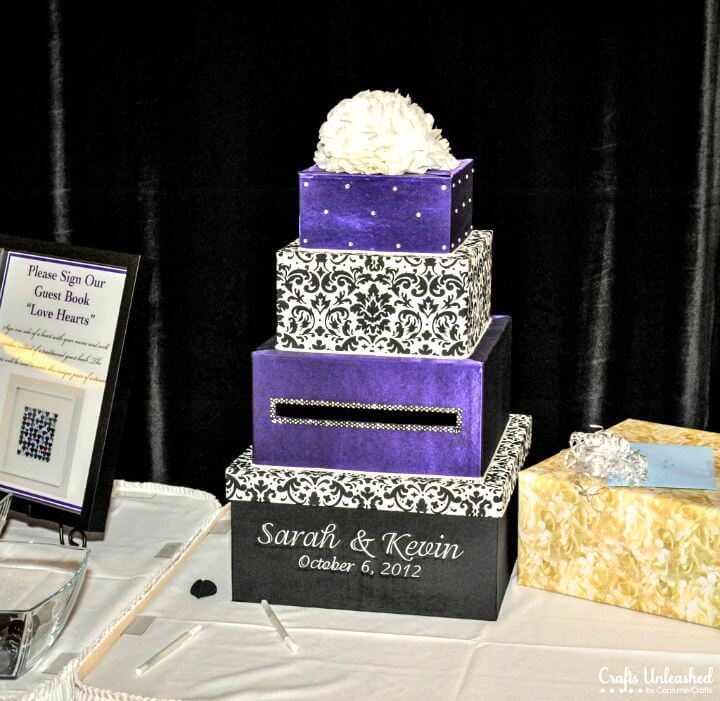 You will definitely like this idea is you are sorting out a perfect wedding gift! Just make the tiered fabric covered wedding card boxes at home that are made of paper mache boxes which have been covered with fabric using a spray adhesive! Finally they have been embellished with rhinestones and flowers at the top! Another great wedding gift idea that will be super budget-friendly! Full project instructions here
Tutorial: consumercrafts
Easy DIY Bleach Bride T-shirt: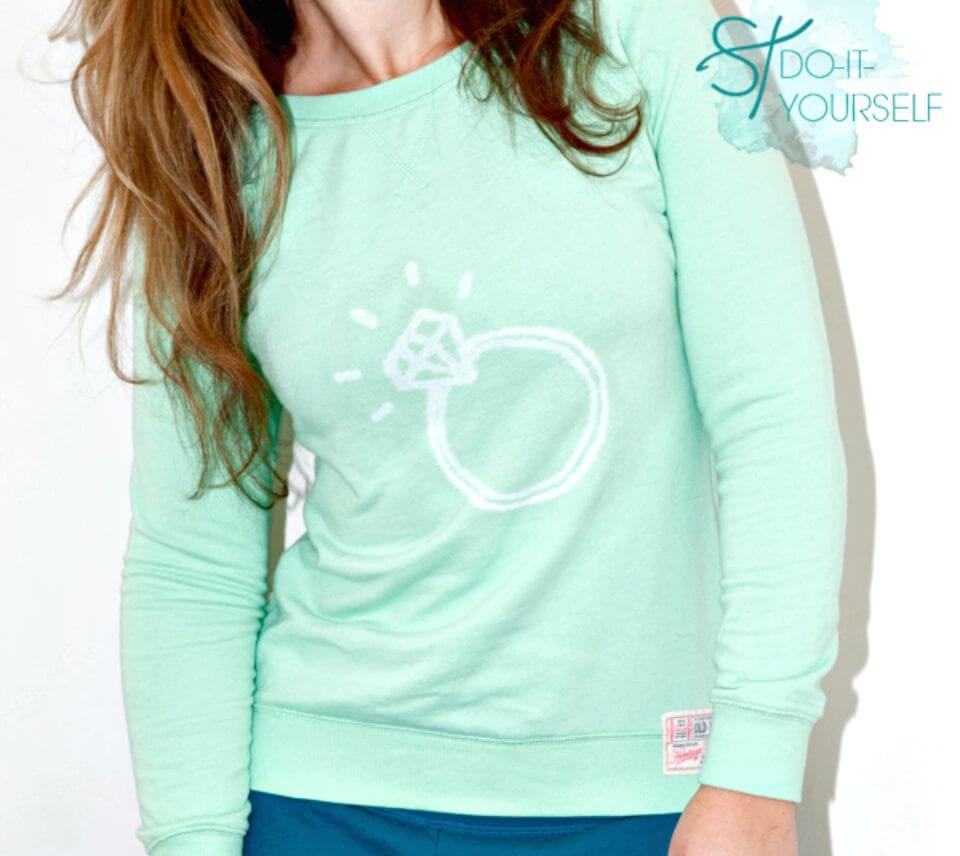 You can also create very special looking t-shirts with some custom bride or groom related quotes, art or shapes made over! You can make use of bleach pen to draw any shape, art or quote on the t-shirt and same has been done with this bride t-shirt which comes with the wedding diamond ring art that has been done using the bleach pen! This bleached t-shirt will also make a great wedding gift! Full project instructions and tutorial here
Tutorial: somethingtur
DIY Painted Woodcut Platter: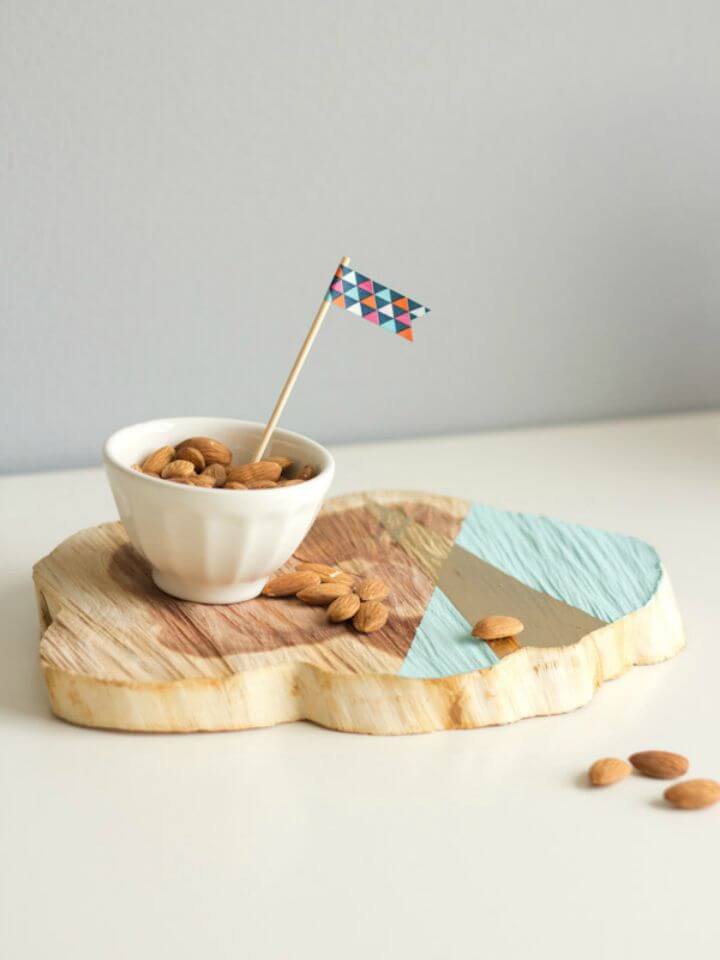 There are countless different ideas to make stunning wedding gifts at home without getting expensive! Here is creative one will definitely please a bride or groom and is just super easy and budget-friendly to make! This is here an art style wooden platter that has been painted to look more engaging! Just cut out custom art shapes out of wooden boards and then paint them to make sweet wedding platter gifts! Full project tutorial here
Tutorial: lovelyindeed
Build Wood Slice Serving Board: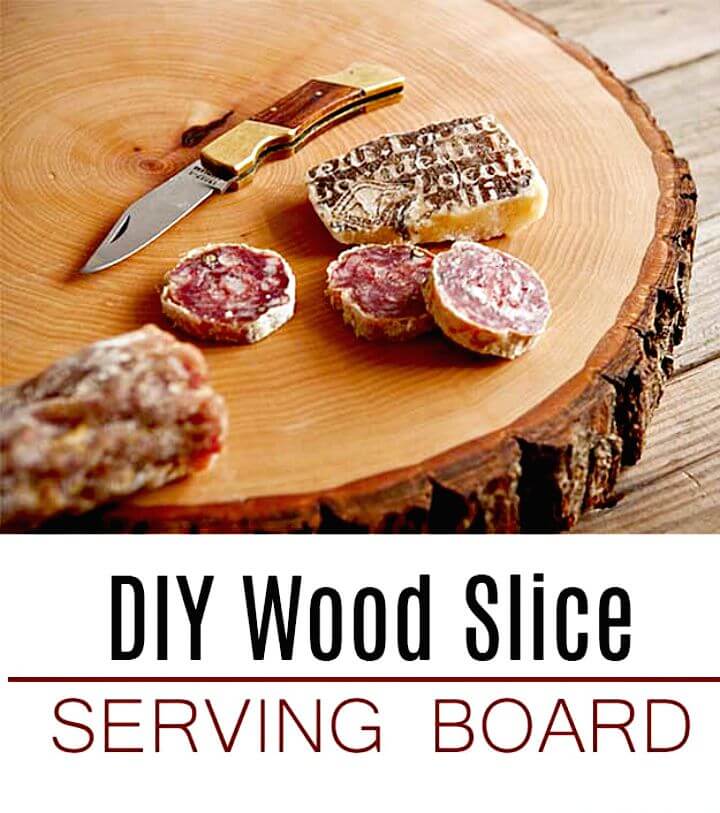 Just like the wood platter, you can also make stylishly beautiful wooden food serving boards or trays that will make another heart-winning wedding gift for sure! Just look at this sample wood slice serving board that has been done to rock and inspire and is really looking beautiful! Just grab a wood log slice, give it a nice wood finish and that's it! Get complete project tutorial from here
Tutorial: manmadediy
How To Make Bead Bracelet: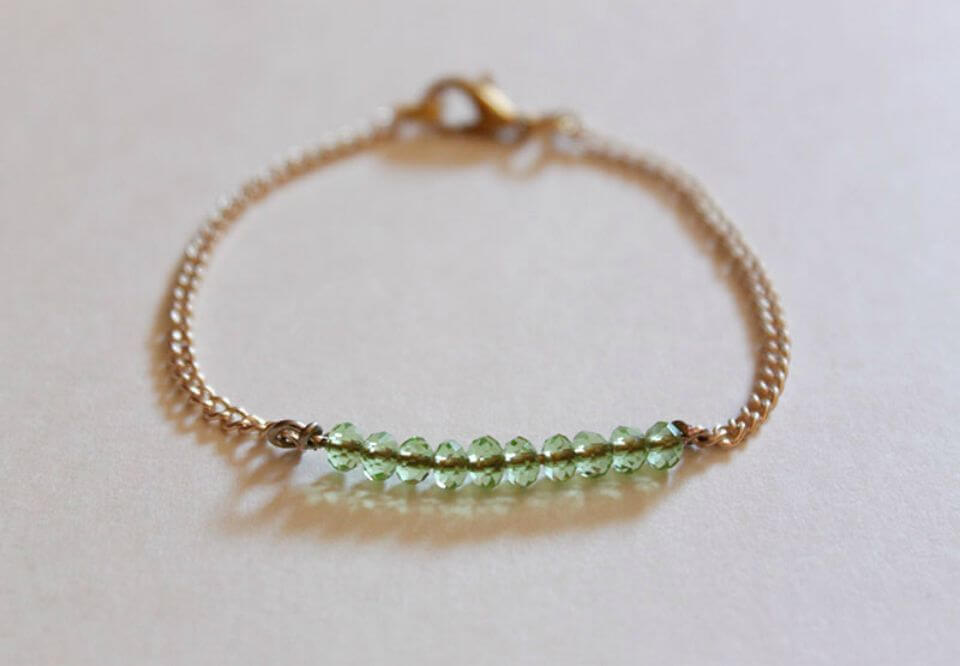 Make also lovely pieces of jewelry at home that will make fetching wedding gifts for sure! You can make all from cool necklaces to rings to bracelets to gift to groom or bride! Duplicate this given bead bracelet that is really something special to give as a wedding gift! Just thread the beads onto a piece of string which can then be connected to a piece of metal chain of bracelet size to make a fantastic bead bracelet! Step-by-step project instructions here
Tutorial: whydontyou
How To Make Sharpie Coffee Mugs: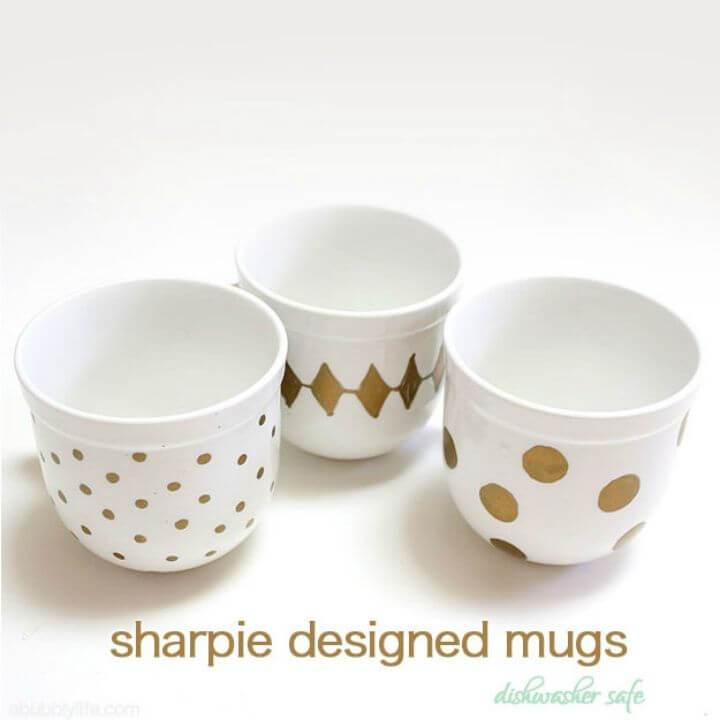 Go also smart with the sharpies and decorate the normal ceramic mugs or cups with them! Just draw the custom shapes, art and stunning geometrical patterns on them and turn them into fantastic wedding gifts! Just get inspired of the given coffee mug samples that are really great to look at and will be ready in no time! Get the full project instructions from here
Tutorial: abubblylife
Colorful DIY Geometric Welcome Mat: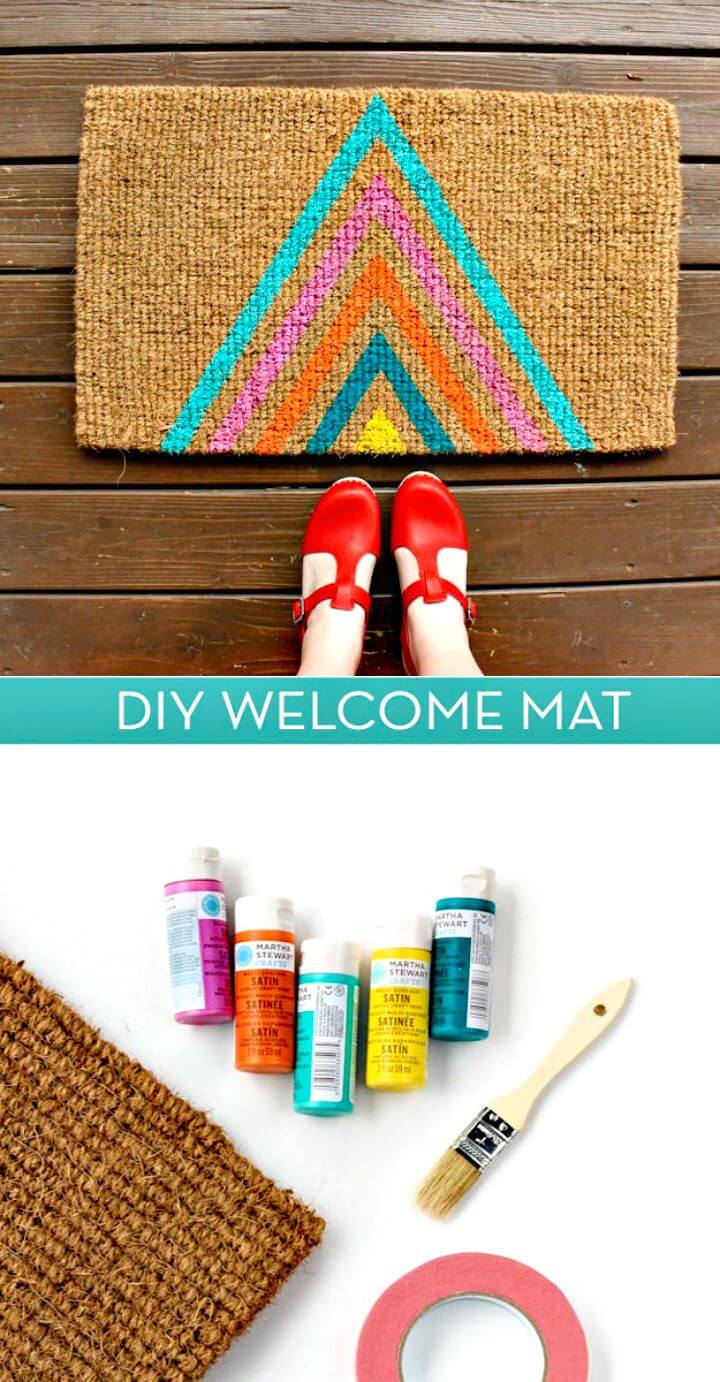 Make also stunning doormats at home that can also be given as sweet wedding gifts to a bride or to a newly married couple! A very gorgeous looking sample is here to hold your attention, this is here the geometric welcome mat that is self painted for a some colorful triangular stripes that turn it into a gorgeous wedding gift! Grab the full project instructions and tutorial from here
Tutorial: curbly
DIY Chain and Charm Necklace Wedding Gift: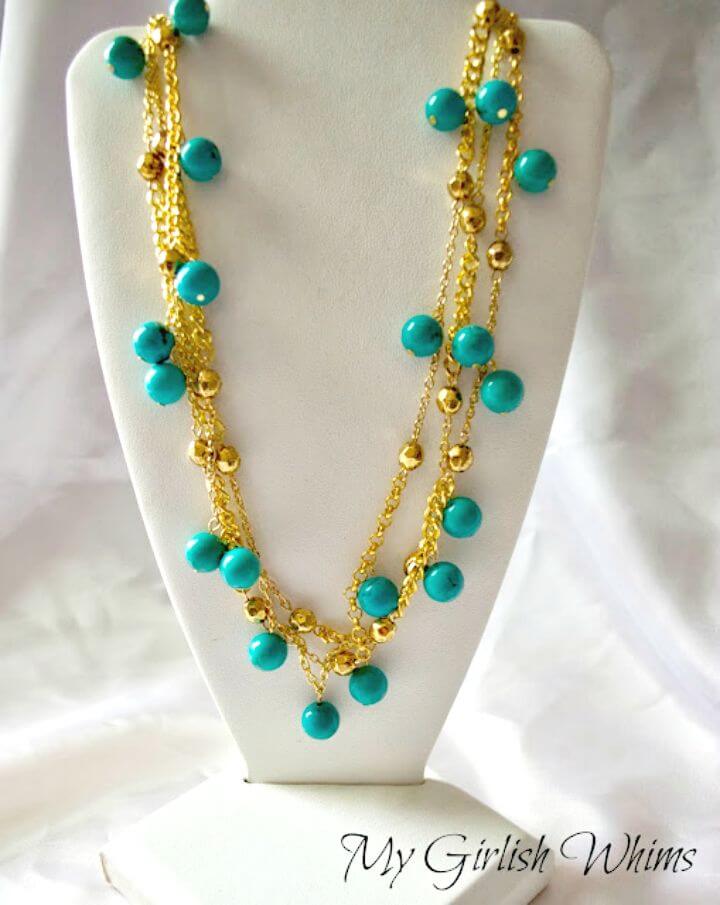 Just get more love of the bride by giving her this another sweet handmade gift, a charming chain and charm necklace! Just grab a set of metallic chains, link them together through gold beads and then decorate it up with the turquoise beads for getting a stunning charm necklace that will definitely go for bigger fashion statements! Full project details and instructions here
Tutorial: mygirlishwhims
DIY Dipped, Color Blocked Spoons: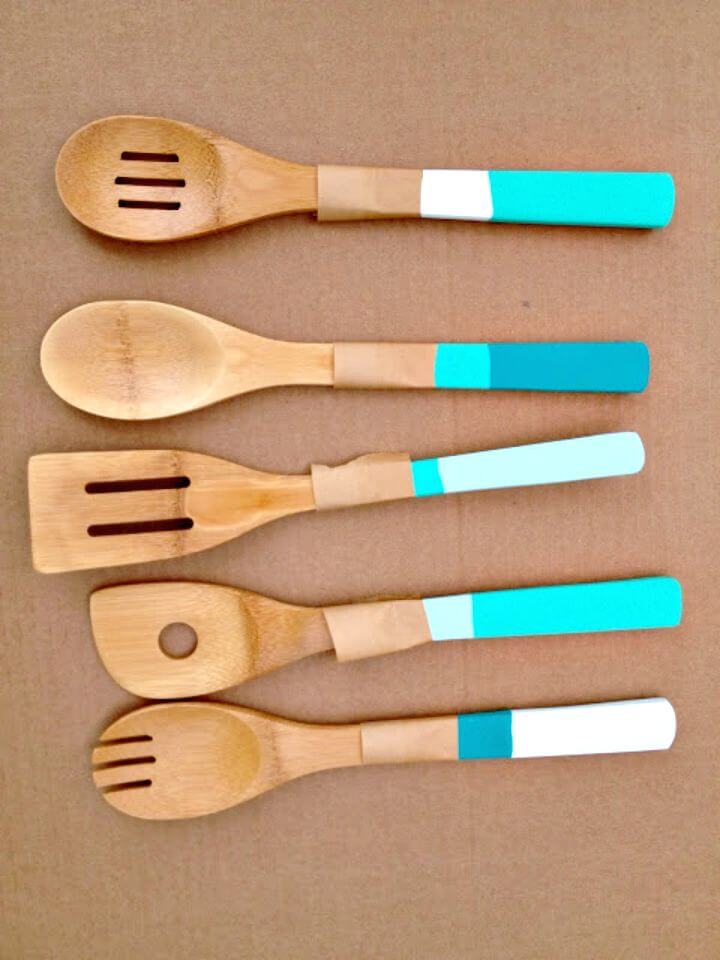 There is just no end to think of some sweet wedding gifts that you can easily make at home without getting a bit expensive! Here is another great inspirations, just make also the fantastic dipped and colorblock wooden spoons which can also be given a personal touch by painting custom monograms and letters to make a stunning wedding gift! Here is another great wedding gift idea to duplicate at home! Full project instructions here
Tutorial: thehappyhome
Make Footed Wood Slice Tray: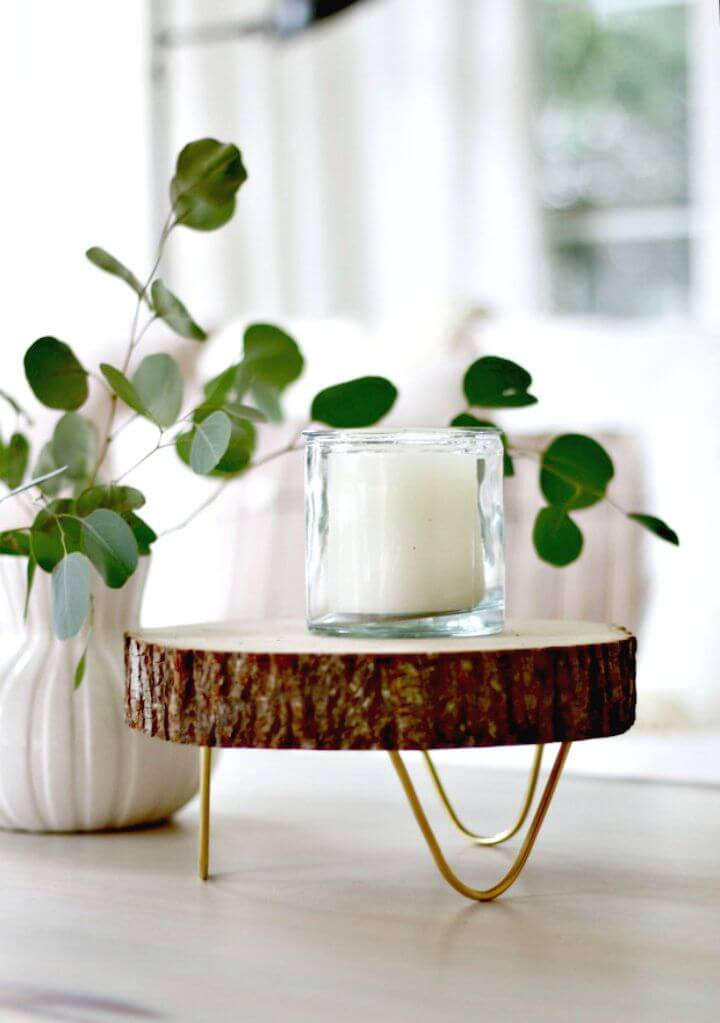 Make also stunning wood slice trays at home that will make enticing wedding gifts also! The bride or groom who is a big fan of the rusticity, will definitely like this footed wood slice tray that is super quick and easy to make! Just finish a wood slice with custom metallic feet and gain a lovely wood slice tray! Complete project details and instructions here
Tutorial: craftberrybush
DIY Paint Chip Ombre Herringbone Wall Art: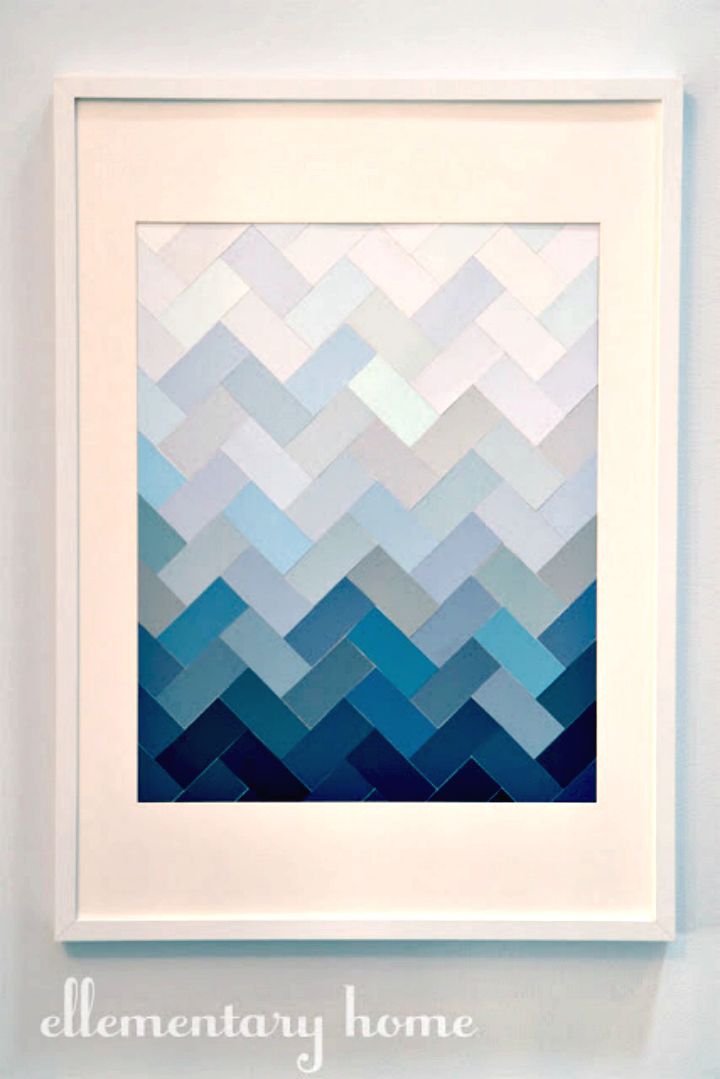 Checkout here another inexpensive but great looking wedding gift that even a beginner can make at home without getting a bit expensive! This is here the herringbone wall art that has been made with paint chips which have then been framed up for a graceful look! Full project instructions and tutorial here
Tutorial: ellementaryhome
Rustic DIY Serving Tray with Gold Arrow Accent: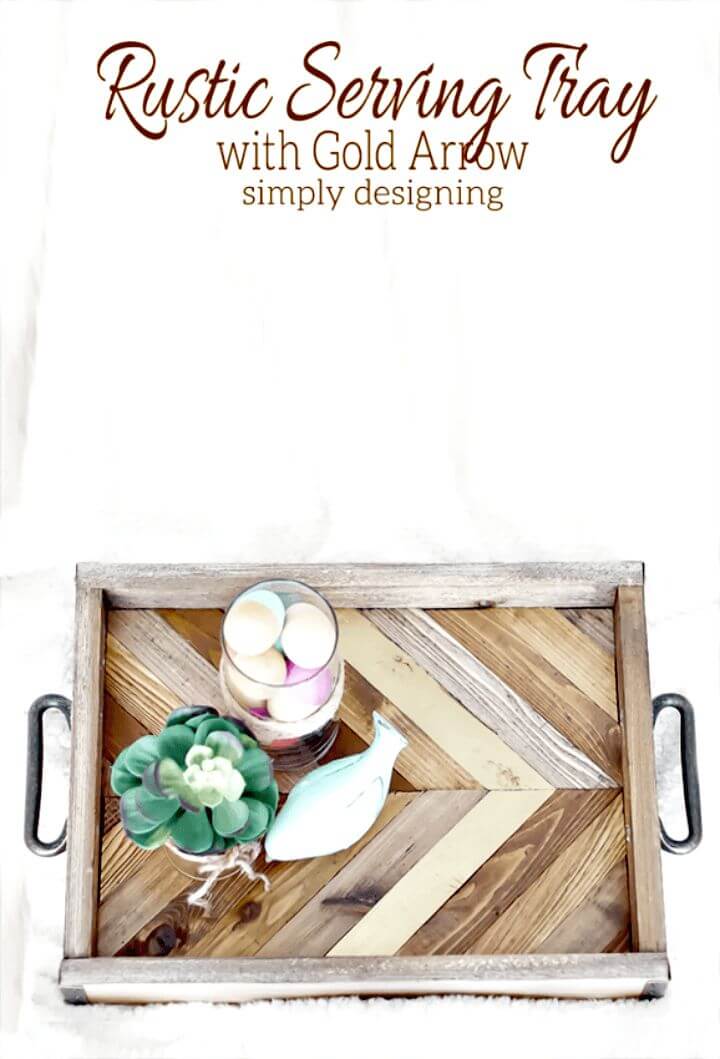 You will definitely like to stare twice at this wooden serving tray that comes with multiple different tones of wood that really go eye-catching! Here you can get crafty with the old wood planks which can then be cut to size and then packed together in chevron style to make the lovely wooden tray! Add the accent wood boundary all around also install the metallic handles to tray! Full project instructions here
Tutorial: simplydesigning
Make Your Own Cheese Knives: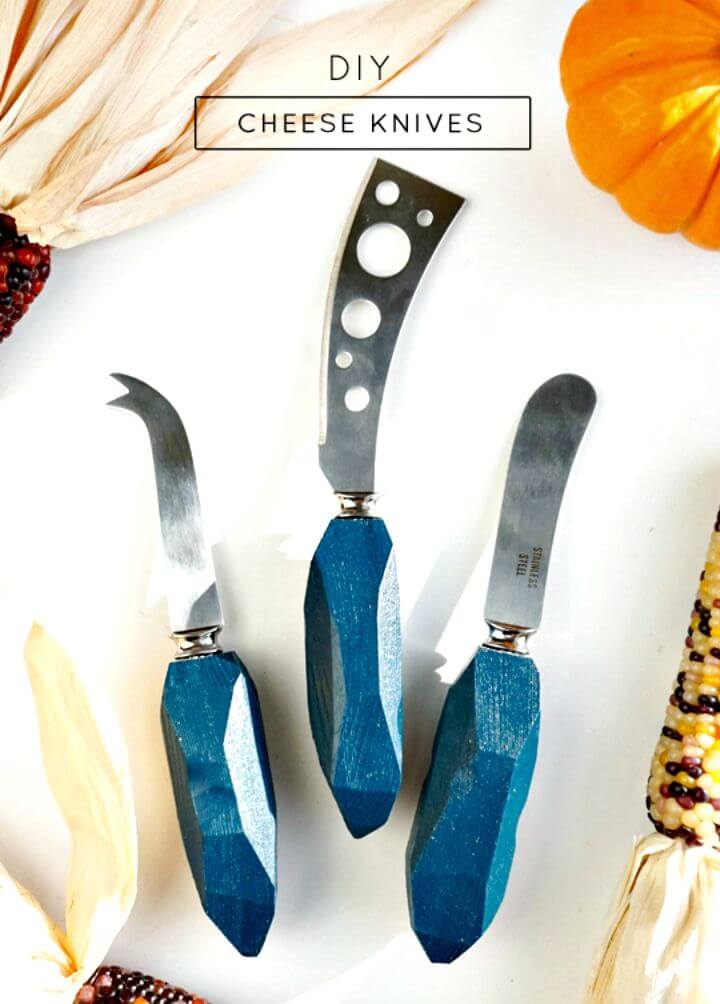 The bride or groom will just fall in love with these amazing cheese knives if given as a gift! Here these cheese knives are purely handcrafted ones and will be ready in a few minutes if you like to make them at home! Make the custom faceted wooden handles at home and then paint them for a graceful look and next fit the metallic knives in them! Another great and thoughtful wedding gift idea! Full project instructions here
Tutorial: sugarandcloth