Making your own colored sand is a fun, easy and affordable project that can be done with just a few simple ingredients. Not only is it great for arts and crafts projects, but it can also be used in home decor and landscaping. So if you're looking for an inexpensive way to add some color to your life, read on for 15 easy methods for making colored sand.
Make the best-colored sand at home for the amazing sensory play of your kids with these Colored Sand Recipes sharing all the smart ways to make colored sand. This episode of DIY projects will lighten dyeing and coloring the sand using liquid food colors to gated colored chalks. Furthermore, you will get information about how to use colored sand for so many different art and painting projects. Hence, raising your home decor to the next level using colored sand. Browse here these 15 ways to make colored sand that involves using hot water in an oven too.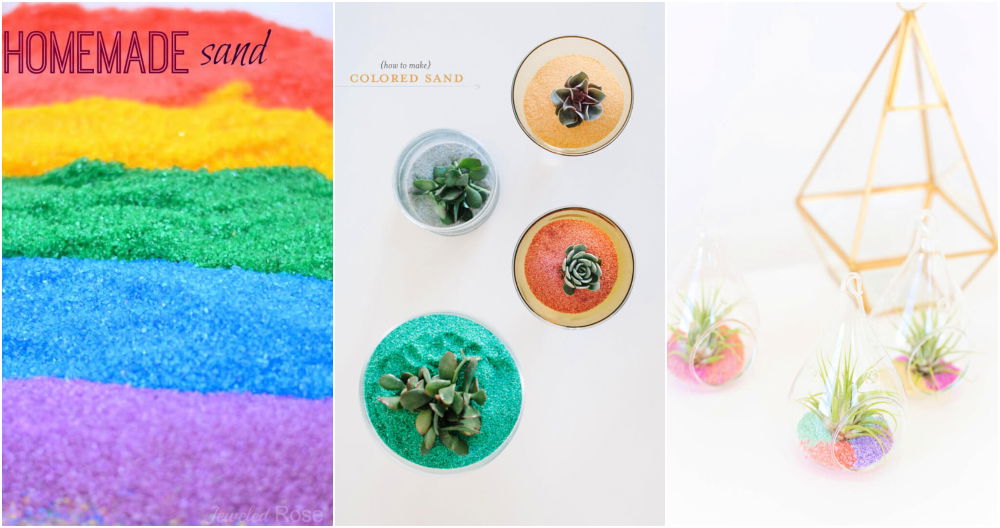 How to Make Color Sand for Crafts
In addition, the collection provides step-by-step instructions and tutorials to make colored sand with salt. Simply take the sand in bowls, fill them with hot water, mix food colors, and make the dyed sand. Epsom salt will be a smart choice for making colored sand.
Add the colored sand in decoupaged medium and start art drawings on a canvas. Layer the colored sand in glass containers and votives to whip up fanciful centerpieces and whimsical light decor centerpieces. Moreover, playing with colored sand will boost your kid's summer activities and improve their fine motor skills. Sand play at the beach will boost the kids creativity and imagination too. Browse all the ways to make colored sand and cook your favorite colored sand recipe.
1. How to Make Colored Sand
Do improve the fine motor skills of your kids by organizing a sand play for them. Make the colored sand, a more flattering version of sand the kids will love to get crafty with. Use the UK sand, power paint, and ziplock bags to make this colored sand. kidscraftroom
2. Homemade Colored Sand Recipe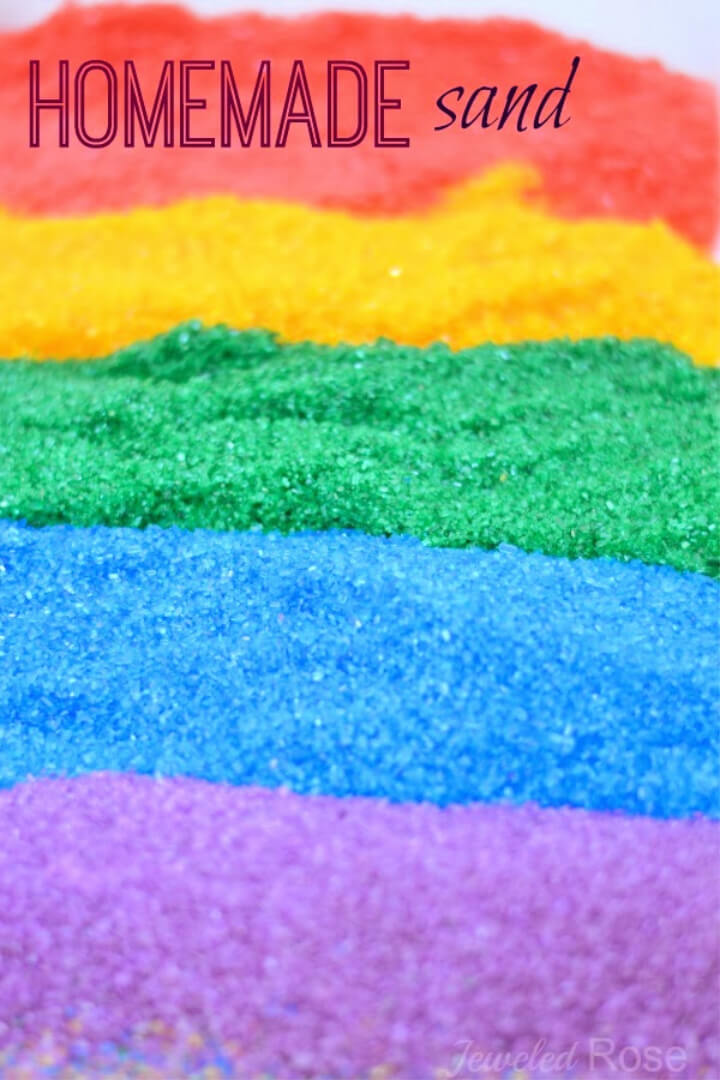 Playing with sands makes your kids think like a genius. So, help boost the creative vision of your kids by making this colored sand. Grab the Epsom salt, ziplock bags, and food coloring to make this finely powered colored sand. Playing and touching the colored sand will enhance the color recognition of kids. growingajewele
3. DIY Colored Sand using Food Coloring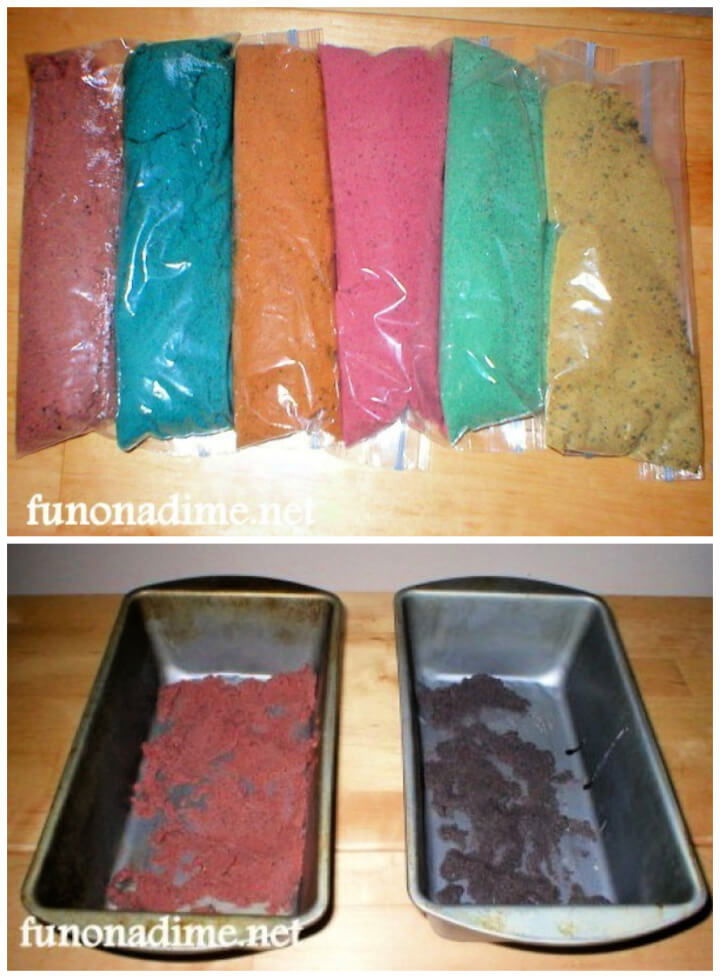 As kids are not very careful while playing with sand, so using food coloring for making colored sand is always a smart choice. Use water, food coloring in neon shades, baking pans, oven, and paint stirrers to make this colored sand. Kids will love to play with it expressing themselves openly. funonadime
4. Make Your Own Colored Sand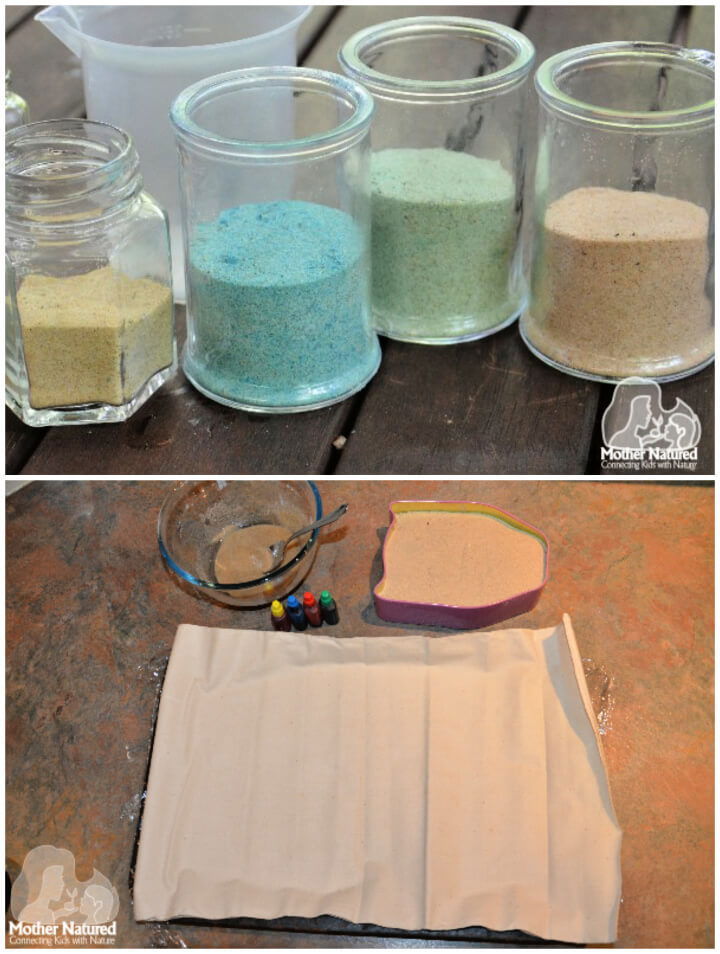 Mix a handful of ingredients in fun way to make this colored sand magic for kids. This process of making color sand involves using cloth, a tray, water, a bowl, sand, and food color dyes. Fill all the dyed sand colors in the jars to let the fun and play start. mothernatured
5. DIY Ombre Colored Sand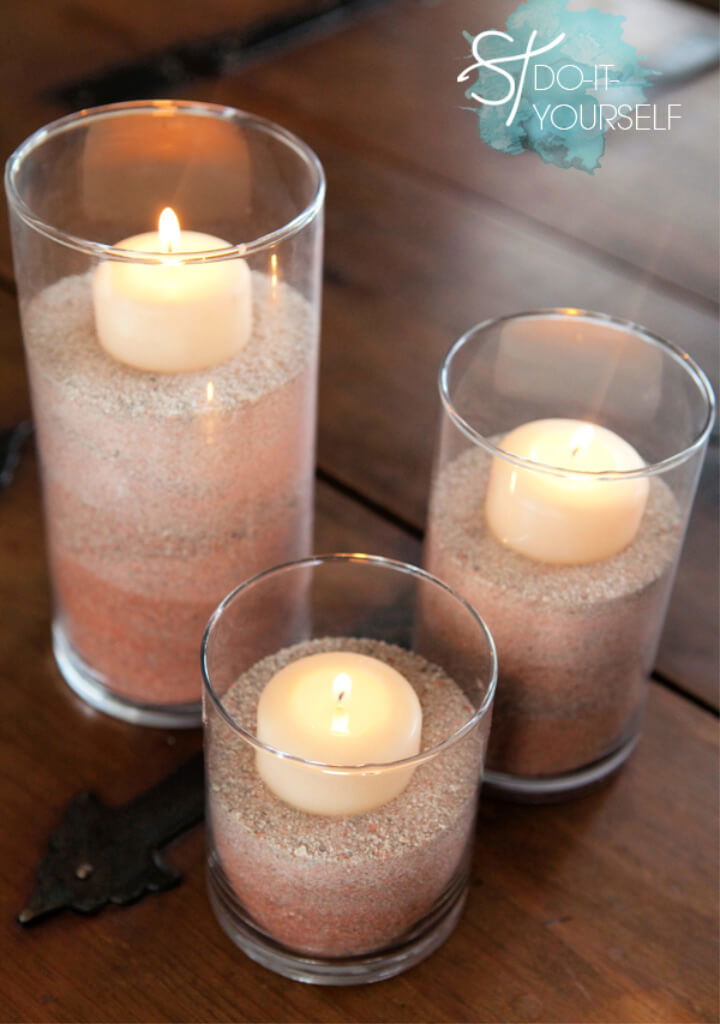 Take the colored sand game to the next level and make outstanding home decor with it. Layer the ombre sand colors in a glass hurricane, put a candle at the top making precious ombre sand lanterns. The best wedding light decor centerpieces to make quickly using colored sand. Details here something
6. How to Color Sand for Sensory Play
Touching the soft colored sand will be great for the sensory play of kids. So, get here the most straightforward tips to make colored sand to improve the motor skills and hand-eye coordination of your kids. Required tools and materials will be the dried sand, food coloring, paper towels, and a tray. learning4kids
7. Easy DIY Colored Sand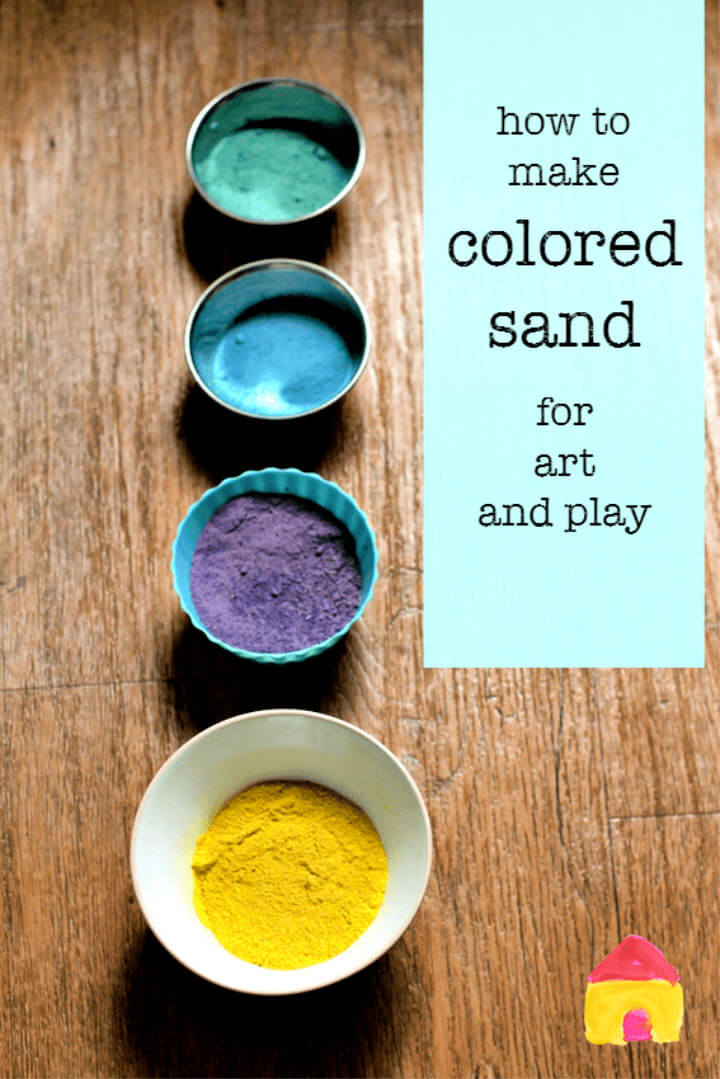 Willing to increase the creative activities of your kids? Then make your kids busy playing with colored sand. Cook fast this colored sand recipe by taking the sand in bowls and then grate the colored chalks in them. Mix them well, add other items like glitter to boost the sensory experience. Details here nurturestore
8. Rainbow Beach Colored Sand
Playing with color sands can boost the creativity and imagination of your kids considerably. Color or dye the beach sand and fill in the glass jars to make beautiful home decor and beach memory gifts. Cook this colored sand recipe using only 2 ingredients, sand, and food coloring. pagingfunmums
9. DIY Dyed Sand for Summer Crafts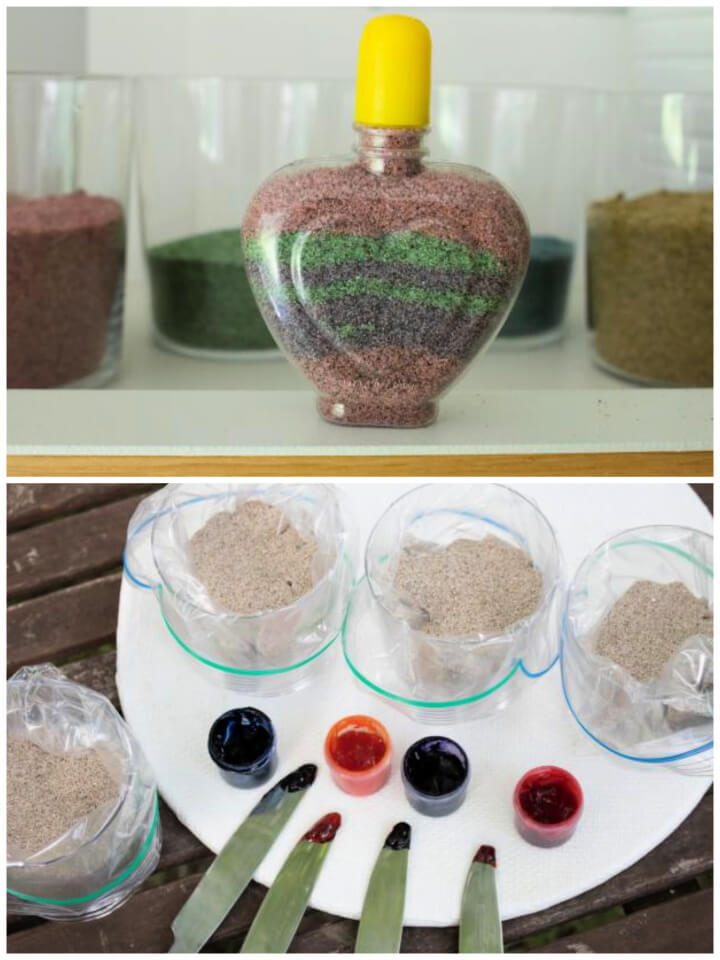 Planning the best summer crafts for your kids? Then do add the colored sand play in your planned summer kids activities list. Dye the sand using food colors and hot water and seal the dyed sand colors in sealable plastic baggies. From kids' sensory play to making adorable candle votives, do all projects with it. diynetwork
10. How to Dye Sand at the Beach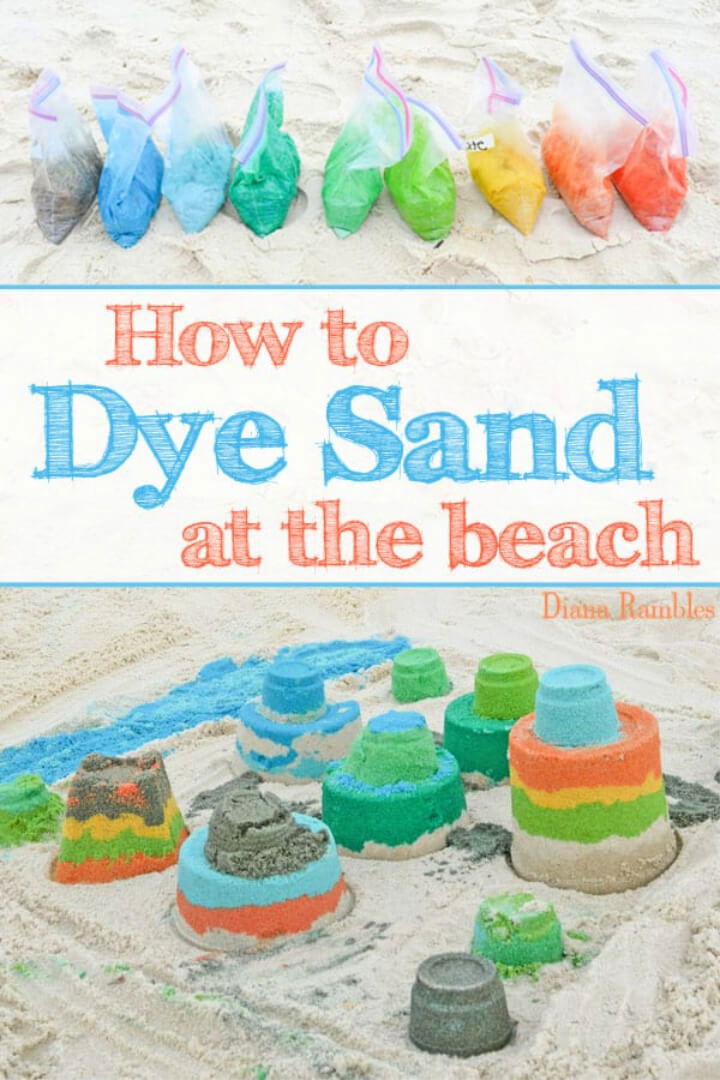 While visiting the beach, we often see the sandcastles and other miniature structures made with sands. They are too cute to see twice, and we only wish to look them colored. So, get here instructions about how to dye the sand at the beach. Just fill the sand into plastic bags and then add food colors. dianarambles
11. DIY Colored Sand Art Bottles
Display the colored sand in your home, too, as stunning art pieces. Dye the sand and then layer in a glass jar or sealed container, making precious colored sand art. Display it on your accent shelves and on your accent tables, too, for lovely decor statements. Use liquid watercolor for this project. artbar
12. Making a Colored Sand Painting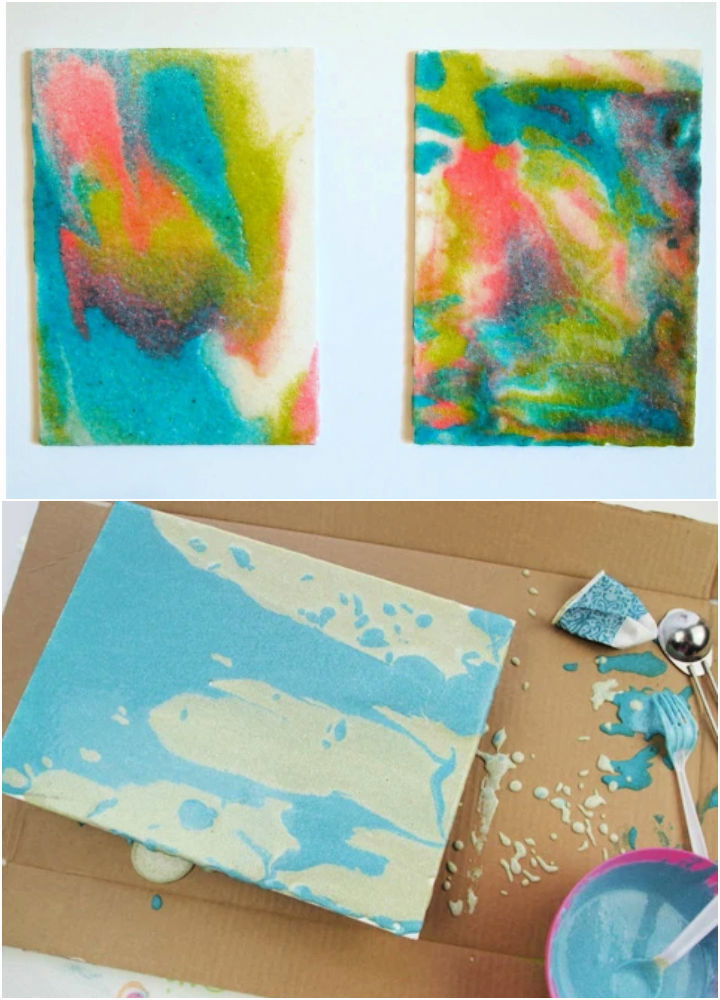 Use color sand to make stunning art paintings too. Grab the Activa Scenic sand, 8×10″ canvas panels, and decoupage medium like mod-podge to duplicate this colored sand art painting. It will be a fancy art piece to display on any wall, will bring colors too in the particular room ambiance. activaproducts
13. How to Make Sand Art with Salt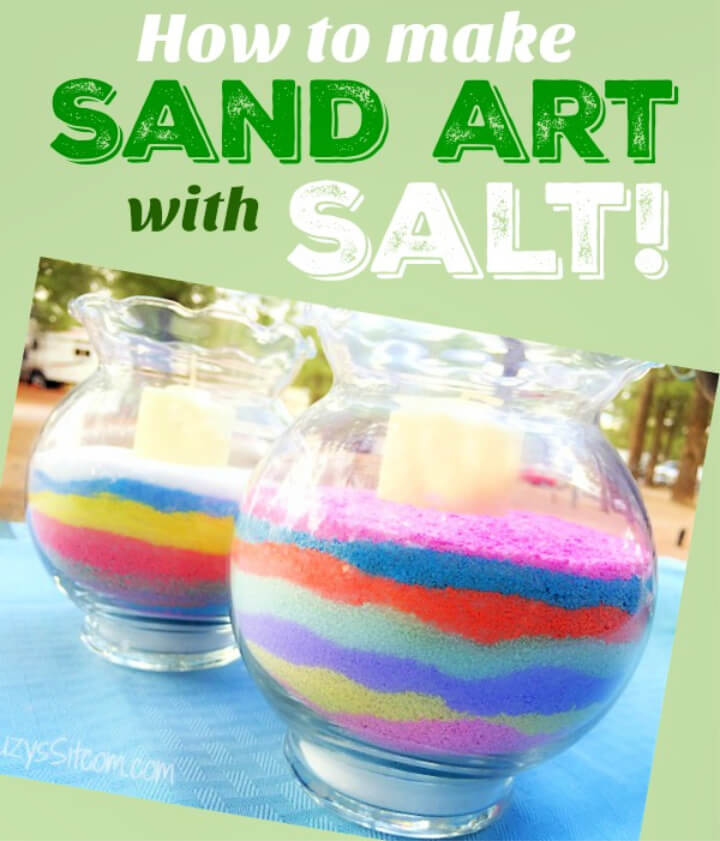 Fancy up any table surface or an accent shelf with these colored sand candle votives. Fill the colored sand as colorful layers in the glass votive, place the candles then on its top. Make colored sand using colored chalk, 3 containers of the salt, grater, and zipper baggies. suzyssitcom
14. Colored Sand for Home Decor Piece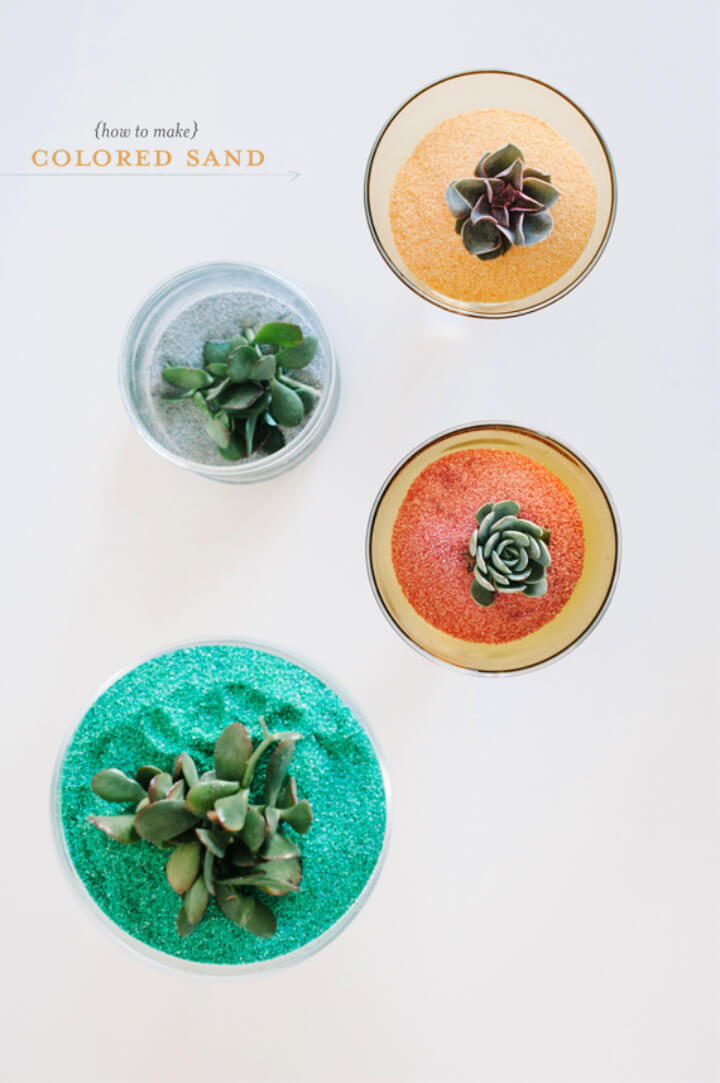 Succulent planters are common but the most beautiful natural decor to see in a home. Spice up the succulent planter home decor game with colored sand. Look at these colored sand home decor centerpieces by giving vibrant colors to succulent centerpieces using colored sand. asubtlerevelry
15. Simple DIY Colored Sand Air Plants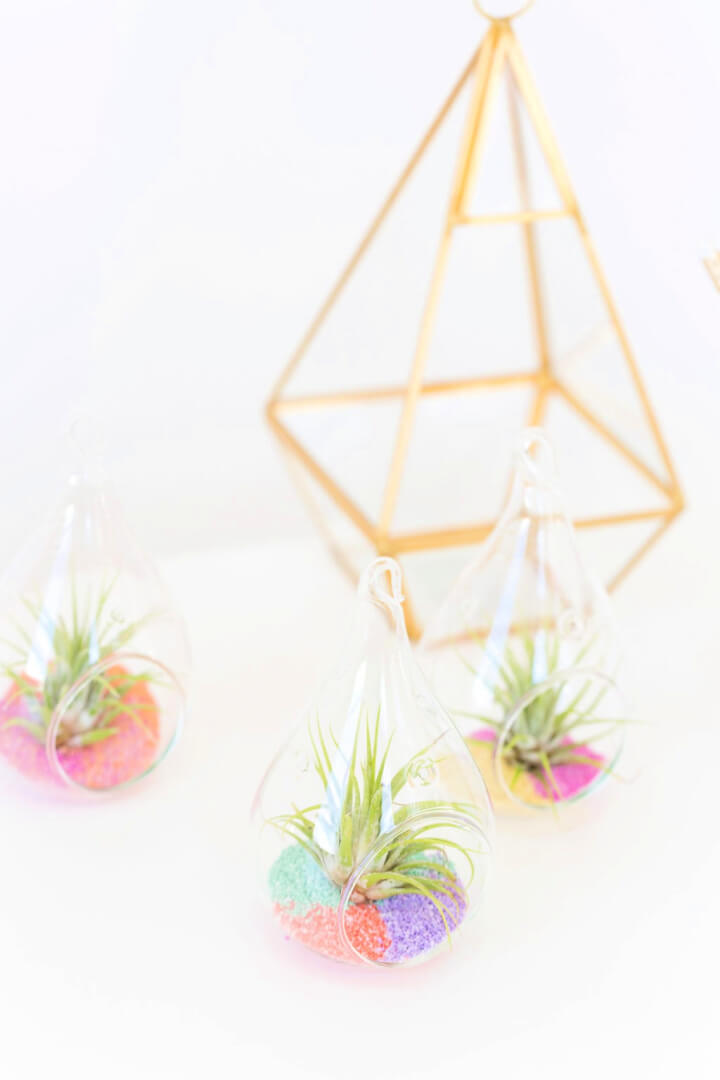 Fancy up your dwelling with these colored sand air plants hanging in the air for bigger statements of interior decor. Fill sand of different colors in the glass containers, and next make the air plants sit on the colorful layered sand. Hang using string on mobile and also on a chandelier. damasklove
Related DIY Crafts and Ideas
DIY Sandbox: Looking for ways to keep your kids entertained during the summer? Check out these awesome DIY sandbox ideas! From simple sandboxes to elaborate projects, your kids will have a blast playing in the sand all summer long.
Space Crafts for Kids: Looking for some outer space crafts for your little one? Check out these easy space crafts! From rockets and planets to aliens and stars, there's something here for everyone.
DIY Sensory Bags for Kids: Sensory bags are a great way to keep kids entertained and engaged. These sensory bags are easy to make and can be filled with various materials depending on your child's interests.
Rock Painting: Rock painting is a fun and easy way to show your creative side. These easy rock painting ideas are perfect for beginners and will help you get started on this fun and addictive hobby.
DIY Streamer Backdrop: Streamers are a festive way to add color and excitement to any party or celebration. Here are easy DIY streamer backdrop ideas that you can make yourself in just minutes!
DIY Large Wall Art Ideas: Transform a large blank wall into a work of art on a budget with these easy and creative large wall ideas.
DIY Wall Art: Find these cheap and easy DIY wall art ideas to add some personality to your walls without spending a fortune.
Conclusion:
Colored sand can be used for a variety of arts and crafts projects. In this blog post, we've shared fifteen different ways to make colored sand. We hope you find these ideas helpful and that you enjoy using your new batch of colorful sand! How will you use your colored sand?