Handprint crafts are an excellent way to engage children in creative activities while also capturing precious memories of their growing hands. Discover 40 handprint crafts and art ideas for kids, including toddlers, preschoolers, and kindergarteners, that offer a fun and memorable experience for girls and boys of all ages. With detailed instructions and helpful tips, these handprint art and crafts make it easy for children to create unique and personalized pieces of art.
These handprint crafts are perfect for holidays, special occasions, or just a fun afternoon project that will surely be treasured for years to come. Parents and teachers can find inspiration in the various handprint art ideas, such as making handprint animals, flowers, and seasonal crafts, or explore other creative possibilities with handprint painting ideas and techniques.
Experiment with different colors and styles to make beautiful handprint art masterpieces celebrating children's creativity and imagination. Using common household items, like toilet paper rolls or recycled materials, you can enhance the art projects and create an eco-friendly and cost-effective craft experience.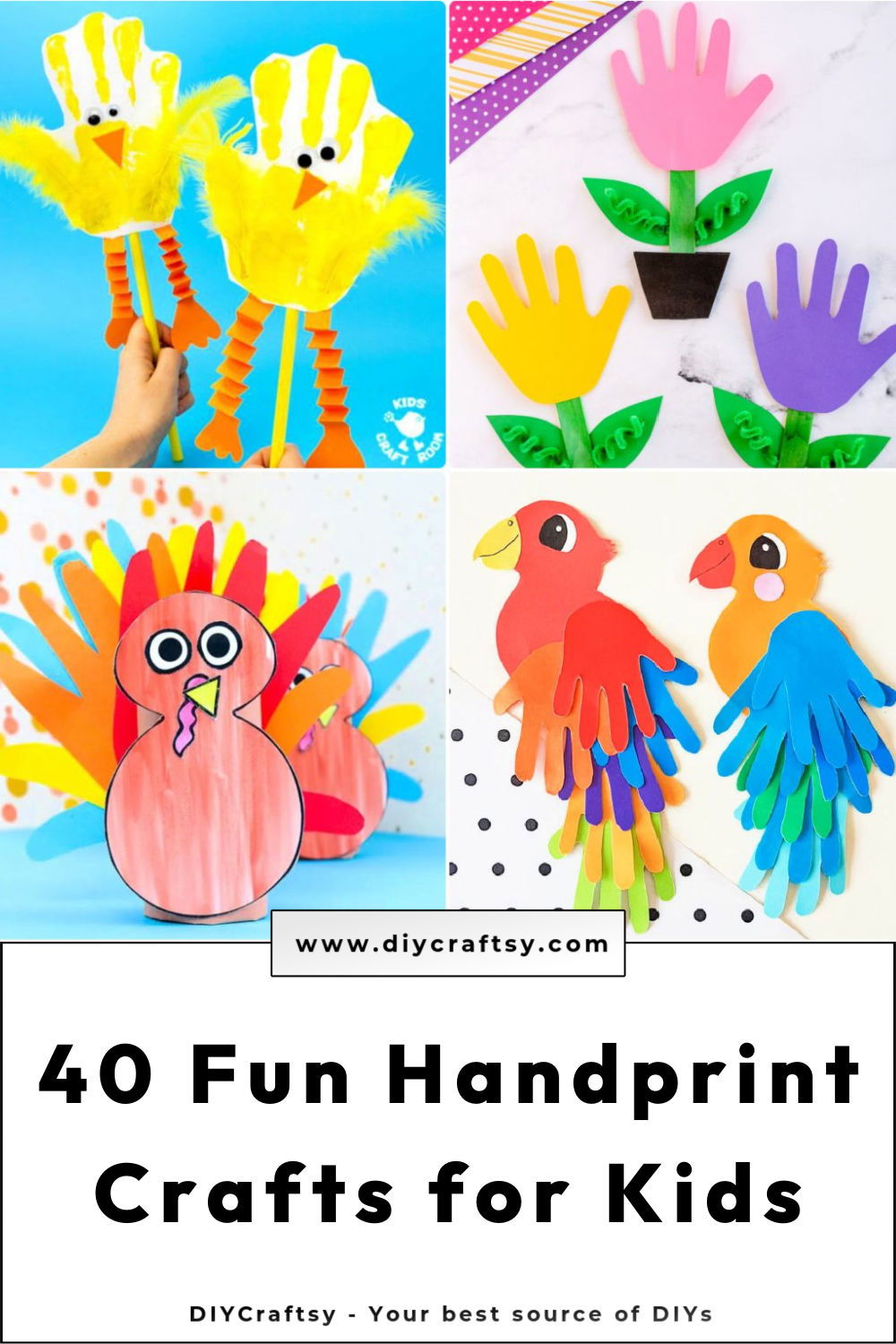 Some popular handprint crafts include making handprint turkeys, flowers, trees, butterflies, and peacocks, each offering unique designs and endless opportunities for artistic expression. So, gather your supplies, let the fun begin, and explore these 40 handprint crafts for kids today!
How to Keep Kids Entertained and Busy Using Handprint Crafts and Art Ideas
Handprint crafts and art ideas are a fun and creative way to make memories with your kids. You can use their handprints to create all kinds of animals, objects, and scenes that they will love. Handprint crafts are also easy and inexpensive to make, using simple supplies like paint, paper, and glue. Here are some handprint craft ideas that you can try with your kids to keep them entertained and busy.
1. Printable Toilet Paper Roll Handprint Turkey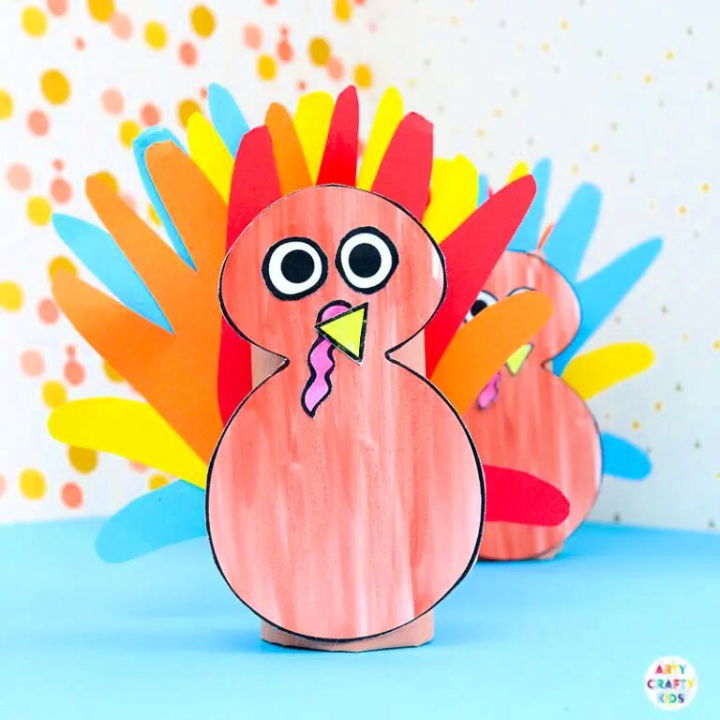 Splendidly create a fun and memorable toilet paper roll turkey handprint craft for thanksgiving with this simple tutorial! Perfect for preschoolers and young children, this craft combines handprints with an imaginative paper roll turkey. An ideal way to express creativity, utilize watercolor paints or coloring pencils to add energetic colors.
Gather materials like paper rolls, colorful construction paper, brown construction paper, a glue stick, and a turkey template for an enjoyable activity that is both entertaining and educational. Engage your kids in this Thanksgiving celebration craft today! artycraftykids
2. How to Make Handprint Flowers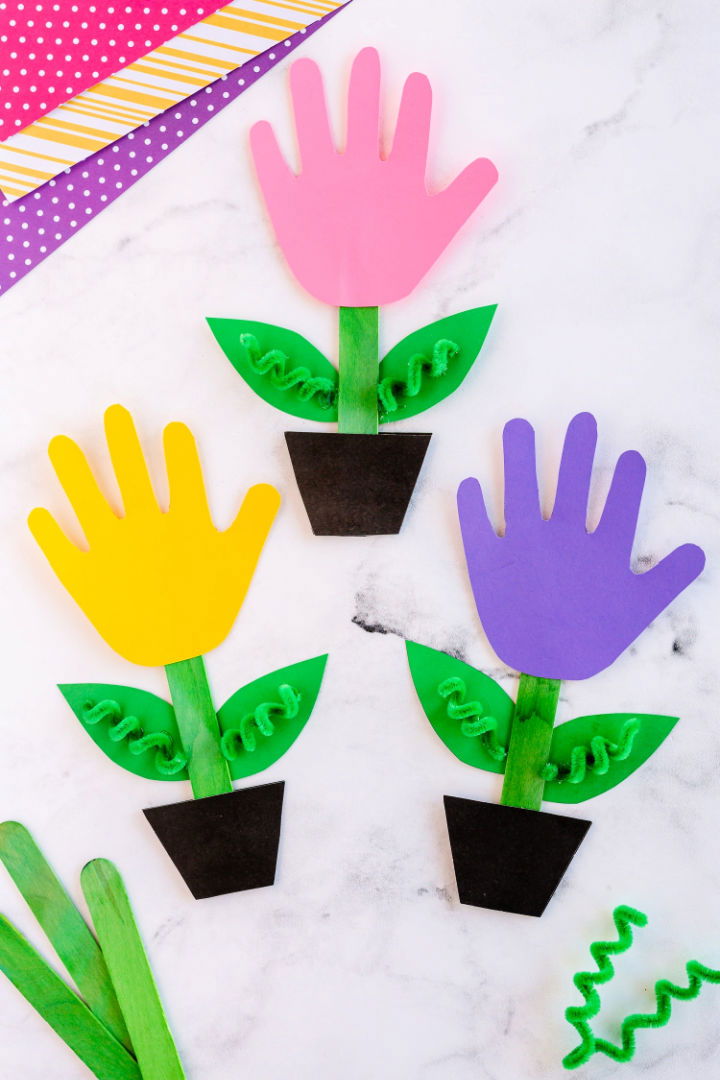 Make pleasing handprint flowers with this effortless and absorbing craft activity! Splendid for children of all ages, these handprint flowers can be an exquisite present or a jocund decoration for springtime. Assemble the essentials, including cardstock in assorted shades, pipe cleaners, colossal popsicle sticks, and black and green cardstock for the flower pots and stems.
Follow the step-by-step guidelines, cutting out handprints, adhering the pots to the popsicle sticks, and adding the curly pipe cleaner and leaves. Unwind during a lively craft session while teaching kids about hues and flowers. madetobeamom
3. DIY Thanksgiving Handprint Tree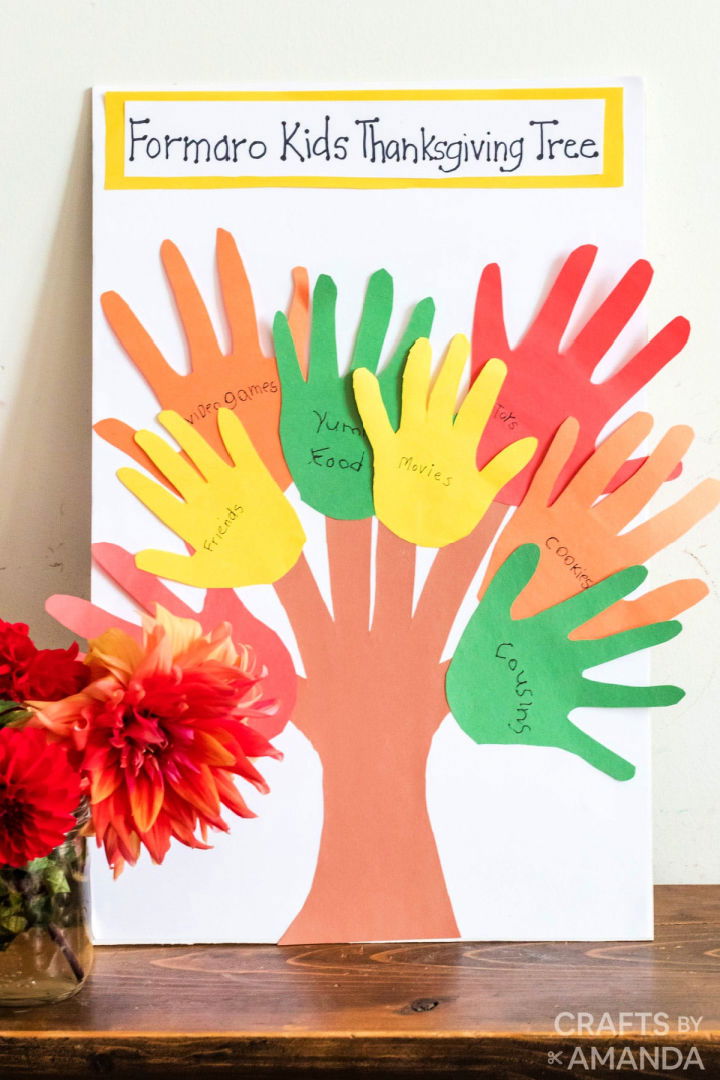 Handprint crafts encourage bonding between parents and children, providing a fun, hands-on activity to work on together.
Enliven your thanksgiving season with a sweet and symbolic craft! These easy-to-follow instructions will have you creating a memorable handprint tree in no time. Perfect for kids ages 2 and up, this project requires minimal mess and can be adapted to suit varying difficulty levels. Gather construction paper in red, orange, yellow, green, and brown to get started.
Using glue sticks or thumbtacks, secure the paper onto a cork bulletin board or poster board. For extra decoration – paint the frame of your board or cover it with white paper. Hang proudly on display as an eternal reminder of gratitude during thanksgiving festivities! craftsbyamanda
4. Handprint Chick Craft for Kids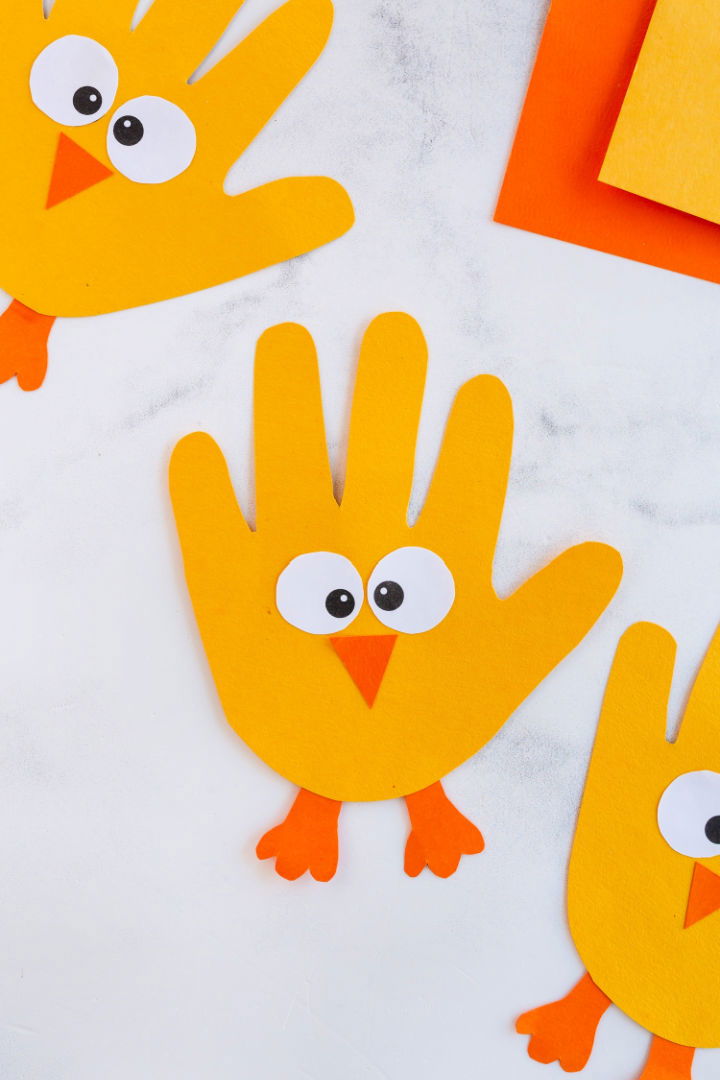 These adorable handprint chicks are the perfect spring craft for kids! Whip these charming critters in under 30 minutes with yellow and orange cardstock, googly eyes, or printable eye templates. Let little ones trace and color their handprints for a fun coloring activity – then proudly display those feathery friends alongside your spring flowers. Make your bulletin board or fridge shine with adorable creations celebrating easter and new beginnings. madetobeamom
5. Handprint Peacock Salt Dough Craft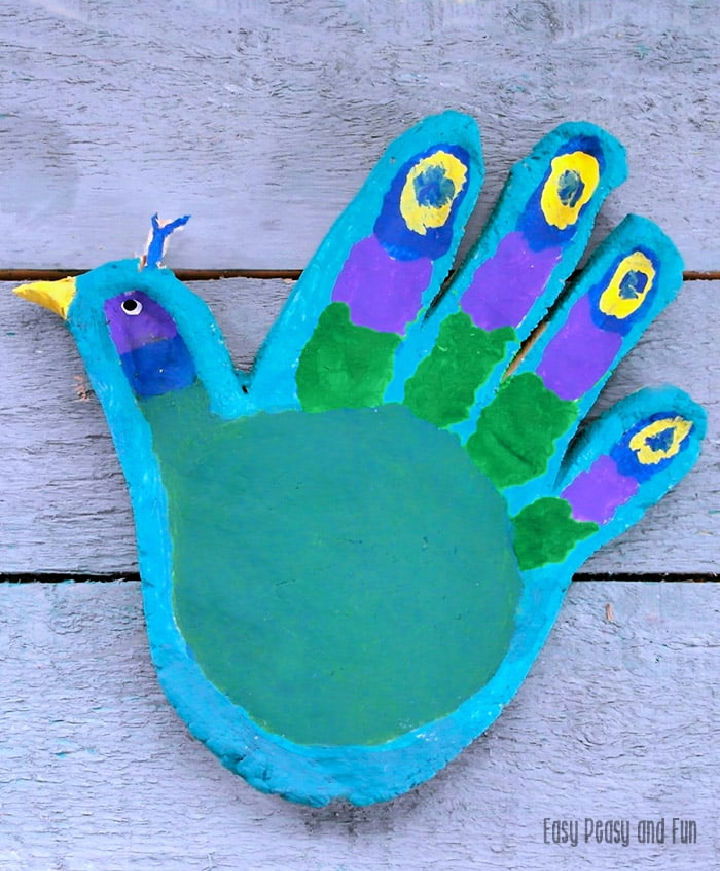 Marvel in a majestic masterpiece made with your own little hands! With this frugal and fun handprint peacock salt dough craft, you can create an evergreen project that will bring joy to all. Gather basic materials like salt dough, a carving tool, paints, and brushes to make this beautiful craft.
Follow the simple recipe and roll out your dough to get the perfect shape for your handprint. Carve it out delicately, then opt for vibrant colors to bring the peacock alive – et voilá! Enjoy quality time with family while creating something special as a souvenir of these precious moments. easypeasyandfun
6. Easy DIY Handprint Butterfly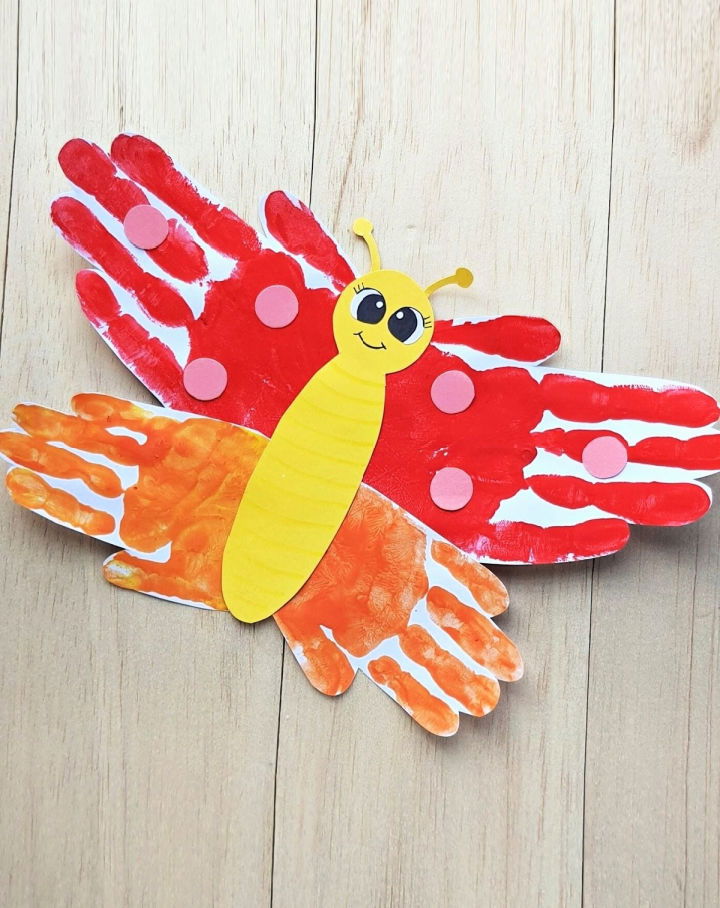 Discover the joy and sense of accomplishment children experience while creating unique handprint art pieces, treasured mementos for years to come. Vibrant, creative fun for kids of all ages! Create an easy butterfly handprint craft with colored craft paper, acrylic paint, and a printable template. Little ones will love dipping their hands in red and orange paint to create the butterfly's wings before pressing them onto the paper. Let them get creative by adding googly eyes or using the given special template for its body. Perfect for a bug-themed activity during springtime or as a heartfelt mother's day gift from your child! mommymadethat
7. Fun and Easy Handprint Art for Father's Day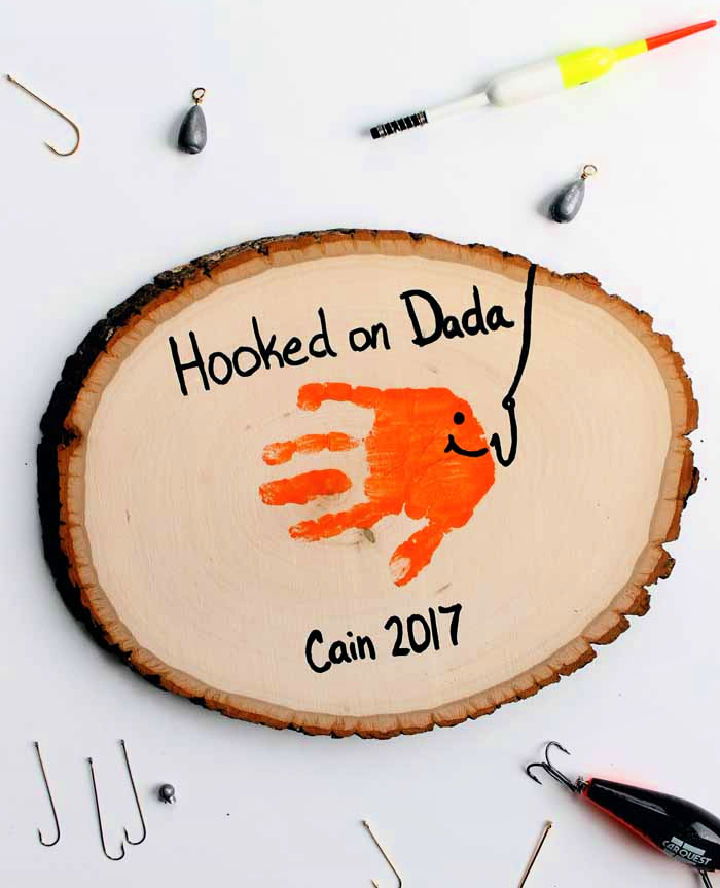 This outstanding DIY handprint art is the perfect Father's day gift! With minimal materials such as a wood slice, orange craft paint, a black paint pen, a paintbrush, and a sawtooth hanger – kids of all ages can create an individualized masterpiece for their dad. It is an expressive way to show your appreciation for him and a keepsake highlighting your child's growth. Craft this unique memento with love and make lasting memories on this special day! thecountrychiccottage
8. DIY Halloween Ghost Handprint Art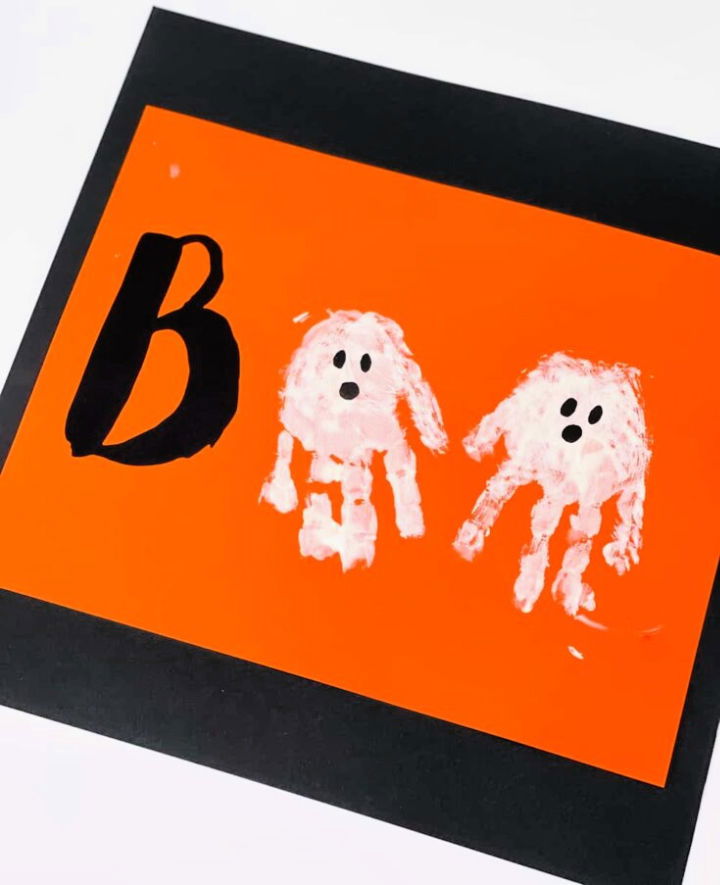 From holiday-themed handprint crafts to vibrant, imaginative wall art, these handprint art ideas foster children's creativity and fine motor skills. Fabulously frightful! Create charming handprint ghosts this Halloween season with this convenient free printable template. Transform your child's hands into spooky specters with simple materials like white acrylic paint, orange cardstock (or any other color), and a black paint marker. This crafty activity makes for an enjoyable experience and serves as a fun keepsake. Don't wait; make these cute ghosts today and decorate the home in festive cheer! hellowonderful
9. Easy Handprint Ladybug Craft for Spring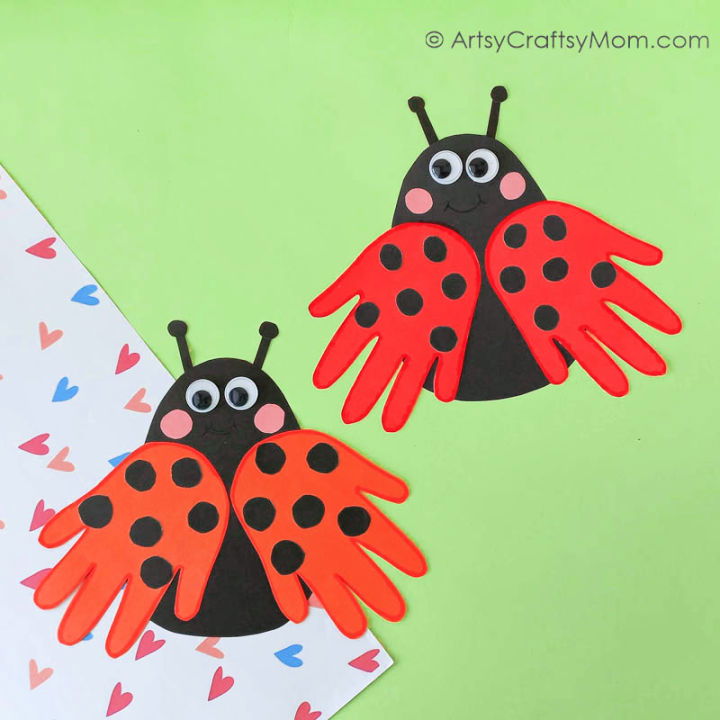 Welcome the blooming season with an enchanting handprint ladybug craft! This easy and entertaining craft requires materials such as colored construction paper, googly eyes, and markers. Exercise your flair for artistry as you make these ladybugs of various colors. Not only is this activity captivating, but it also provides a great learning experience about the remarkable characteristics of these insects. Get ready to have a buzzing good time with this delightful springtime craft! artsycraftsymom
10. DIY Special Collage Handprint Art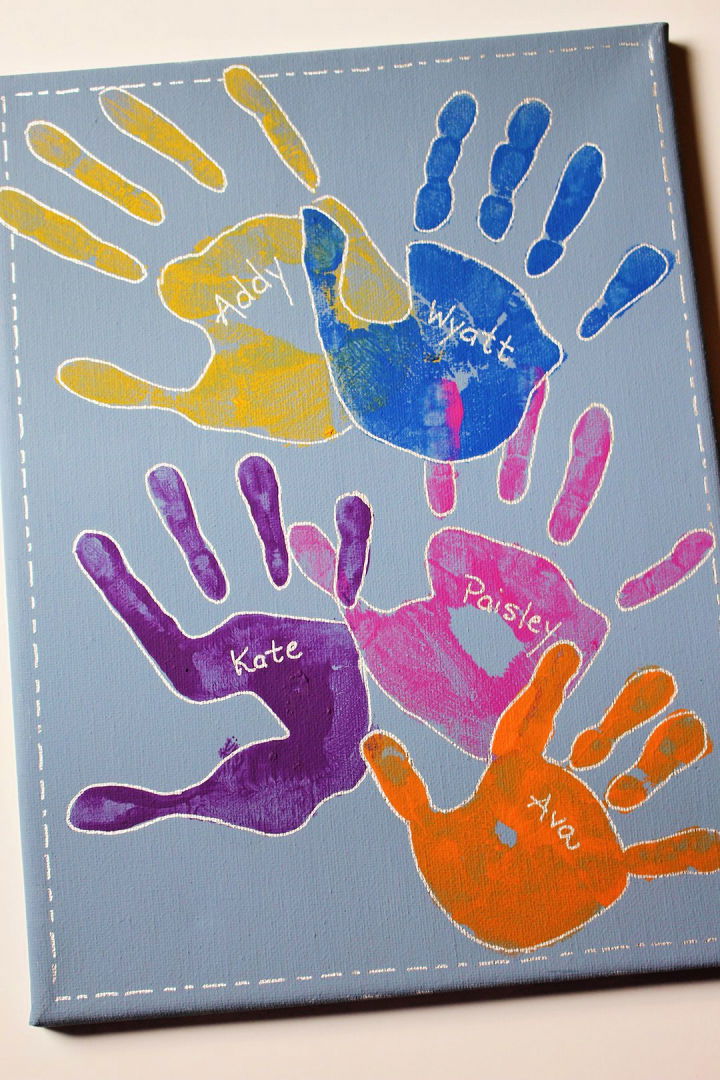 Impressive and meaningful, create a special collage handprint art project that will be cherished for years to come. This easy art project is perfect for capturing the handprints of your loved ones on a canvas.
Utilize acrylic paints in various colors to represent each individual's handprint, then arrange them into a composition starting from the top corner and moving down the canvas. Outline these prints with a silver marker to make them stand out even more before personalizing them further by adding names and dates. Celebrate family bonds and precious memories with this heartwarming keepsake! welcometonanas
11. Colorful Handprint Parrot Craft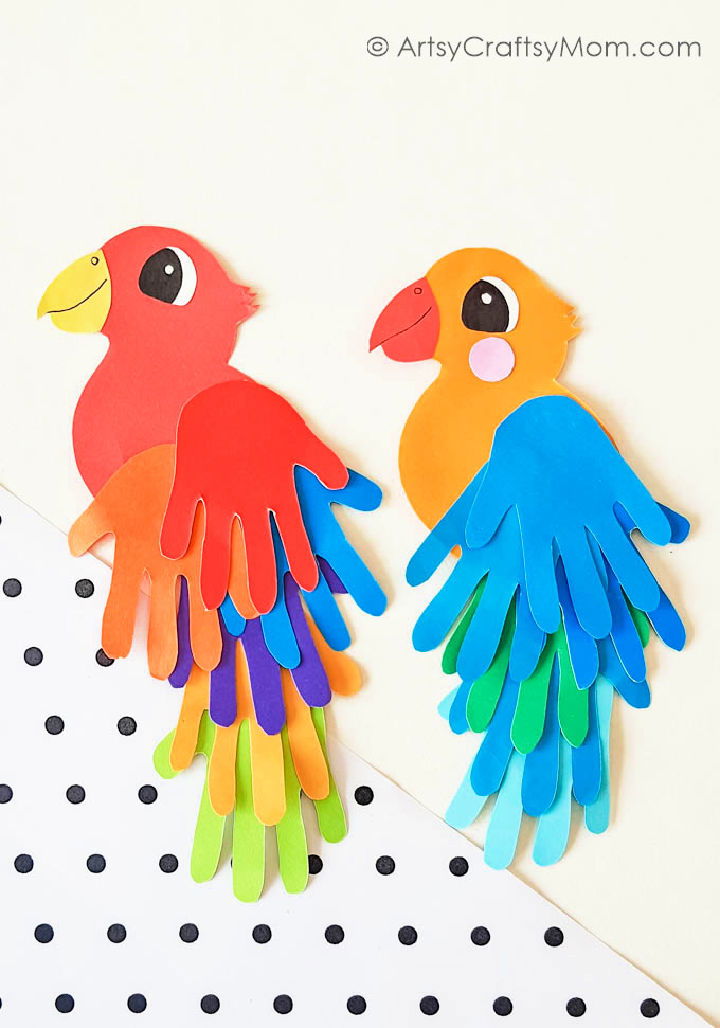 Handprint art offers endless possibilities for DIY gifts, such as personalized mugs, ornaments, and wall décor, perfect for any occasion. Joyously unleash your child's imagination and learn about the wonders of parrots with this vibrant handprint parrot craft! This creative activity will be sure to delight kids of all ages. Gather craft paper in different bright colors, a black marker, a pencil, scissors, and glue – then follow the easy instructions to trace and cut out handprints that can be assembled to create an adorable parrot. Personalize it further by adding additional decorations for even more fun. This delightful craft encourages color exploration while providing an educational opportunity for these majestic birds. artsycraftsymom
12. DIY Valentine's Handprint Art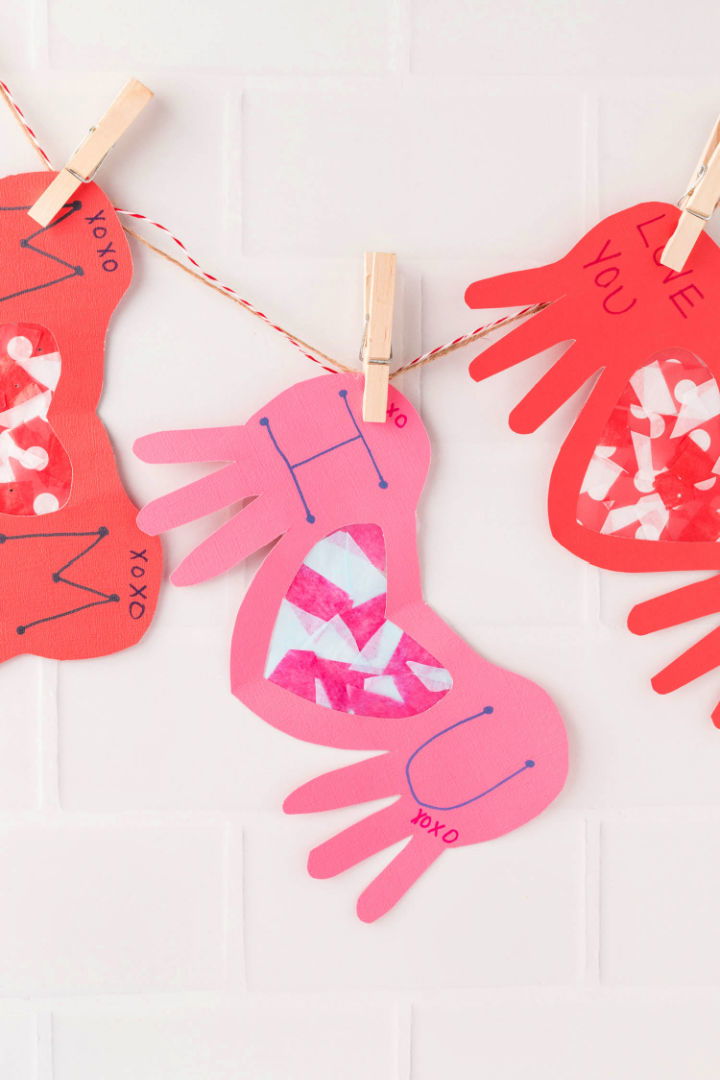 Win the heart of your loved ones with a mesmerizing valentine's handprint craft! Perfect for valentine's day parties or as gifts, all you need is card stock/construction paper, a pencil, press n' seal paper, tissue paper, a glue stick, and markers. Fold the cardstock vertically and trace your child's hand to form a "half heart" shape. Cut out the traced hand keeping the fold intact, and use press n' seal paper to seal the heart's center.
Finally, decorate its surrounding area with colorful tissue papers to create an exquisite stained glass window look! Let your little one have fun crafting this heartfelt gift that is perfect for family & friends! kidsactivityzone
13. DIY Handprint Crab Keepsake Canvas
Unforgettable! Create a memorable handprint crab keepsake canvas with your kids that will be cherished for years. All you need is a large blank canvas, various colors of paint, large and small paintbrushes, a small paper plate, and baby wipes for quick clean-up. Inspire your child's creativity by giving them the tools to make this cute beach-themed craft come alive! Capture their sweet handprints as they bring the sea creature to life on the canvas. gluedtomycrafts
14. How to Make Handprint Tote Bags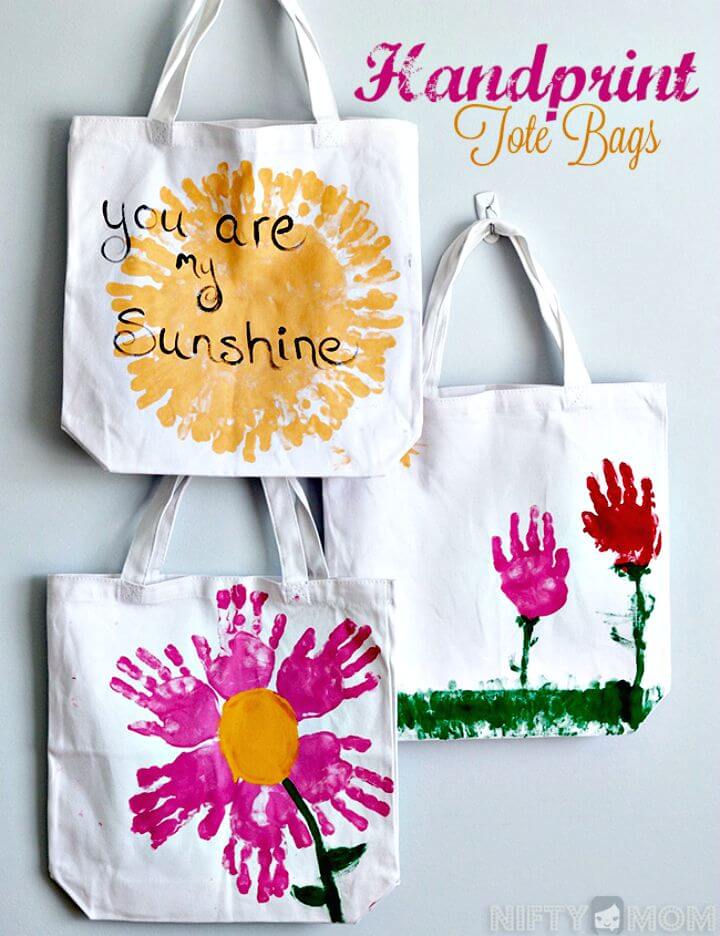 Lovely mother's day gifts don't have to be extravagant! Try making handprint tote bags as an endearing and personal present. Kids love creating their artwork, which makes these canvas bags perfect for them to customize with handprints.
All you need is some fabric paint, a few canvas totes, and the help of your little ones' hands. To avoid smudging, remember to put cardstock or cardboard inside the bag before starting any painting. Add sweet quotes or messages to make it extra special – it'll surely make mom smile! Handprint tote bags are unforgettable presents this holiday season, a heartfelt gift truly appreciated by moms and grandmas alike. niftymom
15. DIY Metallic Handprints Art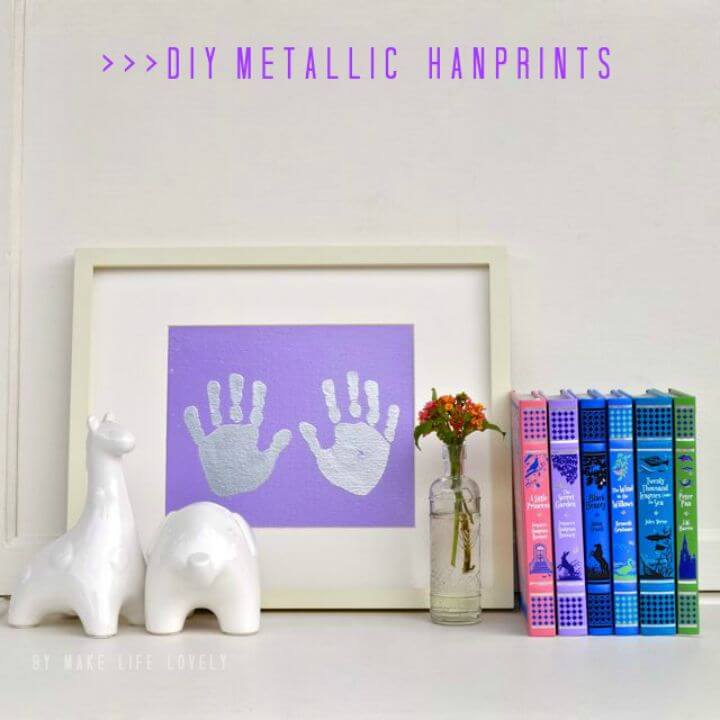 Capture your child's growth through engaging handprint crafts, creating lasting mementos with paints, clay, or even salt dough.
Beguile your loved ones with a mesmerizing DIY gift! Metallic handprints offer an effortless and affordable way to customize a canvas for any occasion. You can easily transform clear ink and embossing powder into stunning raised prints with just a few simple steps.
Gather up a canvas, watermark ink pad, metallic embossing powder, and heat tool – then take your child's handprint on the canvas before sprinkling over the embossing powder. Finish using the heat tool to melt it, and watch your unique creation come alive in captivating metallic colors! Perfect for mother's day or any special event. makelifelovely
16. Thanksgiving Kids Turkey Craft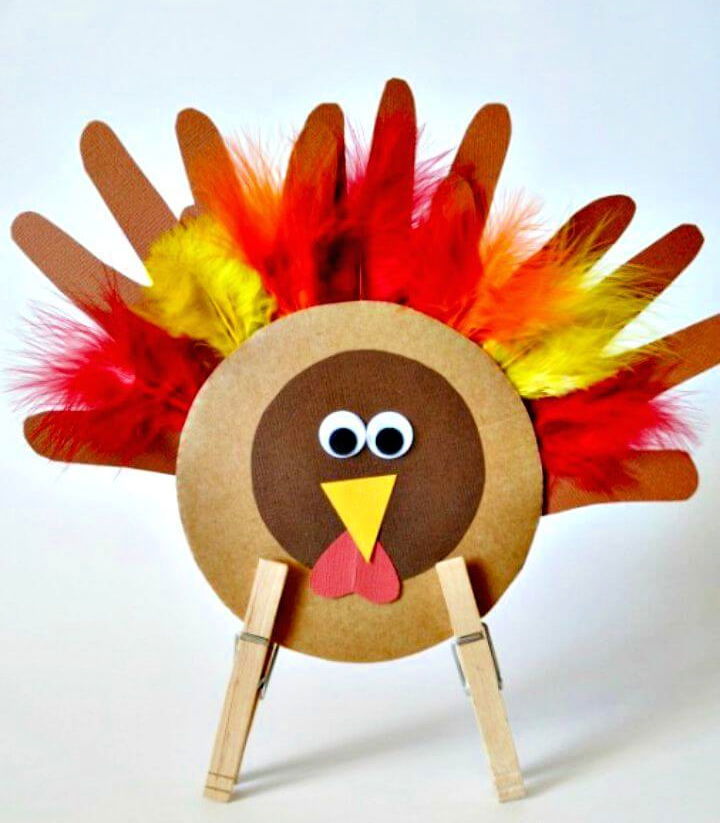 Festive fun awaits! Get ready to craft a memorable thanksgiving activity with this kid's turkey craft. This adorable project features colorful supplies such as brown, yellow, and red cardstock paper, feathers in orange, yellow and red hues, plus googly eyes for extra whimsy. A few clothespins are also needed to create the turkey's legs, personalized with handprints for an interactive touch. So gather your materials and let the creative juices flow with this fun holiday activity! iheartcraftythings
17. Handprint Chick Puppets Craft for Kids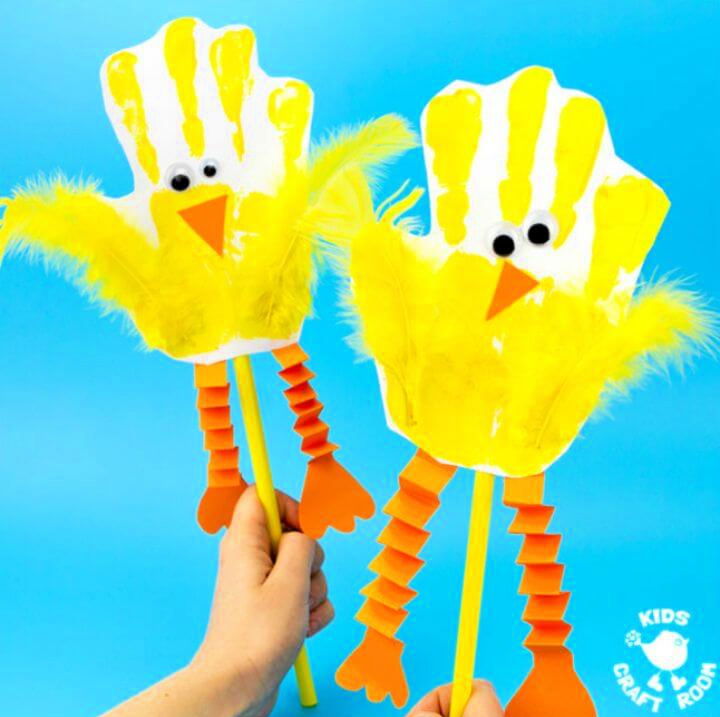 Transform your child's handprint into a beautiful keepsake by exploring various handprint art ideas, like animals, flowers, and more. Amazing spring and Easter fun await with these delightful handprint chick puppets! Perfect for crafty keepsakes, imaginative role-play, and storytelling, these feathery friends are crafted using yellow paint, white and orange cardstock, yellow craft feathers, googly eyes, jumbo straws, glue, and sticky tape.
Let your little ones' creative juices run wild as they assemble their own unique wobbly leg chicks with beady googly eyes. A charming reminder of the joy of childhood – bring a smile to your kids' faces this season with these adorable handprint chick puppets! kidscraftroom
18. Make Your Own Cow Handprint Art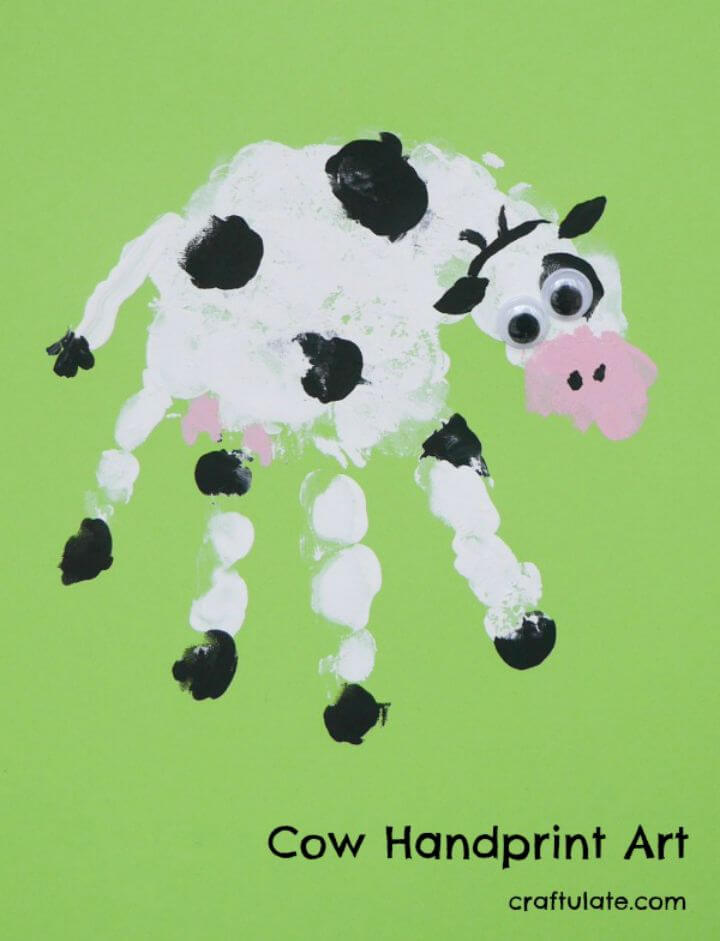 Not only is this super cute cow handprint art farm-themed, but it's also perfect for kids! They will be utterly thrilled by creating their cow from handprints. To begin, gather cardstock along with white, black, and light pink acrylic paints. Don't forget the paintbrushes and lava soap to make the process as easy and fun as possible.
Start by painting your hand white and adding spots and hooves with black paint. Press it onto a cardstock to create the body and head of the cow. Paint the little finger end of the fist white and pink, then press it onto another piece of cardstock for extra details like udders, tail ears, nostrils, or a simple eye patch – use lava soap to clean up once finished. Add googly eyes when done drying for an adorable final touch! craftulate
19. DIY Little Pumpkin Kid's Handprint Fall Cards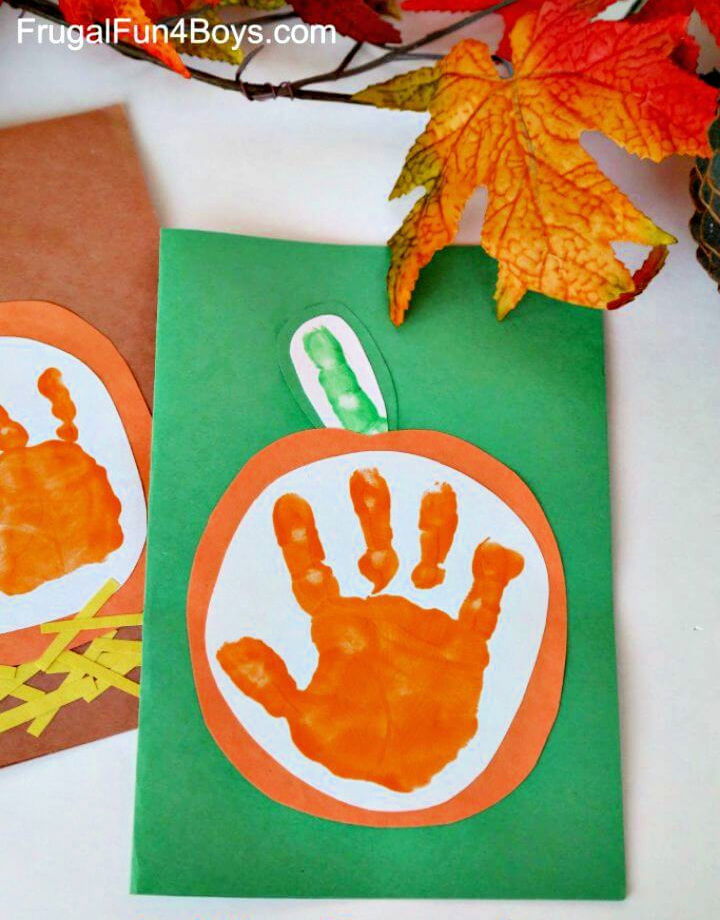 This is going to be a great fall fun for the whole family! Create a cherishable "your little pumpkin" handprint card with your youngsters. Let them dip their hand into orange paint to create the pumpkin, and use one finger to craft the stem. Cut out the prints, glue them onto construction paper, and add a heartfelt message inside – perfect keepsake material! This easy yet creative craft is suitable for all ages, although younger children may require adult help. Make lasting memories this autumn season with these adorable cards! frugalfun4boys
20. Cute DIY Handprint Crab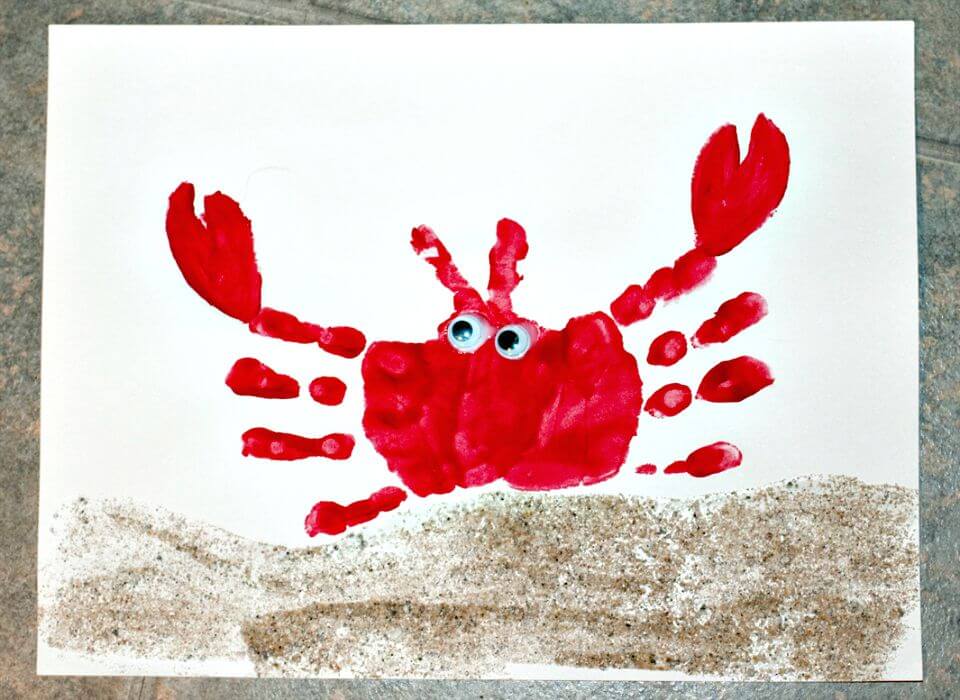 Explore diverse handprint crafts ideas, ranging from beautiful home decor items to thoughtful gifts, perfect for celebrating milestones.
Imaginative parents and children alike will love making these adorable under-the-sea crafts. Create a handprint crab by painting your child's hand and adding sand for a beach effect after drying. Enhance the crab with googly eyes to add charm, or free-paint starfish shapes to get creative!
These easy ocean-themed crafts are perfect for sparking the imagination in kids. Let your little ones explore their artistic side with these fun sea creature projects! One of the best DIY handprint craft projects for kids to do to sharpen their gluing, tracing, and scissoring skills! puppydogtails
21. Angelina Ballerina Handprint Craft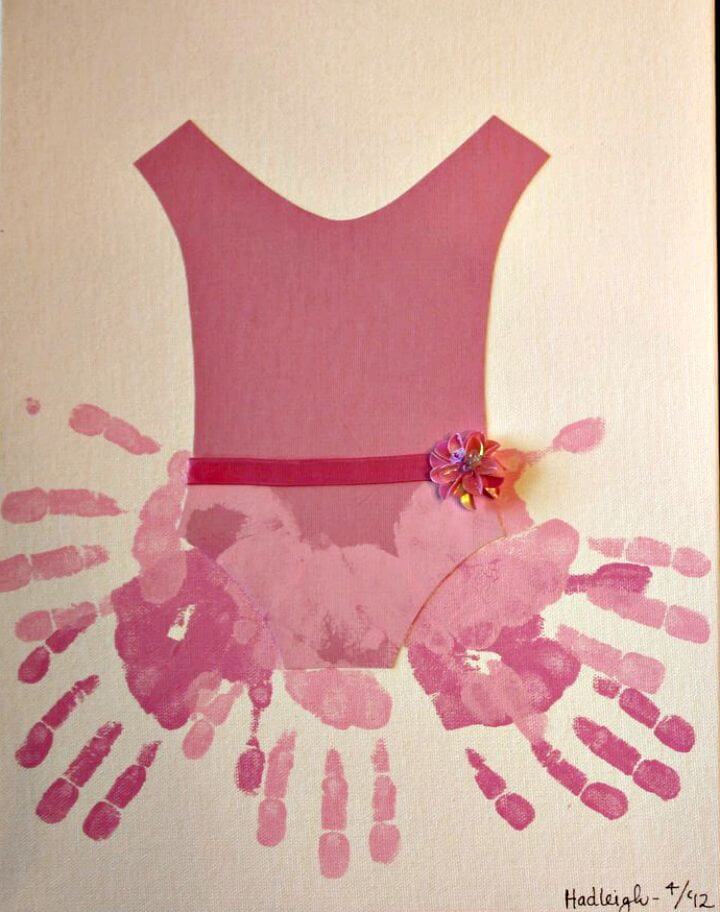 Handprint art projects provide a fun and interactive activity to engage children, fostering their creativity and imagination.
Bejewel your little one's special day by throwing an exquisite Angelina Ballerina-themed half-birthday celebration! Deck out the venue with pink and purple balloons, books, and handmade tutus for each guest.
Encourage storytime moments with delightful Angelina Ballerina books, then get creative with handprint art, painting leotards and flowers in shades of pink and purple. To top it all off, whip up a showstopping ruffle cake complete with a pink angelina ballerina toy figure on top. Use this easy tutorial to make your decadent masterpiece today! everymorning
22. Make a Handprint Monkey on a Vine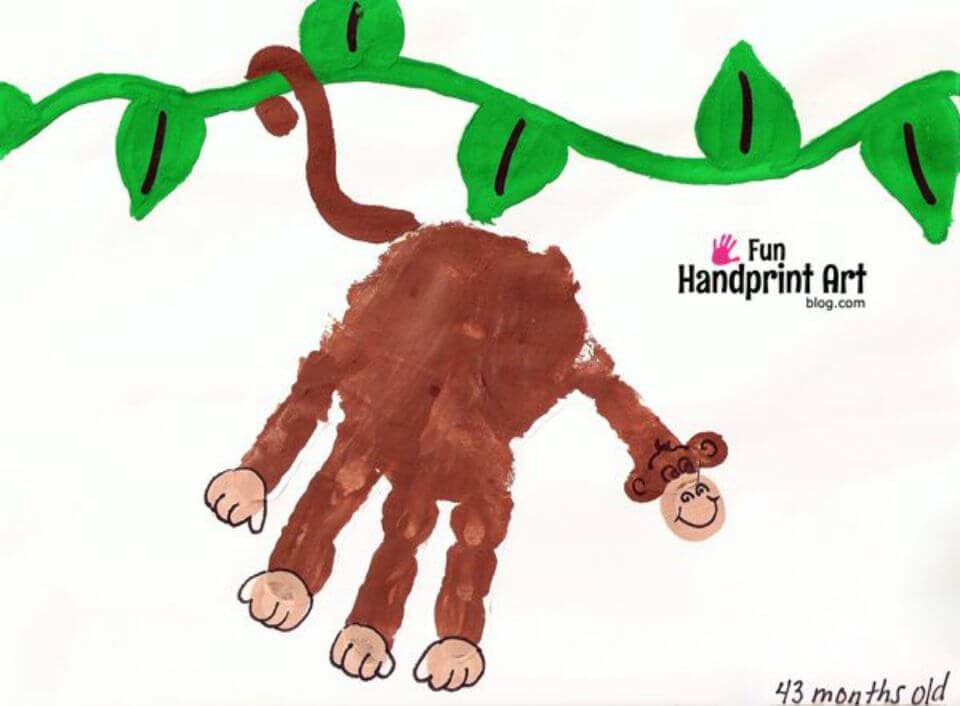 Beholden to the creative spirit, let us explore an engaging craft project – Handprint Monkey on a Vine! Start by making a lustrous brown handprint or whatever color suits your fancy. Make a tan thumbprint at the tip of the thumb; this will eventually become the nose and mouth. For feet/hands, make fingerprint impressions at each fingertip.
To add life to your monkey, create ears with pinkie fingerprints just above where you made the tan thumbprint. Afterward, include additional details like painting a tail and adding facial features. With these finishing touches, you'll have an adorable monkey that looks like it's swinging from its vine in no time! funhandprintartblog
23. Handprint Flower Pot Craft for Mother's Day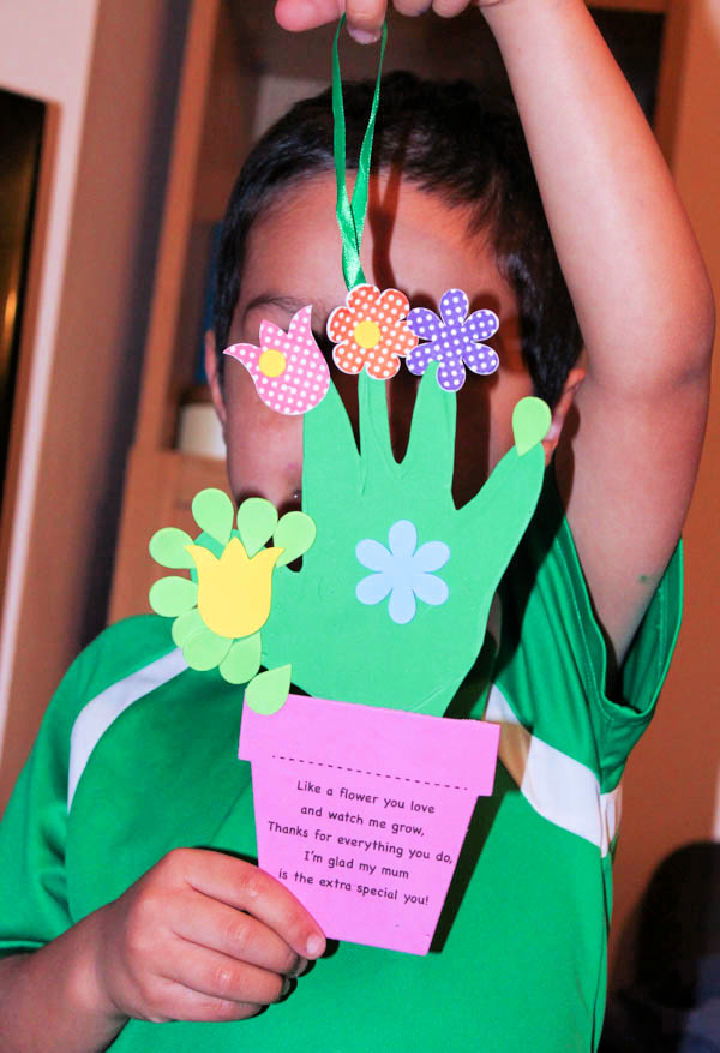 Impressive and unique, the handprint flower pot craft is an ideal gift for mother's day or another special occasion. Easily created with basic items like a green card, colored card/foam for the pot, hole punch, thin ribbon, and foam flower stickers – it's perfect for showing your appreciation of mothers, teachers, or any special person that helps you grow. Customizing this personalized present with your flower designs makes it even more memorable. intheplayroom
24. Making a Handprint Keychain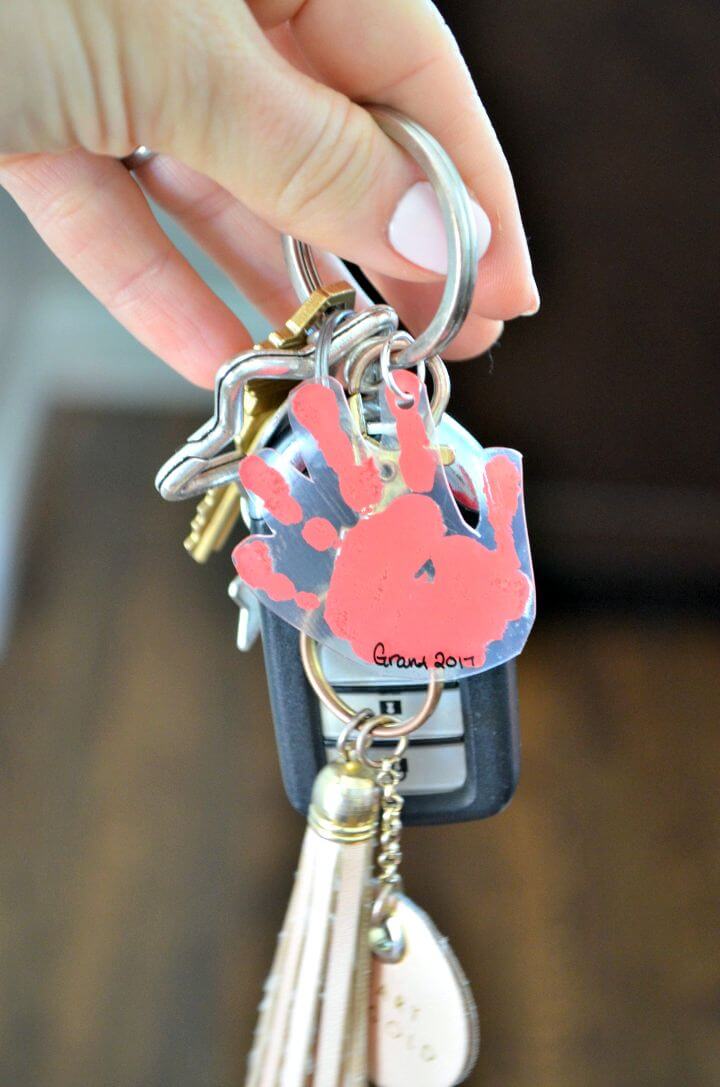 Make adorable DIY handprint keychains using shrinky dinks paper that makes an ideal father's day gift for the special men in your life. Create sentimental, meaningful keychains by painting your child's hand and making a handprint on the paper before placing it into the oven to shrink. Get out all your supplies, like jump rings, acrylic craft paint, mod podge, parchment paper, and more! Follow the simple tutorial to make this one-of-a-kind present that will be cherished forever. craftboxgirls
25. DIY Mother's Day Handprint Art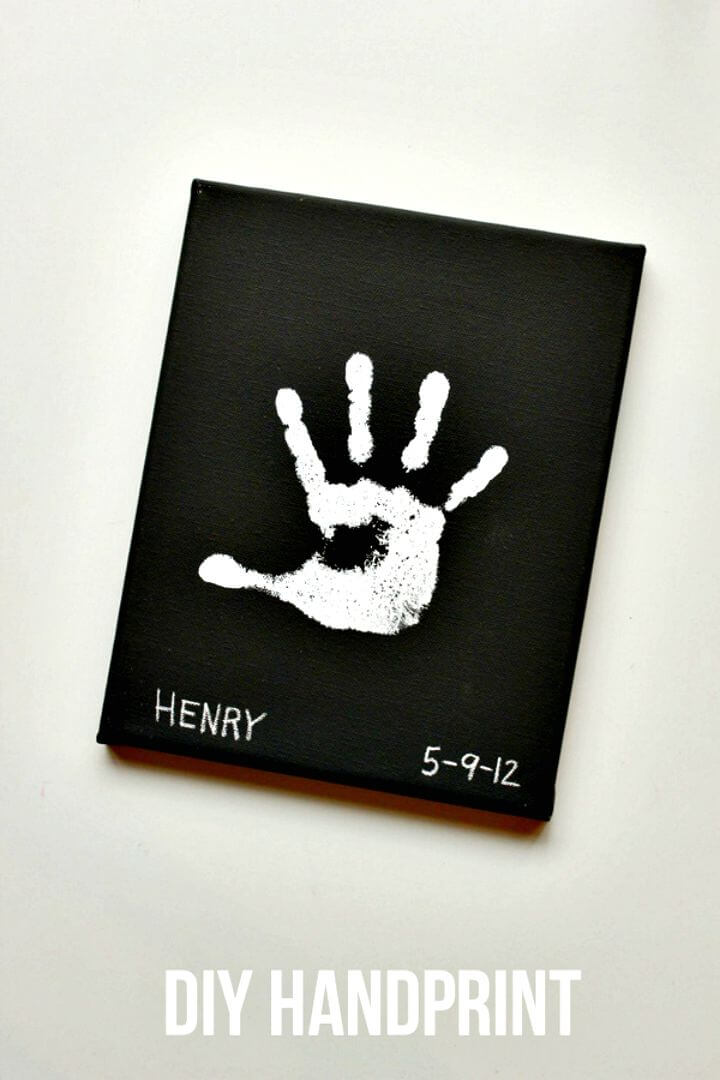 Make this Mother's Day unforgettable! Use these simple steps to create a DIY handprint gift on a black canvas. For this project, you'll need an 8×10 black canvas, white acrylic paint, a sponge, and a white charcoal pencil. First, help guide your child by holding their wrist as they press their fingers lightly onto the canvas. Lift straight up, and continue until you've created the perfect design-minded masterpiece for mom or grandmom. If mistakes occur along the way, simply rinse off the paint with water and start anew. Let this thoughtful handmade craft bring pure joy to that special someone in your life! hellobee
26. Easy Sunflower Handprint Art
Welcome the onset of spring by crafting a vibrant and interactive sunflower handprint craft with your kids! Gather construction paper, yellow, green, and brown paint, paintbrushes, craft glue, and sunflower seeds.
Let your little ones get creative as they imprint their hands onto the construction paper using yellow paint for the flowers. Use green paint to create stems while finishing off the project with brown paint in the center of each flower. Finally, complete this fun activity by adorning each piece with real sunflower seeds glued on top! Make memories that will last a lifetime with this fantastic handprint art project! simplytodaylife
27. How to Make Handprint Peacocks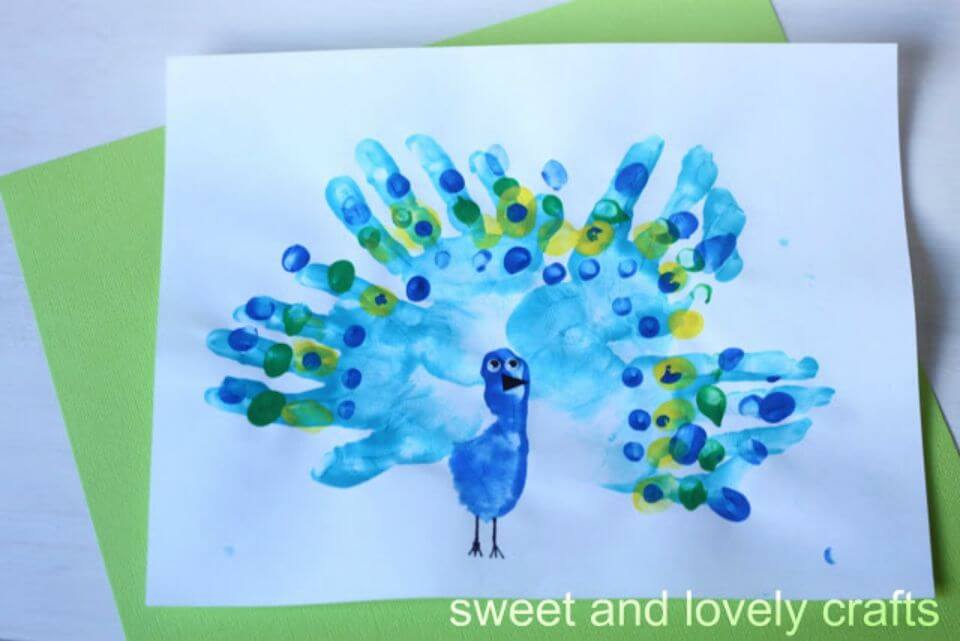 Enliven spring with these fantastically fun handprint peacock crafts! Gather up blue paint, googly eyes, a paintbrush, and paper. Let your little one create a vibrant fan shape using four colorful handprints for the peacock's tail. Get creative by having them use their thumb and palm to paint the peacock's body, then embellish it with dots for decoration. Add googly eyes and a beak, and draw on your feet for that extra special touch! Another great kids' craft idea that they will love to do, and this will be a great project for peacock's fans also! sweetandlovelycrafts
28. Create an Autumn Handprint Tree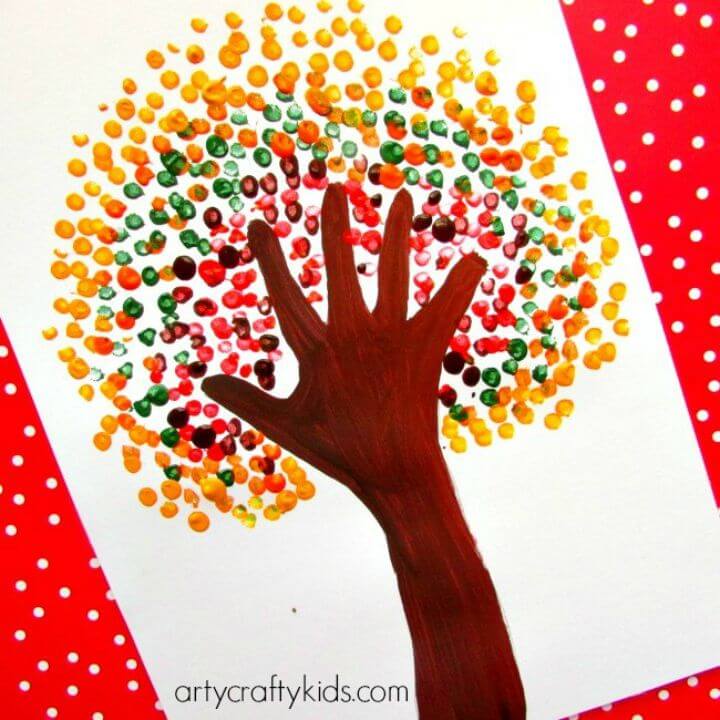 Unlock your little ones' creativity this autumn with an autumn handprint tree project! This engaging activity allows kids to practice color mixing and watch the vibrant seasonal changes occur. Stimulate them to mix their colors and explore shades of orange and brown. Not only is this a great hands-on learning experience, but it also encourages problem-solving skills and mathematical thinking. All that's needed are a white card, primary colored paint, black and white paint, plus some q-tips – then let those imaginations flow! artycraftykids
29. Make Your Own Handprint Apron
Create amazing memories with DIY handprint aprons! Perfect for gifting on special occasions, these canvas aprons can be adorned with kids' handprints using washable fabric paint, fabric, matching thread, and heat transfer. An enjoyable family project that captures a moment in time creates personalized aprons that will become cherished keepsakes for years. Let the little ones get involved and make something special – an effortless way to bring the whole family together! simplykierste
30. How to Make Handprint Baby Chick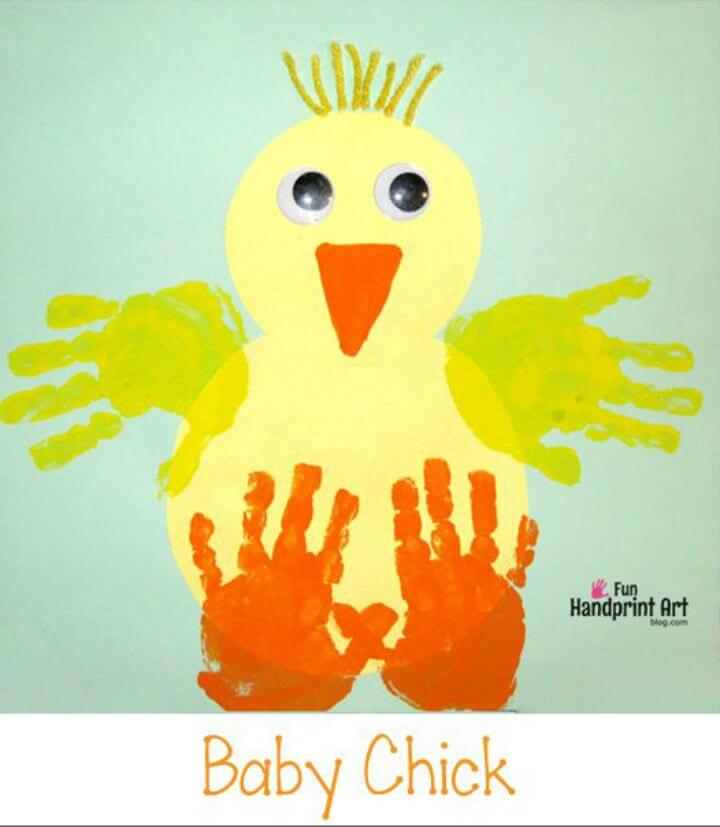 Capture precious memories with handprint art. This creative and personalized way to display your child's growth over the years is fabulously fun and oh-so-adorable. You can create a handprint baby chick craft for Easter or as part of a farm animal theme. To make it, cut out yellow cardstock or construction paper in the shape of the chick's head and body with circular items used to trace.
Make wings from little handprints with yellow paint, while feet are formed using orange handprints. Complete this cuteness by adding googly eyes, yarn hair, and an orange beak – don't forget to include the child's name and age! This craft pairs perfectly with two sweet books about baby chicks to make your creation come alive! funhandprintart
31. Lovable Handprint Parrot Art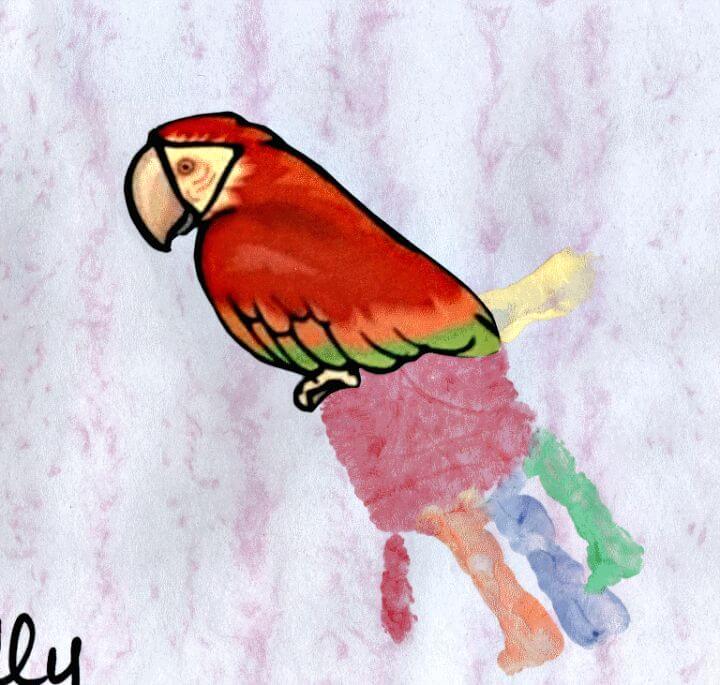 Galvanize your child's imagination with a swashbuckling pirate party activity! Get creative by creating colorful handprint parrots – the perfect way to celebrate national talk like a pirate day. Print a parrot body on white cardstock and cut out the tail and legs. Paint the child's hand with washable paints using different colors for each finger and palm, then press it onto construction paper at an angle, forming feathers for its tail. Finally, glue the parrot body onto their beautiful masterpiece and revel in their pirate-inspired creativity! crazycrafter
32. DIY Handprint Art On Ceramics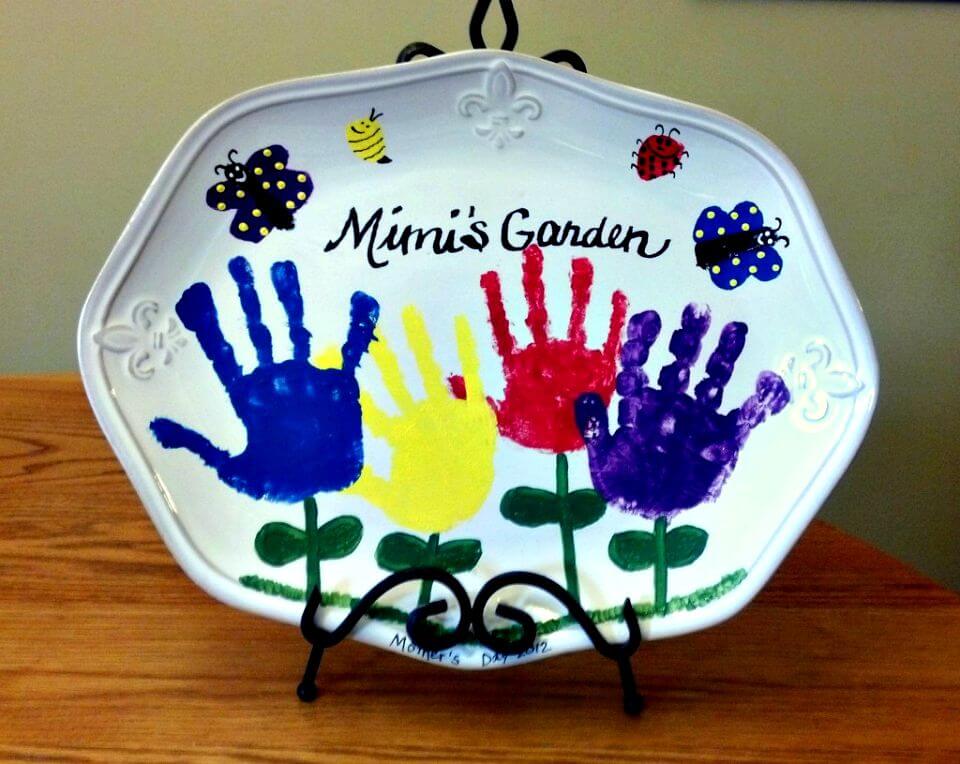 Handprint crafts offer a creative, personalized touch, transforming children's handprints into adorable keepsakes and cherished memories. Revitalize your creativity and try making a heartfelt homemade gift with ceramic painting.
Gather the supplies needed to craft a handprint plate for kids: a ceramic platter, various colors in ceramic paint, ceramic paint markers, letter stencils (optional), paintbrushes, alcohol & paper towels. Remember to thoroughly wash & dry the dish before painting and keep your child's hands clean.
Follow the step-by-step guide or customize it however, you please; capture memories in this one-of-a-kind personalized gift that will be cherished for years to come! feltmagnet
33. Cute Handprint Penguin Craft for Kids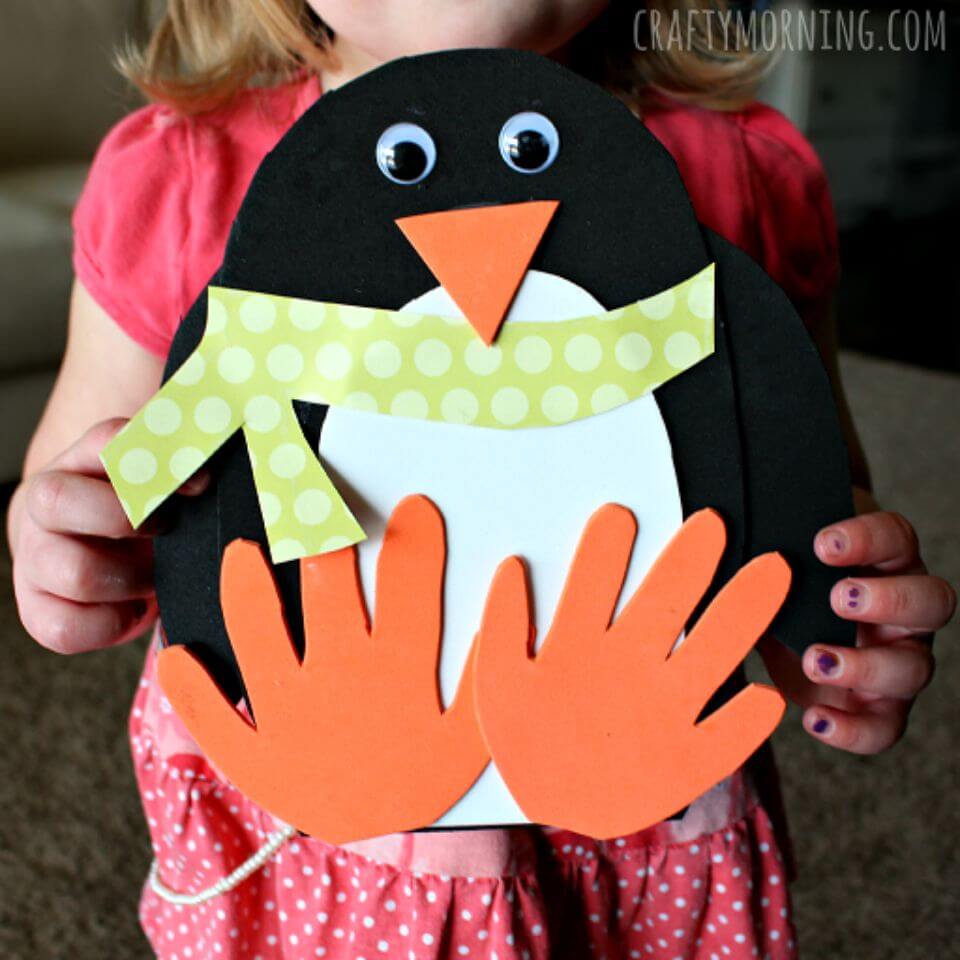 These super cute handprint penguins are the perfect way to engage your kids in a creative activity! You can transform your child's handprints into adorable little feet with foam paper, glue, googly eyes, and scrapbook paper. All it takes is cutting out shapes from the materials and gluing them together before adding googly eyes for extra charm. Not only will this encourage imaginative play, but it will also foster their motor skills! craftymorning
34. Easy DIY Handprint Snowflake Art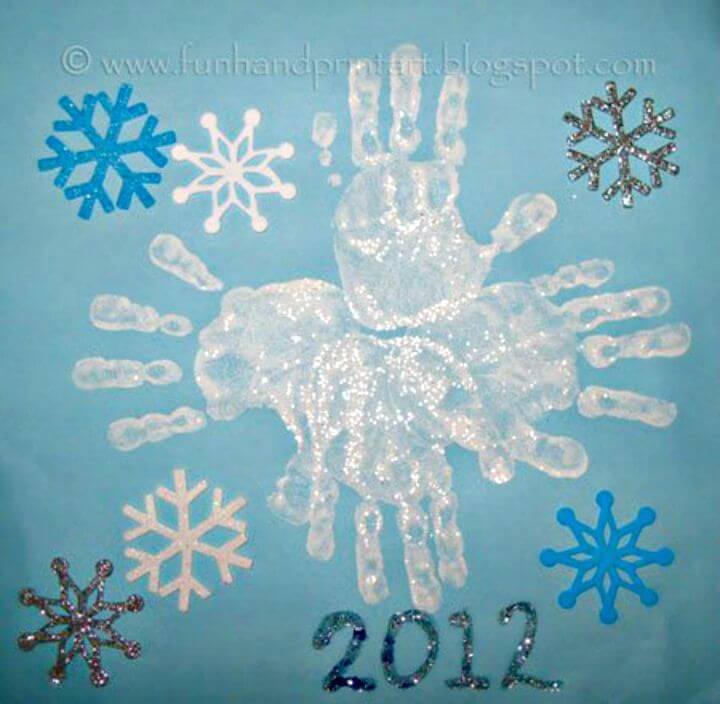 Glimmering with possibilities, your child can create an exquisite handprint snowflake craft this winter. Using shimmery glitter, white paint, and cardstock paper, the project starts by mixing the paint with Crayola mixing mediums for a spectacular effect. Then rub the paint onto their hands to make overlapping prints on the page in a snowflake formation. Flip it over and repeat until you have a symmetrical masterpiece! Decorate further with festive stickers and personalize it with year-stamped glitter glue. This art activity is ideal for providing kids creative fun during the cold season! funhandprintart
35. How to Make Handprint Mug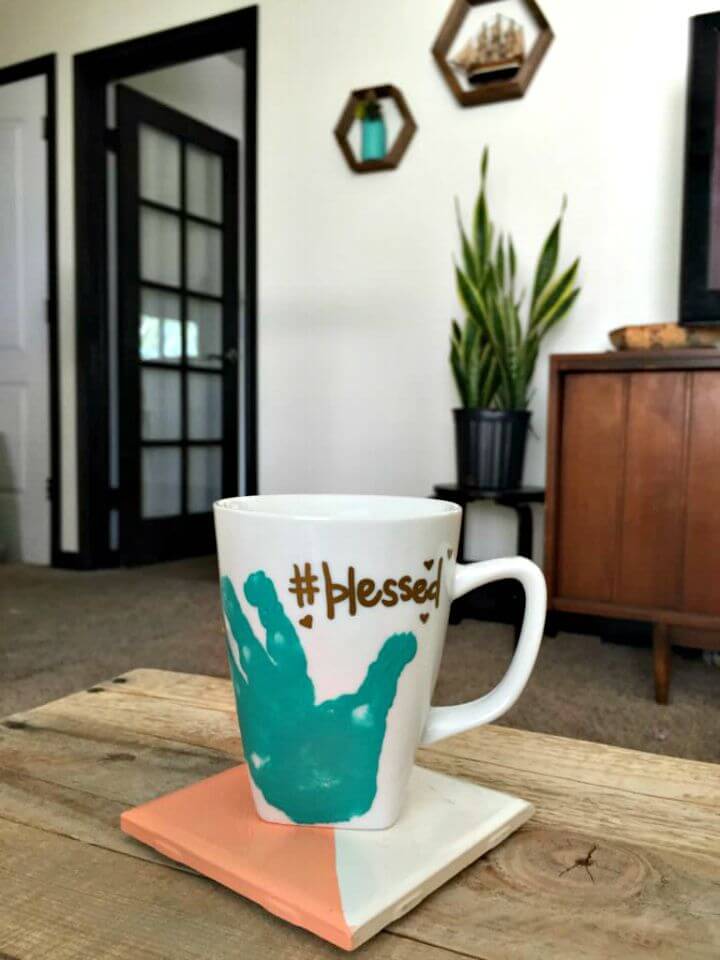 Commemorate your family's love with a beautiful one-of-a-kind DIY handprint mug. All you need is a plain white mug, enamel paint in your favorite color, an oil-based sharpie pen, an oven, an acrylic sealer, and a paintbrush. Apply your child's handprint to the mug before writing an inspirational message or drawing designs with the sharpie pen. Bake in the oven to set the paint, and finish off with an acrylic sealer for lasting protection. Make this meaningful craft a daily reminder of gratitude for all your family has bestowed upon you! lifeasmama
36. Make Your Own Swan Handprint Art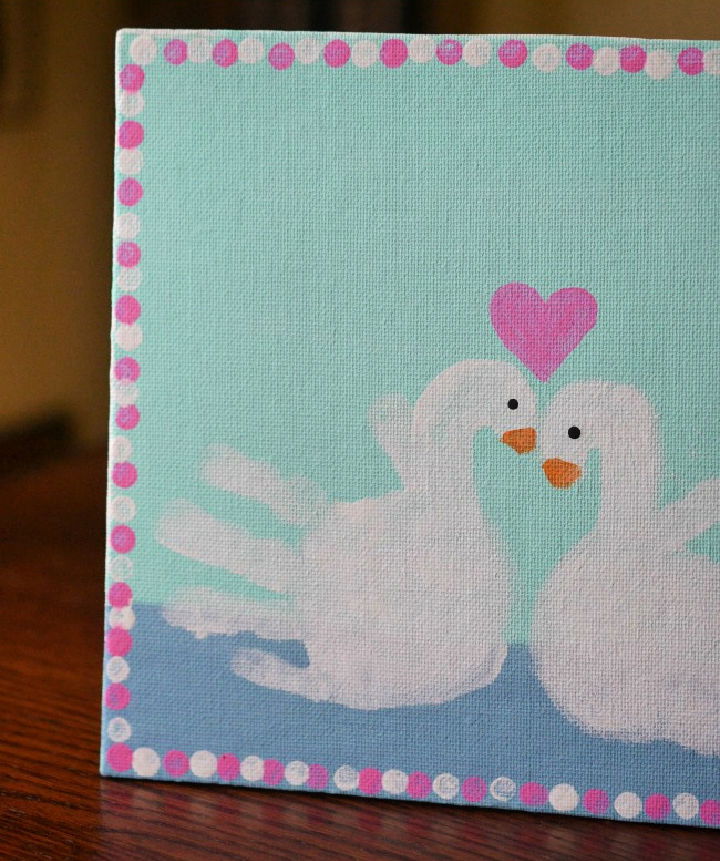 Craft a charming swan handprint! Smartly choose assorted paint shades – white is mandatory. Gather up baby wipes for easy clean-up, brushes, or paper plates to mix colors, and adorably-sized hands for prints. Create beautiful memories with this delightful, budget-friendly DIY that is perfect for Valentine's day or any time of the year. Make your child smile by showing off this adorable piece of art on your wall while stimulating creativity!
37. DIY Fall Handprint Wreath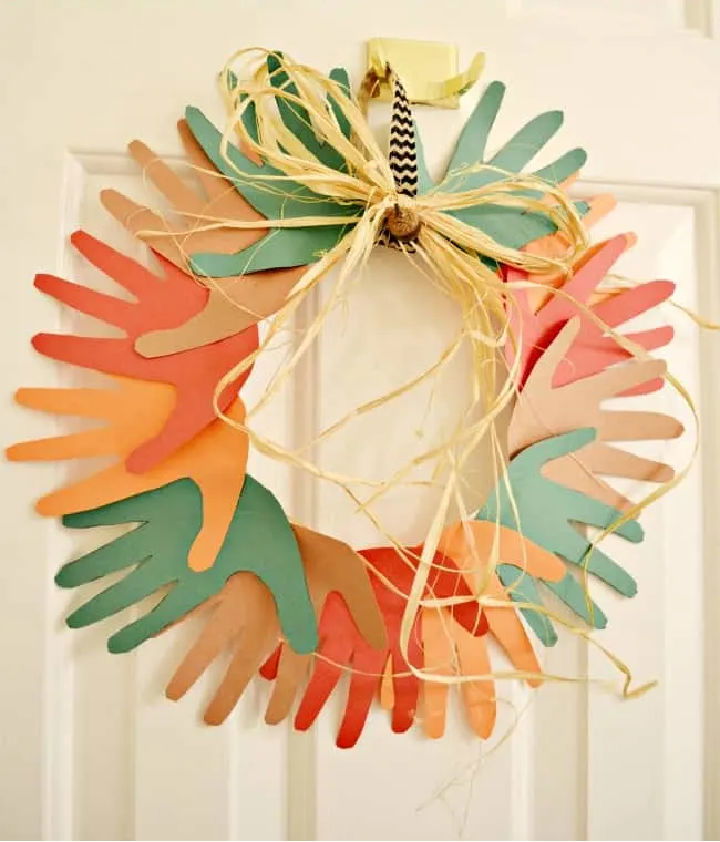 Gather your artistic team and join in on the merriment of this kid's handprint wreath project this fall! Grab construction paper in various fall colors (orange, brown, red, green), a paper plate, and ribbon for embellishments such as raffia and acorns to create an adorable handprint wreath. Let your little ones make their mark on the construction paper and cut out the shapes to form a beautiful fall design. Tie off with a ribbon for easy hanging, and add extra charm with raffia and acorns – perfect for celebrating the harvest season. todayscreativeideas
38. DIY Rainbow Handprint Flower Pot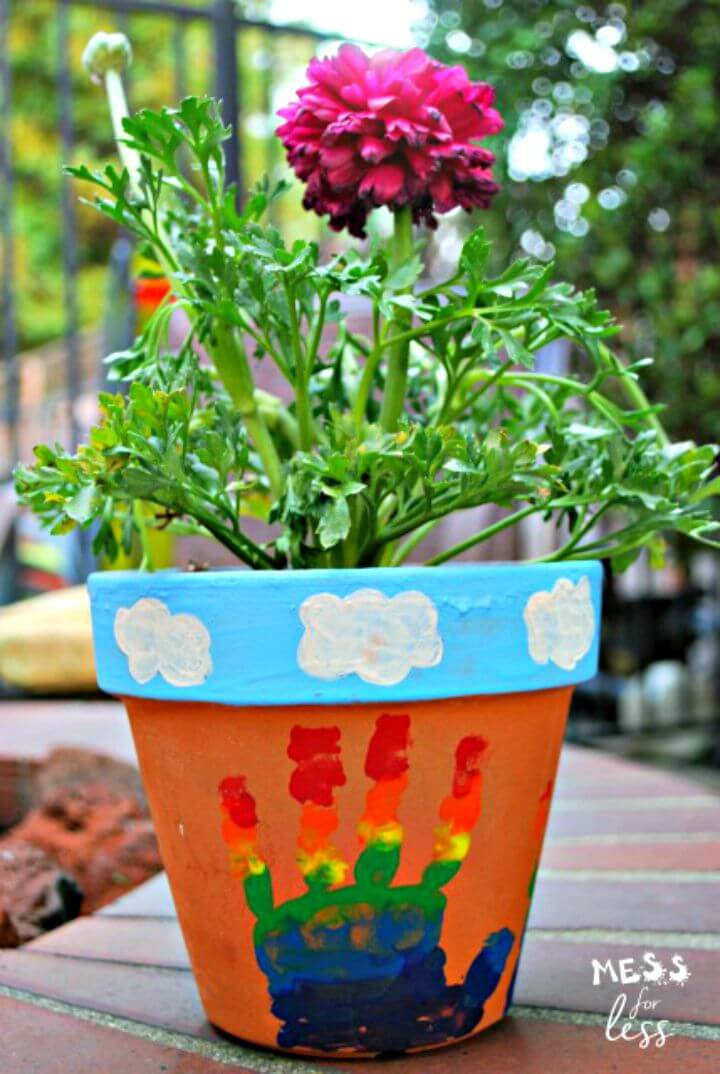 Captivating and exciting, create a vibrant rainbow hand print flower pot with this crafty activity! Perfect for St. Patrick's Day or springtime fun, bond with your little ones while unleashing your creativity. Gather materials such as a terra cotta pot, white and light blue acrylic paints, rainbow-colored paints (red, orange, yellow, green, blue, indigo violet), paint brushes, and huggies wipes for easier clean-up. Let the children make handprints with rainbow colors on the flower pot, then use the wipes to eliminate any mess you may encounter. This gorgeous colorful flower pot will be an adored keepsake! messforless
39. DIY Salt Dough Family Handprint Keepsake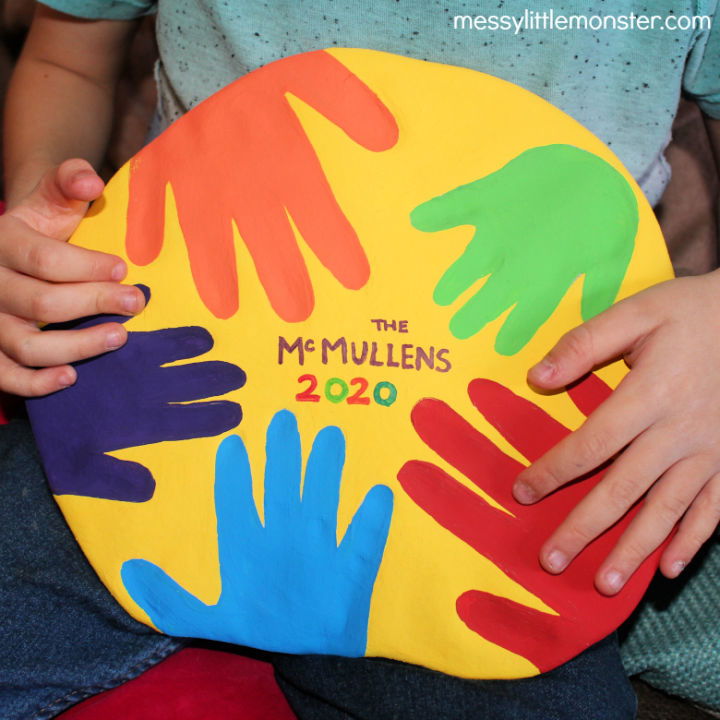 Marvelously make a cherished keepsake with your family by creating a salt dough family handprint plaque! With just flour, salt, and water, you can whip up this easy-to-follow recipe for the dough. Gather supplies such as acrylic paint, baking tray, foil, and sealer to begin this heartfelt craft that will be treasured for years. Follow steps such as forming handprints with the dough, painting them, and sealing the plaque to commemorate quality time together. Make something special today with your loved ones! messylittlemonster
40. Handprint Puppets Craft for Halloween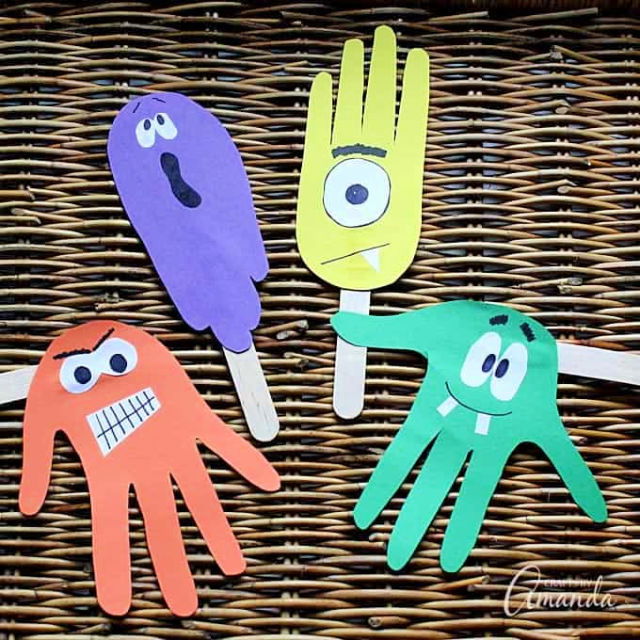 Unleash your creativity this Halloween with these one-of-a-kind handprint puppets! Kids will have hours of spooky fun crafting their unique monsters from construction paper, jumbo craft sticks, white paper, and a black sharpie. Crafting the puppets is easy – trace your hand on different materials, cut them out, and assemble them with some glue or tape. Move your fingers in different positions to make each puppet truly frightful! Put on an unforgettable Halloween puppet show for friends and family with these handprint puppets! craftsbyamanda
Related Crafts for Kids:
Conclusion: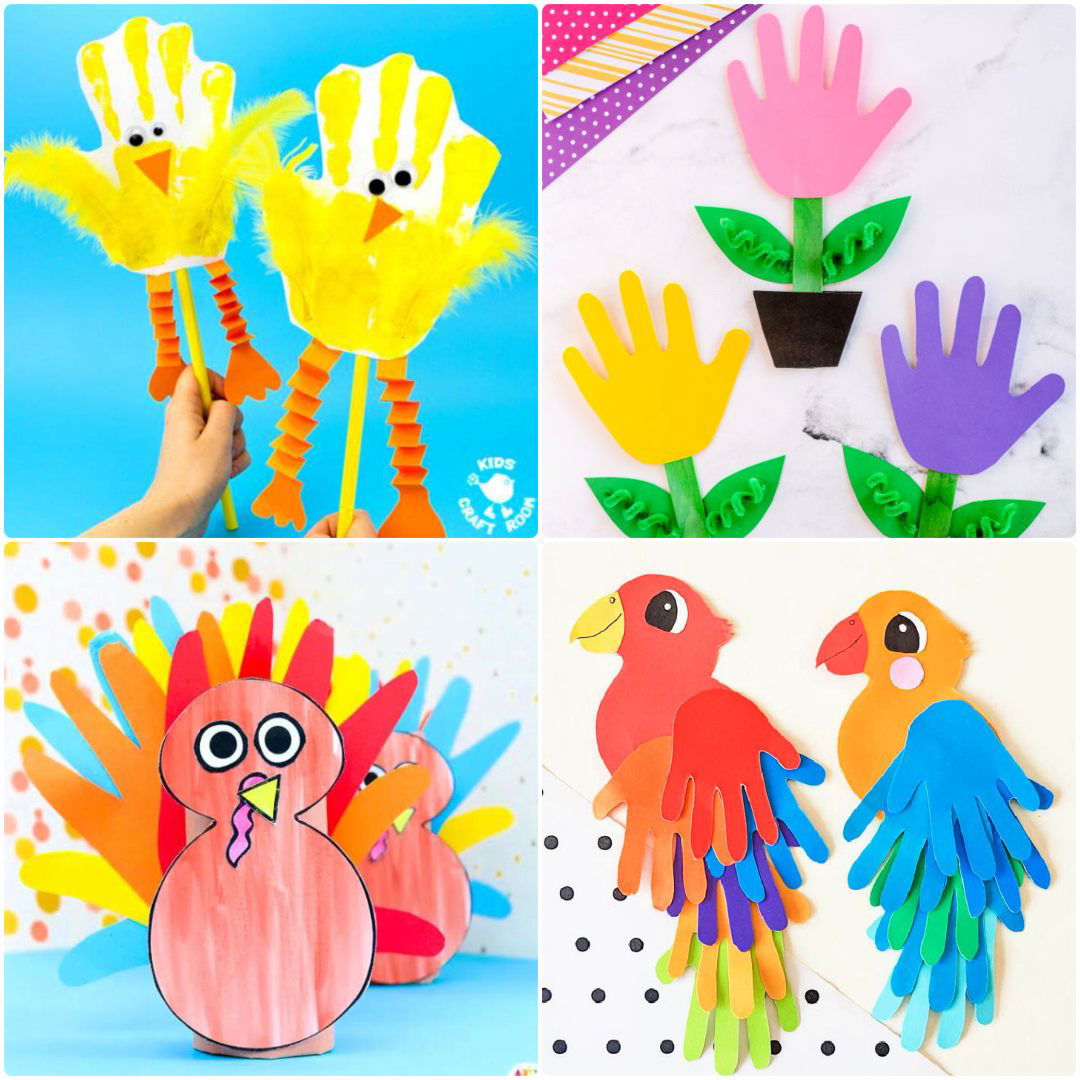 In conclusion, these handprint crafts and art ideas offer many creative and engaging projects for children of all ages. From handprint art for toddlers, preschoolers, and kindergarteners to crafts specifically designed for girls and boys, kids can enjoy exploring the different possibilities while creating personalized, meaningful art pieces. Handprint craft ideas and activities like handprint paintings, collages, or keepsakes not only unlock children's artistic potential but also allow them to treasure memories with pride. So, let your child's imagination soar with these varied and fun handprint art ideas.