Celebrating with flowers is one of the best ways to enter any season, especially falls and winters, when everything gets all gloomy or quiet. What's better than to brighten things up with these lovely DIY sunflower crafts! Find these 25 easy sunflower crafts for kids and adults to make at home. All these sunflower crafts can be perfect for kids to adults of all ages. Kids can have some great ideas for school projects, and adults can nail some pretty cool decor ideas for sprucing things up in their decor game! So, either if you are looking for a preschooler school project or an adult way to revamp the empty wall at your home, we have got it all here!
But, before we process further. Let us tell you the one really amazing and fun fact that you might haven't even noticed about sunflowers! Sunflowers are the only flowers that have the word" flower" in their name! All the more reasons to explore through our DIY sunflower crafts and petal by petal explore the fun ways to have this unique flower brighten up your lives. From paper plate sunflowers to creating giant sunflowers, our ideas are priceless, and each has its own best to win your heart. So much so, that we are sure next time your kid is going to have a flower costume day at school, you are so going to send them as cute and vibrant sunflowers! Let's start exploring flower crafts, shall we?
1. DIY Paper Plate Sunflower Kid Craft
Bring the artist out of your kindergarten kids and let them do some creative stuff to cherish their moments. Introduce This DIY Paper Plate Sunflower Kid Craft at your school and enable your students to cut and paste the crepe paper to make this super cool stuff. gluedtomycrafts
2. How to Make Giant Sunflower Craft
To decorate your preschool and attract your newbie students, you desperately need to enrich your walls with the craft that pull the kids into the school. Learn How to make Giant Sunflower Craft and make your own crepe decoration pieces. notimeforflash
3. Sunflower Craft for Preschoolers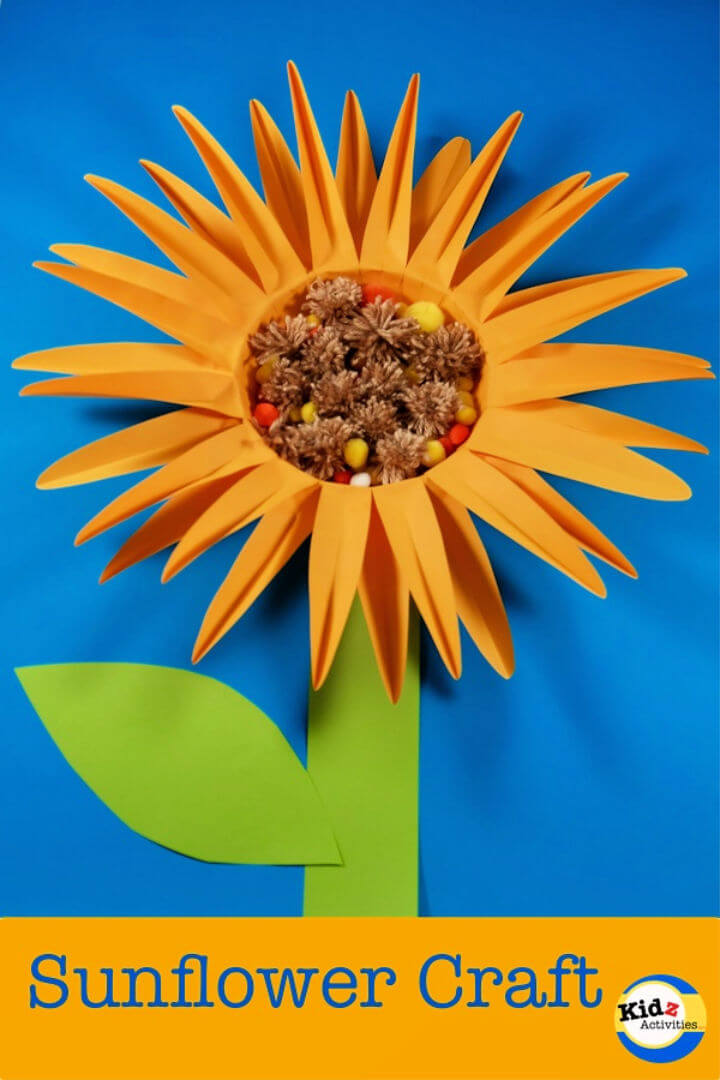 Learning with images is important for the kids to retain the new knowledge in their little minds. This refreshing DIY Sunflower Craft for Preschoolers are totally adequate for the apprehension of the kids to learn with more fun. kidzactivities
4. DIY Sunflower Craft for Kids
How fascinating is this DIY Sunflower Craft for the kids? You can involve your kids in this art by providing them with green, yellow, and black crepe paper with glue and small kid's scissor. Allow them to make fun with crafts like this. playdoughtoplato
5. Create Clothespin Sunflower Craft for Kids
Another one from our DIY sunflower crafts! Create this astounding Clothespin Sunflower Crafts for kids by using ice cream sticks with a disposable plate, yellow crape paper, and clothespins. Follow the instructions step by step to create this craft. theresourceful
6. Crumpled Paper Sunflower Craft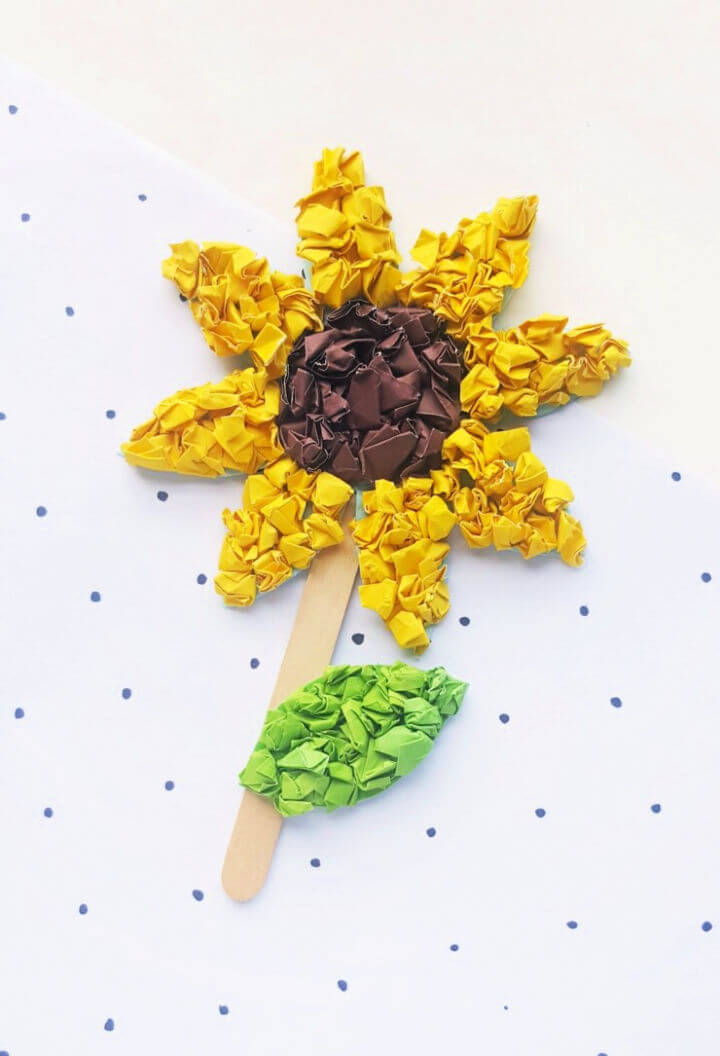 Enjoy your time with your kids by making this DIY Crumpled Paper Sunflower Craft. Use yellow, green, and brown crepe paper, contort it and paste it with glue on the sketch of sunflower you already drew on paper. frugalmomeh
7. Coffee Filter Sunflower Craft
Discover more ideas with this DIY Coffee Filter Sunflower Craft. It can be done in quite several different ways to decorate and update the notice board to attract the bystanders with the bulletins.
8. Create a Sunflower Paper Plate Craft
Next time whenever you're having any activity day at school, make sure you are giving this activity of Creating a Sunflower Paper Plate Craft. Provide the students with a few old crepe material and contest them to reproduce Paper plate sunflower. woojr
9. Sunflower Hand Print Paper Plate Craft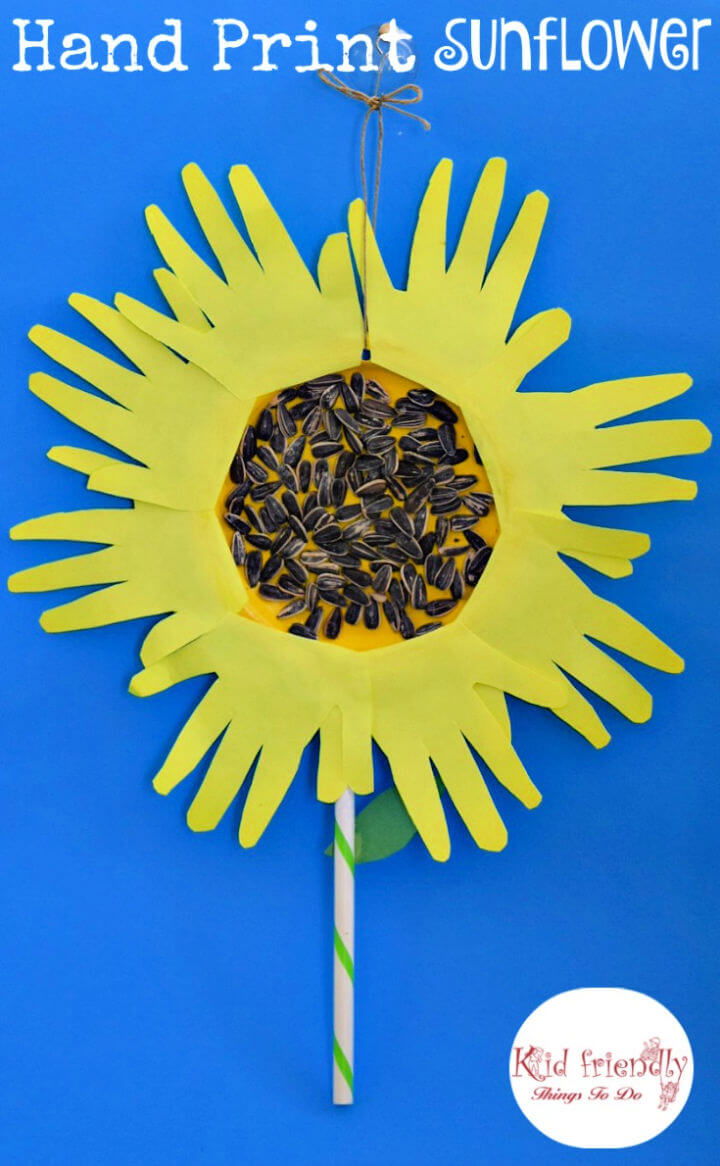 This cool DIY Sunflower Hand Print Paper Plate Craft is a total amusement for your kindergarten kids. Provide the children with safety scissors, place their hands on the yellow crepe paper, and cut the paper in the shape of their hands to make this Hand Print Sunflower. kidfriendlything
10. Sunflower Egg Carton Craft for Kids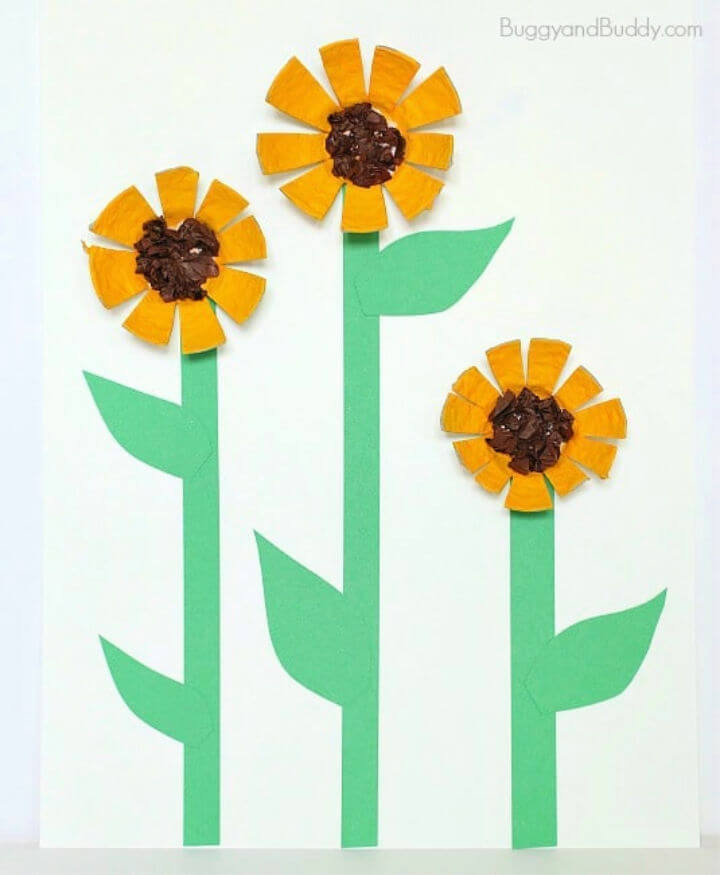 Get your kids creative and have fun at the same time. Repurpose your recyclable paper egg cartons into wonderful crafts that will have your kids cracking up. Learn this DIY Sunflower Egg Carton Craft for kids. buggyandbuddy
11. How to Create Giant Sunflower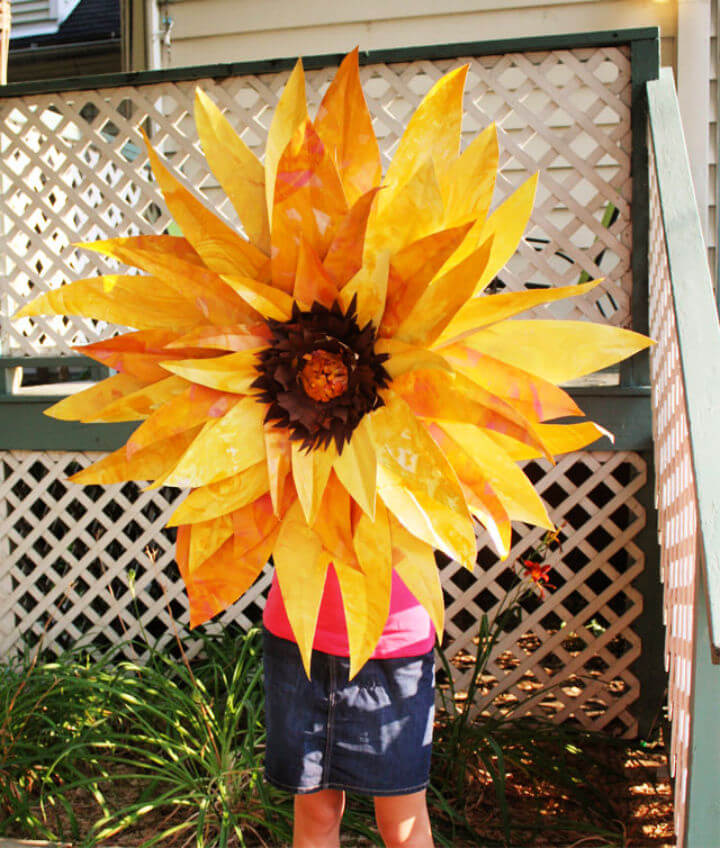 Make your spring season more colorful and joyful by making this Giant Sunflower with your kids and enhance the beauty of your garden with paper flowers too. All you need to create this Giant Sunflower is to have some Chart paper, yellow and brown watercolor, and glue. auntpeaches
12. Sunflower Craft Perfect for Summer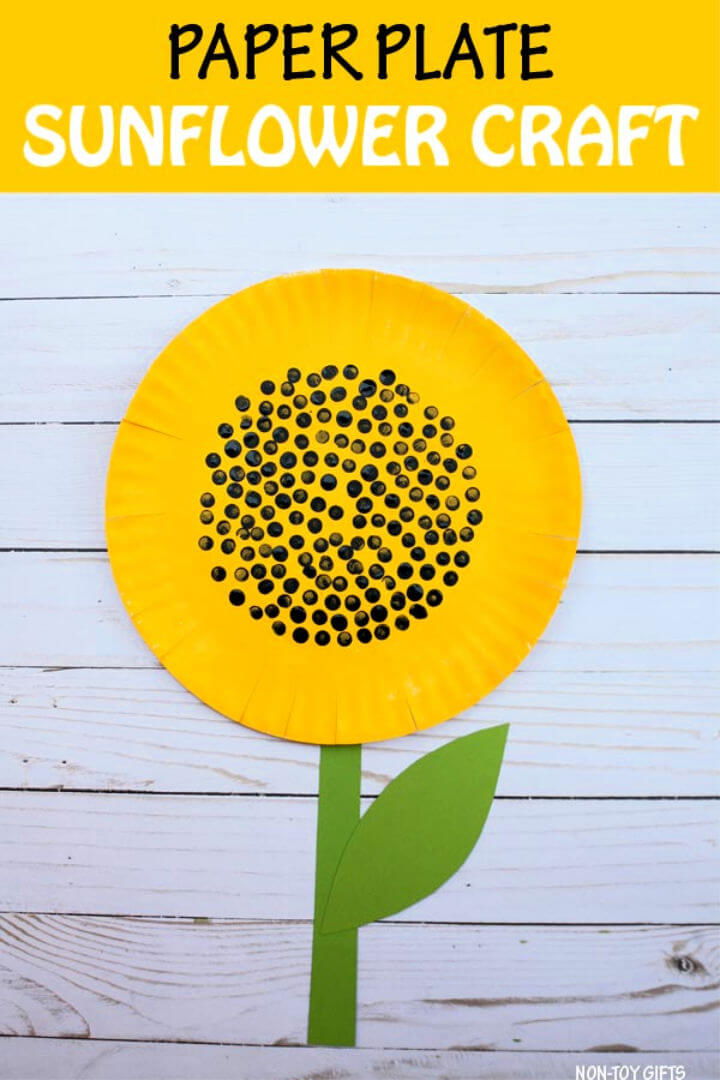 Summers are here, and so are the vacations. Spend time in creating this DIY Sunflower Craft Perfect for summer. Use Paper Plate and color it with yellow fabric color and put some black fabric colored dots on it with a brush to make it look like a sunflower. nontoygifts
13. DIY Craft Stick Sunflower Craft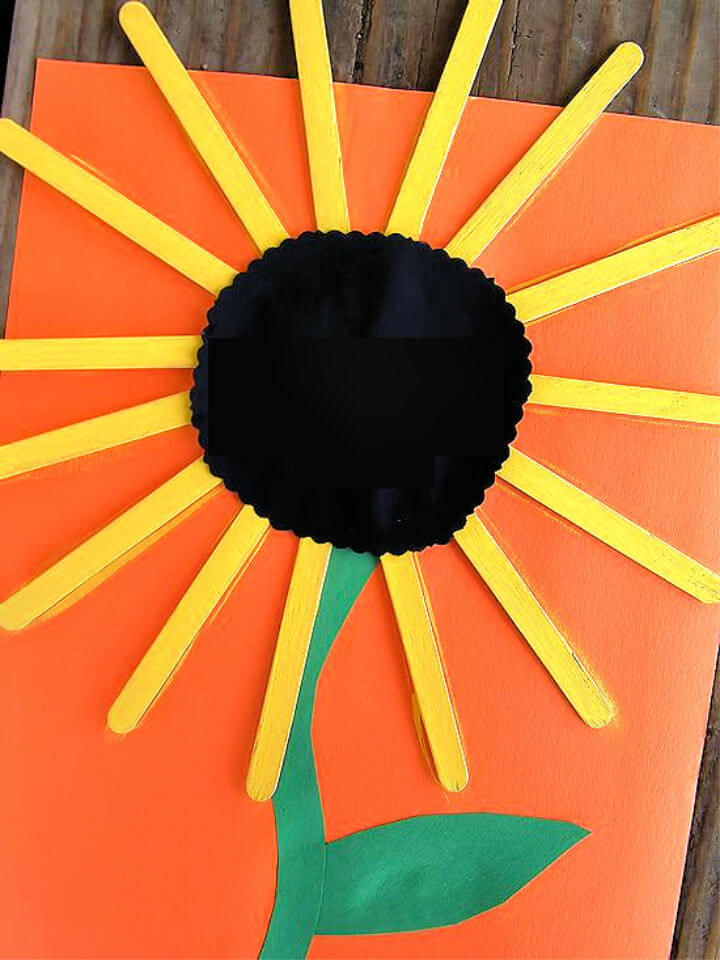 Nourish your kids by engrossing them more in a physical craft like this DIY Craft Stick Sunflower Craft and expand the intellect of your kids. This easy craft can be made by any 2 to 3 years old kids easily. Just provide them Ice cream sticks, watercolors, crepe paper, and glue. ourkidthings
14. Make a Sunflower Craft Using Noodles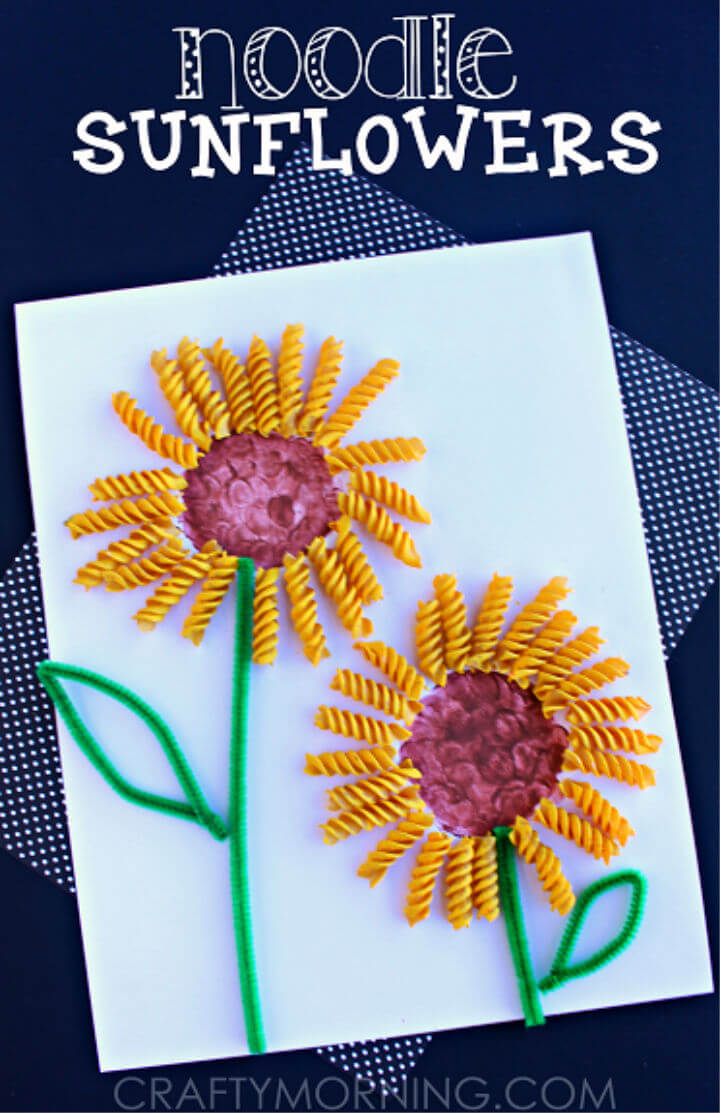 Make delicious rotini noodles for your kiddos, but spare some raw noodles for them to make a sunflower Craft Using Noodles and prize them with cooked noodles if they do a good job. Pour the noodles in yellow paint and dry them out, then stick them on a paper around the black painted circle. craftymorning
15. Turn Oatmeal Container Into Giant Sunflower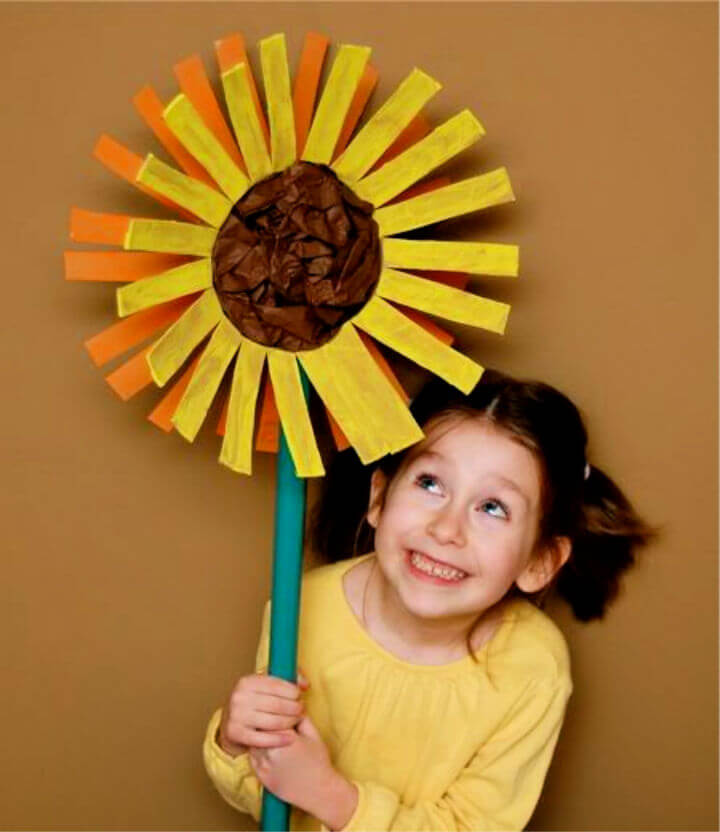 Turn any oatmeal container into one giant sunflower and bring your inner kid out by creating this. This is sure once it's complete, it will bring a big smile on your kid's face. To make your own giant flower, you need an empty oatmeal canister, paint, tissue paper, and a broomstick. innerchildfun
16. Simple Fork Print Sunflower Craft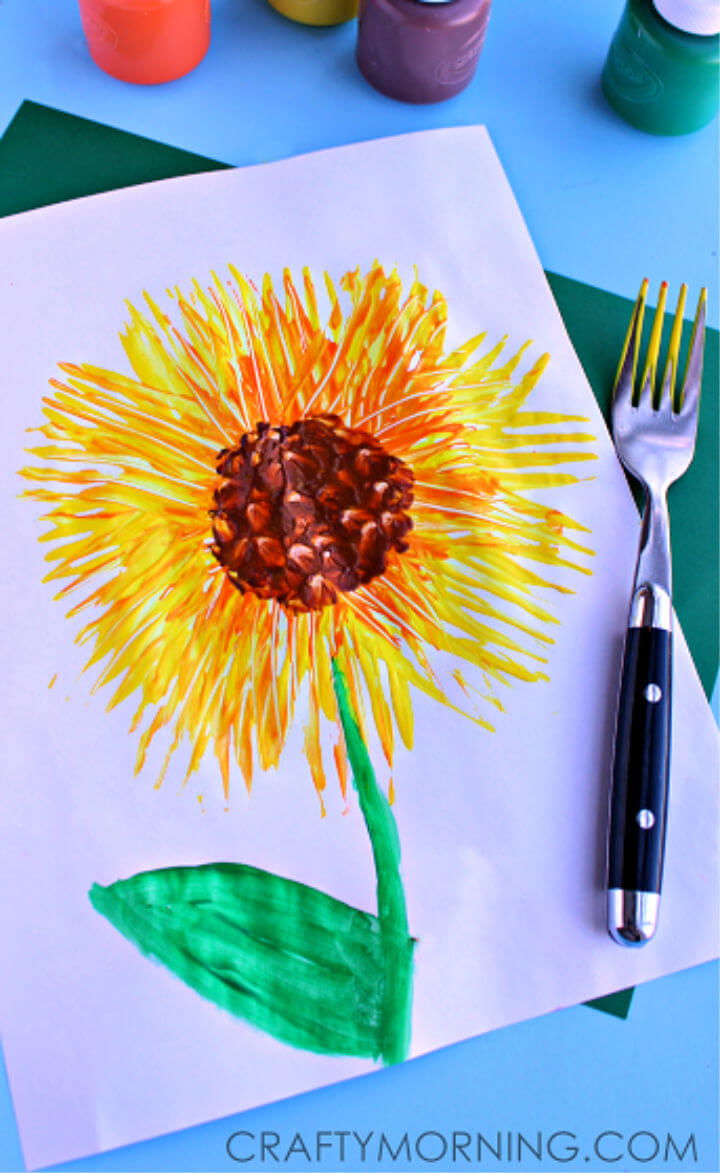 This Simple Fork Print Sunflower Craft is the easiest one to be made by your kids. Start by dipping the fork in the yellow paint and make a circle shape brushing outwards. Use your fingerprints to make small circles inside the flower. Finish it off with a green stem painted on. craftymorning
17. DIY Clothespin Sunflower Craft
This DIY Clothespin Sunflower Craft instructs you to make one with the material and items already available at your home. Make this easy peasy sunflower with the clothespin and a disposable plate and fix it to a green-colored stick and place it anywhere in your lawn. aboutfamilycrafts
18. Paper Plate Sunflower Craft for Summer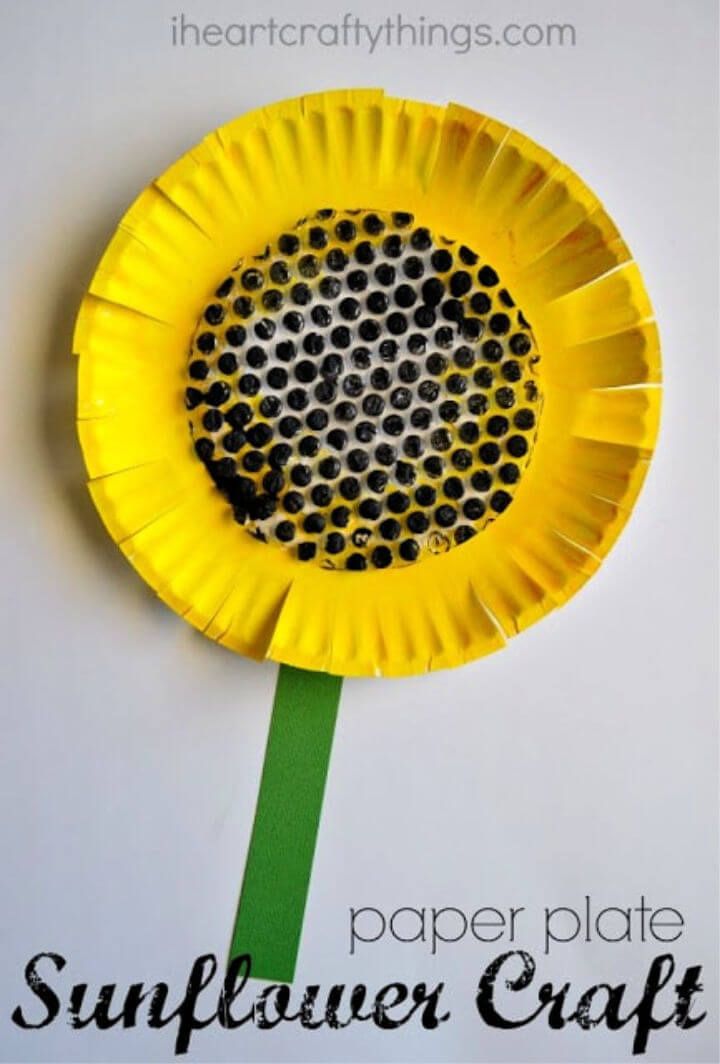 Don't throw any useless or used disposable plates. Instead, create this craft with them. This DIY Paper Plate Sunflower Craft for Summer illuminates your mind with the artistic reproduction of superfluous products placed at your home. iheartcraftythings
19. DIY Upcycled Sunflower Craft
You will only need few items to make this DIY Upcycled Sunflower Craft! Easily in the classroom with your students by involving them in this activity and decorate your classroom by hanging these Upcycled Crafts on the walls. theclassroom
20. Sunflower to Make With Kids Of All Ages
Look out this thrilling Sunflower you can Make with kids of all ages, provide your kids with paint, paper plate, Ice cream stick, and crape paper and race them to check the skills and talent among them.  Appreciate all and showcase the one who made the best out of all. 123homeschool
21. Cute Paper Sunflower Craft for Kids
Here is this Cute DIY Paper Sunflower Craft for Kids that would escalate the learning journey of your pre-school kids. This emoji faced sunflowers are endearing and encouraging to the kids at the same time. Use a Colored chart to make petals, stem, and leaves, and a marker to draw emoji. mynourishedhome
22. Easy Handprint Sunflower Craft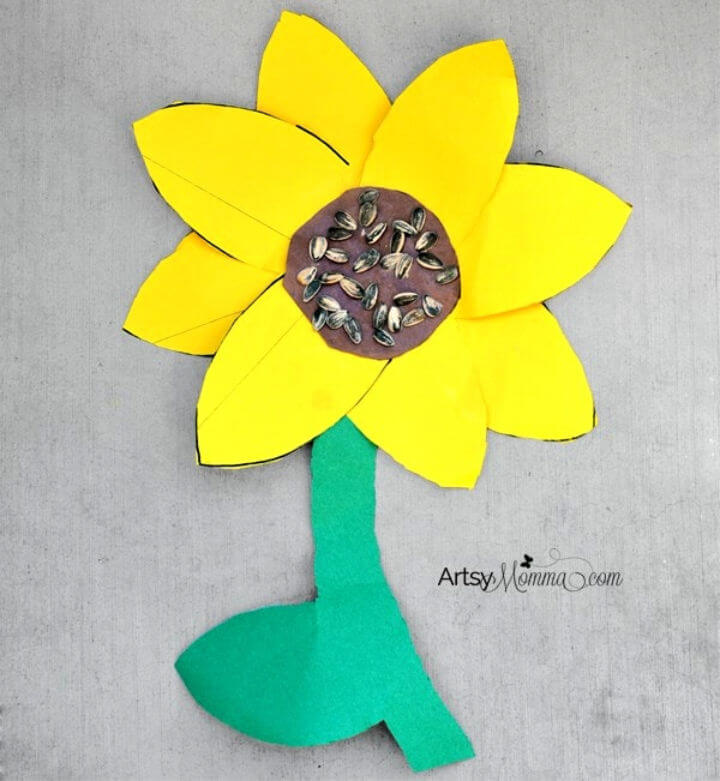 Set out a large piece of paper on a plate full of yellow paint and make a lot of handprints. Once the handprints are dried, cut them out. Staple the dried handprints around the outer edge of the paper plate to make this Easy Handprint Sunflower Craft. artsymomma
23. Sunflower Craft – Kids Arts & Crafts
Your kids will gain an understanding of something more clearly with art and craft. Kids tends to learn more by making something with their hands than cramming with their minds. Make them learn wholeheartedly with this DIY Sunflower Craft-Kids Arts & Crafts. thepinterested
24. Quick DIY Coffee Filter Sunflowers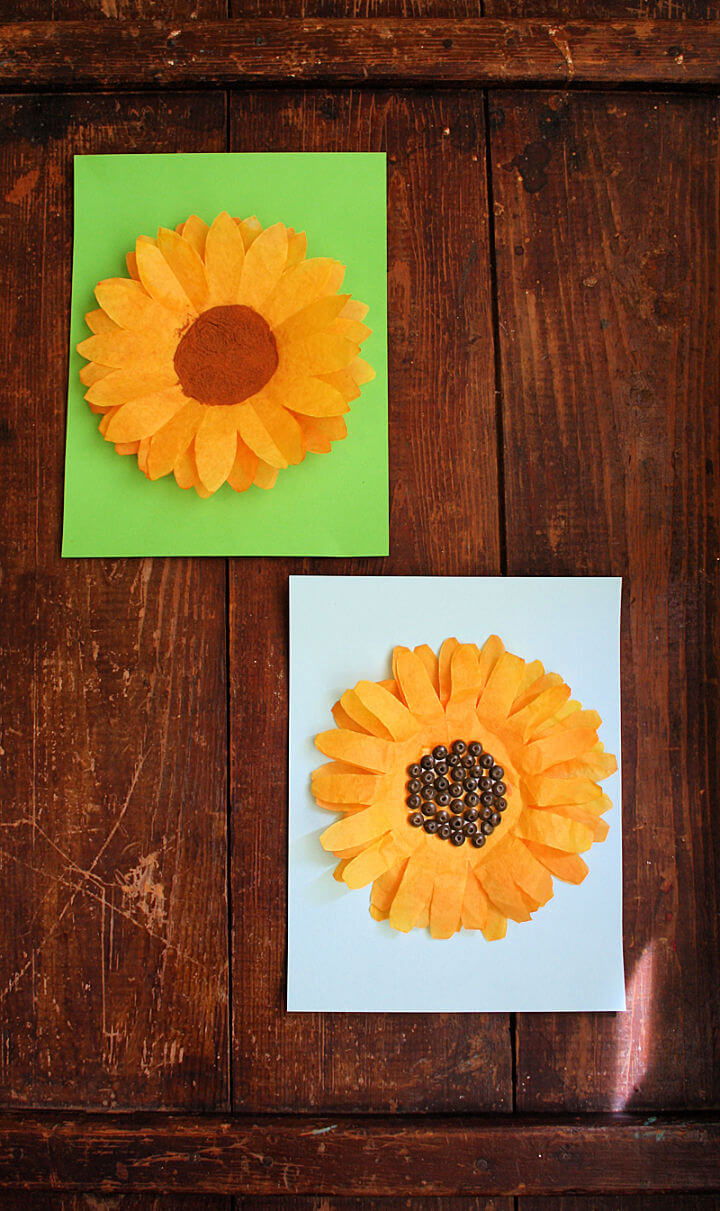 Check out these uber pretty sunflowers made using coffee filters! You will need 3 white coffee filters, paper plates, red and yellow food coloring, water, construction paper, and a handful of brown beads with other basic craft notions! kixcereal
25. Burlap Sunflower Wreath
This burlap sunflower wreath is undoubtedly one of the most beautiful wreaths that you could probably ever come across! You just need some burlap sunflowers, which you can either make by yourself from scratch or get from the market! consumercrafts
Are you all set to celebrate fall with these darling DIY sunflower crafts? We bet you would love trying the fork paint art and transforming wood clothespins into these teeny tiny and absolutely flawless sunflower petals. Fun is just a bit of bright yellow with a dark base to brighten up the day, fun is making sunflowers.