The summers have been reached and the time has come to go half barefooted by wearing flip-flops! Flip-flops are taken as the common footwear to wear in summers just to beat the summer heat but you can really make your slippers look special just by doing some smart makeovers and hence they will also be a fashionable footwear to go your summer wardrobe or shoe rack! Here we have brought 25 easy ways to DIY flip flops that will help that how you can restyle your slippers for a more glam, eye-catching and super special appeal! These DIY Flip flops refashion ideas will not cause any load on your wallet, they are actually based on the smart use of common materials like the yarn, paint, stencils, ribbon and the fabric to update your slippers! So, every flip-flop lovers can try out these flip-flop decoration projects without any hesitation!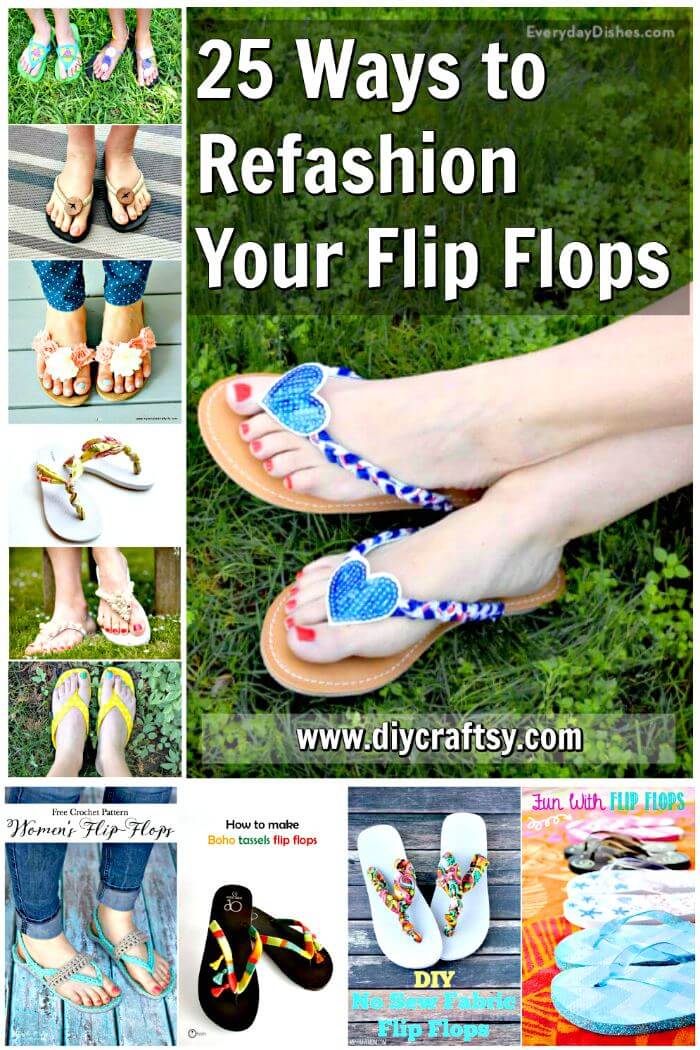 These projects promise to make you get your slippers in your favorite decorative avatar and will be highly amazed to see the innovative tricks played in this case! These ideas will mostly focus on the straps of the slippers which can be replaced with new fab ones or can be decorated in several different ways for creating a super lovely and enticing appeal of your slippers! These ideas would be a smart way to update your old slippers and hence you can keep using your slipper from season to season without buying the new ones!
Cover the straps of the flip flops with colorful braided yarn and add accent heart on the top of the strap for an enticing appeal of your slippers! Make your flip flops look beautiful by wrapping the decorative ribbon all around their straps and next just finish them up with accent buttons! Restyle your flip flops by adding braided yarn straps that can also come close from the backside for a sandal style look, get inspired by a lovely sample given here!
Easy DIY Crafts You May Love to DIY:
Replace the flip flop straps with new tulle straps which can be glued in place and next also wrap the colorful yarn around the slipper straps to create an instant beautiful look of them, add yarn tassels to double up the beauty of them! Tie the fabric strips together to make the lovely fabric straps for your flip-flops and also jazz up your slippers by covering their straps with crocheted yarn strips! Add colorful dots of neon paint on your flip-flop straps and make them look just fantastic and also raise the style of your slippers by using braided ribbon and accent ribbon or fabric flowers! check out some amazing samples are given below!
Do check out the attached links for getting free step-by-step tutorials, free guides and visual instructions for your favorite DIY flip flop makeover projects that have been shared to inspire the summer fashion lovers!
DIY Hearty Flip-Flops:
Summers have just reached and it is the time to wear the slippers that will help beat the summer heat by making your feet nicely uncovered! So, why not adorn your slippers this summer by doing some handy DIY projects? You can easily do so by using a little creativity and imaginations! Check out here the hearty flip-flops that have been done to inspire and are just looking damn lovely! Here the straps of the flip-flops have been adorned with the yarn braid that comes in 3 different colors and finally a heart applique patch has been mounted on the top of the yarn braid! Complete instructions here everydaydishes
How To Make Decorating Flip Flops:
Check out here another smart makeover of the flip flops that has been done to rock and inspire! Just make your flip-flop look enticing by using some ribbon and accent buttons! Select the ribbon with your favorite pattern and next start wrapping it around your flip-flop straps! After you cover all the straps and glue the ribbon in place, then just finish your flip flops with accent buttons that can be added to top side of the straps with the help of string! Complete project tutorial here 2goodclaymates
DIY Braided Straps Flip-Flop Refashion:
If you are all looking forward to restyle your normal looking flip flops to look great this summer then here is a great hack for it! Here the normal looking flip-flops have been refashioned to look extra beautiful and have also been transformed into flip-flop sandals! First remove the rubber straps from the flip-flops and add up the flip-flop soles with custom fabric yarn braided straps! Same has been done here and here the braided have also been fitted in side loops and come with closed backside to serve as a sandal! Complete tutorial here makeit-loveitaa
Easy DIY Flip Flop Refashion with Mod Podge:
Here is another great and brilliant hack is here to style up your boring looking flip-flops! You can really play smartly with the straps of your flip-flops making adorable and fashionable flip-flops for summers! If you need some inspirations then have a look at these refashioned flip-flops that come with tulle netting straps and have been glued in place and finally have been dignified with a large gold medallion pendant that stays in the center top of the straps with the help of a hair clip! Complete project instructions here consumercrafts
Make a Boho Flip Flops With Tassels:
If you are inspired of boho fashion and willing also to wear some boho flip-flops then no need to worry about it! Just make your own special boho flip-flops at home without getting expensive! Just grab the colorful yarn or twine and wrap it around your flip-flop straps in a colorblock style and next just hang the tassels that can also be made with same yarn or twine! This is here another great and outstanding flip-flop makeover that has been done to inspire a boho fashion lover! These flip-flops will also make a great gift for a boho fashion fan! Complete project tutorial here ohohblog
DIY The Knot So Hard Flip Flop:
Just replace or adorn the straps of your flip-flops to make them look enticing and more fashion-worthy! Here the flip-flops have been given the new fabric straps that have been given some tight accent knot for a beautiful look and appeal! This is here another great and outstanding flip-flop makeover that you can try at home! Just grab your flip-flops, cut the normal straps of it and just replace them with new fabric straps! Complete project tutorial here 99sides
Quick DIY Fab-ify Your Flip Flops:
Bring a great fashion to your flip-flops also by treating them with colorful yarn, this would also be a great way to bring some fantastic colors to your flip flops! Just crochet some yarn straps in different colors and wrap them around the flip flop straps to make fantastic looking flip-flops that will also be super soft to wear! You can use the custom yarn colors and hence can match your flip-flops to any of your dress or outfit beautifully! Grab the full free crochet pattern and instructions from here poppyandbliss
Colorful DIY Neon Flip Flops:
Jazz up your flip-flops also with the neon colors and make your flip-flops eye-catching! Check out here the sample black flip-flops that have been adorned with the neon colors and hence just look super beautiful! Here the idea is just to add the colorful drops of neon colors on the flip-flop strap and let them dry in place and that's it! You can experiment this project with your own favorite neon colors and you can also go to cover the straps entirely with neon paint drops! Complete project instructions here sandytoesandpopsicles
DIY Braided Ribbon Flip Flops:
We can bet that you have seen the flip-flops more beautiful than these, these are here the lovely looking pink flip-flops that will look great in any women's feet! The braided ribbon straps and the pink flower top accent are something that raises the beauty of the flip-flops to peak level! Here the yellow ribbon with polka dot and the pink ribbon have been braided together to make the charming looking flip-flop straps that are just amazing to look at! The top flowers are the satin flowers that comes with felt back and also having a pearl bead center! Complete tutorial here alwaysunderpay
Easy DIY Floral Summer Sandals: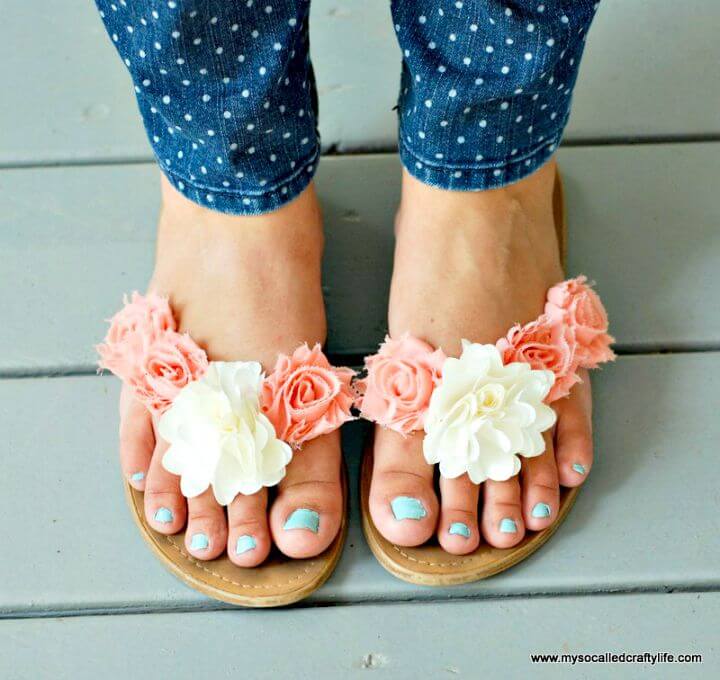 If you are willing to celebrate the summers by wearing some outstanding floral flip-flops or slippers then why not transform your normal looking slippers into charming floral summer sandals? This can easily be done by doing an easy makeover at home using the fabric flowers, fabric, felt and some glue! Check out here the sample floral summer sandals that have been designed just by gluing the flowers on the flip-flop straps, the custom felt circles have been glued from the other side of the straps to hold the flowers in place and finally the fabric straps in flip-flop straps size have been glued to bottom side of the flaps to hold the flowers firmly in place! Another great flip-flop makeover, complete tutorial and instructions here frame.bloglovin
How to Make Bloom Flip Flops – Free Pattern:
If you are all love to crochet new things and also the summer fashion accessories like the barefoot sandals then here is a brilliant project that you can do with your crochet hook to adorn your flip-flops! Just crochet some barefoot sandals and next just add them to your flip-flops in place of straps to make gorgeous looking crochet slippers that will also make a great gift and would also create bigger statements of footwear fashion for sure! Check out here the sample bloom flip-flop shoes that will definitely inspire your creativity and crochet hook! Full free crochet pattern and project instructions here oxfordfam
DIY Flip Flops With Paillettes:
Spice up your summer fashion by wearing these pailettes flip flops that have been done to rock your feet! These flip flops would bring great visual details to your feet and overall personality and are super easy to make! Just grab your favorite slippers and cover the straps by wrapping the red ribbon all around them! Cover also a little part of the slippers by wrapping the same red ribbon across the front straps and then sew your paillettes on that ribbon covered area using needle and thread! Complete project tutorial here trinketsinbloom
How To Make Fabric Flip-flops: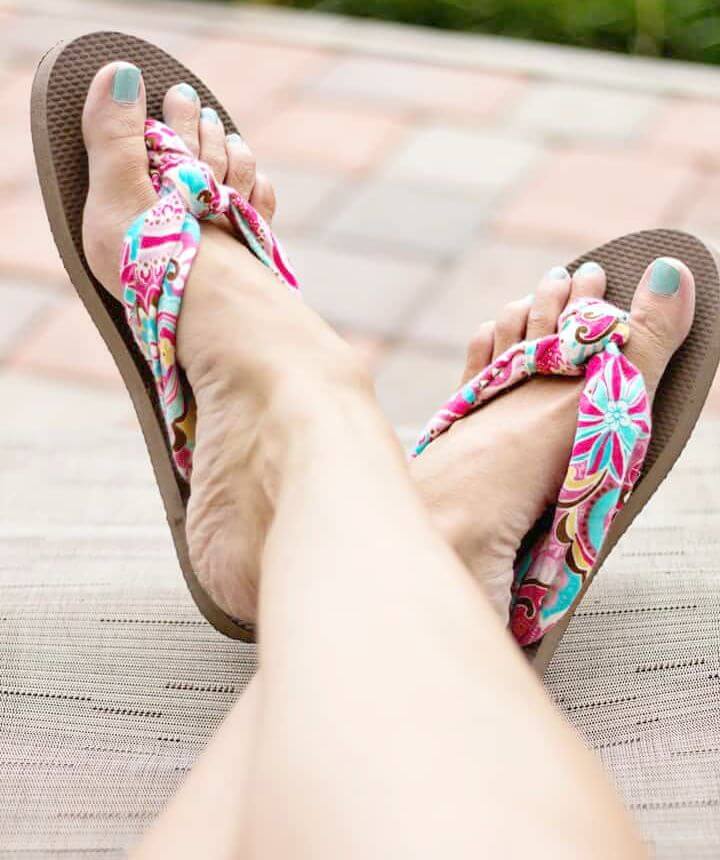 Here is what you can do amazing with the leftover or scrap fabric! Instead of ending up your fabric to dumpsters just refashion your flip flops with it! Just replace the rubber straps of flip flops with the fabric straps and gain new fantastic looking and praise-worthy flip flops that would be a delight to wear on your feet! Here these fabric flip flops would be a big delight to view and wear and hence would also make a great girlish gift! Complete tutorial here domestically
DIY Fun With Flip Flops – Kids Craft:
You will definitely fall in love with these hacks and ideas that will help decorate your flip-flops for bigger fashion statement! These ideas will show you that you can refashion your slippers by treating them with glitter and how you can fancy up by adding new fabric layers, covers or bottoms! Check out there the sample flip flops that have been updated differently and would make great inspirations! Complete project details and instructions here crazylittleprojects
Easiest DIY No Sew Fabric Flip Flops:
Fancy up your flip flops also by adding new colorful straps that can even be made with the leftover fabric! Check out there the sample slippers that come with fantastic fabric straps and hence are super soft to wear and are damn lovely to look at! Here these no-sew fabric slippers would make a great gift for a fashion loving lady and the fabric straps are also what that enhance the feminine factor of the slippers! Willing to do the same with your flip-flops? Grab the full free guides and visual instructions from here musthavemom
Cute DIY Strappy Flip Flops:
Here is how to transform the common slippers or flip flops into designer style flip flops! Just add more straps to your flip flops to make the strappy slipper that will fit like the sandals to your feet and would something super beautiful to look at and to gift to a style loving girl or lady! Check out here the sample strappy flip flops that come in black appeal and are truly fashionable footwear! The idea here to provide the heel and back straps to your slippers using elastic that can be sewn on the flip flop straps! Grab the full free guides and visual tutorial from here deliacreates
Free Crochet Flip Flop Refashion:
If you love to get busy with your crochet hook then you can also make smart use of it to refashion your flip flops! Just crochet the lovely and colorful straps with your favorite crochet hook and just add them to your slippers making outstanding yarn slippers that will be super soft to wear for sure! Here all you need to crochet some barefoot sandals which would make lovely flip flop straps! Same has been done in this project! Willing to duplicate this crochet flip flop project? Grab the full free guides and visual instructions from here missneriss
How To Make Fabric Flip Flops:
The easiest and quickest way here to upgrade your slippers! Just give your flip flops new fabric straps that can easily be made by cutting the old fabric strips! Just replace the straps with fabric-made ones and gain new and adorable looking flip flops that would be a big bliss to wear due to being softer and will also make a thanksgiving summer gift to someone special! Complete project instructions here practicallyfunctional
Beautiful DIY Beaded Flip Flops:
The ways to refashion your flip flops are just never ending and here is another hack that will help transforming your slippers into designer style flip flops in just no time! The idea here is just to mount the beads on the flip flop straps that will bring alluring sparkle to them and hence will create a posh look of slippers! This is here a great hack to make your inexpensive slippers look costly! So, just grab some beads, pearls or gemstones, ribbon do this amazing flip flop makeover! First get the space to glue the beads in front and this can easily be done by wrapping the ribbon all around the straps and also around front side of the slippers! Complete tutorial here trinketsinbloom
DIY Tied Ribbon Tutu Flip Flops:
Check out here the most funky looking flip flops ever that are sure to create some super cute looks of your feet! Here the ordinary slippers have been adorned by knotting the ribbon and tulle strips in different colors and hence the fab looking flip flops have been made that are just looking amazingly beautiful and fantastic! These are here the perfect kind of slippers to gift to kids! Willing to duplicate these tutu flip flops? Grab the full free guides and visual instructions from here alwaysunderpay
Simple DIY Fun & Funky Flip Flops:
You will definitely love these enticing looking flip flops that have been brought a distinguished look using some ribbon and some colorful buttons! Here the black flip flops have been given some amazing colors by doing a smart makeover with the colorful buttons! Here the idea is just cut a strip of black ribbon on which you can sew the colorful buttons using needle and thread! Next just add this buttoned ribbon on the flip flop straps creating fantastic looking flip-flops in just no time! Willing to duplicate these funky slippers? Grab the full free guides and visual instructions from here scrapbookandcardstodaymag
How To Create Flip-Flop Refashion:
Check out here a totally unique but innovative makeover of a flip flops! Here the double strap flip flop have been transformed into a single bow strap slippers that have been made extra soft and comfortable also to wear! This has been done by removing the ordinary slipper straps and then by covering the top of the slipper soles with fusible batter and heavy weight interfacing and next the printed fabric layered with linen has been used to cover the entire sole as you can see! Just make use bow strap using a rectangular piece of linen and next the accent flowers have been added to the top of bow strap that are also made of printed fabric and linen! Complete tutorial and visual instructions here flamingotoes
Free Crochet Women's Flip-Flops:
If you are on a mission to update your flip-flops adorably then you can also do it using your crochet hook! Just make fantastic looking flip-flops by doing some handy makeovers using your crochet hook! Here the lovely crochet flip flops have been crocheted that have been finished with flip flop soles to get a lovely and fantastic footwear! Check out here the best women's slippers that come with flip-flop soles and are super comfortable to wear! These flip-flops will also make great gift to style loving girls and women! Complete tutorial here whistleandivy
How To DIY Yellow Painted Sandals:
Just in case if you are not handy at crocheting or at sewing and also getting bored of doing the ribbon or fabric makeovers of your slippers then here is another smart way to refashion your sandals or slippers! Just paint your slippers for amazing patterns, shapes or for bewitching colorful hues and make them look extra beautiful! Check out here the yellow painted slippers that also comes with enticing white polka dots for an amazingly beautiful look and appeal! Willing to duplicate these painted sandals? Grab the full free guides and visual instructions from here keepingitsimplecrafts
Simple DIY Flip Flops:
Get inspired of this another smart and innovative way to refashion your flip flop, here again you have to replace the flip flop straps with new and fantastic looking ones! Here the new stripes have been made by braiding the different lengths of pink yarn and next they have been added in place of normal flip flop strap for an instant glam and enticing look of the slippers! The pink touch will enhance the girlish look of the flip flops and this is here another fantastic project to style up your slippers in couple of minutes! Full project details here bywilma