Ladybugs are so cute and warm so why not make your little ones feel the same this Halloween with these 13 beautiful DIY ladybug costume ideas. Just look at these fun ladybug costume ideas and amuse yourself with a thought of your kids into one of these darling ladybug costumes. These lovely ladybug dresses as fun and exciting to make as they are going to look on your little ones for Halloween or the fancy dress competition happening around. The best thing about these 13 simple DIY ladybug costumes is that they are super affordable and pretty quick to make for kids and adults. Even the non-sewing moms are going to love dressing up their kids as ladybugs as we have a few no-sew DIY ladybug costume ideas too.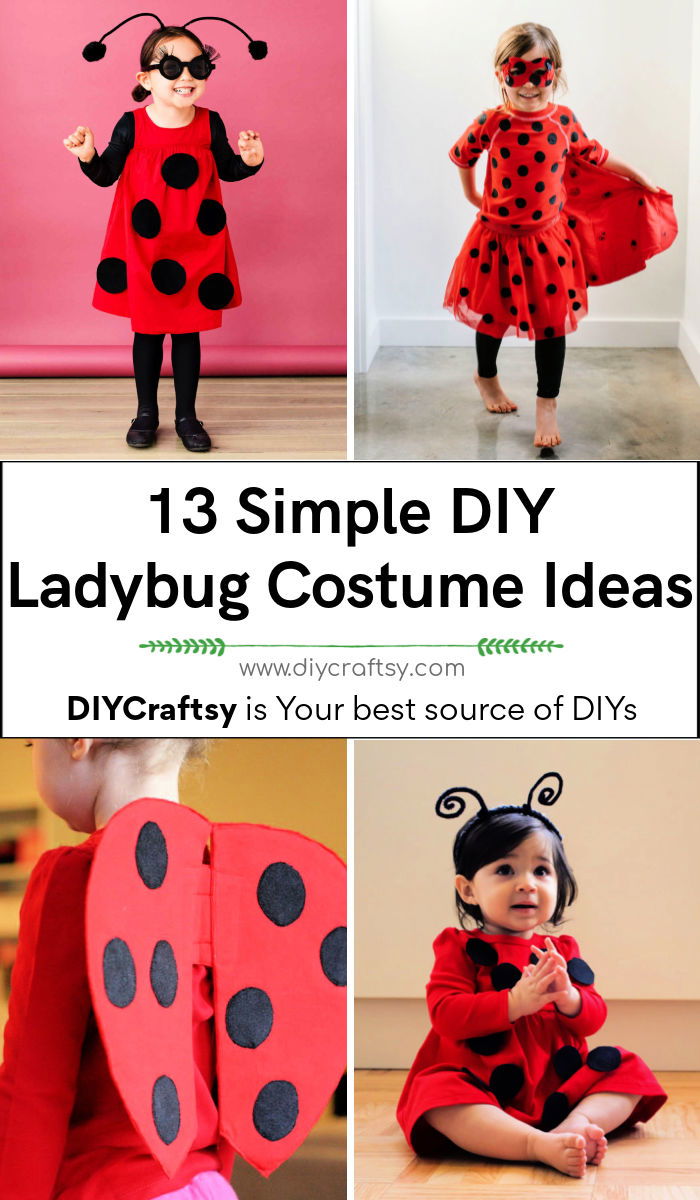 The ladybug costumes have three parts to make which are the basic body, the ladybug wings, and the antennas. You can make these ladybug costumes in any of your favorite styles like here are ladybug costumes with shirts, capes, and tulle tutus. You need everything in black and red to make these lovely ladybug dresses like fabric, tulle, felt, shirts, tights, and even shoes. The antennas are mostly made out of pipe cleaners, headbands, and pom-poms. Your little critters are going to look just so fancy and cool, donning these handmade ladybug costumes.
1. How To Make A Ladybug Costume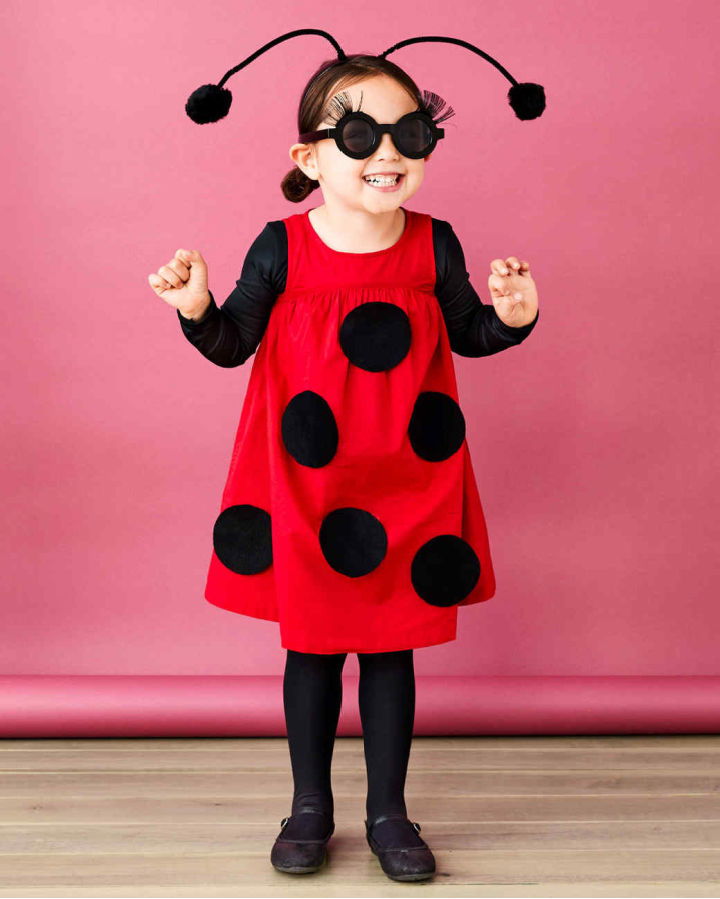 You can turn your girl's red jumper suit into a gorgeous ladybug costume for the Halloween fun. The red jumper is adorned with big black circles for a complete ladybug look along with the black leotard and the black tights. For the face section you need big jack o glasses with big faux lashes attached and the antennas are made out of pipe cleaners and pom poms. Complete details of the fun idea here! marthastewart
2. DIY Miraculous Ladybug Costume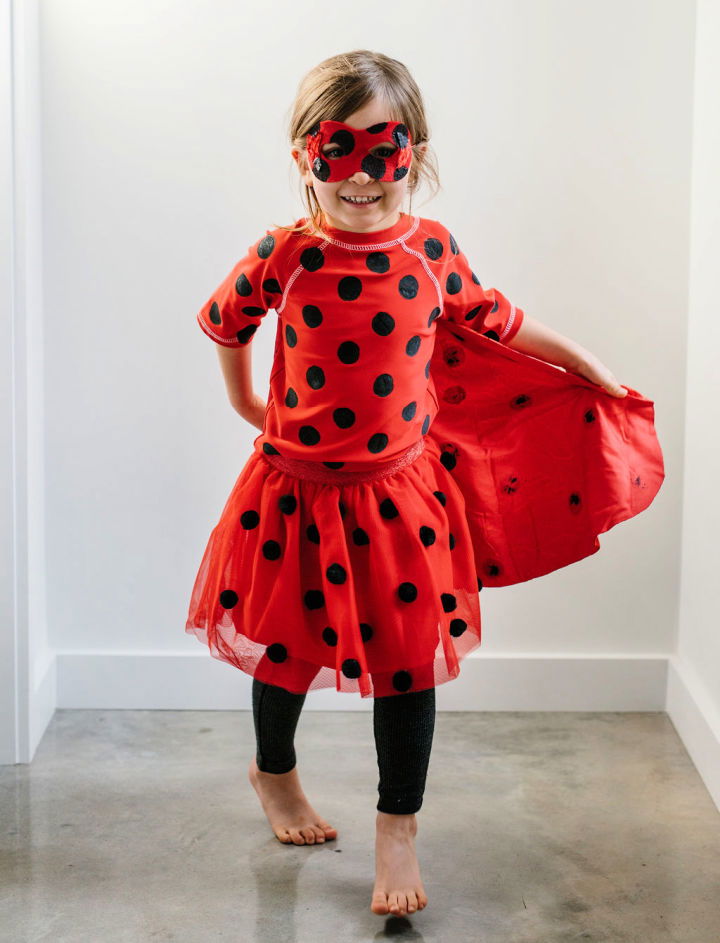 Either a fancy dress competition at school is popping up on the calendar or it's Halloween time; This girl's dress idea is for you. Making this DIY miraculous ladybug costume is easy and your girls are going to love this. To make this ladybug costume along with those matching glasses; you need a red athlete shirt, red felt and red tulle along with 24 black pom poms and the black fabric paint. Details here! theeffortlesschic
3. Handmade Dress Up Quick Ladybug Wings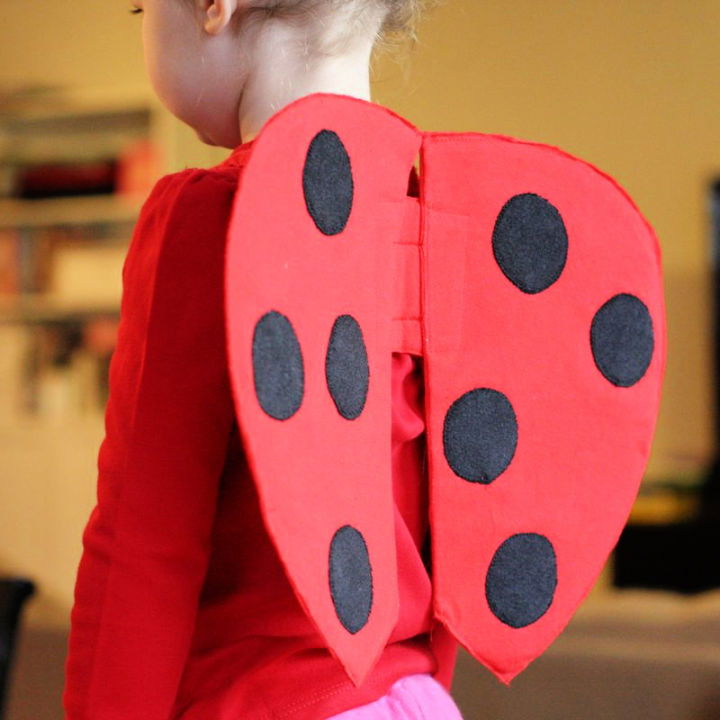 Think no more for the Halloween costume ideas for your girls as here this handmade dress up quick ladybug wings plan for you. The girls can wear these wings over a red t shirt and black tights and get cutely ready for the Halloween. You need to get your hands on the old t shirt in red, black fabric paint, cereal box, 28 inches of elastic and the one small black fabric for this purpose. Check out the tutorial here! andreasnotebook
4. DIY Ladybug Costume For Kids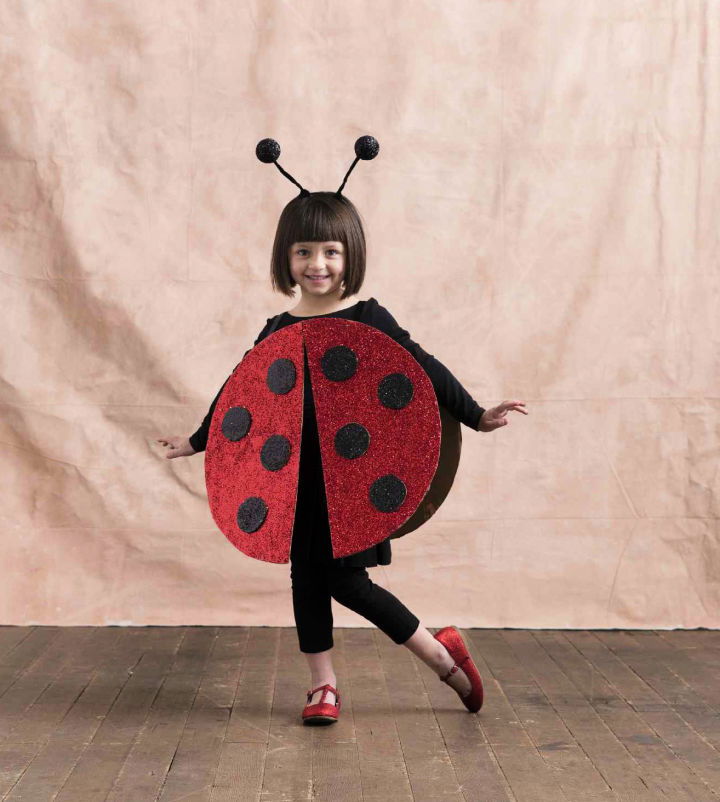 If your girl has changed her Halloween costume plan at the last minute then here is the idea of creating this DIY ladybug costume for kids. Over the black t-shirt and the tights, you girl can wear these handmade ladybug wings. The wings are made out of cardboard, glitter, foam balls, glitter, plastic headband and regular crafty tools and materials. The detailed idea here! bhg
5. Homemade Ladybug Costume for Halloween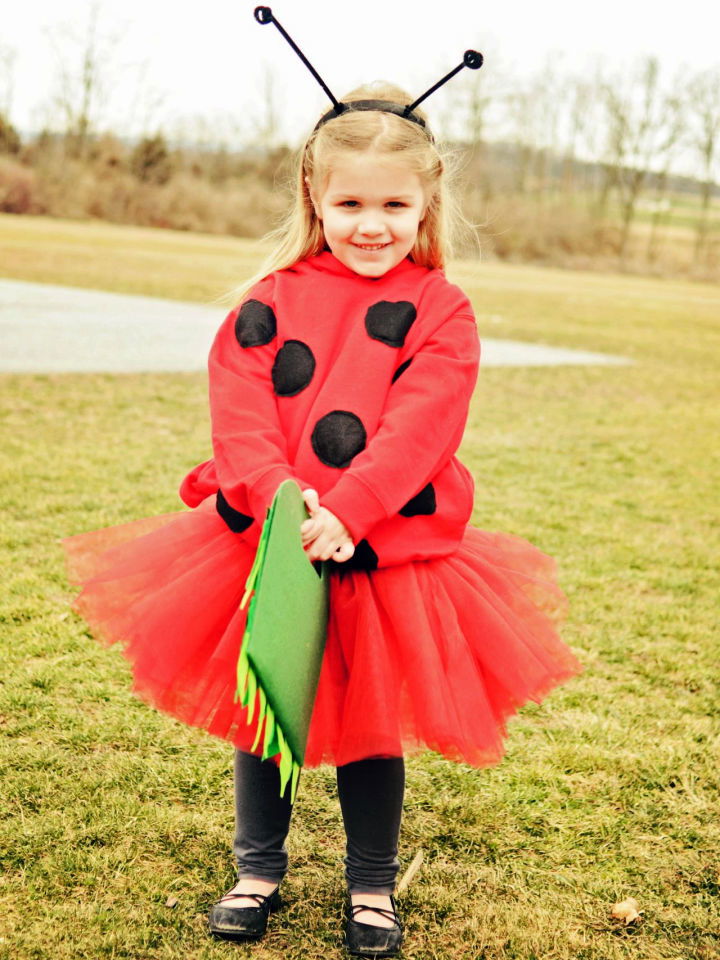 Give your girls a totally chic and fun look for Halloween with this homemade ladybug costume. This pretty red and black tulle tutu is paired up with the green leafy trick o treat bag to be a complete dress up. Things that you need to make this costume are; the red and black tulle, red and green felt, red hoodie, black ribbon; And your basic sewing and crafty tools and supplies. Check out the details here! hgtv
6. Ladybug Costume DIY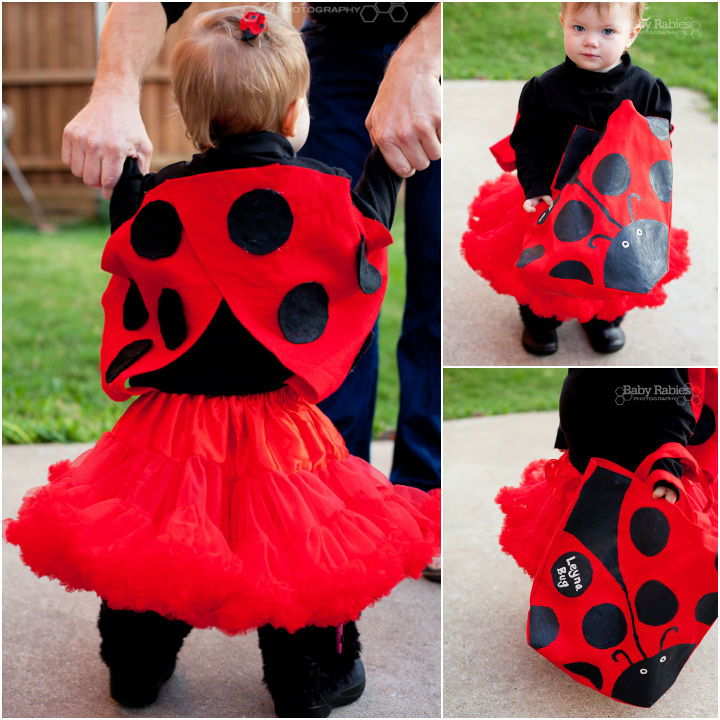 If you find ladybugs to be cute and warm then this ladybug costume for your little girls for Halloween. The black shirt and tights are adorned with a gorgeous red tulle tutu and handmade ladybug wings. The wings are made out of the red and black felt and you can make them in less than an hour. Follow the details here! babyrabies
7. Making A Ladybug Costume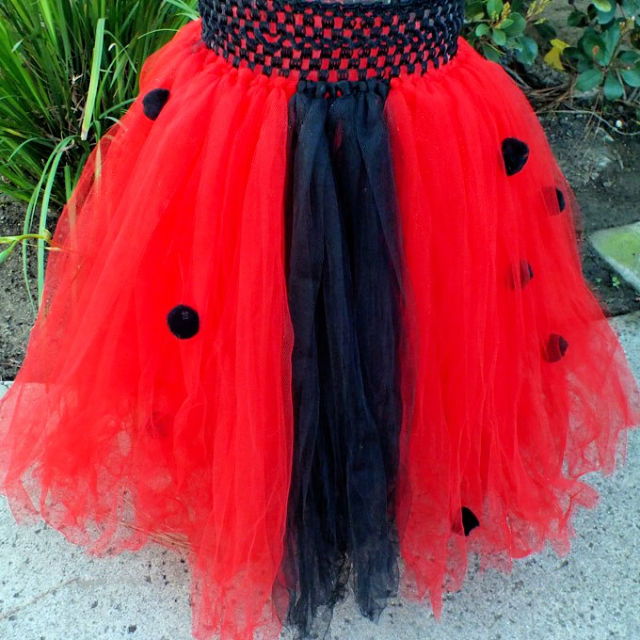 Let your girl look the cutest this Halloween with this pretty ladybug costume. The pretty costume needs everything in red and black to be put together and get the costume ready. So you need tulle, pom poms, black crocheted headband, butterfly wings, black t shirt, red feather Boa and your regular crafty materials. Check out the details here. twosisterscrafting
8. DIY Wings Ladybug Halloween Costume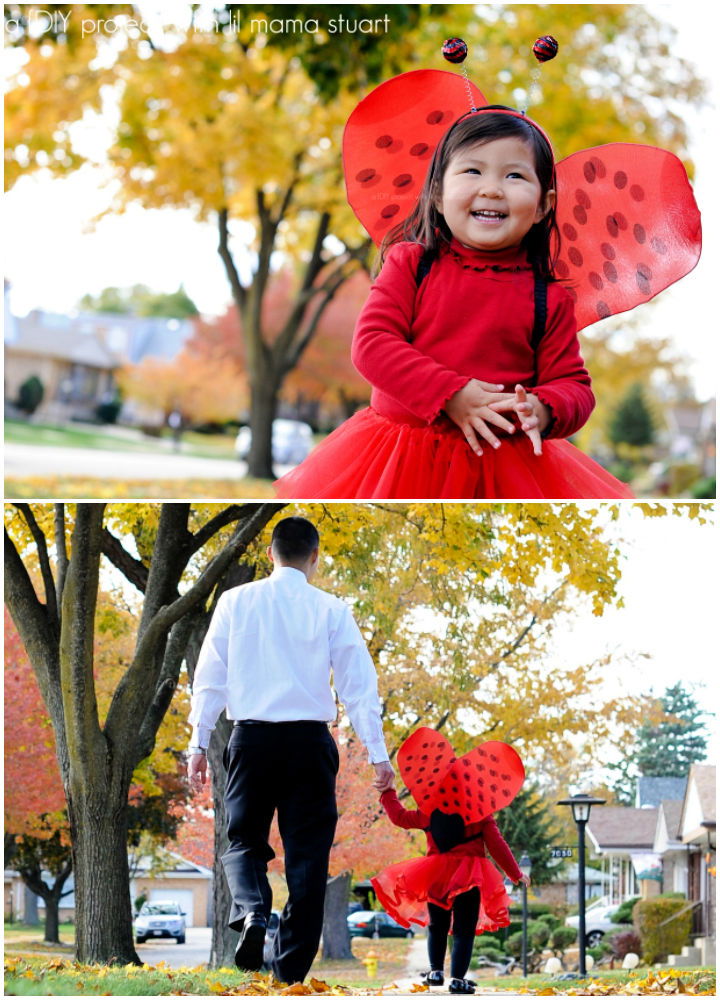 This darling DIY wings ladybug Halloween costume for being so warm and cute at the same time. A black shirt, a pair of black tights and the red tulle are adorned with the handmade ladybug wings. For the making of wings, you need felt in red and green so grab your crafty tools and supplies to work up this pretty ladybug costume. Details here! adaywithlilmama
9. No Sew Ladybug Costume Tutorial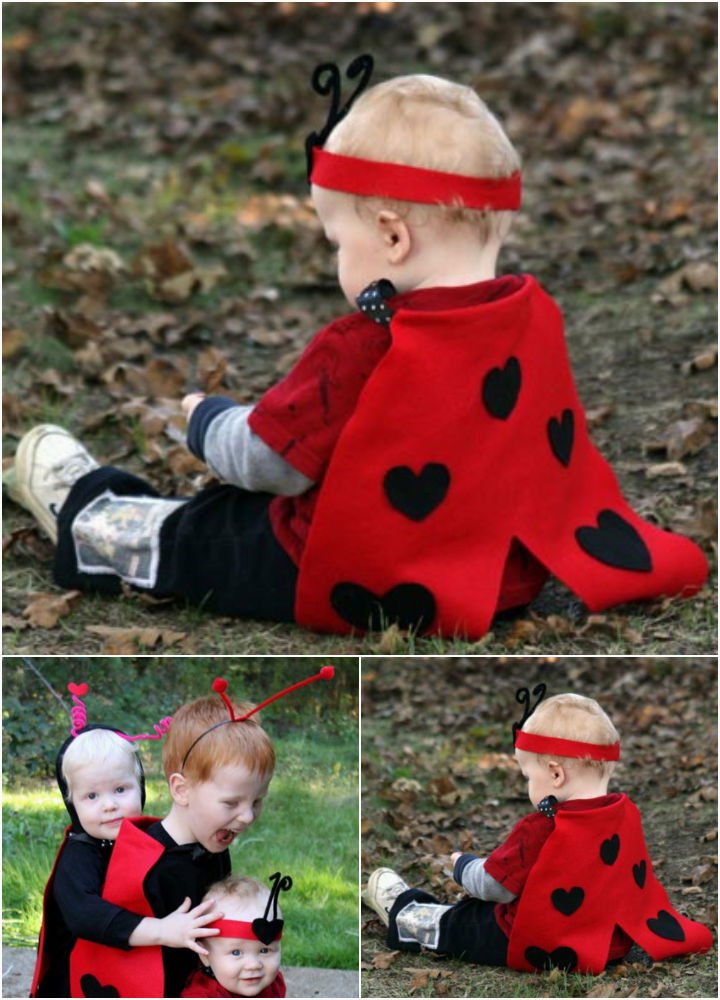 Even the non sewing moms can pull off a pretty Halloween dress for their girls; this no sews ladybug costume. Not only for your girls but even the boys would turning into the lovely ladybugs with the mommy made ladybug costumes. Along with the black t-shirt and pants you need black and red felt, pipe cleaners in black, pom pom and things like chalk, glue and scissors. Check out the details here! dollarstorecrafts
10. No Sew DIY Ladybug Baby Costume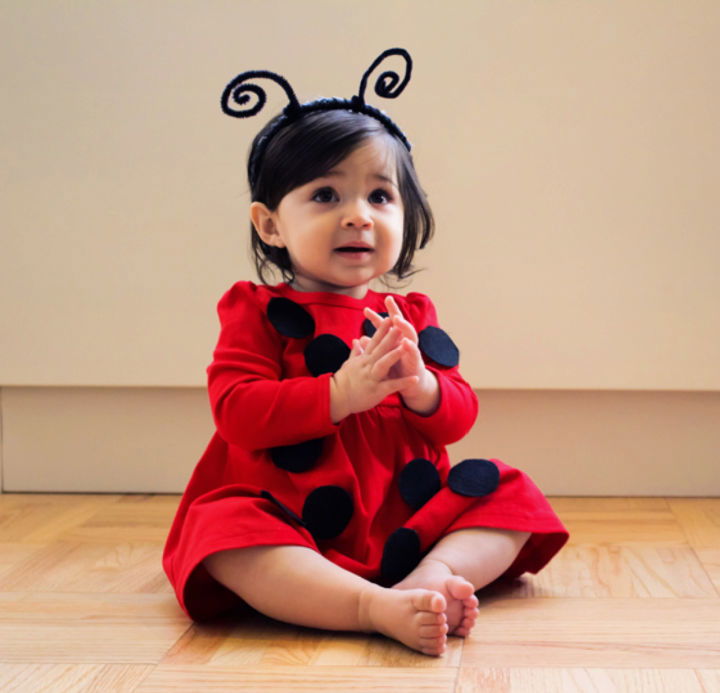 You do not need to wait for the Halloween to turn your little critter into a cute ladybug. Here is the idea of this no sew DIY ladybug baby costume that your baby can wear as a regular summer or spring dress. You need cotton red baby sleeves to dress, black felt for the ladybug dots all over, a headband with pipe cleaners to create the antenna. Details here! primary
11. How To Make A Lady Bug Costume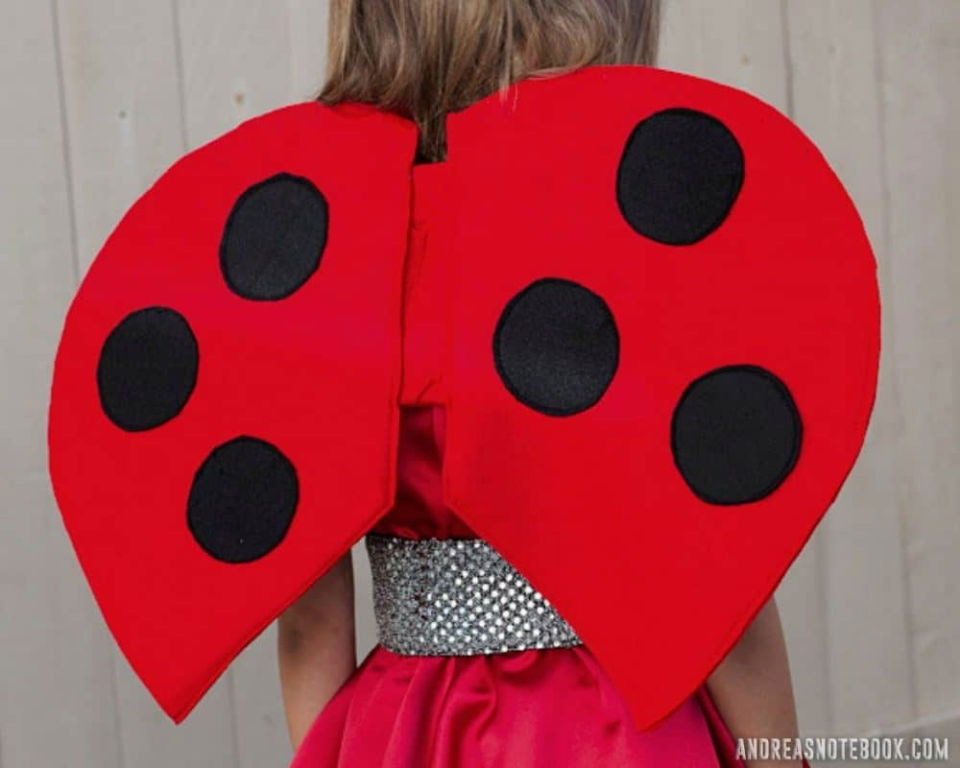 Turn your little lady into the ladybug this Halloween. With this idea of how to make a lady bug costume right here! If your girls have already a black or red dress then funk them up into a ladybug. Using this handmade pair of the ladybug wings. The lovely wings are super easy and quick to make out of cardboard, red shirt, black felt and basic crafty supplies. Check out the details here! andreasnotebook
12. Make a Ladybug Halloween Costume for a Dog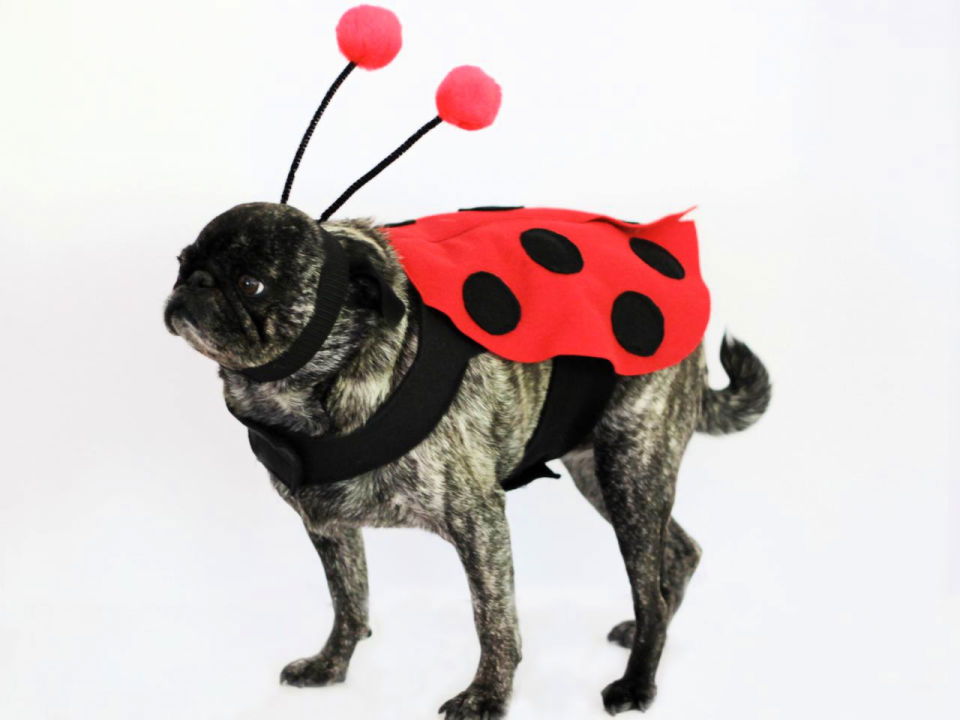 Your dog is going to look the prettiest for Halloween with this easy and fun to make ladybug Halloween costume. To make this utterly fascinating Halloween costume you need red and black felt, black fleece and two black pom poms and that is all. Follow the step by step tutorial here to create this super cute and fancy ladybug dog Halloween costume. Details here! diynetwork
13. Homemade Ladybug Costume For Adults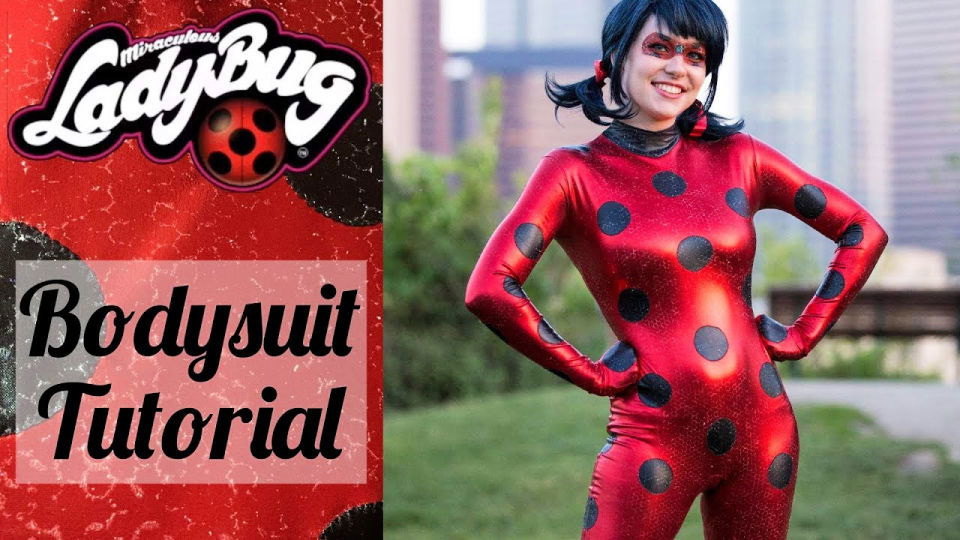 Not only the little girls but the adults can have fun with the homemade ladybug costume for the Halloween. This adult's homemade ladybug costume is just so much fun and full of excitement and you can totally rock it. Learn to make it feasibly and quickly at home as we have got you the complete video tutorial of the costume here! youtube
Conclusion:
So as Halloween is around the corner, these DIY ladybug costume ideas are going to help you out immensely with your girl's dress-up. They have changed their dress-up plan at the last moment or you are running short on time to buy them a costume, these DIY ladybug costume ideas are saviors in all situations.