The skirts are a big staple in the closet or wardrobe of the style loving ladies and girls, and you can just make the lovely looking designers style skirts at home! Need to look at some ideas first to get the necessary information and some genius tricks? Then just take a look at these 70 Easy DIY Skirt Sewing Tutorials for This Summer & Spring that will make you sew all sorts of skirts at home that you have wished for! Here these sewing skirt projects will just open up all the creative details for you to sew a skirt of your choice at home that will boost your fashion and style! Here all these sewing skirt tutorials are too smart to win the heart of a sewing and skirt lover!
All the style-loving girls and women like it very much to wear a skirt! There are many different styles of skirts out there to wear on various events and also for more prominent statements of causal fashion! They are just super comfortable and beautiful to wear and also raise the feminine factor of your personality! Moreover, the skirts are also what that makes a woman or girl look double cute, and a little exposed legs from the downside makes you look extra gorgeous! So, are you intending to add a new collection of skirts to your closet or wardrobe? You can go for shopping in this case, but there are chances that you will not get your favorite skirt even if there is a wide variety of skirts available in the market! However, you can try making the skirt of your dream at home and making your skirts will just also lower down your expenditures!
Make the precious looking circle skirts at home using your favorite fabric and the list will open up all the necessary sewing details and instructions for you in this case! Sew the lovely midi skirts at home that will definitely grab the attention of all onlookers and will also make a great gift to the fashion loving ladies in your home! Do stare at the given below sample that has been done to rock and inspire! Boost also your fashion by sewing the pencil skirts at home that will be super easy to sew also, just have a look at the given below white polka dotted skirt that will be super easy to sew and would just make a lovely and Thanksgiving gift for a lady! Here the list will provide you all the details to sew a skirt that you want to wear for a fashionable casual look, for a more formal look and also which you want to wear a great style!
Easy Crafts for Summer:
Here you will also find the tutorials to make a great kate spade inspired skirt, and you will also get the details about how to sew a basic band or tulle skirt at home in less than half an hour! Just browse the entire list to see dozens of more unique DIY Skirt Ideas and Sewing Tutorials, just click the attached links to reach full free sewing patterns, tutorials, and step-by-step instructions!
Beautiful How to Make Circle Skirt:
Your wardrobe is so incomplete without the skirts and here is how you can sew one for this summer and bring some girly style back to your wardrobe that has been missing for so long. So here is the complete tutorial of the circle skirt from cutting to sew it easily yourself merricksart
DIY Summer Skirt Sewing Tutorial:
Summers are great as you can style up yourself in so much fun and lightweight clothes and if you do not have some lovely skirts, your summers are so undone with the dressing fun. Here is the idea of creating this lovely and cute skirt with a waistband on your own at home. lifesewsavory
Quick DIY Circle Skirt Sewing Tutorial: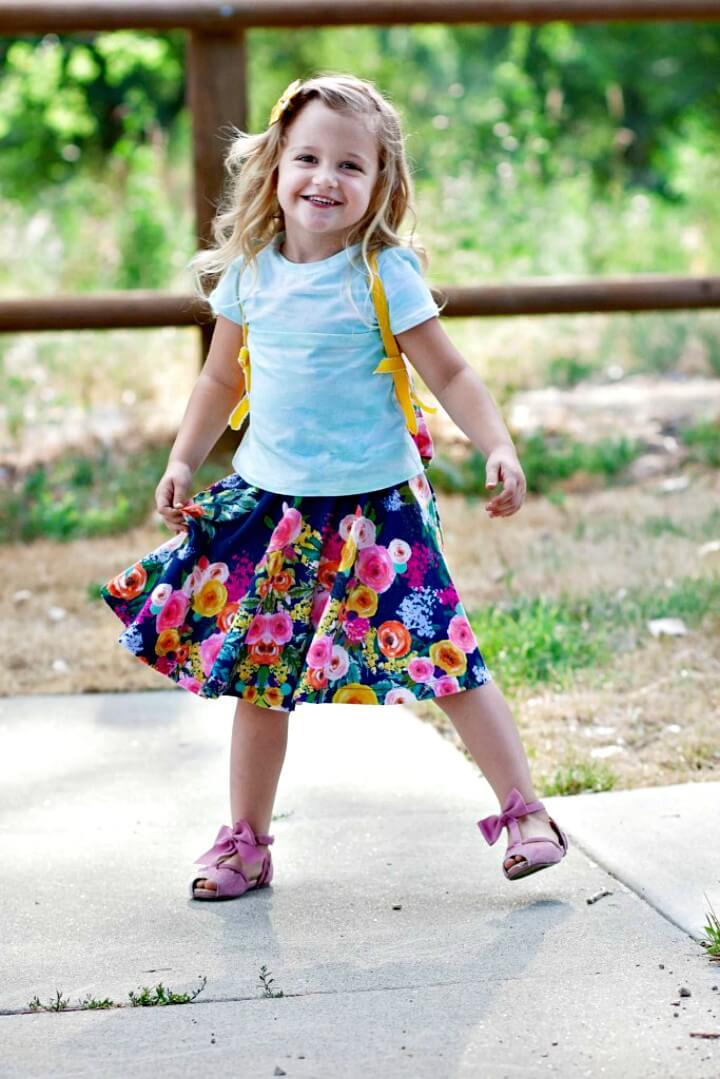 Skirts are so cute, and that is they would really look cute on your pretty little girls and here is how you can easily sew one for your little doll for the summer. This gorgeous flowery printed fabric has been used here to cut and sew this little skirt on your own and here are the sewing details of it sweetredpoppy
How to Sew Floral Midi Skirt:
Floral patterns and the designs are so much in fashion and style with the arrival of the summer and spring, and you can enjoy them in your wardrobe in so many fun ways and making this lovely skirt would be just perfect. You can easily sew up this skirt on your own by getting the details of it here merricksart
How to Create Pleated Midi Skirt:
Skirts are one of the common things to be found in the summer wardrobe, and you can easily add some fun and unique touches to them on your own and enjoy wearing some updated version of the skirts. This one has been sewed up with the pleats, and you would just love it and here are the details of it merricksart
How To Sew Polka Dot Pencil Skirt Just In 15 Minute:
The skirts are of many styles, and designs and the girls love them all and if you have those open flared and circularly shaped skirts then its time to get a pencil one and that too on your own. Yes here is the tutorial of this super gorgeous and stylish polka dotted pencil skirt to rock your summer wardrobe this time sayyes
Simple DIY Skirt Free Pattern + Zippers:
Adding a zipper to your dresses make them easy and fun to wear easily and took them off too and so is the case with the skirts and here is how you can add a not visible zipper to your skirt. Yes here is the lovely and cute skirt that would fit your waist so nicely with a zipper added and you can learn adding it here seekatesew
DIY Kate Spade Inspired Skirt Tutorial:
There are so many awesome factors and facts about this lovely and funky styled skirt that you would love to have for a fun summer day dress up while going out. It has been made out of a lovely and thick fabric with tie-dye of blue and white making it look so gorgeous and quirky. Then there is a hidden zipper and the pleats on the back and the front, and you can learn it all here melissaesplin
Make Your Own Stretch Pencil Skirt:
While circular skirts are so girly and comfy, the pencil skirts are just super hot and sexy in style, and you should have one or a pair o them in your lovely wardrobe you have set for the summer. Here is this cute printed fabric turned into a gorgeous pencil skirt to look great on your waist. Learn to sew it here crafts.tutsplus
DIY Lace & Plaid Midi Skirt Tutorial:
Midi skirts are elegant and simple in style, and you can easily sew them up at home, and it would require a lot of fabric for the purpose. So here is this pretty midi skirt made to look more stylish and fashionable with the added lace and the pleats to it and you can have these details explored here mesewcrazy
Fast DIY Basic Band Skirt In 20 Minute:
If you are left up with some cute floral printed fabric from the making of your summer tops then here is the idea of utilizing it the best way. Yes, you can make this lovely baby skirt for any of the little girls in your family, and it would take only twenty minutes out of your busy life. Check out complete details here raegunramblings
Adorable DIY Tulle Skirt Tutorial:
The tulle skirts are not only for the fairy or the fairy lovers little girls as you being the adult can also enjoy them around your waist and feel to be young and reckless again. The tulle skirts are the most whimsy, and you can easily make them on your own instead of buying, and we got you the tutorial here cottonandcurls
Make Brightly Lined Lace Mini Skirt:
If you want to look smashing hot and attractive for your next date, then this mini lace lined skirt would be just the perfect pick up for your dress up. The inner fabric lining base of the skirt has been done with a red one, and the outer one has been covered with gorgeous white lace, and the results are just too fashionable and drool-worthy. apairandasparediy
How To DIY Ice Cream Social Skirt:
Stripy designs and patterns are just so much summer friendly, and if you have a fabric with the lovely and fun strips then you can sew up this ice cream social skirt out of it and that too so much nice and easily at home. Follow the tutorial of this fun skirt here icandy-handmade
Simple DIY Everyday Skirt Sewing:
Skirts are not only cute and stylish but they are feasible and comfortable to wear even on a regular basis in the summer, and they are just super to carry every day too. So for a casual use skirt, you can choose the semi-circle skirts with open flair, and they are super easy and fun to sew yourself at home with tutorial details given here itsalwaysautumn
Easy How To Sew Fishtail Circle Skirt:
While you are planning to load your beach bag with some stylish and cute dresses do not miss on a lovely skirt and if you do not have one then do not worry as you can easily sew one and that too with the twist of fish tail to the design and it would be just absolutely gorgeous and whimsy. Details here deliacreates
How To Make Gathered Drape Skirt With Pockets:
For the styles and designs in skirts it's like the more, the merrier and that is why you can have this lovely and new looking skirt in your summer wardrobe as it got cool drape and the pockets. The polka dot fabric makes it look more interesting, and you can choose the same kin of fabric too cottonandcurls
How To Sew Bandage Style Knit Skirt:
You can create some cool and stylish looking skirts on your own at home and thus bring some fun and charm to your summer fashion. You can choose the knit fabric to shape up this lovely and tight fit skirt to look so much gorgeous and pretty in. Here are the sewing details of it familyeverafterblog
Simple How To Sew Skirt:
When there is a lovely skirt hanging in your closet, you got so much dressing opportunities to get yourself ready for the outdoors and if you need one you can sew it yourself at home. This half circle skirt comes up with the lovely orange color and the pleats to look so awesome and simply cool on you. peneloping
DIY Wide Pleat Wrap Skirt:
The skirts make you look so young and reckless, and that is why you really should have some in of them in your wardrobe and to get some new collection you can start sewing them up on your own. So this one is with the wide pleated skirt is just super gorgeous and fun and it's super easy to sew too. cottonandcurls
How To Sew an Eyelet Circle Skirt:
When you can design and make your new dresses, you can make so much pretty and custom styled dresses and here is how you can make this adorable and super cute eyelet circle skit using an old t-shirt and quite easy and fun tricks of sewing and cutting given right here. mesewcrazy
Beautiful DIY Midi Circle Skirt:
This mid-length circle skirt is just the right thing to get your hands on for the weekend project as it would let you have a really cute and pretty summer thing to get dressed in. The blue color, the mid-length and the lovely flair of the circle makes it an enchanting thing to possess look gorgeous in. cottonandcurls
Quick How To Sew Circle Skirt:
When kids are into the outdoor fun they really should be dressed up in the comfy and fun dresses, and for the girls, the circle skirts are just super awesome, and you can do it so damn nice and easily at home. Here is this complete idea of cutting and sewing a circle skirt for your little girls and save a lot of money. madeeveryday
Adorable DIY Long Circle Skirt For $14:
The good thing about the skirts is that they are just super customize-able, and you can get them in any of the sizes and shape you want like long, middie, mini with a pencil or open flair. So if you are done with the middie and mini ones this time you should be getting your sewing tools on this lovely and gorgeous looking long skirt to look a diva in. yarnsandbuttons
How To Make Mismatched Maxi Skirt:
If you are looking for a gift for your best friend for any of the special day related to her then making this handmade maxi skirt would be just the perfect way to cheery her up. So here is how you can create this super cute and pretty looking mix match maxi skirt using a flexible and comfy knit fabric on your own. icandy-handmade
Easy How To Sew Maxi Skirt:
After the mini, middie and the long skirt there is another fun and stylish kind of skirt that you can make and enjoy wearing in the winters too. Yes, these are the lovely maxi skirts which cover your lower body completely and look so pretty with your tops and shirts. Learn to sew one here sewmuchado
Beautiful DIY Maxi Skirt Tutorial:
We love to follow the celebrities and their fashion statements, and when we see them wearing skirts we go gaga over them, and now you can create the same skirt look by sewing yourself a lovely long skirt that you can style up more with a lovely belt and your simple and cute top. Details here gotosew
How To Make Skirt In 15 Minutes:
If you need to go in a party at the urgent basis and you do not have anything new to dress up with then here is the idea of creating this cute and fun looking floral patterned skirt and that too in just fifteen minutes. You can easily cut and sew up this skirt by getting all the details hacked here lilluna
Easiest DIY Pencil Skirt Tutorial:
The good thing about the pencil skirts is that they can carry off to the office spaces too so here is this lovely and elegant styled pencil skirt that you can easily create yourself at home. The pencil skirts take less time, money and efforts to be sewn up at home and we got you the tutorial here merricksart
DIY Half Circle Skirt Sewing Tutorial:
Not only custom for the summers the skirts are super fun and stylish to be worn in the winters too, and for that, you can choose some thick fabric to work on. Here is how you can create this lovely winter styled circle skirt in an easy and fun way. You can style it up so damn nice and easily as we got you all the details and the dimensions here itsalwaysautumn
Lovable How To Sew Gilded Skirt:
This gorgeous and beautiful skirt is just too adorable and elegant to look at and seems to be coming from a famous brand, but it has been cheaply and easily made at home. Just grab any of the thick fabric having some golden touch and sew up this semi-circle skirt with pleats for a more pretty look. archive
DIY Lace for Days Skirt Tutorial:
There are so many ways to turn up a simple and boring looking piece of your cupboard into something cool and fun with the touch of your sewing skills. So if you have a skirt lying around that is simple and plain you can quirk it up with the pieces of laces added to it in layers and thus award it the stylish makeover ever. elleapparelblog
Make Your Own Murphy's Layered Skirt:
Here is how you can become that cute little girl again with your little girl and enjoy some fun time together and that too on your own. You can easily shape up this lovely semi-circle skirt but with the colorful fabric pieces with floral print and being put together in ruffles and layers. You can follow the complete details of the idea here rufflesandstuff
How To DIY The Alligator Skirt:
Grab some inspiration from the zoo where you saw that alligator and sew up this lovely alligator styled skirt to wild up your fashion and style a bit. You would need some green fabric and ruffled layers to put on the front to get the alligator vibes, and the buttons would add more fun to it. Details here artwithashley
Easy DIY Hemless A-line Skirt Tutorial:
If you are also a lazy sewer like many of people out there, then you must be abhorring the hemming of your self sewed clothes at the end. BUT you can skip up the hemming part while making this lovely skirt on your own by stitching it up under the machine and here is how you can do it so nice and perfectly by clicking on the details. oneaviandaemon
How To Sew High-Waisted Sash Skirt:
High waisted skirts with small tops are the new fashion trends for the girls in the summer, and there are so many cute styles and designs that you can follow to create a lovely skirt for yourself or any beloved lady around. This one comes with not only the pleats but also with a lovely bow tie and turns out to be super gorgeous, and fun here are the details. thisbigoaktree
Super Simple How to Sew a Skirt:
We all at some point think to be a self-sewing person when we look at the high prices of the things around. And one of the things that we want to sew is definitely a skirt and here is how you can create one even if you are a beginner with a simple waistband and circle sewing. Details are here so click and enjoy shrimpsaladcircus
How To Sew 20 Minute Skirt:
The skirts are super easy and fun to create, and if you are a beginner with the skirts, you can do it in like twenty minutes for your little girl and get your sewing skills so much better that you can one day sew a lovely and stylish skirt for your self. So grab some cute printed fabric and get it all done here whip-stitch.
DIY Pleated Button Front Skirt Tutorial:
If you have some check print fabric lying around, then do not throw it off as you can easily turn it into a lovely skirt for a cool evening out and here is how you can not only sew it up yourself but also make it look so much stylish and fun for a fashionable look. So add the pleats and the buttons at the front and you can glam up a simple skirt in an easy and fun way on your own. sewdiy
How To Sew Full Circle Skirt:
If your little girl loves to dance and she has joined the classes for the purpose, then you can add more to her fun with this hand sewn skit to wear over her dancing clothes and let have more fun while performing as a ballerina. The skirt is just super easy and fun to sew, and your little girl would love it having as a present. theseamanmom
Adorable DIY Knit Pencil Skirt Tutorial:
If you have some knit fabric lying around then here is the idea of creating this lovely and stylish pencil skirt out of it and look so amazing by pairing it up with a nice and cool top. Its super easy and fun to sew and thus save yourself a lot of money over a market bought one.Details here suburbsmama
Beautifully DIY Chiffon Maxi Circle Skirt Sewing: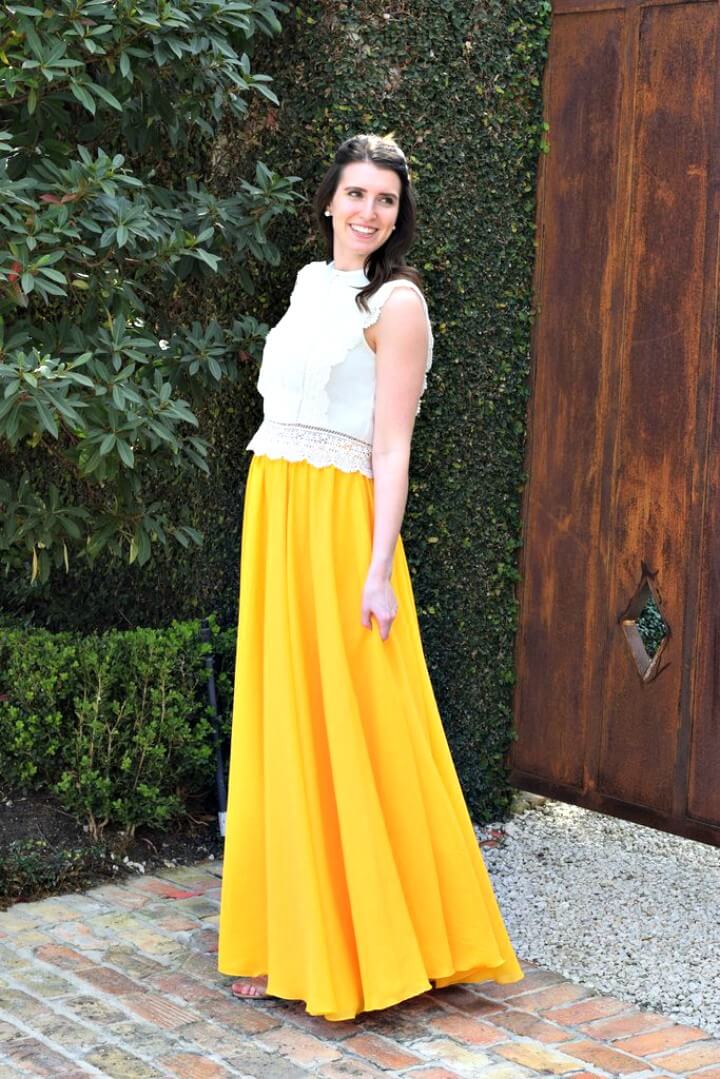 Its a dream of every girl to dress up like a royal celebrity with those fancy and long gowns and this maxi skirt in chiffon would look good on you to twirl up just like a princess and post it up on your Instagram. It would need a lot of chiffon fabric in a bright summer color just like the yellow, and you can check out the sewing details here fabricwholesaledirect
How To DIY Paper Bag Skirt:
If you have tried all those skirts like the circled, semi-circled, maxi ones then here is another version of the skirt to get your hands on for the summer fashion. Yes, its a cute and totally simple paper bag style skirt that you can make and enjoy wearing around on casual summer days. Tutorial here seekatesew
How To Sew Knee Length Knit Skirt:
The skirts are so much comfy to move and work around the house, and you can easily make some to get them dressed up for your routine work indoor or in the outdoor spaces of your house too. Making it short to the knee length would be more feasible for you to wear it and you can hack all its sewing details right on the link here crazylittleprojects
Awesome DIY Circle Skirt Tutorial:
If you are a go glam girl, then you really should have some sexy short skirts in your wardrobe, and a colorful flowery printed circle skirt would be just perfect for a nice summer day while visiting your friends. Here are the complete cutting and sewing plans of this cute and colorful circle skirt birdeemag
Gorgeous How To Sew Skirt For Summer:
There is a lot of colorful and fun fabric lying around in the market in the summer, and you can do a lot of cute sewing project with them for your kids and making these adorable, and cute skirts for the little girls would be just perfect. From cutting to sewing, you can have all the details given here madeeveryday
Adorable How To Sew A Half Circle Skirt:
It would be much happier for you and the little girls if you make some new clothes for them in the donation and this time making some cute and crazy skirts would be just perfect. The deserving girls would love to wear them and walk around with a big curved smile on their face and here is the complete sewing idea of this semi-circle skirt on your own. polkadotchair
DIY Tulle Circle Skirt:
There are so many ways to rock your simple and boring tops and shirts and pairing it up with a lovely skirt is just the best thing to get in your wardrobe, and you can go for the tulle sot hat the skirt turns out to be super cute, fancy and fun to flaunt around. Here are the complete sewing details of this black tulle skirt to own one for yourself abeautifulmess
Easy How To Sew a Circle Skirt Pattern:
You can save yourself a lot of time and money once you learn to make the pretty and stylish skirts at home as they are so expensive to buy. Circle skirts are the most common and the most popular ones, and you can easily learn to cut them and sew them on your right on the link here cucicucicoo
Easy How to Sew a Shirt Skirt:
As the skirts for the little girls take very less fabric to be sewed up so you can use an old t-shirt for the purpose too. Yes by removing the arms, working up some more cuts and a little sewing you can easily turn this simple shirt into a really cute and fun skirt for your girl to flaunt. thecraftyblogstalker
DIY Wrap Skirt Tutorial:
Skirts are super easy and fun to sew and thus add so much of the stylish clothes to your wardrobe and this time you can get your sewing tools on this wrap-up skirt for some fun and funky skirt possession. The skirt is super easy to sew with some seams and the hemming and here are the details of it rookiemag
Simple DIY Maxi Skirt for Your Closet:
Maxi skirts are full feet length skirts, and they are so much traditional and fun to wear both the winter and the summer season, and now you can easily sew one for yourself at home. Here is this lovely printed fabric skirt to wear around a fun summer day and feel so stylish about you. thesewingloftblog
How to Make Flirty Fall Skirt:
The skirts are all favorite season dresses and here is how you can easily sew one to wear around either in summer, spring or the fall and enjoy some transition of the styling on your own. You would need your favorite printed fabric, elastic and your basic sewing tools to shape up this skirt and tutorial is here scatteredthoughtsofacraftymom
Simple and Easy DIY Skirt in 15 Minutes:
When you are bored with your casual wear, you can change it up stylishly with a skirt dress, and now you can sew up a few yourself. Here is the simplest yet the easiest and the most cheaper of the skirts you can ever create yourself at home and that too in the least period of fifteen minutes. Details here thesewingloftblog
How To Make Full Circle Skirt With Tulle Overlay:
Tulle makes a really cute frock and skirt for the little girls, and now it can create the same girly gorgeous magic for the bigger girls too. Yes, the girls can make a simple fabric skirt in a circle or semi-circle design and then add a tulle over lay to make it look more stunning and gorgeous around your waist and legs. Complete details of doing it at home are given here extrapetite
Adorable DIY 1 Hour A-line Skirt Tutorial:
If you are looking for a fun and functional gift for your friend then making something out of your hands and skills would be just perfect. so if you are good at sewing, then you can sew up this pretty, cute and simple skirt for your girl and make her day. Cutting and sewing details here weallsew
DIY Perfect Summer Skirt with Pockets:
How fun and relaxing it is when we are walking around with our hands in the pockets and here is how you can make one at home on your own. This lovely blue and white printed fabric skirt with pockets is just perfect for a fun day in the outdoors in the summer to feel so much comfy and stylish. redhandledscissors
Adorable DIY Smocked Honeycomb Skirt:
There are so many ways to make your things look cool, custom and fun and so is the case with a skirt that you are sewing and making it look so chic and cute, you can add this lovely honeycomb pattern on the belt of it. IT would be super easy and fun to make, and for the details, we got you the link here victorypatterns
Easy How To Sew Box Pleat Skirt:
You can turn up a flowing and fun printed fabric lying in your stash basket into a gorgeous and cute skirt to look super dapper in. Here is pretty skirt made out of lovely and glowing fabric and to make it look more beautiful and fun box pleats have been done on it. Just check out the details of it here thefinerdiytails
How to Make 1/4 Circle Skirt Sewing:
While you are working up on a handmade skirt, you can make it fit your desirable size which can be short, circle or the semi-circle. You can easily create them all and here is the complete sewing plan of this absolutely cute and simple semi-circle skirt to get your hands on. Details here thedailyseam
Easy and Quick DIY Barbie Skirt Tutorial:
While the little girls have dolls to play with, one of the favorite playing activities with the doll they like is the dress up of the dolls and as the summer are approaching the skirts would be perfect for your doll's doll. Yes, you can make this cute polka dotted skirt for the Barbie doll of your little girl, and she would be so happy for this. craftinessisnotoptional
DIY Midi Circle Skirt With Pockets:
Skirts are always in the fashion, and that is why you can wear them any time of the year and for any of the purpose be it a visit to a friend, a date, a family gathering and more. Here is this utterly cute and glamorous looking midi semi-circle skirt with a lot of flairs and a tie-up with a belt to look much more boho and fun. instructables
How To Make The Perfect Pleats Skirt:
The more is less when it comes to stylish clothes and fashionable dresses for the ladies to load up their closets with and a skirt is the must-have of it. So to make a more vibrant and pretty hued summer skirt, you can follow the idea of this lovely and cute pleated skirt which is just super easy and fun to make on your own at home. livefreecreative
Adorable DIY Gathered Button Front Skirt: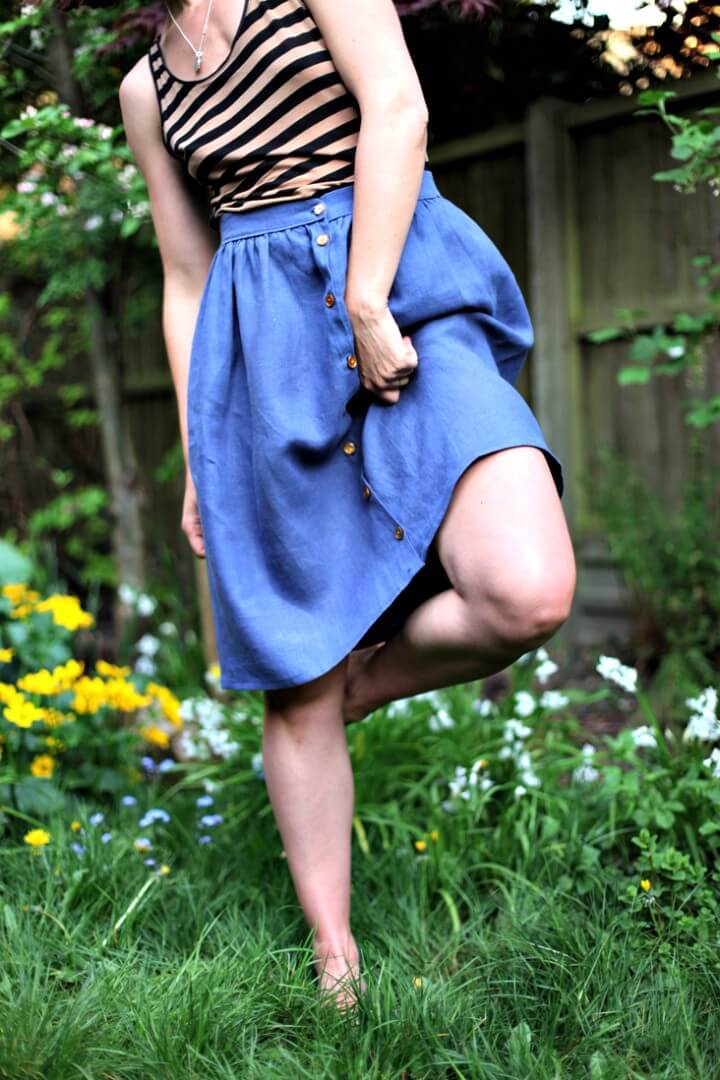 There are so many ways that you can use and make your skirts look so much custom styled for your summer fashion, and we got you the one. Yes, you can make this lovely short skirt and add a bunch of cute buttons to the front of it and make it look so personalized and fun for your boho and chic summer fashion. fabrics-store
DIY Pleated Fabric Skirt Tutorial:
The skirts with pleats look gorgeous and give your skirt so much flair and fashion, and if you are not good at creating the pleats, then you can pick up the already pleated fabric from the market and create this gorgeous skirt to look so much fabulous and fun in. Tutorial here sewbon
How To Make Gathered Skirt:
Skirts are the new fashion rage for the girls in the summer, and there are so many types of the skirts but the pouffy ones are always the cutest and the prettiest, and now you can make one on your own. You would need a lot of fabric to create that pouffy look of your skirt, and you can follow it all here byhandlondon
Adorable DIY Sheer Gathered High-Low Skirt:
With a little twist to your regular stuff, you can make them look so unique, and fun and here is how you can add such stylish perks to your skirt by creating this high low skirt which is super easy and fun to make. You just need to cut it high and low and sew the same way as you make the older ones. Tutorial prettyprudent
Quick DIY Maxi Skirt Just In 20 Minutes:
Maxi skirts are favorite of the elder ladies, and they are now super easy and fun to make on your own at home and not only for yourself but also any of your favorite girl around. It would be really easy and fun to sew then the circle skirts but with some extra lengthy fabric and here are the details. raegunramblings
Simple DIY Lace Skirt With Elastic Waist:
There is some vintage charm about the lace, and we can never get over it and here is how you can make the most out of it for your fashion by creating this adorable and cute lace skirt for your summer fashion. Make a plain skirt and lay it over with this lovely lace skirt and you are done. Tutorial details sewcountrychick
DIY African Pleated Skirt Tutorial:
For a fun party at your friend's deck or patio this lovely matching skirt, top, and the hairband dress up is just perfect to look so exciting and fun in. So grab some comfy and colorfully printed cotton fabric to create this lovely crop top and the pleated skirt out of it and with some scrap pieces you can make the headband, and your funky summer party dress up is ready.Details here thefeltedfox