You're going to enjoy these 25 free wrap skirt pattern guides with detailed sewing instructions! Spring season is just around the corner, which means that it's time to make cute skirts and wear them! This season is all about feminine energy and flowers all around! You can live your cottage core fantasy by making these adorable wrap skirts and wearing them with your pretty tops! You're going to look amazing at every spring festival this season with these amazing wrap skirt pattern ideas! So, are you ready to have some fun? Well, then get ready by taking a look at these absolutely stunning projects! You can even make these for your loved ones and gift them!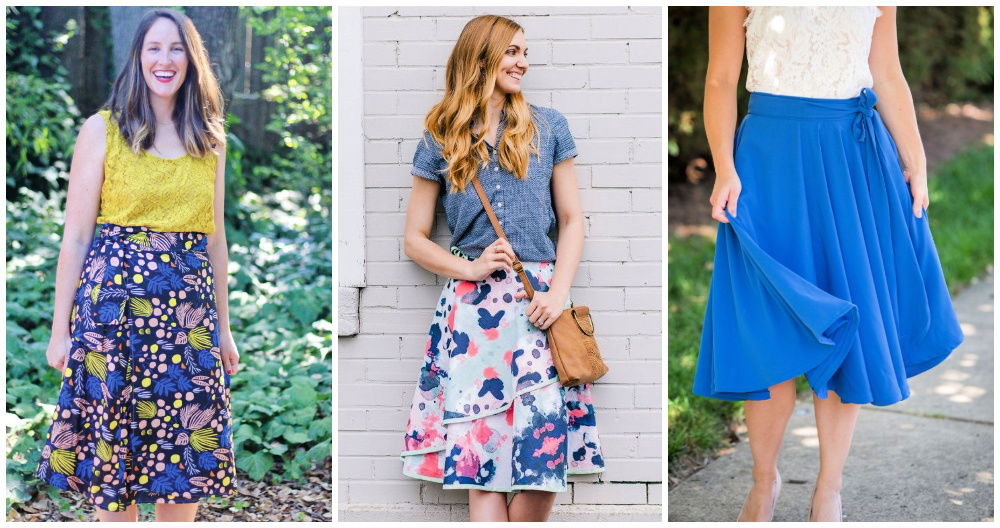 These wrap skirt patterns are so cute! The best part about these easy wrap around skirt projects is that there is a huge versatility available for you to choose from! Are you bored with the simple waist elastic skirts? Well, then this wrap-around will be perfect for the upcoming season! You can easily tighten them around your waist to cinch it while taking an Instagram picture and then loosen them up after having a Thanksgiving feast! Isn't that just the coolest thing ever? You can find many different free wrap skirt sewing patterns in this guide – from short skirts to long ones, from basic to colored ones, and much more!
1. How To Sew A Wrap Skirt Free Pattern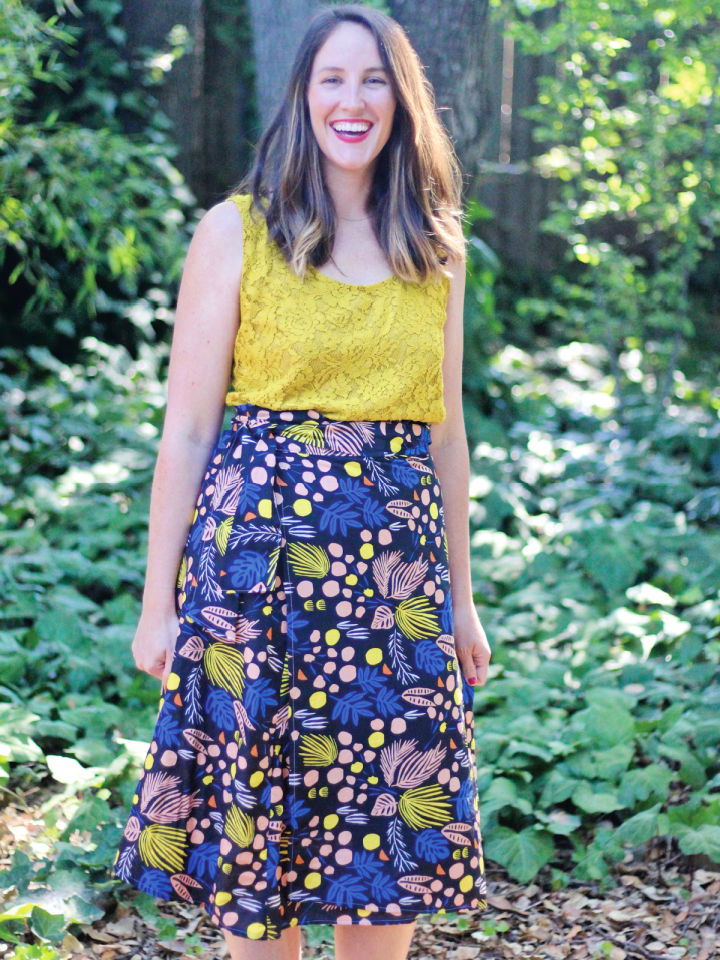 Spring season will be the ideal time for you to wear this feminine and adorable vintage wrap skirt! You will need to be familiar with basic sewing in order to make this beautiful wrap skirt pattern. A sewing machine, pins, scissors, iron, iron board, skirt fabric, thread, embroidery foot, and a few other supplies will be required for you to make this beauty. weallsew
Half circle skirt pattern: Learn how to make a half circle skirt in any size! Follow the simple steps to create your own pattern and sew a new skirt.
2. Circle Wrap Skirt Pattern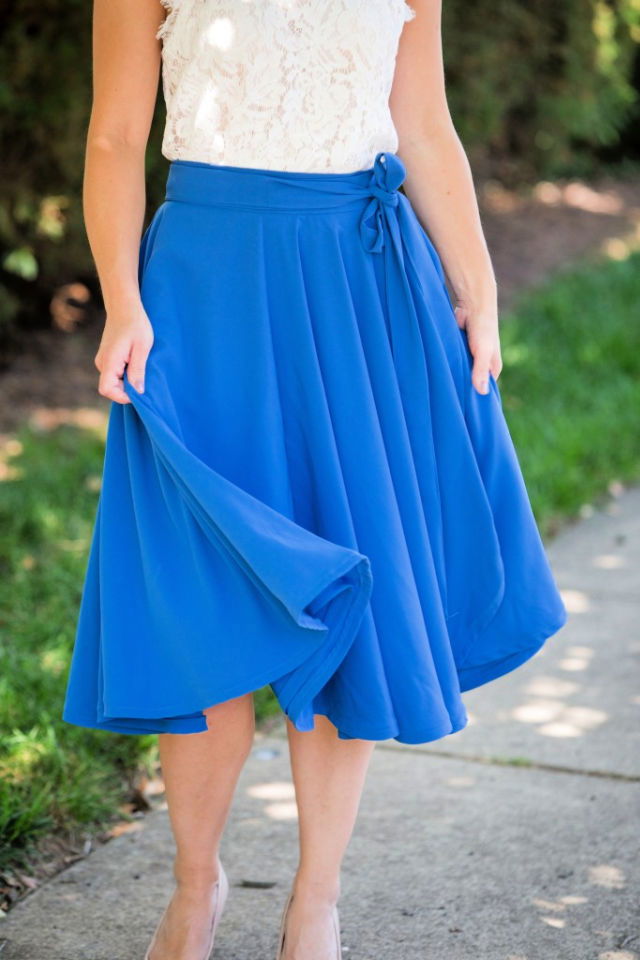 Nothing makes a better statement than a solid-colored wrap-around skirt with a plain top! You can make this adorable skirt and keep it in your closet as a staple! It's so easy to pair almost anything with this beauty – you're going to love it! Since it is very versatile, you can easily dress it up with a fancy top, as well. Isn't that amazing? bobbinandbutton
3. One Seam Wrap Skirt Pattern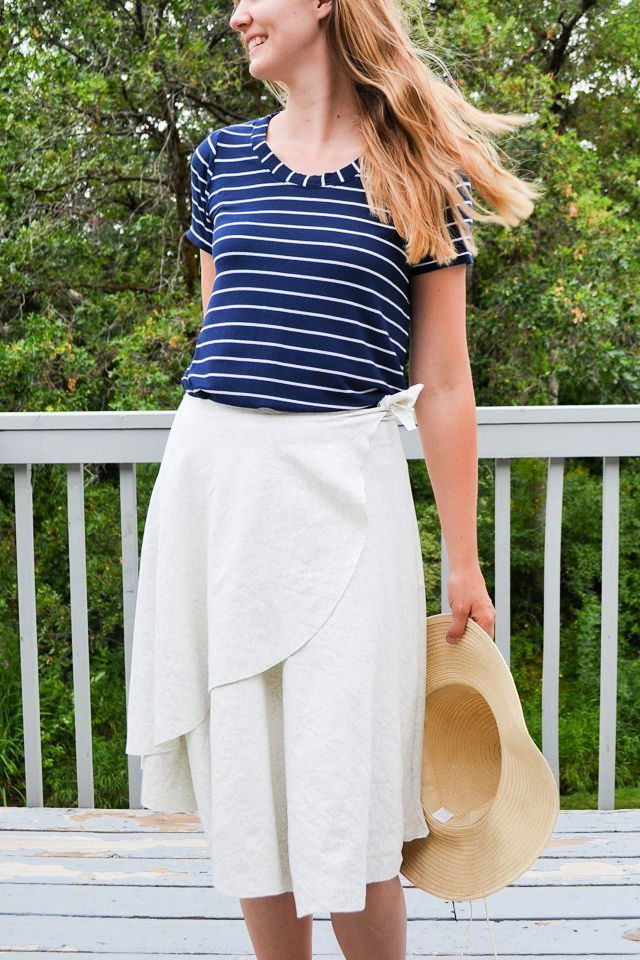 If you're someone who is looking for a basic plan that only covers one seam and no hems or edges, this one is definitely for you! The best part about this pattern is that there's an extra layer underneath it! Sewing tools, sewing machine, measuring tape, knit fabric, lightweight fabric, marking tool, and a few other supplies required. heatherhandmade
Free Sewing Patterns:
Take a look at our free sewing patterns! Find all types of easy sewing patterns, tutorials and tips related to sewing.
Doll sewing pattern: Handmade dolls are extra special and no matter your sewing skills, you can sew your own with one of these 20 free doll sewing patterns.
T-shirt pattern: Find the best free t-shirt sewing patterns available. Free t shirt pattern for women, men, girls, boys, kids. Learn how to sew or make a t-shirt.
4. Pattern For Wrap Around Skirt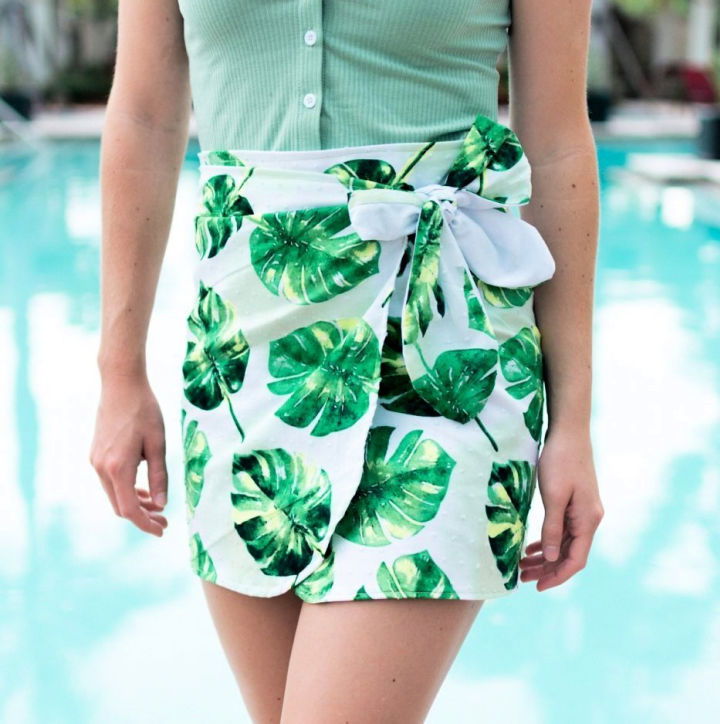 Short skirts are perfect for the summertime as you can wear them to formal dinners and as cover-ups to the beach! This beautiful skirt has a really nice pattern and shape to it. It's recommended to pick out a similar leafy fabric if you want the same refreshing and cool vibe from the skirt that you'll end up making. sweetteal
5. Retro Gathered Wrap Skirt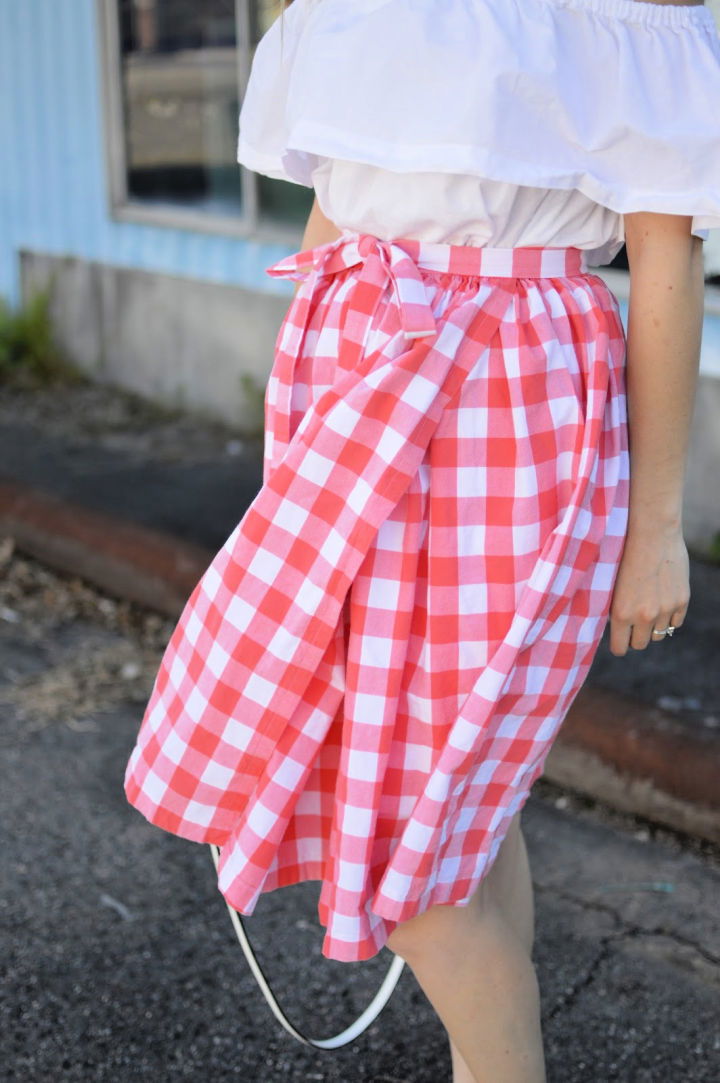 Retro-type gathered skirts are really trendy right now! You can also make yourself a pair by following this amazing guide! You will need a fabric of your choice and a few other sewing tools to make this adorable piece! In comparison to elastic waistband skirts, this one is a lot more comfortable to wear every day! alliemjackson
6. DIY Freebie Wrap Skirt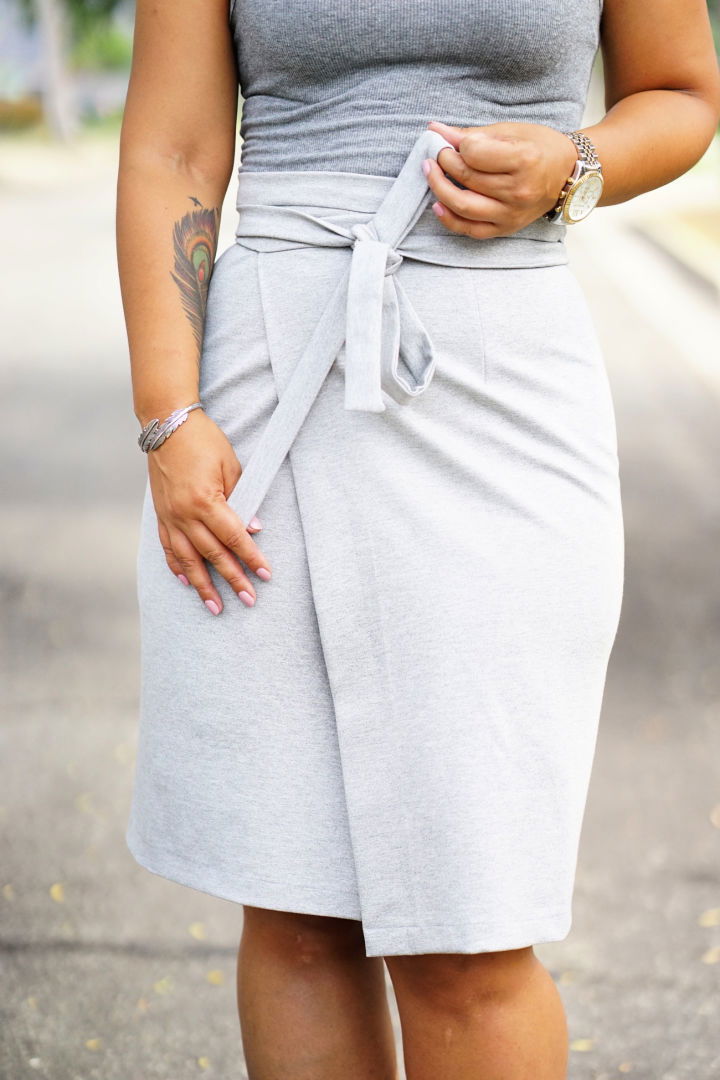 In comparison to the other wrap skirt pattern ideas, this one is definitely on the formal side. You can wear a nice plain top with it or dress it up with a patterned one. It's so easy to style as it's made out of a neutral color and simple design! You will be able to cinch your waist, and that will make your body look like a model's! mimigstyle
7. Ruffle Hem Wrap Skirt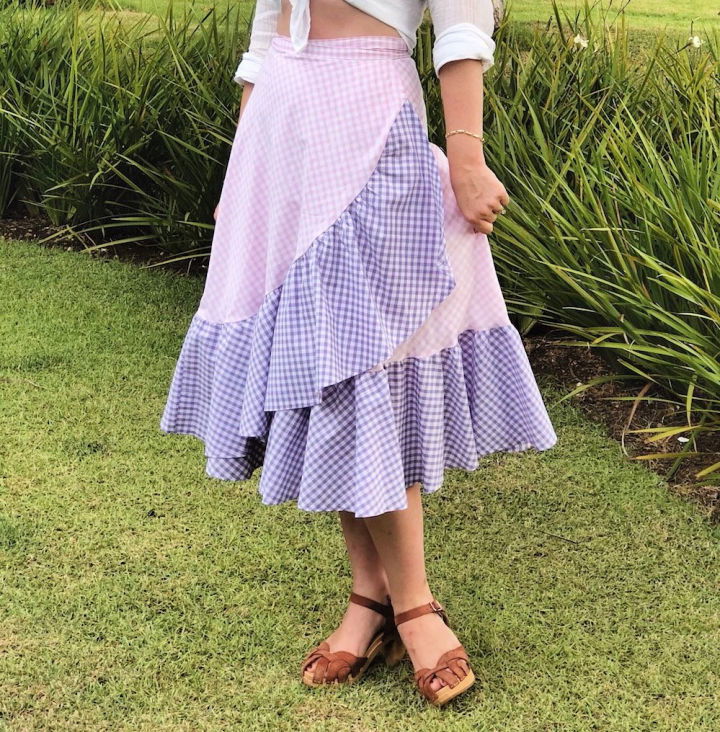 Are you ready to take a look at this beautiful ruffle skirt? You can wear this on your vacations to the countryside or just use it as a cover-up for your bathing suits at the beach! Any cotton or linen fabric will work well for this project. Tape measure and other sewing tools will also be required so you can have a smooth sewing process. byhandlondon
8. How To Make A Wrap Skirt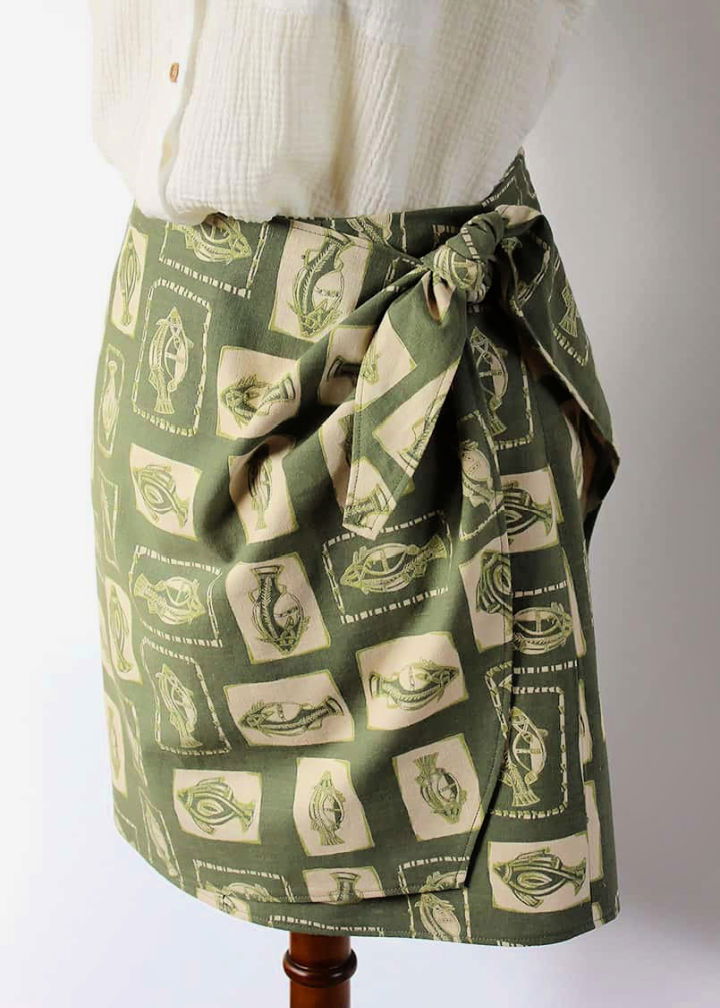 Here is a unique option for you to try out as the fabric used for this beauty is a lot more flowy and free! You will feel like a princess when you swirl around in this tiny little skirt! It's so cute and has the most adorable tie on the side, which adds a statement! Are you excited to style this skirt? It's going to be so much fun! bebraveandbloom
9. Wrap Skirt Tutorial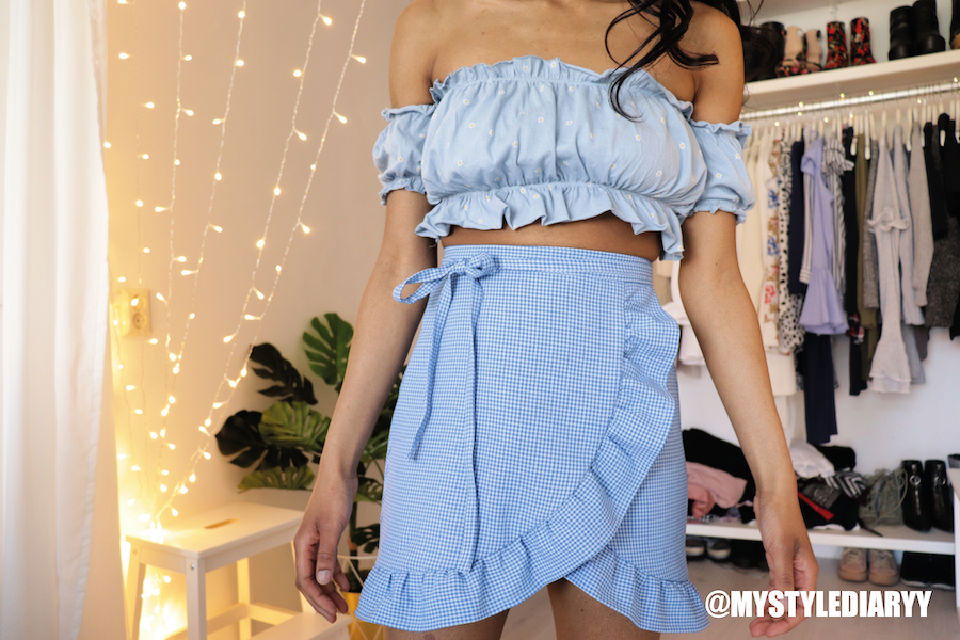 This wrap skirt pattern is a little different from the rest of the ones on this guide. In comparison to the other ones, this one is a lot shorter and will reach your knee-length – this type of style is very trendy right now. Sewing machine, tape markers, sewing pins, markers, scissors, and a few other materials are used to make this beauty. mystylediaryy
10. Ruffled Wrap Skirt Sewing Pattern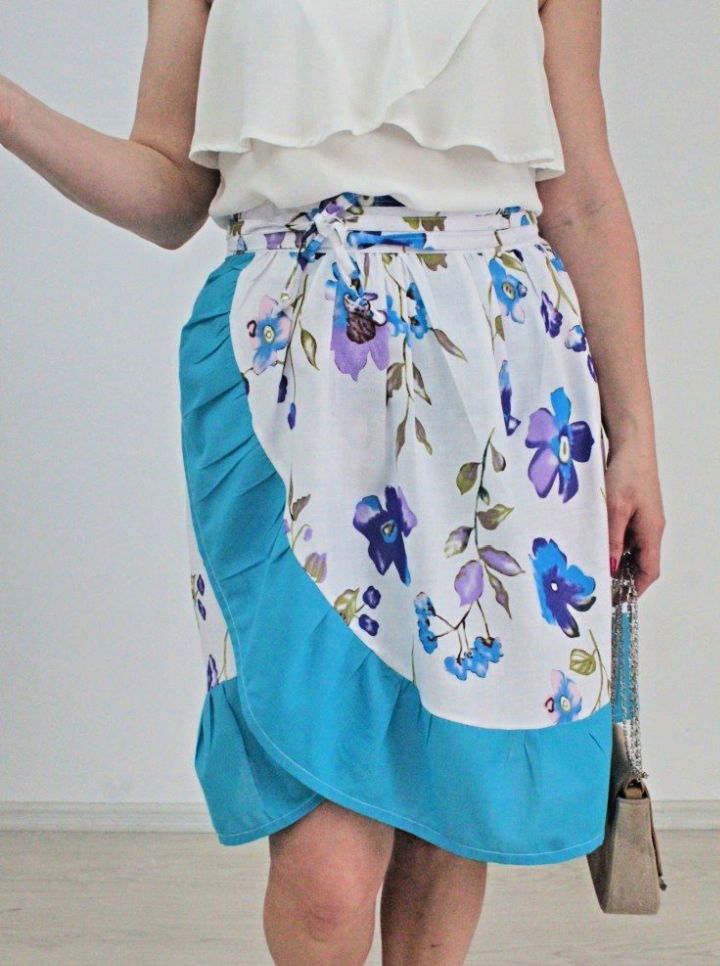 Ruffled skirts can make anyone look like a princess! This floral and pretty piece will make you match the spring and floral vibe around you! There's a border on the side that balances out the flowers in the center and makes this piece look perfect! You can wear this to many different events – from dinners to parties etc. theseamanmom
11. How to Sew A Wrap Skirt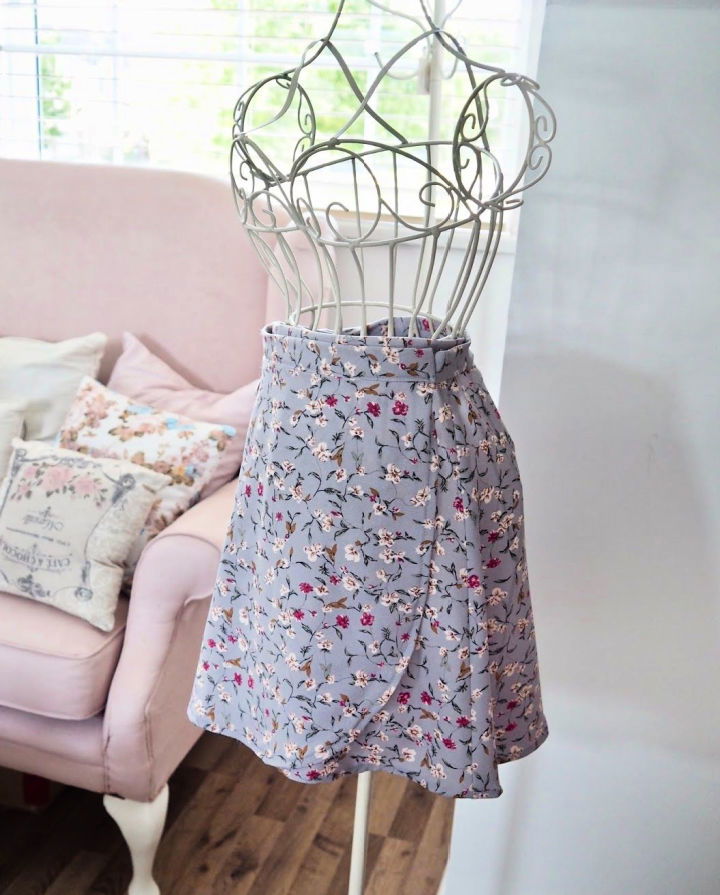 Here is another cute skirt pattern; however, it's a little different than the other wrap skirt pattern ideas in this guide! What's exactly the difference? Well, this skirt requires no sewing! Isn't that amazing? 1.5 meters fabric, interfacing waistband, thread, measuring tape, fabric scissors, fabric marker, sewing pins, and a few other supplies are required. daintydressdiaries
12. DIY Pleated Wrap Skirt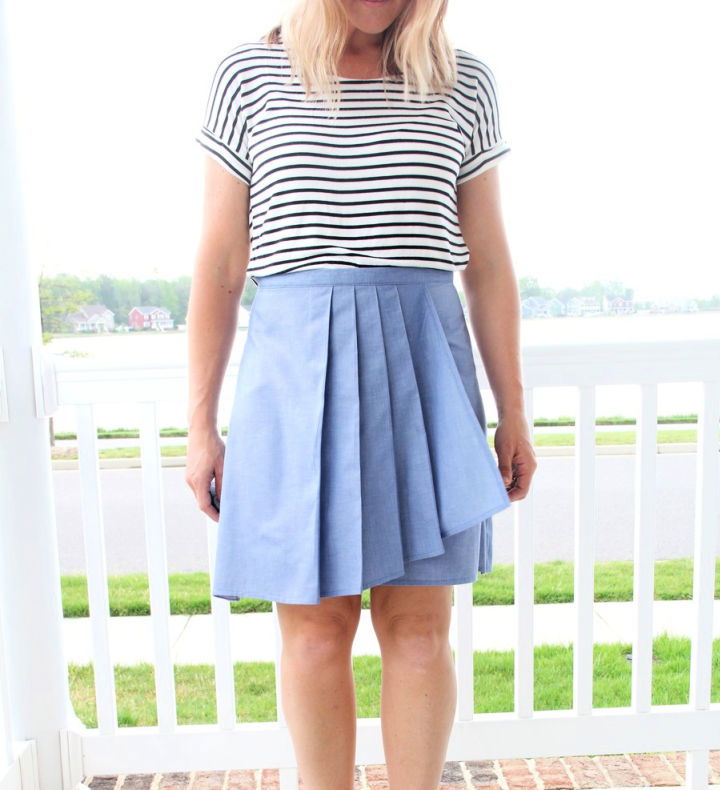 Pleated skirts are perfect for those girls who are into the retro vibes instead of flowy ones. This one may remind you of the skirts you used to wear to school as the cut and shape are very similar to those! You can make this with plain fabric or use a patterned one – pleated style looks amazing with everything! mesewcrazy
13. DIY Wrap Maxi Skirt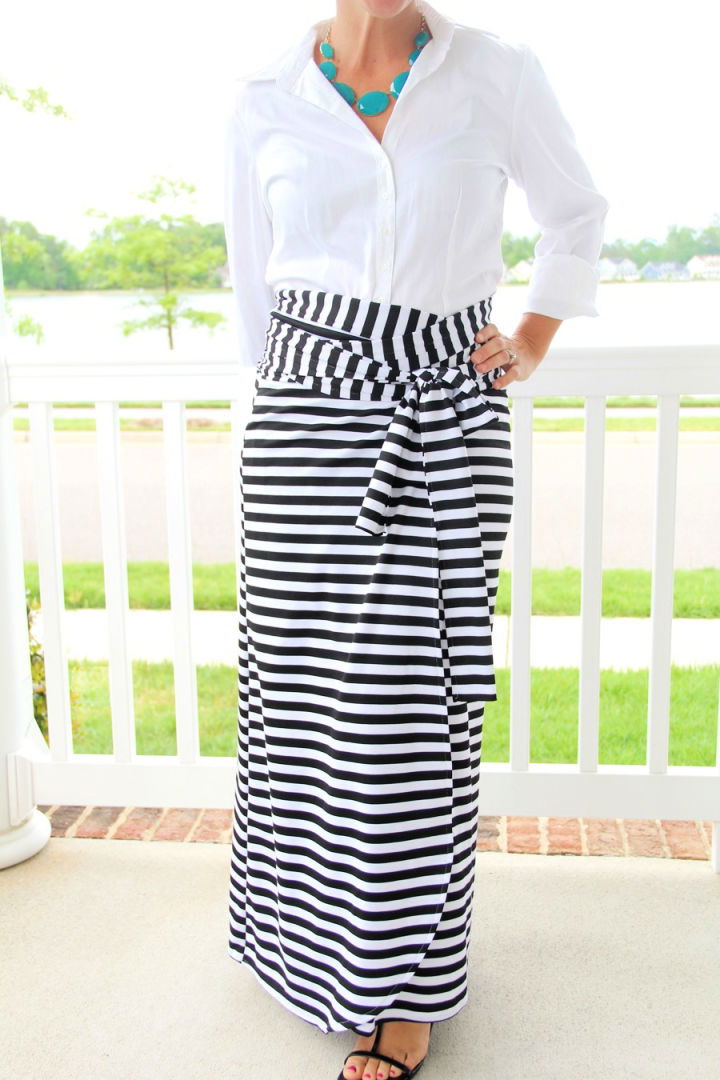 This beautiful maxi skirt is definitely going to steal the show when you wear it to the next event! Don't you just love the elegant and feminine look of it? 2.3 yards of fabric, measuring tape, and basic sewing tools will be required for this amazing project! You will need to measure your waist and length before getting started. mesewcrazy
14. Wrap Around Skirt Pattern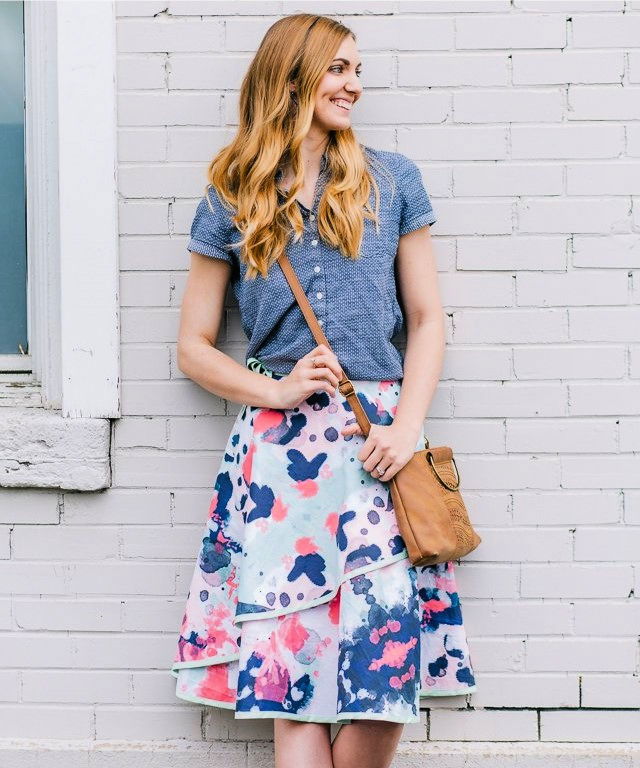 Wrap-around skirts made out of fleecy material are going to feel amazing! Here is a really pretty skirt that you wear on a day-to-day basis. You can gift this beauty to a loved one who loves to wear feminine and girly pieces with cute tops! Isn't this just so exciting? You will only need a few basic supplies and tools to make this. heatherhandmade
15. Sew A Floral Rayon Wrap Skirt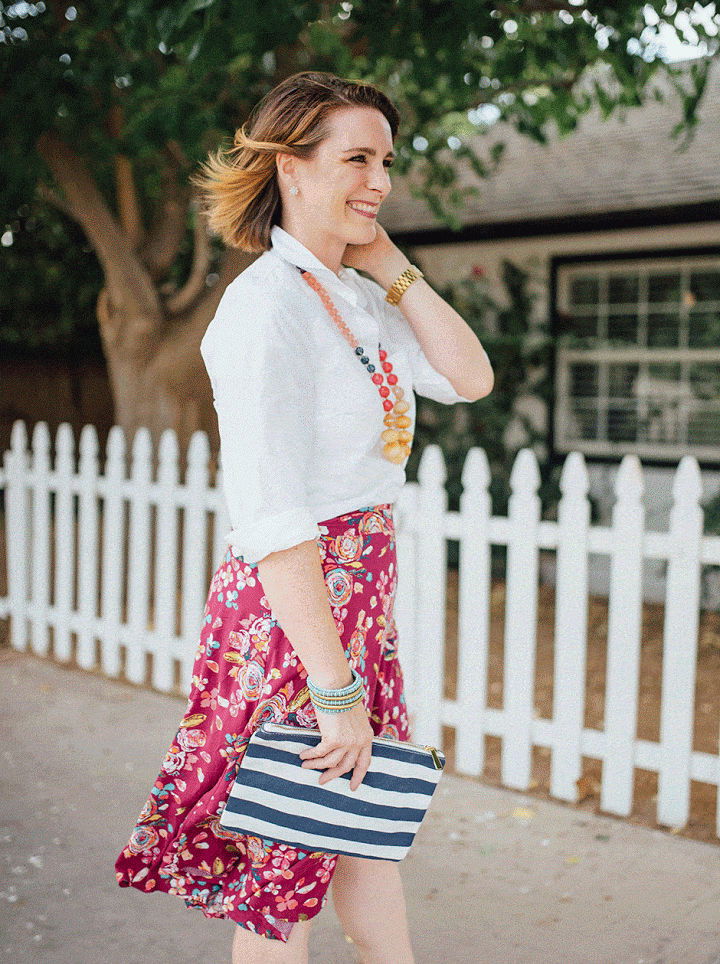 Here is another unique idea as this wrap skirt has a very different shape to it – it's short at the front and long at the back! How cute is that! You can easily wrap this around your waist and make it looser or tighter as it has a wrap! The model in this guide is around 5'5 inches, so you can change up the size depending on your height. bonnieandblithe
16. Tassel Trim Wrap Mini Skirt Without A Pattern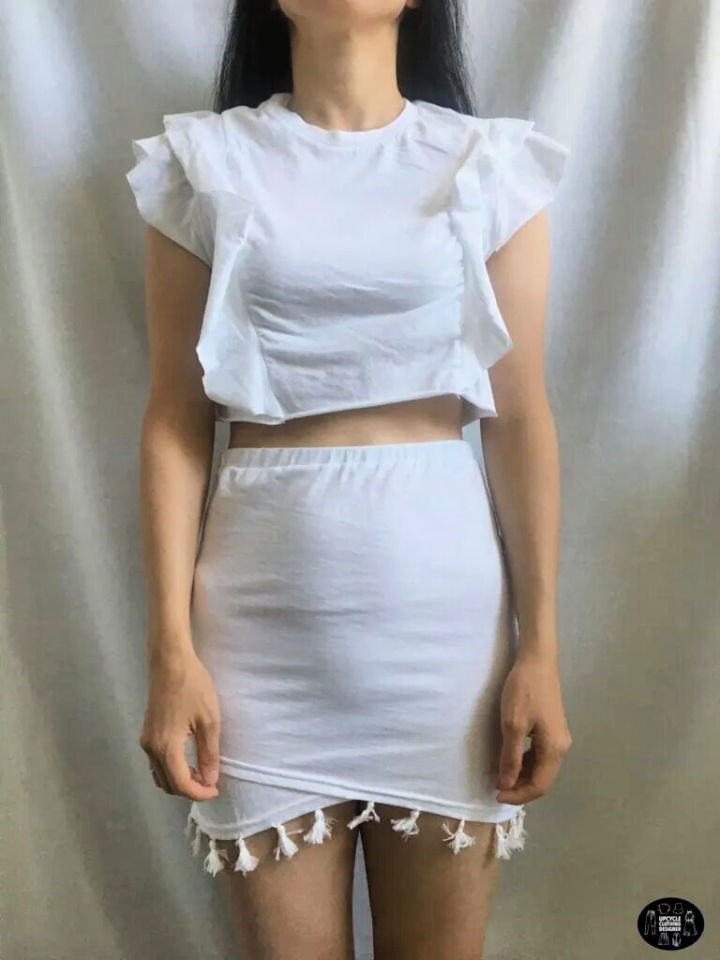 Everyone needs basic pieces in their closet from time to time. Here is a basic and plain skirt in a white color that can be worn with almost anything! Don't you just adore it? It has tassels at the bottom, which are optional, but you can add them for some extra pizzazz and fun! You're going to love the final product! Just give it a try! fashionwander
17. Wrap Skirt Pattern For Any Size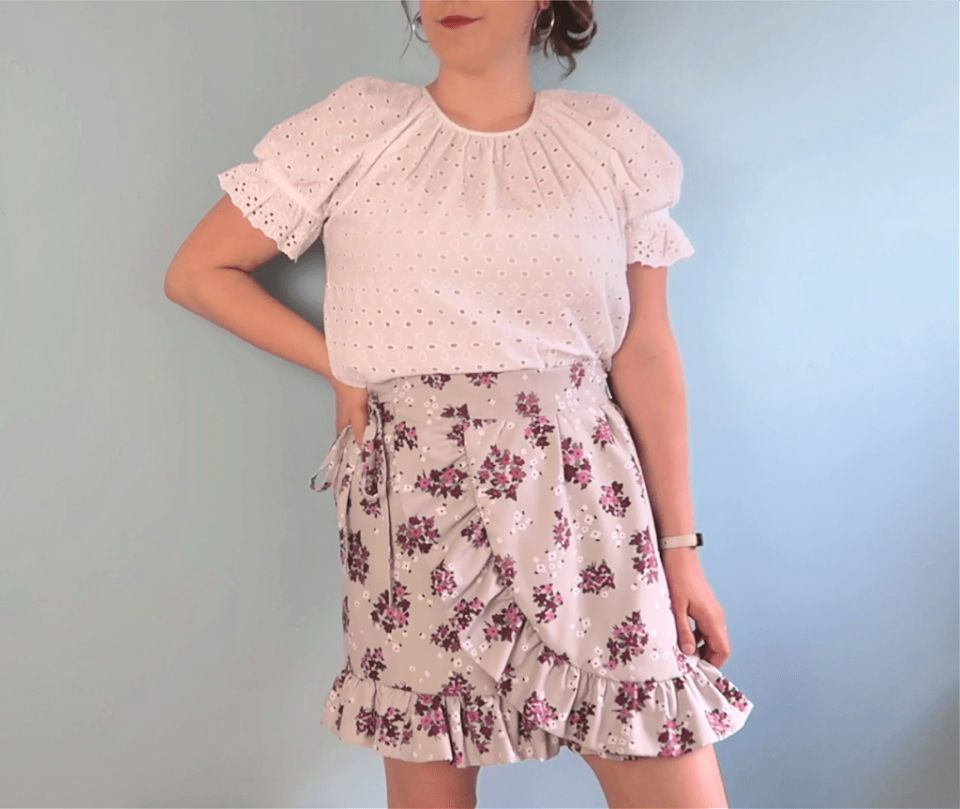 Wrap skirts are absolutely stunning and look really pretty when they're paired with a ruffled pattern – just like this one! The best part about this project is that it's perfect for beginners as not a lot of skill is needed. Matching thread, fabric, scissors, tape measure, iron, hand sewing needle, and a few other materials are required. chasingthelook
18. Easy Ballet Wrap Skirt Tutorial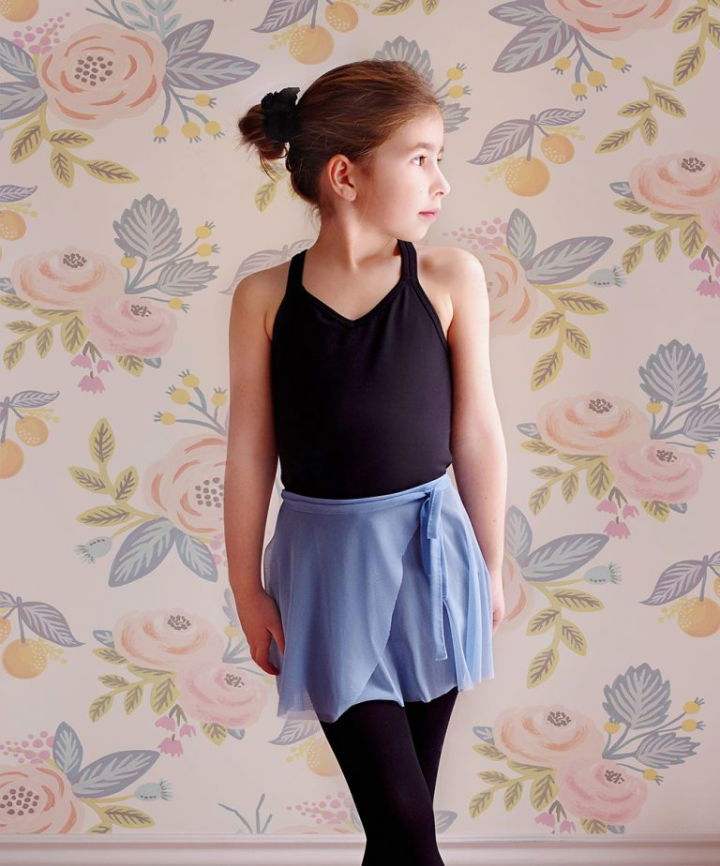 Many pre-teens and teenagers tend to join ballet classes. You can make this for your little one if she's joining ballet classes as this skirt will just be perfect for that! Make sure to use the fabric that's mentioned in this guide, as that will help you get the perfect texture for a ballet skirt! Are you ready to give this a try? makeit loveit
19. How To Make A Wrap Skirt With Free Pattern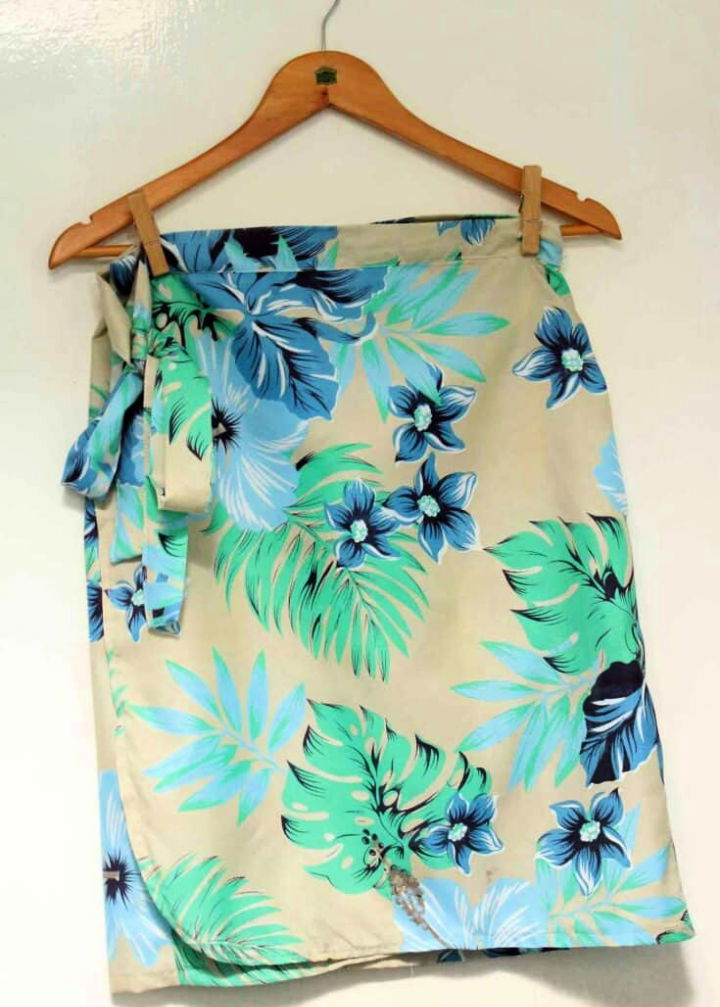 Lightweight linen or cotton fabric will work perfectly fine for this project, but you can also use rayon if you don't have the other two. Iron, pins, fabric, fabric marker, matching thread, thread nippers, cutter, mat, scissors, and a few other materials will be required to make this absolutely stunning little skirt! It's going to be so much fun! happiestcamper
20. How To Make A Wrap Around Skirt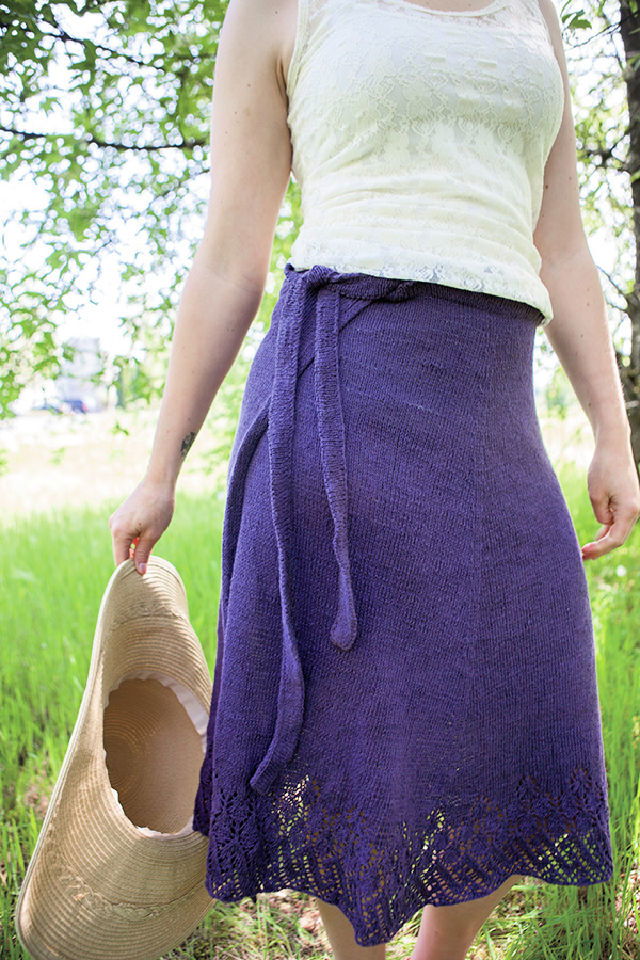 Last but definitely not least, here's a really pretty skirt pattern that will be perfect for your countryside adventures! Are you ready to live your cottage core dreams? Well, then it's time for you to give this pattern a try! You don't have to worry about the size of the skirt as it can easily be tightened and vice versa. knitpicks
Conclusion:
So, are you ready to make a wrap skirt pattern? Well, before getting started – it's recommended to follow a few steps to learn how to make a wrap skirt. Firstly, choose the best quality fabric and try to go with the type of material that's mentioned in the guide. You can go for any pattern, but it's recommended to choose colorful and vibrant ones as they will look super cute in this floral season! Secondly, you will need to familiarize yourself with a few basic sewing techniques before getting started on these projects. Just get the basic sewing supplies and watch some YouTube videos. Finally, now you're ready to make these pretty skirts! Best of luck!