Are you looking for a fun, stylish way to show off your sewing skills? Consider making a pleated skirt! Learn how to make a pleated skirt with these 22 free pleated skirt pattern with step by step sewing patterns PDF. This trendy look can be worn year-round and is surprisingly simple to sew. If you are interested in creating one of these statement pieces for yourself but don't know where to start, this guide will provide helpful guidance.
Featuring 22 free pleated skirt patterns that range in difficulty level from beginner to experienced, this post provides all the materials and instructions needed to make your ideal garment. So take out your needles and thimbles and get ready as we explore the world of pleated skirts!
Pleated skirt patterns are quite on the rise now! People love the breezy casual, and formal vibes this one versatile skirt pattern could bring to their wardrobes! Given all the hype about pleated skirts and their versatility to go on any occasion, we have rounded up these 22 free pleated skirt patterns with detailed instructions guide and pdf pattern. These are all equipped with the basics of making your own pleated skirts with fun and the right measurements! So, even if you are a beginner at sewing, with our detailed guiding tutorials, you can totally nail this chic look!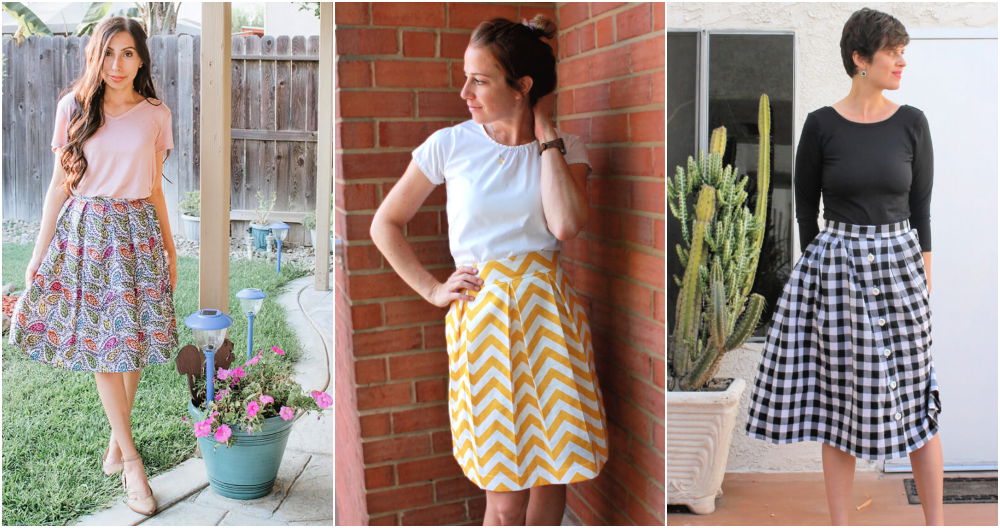 22 Free Pleated Skirt Patterns to Sew
Pleated skirts are best made using light or medium weight fabric, preferably cotton or linen. This gives them the extra flair and stretchy appeal! The trick in pulling off a pleated skirt pattern lies in carefully working around the measurements and the cutting techniques. To put it quite simply, mainly a pleated skirt is just a bunch of rectangular pieces sewed together. We have also added this magical fabric known as Plisse, which has this added or pre-pleated look that doesn't even go away after washing it! So, gather around your basic sewing supplies, your favorite textured fabric, and let's start upgrading your wardrobe by exploring through these best pleated skirt patterns.
1. How to Sew a Pleated Skirt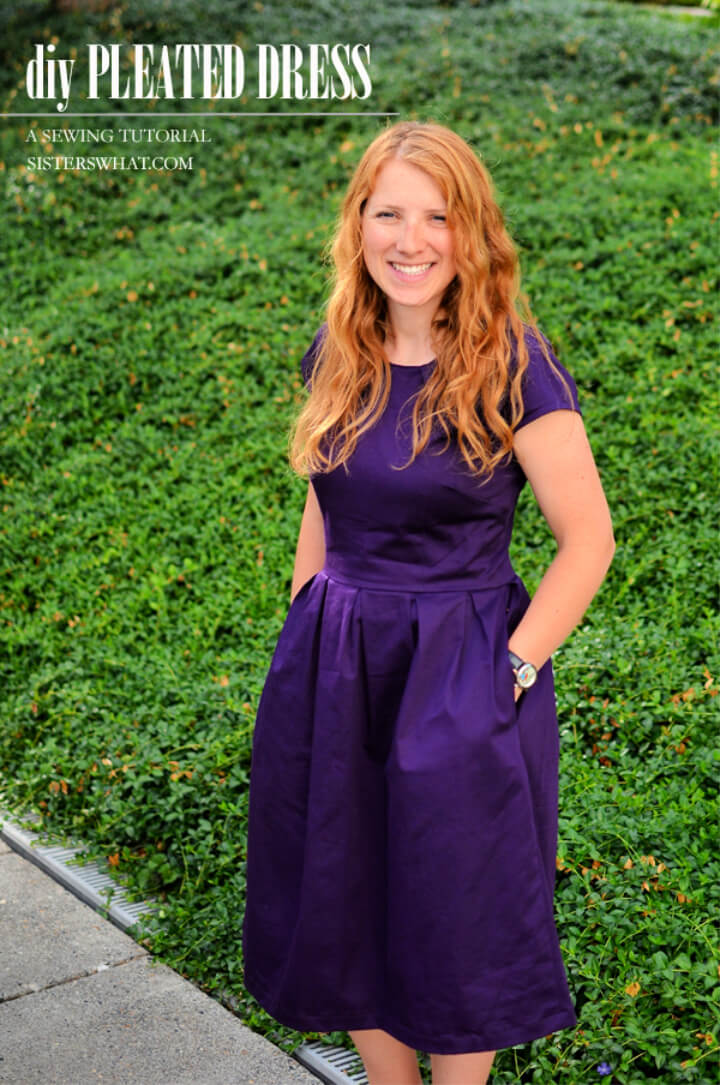 Loving the minimalistic yet super catchy appeal of this pleated skirt? Make it for yourself by using patterns for a bodice, poplin fabric in two ½ to 3 yards, zipper, thread, and sewing machine. sisterswhat
2. Pretty Pleated Skirt Sewing Pattern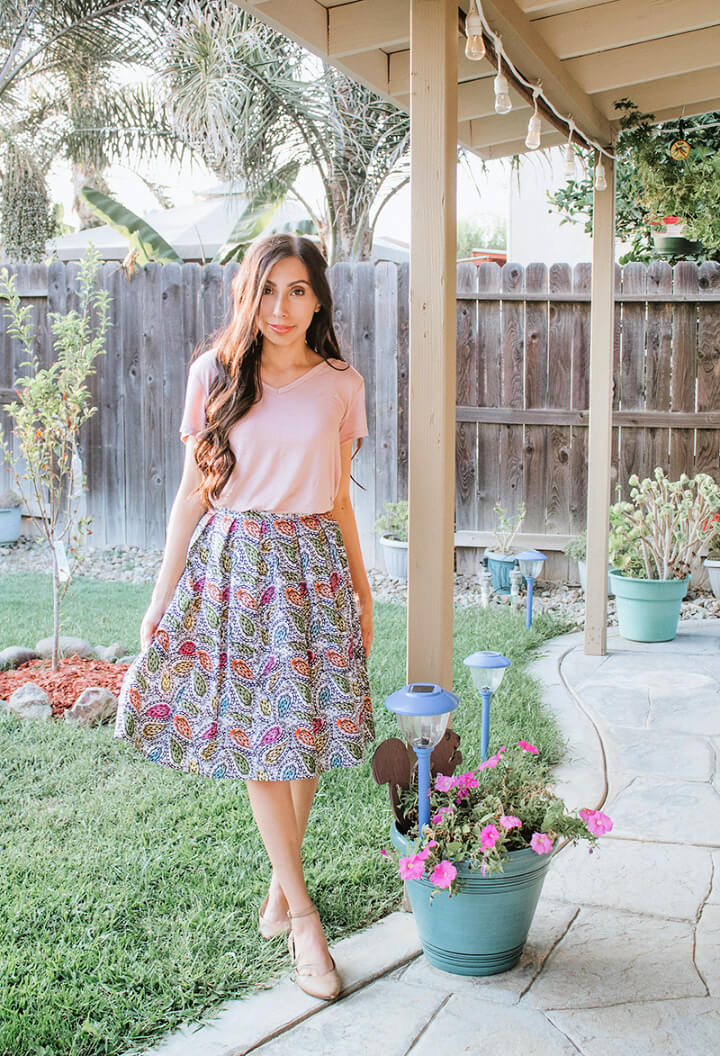 If you are new to sewing your own skirts or if you are thrilled to sew this best pleated skirt pattern, Sew Much Love Mary has got this perfect guide for you. Elaborating how to start off by cutting from scratch and taking it ahead. sewmuchlovem
3. Free Pleated Fabric Skirt Sewing Pattern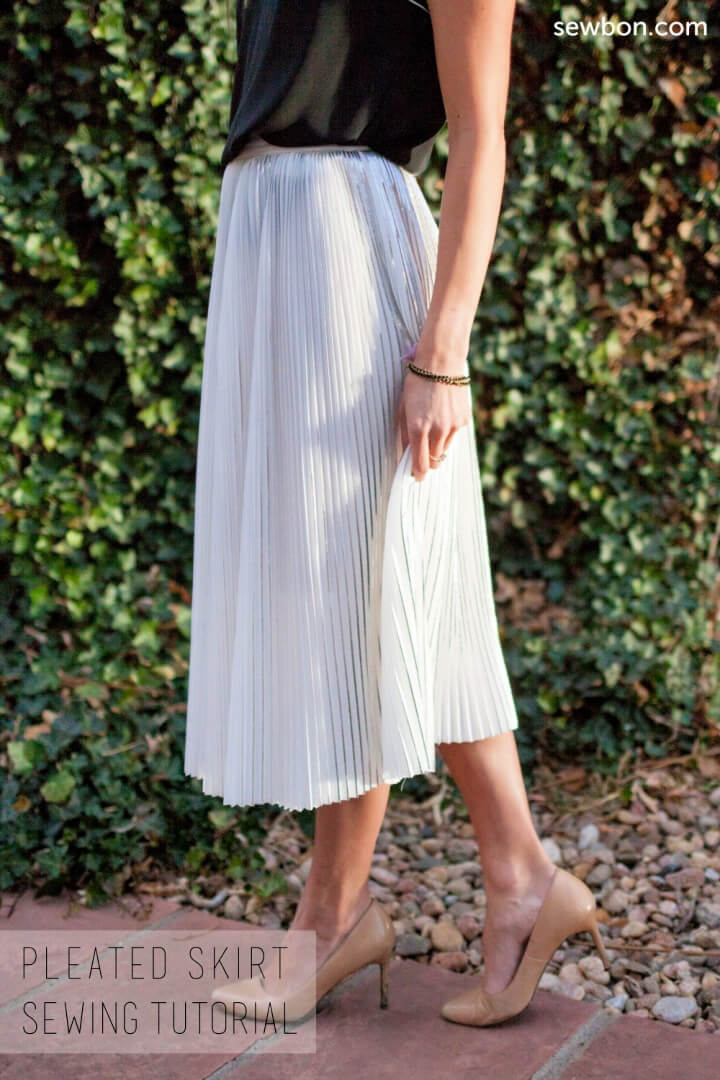 With holiday season approaching us, are you looking for some great holiday seasoned wardrobe ideas? Check out this super beautiful pleated skirt pattern. You will need 2 panels of Plisse Limonium silver pleated fabric, matching fabric for the waistband, lightweight fusible interfacing, invisible zipper, and general sewing supplies. sewbon
4. How to Sew Pleated Skirt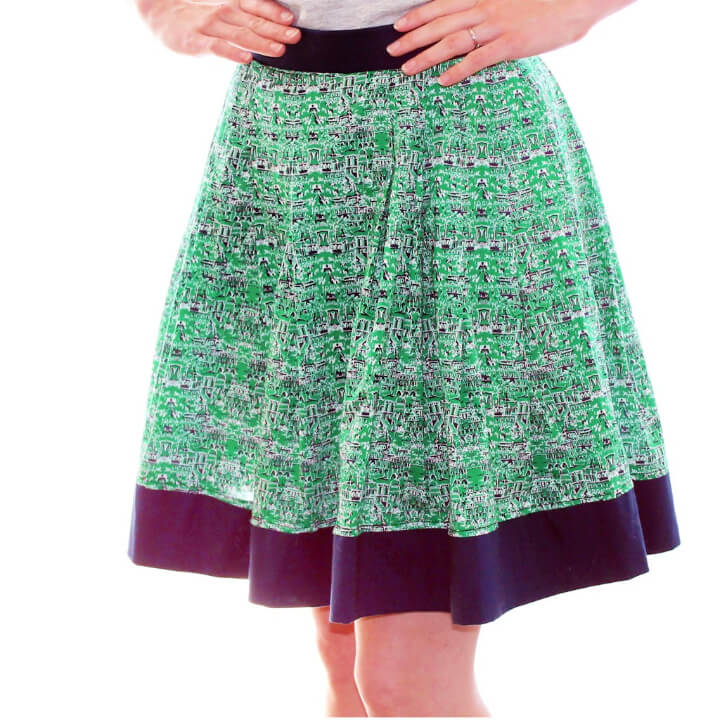 Does sewing a pleated skirt intimidates you? That it must be so detailed and complicated? But, actually, its nothing like that. It is just cutting a few rectangles and sewing them like that. This pleated skirt is made using 3 yards of fabric and contrasting hem and waistband pieces. instructables
5. Sewing a Pleated Skirt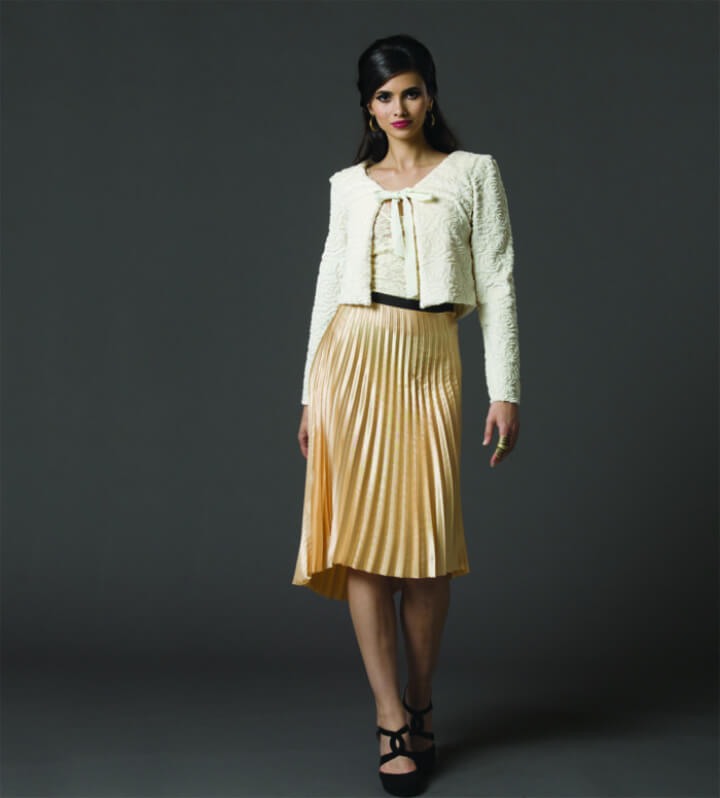 If you are loving the pleated skirts pattern but don't feel like sewing them with all the pleated details, you can buy these pre-pleated panels and just stitch them together. You can make this runway-worthy pleated skirt pattern by following the details in the tutorial. threadsmagazine
6. DIY Perfect Box Pleat Skirt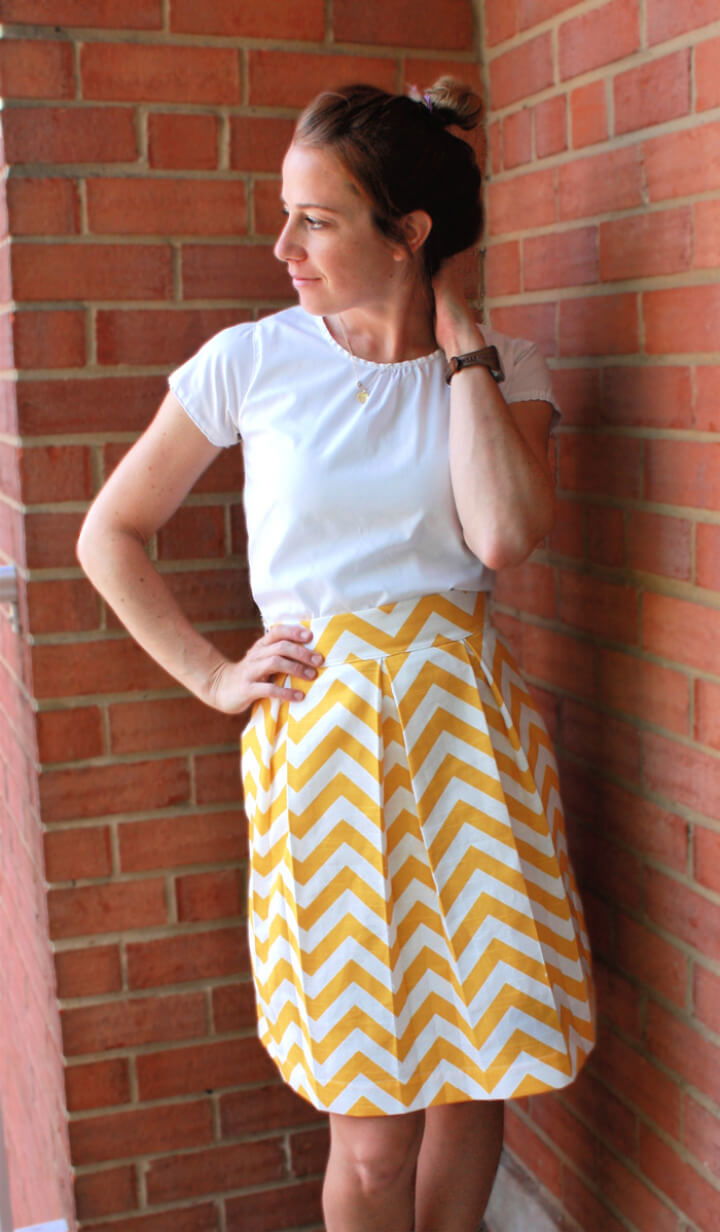 Get your hands on 1 to 1.5 yards of fabric, one 9 to 12" invisible zipper and contrasting fabric for pockets. It is kind of a detailed sewing project, but the whole thing looks quite perfect, with even boxes sewed around. livefreecreative
7. Free Pleated Skirt Sewing Pattern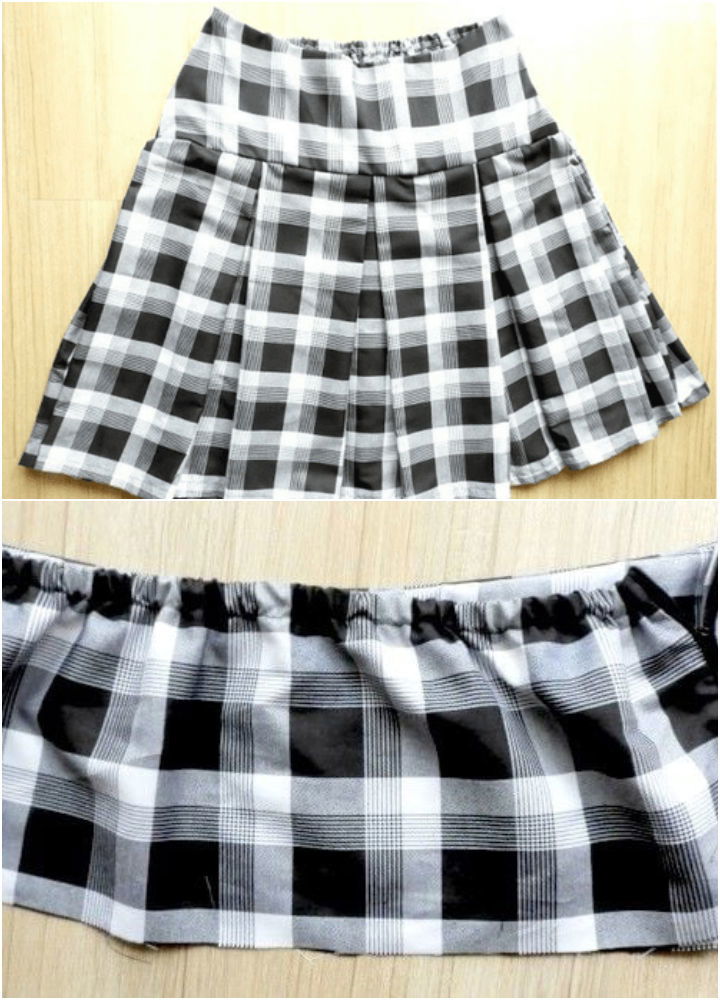 Even if you are a beginner at sewing, with Sew Guide, you can nail this minimalistic pleated skirt. You will be needing 2 pieces of fabric for making the yoke. Lining piece for the front yoke and one back yoke piece. sewguide
8. Easy Pleated Skirt Pattern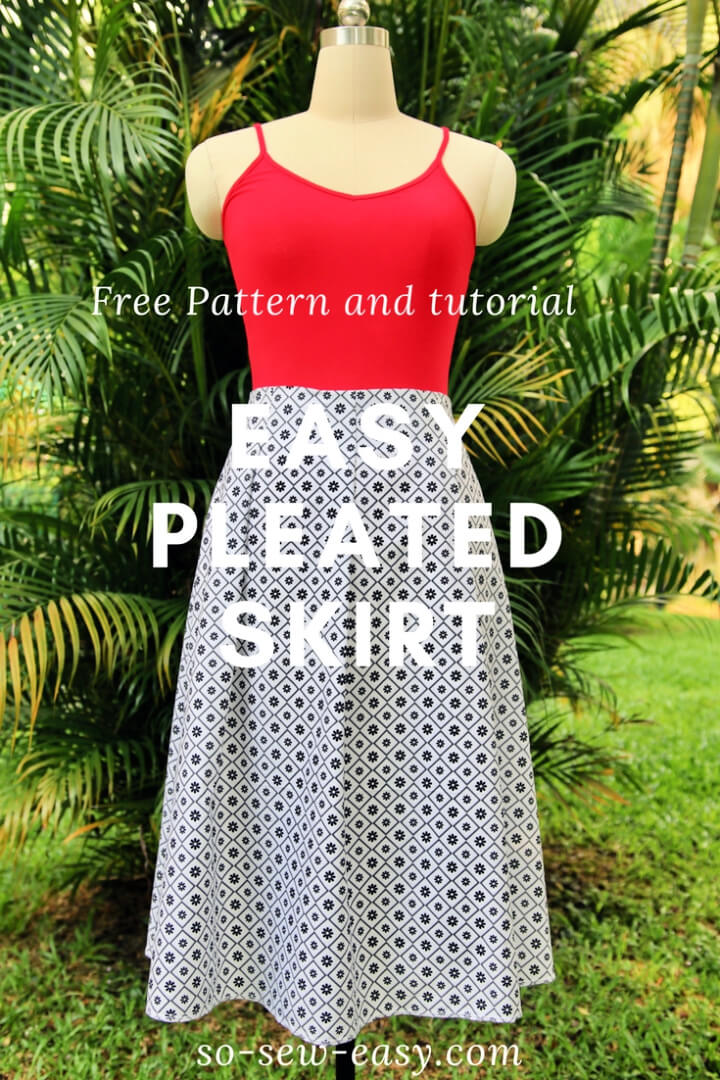 Give your wardrobe an elegant and classy look with this A-line pleated skirt. The skirt features three pleats in front and three pleats at the back. You will be needing ¾ yard of lining soft cotton, ¼ yard of woven feasible interfacing, and one visible zipper 10" long. And a thread to match. so sew easy
9. How to Sew Pleated Couture Skirt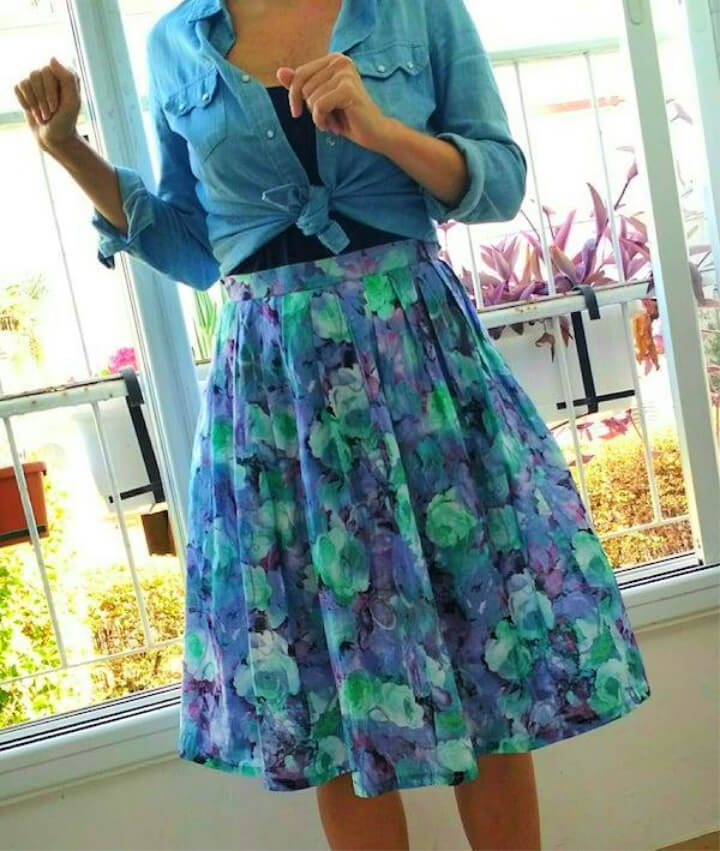 This tutorial features a knife pleating technique. Each pleat layers are three layers thick. To make this beautiful pleated skirt, you will need a piece of fabric, one zip, pins, tailor's chalk, thread, and sewing machine. threadstories
10. How to Make a Pleated Midi Skirt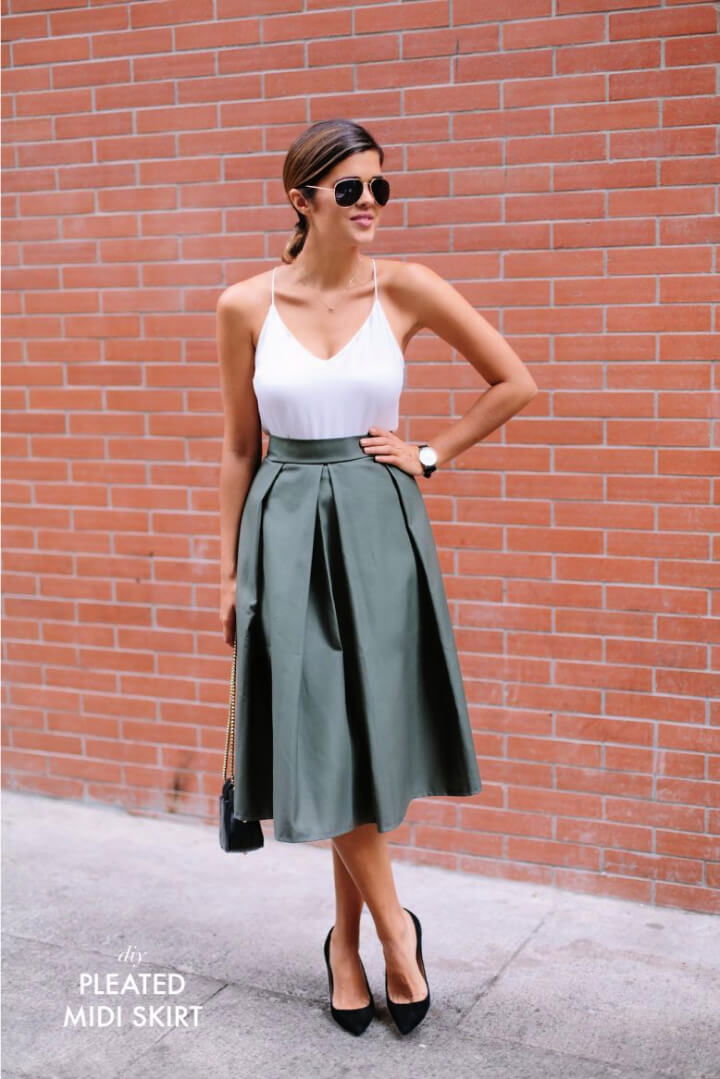 For this classy DIY pleated Midi skirt, you will need cotton fabric, pins, measuring tape, fabric scissors, sewing machine, and thread. Make the pleats by marking points, lining them up with the center point, and creating your first pleat. apairandaspa
11. Pleated Midi Skirt Pattern In Any Size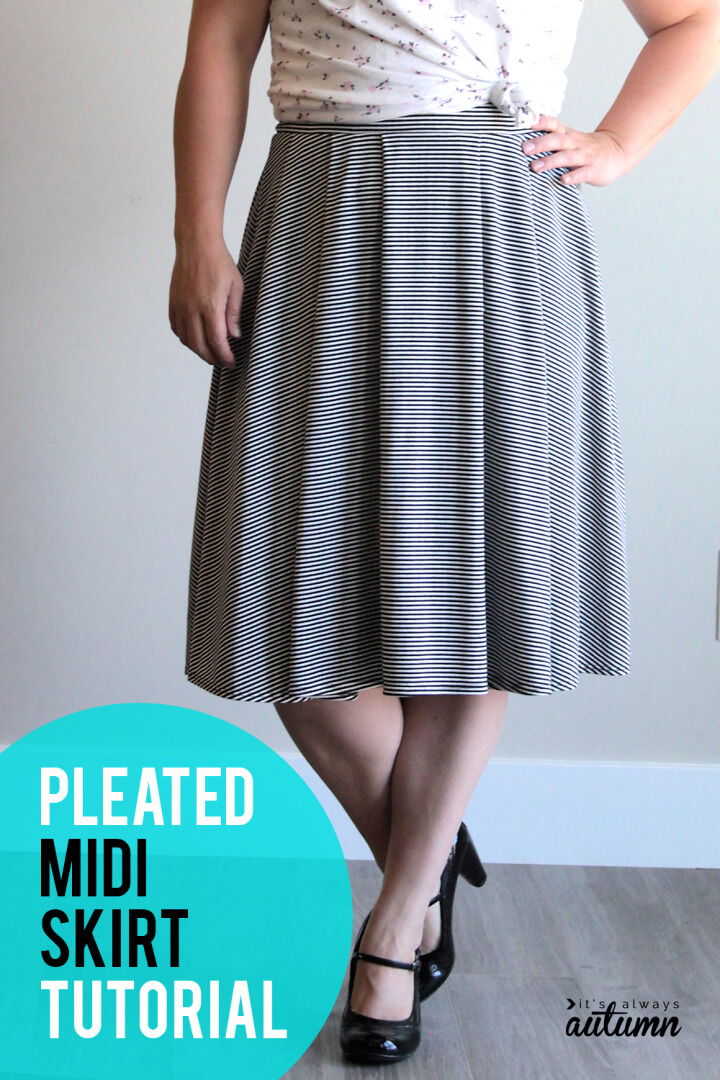 This pleated skirt pattern is befitting for any size! The waistband of this pleated skirt has elastic in it and is quite stretchy. It is quite stretchy, and you will need just three pieces for making this; a waistband, front and back shirt piece. itsalwaysautumn
12. Making a Pleated Skirt in Linen Grid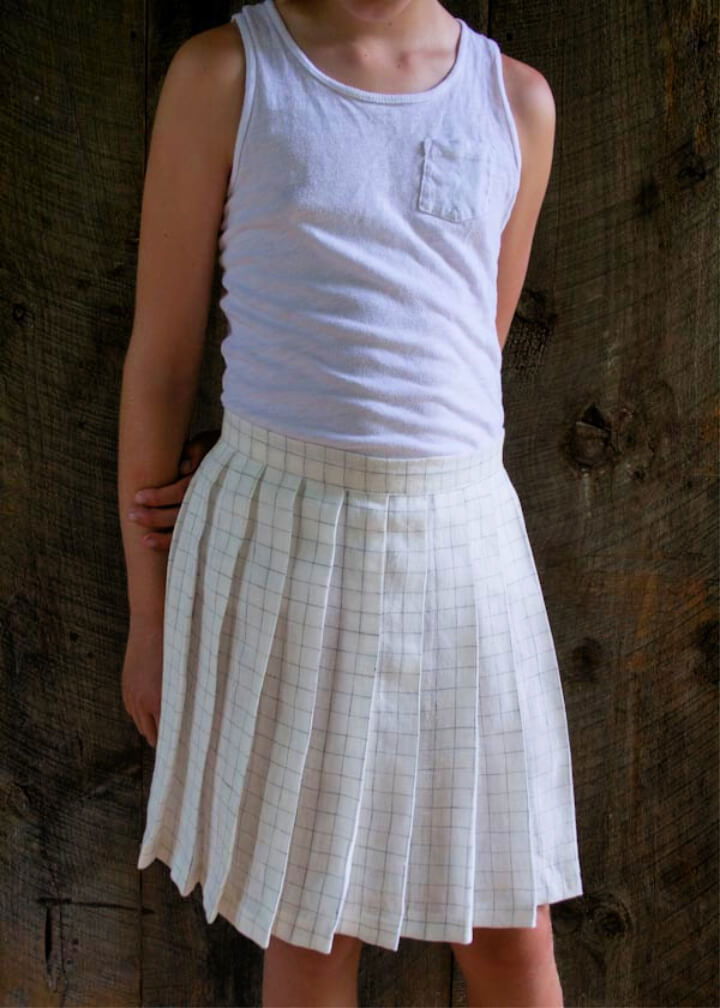 Pleating us quite a breeze! It adds a very classy appeal to your overall outfit, and you can get this elegant look with just a few stitches and a pleated skirt pattern with Purl Soho. Hit the tutorial for getting the list of supplies and step by step guide. purlsoho
13. Sewing a Pleated Satin Skirt in One Hour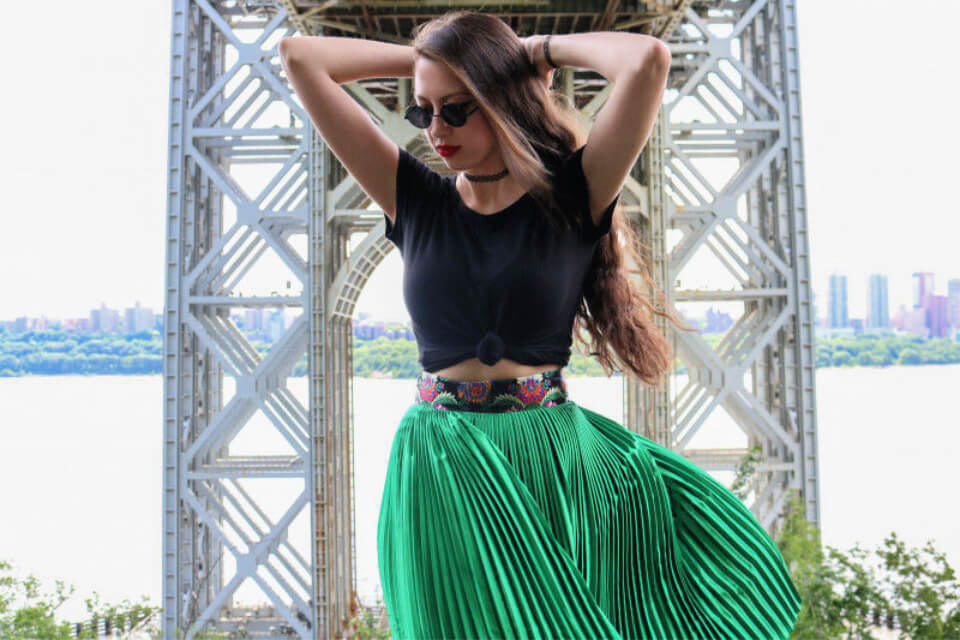 This pleated skirt can take just an hour to make. You will need 3 yards of Kelly green pleated skirt, ½ yard black satin faced multi-colored floral jacquard, ½ yard black faced woven interfacing, 9″ black invisible zipper, and black sticky draping tape. moodfabrics
14. Box Pleated Skirt Sewing Pattern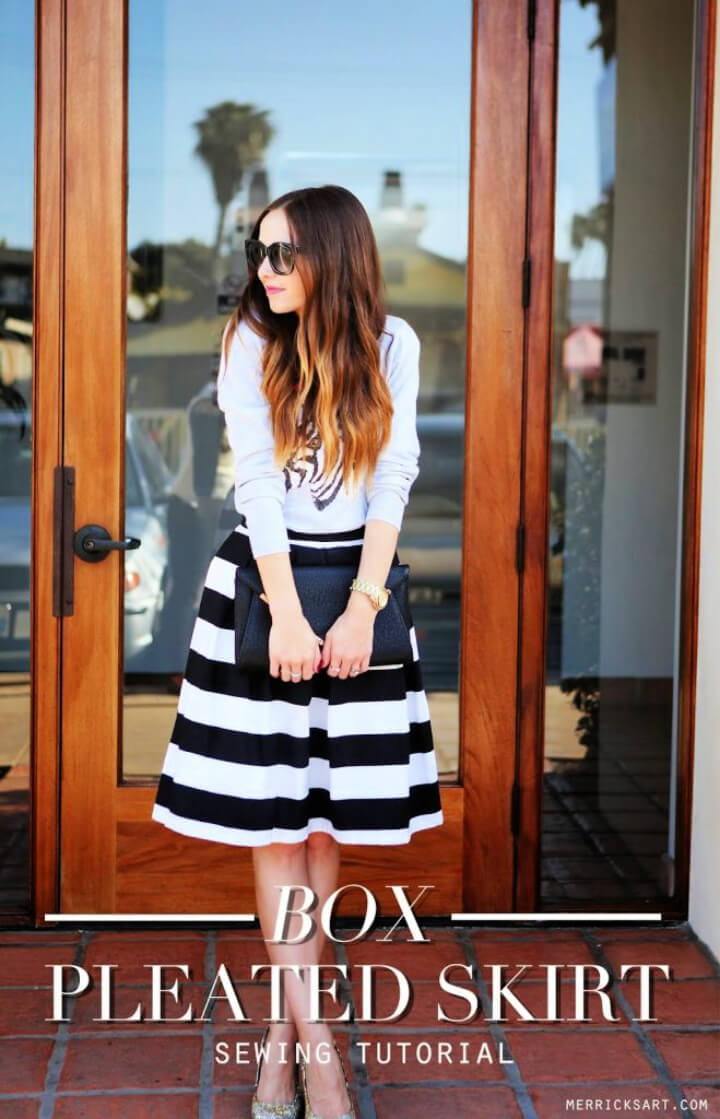 Have an unbelievable fun party night with this zebra print pleated skirt! It will go perfect with a plain top and a fancy necklace. Get your hands on 2 yards of heavy weight cotton, matching thread, zipper and clasp closure. merricksart
15. DIY Pleated Button Front Skirt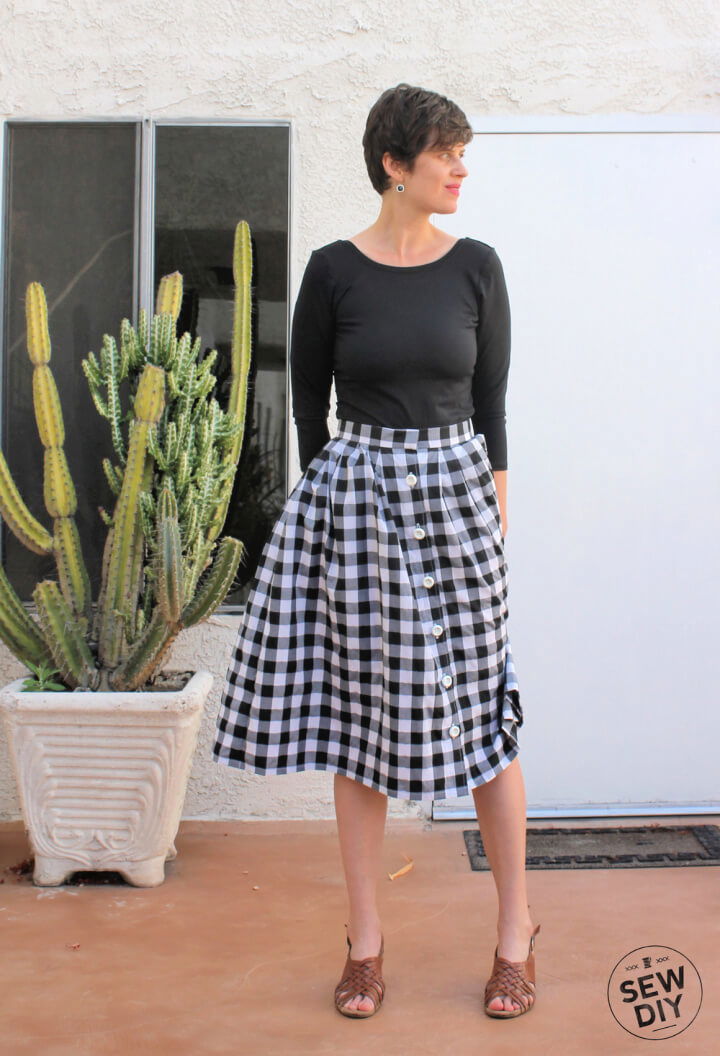 The tutorial features a beautiful pleated skirt pattern with a buttoned band in the front! This skirt is made using a 1-inch gingham, and each pleat is 1 inch. The fabric is about 2 yards, interfacing, 5 to 6 buttons for the exterior, one button for the interior waistband, and 1 slide style hook and side. sewdiy
16. Pleated Wrap Skirt Free Pattern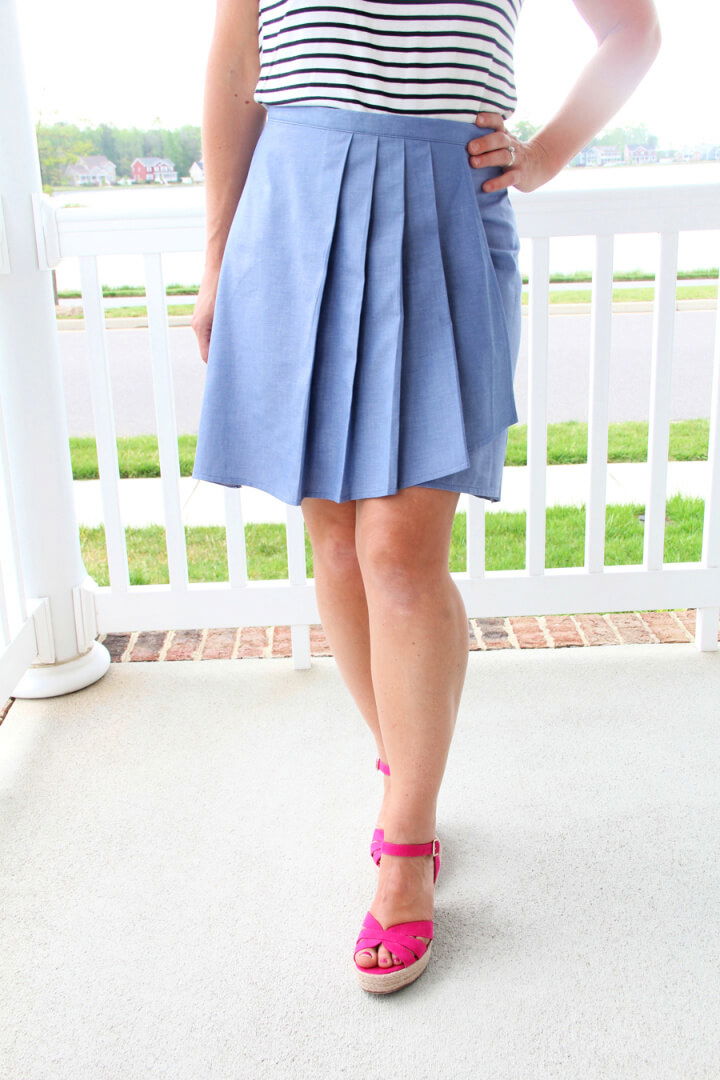 Make this charming addition to your wardrobe with this pleated skirt! You will need 1.2 to two yards of woven fabric. You can download the pleated skirt pattern here, invisible zipper, and basic sewing skills. mesewcrazy
17. Not Your Grandma's Pleated Skirt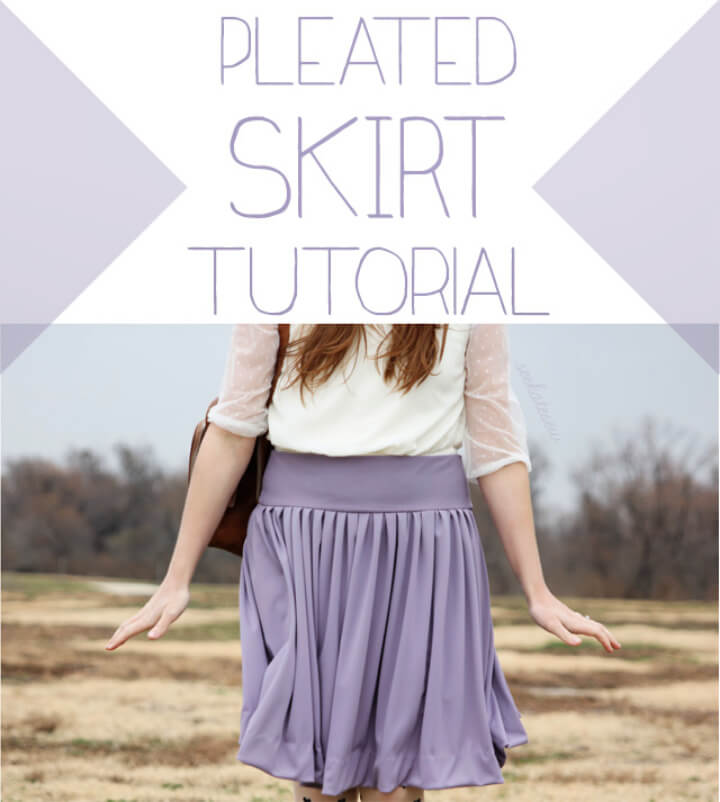 Start by measuring your waist and then divide by 2 by adding 1 inch! Get the full maths details for making a perfect pleated skirt with the right measurements in the tutorial. Just follow the 10 detailed steps in the tutorial and get it done! seekatesew
18. Make Your Own High Waisted Pleated Skirt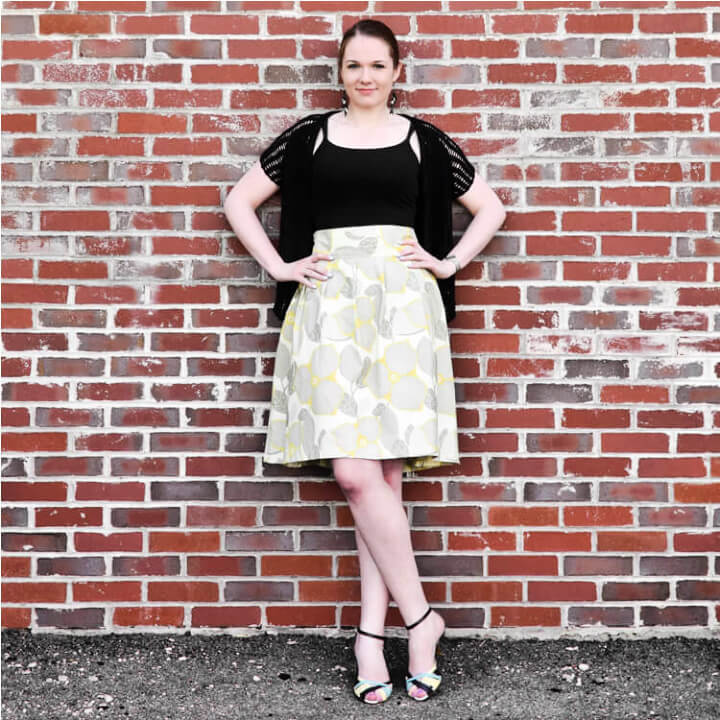 This high wasted pleated skirt has pleats on the front and back! And has a zipper on its side. You will need 1 yard of cotton fabric, thread, 7" zipper, ballpoint pens, fabric scissors, and a hand needle. onlinefabricstore
19. Easy Peasy Pleated Skirt Pattern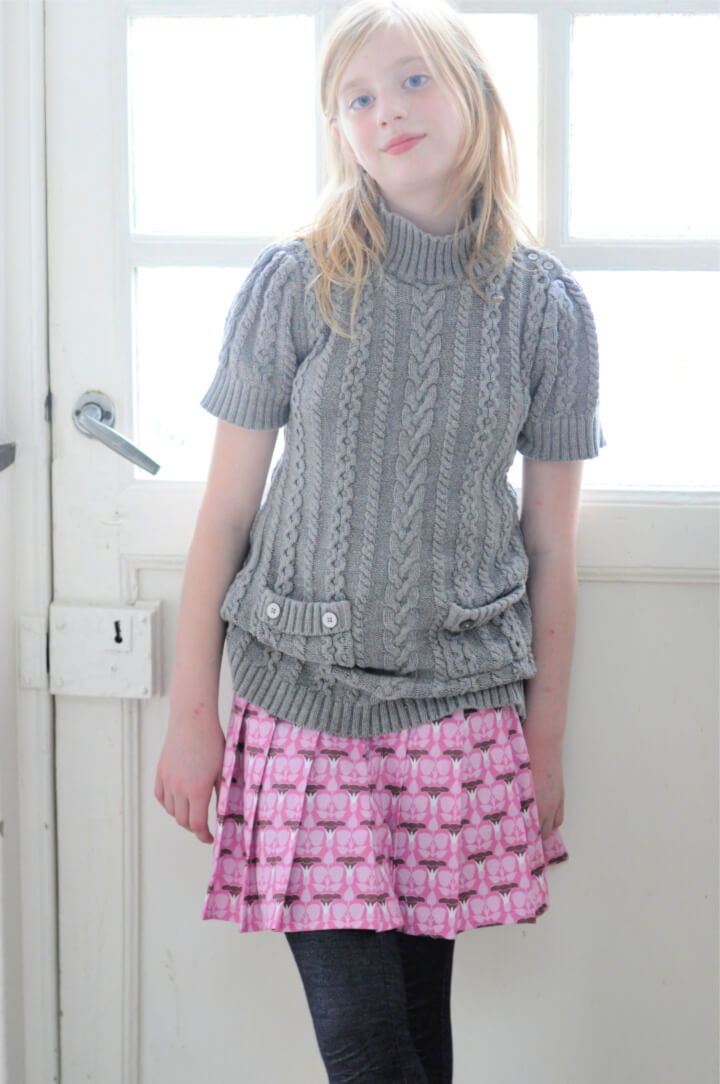 Check out this twirl pleated skirt! You can make this by using a tape measure, pencil, ¾" wide elastic, iron, pins, safety pins, and other supplies. There are just about 4 steps to make this classy piece. Hit the tutorial for details. grandrevival
20. How to Sew Wide Waistband Pleated Skirt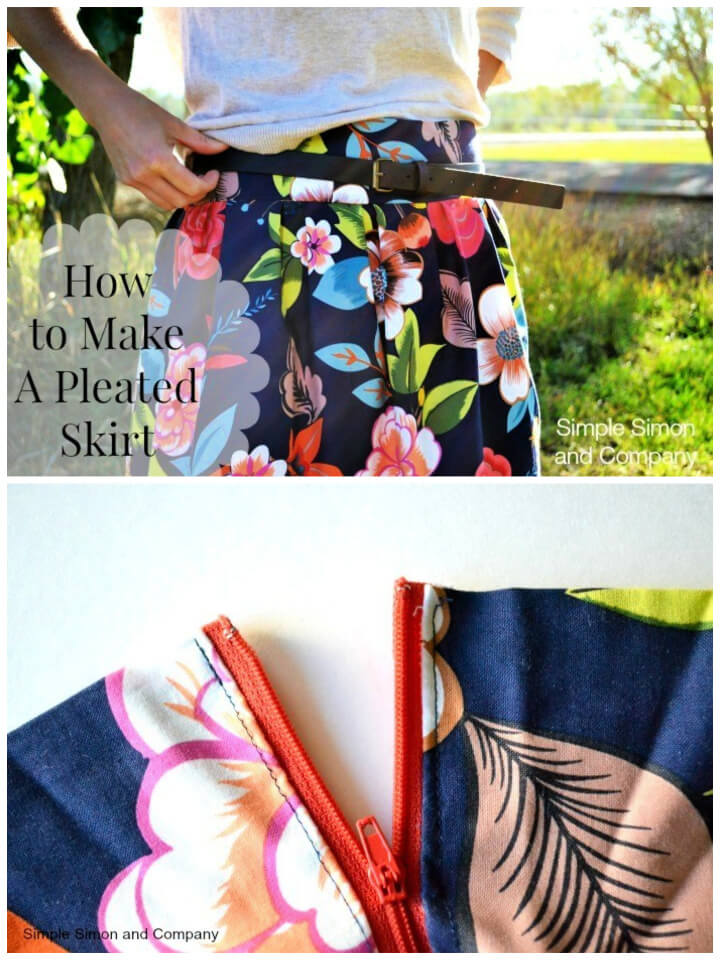 By using 2 yards of fabric, you can make this wide waistband pleated skirt. Add a 7-inch zipper, ½ yard of Pellon, sewing machine, thread, scissors or rotary cutter, pins, measuring tape, a yard stick, and cutting mat. simplesimon
21. The Pleated Skirt Free Sewing Pattern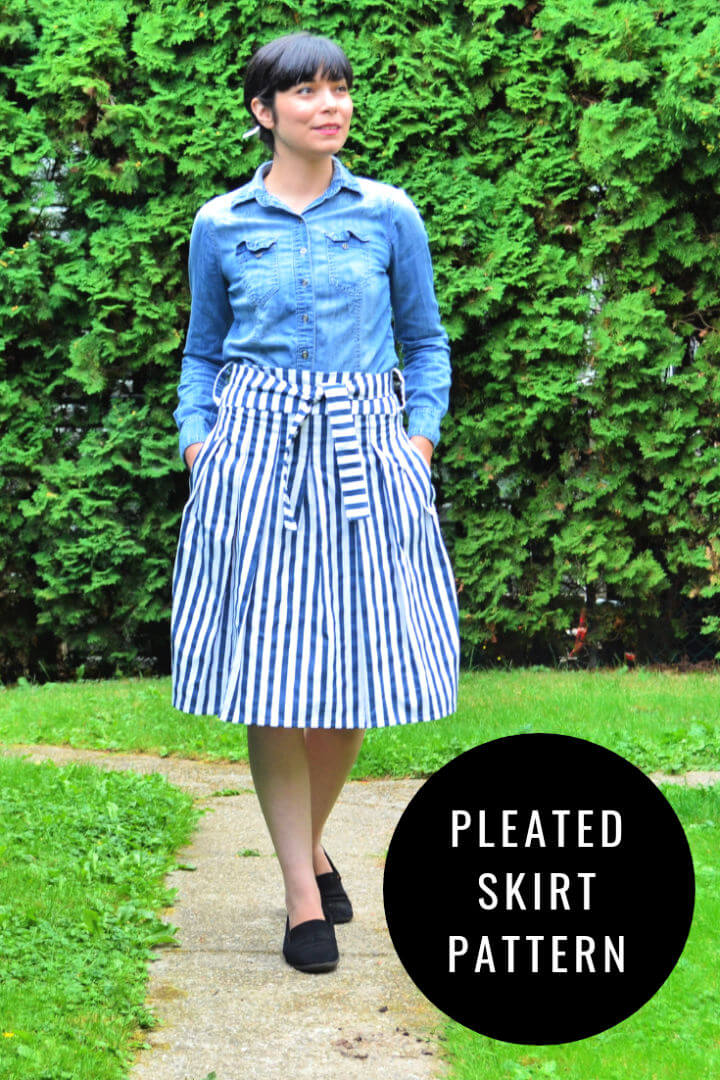 The tutorial suggests using a light and medium weight fabric like cotton or linen for making this DIY pleated skirt! You will need a printed pattern, 2 meters of woven fabric, matching thread, 4 inches long zipper, light weight interfacing, pins, measuring tape, and scissors. onthecutting
22. DIY Pleated Skirt In Under 30 Mins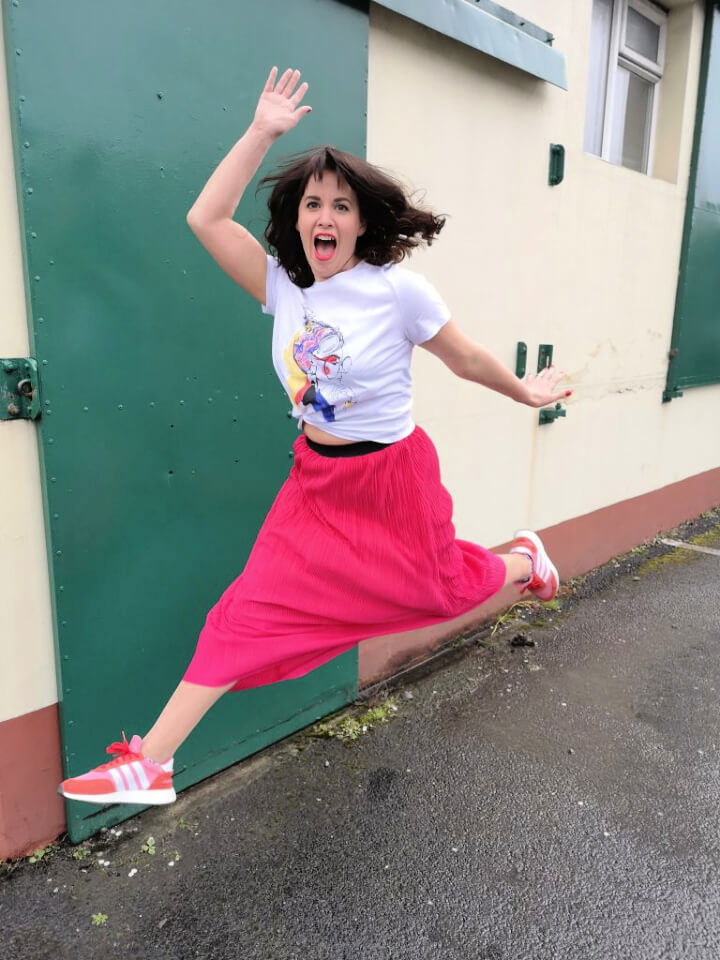 Check out this plisse fabric pleated skirt pattern! Plisse is this magical fabric that stays pleated even when washed. You can get the exact measurement chart from the tutorial! If in case, you feel a lot of fabric added, you can ride the side seams in a bit more. thestitchsisters
Frequently Asked Questions:
1. What is a pleated skirt?
A pleated skirt is a type of garment that features evenly spaced, accordion-style folds along the full length of the skirt. Pleats come in various sizes and styles, such as knife pleats, box pleats, inverted pleats and sunray pleats. These skirts can be made from various fabrics, such as cotton, silk, wool, and synthetic materials. Pleated skirts are suitable for various occasions, including formal events and casual wear. They can be easily styled with different tops and accessories to create different looks.
2. How do you wear a pleated skirt?
Pleated skirts can be styled in a variety of ways. Start by pairing it with a tucked-in top, such as a sleeveless blouse, tank top or t-shirt. For an elevated look, try wearing the skirt with a collared shirt and blazer. Accessorize with heels, statement jewelry, or a belt. If you're looking for a more casual look, try pairing the skirt with a fitted sweater, t-shirt and sneakers. Finish off the look with a cross-body bag or shoulder bag. Keep in mind that pleated skirts are best kept simple to avoid an overly busy look. There you have it – all the tips you need to style a pleated skirt. Happy styling!
3. What are some styling tips for pleated skirts?
Pleated skirts can be a great way to add style and sophistication to any look. To get the most out of your pleated skirt, consider pairing it with a tucked-in sweater or blouse for a more polished look. For casual days, try styling it with a loose t-shirt and sneakers. Accessorizing with a belt or statement jewelry can also be a great way to add interest and flair to your look. Lastly, consider the length of the skirt – midi skirts are best suited for more formal occasions, while mini-pleated skirts lend themselves well to casual, everyday looks.
4. Where can I find a pleated skirt?
Pleated skirts can be found in a variety of online and brick-and-mortar stores. Department stores such as Macy's, Nordstrom, and Bloomingdale's often have pleated skirts available in a range of colors and styles. Additionally, popular clothing retailers like ASOS, Forever 21, and Zara typically offer pleats in their collections. If you're looking for a specific type of pleated skirt, searching online is likely to yield more results than shopping in-store. Many independent designers also offer unique pleat styles, so check out specialty boutiques and websites.
5. How do I care for a pleated skirt?
Pleated skirts should be hand-washed or dry-cleaned to maintain their shape. When needed, spot clean using a damp cloth and mild detergent. Hang pleated skirts up after washing, and avoid wringing or twisting the fabric, as this can damage the pleats. Iron lightly on the reverse side of the fabric on a low setting to release any wrinkles. Store pleated skirts on a hanger with the pleats facing down to prevent them from becoming distorted over time. Avoid storing your pleated skirt in plastic bags, as this may cause mildew or damage to the fabric. Finally, keep away from direct sunlight and harsh chemicals to protect the color and shape of your garment.
6. How should I pleat my skirt?
The type of pleat you should use depends on the style of the skirt and the look you want to achieve. Generally, knife pleats or box pleats are most popular for skirts. Knife pleats create a slimming effect, while box pleats add extra volume. If you're unsure what type of pleat would be best, bring the skirt to a professional tailor who can help you decide. Remember to use high-quality interfacing and coordination thread when sewing pleats to ensure your skirt looks its best.
Additional tip: Handwashing is always best for pleated skirts, as machine washing may cause them to lose shape. Use a gentle soap and hang to dry. Iron them at a low temperature with a pressing cloth on top. Do not over-iron, as this can damage the pleats.
7. What is the difference between a knife pleat and a box pleat?
A knife pleat is a sharp, crisp fold created by pressing the fabric together and top-stitching down both sides. It has a more structured look than a box pleat, which looks like two folds of fabric overlapping each other in opposite directions. Box pleats create an easier, softer look because the two folds are not pressed together. Both knife pleats and box pleats are commonly used in clothing, curtains, upholstery and other home decor items. The knife pleat is typically the best option for a more formal look or when extra fullness is desired. For a more casual look, the box pleat is generally preferred.
8. What is the difference between a pleated skirt and a gathered skirt?
A pleated skirt is typically constructed with a fabric panel with several equally-spaced, pressed folds. This type of skirt usually hangs straight down and can be both casual or formal. On the other hand, a gathered skirt is made up of extra fabric gathered at the waistline to create fullness. Gathered skirts can be short or long and are generally more casual than pleated skirts. Both styles can be made from any fabric, making them suitable for various looks.
The main difference between pleats and gathers lies in their construction details. Pleats create a structured look, while gathers provide a more relaxed silhouette.
9. How do I make a pleated skirt fuller?
If you want to make a pleated skirt fuller, you can add more pleats. This can be done by sewing additional lengthwise seams in the fabric and then pressing them into pleats. Alternatively, use stiffer or thicker fabrics for your skirt if you don't want to add extra pleats. Also, try gathering at the waistband to create more fullness. To finish, make sure to press your pleats so they stay in place appropriately. Lastly, remember to adjust the hemline as needed!
In short, adding more pleats or gathering at the waistband are both ways of making a pleated skirt fuller. Using thicker fabrics and pressing your pleats are also beneficial. Lastly, adjust the hemline to your desired length. This should give you a fuller pleated skirt that looks great! ​​​​
10. How do I make a pleated skirt less full?
If you want to make a pleated skirt less full, you can reduce the size of the pleats or even remove some of them. To reduce the size of each pleat, use an iron to press and flatten them down. You may also need to slightly shorten the waistband so that it fits properly after reducing the number of pleats. If you are experienced with sewing, you can also adjust the pleats by hand-stitching them down. Lastly, if you have a belt on the skirt, try tightening it to create a tighter fit and reduce the fullness of the pleats.
Related DIY Projects and Ideas
Wrap Skirt Patterns: Here are free wrap skirt patterns for beginners. These skirts are super easy to make, and you can use them in a variety of ways.
Half Circle Skirt Patterns: These free DIY half-circle skirt patterns are perfect for the fashion-minded who enjoy a good challenge. These skirts can be made from fabric or from old clothes you don't wear anymore.
Skirt Sewing Tutorials: Sewing is one of the best ways to express your creativity and style. These cute and easy DIY skirt tutorials will help you learn how to make a wide variety of skirts with different styles and shapes.
Dress Sewing Patterns: Tired of buying new dresses? Now you can create your own unique style with this collection of free, easy to follow dress sewing patterns! All you need is fabric, sewing supplies and a little bit of patience.
Free Kimono Patterns: Get a free pattern for your next kimono project by exploring collection of free kimono patterns to sew that are designed for beginners.
T-Shirt Sewing Patterns: Check out these free t-shirt sewing patterns for women and kids that are perfect for beginners who want to try out their hand at making a t-shirt at home.
Baby Clothes Patterns: This is the ultimate list of free baby clothes patterns and tutorials to sew adorable outfits for your baby. These free patterns cover everything from newborn to 18-months-old.
Barbie Clothes Patterns: Barbies are everywhere these days, but sometimes playing with the doll is not enough. Here's a list of easy DIY Barbie clothes patterns that you can sew.
Conclusion:
If you're looking for a fun and easy sewing project, look no further than a pleated skirt. These diy pleated skirt patterns are flattering on all body types, and there are endless ways to customize them. Plus, they can be made from various fabrics so that you can find the perfect one for any occasion. Best of all, plenty of free pleated skirt patterns are available above. So grab your fabric and start sewing!
Staying in the trendy line is not as hard or as pricey as it may seem! It is all really just a matter of interest and passion in DIYing your favorite collections or ongoing stylish trends by staying within budget and customizing the designs as you want! For instance, if you are looking for a slightly long pleated skirt, why roam from one shop to another when you can do that from the comfort of your home, right? So, happy sewing, folks!