Learn how to make a DIY kimono with these 30 free kimono sewing patterns, including step by step instructions and PDF guides. From classic kimono jackets to kimono cardigans and even a kimono-inspired dress, there's a free kimono pattern here to suit every taste. And with step-by-step instructions, these kimono sewing pattern are easy to follow even if you're a beginner sewer. So why not give one of these kimono patterns a try? You might be surprised at how easy it is to create your own beautiful DIY kimono.
Kimonos are timeless garments that can be worn in a variety of ways. And with so many free kimono patterns available here, there's no excuse not to try Sewing your own kimono at home.
Are you obsessed with a stylish kimono pattern? Then update your spring or summer wardrobe with these free kimono sewing patterns, which involve casual fabric open jackets and robe-style kimonos. The best fabric tops to wear with full sleeves and with an open front. If you talk about the difficulty, they are the most straightforward sewing project ever.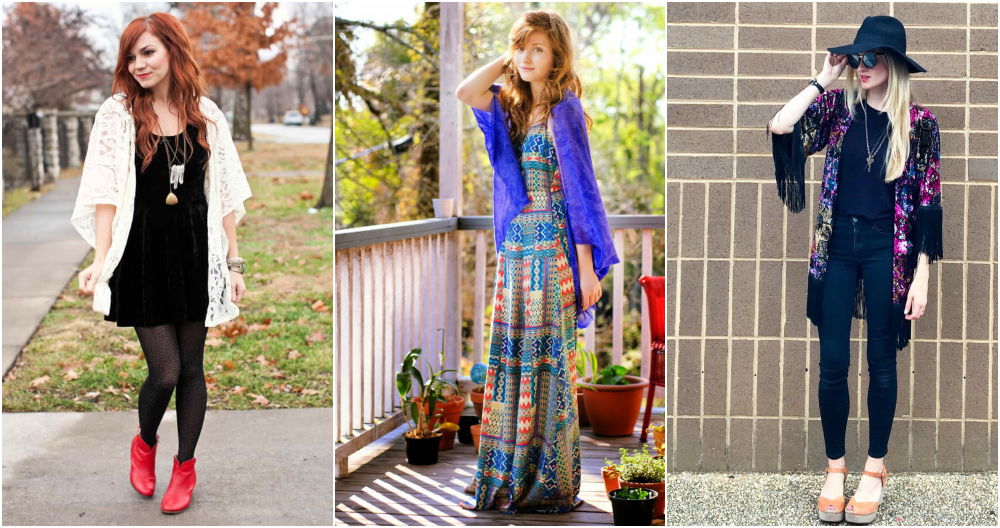 Free Kimono Sewing Patterns
Give new variations to your kimono designs using custom trims and embellishments. Choose the best kimono sewing pattern from these 30 Free Kimono Sewing Patterns that share the world's best designs covering every taste and design trend. From stunning kimono capes to gorgeous lace kimonos, you will find every kind of design on the list.
The list shares all the patterns, some will complete in the last 30 minutes, and some will take more than 3 hours. Moreover, you will also get details for sewing a cool kimono with an old scarf, so, they are also going to be excellent repurposing scarf projects.
For added beauty, install the pom-pom accent trim, ribbon border, and also lace patches. Add the tassels and the fringed trim around the kimono's boundary for a stunning bohemian appeal to your kimonos. Browse the Free Kimono Sewing Patterns collection to see all the exciting designs and inspire yourself.
1. How to Sew a Kimono Top Or Jacket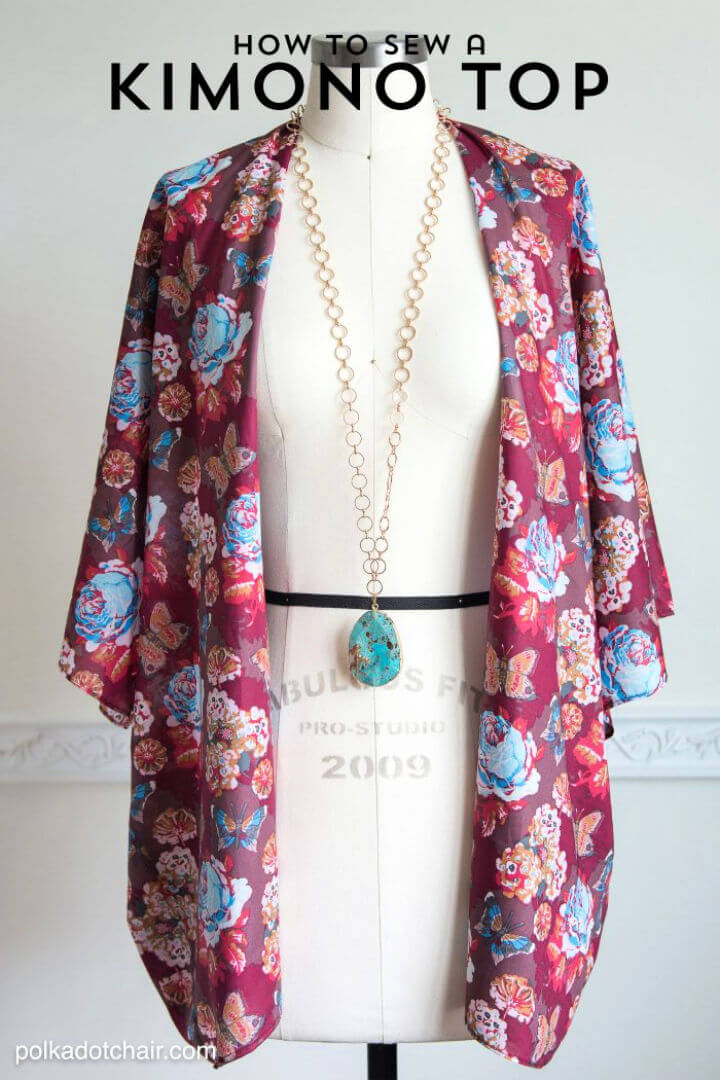 Paint up this kimono top with every t-shirt or jeans. It will fit every style lover due to wide open sleeves and loose fittings. Sew this stylish open jacket using 2 yards of your favorite fabric and an old t-shirt. Finish the final t-shirt with hemmed bottoms and enjoy a lovely kimono jacket. How-to guides here polkadotchair
2. Making a Kimono In Less Than 30 Minutes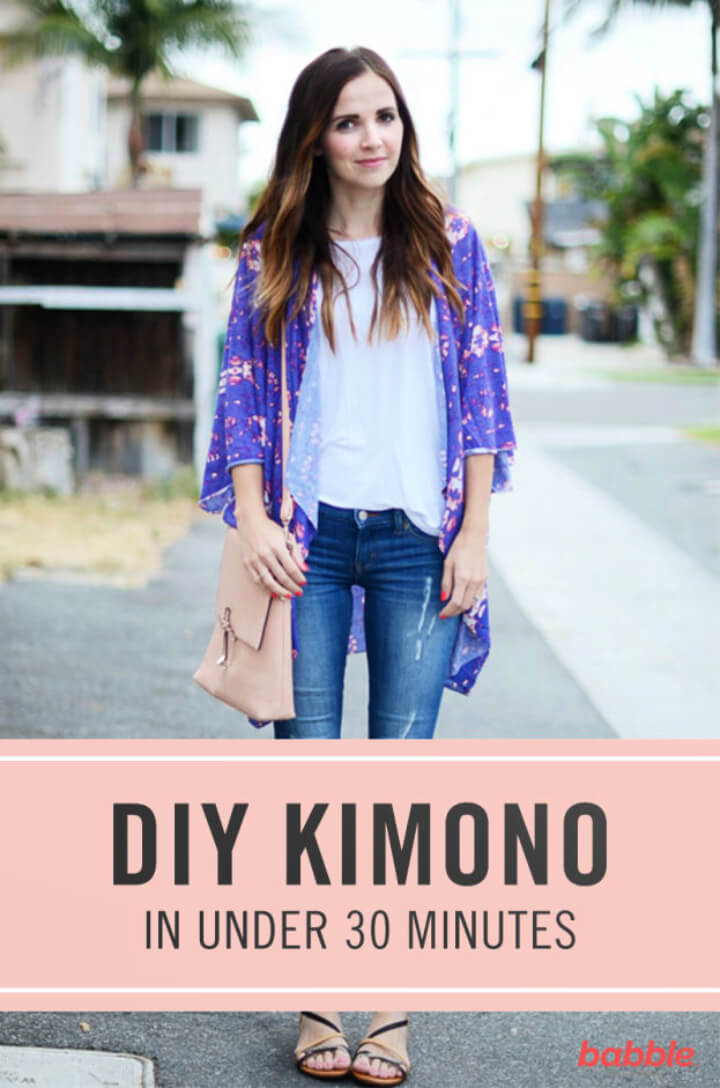 Even if you are not a sewing expert, you can make a kimono in less than an hour with the provided pro tips here. Grab one and a half yards of your favorite lightweight fabric to sew this precious kimono. It will style up your look for sure. The loose jackets to wear over the shoulder for instant style gaining. Details here babble
3. How to Sew a Lace Kimono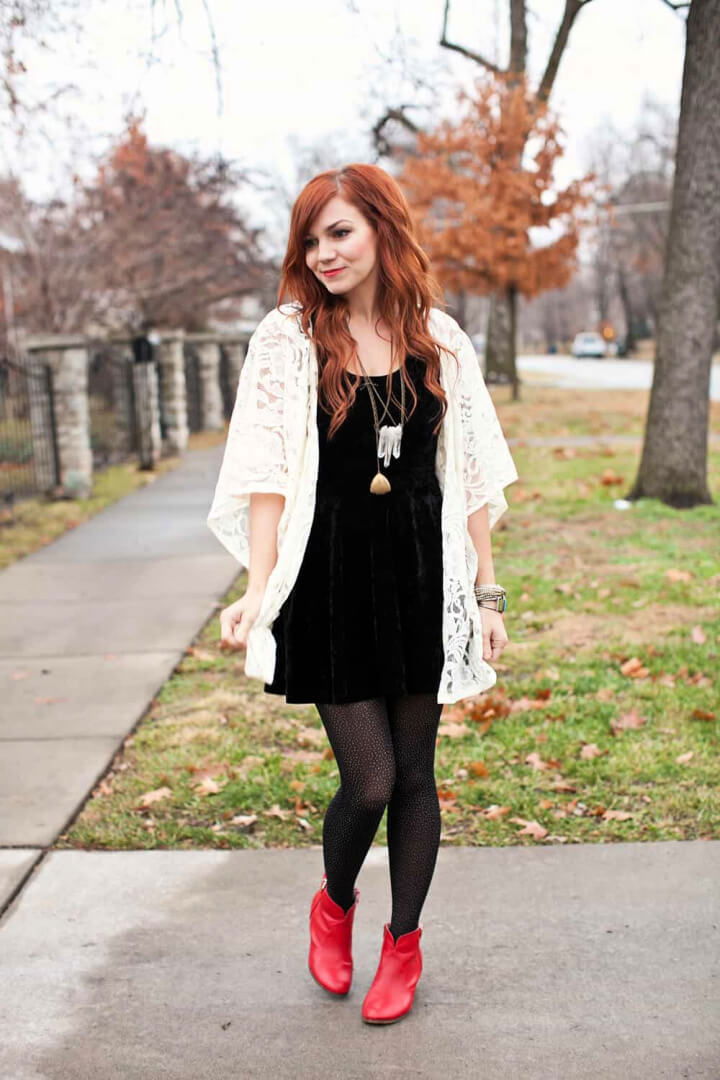 Willing to get the kimonos that will provide less amount of heat? Then you must go with this lace kimono that is airy and is sure to impress. The easiest ever sewing project that will surely refine your look and personality. Wearing a loose layer will bring a gorgeous fashion to you, all due to this lace kimono. Instructions here abeautifulmess
4. Sewing a Kimono Under $10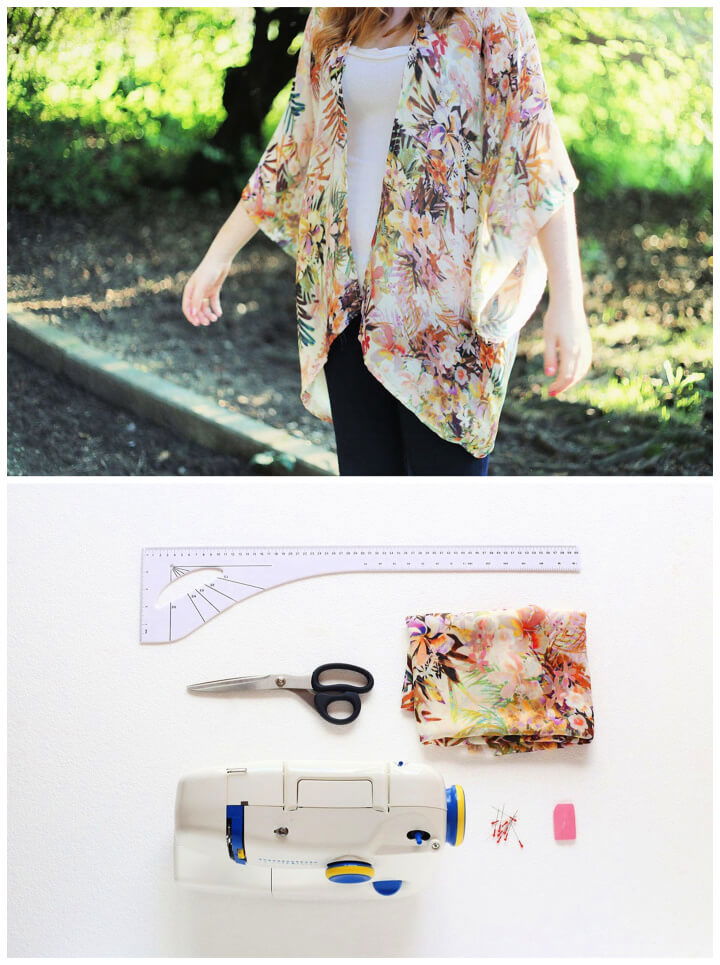 The kimonos come with high price tags if you buy them. Make them cheaply at home in less than 30 minutes, spending only $10 from your pocket. Spend only this less amount to gain a thousand dollar style. You only need a 40×55 piece of silk or chiffon fabric to sew this cool fashion looks excellent with floral print. brit co
5. Kimono Jacket – Free Sewing Pattern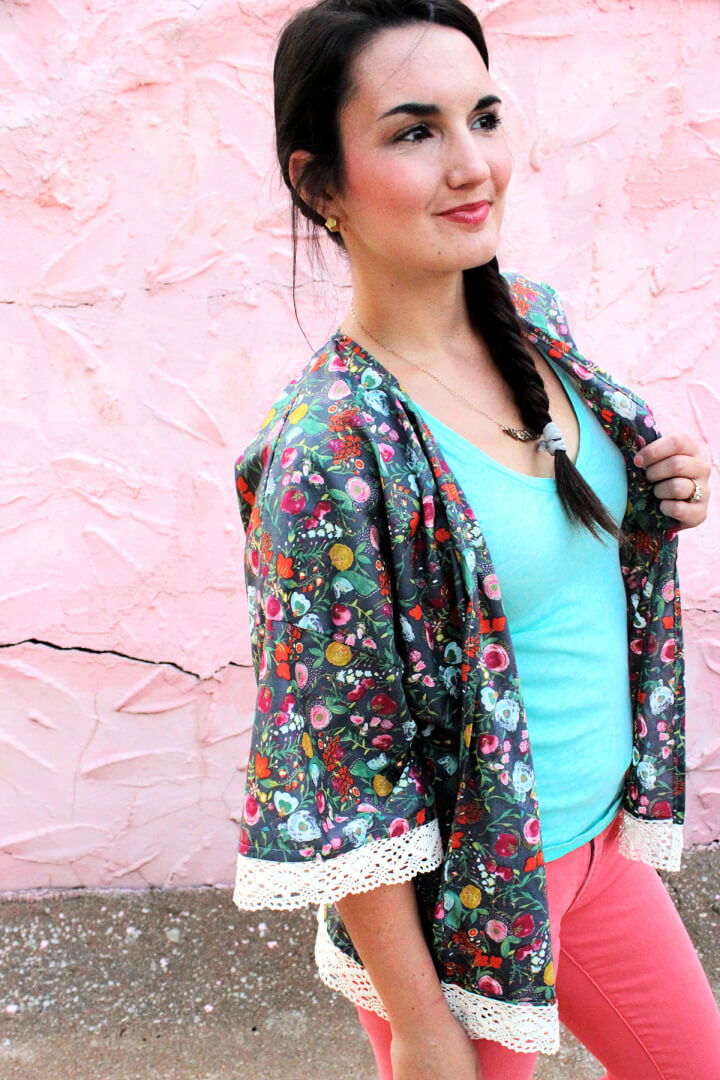 Don't light the tight fittings? Then, you are a fan of this open kimono jacket, will be around your body as a lose stylish layer. At the same time, it is the easiest sewing pattern for all style lovers and beginners. The accent lace side trimming makes the design a bit more gorgeous. Get more love of a style lover by giving this open kimono jacket as a gift. Details here carolinehulse
6. Easy Kimono Cardigan Pattern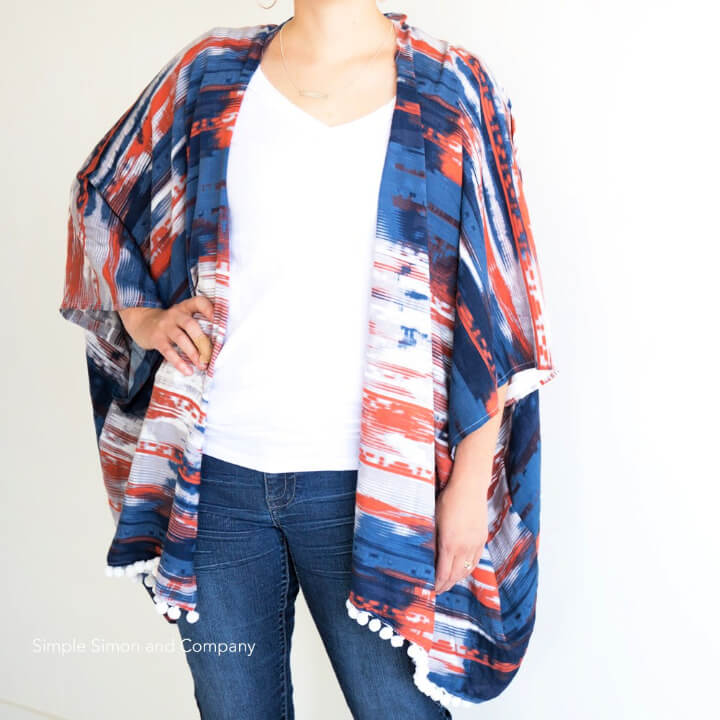 Start this project by cutting a bit fabric rectangle, the easy kimono cardigan to make with 1 1/4 yards of cotton or rayon blend. The stylish jacket with an open friend and looks stunning with loose fabric creases and folds. Accent side trimming has been done using white pom-pom trim. Experiment with this kimono cardigan pattern with your favorite fabric. Instructions here simplesimonand
7. Scarf to Kimono Cardigan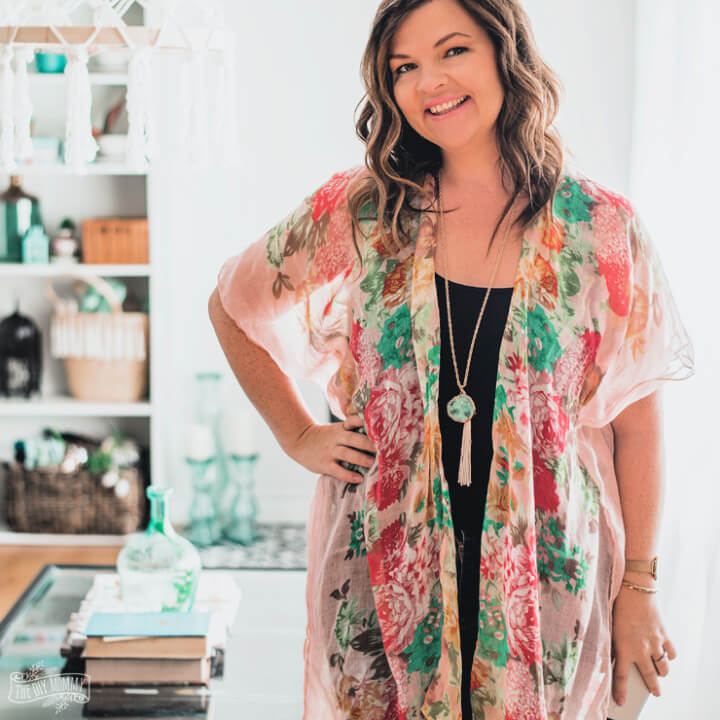 Do the easy sewing projects to get stylishly beautiful kimonos. Also, repurpose your old scarves to sew some stylish kimonos, the best way to keep using your old scarves. It will add a touch of elegance to your personality, along with covering you a little warm. The best long sleeve kimono cardigan design that will be an appreciated addition to your summer and spring wardrobe. thediymommy
8. How to Sew a Kimono Top – Free Pattern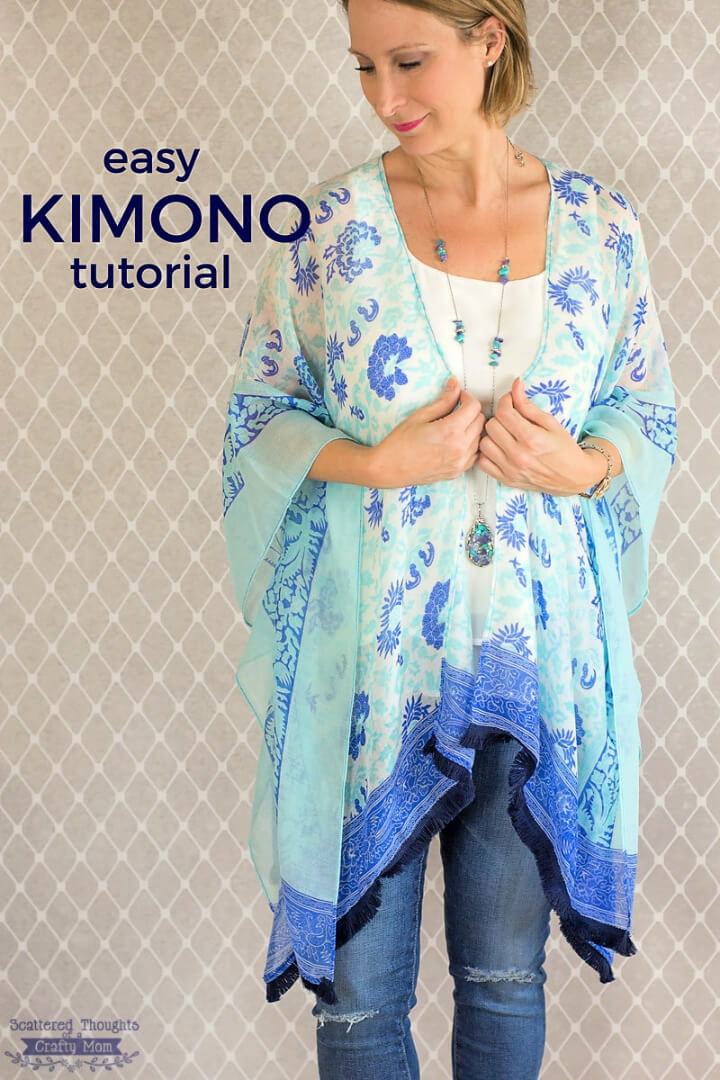 Boost your less chilly days' fashion with this kimono top, made of fabric having a fabulous floral print. It will be stylishly around your body and arms for a subtle style statement. Experiment this kimono top with desired fabric and also with desired trim. A super fancy open jack will make an excellent gift for every style lover. Details here scatteredthought
9. Homemade Fringed Kimono Gift Pattern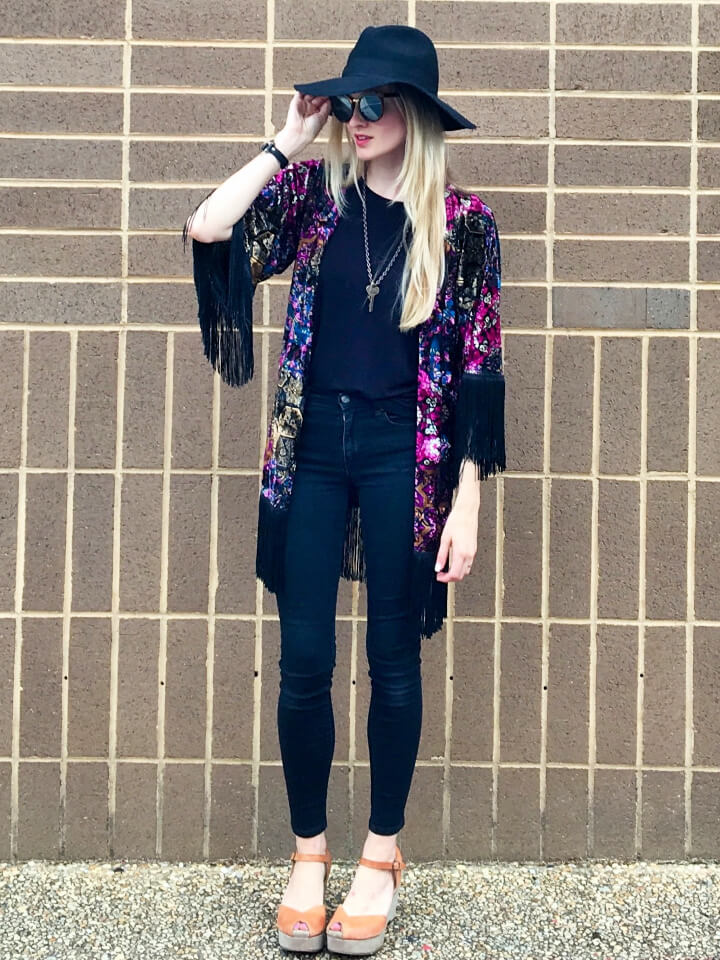 Create that stunning boho personality of you with this fringed kimono design. Sewing a kimono is something pretty easy; you will have great fun while sewing this fringed one. Here you need one and a half yards of fabric and 2 yards of fringe trim to sew this kimono. A big wardrobe must-have for style lovers. How-to guides here fabric
10. How to Sew Girl's Kimono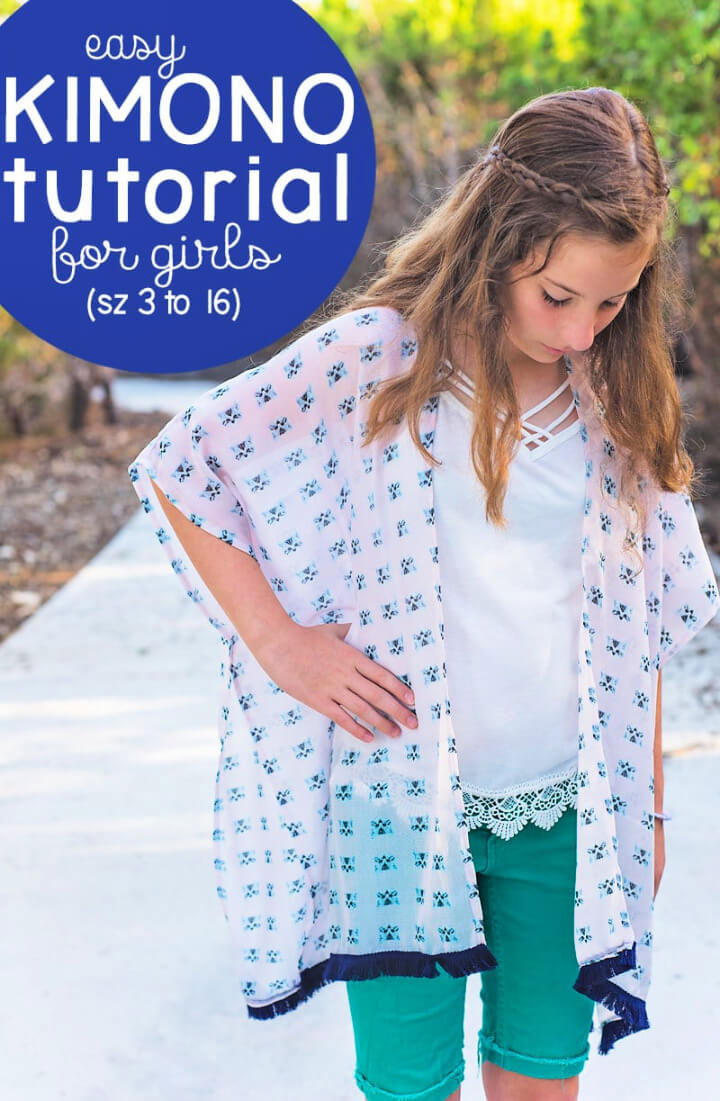 Are you obsessed with the top and jacket fashion? Bring a smart variation to this style trend by sewing this girl's kimono, a cute gift for the little girls who love to wear an open jacket. The loose fittings, full sleeves, and fringed bottom trim are the accent features of this girl's kimono design, sewn to inspire. scatteredthoug
Maternity Sewing Patterns: These free maternity sewing patterns will have you looking and feeling great during your pregnancy. From tops to dresses to skirts, there's a pattern here for every style and every stage of pregnancy. So download your favorites and get started on your new maternity wardrobe!
11. How to Make Kimono Wrap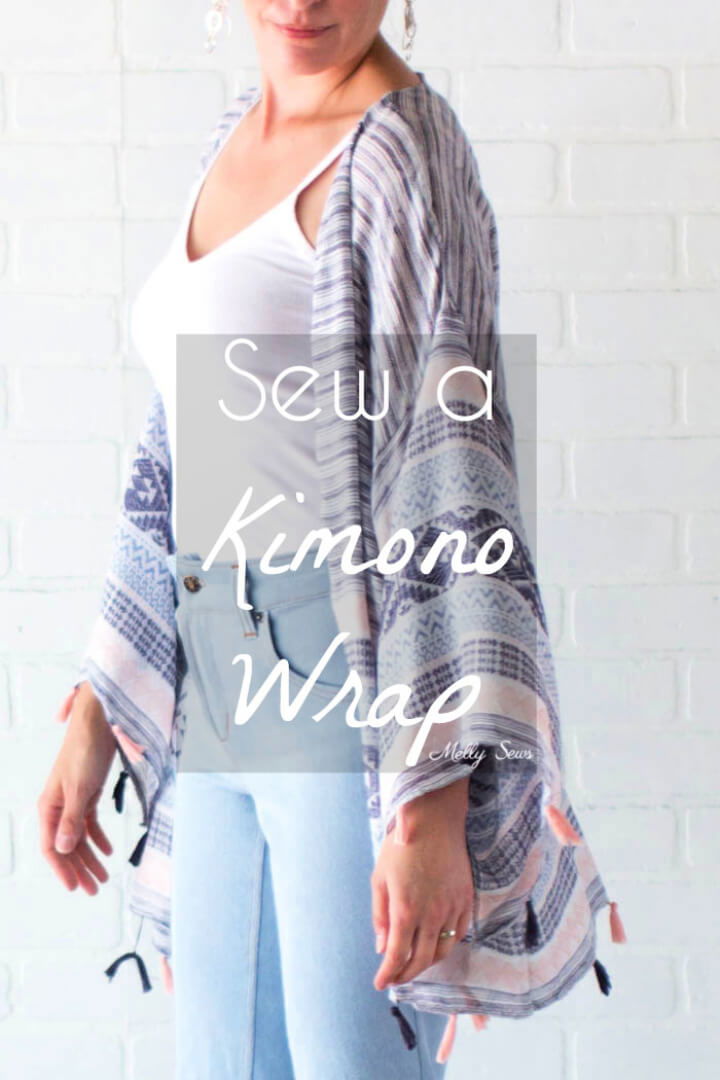 Using smart sewing hacks, give amazing variations to your kimono designs. Update your spring or summer wardrobe with this kimono wrap, have sides decorated with tassels. A quick and adorable remake of a scarf, the kimono wrap, a lovely way to keep using your old scarves. mellysews
12. Boho Style Kimono Sewing Pattern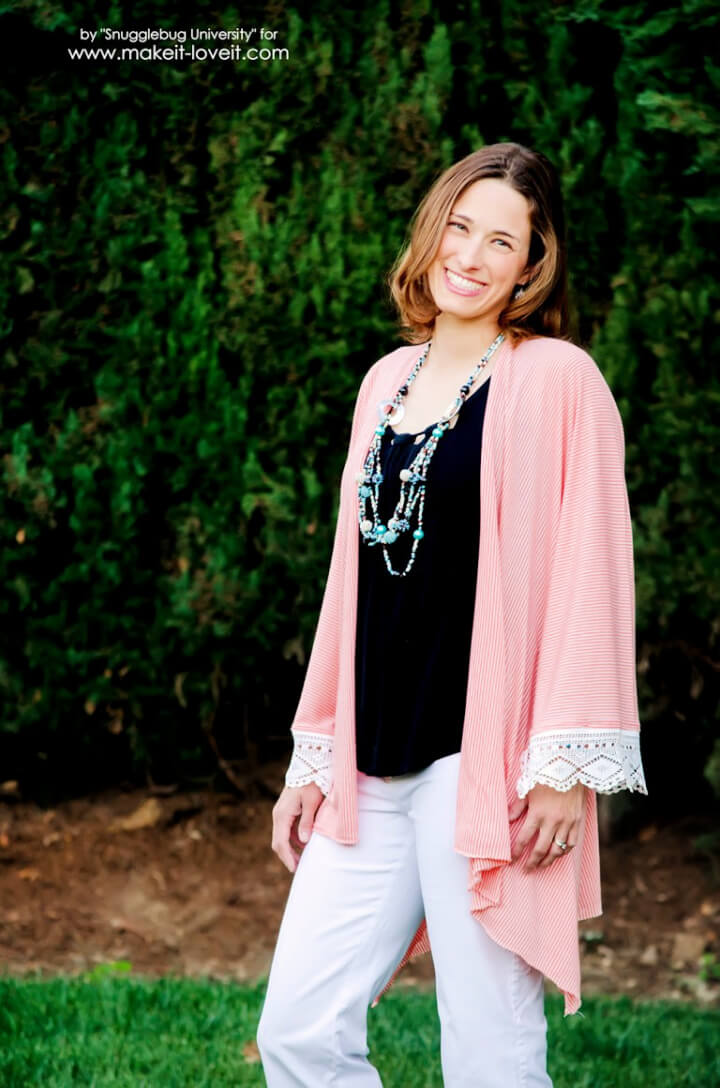 Sew your fashion at home, and if you want to try beginner patterns, then start with his kimono pattern. Satisfy your love for bohemian fashion by wearing this boho style kimono, quite something easy to sew. The white lace arm trim makes the design fancy, and a doily added to the backside is just icing on the cake. Details here makeit loveit
13. Free Summer Kimono Sewing Pattern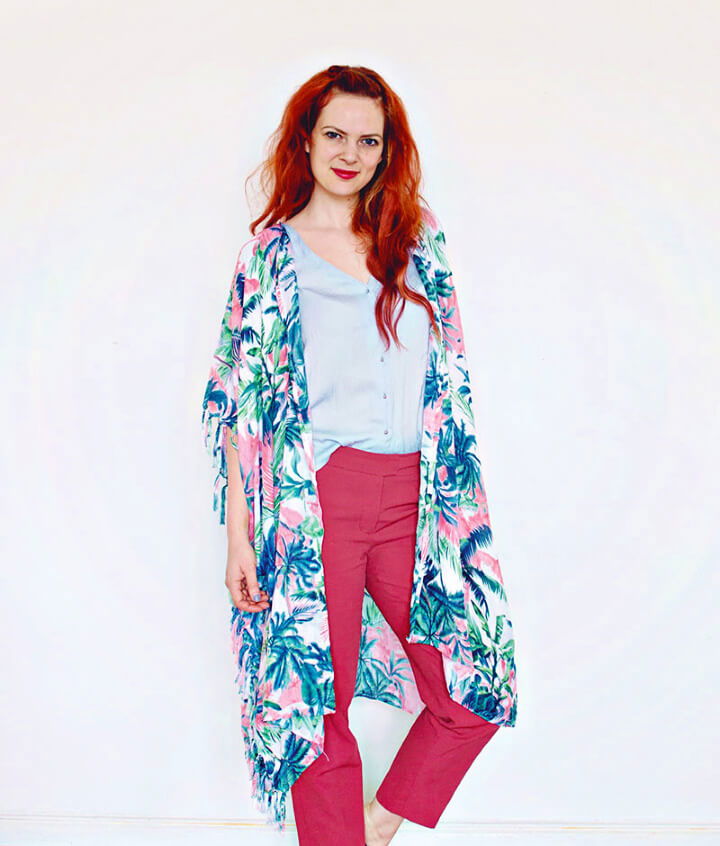 Enjoy summers with this easy to sew kimono looking incredibly beautiful. Pair it up with any t-shirt or jeans for cool fashion statements. The best lightweight alternative to stylish jackets and will also help boost the feminine factor of your personality. Sew it with an old scarf still having a great visual appearance. Full pattern here free sewing
14. DIY Poolside Kimonos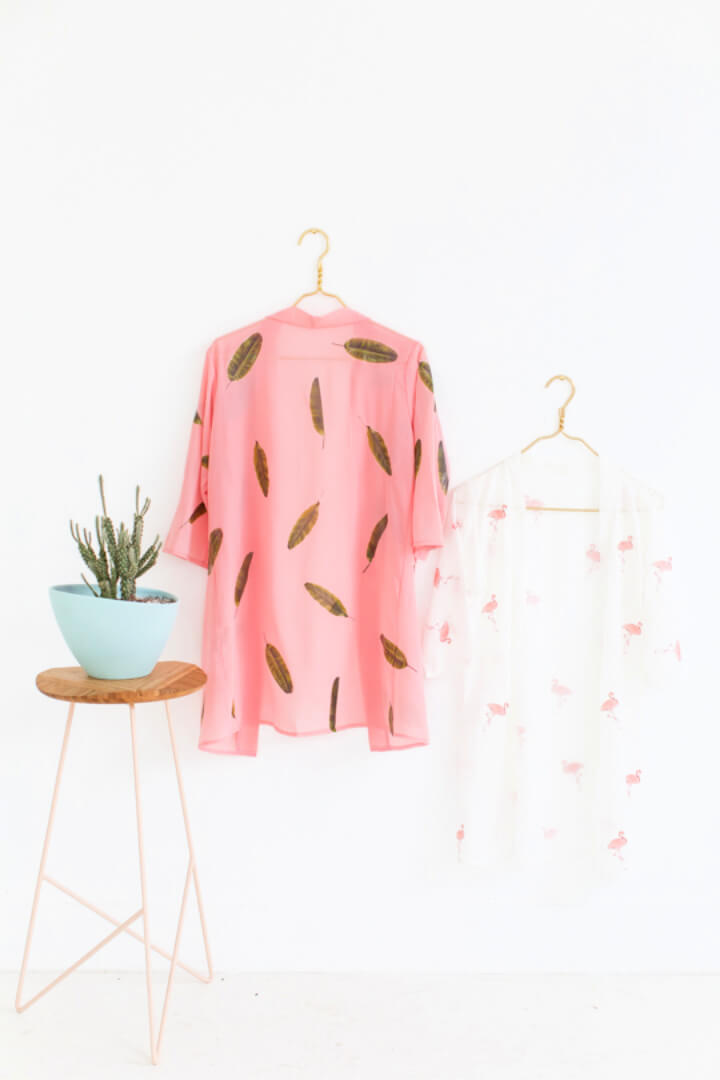 Get yourself styled up for poolside parties by wearing this poolside kimono comes with an fantastic leafy print. The whole magic is to do with the fabric transfer paper and iron. Transfer your design on the kimono and then use the iron to get the print on the kimono. Peel off adhesives and get your pattern finally on your kimono. Details here sugarandcloth
15. DIY 30 Minute Kimono Jacket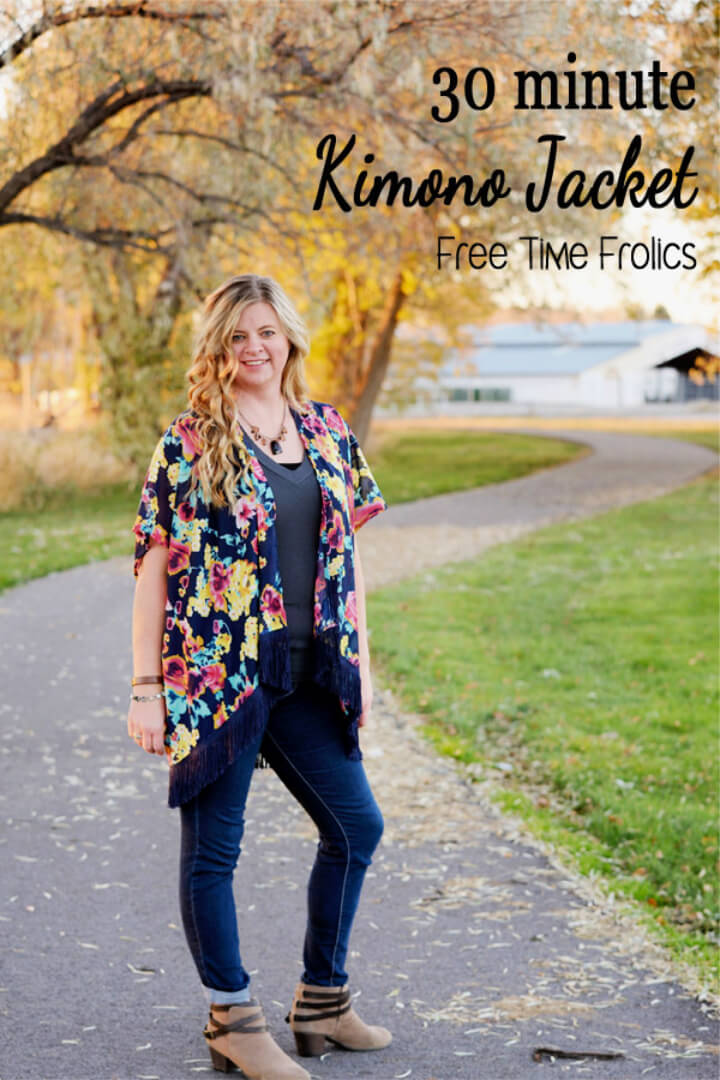 Do amazing thin in half an hour like sewing this kimono jacket, one of best gifts to give to a style loving lady. The accent fringe trim provides this kimono with a fabulous tough of boho elegance. Do update your wardrobe with this fantastic kimono, will be yours only in 30 minutes. The last half an hour gift to give to someone special. Experiment with any other fabric or with white fringe trim. Details here freetimefrolics
16. Sew Your Own The Kimono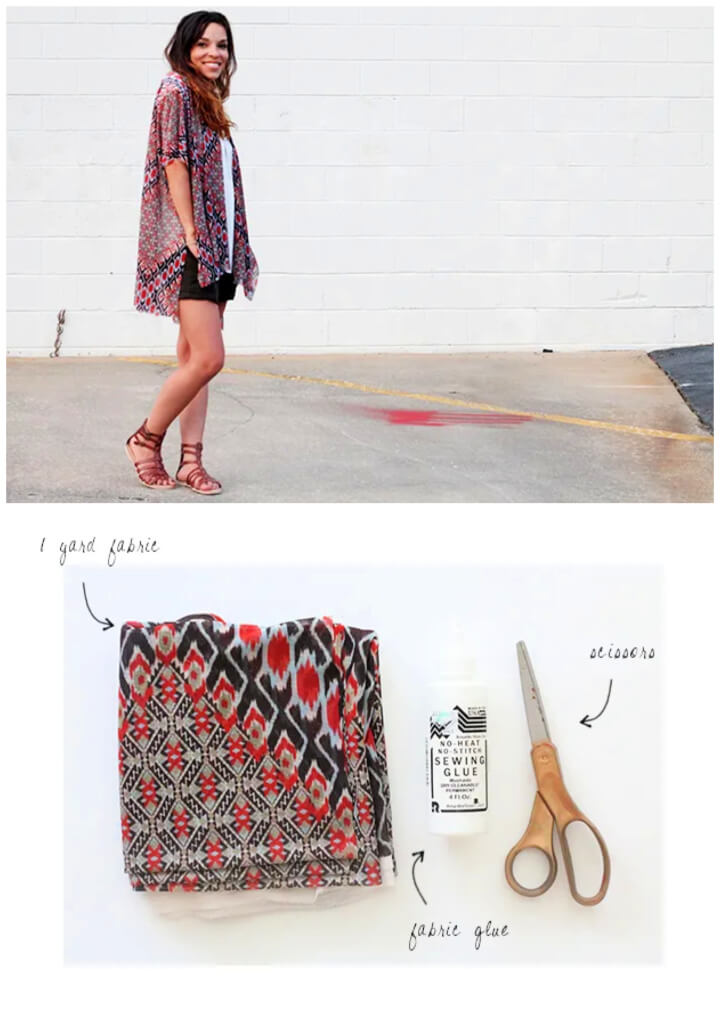 Start cutting the design layout of this kimono, too, by folding the fabric in half while lining up correctly. Cutting slots and adding shoulders can be the next and probably the final step to sew this kimono, the stylish dress-wear to add to your summer or spring wardrobe. Full free sewing pattern here verilymag
17. Make Your Own Kaftan Throwover Kimono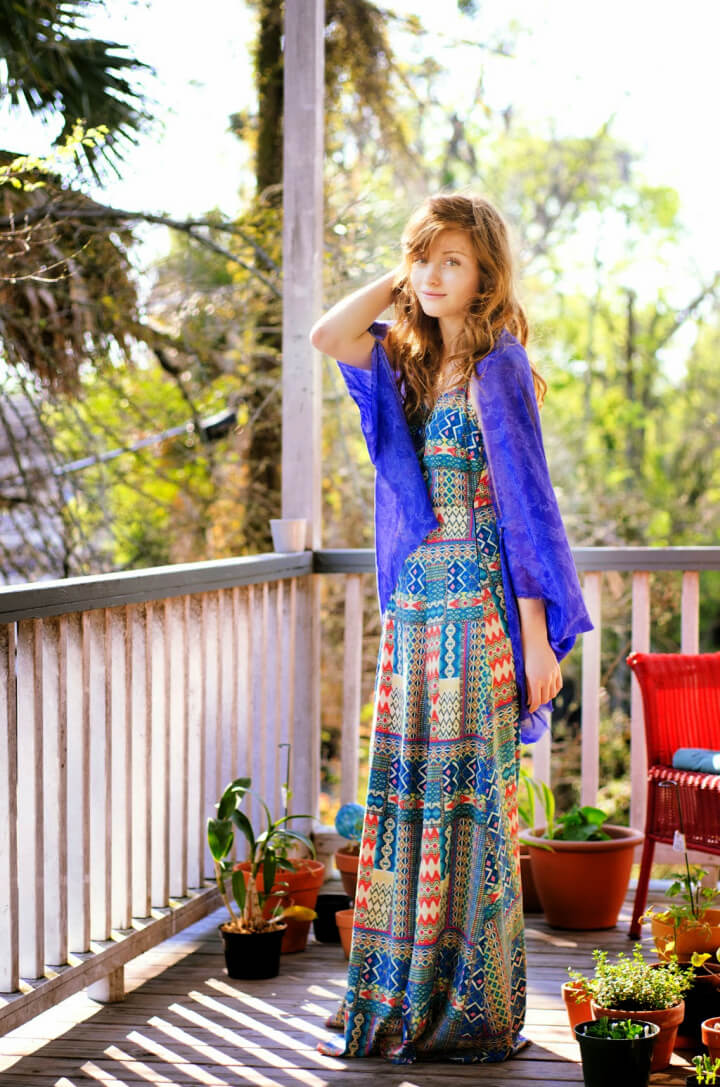 Do you like the robe style kimonos? If yes, then you will also love this kaftan throwover kimono dearly, a lovely variant of a tunic will impress all the fashion and style lovers for sure. Create a stunning cultural appeal of you wearing this kaftan throwover kimono. The easiest sewing pattern even if you have minimal sewing skills. Guides here fromthesticks
18. How to Sew Kimono from a Scarf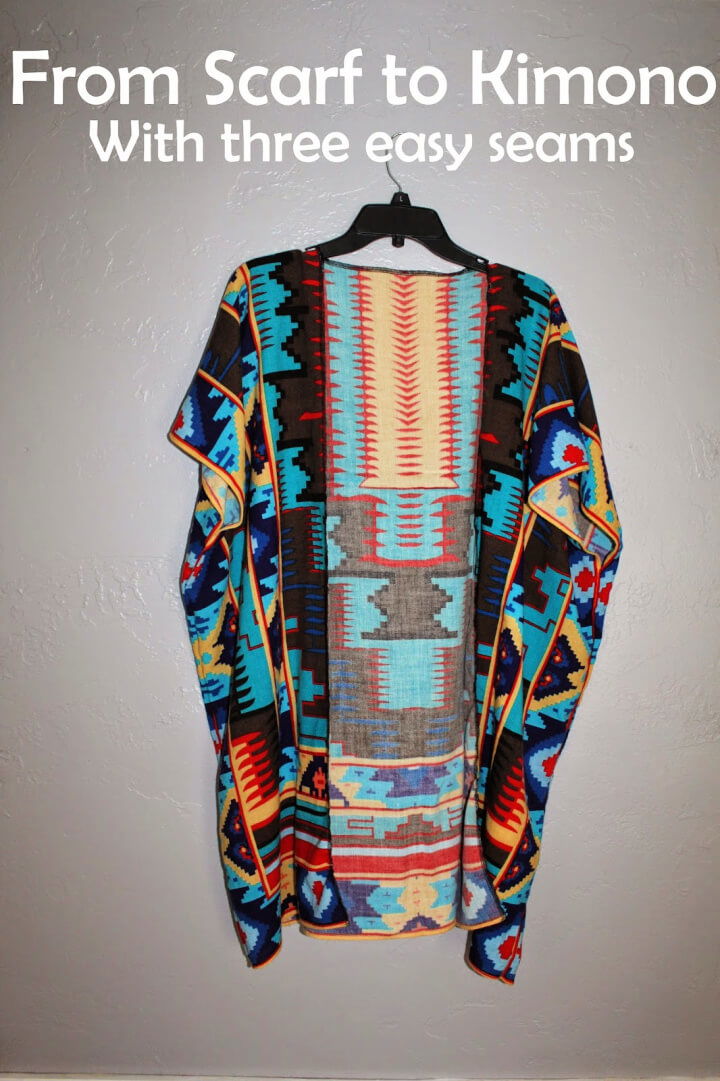 Old scarves should not be trash. They can be used in numerous different ways to boost your fashion. Making a stylish kimono, the open jack is one of them. Transforming your old scarves into stylish full sleep jackets is something amazing to do with your scarves worthy no more. Free sewing pattern here making kimono
19. Hana Kimono Jacket Sewing Pattern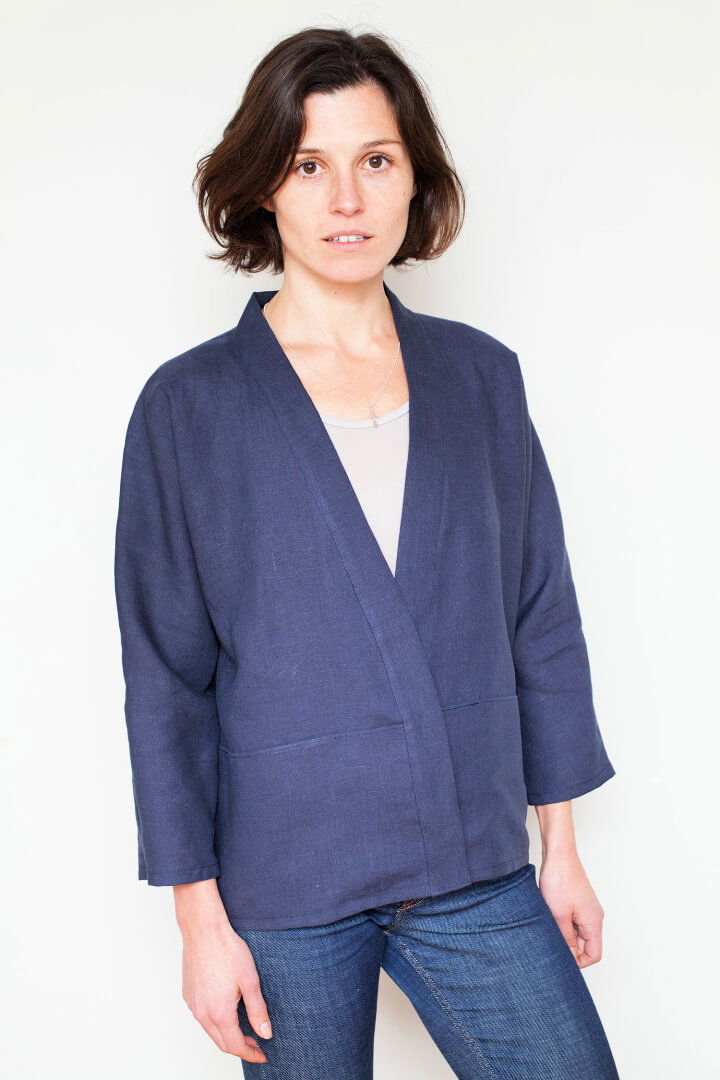 Do you love wearing jackets? Then you fall in love with this kimono-inspired jacket having an open front. This is here a Hana jacket having a kimono-inspired collar. Sew this kimono jacket with the soft linen, and it will be an impressive addition to your summer or spring wardrobe. The intermediate sewing pattern kimono jacket
20. Simple DIY Kimono Cape
Here is what to do wondrous with the old square scarves you are often having in stock. Make this kimono cape, the bizarre open jacket, using one large and two small square fabric scarves. The final look of the kimono will depend on the pattern of the scarf. A no-sew kimono project that will only involve a little thread and needlework. How-to guides here annaevers
21. Sewing a Kimono from Scarf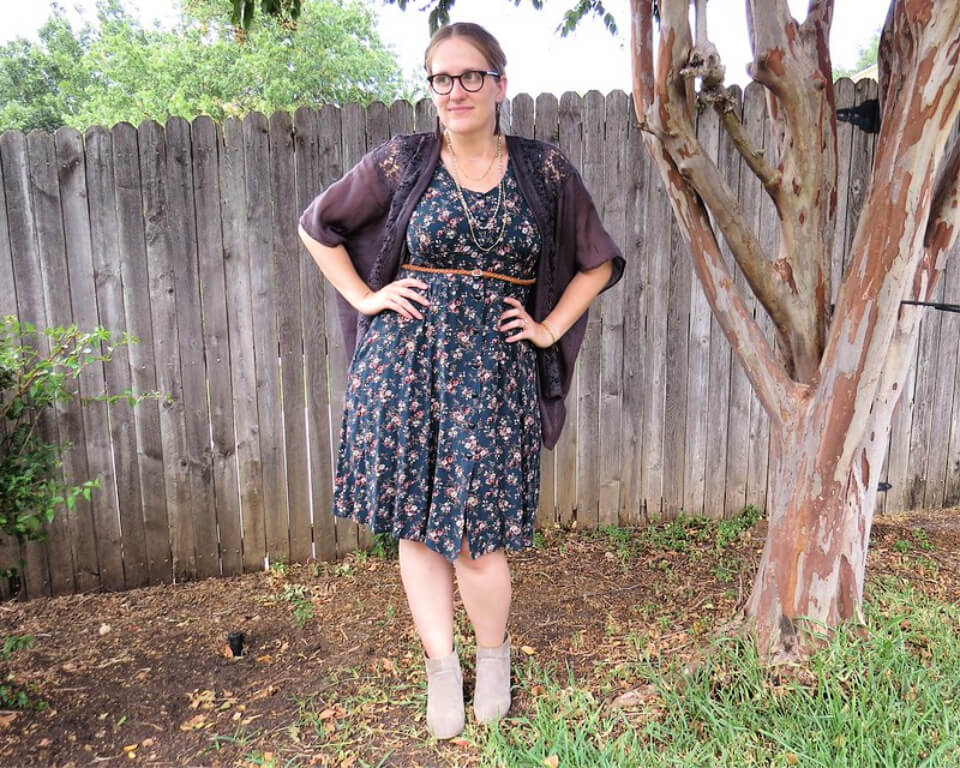 One of the best lacey designs of kimono, a big wardrobe must-have for style lovers. Here you need fabric and lace to sew this exciting kimono design with intricate design details. Use an old scarf in place of fabric, also choose the lace in a color that will go best to kimono design. A smart sewing project that everyone can do. runway sew along
22. How to Sew a Kimono In 1 Hour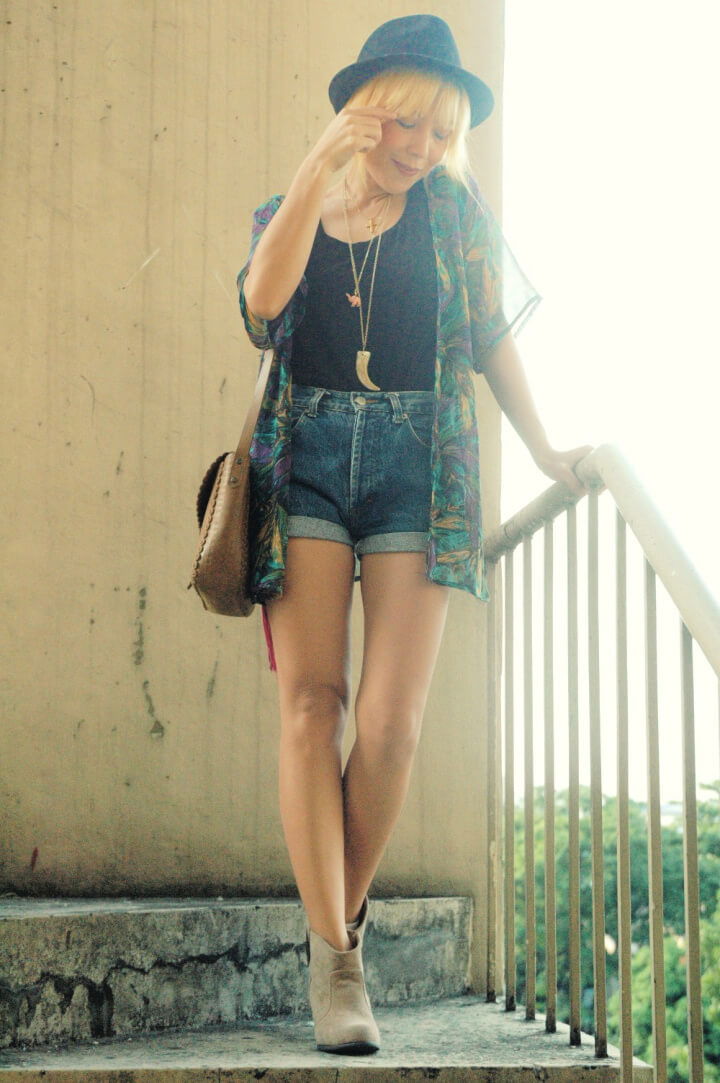 Have a big fun while spending an hour with your sewing machine to get this stylish kimono made. This open fabric jacket comes with less wide and open sleeves. The height of the kimono goes down to the jeans shorts. It also pairs up beautifully with jeans and t-shirts. Sewing it will be big fun for sure. Sewing pattern here fashioneggplant
23. Girl's Pom Pom Kimono – Free Pattern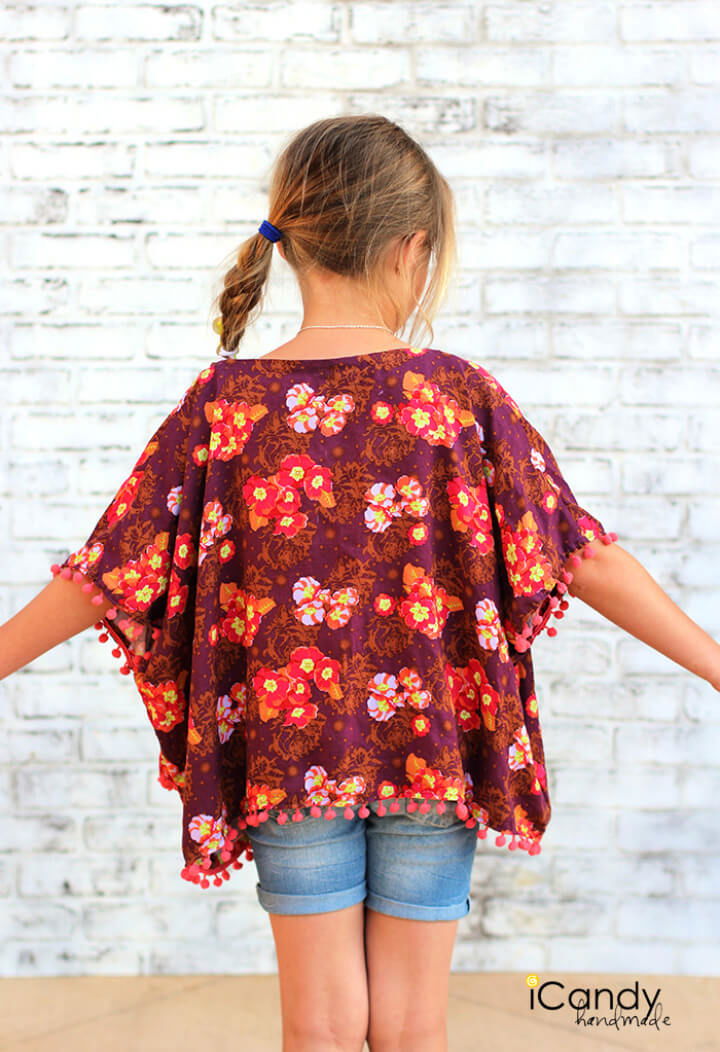 Be in the Japanese culture by wearing this very special pom-pom kimono, sewn for kids. The accent pom-pom trim brings tons of cuteness to the entire design that will be loved dearly by all the kids for sure. The cutest open jacket to sew for the little girls having an excellent fashion obsession. The best homemade gift to give to a little girl. Details here handmade
24. Handmade Kimono In 3 Simple Steps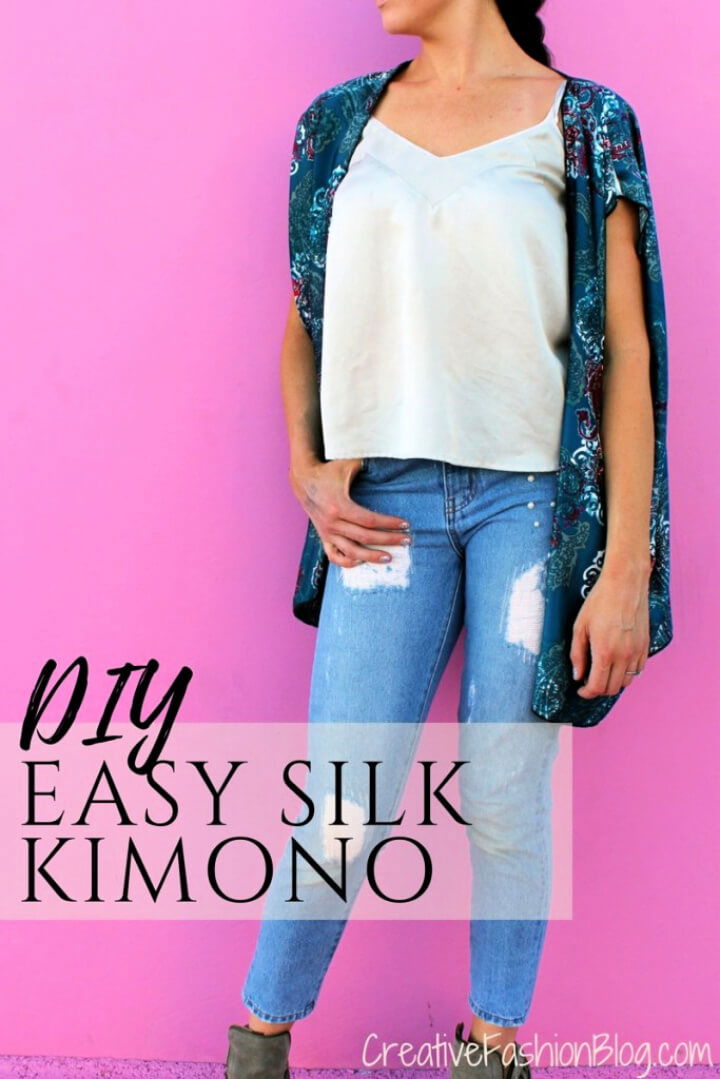 Kimonos are a big fun trend, and you can easily make a stylish kimono at home without getting a bit expensive. Follow here the three easy steps to create a kimono, the elegant top to get for boosting your fashion and style considerably. The involves a few quick folds, accurate cutting, and sewing. Hem the edges for a fantastic appeal. creativefashion
25. Kimono Craze Sewing Pattern
Are you having a big craze for kimono fashion? Sew this stylish design pattern of kimono, will rock for summer fashion. Pair it up with the pencil skirts for getting adorably cute and stylish looks. Use any lightweight floral fabric to sew this crazy kimono design and add the accent yellow border trim. Details here bonnieandblithe
26. Easy to Make Kimono Top – Sewing Pattern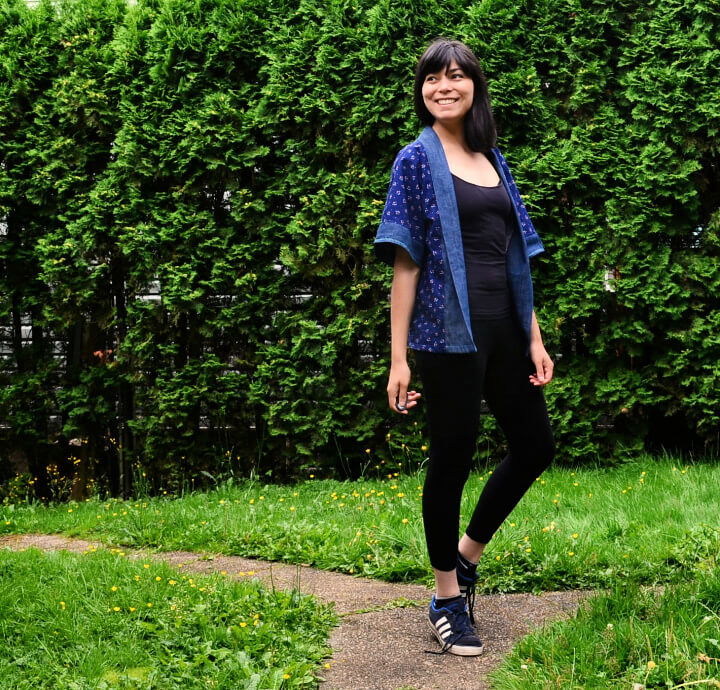 May you are addicted to wearing tops for getting a subtle, stylish personality. The update your fashion with these kimono top provides an easy sewing tutorial if you need to get it for your wardrobe. The open front and comfy full sleeves, make it just a perfect piece of fashion outfits. A must-to-try kimono sewing pattern. Details here weallsew
27. Cozy Kimono Cardigan Pattern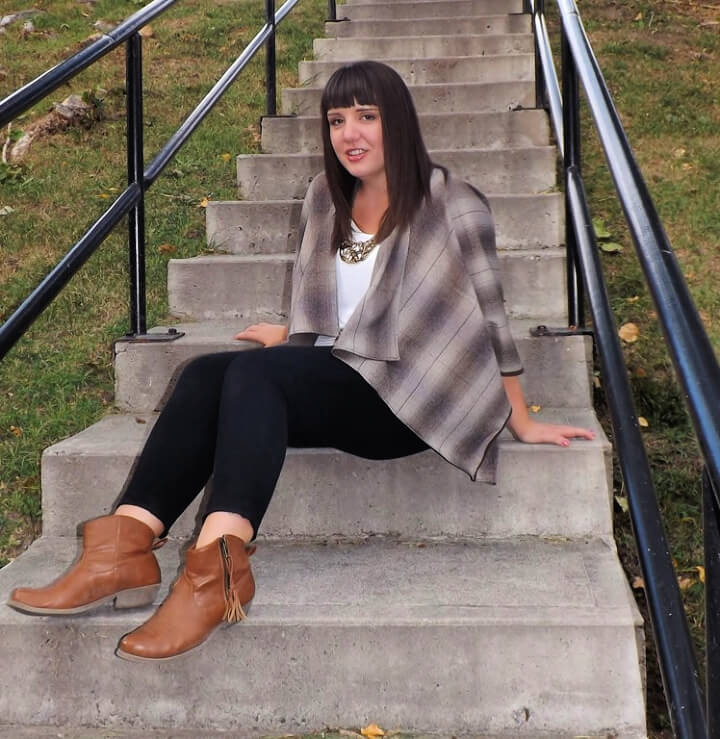 Have a great love for capes, tank tops, tunics, and jackets? Then you will also fall for this kimono cardigan, which will create an adorably stylish personality of you. This gorgeous kimono cardigan is elegant and cozy and will rock for the chilly evenings. Style up yourself while covering your shoulders warm with this kimono cardigan. How-to tutorial here victoriadaytoday
28. Kimono-Style Jacket – Sewing Pattern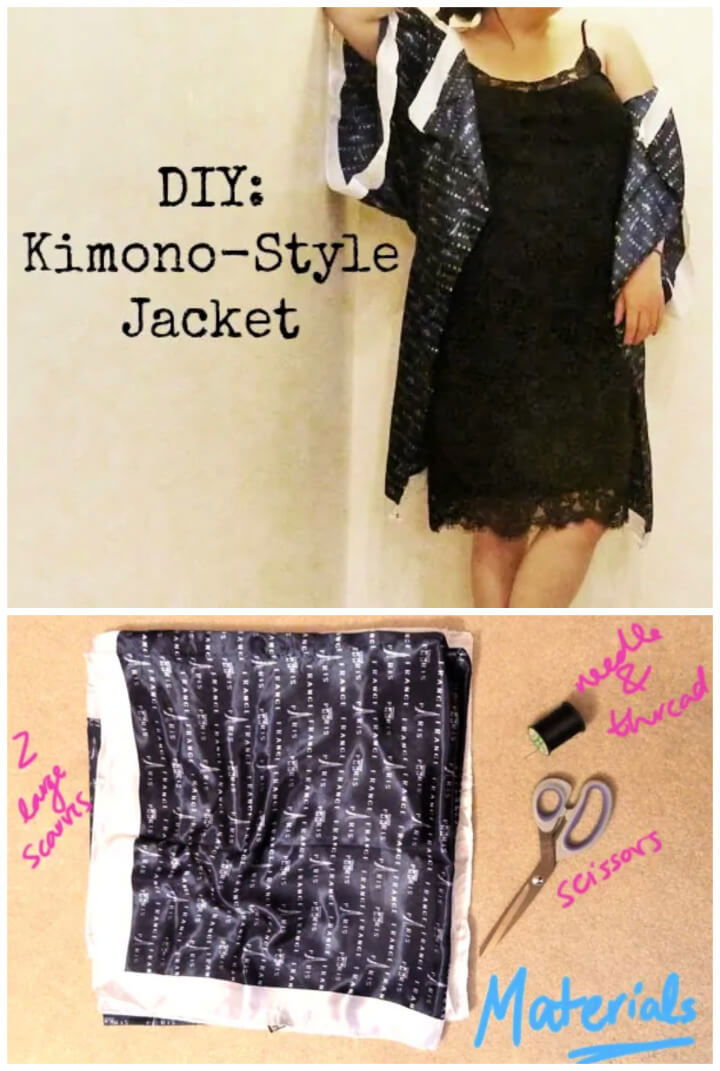 Sew also stylish jackets at home in kimono style will get you top of the world. A person with excellent fashion sense will opt for this kimono-style jacket has an impressive design layout. Here you only need two large scarves, needle, and thread to make this jacket. A no-sew kimono tutorial that everyone should try. collegefashion
29. DIY Lace Kimono Cardigan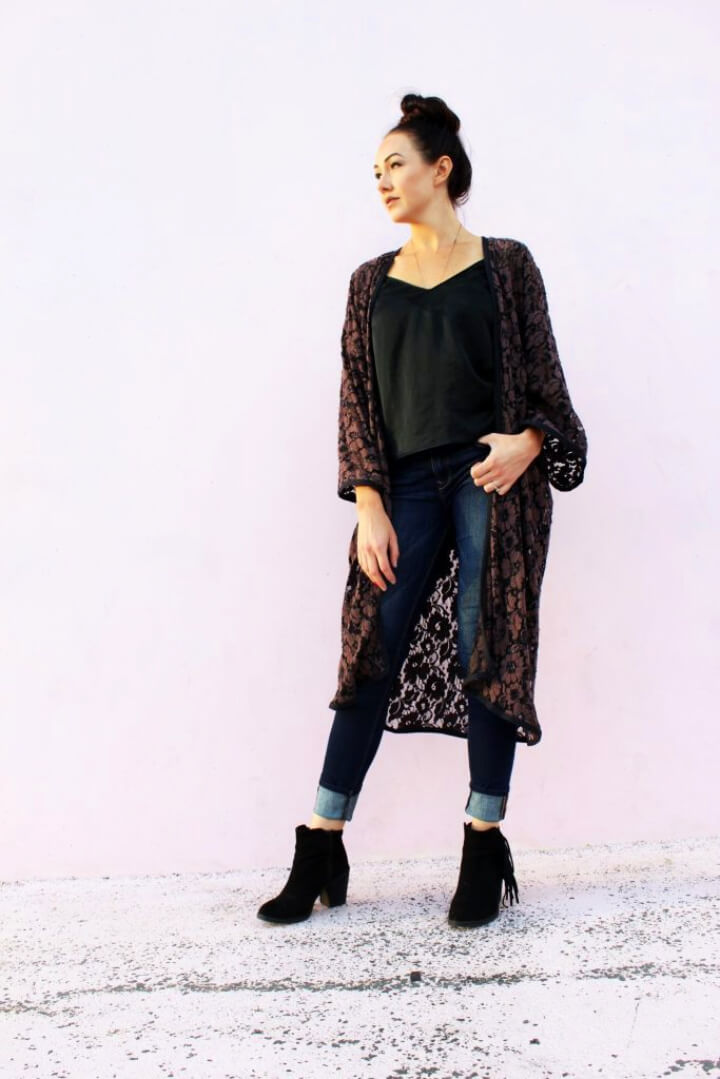 Opt for this lacey design of kimono top, will rock for less chilly days. The best replacement to shawls while the need to cover your shoulders warm. The wide sleeves will also allow you to do your work with great ease. The airy and breezy design of kimono cardigan, something to quickly sew for a friend. How-to tutorial here creativefashion
30. How to Make a Kimono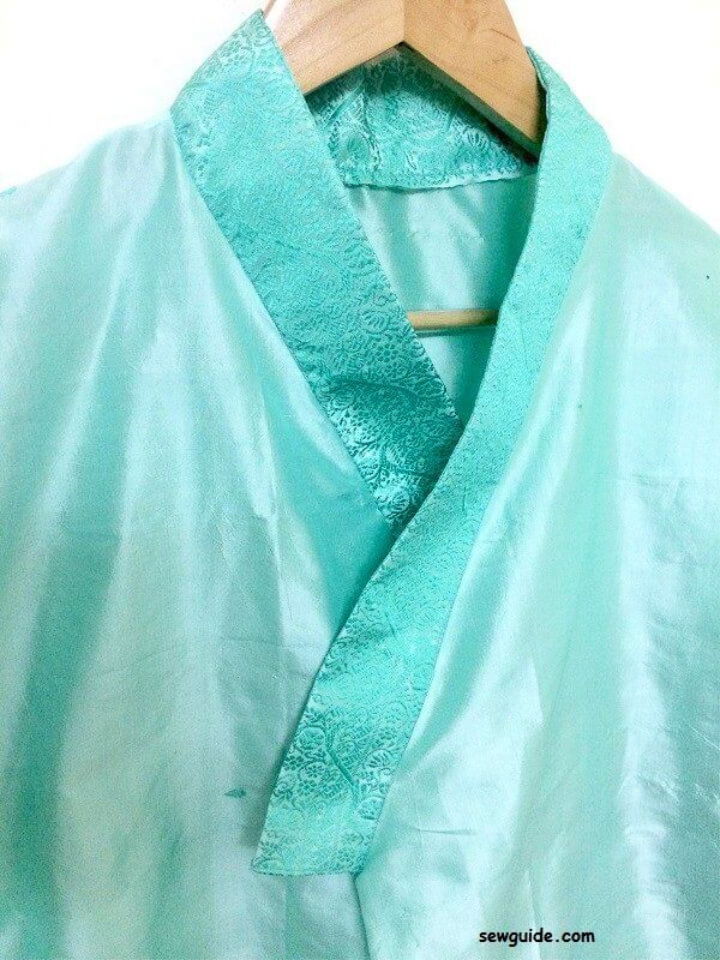 Feature the Japanese history in your clothing culture by wearing this simple kimono, a traditional open jacket that is still popular. Wear with your everyday outfits, and they will also rock for occasional fashion dresses. The design looks like a nightdress and is something gift-worthy and make it quickly. sewguide
Related Sewing Projects and Ideas
Cardigan Sewing Patterns: Sewing patterns are a great way to be creative, and save money while making your own clothes. Discover free cardigan sewing patterns that are perfect for fashionistas on a budget.
T-Shirt Sewing Patterns: Learn how to sew your own t-shirt with these free t-shirt sewing patterns that are perfect for beginners and will help you create quick and easy clothes.
Half Circle Skirt Patterns: Discover free DIY half circle skirt patterns to sew half circle skirt with step by step instructions, pictures, and video.
Hoodie Sewing Patterns: These free hoodie patterns for beginners will help you create your own unique hoodie design. Whether you want to make a casual or a fancy piece, these patterns are perfect for beginners.
Wide Leg Palazzo Pants Pattern: Sew a pair of wide leg palazzo pants with this free sewing wide leg palazzo pants pattern that are an elegant, flowing silhouette that can be worn with dresses, skirts and cropped tops.
Robe Sewing Patterns: Find your perfect bathrobe pattern with these free robe sewing patterns. From a tie front sash to a full-length silk robe, find the perfect design for your favorite piece of clothing.
Baby Blanket Ideas: Are you looking for easy DIY baby blanket patterns? Well, look no further! We've collected easy DIY baby blanket ideas that can be sewn with your favorite fabric and quilted.
DIY Shorts Ideas: DIY shorts are a fun, easy way to show your style this summer. Check out these DIY short ideas to get inspired!
Sew a Button: Whether you're a beginner or an experienced sewer, learn how to sew a button on pants and shirts with these easy steps.